In the world of electric bikes, innovation and performance have become paramount, as riders seek to embrace new levels of power and versatility. Enter the Rundeer Attack 10, a striking e-bike that pushes the boundaries of design and capability. This article delves into the Rundeer Attack 10, from its unboxing and assembly to its design, motor, battery, and overall riding experience.
With a unique blend of features, this e-bike caters to both Off Road Enthusiasts who crave adrenaline-pumping adventures and urban riders looking for a comfortable and practical commuting option. The Rundeer Attack 10 comes in two distinct models, each tailored to specific riding preferences.
Join us on a journey as we explore this cutting-edge e-bike, dissecting its impressive design, formidable motor, high-capacity battery, and, finally, offering conclusions that help you decide which model best suits your riding needs. Whether you're looking for extreme off-road capabilities or a comfortable city cruiser, the Rundeer Attack 10 is here to revolutionize your e-bike experience.
| | |
| --- | --- |
| Frame | Magnesium Alloy |
| Motor | BAFANG 750 - 1200W |
| Driving Mode | Pedal Assist / Power Assist / Pure Electric |
| Speed System | Shimano - 7 Speeds |
| Suspension System | Front/Rear Hydraulic Suspension System |
| Brake System | Front / Rear Hydraulic Brake System |
| Tire | 20"*4" Puncture-Resistant Fat Tires |
| Waterproof Level | IP65 |
| Battery Output | Samsung 960 Wh |
| Riding Range | 40-68 miles |
| Weight w/ Battery | 88 Lbs |
| Max Payload Capacity | 350Lbs |
Unboxing and Assembly
Alright, folks, today we have something special in store for you – the unboxing and assembly of the Rundeer Attack 10. This is no ordinary package; it's really heavy, and inside lies a brand new bike that's sure to get your adrenaline pumping. Let's dive right in and discover the beast that's hidden within this massive box.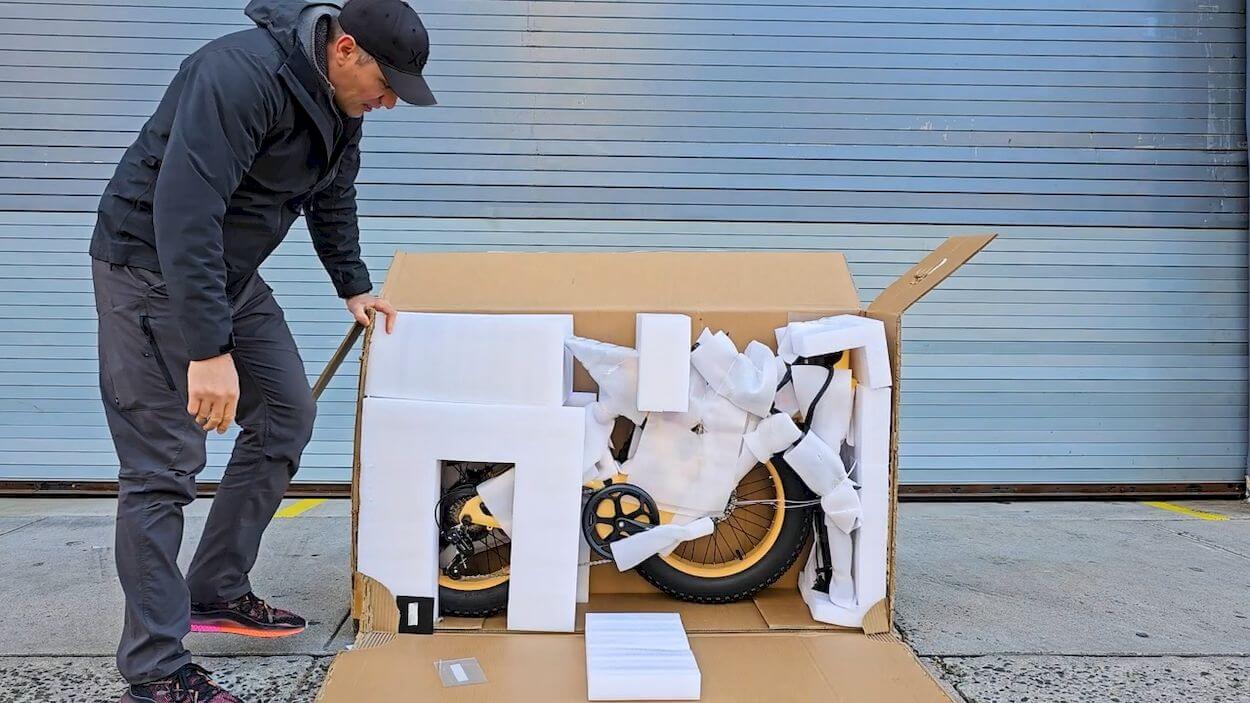 As we crack open the packaging, you can immediately appreciate the care and precision that went into preparing this bike for its journey to your doorstep. The packaging is clean, and it's evident that Rundeer has taken great measures to ensure your new ride arrives in perfect condition.
Let's start by unwrapping the Rundeer Attack 10. Carefully, we peel away the layers of protection, revealing the formidable machine beneath. As the layers come off, you can't help but admire the sheer size of this bike. It's designed with a frame reminiscent of a motorcycle, and the front fork boasts a generous amount of travel, suggesting that this bike is built for some serious off-road adventures.
The Rundeer Attack 10 also comes equipped with a large, powerful light. This indicates that it's not just about looking good; this bike means business when it comes to performance.
With the packaging removed, we can now take a closer look at the bike itself. The frame is a sight to behold – super cool and stylish. What's more, it's manufactured with zero welds, giving it a sleek, seamless appearance that's both aesthetically pleasing and functional.
The assembly process is relatively straightforward. There's not much to do because the Rundeer Attack 10 comes almost fully assembled. You'll only need to install the seat, attach the front tire, and you'll be ready to hit the trails. It's refreshing to see that Rundeer has made sure that even those without extensive mechanical expertise can get this bike ready for action with ease.
Design and Build Quality
Now that we've got the Rundeer Attack 10 fully assembled, it's time to delve into the details of its design and build quality. This bike truly stands out with a unique and impressive design, and it exudes a rugged, military-inspired aesthetic.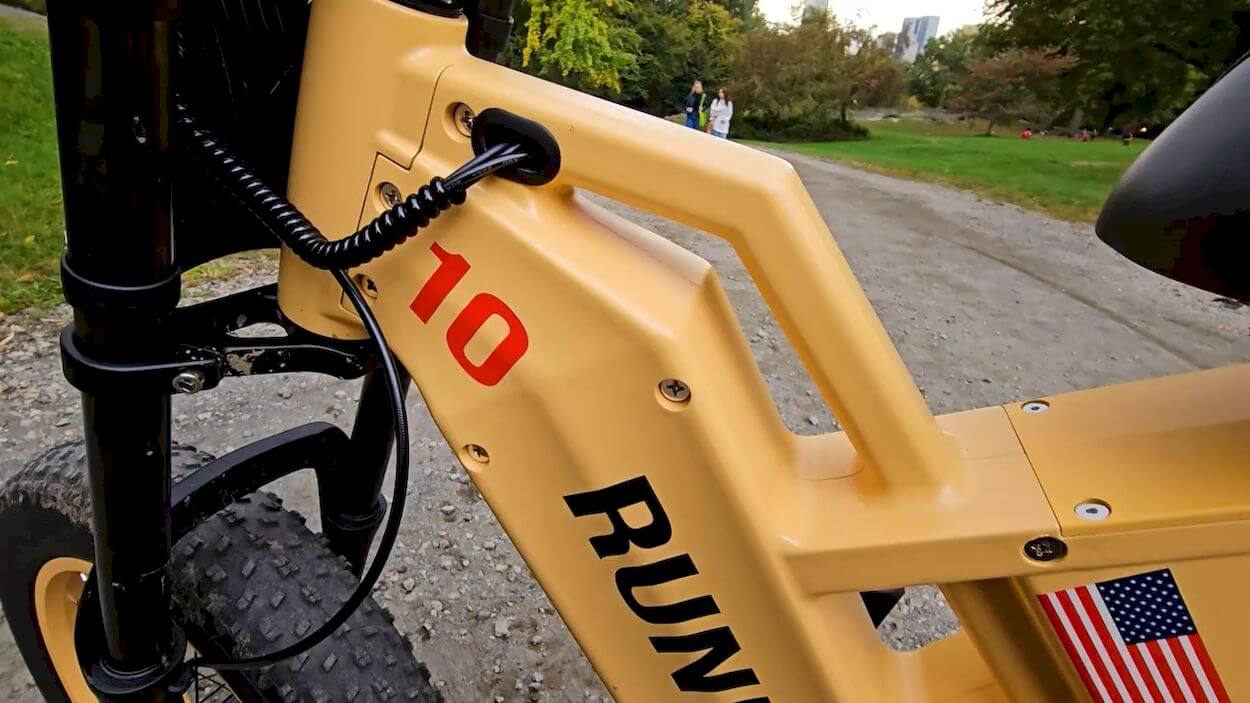 The frame design of the Rundeer Attack 10 is something to behold. It's beefy and massive, resembling a tank, and it features a striking Army Sandy Cool collar. One of the first things you'll notice is the shorter axle-to-axle span, which contributes to its nimble and agile nature. The front light is massive, almost giving the bike a face, and the overall design is both powerful and aggressive.
What truly sets this bike apart is its frame construction. Unlike traditional e-bikes, the Rundeer Attack 10 boasts a frame with zero welds. This unique design is similar to the Anoki AQ 177 and A8 Pro Max, but with its own distinctive style. The bike has a massive, wide appearance, with slightly shorter axle-to-axle measurements that make it stand out in the e-bike world.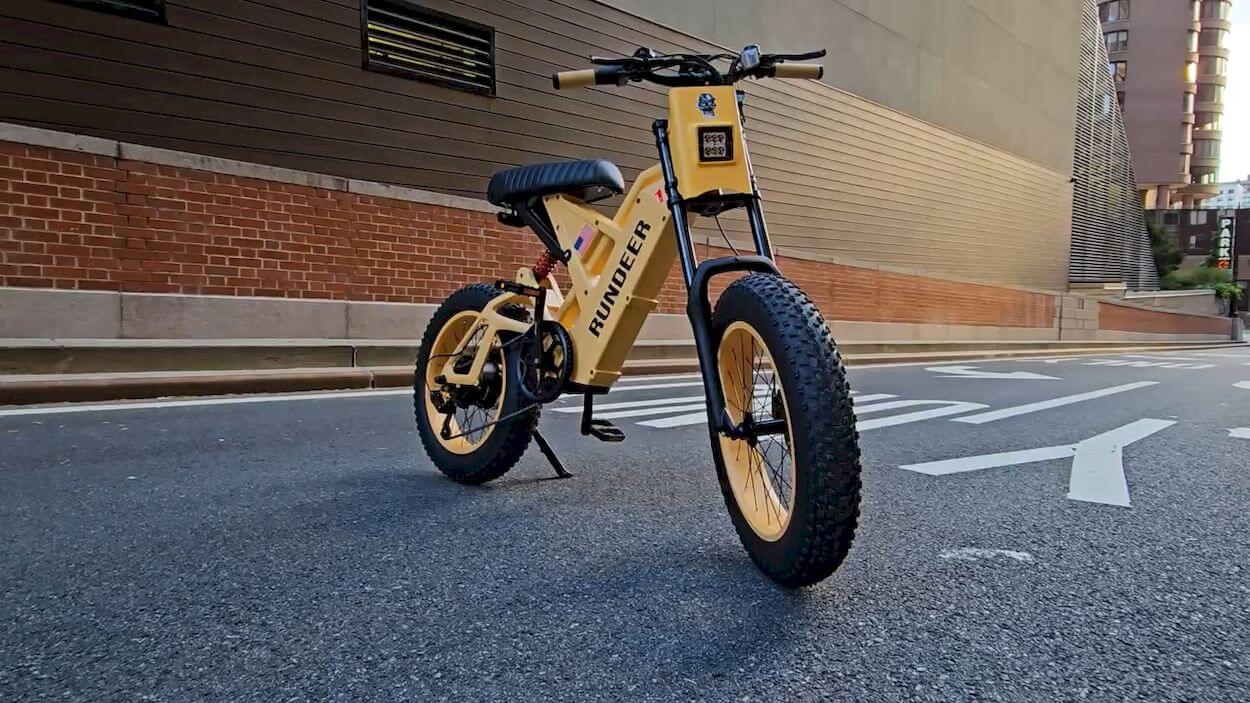 What's particularly remarkable is the technology used to create this frame. Rundeer employs an integrated stamping technique, featuring a combination of a magnesium alloy frame and an aluminum alloy triangle. The front and mid-frames are held together with screws, and the rear triangle is all one piece. This results in a super clean and smooth frame design with seamless lines, making the bike look like a force to be reckoned with.
With a ground clearance of 13.7 inches and a long-travel front fork suspension, the Rundeer Attack 10 is built like an off-road tank. It can handle rugged terrains and challenging trails, making it a top choice for adventure enthusiasts.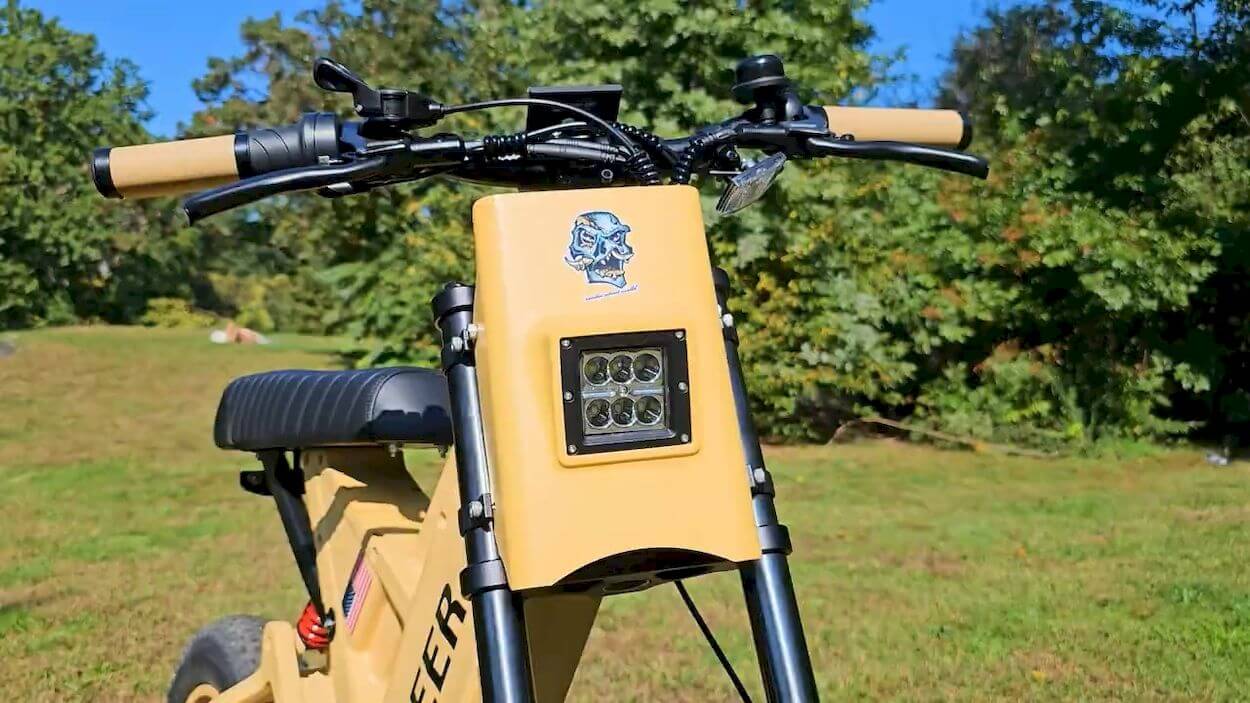 Moving on to the bike's console, you'll find a clean, large, and brightly colored screen. Even in bright sunlight, it remains easy to read. The graphics are crisp, and you have five levels of assist, each indicated by a different color. The bike also comes equipped with a ring bell, though a more aggressive and loud horn would be a fitting addition given its military-inspired appearance.
The control panel is intuitive and features three buttons for easy operation. You can quickly access key information about your ride, including range and battery life. The standard leather grips provide a comfortable hold, and the hydraulic disc brakes, similar in design to Magura, ensure efficient stopping power.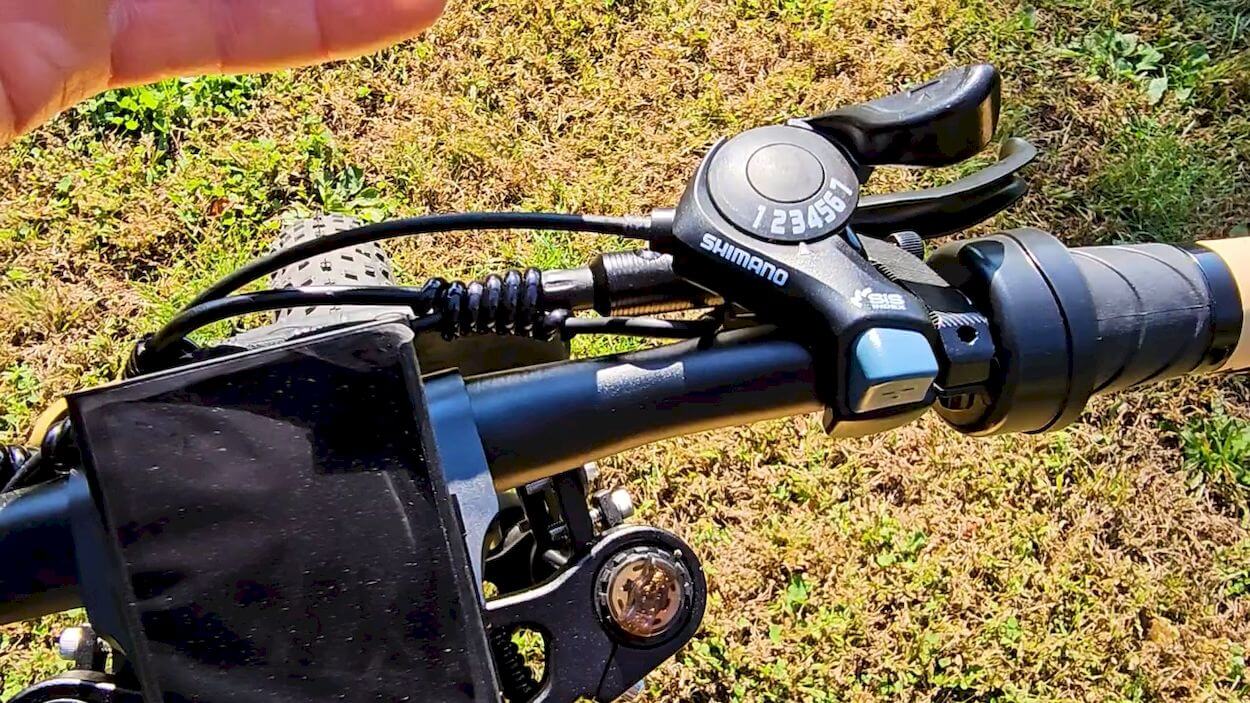 The bike's index shifter is serviceable, although some riders might prefer higher-end options like Shimano Olivia. The half-twist throttle provides easy acceleration, and the suspension, while featuring preload knobs that may be more for aesthetics than practicality, delivers a smooth ride.
The Rundeer Attack 10 rolls on 20×4-inch knobby tires that not only look great in their tan, yellowish desert military color but also provide excellent traction for off-road adventures. The seat is a standout feature, boasting an incredibly comfortable design with its plush 3-inch thickness. It's ideal for extended rides and provides a custom-like feel.
Lights
Let's shed some light on the lighting features of the Rundeer Attack 10. When it comes to illumination, this e-bike doesn't disappoint, and it's evident from the moment you fire up its lighting system.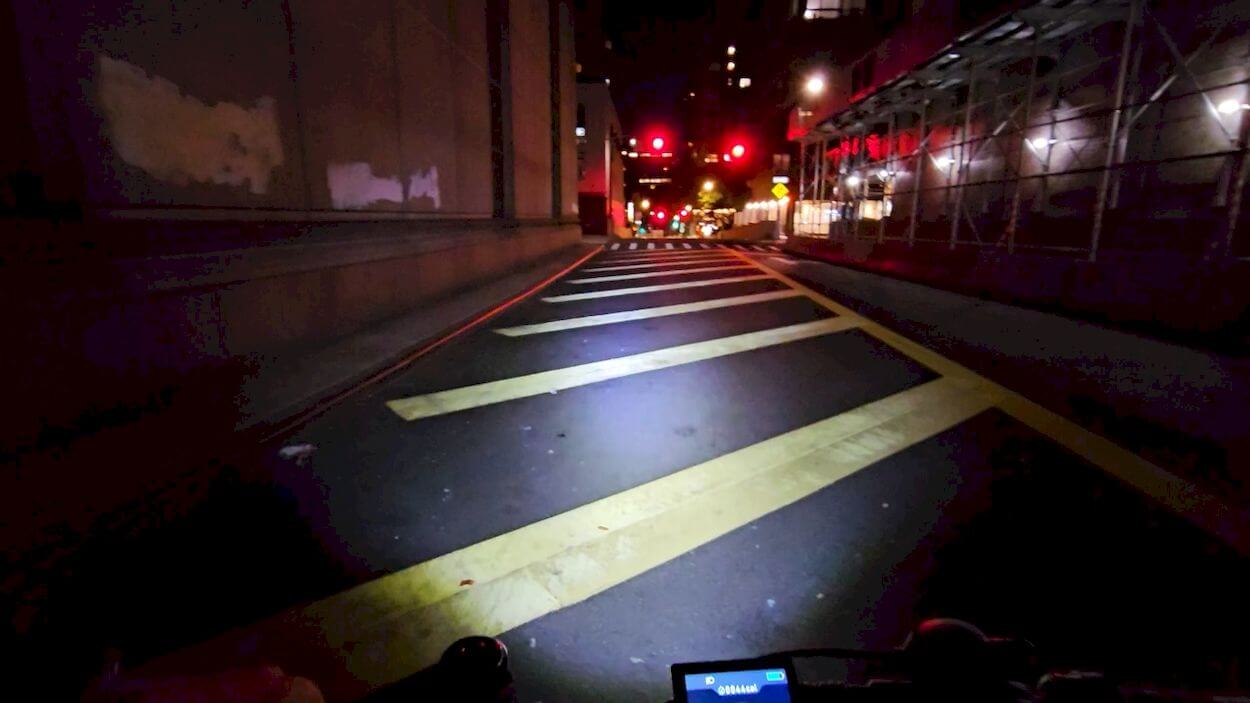 The front light on the Rundeer Attack 10 is nothing short of impressive. It's not just bright; it's super bright. The light emitted is not only intense but also remarkably wide in its coverage. Whether you're riding on dark trails, cruising through urban streets, or venturing off-road, this front light ensures you won't miss a thing. It throws its beam far ahead, providing a clear and well-illuminated path, even in the darkest of conditions. This is an invaluable feature for safety and visibility, and it gives you the confidence to tackle your rides with ease.
However, when it comes to the rear lighting, there's a bit of a letdown. The Rundeer Attack 10 only features a notification light at the rear, and unfortunately, it lacks a dedicated rear brake light. Considering the premium nature of this e-bike, the absence of a rear brake light might come as a surprise to some. A rear brake light is a useful safety feature, especially when riding in traffic, as it helps indicate your deceleration to vehicles behind you.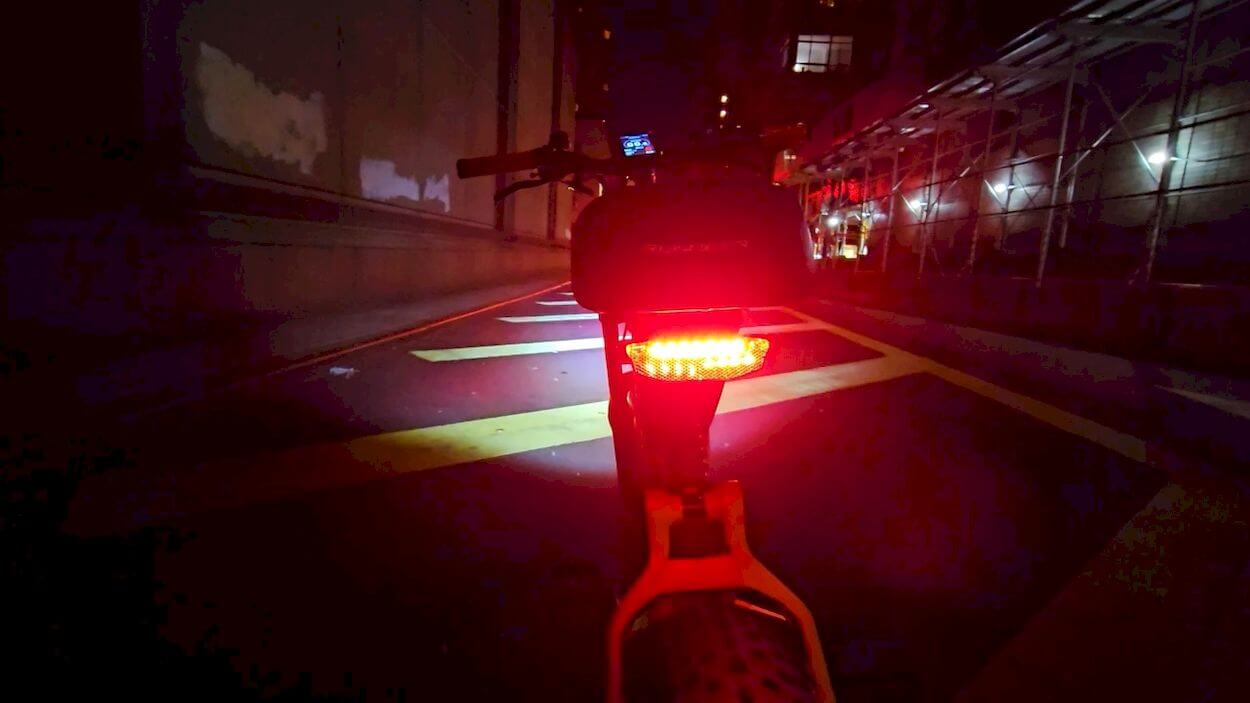 Nevertheless, it's important to emphasize the excellence of the front light. Its powerful output ensures that you can confidently navigate various terrains and conditions, and it contributes significantly to the overall riding experience. With its wide and far-reaching beam, it ensures you have a clear line of sight, enhancing both safety and enjoyment during your rides.
Rundeer Attack 10: Motor and Driving Test
Let's dive into the motor of the Rundeer Attack 10. This e-bike is equipped with a robust rear hub motor, a Beang motor, which packs quite a punch with its specifications. It offers a maximum power output of 750 watts, which is impressive, but the motor can even push up to 1200 watts when needed.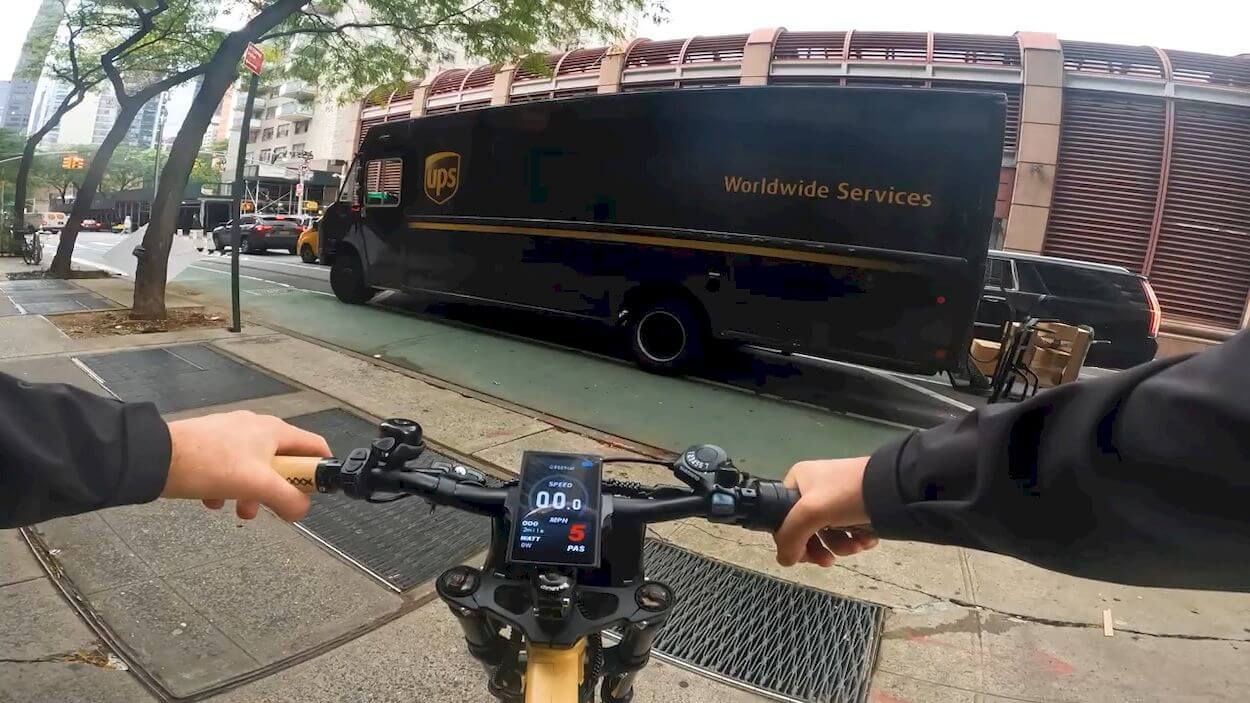 As we embark on a ride with this fully charged e-bike, you can see the display showing all the pertinent information. We're testing the motor at the fifth level of assist, which should give us a significant boost in power and speed.
The ride begins, and it's immediately clear that the motor is responsive and powerful. The brakes provide confident stopping power, and the front suspension proves to be soft with ample travel, ensuring a comfortable and controlled ride.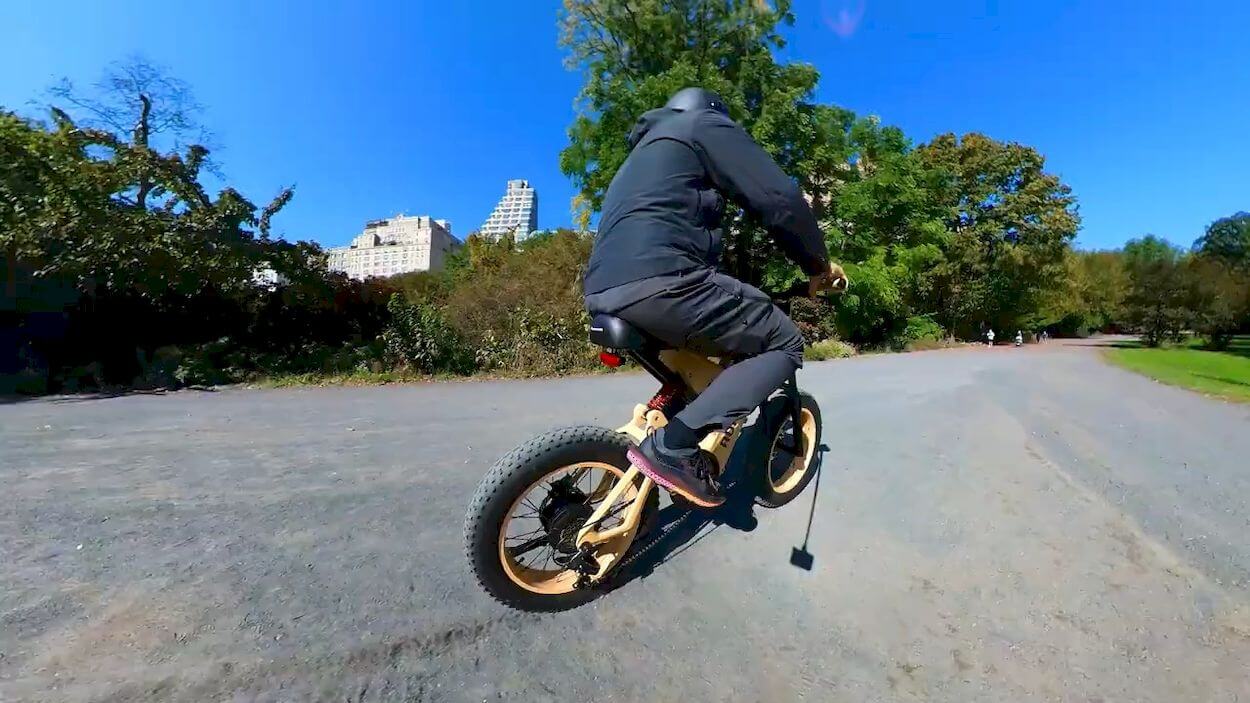 Now, let's talk about the rear suspension. On the screen, you can see that it displays some indicators that suggest adjustments can be made, but, interestingly, it appears that these are non-functional, giving the suspension a soft and bouncy feel.
The handlebar, with its shorter length, contributes to the e-bike's motorcycle-like feel. It accelerates rapidly, and you'll notice how nimble it is, making it easy to maneuver through tight spaces and corners. The e-bike picks up speed quickly, and the motor provides ample torque for a thrilling ride.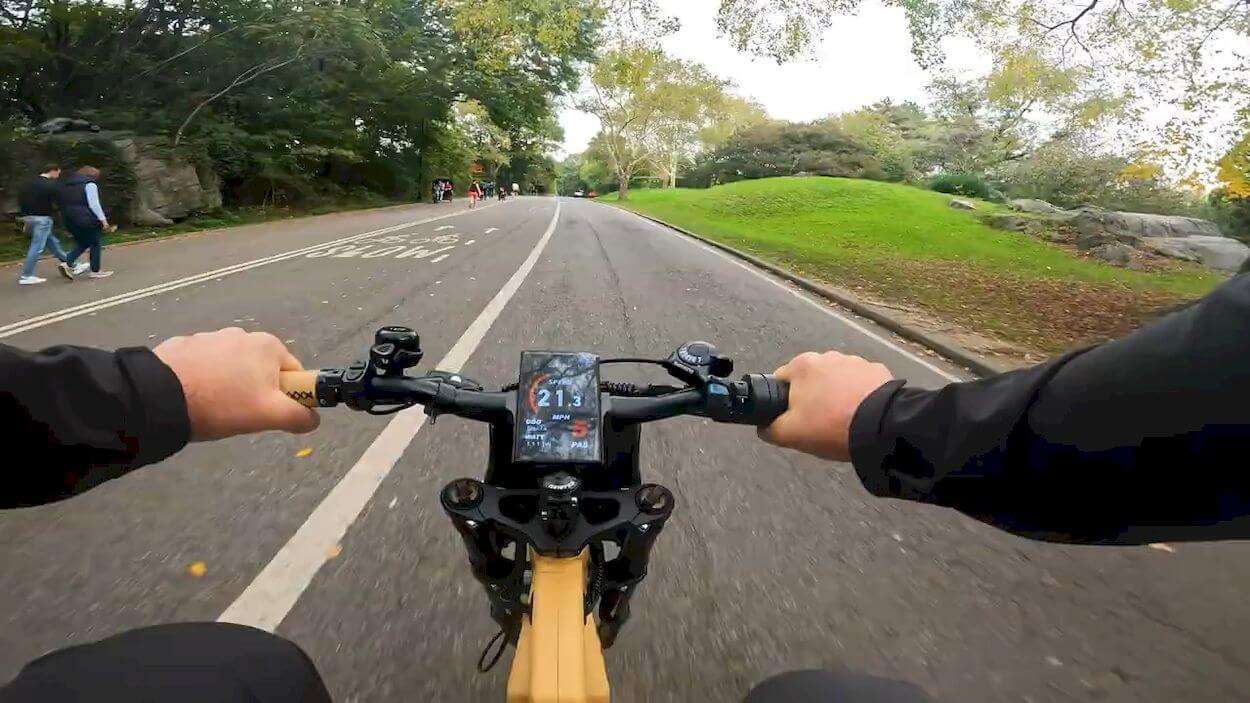 The bike's seat adds to the overall comfort. It's reminiscent of classic motorcycle seats and feels like a throne. Although pedaling may not be the primary mode of propulsion for this e-bike, it's doable, and the handlebar design certainly adds to the unique experience.
As the ride continues, you'll notice that the horn is a fitting addition, considering the bike's massive and aggressive appearance. It's a feature that complements the overall design and style.
On the streets of New York City, where traffic is a daily challenge, the Rundeer Attack 10 offers a significant advantage. Its powerful motor allows you to zip through the congested cityscape effortlessly. The city officials' plans to charge driving fees in response to increasing traffic congestion make e-bikes like this an appealing alternative. Commuting on an e-bike is not only fast and convenient, but it's also a cost-effective and environmentally friendly option in the long run.
As you ride this e-bike, you'll notice its strong acceleration, reaching speeds up to 23-25 miles per hour with ease. The shorter wheelbase adds to its nimbleness and agility, allowing you to navigate through traffic and tight corners effortlessly.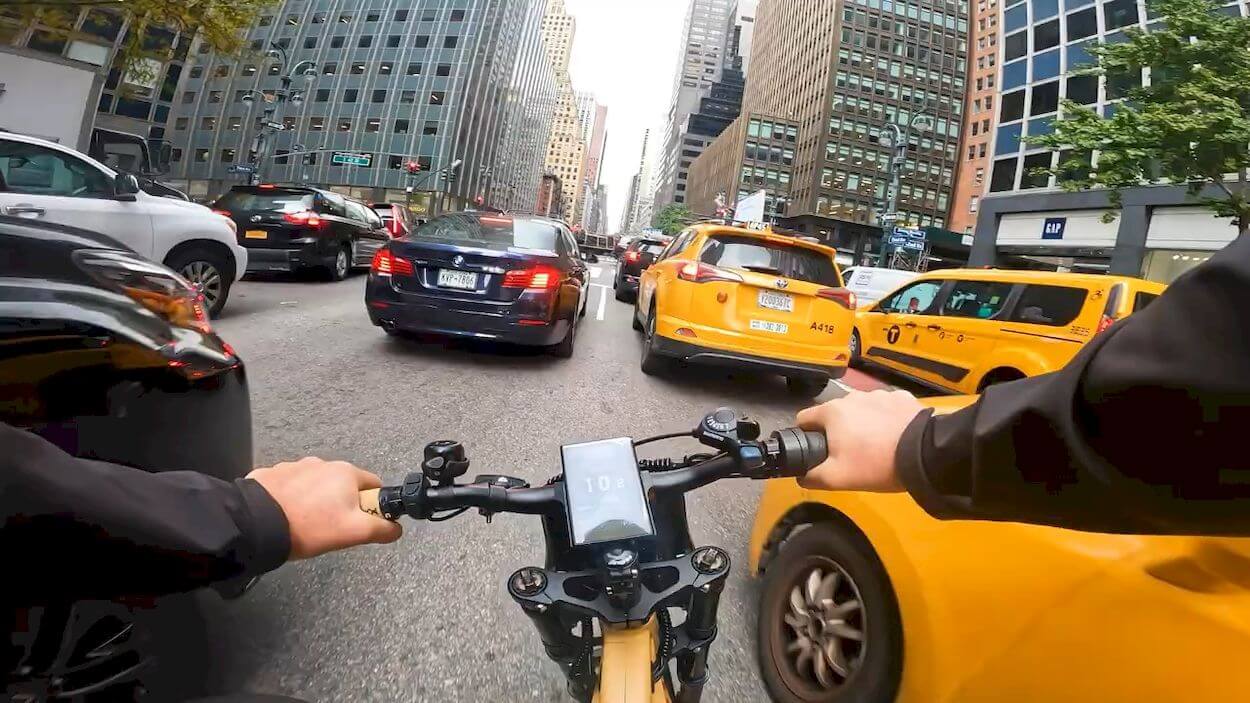 While the 750-watt Beang motor is more than capable of higher speeds and greater power delivery, this particular setup is configured for maximum range at lower speeds. It's a choice that prioritizes efficiency and range over raw power, making it a practical option for those looking to make the most out of their e-bike's battery life. However, if you weigh less than 175 pounds, you may experience even higher performance and power delivery on this model.
Battery and Range
First and foremost, it's important to note that the Rundeer Attack 10 comes equipped with a UL certified battery. This certification is significant as it ensures that the battery has undergone rigorous safety testing and meets stringent industry standards.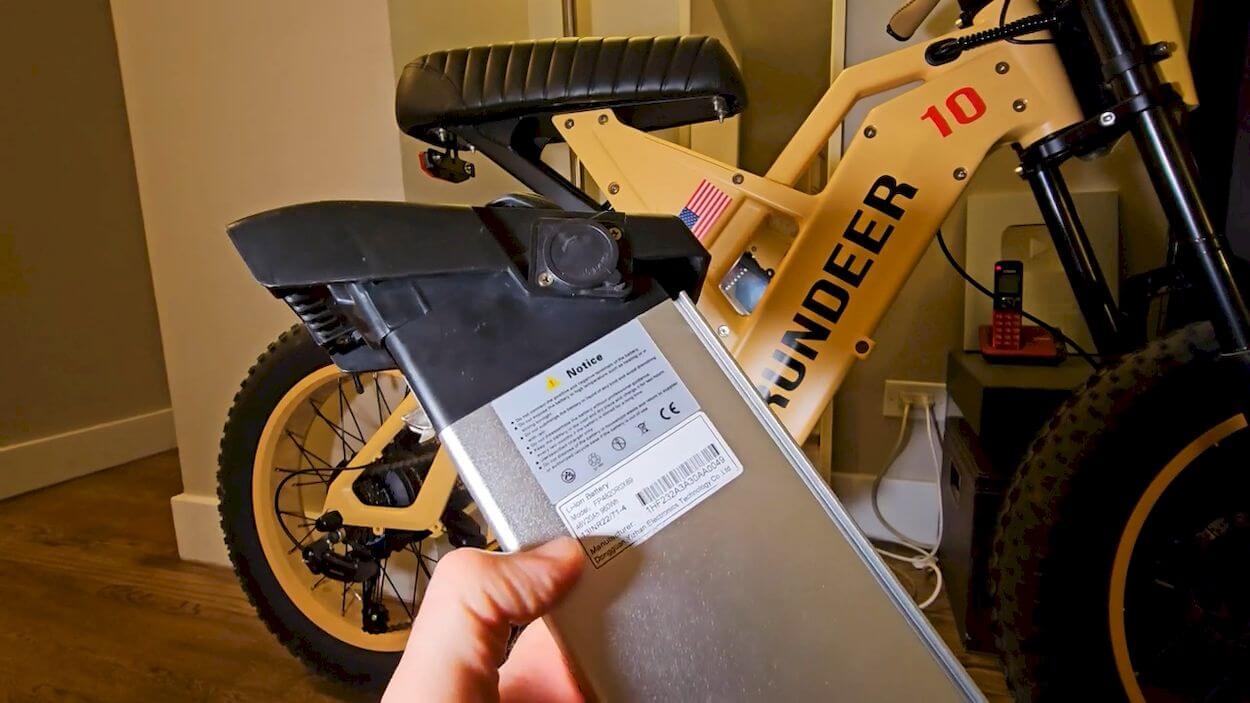 Now, let's discuss the battery's specifications. The Rundeer Attack 10 features a formidable 20 amp-hour (Ah) battery with a capacity of 960-watt hours (Wh) in a 48-volt system. This configuration gives you substantial power and range, allowing for extended rides without worrying about running out of battery too quickly. The generous capacity of the battery is particularly beneficial for riders who demand longer journeys.
In terms of usability, the battery is conveniently located at the bottom of the e-bike. It's designed for easy removal, with a switch for on/off and a key lock for security. Additionally, a lever allows you to quickly detach the battery from the bike, simplifying the charging process and providing versatility for those who may want to swap out batteries for extended rides.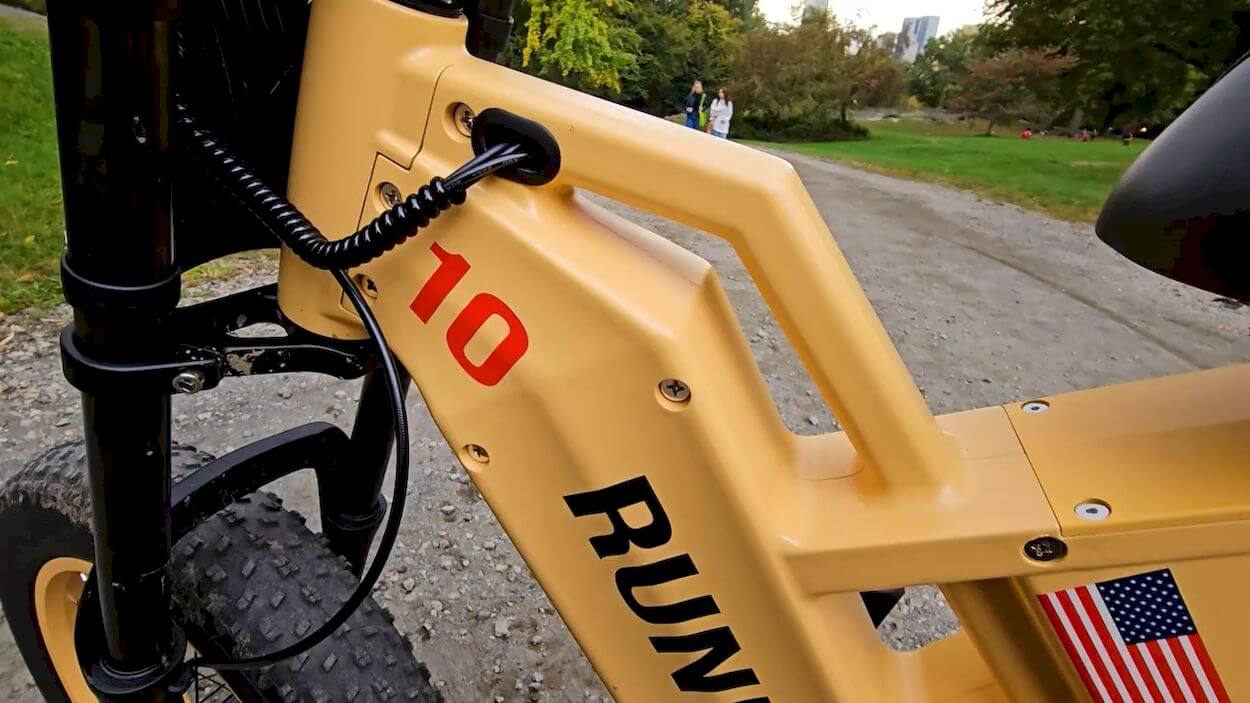 Now, let's discuss the performance and range of this battery, which is an essential aspect for riders who want to make the most of their e-bike. The test conducted under various conditions and circumstances is a testament to the battery's capabilities.
The test was performed under changing weather conditions, including cold temperatures and rain. The rider's weight was 330 pounds, making it a more demanding test. Riding the e-bike at maximum speed and on throttle alone, the first day of testing covered approximately 18.8 miles. Surprisingly, the battery still displayed a high charge level, showing around 80 to 85% capacity.
The test continued into the second day, where the rider covered an additional 12 miles. On this day, the battery depletion was more pronounced, which is typical as the battery drains faster at lower states of charge. However, even with these challenging conditions, the e-bike managed an impressive range of 30.8 miles.
Rundeer Attack 10:
C
onclusions
Overall, the Rundeer Attack 10 offers a compelling e-bike option that caters to different types of riders and riding scenarios. The choice between the standard and advanced models is largely dependent on your specific preferences and requirements.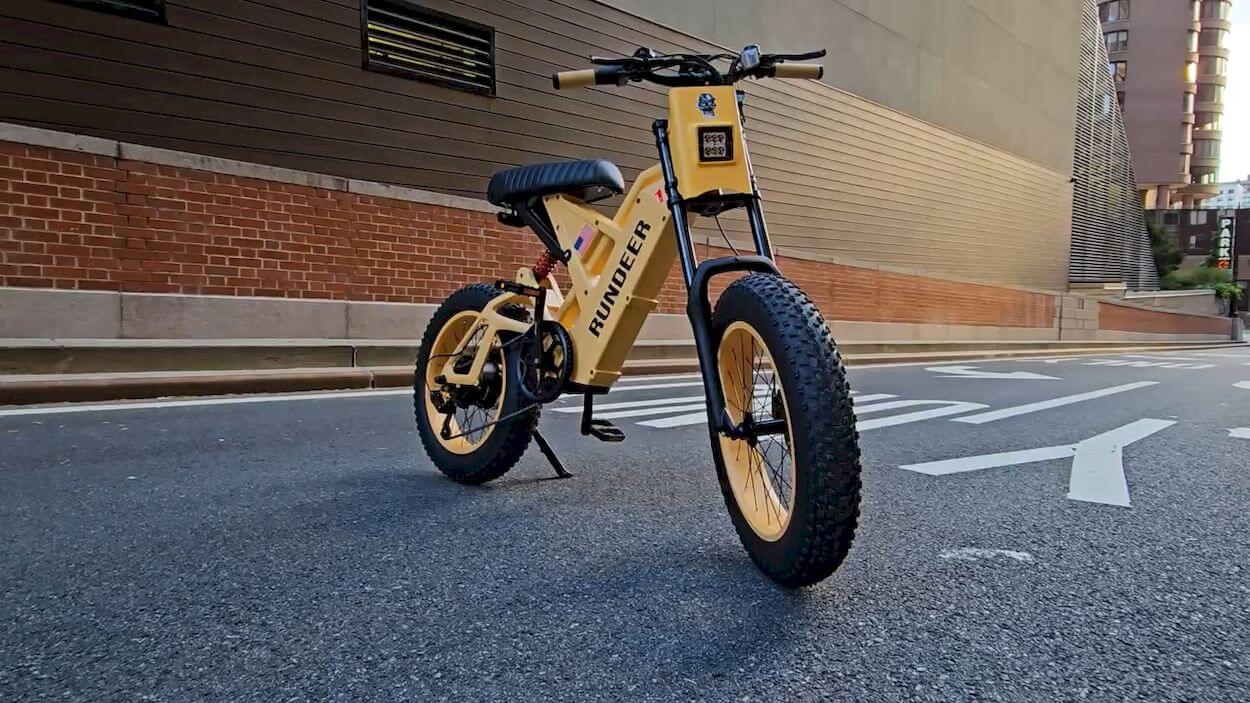 For the Offroad Enthusiast, particularly those who relish downhill or extreme off-roading adventures, the advanced option is the way to go. It provides upgraded front suspension with more travel, better rebound, increased adjustability, and higher handling capabilities. Additionally, the advanced model features an upgraded rear shock, which can make a significant difference in challenging off-road terrains.
If you're more inclined toward regular trails or city riding, the standard Attack 10 is an excellent choice. It excels in providing an exceptionally comfortable riding experience. The plush seat, coupled with a suspension system, makes it a fantastic option for those looking for a smooth and enjoyable ride. It boasts more than enough power and is incredibly fun and nimble for daily commuting and leisurely rides.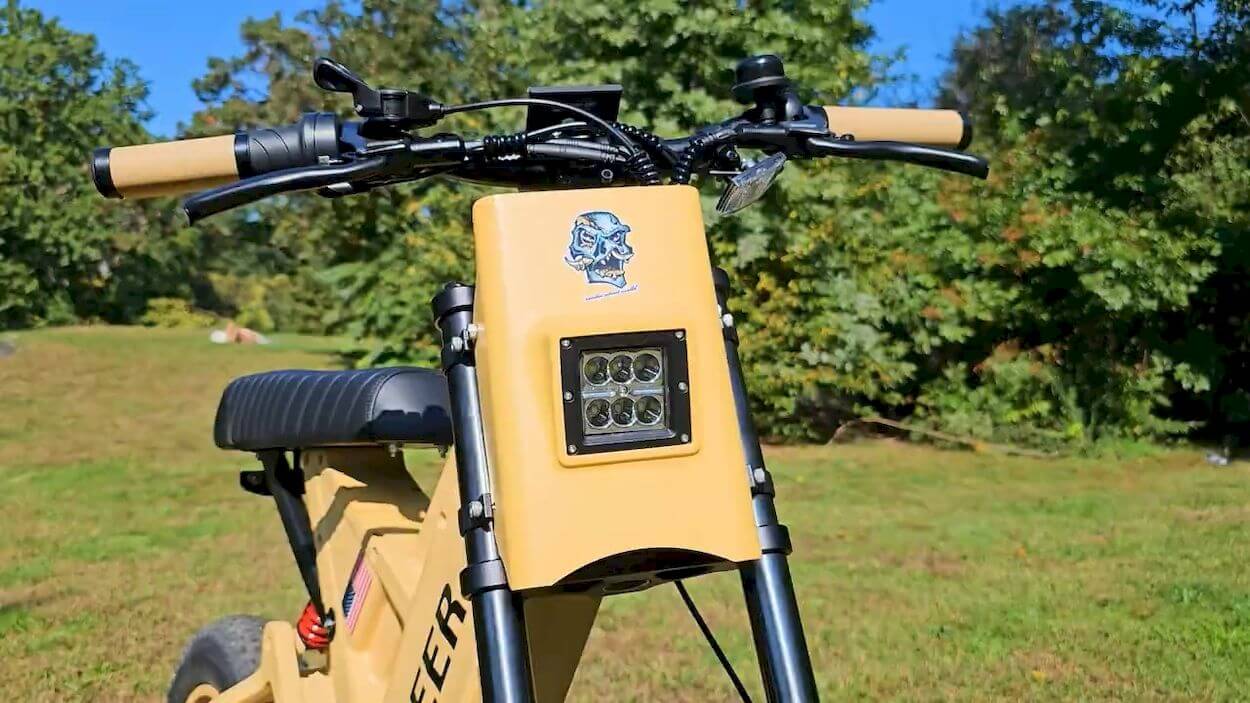 However, for riders seeking an extra boost in power and performance, particularly for roads outside the city, it's worth keeping an eye out for potential future options from Rundeer. A model with a 1500 or 2000-watt motor could be a game-changer, providing even more versatility and capability, turning the Attack 10 into an all-around e-bike powerhouse.
Ultimately, the Rundeer e-bike offers a range of choices to suit a variety of riders, making it a versatile and enjoyable e-bike option. You can find more information and the link to the specific model that suits your needs in the description box below. Thanks for reading, and we'll see you next time on your e-bike adventures.
Alternatives of Rundeer Attack 10