Hello and welcome, everyone! Today, we're turning the spotlight on one of the coolest retro-inspired e-bikes in the market – the Michael Blast Outsider 5.0. This bike isn't just about an amazing ride; it's all about making a statement and being seen with its delightful throwback aesthetics.
Priced at $2,400, this new-generation Outsider has managed to preserve the best features of its predecessor while introducing some substantial upgrades.
Some might argue that this bike is more about style and looking cool than anything else, but don't be misled. The Outsider 5.0 is a feature-complete e-bike that offers both a fun and efficient ride. It's a head-turner, a conversation starter, and, most importantly, a reliable means of transportation. So, let's dive into what makes this e-bike so special!
| | |
| --- | --- |
| FRAME | A6061 Aluminum Tig Welded |
| MOTOR | BAFANG 750Watts (500W) |
| TRIP COMPUTER | LCD 5 Speed Display |
| GEARS | 5 Speed motor assist with 7 speed Shimano Acera |
| SPEED | 32 km/h (20 Mph) AND 25 km/h (16 Mph) UNLIMITED |
| BRAKES | Taiwan Star Union Hydraulic (180 mm Front/160 mm Rear) |
| TIRES | 750W - Spoked Wheels - 20' X 4' |
| PAS | Pedal Assist System |
| FORK | Double Down Chromolly/CNC Alu Made Crown Set |
| BATTERY | Samsung Lithium Ion 48V 14.5Ah (36V 13Ah) |
| RANGE | Approx. 50 Kms (32 Milles) |
| DIMENSIONS | L76xW26xH40-inch (163x66x102 cm) |
| WEIGHT CAPACITY | 260 lbs (118 kg) |
| PRODUCT WEIGHT | 50 lbs (22.7 kg) |
Design and Build Quality
The Michael Blast Outsider 5.0 is a bike that seamlessly blends unique design with solid build quality, offering riders an unforgettable experience on the road. With its distinctive features and thoughtful components, it's a bike that's bound to turn heads and provide a comfortable, enjoyable ride.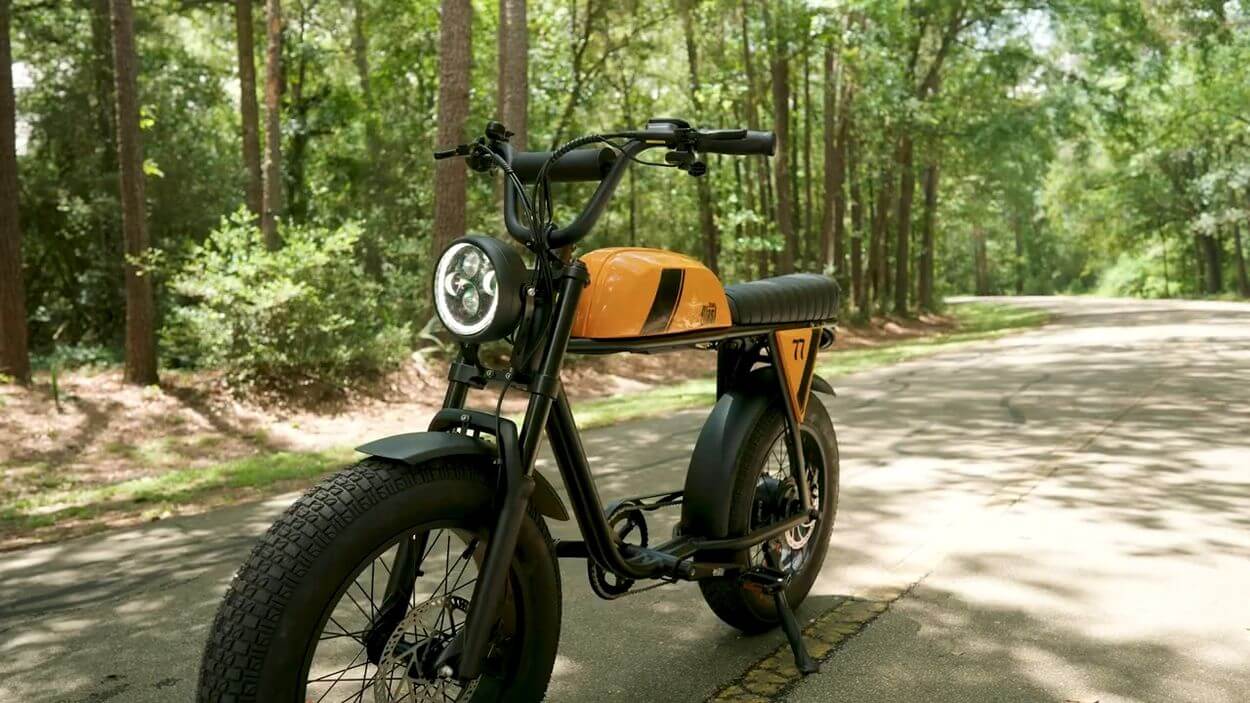 The Outsider 5.0 is an attention-grabber, and it all starts with its bold aesthetics. Rolling on 20-inch wheels equipped with chunky 5-inch wide "cool ride" tires, this bike commands attention wherever it goes. The tires not only contribute to its undeniable road presence but also feature an eye-catching tread pattern that adds to its cool factor.
The design strikes a balance between urban style and off-road readiness. While the tread pattern is not overly aggressive for serious off-roading, the bike is still suitable for occasional dirt adventures, offering riders versatility for various terrains.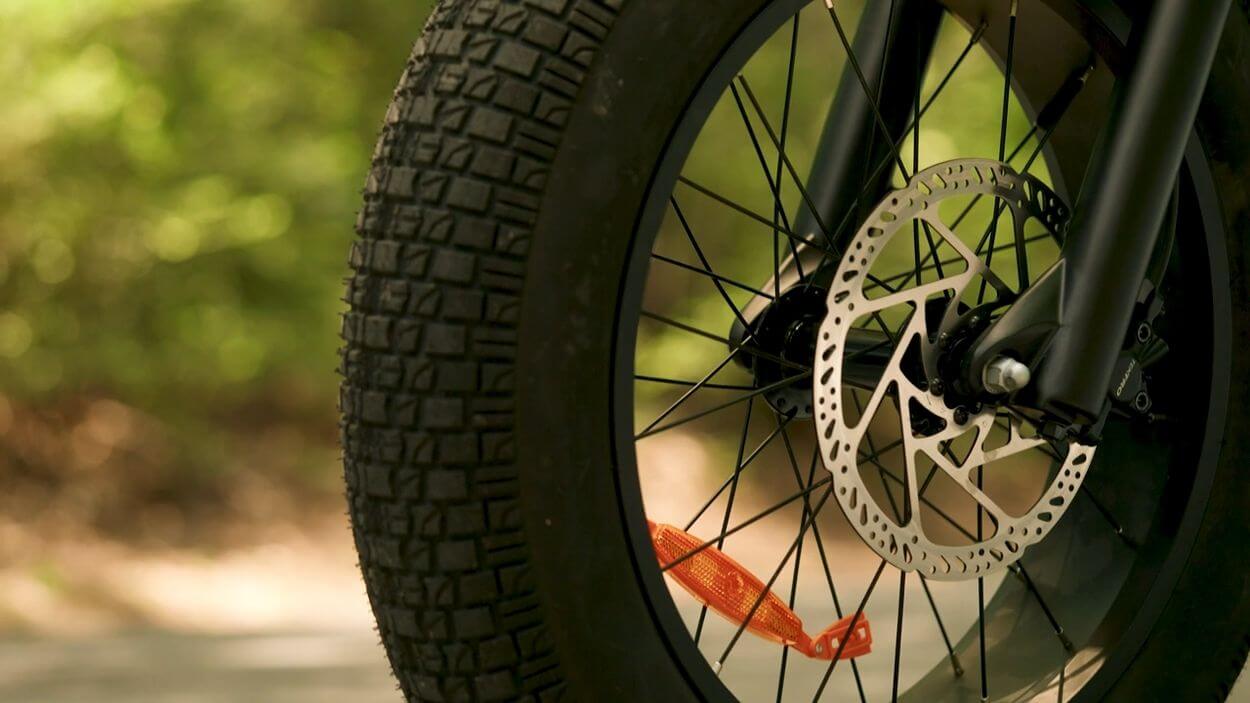 One of the standout features of the Outsider 5.0 is its reliable stopping power. Thanks to the Tetra hydraulic brakes with massive 203-millimeter rotors, you can trust that your braking needs are well covered. These brakes perform exceptionally well, providing consistent and responsive stopping power, ensuring safety on the road.
The seven-speed Shimano Tourney gear set and Shimano trigger shifters make gear changes smooth and efficient. The fact that the shifting is dialed in right out of the box is a significant advantage for riders. It allows for a hassle-free start, and while learning to adjust your derailleur is valuable, the ease of hopping on and taking it for a spin straight away is a welcomed convenience.
The Outsider 5.0 also features an unbranded motorcycle-inspired front suspension with 80 millimeters of travel. This suspension system delivers a smooth ride feel, and the inclusion of preload and lockout adjustments allows riders to fine-tune their riding experience to their liking. It's these thoughtful details that enhance the overall quality of the bike's build.
The color LCD display is a modern touch that adds to the bike's appeal. It provides real-time ride metrics, making it easy for riders to monitor their performance. The display's brightness is adjustable, making it visible even in sunny conditions, such as the hot Texas sunshine mentioned.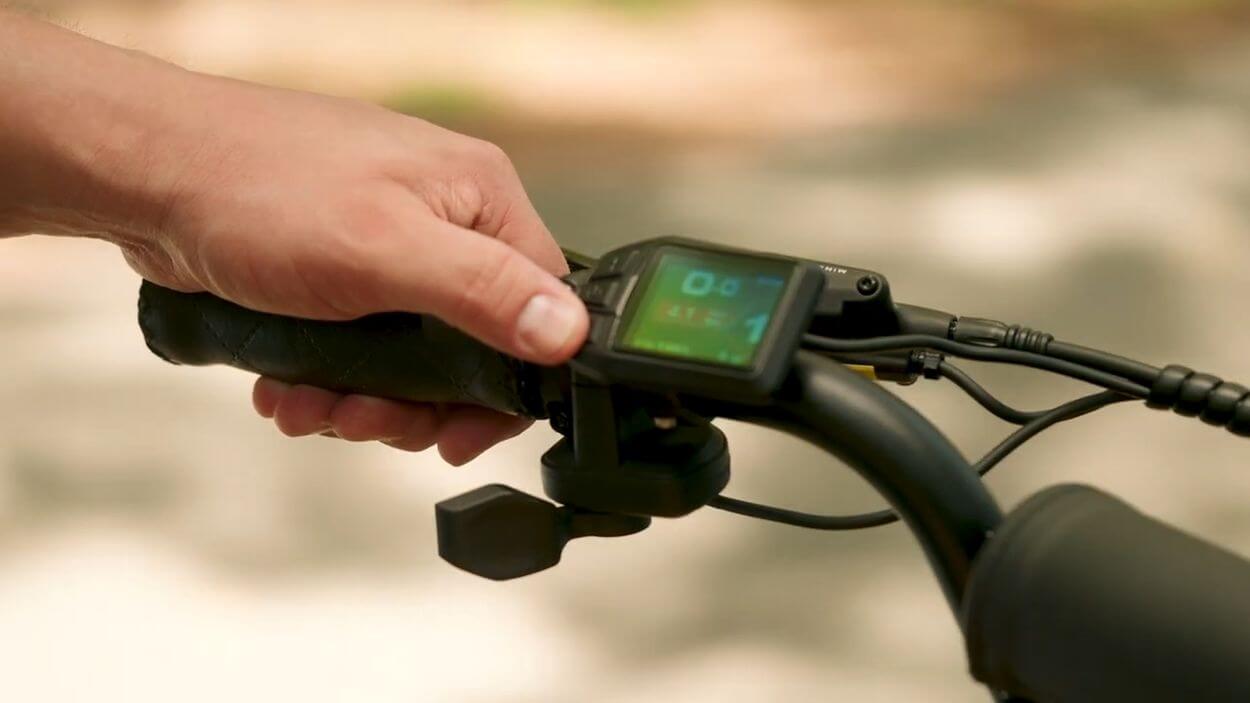 Lastly, the distinctive banana saddle adds character to the bike. Its unique design with a reverse taper provides comfort for riders of varying heights. Whether you're 5 feet 10 inches or shorter, you're likely to find a comfortable seating position on this cushioned saddle.
So, the Michael Blast Outsider 5.0 combines striking design elements with excellent build quality. It offers a comfortable and versatile riding experience, making it an appealing choice for those who value both style and functionality in their bikes. Whether you're cruising in the city or venturing onto less-traveled paths, the Outsider 5.0 is a bike that delivers on its promises.
Lights
The Michael Blast Outsider 5.0 is not just a high-performing e-bike; it's also designed with safety and aesthetics in mind. One standout safety feature is its fully integrated lighting system, which ensures that nighttime rides are not only safe but also stylish.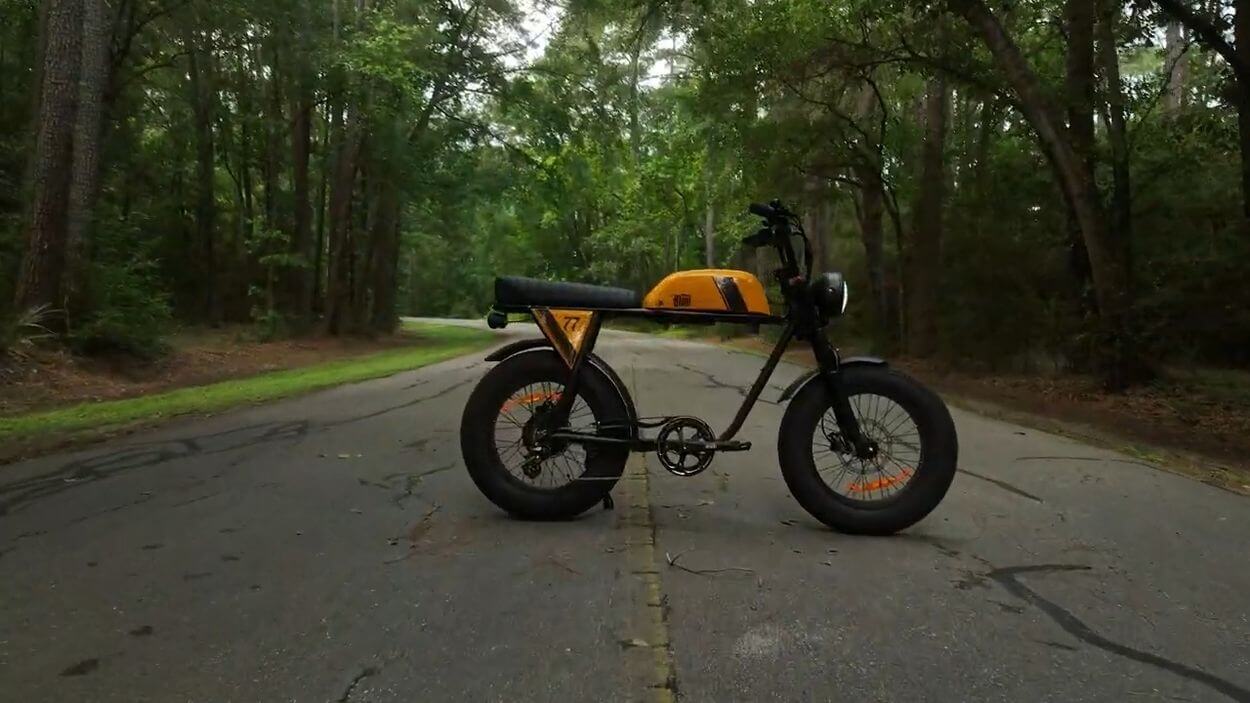 At the forefront of this lighting setup is the massive front light. Its size not only adds to the bike's imposing presence but also serves a crucial safety function. The brightness of this front light is notably impressive for its type. It not only illuminates your path effectively but also ensures that you remain highly visible to others on the road, contributing to a safer riding experience.
What sets this lighting system apart is its seamless integration into the bike's design. It doesn't appear as an afterthought but rather as an integral part of the overall aesthetic. The front light, in particular, adds to the bike's cool factor. It not only enhances your safety but also elevates the bike's visual appeal, making it stand out among other e-bikes.
Motor
The heart of the Michael Blast Outsider 5.0's dynamic performance lies in its rear hub motor, a powerhouse rated at 500 watts and an impressive 80 Newton meters of torque. This robust motor doesn't just promise power; it delivers a ride that feels genuinely sporty and exhilarating.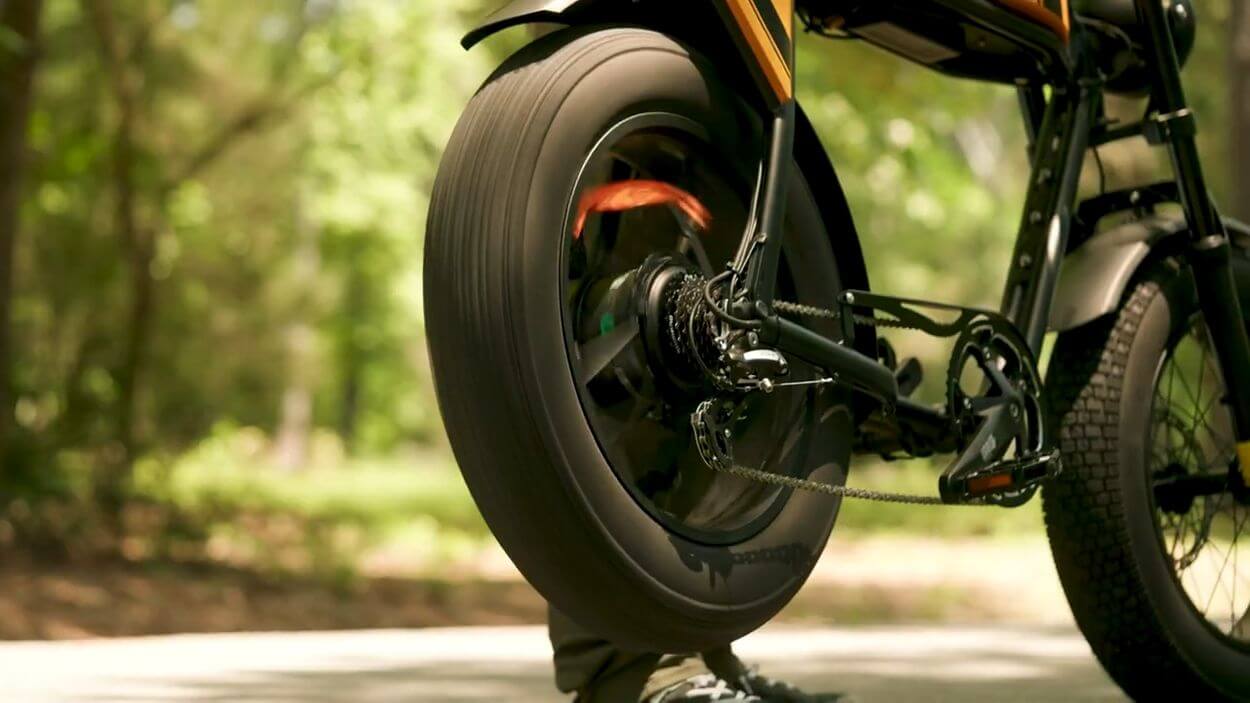 During our rigorous ride test, we put the Outsider 5.0 through its paces, and it didn't disappoint. With the motor assisting, we effortlessly reached a top speed of 20 miles per hour. However, what truly sets this e-bike apart is its potential to unlock even greater speeds. By unleashing its full potential, you can reach a thrilling top speed of 28 miles per hour. 
One standout feature that enhances the riding experience is the underbar thumb throttle. This throttle control allows you to independently reach speeds of up to 20 miles per hour, regardless of the pedal assist level you're in.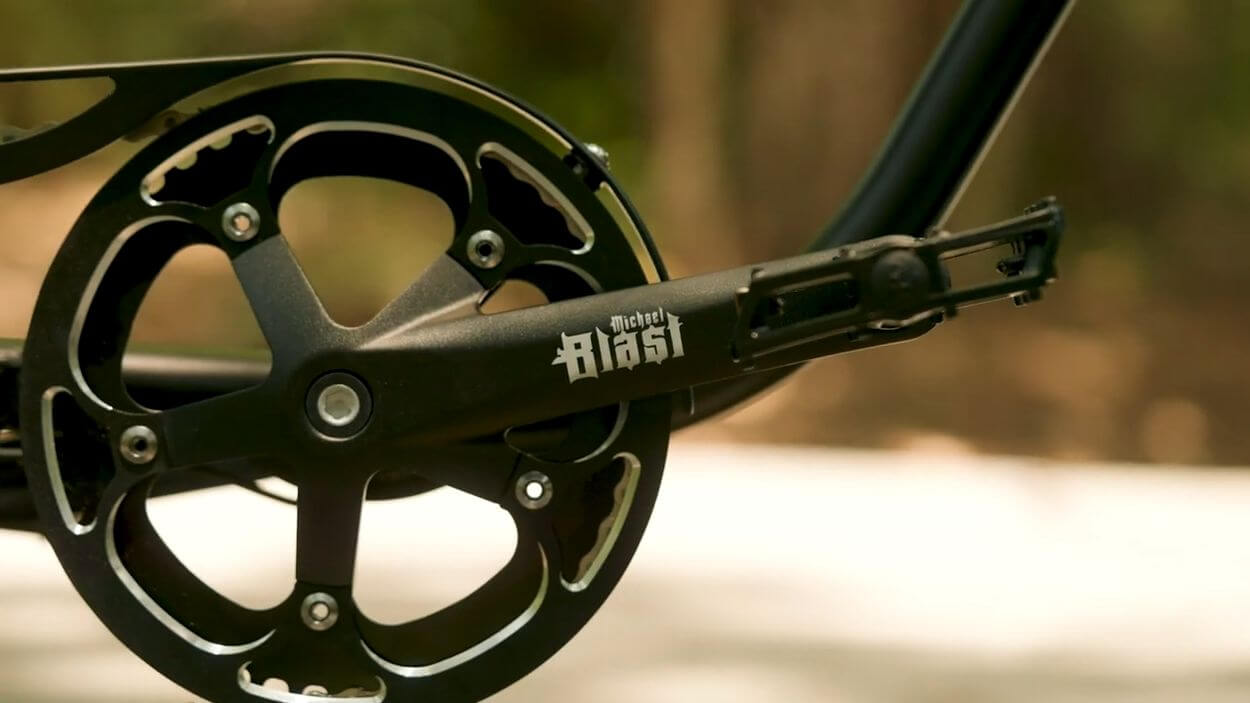 Whether you're tackling steep hills, navigating through traffic, or simply enjoying a brisk ride, the Outsider 5.0's motor and throttle system work seamlessly to provide a sporty and responsive feel. The combination of power, speed, and control makes this e-bike an exciting choice for riders looking to inject some adrenaline into their daily commute or weekend adventures.
Comparison Michael Blast Outsider 5.0 vs 4.0
It's fascinating to see the evolution of the Michael Blast Outsider series, especially when comparing the 5.0 to its predecessor, the 4.0. We had the chance to review the Outsider 4.0 last year, and it's impressive to note the significant improvements that have been made in the 5.0 model.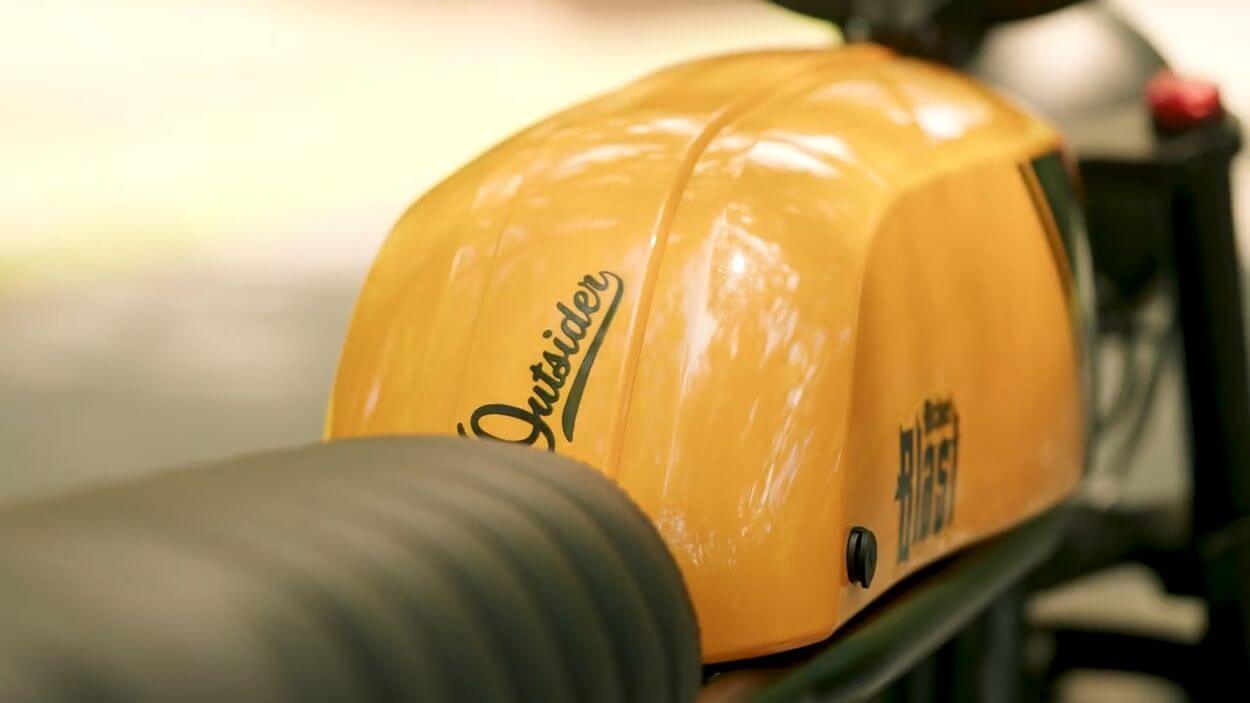 One of the most noteworthy upgrades is the battery. The Outsider 5.0 now boasts a massive 960-watt-hour battery, a substantial increase from the 696-watt-hour battery in the 4.0. This boost in battery capacity has expanded the estimated range from 25 miles to an impressive 40 miles. This upgrade provides riders with extended ride times, allowing for more adventurous and longer journeys without worrying about running out of power.
Another notable enhancement is the front suspension. While maintaining its performance, the Outsider 5.0 presents a sleeker appearance with all-black stanchions. This not only adds to the bike's overall aesthetics but also enhances its visual appeal.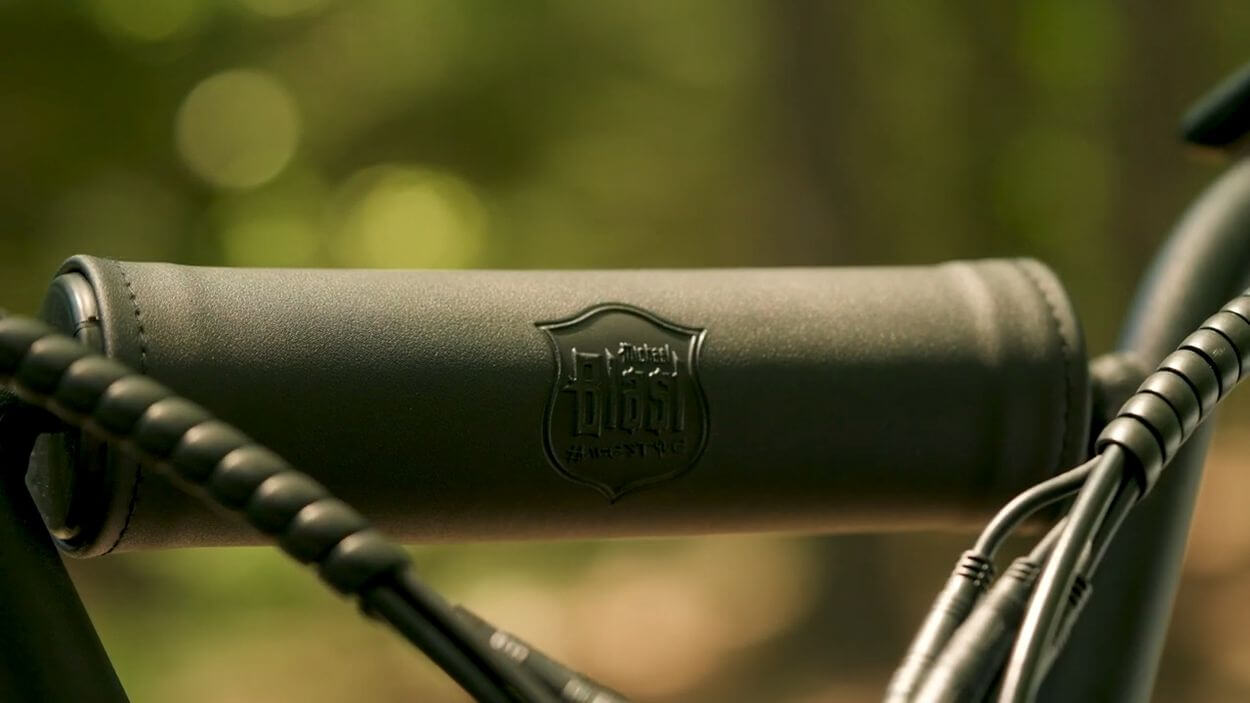 Safety and performance have also been improved with the installation of larger 203-millimeter Tektro hydraulic brake rotors, up from the 180-millimeter rotors on the 4.0. This upgrade provides superior stopping power, ensuring riders have the control they need, especially at higher speeds.
The shift from 4-inch to wider 5-inch "cool ride" tires offers better grip and a more imposing look, further elevating the bike's presence on the road. Additionally, the standard height of the 5.0 has increased, allowing taller riders to enjoy a more comfortable riding experience.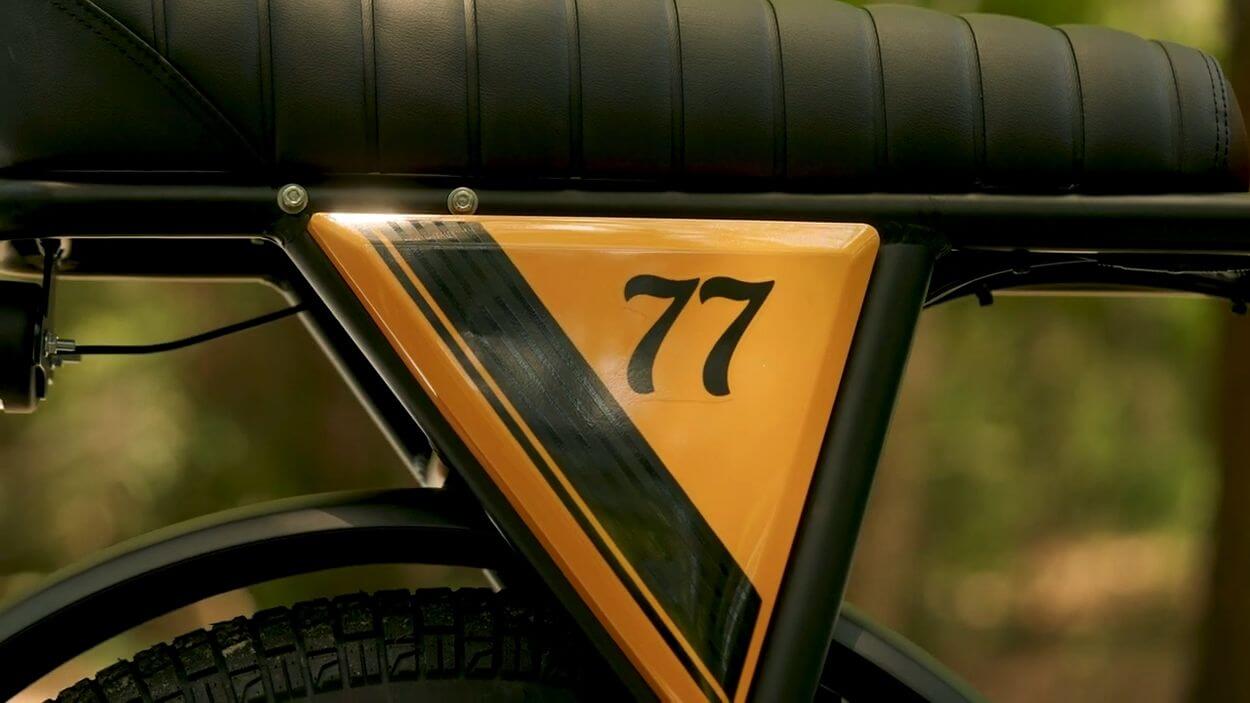 One of the standout changes in the 5.0 model is the removal of the mid-frame support bars that were present in the 4.0. This design modification not only enhances the bike's aesthetics, giving it a sleeker and more streamlined appearance but also contributes to a more comfortable and enjoyable ride.
Moreover, the Outsider 5.0 has been engineered to support riders of up to 300 pounds, a substantial improvement over its predecessor. This increased weight capacity makes the bike accessible to a broader range of individuals, ensuring that more people can experience the thrill of riding this impressive e-bike.
Michael Blast Outsider 5.0: Riding Test
Currently, we have it set in class 2 mode, which is how it typically ships. Although there's a way to unlock a top speed of 28 miles per hour, for this review, we'll stick to class 2 mode. We've also set the pedal assist level to 5.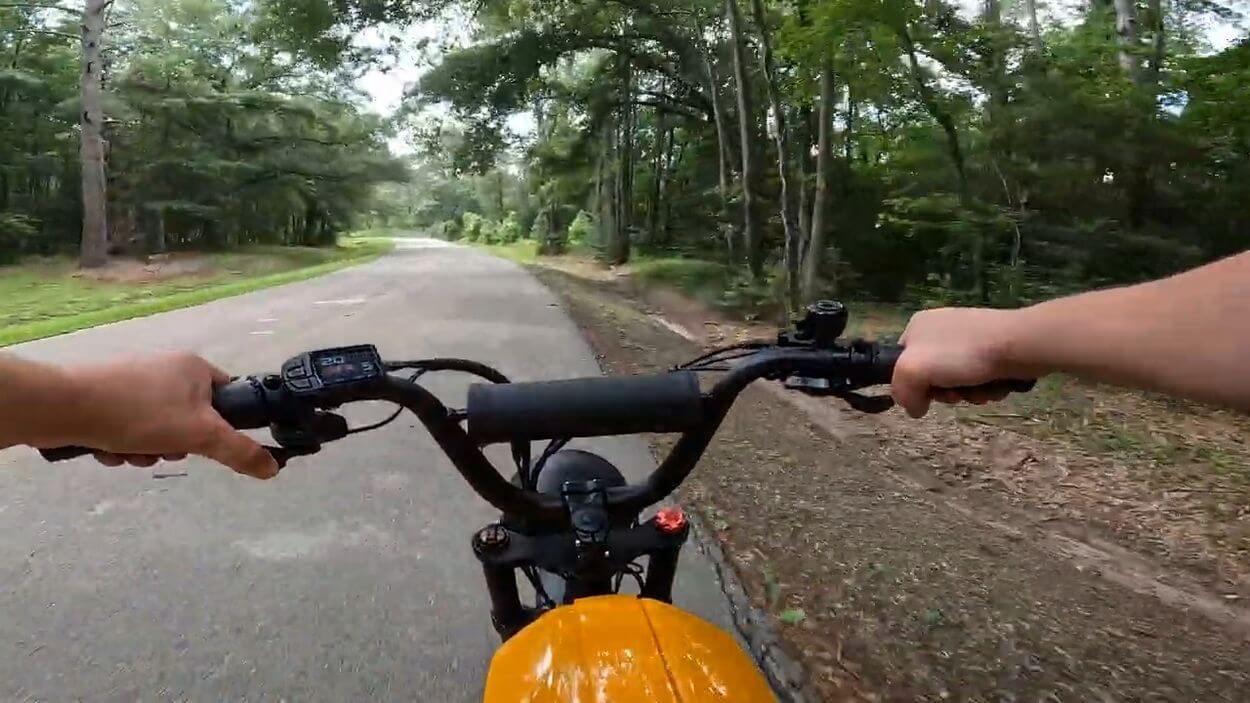 As soon as you hop on the Outsider 5.0, you'll notice that it has a motorcycle-like feel. The ride experience is remarkably similar to riding a motorcycle, with a few exceptions. Despite the smaller tires, which add to the bike's agility, the ride is incredibly stable and comfortable. The seating position, handgrip placement, and overall feel mimic that of a motorcycle, giving you an authentic riding experience.
The bike's front suspension does an excellent job of smoothing out bumps and imperfections in the road. It offers a comfortable ride, and you'll feel confident as you cruise along.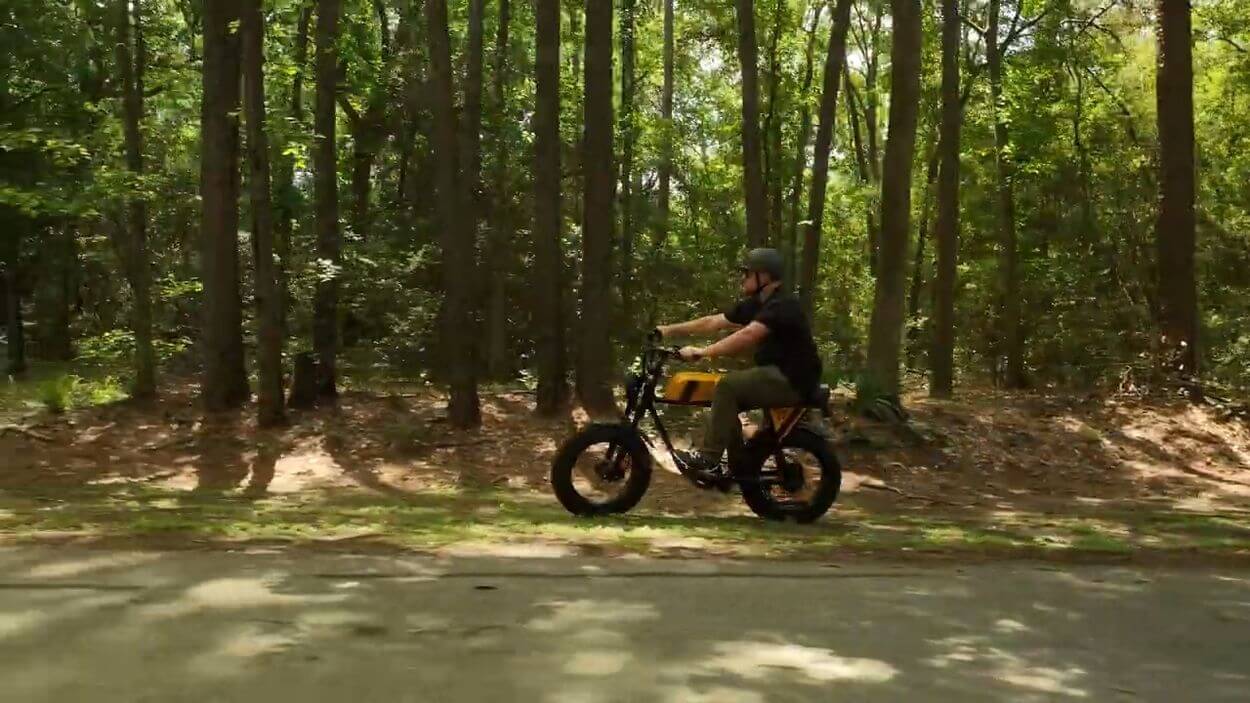 Now, here's a neat feature worth mentioning: there are two different modes within each level of pedal assist. For instance, if you double-tap either the up or down button, it'll switch between Eco mode and a more sporty mode, which I've affectionately called "S mode." Eco mode provides a smoother, slower takeoff, while S mode gives you more torque and a faster acceleration. This feature allows you to customize the bike's performance to your liking.
The Outsider 5.0 also has pedals, and they work smoothly. There's no ghost pedaling, and you can comfortably pedal while riding. The transition between throttle and pedal assist is seamless, making it easy to switch between the two while riding.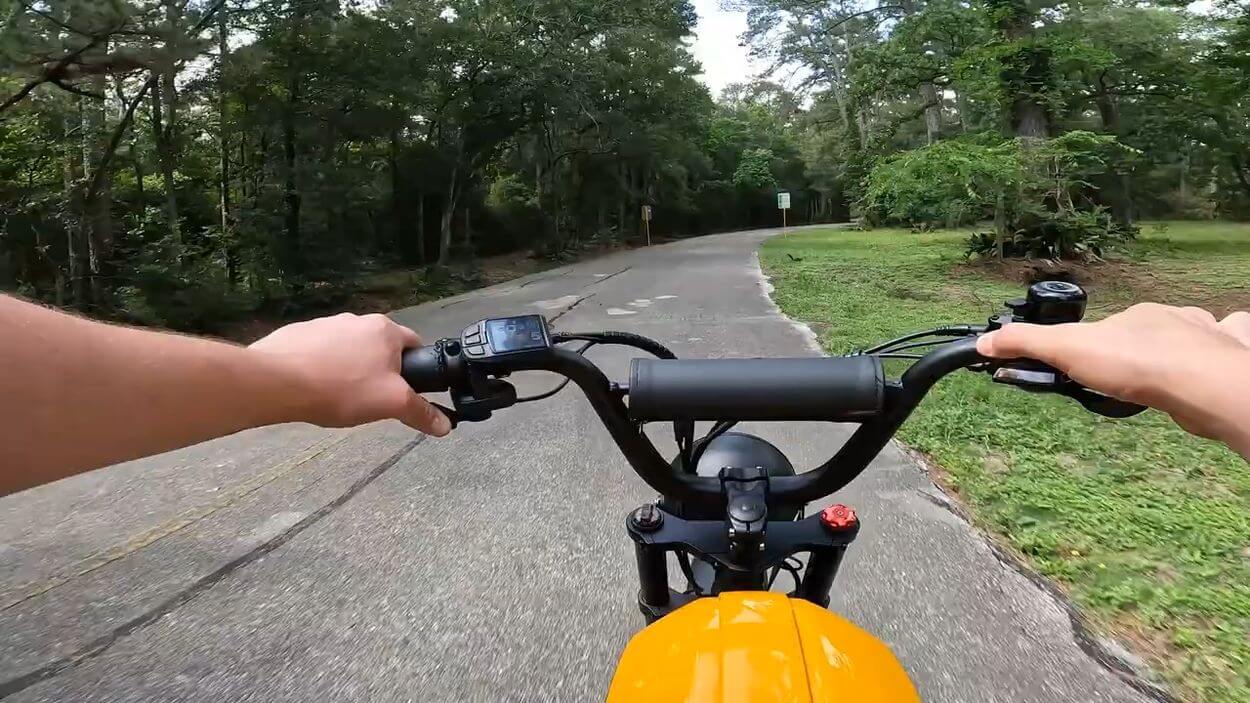 As for braking, the bike features large hydraulic brakes that bring you to a quick and controlled stop. They're impressively responsive and provide a high level of safety, even when traveling at higher speeds.
To sum it up, the Michael Blast provides an exceptional ride experience. It offers the excitement and feel of a motorcycle while maintaining modern e-bike features and design. The ride is stable, the acceleration is customizable, and the handling is impressive. It's not just a motorcycle look-alike; it's a true performer on the road. Now, I'm off to explore more of its capabilities, and this bike definitely looks ready for some off-road adventures as well.
Battery and Range
The Michael Blast Outsider 5.0 is not only a powerhouse in terms of performance but also in terms of its energy source. This e-bike is powered by a removable 960-watt-hour battery, and it's this battery that ensures you can go the distance, providing riders with a minimum range of 40 miles on a single charge.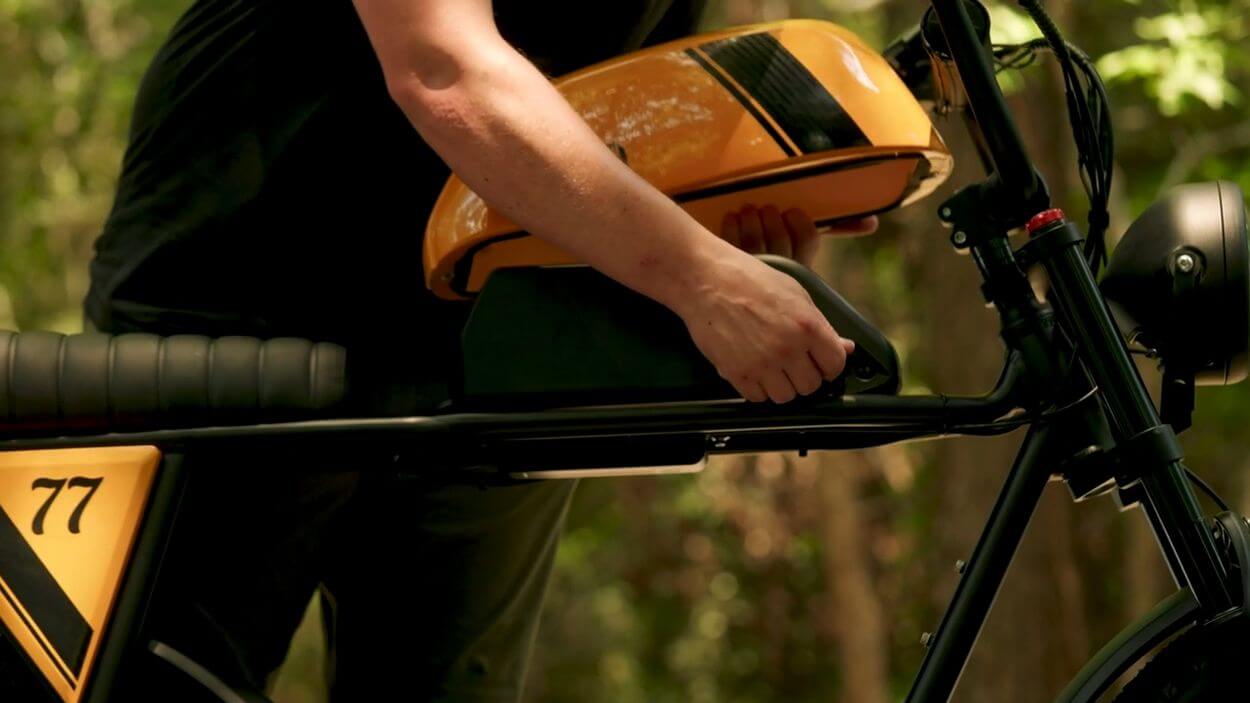 For those who enjoy a bit of pedaling along with the electric assist, you may find that you can squeeze out even more mileage from this impressive battery. The exact range will depend on various factors, including your pedaling effort and the terrain you're traversing. However, for those of us who prefer to unlock the full potential of this beast and rely mainly on the throttle for a thrilling ride, you can still expect to cover an impressive 35 to 40 miles on a single charge.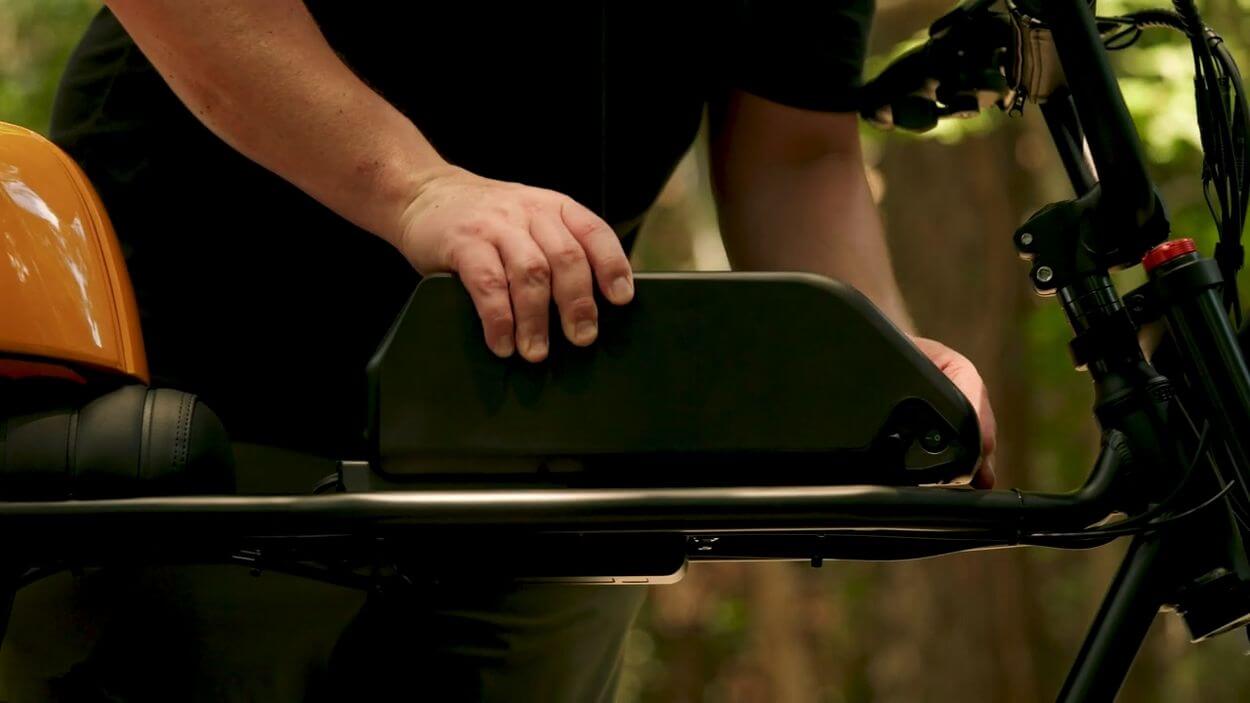 The convenience factor doesn't stop with the battery's impressive range. Michael Blast has taken the extra step to make the battery removable, enhancing the practicality of the Outsider 5.0. What's even more impressive is the attention to detail they've put into the design. The e-bike features a stylish gas tank cover that not only adds to its overall aesthetic but also serves a practical purpose. 
Conclusions
Thank you for joining us on this thrilling ride as we reviewed the Michael Blast Outsider 5.0. This e-bike offers a unique blend of style and performance, delivering a motorcycle-like experience with the convenience of modern e-bike features.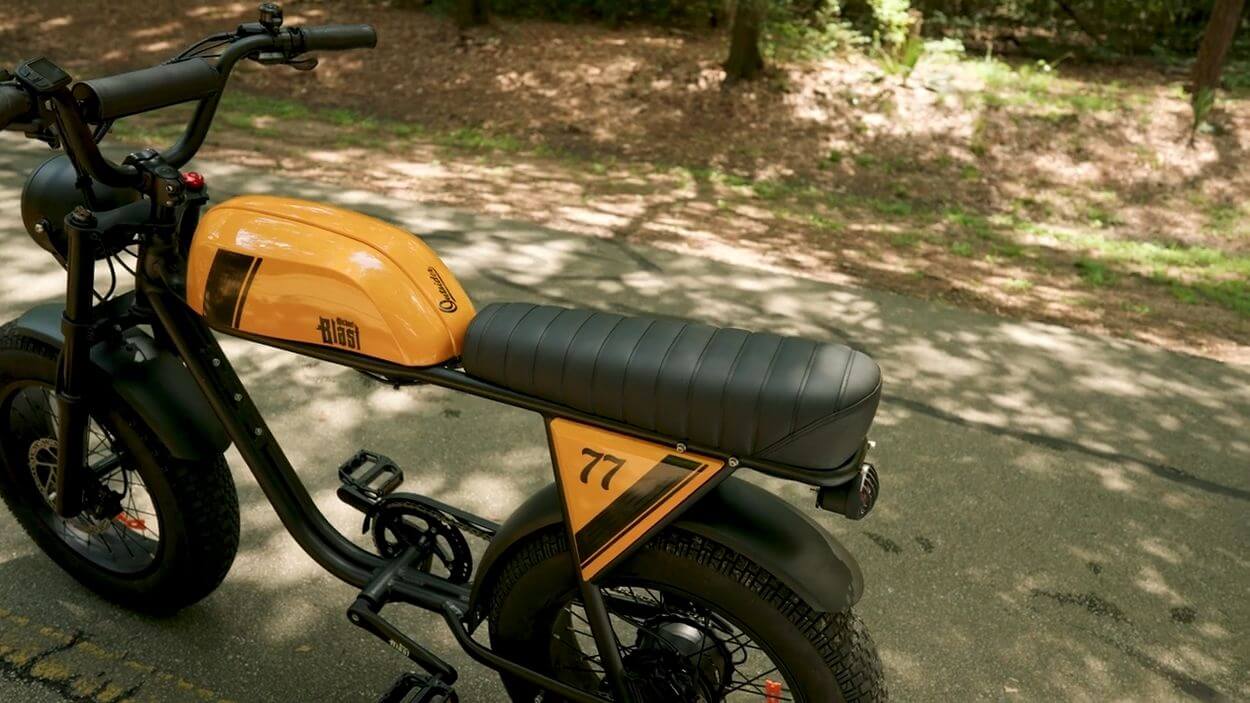 If you're interested in learning more about Michael Blast and their range of e-bikes, be sure to check out the link in the description. For a more detailed review and additional photos, you can visit electrifiedreviews.com.
We hope you've enjoyed this journey with us, and we look forward to having you with us on the next adventure. Until then, ride safe and stay electrified!
Alternatives of Michael Blast Outsider 5.0