Hello, I'm Issam, and I'm excited to introduce you to a remarkable electric scooter, the ANGWATT F1. In my opinion, this scooter is an outstanding value proposition for several reasons, and I'll dive right into why it's a standout choice.
The F1 is not only budget-friendly but also packs a powerful punch. Equipped with a dual-motor setup, this scooter delivers impressive performance. With both motors engaged, you can achieve speeds of up to 65 km per hour, and even at 90 kg, you'll reach a remarkable 68 km per hour.
The F1 caters to riders of varying preferences and needs. It offers the flexibility to limit both power and speed to 25 km per hour.
The ANGWATT prioritizes rider comfort with a dual hydraulic shock absorber system. This suspension setup ensures a smoother and more controlled ride, absorbing bumps and vibrations effectively. Therefore, if you are interested in a new scooter, then I suggest you dive into the detailed review below.
| | |
| --- | --- |
| Material | Iron + Aluminum Alloy |
| Motor | 2x1200W(Peak Power) Motor |
| Max Speed | 55-65 Km/h |
| Climbing Angle | 45° |
| Shock Absorption | Front And Rear Shock Absorption |
| Tire | 10inch Pneumatic Off-Road Tires |
| Turn Signal | Rear Turn Signal |
| Drive Type | Brushless Hall Motor |
| Battery | 52V 28Ah Lithium Battery |
| Max Mileage | 60-80 Km |
| Max Load | 150KG |
| Packing Weight | 37KG |
| Body Size | 112x58x109-127cm |
| Folding Size | 112x20x46cm |
| Package Size | 125x26x50cm |
Design and Build Quality
The ANGWATT F1 electric scooter boasts a thoughtful design and impressive build quality, with a few noteworthy features and considerations.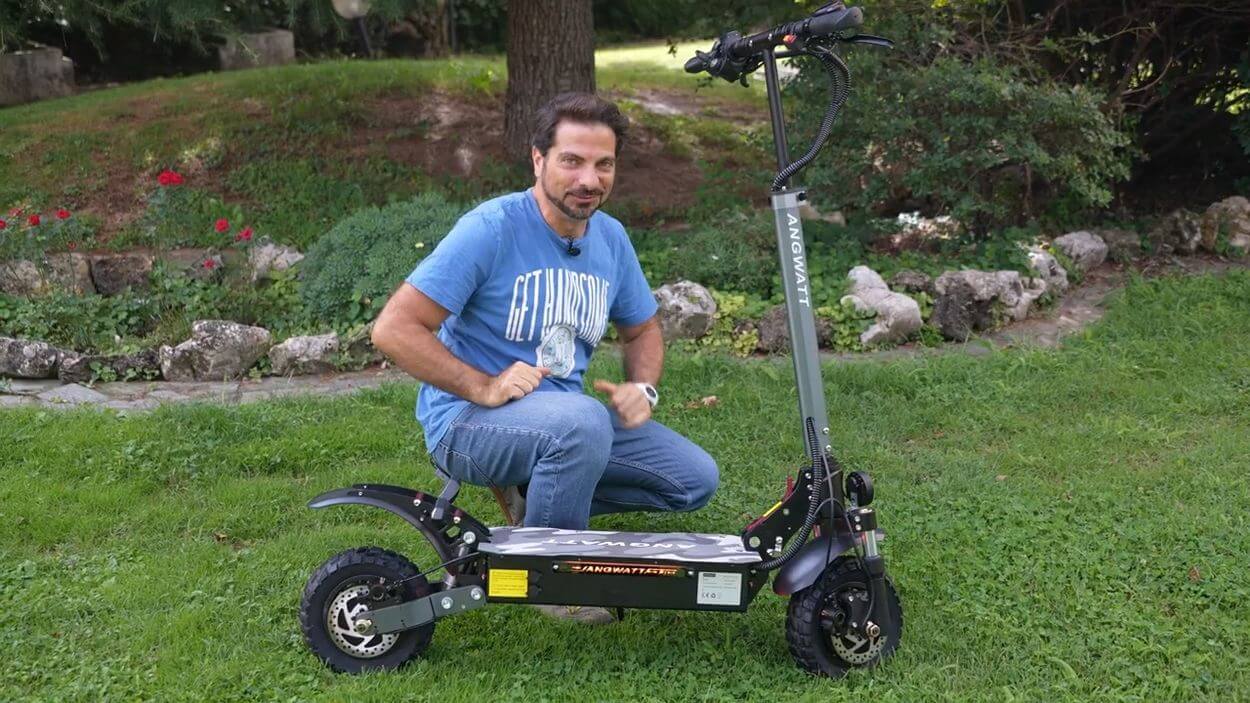 The front fork's full suspension system is finely tuned, providing a comfortable ride for riders weighing around 80 kg. The hydraulic suspension effectively absorbs shocks and vibrations, enhancing the overall riding experience. However, the rear suspension is somewhat stiffer for an 80 kg rider and seems better suited for those weighing around 90 kg.
The shock absorber is on the firmer side, which may not be ideal for riders seeking an extra plush ride, but it provides stability and control, especially at higher speeds.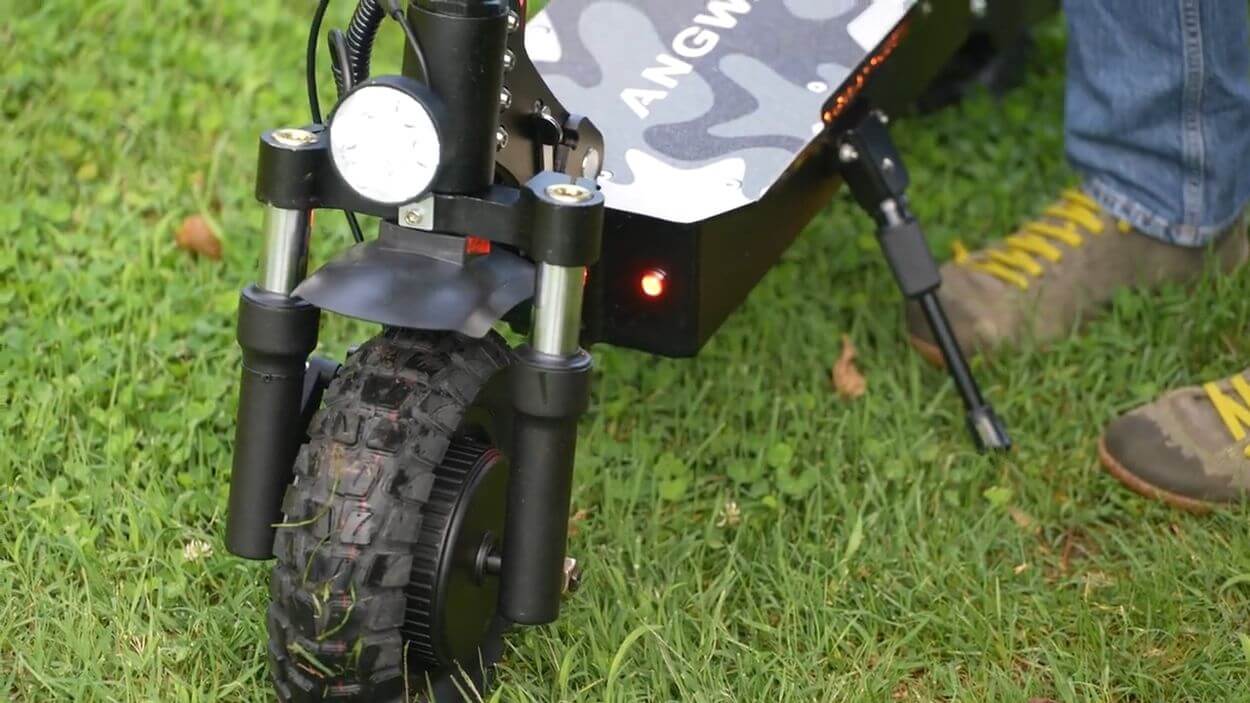 One potential drawback of the ANGWATT F1 is its 10-inch wheels. Given the available space, 11-inch wheels could have offered better stability and a smoother ride. Larger wheels would have increased the scooter's overall performance, especially on uneven terrain.
The mixed road and off-road tires are primarily designed for off-road use. They are not tubeless, which means they have inner tubes. This design choice may limit puncture resistance and require more maintenance.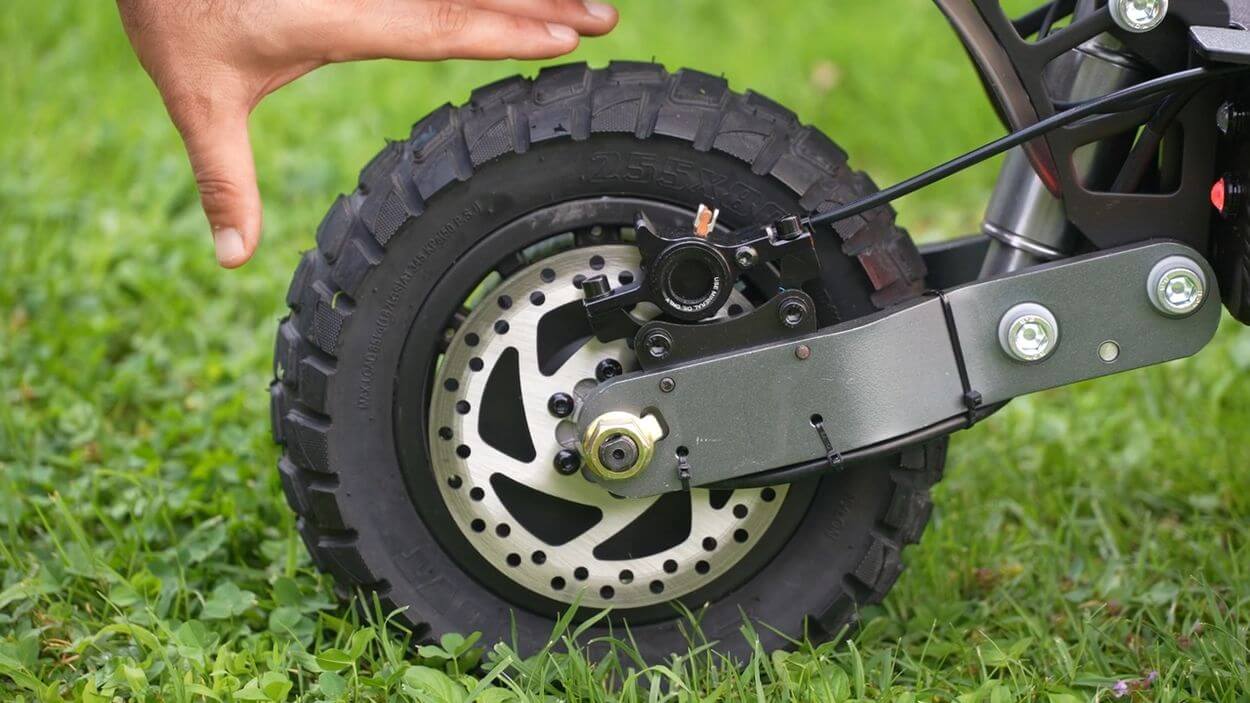 The hydraulic front and rear brakes are a highlight, delivering excellent stopping power and control. They enhance safety and confidence during rides, especially in challenging conditions.
The scooter's weight, at 31 kg, is on the heavier side, largely due to the double engine and battery setup. While this weight makes it less portable, the scooter is designed with a convenient folding mechanism for easy transport. The handlebar can be quickly folded down to a compact size, making it manageable to carry when needed.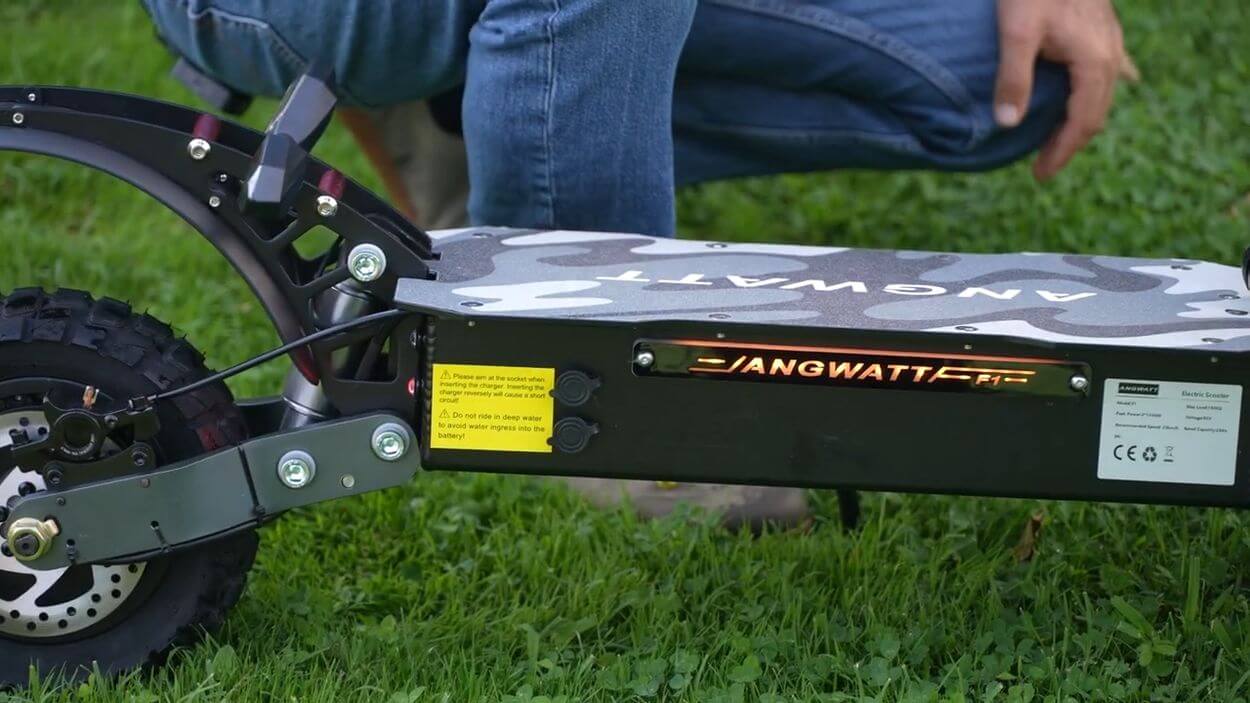 The scooter features a useful real-time battery voltage display, allowing riders to monitor the remaining battery power conveniently.
On the left side of the handlebar, you have control over the scooter's lighting system. You can switch on and off both the front and rear lights, with additional side lights for added visibility. The scooter also features brake lights and turn signal indicators, enhancing safety during rides.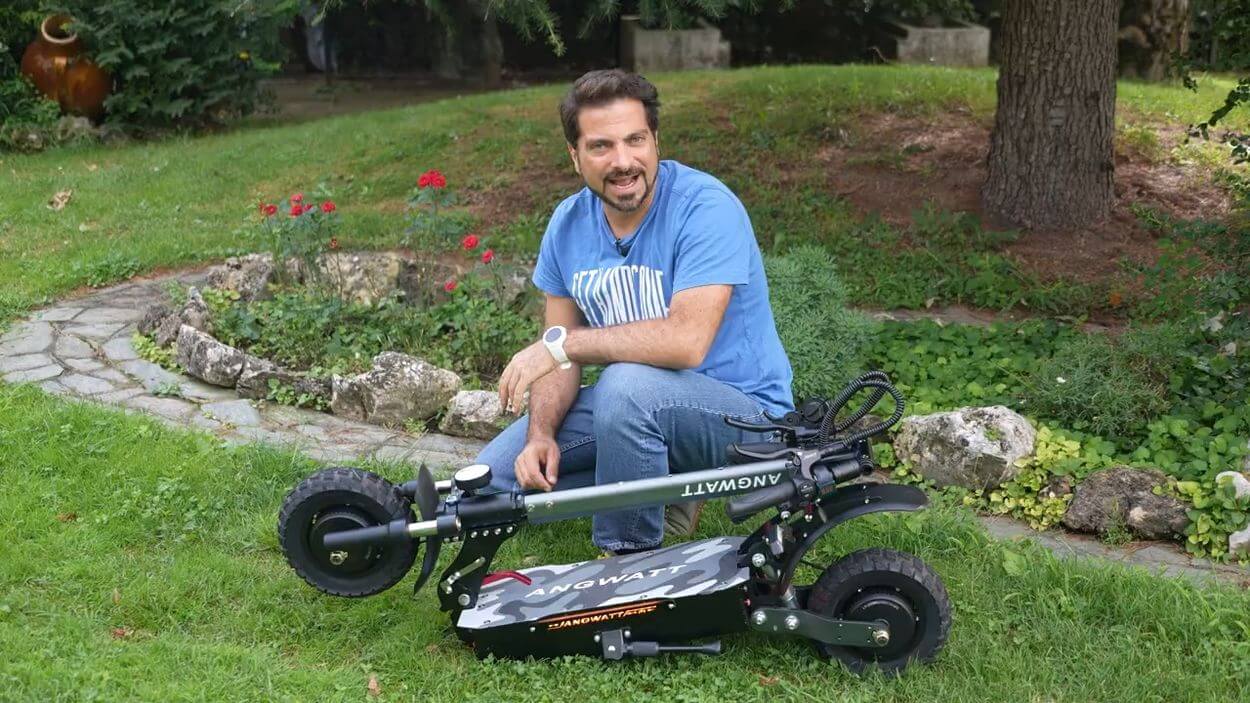 The F1 includes an excellent instruction manual with detailed photographs, simplifying assembly and setup. However, it lacks information about the multifunction display, which may require users to refer to additional resources for full understanding.
ANGWATT F1 includes a double key system for turning the scooter on and off, providing added security and disconnecting the battery completely when powered off, preventing unauthorized use.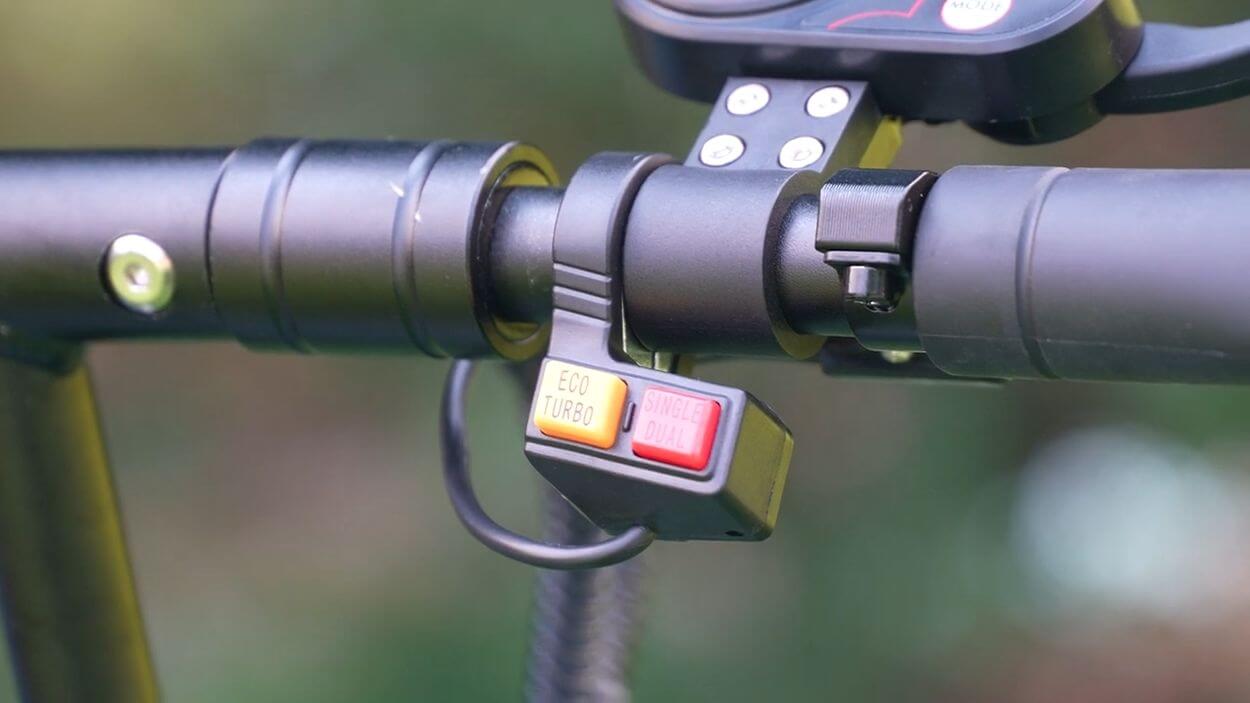 The scooter comes with a multi-spanner tool for checking and tightening screws and bolts. Ensuring proper maintenance and safety is highly recommended, as some components may not be tightly secured from the factory.
So the ANGWATT F1 offers a well-designed and durable electric scooter with a few minor shortcomings, such as the 10-inch wheels and the need for careful maintenance checks. However, its comfortable suspension, powerful hydraulic brakes, and foldable design make it a compelling choice for riders seeking a balance between performance and portability.
Handlebar 
The ANGWATT F1 electric scooter offers a handlebar that combines convenience and safety, making it an excellent choice for riders seeking versatility and stability in their scooter's design.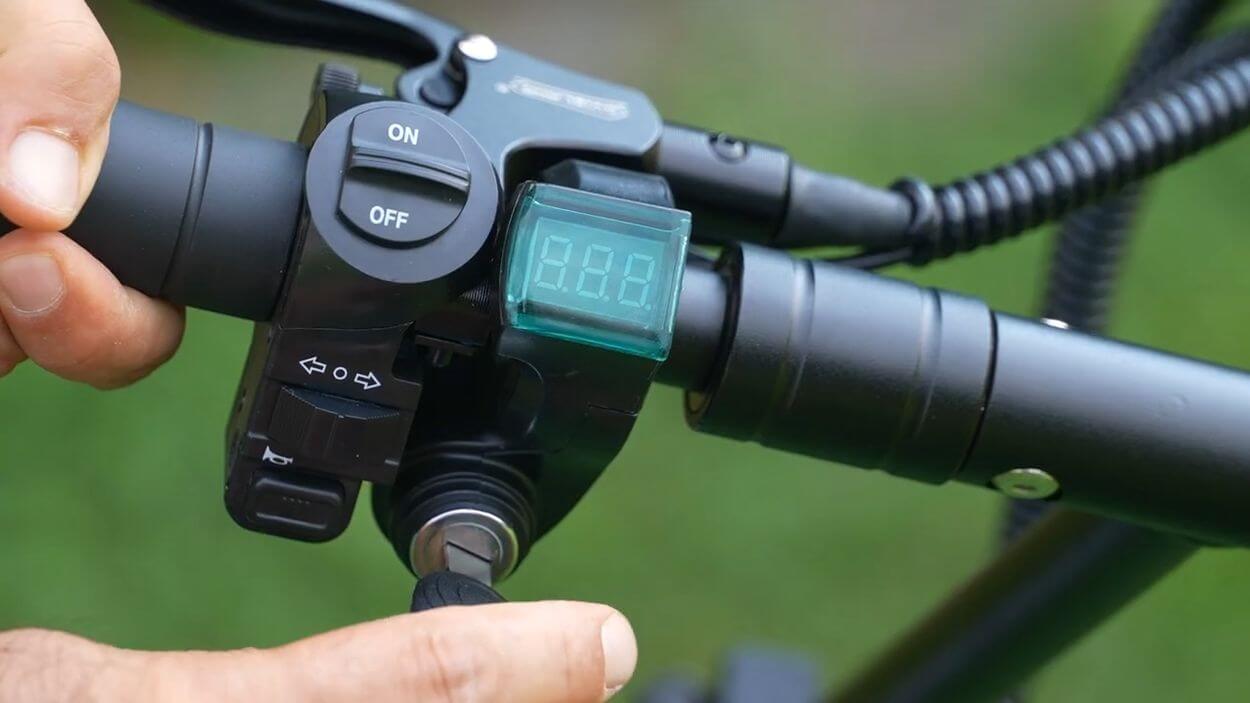 The handlebar's folding mechanism is a standout feature of the F1. It allows for quick and easy folding when you need to transport or store the scooter. 
In addition to its folding capability, the handlebar is also adjustable in height, thanks to a telescopic stem. This telescopic stem design provides riders with the flexibility to customize the handlebar height to their preferred riding position. Whether you want it higher or lower, you have the freedom to make the necessary adjustments.
What sets the telescopic stem on the ANGWATT F1 apart is its built-in safety feature. The stem is designed with a secure locking mechanism, ensuring that it remains firmly in place once adjusted to the desired height. 
To accommodate the telescopic stem's adjustability, the ANGWATT F1 is equipped with appropriately sized cables and wiring. This thoughtful design ensures that even with significant changes in handlebar height, the cables remain slack-free and functional. Riders won't have to worry about limiting their handlebar height adjustments due to cable constraints.
Display and Controls
The ANGWATT F1 electric scooter offers an array of customizable settings, including the unique ability to adjust the initial acceleration of the rear engine.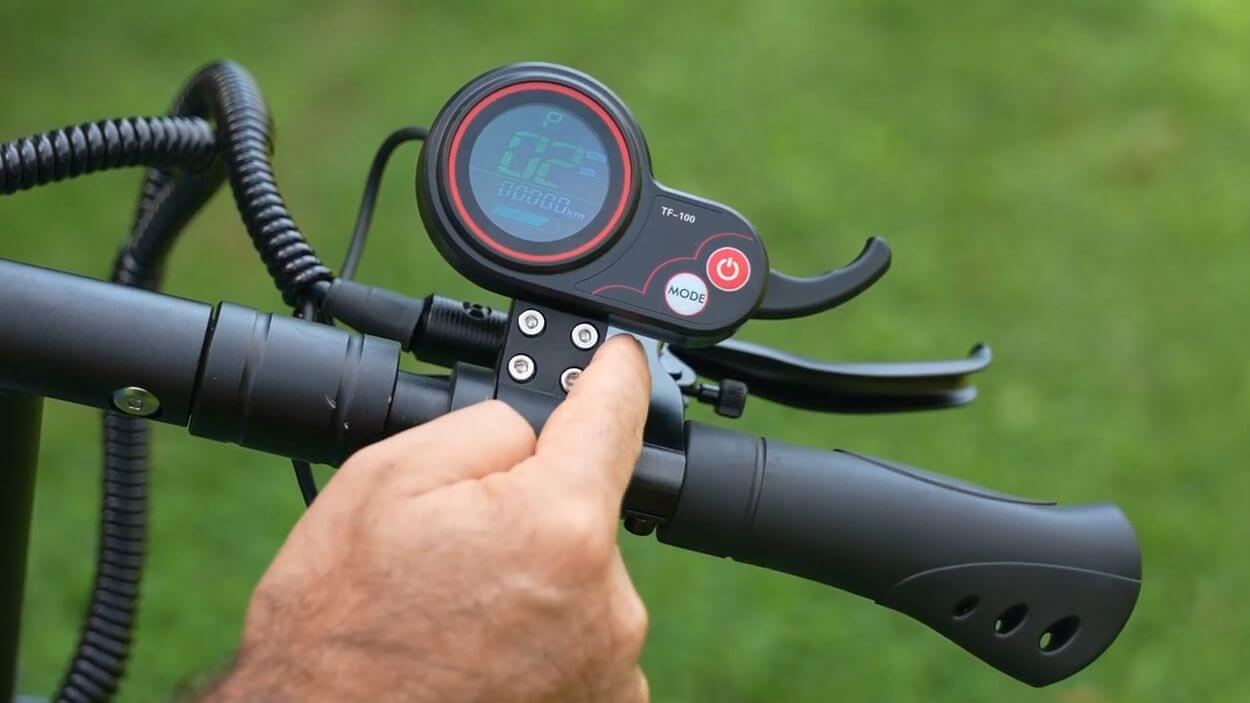 One notable aspect of the F1's design is the gentle and gradual response of the rear engine, especially when riding with only one engine engaged. This level of control allows for a smoother and more gradual acceleration, making it particularly useful when you're navigating tight spaces or require a softer start.
To access and modify the initial acceleration setting, users can utilize the multifunction display. The process involves pressing and holding both the "On and Off" button and the "Mode" button simultaneously. This action will navigate you to menu "p12" on the display, where the initial acceleration setting is found. By default, this setting is typically set to 5, representing the maximum initial acceleration.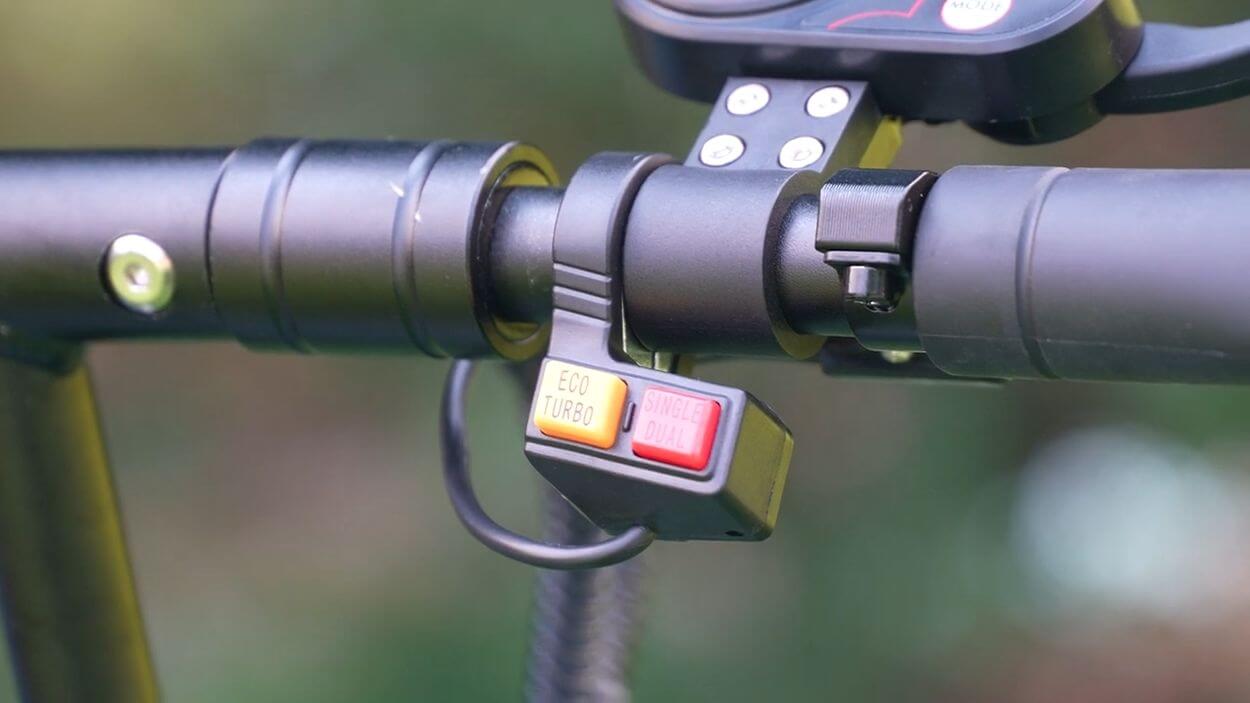 The beauty of this feature lies in its ability to be customized to suit your riding preferences. By adjusting the initial acceleration setting to a lower value, such as 0 or 1, you can make the acceleration even smoother and more gradual when operating with a single engine. 
The multifunction display offers a range of other customizable settings, such as zero start functionality and cruise control settings. These adjustments can further enhance your riding experience by allowing you to fine-tune the scooter's behavior to your liking.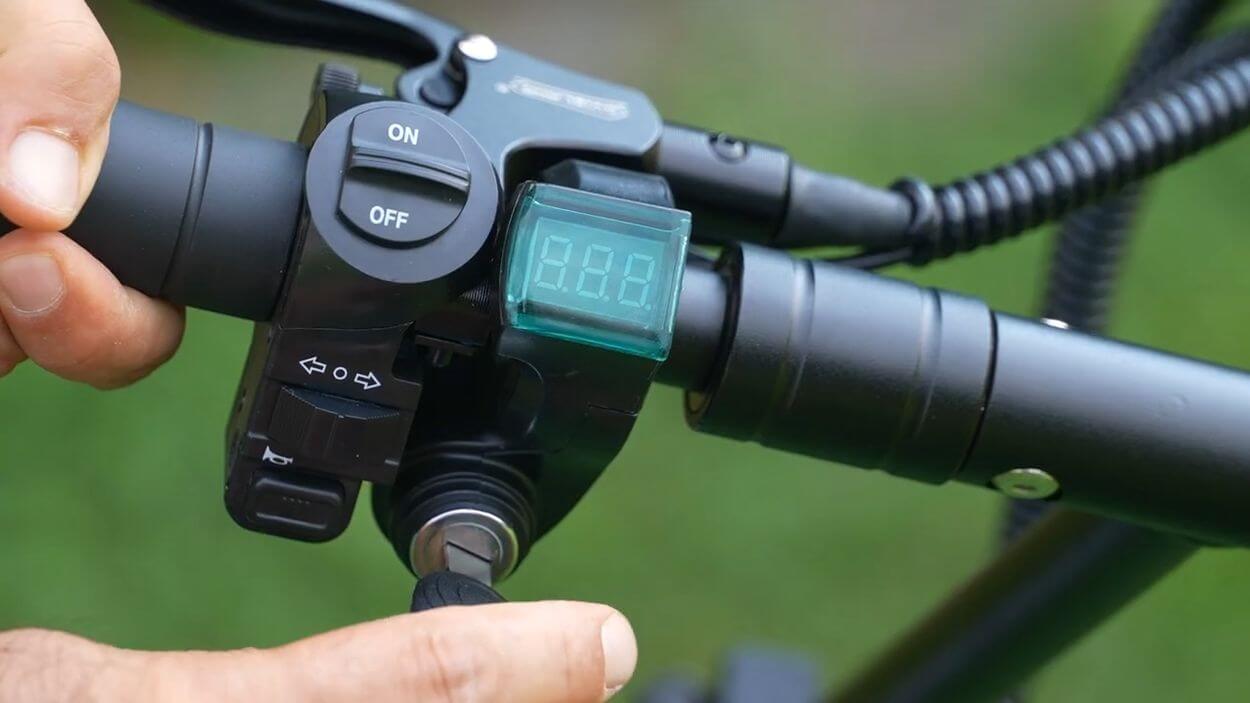 It's worth noting that the ANGWATT F1's multifunction display may require some familiarity to navigate effectively. The button functions may not be entirely intuitive, and it's easy to unintentionally modify settings. To avoid unintentional changes, it's essential to understand how the buttons work and how to confirm and exit settings properly. Referring to the instruction manual provided or seeking guidance can help users navigate and restore default parameters if necessary.
ANGWATT F1:
Motor and Riding Test
The ANGWATT F1 electric scooter boasts an impressive dual-engine setup, with each engine delivering a maximum power output of 1200 watts. When both engines are activated using the handlebar button, riders can experience a combined power output of a staggering 2400 watts, providing an electrifying acceleration and speed boost.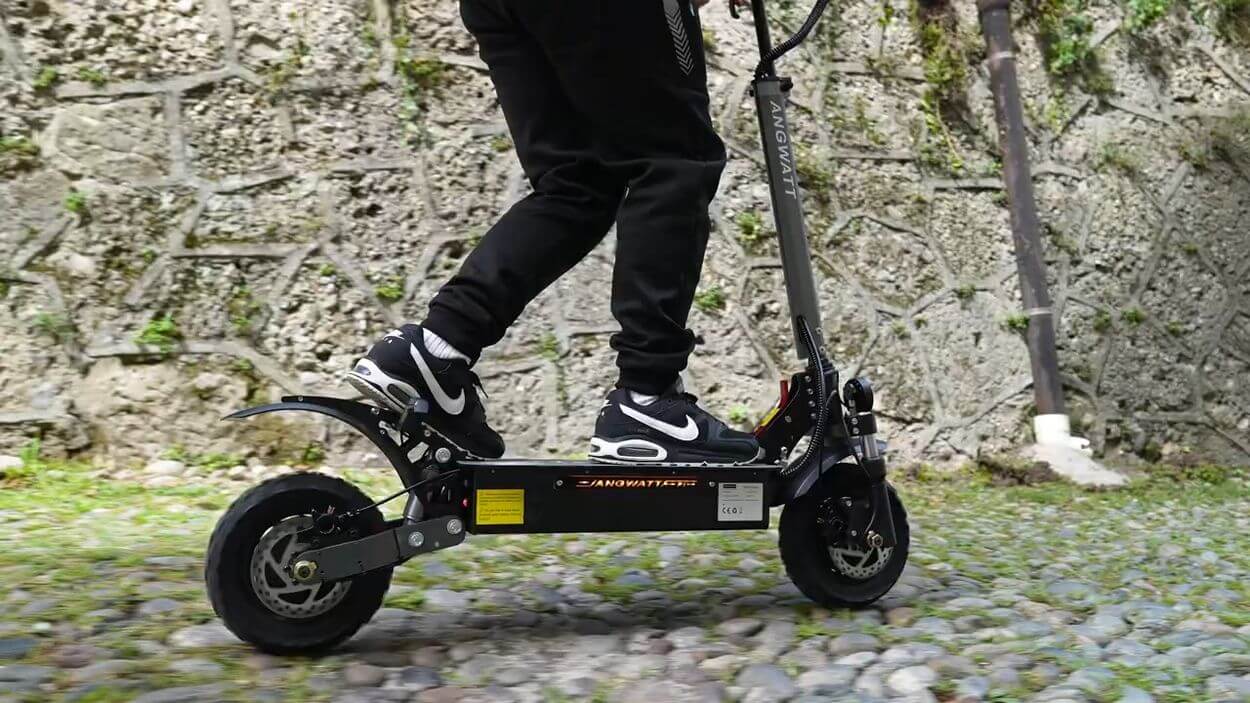 The dual-engine configuration is a standout feature of the ANGWATT F1, offering riders the option to tap into the full potential of this powerful scooter. The instant acceleration and torque provided by both engines make it an exhilarating ride, especially for those who crave a burst of speed.
The rear engine's power can be finely adjusted via the multifunction display, allowing riders to customize the scooter's performance to their liking. This level of control ensures that the scooter can be tailored to suit various riding conditions and preferences.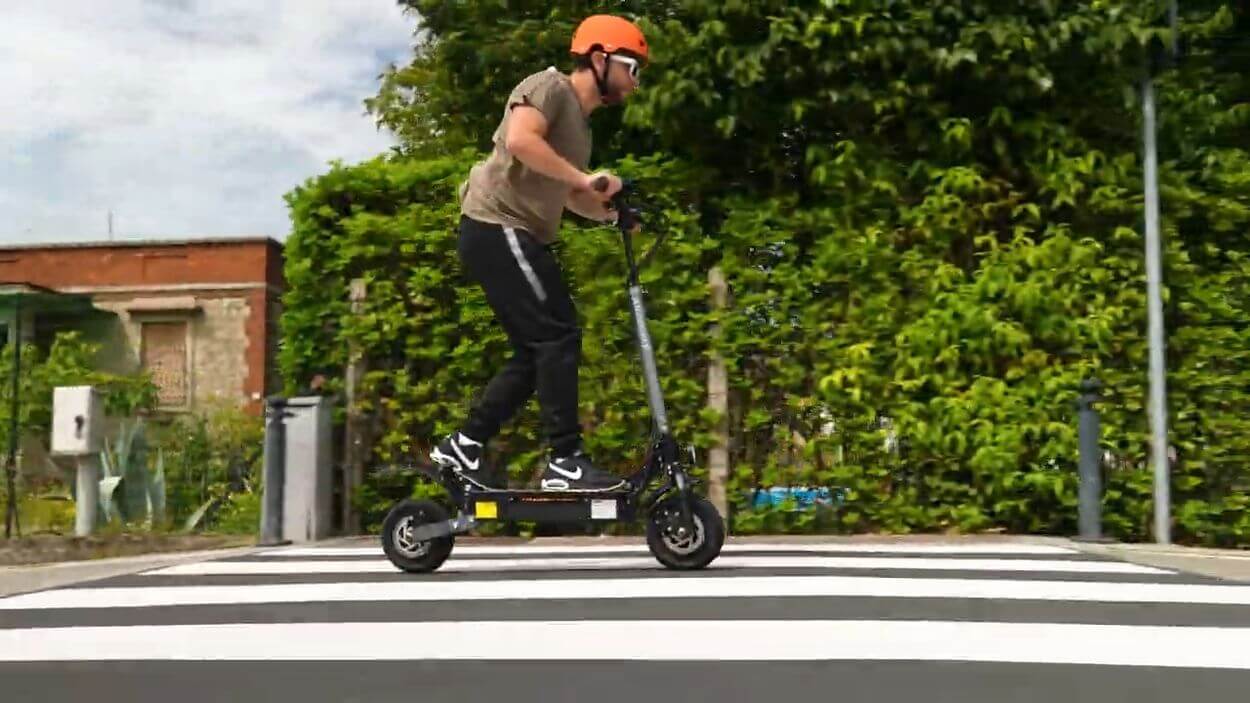 For quick and convenient adjustments, the ANGWATT also features an Eco mode. When activated, Eco mode limits both engine power and top speed to 25 km per hour, conserving energy and extending battery life. This feature is handy for leisurely rides or when adhering to speed limits.
With the Eco mode activated, the ANGWATT F1 reaches a maximum speed of 25 km per hour. However, when the Eco mode is deactivated, the scooter's speed capabilities are unleashed.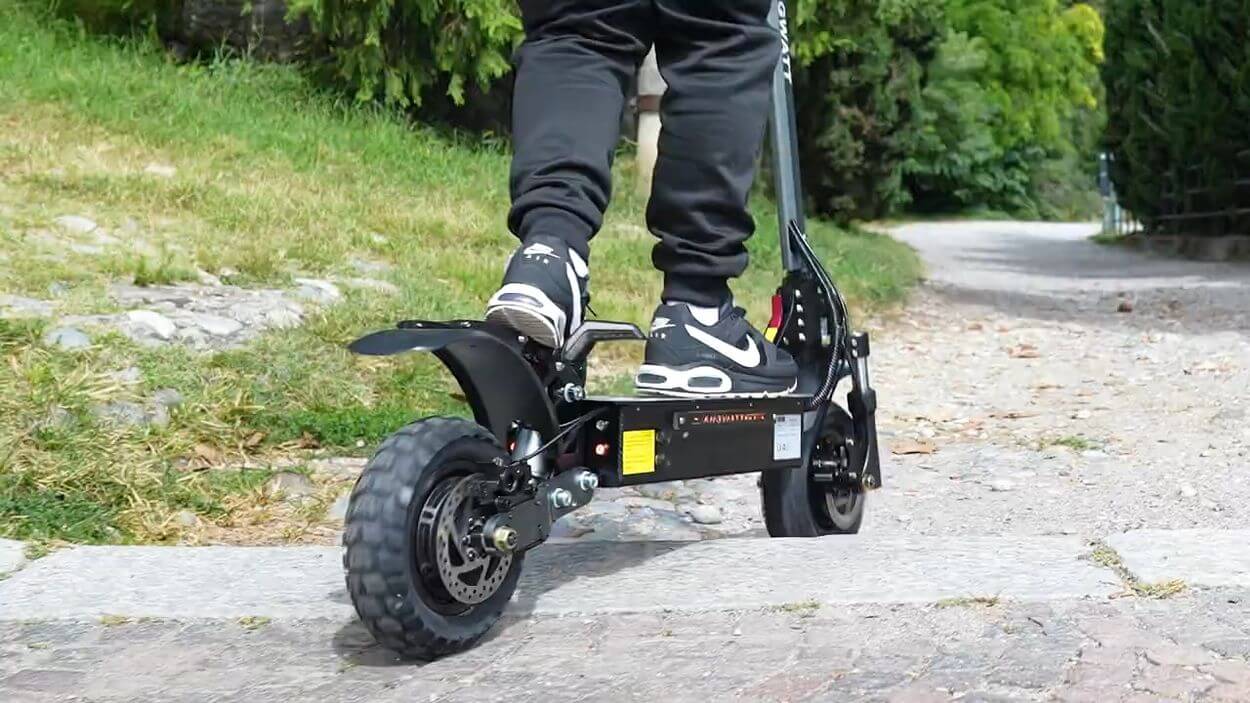 With both the single engine and dual engine configurations, the ANGWATT F1 can achieve remarkable speeds, making it a thrilling option for those who love the rush of a fast ride.
The scooter's motor brake is noteworthy for its smooth and gradual engagement, ensuring a safe and controlled braking experience. This feature adds to the overall safety and comfort of the ride, especially when decelerating from high speeds.
It's important to note that when using the dual engine configuration, riders should exercise caution during the initial acceleration, as the added torque can cause the front wheel to lift or slip if the weight is not properly balanced. However, with the right technique and weight distribution, this scooter offers a responsive and exhilarating ride.
The ANGWATT F1 impresses with its stability, whether on straightaways or during turns. While some riders may notice slight handlebar movement, it's important to understand that this is normal and does not affect safety, as the handlebar is securely locked in place.
Brake test
Testing the engine brake is an essential aspect of understanding the ANGWATT F1 electric scooter's performance and safety features.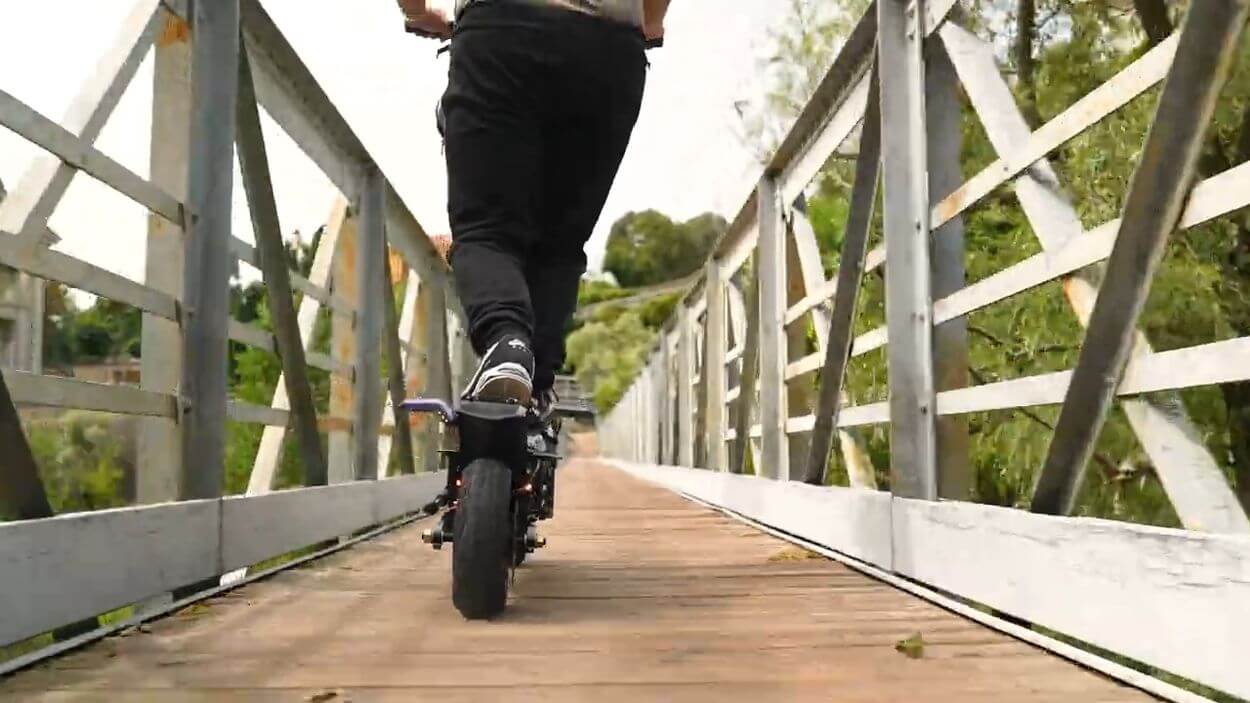 While going downhill at a speed of 50 km per hour, the rider engages the engine brake to initiate deceleration. It's important to note that the engine brake can be somewhat abrupt and not as smooth as traditional brakes. However, it is highly effective in slowing down the scooter.
Despite the initial abruptness of the engine brake, it successfully slows down the scooter, as evidenced by the speed dropping to 29 km per hour. The engine brake provides a noticeable reduction in speed, which is particularly useful when riding downhill or when needing to control speed without using the hydraulic brakes.
Proper weight distribution is crucial when using the engine brake or any braking method. Shifting your weight back, as you mentioned, is essential for maintaining balance and stability during deceleration. This technique ensures that the scooter remains under control, preventing any potential loss of balance.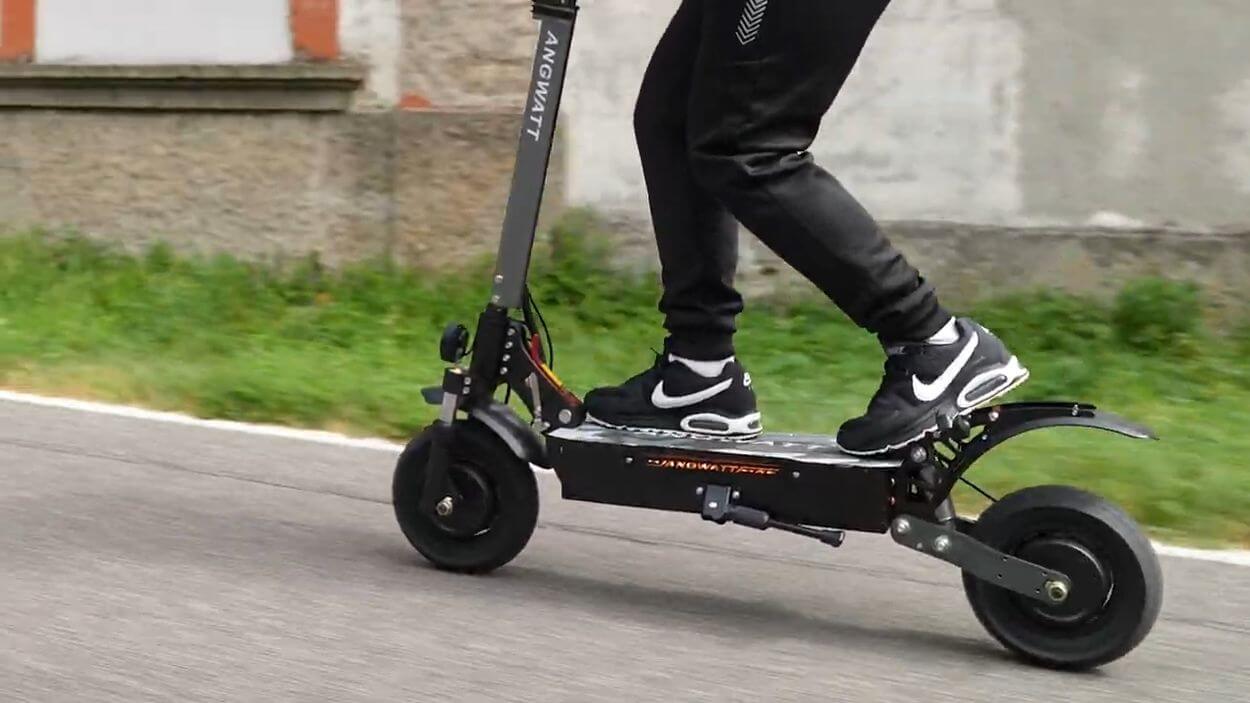 The ANGWATT F1 is designed with ergonomics in mind. The placement and design of the throttle position on the multifunction display, as well as the brake levers, are optimized for optimal braking performance. This thoughtful design ensures that riders can comfortably and intuitively engage both the engine brake and hydraulic brakes when necessary.
The engine brake is known for its relatively gradual engagement, providing a smoother deceleration compared to an abrupt stop. This characteristic is crucial for maintaining rider safety and comfort when using the engine brake.
In addition to the engine brake, the ANGWATT F1 features powerful hydraulic brakes. These brakes offer excellent stopping power and control, ensuring the rider can safely and efficiently bring the scooter to a stop when needed. The combination of both engine and hydraulic brakes provides redundancy and enhances safety during rides.
Battery and Range
The battery of the ANGWATT F1 is substantial, with a generous capacity of 28 ampere-hours (Ah) and a voltage of 52 volts. This results in a total energy capacity of 1,456 watt-hours (Wh), which is a remarkable figure for an electric scooter.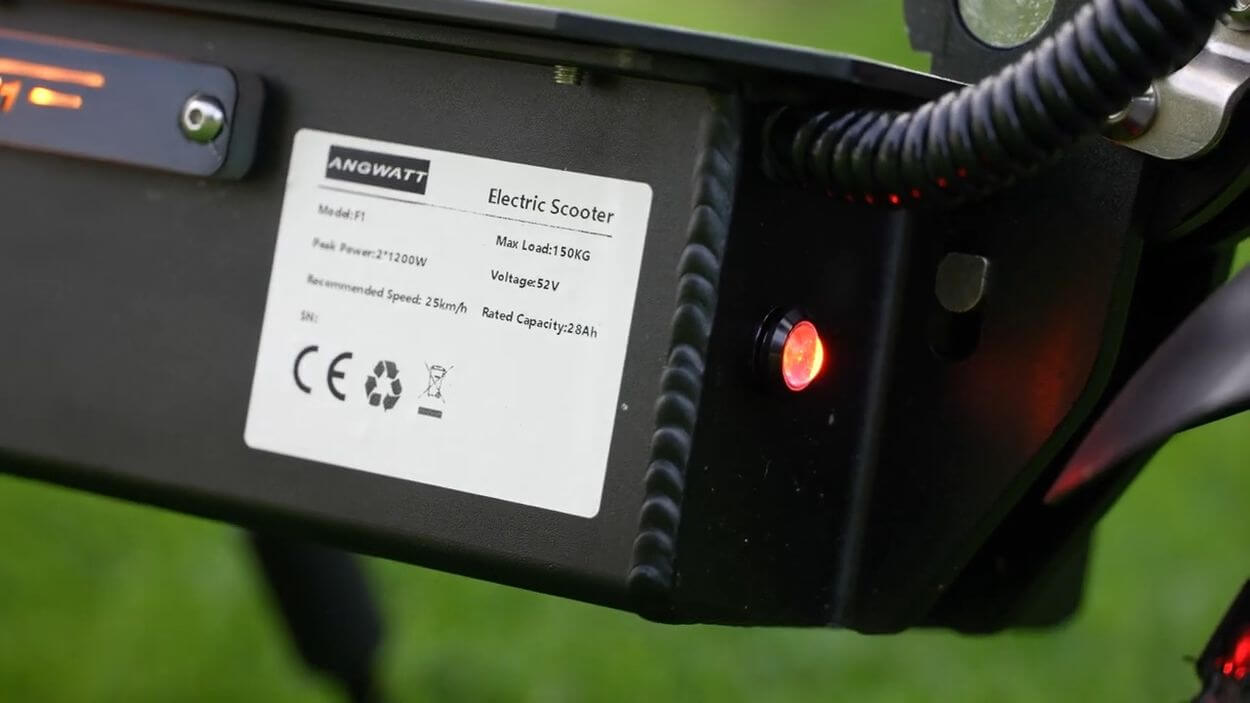 The battery can be recharged at a leisurely pace using the supplied two-ampere charger. Charging the battery fully with this charger typically takes around 14 hours, making it ideal for overnight charging when you're not in a hurry.
For those who desire a quicker recharge, the ANGWATT F1 offers the flexibility to connect both supplied two-ampere chargers simultaneously. This dual-charging setup can significantly reduce the charging time to less than 7 hours, ensuring that your scooter is ready to go in a shorter timeframe.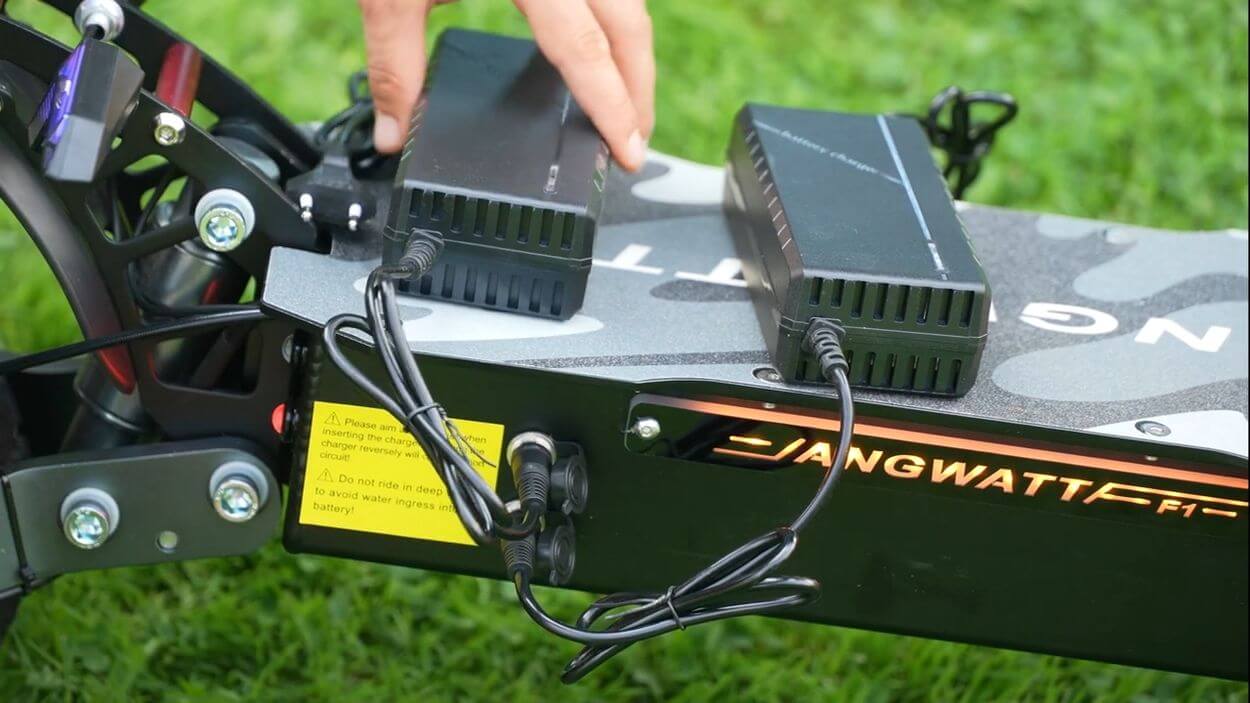 Once fully charged, the ANGWATT F1's battery provides an impressive range. On a single charge, riders can expect a minimum range of 50 kilometers and a maximum range of 60 to 70 kilometers. It's important to note that these figures represent the upper and lower limits, and actual range may vary based on several factors.
The actual range you achieve on the ANGWATT F1 depends on various factors, including your weight, tire pressure, terrain (including the number of climbs), and riding style. Heavy acceleration and frequent stops tend to consume more energy, reducing the overall range. However, with efficient riding practices, it's even possible to reach an extended range of 80 to 90 kilometers.
Conclusions
The ANGWATT F1 electric scooter comes with some specific operational details and features that are worth highlighting. Here's a breakdown of these aspects.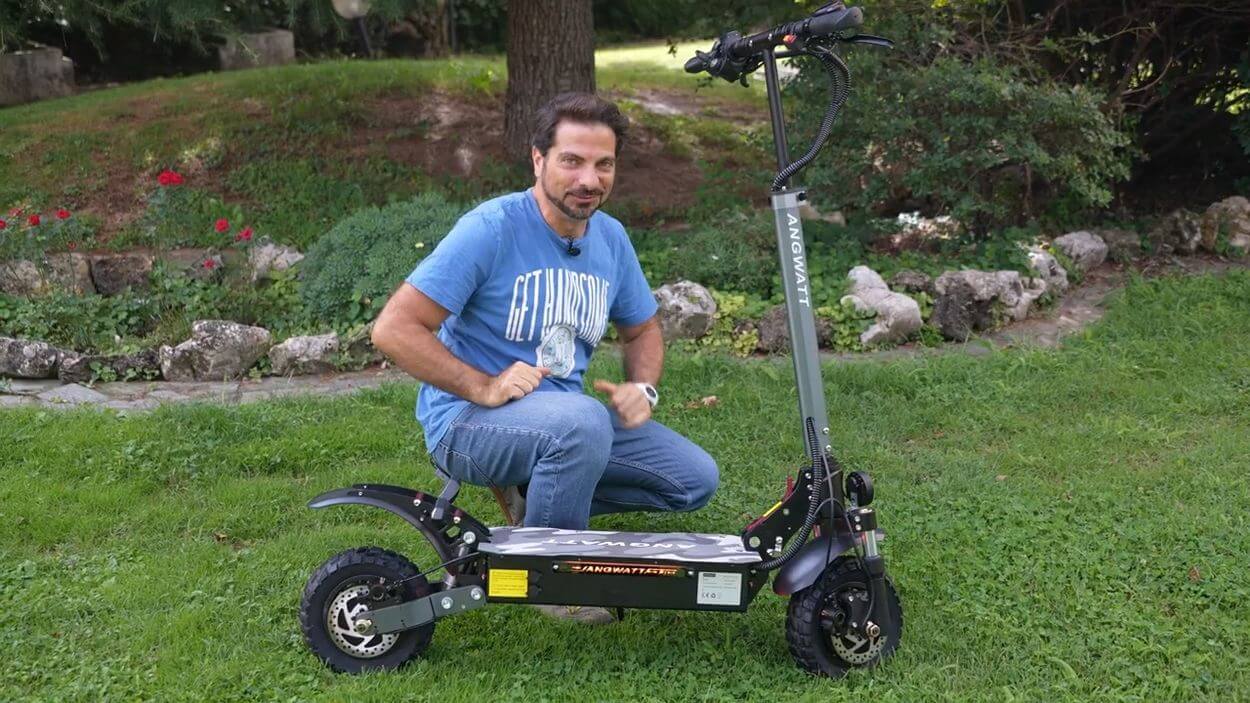 To start the scooter, it's important to note that the battery doesn't engage until you turn on the multifunction display. This means that even when the scooter is connected to a power source, it won't start up until you activate the display.
The ANGWATT F1 offers a range of customizable settings that you can adjust according to your preferences. For example, you can set the "Start Zero" feature to assist with uphill climbs. Additionally, the scooter includes a cruise control option, which can be enabled or disabled based on your comfort and riding style.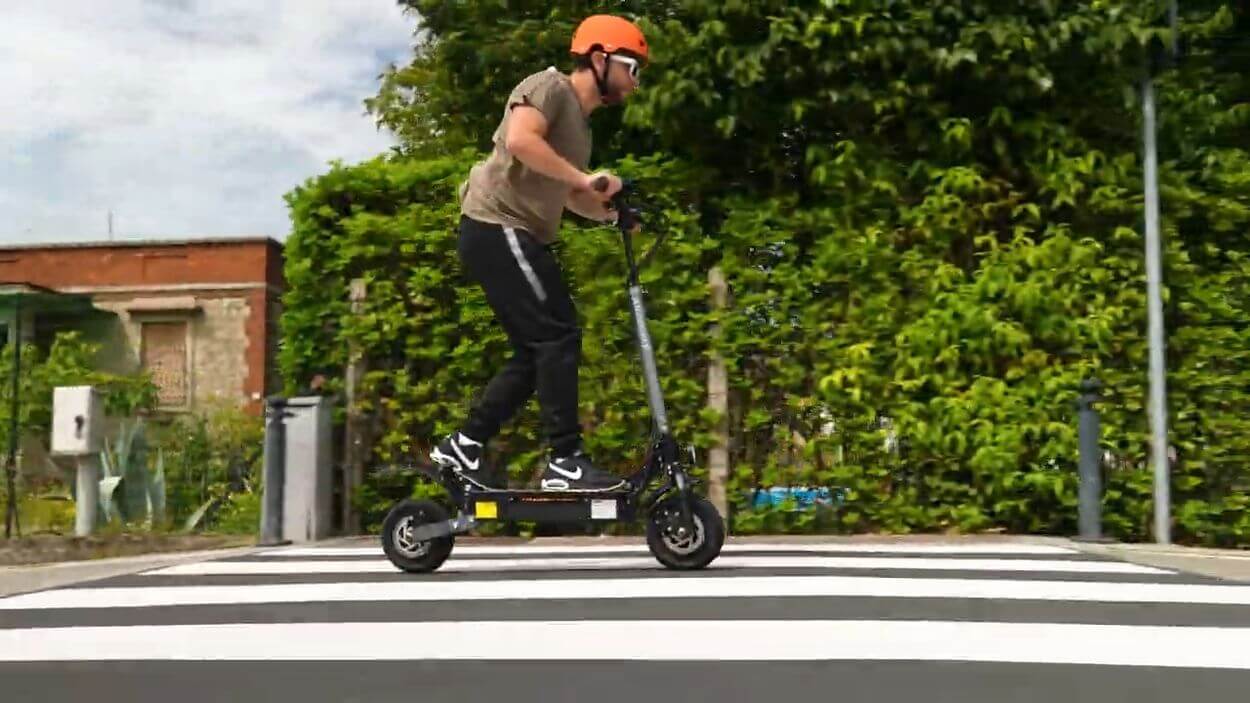 The scooter's engine brake is designed to provide a controlled and efficient deceleration. The factory settings for the engine brake are often set to be in line with general user preferences, but you have the flexibility to adjust it if needed.
The ANGWATT F1 electric scooter offers a range of features and settings that can be adjusted to suit your preferences. Its thoughtful design, customizable options, and safety features make it a compelling choice for riders seeking a versatile and reliable electric scooter. If you have any questions or need further clarification, feel free to leave them in the comments section. Until next time, happy riding!
Alternatives of ANGWATT F1