Hello everyone, and welcome to Brian Unbox! In this review, we're diving into the exciting world of the iSinwheel GT2.
The iSinwheel GT2 doesn't just look impressive; it's designed for real-world performance. With its aluminum alloy frame and beefy off-road pneumatic tires, it's ready to conquer both urban streets and adventurous trails. The inclusion of front and rear disc brakes, as well as a powerful 800-watt rear motor, ensures you have the control and power you need for a safe and exhilarating ride.
Looking to invest in an electric scooter that combines performance, style, and affordability? Look no further than the iSinwheel GT2, available at the remarkable price of $939.97 with a generous $180 coupon, offering you an even greater opportunity to own this exceptional ride.
Electric scooters have rapidly transformed the way we commute and explore our surroundings, and the iSinwheel GT2 is no exception. It's not just a means of transportation; it's a gateway to new experiences and possibilities. So, let's take a closer look at what makes the GT2 a remarkable addition to the world of electric mobility.
| | |
| --- | --- |
| FRAME | 6061 Aluminum Alloy Frame |
| Motor Power | Rated Power 800W |
| Maximum Speed | 28MPH/45 KM/H |
| Max. Slope | 35% |
| Wheel Size | 11 inches Off- Road Pneumatic Tires |
| LED Lighting | Front headlight and ambient lights, turn signals and brake light |
| Protection level | IPX4 |
| Brakes | Front and rear disc brake + EABS electronic brake |
| Capacity | 15 Ah |
| Maximum Range | 25Mile- 28 Miles/40 KM- 45 KM |
| Charging Time | 5-7 H |
| Folded Dimensions | Approx:48 x 8.6 x 22 IN / 122 x 22 x 57 CM |
| Unfolded Dimensions | Approx:48 x 25 x 49 IN / 122 x 63 x 125 CM |
| Rider Maximum Load | 330 lbs(150kg) |
| Weight | 53 lbs/24.3 kg |
Unboxing and Assembly
The iSinwheel GT2 electric scooter arrives at your doorstep with a promise of excitement and convenience, packed with care to ensure its pristine condition upon delivery. As you unbox this sleek and modern e-scooter, you'll quickly notice the meticulous attention to detail that the packaging exudes.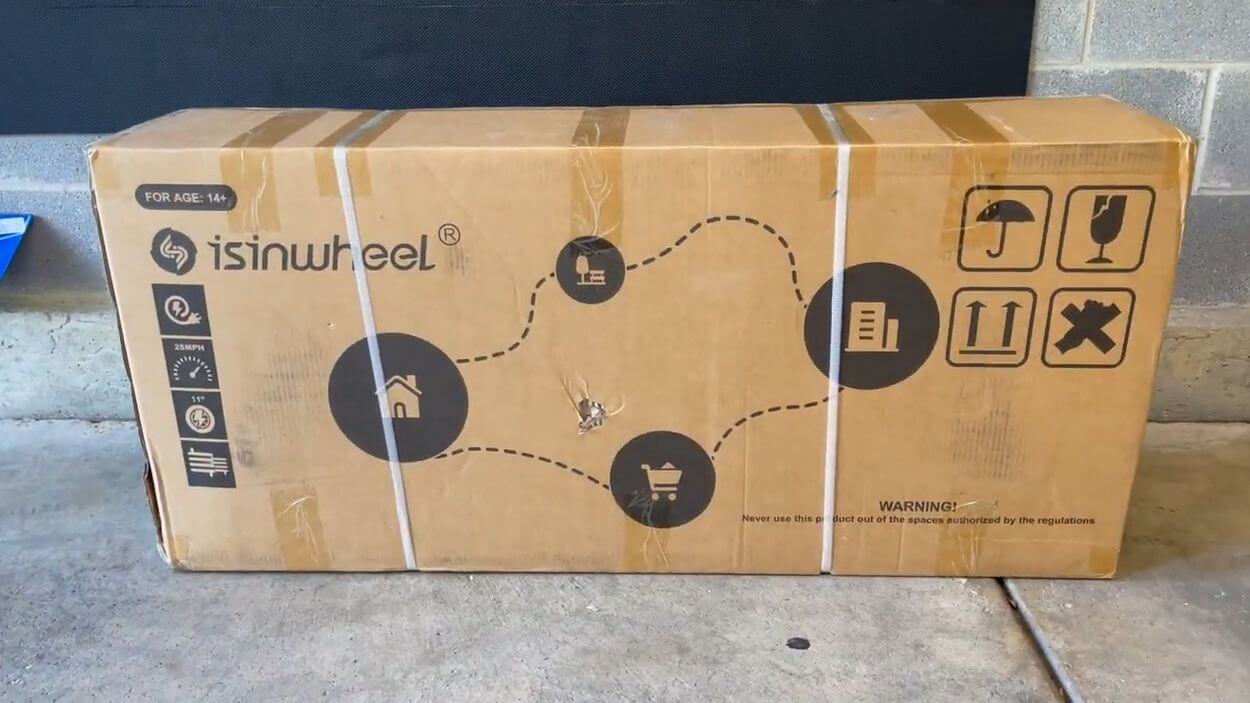 The unboxing experience is as satisfying as the ride itself. The iSinwheel GT2 is cocooned within layers of protective foam and plastic, guarding it against any potential bumps or scratches during transit. This thoughtful packaging not only keeps the scooter safe but also builds anticipation as you prepare to unveil your new adventure companion.
Upon removing the layers of protection, you'll unveil a well-organized package that includes all the essentials you need to get started. The contents typically include the iSinwheel GT2 itself, a comprehensive user manual to guide you through every feature, a toolkit containing the necessary tools for minor adjustments, a reliable charger to keep your scooter juiced up, a front light for enhanced visibility during night rides, and a specially designed scooter bag for convenient storage and transportation.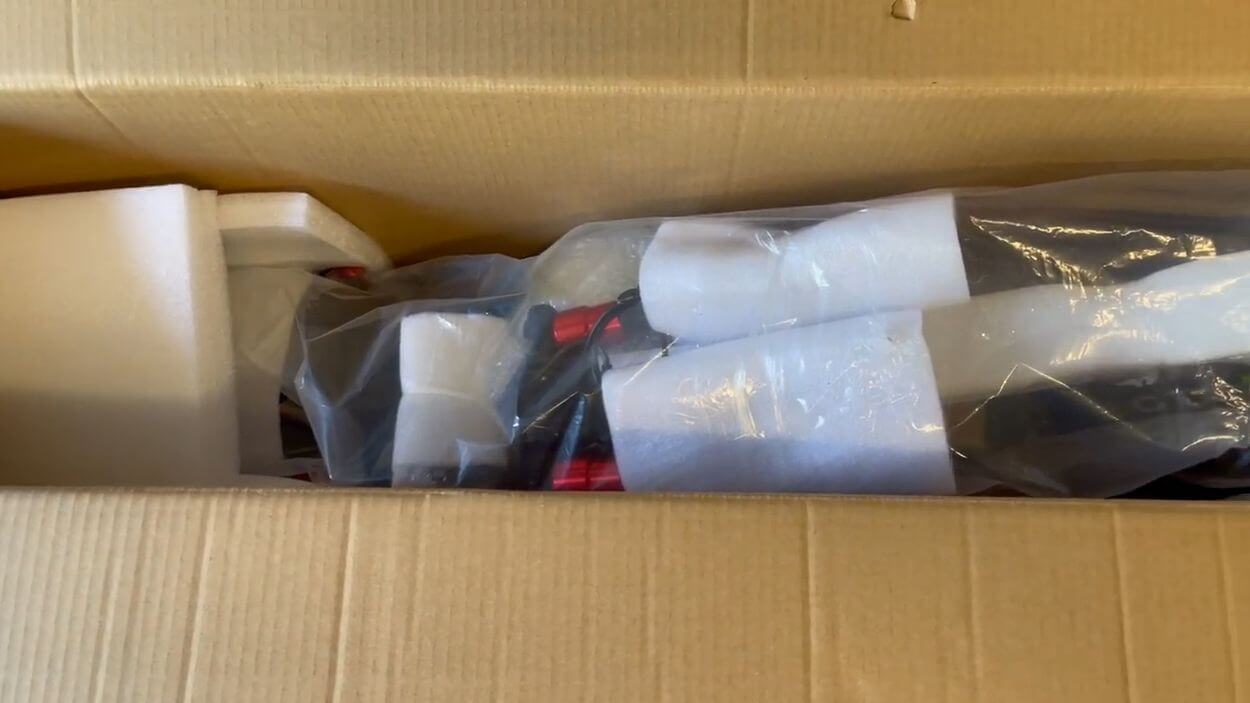 One of the standout features of the iSinwheel GT2 e-scooter is the minimal assembly required. The company's dedication to providing an effortless setup process ensures that you can hit the streets in no time. The scooter comes almost fully assembled right out of the box, and you'll find that there's very little you need to do before you're ready to embark on your first ride.
The assembly process is straightforward and can be completed by anyone, regardless of their technical expertise. The primary task is securing the front headlight, which enhances your safety by providing visibility in low-light conditions. Attaching the headlight is a breeze, and the connection is designed to be user-friendly and secure. Once the headlight is in place, you're essentially good to go.
The iSinwheel GT2 e-scooter is a testament to the company's commitment to offering a hassle-free experience from the moment you receive your order. The thoughtful packaging, comprehensive user manual, and minimal assembly requirements showcase the company's dedication to ensuring that your journey with the GT2 starts on the right foot.
Design and Build Quality 
The iSinwheel GT2 is a true testament to the convergence of sleek design and robust build quality. Crafted with precision and an eye for detail, this electric scooter offers a combination of features that cater to both performance enthusiasts and those seeking a comfortable and safe ride.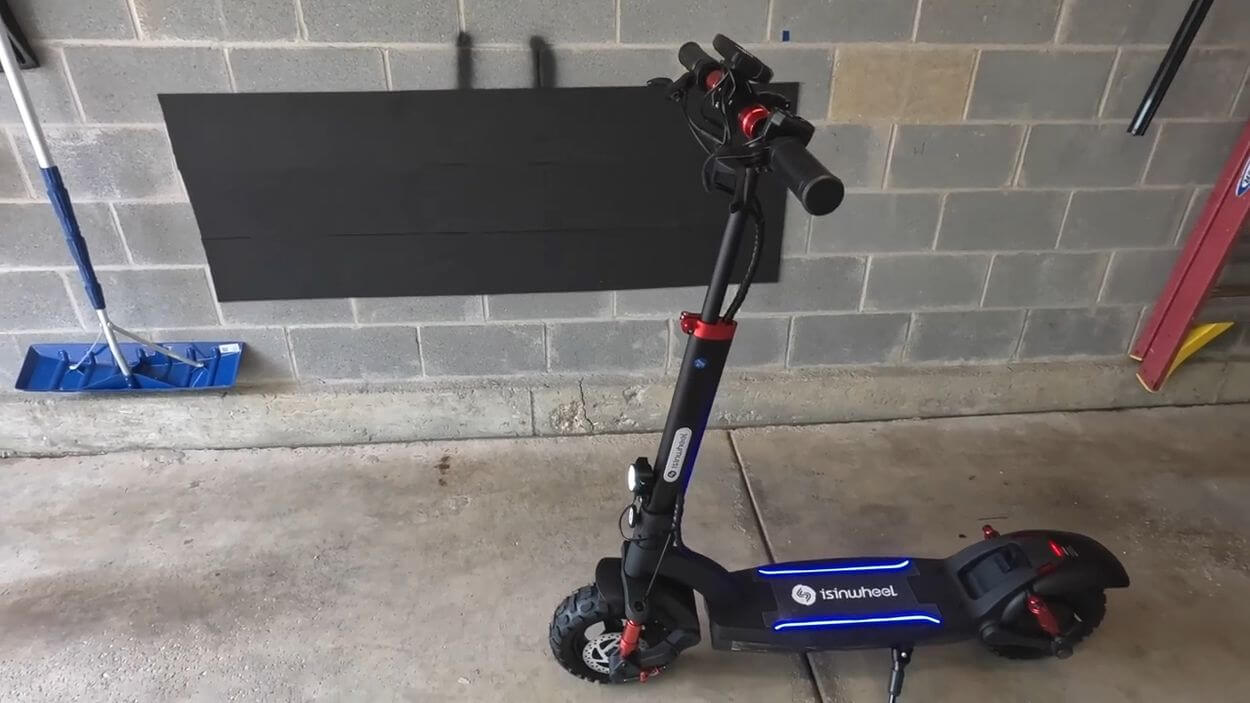 The foundation of the iSinwheel GT2's structure lies in its aluminum alloy frame, which strikes a harmonious balance between durability and lightweight construction. This frame not only contributes to the scooter's stability but also ensures a longer lifespan, making it a reliable companion for countless adventures.
At the heart of the scooter's cockpit is the large, informative LCD display, spanning 11 inches. This display not only provides essential ride data but also adds a futuristic touch to the overall aesthetic. From speed and battery level to trip information and mode selection, the display keeps you informed and in control.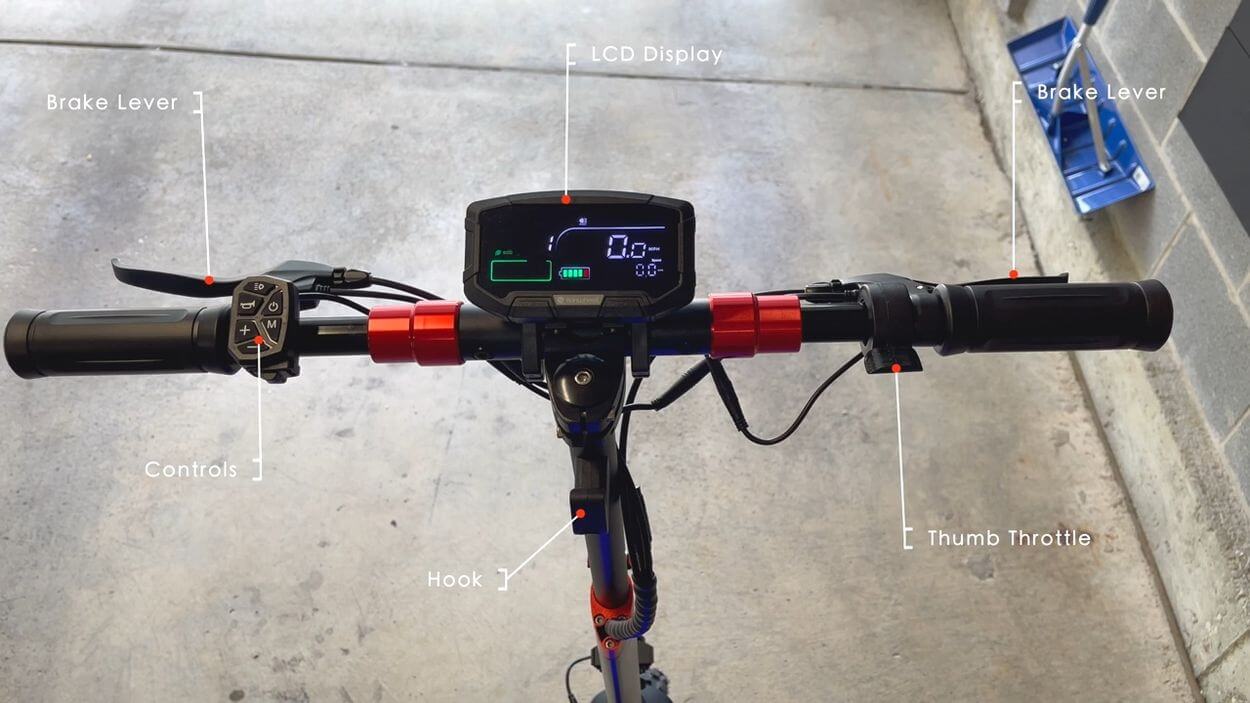 The iSinwheel GT2 is equipped with substantial 11-inch off-road pneumatic tires that conquer various terrains with ease. Coupled with front and rear disc brakes, the scooter promises efficient stopping power, enhancing safety and confidence during rides. The electronic brake further contributes to smooth deceleration.
Safety and visibility are prioritized with the inclusion of front headlights and turn signals. These features ensure that you're seen and can navigate through dimly lit environments effortlessly. Additionally, ambient lights on both the front and rear not only add a touch of style but also enhance your visibility from all angles.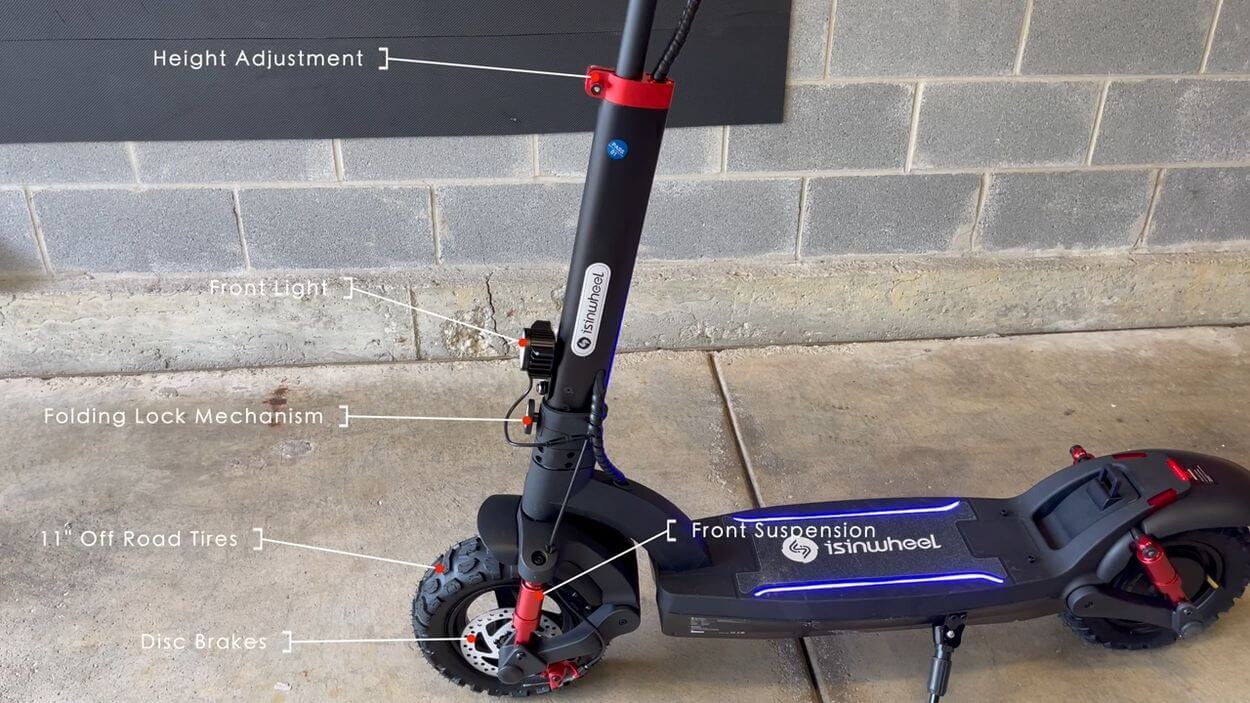 For a comfortable ride experience, the iSinwheel GT2 boasts front and rear dual suspension. This suspension system absorbs shocks and vibrations, smoothing out uneven surfaces and providing a comfortable ride even on rough terrain. The rear suspension complements the 800-watt rear motor, resulting in a balanced and enjoyable ride.
Weighing in at 53 pounds, the iSinwheel GT2 is designed to accommodate a maximum load of 330 pounds, making it suitable for a wide range of riders.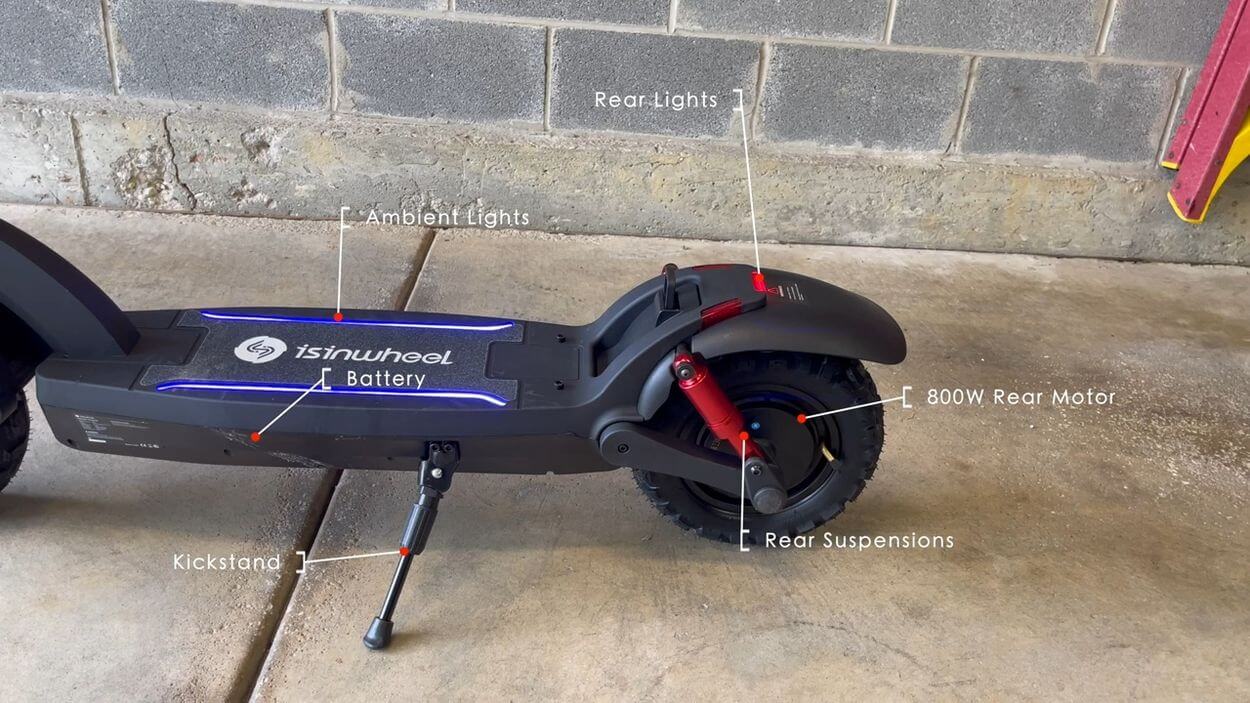 Folding and unfolding the GT2 e-scooter is a straightforward process. The height-adjustable handlebars can be folded down, secured by a knob, and a hook at the rear. This design allows for easy transportation and storage, making it a convenient option for both commuting and leisure.
Handlebar and Display
The iSinwheel GT2 is not just a ride; it's an experience, and at the heart of this experience lies the intelligently designed and user-friendly display panel. From the moment you power it up, you'll find yourself in command, ready to explore the roads ahead.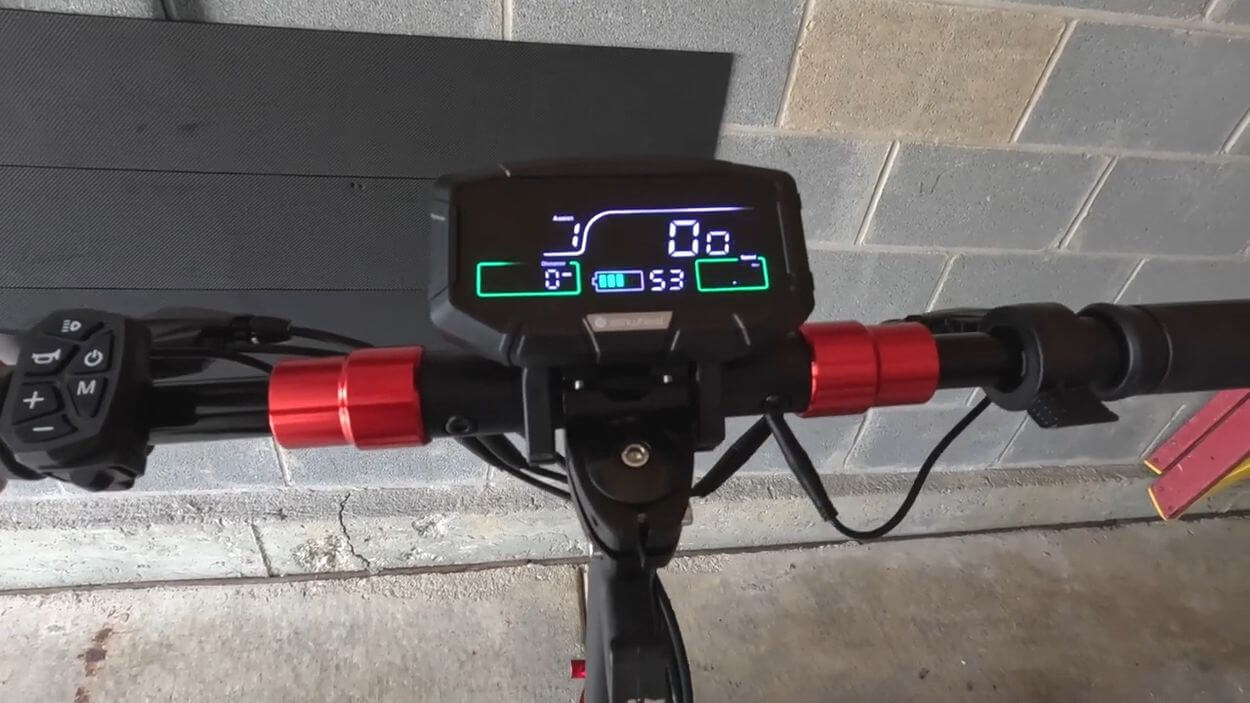 To ignite your GT2's power, simply press the power button, and the vibrant display comes to life. With its large size, rich colors, and impressive brightness, the display panel provides both essential information and an engaging visual experience.
Situated on the left side of the handlebar, the controls give you instant access to various features that enhance your ride. A quick press of the plus button unleashes the scooter's potential, activating the three distinct riding modes: Eco, Standard, and Turbo. Each mode offers a unique level of assistance, enabling you to tailor your ride to your mood or surroundings.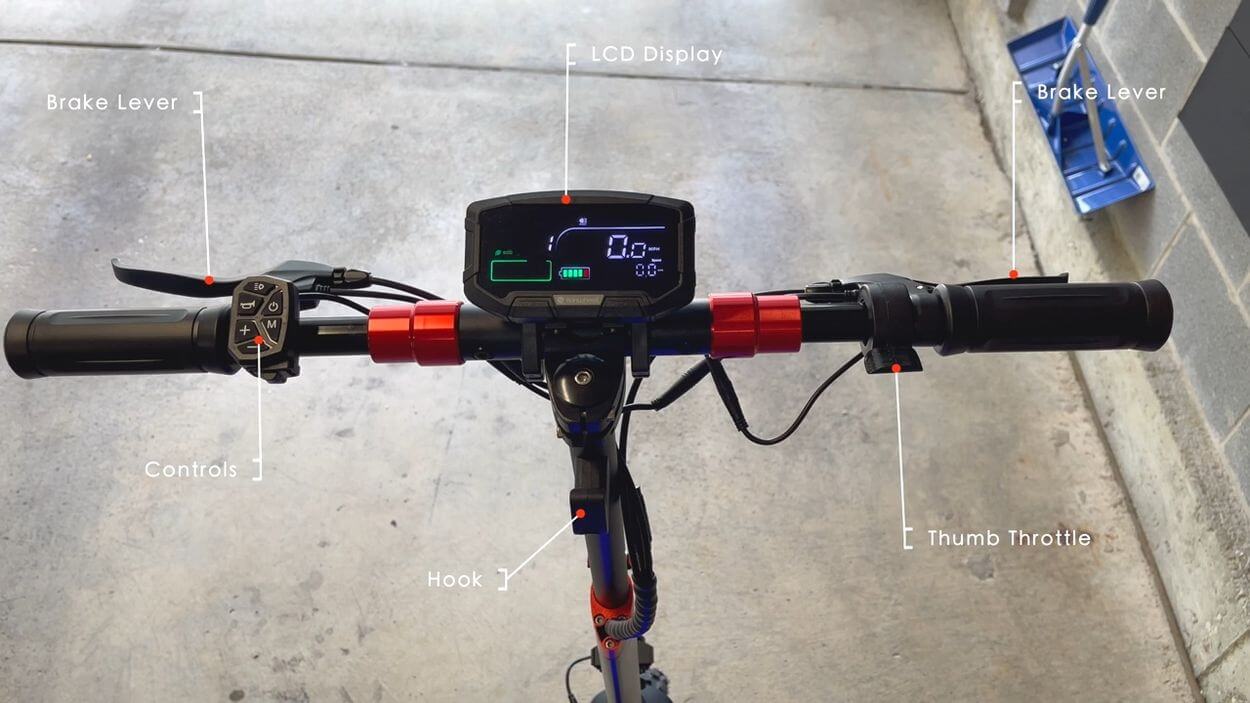 As you navigate the display, the M button becomes your guide. A few presses reveal valuable trip information, including trip distance, total odometer reading, and averages and maximum speeds achieved during your journeys. 
Safety and convenience are also at your fingertips with the iSinwheel GT2's integrated electronic horn. A press of a button emits a clear and audible signal, ensuring that you're noticed by pedestrians and vehicles alike. Additionally, the display panel offers control over the scooter's lighting system. The light button activates the front light, enhancing visibility during night rides. Meanwhile, the deck light and rear light enhance your presence from all angles, increasing safety during low-light conditions.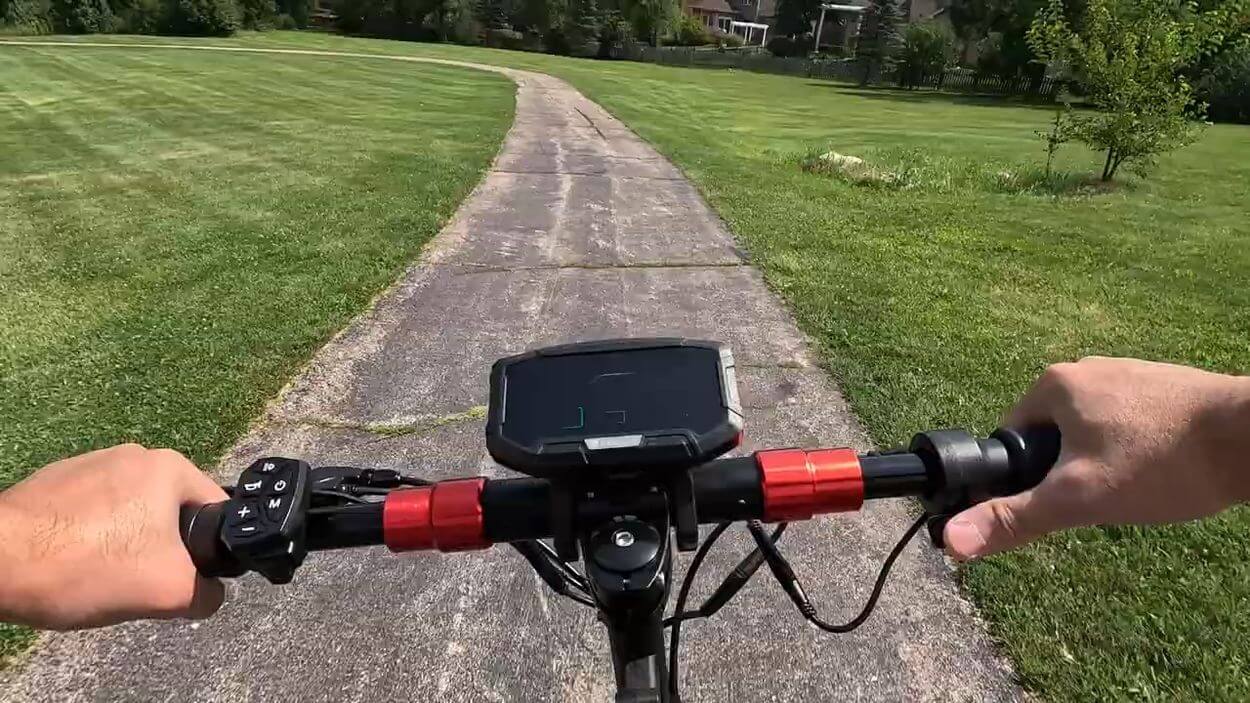 One of the standout features of the iSinwheel GT2 is its turn signals. With a simple activation, you can signal your intention to turn, enhancing your visibility and communication with other road users. Whether you're indicating a left turn or a right turn, the turn signal function offers an additional layer of safety and convenience.
iSinwheel GT2:
Motor and Driving test 
The iSinwheel GT2 e-scooter's prowess is driven by its impressive 800-watt rear motor, propelling riders to exhilarating speeds while effortlessly tackling various terrains. With a top speed of 28 miles per hour, this scooter combines power and agility to offer an exciting riding experience.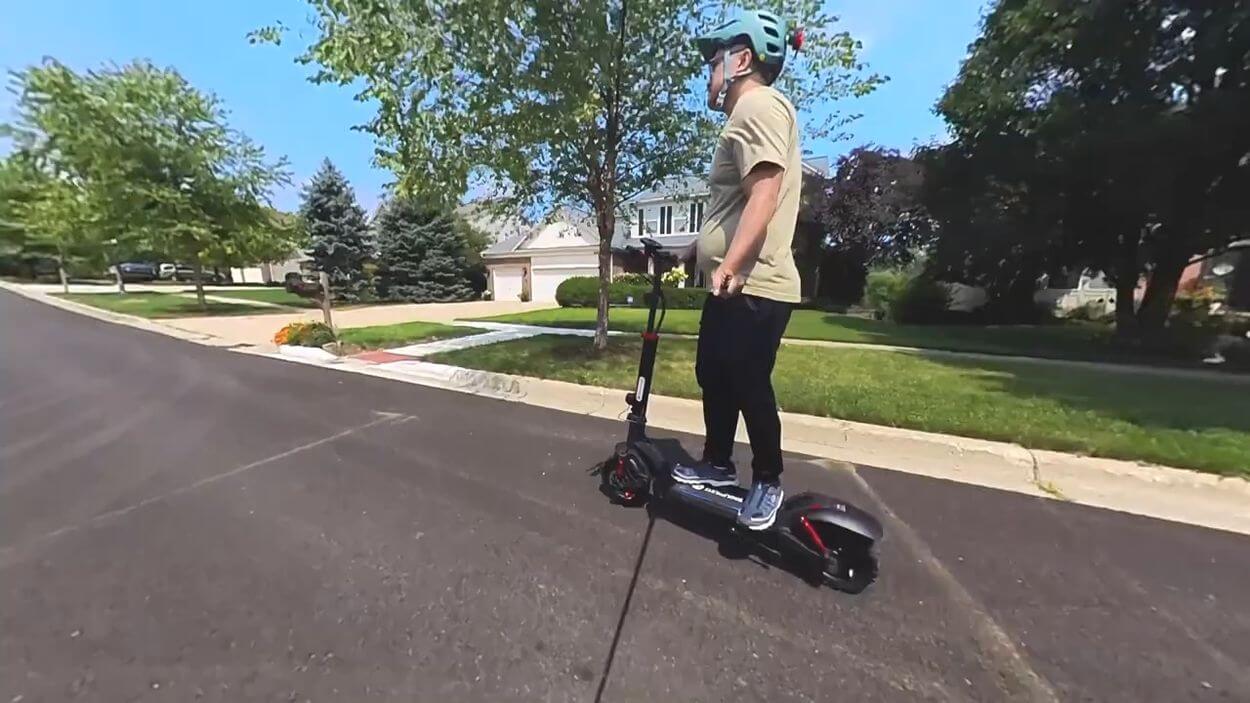 Navigating the iSinwheel GT2's capabilities is made easy with its three riding modes, each designed to cater to different preferences and scenarios. These modes provide a range of assistance levels, allowing riders to choose the level of power they desire. Whether you're in the mood for a leisurely cruise, a balanced ride, or a thrilling acceleration, the GT2 has you covered.
To put the iSinwheel to the test, a real-world demonstration was carried out, showcasing its performance on rough terrain, uphill and downhill rides, as well as its maximum speed capabilities.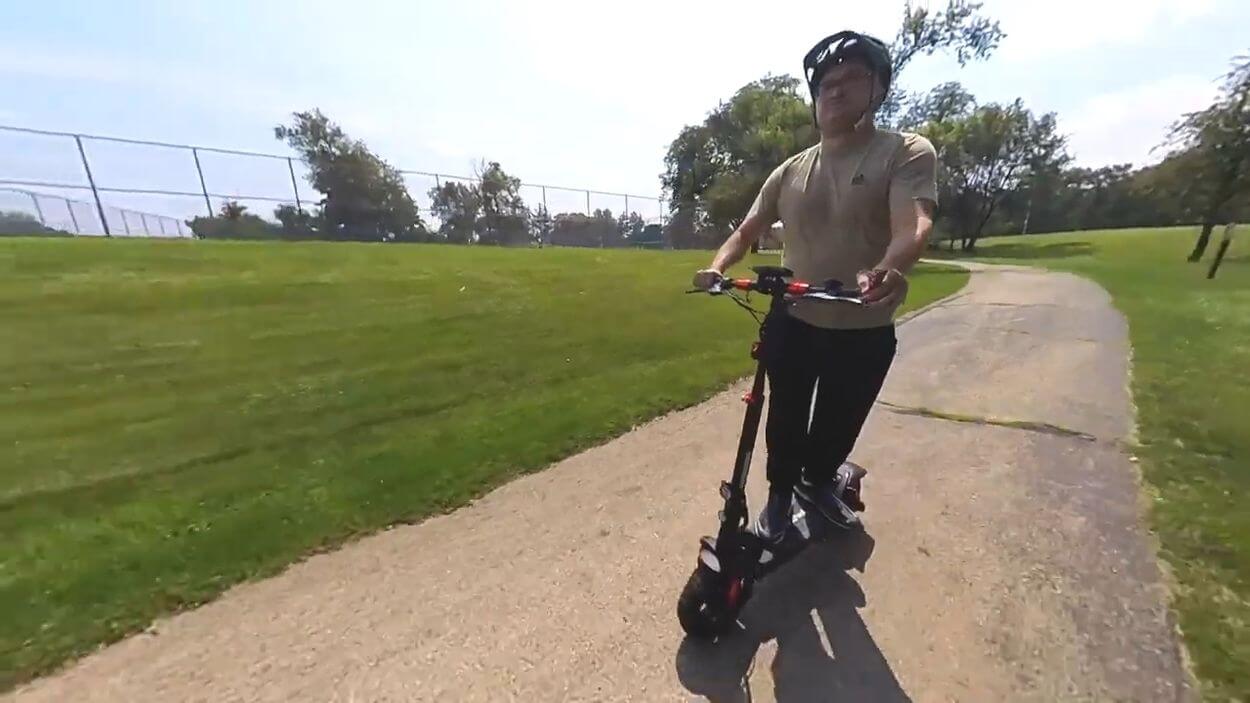 During the rough terrain test, the scooter's robust construction and front and rear suspension systems demonstrated their effectiveness. The combination of the suspension forks and fat tires absorbed bumps and provided a smooth and controlled ride, ensuring rider comfort even on challenging surfaces.
The speed test exhibited the GT2's ability to reach its top speed in different riding modes. With a gradual acceleration, the scooter reached 28 miles per hour, showcasing its power and potential for thrilling rides.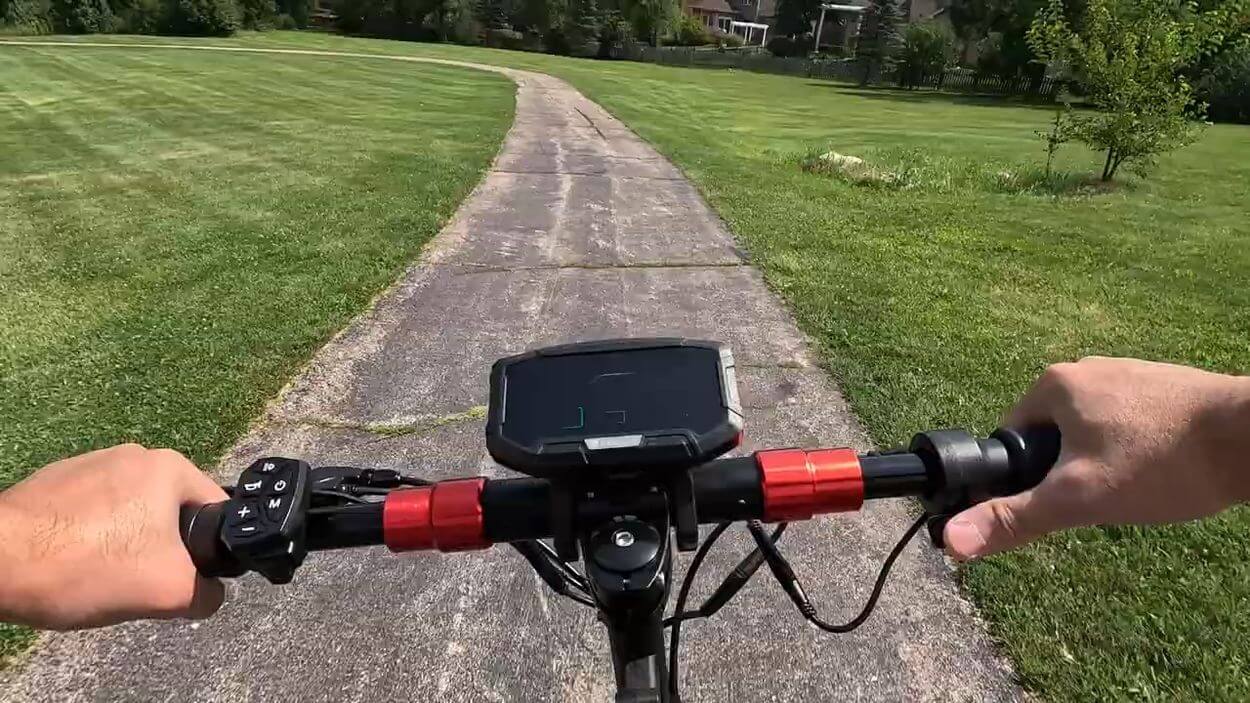 The uphill test highlighted the GT2's strength as it powered through an incline without hesitation. Maintaining speeds of around 20-21 miles per hour uphill showcased its capacity to conquer various terrains, making it suitable for urban inclines and hilly landscapes alike.
During the downhill test, the scooter demonstrated exceptional handling and stability, showcasing its reliability even at high speeds. The braking system allowed for controlled deceleration, providing a safe and confident ride down the slope.
Battery and Range
The iSinwheel GT2's unwavering performance is not only driven by its impressive motor and design but also by its robust and efficient power source – the 48-volt 15 amp hour (Ah) battery.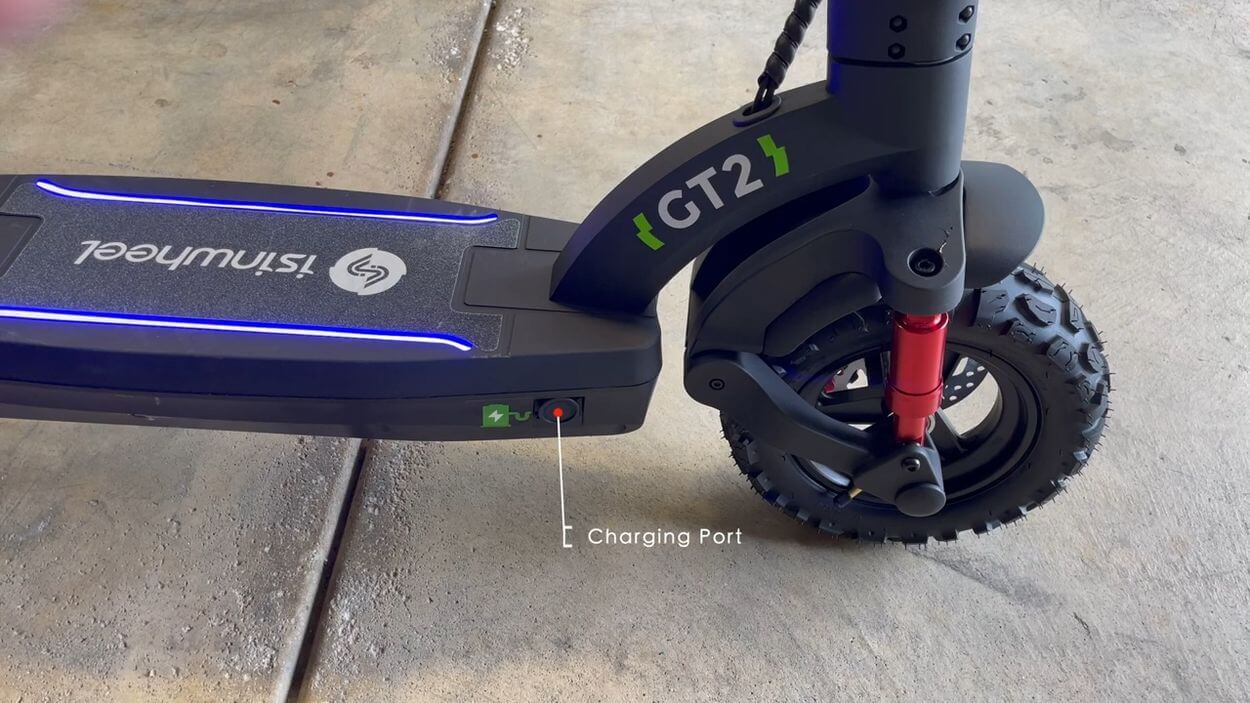 The 15Ah capacity of the battery represents a considerable reservoir of energy. This capacity determines how far you can ride on a single charge, and in the case of the iSinwheel GT2, it translates to an impressive range of up to 28 miles. Whether you're commuting through the city or exploring scenic routes, this range allows you to enjoy extended rides without worrying about running out of power.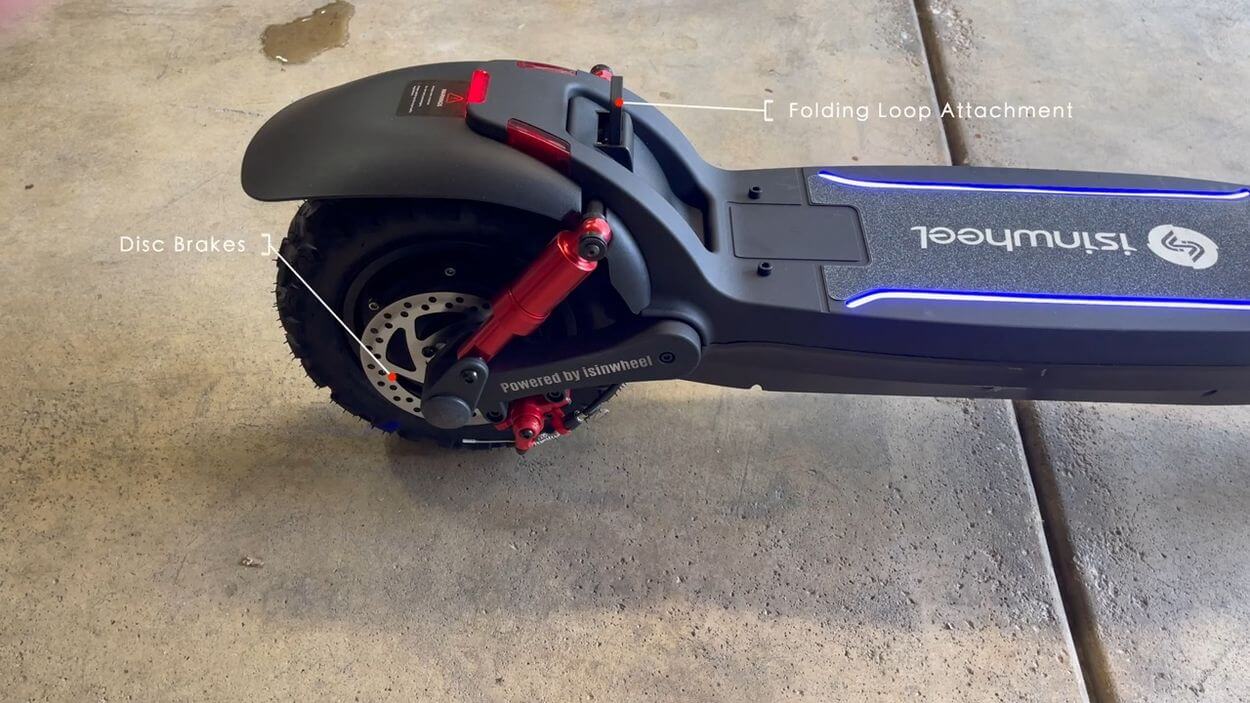 When it comes time to recharge, the iSinwheel GT2's battery charging time is notably convenient. Requiring five to seven hours for a full charge, the GT2 ensures that you can recharge overnight or during the day, allowing you to plan your rides without significant downtime. This relatively short charging duration compared to the range offered ensures that you spend more time on the road and less time waiting by the charger.
Conclusions
After spending time with the iSinwheel GT2, it's clear that this machine embodies simplicity, performance, and quality. Assembling the scooter was a breeze – there were no complications, and I was up and riding in no time. The packing was exceptional, with no damages observed during the shipping process, which speaks to the care taken in its delivery.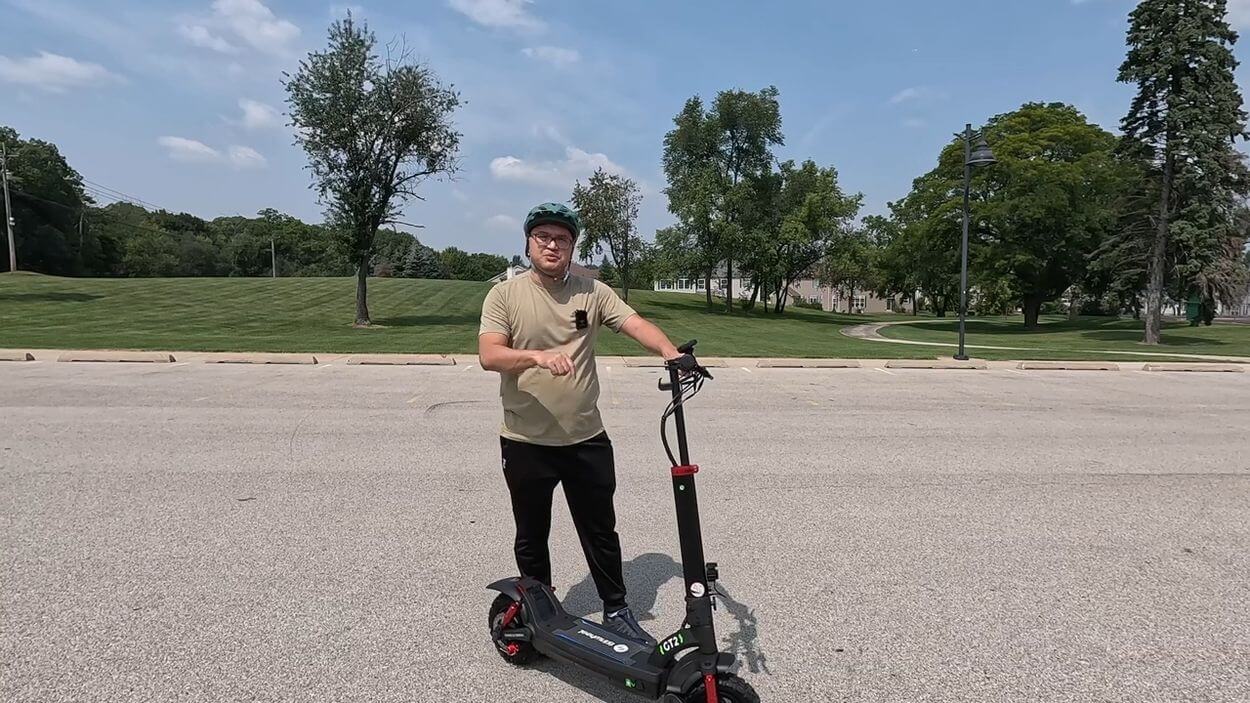 The GT2 exudes a robust and well-built feel. Its sturdiness is evident, and it's evident that the scooter is designed to withstand the rigors of everyday use. The wide deck and substantial off-road tires, with their rugged tread, contribute to its commanding presence.
The GT2's power from its 800-watt motor was a highlight. Tackling uphill stretches showcased its potency, maintaining speed with minimal loss even on inclines. Rough surfaces proved to be a non-issue, thanks to the dual front and rear suspensions that adeptly absorbed bumps and irregularities. The 11-inch off-road tires exhibited commendable traction, making off-road excursions enjoyable.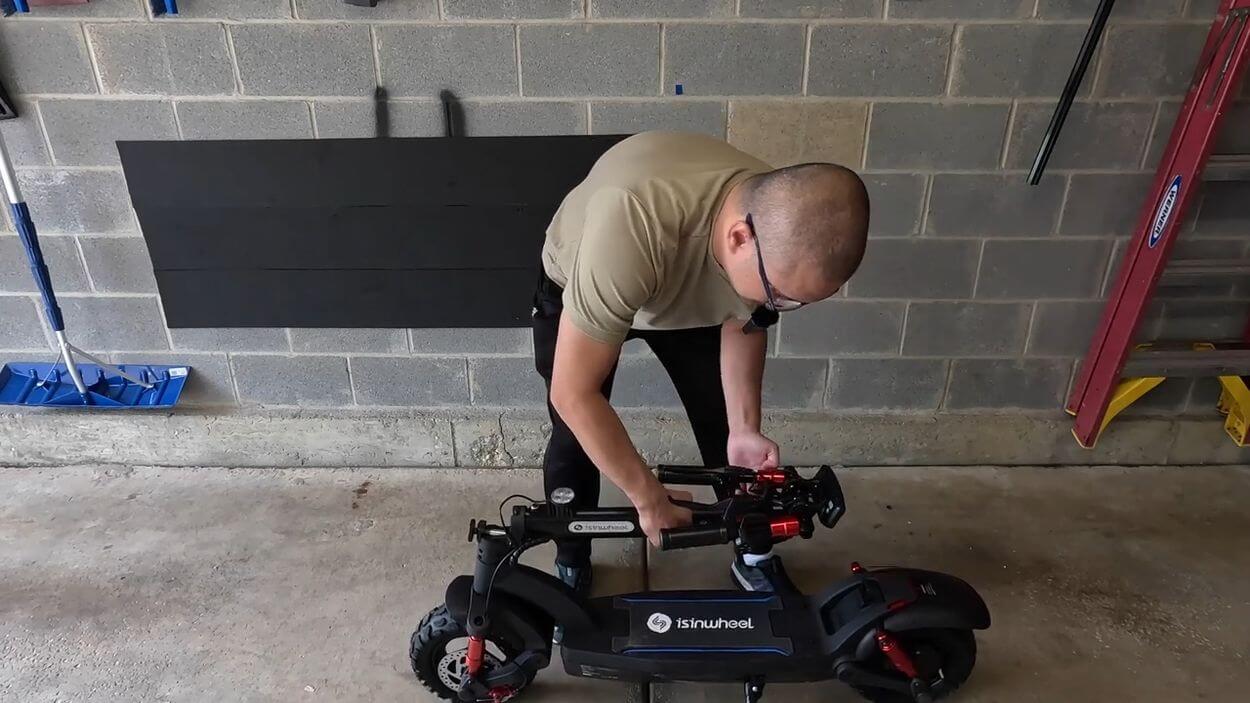 In the speed test, the GT2 delivered on its promises, reaching the advertised 28 miles per hour. With a range of 28 miles, its endurance is remarkable, although individual factors such as speed mode, weight, and terrain will influence the actual range achieved.
Summing up my experience, the iSinwheel GT2 offers excellent value for its price point. It boasts ample power, a smooth ride, and practical features that make it a solid choice for riders seeking a dependable and enjoyable mode of transportation. With its performance, versatility, and thoughtful design, the GT2 is a commendable option in the electric scooter market.
Alternatives of iSinwheel GT2