The Yadea Elite Prime X1 electric scooter stands out as one of the finest electric scooters, with a combination of exceptional features and a competitive price point.
The Yadea Elite Prime X1 boasts an attractive design with a sturdy aircraft-grade aluminum frame and high-quality welds. Its one-piece handlebar design, front and rear suspension, and 10-inch air-filled tires contribute to a smooth and comfortable ride.
During its early bird special on Indiegogo, the Yadea Elite Prime X1 was offered at $1349, making it an outstanding value for all its features and performance. Even at its current price of $1499, it still presents a compelling deal, especially when compared to other electric scooters in its class.
While the pricing on Amazon is yet to be confirmed, the scooter's potential price tag of around a thousand dollars is considered well worth it for the overall package, performance, and quality. So let's take a closer look at this scooter and I'll talk about the pros and cons after my full testing.
| | |
| --- | --- |
| Frame | Aircraft-grade aluminum |
| Rated power | 800W |
| Maximum speed | EN17128:25km/h UL:30km/h (Limited by local regulations) |
| Climbing slope | 30% |
| Tire | 10 inch Self-healing Tubeless Tires |
| IP Rating | IPX5 |
| Braking mode | Disc Dual-brake & Drum Brake & ElectricBrake |
| Shock absorption | Front & Rear Polymer Shock Absorber |
| Battery capacity | 46.8VDC 14.5Ah |
| Rated range | 65km |
| Vehicle unfolded dimension | 1235 x 585 x 1340mm(L*W*H) |
| Folded dimension | 1235 x 585 x 555mm(L*W*H) |
| Net weight | 29kg |
Design and Build Quality
The Yadea Elite Prime X1 boasts an impressive design and build quality, making it stand out as a top-notch electric scooter. Let's explore its features and construction in detail.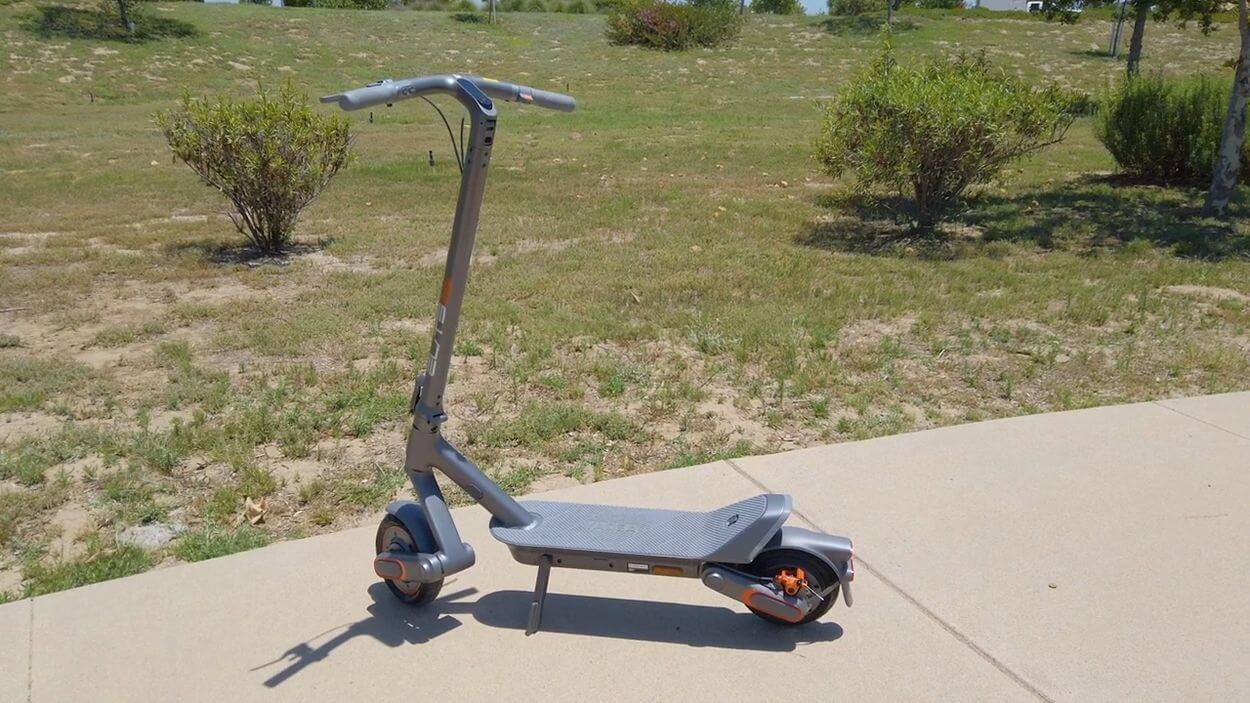 The scooter's frame is constructed using aircraft-grade aluminum, known for its lightweight and robust properties. The welds are strong and well-crafted, blending seamlessly into the overall design. The powder-coated paint finish adds an extra layer of protection and contributes to the scooter's clean and polished look.
The scooter comes mostly assembled, simplifying the setup process for users. Attaching the handlebar to the stem requires securing six screws, making it a quick and straightforward task that takes approximately 15 minutes to complete.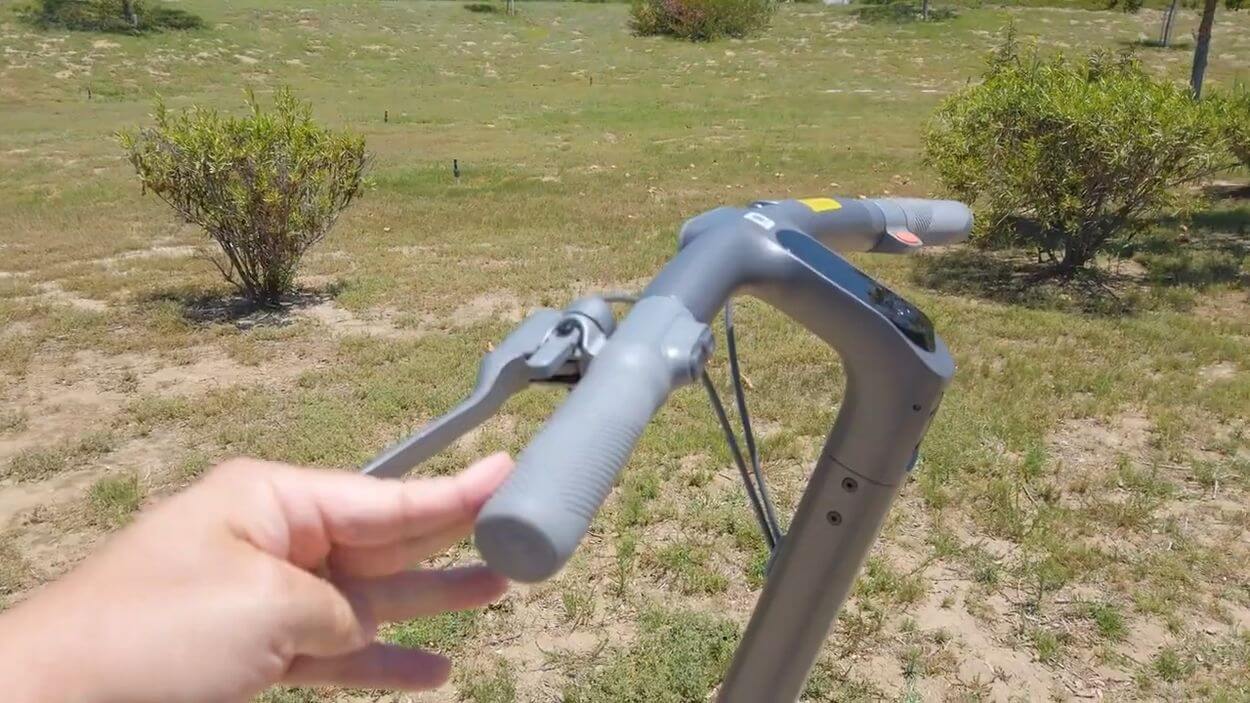 The scooter is equipped with a small disc brake at the back, offering effective stopping power. Additionally, it has a drum brake at the front, ensuring reliable braking performance. This combination provides a good balance of braking capabilities for different riding conditions.
The Elite Prime X1 features 10-inch air-filled tires, which contribute to a smooth and comfortable ride. The air-filled tires provide better shock absorption, reducing the impact of bumps and uneven surfaces.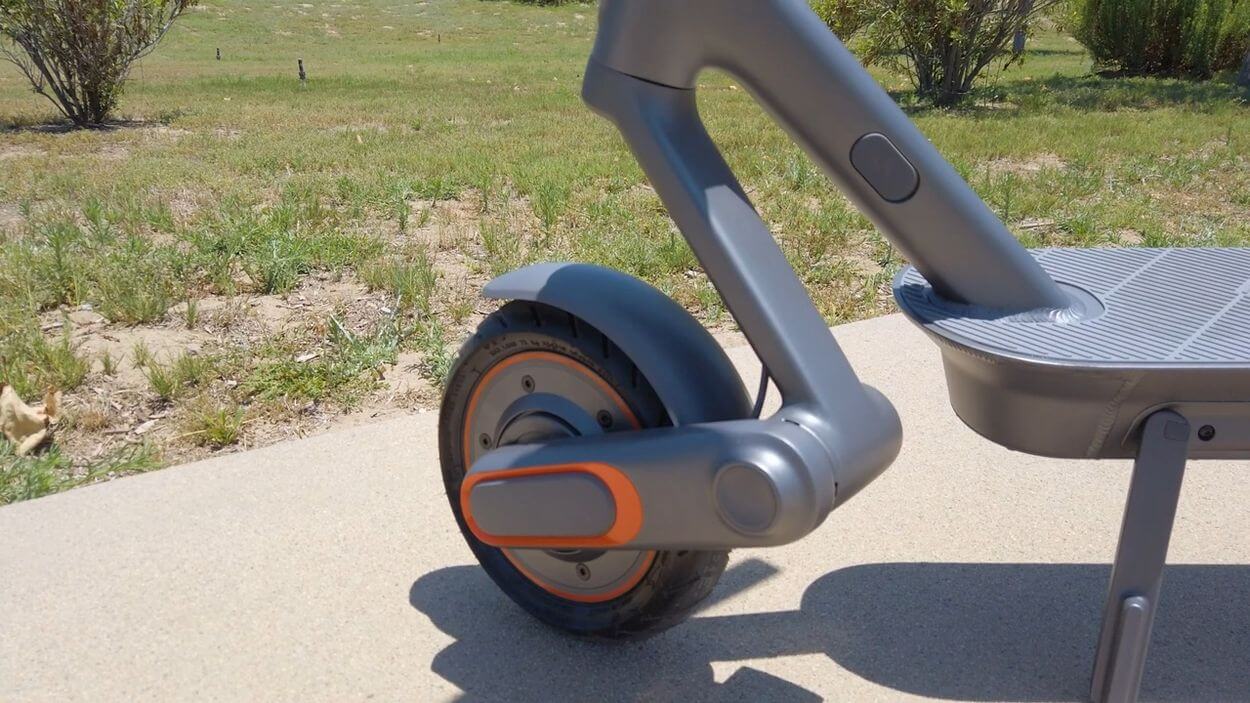 The scooter has a front suspension system, specifically a leaf spring suspension, to further enhance ride comfort. Additionally, it has a similar suspension setup at the back, making it one of the smoothest riding scooters even on rough terrain.
The scooter boasts a sleek and well-designed kickstand that neatly integrates into the deck. This practical feature allows users to park the scooter conveniently without any stability concerns.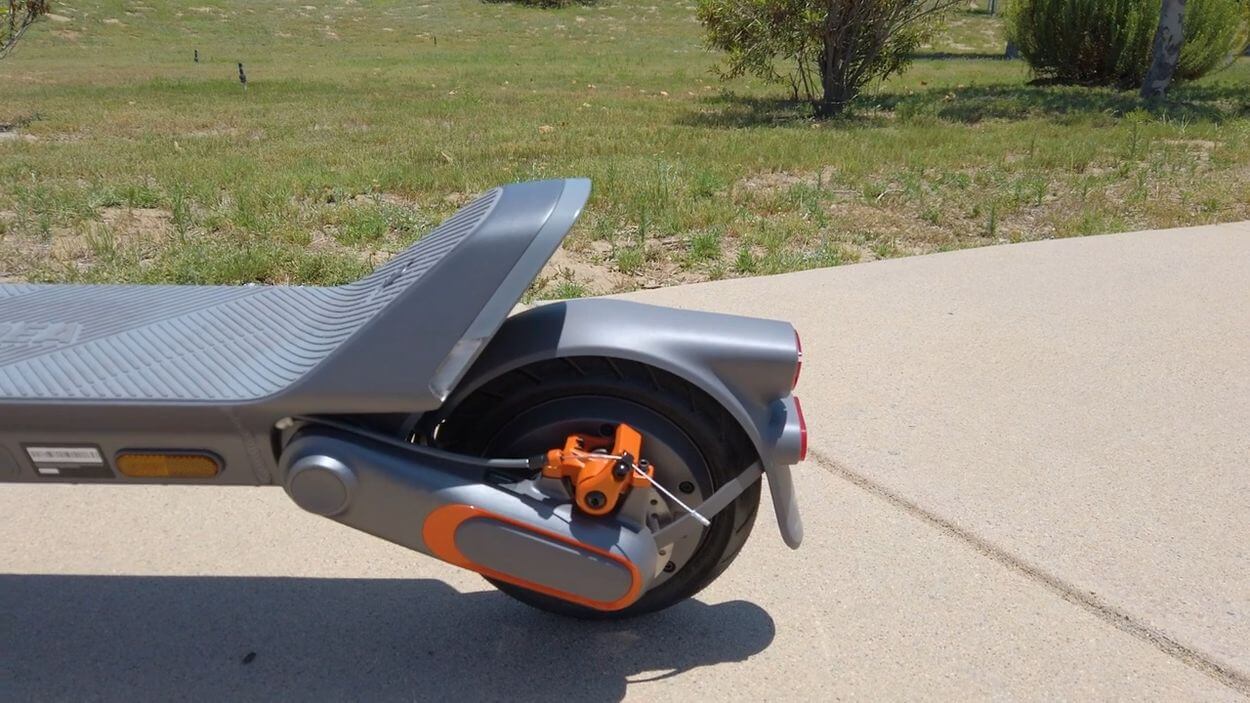 The Yadea Elite Prime X1 is equipped with comprehensive lighting features. It has front headlights that provide decent brightness, ensuring visibility during night rides. The presence of turn signals on both sides enhances safety during turns. Additionally, there are two lights at the back, one acting as a reflector and the other as a brake light, further improving visibility for others on the road.
The scooter is designed to be easily foldable for compact storage and portability. The handlebars can be folded down by using a lever, and the scooter securely latches in place when folded, allowing for easy transportation.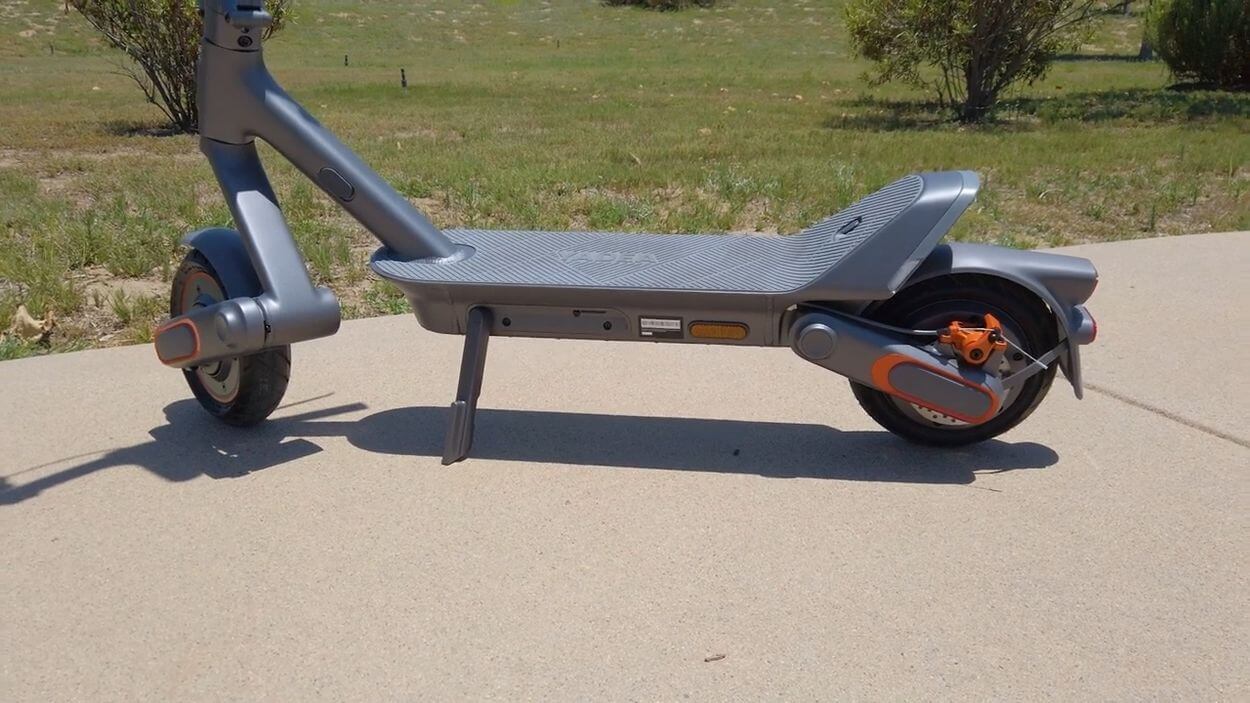 The Yadea Elite Prime X1 excels in cable management, with wires neatly integrated and hidden within the frame. This not only contributes to the scooter's sleek appearance but also ensures a safer and more durable setup.
Overall, the Yadea Elite Prime X1 combines stylish aesthetics with high-quality materials and thoughtful design elements. Its smooth ride, comprehensive lighting, efficient braking, and user-friendly features make it a fantastic choice for urban commuting and recreational use.
Handlebar and Controls
The handlebar and controls of the Yadea Elite Prime X1 are designed with user comfort and convenience in mind. Let's delve into the details.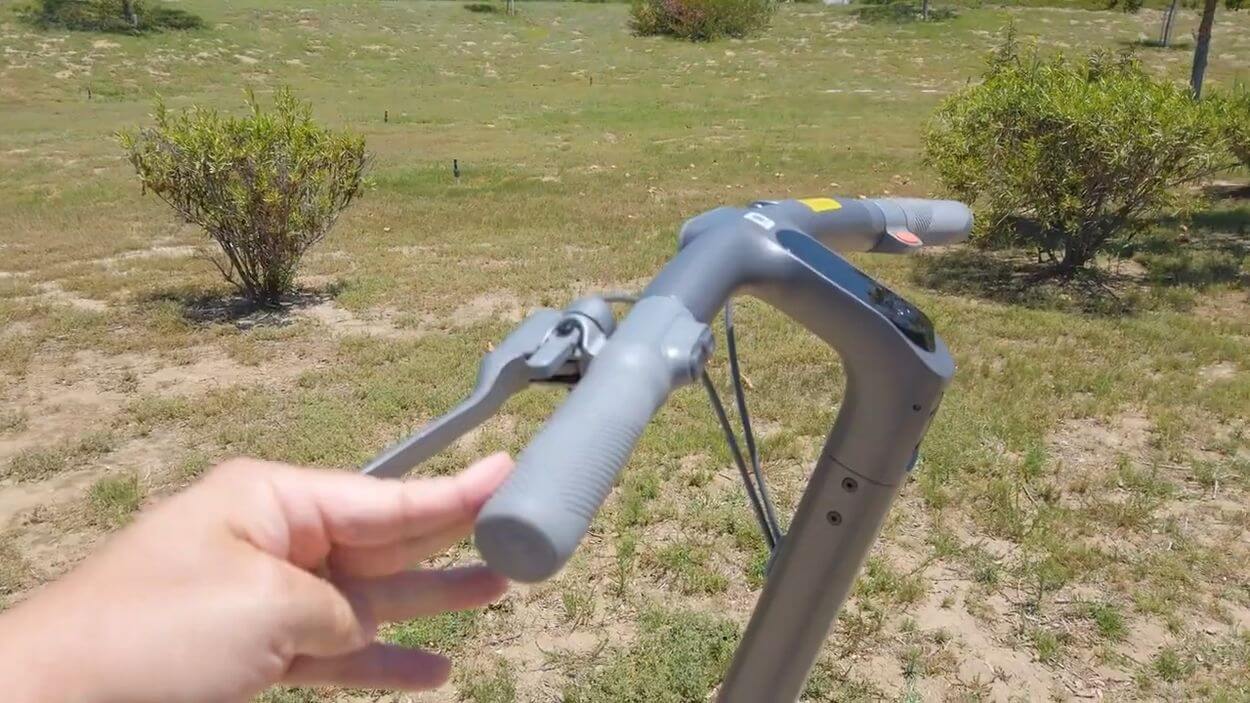 The handlebar is a single-piece structure, contributing to the scooter's overall sleek and clean appearance. It is well-crafted and robust, ensuring a stable and secure grip while riding.
Also, the handlebar is designed to fold down easily, adding to the scooter's portability and storage convenience. This feature allows users to quickly collapse the handlebar when needed, making it easier to carry or fit the scooter into tight spaces.
With a clear and informative display, providing essential information such as speed, battery level, and riding mode is equipped in the handlebar. It also includes an on/off button, enabling users to power on or shut down the scooter effortlessly.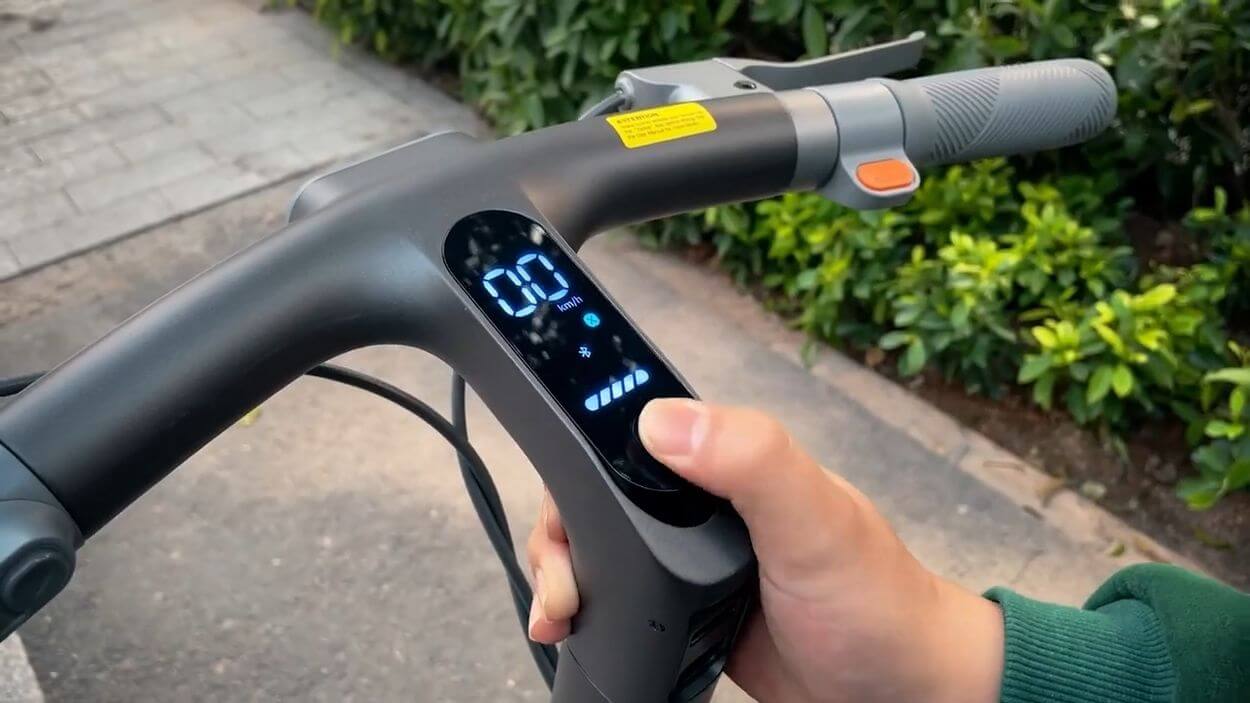 The handlebar features a thumb throttle, which is a user-friendly and ergonomic design. This positioning allows riders to accelerate smoothly and maintain control with their thumb, reducing strain on the wrist during prolonged rides.
The handlebar grips are designed to offer comfort and a secure hold. High-quality materials ensure a pleasant tactile experience and help dampen vibrations, resulting in a more comfortable ride.
The Yadea Elite Prime X1 is equipped with well-designed brake levers on both sides of the handlebar. These brake levers provide responsive and reliable braking, ensuring enhanced safety during rides.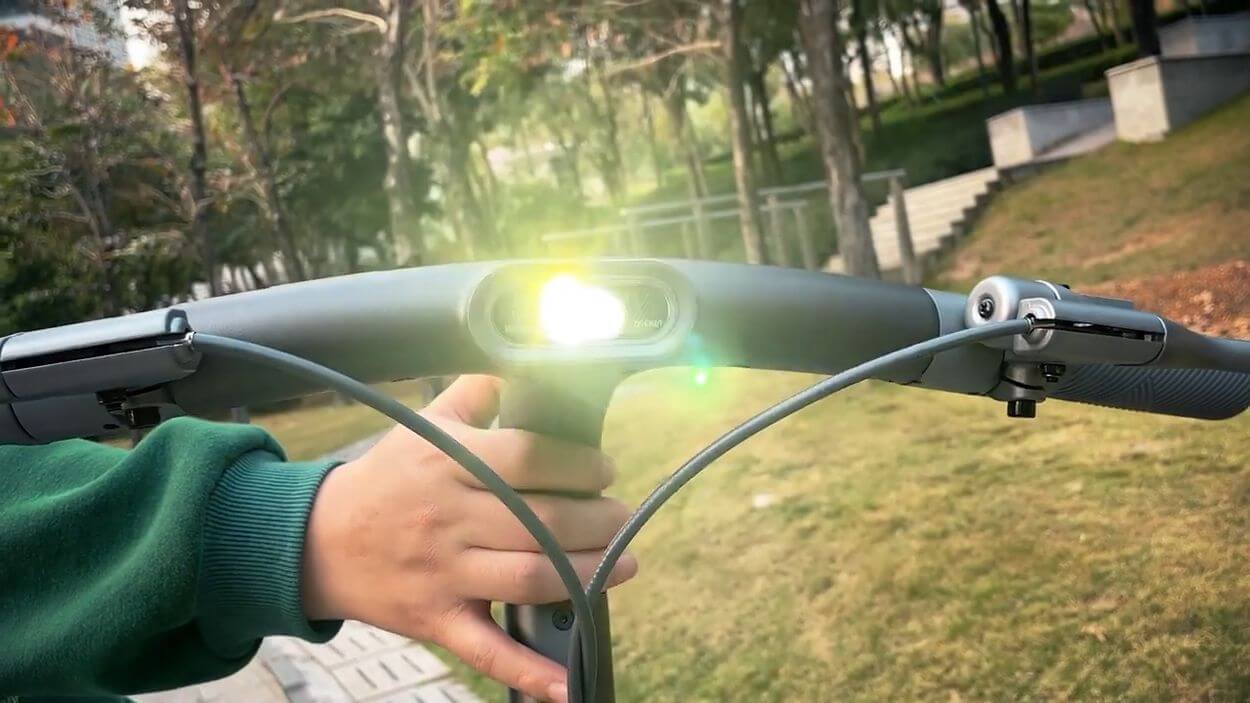 For added safety and convenience, the scooter features a bell on one side of the handlebar. Riders can easily alert pedestrians or other road users with a gentle ring of the bell.
Positioned conveniently on the handlebar, the turn signal buttons allow users to indicate their intended direction while riding. This feature enhances safety, especially when navigating through traffic or making turns.
The handlebar is thoughtfully designed with rider comfort in mind. It has a slight backward slope, creating a comfortable and natural riding position. The handlebar's angle aligns well with the rider's arms, reducing strain and allowing for a more relaxed and enjoyable riding experience.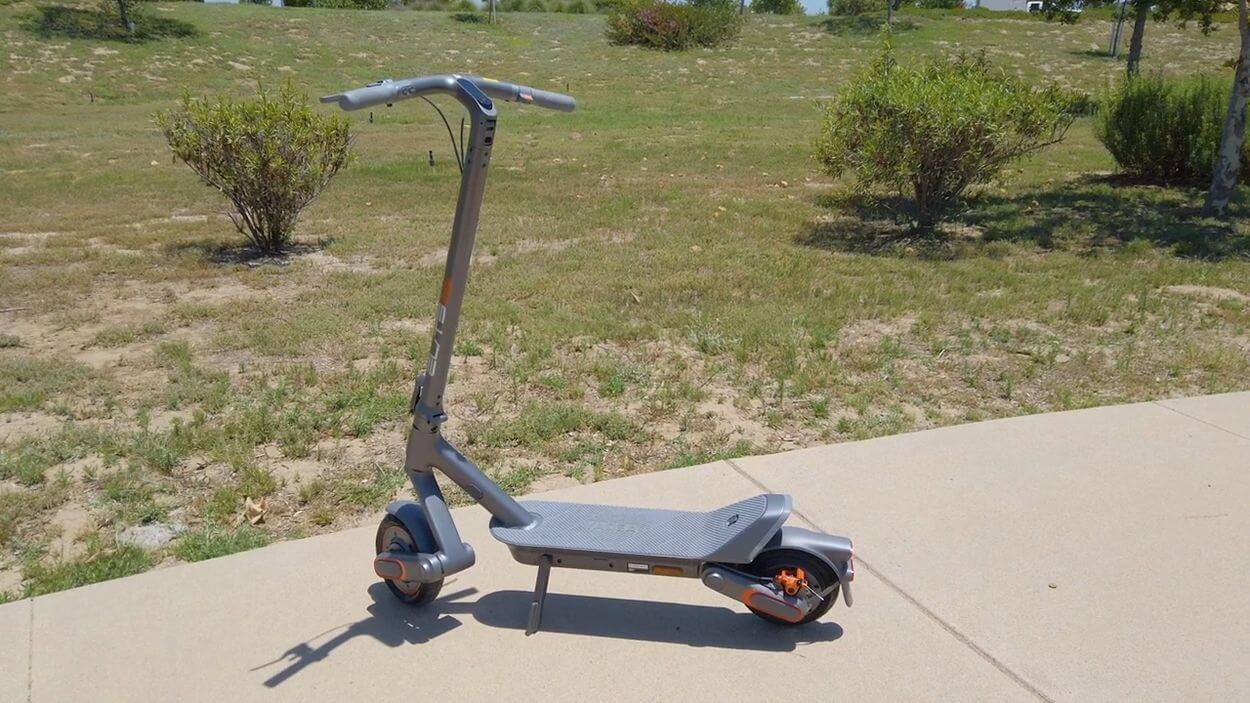 So, the Elite Prime X1 boasts a well-engineered handlebar and controls that prioritize user comfort, safety, and ease of use. From the convenient folding mechanism to the ergonomic design and intuitive controls, the scooter's handlebar ensures a pleasant and enjoyable riding experience for urban commuters and recreational riders alike.
Application 
The Yadea Elite Prime X1 features a smart activation process that requires users to use their app and register the scooter. While this step may add an extra layer of setup, it is designed to enhance security and provide a personalized user experience. Let's explore the activation process and the app's functionality in more detail:
Activation and Registration: To unlock the full functionality of the scooter, users need to activate it through the Yadea app and complete the registration process. This typically involves creating an account, connecting the scooter to the app via Bluetooth or another communication method, and verifying ownership. This activation process is a one-time requirement and ensures that only authorized users can access and operate the scooter.

App-Based Features: Once the Yadea Elite Prime X1 is successfully activated, it functions independently, and you do not need the app for everyday riding. However, the app offers additional features and customization options that can enhance the user experience.

Settings Customization: Within the app, users can access various settings to tailor the scooter to their preferences. This might include adjusting the speed settings, sensitivity of the throttle or brakes, or fine-tuning other performance aspects.

Cruise Control: The app enables users to activate and deactivate cruise control on the scooter. Cruise control is a convenient feature that maintains a constant speed without needing to keep the throttle engaged continuously. This can be particularly useful for long, straight stretches of road or when maintaining a consistent pace.

Limited Dependency: The Yadea Elite Prime X1 does not heavily rely on the app for basic functionalities. Once activated, the scooter can be operated without needing to open the app every time. This is advantageous as it allows riders to use the scooter even when they don't have access to their smartphone or prefer not to use the app during rides.
Power and Riding test
During the ride test of the Yadea Elite Prime X1, the scooter showcases its impressive power and smooth performance, making it a highly enjoyable and versatile electric scooter. Here's a breakdown of the ride test experience.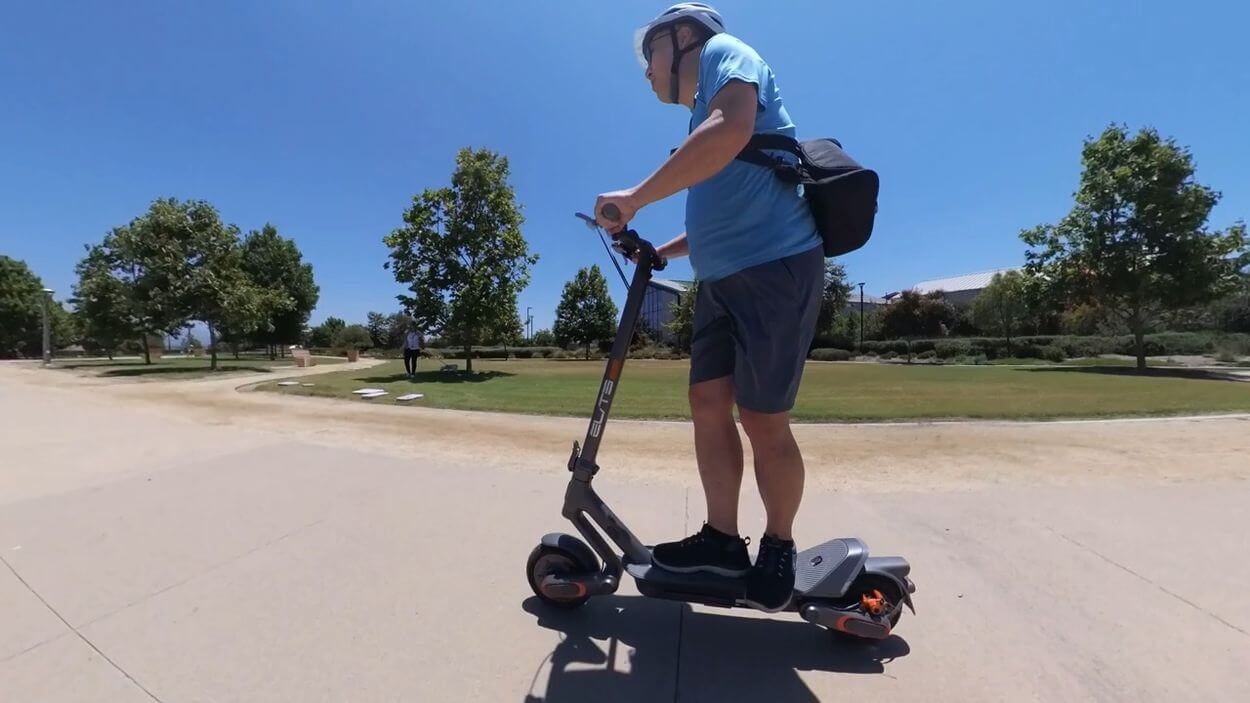 The Yadea Elite Prime X1 is equipped with an 800-watt motor in the back, which provides substantial power for acceleration and conquering inclines. This motor strength allows the scooter to handle up to 30-degree inclines effortlessly, making it suitable for various terrains and hilly areas.
The scooter has a speed limit of around 20 miles per hour (mph), which is more than enough for most riders. Despite being speed-limited, the scooter's acceleration and top speed offer an exciting and satisfying riding experience.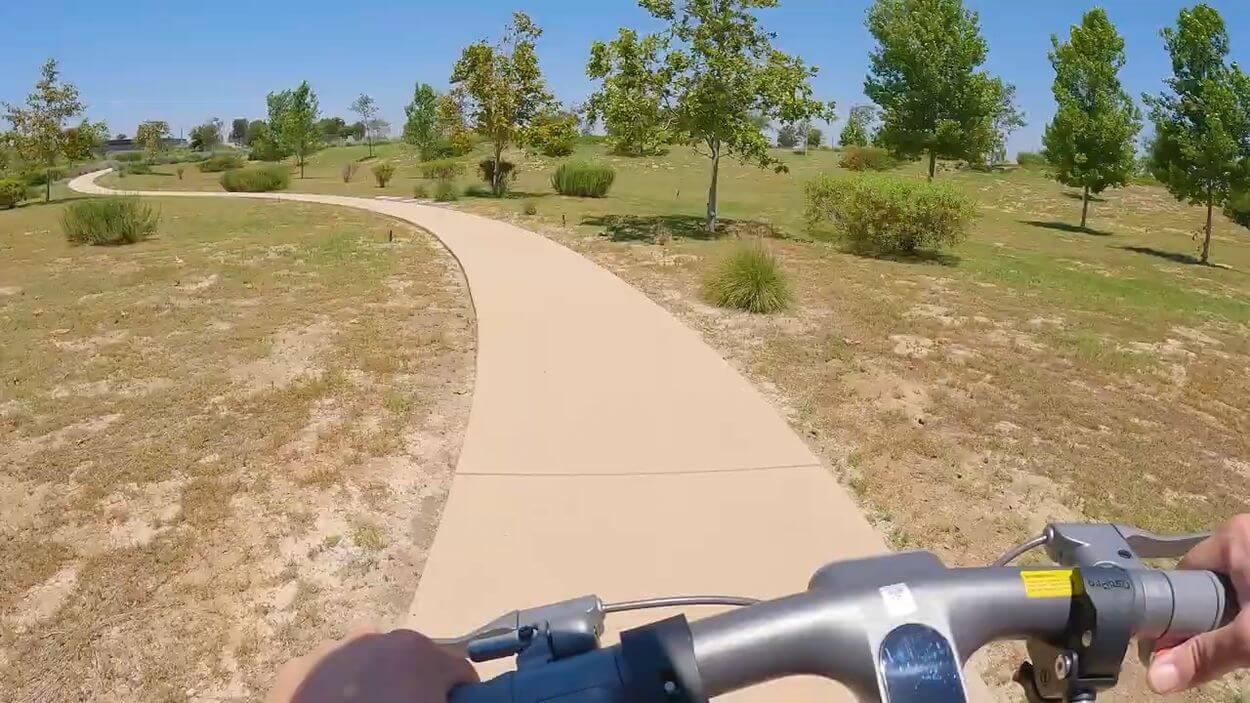 The standout feature of the Yadea Elite Prime X1 is its exceptional suspension system, offering a super smooth and comfortable ride. The scooter's suspension efficiently absorbs vibrations and bumps, ensuring that riders experience minimal fatigue during their journey.
The scooter's display may not be the brightest, but it provides essential information, including speed. During the ride test, the maximum speed achieved was around 19 mph, which is impressive and well within the scooter's speed limit.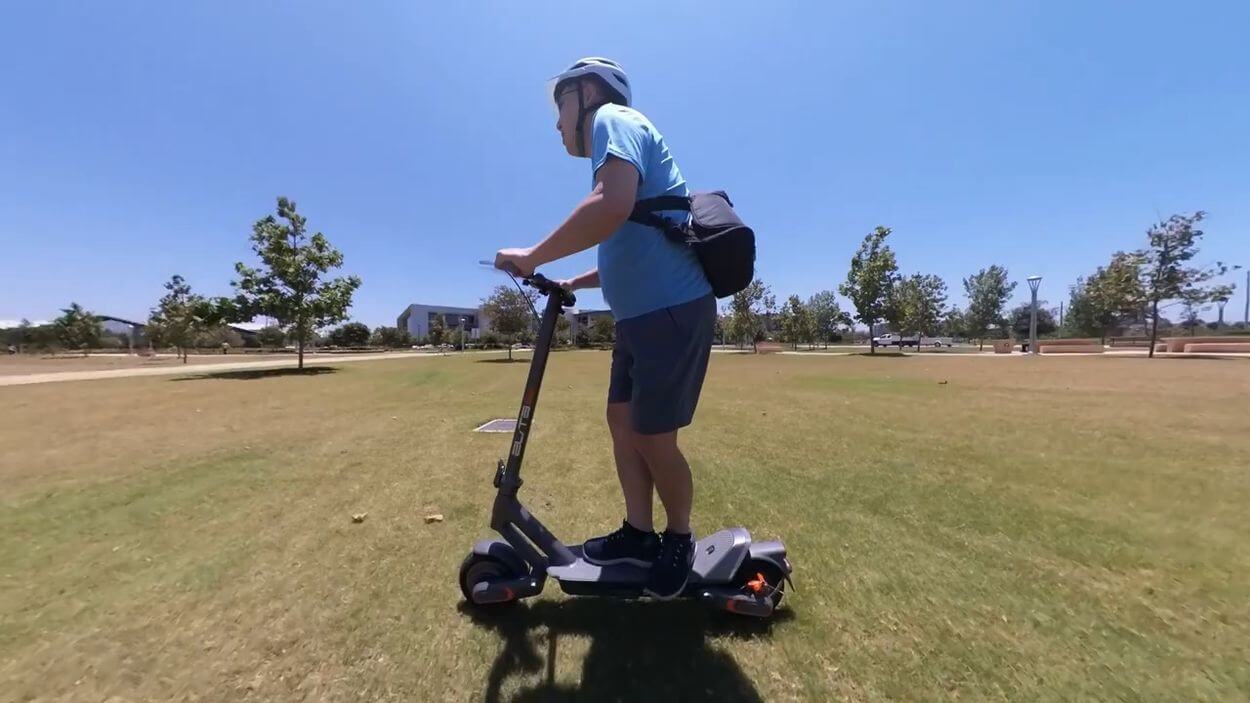 The scooter performs excellently on smooth sidewalks, effortlessly gliding over bumps and uneven surfaces. Its suspension system, combined with soft tires, enhances the ride experience. When tested on grass and rough terrain, the scooter showcases its capability to handle less-than-ideal surfaces without any issues. However, it's worth noting that the scooter shines best on smooth surfaces due to its superior suspension system.
While the Yadea Elite Prime X1 can handle off-road conditions like grass and dirt paths, it is recommended to stick to smooth surfaces for the best riding experience. The scooter's power ensures it can navigate through rough terrains, but its suspension is truly appreciated on smooth roads.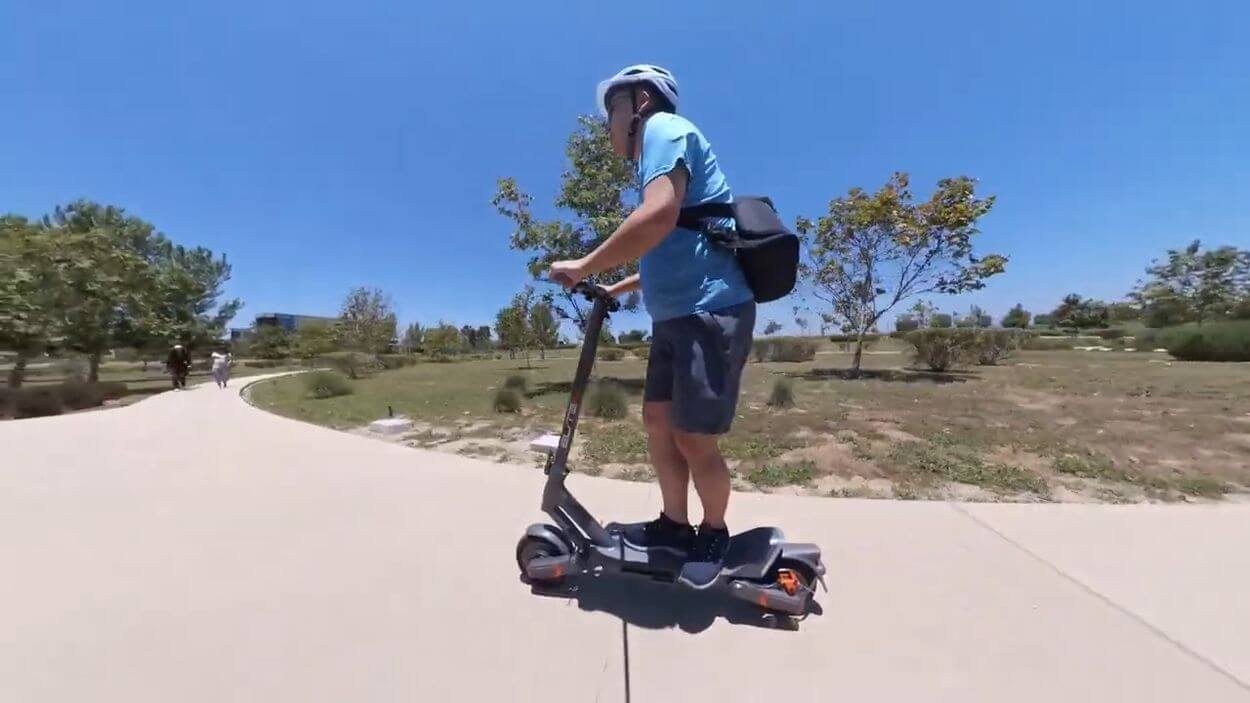 The scooter's performance during the test was evaluated with a rider weighing around 200 pounds. Even with a slightly heavier rider, the scooter showcased no problems in terms of power and handling.
Overall, the Yadea proves to be a formidable electric scooter with robust power and a remarkable suspension system. It offers an exhilarating riding experience on various terrains while ensuring the utmost comfort and stability for the rider. Whether cruising through city streets or taking on light off-road adventures, the Yadea Elite Prime X1 is a top choice for those seeking a high-performance and smooth-riding electric scooter.
Battery and Range
The Yadea Elite Prime X1 is equipped with a powerful and high-capacity battery, offering ample range for extended rides. Here's a closer look at its battery specifications and charging features.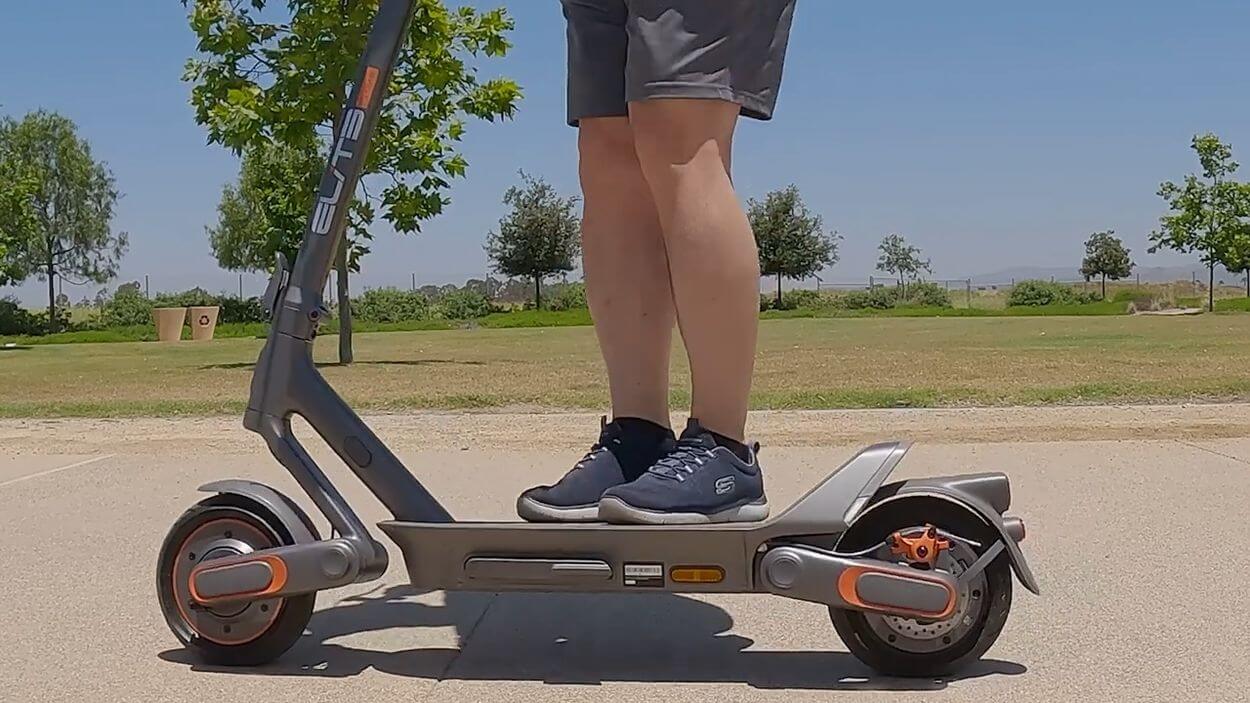 The scooter houses a 48-volt, 14.5 amp-hour (Ah) battery. The combination of a high voltage and large capacity results in a substantial energy storage capacity, providing the scooter with an impressive range.
So, the 40-mile range of the Yadea Elite Prime X1 sets it apart as a long-range electric scooter, offering enhanced versatility and freedom to riders who seek a dependable and powerful scooter for their daily commute, leisure rides, and long-distance adventures.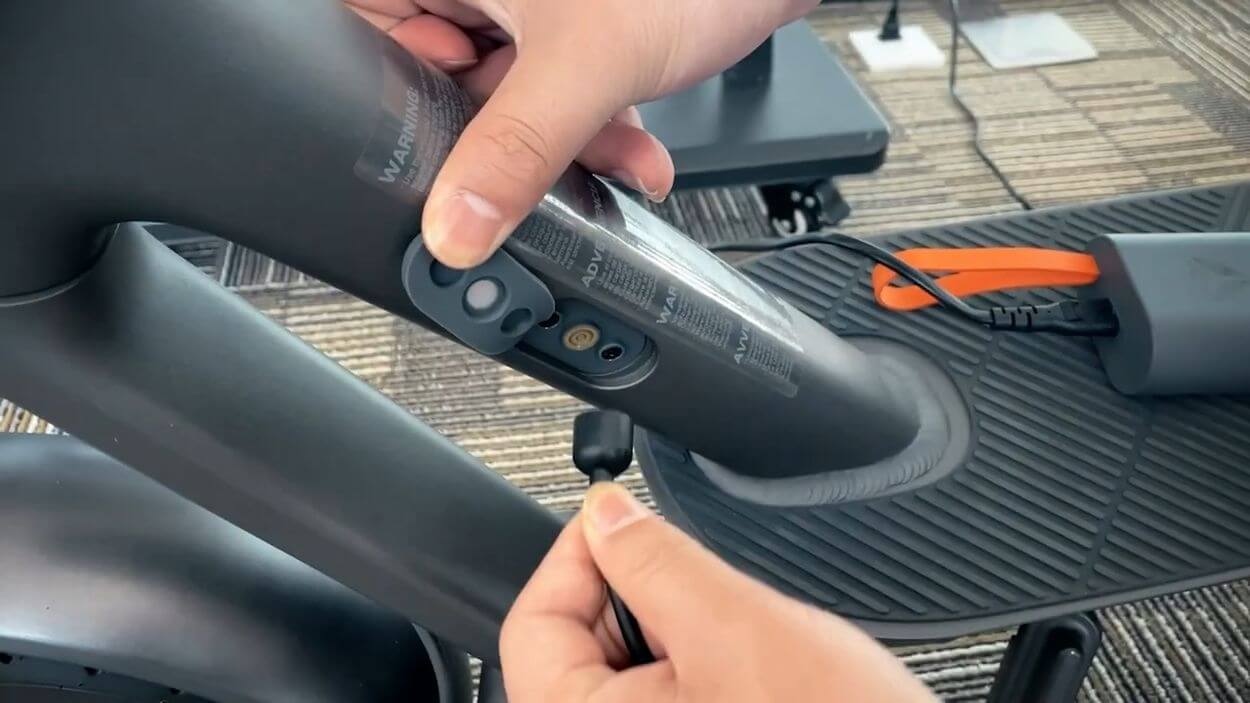 The scooter's charge port stands out for its unique and practical design. It features a splash guard, which protects the port from water and dust, ensuring reliable charging in various weather conditions and terrains.
Charging the Yadea Elite Prime X1 is made hassle-free with its magnetic connection, similar to an Apple charger. The magnetic feature allows the charger to securely attach to the charge port without the need to fumble with cords or plugs. This convenience streamlines the charging process and makes it more user-friendly.
Conclusions
In the end, the Yadea Elite Prime X1 electric scooter offers an outstanding value for riders seeking a high-quality and feature-rich scooter. After evaluating its design, performance, and specifications, it's clear that this scooter stands out in the market for several reasons.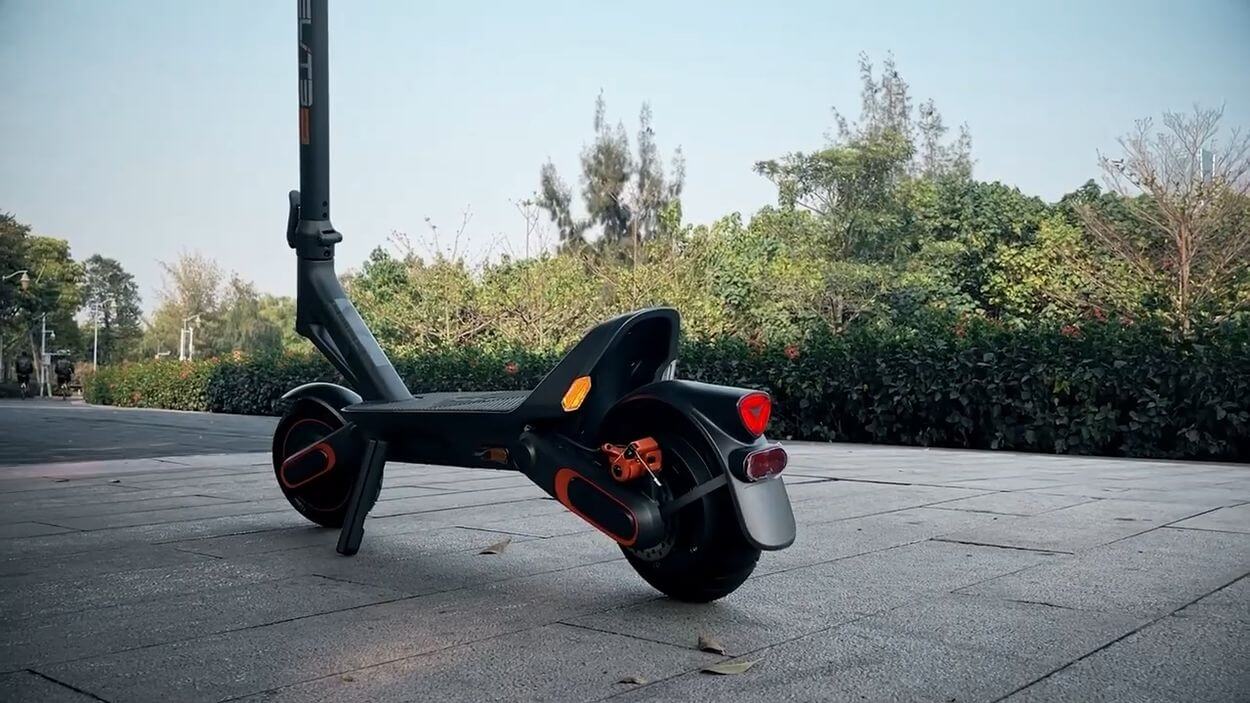 With its impressive range of 40 miles, powerful 800-watt motor, and high-capacity 48V 14.5Ah battery, the Yadea Elite Prime X1 provides excellent value for its price point. Its top-notch specs and performance make it a compelling choice for riders looking for a reliable and efficient electric scooter.
The scooter boasts a solid build quality with aircraft-grade aluminum frame and reliable welds. Its suspension system ensures a smooth and comfortable ride, minimizing vibrations and fatigue during longer journeys.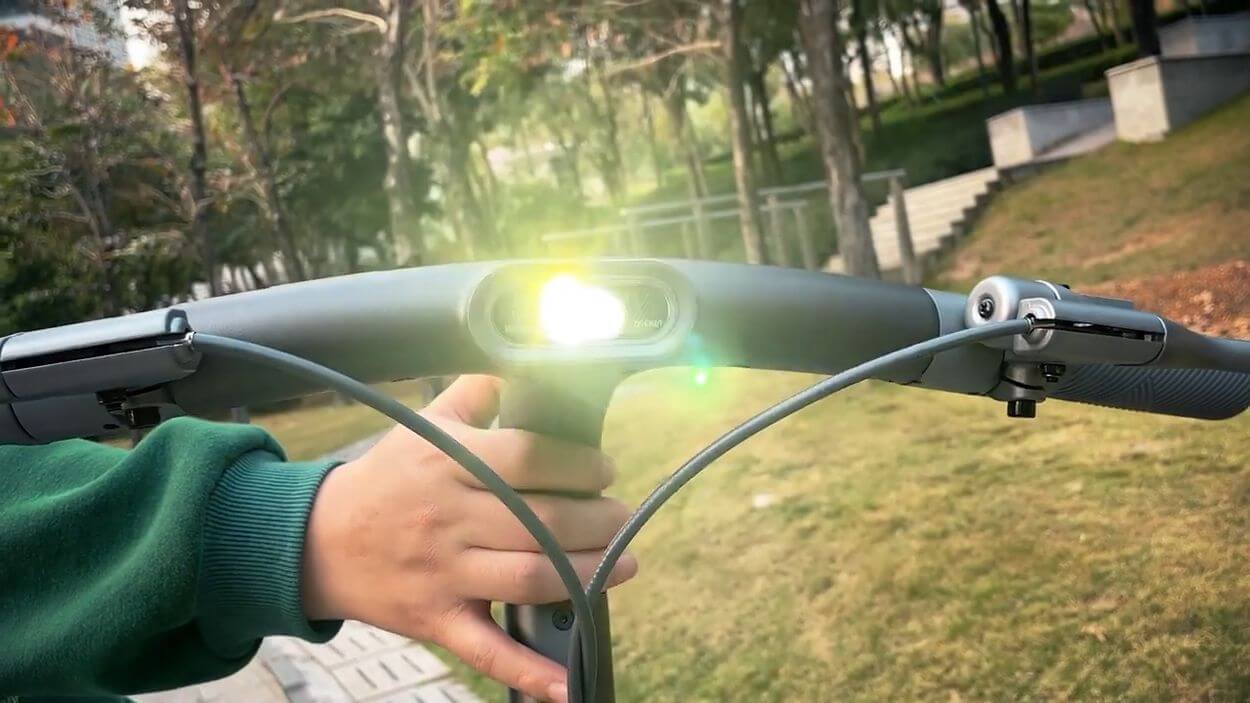 The Yadea Elite Prime X1 comes with thoughtful features such as the unique magnetic charging port with a splash guard, making charging hassle-free and protecting the port from water and dust.
The scooter excels on smooth surfaces like sidewalks and paved roads, providing an efficient and enjoyable ride. It can also handle off-road conditions and grassy terrains, showcasing its versatility for various riding scenarios.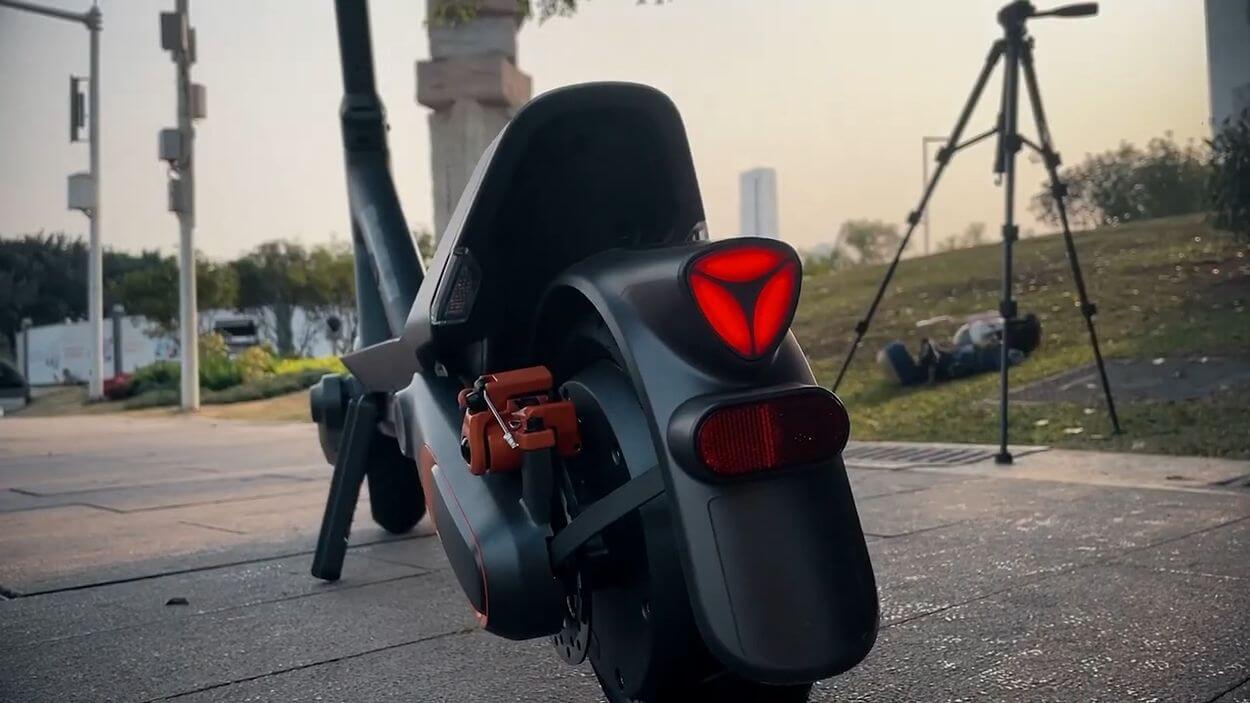 At its current price, especially during an early bird special on platforms like Amazon, the Elite Prime X1 represents a fantastic deal. Its combination of power, range, and build quality at this price point makes it a top contender in the electric scooter market.
So, the Yadea Elite Prime X1 offers an exceptional overall package, combining great performance, design, and features for an affordable price. Whether you are a daily commuter, a recreational rider, or an adventure seeker, this scooter provides a smooth, reliable, and enjoyable riding experience. If you're interested in an electric scooter of this type, it's highly recommended to check out the Elite Prime X1, as it sets a high standard for quality and performance in its category.
Alternatives of Yadea Elite Prime X1