The Lankeleisi X3000 Max is an absolute powerhouse, a true monster of nature that leaves a lasting impression on anyone who rides it. From the moment you sit on this bike and experience the first acceleration, you're greeted with an immediate "wow" effect that sets it apart from the rest. Welcome to the world of the Avis Express, where we get to discover the exhilarating Lankeleisi X3000 Max in all its glory.
In its plus version, the X3000 Max takes power to a whole new level compared to the classic version. Instead of a single 2000-watt motor, this beast boasts not one, but two 1000-watt motors. This dual-motor setup is nothing short of extraordinary, taking the bike's performance to new heights and transforming it into a real sick thing.
With the main motor located on the front wheel and the secondary motor on the rear wheel, the X3000 Max offers a unique and exhilarating riding experience. But what makes it truly special is the ability to activate or deactivate either of the two motors independently. By holding down the plus button, you can choose to ride with a single motor or engage both motors simultaneously. And let me tell you, this feature changes the game entirely.
However, I must emphasize that with great power comes great responsibility. The X3000 Max's acceleration is so impressive that it requires cautious handling and skillful control. It's an absolute adrenaline rush, but riders must be mindful of the bike's incredible power and adjust their riding style accordingly.
So buckle up and get ready for an incredible journey as we dive deeper into the world of the Lankeleisi X3000 Max. Hold on tight because this bike is about to take you on a wild ride like no other. Welcome to a new level of electric biking greatness.
| | |
| --- | --- |
| Frame | 6061 aluminum alloy frame |
| Motor | 2000W front and rear dual motors |
| Maximum speed | 45~51KM/H |
| Electric configuration | PAS mode (5 Shifts) |
| Variable speed | Shimano 7 speed |
| Rear Derailleur | Shimano M310 |
| LCD Display | Multifunctional LCD color monitor |
| Fork | Lockable aluminum shoulder oil spring suspension large front fork |
| Tire specifications | 20*4.0 CHAOYANG Fat tire |
| Cranksets | Prowheel aluminum alloy crank square hole 52T |
| Brake | DYISLANDDe-energized Hydraulic Disc Brakes |
| Battery | 48V 20AH Samsung Lithium Battery |
| Range range | Electric mode 55-70 km/auxiliary mode 100-130 km |
Design and Build Quality
The Lankeleisi X3000 Max is a beautifully designed electric fat bike that features a fully suspended aluminum frame. The bike's suspension system includes a front fork that can be adjusted for different settings, allowing for a comfortable and smooth ride even on rough terrains. The inclusion of a piston on the frame further enhances the bike's performance, making it capable of carrying riders weighing between 180 kg to 200 kg, and accommodating individuals with heights ranging from approximately 165 cm to 190 cm.
One of the standout features of the Lankeleisi X3000 Max is its fatbike design, which incorporates 20-inch diameter and 4-inch wide tires. This tire size is not an innovation exclusive to this bike, but it does provide better stability and traction, especially on uneven surfaces. Additionally, the perforations on the frame, particularly visible in the orange version of the bike, not only add to the bike's aesthetic appeal but also serve a functional purpose by reducing the effects of inertia and centrifugal forces, thereby minimizing resistance during riding.
The bike's foldable design is a convenient feature for those who need to transport or store the bike in limited spaces. When folding the bike, it integrates neatly within its own frame, ensuring a compact form when not in use.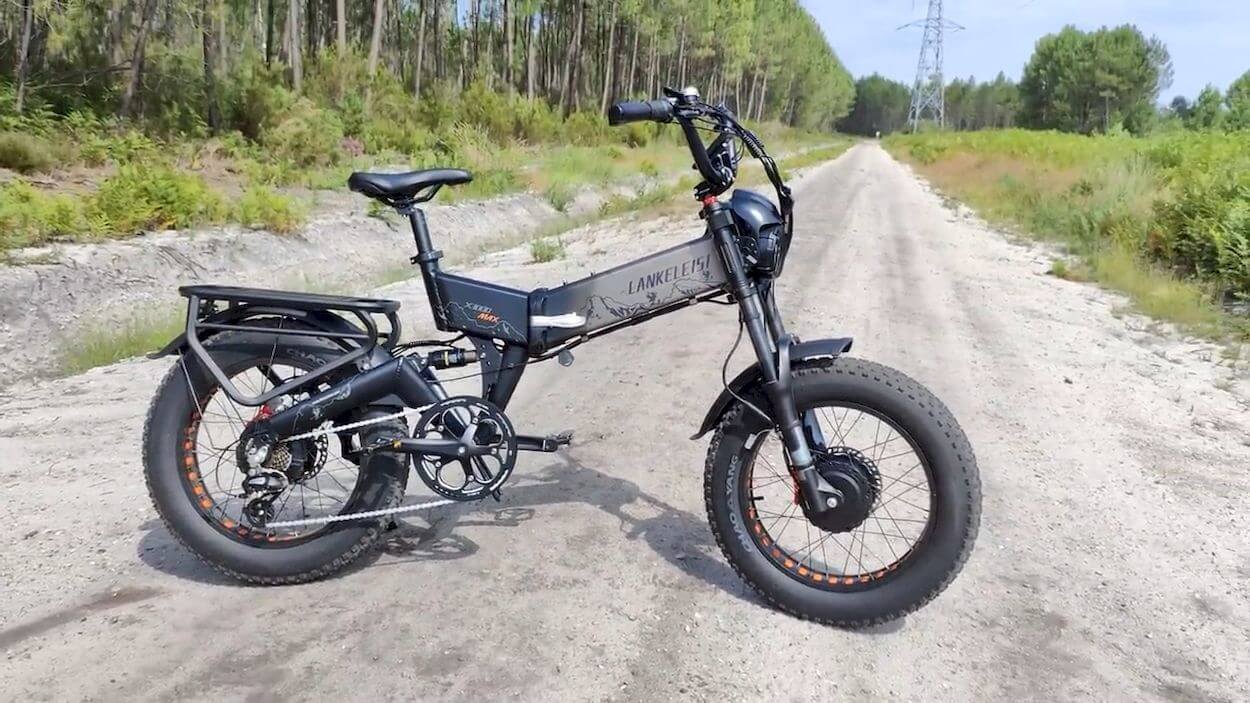 The Lankeleisi X3000 Max is powered by a 20-ampere battery manufactured by Samsung, which indicates a high-quality power source for the electric motor. The bike's hydraulic braking system is another notable feature, providing responsive and efficient braking performance, making riding safer and more enjoyable.
The handlebars feature controls for adjusting the level of assistance, turning on the headlights, and accessing the administration console, which provides information about battery status, mileage, and motor settings. The bike is equipped with a Shimano derailleur, enabling smooth and precise gear shifting for various riding conditions.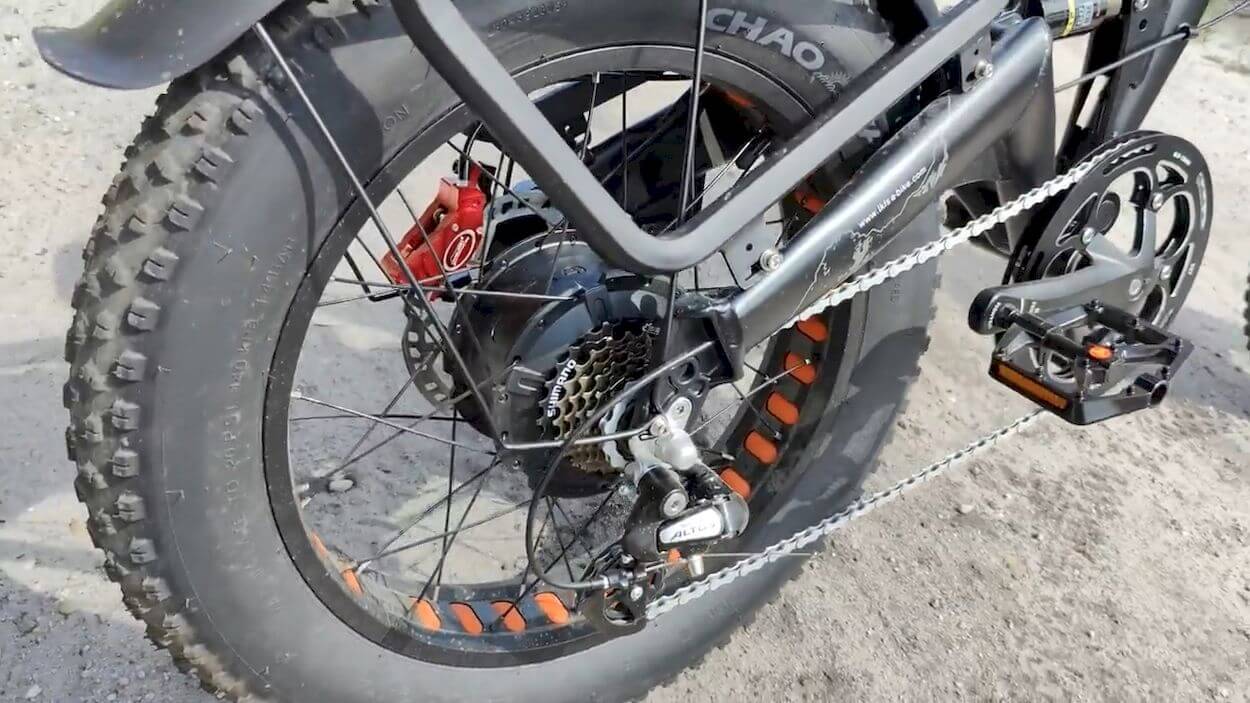 One interesting feature, though it may not comply with all regulations, is the presence of an accelerator, allowing riders to control the bike's speed without pedaling. This feature, combined with the leather imitation handles, adds to the bike's unique appeal.
In terms of comfort and convenience, the Lankeleisi X3000 Max includes a large front headlight, providing better visibility during night rides. Mudguards, both front and rear, are made of plastic and offer protection from splashes and dirt. The bike also features a kickstand, rear headlight, and a luggage rack for carrying essentials during rides.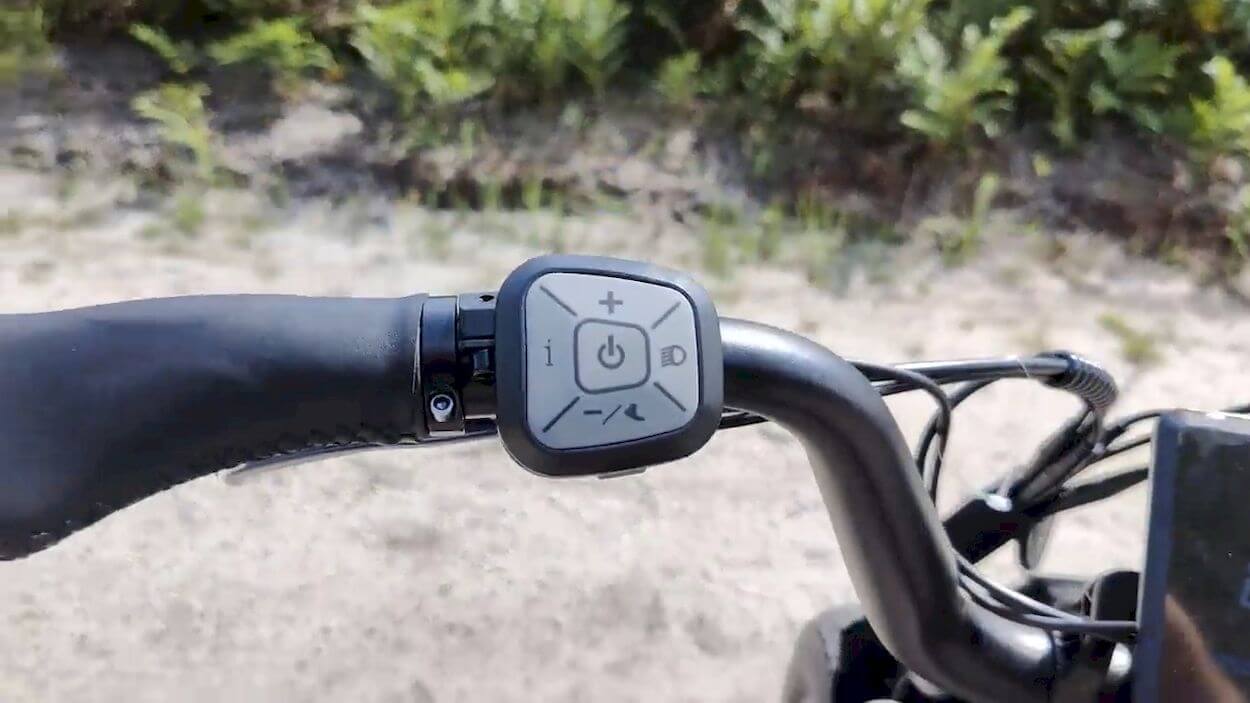 From a technical standpoint, the Lankeleisi boasts impressive performance and capabilities, making it a powerful and efficient electric bike suitable for various terrains and riding preferences.
The wide saddle is one of the essential comfort factors on a bike, and the Lankeleisi X3000 Max doesn't disappoint in this aspect. While it may not be the softest saddle on the market, it provides ample comfort for extended rides, which is the main priority.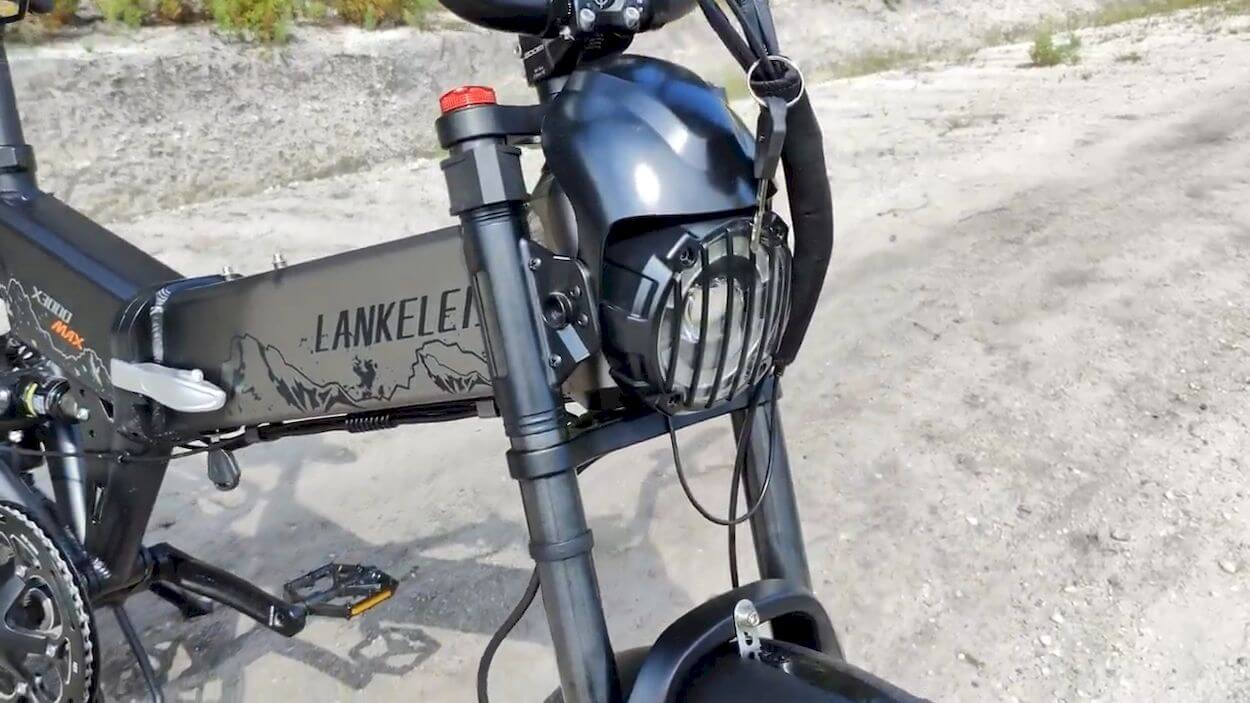 The bike's comfort is further influenced by the tires' pressure. You can adjust the tire pressure according to the type of road you're riding on. For smoother asphalt roads, higher tire pressure can provide a more efficient ride, while slightly deflating the tires offers better traction and comfort on rougher terrains.
The suspension system also plays a vital role in enhancing comfort. The bike's rear suspension effectively absorbs shocks, ensuring a smooth ride even on challenging terrains. Although the rear suspension is not adjustable, it comes pre-set from the factory to cater to various rider weights. As a result, the bike remains stable and responsive, and you won't notice any significant sagging even if you're not extremely heavy.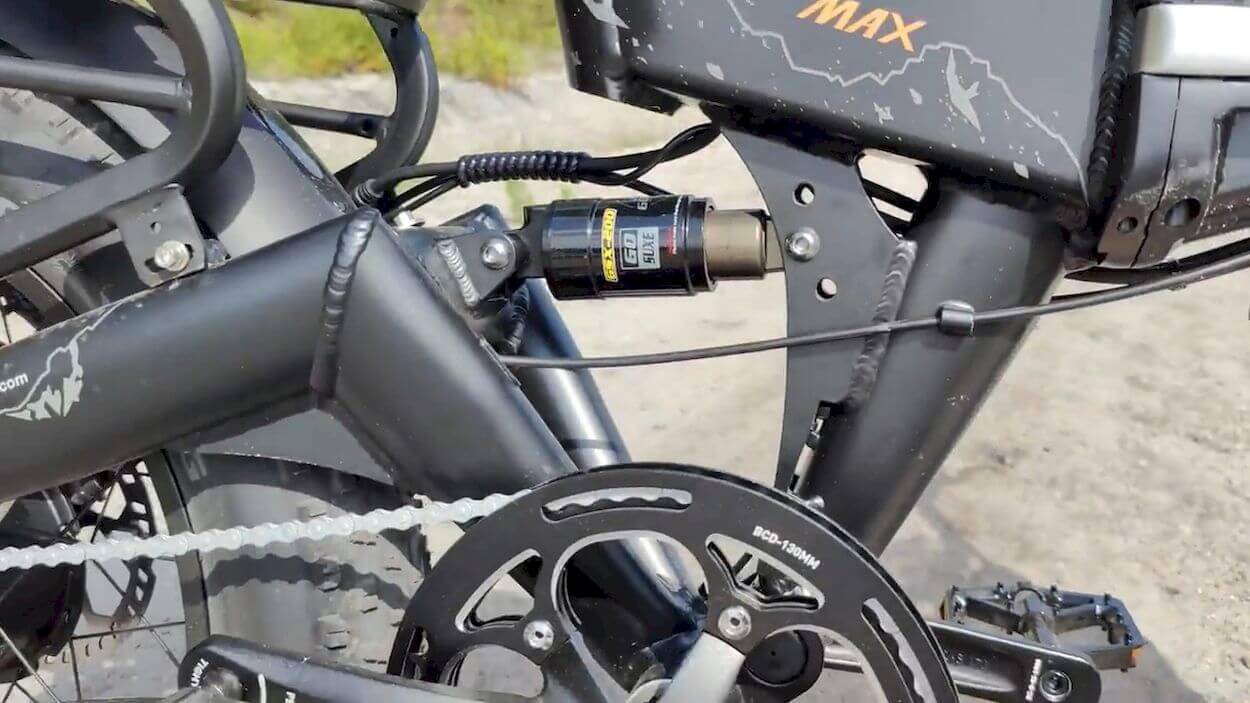 The front fork, unlike the rear suspension, offers adjustability options. This means you can customize the suspension settings to match your preferred level of comfort and the type of terrain you're riding on. Having the option to tweak the front suspension allows you to fine-tune the bike's performance according to your preferences.
Engaging the electric motor is smooth and responsive with just half a turn of the pedals. With the double motor setting, the bike gains a lively and powerful acceleration. In fact, it's so quick off the start that the front wheel may lift slightly, demonstrating its readiness to take off.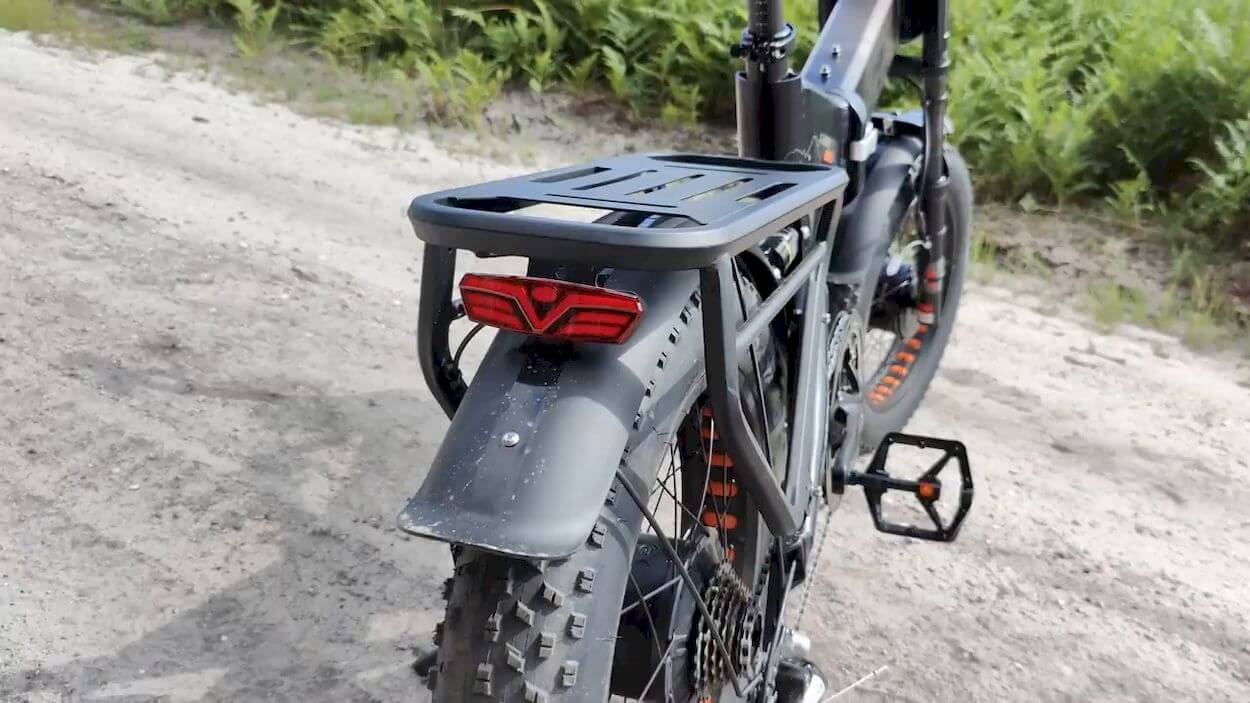 While the liveliness of the motor might impact comfort a bit, it's not a major concern. You quickly adapt to the bike's responsiveness and learn to control the acceleration to match your riding style.
Overall, the Lankeleisi X3000 Max combines sportiness with comfort, making it an excellent choice for both leisurely rides and adventurous off-road excursions. Its sturdy build, wide saddle, suspension system, and powerful electric motor contribute to a pleasurable and enjoyable riding experience. Whether you're cruising on smooth asphalt or tackling challenging terrains, this bike has got you covered.
Power and Driving test
It sounds like the driving test of the Lankeleisi X3000 Max with the Dual motor mode was an exhilarating experience! The bike's immediate response to the half turn of the pedal when engaging the motor in Dual motor mode provides a lively and powerful acceleration. The presence of the accelerator on the right side of the handlebars further enhances the motorcycle-like feeling, allowing for swift and effortless control of the bike.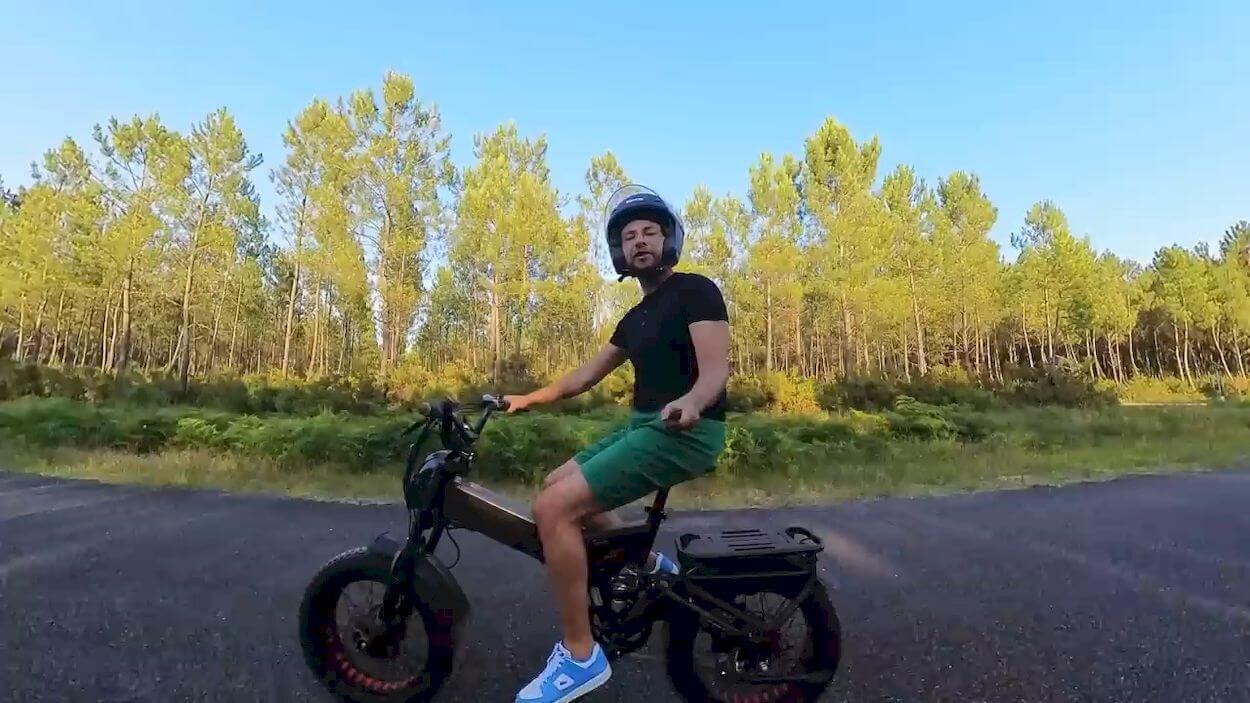 The bike's comfort during the test was satisfactory, with the factory-set suspension system providing a smooth and stable ride. The wide saddle contributes to the overall comfort, making long rides more enjoyable.
The presence of 1000W motors in both the front and rear positions is a unique feature that sets the Lankeleisi X3000 Max apart from many other electric bikes. When using the Dual motor mode, the bike becomes a true powerhouse, capable of conquering challenging terrains and steep hills with ease. Climbing bridges and hilly paths without losing speed or even accelerating uphill is a remarkable feat, thanks to the impressive torque of 90 Newton meters delivered by the combination of these motors.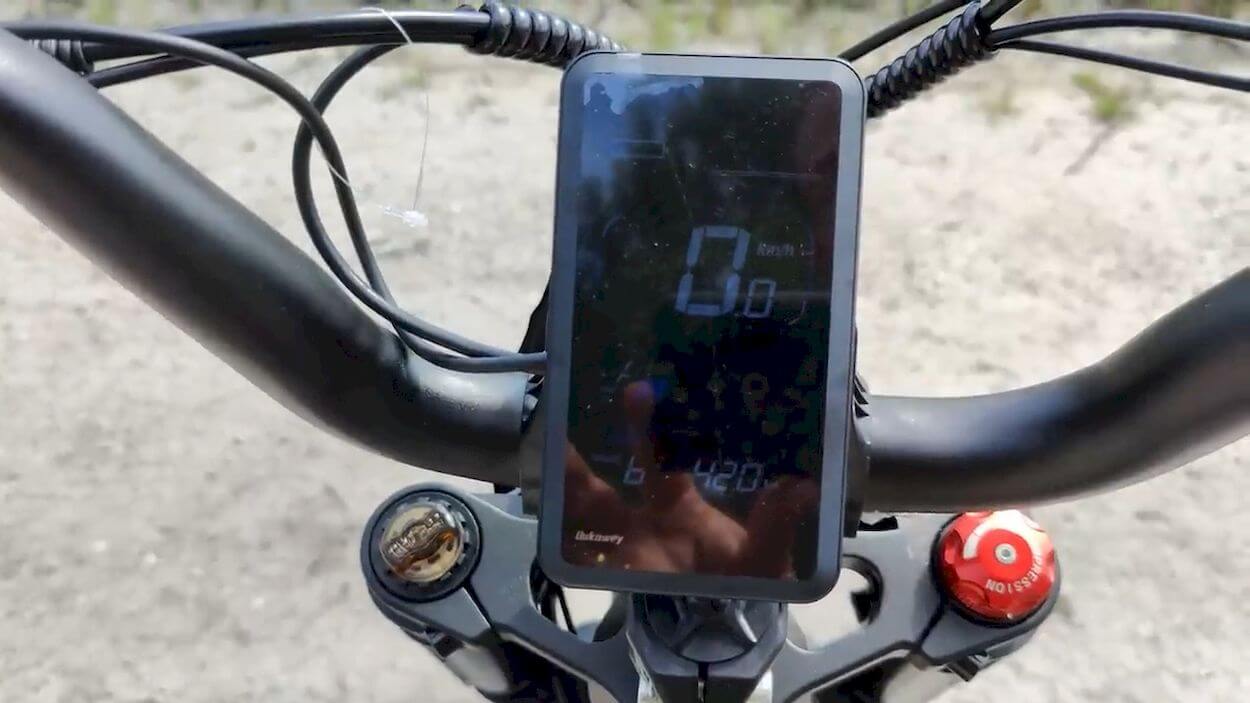 While the Dual motor mode adds tremendous power, it's important to note that handling the bike in this mode requires some caution, especially when making tight turns or maneuvers. The heightened power and acceleration can be intense, so it's best to be mindful of how the bike responds in such situations.
The Lankeleisi X3000 Max showcases its capabilities when it comes to speed as well, reaching a top speed of around 46 km/h with the Dual motor setup. While adding the second motor might not significantly increase the top speed, the overall performance and torque of the bike make it an absolute beast on the road.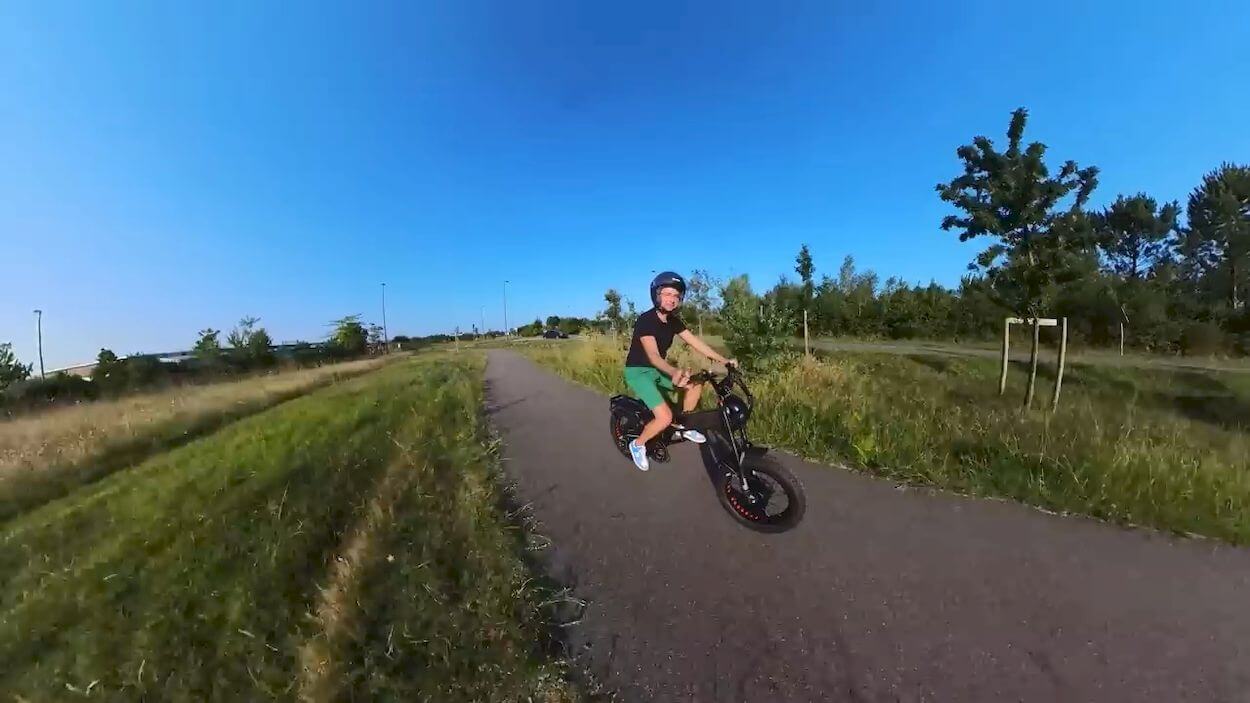 However, it's essential to emphasize that the X3000 Max, especially with the Dual motor mode, may not comply with certain regulations in some regions. Riders should be aware of their local laws and requirements concerning electric bikes.
The braking performance of the X3000 Max is top-notch and provides riders with reliable and efficient stopping power. Equipped with hydraulic disc brakes both at the front and rear, the bike offers a high-quality braking system that is commonly considered the best in the industry.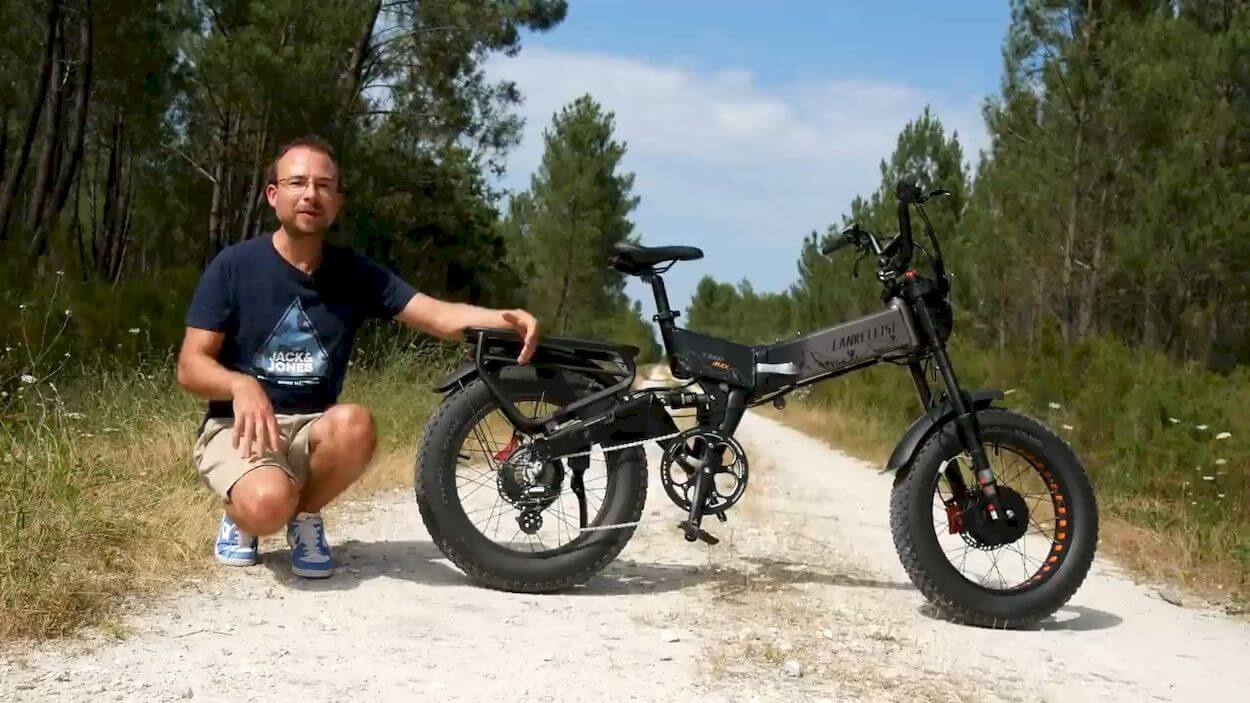 The hydraulic disc brakes are known for their excellent responsiveness and consistent performance. With just a light press on the brake lever, the brakes engage smoothly and bite immediately, offering a sense of confidence and control to the rider. The braking response is soft and progressive, allowing for precise modulation of braking force as needed.
During the braking test, the Lankeleisi X3000 Max showcased its impressive braking capabilities. From a speed of 25 km/h to a complete stop, the bike covered a distance of only 4 meters, demonstrating exceptional braking efficiency. Comparatively, many other fat bikes might require a slightly longer distance to stop completely under similar conditions, making the X3000 Max stand out in terms of braking performance.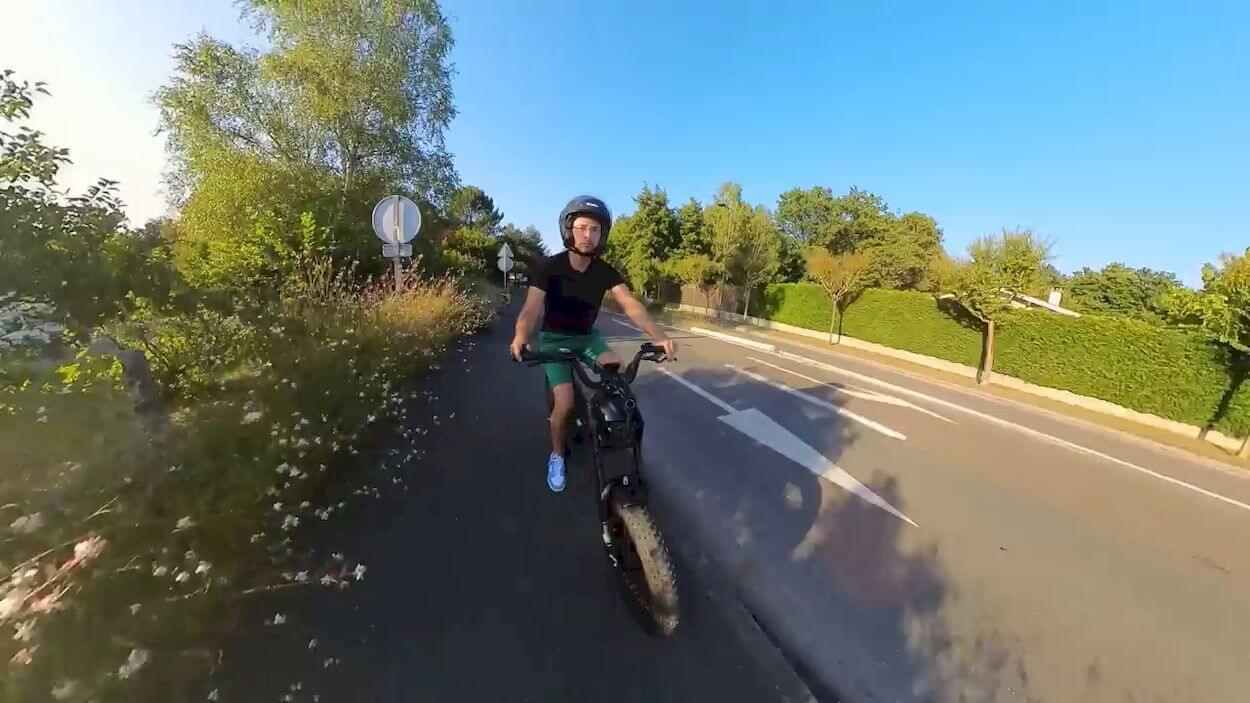 Moreover, during emergency braking tests conducted at speeds close to 40 km/h, the bike managed to stop in less than 10 meters, a feat that further highlights its safety and stopping power.
Battery and Range
It's impressive to hear about the results of your autonomy test with the Lankeleisi X3000 Max! Unloading the battery to the maximum and achieving a range of approximately 43 kilometers under challenging conditions with a rider weight of 70 kg is quite an accomplishment.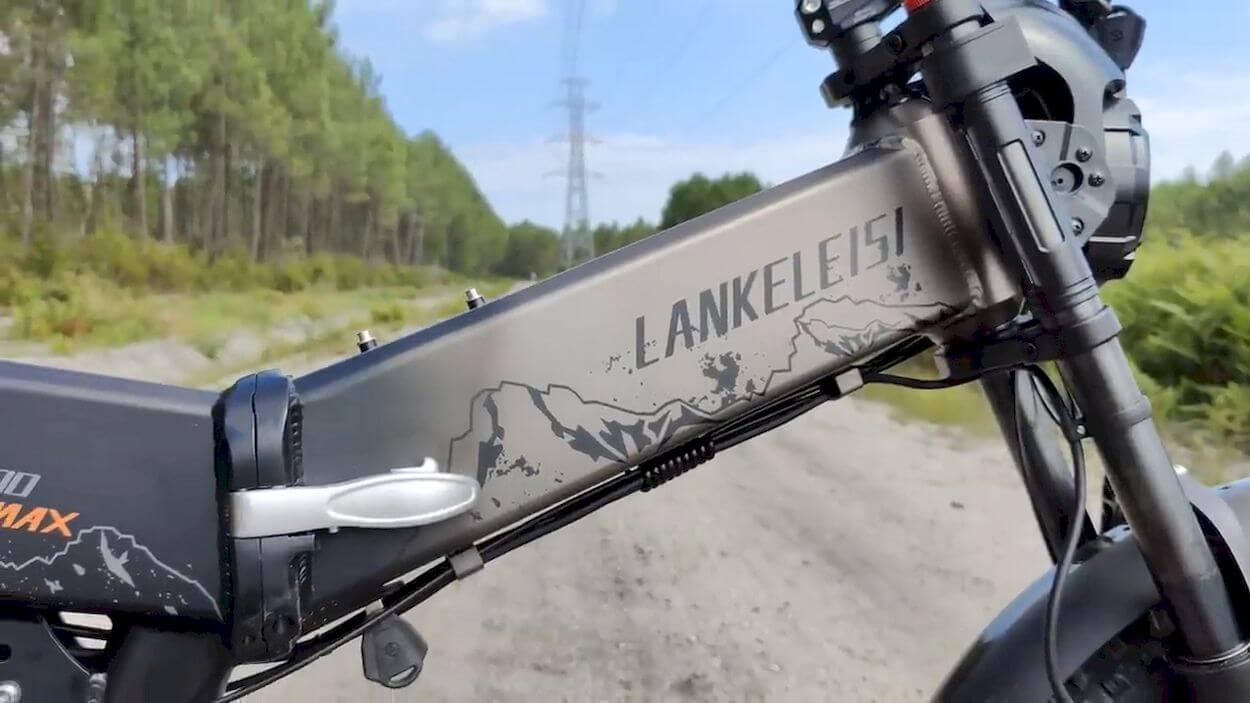 Using both motors and relying solely on the accelerator for this test demonstrates the bike's power and efficiency. Pushing it to its limits on tough paths and going full throttle throughout the test, you managed to achieve an admirable range. The 20 amp-hour battery from Samsung undoubtedly plays a crucial role in providing such excellent performance.
Considering your riding style and the test conditions, it's reasonable to expect even more range if you were to use just one motor or if you incorporate pedaling along with the motor assistance. In such scenarios, the bike's autonomy could potentially increase by 1.5 times, allowing you to cover distances of around 65 to 70 kilometers with ease.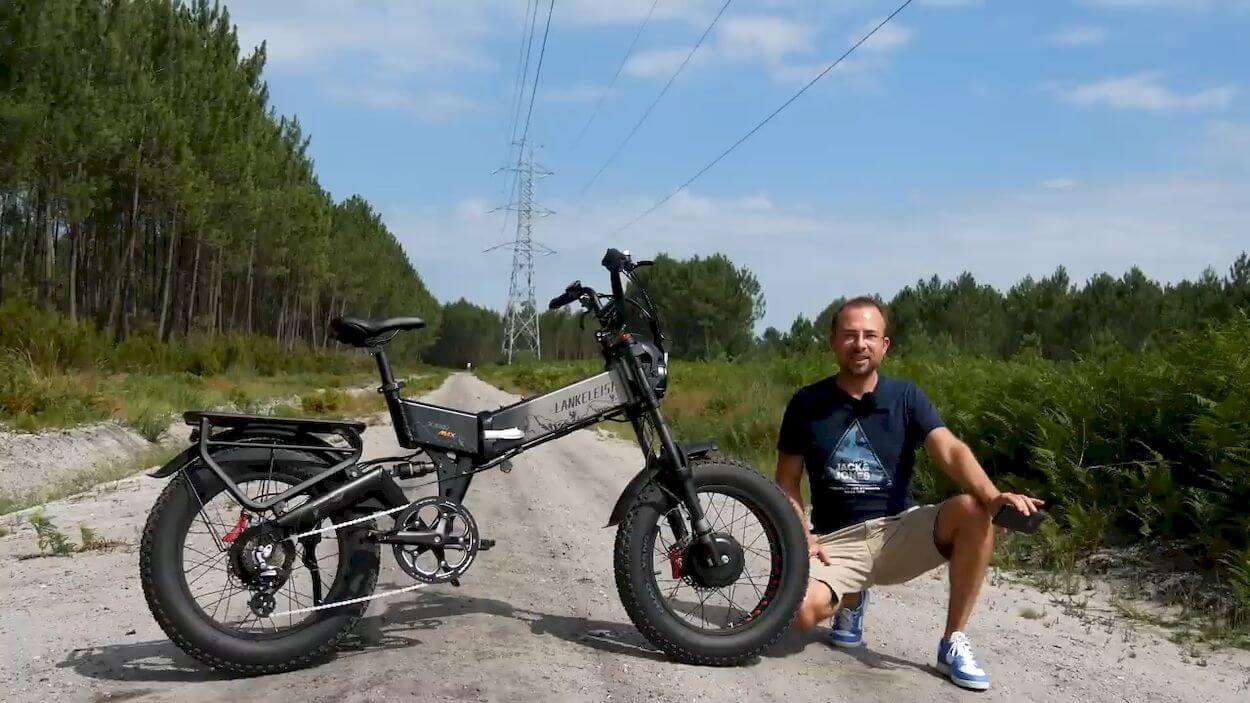 It's worth noting that the bike maintains its speed and performance until the very end of the battery's charge, indicating the battery's reliability and consistency in providing power throughout the ride.
The Lankeleisi X3000 Max has indeed proved to be an excellent choice for those seeking a powerful and long-lasting electric bike. With its impressive range, sturdy design, and reputable Samsung battery, this bike is well-suited for various riding styles and terrains.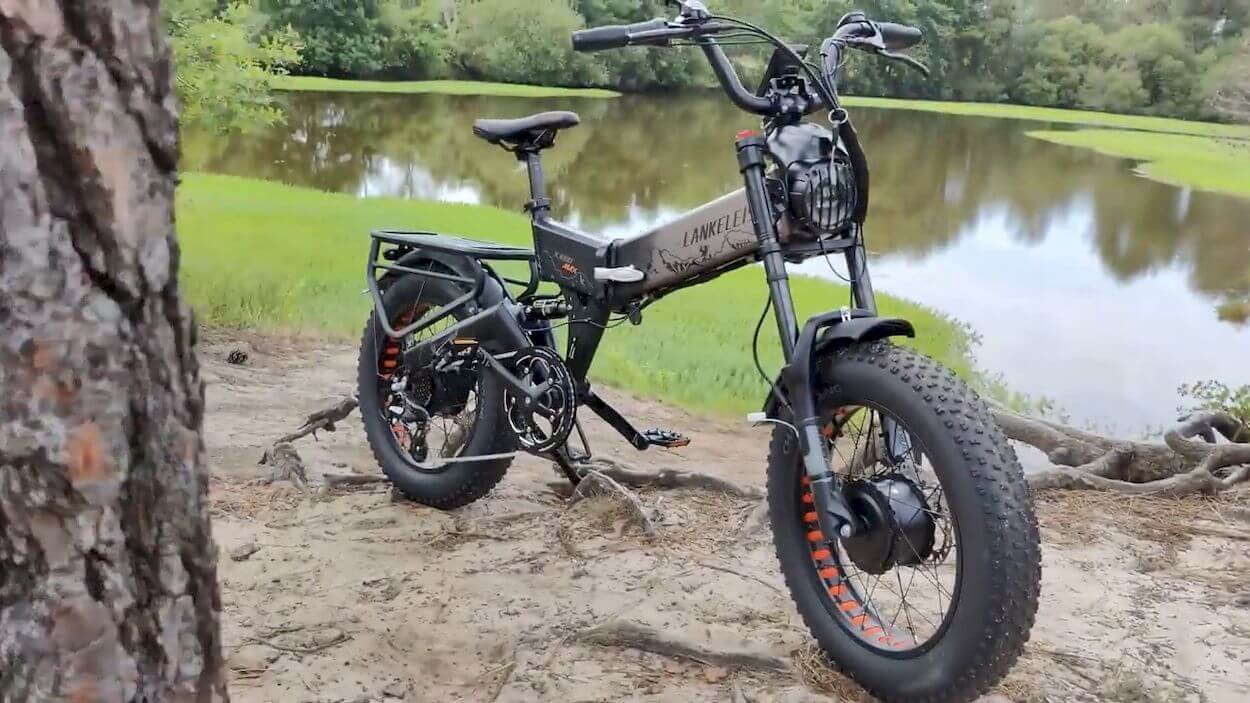 However, as always, it's essential to keep local regulations in mind and adhere to speed limits and safety guidelines while riding. Electric bikes can provide a thrilling and enjoyable experience, but responsible riding is crucial to ensure both your safety and the safety of others.
Conclusions
In the end, the Lankeleisi X3000 Max is an electric bike that delivers an exhilarating and powerful riding experience. The Dual motor mode, with its 1000-watt motors in the front and rear positions, provides an impressive feeling of acceleration and power, akin to going from a standard car to a high-performance vehicle.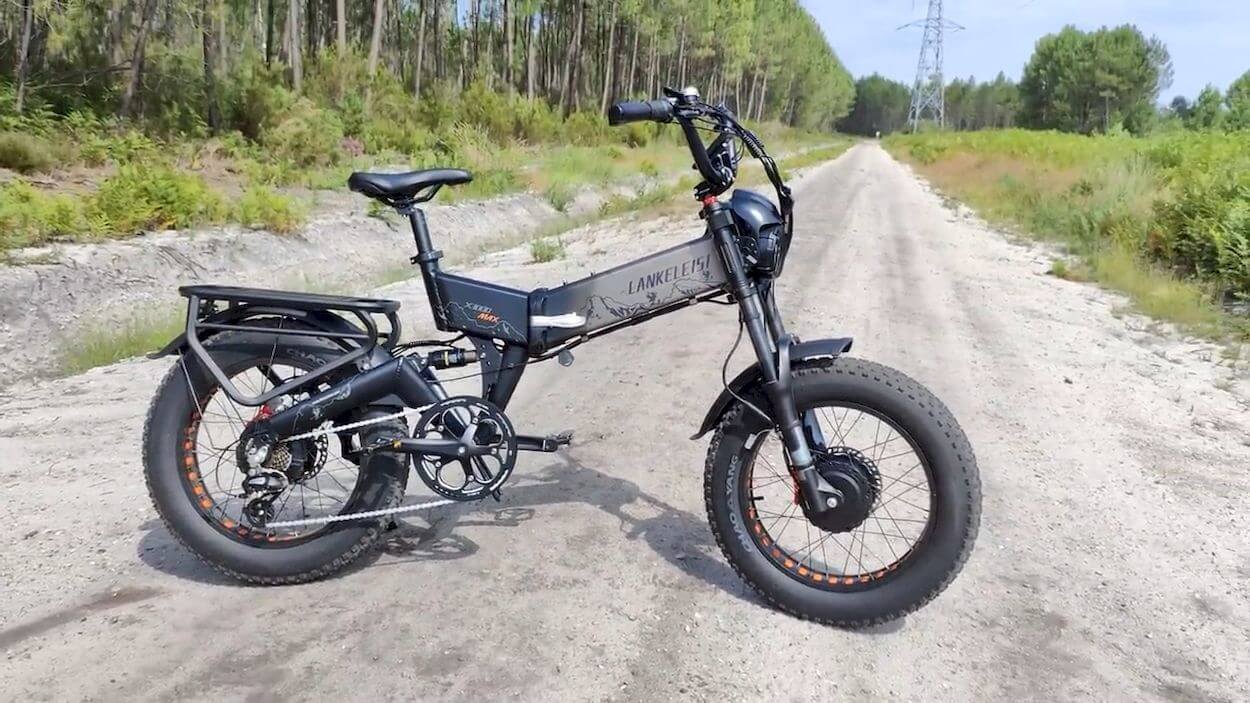 The bike's flexibility to easily switch between Dual motor and Single motor mode adds convenience and accessibility. It allows for a more manageable ride, making it suitable for riders of varying skill levels, and it enhances safety and control during different riding conditions.
While the bike is relatively heavy due to its sturdy frame and powerful components, it compensates with exceptional comfort, responsiveness, and shock absorption. The wide saddle, raised handlebars, and well-designed suspension contribute to a smooth and enjoyable riding experience, even on challenging terrains.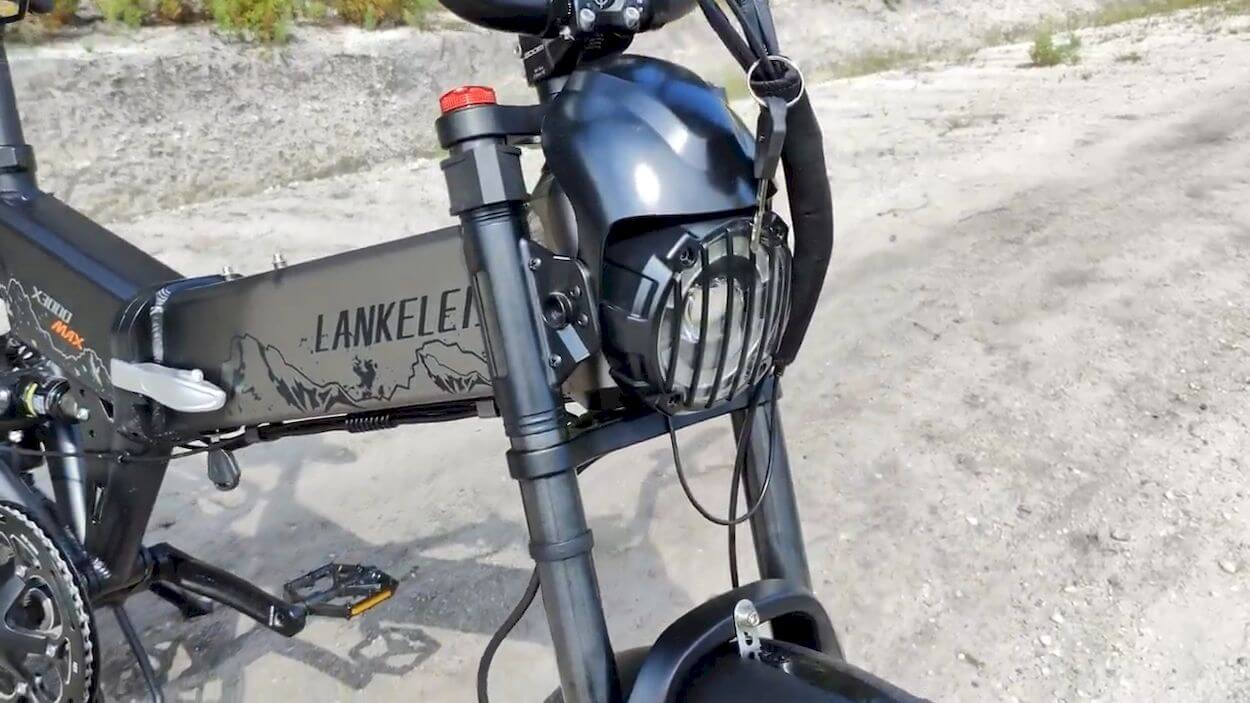 The top speed of around 40 km/h provides a thrilling ride, and the hydraulic disc brakes deliver excellent braking performance, ensuring a safe and confident stop. The inclusion of lights, linked to the central battery system, adds an essential safety feature, though turn signals would have been a welcome addition.
In terms of range, the X3000 Max performs remarkably well, providing approximately 43 kilometers of autonomy with both motors engaged and throttle usage. The battery, with its 20 amp-hour capacity from Samsung, delivers consistent power until the end of the charge, making long rides achievable and enjoyable.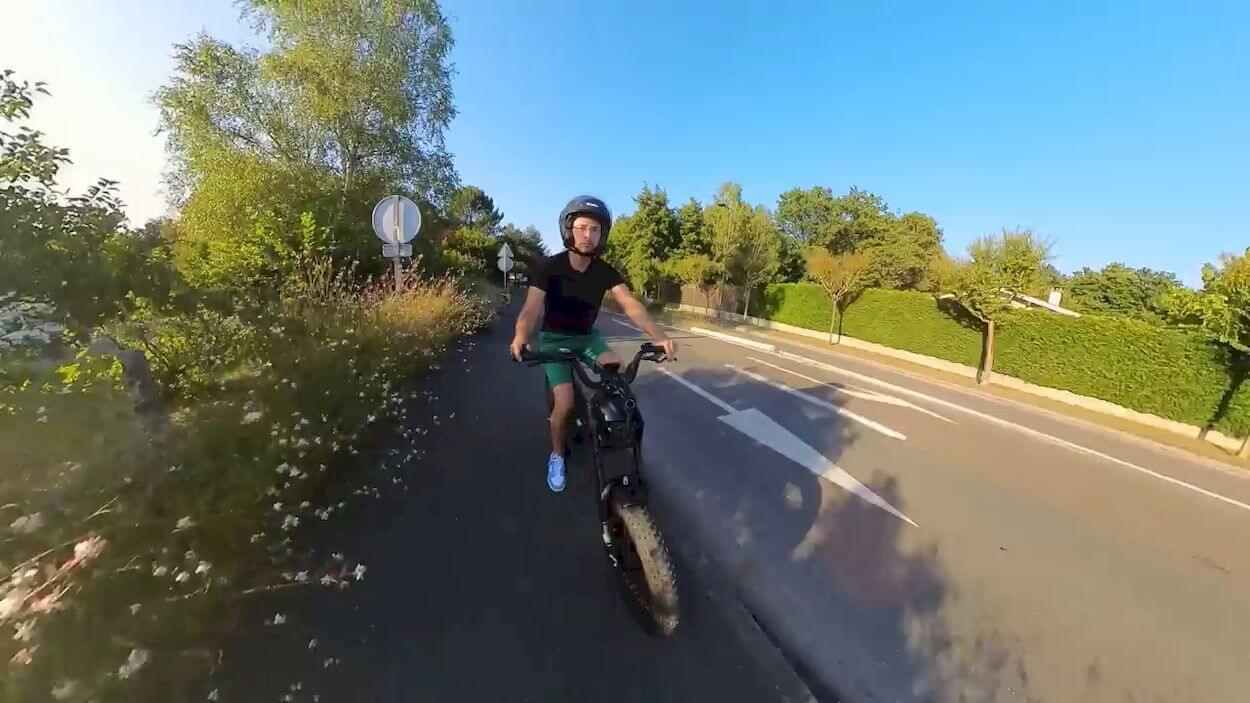 While the bike may not be suitable for extreme mountain biking, it excels in various terrains and offers an impressive balance of power, comfort, and versatility. The combination of 20-inch tires and the dual motor system allows for confident off-road excursions, and it performs exceptionally on forest paths and rough trails.
For those seeking an electric bike that offers a unique and thrilling riding experience, the Lankeleisi X3000 Max is a strong contender. Its sporty design, incredible acceleration, and impressive range make it an enticing option for adventure enthusiasts and leisure riders alike.
As always, it's essential to adhere to local regulations and safety guidelines when using electric bikes. Always wear appropriate safety gear, ride responsibly, and respect speed limits to ensure a safe and enjoyable experience.
Alternatives of Lankeleisi X3000 Max