My experience with the Surface 604 Sunny Day e-bike has been nothing short of delightful. From the moment I laid eyes on its sleek design with the classic double top tube and stylish colorway, I knew it was going to be a fun ride. As I inspected the build quality, I was pleased to find that it felt sturdy and well-constructed, with the rigid aluminum alloy fork providing stability on various terrains.
One of the standout features of the Sunny Day is its driving performance. The torque sensor-based pedal-assist system delivers a smooth and natural ride, precisely matching the power output to my pedaling effort. It was a joy to experience the seamless transition from human-powered pedaling to electric-assisted riding. I particularly enjoyed how the torque sensor allowed me to maintain a comfortable and consistent pace, making my commutes and leisure rides a breeze.
One notable advantage of the Surface 604 Sunny Day is its affordability, coming in at a price of $2,199. Being a direct-to-consumer brand, customers can easily order the bike online, have it shipped to their doorstep, and start riding without much hassle.
So, my experience with the Surface 604 Sunny Day e-bike has been exceptional. Its build quality, driving features, and battery life have exceeded my expectations, making it a reliable and enjoyable choice for my daily rides and adventures. Whether for commuting, leisurely trips around the city, or exploring nature trails, the Sunny Day has proven itself to be a versatile and capable companion.
| | |
| --- | --- |
| FRAME MATERIAL | 6061 Aluminum Alloy |
| MOTOR | 500W (Peaks At 750W) Bafang |
| TORQUE | 65Nm of Torque |
| TOP SPEED | 20mph (32kmh)*, Comes as Class 2 |
| WHEELS/TIRE | Custom S604 Innova Tires 27.5" x 2.4" |
| CHAIN | KMC 9-Speed |
| FORK | Rigid Cruiser Front Fork, straight steerer |
| BRAKES | TEKTRO Auriga E350 Hydraulic Disc Brakes |
| KICKSTAND | Adjustable Heavy-Duty Aluminum |
| BATTERY | Included: 48V 12Ah / 576Wh |
| BATTERY RANGE | Up to 35mi (56km) with a 48V12Ah Battery |
Design and Build Quality
The Surface 604 Sunny Day is a smaller version of their Cruiser e-bike lineup, which also includes the Big Sky. With a 17 and a half-inch frame, it falls into the category of a mid-step or semi-step-through design, making it accessible and easy to mount for most riders. While some may refer to it as a step-through bike, it doesn't have the full wave deep step-through commonly seen on traditional step-through frames.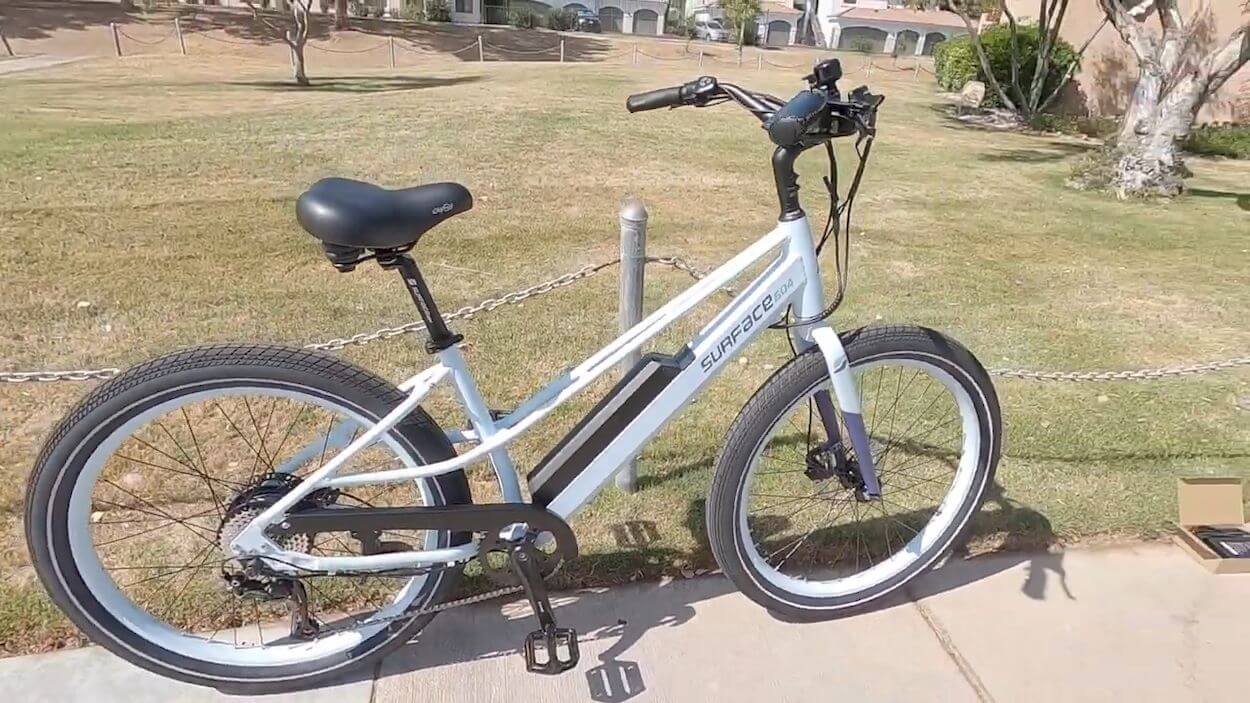 The design of the Sunny Day exudes a classic and stylish look with a double top tube, which not only adds to its aesthetics but also contributes to the bike's overall stiffness. This sturdiness is particularly beneficial considering it uses larger tires compared to typical cruisers, providing a smooth and stable ride.
In terms of utility, the Sunny Day offers practicality with the option to add a real rack and fenders, enabling riders to carry essentials or protect themselves from splashes on wet roads. However, it appears that the bike lacks a readily apparent bottle cage mounting point, which could be a minor drawback for some riders who prefer to carry their water bottles.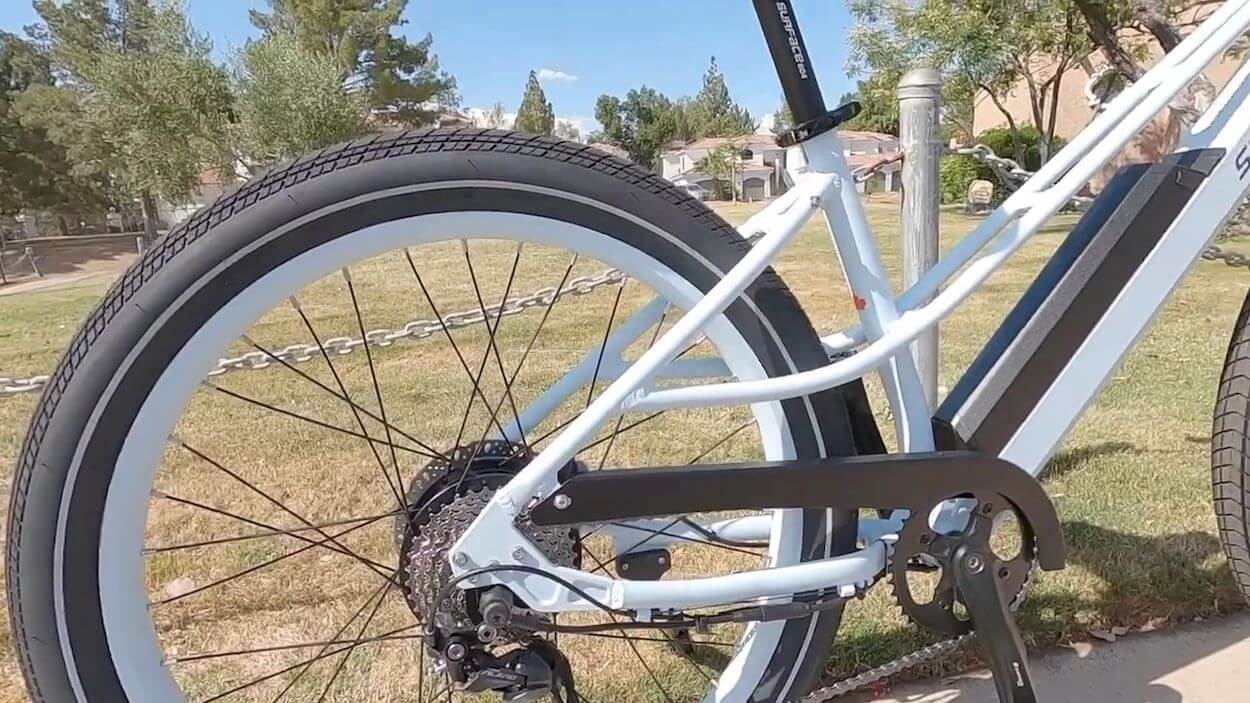 The Surface 604 Sunny Day comes in a single frame size and a distinctive colorway that combines light gray, bluish tones, and accents of purple and gray. This color scheme extends even to the rims, making for a unique and visually appealing appearance. While the color is somewhat safe and neutral, it stands out, especially at night, thanks to the reflective sidewalls on the tires, providing added visibility and safety when riding in low-light conditions.
The bike does not come with integrated lights, but it is pre-wired for them. There is a cable on the front that allows users to easily install a headlight, such as the Busch & Müller Shine 120 with 120 Lumens, which can draw power directly from the bike's battery pack. Additionally, if the optional rear rack is chosen, it will come with another light featuring two LEDs. This rear light has an interesting feature: it blinks when the brake lever is pulled, increasing the bike's safety by signaling braking to others on the road.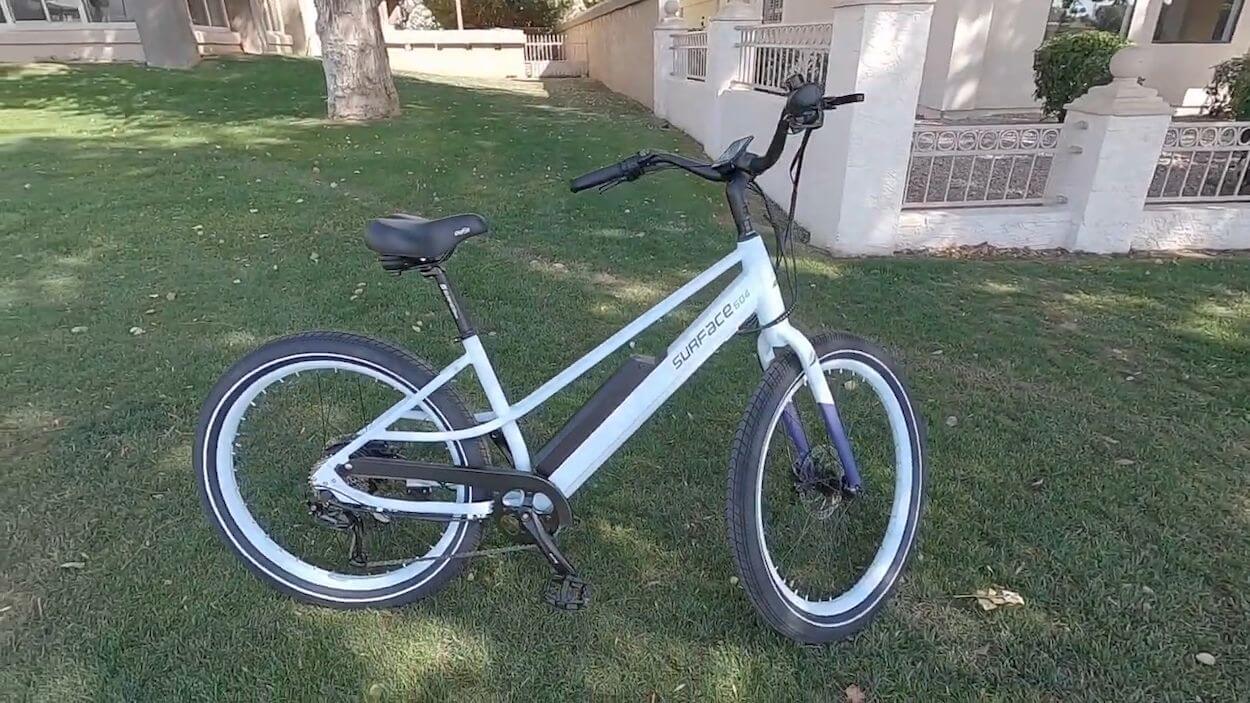 Safety features are further emphasized by the presence of motor inhibitors on both brake levers. These hydraulic disc brakes, equipped with adjustable reach levers, ensure powerful and reliable stopping power even in wet conditions. The large 180-millimeter rotors provide ample cooling surface area, making them efficient and effective for bringing the bike to a stop, even with its taller 27.5 by 2.4-inch wide wheels.
Speaking of the wheels, the 2.4-inch tires offer numerous advantages. They provide a cushion-like feel due to their increased air volume, enhancing comfort during rides. Additionally, the tire's width results in a lower attack angle, making it easier to handle varied terrains. The tires have a recommended PSI range of 30 to 65, offering versatility for different riding conditions. However, some riders might find them too inflated and might consider adjusting the pressure for a more comfortable ride.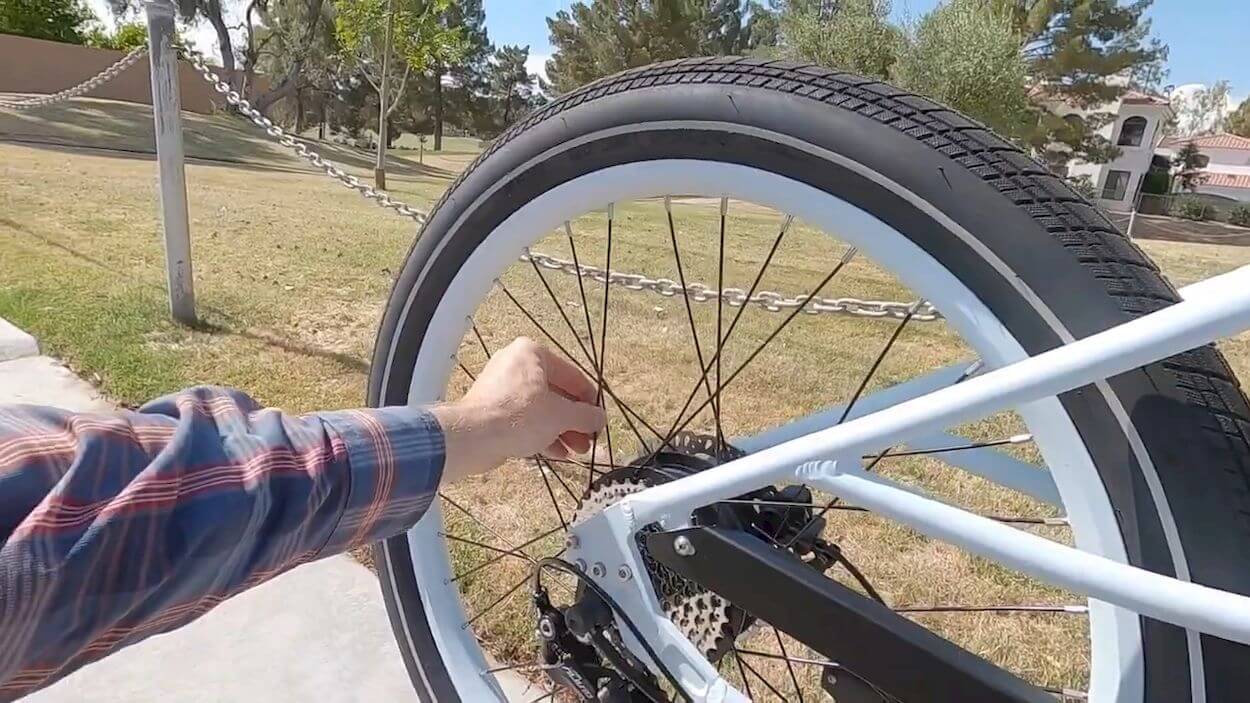 The Surface 604 Sunny Day features a rigid aluminum alloy fork instead of a suspension fork. While a suspension fork might provide more comfort on rough terrains, the rigid fork works well, especially given the bike's upright body position, which doesn't put as much weight leaning forward.
The saddle on the Sunny Day is the Royale Gypsy, designed with large elastomer bumpers to offer an oversized comfort experience. The 30.4-millimeter rigid seat post might not provide enough cushioning for some riders, but fortunately, it can be replaced with a suspension seat post, which would significantly improve comfort during rides.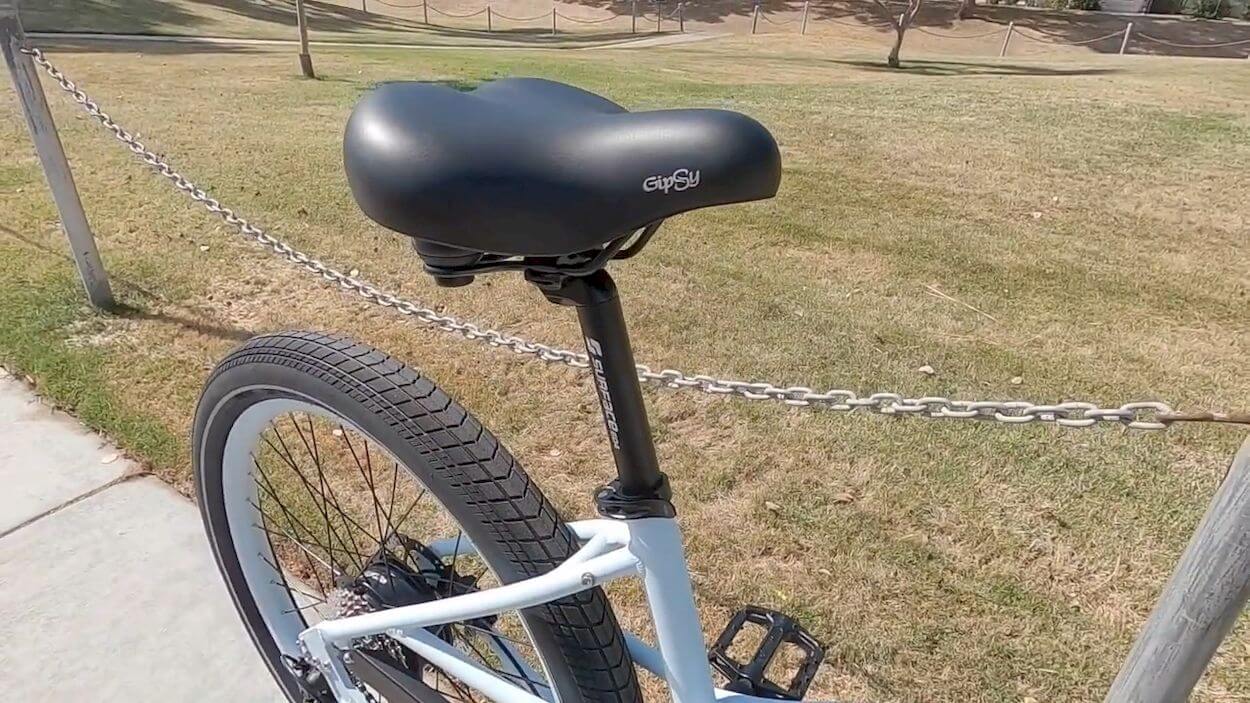 Lastly, the handlebars have a sweeping back design, enhancing the bike's relaxed and comfortable riding position. This setup complements the overall cruiser-style riding experience, making the Surface 604 Sunny Day an attractive and safe option for those looking for a versatile electric bike.
The longer handlebars on the Surface 604 Sunny Day serve a dual purpose. First, they offer improved dampening of vibrations, providing a more comfortable and smooth ride. Additionally, the handlebars are ergonomically designed to reduce strain on the wrists and hands during rides, enhancing overall comfort.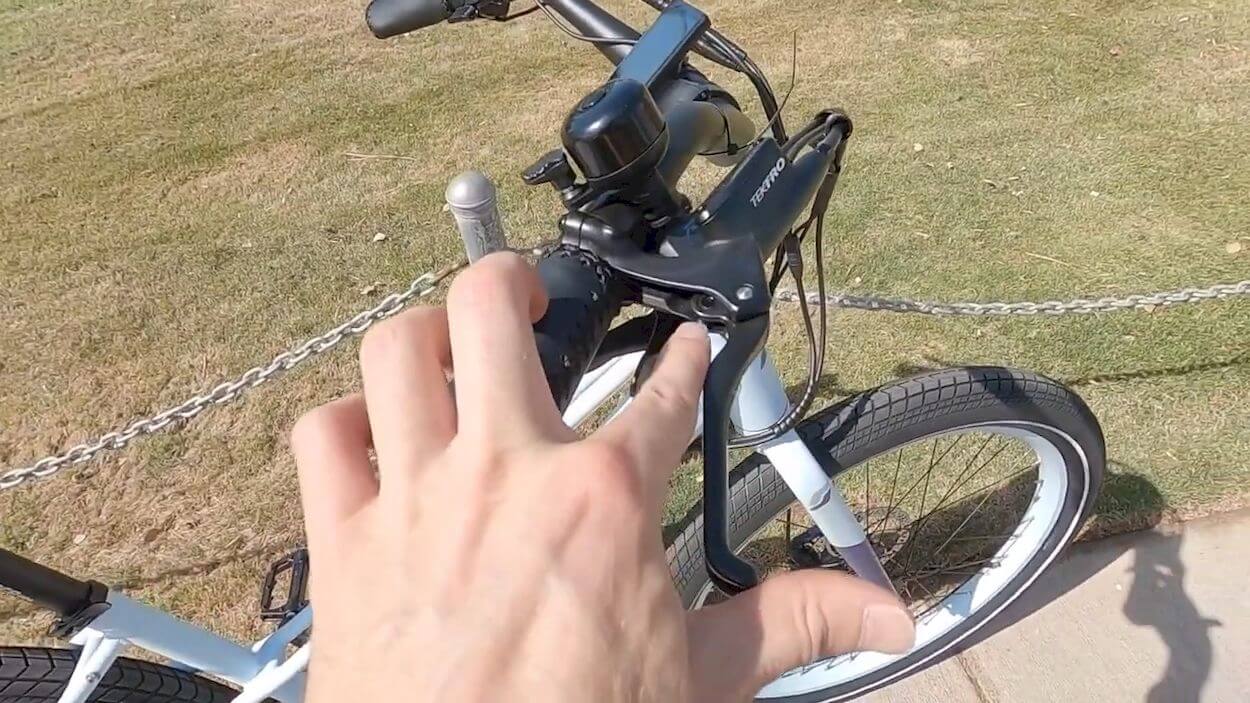 However, for riders with back and neck sensitivity, the handlebars might not fully address these concerns. In such cases, opting for a suspension seat post can be a beneficial choice. The suspension post further absorbs shocks and vibrations, offering additional cushioning to the rider. By doing so, it reduces stress on the rider's back and neck, making the overall riding experience more enjoyable and pain-free.
One thing to note with a suspension seat post is that it will raise the minimum saddle height by a few inches. While this might not be an issue for most riders, it's important to consider this change, especially for those who prefer a lower saddle position. Mounting the frame might require stepping on the pedal to get onto the seat due to the increased height.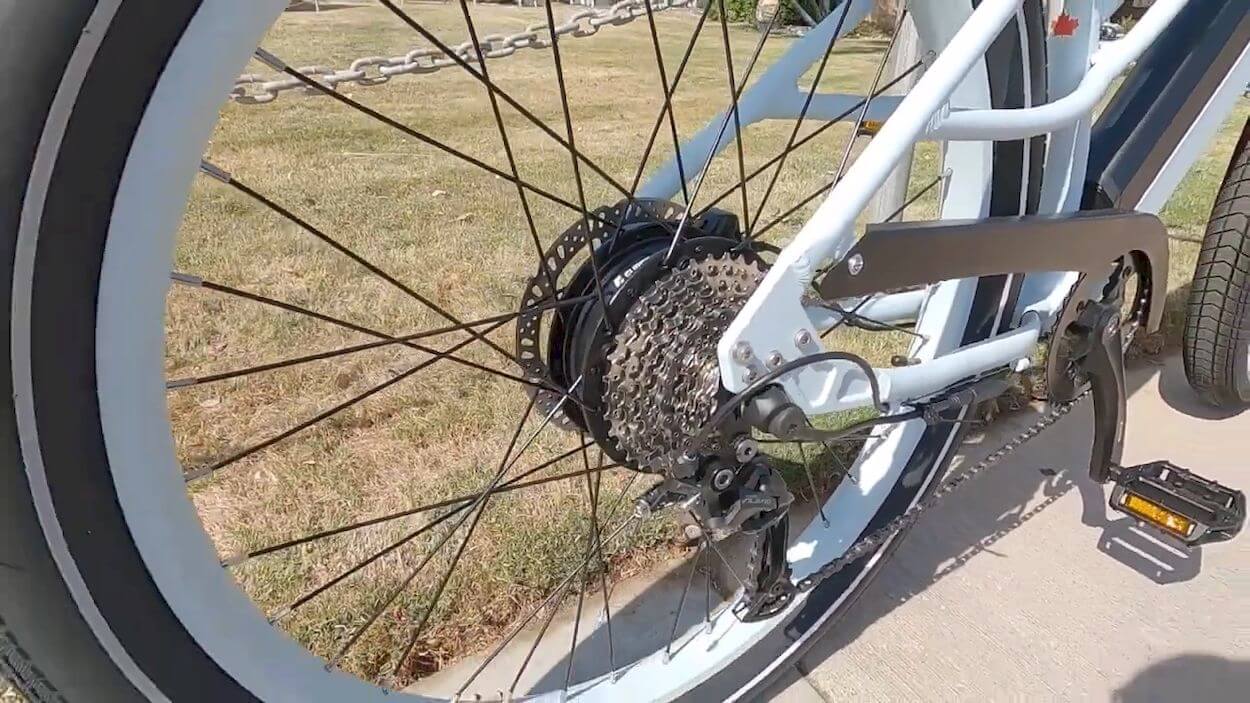 The bike's user-friendly design is evident with its large quick-release levers for adjusting the saddle height. This feature makes it easy to find the right saddle position quickly and efficiently. The front hub has a 100-millimeter spacing and uses a nine-millimeter quick-release skewer, simplifying maintenance and enabling easy removal for transportation, such as fitting the bike into the trunk of a car.
The Surface 604 Sunny Day e-bike impresses with its modular and quick disconnect system, allowing for easy maintenance and customization. The bike comes with several thoughtful features and extras, making it a versatile and convenient choice for riders.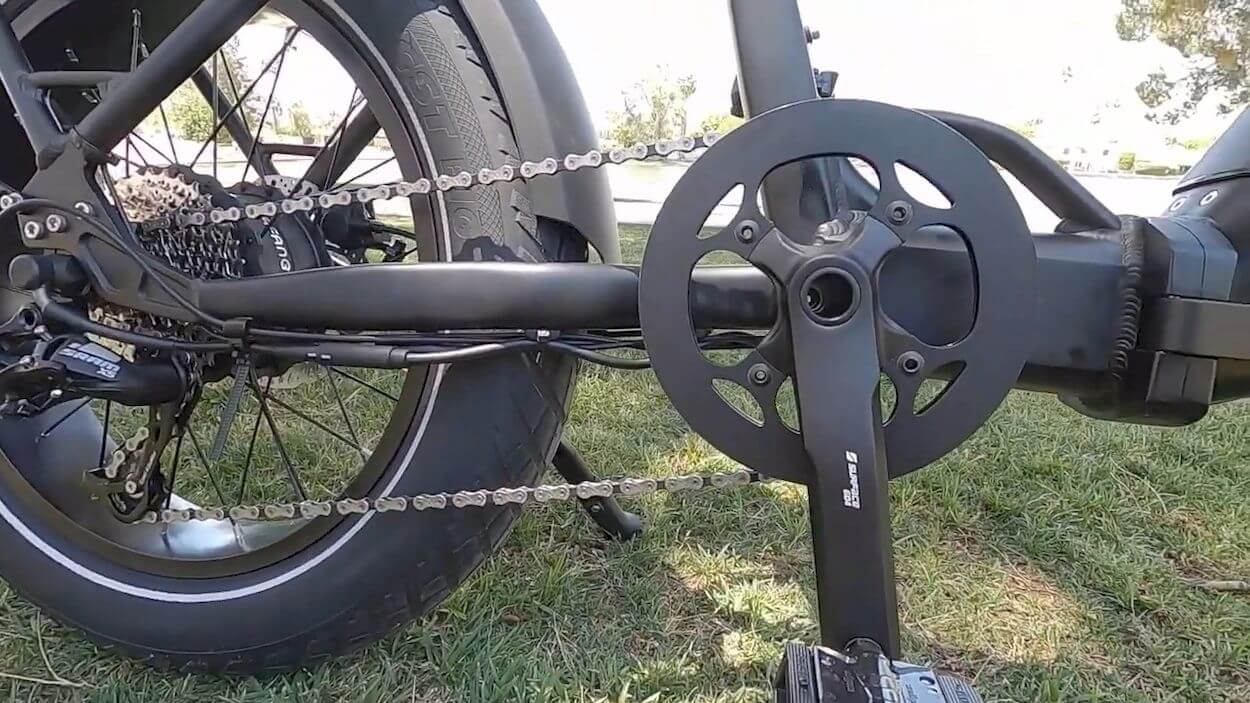 One standout feature is the quick disconnects throughout the bike. These quick disconnects enable the rider to easily separate components such as the battery, display, and other electrical connections from the frame. This design allows for efficient troubleshooting, maintenance, and repairs, ensuring that the e-bike remains in top condition.
So, Surface 604 Sunny Day showcases a high level of modularity and convenience, thanks to its quick disconnect system. The bike offers various extras and features, demonstrating that it has been thoughtfully designed for the user's comfort and ease of use. While some components may not be as well-known, they still deliver solid performance, making this e-bike a great choice for riders seeking a customizable and reliable electric bike.
Power and Driving test
The Surface 604 Sunny Day e-bike features a motor branded with the Surface 604 name, but it is manufactured by a generic brand, not a more well-known company like Buffang. Despite this, the motor performs well with a peak power rating of 500 to 750 watts, providing sufficient power for various riding scenarios. The torque output is estimated to be around 45 to 65 Newton meters, showcasing decent performance for moving the bike's larger wheels.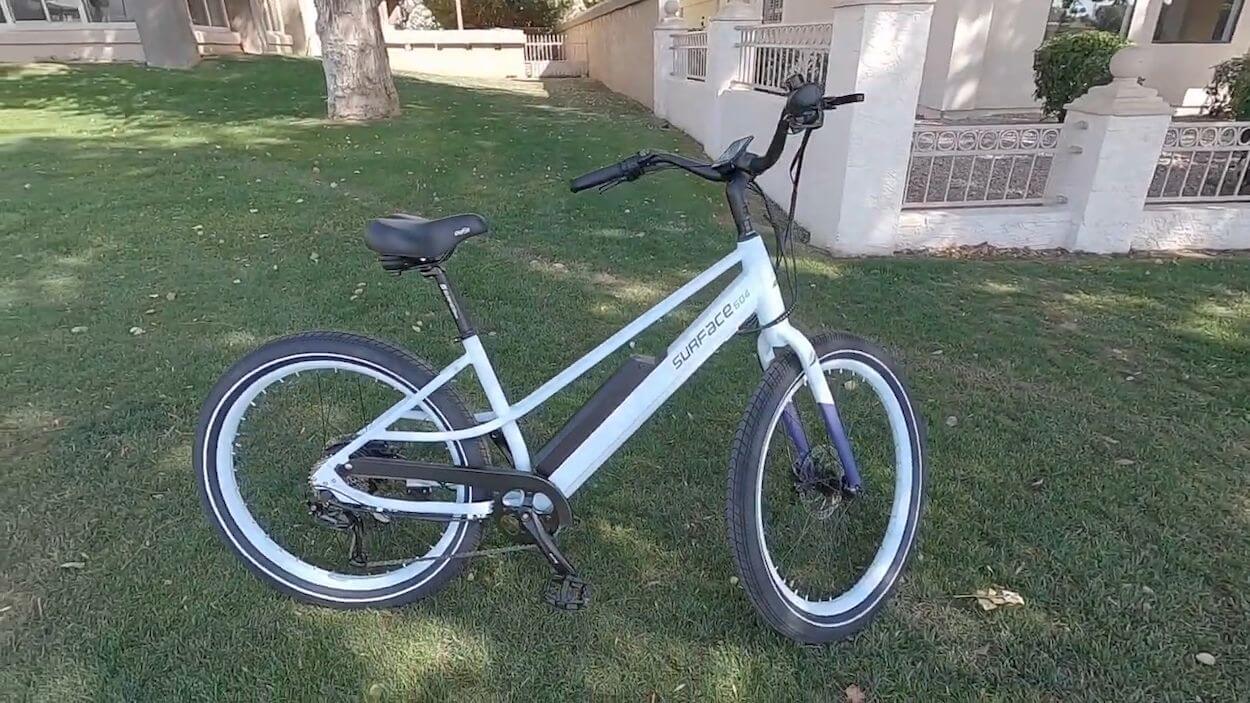 During the ride test, the motor emits a bit more noise compared to some other e-bikes, but it still works efficiently. The bike is classified as a Class 2 electric bike, offering a trigger throttle and a top speed of 20 miles per hour. However, it has the capability to be unlocked, allowing riders to increase the top speed to around 26 to 28 miles per hour, achieving Class 3 performance.
The e-bike features a nine-speed Shimano Olivio derailleur with a wider gear range, ranging from 11 to 36 teeth. This variety of gear ratios provides riders with more options for maintaining a comfortable and efficient pedal cadence, regardless of the speed or riding conditions.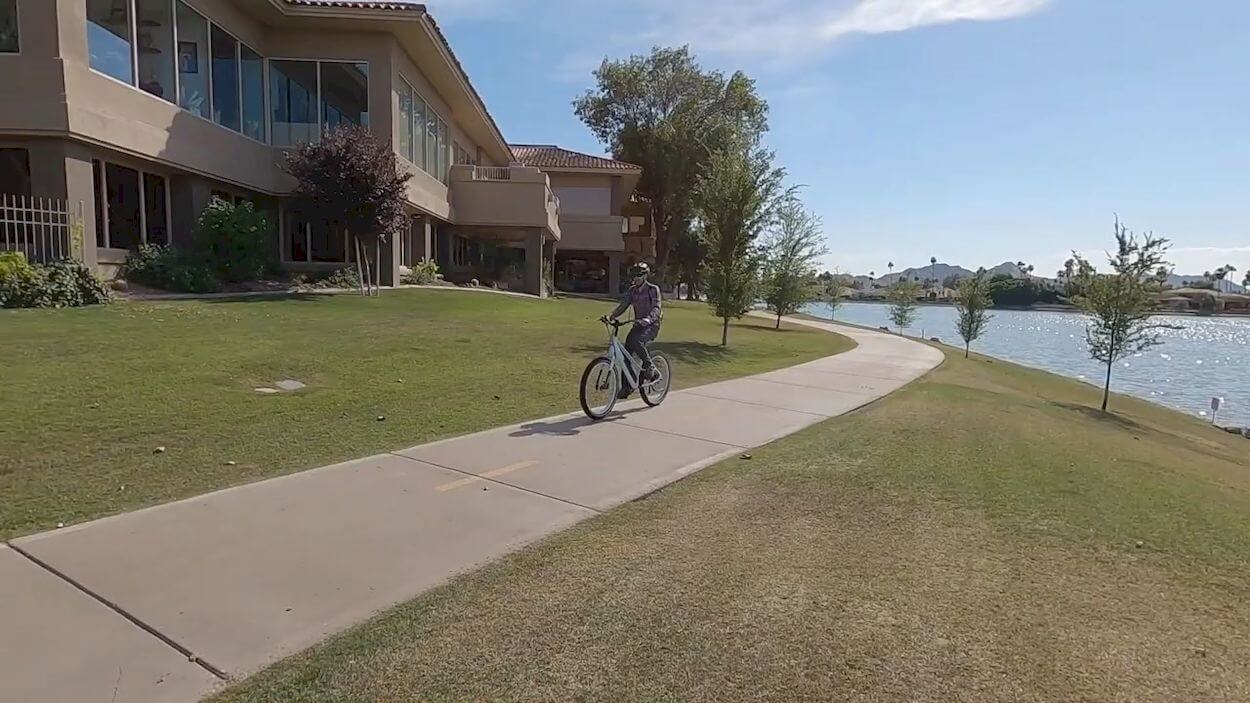 The Surface 604 Sunny Day e-bike offers an informative and user-friendly display that provides essential ride data to the rider. With four or five bars indicating the battery percentage, riders can easily gauge their battery level and plan their rides accordingly. This feature is especially helpful for knowing when it's time to head back home or find a charging point, ensuring a stress-free and enjoyable riding experience.
The display allows riders to switch between kilometers per hour and miles per hour, catering to different measurement preferences. Additionally, riders can access various readouts, including trip distance, assist level, odometer, maximum speed, average speed, and time. This versatility in information display helps riders keep track of their performance and overall ride statistics.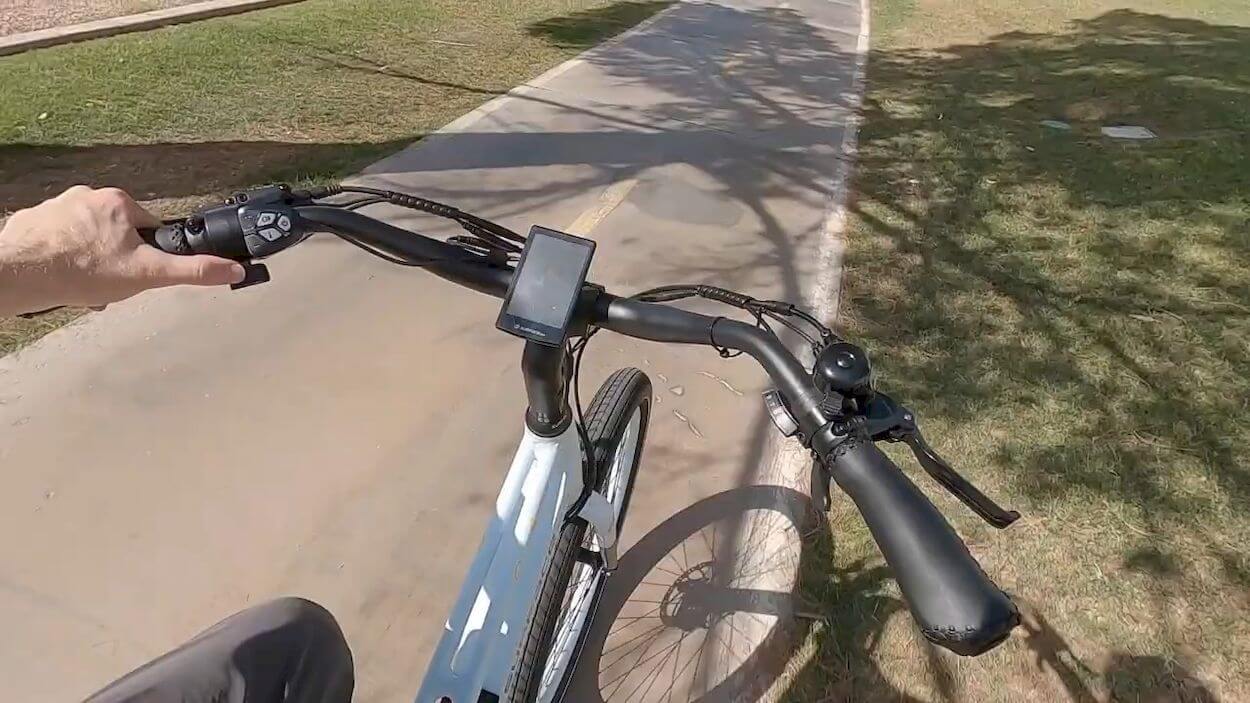 The e-bike features five levels of pedal assist, and riders can also utilize the trigger throttle to access full power in any assist level. The throttle and pedal assist provide additional convenience and flexibility during rides, allowing riders to choose their preferred level of assistance.
To access settings and advanced options, the display offers a user-friendly menu interface. Riders can customize the display settings, adjust the brightness, and set auto-shutdown timers to their liking. Additionally, they can change from percentage to voltage readings for a more precise understanding of the battery charge level.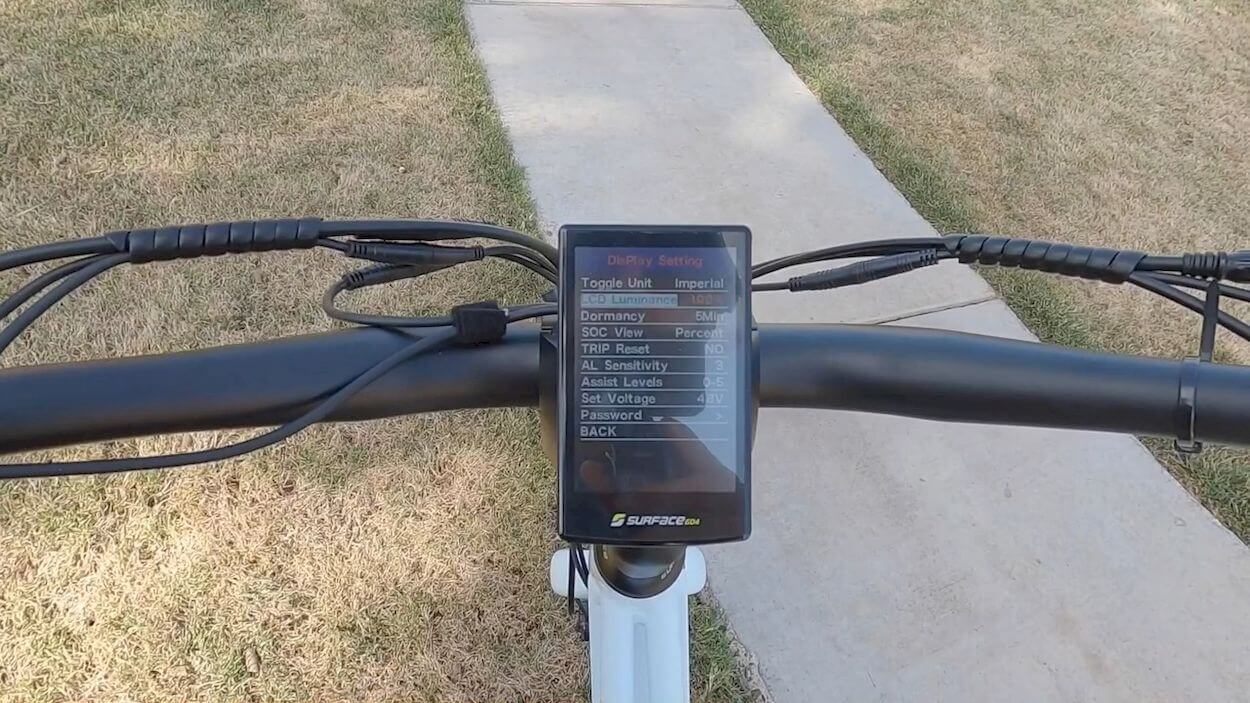 The bike's torque sensor requires a specific starting procedure to ensure optimal performance. It's best to turn the bike on when the pedals are not being touched, allowing the sensor to calibrate correctly and provide accurate power delivery. This detail highlights the attention to detail in the e-bike's design to deliver a smooth and enjoyable riding experience.
As the rider starts pedaling the Surface 604 Sunny Day e-bike, they notice how smooth and natural the pedal-assist feels. The rider demonstrates using the trigger throttle while going uphill, showing that it provides effortless climbing assistance. The motor's performance is noticeable but performs admirably, making the ride comfortable and efficient.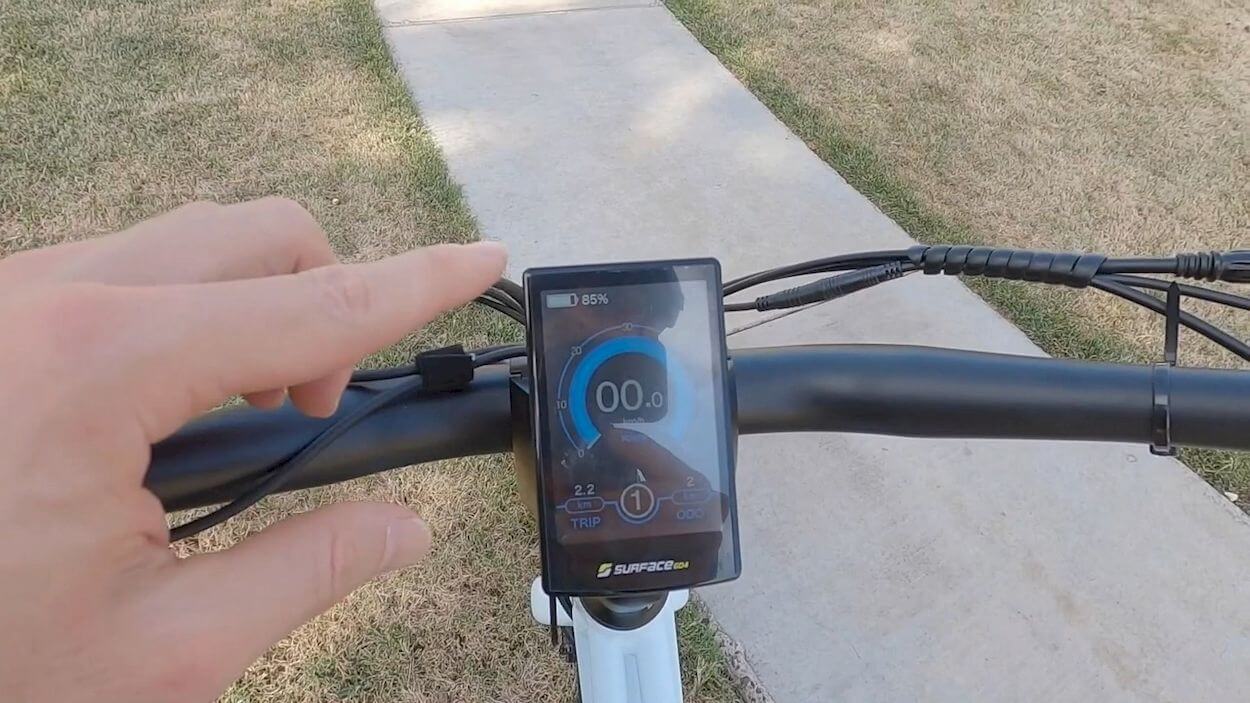 With a height of 5'9″ and an inseam of 31.5 inches, the rider finds the 17.5-inch frame size of the Sunny Day to be a good fit, but for taller riders or those who prefer a larger frame, the Big Sky with a 19-inch frame might be a better option.
Shifting gears is made easier with the optical window, allowing riders to see the current gear. The rider shares their preference for using their thumb for shifting gears, but in this case, they have to use both the thumb and pointer finger due to the Shimano Alivio components on the bike.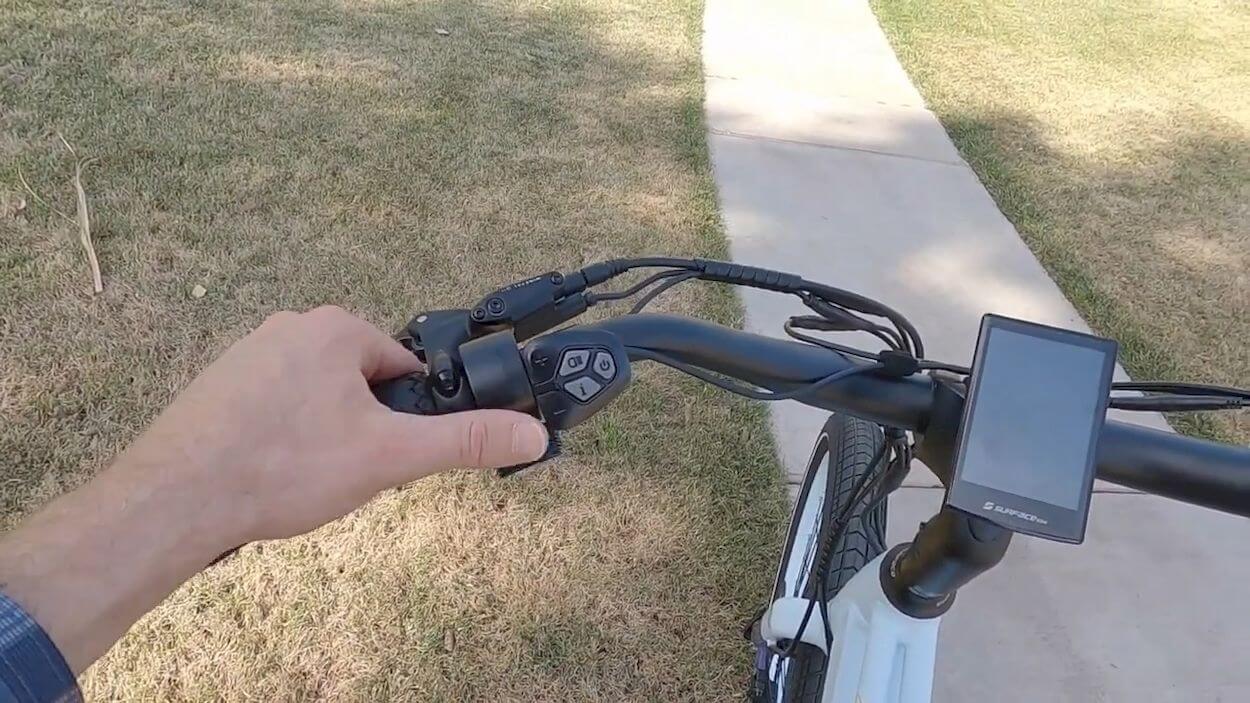 The bike's torque sensor proves to be a valuable feature, providing smooth and gradual power assistance based on the rider's input. Even in the highest level of assist, the bike doesn't behave too aggressively, maintaining a balanced and controlled riding experience.
The review takes place in a beautiful location in Scottsdale, Arizona, providing an excellent backdrop for the test ride. The rider expresses gratitude to Rides in Motion, the local shop providing the test ride opportunity. They also direct viewers to electricbikereview.com, where they can find additional specs and information about the Surface 604 Sunny Day.
Battery and Range
The Surface 604 Sunny Day e-bike offers plenty of utility and functionality, making it a feature-rich and versatile option for riders. One of its key strengths is the availability of different battery options. The stock battery is a 48-volt 12-amp hour pack, providing over 500 watt-hours of energy. However, Surface 604 offers optional 14-amp hour and 20-amp hour battery packs for extended range. While the 12 and 14-amp hour packs are symmetrically designed, the 20-amp hour pack has a slightly larger size on one side, making it look a bit less balanced, but it compensates by offering more range.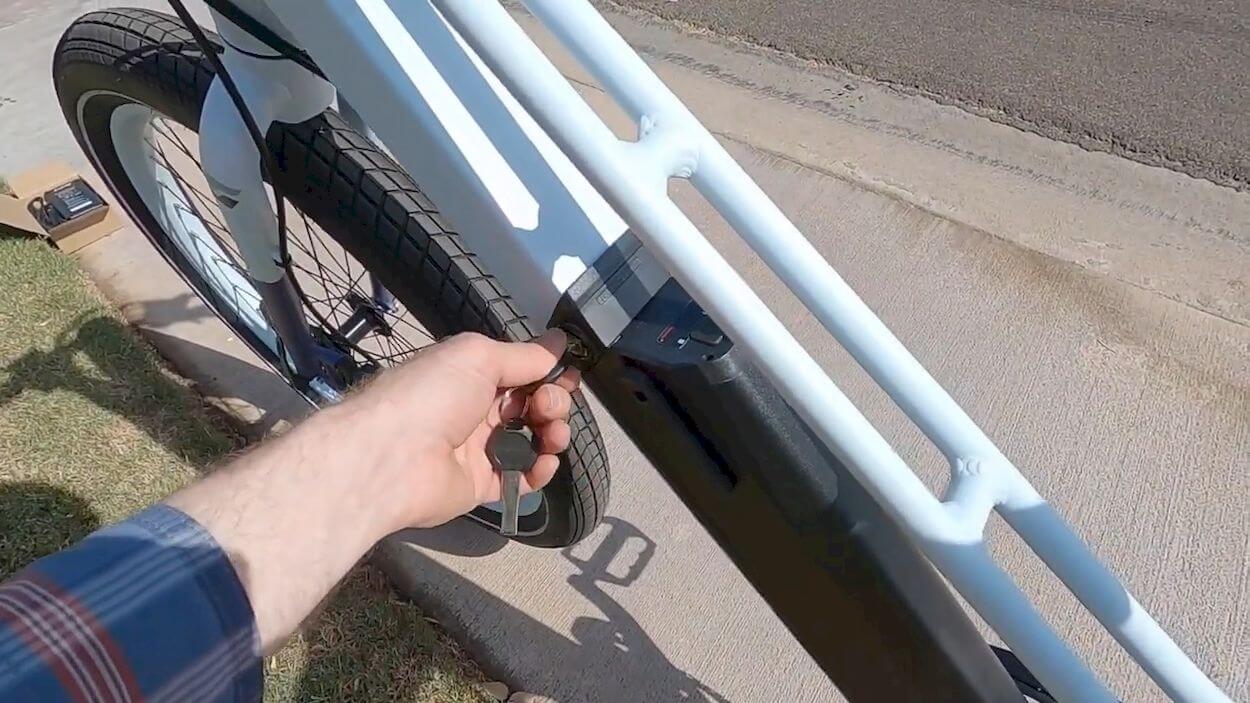 An appealing aspect of the battery system is that all the battery packs use the same interface. This means that if you have multiple Surface 604 e-bikes in your family or among your friends, you can easily swap batteries between them. This interchangeability allows for greater flexibility and convenience, especially for longer rides or trips where more battery capacity might be needed.
Furthermore, removing the battery for charging or storage is recommended in hotter climates to preserve the health of the lithium-ion cells. This aspect highlights the practicality of the quick disconnect system, making it easy to take the battery off the bike and store it in a cooler environment when not in use.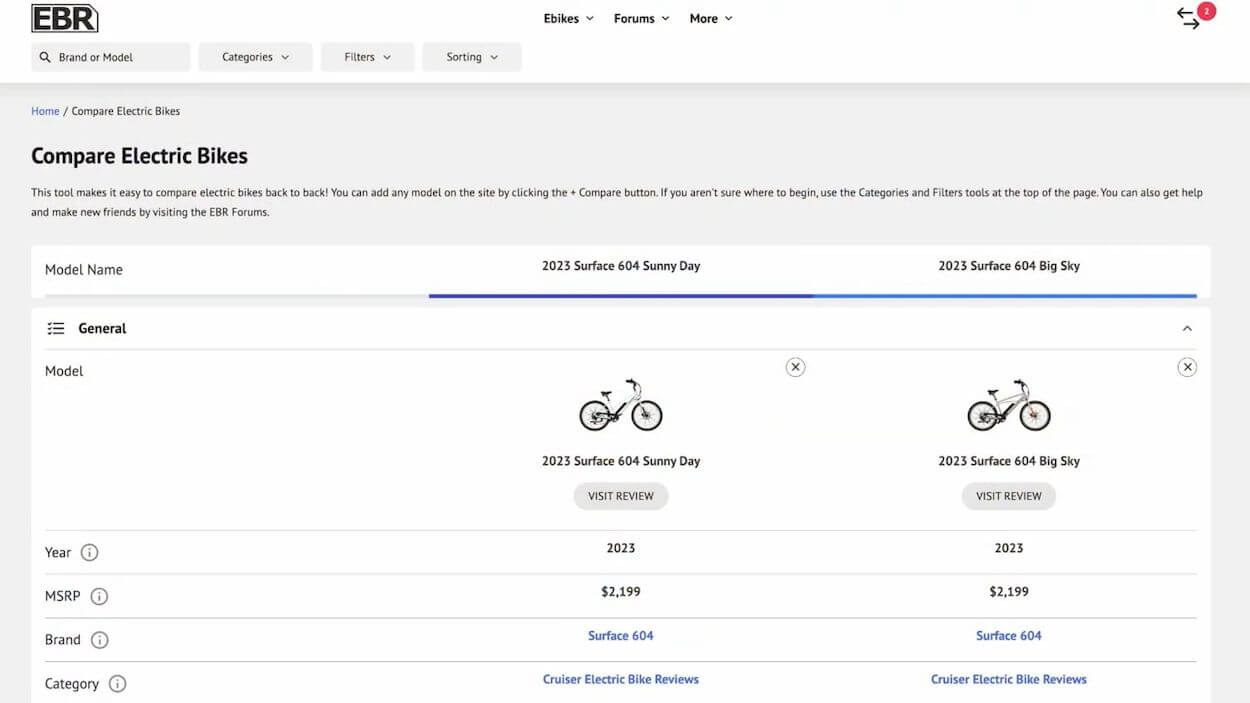 The charger provided with the bike is a 2-amp charger, which is sufficient for the stock 12-amp hour battery. However, for those who opt for the higher-capacity batteries, Surface 604 offers an optional 4-amp charger, which charges the battery faster, reducing the downtime between rides.
The bike's display is another notable feature, offering a color display with a battery percentage readout. This provides more precise information about the battery's charge level compared to a simple bar indicator. The display also includes a button pad, which is conveniently reachable, though it does require reaching across the trigger throttle. Riders can access important information quickly, thanks to the easy-to-use interface.
Conclusions
The Surface 604 Sunny Day e-bike offers a compelling package of features, making it a strong contender in the e-bike market. With its sleek and stylish design, the bike exudes a classic and approachable appeal. The mid-step frame, although not a full wave design, provides ease of mounting and dismounting, appealing to a wide range of riders.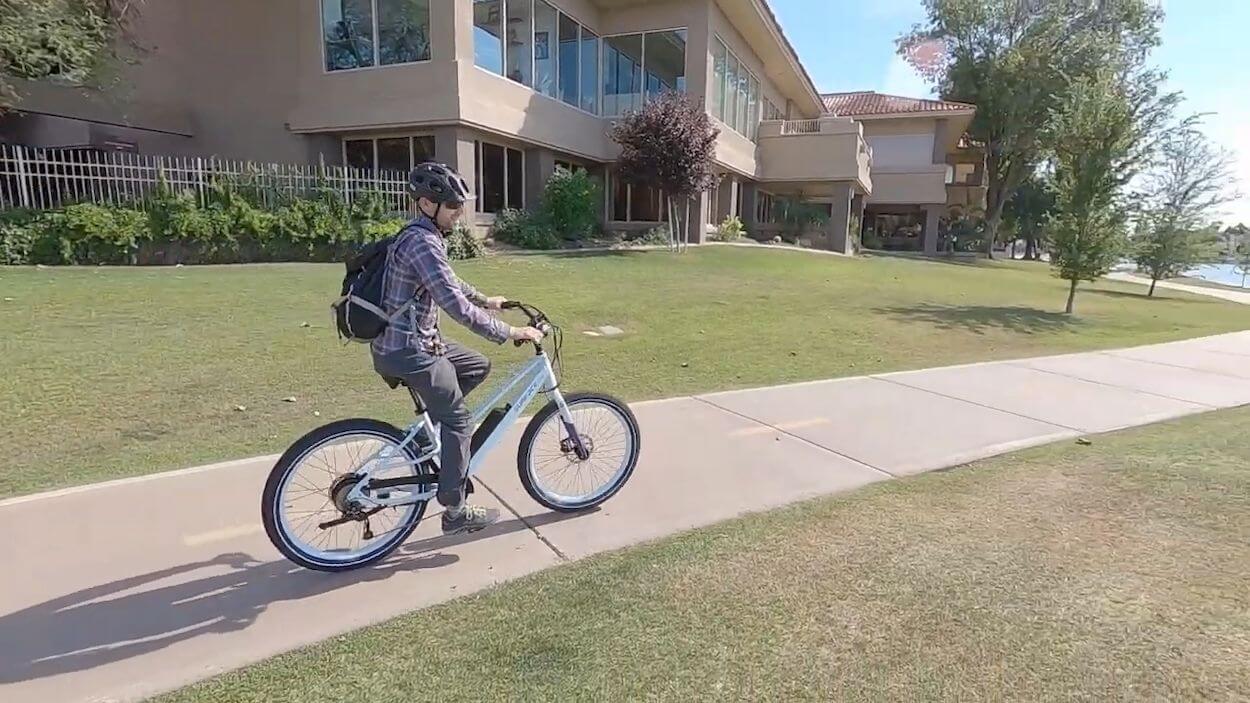 The build quality of the Sunny Day is commendable, with a rigid aluminum alloy fork providing stability and control. The larger 27.5-inch by 2.4-inch tires enhance comfort and cushioning, while the hydraulic disc brakes offer reliable and responsive stopping power.
The inclusion of a torque sensor is a noteworthy feature that enhances the overall riding experience. The torque sensor ensures a smooth and natural feel of pedal-assist, precisely delivering power based on the rider's input, and it helps avoid any sudden jolts or inconsistencies during the ride.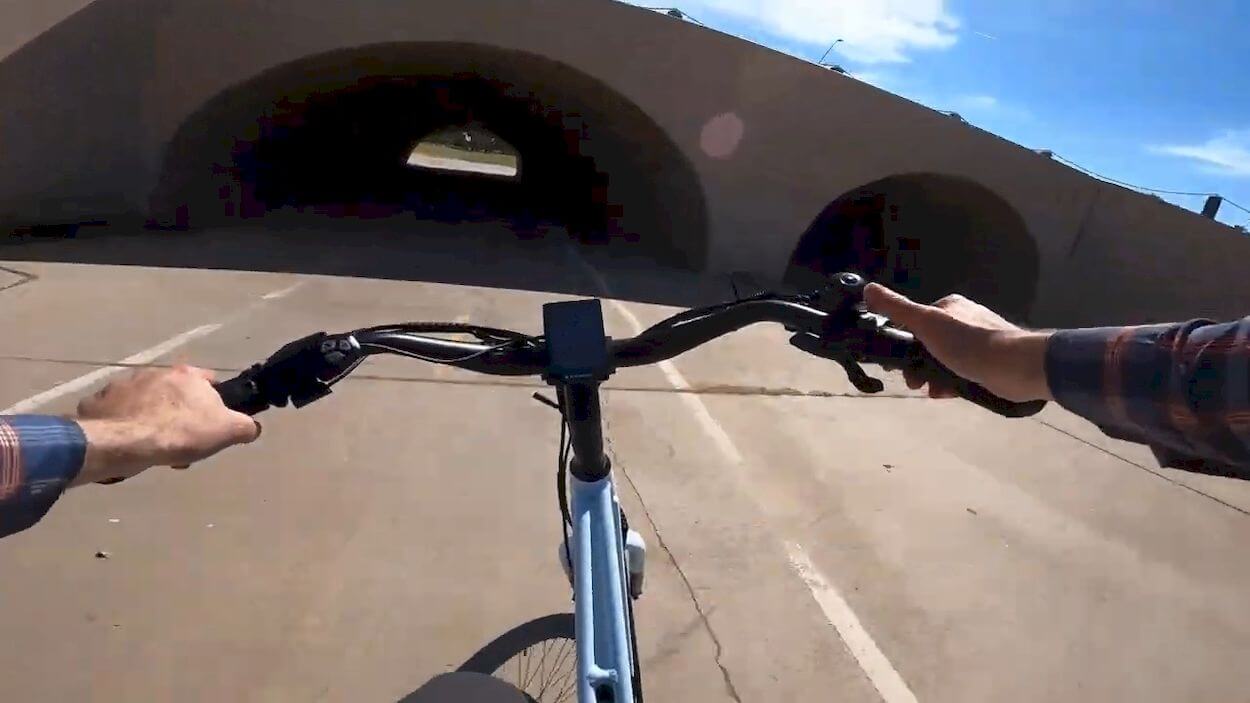 Although the motor might not be a well-known brand, it still performs admirably with its peak power rating and torque output. The bike's Class 2 designation and the option to unlock a higher top speed add flexibility to the riding experience.
Overall, the Surface 604 Sunny Day e-bike impresses with its combination of design, build quality, and performance. With its well-balanced features, it proves to be an excellent choice for riders seeking a comfortable and capable cruiser-style e-bike. Whether for leisurely rides around the city or longer adventures, the Sunny Day provides a smooth and enjoyable ride, backed by Surface 604's comprehensive warranty for added peace of mind.
Alternatives of Surface 604 Sunny Day