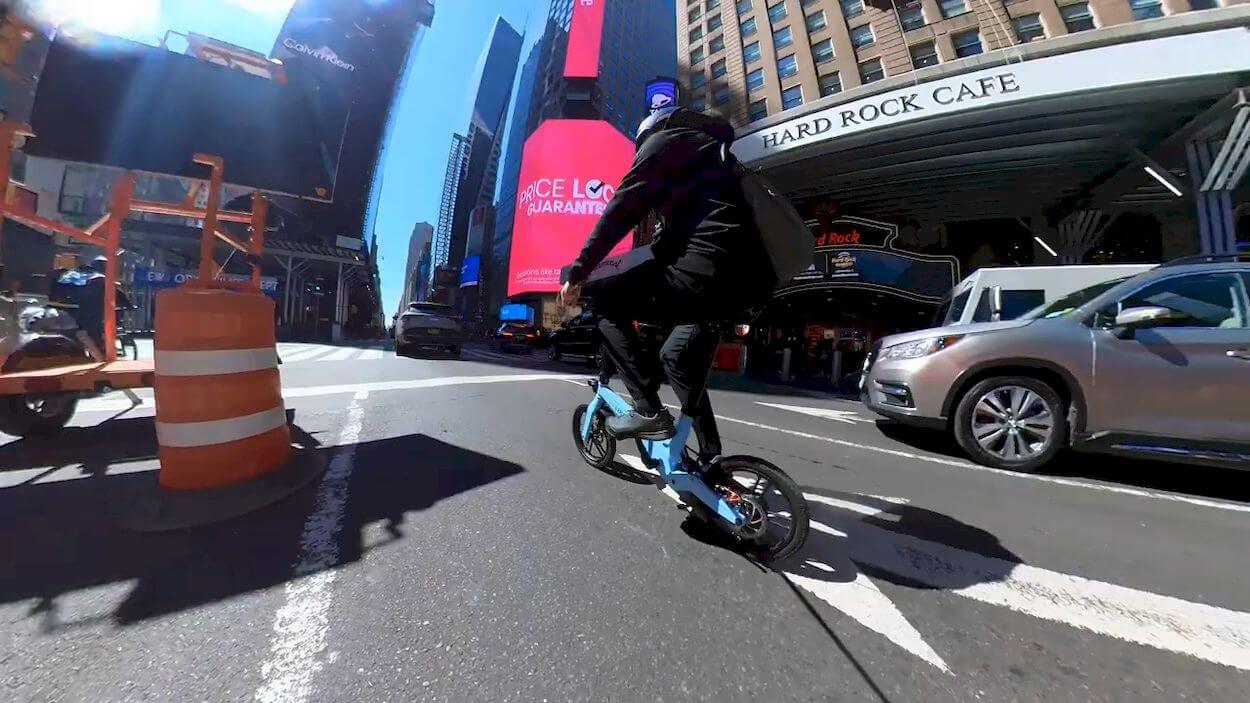 In a world where numerous so-called "smallest e-bikes" flood platforms like YouTube and online marketplaces, it's essential to distinguish between true electric folding bikes and folding compact scooters. Many of these scooter-like models lack pedals, making them impractical and unable to be classified as bikes since they cannot be manually pedaled.
However, amidst the sea of options, the OXFO OX 1 stands out as the smallest, most luxurious folding electric bike that I've encountered so far. This bike is purposefully designed to be a true electric folding bike, offering both electric assistance and the capability to be pedaled like a regular bicycle.
One of the striking aspects of the OX 1 is its lightweight and well-constructed frame. Compared to other models in its size category, this bike shines as one of the lightest, making it highly portable and convenient for various travel situations.
The versatility of the OX 1 becomes evident when considering its usage in urban commuting. It excels at covering the last mile of your journey, effortlessly transitioning from public transportation to cycling. Whether you need to hop on a subway, catch a bus, or take any other mode of public transportation, the OXFO OX 1's folding design allows for easy and seamless integration with your daily commute.
Beyond its practicality, the OXFO OX 1 boasts a luxurious touch that enhances the overall experience. From its smooth ride to the thoughtful design, this folding electric bike delivers a level of sophistication that stands out from other compact e-bikes on the market.
| | |
| --- | --- |
| Frame | Magnesium alloy unibody |
| Motor | 250W Motor |
| Torque | 45 N/m |
| Top speed | 15 miles per hour |
| Suspension | Rear Suspension |
| Levels | 3 Levels PAS |
| Tires | 16″ x 1.75″ Kenda |
| Battery | 6.4 amp-hour battery |
| Range | up to 100 kilometers or 62 miles |
| Folded Dimensions | 20″ x 21.6″ x 20″ (508mm x 500mm x 508mm) |
| Lightweight | 36 lbs (16.5 kg) |
Design and Build Quality 
The OXFO OX 1 is an electric folding bike that offers a comfortable riding experience, especially for taller and heavier riders. Its design and build quality are noteworthy, with several cool features that set it apart from other e-bikes in its class.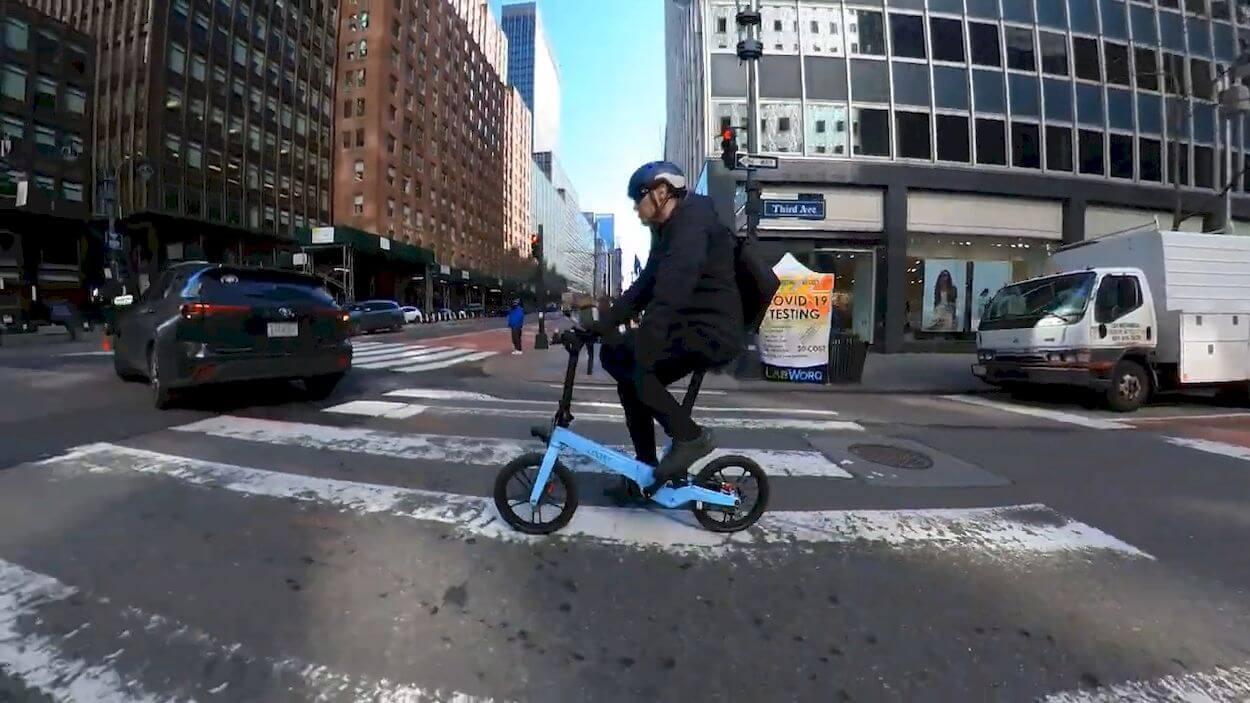 The most impressive aspect for taller riders is the ample legroom provided by the bike. With a height of 6'3″ and weighing 220 pounds, you can comfortably pedal this bike for over 15 miles without experiencing any pain or discomfort. The frame design allows for a full leg extension, enabling you to ride with ease and efficiency.
One of the standout features of the OXFO OX 1 is its one-piece unibody frame made from a light magnesium alloy. This construction not only contributes to its smooth and sleek appearance but also makes it stronger than regular frames. The absence of welds enhances the overall aesthetics of the bike, giving it a clean and polished look.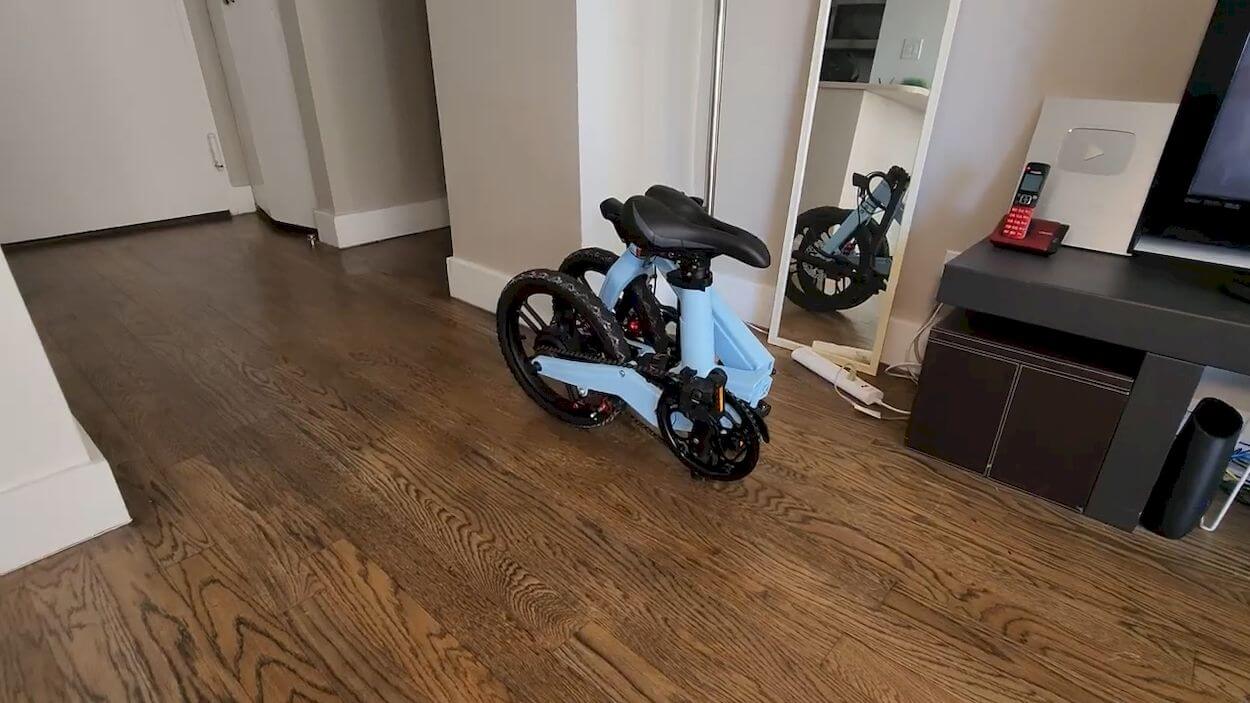 Additionally, the folding mechanism of the OX 1 is impressive, allowing it to be easily folded into a compact size. This feature makes it highly convenient for transportation and storage, making it ideal for urban environments and public spaces. The bike's handlebars are stable and do not move during rides, adding to the overall riding comfort and control.
The bike's display screen is small yet easy to read, even in sunlight. It provides essential information like distance, time, and battery status. The OX 1 offers different riding modes, including Eco, Mid, and High, allowing you to choose the level of assistance that suits your needs.
The mechanical disc brakes provide reliable stopping power, enhancing safety during rides. The belt drive system in the front ensures smooth and quiet operation, and the integration of cables inside the stem gives the bike a tidy and clean appearance.
The OXFO OX 1 is equipped with 16-inch by 1.75-inch tires, which contribute to the bike's overall comfort and stability during rides. The unique baby blue color adds a stylish touch to the bike's appearance, making it an eye-catching choice.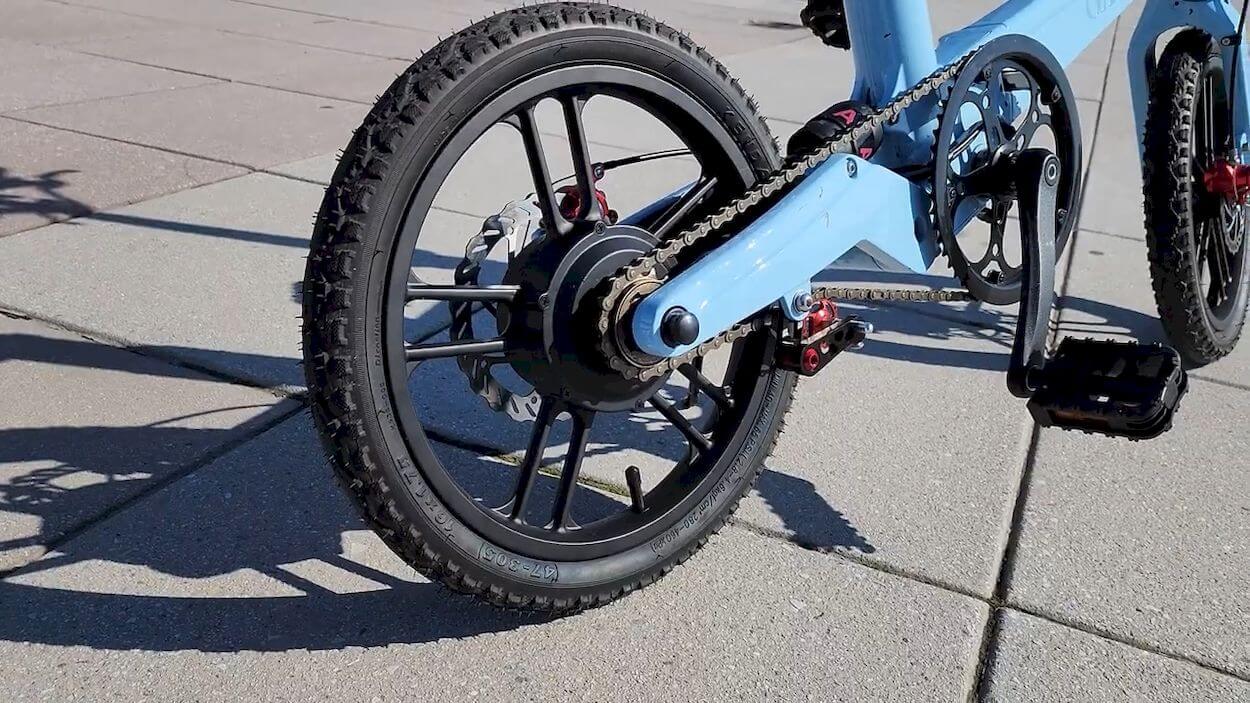 Despite its compact size, the OXFO OX 1 delivers impressive performance. Even for riders above 240 pounds, it feels nimble and offers decent torque. The motor provides a little kick when you start pedaling and hold the throttle, adding to the bike's responsiveness.
In summary, the OXFO OX 1 stands out for its design, build quality, and performance. It offers a comfortable riding experience, especially for taller and heavier riders, making it an excellent option for urban commuting and short-distance trips. Its compact size, folding capability, and impressive performance make it a compelling choice in the world of electric folding bikes.
Performance and Driving test
The OXFO OX 1, available in two versions – the European version with a 250-watt motor and the US version with a more powerful 350-watt rear hub motor – offers impressive performance for its compact size.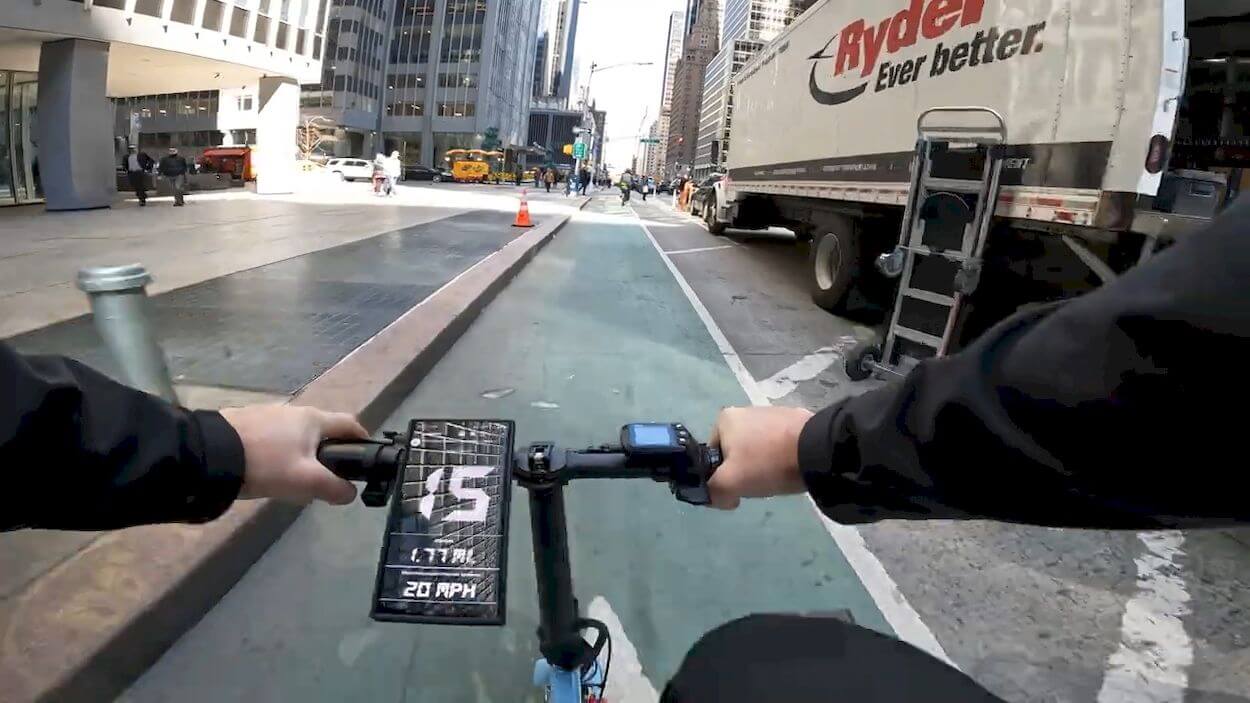 The European version, limited to 25 kilometers per hour (15 miles per hour) on throttle alone, ensures compliance with local regulations. Despite this limitation, the bike delivers a smooth and efficient riding experience. The US version, with the more potent 350-watt motor, is likely to offer quicker acceleration and better performance at higher speeds.
One notable feature of the OX 1 is the inclusion of electronic braking in addition to dual mechanical disc brakes. This combination of braking systems provides reliable and responsive stopping power, ensuring a safe and controlled ride in various conditions.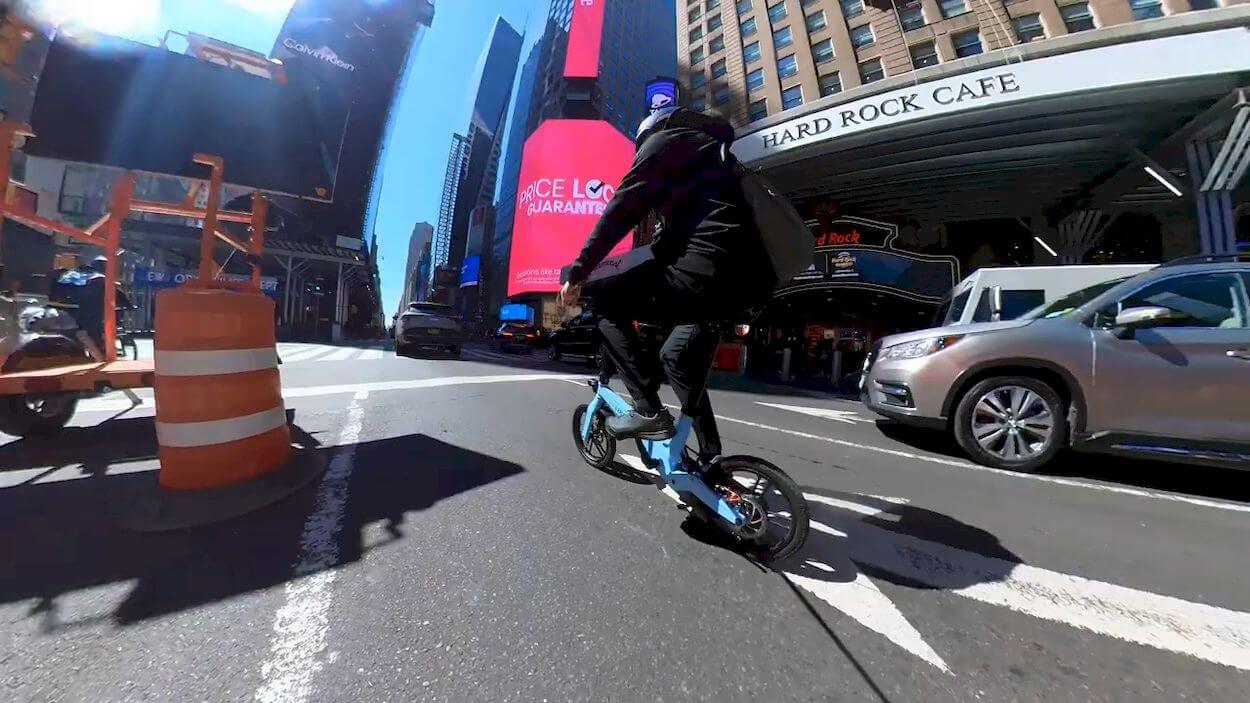 The bike's rear shock absorber is compact but surprisingly effective. It plays a crucial role in enhancing the overall ride comfort by dampening road vibrations and absorbing impacts from bumps and rough terrain. As a result, the OX 1 offers a smooth and stable ride, free from rattling or uncomfortable side movements.
Both versions of the OX 1 are designed to provide a comfortable and enjoyable riding experience. The bike's build quality, including its unibody frame and integrated cables, contributes to its stability and overall performance. The compact design and foldable feature make it highly convenient for urban commuting and easy storage.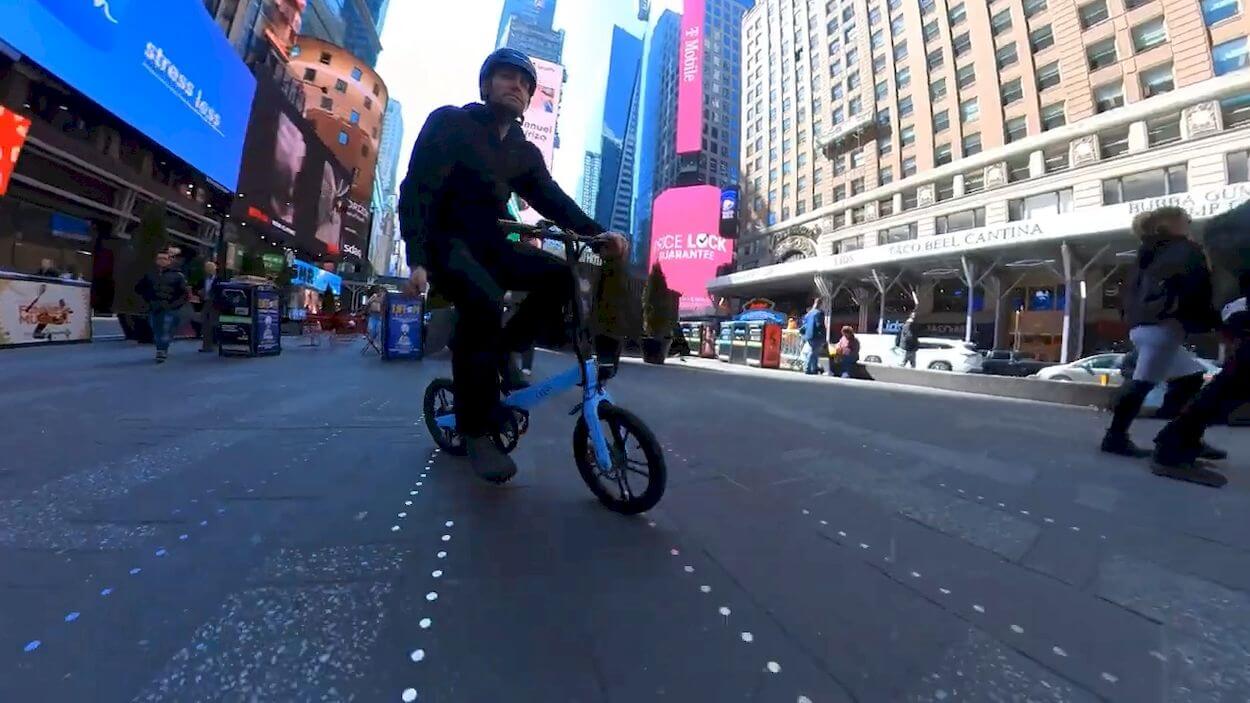 Riders of the OXFO OX 1 will likely appreciate its nimble handling and responsive motor assistance. The torque provided by the motor makes starting from a standstill and climbing inclines more manageable, while the electronic braking system adds an extra layer of safety and control during descents.
The OX 1 demonstrates its versatility as both a regular bike and an electric bike. With its motor turned off, it looks and functions just like a regular bike, making it easy to ride without any electric assistance. However, once the electric motor is engaged, the bike's capabilities become impressive.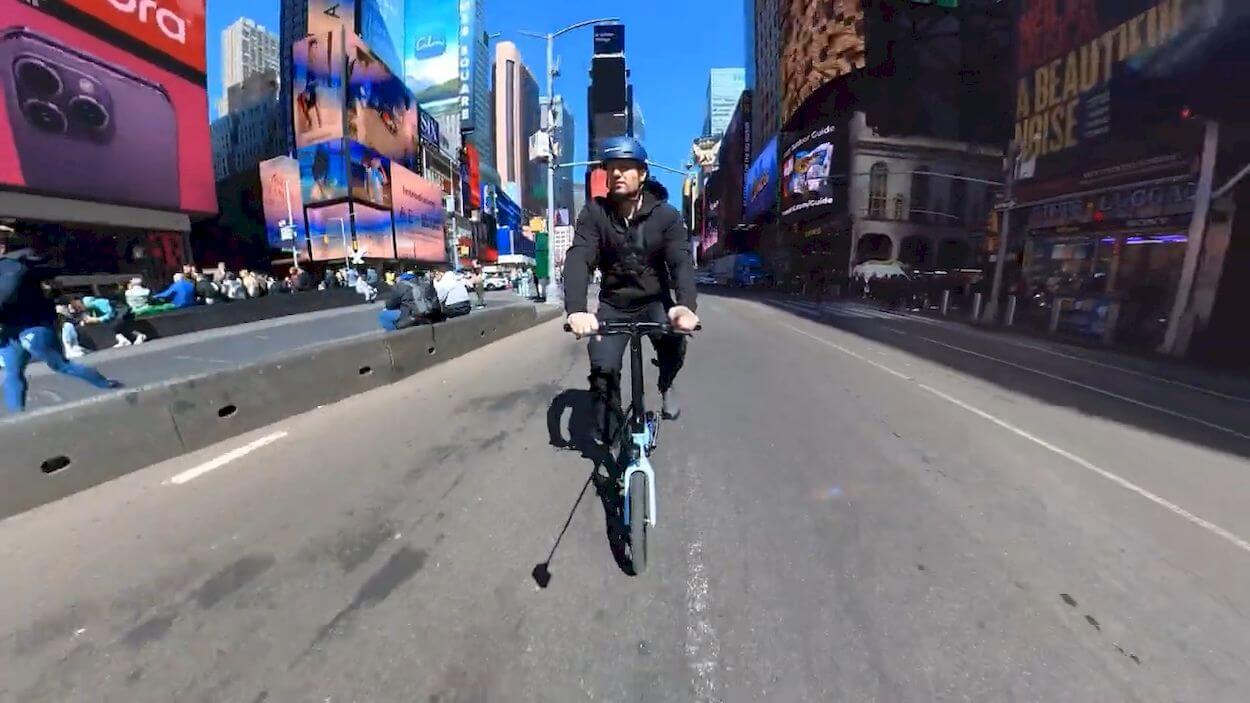 When the motor is activated, you can effortlessly pick up speed and reach around 15 miles per hour with ease. The electric assist offers a smooth and powerful boost, making riding a breeze even on flat terrain. The range of the bike is also commendable, allowing you to cover considerable distances without feeling any strain.
During your test ride, you were pleasantly surprised by how well the bike performed. Despite being compact and small in size, the OXFO OX 1 exceeded your expectations. Even when solely relying on the throttle on flat surfaces, the bike surpassed its advertised limit, cruising at 16 to 18 miles per hour.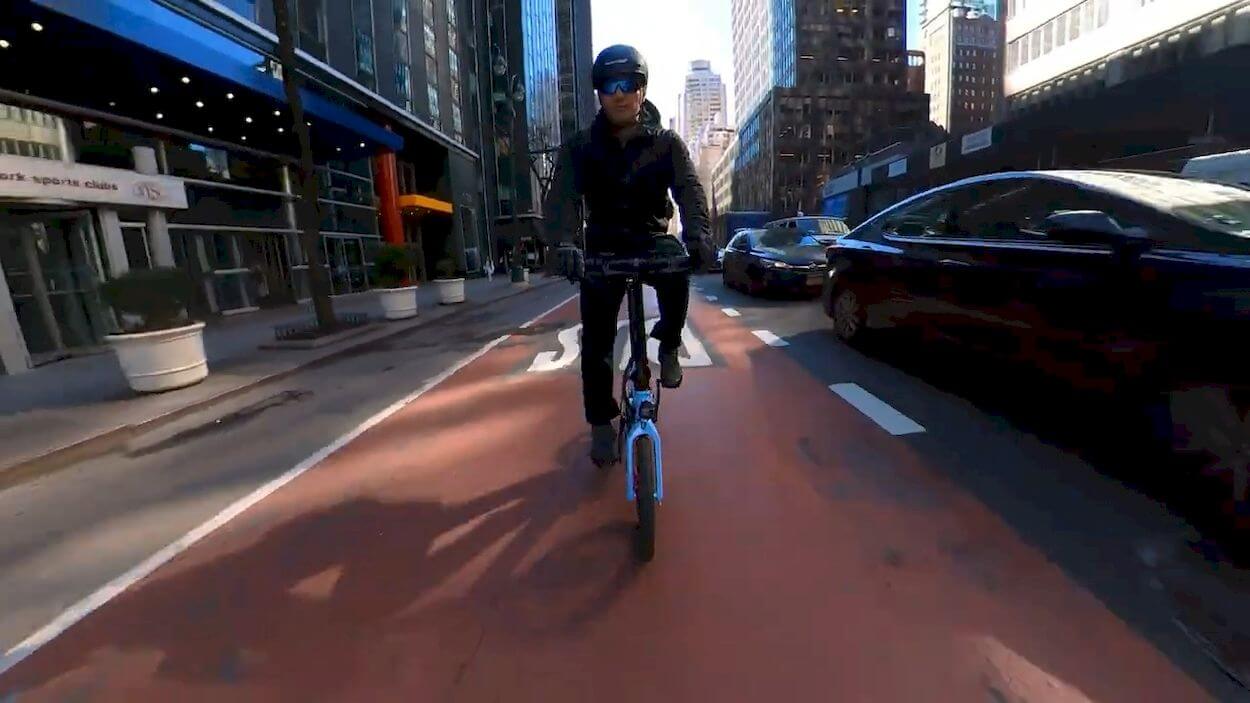 Furthermore, you noticed that the electric assist was robust, enabling the bike to reach up to 20 miles per hour with minimal pedaling effort. The combination of the small sprockets and the powerful motor made it possible to maintain higher speeds without extensive pedaling.
The bike's performance was particularly impressive when riding in a city or community setting. The OXFO OX 1's compact size and comfort made it ideal for navigating through traffic and crowded areas. With minimal effort, you could comfortably maintain speeds between 12 to 15 miles per hour, depending on your pedaling input and the level of electric assist.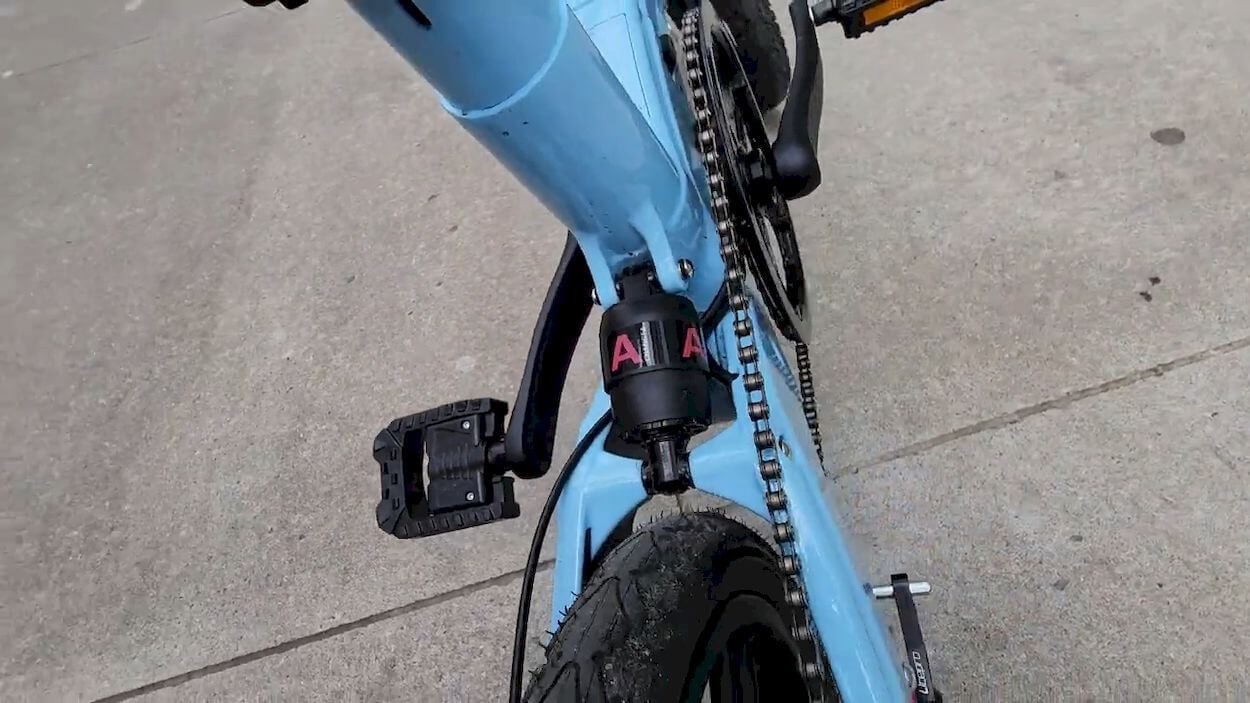 In more favorable conditions, such as when riding on smoother terrain or grass, the bike's performance excelled further. You could achieve speeds close to 20-21 miles per hour, indicating that the motor's assistance was more than adequate. At this point, you felt that the motor's power might even be too much, and adjusting the sprockets could offer even more control and speed options.
Overall, your experience with the OX 1 left a positive impression. Its compact size, powerful motor, and comfortable design made it an enjoyable electric bike to ride. Whether commuting through the city, running errands, or exploring new places, the OXFO OX 1 proved to be a capable and efficient companion.
Battery and Range
The OXFO OX 1 is equipped with a 6.4 amp-hour battery, which provides a reliable and long-lasting power source for the electric motor. The battery's capacity plays a crucial role in determining the range that the bike can cover on a single charge.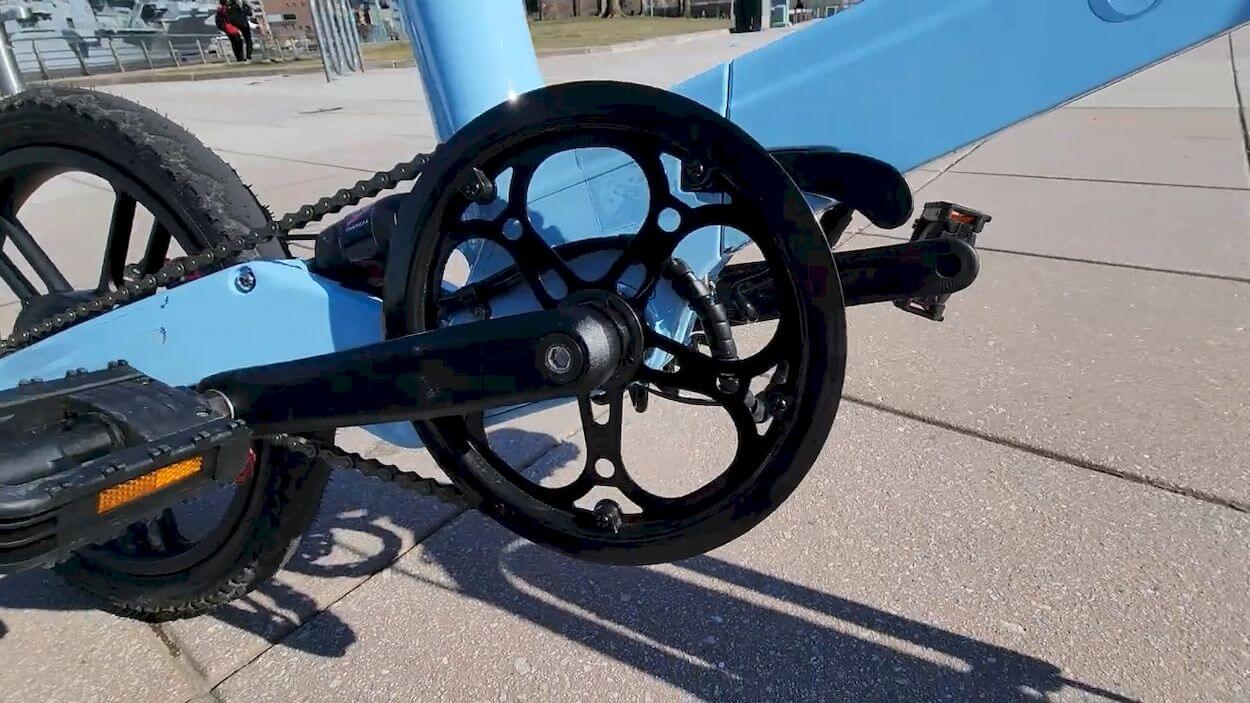 According to the manufacturer's claims, the OX 1 has an advertised range of up to 100 kilometers or approximately 62 miles. This range estimation is based on the battery's capacity and the efficiency of the electric motor and other components. However, it's important to note that real-world range may vary depending on various factors such as rider weight, terrain, riding speed, level of electric assist used, and weather conditions.
The OXFO OX 1 features Samsung batteries, which are known for their quality and performance. These batteries are designed to be durable and capable of enduring many charge cycles. With proper care and maintenance, the battery can provide consistent performance over an extended period.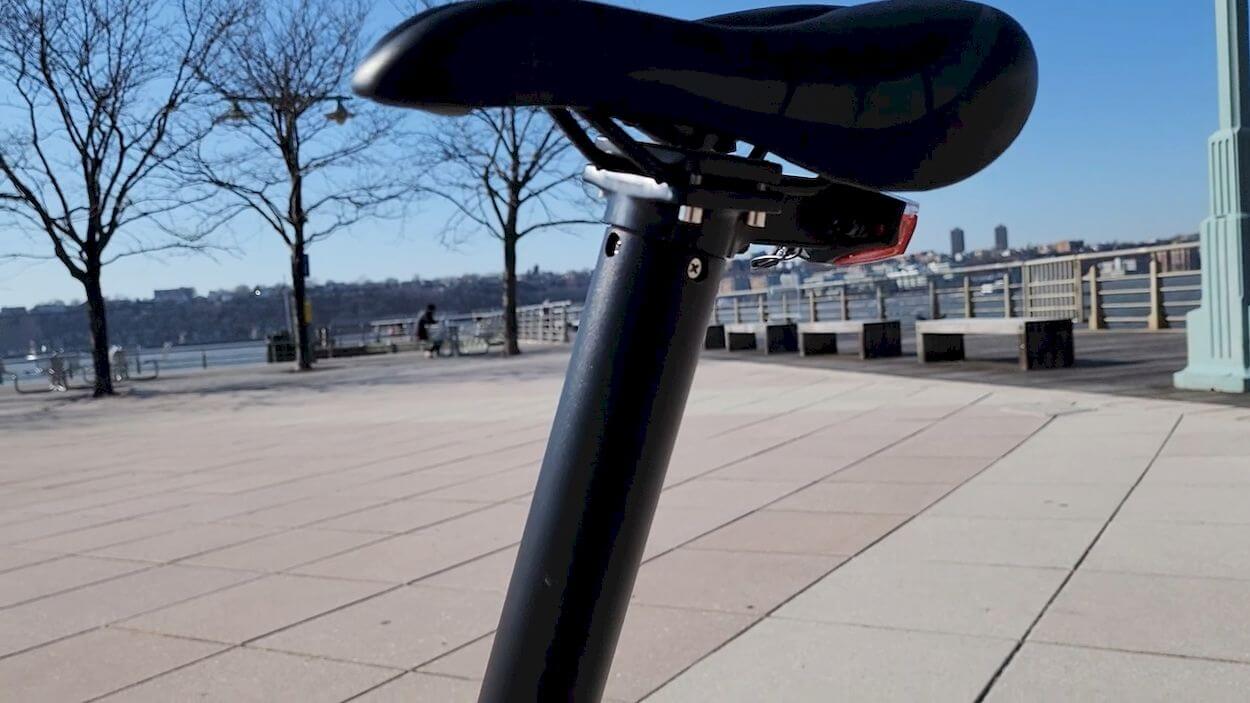 Charging the OXFO OX 1's battery is relatively fast and convenient. It takes approximately three to four hours to fully charge the battery from empty to full. This quick charging time allows riders to top up the battery between rides and ensures that the bike is always ready for the next adventure.
Lights
The OXFO OX 1 comes equipped with impressive lighting features that enhance visibility and safety during rides, even in low-light conditions.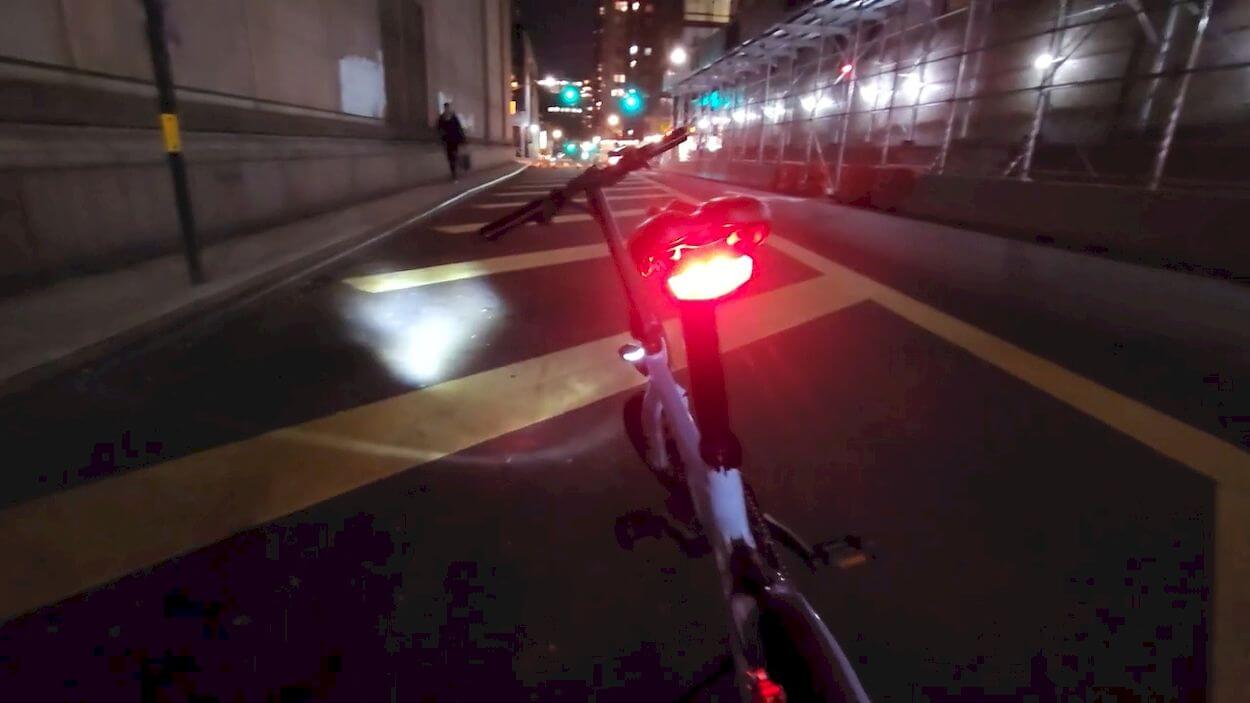 While the bike doesn't have a rear active brake light, it compensates with a powerful front light. Despite its small size, the front light proves to be incredibly bright, illuminating the road ahead effectively. This feature ensures that riders have a clear view of the path, making night riding or navigating through dimly lit areas much safer and more comfortable.
Additionally, the bike features a button that controls the front light, allowing riders to easily switch it on and off as needed. The light's strength is remarkable, comparable to, if not exceeding, that of larger bikes with more prominent light fixtures. This brightness is vital for making the rider visible to other road users and ensures a safe riding experience, even in dark or challenging conditions.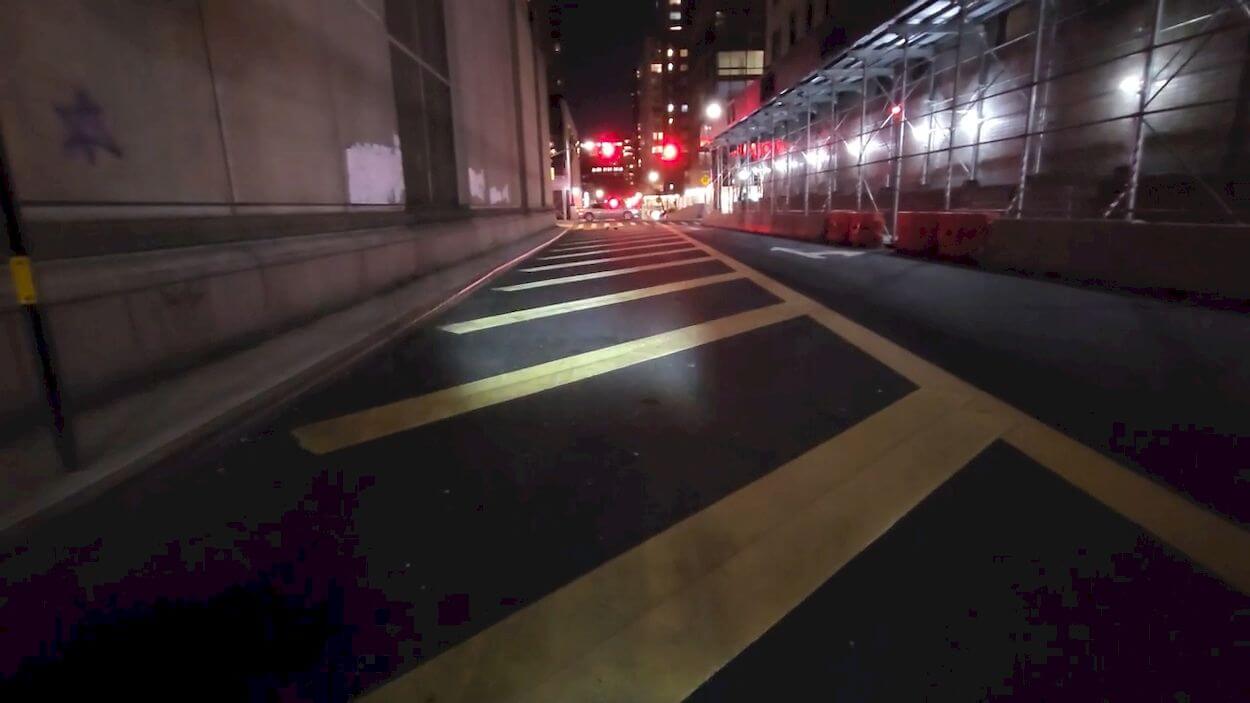 Furthermore, the OXFO OX 1 boasts a notification light that is incredibly bright. Although it serves a different purpose from a rear active brake light, this light ensures that the bike and rider remain highly visible to others on the road. The bright notification light acts as an extra safety measure, alerting others to the presence of the bike and minimizing the risk of accidents.
During the test ride, you noted that the spill of the front light is decent, providing a wide and evenly lit area, contributing to a safer and more enjoyable riding experience. Additionally, the long throw of the light extends the illuminated area, allowing riders to see further down the road.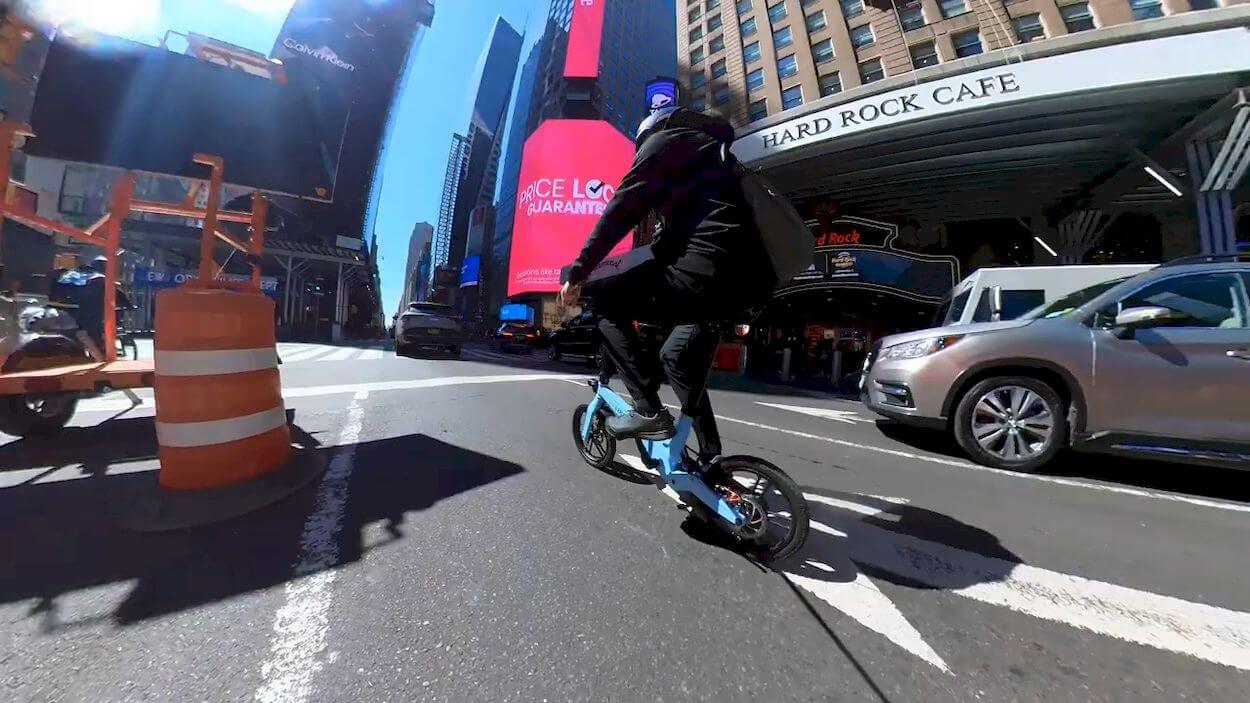 While the bike lacks a rear active brake light, the overall lighting setup, including the powerful front light and the bright notification light, still contributes significantly to the bike's safety and visibility. The lighting design ensures that riders can confidently ride in various lighting conditions and be easily noticed by other road users.
Conclusions
In the end, the OXFO OX 1 is a well-executed electric folding bike that offers a combination of practicality, style, and performance. Although it may be considered expensive compared to some other e-bikes, it justifies its price with its high build quality and thoughtful design.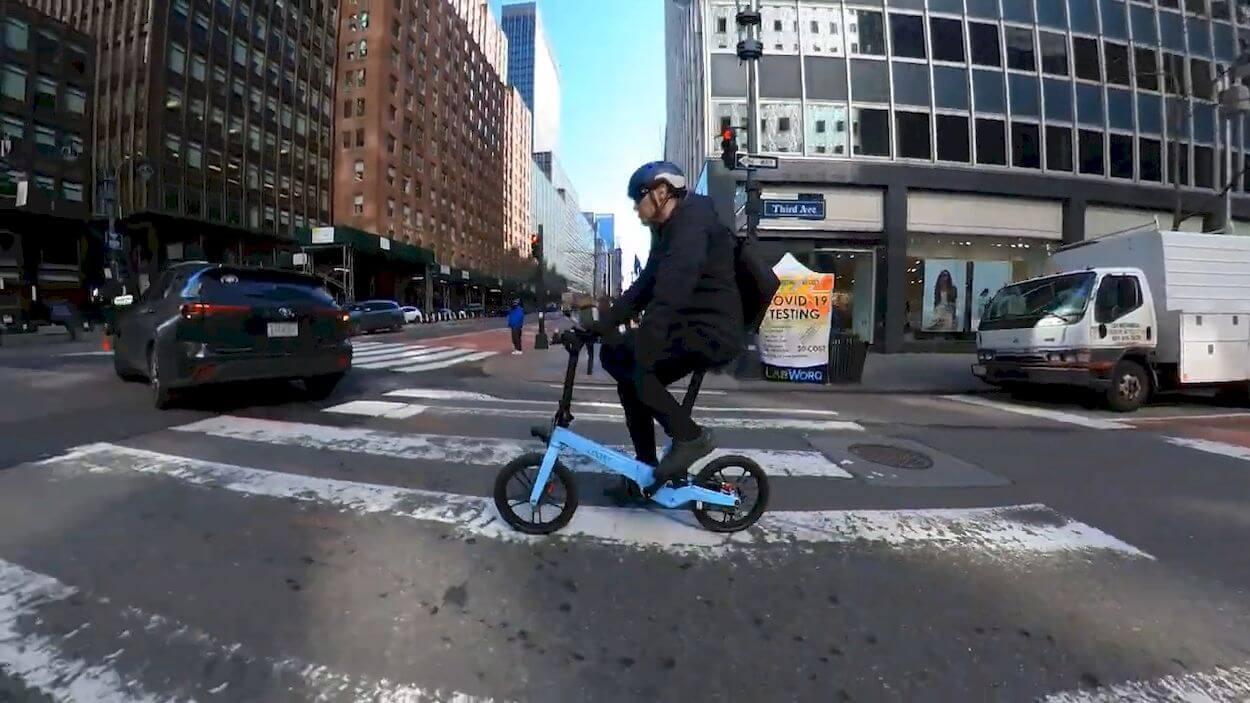 One of the notable features of the OX 1 is the hydraulic brakes, which are available on the 350-watt version. While they may not be present on the 250-watt version, the bike's braking system still provides reliable and efficient stopping power, ensuring a safe riding experience.
The OXFO OX 1's design is sleek and attractive, featuring a one-piece unibody frame made from a light magnesium alloy. The absence of welds and the integration of cables give the bike a clean and polished appearance. Additionally, the compact size and folding capability make it a highly convenient choice, particularly for city commuting and tight storage spaces.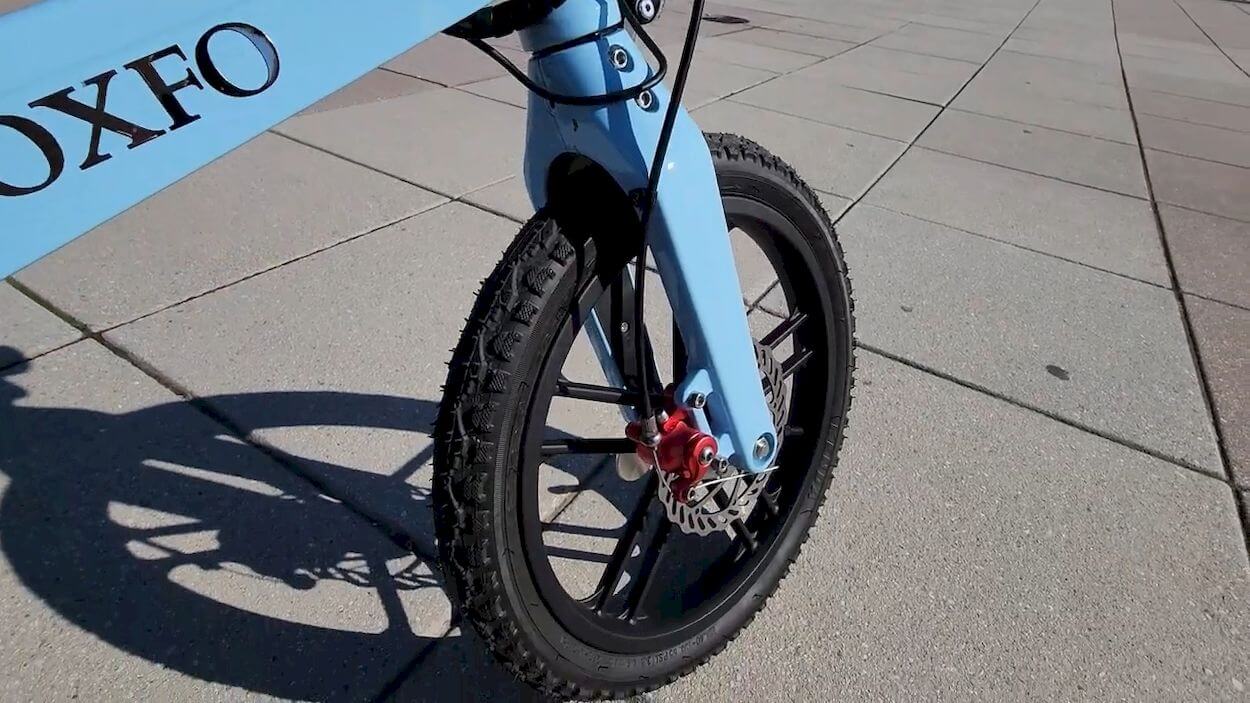 The bike's performance on the 250-watt version is commendable, offering speeds sufficient for city commuting and making it a competitive option compared to smaller e-bikes or non-electric compact bikes. The electric assist provides a comfortable and efficient ride, while the ability to pedal ensures versatility and a good amount of exercise.
For individuals living in space-constrained and expensive cities like New York City, the OX 1 could be an excellent choice. Its compact size, foldability, and overall design make it a practical solution for navigating urban environments, especially where space and storage come at a premium.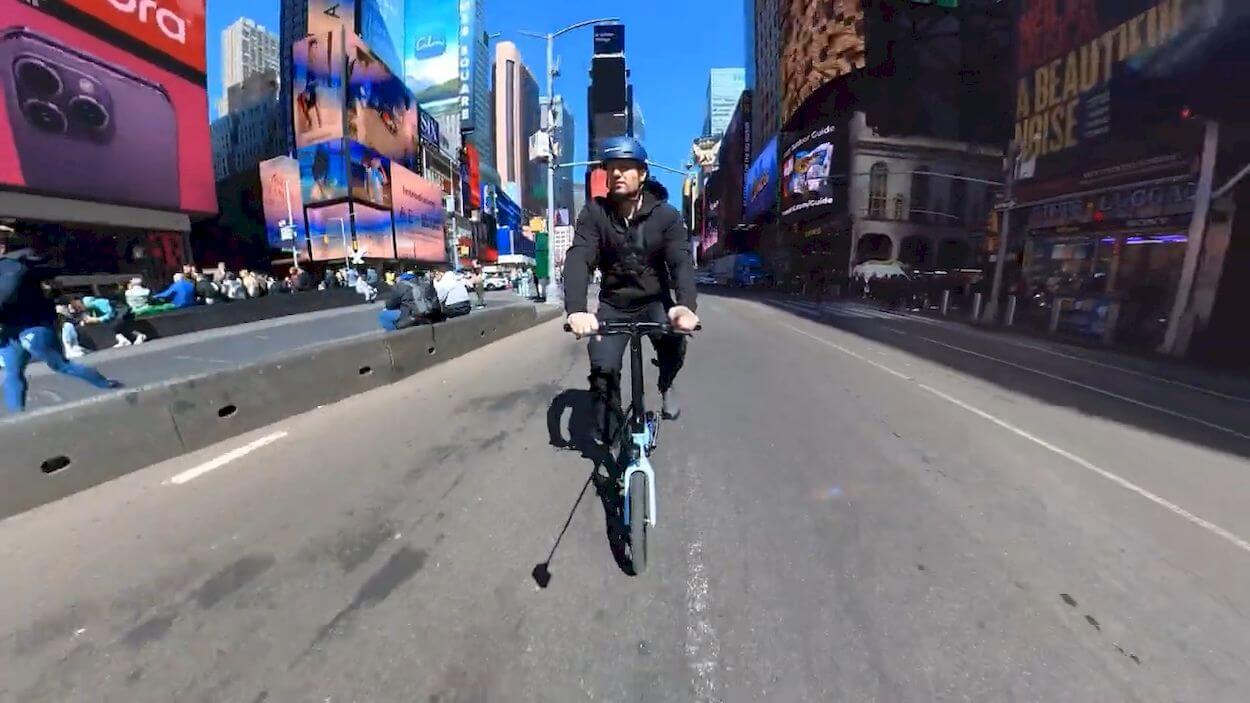 In conclusion, the OXFO OX 1 stands out as a fantastic electric folding bike that offers great value for those seeking a reliable and convenient commuting option in densely populated and space-limited areas. Its well-executed design, good performance, and versatile features make it a compelling choice for urban dwellers looking to blend efficiency, style, and comfort in their daily transportation.
Alternatives of OXFO OX 1