Juiced RipCurrent S is a formidable all-terrain electric bike that combines a powerful motor, a substantial battery, and impressive performance. As we dive into our comprehensive review, we'll examine whether this e-bike lives up to the high expectations associated with the Juiced brand.
The RipCurrent S from Juiced Bikes boasts a substantial and mighty motor that sets it apart from the crowd. With its powerful 1000-watt Bafang rear hub motor, this e-bike promises an electrifying ride, capable of thrilling acceleration and impressive speed.
Ultimately, what sets the RipCurrent S apart is its ability to deliver exceptional performance on the road and off it. From motor power to battery range, the e-bike combines these elements to create an experience that exceeds expectations.
Now, let's explore each of these features and more as we delve into our comprehensive review of the Juiced RipCurrent S. Stay tuned to discover how this e-bike performs and whether it lives up to the reputation of the Juiced brand.
| | |
| --- | --- |
| Frame | Custom Aluminum Heat-Treated |
| Motor | 1,000W Rear Gear Hub (1,300W Peak) |
| Speed | 28 MPH |
| Classification | Up to Class 3 |
| Transmission | 9-Speed Cassette |
| Suspension | Front Air Suspension |
| Pedal Assist | Cadence & Upgraded Torque Sensors |
| Brakes | Hydraulic Disc |
| Tires | 26"x4" |
| Battery (SGS Certified to UL 2271) | G2 52V/ 19.2Ah |
| Range | 70+ Miles |
| Bike Weight | 76lbs (65lbs w/o battery) |
| Weight Capacity | 300 lbs |
Design and Build Quality
The Juiced RipCurrent S is a notable electric fat tire bike that stands out not only for its powerful performance but also for its thoughtful design and build quality. In this review, we will delve into the key features and components that make this bike an attractive choice for riders looking for both comfort and capability.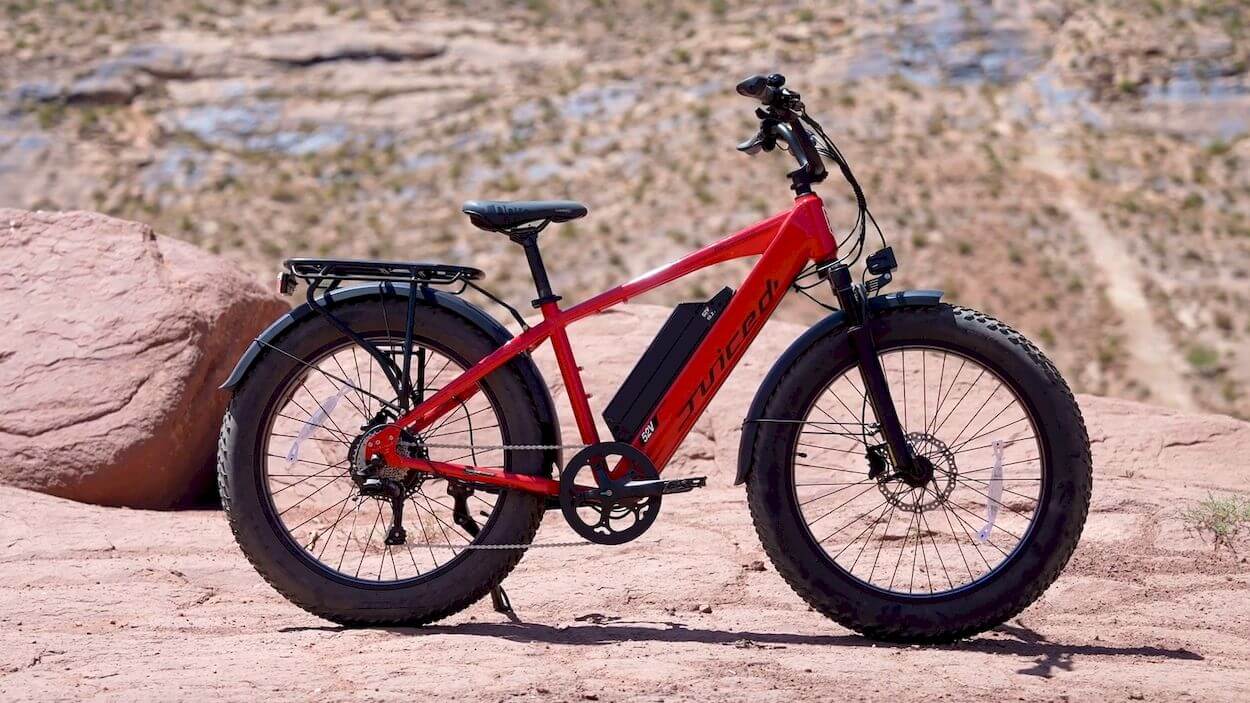 The design of the RipCurrent S is not only functional but aesthetically pleasing. It exudes a robust and rugged appearance that's perfect for tackling various terrains. The frame is built with quality materials, ensuring durability and stability. Its overall construction instills confidence in the bike's ability to withstand the demands of off-road adventures.
One of the standout features of the RipCurrent S is its air fork suspension system. This is a rarity in the world of fat tire e-bikes. The air fork can be finely tuned, allowing riders to customize their suspension settings to suit their preferences and the type of terrain they are riding on. This feature greatly enhances comfort and control, making the bike capable of handling rough trails with ease.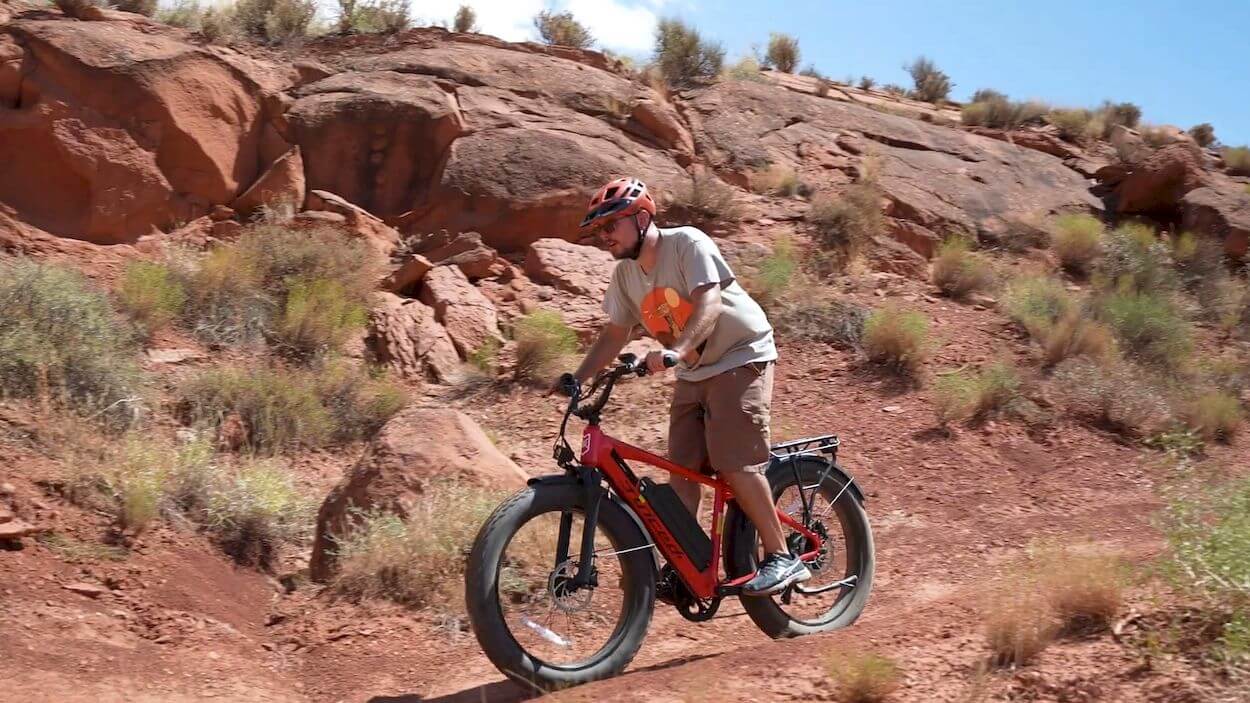 The RipCurrent S is equipped with a dependable L2W09 nine-speed gear system. The 11 to 34-tooth cassette and the Pro Wheel 52-tooth chainring work in harmony to provide a wide range of gearing options. This setup ensures that riders can tackle both steep climbs and fast descents with confidence, making it a versatile choice for a variety of riding conditions.
When it comes to stopping power, the Logan hydraulic disc brake system is a standout feature. With 180mm diameter rotors and dual-piston calipers, these brakes provide reliable and consistent stopping performance. This is especially crucial for an electric bike with the power to reach higher speeds.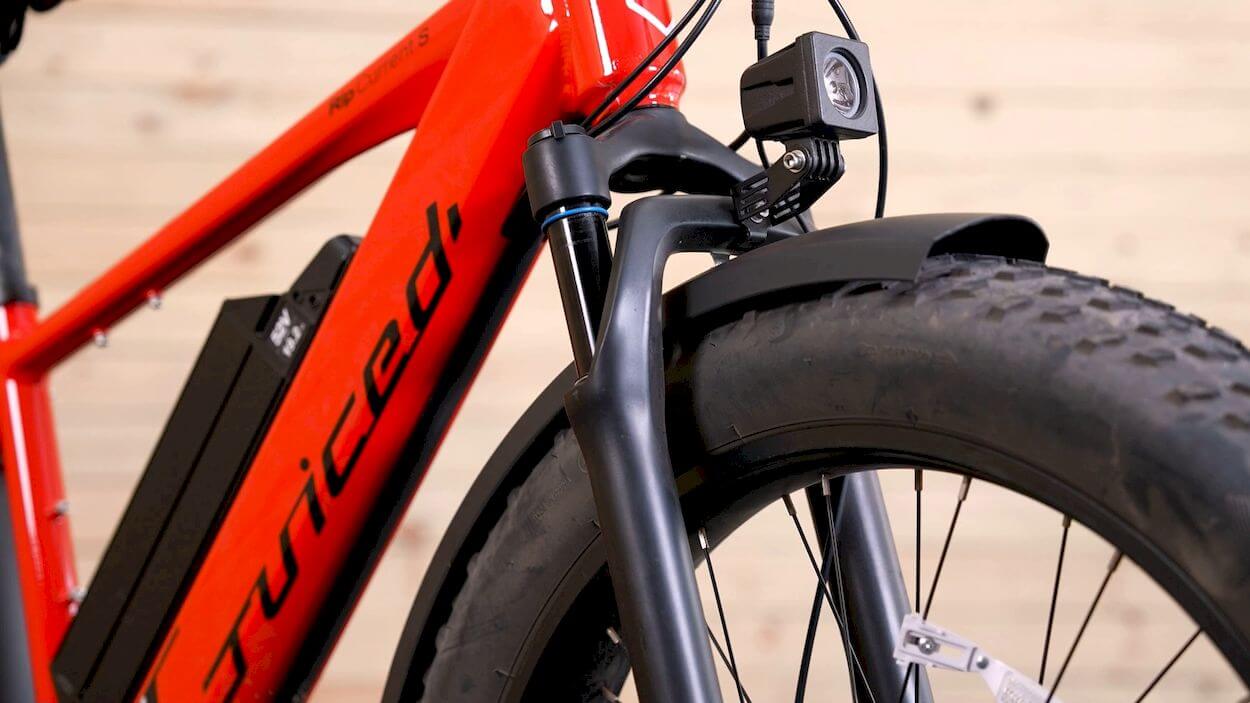 The RipCurrent S's 26-inch by 4-inch CST all-terrain knobby tires are designed to tackle a wide range of surfaces. Whether it's sandy beaches, rocky trails, or city streets, these tires offer excellent traction and stability. They ensure a smooth and controlled ride over different terrains, making it a true all-terrain bike.
The inclusion of a torque sensor in the RipCurrent S is a significant advantage. Unlike many similar fat tire e-bikes that rely on Cadence sensors, the torque sensor provides more natural and responsive motor engagement. This results in a smoother riding experience and better battery utilization. The powerful motor combined with the torque sensor ensures that the bike responds to your pedaling input with precision.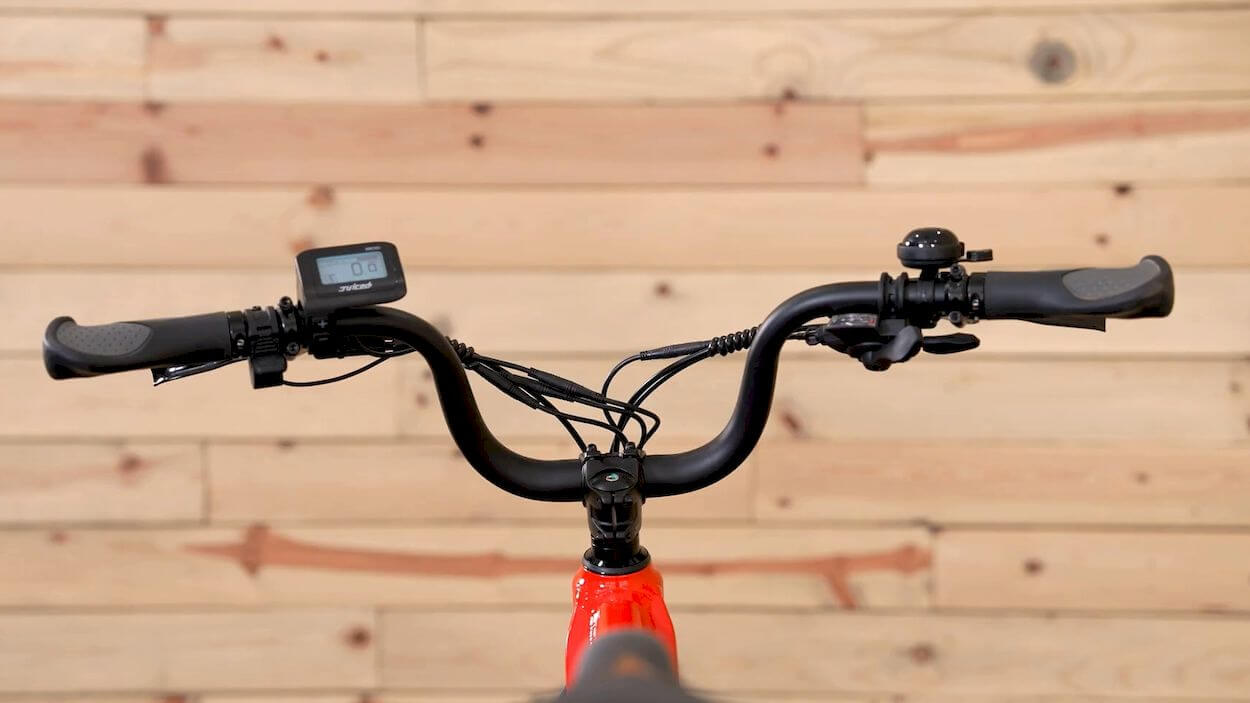 The RipCurrent S is not just about performance; it's designed for practicality as well. It comes with a rear rack that can carry up to 50 pounds of cargo, making it a great choice for commuting or running errands. Fenders are also included to protect you from dirt, water, and debris, ensuring a cleaner and more comfortable ride.
The cockpit of the RipCurrent S is well thought out, with a wide handlebar, ergonomic grips, trigger shifter, adjustable stem, and the comfortable Selle Royale A306URO saddle. This setup ensures a comfortable and upright riding position, ideal for longer journeys and varied terrains.
Motor
At the heart of the Juiced RipCurrent S is a formidable powerhouse – the 1000-watt Bafang rear hub motor. It's no secret that Bafang motors are renowned for their power and reliability, and this model certainly lives up to that reputation. When you first engage the motor by pushing down on the throttle and start pedaling, you can immediately feel the immense power it cranks out.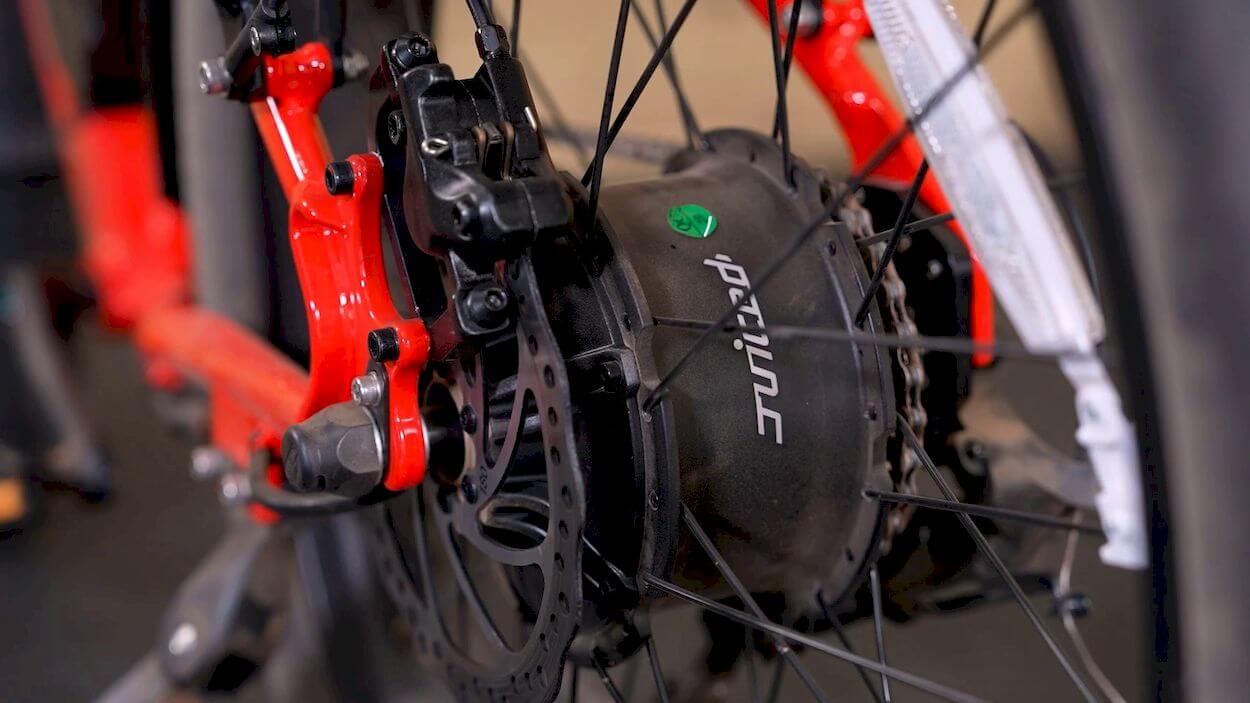 This motor is not just about raw power; it's about the thrilling acceleration and exhilarating speed it brings to your ride. As soon as you hit the throttle, the bike surges forward with gusto. It's a sensation that leaves an indelible mark on your riding experience. Whether you're navigating challenging trails, conquering steep inclines, or simply zipping through city streets, the Bafang motor propels you with authority.
Juiced RipCurrent S: On the road
When evaluating a new e-bike, one critical question we seek to answer is how fast the bike can go in each of its pedal assist levels. Understanding the speed capabilities in various modes is crucial for riders who want to make the most of their electric bike's potential. In this testing phase, we're putting the Juiced RipCurrent S to the test to discover its speeds in different pedal assist levels.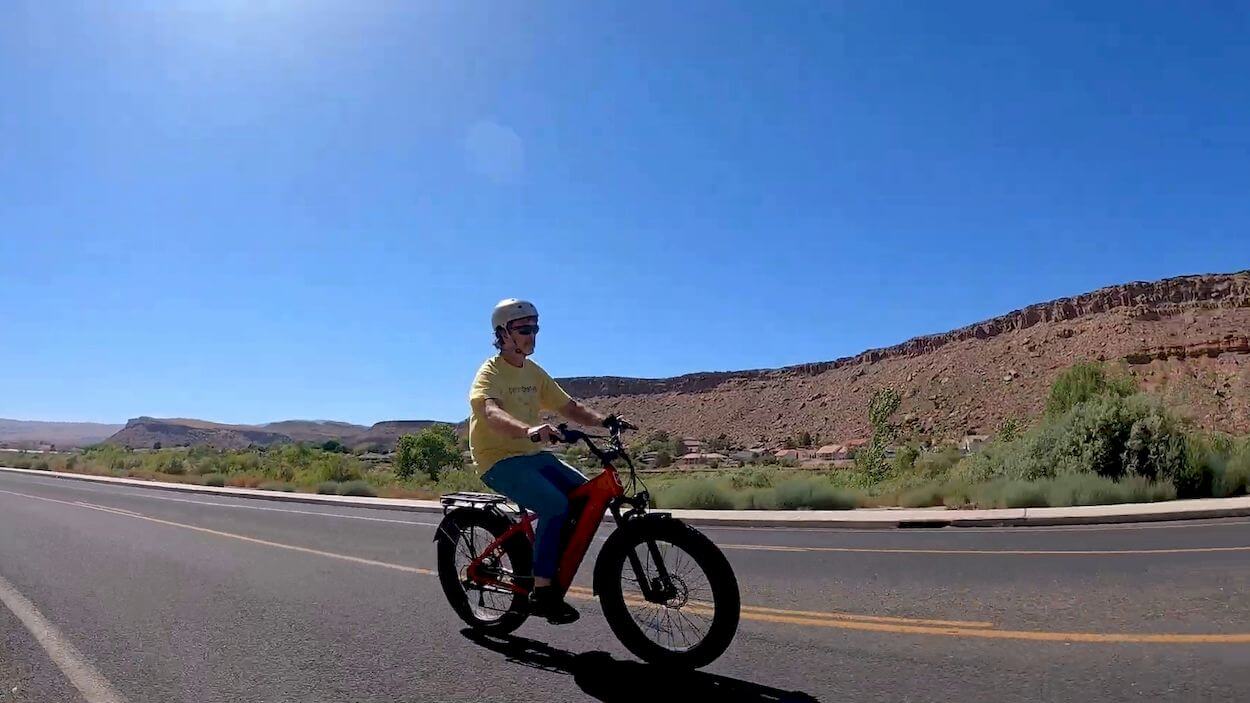 Zero Pedal Assist (No Power from the Motor): In this initial test, with no assistance from the motor, we can truly gauge the capabilities of our pedaling alone. As we pedal in fifth gear, the bike starts from a standstill and takes some effort to get going. It gradually reaches a speed of around 10 miles per hour, demonstrating the base level of pedaling power.
Eco Mode (Pedal Assist Level 1): With the first level of pedal assist, there's an immediate engagement with the motor. The bike accelerates to a comfortable speed of approximately 14 miles per hour, making it easier to maintain a brisk pace without exerting too much effort.
Pedal Assist Level 2: Stepping up to pedal assist level 2, we experience a noticeable boost in speed. The bike propels us from the 18-mile-per-hour range up to the 20-21-mile-per-hour neighborhood, providing an even more enjoyable and efficient riding experience.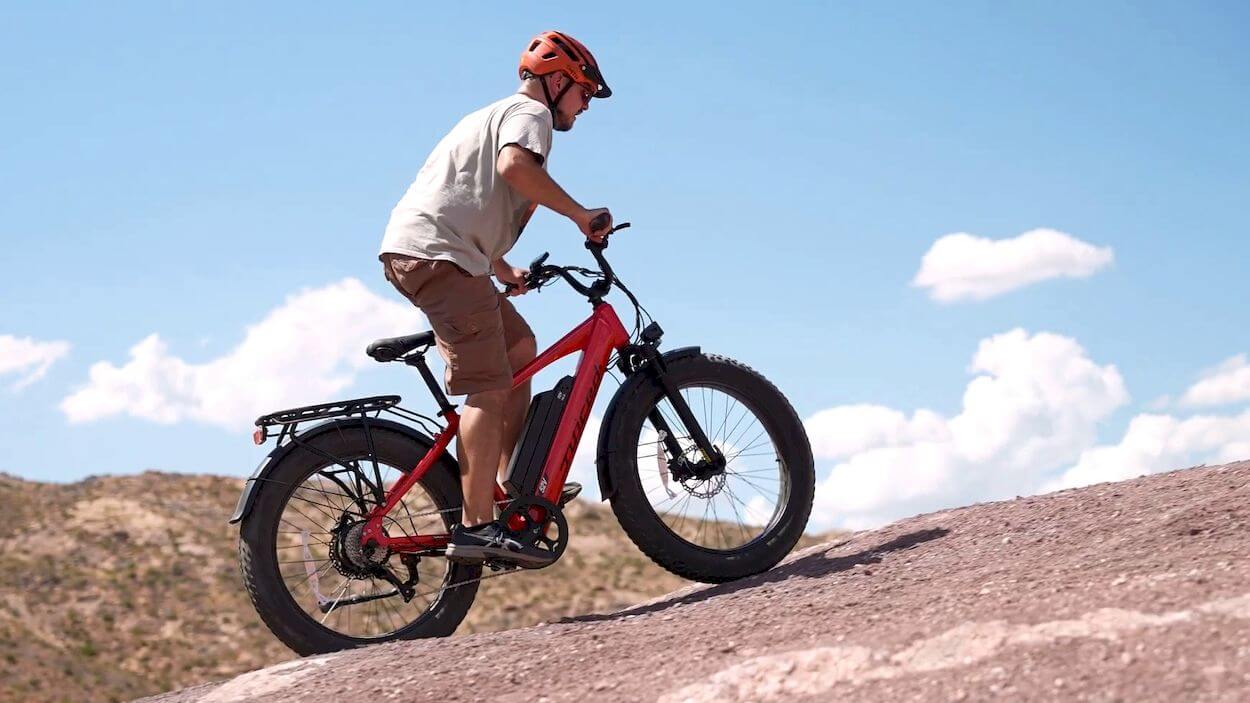 Pedal Assist Level 3: With the third pedal assist level, the engagement is strong and immediate, and the bike picks up the pace even further. It accelerates from the 22-mile-per-hour range up to 24 miles per hour, delivering a thrilling sensation and enhancing the bike's overall performance.
Pedal Assist Level 4: At the highest pedal assist level, we experience a substantial increase in speed. The bike takes us from 28 miles per hour, and our pedaling plays a significant role in reaching a top speed of approximately 29.5 miles per hour. The responsiveness of the motor at this level is impressive.
In addition to testing the pedal assist levels, we also conduct a throttle test to measure how quickly the bike can accelerate from a standstill to 20 miles per hour using only the throttle, without any pedaling.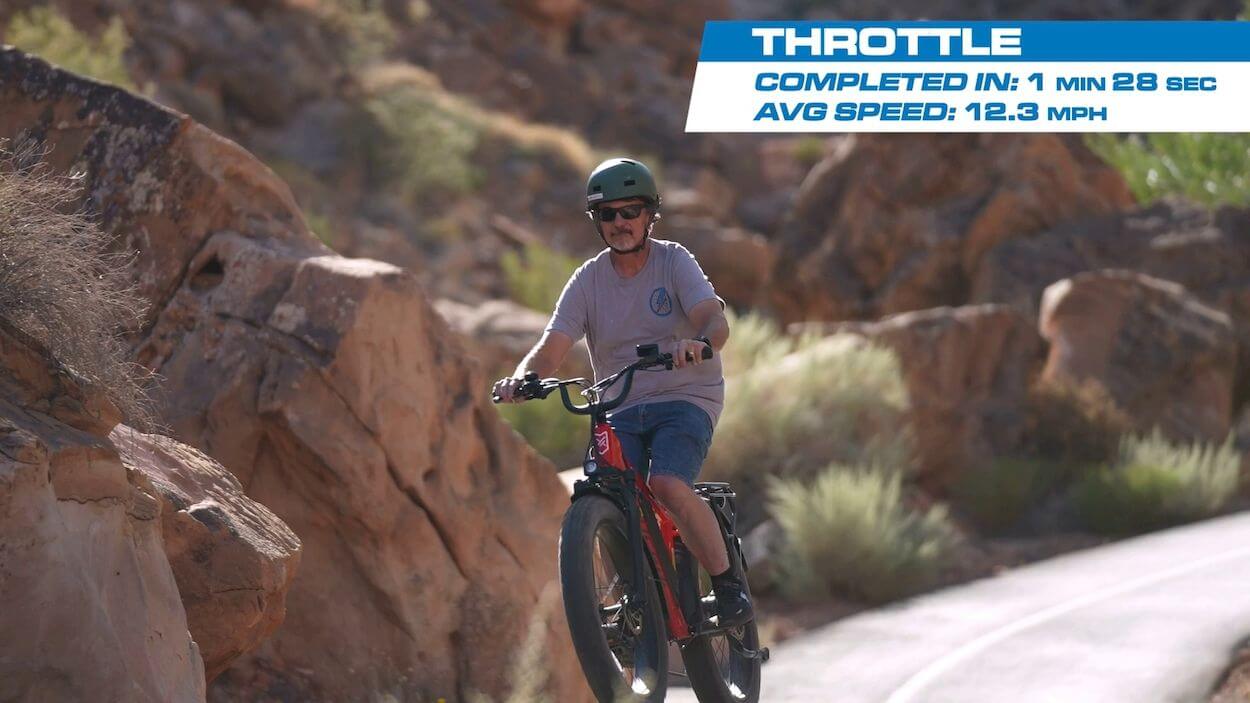 In our throttle test, the Juiced RipCurrent S exhibits an immediate engagement with the throttle, and it takes a mere 11.5 seconds to reach 20 miles per hour. This test demonstrates the raw power of the motor, and its ability to accelerate swiftly is evident.
However, what's worth noting is the motor's behavior during this testing. While the RipCurrent S has a lot of power in the initial part of the acceleration, it gradually tapers off as it reaches higher speeds. This behavior showcases the motor's consistency and predictability. This e-bike handles more naturally and in a controlled manner as the torque sensor kicks in past the 14 to 15-mile-per-hour mark when riders start pedaling. This allows for a smoother and more efficient ride.
In terms of wattage output, the screen displayed a maximum of around 1050 watts during the pedal test, showing that the bike didn't reach its full 1300-watt peak. This indicates that the motor delivers power in a controlled and steady manner, contributing to a safer and more predictable climbing experience.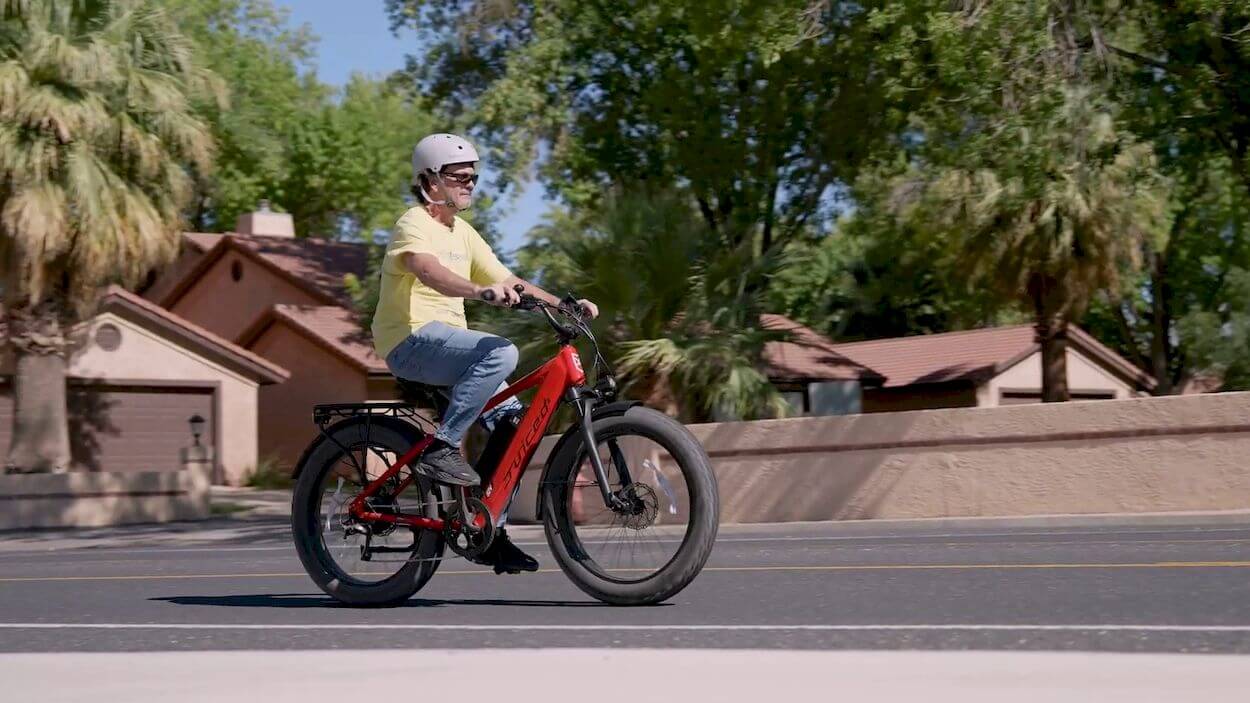 In a throttle-only test, the RipCurrent S reached the top of the hill in just 1 minute and 28 seconds, with an average speed of 12.3 miles per hour. The bike's controlled ascent is noticeable here, as it doesn't aim for breakneck speed but focuses on a safe and efficient climb.
While some riders might initially expect a quicker climb with the powerful motor, we appreciated Juiced's approach in making sure the RipCurrent S ascends steep hills in a calculated and safe manner. It excels in providing the power needed while ensuring a controlled and predictable experience.
The RipCurrent S impresses with its thoughtful design that enhances ride quality. The handlebars, though non-adjustable in terms of stem height, are comfortable and offer a relaxed upright riding posture. The lack of a height-adjustable stem is compensated by the availability of three frame sizes, ensuring that riders can find the right fit for their needs.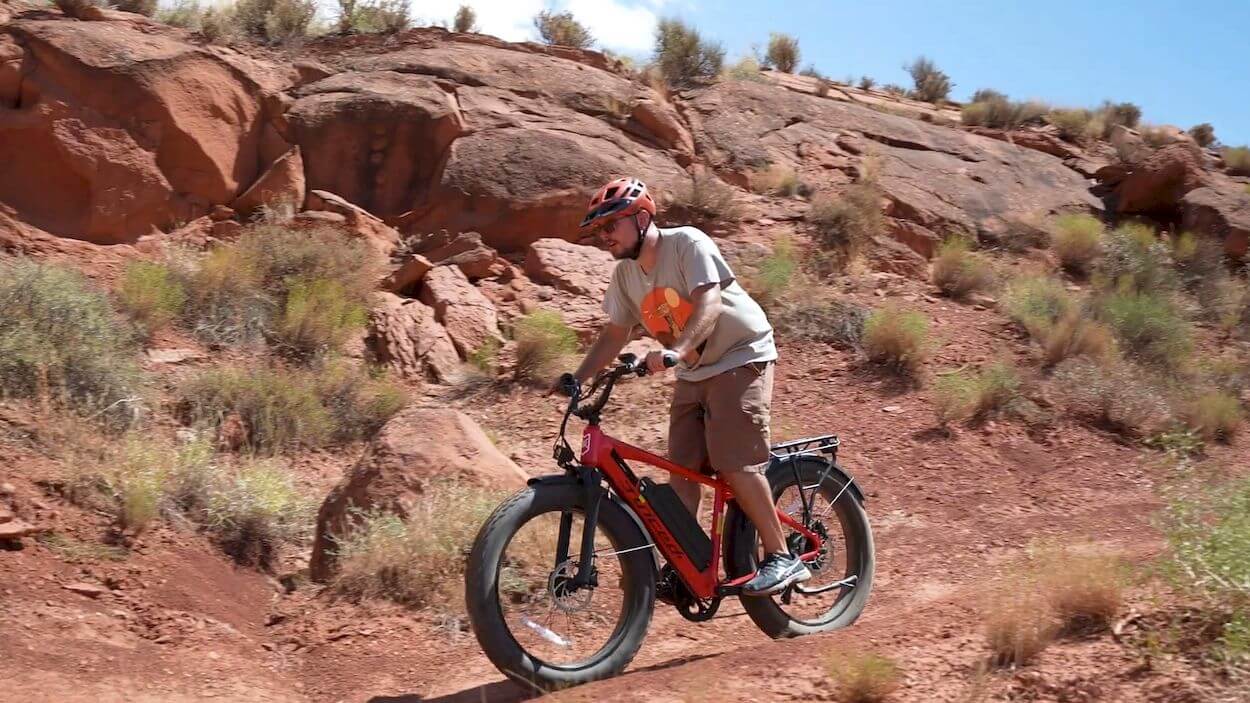 The air fork suspension contributes to a smooth ride by allowing fine-tuning of recoil and compression. Additionally, the lockout feature adds versatility to adapt to different riding conditions.
The 26-inch by 4-inch fat tires with all-terrain treads offer excellent grip and perform well on both roads and trails, contributing to a stable and controlled riding experience. The absence of rear suspension is compensated by a seat post suspension, and the saddle is comfortable for extended rides.
The bike's ergonomic rubber grips, combined with the well-designed handlebar, enhance the overall riding experience. The bike's thousand-watt Bafang motor delivers power seamlessly, making climbing hills and maintaining speed a breeze.
Moreover, the RipCurrent S stands out for its balance between motor engagement and rider input. It's not just about raw power; it's about making the rider's experience more comfortable and controlled.
Brakes Test
During our brake test, our test rider, Griffin, pedaled the RipCurrent S using pedal assist up to a speed of 20 miles per hour. He then swiftly applied the brakes to bring the bike to a complete stop. This process was repeated several times to obtain an accurate and consistent measure of the stopping distance.
The RipCurrent S demonstrated impressive braking performance in our test. The e-bike's average stopping distance was recorded at 21 feet and 9 inches. This result is notably better than the average stopping distance of 23 feet and 3 inches that we typically observe on similar e-bikes.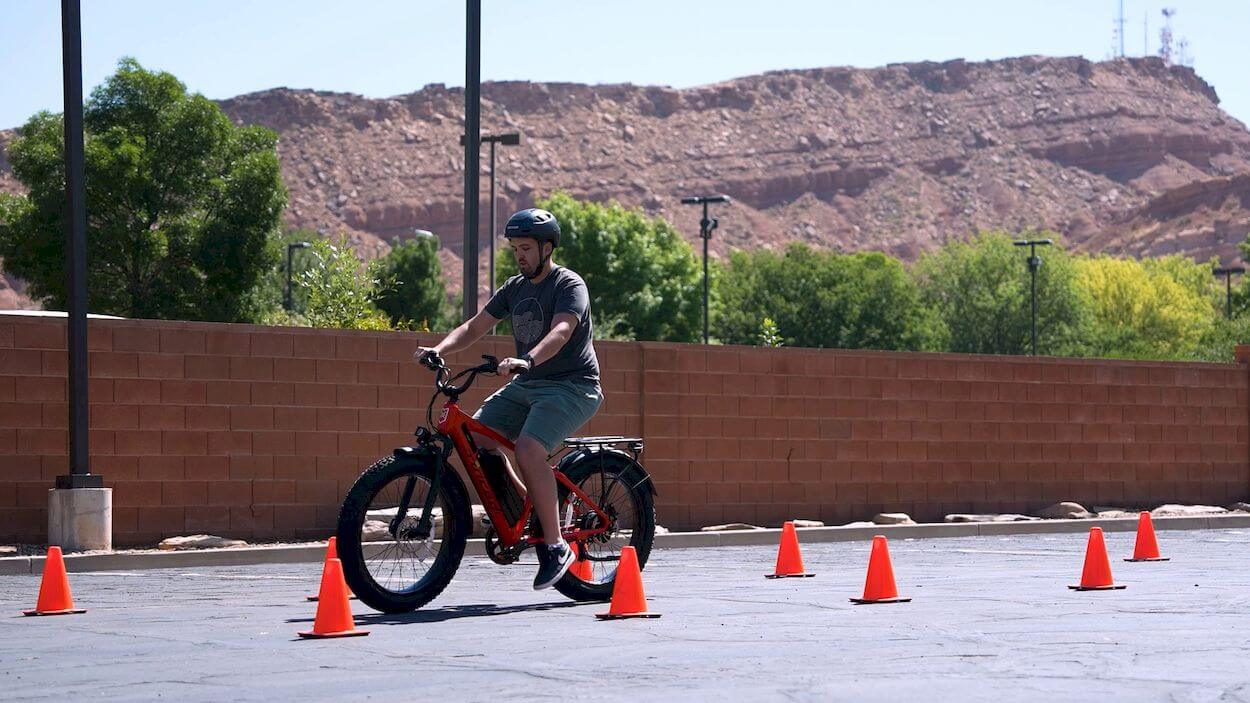 The RipCurrent S employs the Logan HD E500 hydraulic disc brake system, which is equipped with 180mm rotors that are 2.24mm thick. These rotors are designed to deliver consistent and reliable stopping power. The hydraulic system also utilizes standard mineral oil, a common choice in many hydraulic brake systems.
The Logan brakes on the RipCurrent S surpassed our expectations by consistently and safely bringing the e-bike to a stop. This performance instilled confidence in the e-bike's overall safety, making it a reliable choice for riders who prioritize secure and controlled braking, especially considering the bike's impressive speed and power capabilities.
Battery and Range
The RipCurrent S stands out by equipping itself with a sizeable 998.4-watt-hour battery. This significant capacity is essential to sustain the energy demands of the large motor that powers the e-bike. It allows riders to go the extra mile (quite literally) without worrying about running out of power prematurely.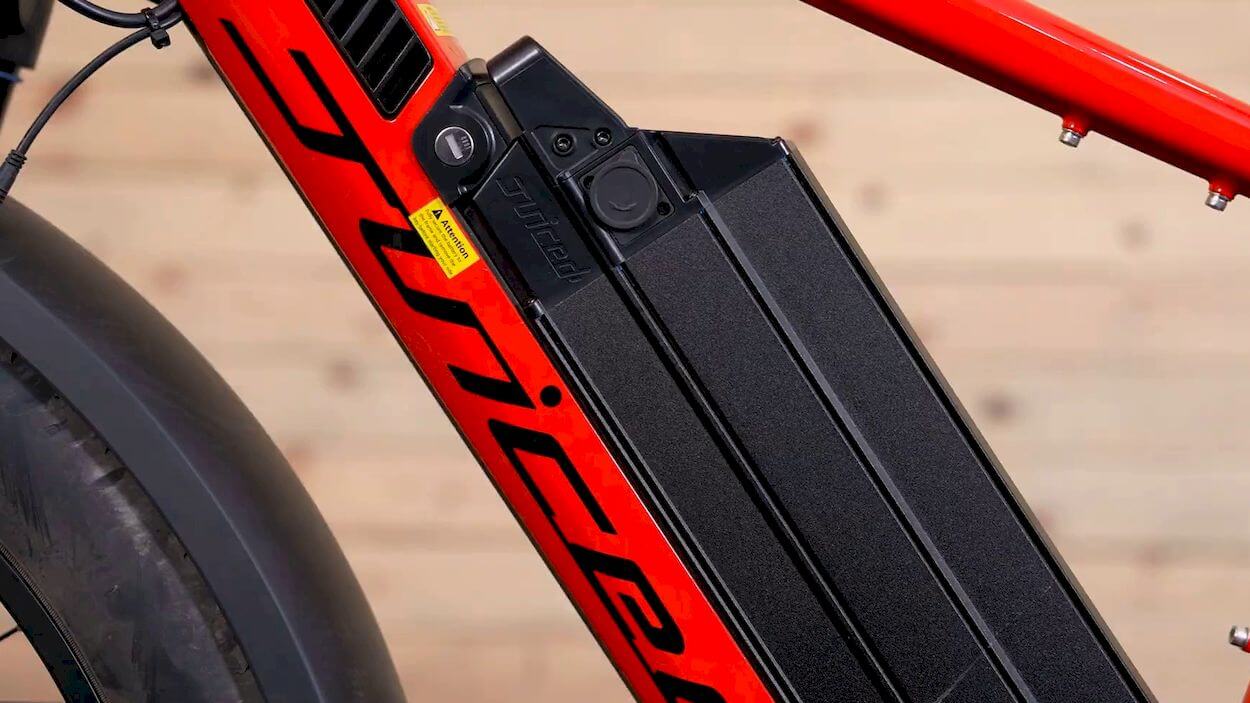 Moreover, the fact that this battery meets UL safety standards is a testament to the manufacturer's dedication to providing safe and dependable e-bike technology. UL2271 certification ensures that the battery has undergone rigorous testing to meet specific safety criteria, including protection against overheating, short circuits, overcharging, and more. This certification offers riders peace of mind, knowing that their e-bike's power source meets high safety standards.
When purchasing an e-bike, knowing how far you can go on a single battery charge is a critical consideration. To provide riders with valuable insights, two different range tests were conducted.
In the first test, the RipCurrent S was set to the minimum pedal assist level, the Eco Mode. This test assessed how far the e-bike could travel while using the least amount of energy from the battery. Impressively, the test rider managed to cover nearly 90 miles on a single battery charge. This exceptional range can be attributed to the e-bike's sizeable battery and an average speed of 13.3 miles per hour.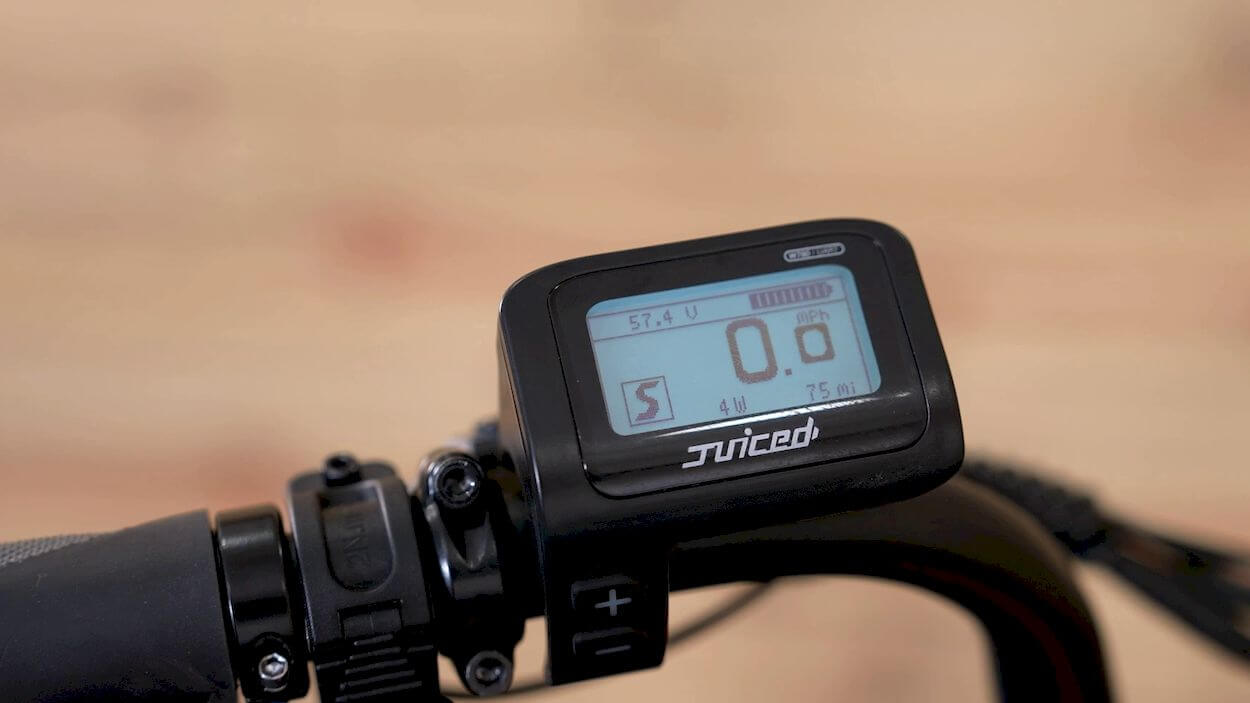 In the second range test, the RipCurrent S was pushed to its limits with maximum power from the motor in the S Mode, which is equivalent to level five on other pedal assist systems. In this test, the bike achieved over 42 miles while maintaining an average speed of 22.1 miles per hour before depleting the battery. These results highlight the remarkable strengths of both the motor and the battery.
While the RipCurrent S impresses with its battery capacity and performance, one caveat is the use of a two-amp battery charger. This charger takes close to 10 hours to fully recharge the battery. As a suggestion, opting for a three-amp charger would be advantageous, allowing users to recharge the battery more quickly, reducing the charging time to around six or seven hours.
The RipCurrent S's battery also boasts an IP65 certification, confirming its effective sealing and resistance to dust and moisture. This feature provides durability, especially for riders who may encounter wet or muddy conditions during their journeys.
Juiced RipCurrent S: Conclusions
After testing and evaluating the Juiced RipCurrent S, it's safe to say that this e-bike has exceeded expectations in several key areas. The focus on motor power, battery range, and overall ride quality has resulted in a winning combination that caters to riders who crave speed, extensive range, and exceptional handling during their adventure rides.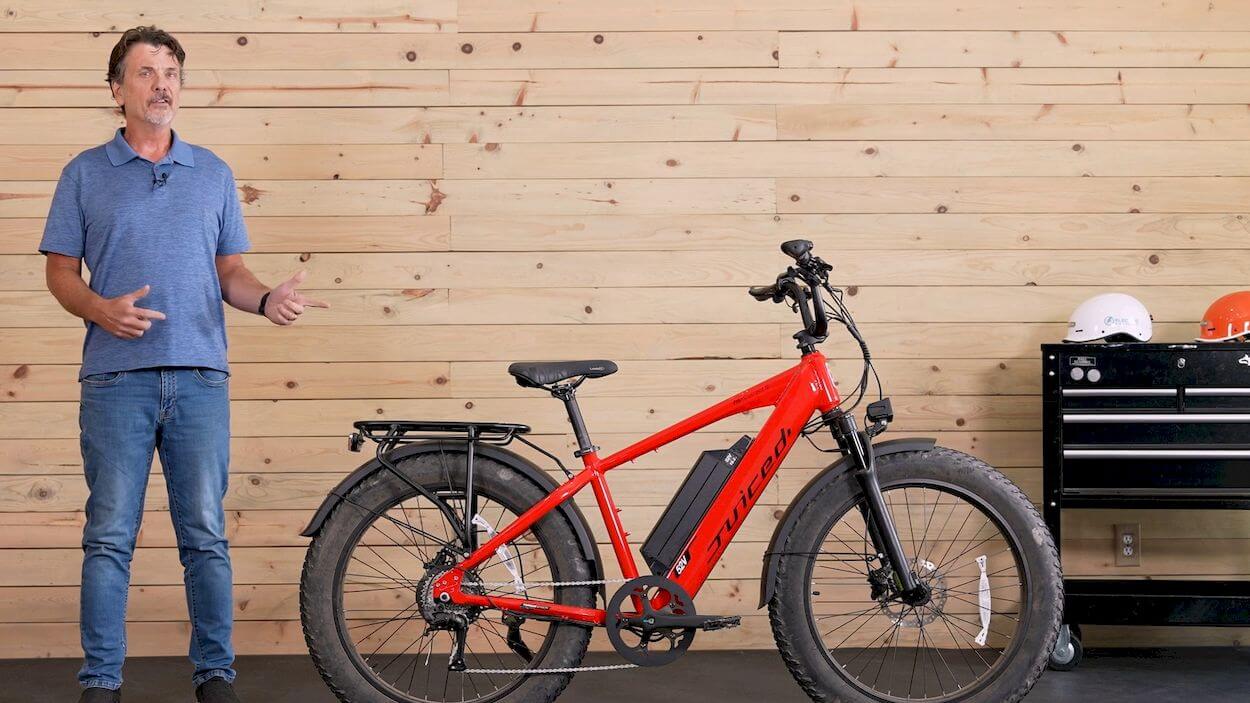 The RipCurrent S packs a punch with its powerful 1000-watt Bafang rear hub motor. It not only meets but exceeds expectations, delivering exhilarating speed and acceleration. The motor's ability to seamlessly blend electric assistance with pedaling makes every ride an electrifying experience.
The e-bike's design and components contribute to an exceptional riding experience. The ergonomic handlebars, suspension, comfortable saddle, and well-thought-out cockpit design all work together to offer a comfortable and enjoyable ride. The availability of three frame sizes allows riders to find the perfect fit.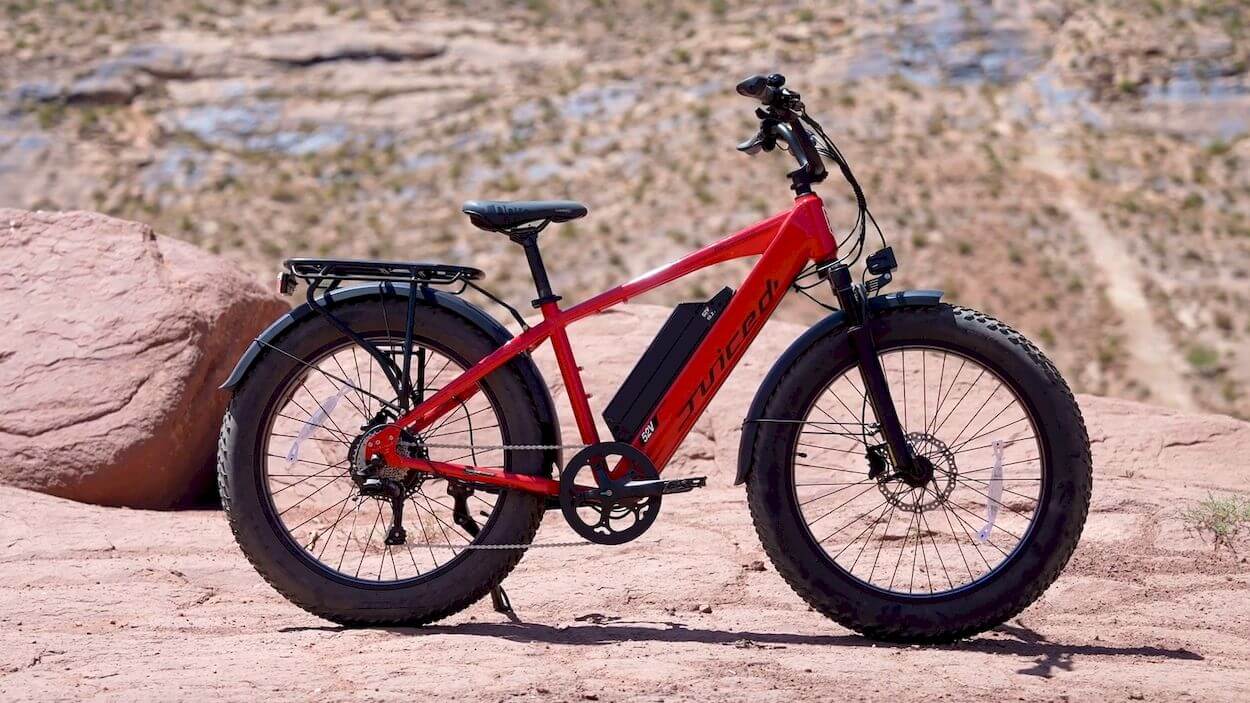 In summary, the Juiced stands out as a high-quality all-terrain e-bike that offers tremendous value for the price. Whether you're an avid off-roader or simply seeking an e-bike that can take you practically anywhere, this model should be at the top of your shortlist. You'll likely be pleasantly surprised after your first ride. To explore this and other Juiced e-bikes, please follow the link provided below.
Thank you for reading this review. Keep your hands on the bar, your feet on the pedals, and your eyes on the road. We look forward to seeing you out on the bike trail sometime, and until then, happy riding!
Alternatives of Juiced RipCurrent S