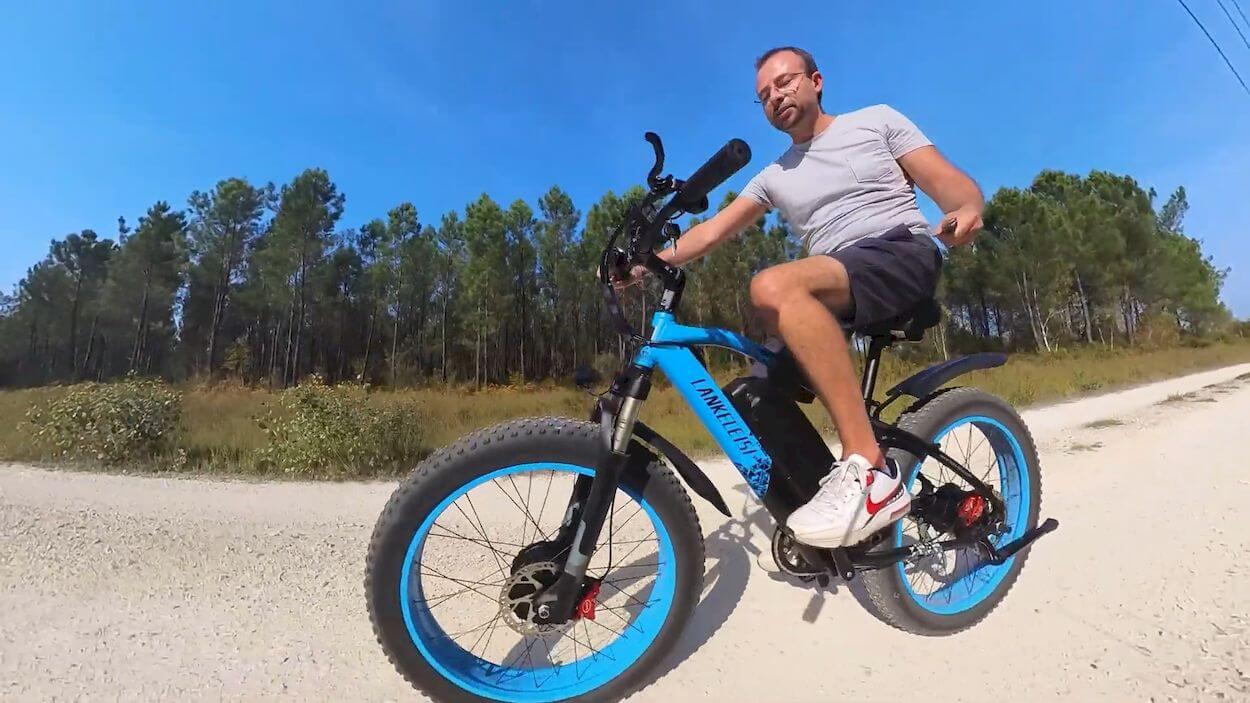 The Lankeleisi MG740 Plus is a wolf in sheep's clothing, or perhaps more aptly, a motorcycle disguised as a bike. In this review, we dive into what makes this extraordinary machine so remarkable.
At first glance, the MG740 Plus may appear to be just another electric bike, but it's much more than that. This bike is a high-performance electric monster that's designed to take riders on exhilarating journeys that feel more like riding a motorcycle.
In essence, the MG740 Plus is not your average electric bike; it's an adventure waiting to happen. It's a motorcycle-like experience wrapped in the form of a bicycle, offering the best of both worlds. This is not just a bike; it's an invitation to explore, to push boundaries, and to experience a thrilling ride like no other.
So, welcome to Avis Express for the test of the Lakeleisi MG740 Plus, a magnificent machine that blurs the line between traditional bikes and motorcycles. It's a wolf in sheep's clothing, and it's ready to take you on an electrifying journey.
| | |
| --- | --- |
| Rame material | 6061 All-aluminium alloy frame |
| Motor | Front and rear 1000W dual motors |
| Variable speed | Shimano 7 speed |
| Torsion: | 90NM front and rear |
| Freewheel: | SUNSHINE 14-28T |
| Tire specifications | CHAOYANG 26X4.0 |
| Maximum speed | 45~51KM/H |
| Battery | 48V20ah(SAMSUNG) |
| Range range | Pure electric is 60-70 kilometers, power 120-150 kilometers |
| Charging time | For 5-6 hours |
| Net weight | 34KG |
| Carrying weight: | 180kg |
Design and Build Quality
The Lankeleisi MG740 Plus is a heavyweight electric bike with a remarkable design and robust build quality. This bicycle, weighing in at 33 kilograms, features a frame crafted from aluminum alloy, designed in a striking diamond style. The frame's geometry is adaptable, offering both high and low positions to accommodate a wide range of riders. This dual geometry allows for a straight and comfortable handlebar position, as well as a saddle setting capable of supporting riders with a weight of up to 180 kilograms, making it suitable for individuals ranging from 1.70 meters to 2 meters in height.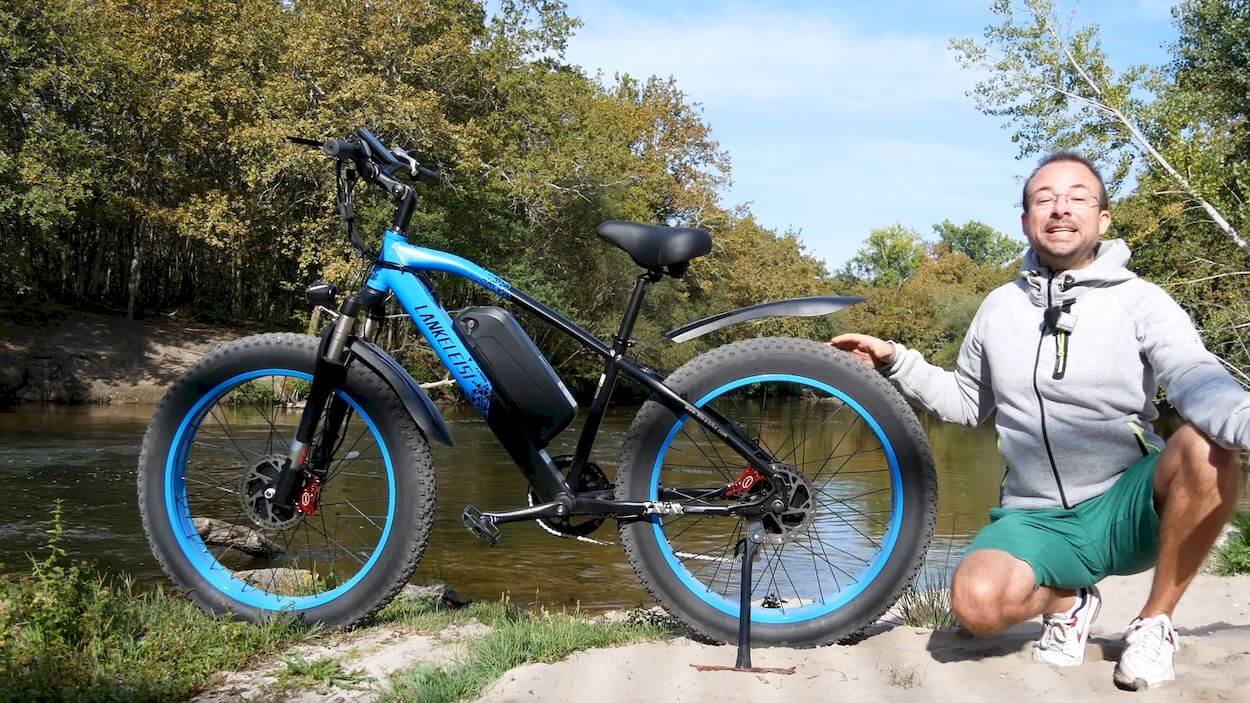 The bike's welding is robust and built for endurance rather than delicacy. Lankeleisi prioritizes strength and resilience in their manufacturing, ensuring the bike can handle various terrains and conditions. Their reputation for producing high-quality bikes is well-founded, and the MG740 Plus is no exception.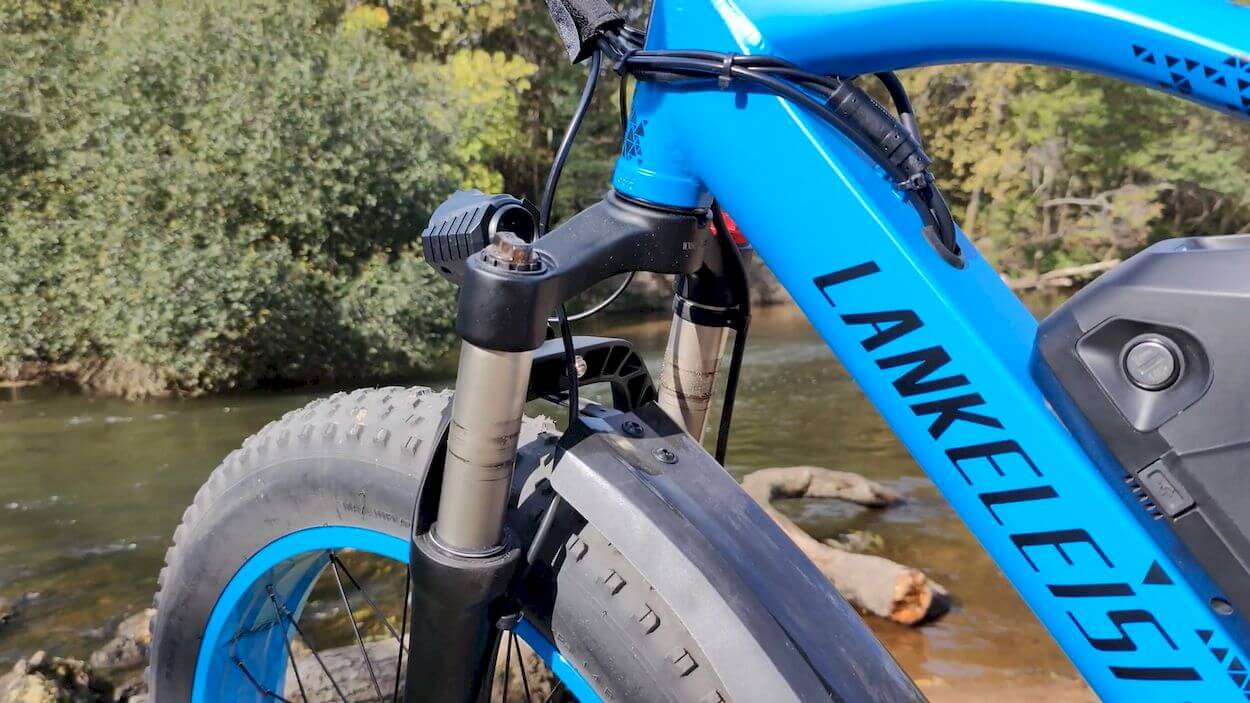 One of the standout features of this electric bike is its unique and highly resistant paint. Although specific details of the paint process are not immediately recalled, it's evident that the bike's frame is well-protected against corrosion, making it suitable for challenging environments. This level of protection significantly sets it apart from similar models, including "engue" and its counterparts.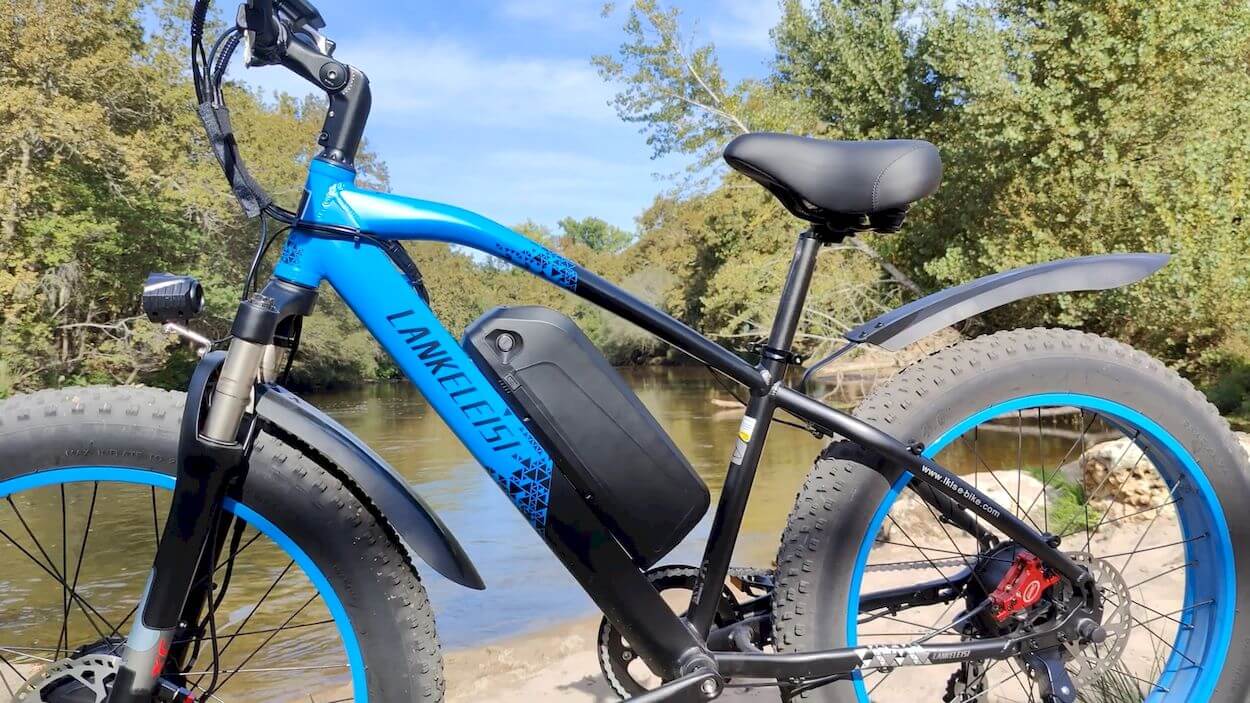 At the handlebar level, you'll find accessible controls, including a vibrant color screen for startup. This screen displays essential information such as battery level, total mileage covered, assistance level, and motor activation options. The Shimano Altus derailleurs and SEP sprockets on the rear, along with a 46-tooth chainring, contribute to the bike's overall performance. The presence of a kickstand, front and rear fenders, and a lighting system further enhance its functionality.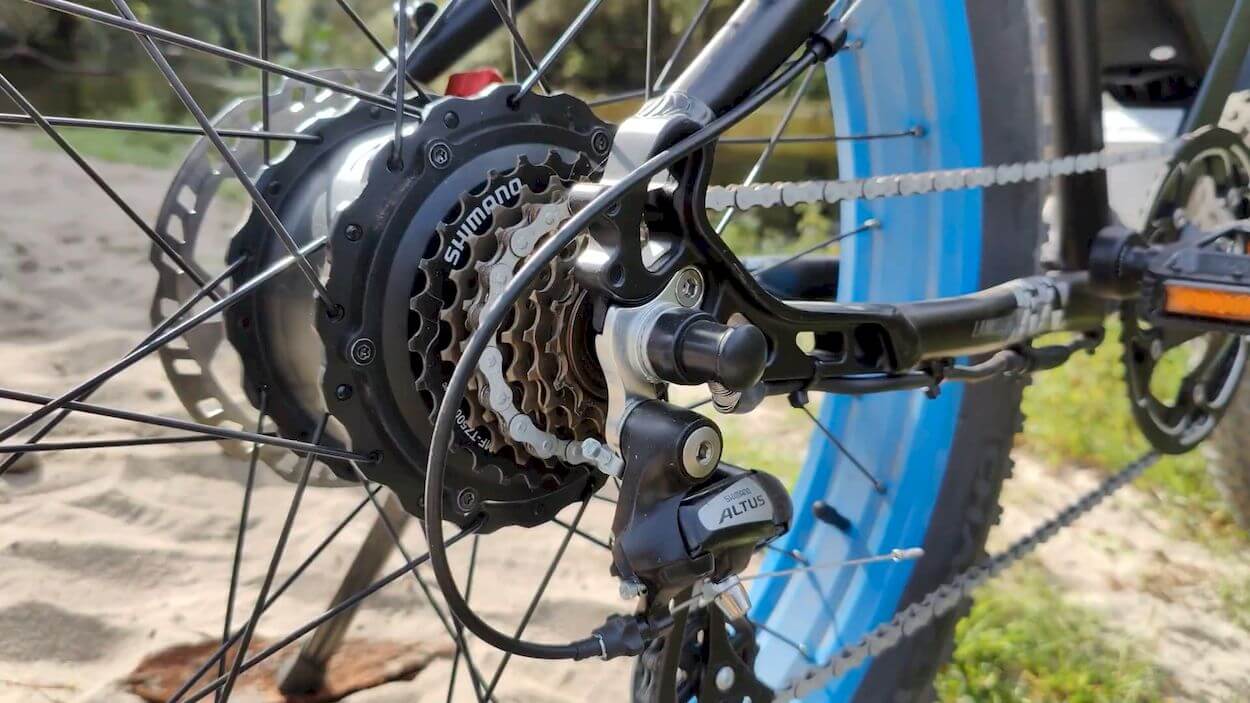 The MG740 Plus offers partial suspension, with a front fork providing around 8 cm of travel. The adjustable oil damping system, with options for compression and decompression, allows for a customizable and comfortable ride. The hydraulic braking system with 180 mm diameter disc brakes offers precise control, and these brakes are well-tuned from the factory. Riders can adjust the brake travel to their preference, further enhancing the bike's performance and safety.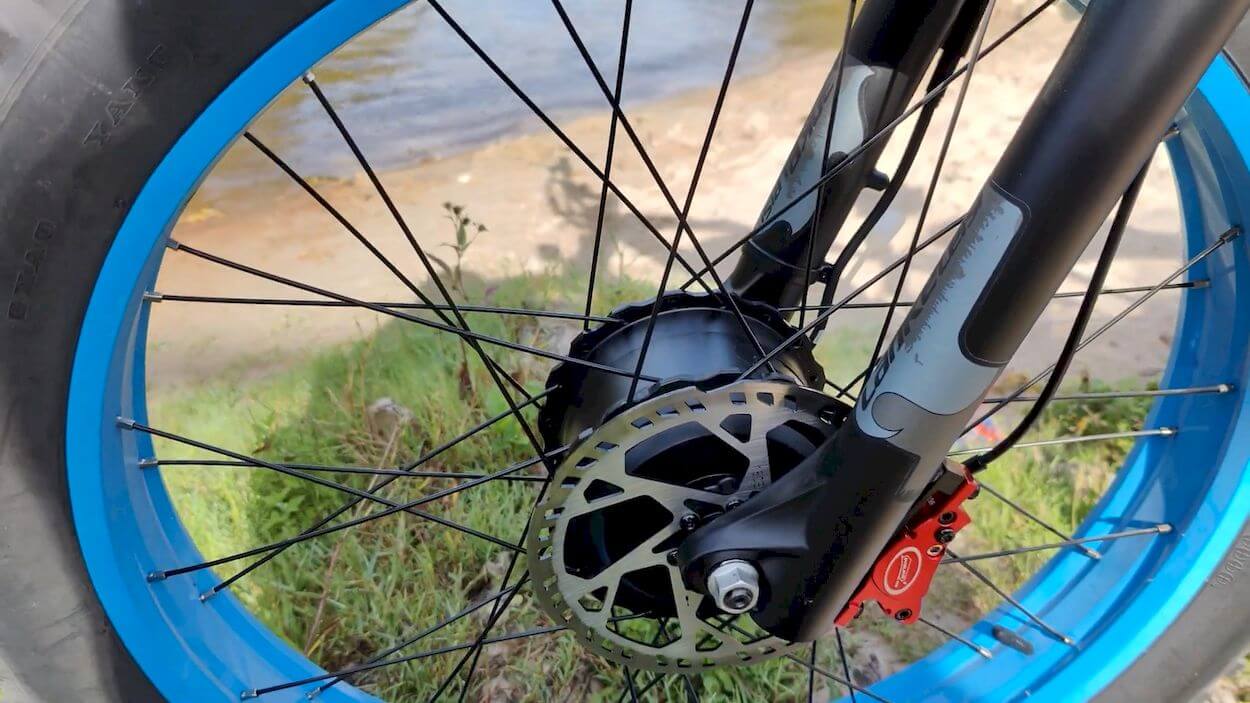 So, the Lankeleisi MG740 Plus stands out for its robust build quality and unique design. The adaptable frame, powerful components, corrosion-resistant paint, and advanced suspension make it a high-quality electric bike suitable for various terrains and riders of different sizes. While not street-legal in France due to its power, this bike promises an exhilarating off-road experience for those who seek an adventure in the great outdoors.
Lankeleisi MG740 Plus:
Motor
The Lankeleisi MG740 Plus's technical specifications include a powerful and monstrous 1000W motor located at both the front and rear of the bike. This dual-motor setup is nothing short of impressive and sets this electric bike apart as a true force of nature.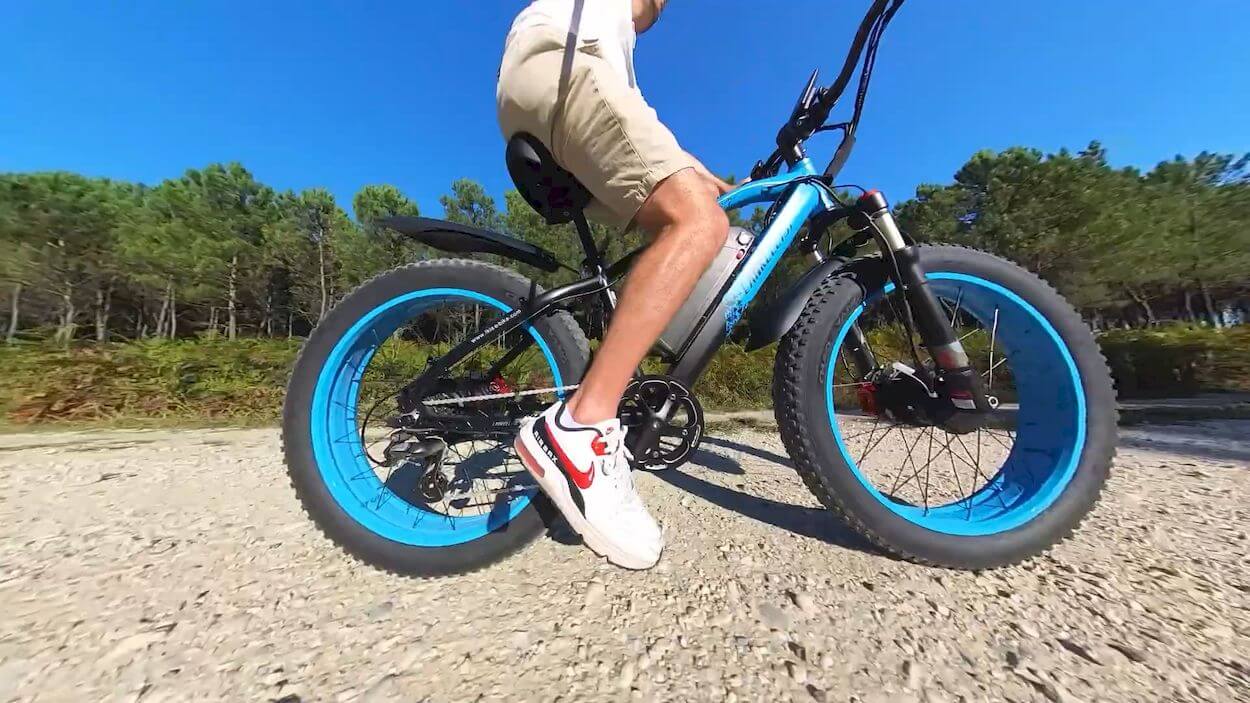 The 1000W front motor, working in tandem with the rear motor of equal capacity, tears up the ground beneath it. This dual-motor configuration provides an exceptional level of power, which translates into thrilling speed and impressive off-road capabilities. The two motors work in harmony to conquer challenging terrains, tackle steep inclines, and provide an exhilarating riding experience.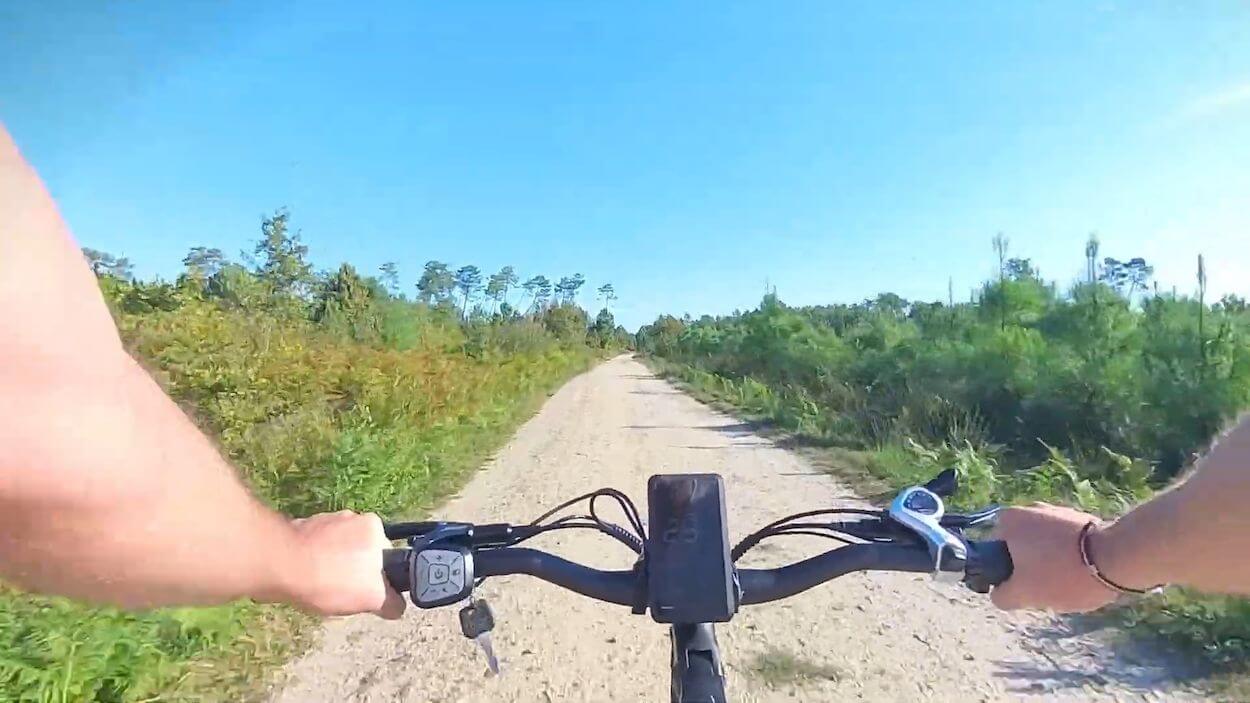 What's particularly intriguing about this setup is that you have the flexibility to use either the front motor, rear motor, or both simultaneously. This allows you to adapt the bike's performance to your specific needs and riding conditions. Whether you want a slightly less intense ride or you're looking to unleash the full power of this monstrous machine, you have the control to do so.
On the road or Driving Test
The bike offers a highly comfortable saddle that is soft and wide. In terms of comfort, it can be compared to some of the best saddles on the market. This aspect ensures that riders are well-supported during their journeys.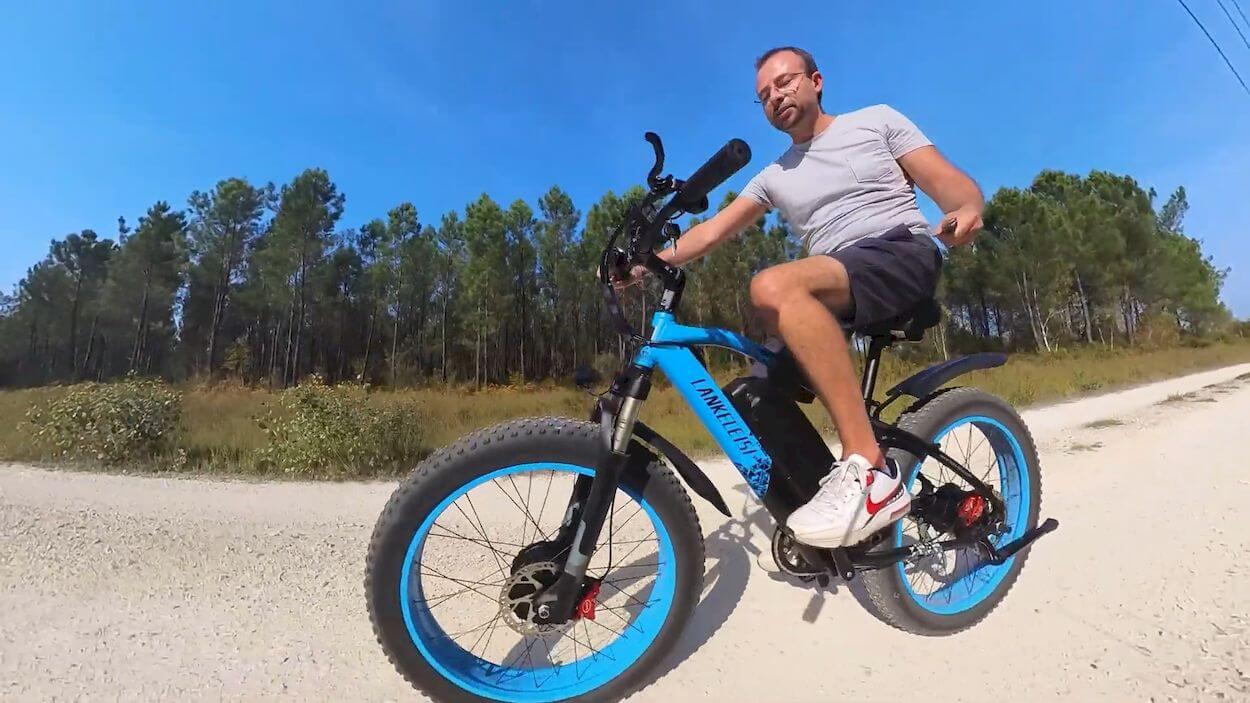 The front fork provides approximately 10 cm of travel with an adjustable oil suspension. This not only enhances the comfort of the ride but also greatly contributes to rider confidence. It efficiently absorbs various road imperfections and terrain challenges, making the bike suitable for a variety of riding conditions, from off-road trails to sandy beaches and snowy landscapes.
The bike is designed to accommodate a wide range of rider heights and preferences. The saddle allows for a straight and comfortable back position, ideal for covering long distances without straining your back. Additionally, the handlebars can be adjusted for height, allowing taller riders to customize their position further.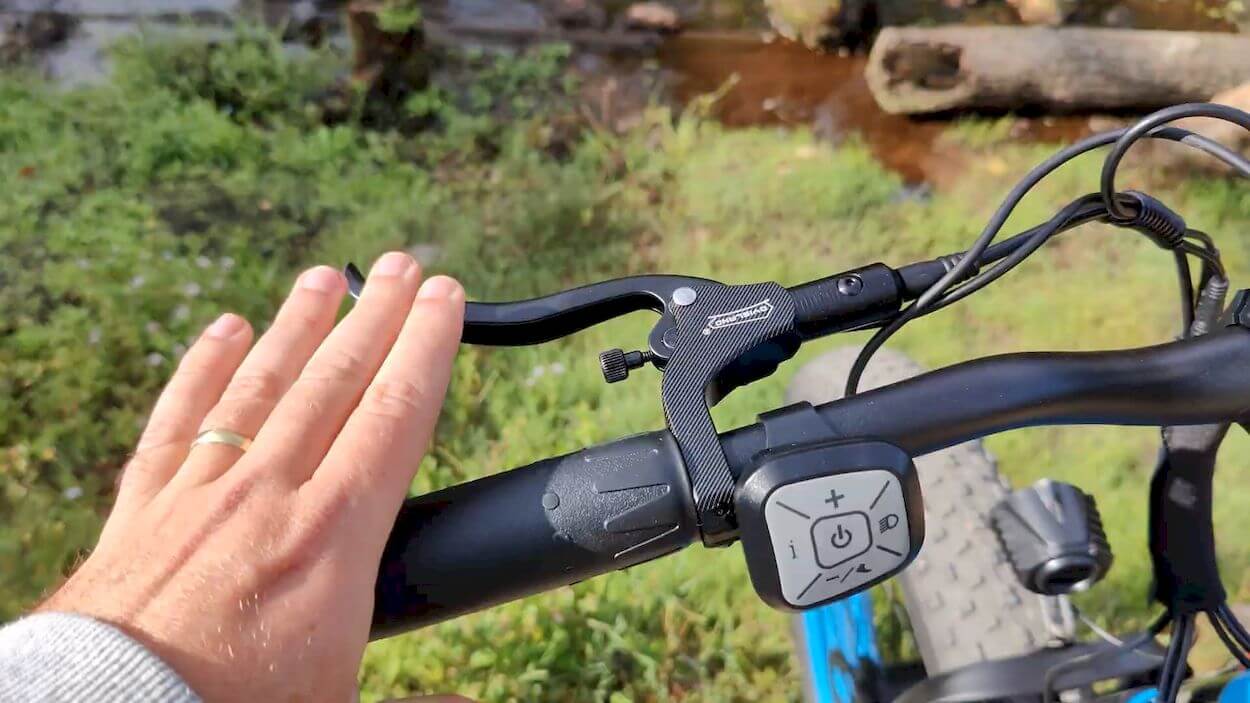 The controls for the bike's assistance level are easily accessible, with a speed limitation feature. You can select different speed levels, and the bike's performance adjusts accordingly. This customization ensures a tailored riding experience to suit your preferences and local regulations.
The dual 1000W motor setup is the true highlight of the Lankeleisi MG740 Plus. This formidable combination of a front and rear motor provides a total power output of 2000W. Riding with just one motor still offers impressive performance with a top speed of 42 km/h (GPS controlled), which aligns with traditional 1000W motor e-bikes.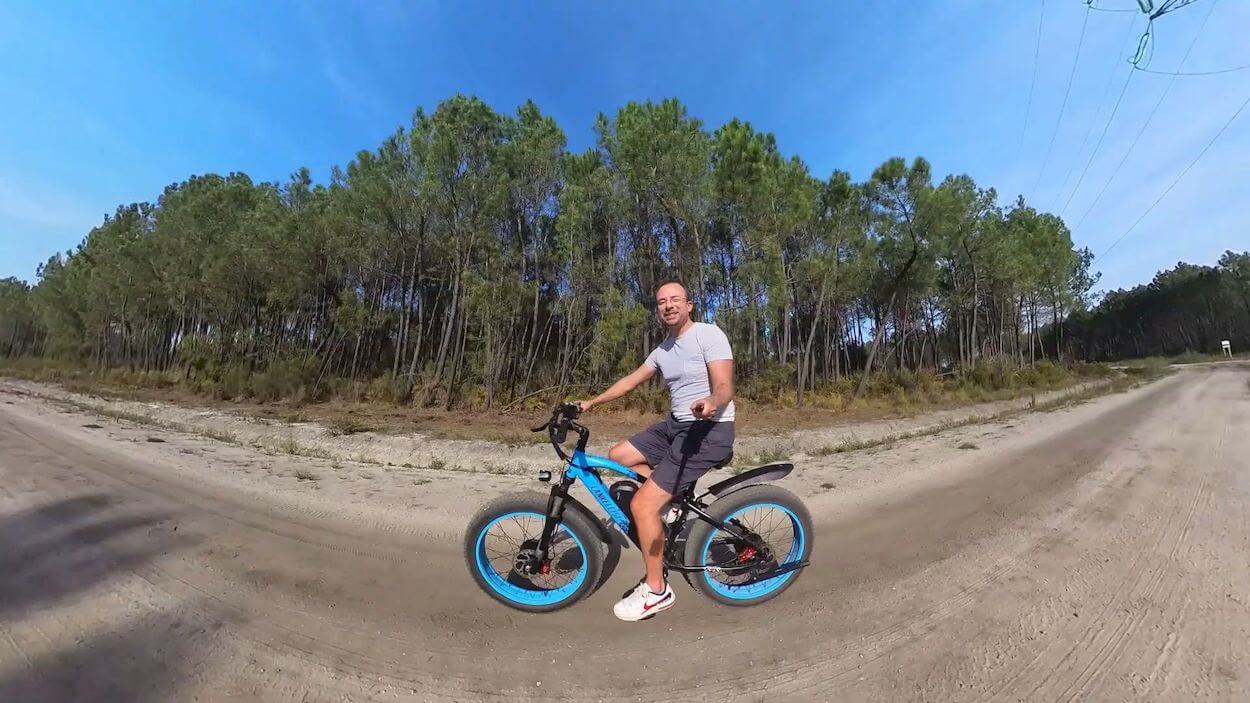 When both motors are engaged, the bike truly transforms. It delivers an astonishing top speed of 48.5 km/h, making it comparable to a small motorcycle or scooter. The dual motor setup empowers the bike to handle steep hills and challenging terrains with ease. Even on inclines, the bike can accelerate, which is quite rare in the e-bike world. It's a powerhouse on two wheels.
The Lankeleisi MG740 Plus features a comprehensive hydraulic disc brake system, both front and rear. These brakes offer superb responsiveness, requiring minimal force to apply. The progressive and reliable braking system ensures safety and control in various riding conditions.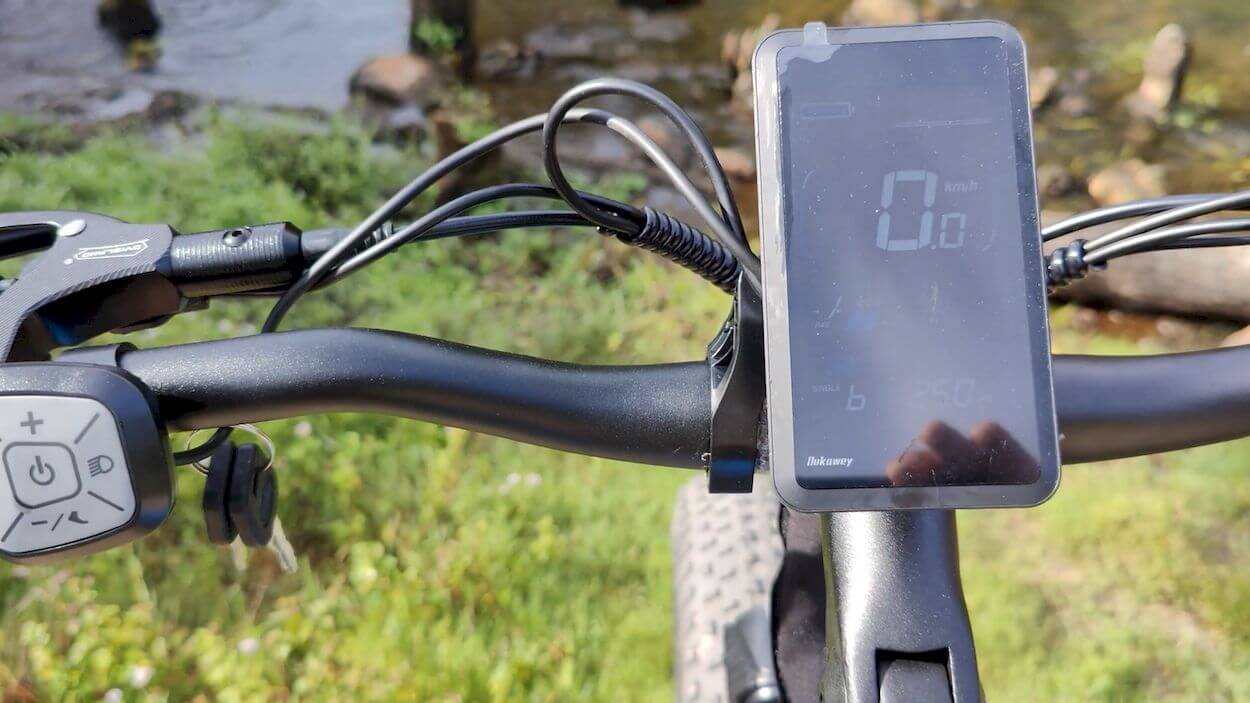 So, the Lankeleisi MG740 Plus offers outstanding comfort and performance. With a comfortable saddle, advanced suspensions, and adaptable rider positions, it caters to a variety of rider preferences. The dual motor setup and effective braking system take this electric bike to a new level, offering high speeds and impressive control. The MG740 Plus is more than just an e-bike; it's a versatile and powerful vehicle capable of conquering diverse terrains and delivering an exciting riding experience.
Battery and Range
The Lankeleisi MG740 Plus is equipped with a robust and efficient 48V 20AH (960W) detachable battery, which is a significant upgrade from its predecessor. This battery is a pivotal component of the electric bike, supplying power to the dual 1000W motors for an exhilarating riding experience.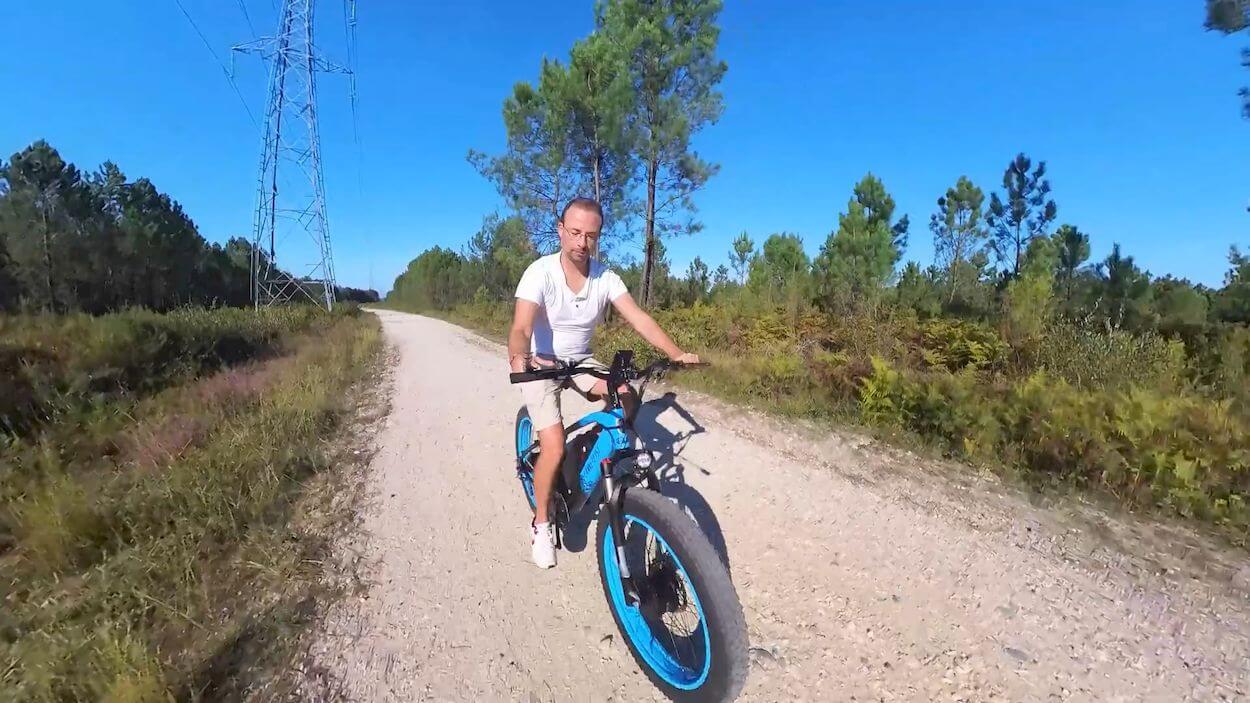 The 960W battery offers ample power and storage capacity for extended rides. With a 20AH rating, it can provide a substantial amount of energy to sustain the operation of both motors over a reasonable duration.
The battery is conveniently located within the frame and is detachable. This design allows for easy removal and recharging, and it also enhances the bike's practicality. You can recharge the battery at home or even at the office, making it a versatile and commuter-friendly option.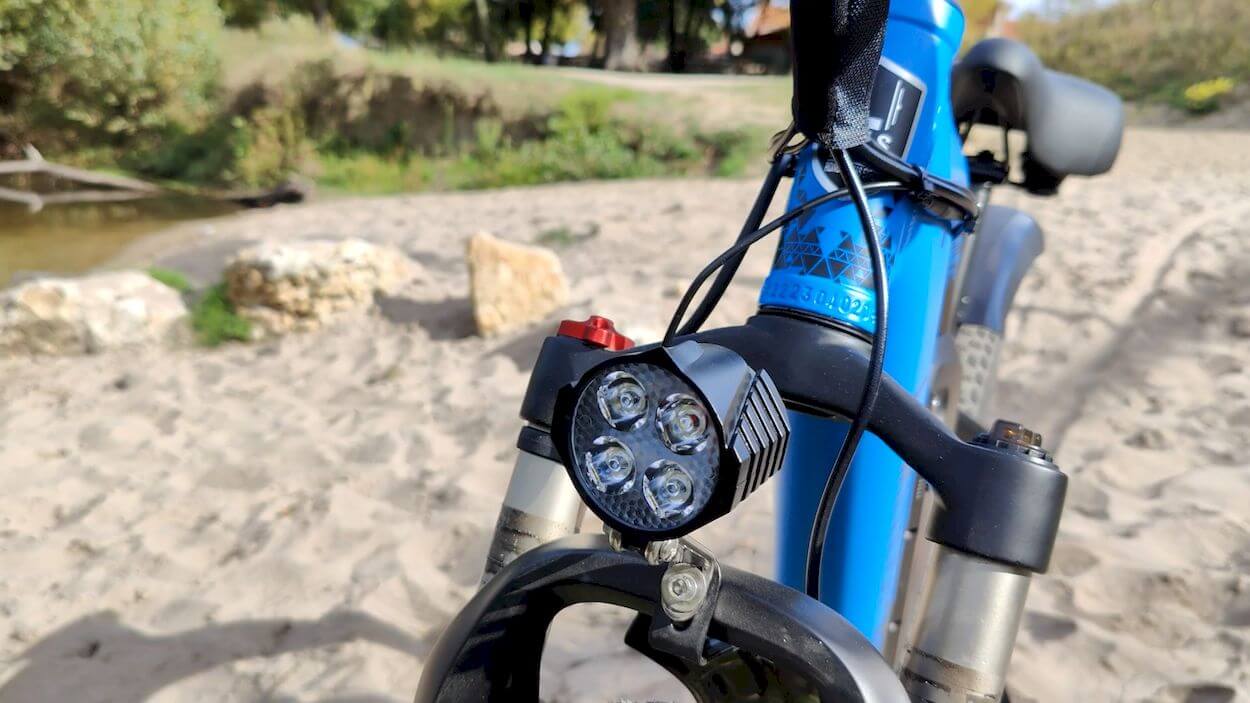 With a relatively quick recharge time of 8 hours, you can be ready for your next adventure in no time. This feature ensures that you spend less time waiting and more time enjoying your rides.
The Lankeleisi MG740 Plus's battery performance is remarkable. Under the right conditions, this battery can support both motors running at full throttle for up to 50 kilometers. This means you can experience the full power of the bike for a substantial distance without worrying about running out of battery.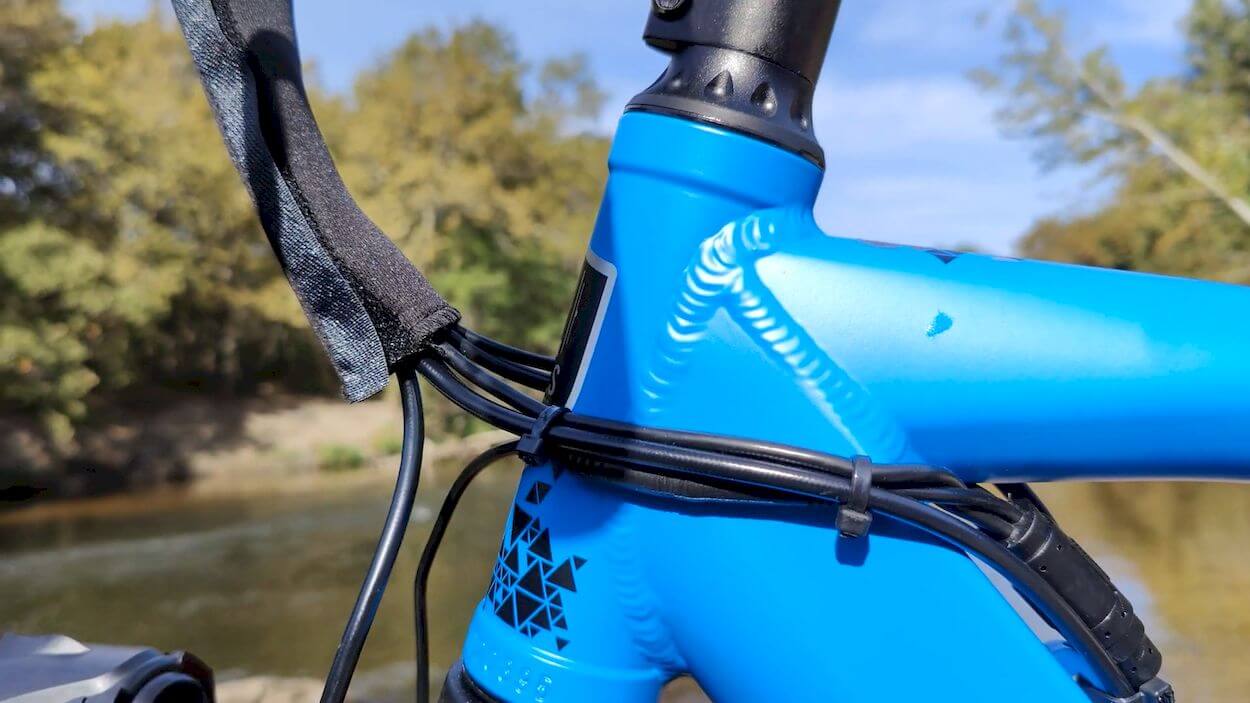 The choice of a 20AH battery is well thought out, striking a balance between capacity and weight. A larger battery might have been too heavy for practical use, and a smaller one might have limited the range. This sizing ensures you can cover a significant distance while still enjoying a manageable weight.
Conclusions
In the end, the Lankeleisi MG740 Plus is nothing short of a trailblazing electric bike. It stands as a true powerhouse with exceptional features and performance that set it apart in the world of e-bikes.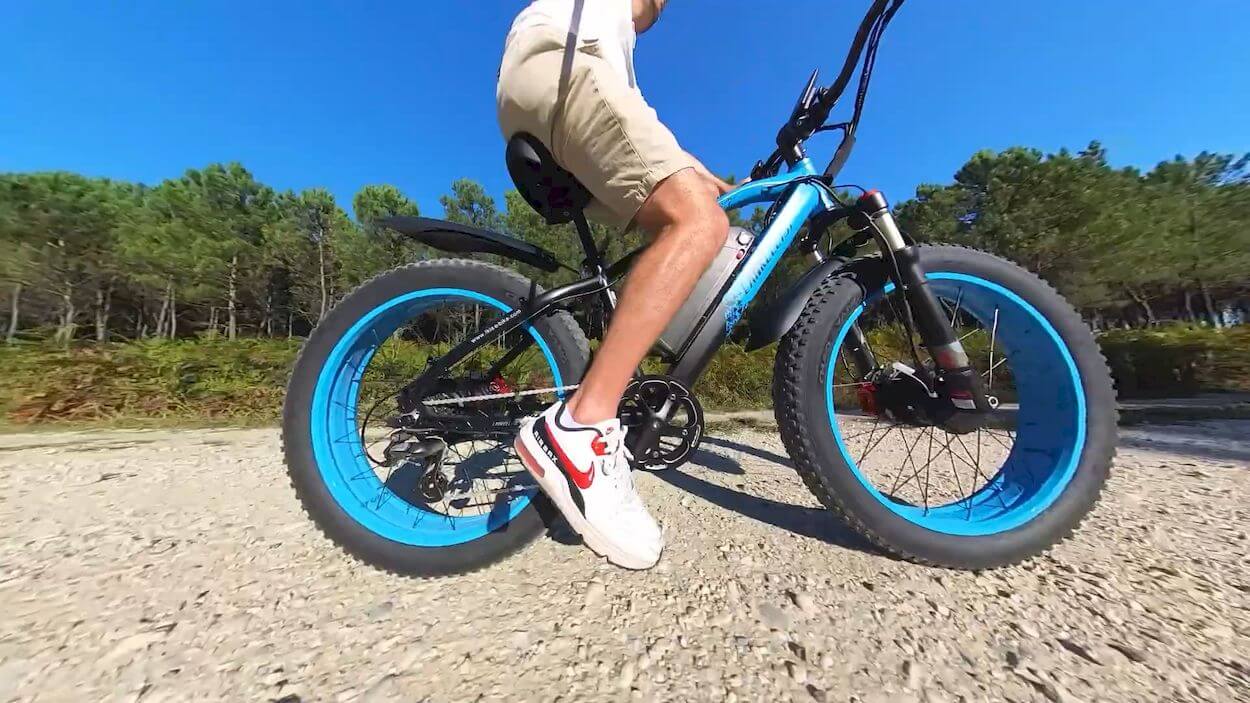 With dual 1000W motors, the MG740 Plus achieves incredible speeds of up to 48 km/h. It's a true monster on the road, offering unrivaled acceleration and power, allowing you to confidently tackle steep hills and challenging terrains.
The hydraulic disc brakes on this bike are responsive, reliable, and well-adjusted, ensuring safety and control. Whether you're cruising at high speeds or coming to a stop, the braking system is top-notch.
The bike excels in terms of rider comfort, thanks to an ultra-soft and wide saddle, adjustable handlebars, and impressive front suspensions with a travel of 10 cm. This setup provides a comfortable and stable ride, even on challenging roads.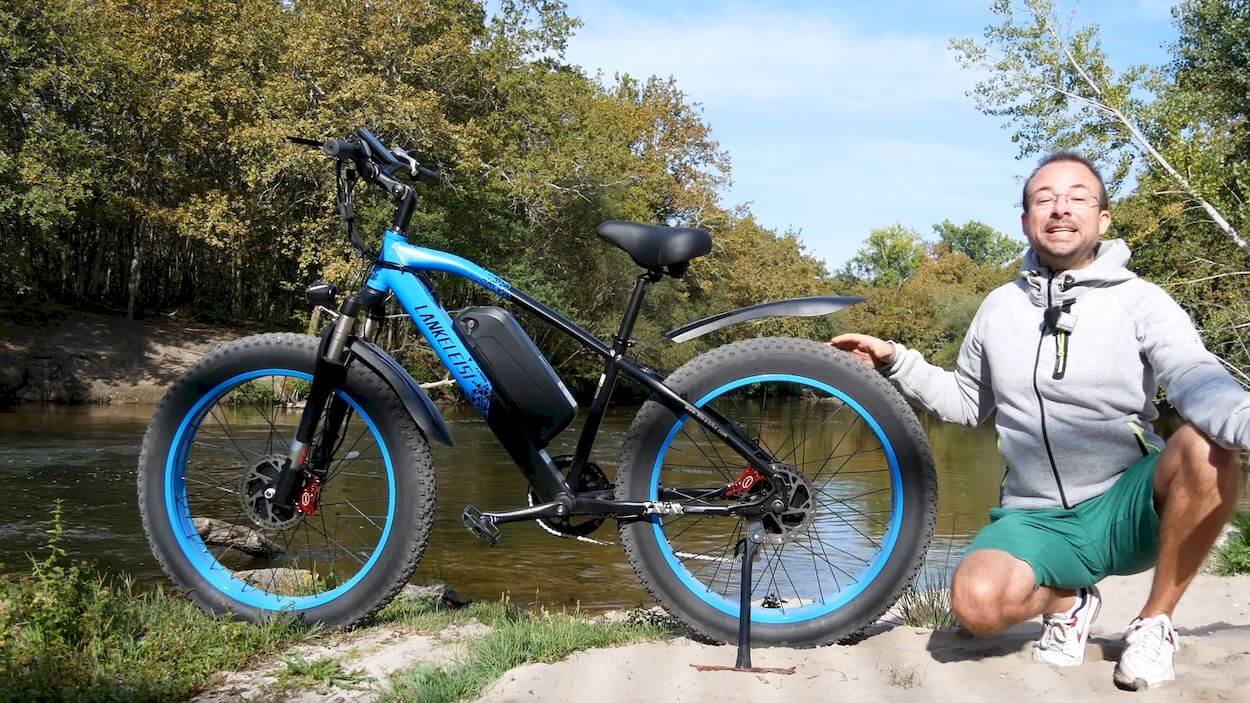 The 960W, 48V 20AH battery is a significant upgrade and offers a fantastic range of up to 50 km in dual-motor mode. It can power both motors, ensuring you get to experience the bike's full potential on extended rides.
Lankeleisi is establishing itself as a reputable brand with high-quality assembly and thoughtful design. The MG740 Plus is a testament to their commitment to producing remarkable electric bikes.
This bike is built for those who crave a thrilling and powerful ride, perfect for off-road adventures and challenging environments. While it's not street-legal in some places due to its high speed, it's an incredible option for those who want to push the limits of e-bike performance.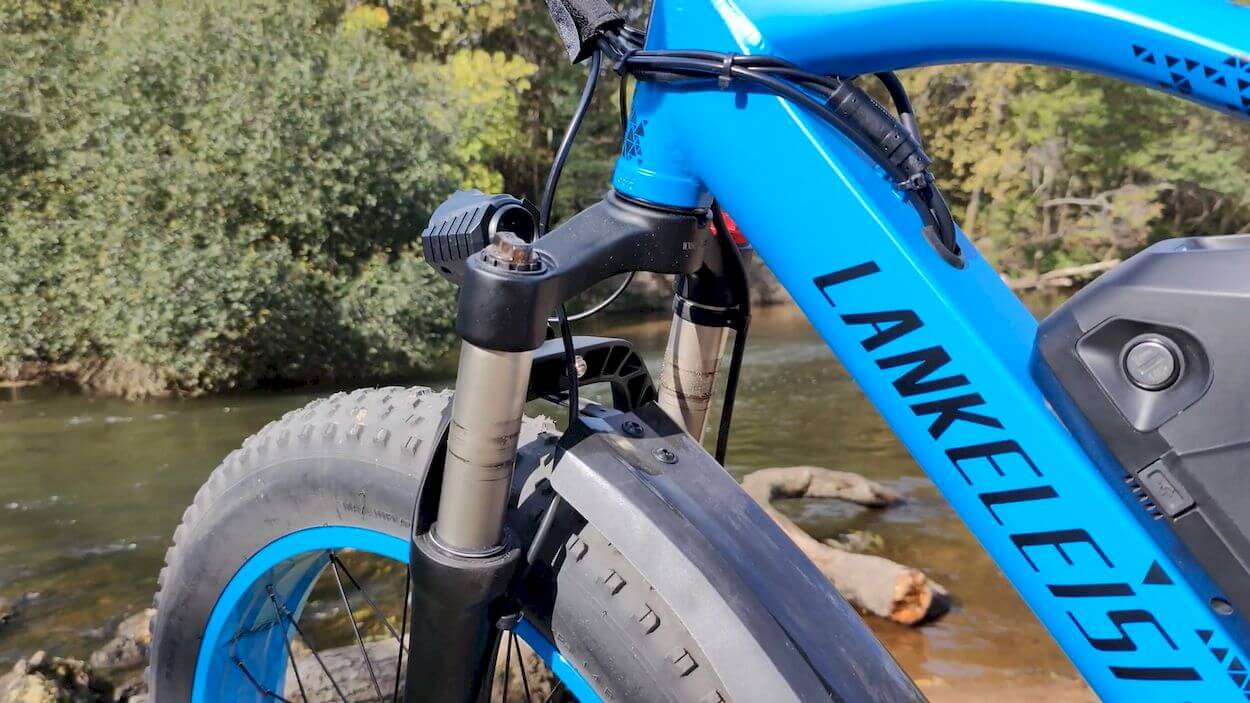 Overall, the Lankeleisi MG740 Plus offers excellent value for money and stands out as one of the best options available on the market today. It's an electric bike that delivers top-tier performance, comfort, and versatility, making it an excellent choice for riders seeking excitement and adventure.
Alternatives of Lankeleisi MG740 Plus