ENVO is an innovative company that has made it their mission to focus on engineering research and the development of affordable, sustainable solutions for clean transportation and electric drive systems. This dedicated team has already made significant strides in creating cutting-edge drive system kits for various terrains, including snow, water, and land. Their most recent endeavor involves bringing to market a line of microelectric vehicles that promise to impress and seamlessly integrate into our daily activities, enhancing efficiency and sustainability.
A particularly exciting development is ENVO's entry into the e-bike market. Today, we have the privilege of testing their latest creation – the ENVO STAX. In person, this e-bike makes a lasting and impactful impression, even though its true appeal might not be fully conveyed through a website.
The STAX is designed to complement your daily routine seamlessly. What sets it apart is its remarkable versatility. It effortlessly transitions between offering a traditional bicycle experience, allowing you to enjoy a natural pedal feel, just like a regular bike. And when you need that extra power and speed, it can transform into a fast and aggressive e-bike, ready to take on your daily adventures with gusto.
ENVO's foray into the e-bike market, led by the impressive STAX, reflects their dedication to providing innovative and accessible solutions for clean and sustainable transportation. This e-bike isn't just a means of personal mobility; it embodies the evolving landscape of clean and efficient transportation. It promises to offer a dynamic and adaptable riding experience, designed to enhance our daily lives and make our activities more eco-friendly and sustainable. ENVO's commitment to engineering excellence and affordability in clean transportation is a remarkable step toward a more sustainable future.
| | |
| --- | --- |
| Frame | Hydro-formed Alloy 6061 TIG welded |
| Motor | Brushless 36V/ rear motor |
| Fork | Aluminum Rigid Fork, tapered from 1-1/8"to 1-1/2",with internal cable routing |
| Brake Set | Shimano Hydraulic Disk brakes BR-MT200,with 180mm Rotr |
| Transmission | SHIMANO Altus SL-M315 - 8Speed |
| Tire | 700C Kenda,K192 |
| Battery | 36V12.8A |
| Charger | Charger 36V/2A |
Design and Build Quality
The ENVO STAX gravel bike boasts an impressive design and build quality, offering a sleek and sophisticated frame that is a testament to fine craftsmanship. The frame's construction is top-notch, with welds that are seamlessly integrated, resulting in a smooth and aesthetically pleasing appearance. The two-tone color choice further enhances its appeal, giving it a striking look.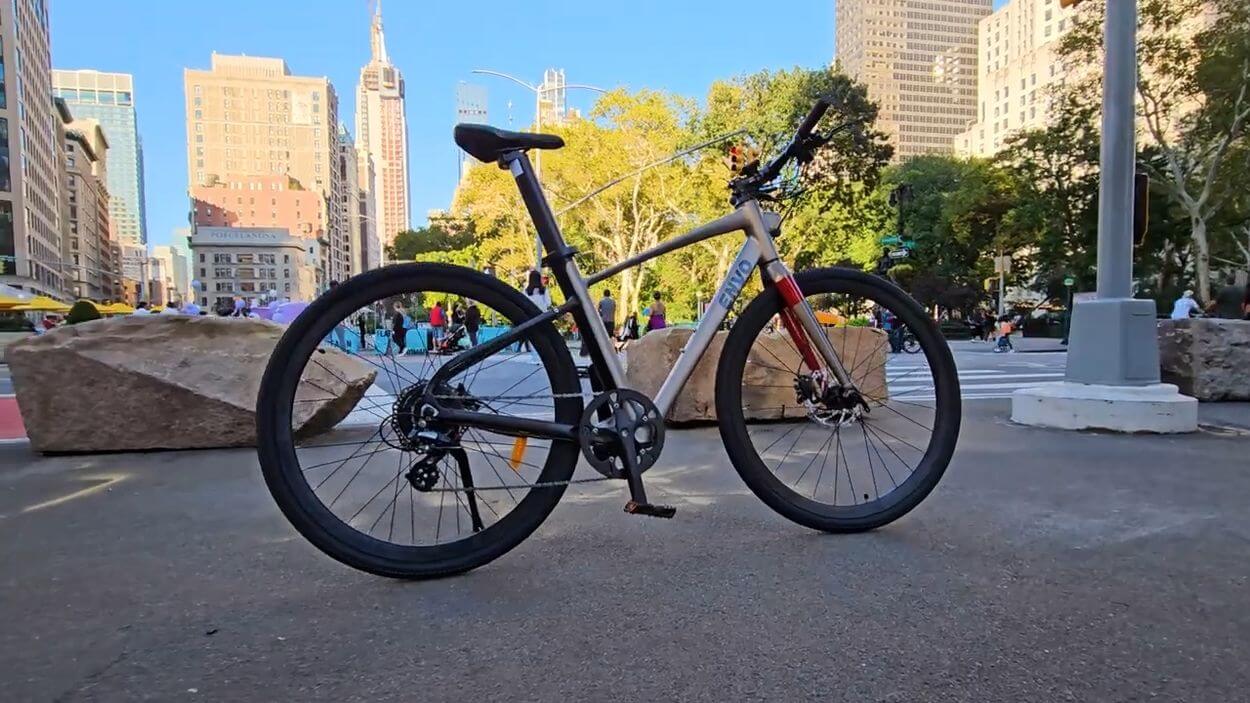 One of the standout features of the ENVO STAX is its 700C by 40mm tires, which lend it the appearance of a regular road bike, making it versatile for various riding environments. Despite initial concerns about its size, it is surprisingly comfortable. You have the flexibility to adjust the seat height and fine-tune the bike to your liking, ensuring a comfortable and personalized fit.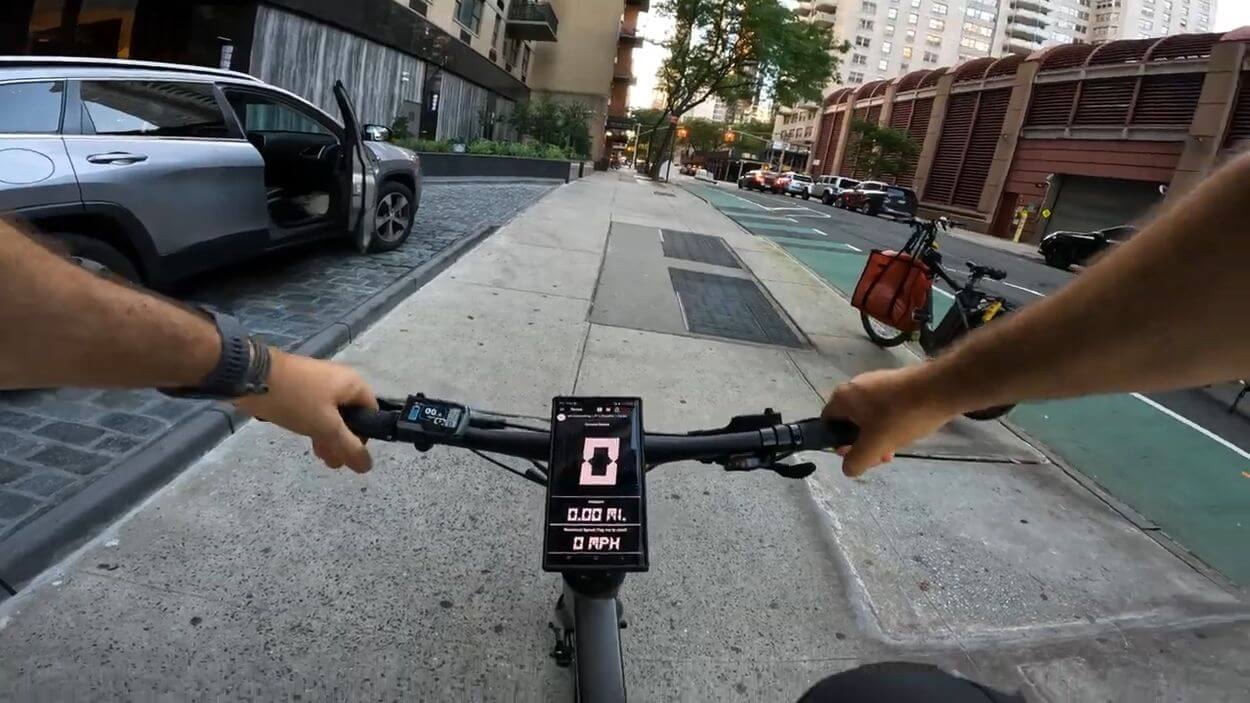 Notably, the bike's stock weight is only 42 pounds, contributing to its overall sleek and lightweight design. The ENVO STAX doesn't compromise on components either, with robust cranks, a large chainring, and smart cable routing through the frame. Even the front brake seamlessly integrates with the fork, emphasizing the bike's clean and efficient design.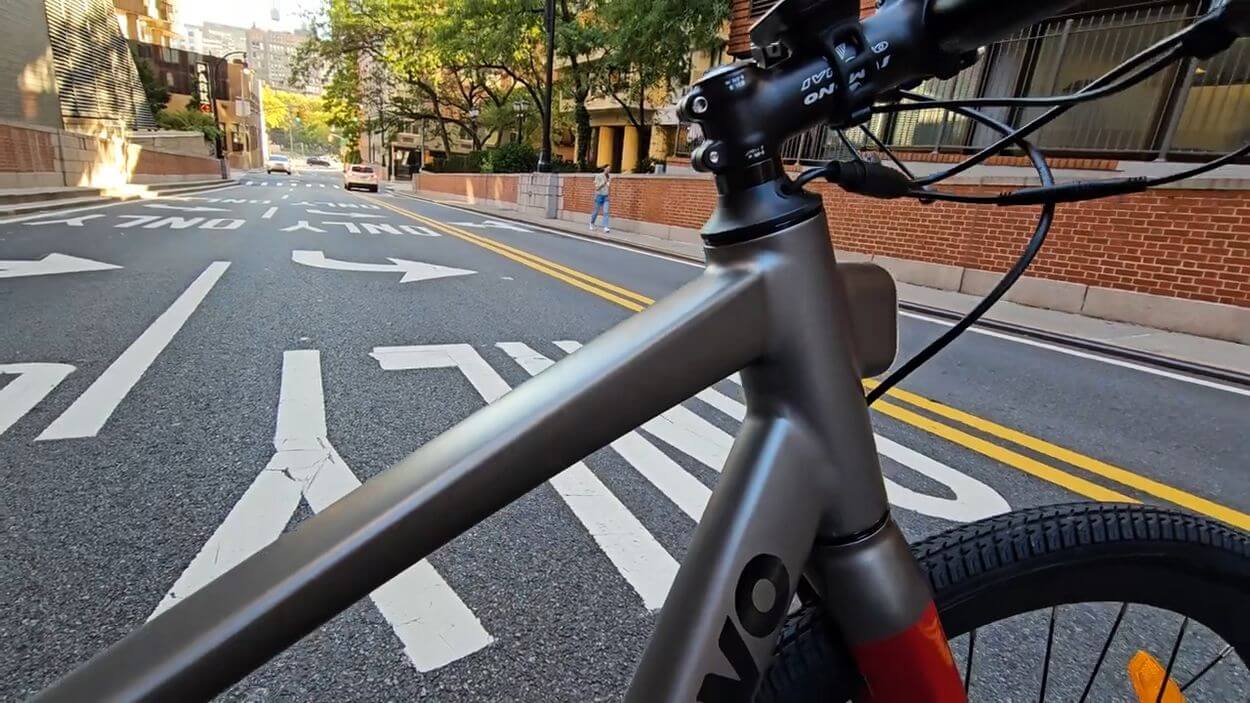 The MT200 hydraulic brakes and shifter provide a precise and crisp shifting experience, ensuring that the bike is set up perfectly right out of the box. The compact console is a convenient addition, displaying essential information like battery status, voltage, speed, watts consumed, and distance covered in real-time. With five levels of assist, it offers a user-friendly experience. The integrated screen and console design minimize clutter on the handlebars, keeping it clean and easy to manage.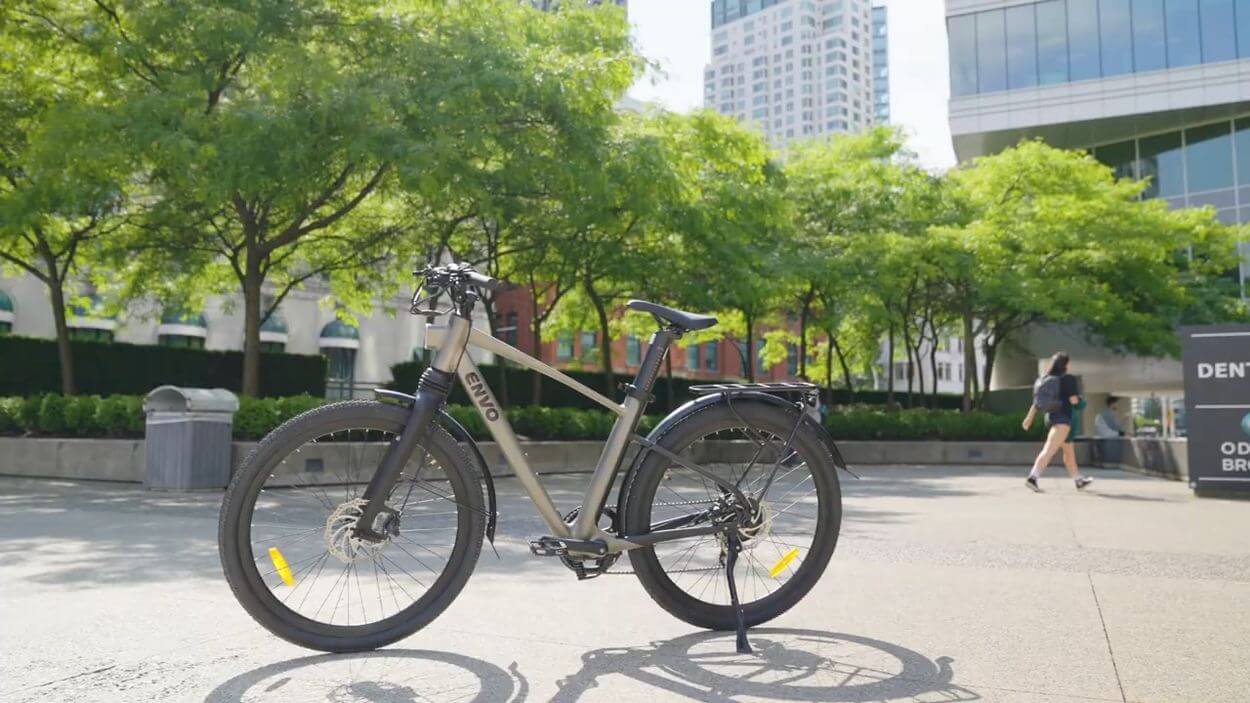 Riders will appreciate the adjustability options, which allow for a personalized fit. The ability to adjust the seat height, battery placement, and stem angle means the bike can comfortably accommodate a range of rider sizes, making it suitable for individuals between 5 feet and 6.5 feet tall.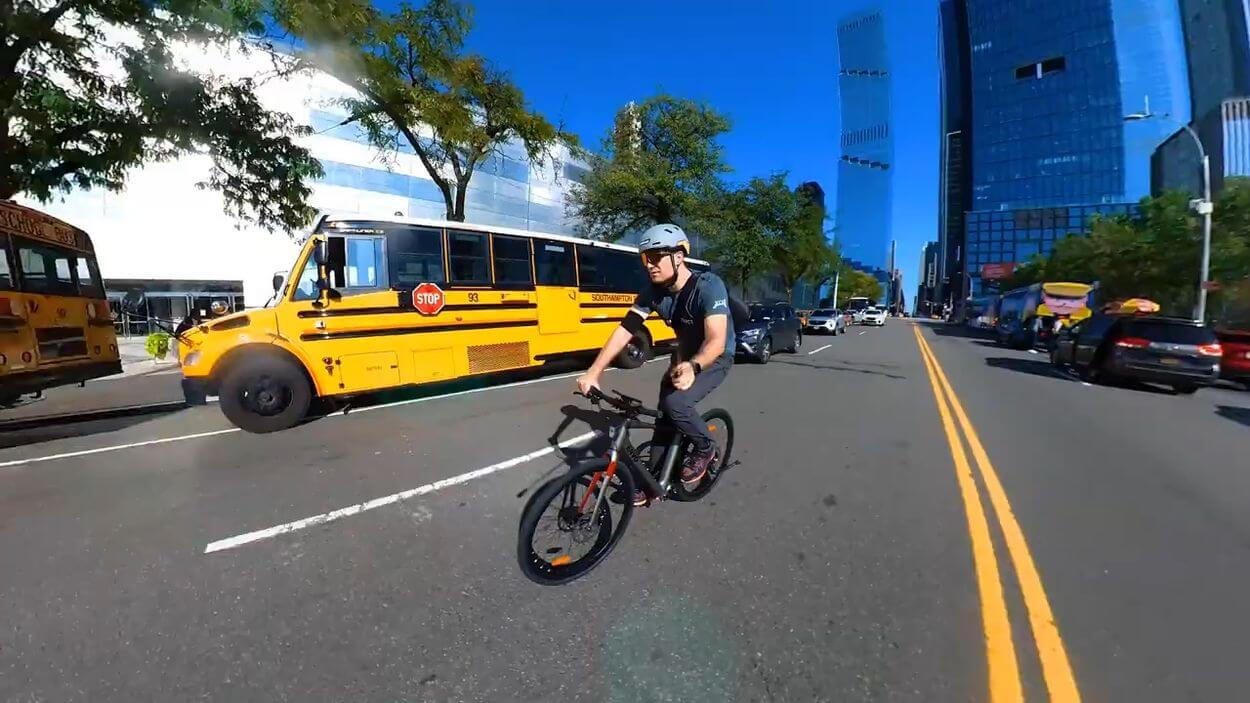 Additionally, the bike's sleek design features a sporty racing geometry, which enhances its nimbleness and responsiveness on the road. While the narrow Vivo saddle offers some comfort, it may still require padded shorts for longer rides. The option to add fenders and a rear rack further enhances its versatility, allowing it to transition into a commuter bike.
ENVO STAX:
Motor and Driving Test
The ENVO STAX features a powerful 500W rear hub motor, making it an excellent choice for those seeking an extra boost during their rides. The motor operates at 36 volts, delivering a significant amount of power to assist you on your cycling journey.
Starting with zero assistance, the bike behaves much like a regular bicycle, with just a touch of extra weight from the motor. Pedaling feels smooth and natural, with minimal resistance, making it easy to ride without any assist.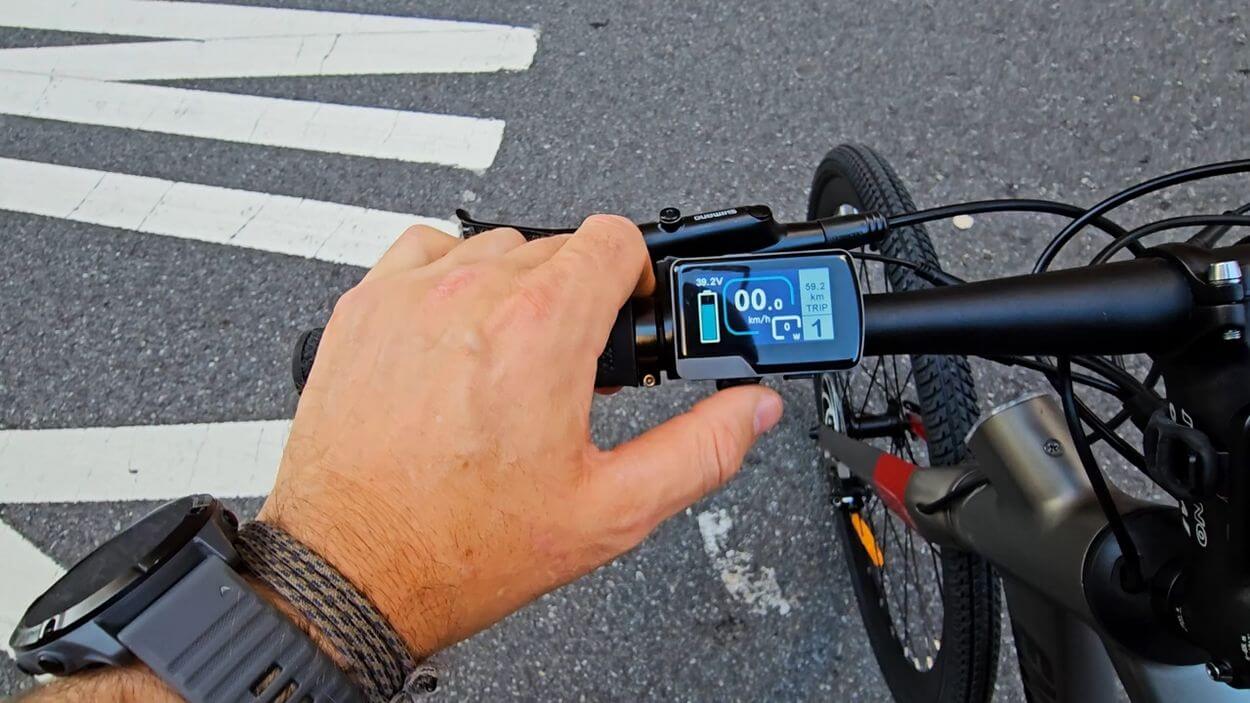 Engaging the different levels of assistance reveals the bike's true capabilities:
Level 1: At this setting, the bike provides a gentle push, adding about 12 miles per hour to your speed. It offers a subtle assist, making it perfect for leisurely rides.
Level 2: Moving up to the second level, the difference in speed is not significant, reaching around 14-15 miles per hour. It provides a slightly more noticeable boost but maintains a familiar riding experience.
Level 3: The third level of assistance offers a substantial power increase. Riders may find it necessary to shift to a lower gear due to the added acceleration. This setting can comfortably maintain speeds of around 20-21 miles per hour.
Level 4 and 5: The fourth and fifth levels of assistance take the bike to another level, delivering a significant boost in power and speed. The bike accelerates quickly and effortlessly, making it feel more aggressive and agile, almost like a racing bike. Speeds of 20-22 miles per hour are easily attainable, and it's a thrilling experience for those looking for a swift ride.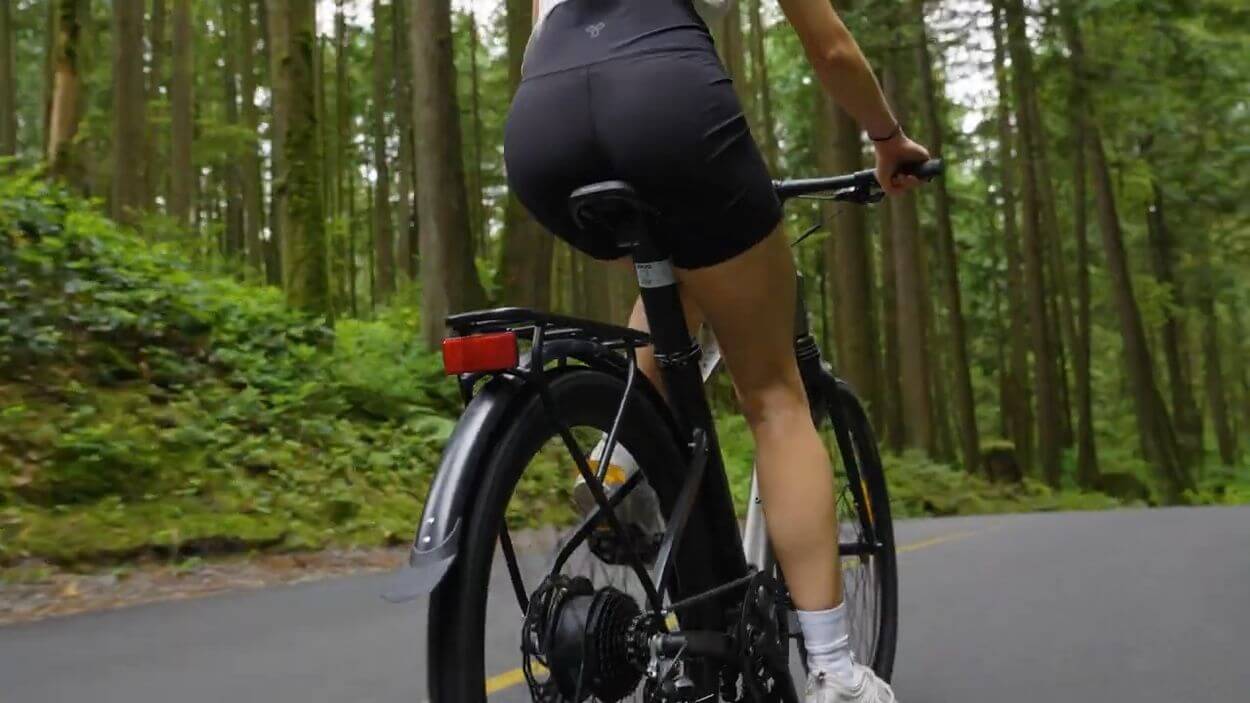 Even when facing uphill challenges, the ENVO STAX impresses with its motor-assisted performance. Climbing steep inclines becomes a breeze, and riders won't need to exert too much effort. In a higher gear and with minimal exertion, the bike can maintain speeds of 19-20 miles per hour, showcasing its capability to handle uphill terrain.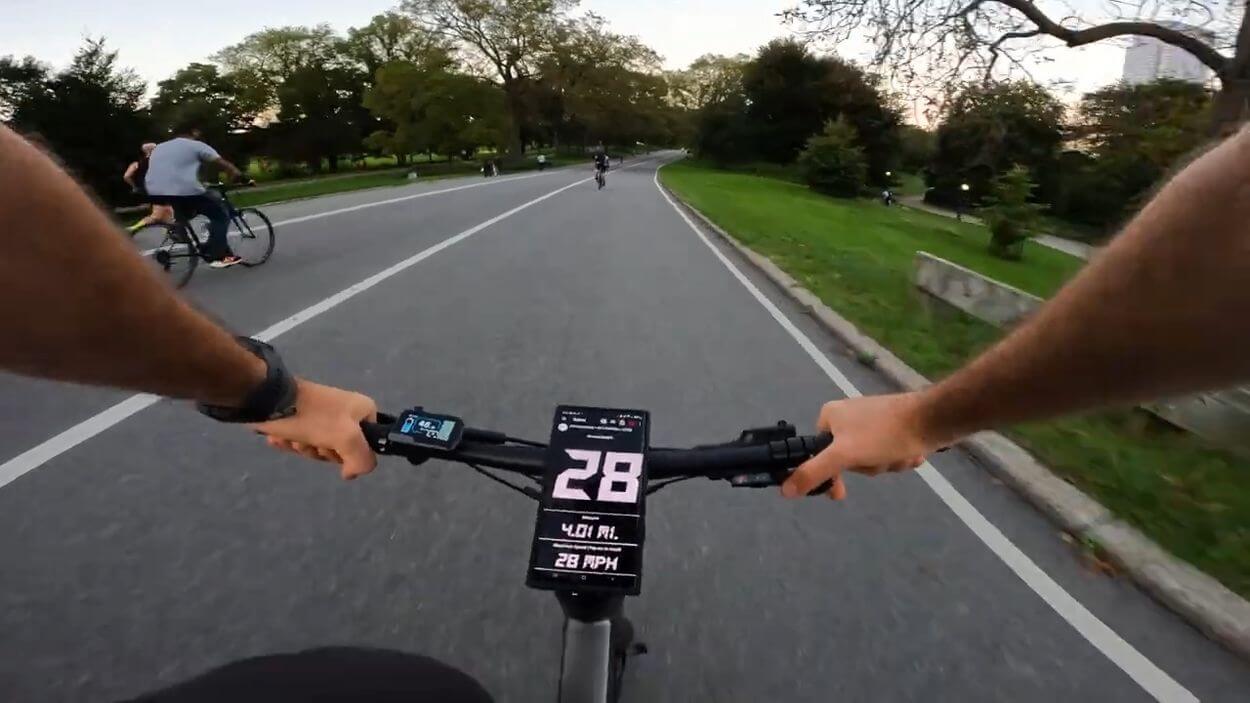 So, the ENVO STAX's 500W rear hub motor offers a wide range of assistance levels, from a subtle nudge to a powerful surge. This motor not only enhances your overall riding experience but also ensures you can easily conquer various terrains, including uphill sections, without breaking a sweat. It's a versatile electric bike that caters to both leisurely cyclists and those seeking a more exhilarating, fast-paced ride.
Battery and Range
The ENVO STAX's battery is a standout feature that sets it apart from many electric bikes. Unlike traditional e-bike batteries that are often bulky and cumbersome, the battery on this bike is remarkably slim and compact. Its design is so thin, offering a sleek and unobtrusive appearance, which is a testament to the bike's overall aesthetic and functionality.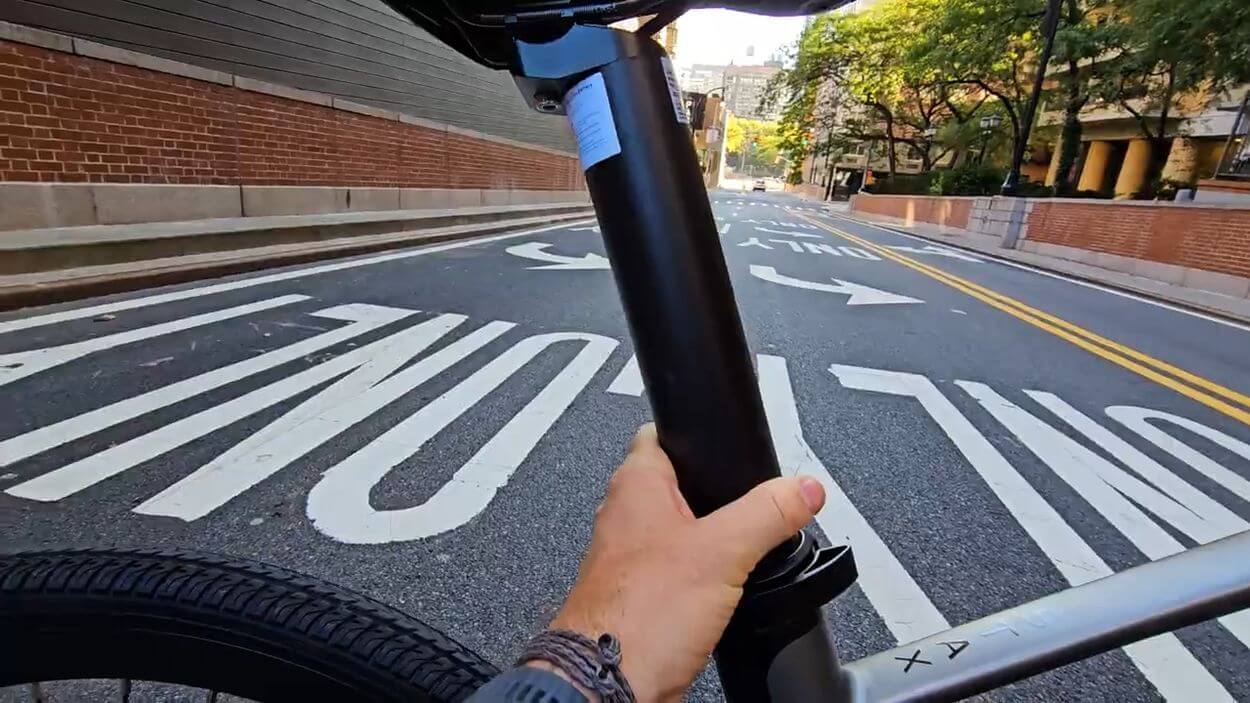 The battery is a 36-volt, 12.8 ampere-hour unit, equating to a robust power capacity of 46.8 watt-hours. Accessing the charging port is a breeze, situated conveniently under the bike's frame. Initially, it might seem like it could be challenging to reach, but it turns out to be quite user-friendly. Simply pop it open, and you have easy access to the charging point. The slender design of the battery tube not only contributes to the bike's visual appeal but also ensures it remains unobtrusive and practical.
One of the remarkable aspects of the ENVO STAX is its adjustability. The bike offers a range of assistance levels, including the option to completely disable the motor and ride it like a regular bicycle. Riding without assistance is not a daunting task; the bike feels natural and comfortable, and once you pick up speed, it can maintain a brisk pace effortlessly.
The five levels of assistance allow for a wide spectrum of riding experiences. For instance, if you're recovering from a long ride or simply want a more leisurely experience, the fifth level of assistance enables you to effortlessly cruise at speeds exceeding 20 miles per hour with minimal effort. In the author's test, they achieved an impressive range of 30.8 miles with this setting, demonstrating the bike's ability to extend your range significantly without requiring intense pedaling.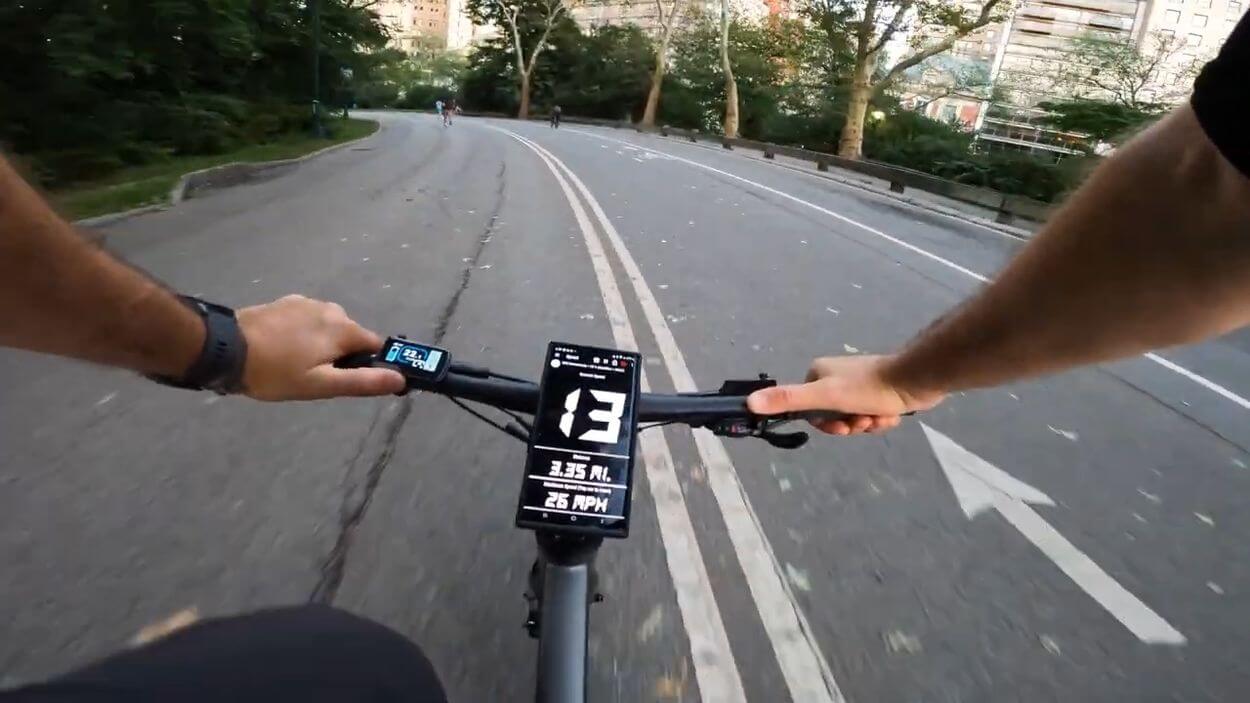 This e-bike's adjustability doesn't stop there. It caters to riders of varying weights and preferences. Whether you want an aggressive, fast-paced ride or a relaxed, leisurely pedal at 15 to 20 miles per hour, the ENVO STAX accommodates your needs. Your range will vary based on factors such as your weight, the terrain, and other variables, but lighter riders can expect even greater distances.
Conclusions
In the end, the ENVO STAX is undeniably a stunning and beautifully designed electric bike. Its sleek appearance and attention to detail make it a standout choice in the world of e-bikes. However, there is one area that could benefit from some improvement – the wiring. The bulky connector and the excess wiring could be replaced with a more compact and integrated solution, reducing weight and enhancing the bike's overall handling.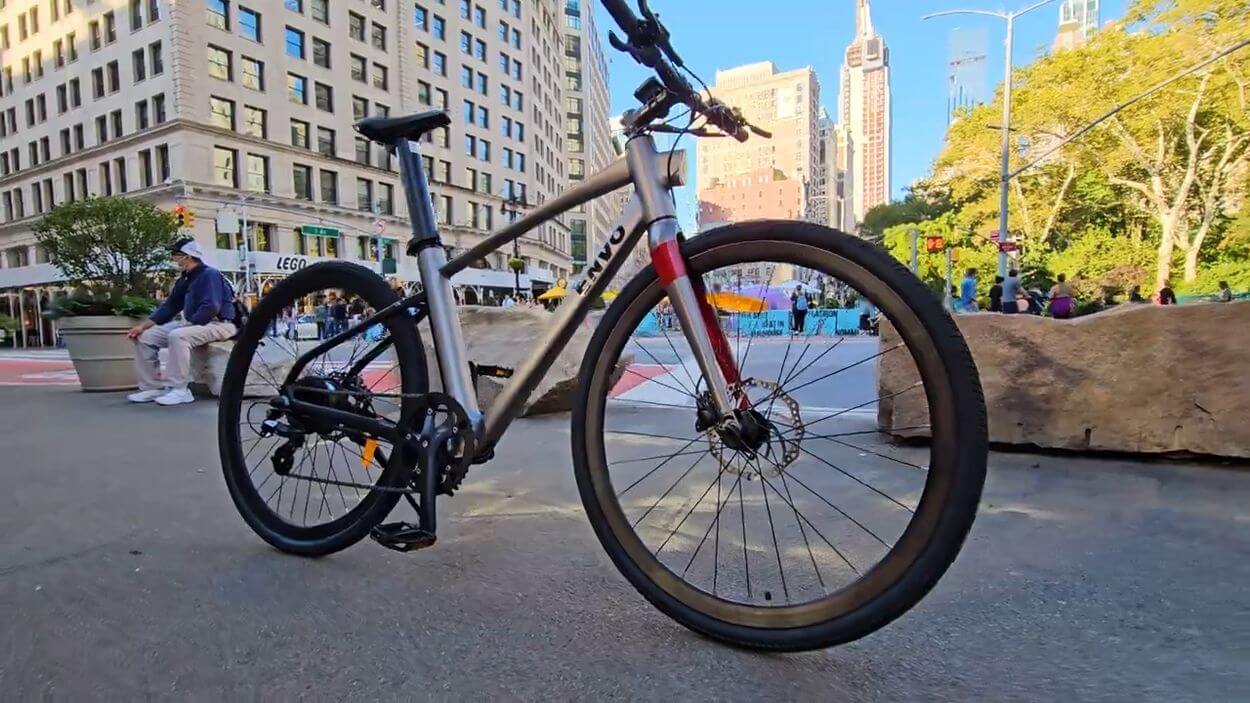 The positioning of the bottom bracket at the back, rather than in line with the tube or at the front, provides a unique feel to the bike. This setup may not be familiar to all riders, but it adds to the bike's distinctive character.
For those seeking a bike to help them lose weight, stay fit, ride faster, and enjoy a more dynamic experience, the ENVO STAX is an ideal choice. Priced at $1,999, it offers a competitive value, especially when compared to higher-priced models like the Specialized Turbo or the Cannondale. With high-quality components and a well-balanced design, the STAX is a worthy addition to the electric bike market, offering a compelling alternative to riders in search of both style and performance.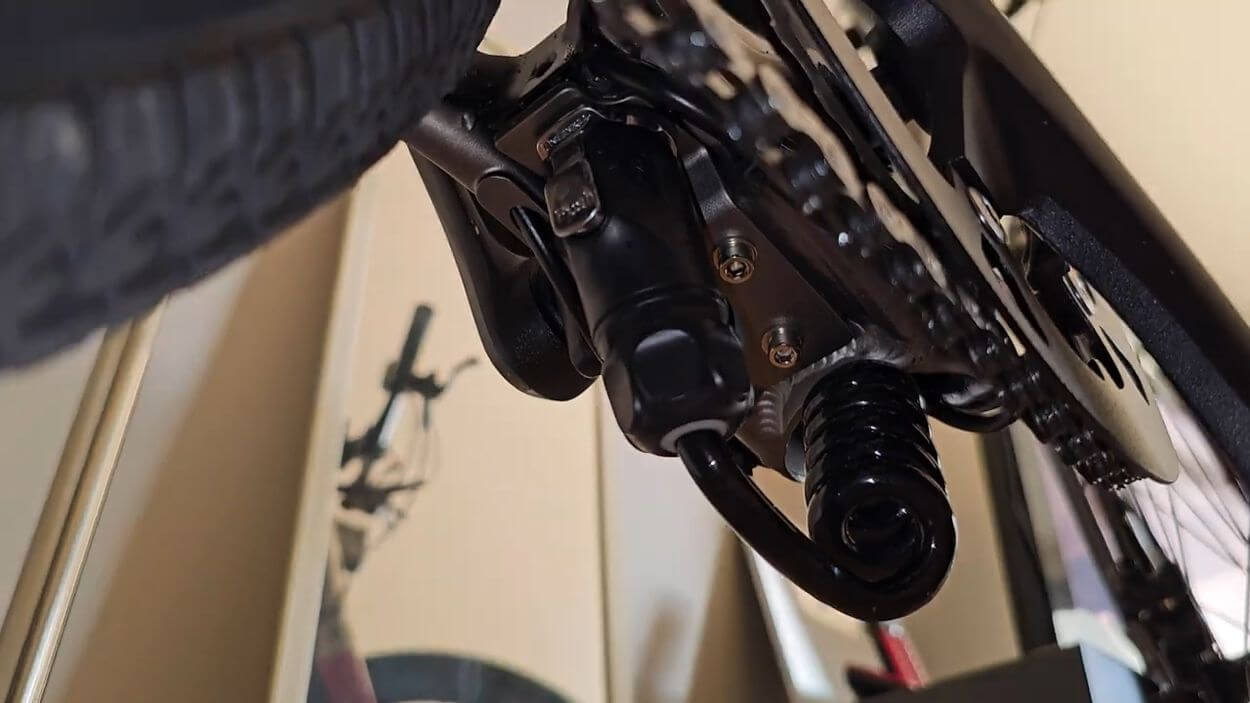 While there are areas for improvement, the ENVO STAX stands as a testament to the evolving landscape of electric bikes, and its unique design and capabilities make it a compelling option for riders looking to elevate their cycling experience. Thank you for reading, and we look forward to sharing more insights with you in the future.
Alternatives of ENVO STAX