Welcome to Avis Express, where today we embark on an exciting journey to explore and test the Tenways Ago X, a bike that has been highly anticipated and eagerly awaited by cycling enthusiasts.
In the field of electric bikes, there are several renowned brands like Cowboy and Moustache, with the Moustache 28.5 being a noteworthy reference. What makes the Tenways Ago X particularly intriguing is that it shares common technical specifications with these esteemed counterparts.
As we dive into this comprehensive test of the Ago X, we will unravel its unique features, examine its performance, and evaluate its overall performance in comparison to these notable brands. This promises to be an insightful and informative exploration of a bike that has generated significant interest in the world of electric cycling.
So, let's embark on this journey together as we discover what sets the Tenways Ago X apart and how it measures up to its respected peers in the electric bike market.
| | |
| --- | --- |
| Material of Frame | Aluminium Alloy |
| Motor power | 250 watt (80 Nm) |
| Motor | Bafang M410 |
| Top speed | 25 km/h |
| Brake system | Hydraulic disc brakes |
| Wheel size | 29 inch |
| Wheel type | CST Puncture-proof |
| Battery capacity | 504 Wh |
| Battery range | Up to 100 km |
| Weight | 29 kg |
Design and Build Quality
The Tenways Ago X is a meticulously designed bicycle that stands out in the market due to its exceptional build quality and attention to detail. Crafted from a high-grade aluminum alloy, specifically the 6060 series, the frame exudes a classic and timeless aesthetic. One of the most striking features of this bike is the impeccable welding, a testament to the craftsmanship that went into its production. It's truly a work of art, proudly bearing the Tenways name.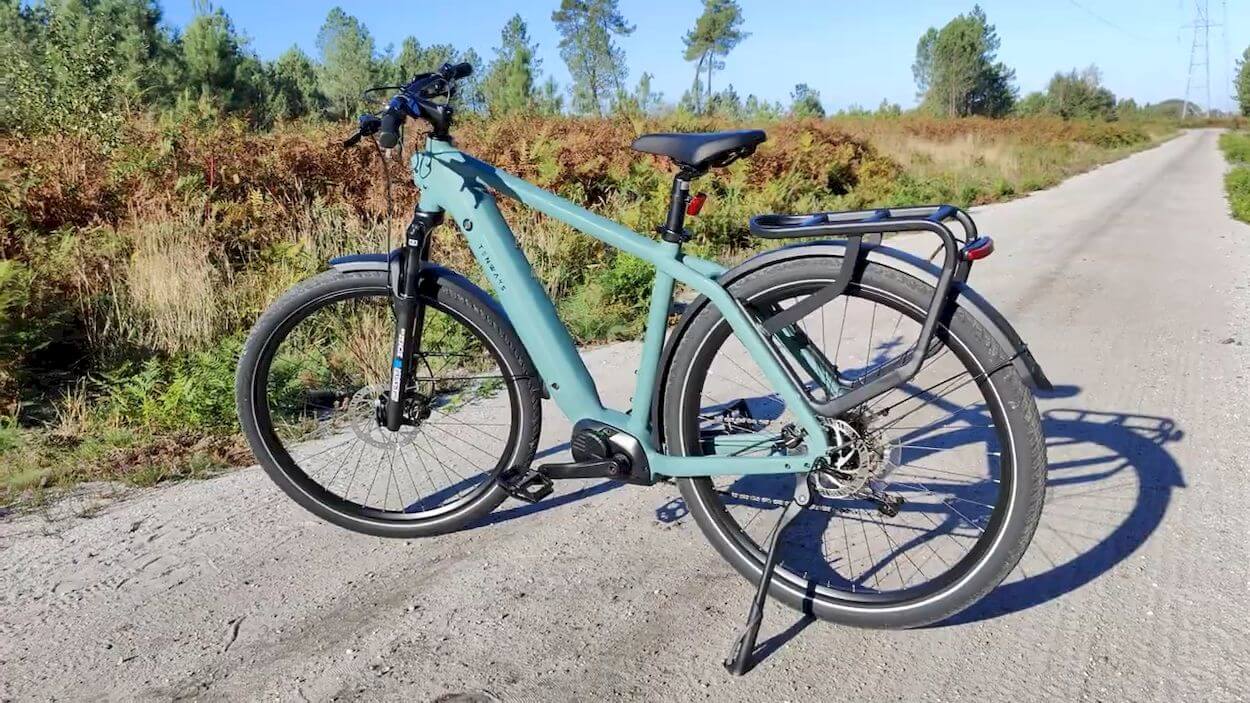 However, it's worth noting that the Tenways Ago X is somewhat heavier than its predecessors, such as the CGO 600 and 800S generations. Weighing in at 27 kg, it sits in a weight class that's more akin to urban and utility bikes like the Moustache 28.5, which typically range around this weight. This difference in weight is reflective of the Ago X's distinct objectives and design.
One of the standout features of the Ago X is the inclusion of a Shimano Deore derailleur, a mid-range component known for its excellent price-to-performance ratio. With 10 sprockets at the rear and a chainring at the front, this setup provides ample gear options. Notably, the presence of a 10th sprocket allows for tackling steep hills and challenging terrains, setting it apart from CGO generations that employed a carbon gate belt drive. While belt drives offer a smooth and quiet riding experience, they may lack the same versatility and climbing capabilities as a derailleur system.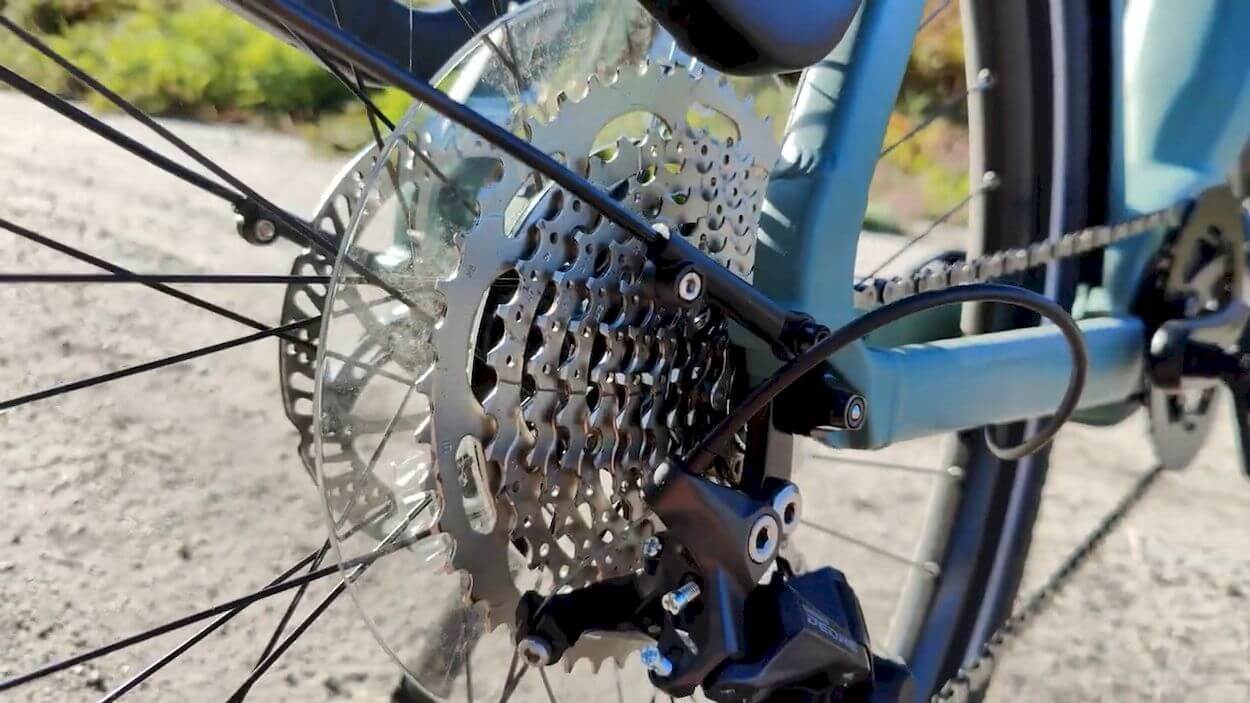 Moving on to the bike's components, the Ago X features a saddle aptly named the "Royal Essentica." While it offers comfort, it lacks a suspension system, which some riders may have desired for added comfort on rough terrain. However, the bike compensates for this with its Suntour XCM 32 ATB fork, providing 80 mm of travel and adjustability to suit varying rider preferences. This fork quality is typically found on mountain bikes, making it a rarity among urban bicycles.
The geometry of the frame positions riders relatively high, offering a commanding view of traffic. The large 29-inch tires enhance stability and contribute to the bike's urban-focused design. CST anti-flat tires, constructed with multiple layers of technology, provide extra protection against flats, ensuring a smooth ride through potentially hazardous terrain.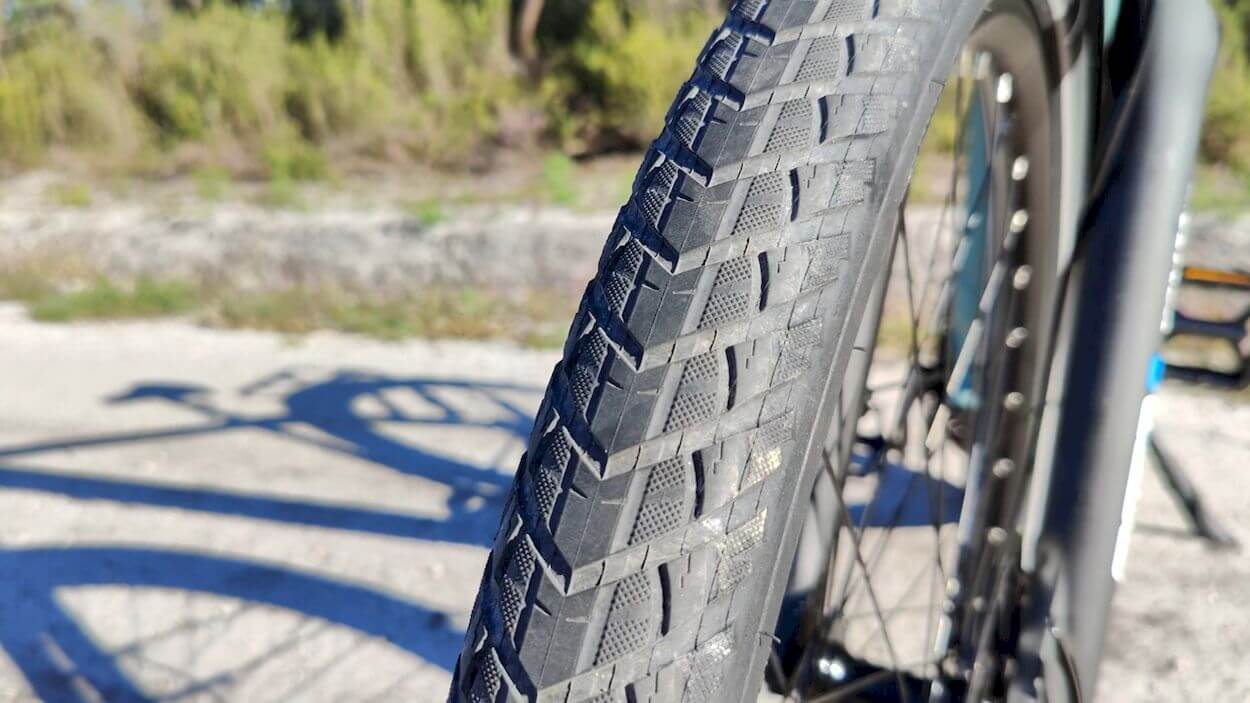 For safety, the Tenways includes a rear lamp that doubles as a brake light but lacks integrated indicators. Reflectors are scattered throughout the bike, enhancing visibility in low-light conditions. A front headlight illuminates the path ahead, with a concentrated beam extending approximately 10 meters.
Practicality is further enhanced by the inclusion of a luggage rack capable of carrying up to 25 kg, adding versatility to your rides. This feature allows the Tenways Ago X to be directly compared with the Moustache 28.5 in terms of utility and functionality.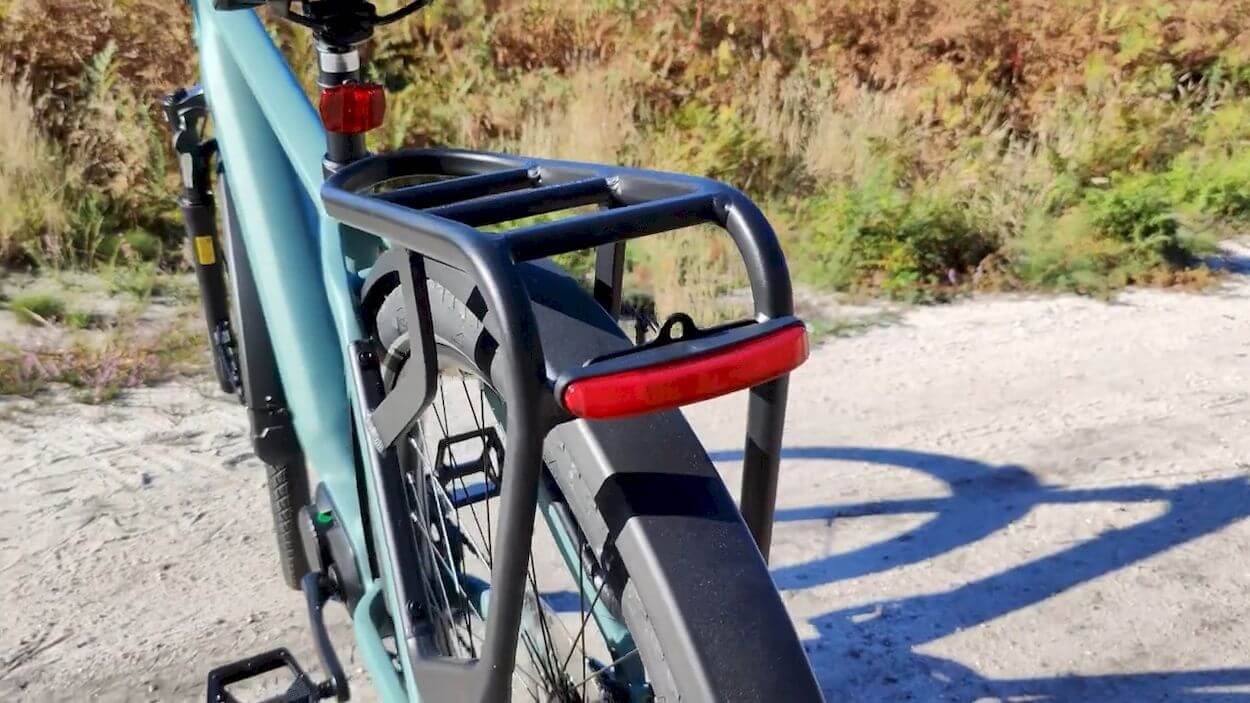 So, the Tenways Ago X is a thoughtfully designed and well-constructed urban bicycle that distinguishes itself through its premium components, robust build quality, and versatility. While it may be slightly heavier than some competitors, its combination of a Shimano Deore derailleur, Suntour fork, and other features make it a strong contender for riders seeking a reliable and adaptable urban commuting experience.
Handlebars and Controls
When it comes to urban cycling, the Tenways Ago X offers a user-friendly and feature-rich experience. To access the bike's functions and get started, you simply press the POWER button conveniently located within easy reach on the control panel. This control panel serves as your command center, allowing you to manage various aspects of your ride.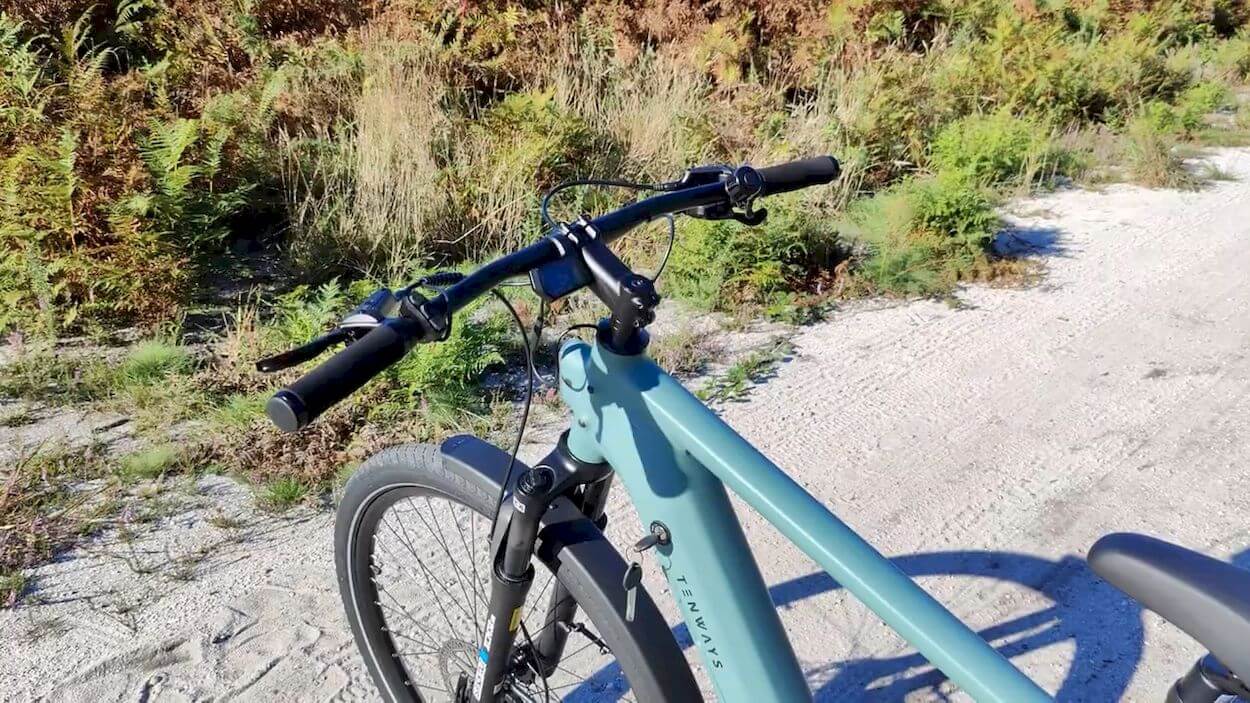 The equipment found on the Ago X is of high quality and reflects a premium urban cycling experience. Notably, it features Sinectro hydraulic brakes, which provide reliable stopping power and ensure safe and efficient braking in urban environments, where quick stops may be necessary.
The main controls on the panel include those for starting the bike and adjusting the level of assistance. These controls make it easy to tailor your ride to your preferences and needs, whether you want a boost of power or a more leisurely cruise through the city streets.
One standout feature of the bike's controls is the inclusion of a digital counter. This counter displays essential information such as the time, current speed, remaining battery level, and the selected level of assistance. Additionally, it comes with a locking system that allows you to set a personalized code, enhancing security. This code prevents unauthorized individuals from starting the bike without your permission, adding an extra layer of protection against theft. While there may not be a physical anti-theft device on the bike, this electronic safeguard ensures that the electrical components remain inaccessible to potential thieves, provided they don't guess one of the 9999 possible combinations.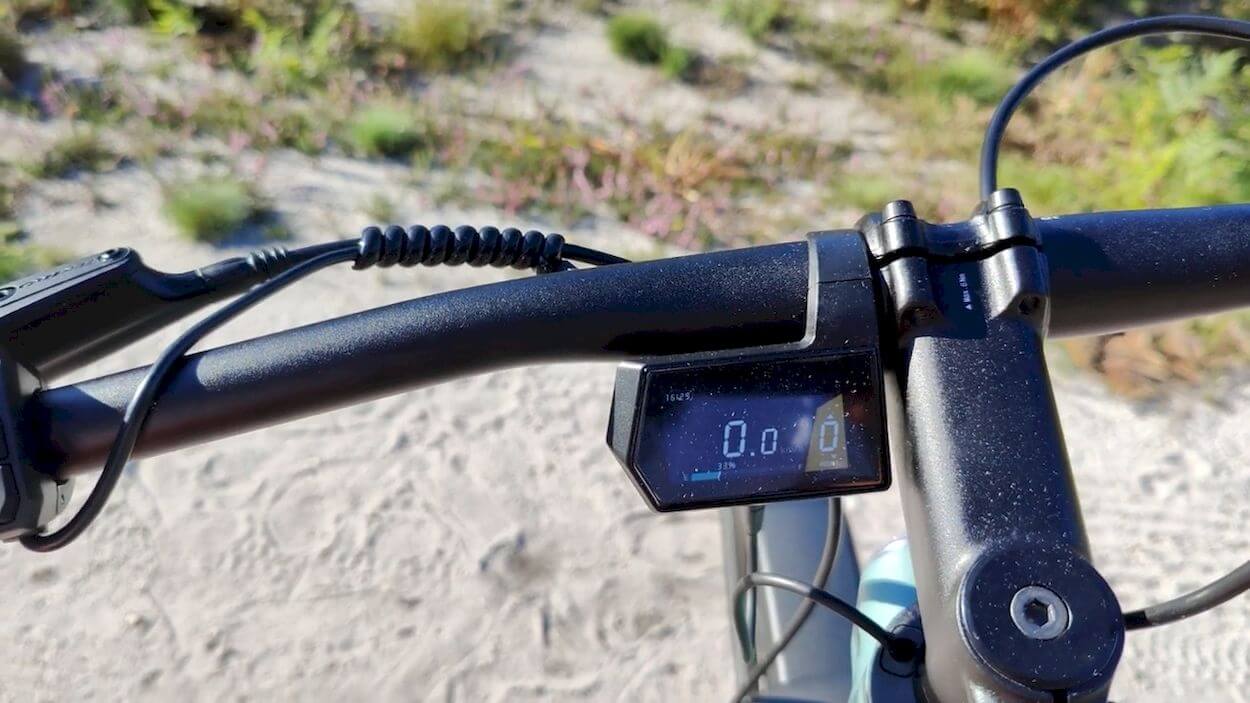 Access to the battery compartment is secured by a key, which you can easily remove when needed. This key, separate from a bike locking key, is used exclusively for unlocking the battery, ensuring that your bike's power source is protected.
In terms of ride information and statistics, the digital counter also offers valuable data. You can track your session's mileage, as well as the total distance covered by the bike. Other details such as your average speed and the current level of assistance are also available at a glance, giving you insights into your cycling performance.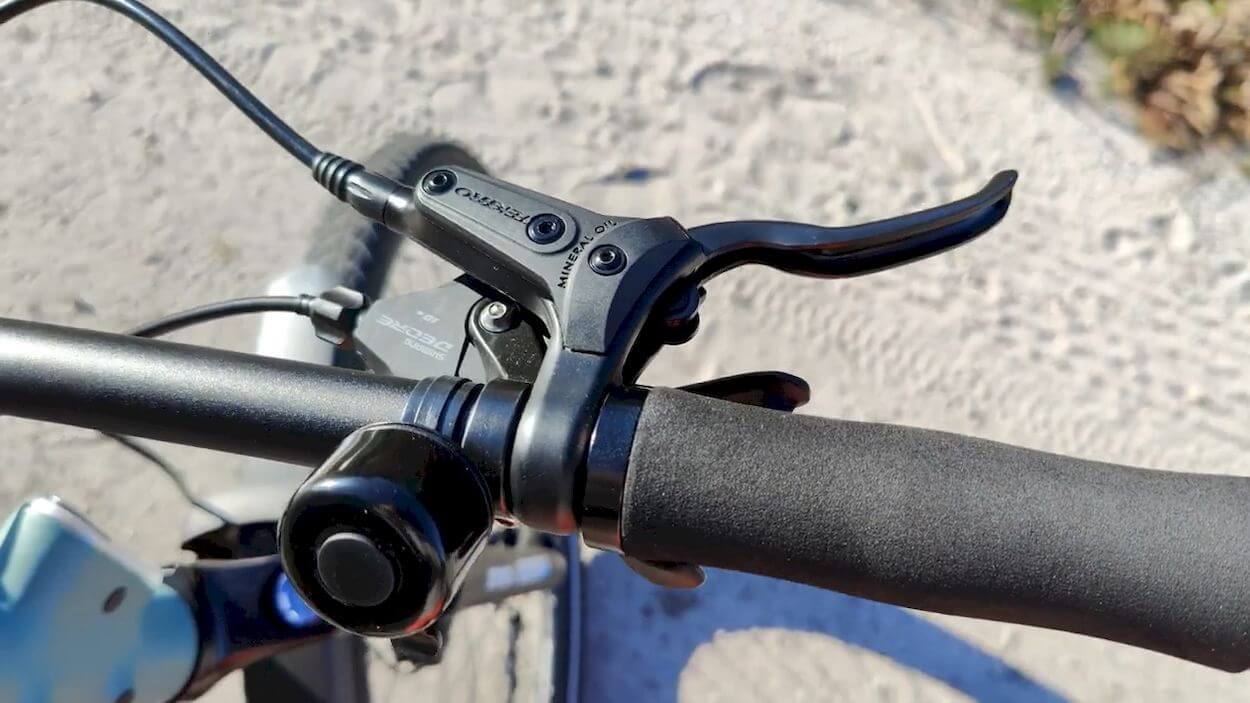 The Tenways Ago X is designed for ease of handling and a comfortable riding experience in an urban setting. It features an extremely wide handlebar with a slight inward arch, offering a stable and relaxed grip. This design not only enhances control but also contributes to a comfortable and upright riding position, ensuring that you have a clear view of your surroundings as you navigate through city traffic.
Tenways Ago X:
Motor
When it comes to performance, the Tenways Ago X sets a high standard, thanks to its centrally positioned motor, proudly bearing the signature of Bafang. The heart of this bike is the M410 motor, which directly competes with the renowned Bosch Performance Line motor and even surpasses it, particularly in terms of torque.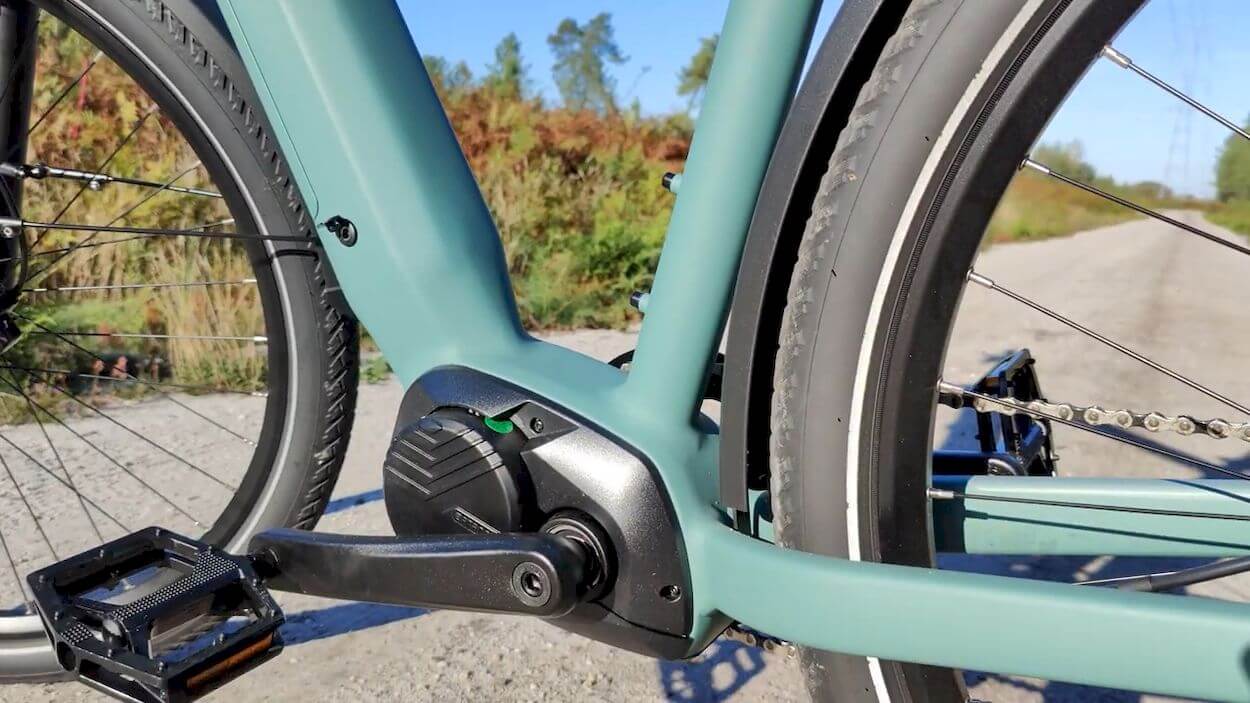 The Bosch Performance Line motor is known for delivering 75 Nm (Newton-meters) of torque. In contrast, the Tenways Ago X boasts an impressive 80 Nm of torque. This additional torque provides riders with extra power and responsiveness, making it easier to conquer steep hills, accelerate quickly from a standstill, and handle challenging urban terrains.
However, the real pièce de résistance lies in the torque sensor pressure sensor integrated into the crankset of the Tenways Ago X. This advanced technology sets it apart from the competition and elevates the riding experience to a whole new level. The bike not only responds to your pedal input but also has the remarkable ability to interpret the speed at which you want to travel based on the pressure you apply to the crankset.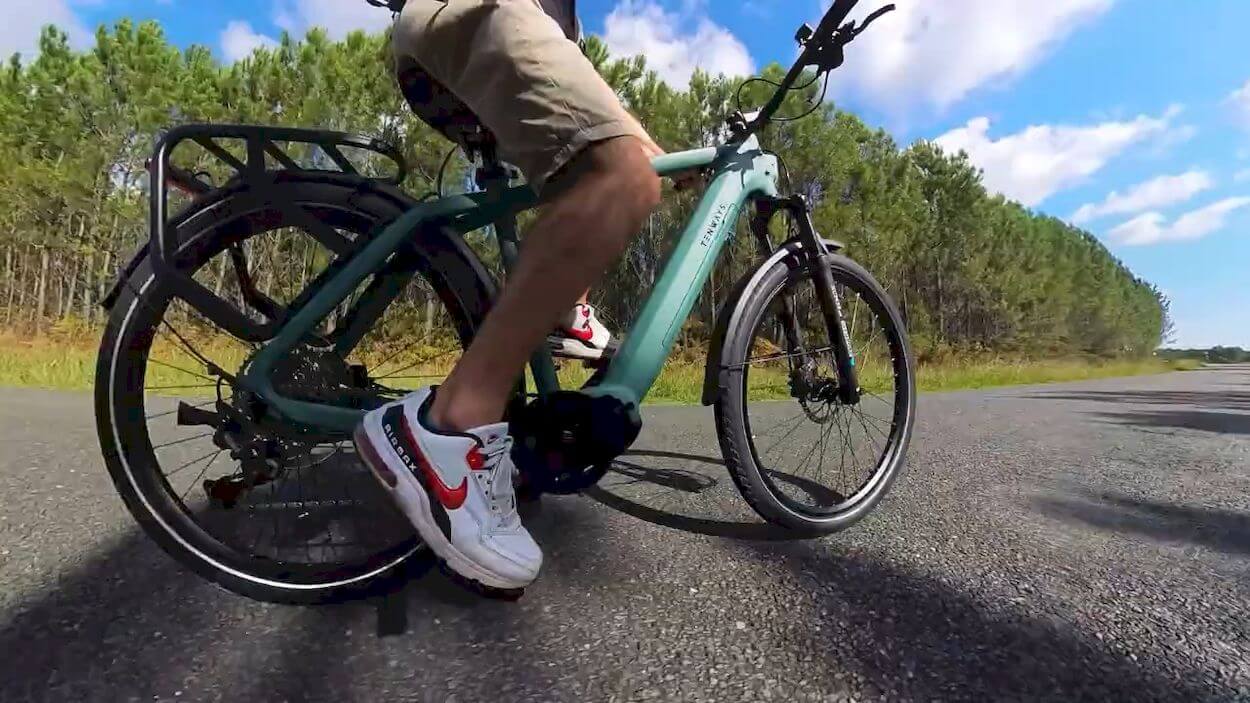 This means that the bike doesn't merely assist you; it anticipates your needs and adjusts its power delivery accordingly. When you put slight pressure on the pedals, it offers a gentle boost for relaxed cruising. Conversely, if you apply more force, the motor responds with a surge of power for faster acceleration or climbing steep inclines. This level of responsiveness and adaptability truly sets the Tenways Ago X apart as one of the most advanced and intuitive electric bikes on the market.
Driving test
In terms of comfort, the Tenways Ago X excels in several key areas, ensuring an enjoyable and accommodating riding experience.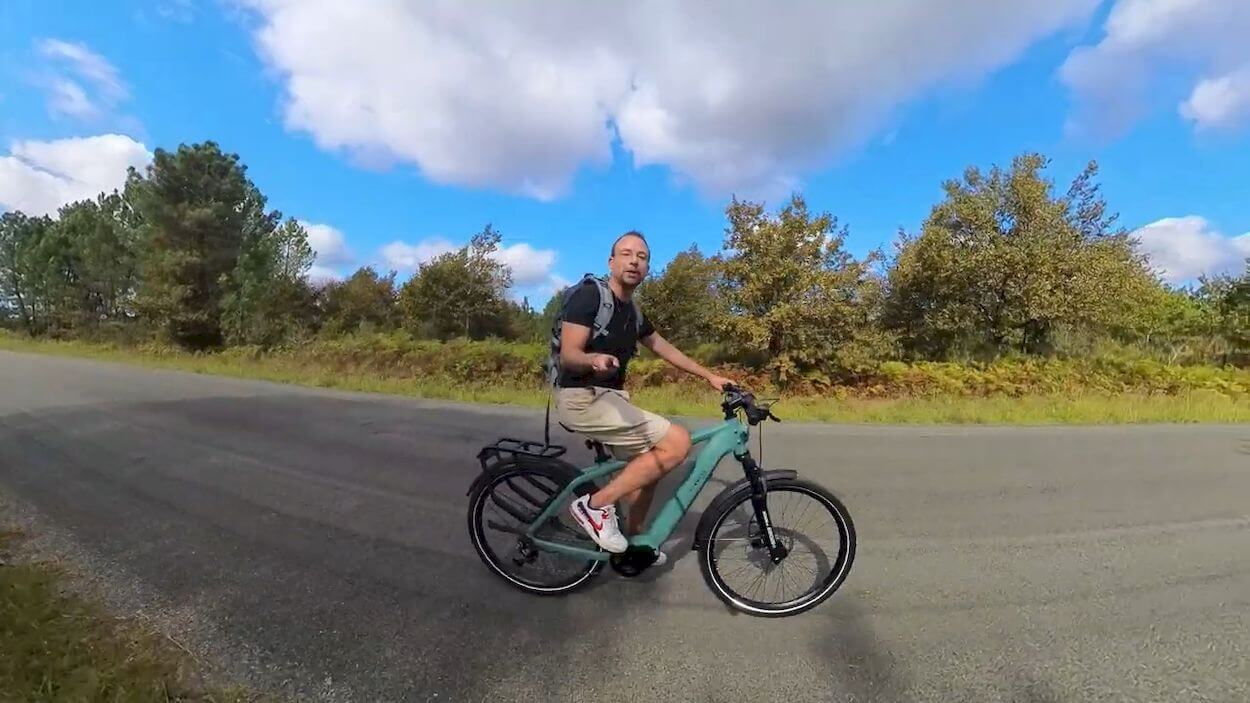 The Tenways Ago X features a pressure sensor integrated into the pedal board. This sensor is a game-changer in terms of rider comfort and ease of use. Unlike many other electric bikes, which require a half-turn of the pedals to engage the motor, this bike responds to even the slightest pressure on the pedals. It's a seamless and intuitive way to initiate assistance and ensures a smooth start, especially on inclines.
The saddle on the Tenways Ago X is branded as "Essenza" and is designed with rider comfort in mind. It boasts an ultra-wide and plush design, offering a level of comfort that allows you to tackle long rides without the need for additional cushioning like gel seat covers. The saddle's generous padding ensures a comfortable and pain-free cycling experience.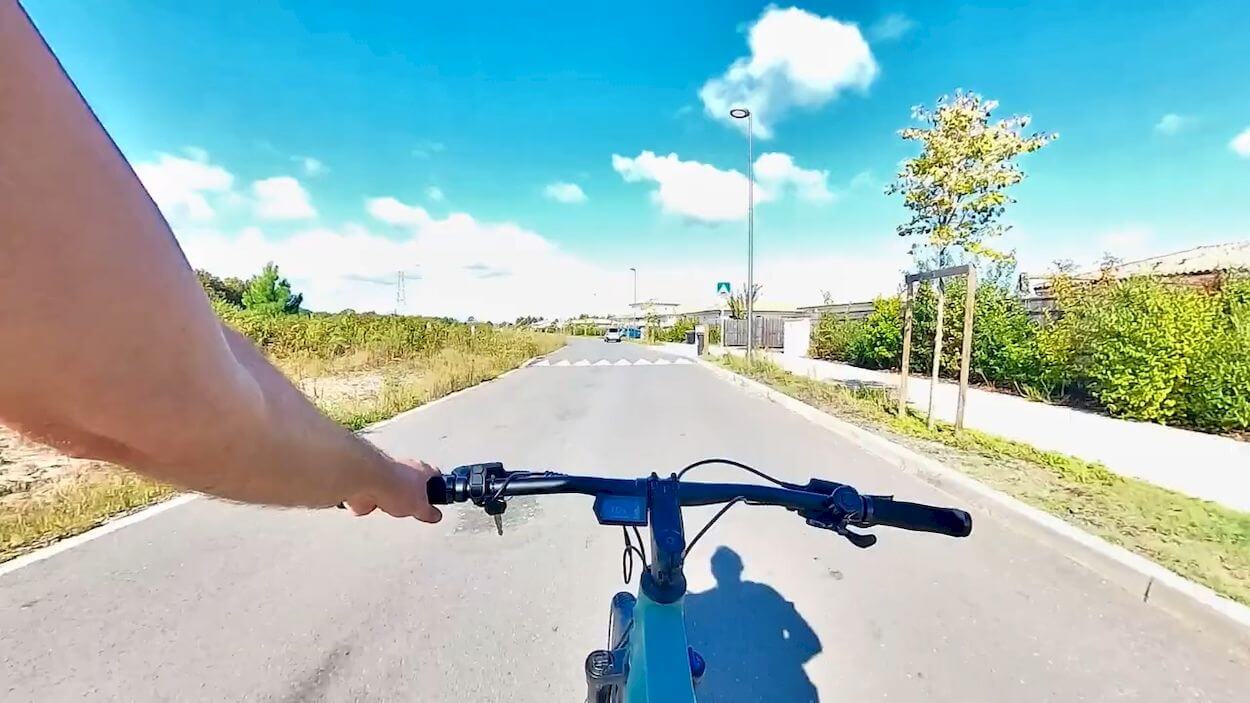 The bike features massive 29-inch tires with a width of 2.25 inches. While they may not absorb every bump and imperfection on the road, these tires significantly enhance stability and contribute to a comfortable ride. They offer a pleasant balance between city biking and the ability to handle a variety of terrains. The larger wheel diameter improves stability, especially for taller riders, and contributes to a smoother ride.
The bike comes equipped with suspensions, adding an extra layer of comfort by reducing the impact of road irregularities. While the suspensions are configurable and can be adjusted to personal preferences, they offer moderate travel that effectively dampens vibrations and roughness on the road. For riders weighing around 70 kg, they generally perform admirably.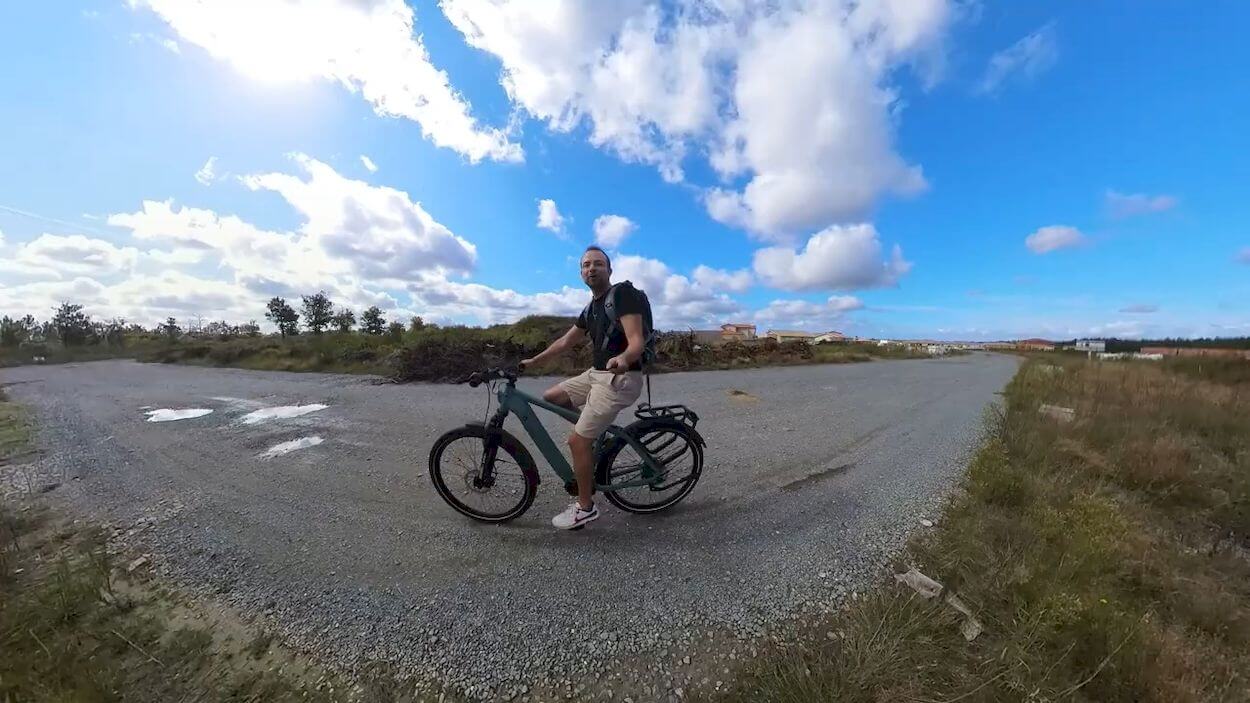 The handlebar on the Tenways Ago X is wide and slightly arched inward, offering a comfortable grip and contributing to a relaxed riding position. This design ensures that you have a secure hold on the handlebars while maintaining an upright posture, which is particularly important for long rides in urban environments.
The bike is impressively quiet, with no noticeable parasitic noise to disrupt your ride. The smooth and muffled operation of the bike enhances the overall comfort, making for a serene and enjoyable biking experience.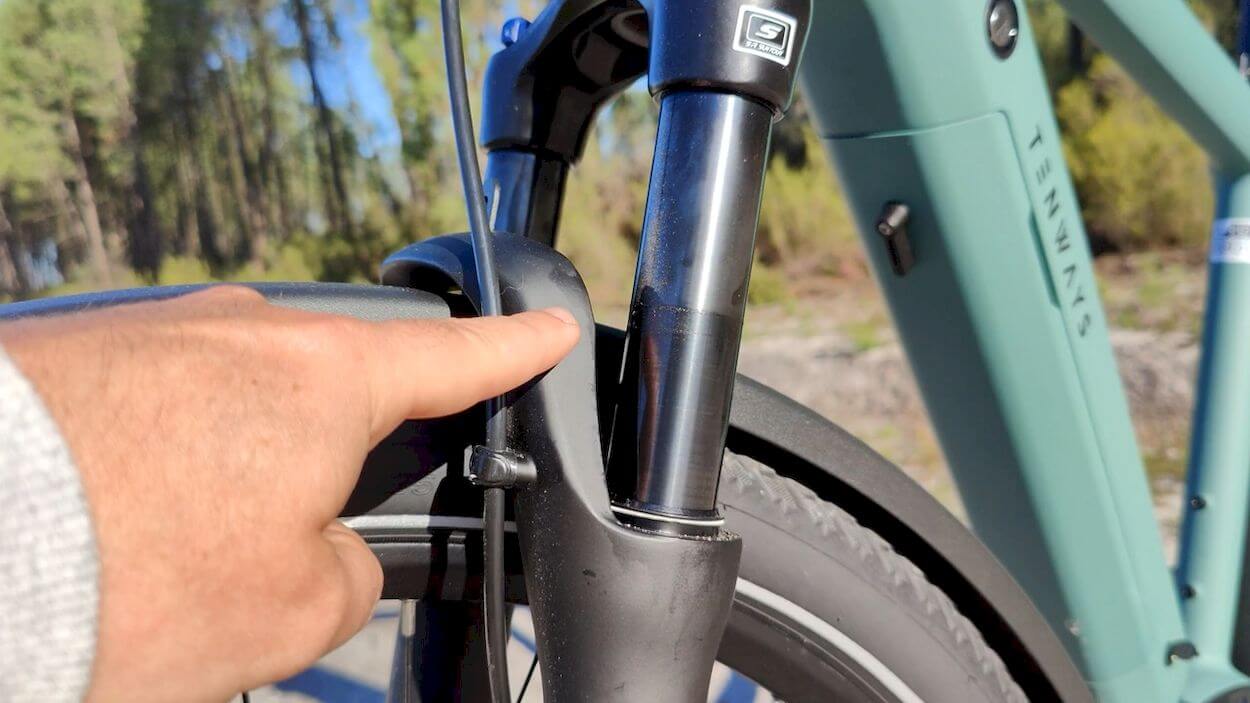 The bike features wrist rests that provide added comfort, even during extended rides. These wrist rests help alleviate strain and discomfort in the hands, contributing to a more comfortable and relaxed riding experience.
Braking test
For a high-end bike like the Tenways Ago X, high-end braking is an essential component of its overall performance and safety. In this regard, the bike doesn't disappoint, as it is equipped with hydraulic disc brakes, both at the front and rear, ensuring precise and efficient braking control.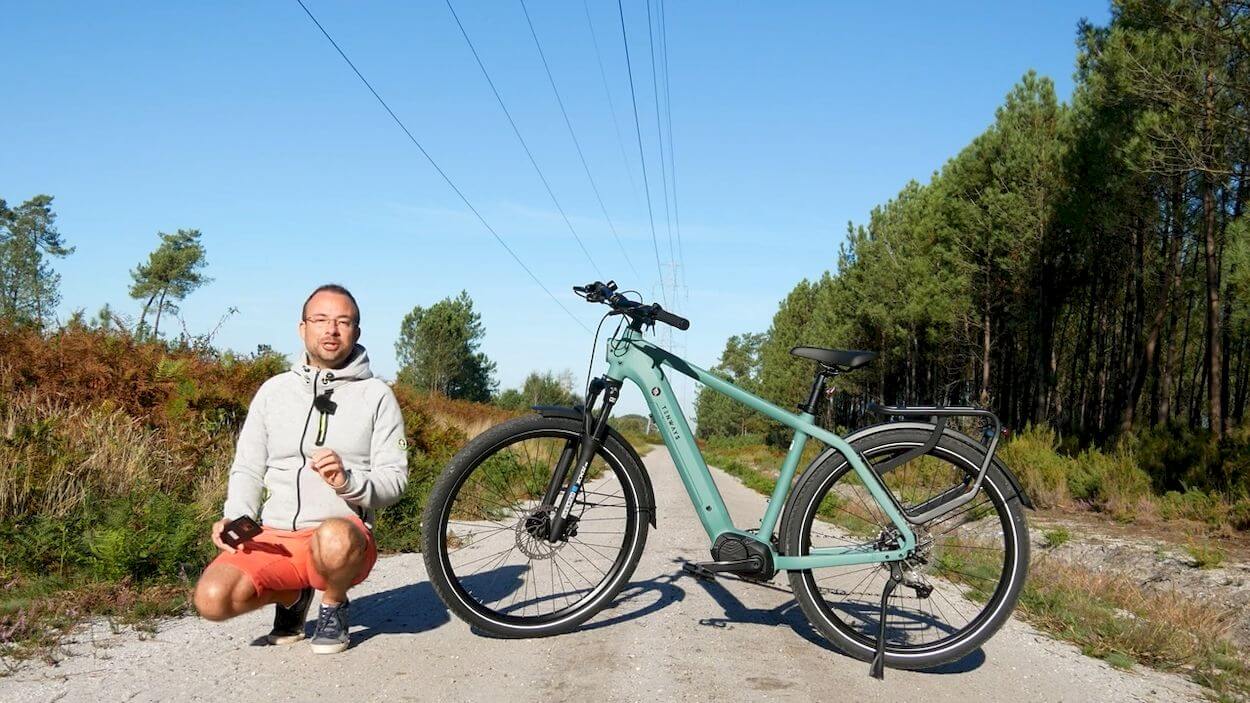 The disc brakes on the Tenways Ago X feature 160 mm discs, offering ample stopping power for a bike of its class. Hydraulic braking systems are known for their superior performance, and they truly shine in terms of ease of use and stopping ability.
With hydraulic disc brakes, you don't need to exert a significant amount of force to engage the brakes. A gentle squeeze of the brake levers is all it takes to start slowing down or coming to a complete stop. This ease of use is particularly beneficial during long rides or when you need to brake suddenly in challenging conditions.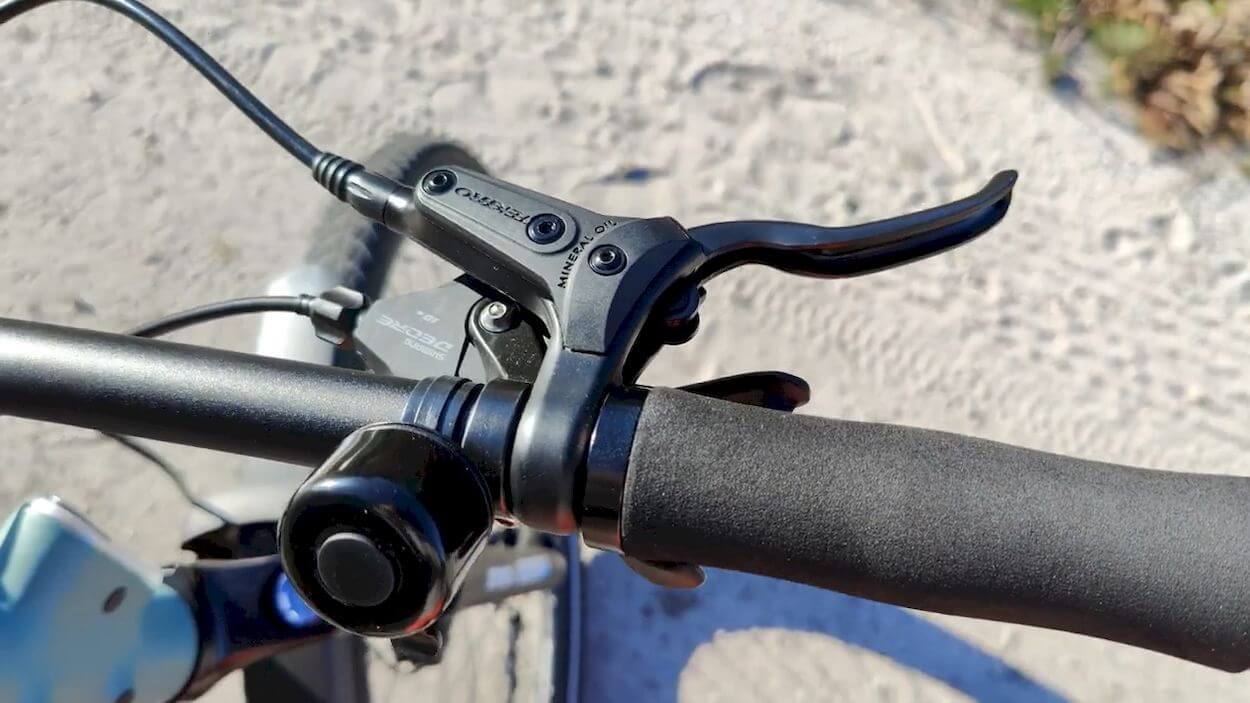 In terms of braking performance, the Tenways Ago X delivers respectable results. It can go from a speed of 25 km/h to a complete stop in just over 4 meters, which is a commendable performance for an electric bike in its class. This quick stopping ability is essential for safety, especially when riding in urban environments where traffic and unexpected obstacles are common.
One notable aspect of the bike's braking performance is that it allows you to apply significant force to the rear wheel without causing skidding, thanks to well-calibrated and adjusted brakes. The lack of noise from the brakes and the minimal pad-to-disc contact highlight the precision and quality of the braking system.
Battery and Range
The Tenways Ago X boasts an impressive power source in the form of a 500-watt-hour (WH) battery with a capacity of 14 ampere-hours (AH). This battery is not only powerful but also conveniently located inside the frame and is easily removable. Let's delve into its autonomy and what it means for your riding experience.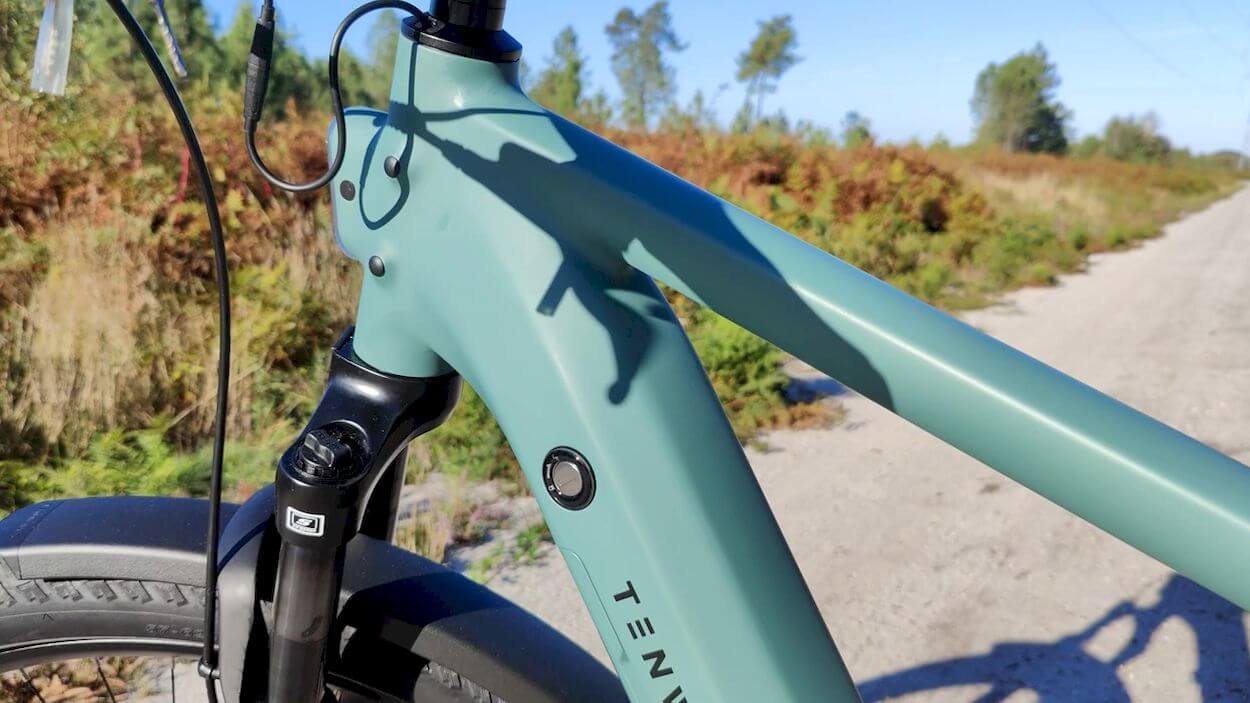 The 500 WH battery is a standout feature of this electric bike, offering a balance between capacity and weight that ensures an excellent riding range. When fully charged, this battery will propel you effortlessly for a real-world distance of approximately 70 kilometers. What's remarkable about this range is that it assumes minimal effort on your part – just enough to engage the motor and maintain a comfortable cruising speed of 25 km/h.
This level of autonomy is particularly noteworthy because it covers a wide range of riding scenarios. Whether you're commuting to work, running errands around town, or simply enjoying leisurely rides, the 70-kilometer range provides ample coverage for most situations. It means you can confidently tackle your daily activities without constantly worrying about recharging.
Conclusions
In summary, the Tenways Ago X emerges as an outstanding urban electric bike, surpassing many of its peers in various aspects. It excels in terms of comfort, performance, and practicality, making it a top contender in the world of urban cycling.
In the comfort department, the Ago X impresses with its well-configured pressure sensor, plush saddle, and ergonomic riding position. The bike's wide handlebars and comfortable wrist rests enhance the overall riding experience. While it may not have a fully suspended frame, the front suspensions effectively dampen vibrations and roughness, delivering a smooth and enjoyable ride.
The bike's performance is anchored by the Bafang M410 motor, which offers an impressive 80 Nm of torque, outperforming many competitors. The torque sensor pressure sensor integrated into the crankset provides an extraordinary level of responsiveness and control, making it a standout feature. The bike effortlessly reaches and maintains its top speed of 25 km/h, complying with French regulations.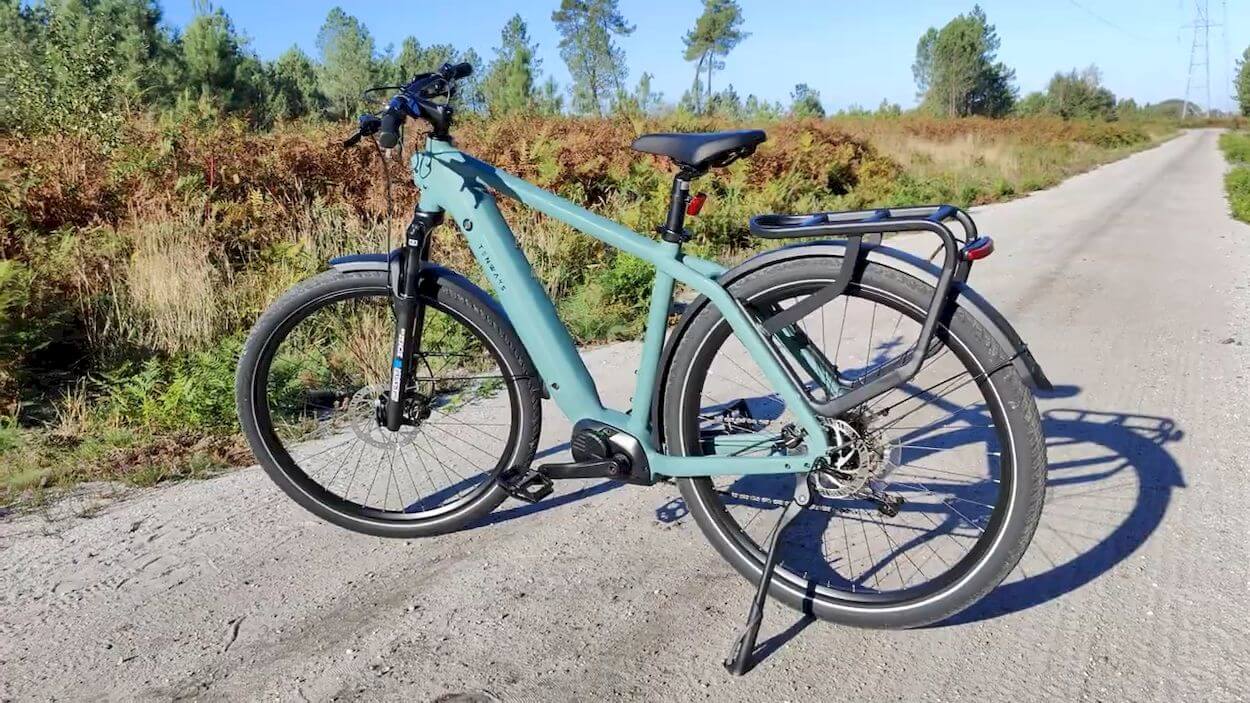 One of the bike's highlights is its remarkable battery, a 500WH 14 AH powerhouse. This battery provides a real-world range of approximately 70 kilometers with minimal effort, offering excellent coverage for various riding scenarios. It strikes a balance between capacity and weight, ensuring a practical and cost-effective solution.
Criticism of the Ago X is challenging to find, given its impressive overall package. The bike's weight, at 27 kg, is on par with its competitors in the same category. It adheres to French regulations, which restrict it to a top speed of 25 km/h, and while some might wish for rear indicators, their necessity can be debated.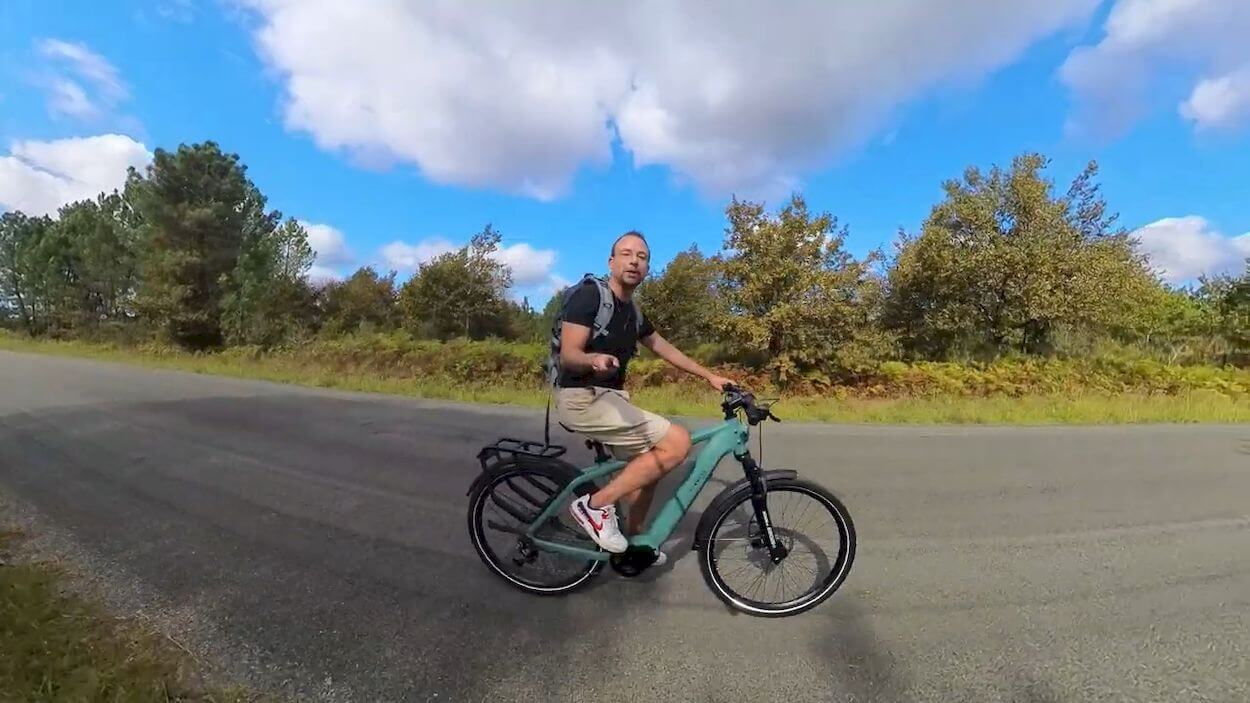 So, the Tenways Ago X stands as a beacon of excellence in the urban electric bike market. It delivers an exceptional blend of comfort, performance, and practicality. With its advanced features, responsive motor, and impressive battery range, it sets a high standard for urban cycling. For those seeking a top-tier urban e-bike, the Tenways Ago X is a compelling choice, offering outstanding value for money in today's market.
Alternatives of Tenways Ago X