Today, we're taking a closer look at the Surface604 Boar Explorer – an e-bike designed with adventure-loving riders in mind. This fat-tire e-bike is primed for tackling a wide range of terrains and boasts an impressive array of features, including a robust motor and a high-capacity battery.
With a price tag of $2,700, let's delve into the specifications to determine whether this e-bike lives up to its promises and is worth the investment.
The Surface604 Boar Explorer is built to handle various terrains, making it an ideal choice for riders seeking thrilling off-road adventures. Its rugged design and fat tires are designed to conquer challenging trails with ease.
As we continue to explore the Surface604, we'll examine its individual components, performance capabilities, and any unique features that set it apart from the competition. Join us on this journey as we determine whether this e-bike lives up to its promises and delivers an exciting and enduring riding experience for adventure enthusiasts.
| | |
| --- | --- |
| FRAME MATERIAL | 6061 Aluminum Alloy |
| MOTOR | High Torque 500W (Peaks At 750W) |
| TORQUE | 80Nm of Torque |
| DERAILLEUR | SHIMANO ALIVIO 9-Speed Drivetrain |
| KICKSTAND | Adjustable Heavy-Duty Aluminum |
| RIMS | 27.5" X 100mm Single Wall Aluminum Alloy Rims With Cutouts |
| TOP SPEED | 20mph (32kmh)*, Comes as Class 2 |
| BATTERY | Included: 48V 14Ah / 672Wh |
| BATTERY RANGE | Upto 45mi (72km) with a 48V14Ah Battery |
| LIGHTS | BÜCHEL SHINY 120 LED Headlight |
| BRAKES | TEKTRO AURIGA Hydraulic Disc Brakes, Post Mount |
| WEIGHT CAPACITY | Rider: 285lbs (130kg), Front Rack 55lbs (25kg), Rear Rack 55lbs (25kg). Total payload: 395lbs (180kg) |
Design and Build Quality
The Boar Explorer's frame is crafted from 6061 aluminum alloy, striking a balance between durability and lightweight construction. This choice of material ensures that the bike can withstand the demands of off-road terrain while remaining manageable in weight.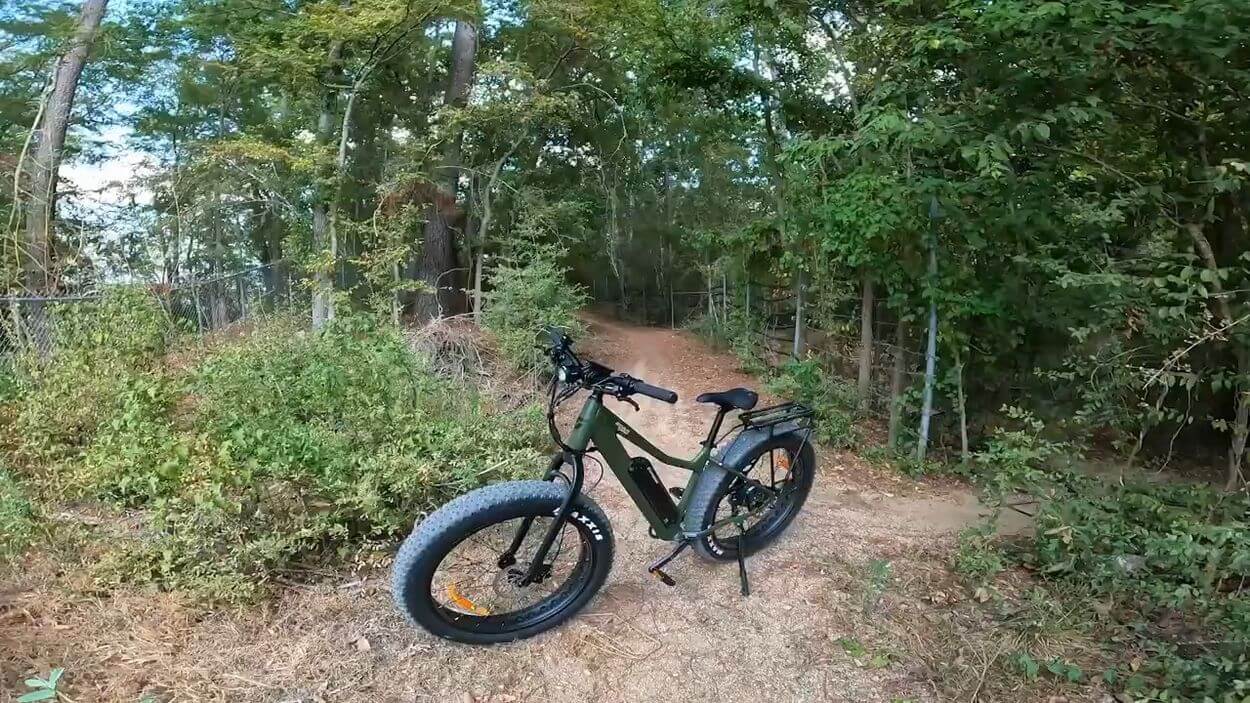 The handlebars of this e-bike are designed for both comfort and control. The Pro Max aluminum handlebars provide a comfortable grip, making maneuvering the bike easy. This feature is particularly appreciated by mountain bikers who need precise control during their rides.
The saddle on the Boar Explorer is carefully designed for comfort, ensuring that riders can enjoy long journeys without discomfort. Comfort is a crucial factor for adventure biking, and the SR Sally Royale Nebula Saddle delivers just that.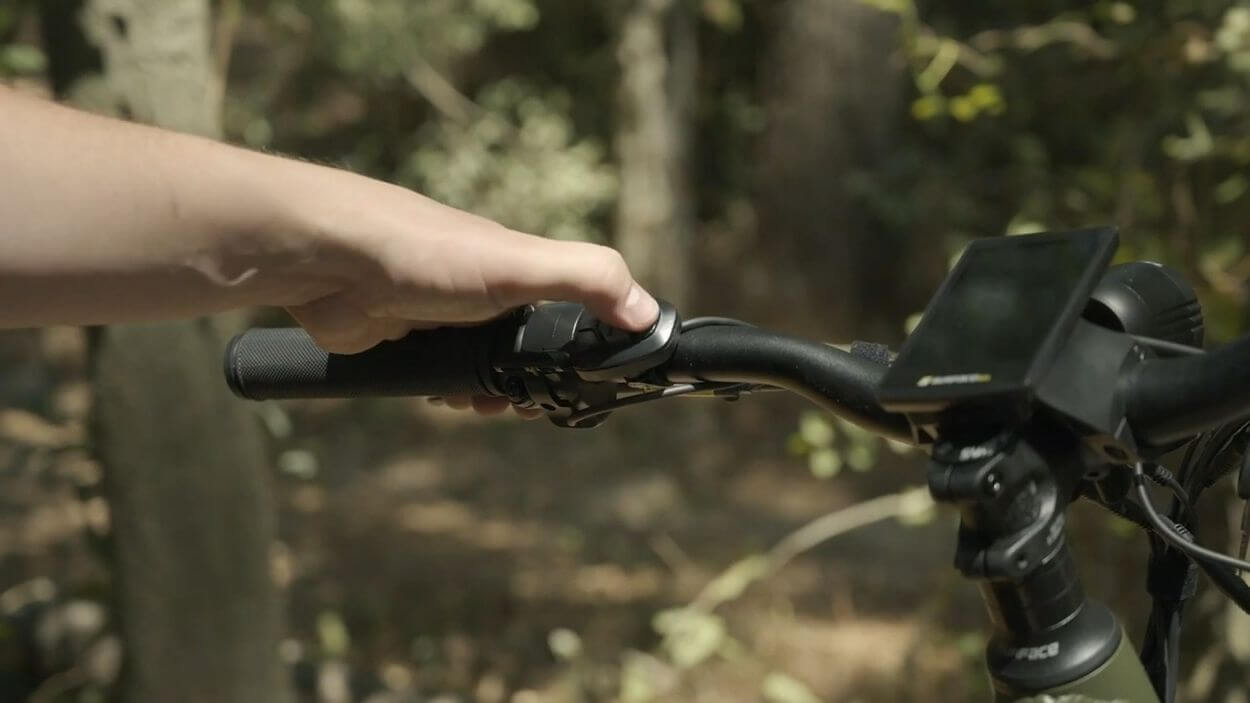 The bike accommodates a wide range of riders, with two frame sizes available: small to medium (17.5 inches) and medium to large (19.5 inches). This flexibility ensures that riders of various heights can find a comfortable fit.
The Torque sensing pedal assist system on this e-bike offers smooth and responsive power delivery. Among various e-bike systems, this one stands out as one of the most responsive, making for an enjoyable riding experience.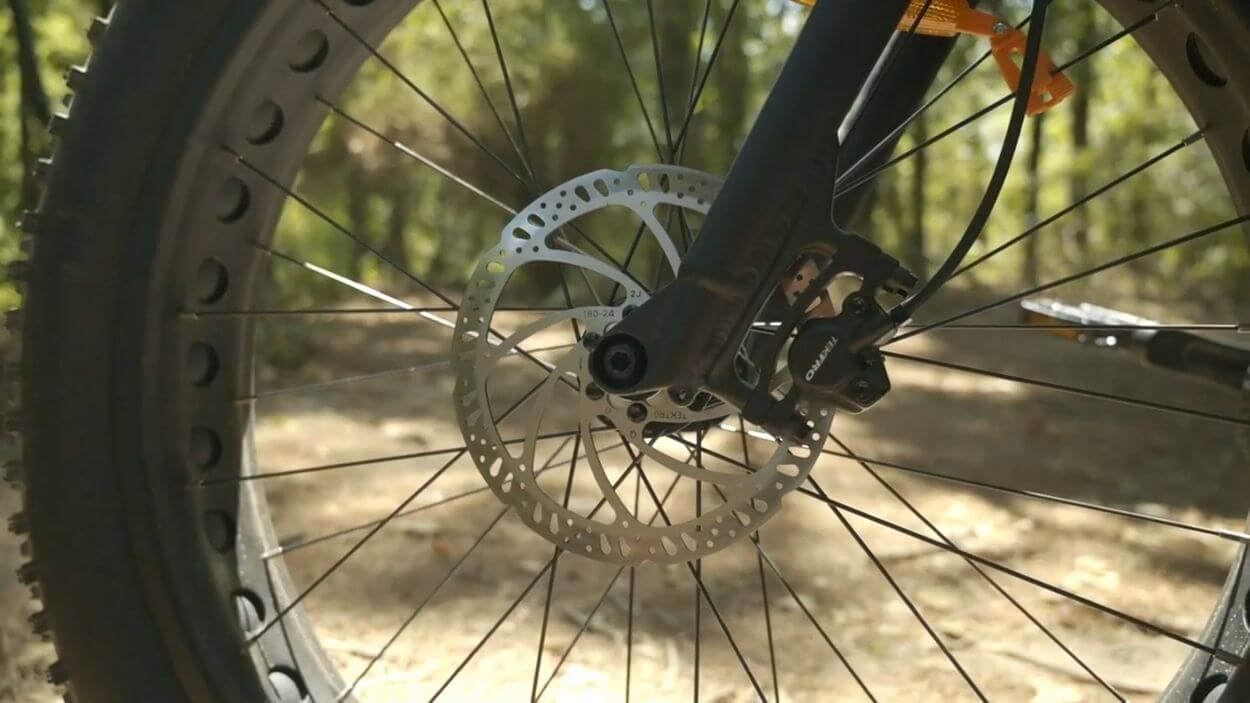 The inclusion of hydraulic disc brakes provides excellent stopping power, even on challenging terrain. This ensures rider safety and control during off-road adventures.
The integrated bright light is a standout safety feature. It eliminates the need for extra batteries and enhances visibility, making night riding or low-light conditions much safer.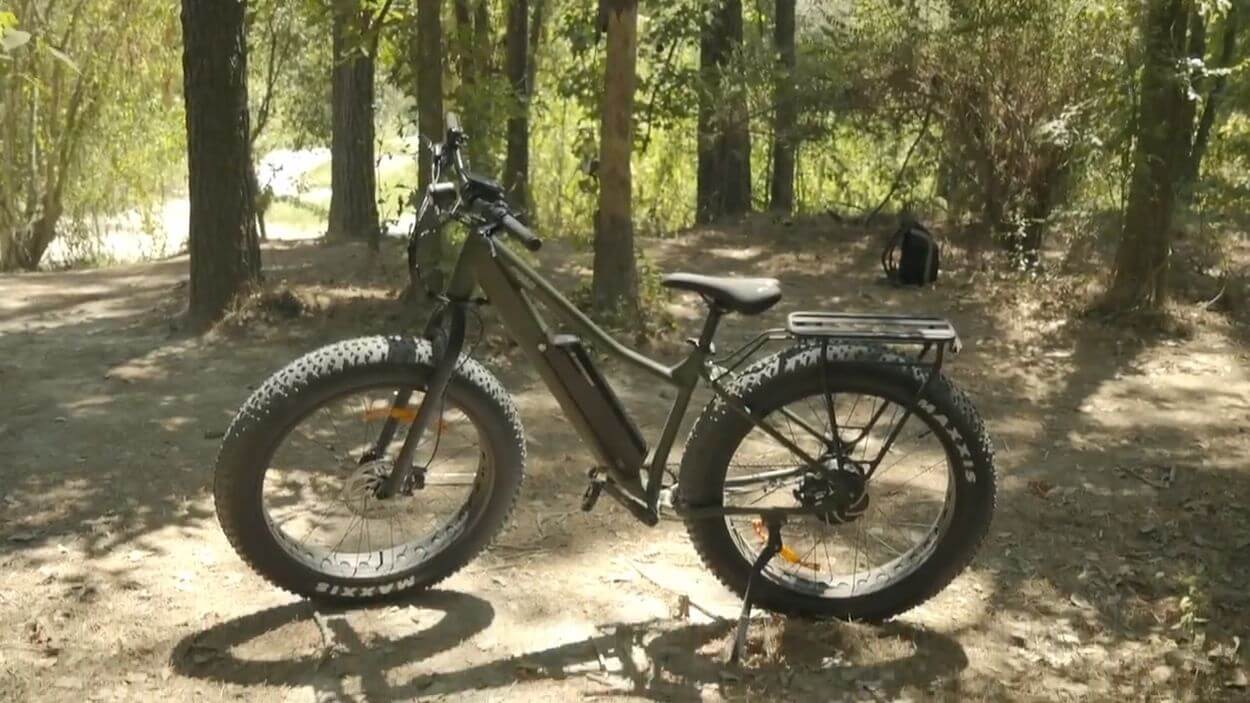 The Boar Explorer supports an impressive weight capacity of up to 395 pounds, including the rider and cargo. This robust weight limit makes it suitable for various riders and gear.
The e-bike is equipped with hunting-ready accessories, such as racks and holler trailers, making it adaptable for outdoor enthusiasts and adventurers who want to carry their gear with them.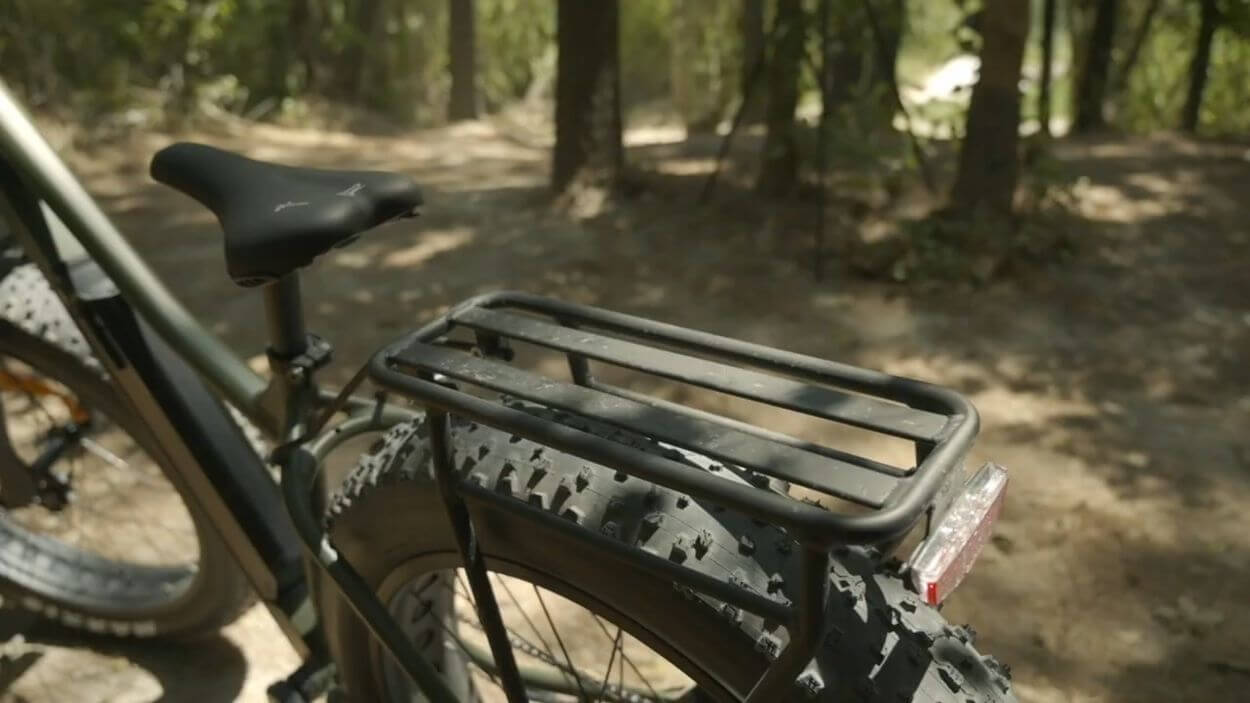 The Surface604 branded display is user-friendly, bright, and provides essential information about the bike's performance, including speed, range, and battery level. It adds a touch of professionalism to the overall design.
Despite its rugged features, the Boar Explorer is impressively lightweight, weighing only 50 pounds, including the battery. This makes it easier to handle and transport, considering its intended off-road use.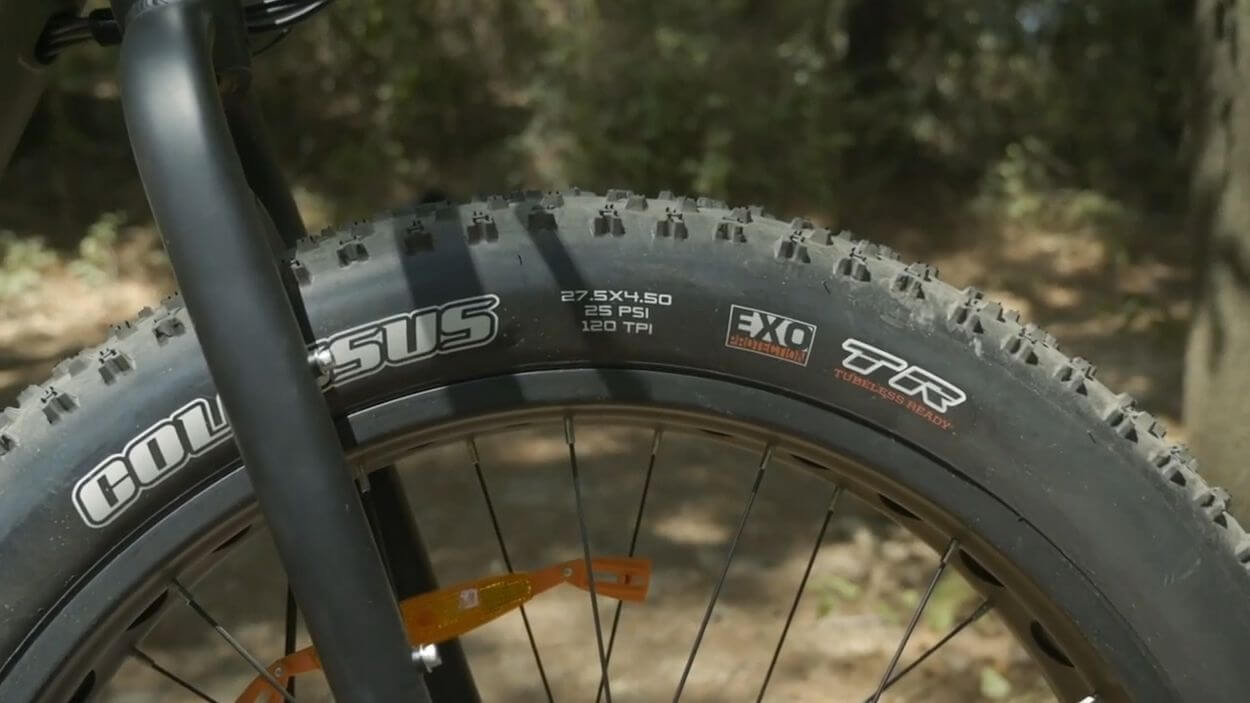 The fat Maxxis Colossus tires are not only eye-catching but also contribute to the bike's off-road prowess. The option to increase tire size to 4.5 inches enhances the ride experience, making it ideal for extended off-road adventures.
The 9-speed drivetrain provides riders with a wide range of gear choices, making the e-bike versatile for both city commuting and hill climbing.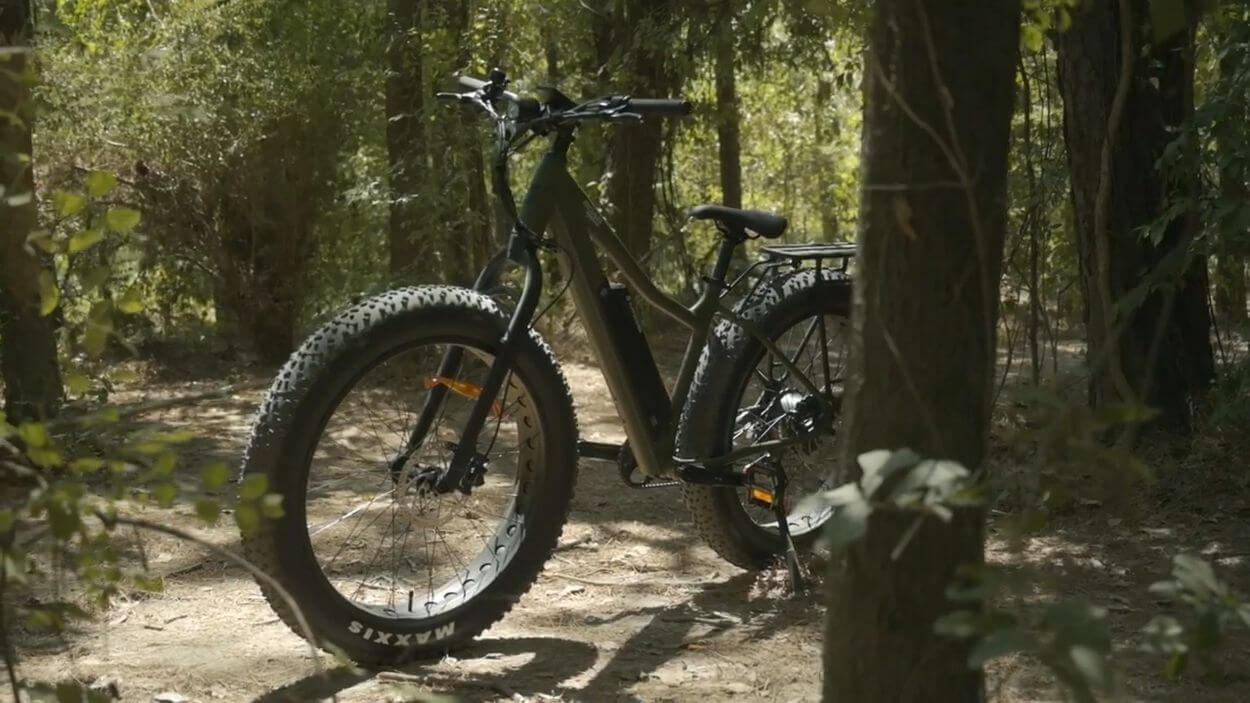 The crank arms of the Boar Explorer are not just functional but also stylish. They exude toughness and are ready to tackle challenging trails.
The bright and easy-to-read Surface604 color LCD display shows crucial riding data and even includes a USB jack for charging devices while on the go, adding convenience to the overall riding experience.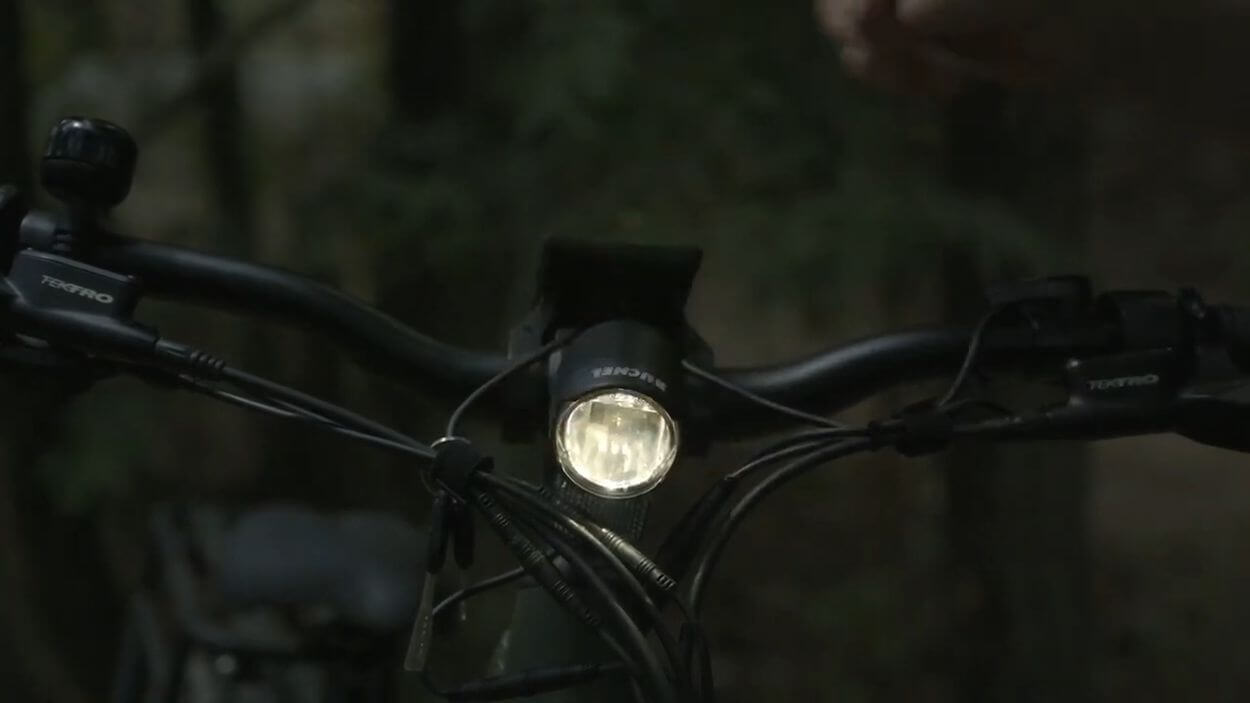 So, the Surface604 Boar Explorer is a well-designed and durably constructed adventure e-bike that offers versatility, comfort, and the ability to conquer a wide range of terrains. Whether you're a mountain biker, an outdoor enthusiast, or simply someone looking for a thrilling ride, this e-bike is a solid investment that delivers on its promise of adventure and off-road capability.
Surface604 Boar Explorer: Motor
The e-bike offers multiple speed options to cater to different riding preferences. In its Class 2 mode, it can achieve a top speed of 20 miles per hour, making it suitable for city commuting and casual riding. However, for those seeking an extra burst of speed, the bike can be unlocked to reach an impressive 28 miles per hour, delivering an exhilarating ride.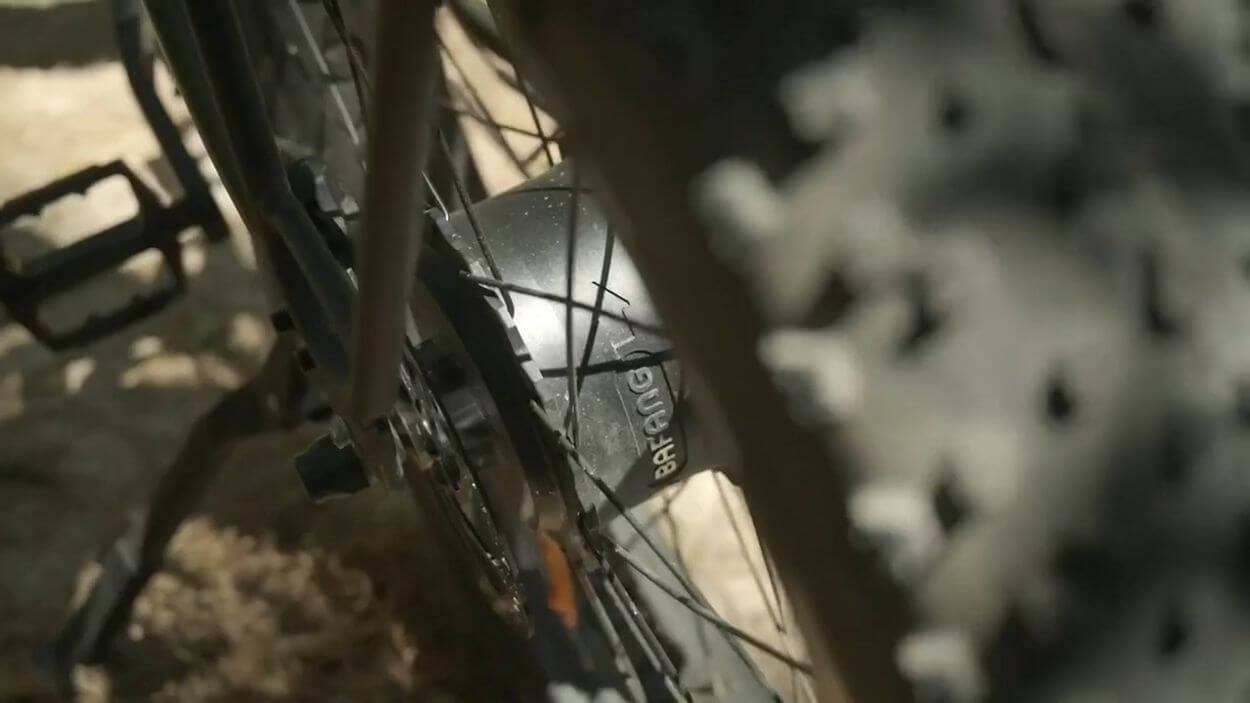 The heart of the Boar Explorer's power lies in its torque sensing 500-watt Buffang geared hub motor. While the nominal power rating is 500 watts, this motor has the ability to peak at 750 watts, which is significantly more powerful than one might expect from a 500-watt motor. This impressive power output ensures rapid acceleration and the capability to tackle steep inclines and challenging terrain with ease.
Driving Test
We start off pedaling this beast as if it's a regular bike, at power level zero. The throttle won't work at this level, but it's a smooth and pleasant ride. What's truly remarkable is that despite the lack of suspension, this is the most comfortable e-bike I've ridden. There are no fancy suspension seat posts, stem, or front fork, yet the bike handles like a dream.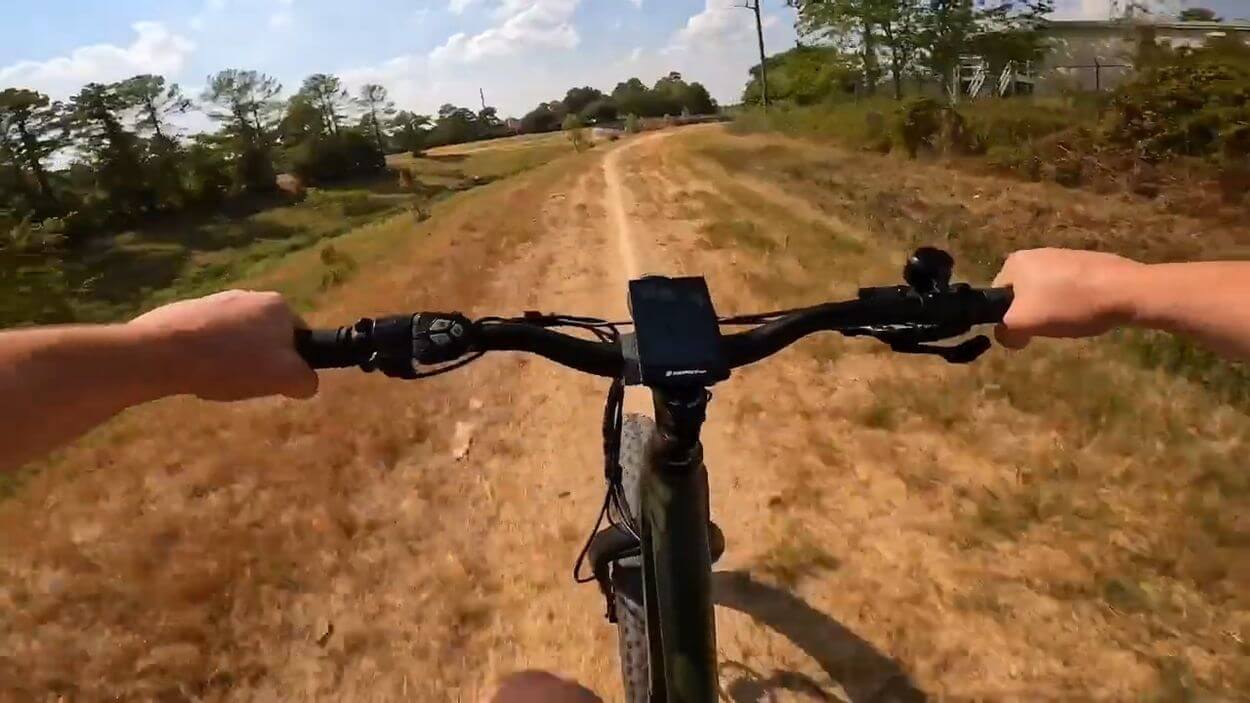 The SRAM shifter and pedal geometry are on point, and the Surface604 team clearly knows what they're doing. Pedaling this bike without power is a joy. The gearing is solid, making it easy to adjust for different terrains.
Now, let's kick it up a notch and engage power level three. The torque sensor kicks in, and you can feel the bike's power. The low-end torque is absolutely delightful, and the acceleration is impressive. It's clear that this e-bike means business.
The Boar Explorer handles various terrain effortlessly. It's not just for show; it can really explore and conquer different types of trails. The torque sensor makes uphill climbs a breeze, and the bike maintains high speeds with ease.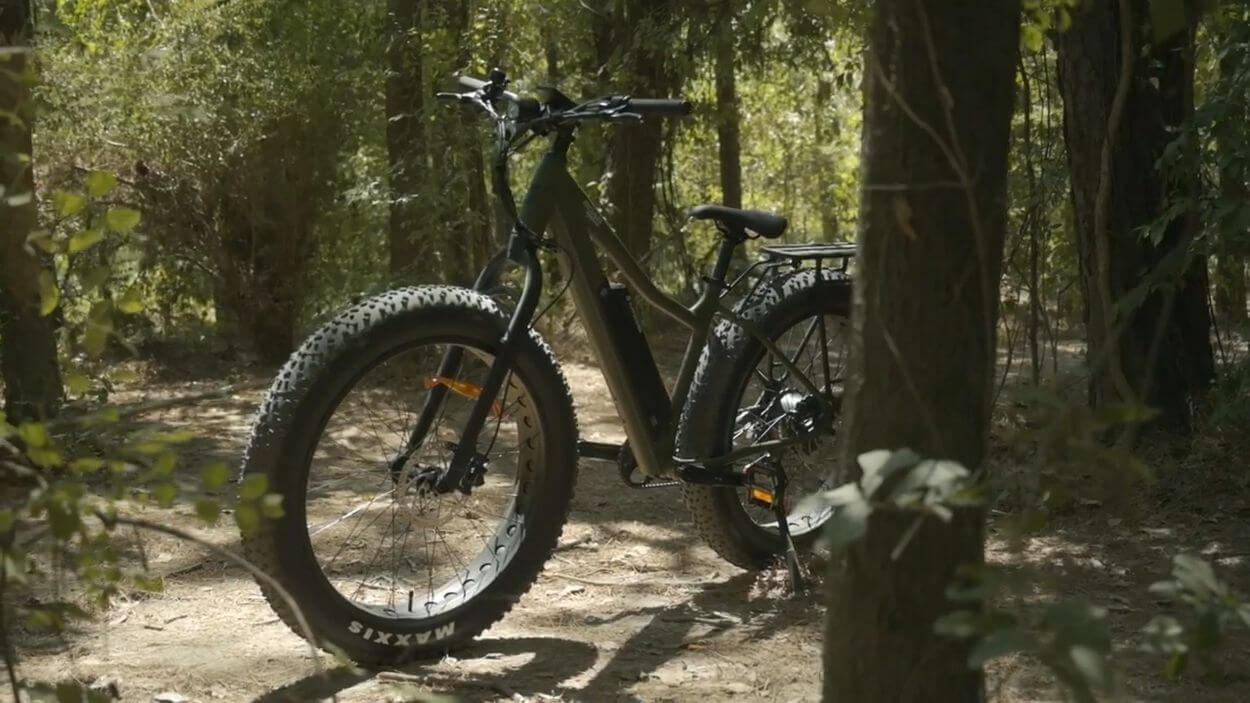 When you need to stop, the brakes respond excellently. Even on loose gravel and rocks, the Surface604 Boar Explorer comes to a grinding halt without any issues.
The torque assistance is invaluable for tight turns, ensuring you can quickly regain speed after slowing down. This is especially useful when you're navigating through tight spots on the trail.
The handling on this e-bike is rock solid, unlike many other fat-tire bikes. It feels stable and responsive, giving riders a sense of control, whether on straightaways or winding trails.
Cruising around corners and making sharp turns is an absolute blast on the Boar Explorer. The handling and torque make it a joy to ride through curves and bends.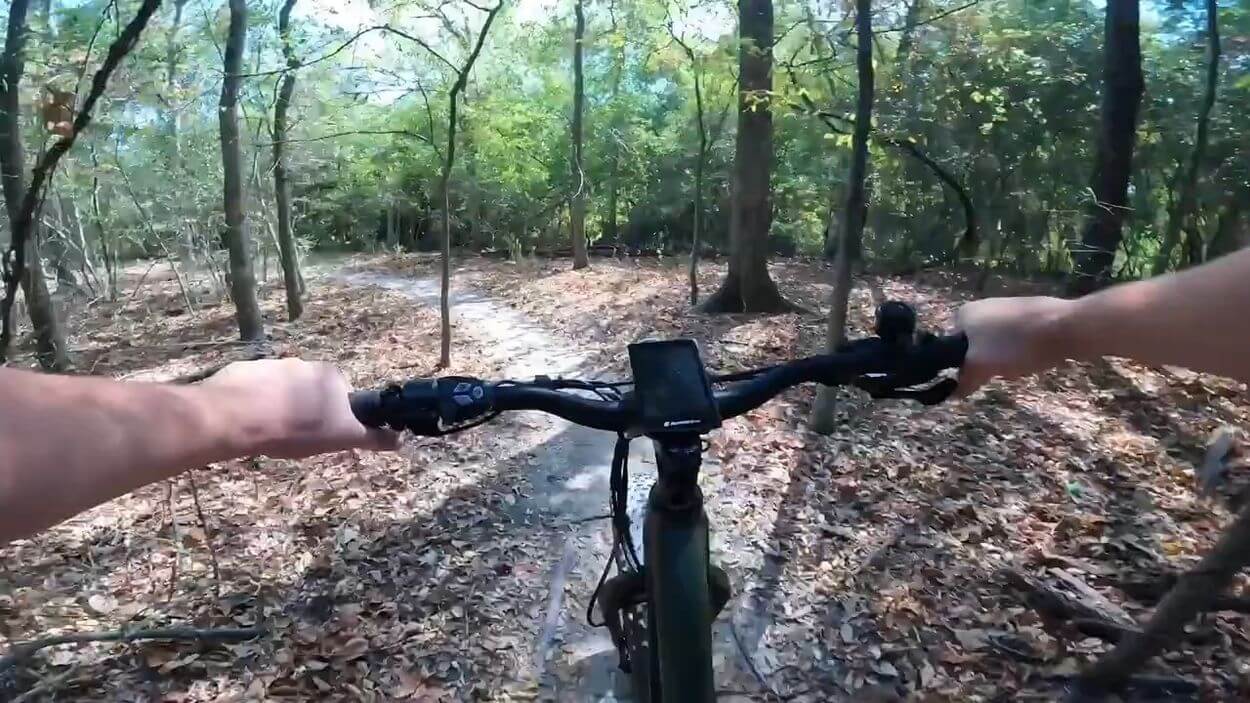 We're truly exploring here, venturing off the beaten path and discovering new trails. The bike's capabilities allow you to access remote and exciting locations, fulfilling the promise of adventure.
The 4.5-inch wide Maxxis Colossus tires provide excellent traction and control, making for a unique and enjoyable riding experience. They absorb the terrain and maintain stability.
While we're splashing through water, it's worth noting that this bike could easily accommodate fenders, especially if you're planning on venturing through wet and muddy terrain.
We even considered tackling a jump, but, well, that one was a bit too gnarly. However, the Boar Explorer handled some smaller jumps with ease, showing off its versatility.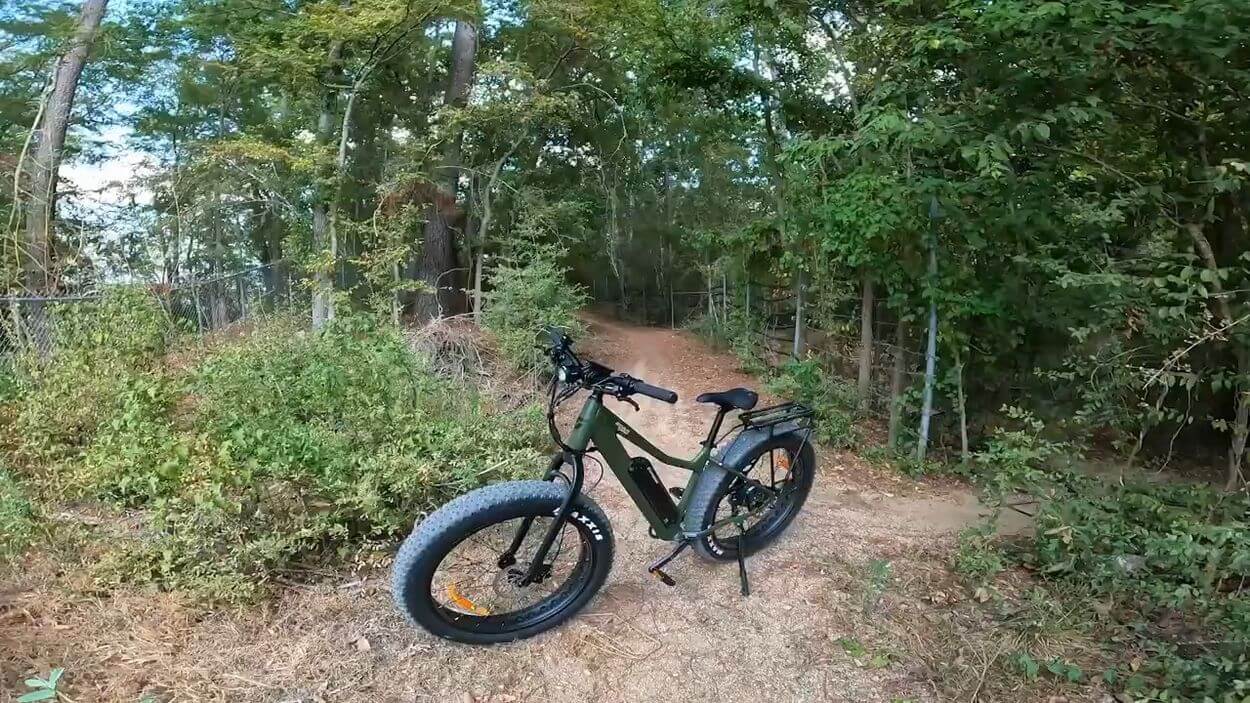 So, the Surface604 Boar Explorer delivers on its promise of adventure. It's a comfortable, powerful, and well-handling e-bike that lets you explore uncharted territory, tackle different terrains, and have a thrilling time while doing it. Whether you're an experienced rider or a novice adventurer, this bike will leave you with an ear-to-ear grin and a desire to keep exploring. So, get out there and experience the thrill for yourself!
Battery and Range
The standard battery that comes with the Boar Explorer is a 48-volt, 14-amp-hour powerhouse. However, the real highlight here is the option to upgrade to a 48-volt, 20-amp-hour battery. Both of these battery options utilize Samsung cells, which is a significant advantage. Samsung is renowned for its high-quality battery technology, known for its durability, longevity, and safety.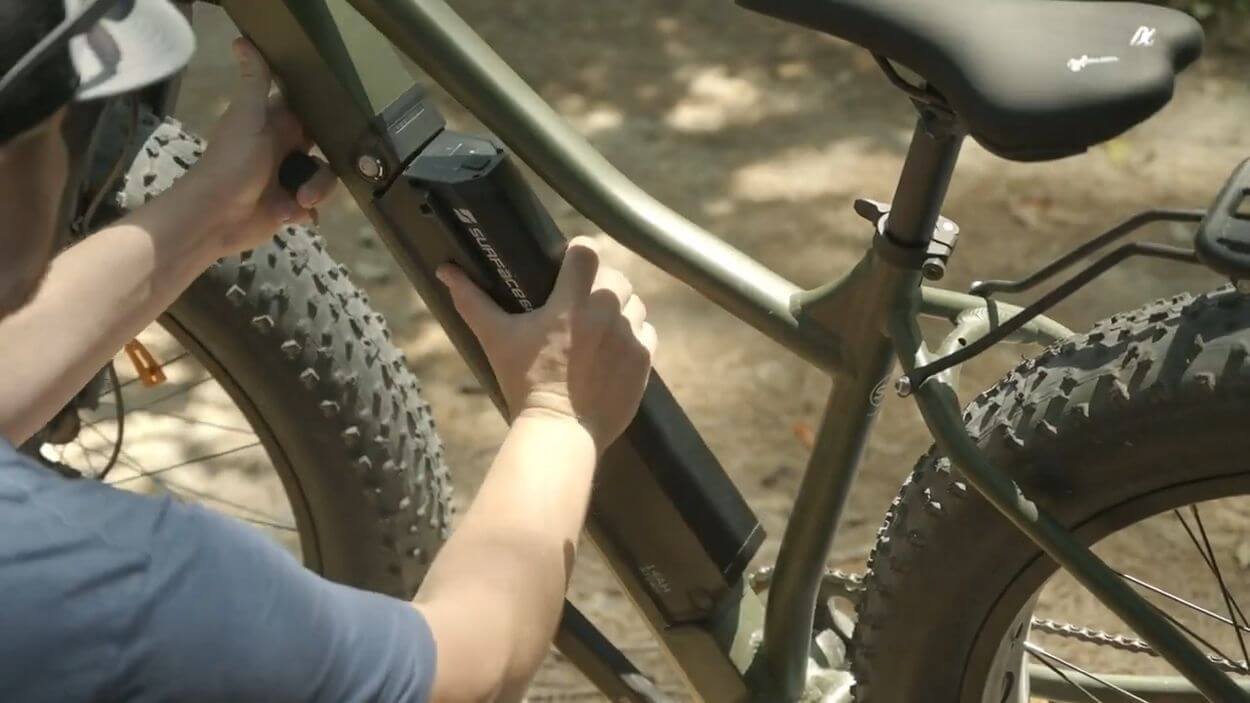 With the 14-amp-hour battery, riders can expect an impressive range of up to 45 miles on a single charge. This is ideal for those looking to cover substantial distances on their adventures without the worry of running out of power.
For those seeking even more range and extended adventures, the 20-amp-hour battery is the perfect choice. With this option, riders can enjoy an extended range of up to 65 miles on a single charge. Whether you're planning all-day excursions or multi-day journeys, this battery option has you covered.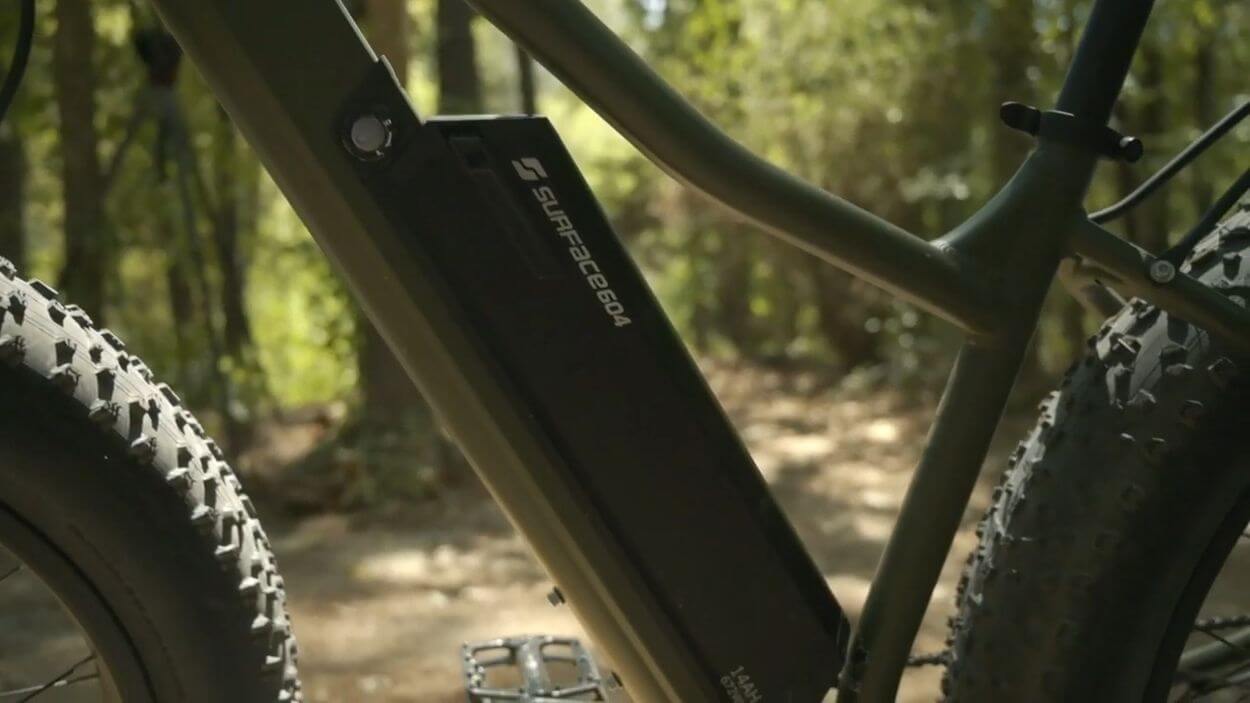 The Boar Explorer is designed to be easily converted into a hunting e-bike, and the battery options play a vital role in this aspect. Hunters often require long-range capabilities, and the 48-volt, 20-amp-hour battery provides the power and endurance needed to navigate the wilderness and reach remote hunting locations.
With Samsung cells at its core, both battery options are built to last and withstand the demands of off-road adventures. The rugged design of the Boar Explorer complements the robust battery system, ensuring that it can handle challenging terrains and tough conditions.
Conclusions
So, our journey with the Surface604 Boar Explorer has been nothing short of thrilling. This e-bike impresses on multiple fronts, from its powerful motor and durable build to its versatile battery options and rugged design.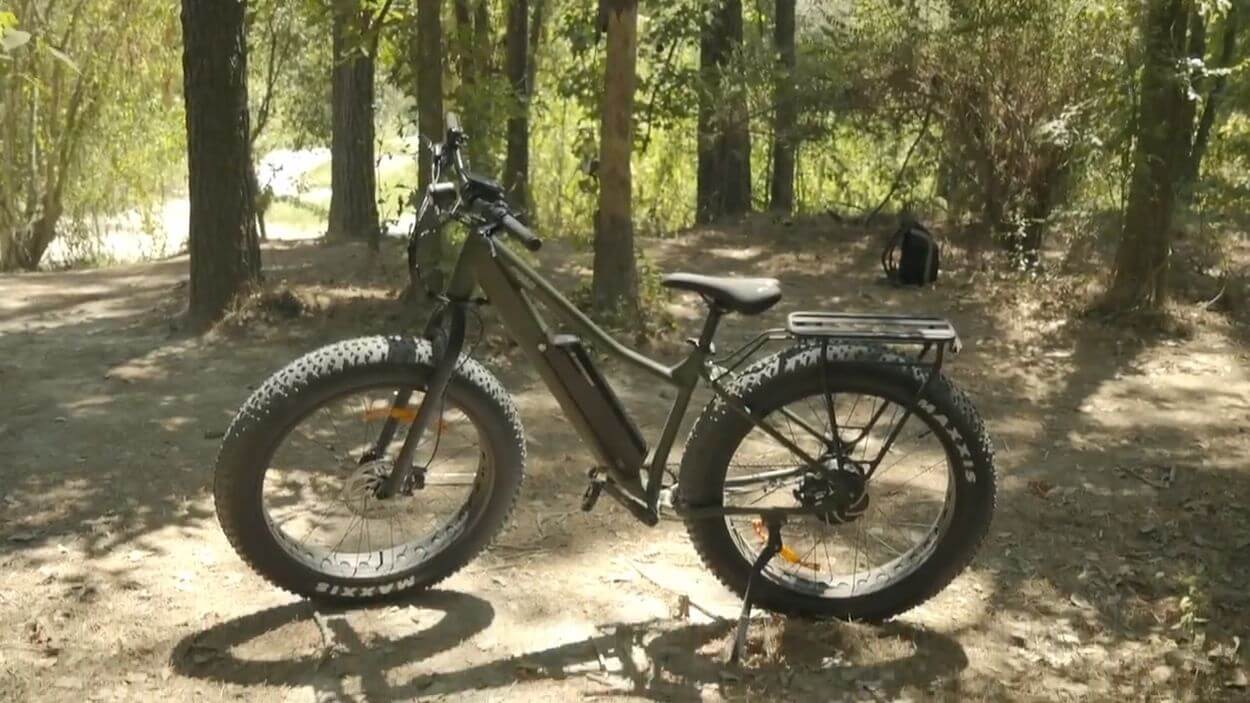 The Boar Explorer's torque-sensing motor delivers an exhilarating ride, even in challenging off-road conditions. Unlocking its higher speed is a blast, and it offers fantastic acceleration and power.
Surprisingly, the lack of suspension doesn't hinder the bike's comfort. The ergonomic design, pedal geometry, and solid handling make it a joy to ride, even without suspension components.
This e-bike lives up to its name, making it perfect for off-road adventures and exploration. It's adaptable for various terrains and can handle tight turns, steep climbs, and diverse landscapes with ease.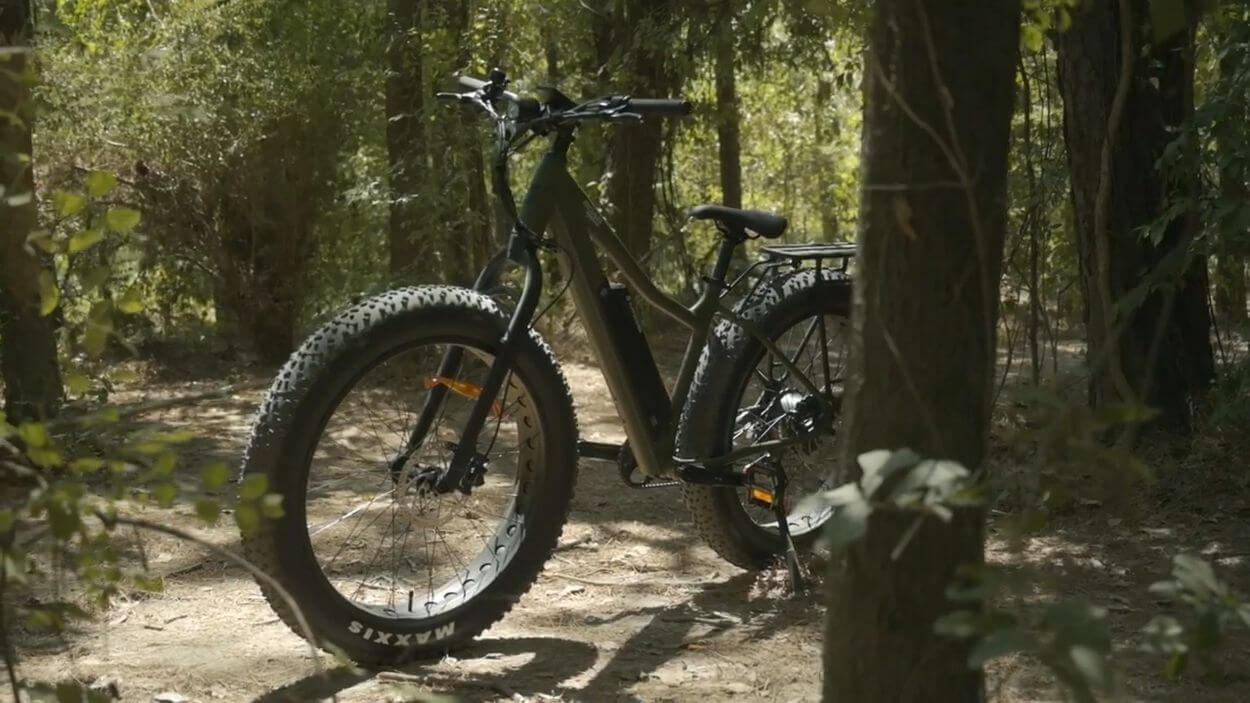 The choice between a 48-volt, 14-amp-hour battery and a 48-volt, 20-amp-hour battery gives riders options for both range and endurance. The use of Samsung cells enhances reliability.
While the lack of suspension doesn't hinder the bike's performance, adding a front fork suspension could enhance its off-road capabilities further.
All in all, the Surface604 Boar Explorer has left us thoroughly impressed. It's a versatile, powerful, and enjoyable e-bike that's ready to tackle a wide range of adventures. If you have any questions or thoughts, feel free to share them in the comments. Until the next ride, thank you for joining us on this thrilling journey!
Alternatives of Surface604 Boar Explorer