Ladies and gentlemen, welcome back to Auto Auction Rebuilds! Today, we have an exciting review of another e-bike from Engwe. You might remember that we previously reviewed one of their bikes, and it left us thoroughly impressed. Well, Engwe has sent us another one, and this one comes at an even more affordable price point while still offering fantastic features. Allow me to introduce you to the Engwe E26.
Now, you might recall the X26 from our previous review, which was nothing short of phenomenal. Engwe has now sent us the E26, and they've informed us that it's one of their best-selling bikes, thanks in large part to its affordability. While it shares many capabilities with its predecessor, the E26 stands out for its incredibly competitive price.
As of now, this bike is typically priced at $1299.99, which is already a great value. However, there's even better news – it's currently on sale for just $1199.99! Yes, you read that right. A high-quality e-bike for under $1200. So, without further ado, let's dive into the specifications and features of the Engwe E26 to see what makes it such a compelling choice in the world of electric bikes.
Frame
6061 aluminum alloy frame
Motor
48V 250W
Motor torque
70 N.m
Max climb
30°
Default Maximum Speed
25km/h
Transmission
SHIMANO 7S
Tires
26 x 4.0"
Meter
LCD Colorful Meter
Battery Capacity
48V 16Ah lithium battery
Mileage per Charge
62km/Electric mode
140km/Assist mode
Product Size
196 x 69 x 120cm
Package Size
162 x 28 x 85cm
Net Weight
33.5kgs
Weight Capacity
150KG
Design and Build Quality
The Engwe E26 is an impressive electric bike that combines a robust design with high-quality components to offer an exceptional riding experience.
One of the standout features of the Engwe E26 is its dual suspension system. The seat itself acts as a shock absorber, enhancing rider comfort. Additionally, there are front shock absorbers with preload adjustment, allowing riders to fine-tune the suspension to their preference. The option to lock out the front suspension provides versatility for different riding conditions.
The bike boasts a sturdy frame construction designed to withstand the rigors of off-road and urban riding. The inclusion of quality metal fenders not only adds to the bike's durability but also helps keep you and the bike clean and dry during wet conditions.
Safety is a top priority, and the E26 addresses this with its lighting setup. The giant projection headlight ensures excellent visibility when riding in low-light conditions. Additionally, the bike features a tail light and brake light, enhancing safety during night rides. Reflectors on the wheels further contribute to visibility.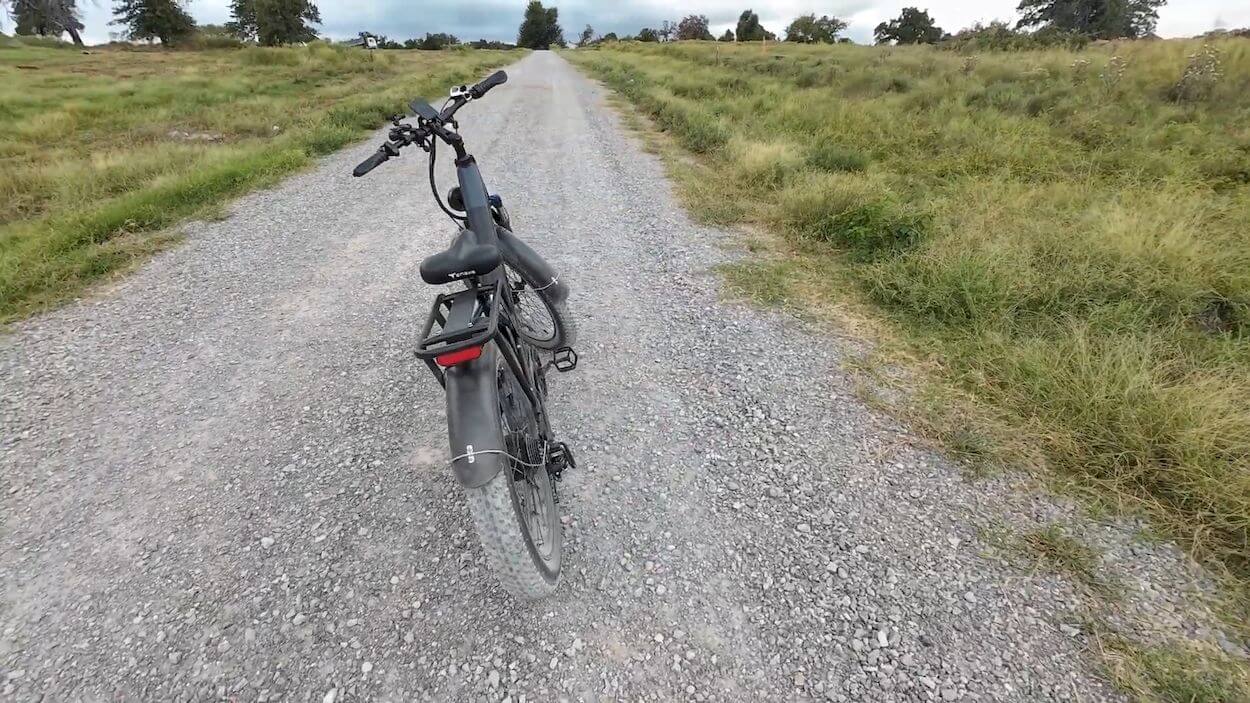 The bike offers a high degree of adjustability to cater to individual rider preferences. The seat and handlebars are easily adjustable, allowing riders to find the most comfortable riding position. This adaptability ensures a more ergonomic and enjoyable riding experience.
The inclusion of a seven-speed Shimano shifter ensures smooth and reliable gear changes, giving riders the flexibility to tackle various terrains and gradients with ease.
To protect the sensitive rear derailleur from potential damage during off-road adventures, the Engwe E26 comes equipped with a derailleur guard. This feature enhances the bike's durability and longevity.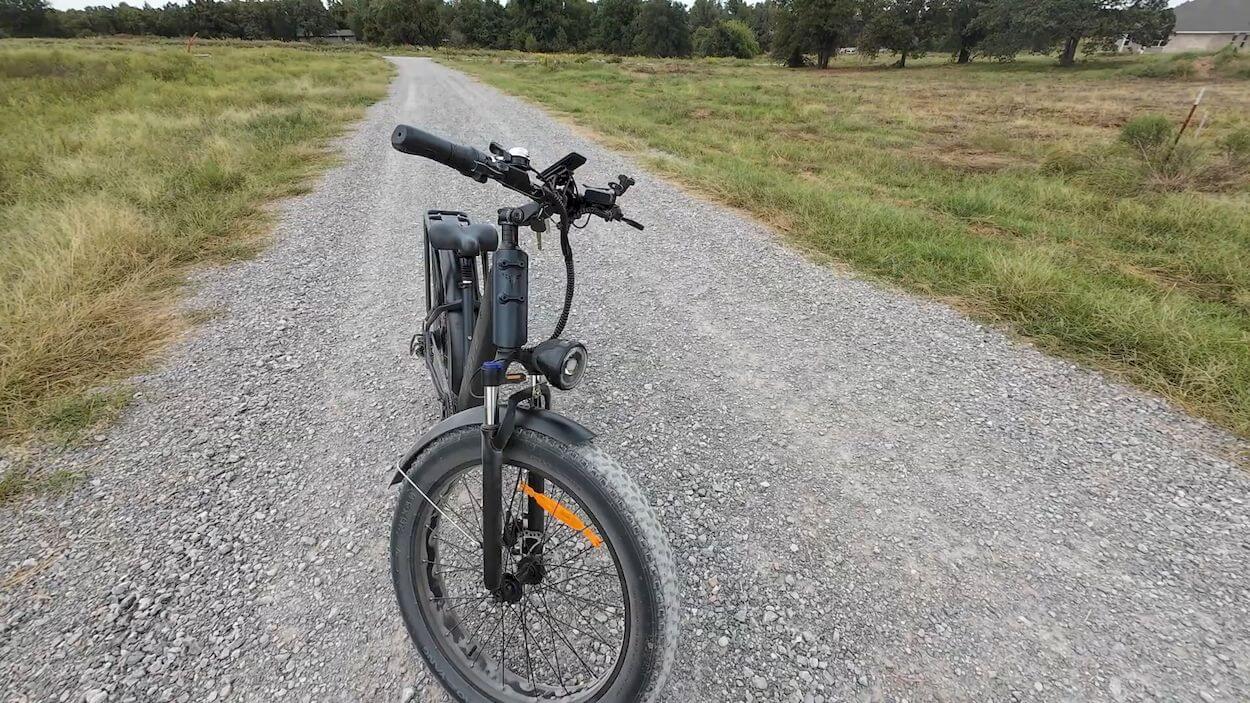 The bike provides practical utility with a metal shelf on the back capable of handling up to 25 kilograms (55 pounds) of cargo. This feature makes it an excellent choice for riders who need to transport items during their commutes or outdoor adventures.
Safety is further reinforced by the hydraulic brakes attached to 180-millimeter rotors. These brakes provide reliable stopping power, crucial for an electric bike with a powerful motor.
The Engwe E26 offers a user-friendly control interface. The ergonomic hand rests and intuitive pedal assist buttons make it easy for riders to operate the bike while maintaining a comfortable grip on the handlebars. The headlight and display controls are conveniently located for quick access.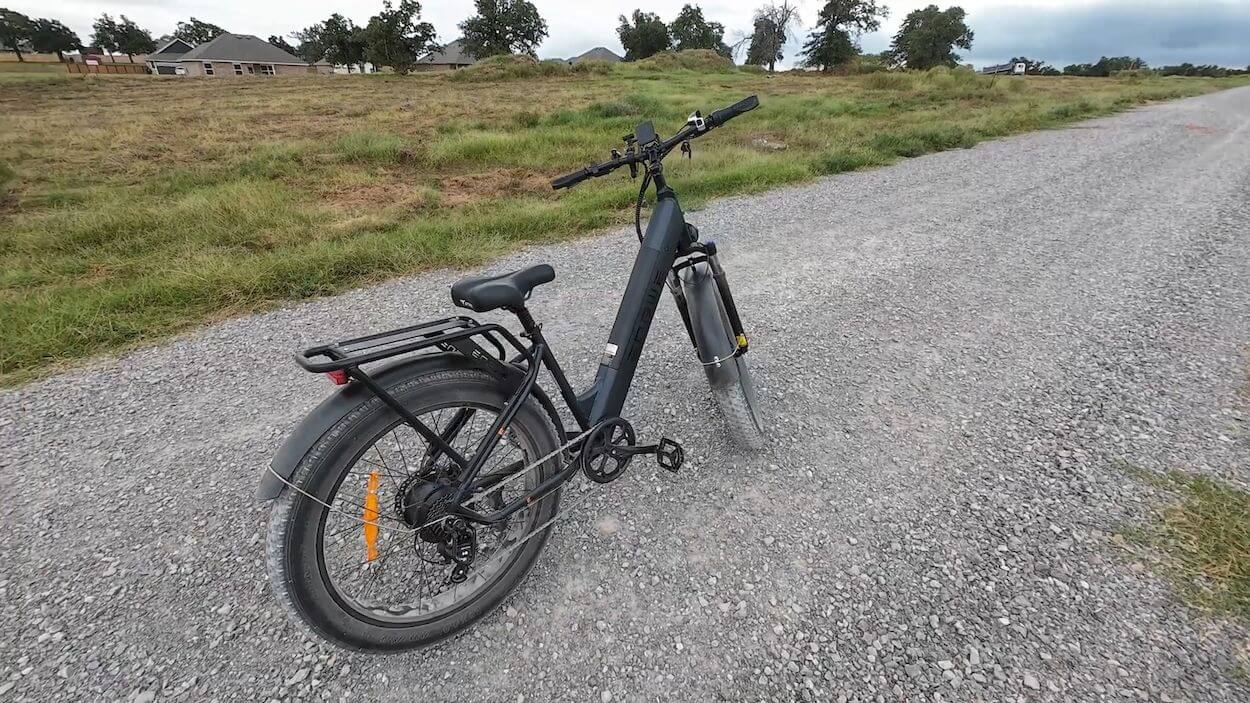 The bike features a vibrant color display that provides riders with essential information about their ride, including speed, battery level, and more. The display is visible even in bright sunlight and dims automatically when the headlight is turned on for better visibility.
So, the Engwe excels in both design and build quality. Its thoughtful features, such as the dual suspension system, robust frame, high-visibility lighting, adjustability, and reliable components, make it a solid choice for riders seeking a versatile and dependable electric bike. Whether you're commuting through the city or exploring off-road trails, the Engwe E26 is designed to deliver a comfortable and safe riding experience.
Engwe E26:
Motor
The motor's continuous output of 750 watts provides ample power for acceleration and maintaining high speeds, ensuring that riders can effortlessly conquer various terrains, including hills and rough trails. With a peak power output of 1000 watts, the Engwe E26 has that extra burst of energy when needed, making it a versatile choice for different riding scenarios.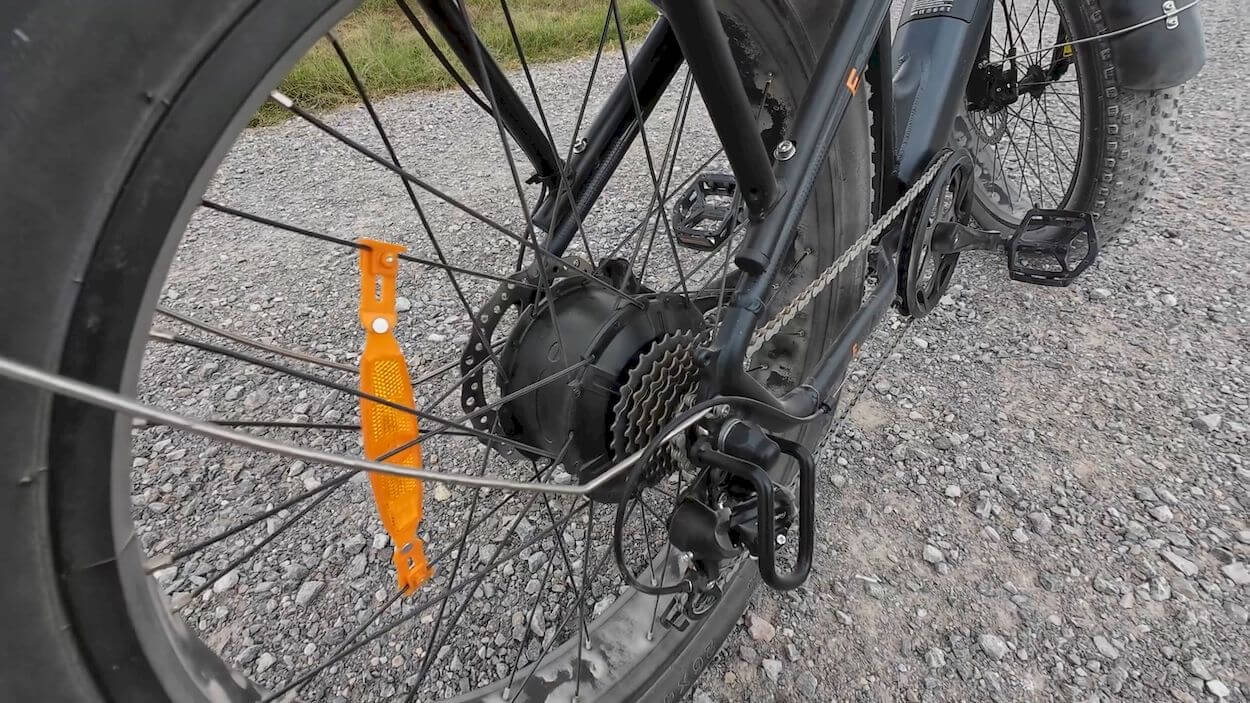 The E26 features wide 26 by four-inch fat tires. These oversized tires are designed to provide enhanced stability and traction. They are particularly well-suited for off-road adventures and challenging terrains, making the bike suitable for both urban commuting and recreational riding.
A standout feature of this motor is its ability to generate a substantial 70 Newton meters of torque. Torque is essential for an electric bike, especially when dealing with steep inclines and uneven surfaces. The high torque output ensures that the bike can easily tackle hills and rough terrain, providing a smoother and more enjoyable riding experience.
Driving Test
It's evident from your exhilarating ride that the Engwe E26 electric bike delivers an outstanding performance. Despite the unexpected camera malfunction and the construction zone temporarily closing your usual route, you've shared some remarkable insights into the bike's capabilities.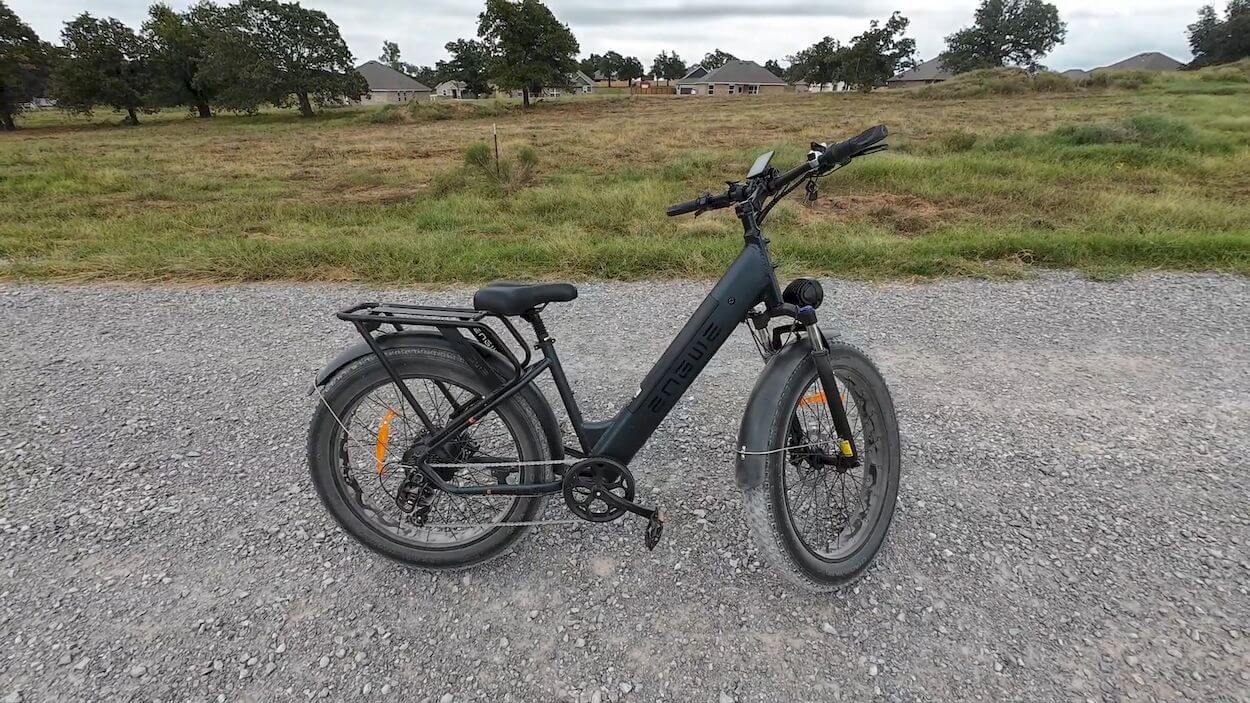 You started your ride on full throttle alone, highlighting the bike's ability to accelerate effortlessly. The 750-watt motor, with a peak of 1000 watts, demonstrated its impressive power output.
The Engwe E26's adaptability shone as you tackled a variety of terrains, from hills to loose gravel and smooth pavement. The bike effortlessly handled these conditions, thanks to its powerful motor and robust build.
You praised the Engwe E26's hydraulic brakes for their effectiveness and smooth operation. The ability to control your speed on challenging terrain is crucial for rider safety.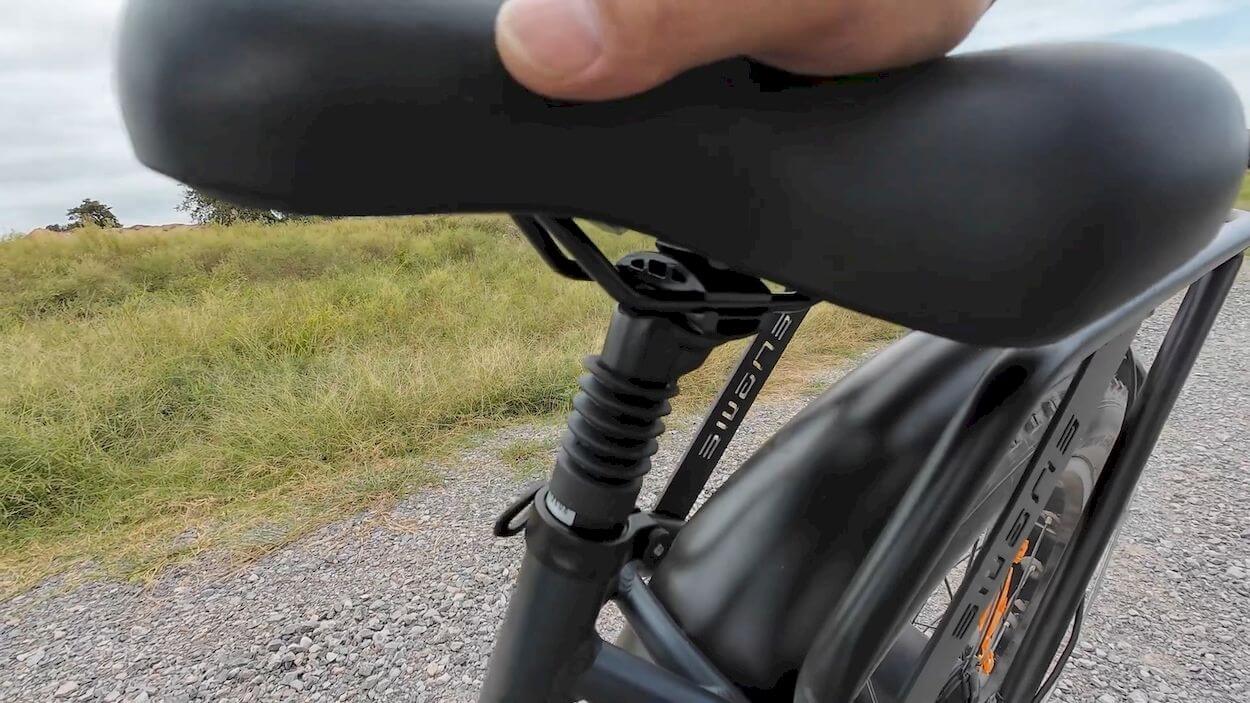 The dual suspension system, including the seat suspension and front suspension, proved to be effective in absorbing bumps and shocks on rough terrain, ensuring a comfortable ride.
Your ride showcased the bike's remarkable speed capabilities, reaching up to 31 miles per hour when pedaling. The motor's 70 Newton meters of torque made climbing hills seem effortless.
The bike's odometer was accurate, tracking your ride as you surpassed your intended mileage. This accuracy is essential for tracking your progress and planning future rides.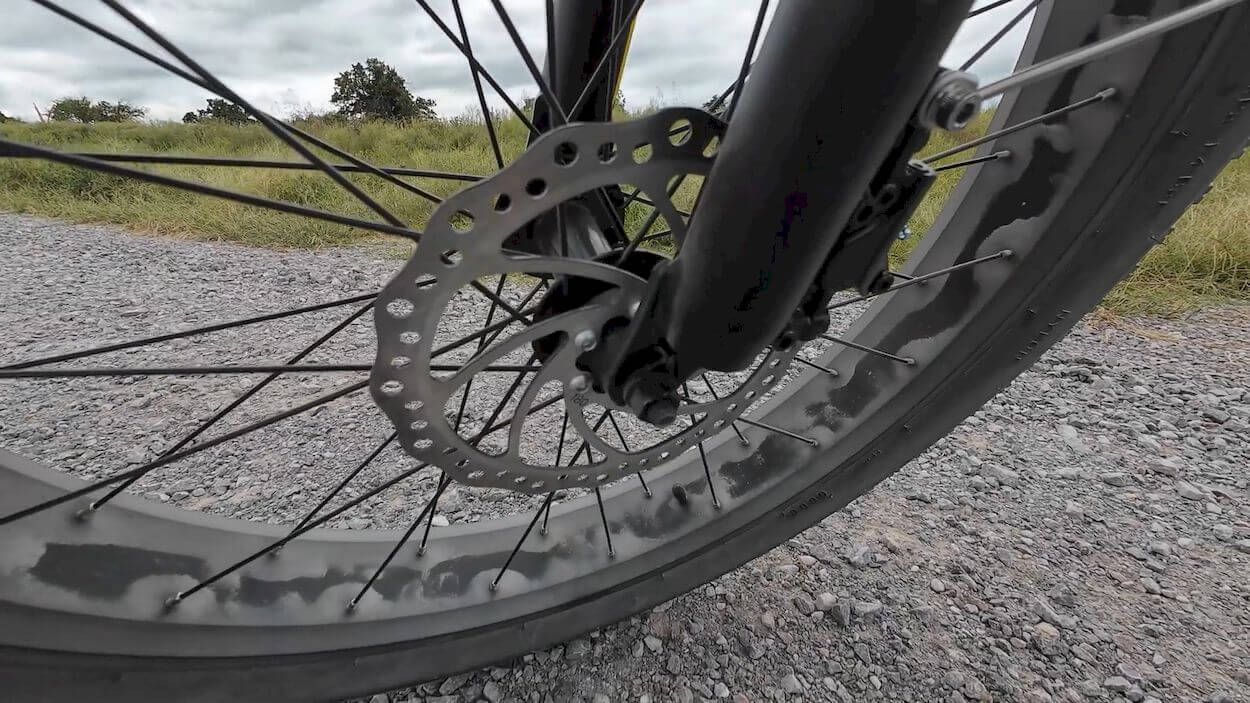 Despite the bumpy and challenging terrain, the E26 maintained stability, providing a secure and enjoyable riding experience.
Your ride was a testament to the Engwe E26's quality and performance. It handled various conditions with ease, and you noted that it's a solid, well-built, and enjoyable e-bike.
Battery and Range
The Engwe E26 boasts a substantial 48-volt, 16-ampere-hour (Ah) lithium-ion battery. This generous battery capacity provides ample energy storage to power the bike's 750-watt motor effectively.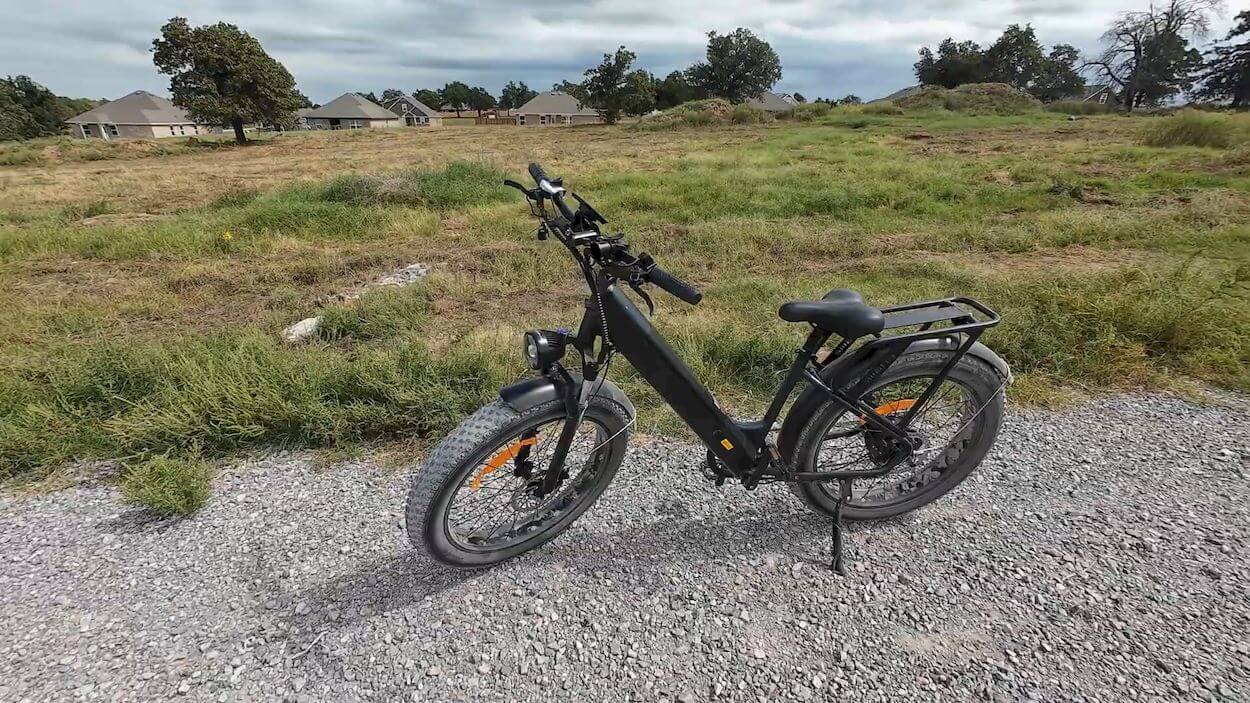 With this battery, the Engwe is capable of achieving an astonishing range of approximately 87 miles when using pedal assist. This range is achieved by efficiently combining pedal power with the electric motor's assistance, making it ideal for longer commutes or leisurely rides through scenic routes.
Recharging the battery is a straightforward process, with a charging time of around six hours from empty to full. This relatively short charging time allows riders to replenish the battery overnight or during a break, ensuring that the bike is always ready for your next adventure.
During your ride, you observed that after covering eight miles, the battery had only depleted one of its five bars, indicating that only about 20% of the battery's capacity was used. This showcases the bike's impressive efficiency, and you expressed confidence that it could easily achieve more than 10 miles per bar, translating to an estimated 50 miles or more on a single charge.
The bike offers various riding modes, including throttle-only and pedal assist modes, allowing riders to choose the level of electric assistance they prefer. You noted that even in pedal assist mode 5, with occasional pedaling, the bike could comfortably achieve a range of 40 to 50 miles, making it a practical choice for various riding styles.
While you didn't specifically mention battery health, it's worth noting that lithium-ion batteries are known for their durability and long lifespan when properly maintained. Regular charging and storage within recommended temperature ranges can help prolong the battery's life.
Conclusions
In conclusion, we've explored the Engwe E26 electric bike in detail, and it's clear that this bike offers a remarkable combination of quality and affordability. Before we wrap up, a big shoutout and heartfelt thanks go out to Engwe for providing the E26 for this review.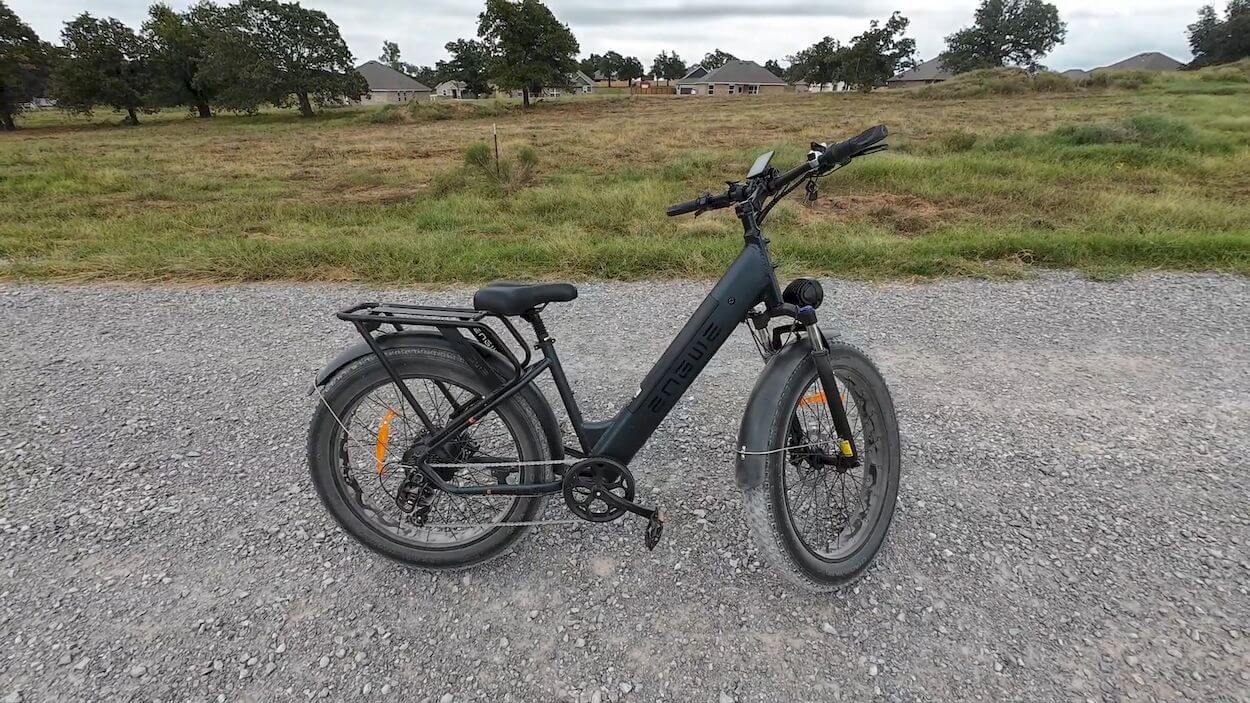 The E26 is nothing short of a fantastic value proposition, offering an impressive range of features, a powerful motor, sturdy build quality, and an exceptional battery at an unbelievably competitive price point. It's a bike that delivers a high level of performance without breaking the bank, making it an excellent choice for riders seeking both quality and affordability.
As you embark on your biking adventures with the E26, remember to stay safe out there on the roads and trails. Whether you're using it for your daily commute or exploring new terrains, this bike is designed to provide an enjoyable and reliable riding experience.
Thank you for joining us in this review, and if you're interested in checking out the Engwe E26 for yourself, be sure to find the link below this article. With this bike, you'll have the opportunity to explore new horizons and experience the thrill of electric biking without the hefty price tag. We look forward to seeing you in the next adventure, so ride on and enjoy the journey!
Alternatives of Engwe E26