Stay with me, as the Engwe X26 has the potential to carve its place as a legend in the electric bike world, primarily due to an aspect as crucial for both you and me: battery life. Welcome to Avis Express where we delve into the test and review of the X26.
This impressive dual-battery capacity serves to energize a robust rear-positioned motor, generating a remarkable 750 watts of power. In moments of peak demand, the motor can unleash an impressive 1000 to 1250 watts, depending on the data source you consult.
The Engwe X26 presents an impressive combination of features, power, and innovation. This exceptional electric bike is offered at a price of $1,899, with an additional incentive of $100 off the regular price of $1,999. This pricing structure provides an opportunity for riders to access a high-performance electric bike with advanced features at a competitive and attractive rate.
As we venture deeper into our assessment of the Engwe X26, we'll continue to unravel its remarkable features and uncover the extent to which it can redefine the electric bike landscape. Stay tuned for more insights and revelations in our ongoing exploration of this remarkable electric bike.
| | |
| --- | --- |
| Frame: | 6061 Aluminum Alloy |
| Motor: | 1200w(peak) |
| Torque: | 70 N.m |
| Brake: | Hydraulic Disc Brakes |
| Transmission System: | Shimano 8 Gears |
| Max Speed: | 20-25Km/h |
| Tire Size: | 26 X 4.0 Inches |
| Battery 1: | 48v 19.2ah Lithium-Ion Battery |
| Battery 2: | 48v 10ah Lithium-Ion Battery |
| Mileage: | 100 Km (electric Mode) |
| Bike Weight: | 90.39LBS (41KG) |
| Gross Weight: | 112.44LBS (51KG) |
| Maximum Load: | 330lbs (150kg) |
Design and Build Quality
The Engwe X26 is an impressive and distinctive fat bike that stands out for its classic yet rugged design and exceptional build quality. With its larger-than-life dimensions and motorcycle-inspired aesthetics, the X26 exudes a unique charm that captures the attention of bike enthusiasts and casual riders alike.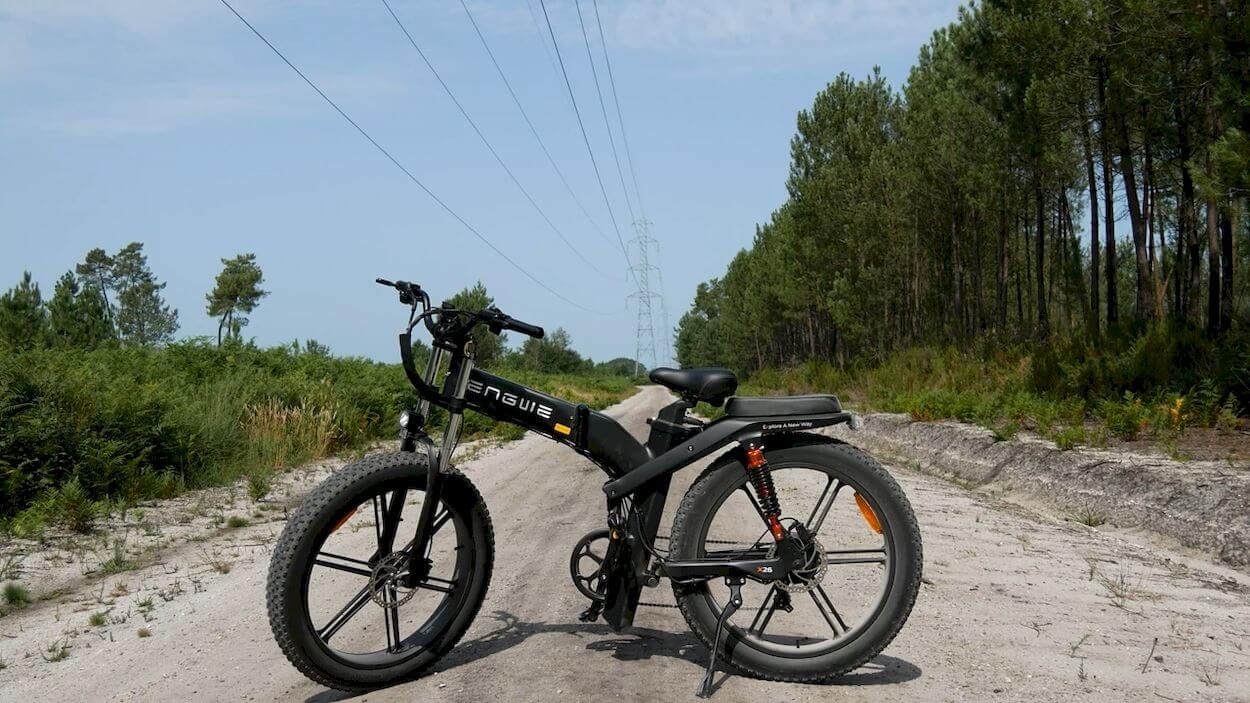 Measuring a substantial 92 meters in length, the X26 is a truly imposing presence. The use of 26-inch diameter tires contributes to its larger-than-life appearance, although, due to its fatbike nature, it's more akin to the size equivalent of a 29-inch wheel. The 4-inch wide tires enhance its fatbike identity, showcasing its ability to tackle diverse terrains with ease while providing stability and grip.
The frame of the Engwe X26 is crafted from a durable aluminum alloy, blending sturdiness with a touch of elegance. This alloy construction not only ensures the bike's robustness but also contributes to its relatively manageable weight of 41 kg, considering its size and capabilities.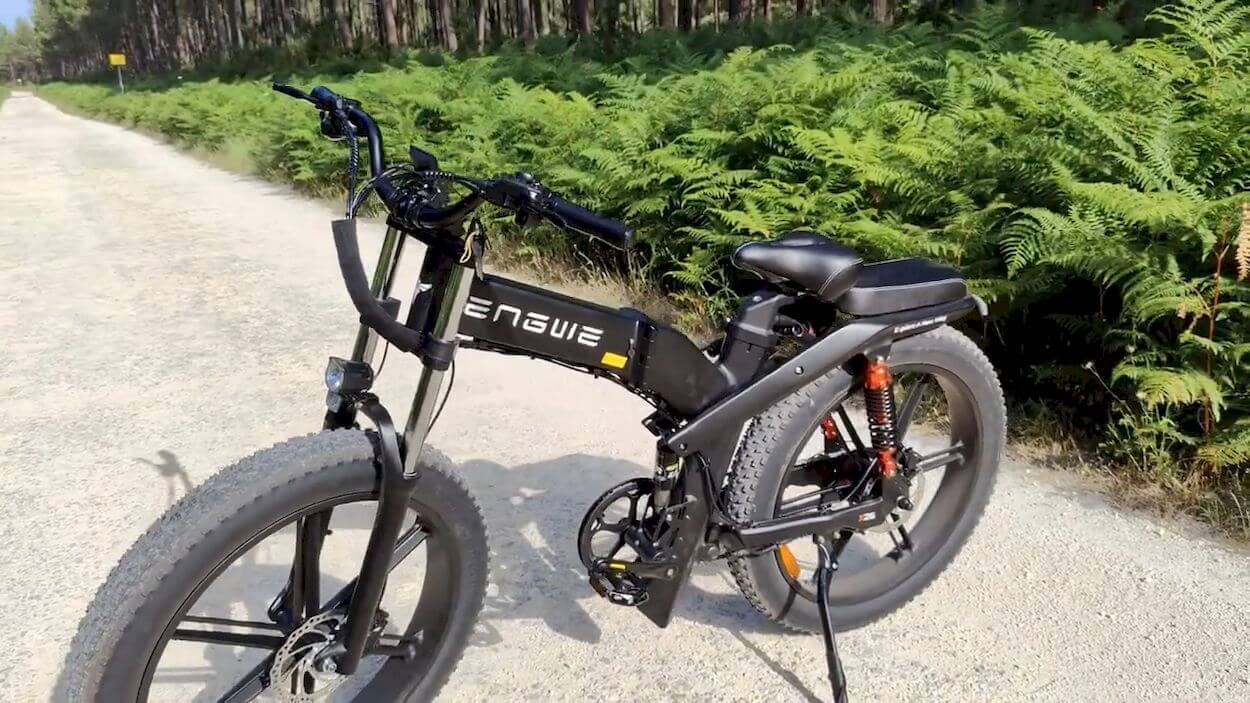 What sets the Engwe X26 apart is its unique design language. While the front of the frame may carry a hint of familiarity with angular features seen on other bikes from different brands, the X26 has refined these elements over time, creating a distinct and recognizable front-end appearance.
However, the real innovation comes in the form of the rear part of the frame. The X26 boasts an ingenious system for moving the rear passenger, which is an uncommon feature on bicycles. This innovative design allows the X26 to accommodate up to approximately 150 kg of weight, making it suitable for both the rider and a passenger. The dual rear suspension setup ensures a comfortable and smooth ride, absorbing bumps and shocks to provide a comfortable experience for both the rider and the passenger.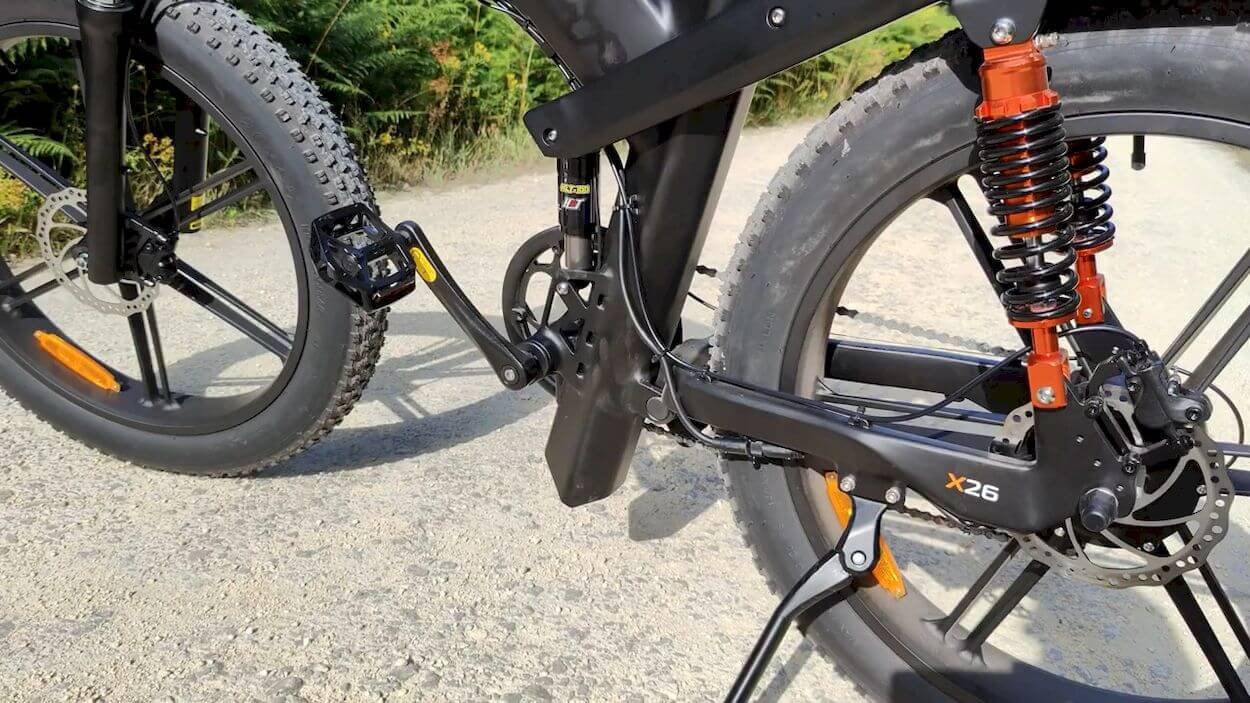 The adjustable front suspension further contributes to the X26's versatility, allowing riders to fine-tune their riding experience based on the terrain and personal preferences. 
One of the notable features of the Engwe X26 is its foldable design. This feature adds a layer of convenience to the bike, enabling riders to easily transport it in their cars or store it in limited spaces.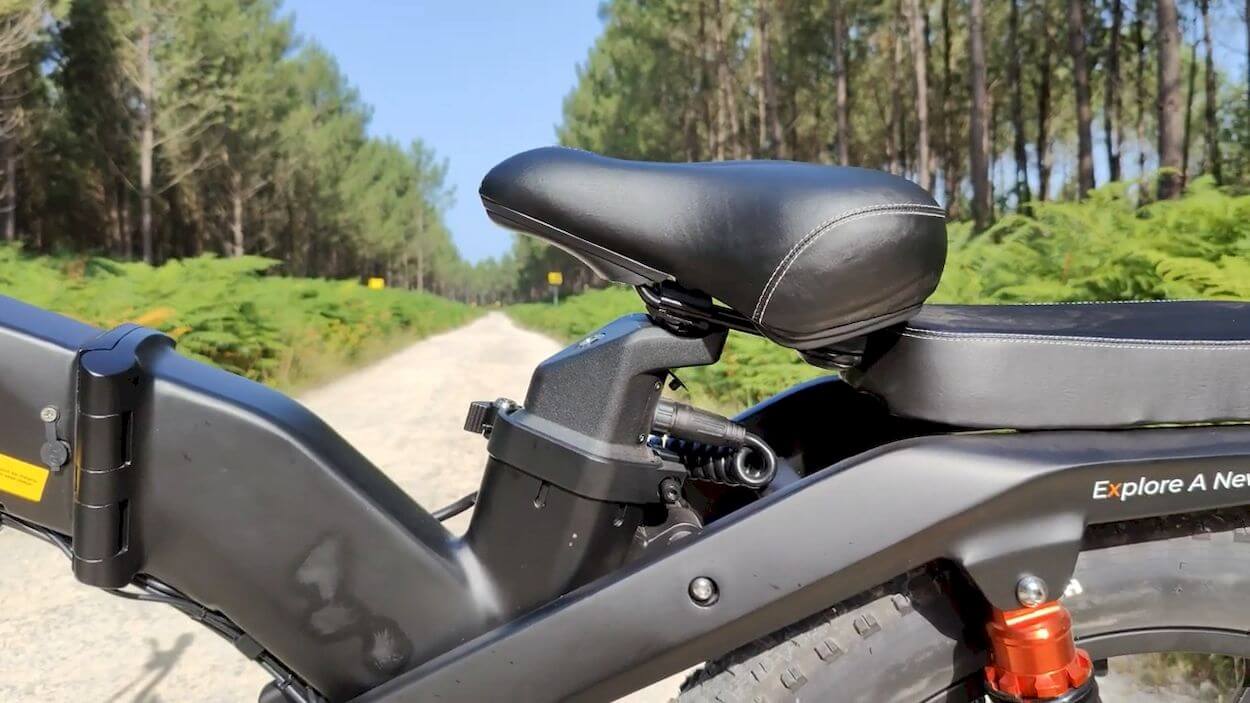 The folding mechanism of the X26 is not just for space-saving during transportation, but it also serves as a means to access and interchange the bike's batteries. By utilizing the lever located on the bike, you can not only fold the bike for easy storage but also remove the 7.5 amp-hour battery. This clever design allows you to swap out the main 19 amp-hour battery, which is discreetly housed within the saddle.
To access the main battery nestled within the saddle, a small pin lock mechanism is employed. The locking mechanism provides security and ensures that the battery remains safely in place during your rides. This security is further enhanced by the inclusion of two keys, which are thoughtfully included in the package.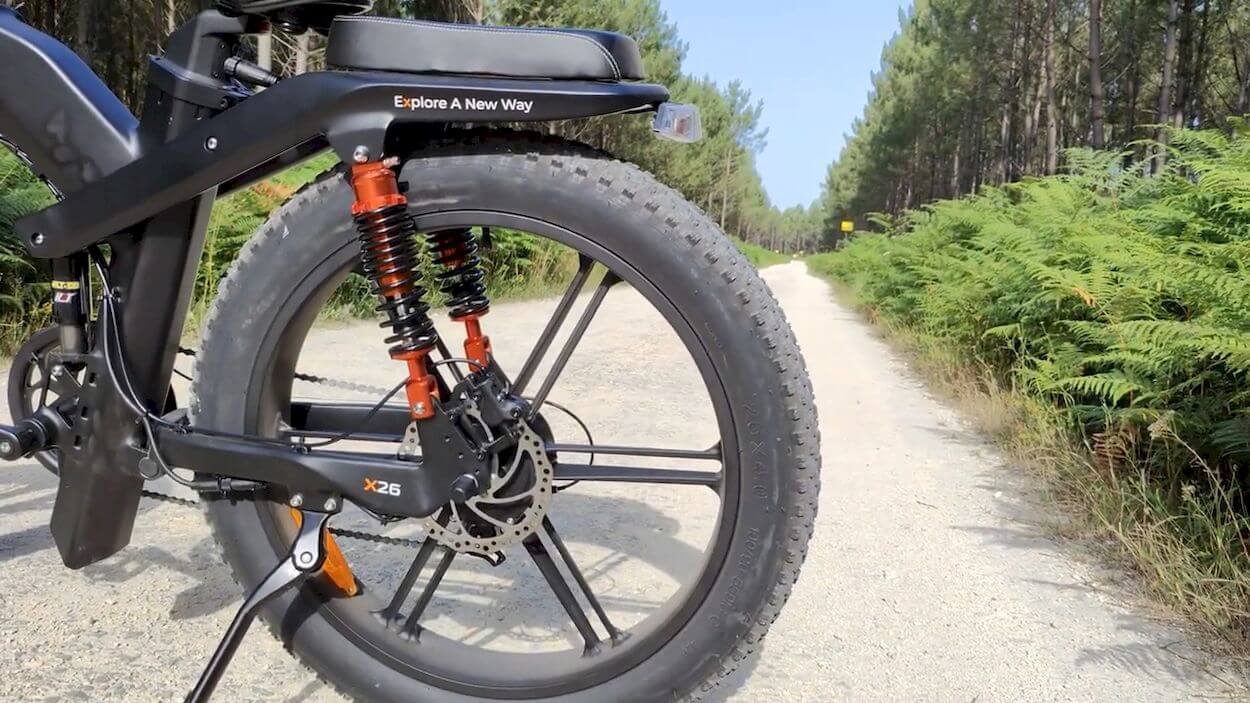 The design of this battery system exhibits a seamless integration of practicality and security, aligning with Engwe's dedication to crafting a comprehensive and user-friendly riding experience. By allowing easy removal and replacement of the main battery, Engwe empowers riders to extend their journeys without the constraints of limited battery life.
As for the seat post, it is worth noting that it contains both the batteries and is relatively low to the ground, at around twenty centimeters in height. This design choice accentuates the bike's climbing capabilities, catering to riders who seek to conquer various terrains. However, riders must exercise caution to prevent the seat post from coming into contact with potential obstacles or uneven terrain that could obstruct the bike's progress.
Size and compatibility
The Engwe X26 is undeniably a bike built for larger riders, showcasing its substantial size and robust construction. When considering its dimensions, it becomes evident that this bike is not designed to cater to a wide range of height preferences, but rather to offer a specialized experience for those who fall within its target size range.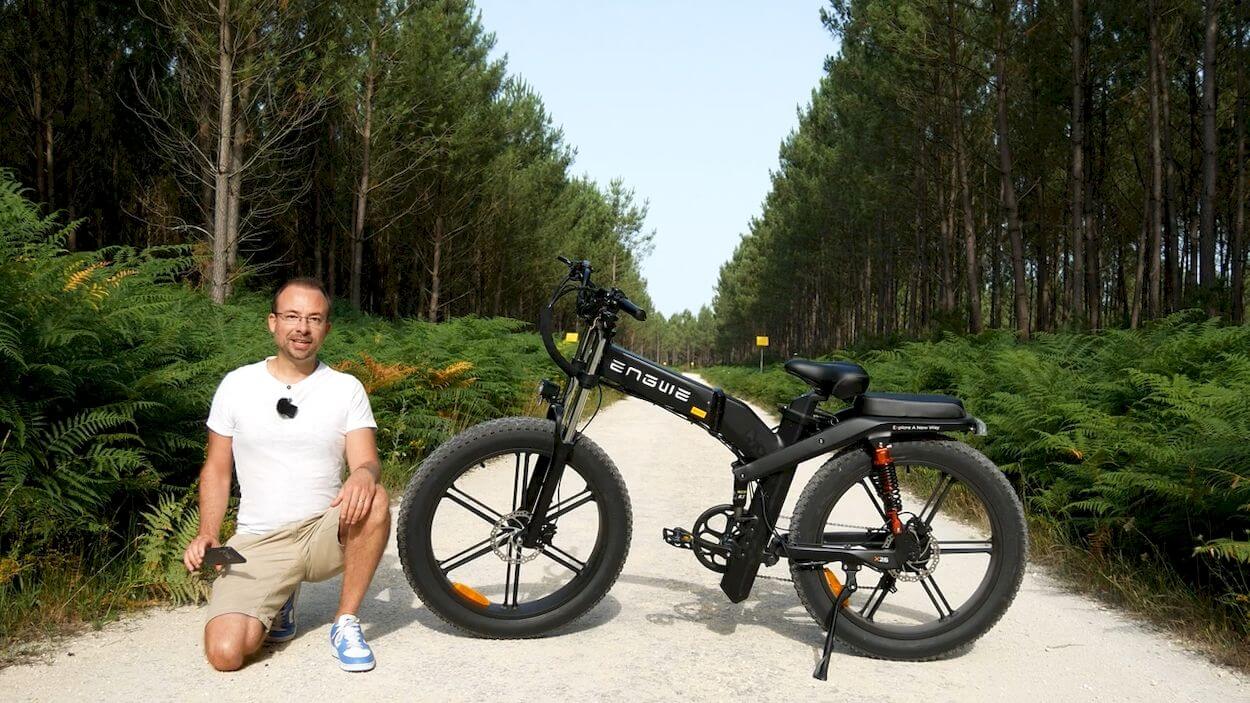 Traditionally, many 26-inch bikes feature adjustable frames (referred to as A, B, and C frames) that allow riders of varying heights to comfortably ride the bike. However, the Engwe X26 departs from this norm. To ride this bike comfortably, you'll need a minimum height of around 1.75 meters (approximately 5 feet 9 inches). This places it in the realm of taller individuals, and the bike is optimized for those who are taller than the average rider.
For riders around the height of 1.70 meters (approximately 5 feet 7 inches), the Engwe X26 might not be the most suitable option. Instead, the Engwe X24, a smaller and more accommodating version, would be a better fit. This demonstrates the clear distinction in Engwe's product lineup, where the X26 caters to a very specific height range.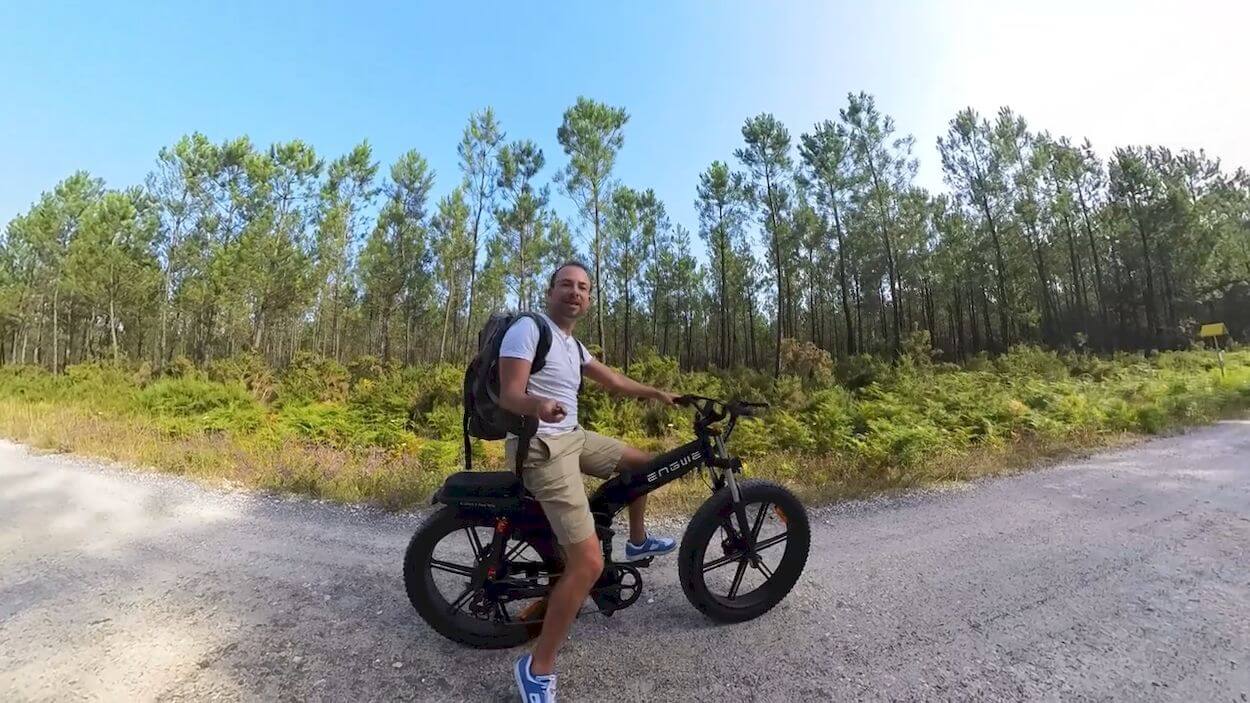 The X26 truly shines for riders around 1.90 to 1.95 meters (approximately 6 feet 3 inches to 6 feet 5 inches) and potentially even taller. The saddle's adjustability is notable, capable of accommodating riders up to 2 meters (approximately 6 feet 7 inches) without any issue. This generous adjustability allows for a comfortable fit for taller individuals, ensuring they can ride the bike without feeling cramped or uncomfortable.
The Engwe X26's focus on catering to larger riders extends beyond just its dimensions. The bike is also equipped with features that align with its specialized purpose. While the specifics of its equipment aren't detailed in your initial text, it's clear that the bike is thoughtfully designed and well-equipped to handle the demands of taller and potentially heavier riders.
Handlebars and braking system
The Engwe X26 impresses with its thoughtful and sophisticated features, starting from the handlebars and braking system. This bike exemplifies a commitment to delivering a mid to high-end experience, showcasing the brand's dedication to quality and performance. In particular, the choice of hydraulic braking demonstrates the careful consideration that Engwe puts into their products, aligning with industry standards and the expectations of discerning riders.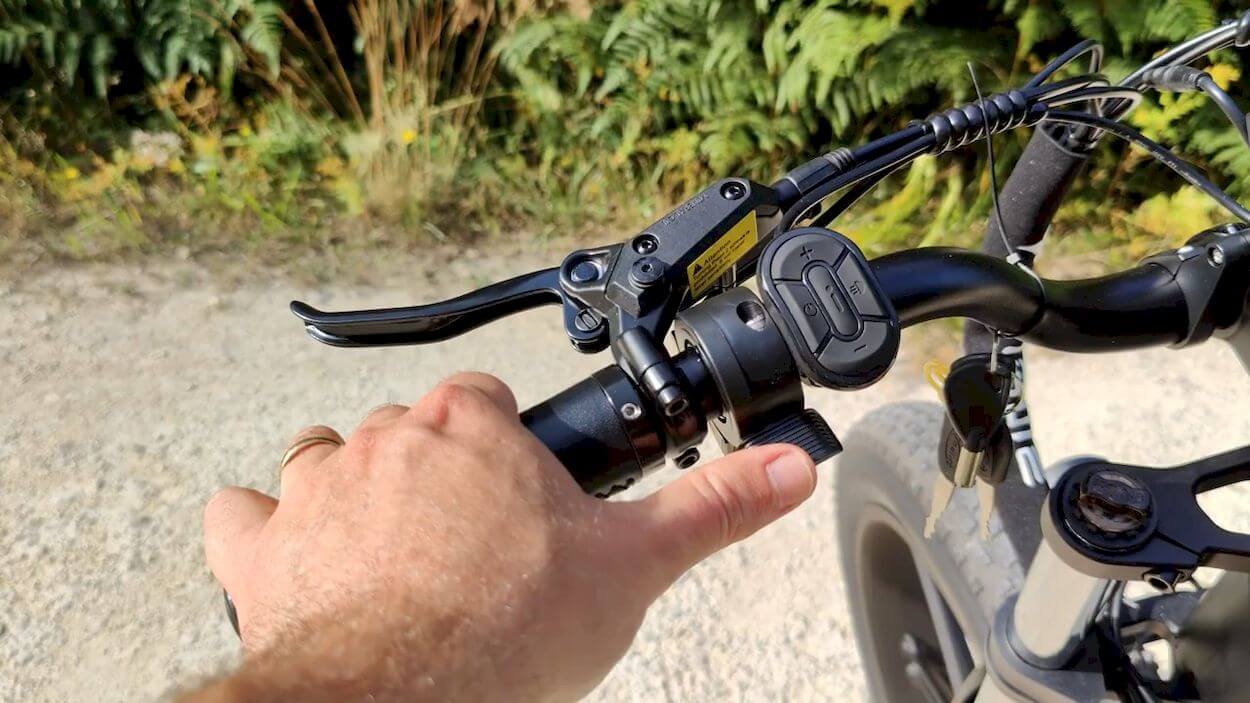 Hydraulic braking is a hallmark of quality and precision in modern bicycles, and Engwe has adeptly incorporated this technology into the X26. Known for its consistent and powerful stopping power, hydraulic braking is an ideal choice for a bike that aims to deliver a top-tier riding experience. The intuitive control and modulation offered by hydraulic brakes enhance rider confidence and safety, allowing for smooth deceleration and precise control over various terrains.
A notable innovation on the Engwe X26 is the placement of the throttle control on the left side of the handlebars. While it's common to find throttle controls on the right side, Engwe has bucked the trend and positioned it on the left. This unique choice adds an element of ergonomic design and convenience, ensuring that riders can comfortably and easily control the throttle with their preferred hand. It's these subtle yet impactful design decisions that set the X26 apart and highlight the brand's attention to user experience.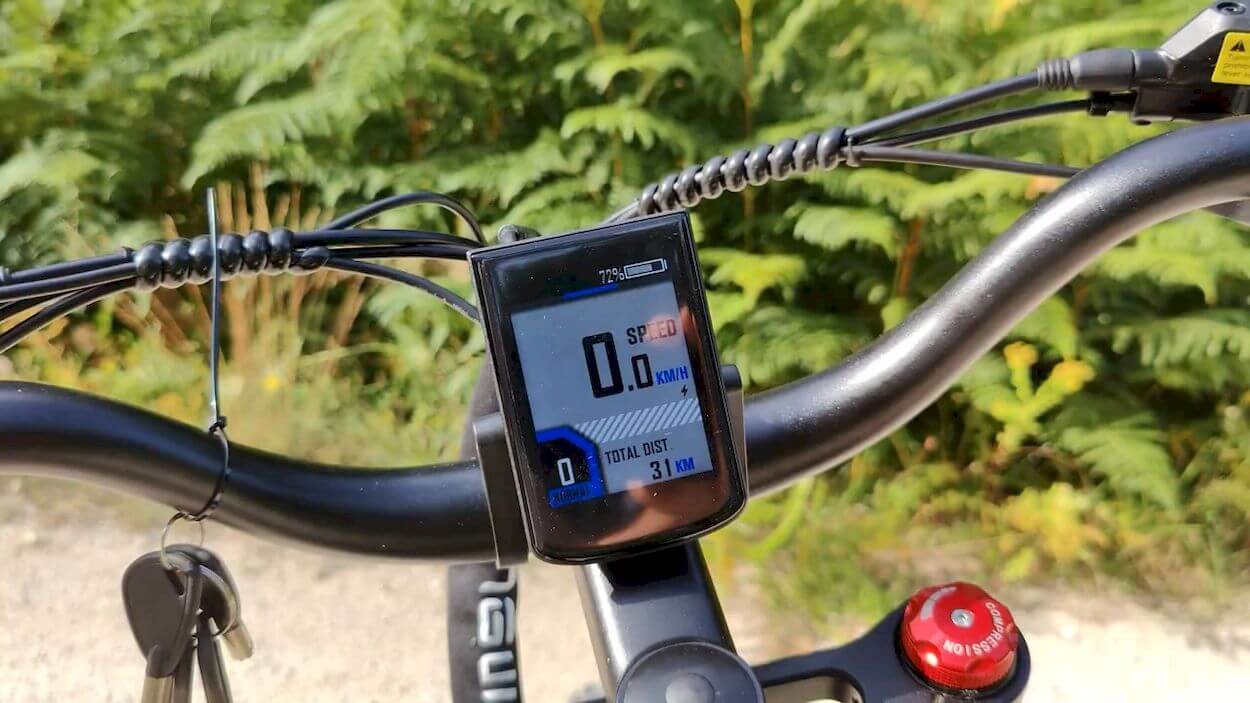 Moving to the control panel, Engwe continues to exhibit its understanding of user needs. The display, while not a touchscreen, is designed to provide riders with essential information in a clear and accessible manner. Upon turning on the bike, the display showcases the Engwe logo, hinting at the brand's pride and confidence in their product. The color and design of the display contribute to a cohesive and visually pleasing interface.
The fixed screen provides a range of important details, including remaining battery life, which adjusts based on the current battery level. This feature allows riders to accurately plan their rides and manage their battery usage. Moreover, the ability to turn the battery on or off during a ride using a dedicated button adds an extra layer of convenience, demonstrating Engwe's commitment to user-friendly design.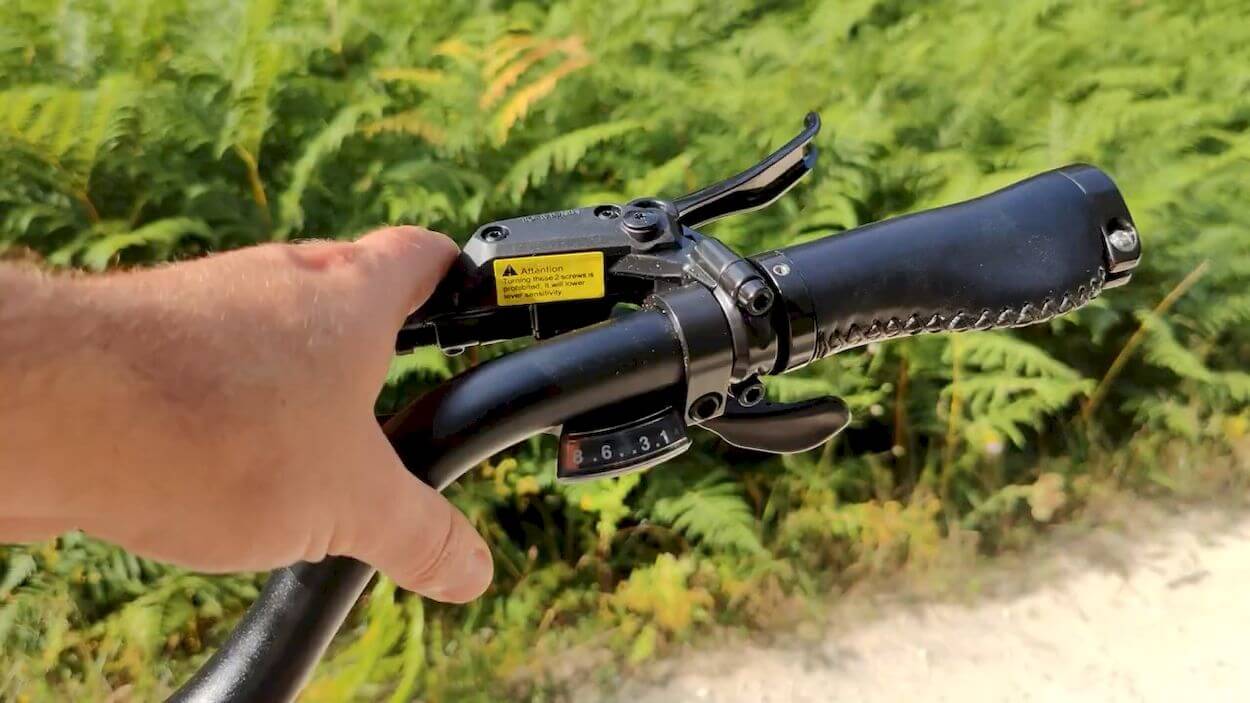 The control panel also includes a speedometer, displaying the current speed, and keeps track of the total distance traveled. These metrics are essential for monitoring performance and maintaining a clear understanding of the ride's progress. Additionally, the control panel likely provides access to various settings and customization options, further enhancing the rider's ability to tailor the bike to their preferences.
Derailleur and Lights
The Shimano derailleur, in this case, operates with 8 sprockets and a chainring, a setup that bears significant importance. The reasoning becomes evident when considering the bike's capacity to reach high speeds. At elevated speeds, which the Engwe X26 is certainly capable of achieving, the gear configuration ensures that riders won't encounter the common issue of pedaling in vain, commonly experienced at speeds around forty kilometers per hour. The design precludes the sensation of futile pedaling due to a well-configured gear ratio.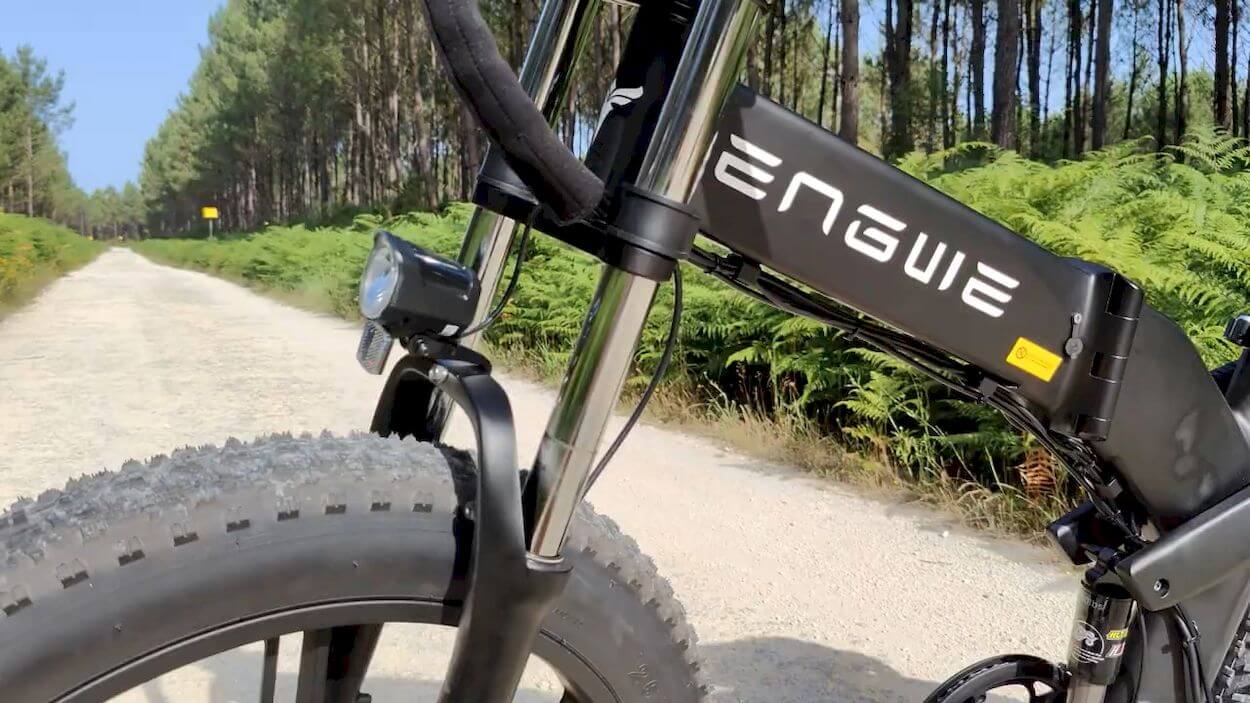 A key feature gracing the bike's exterior is the presence of a kata dioptre located on both the front and rear wheels. This addition enhances visibility and safety, particularly when riding in low-light conditions or at night. Moreover, the pedals on the Engwe X26 are equipped with anti-slip features, a seemingly small detail that significantly enhances the overall riding experience.
Delving into the rear of the bike, one finds a rear light, further contributing to safety and visibility. While the presence of a rear light is a welcome feature, an indicator light would have been an additional asset, serving as a thoughtful enhancement to the bike's safety measures.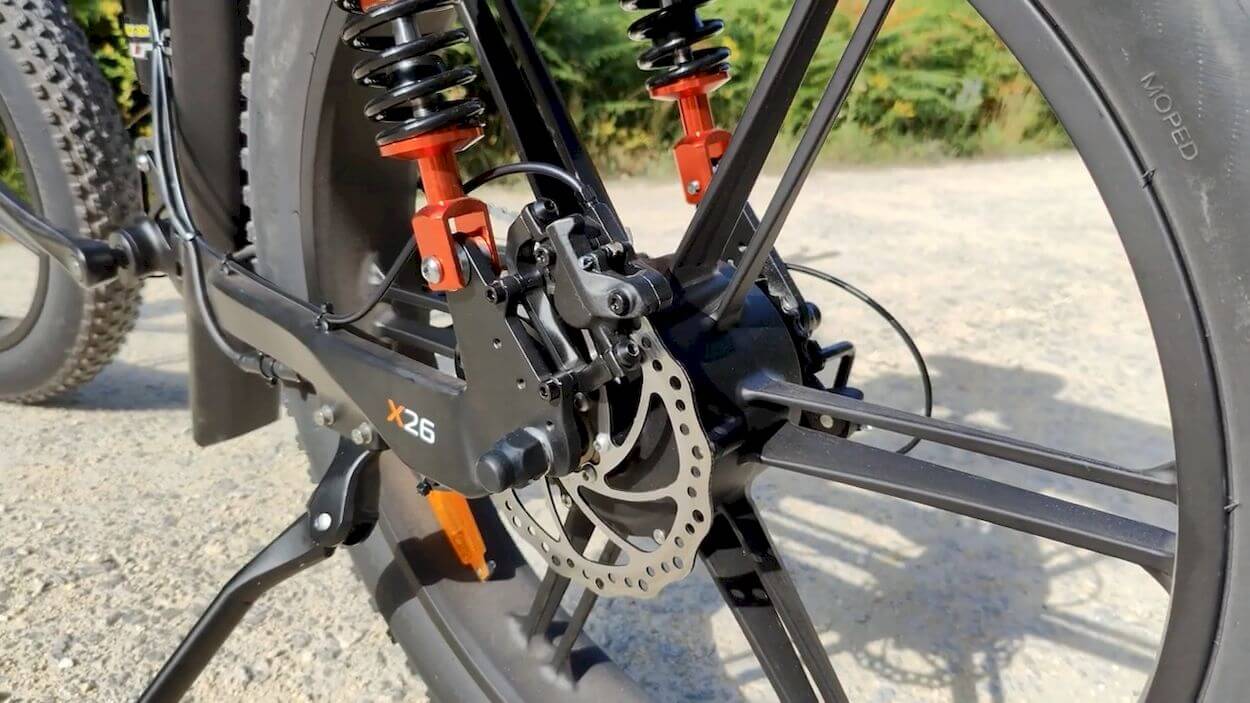 A particularly impressive aspect of the Engwe X26's design is the presence of not four, but five pistons integrated within the bike's architecture. The pistons located at the rear of the bike are intended to augment the comfort of a potential rear passenger, reinforcing the bike's passenger-friendly nature. Furthermore, a piston is situated at the frame level for the central part of the bike, while two pistons are incorporated into the fork. These piston-based features collectively contribute to a smoother and more comfortable riding experience, and they exemplify the brand's attention to rider comfort.
Engwe X26:
Driving test and Comfort 
The bike's responsiveness is another standout aspect. With a powerful 750-watt motor in the rear (capable of 1000 watts peak), the acceleration is controlled and managed effectively. Engaging the motor results in gradual and controlled power delivery, making for a swift takeoff without abrupt surges. This measured approach to power enhances the overall riding experience, maintaining a sense of control while providing ample acceleration.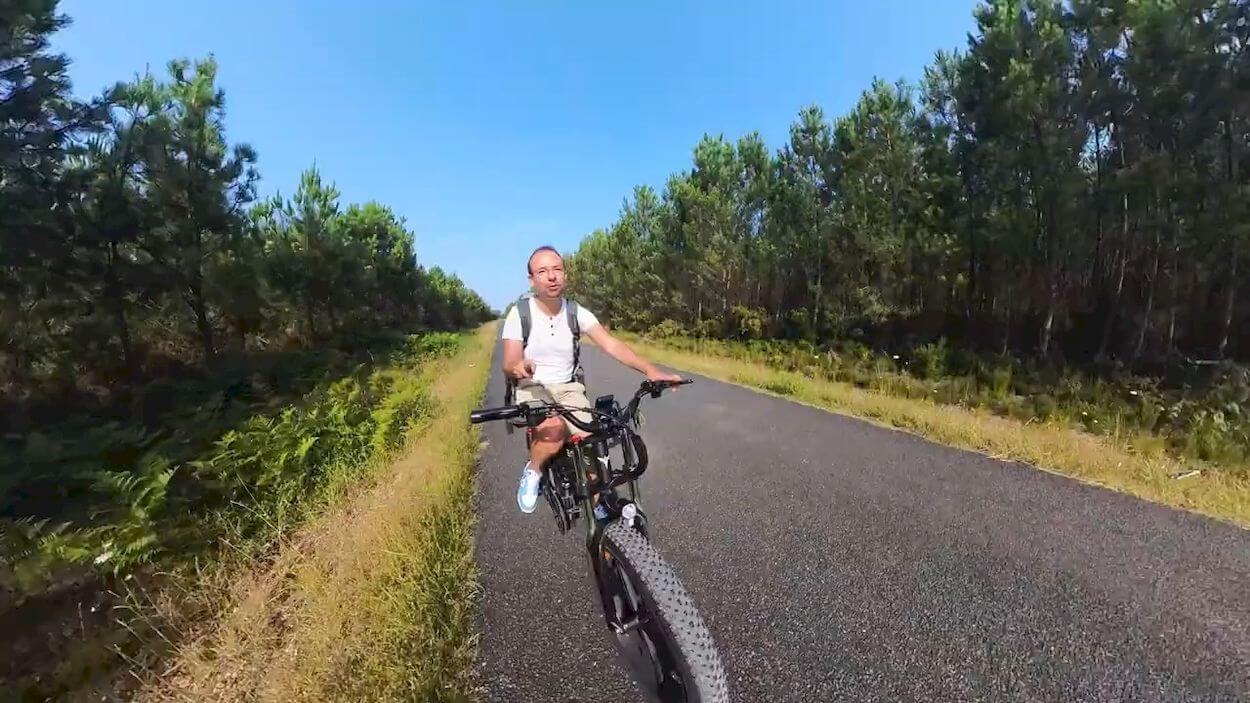 The Engwe X26 provides an engaging riding experience with a plethora of features and capabilities that stand out. Starting with the pedal assist, riders will notice that in order to engage the electric motor, a half-turn of the pedals is required. This mechanic is especially useful when approaching inclines. If facing an uphill gradient, downshifting gears or utilizing the throttle might be necessary for a smoother ascent. The Engwe X26 has a thorough grasp of this aspect, ensuring that riders can effortlessly navigate varying terrains and conditions.
One striking feature of the X26 is its suspension system. Boasting both front and rear suspension, the bike absorbs road irregularities and provides a remarkably smooth ride. The rear suspension, especially, ensures a cushioned experience for riders and passengers alike. This is further enhanced by the soft luggage rack suspension, contributing to an incredibly comfortable journey even on bumpy roads or uneven terrains.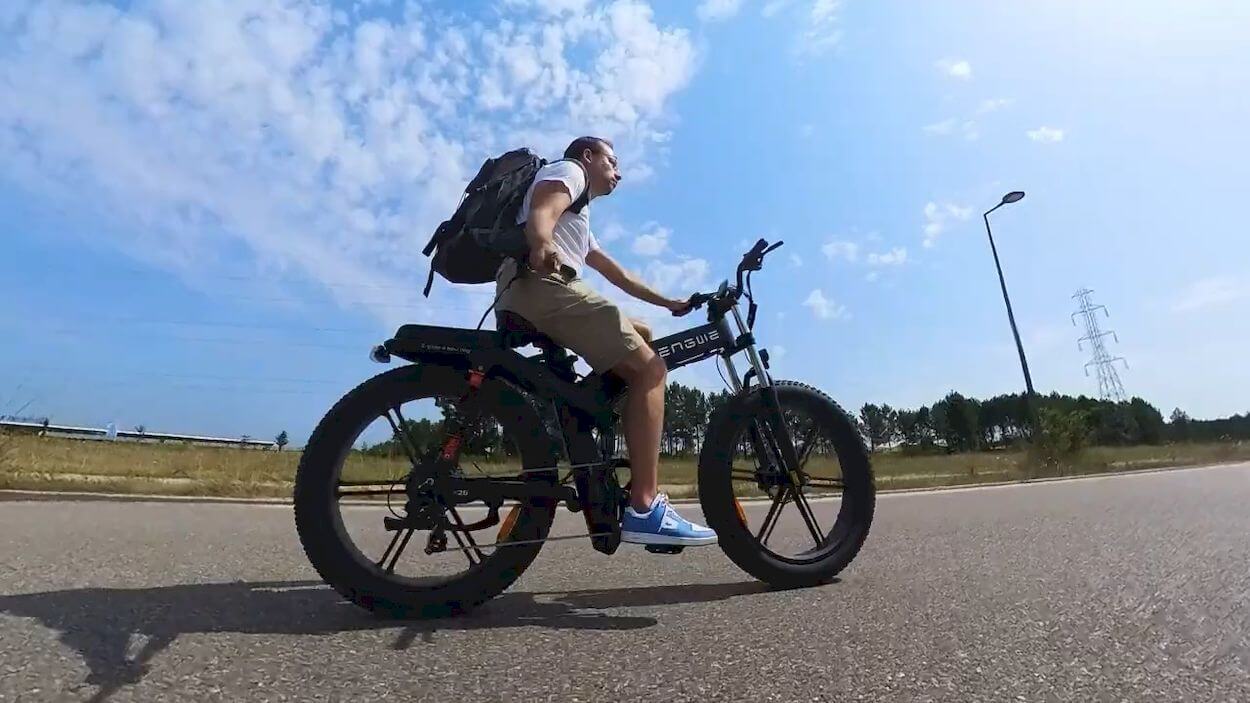 Regarding the electric assistance modes, the X26 offers various speeds based on the selected mode. From Mode 0 providing no assistance, to Mode 1 at 6 km/h, Mode 2 at 12 km/h, Mode 3 at 17 km/h, and finally, Mode 4 at 25 km/h. Mode 5 pushes the bike beyond the 25 km/h limit, demonstrating the X26's prowess and its ability to effortlessly reach speeds of up to 44 km/h. However, it's essential to adhere to local regulations and restrictions when selecting these modes, particularly on public roads.
In terms of handling and control, the X26 shines with its hydraulic double disc braking system. The hydraulic brakes provide a smooth and precise stopping experience, offering excellent modulation and control. In braking tests, the X26 showcased remarkable performance, stopping from 25 km/h in approximately 4 meters and from 40 km/h in around 11 meters. These distances underscore the bike's strong braking capabilities and ensure safety during rides.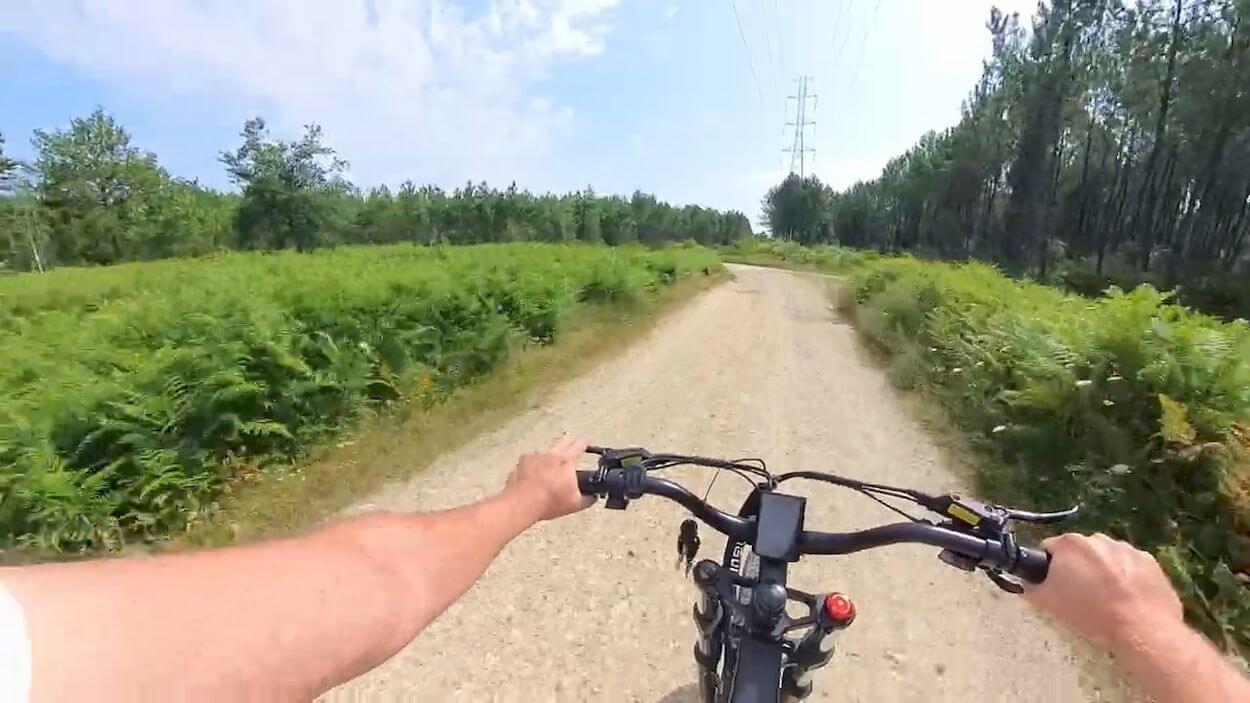 The bike's comfort is further enhanced by its 26-inch tires. This tire size is a personal favorite of mine and many other riders due to its ability to absorb road irregularities effectively. Riding on 26-inch tires provides a smoother journey by mitigating the impact of bumps and uneven surfaces.
It's important to acknowledge the bike's responsive acceleration, especially when utilizing the throttle. The X26 exhibits a controlled and gradual increase in power, ensuring a smooth and enjoyable ride. The electric motor's power delivery is expertly calibrated, allowing for a swift takeoff without any jarring or sudden surges. 
Battery and Range
After having tested approximately fifty electric bikes encompassing a wide range of motorizations and battery sizes, I can confidently state that the Engwe X26 holds a remarkable record that stands above the rest. Achieving an astounding 70 km of travel on a single charge is an achievement that speaks volumes about the X26's capabilities.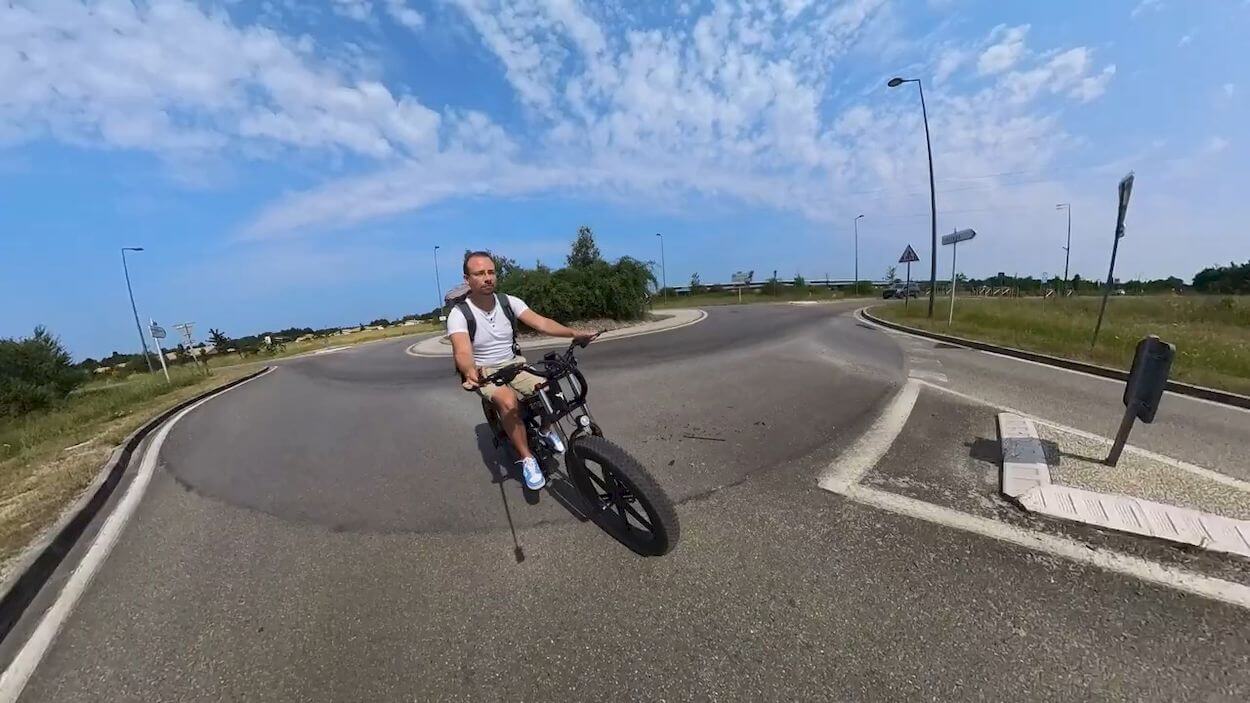 It's essential to note that claims of exaggerated battery range often pervade the internet, especially on platforms like Aliexpress. However, I am presenting real-world figures that accurately represent the X26's capabilities. In pure electric mode, without any pedaling assistance, the X26 managed to achieve 70 km of travel, debunking the inflated claims that often circulate.
This accomplishment demonstrates that the X26 is a true performer in terms of battery efficiency. It surpasses the previous record holder, the Gunai MX25, which achieved just over 60 km with a similar battery configuration. Most electric bikes typically offer around 40 km of pure electric range. The X26's 70 km range is truly exceptional and sets it apart as a top contender in the electric bike market.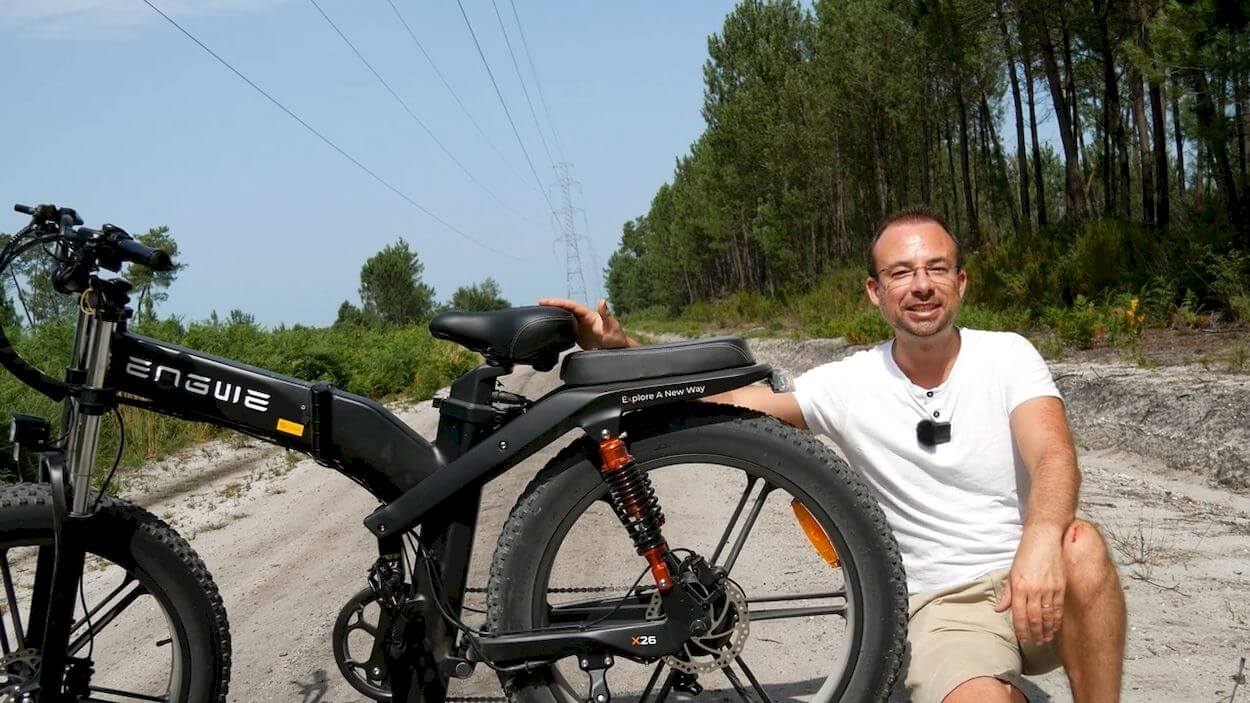 As the battery's charge diminishes, the speed will gradually decrease. However, even at 30% battery capacity, the X26 continues to provide substantial performance, achieving speeds of around 38.5 km/h. This steady decline in speed as the battery depletes showcases the bike's consistent power delivery and efficient energy utilization.
Conclusions
The Engwe X26 emerges as a standout electric bike that seamlessly combines performance, comfort, and versatility. With its sophisticated engineering and attention to detail, the X26 showcases several remarkable features that set it apart from the competition.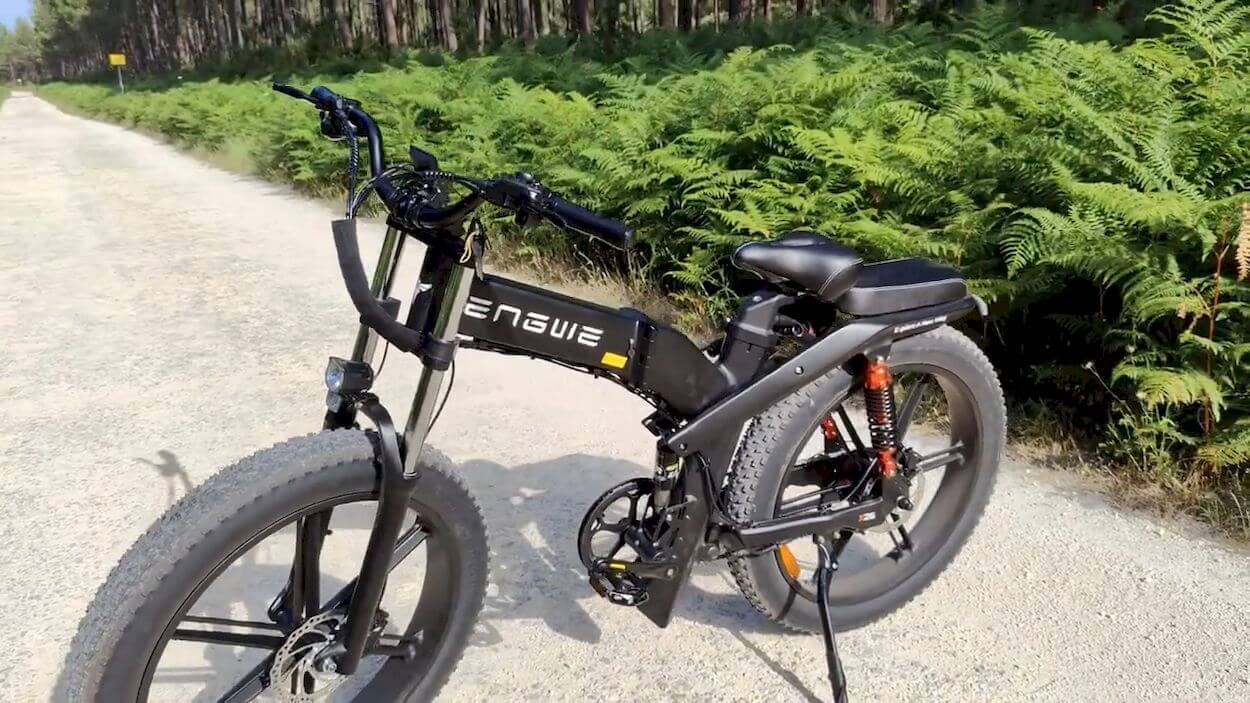 One striking aspect of the X26 is its controlled power delivery. Despite having a powerful motor with 750 watts (capable of 1000 watts peak), the bike's controller ensures that this power is harnessed in a gradual and manageable manner. 
In terms of quiet operation, the X26 excels by maintaining a relatively low noise level during rides. Contrary to misconceptions about high-wattage motors being uncontrollable, the X26 demonstrates how effective engineering and thoughtful design can lead to a quieter and more enjoyable riding experience.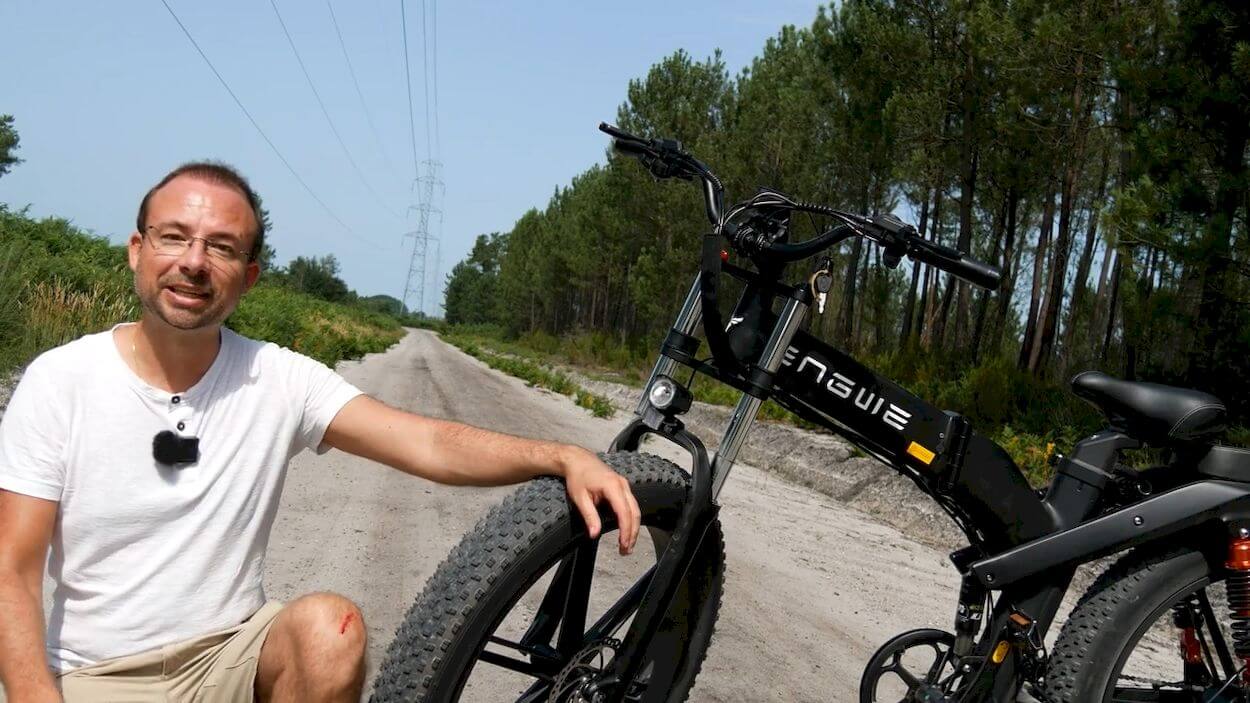 For those seeking a bike of similar capabilities but with a lower height requirement, the Engwe X24 is a suitable alternative. To delve further into the distinctions between the X26 and X24, a side-by-side comparison might be a fruitful exercise.
So, if you're searching for an electric bike that combines power, comfort, and versatility, the Engwe X26 proves to be an outstanding choice. With its thoughtful design, controlled power delivery, impressive range, and suitability for various terrains, the X26 redefines what an electric bike can offer. As always, I look forward to sharing more insights and reviews with you in the future. Thank you for reading, and until next time, take care and happy riding!
Alternatives of Engwe X26