Today, we're diving into the world of electric scooters with the Ausom Leopard, and let me tell you, it's a ride worth talking about. This sleek and stylish scooter comes in a striking black and gold color scheme, a combination that never goes out of style.
At the heart of the Leopard is a formidable 1,000-watt brushless motor. This motor packs a punch and delivers impressive performance, making it more than just a run-of-the-mill scooter.
Ausom advertises a top speed of 34 miles per hour for the Leopard, making it one of the faster scooters in its class. However, real-world speeds may vary based on factors such as rider weight, terrain, and conditions. In your case, reaching speeds of 31 to 32 miles per hour, even while weighing around 220 pounds, is a testament to the scooter's capability. It's worth noting that the Ausom Leopard's speed should provide an exhilarating ride for most users.
So, if you're looking for an electric scooter that combines power, style, and an exhilarating experience, the Ausom Leopard might just be your perfect ride.
| | |
| --- | --- |
| Material of Frame | Aluminium Alloy |
| Motor Power | 1000W |
| Motor Max Output Torque | 25N.M |
| Waterproof Level | IP54 |
| Uphill Ability | 25% |
| BrakeType | E-Brake + Front & Rear Disc Brakes |
| Tire Size | 10"x2.75"(Inner Tires), 10"x3.15"(Outer Tires) |
| Protection System | Yes |
| Battery Capacity/Voltage | 20.8Ah/48V |
| Charging Time | 10h |
| Max Range | 52 miles |
| Unfolded Size | 49.2x23.2x51.2 in |
| Folded Size | 49.2x23.2x22.5 in |
| N.W. | 69.6 lbs |
| Max Load | 265 lbs |
Design and Build Quality
The handlebar stem of the Ausom Leopard is built to be exceptionally solid, ensuring durability and stability during rides. Its unique folding mechanism is a testament to its design innovation. The two-step folding process involves twisting a little knob and pulling out a knob, making it easy to fold and unfold the scooter. This design feature not only enhances the scooter's portability but also ensures that it stays securely folded with the help of a dependable yellow hook, even during transport.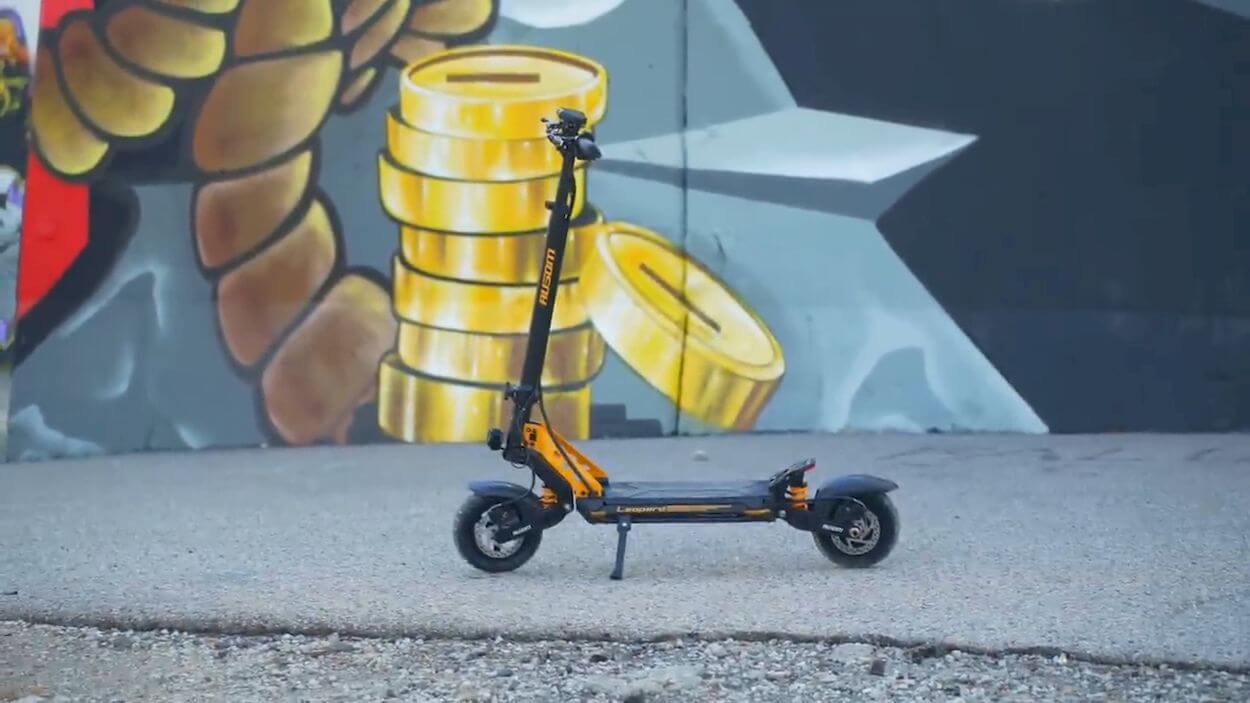 While the Ausom Leopard weighs around 70 pounds, it strikes a balance between being manageable and sturdy. The weight makes it robust and stable during rides, yet it's not overly heavy to hinder transport. The secure folding mechanism ensures that the scooter remains compact and can easily fit in the back of an SUV without any worries of the handlebar flying around.
With a rider weight capacity of up to 265 pounds, the Ausom Leopard accommodates a wide range of users. Its dual swing-arm suspension system, equipped with springs, provides riders with a comfortable and cushioned ride even on rough terrain. The 10 by 3 inch off-road tires further enhance stability and performance, making it suitable for various riding conditions.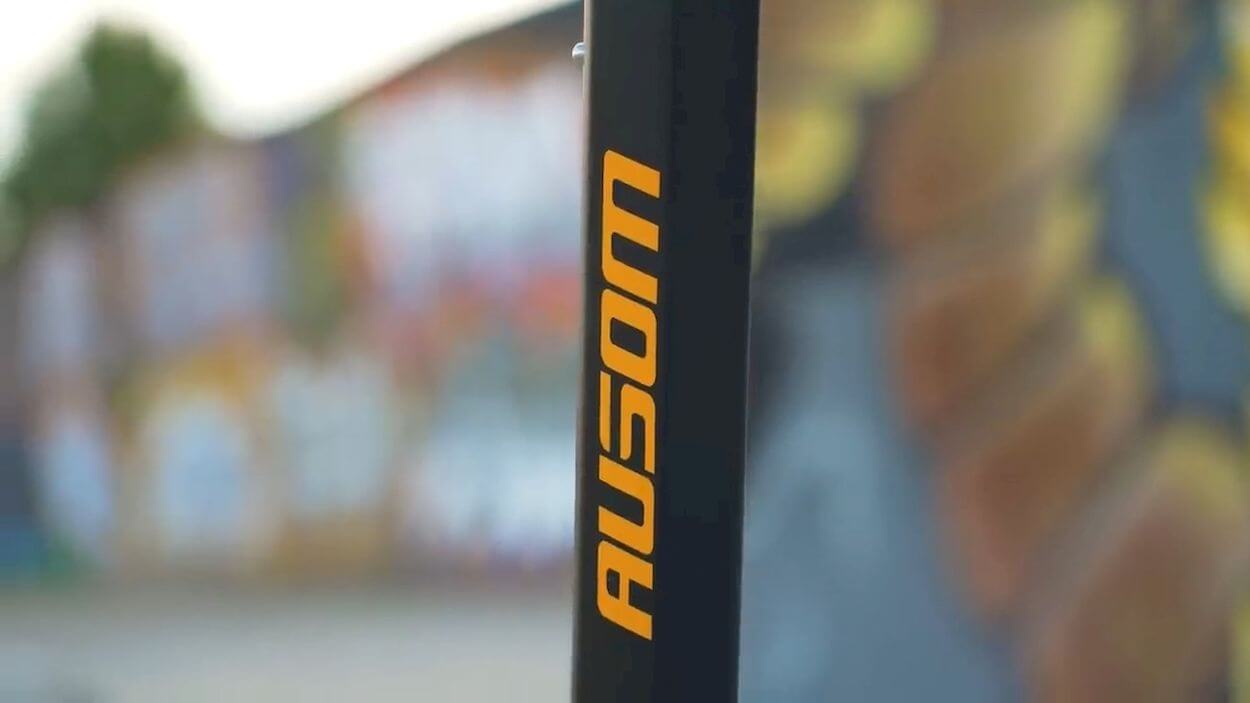 The Ausom Leopard prioritizes safety with its 360° lighting system. It features four turn signals (two at the front and two at the back), a brake light, and a front headlight. Additionally, reflective elements on the scooter's sides enhance visibility, making it an excellent choice for nighttime riding, and ensuring you remain conspicuous during the day.
One notable feature of the Ausom Leopard is its inclusion of a detachable seat, which is often sold separately with other scooters. The seat attaches securely to the footboard with just a few bolts, providing riders with the option to sit down comfortably during long rides. This versatility is a significant advantage, especially for those aiming to cover longer distances without straining their legs. When not in use, the seat can be conveniently folded down for storage.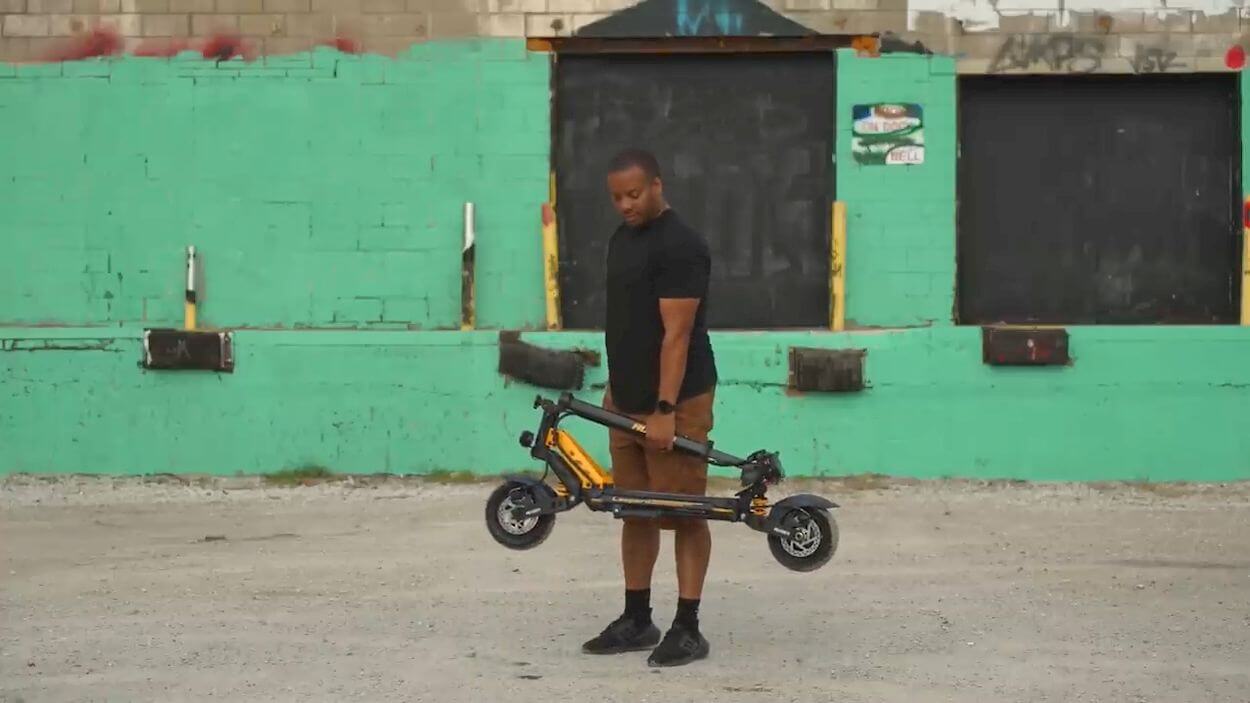 The handlebar stem is not only solid but also adjustable in height. This adaptability allows riders to customize the scooter's handlebar height according to their preference, whether they're sitting or standing, ensuring a comfortable and ergonomic riding experience.
The scooter's kickstand, described as "thick and juicy," is a testament to its overall build quality. This robust kickstand provides reliable support on various terrains, from grass to gravel, ensuring that the scooter stays upright when parked.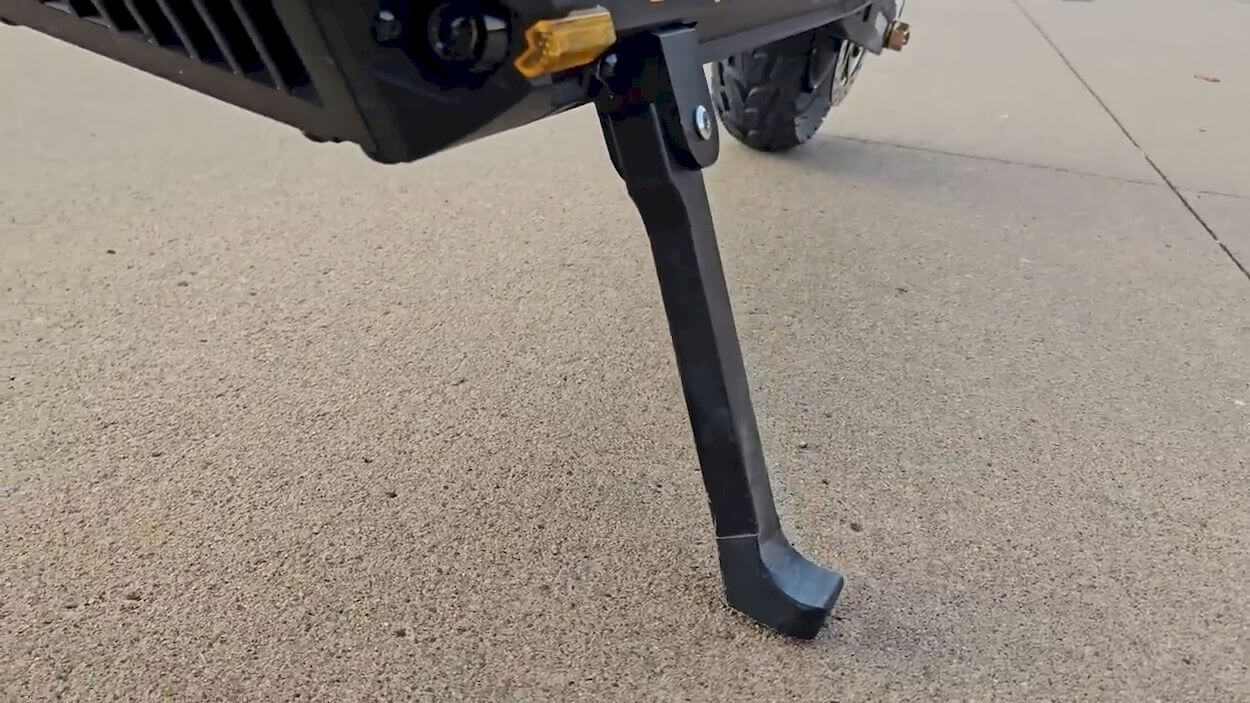 So, the Ausom Leopard electric scooter combines innovative design and robust build quality to deliver a versatile and reliable riding experience. With its comfortable suspension system, comprehensive lighting for safety, detachable seat option, adjustable handlebar stem, and dependable kickstand, it caters to the needs of a diverse range of riders, making it a standout choice in the electric scooter market.
Handlebars and Controls
Let's dive into the intricacies of the handlebars on the Ausom Leopard electric scooter, where every detail is thoughtfully designed for convenience and functionality.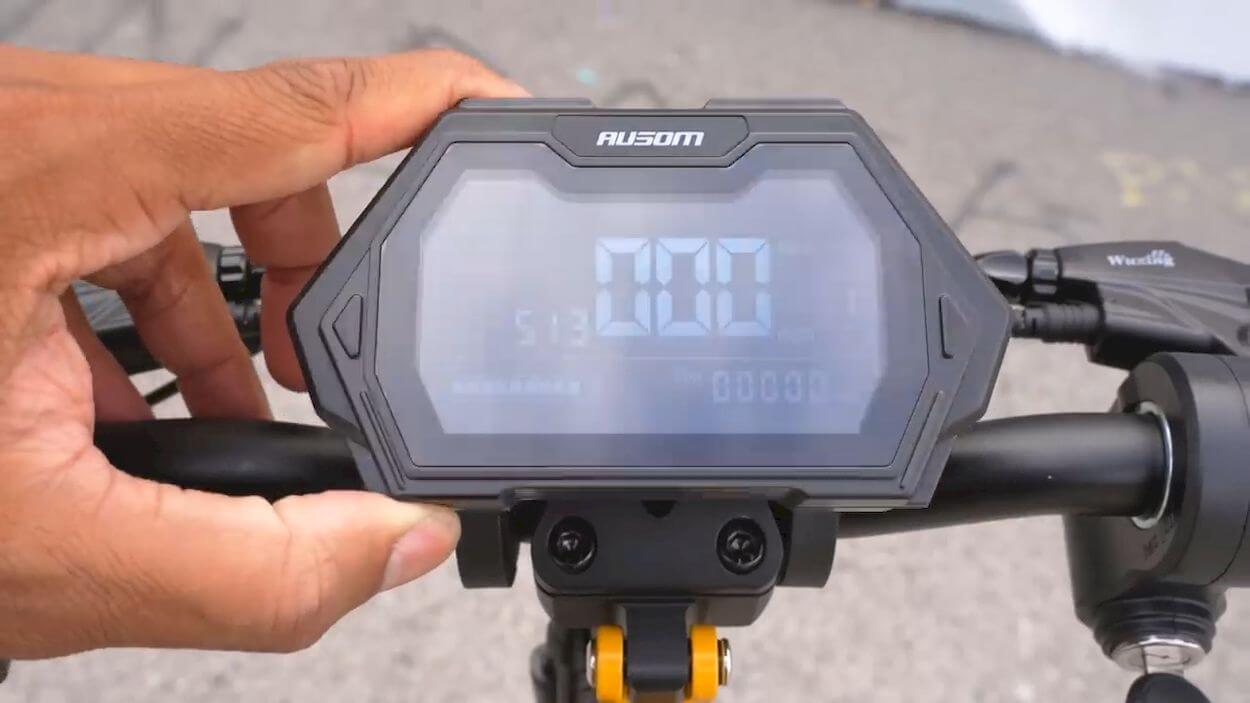 Starting with the basics, the hand grips on the Ausom are made of fine rubber material. These hand grips not only offer a comfortable and ergonomic feel but also provide an excellent grip, ensuring that riders have full control of the scooter even in less-than-ideal conditions.
Moving to the controls, on the left-hand side of the handlebars, you'll find a set of buttons that govern various aspects of your ride. These controls include buttons for turning the scooter's lights on and off, managing the turn signals, and activating the electronic horn. This centralized location makes it easy for riders to access essential functions without needing to remove their hands from the handlebars.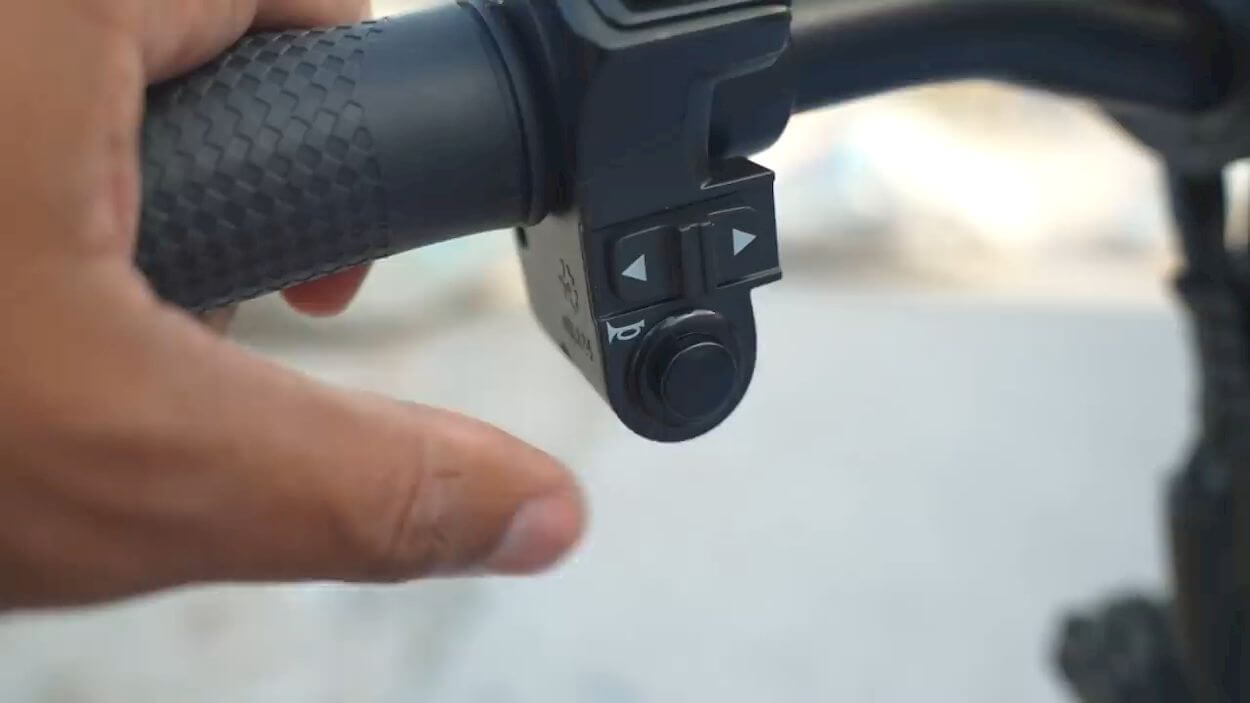 On the right-hand side of the handlebars, two crucial components are housed. The thumb throttle, which is responsible for controlling the scooter's speed, is easily accessible for riders to accelerate and decelerate with precision. Additionally, the key ignition is located here, allowing riders to start and shut down the scooter securely. However, you mentioned an initial challenge with the key ignition, which required pressing a concealed power button beneath the thumb throttle. This feature, while important for security, might benefit from improved visibility or a more prominent placement for ease of use.
Beyond ignition, the power button serves another critical function—switching between the three different riding modes, each offering varying speeds. It's worth noting that there is a slight delay when changing modes, which could be refined for smoother transitions. Furthermore, the button's placement might be optimized to ensure quicker and more accessible mode changes.
The scooter's display is a noteworthy feature that enhances usability. While capturing it on camera can be challenging due to its coding, the display is designed to remain readable even in direct sunlight, ensuring riders can access important information about their ride. Additionally, the display can be rotated up and down, a particularly useful feature when folding the scooter. Adjusting the display angle facilitates the smooth folding of the scooter, allowing the hook mechanism to engage securely.
Seat
The seat provided with the scooter is not only a thoughtful addition but also a comfortable one. It offers a supportive and ergonomic design that allows riders to settle in for extended riding sessions without discomfort. Whether you're cruising through the city or exploring scenic routes, the seat adds a new level of comfort to your journey.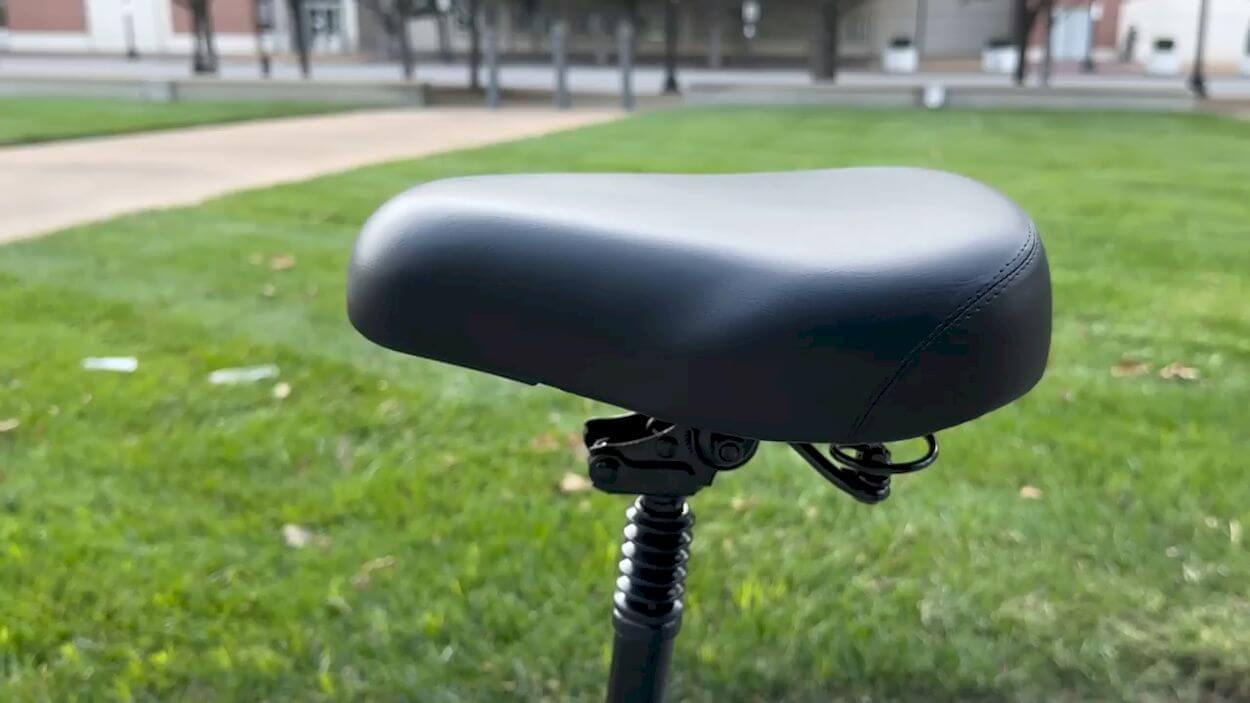 What sets the seat apart is the inclusion of a suspension seat post. While it may not be a high-end suspension system, it still serves its purpose effectively by providing some extra cushioning during the ride. This suspension seat post absorbs minor shocks and vibrations from uneven terrain, contributing to a smoother and more enjoyable ride. It's a great feature to have, especially on longer rides where rider fatigue can become an issue.
In addition to the suspension seat post, the Ausom Leopard also features a dual suspension system, which further enhances the overall riding comfort. The combination of the suspension seat post and the dual swing-arm suspension system ensures that the scooter can glide smoothly over various surfaces, offering riders a plush and enjoyable experience.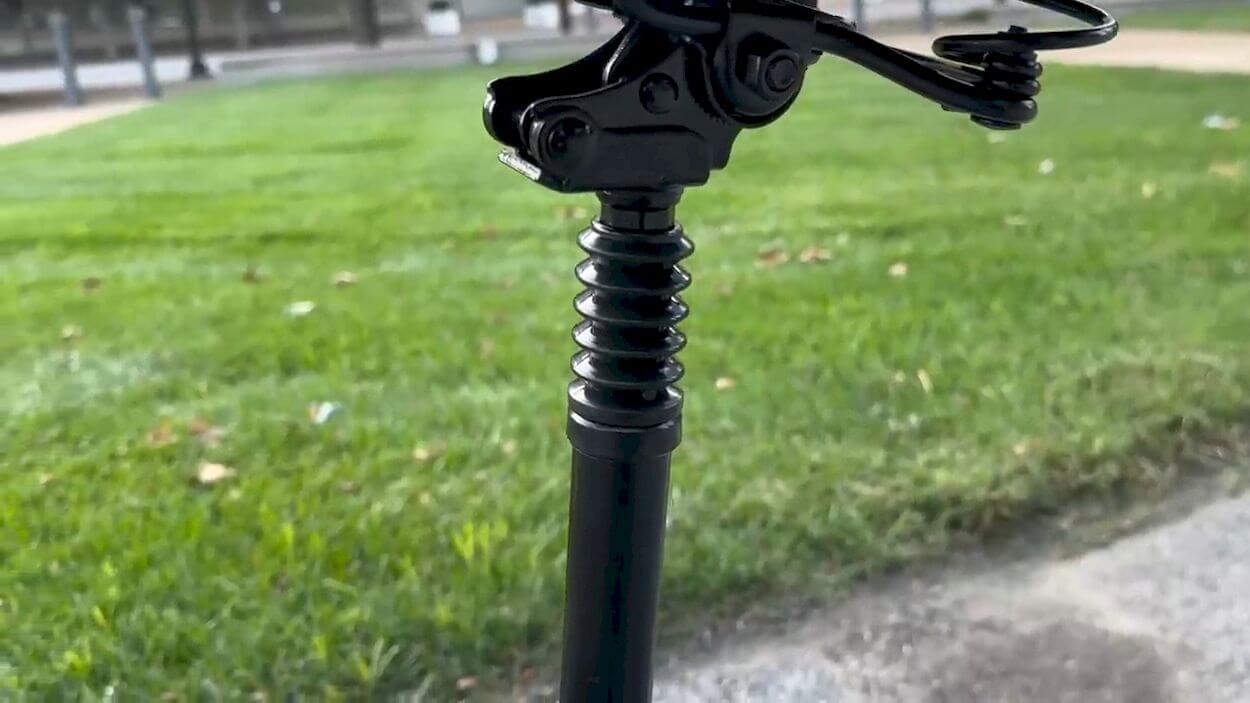 Another element that adds to the comfort of the ride is the generously sized footboard. Its capacity to accommodate large feet, like size 12, without any issues ensures that riders have ample room to position their feet comfortably. This spacious footboard, coupled with the comfortable seat, provides a riding experience that's both enjoyable and accommodating.
The inclusion of a seat with suspension options adds versatility to the Ausom Leopard scooter. It allows riders to switch between sitting and standing positions, providing options for different preferences and riding scenarios. Whether you want to kick back and relax or enjoy a more dynamic and active ride, the scooter caters to your needs.
Ausom Leopard:
Driving Test
One of the standout features of the Ausom Leopard is its remarkable acceleration. As you hit the throttle, you'll experience a rapid and exhilarating surge of power. The scooter launches off the line with enthusiasm, providing an instant burst of speed. Whether you're navigating busy city streets or simply enjoying a quick getaway, the acceleration is sure to put a smile on your face.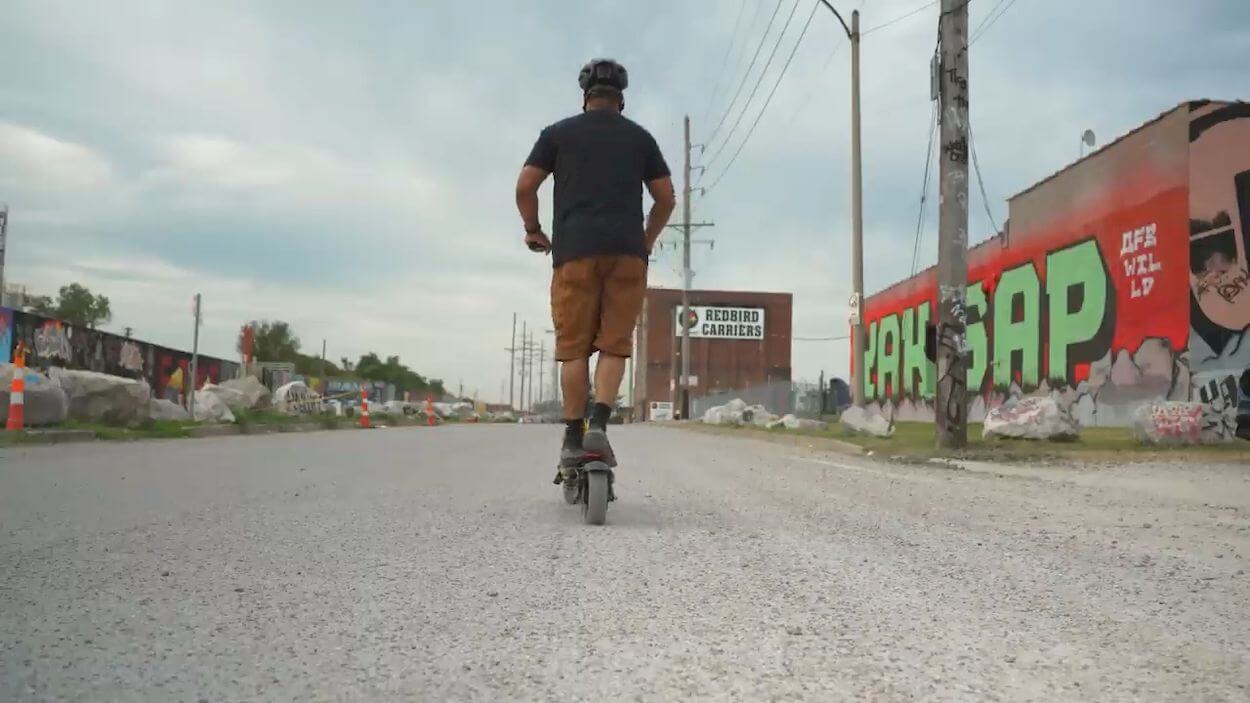 The scooter's versatility is evident in its three different riding modes. The first mode allows for comfortable cruising at up to nine miles per hour, perfect for leisurely rides. The second mode amps things up, propelling you to speeds of up to 22 miles per hour, suitable for getting around town efficiently. The third mode is where the Ausom Leopard truly shines, reaching exhilarating speeds of up to 34 miles per hour. It's the perfect mode for those who want to experience the thrill of high-speed riding.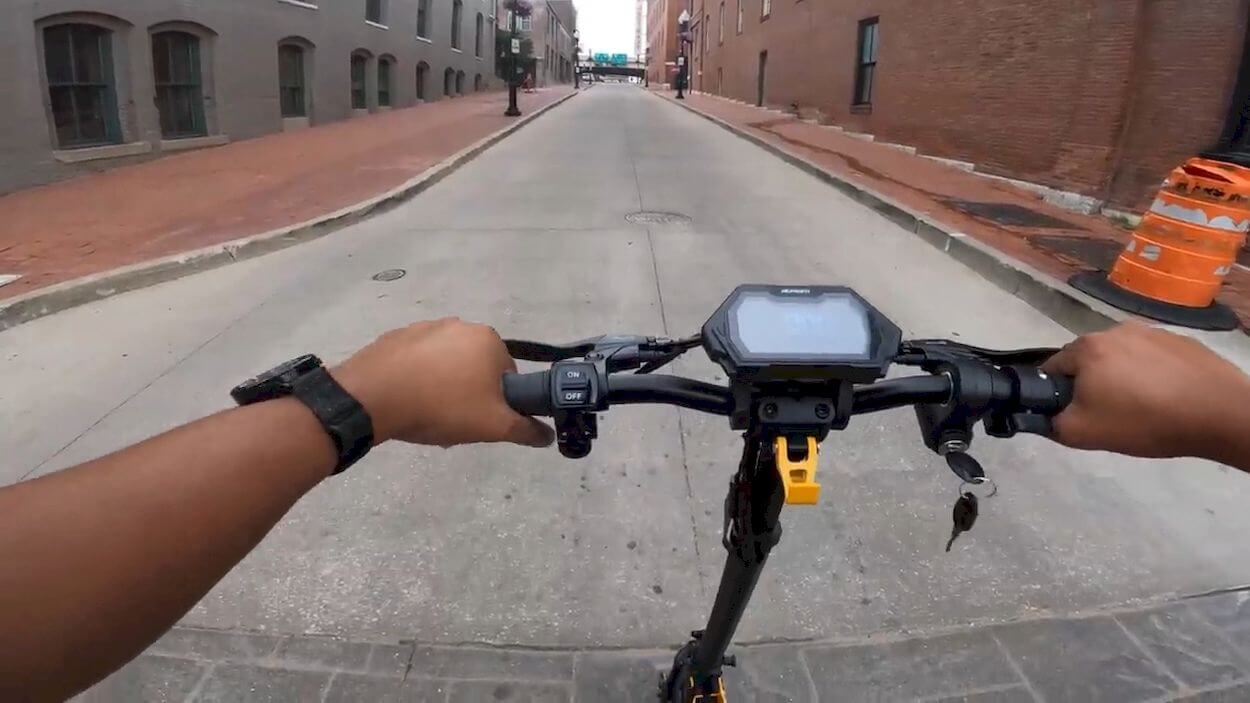 Despite its impressive speed capabilities, the Ausom Leopard maintains excellent stability. Two key design elements contribute to this stability. Firstly, the wide 8.3-inch footboard provides ample space for your feet, ensuring a secure and balanced riding position. Secondly, the addition of a step on the back of the scooter allows riders to angle one foot for added stability, especially when adopting a lower riding posture. This combination of factors makes high-speed riding feel secure and controlled.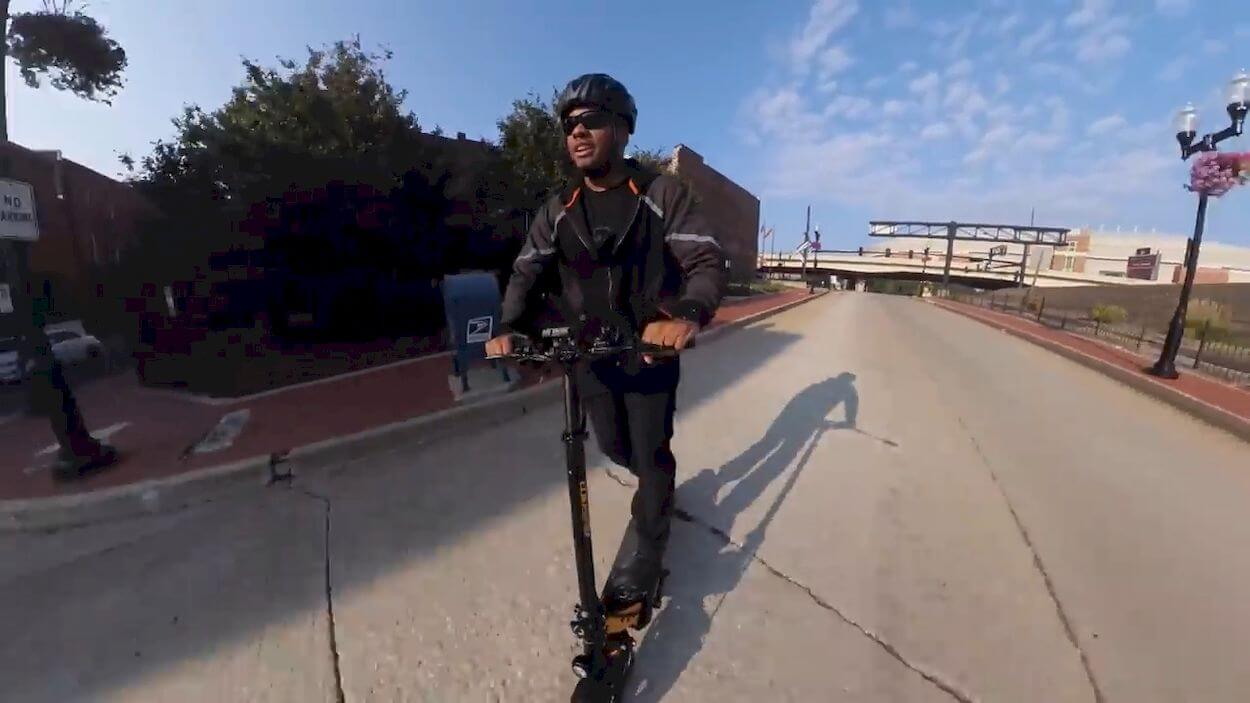 Safety is paramount, and Ausom has taken great care to ensure a reliable braking experience. The scooter features an e-brake and dual disc brakes on both tires, allowing for smooth, controlled stops. Whether you need to come to a gentle halt or make a quick emergency stop, the braking system performs with precision and confidence.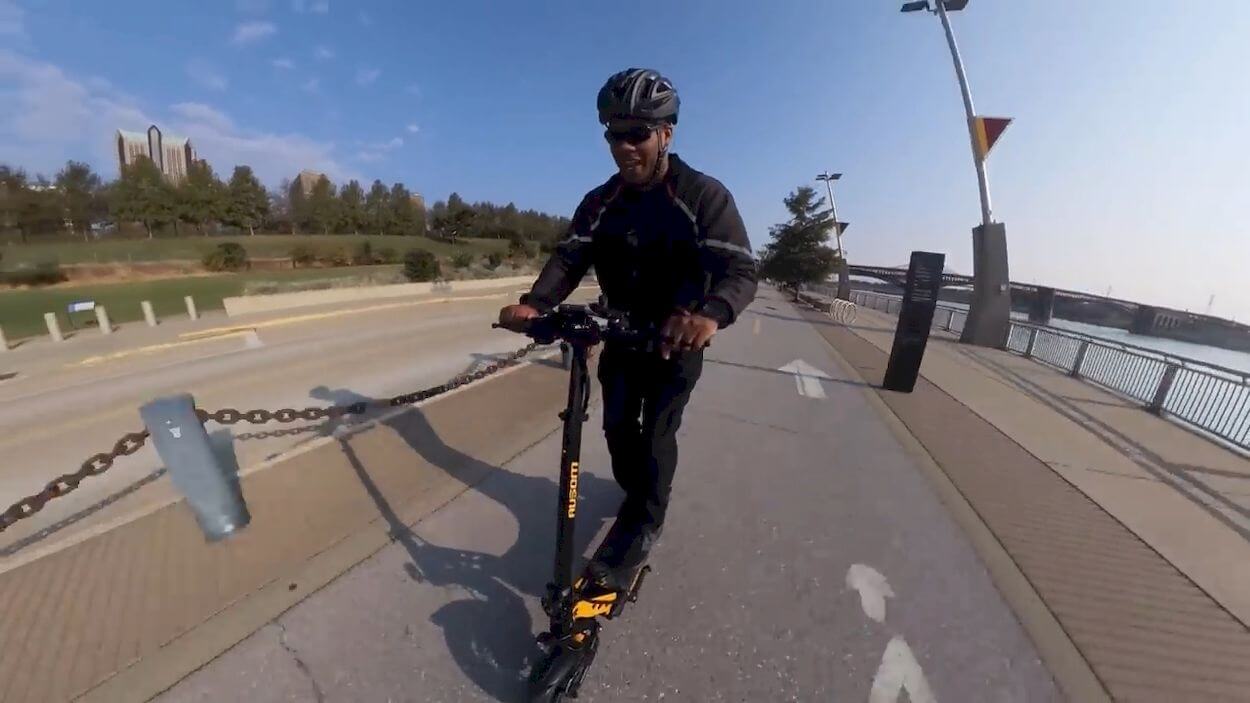 The Ausom Leopard is not confined to smooth city streets. Its rugged build and off-road tires make it well-suited for adventures off the beaten path. The tires provide cushioning, enabling you to tackle bumpy and uneven terrain with ease. Additionally, the scooter's deck height allows for some airtime, making it suitable for jumps and curbs, adding an element of fun to your rides.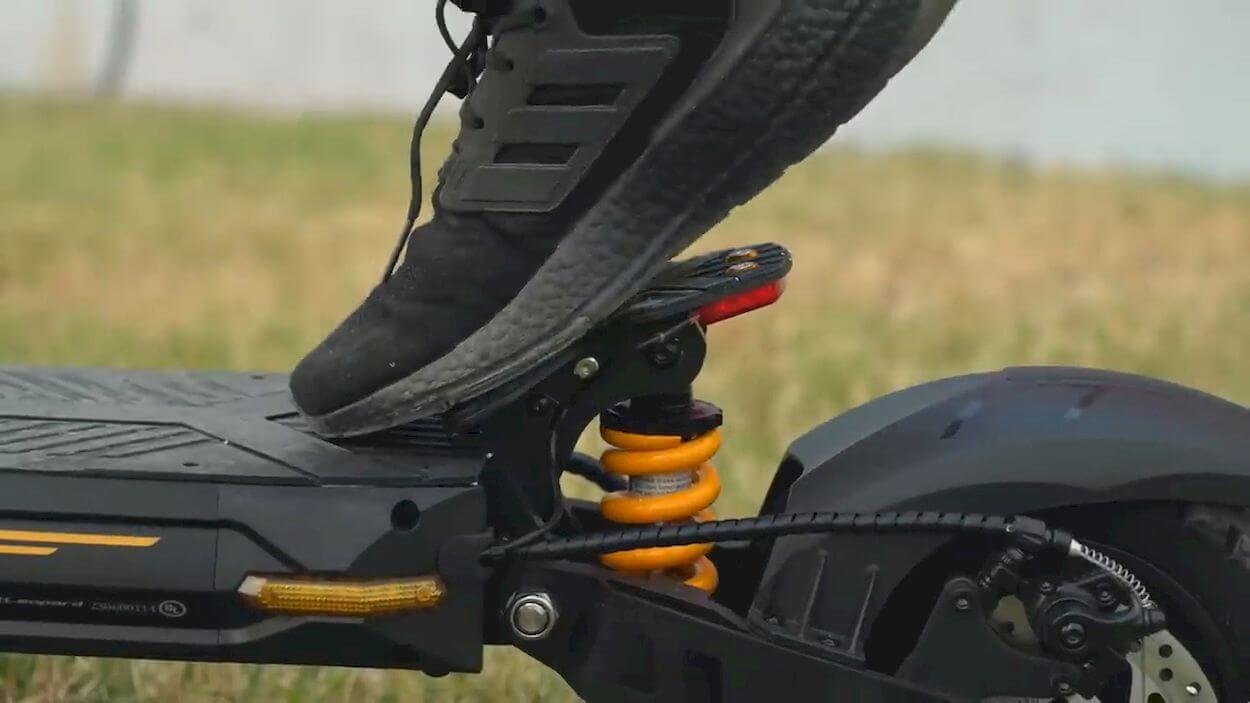 Even steep hills are no match for the Leopard. With a powerful motor and a rider weight of around 220 pounds, you can confidently ascend inclines. The scooter maintains an impressive average pace, ensuring you reach your destination efficiently. And when it's time to descend, the scooter's braking capabilities come into play, providing control and safety on downhill stretches.
Battery and Range
The Ausom Leopard is equipped with a robust 48-volt, 20.8 amp-hour battery, boasting a total capacity of 998 watt-hours. This substantial battery capacity sets the scooter apart and has a significant impact on its performance and range.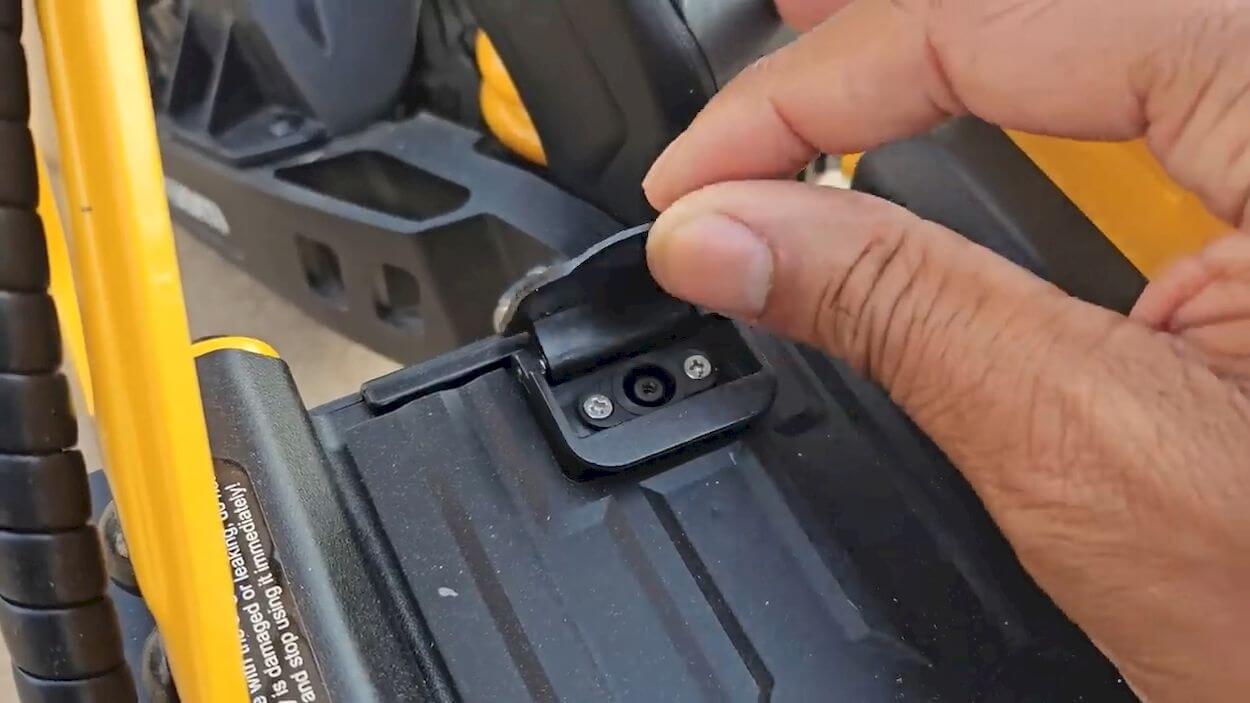 Ausom claims that riders can expect up to an astonishing 52 miles of range on a single charge. However, it's essential to note that the actual range may vary based on several factors, including rider weight and terrain conditions. Generally, it's wise to anticipate a slightly lower range than the maximum advertised, especially if you're carrying additional weight or tackling hilly terrain. Nevertheless, even with some adjustments, the Ausom Leopard offers a commendable range, making it suitable for longer commutes and extended rides without frequent recharging.
While the range is impressive, it's worth considering the charging time. The Ausom Leopard's battery takes approximately nine to ten hours to fully recharge. This is notably longer compared to some other electric scooters, which may typically require between four and six hours for a full charge. The extended charging time means that it's crucial to plan your charging schedule carefully. Forgetting to charge the scooter overnight could result in an inconvenient delay in your riding plans.
Conclusions
To summarize, the Ausom Leopard electric scooter offers an impressive package for its price point, providing riders with a compelling combination of speed, range, and features. With its strong build quality, effective suspension system, and comprehensive lighting and turn signal setup, it delivers a balanced and enjoyable riding experience.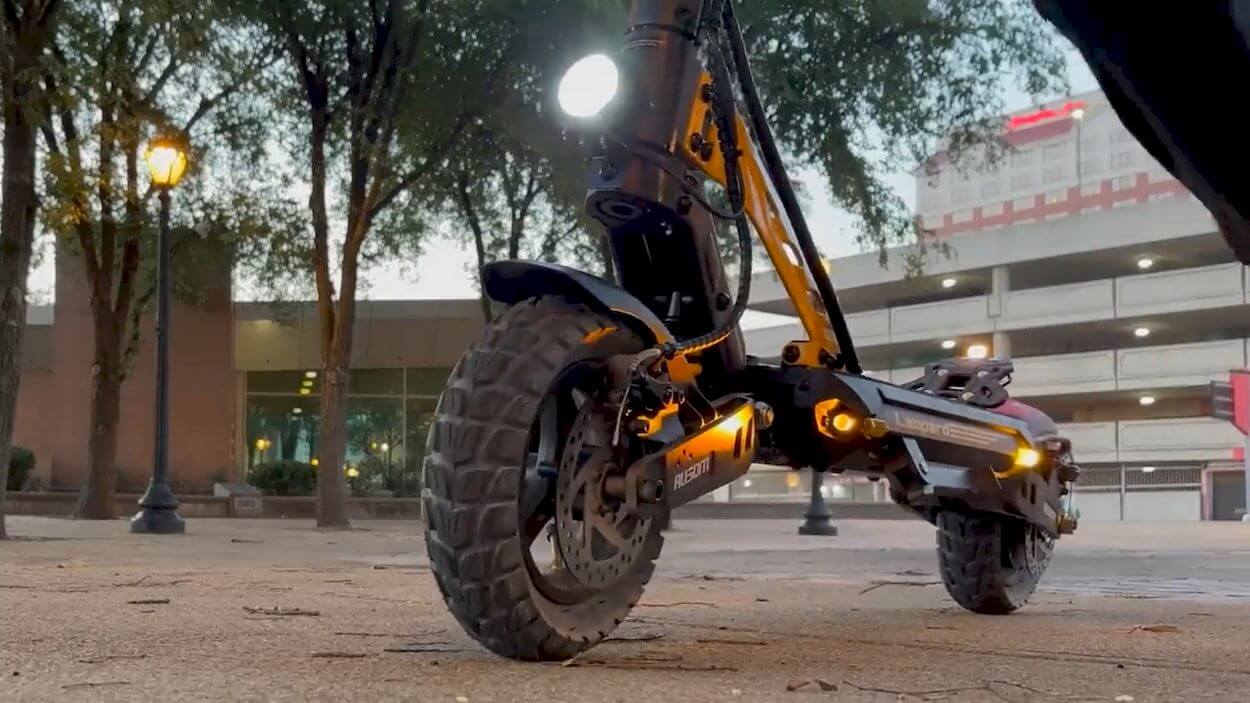 However, there are some minor considerations, such as the placement and visibility of the power button, as well as the longer charging time, which users should be aware of when planning their rides. Nonetheless, these drawbacks don't overshadow the overall value and performance that the Ausom Leopard brings to the table.
Priced at $950, this scooter strikes a great balance between affordability and functionality, making it an attractive choice for riders looking for a well-rounded electric scooter. If you're interested in this scooter, you can find a link in the video description that may help support the channel.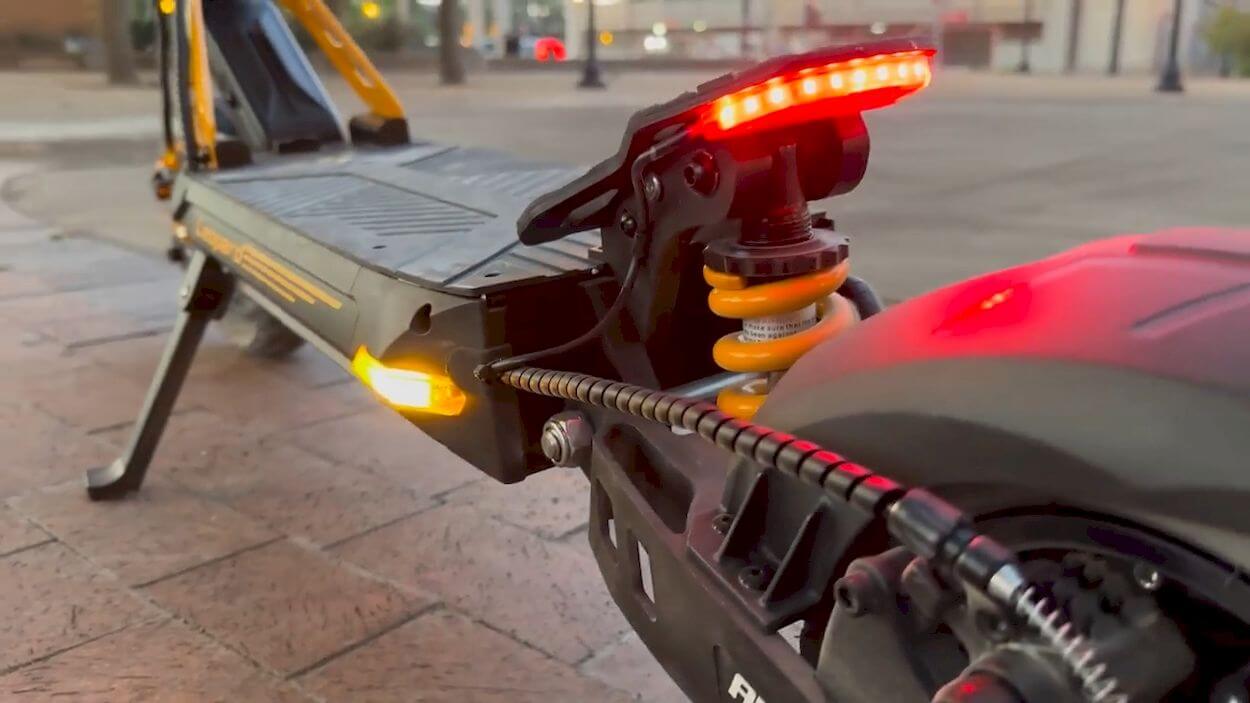 As always, we appreciate your viewership and support. If you found this review helpful, please stay tuned for more content in the future. Thank you for reading, and ride safely!
Alternatives of Ausom Leopard