In the area of fat tire e-bikes in the sub-$1,500 price range, the VITILAN T7 is an exceptional standout and has quickly become my favorite model. Its performance, especially in terms of torque and top speed, sets it apart from the competition, making it an exciting option for e-bike enthusiasts.
The VITILAN T7 shines in a number of key areas. It's evident that the designers and engineers behind this model have focused on delivering an exceptional riding experience. The torque it provides is impressive, offering swift acceleration and the ability to tackle steep hills and challenging terrains with ease.
The top speed of the T7 is another highlight, ensuring that riders can enjoy a thrilling ride while still adhering to speed limits, thanks to its Class 3 e-bike classification. Having spent several weeks with this bike, I can confidently say that the VITILAN T7 is nothing short of fantastic.
| | |
| --- | --- |
| Frame: | Aluminum alloy |
| Motor Hub: | 48V, 750W |
| Pedal Assist: | 1-5 Level |
| Max torque: | 80Nm |
| Tire: | CST 26x4.0" |
| Brake: | TEKTRO 180mm front and rear Hydraulic disc brakes |
| Throttle Assist: | Half twist throttle |
| Battery: | 48V, 20Ah |
| Pedal Assist Range: | 80 Miles |
| Throttle Range: | 60 Miles |
| Package Dimensions: | 61.8 x 14.1 x 33.8'' |
| Max Load: | 330lbs |
| T7 Weight: | 79.2 LBS |
Design and Build Quality
The VITILAN T7, with its chameleon paint and robust frame construction, is a striking and well-crafted e-bike that offers a blend of style and functionality.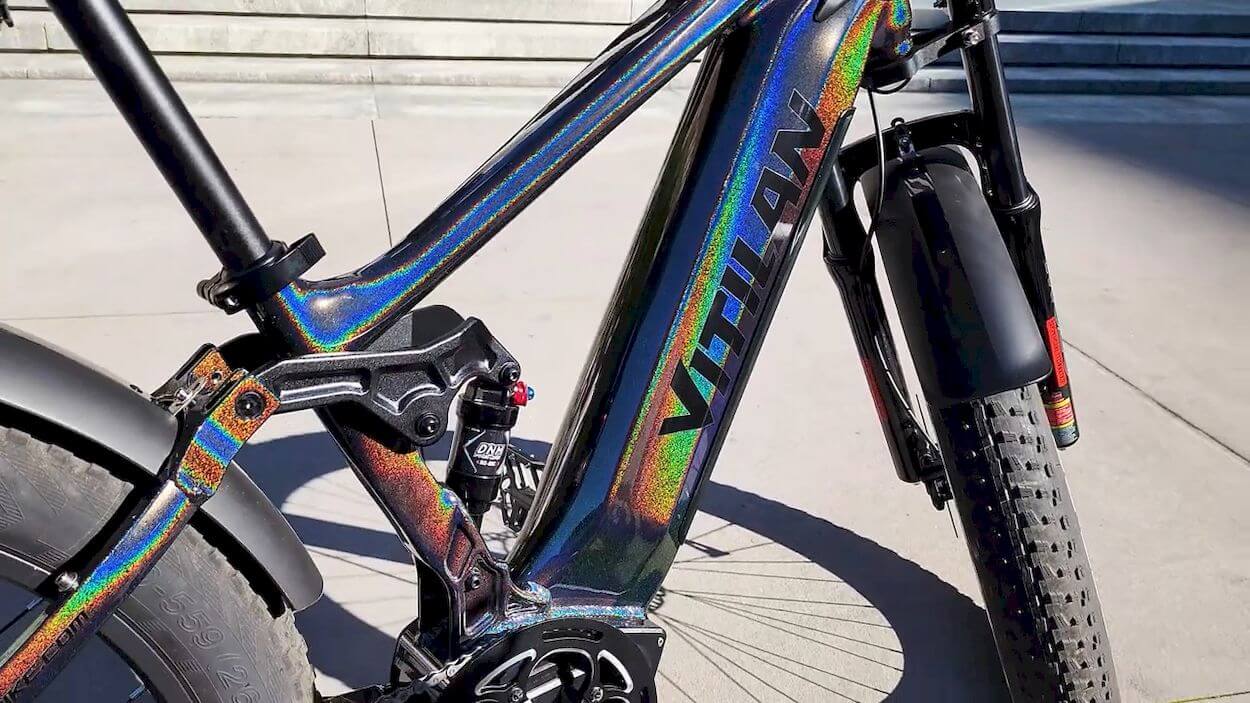 The frame of the T7 is an absolute standout feature. Its chameleon paint is simply phenomenal, exhibiting a vibrant and shifting color spectrum, especially when exposed to sunlight. The frame construction is exceptionally well-made, showcasing meticulous attention to detail. In fact, it's so well-constructed that it stands as an enticing canvas for high-end components, suggesting the potential for significant upgrades.
The frame's geometry is designed for performance and versatility. Despite being a massive 26-inch Fat Tire e-bike, the shorter base and smaller triangle frame contribute to its nimbleness and agility, making it comfortable to maneuver at both high speeds and in off-road terrain.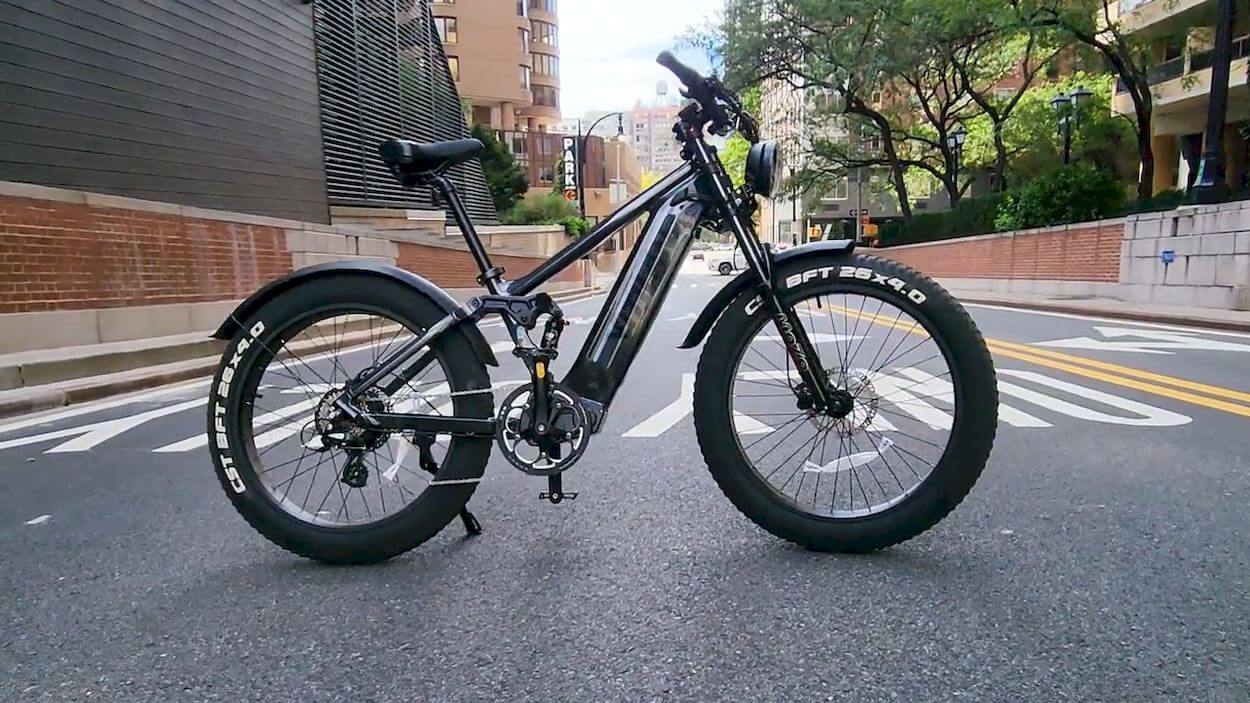 The T7 features a dual suspension system, with a rear shock that appears to be an upgraded version. This suspension system provides enough travel to tackle off-road conditions effectively. What's more, you can adjust the level of travel and even lock it to transform the bike into a hardtail. The shock's three adjustment positions and responsiveness make it stand out as an improvement compared to other fat-tire e-bikes.
The front suspension, while offering only 2 inches of travel, is functional and suitable for most riders. Though it may be slightly noisy and has a rebound issue, it doesn't detract significantly from the bike's overall performance. Upgrading the suspension components, such as switching to a Fox 38 or RockShox, can take the bike's off-road capabilities to an exceptional level.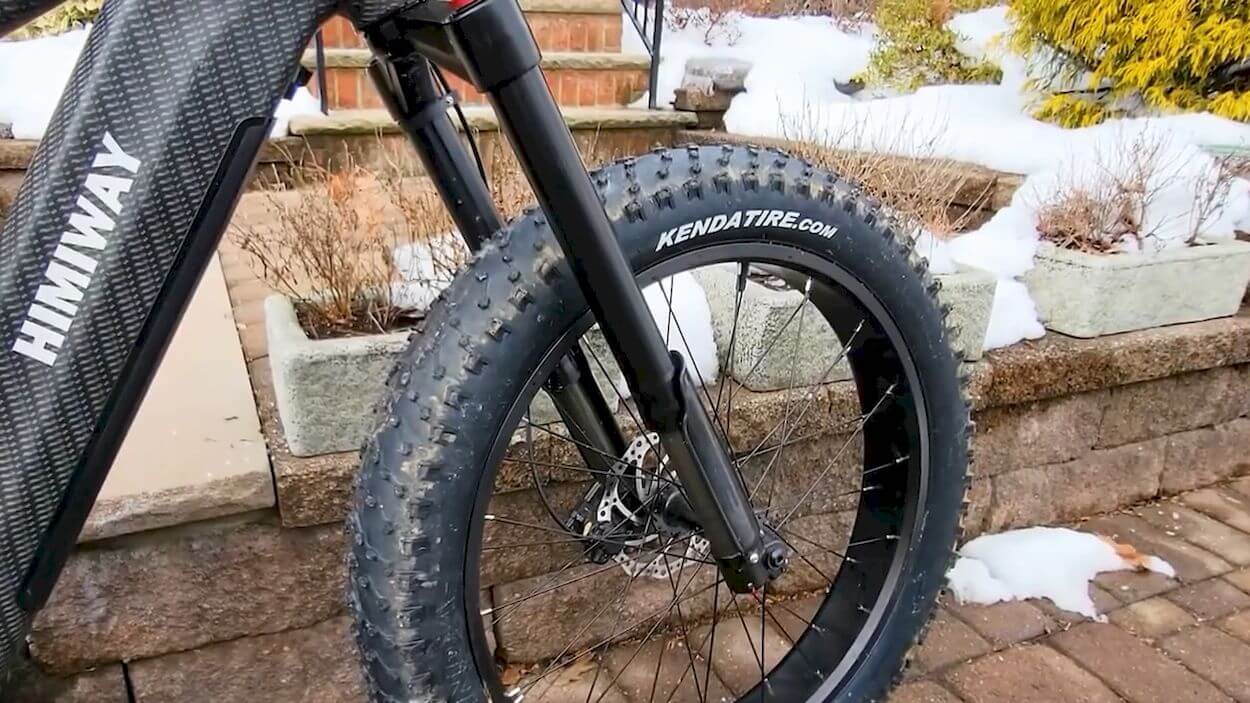 The linkage connecting the frame to the suspension and shock is sleek and efficiently designed. There's no excess material, ensuring a balanced and lightweight frame. The welds throughout the frame are perfectly executed, contributing to its overall quality.
The frame also offers versatility in terms of tire width, accommodating both four-inch and 3.5-inch tires, and you can even add a dropper post. The frame's geometry and build quality provide the potential for various upgrades, including a higher-end shock.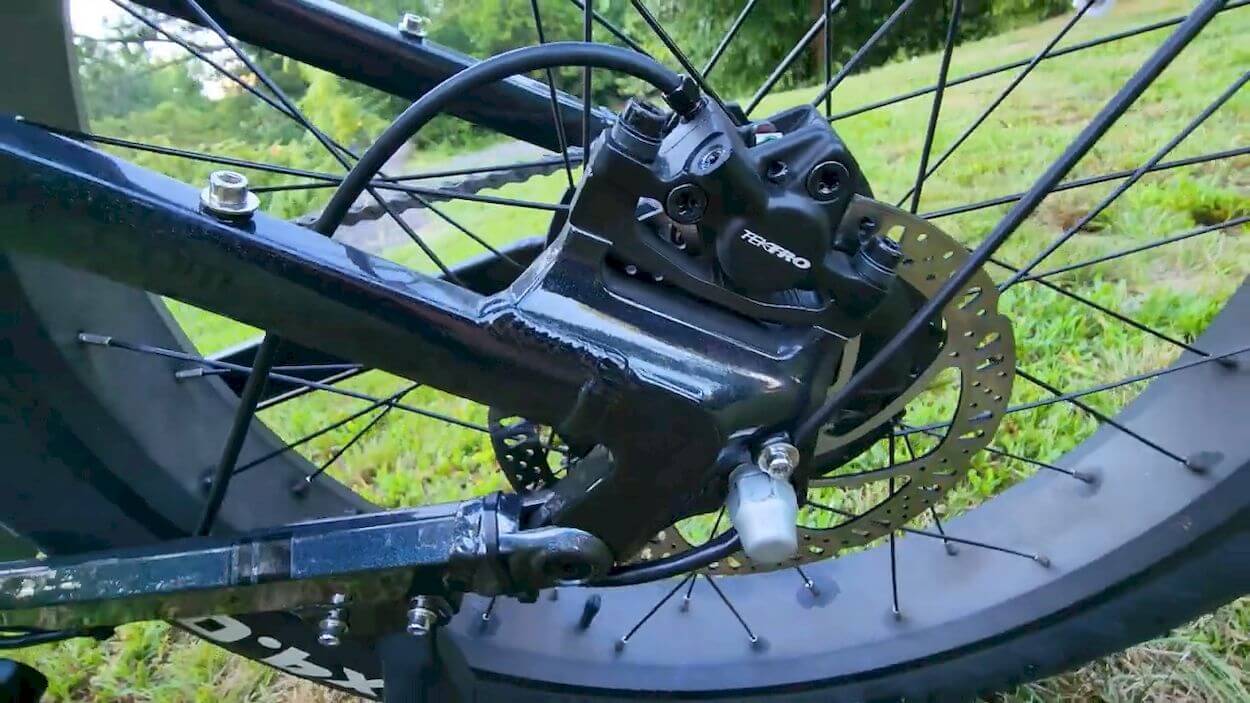 The VITILAN T7 comes equipped with a range of quality components. The leather grips are comfortable and come with standard hardware for secure attachment. The twist throttle, Shimano shifter, and hydraulic brakes offer a familiar and efficient interface for riders. The levers are notably shorter and provide ample space for two-finger operation.
The bike also features well-hidden cables in the front frame, contributing to a clean and organized appearance. The lights are impressively large, ensuring high visibility at night, and the horn is substantial and loud, enhancing safety.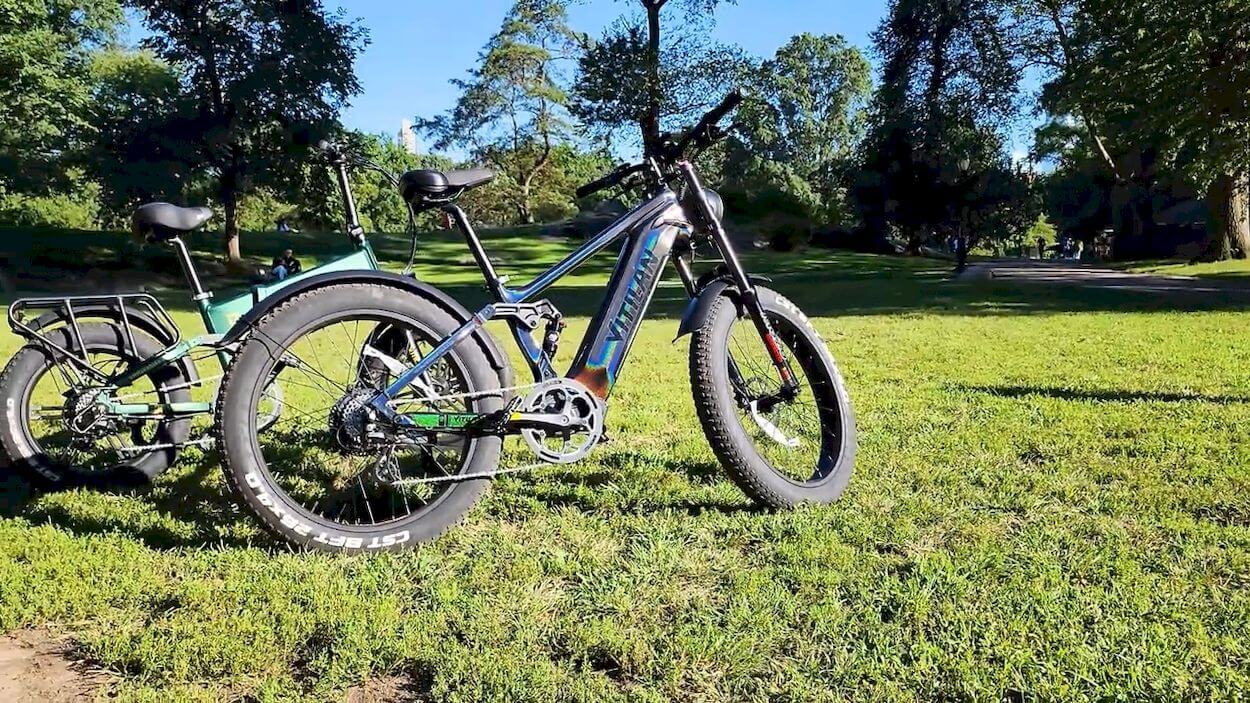 The drivetrain consists of a single-sided chainring and an eight-speed cassette with Shimano shifters. The 180mm two-piston brakes provide ample stopping power. While this setup is solid, some riders might appreciate a mid-drive version and an upgraded fork for even more advanced performance.
So, the T7 is a visually striking and well-constructed e-bike with the potential for significant upgrades to enhance its capabilities. The frame's design and build quality, coupled with its dual suspension system, make it a worthy contender for off-road adventures and versatile riding experiences. With its chameleon paint and thoughtfully designed components, it's a bike that not only performs well but also stands out in a crowd.
Lights
The illumination on the VITILAN T7's powerful front light certainly has a lot of punch, providing an intense beam that's not overly wide but incredibly focused. This focus is a double-edged sword, offering a concentrated light beam in front, ensuring that what's directly ahead is well-illuminated. However, it might not provide as much peripheral visibility as some riders desire.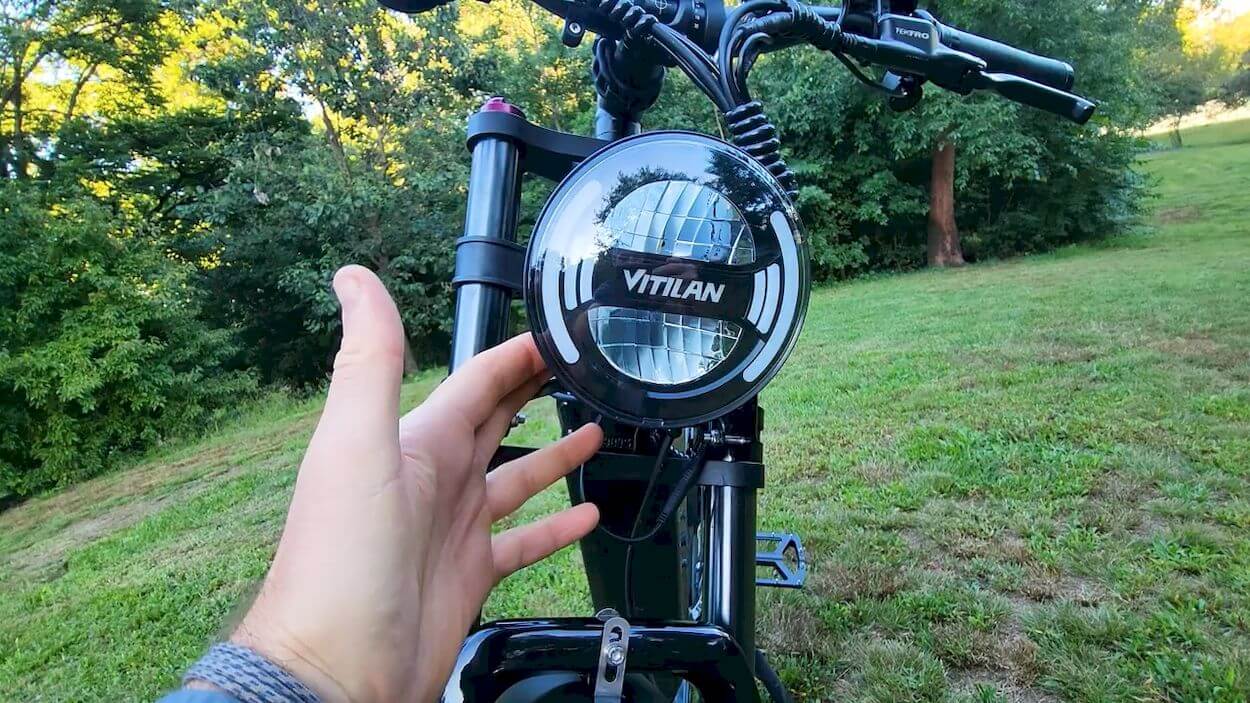 The light's intensity is impressive, and it's evident that it can effectively light up the path, making night riding a more manageable and enjoyable experience. The camera may not fully capture the extent of its power, but it's evident that it's a substantial light source.
One slight drawback is the limited spread of light to the sides. This means that while you have excellent forward visibility, your peripheral vision may not be as well-covered. Having a wider beam angle would be beneficial, especially when navigating winding trails or dark corners.
It's worth noting that the bike lacks a rear light but features a reflector for minimal visibility from behind. Adding a rear light for enhanced safety, particularly in low-light conditions or when sharing the road with other vehicles, would be a valuable addition.
The VITILAN logo on the front light is a nice touch, adding to the overall aesthetics of the bike. The light itself appears capable of producing even more lumens for its size, making it a commendable addition to the bike's design.
VITILAN T7: Motor
The VITILAN T7 boasts an impressive 750-watt mid-drive hub motor, which is known for delivering substantial power and torque. This motor is capable of providing a substantial boost to your riding experience, making uphill climbs and challenging terrains more manageable.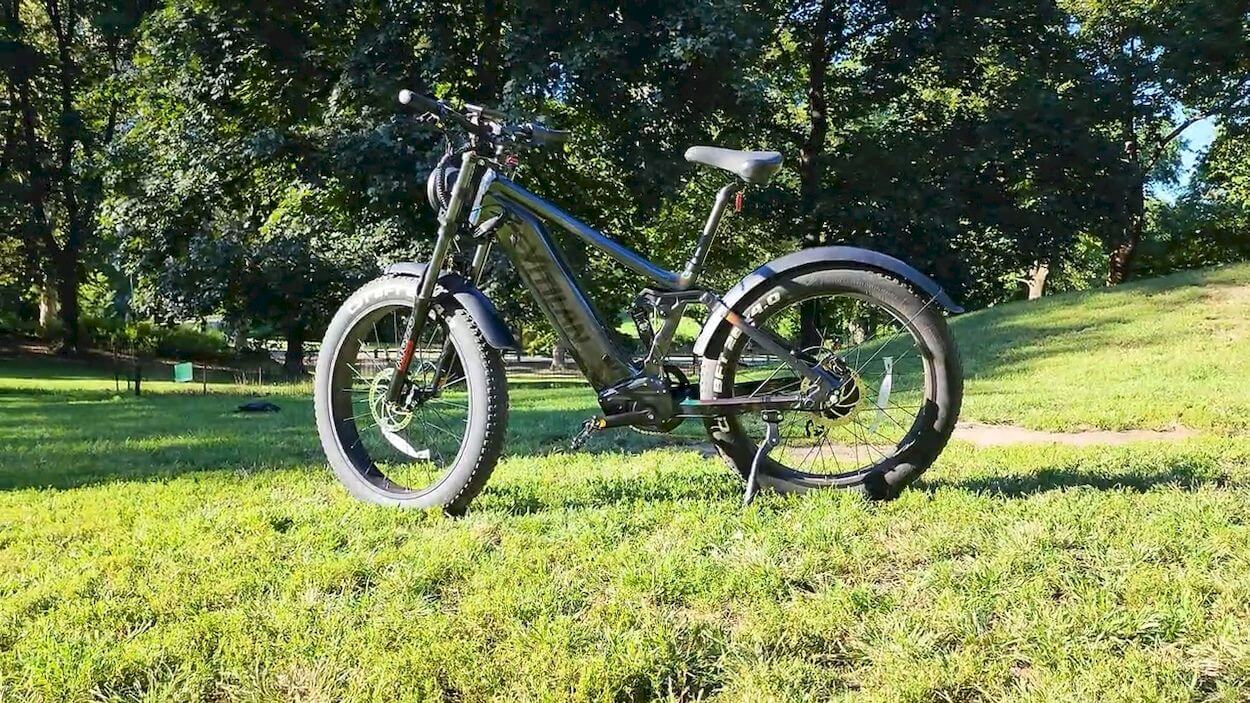 The hub motor can effortlessly assist the rider in reaching higher speeds and overcoming obstacles, enhancing the overall performance of the e-bike.
On the road
The T7 comes equipped with five levels of assistance that cater to a wide range of riding preferences and needs. This versatility allows riders to fine-tune the amount of motor assistance they receive, making it suitable for both casual cruising and more demanding situations.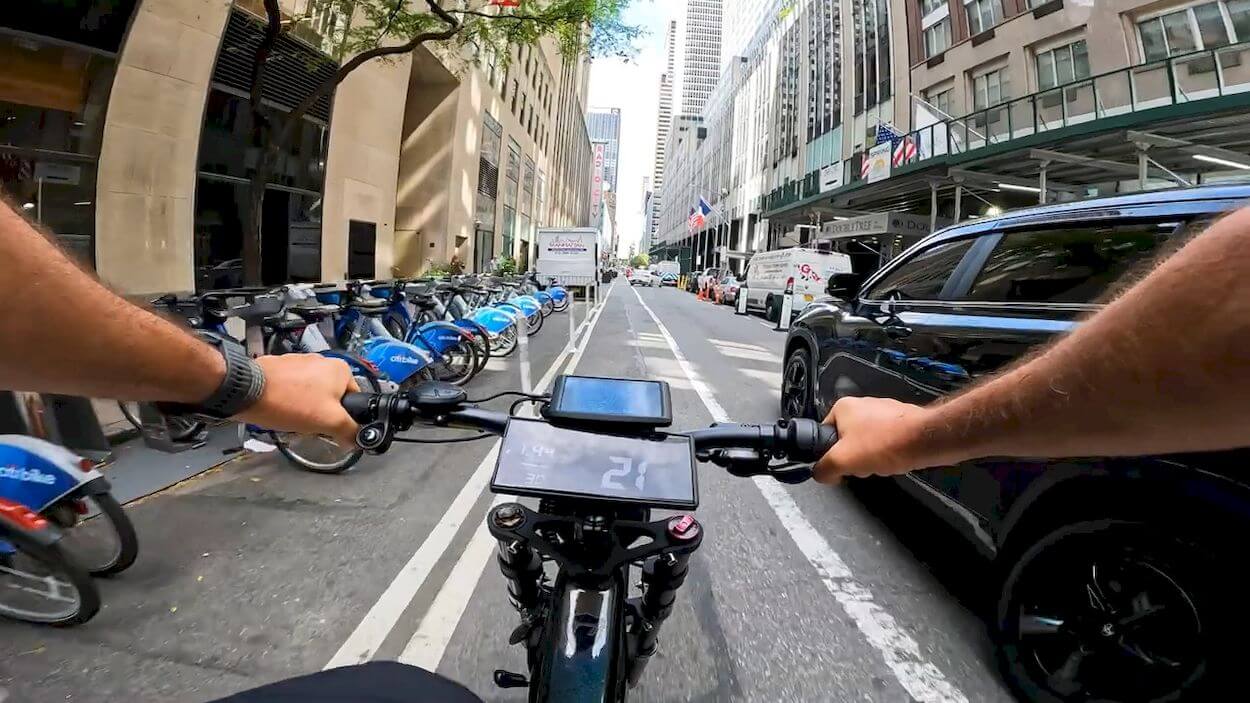 Compared to the previous i7 Pro model, the T7 boasts more power and torque, resulting in a significant boost in performance. This additional power translates to faster acceleration and an overall more thrilling riding experience.
The VITILAN T7 is classified as a Class 3 e-bike, which means it is restricted to a top speed of 28 miles per hour. Even if riders exert significant effort, they cannot surpass this speed limit unless they access advanced settings and have the password to remove the restriction. This ensures that the bike complies with legal regulations regarding e-bike speed limits.
During a test on a long hill, the VITILAN T7 demonstrated its power and capability. It started at the base at 23 miles per hour and maintained its speed while climbing, only dropping to 20 miles per hour at the steepest part of the hill. This performance showcases the bike's ability to handle challenging terrains and provide efficient assistance, especially on inclines.
The VITILAN T7 was put to the test alongside the Santa Cruz cyc five-kilowatt mid-drive e-bike on demanding trails near the GW Bridge in New York City. While the Santa Cruz is equipped with 180 millimeters of travel in the front and a high-end suspension setup, the T7 still managed to impress. It may be a bit noisy, but it comfortably navigated the challenging trails. This test highlights the T7's capability to tackle rough terrains and its overall performance.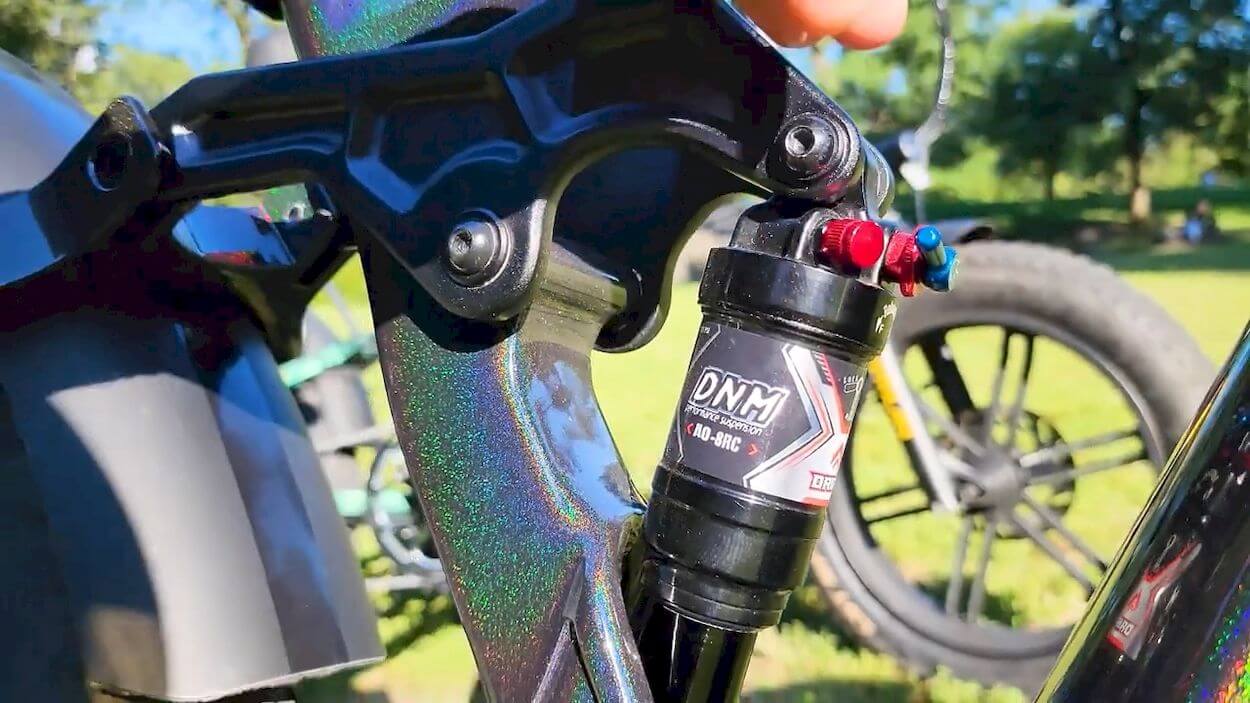 So, the VITILAN T7's top speed is governed at 28 miles per hour, ensuring compliance with e-bike regulations. The bike's advanced motor and torque provide impressive acceleration and performance. When put to the test on challenging trails, it showcases its ability to handle demanding terrains, making it a capable and thrilling choice for riders seeking both power and versatility in their e-bike.
Battery and Range
The T7 is equipped with a removable battery, which is a convenient and practical design feature. This means that riders can easily remove the battery for charging or maintenance without the need to move the entire e-bike. The ability to remove the battery is particularly useful for those who live in apartments or have limited space for bike storage.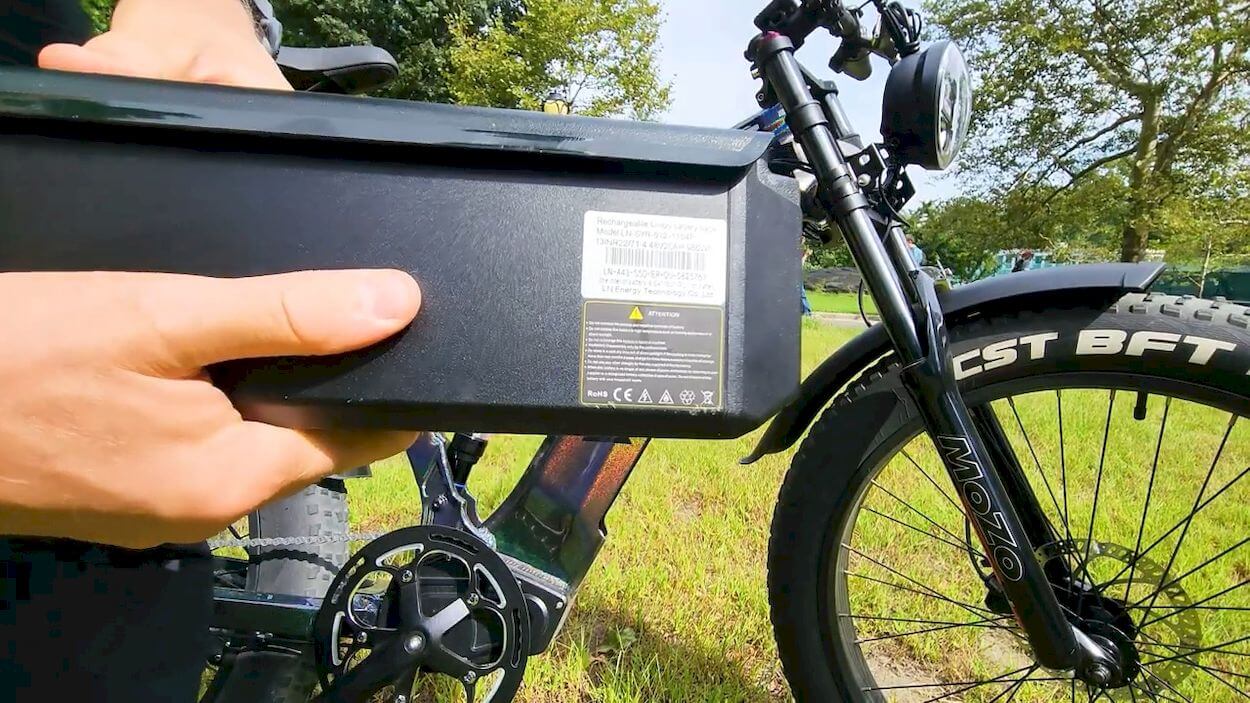 The battery on the VITILAN T7 boasts a substantial 48 volts and an impressive 20 amp-hour capacity, resulting in a whopping 960-watt-hour capacity. What sets it apart is the use of high-quality Samsung cells, which are known for their reliability and longevity. This choice of cells contributes to the overall durability and performance of the battery.
It's worth noting that there is potential for a 52-volt variation of this model, which could offer even more power and efficiency. A higher voltage battery could potentially enhance the bike's performance, acceleration, and top speed, further elevating the riding experience.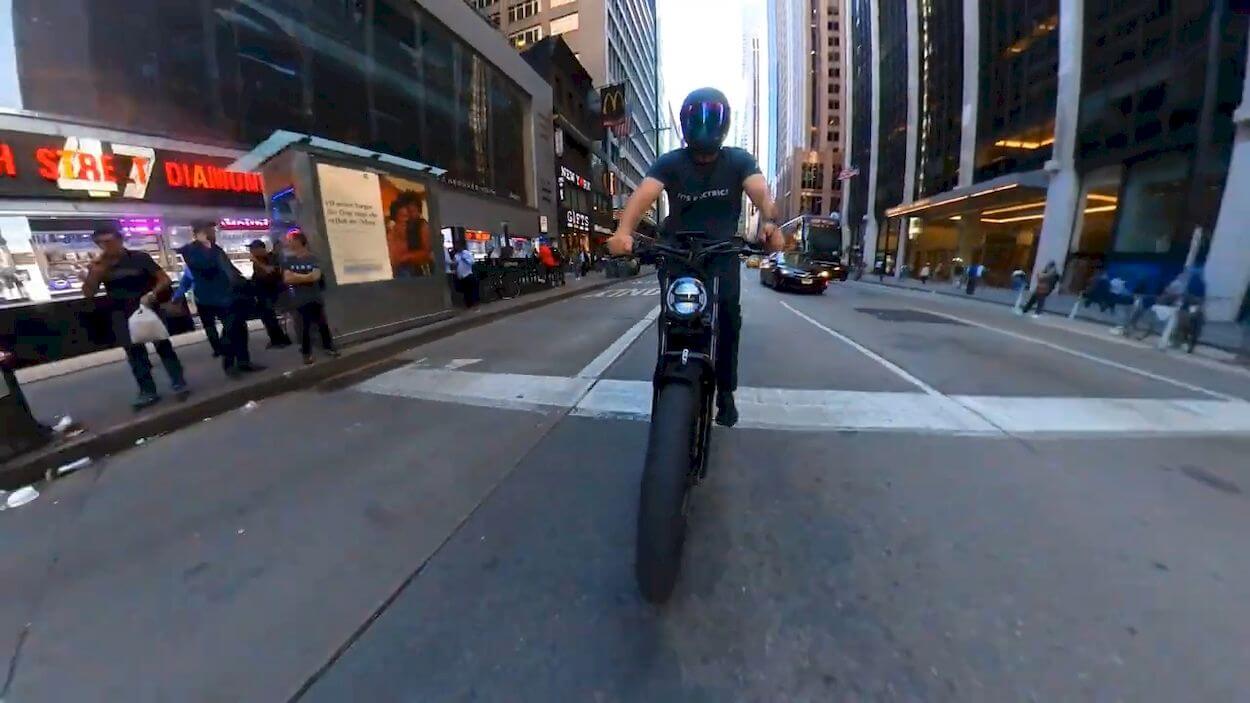 The powerful assistance system of the VITILAN T7 significantly influences the bike's performance, making it possible to achieve impressive range results. Even when pedaling at a medium to very light level, the bike can cover an impressive 28.8 miles on a single charge. Given the bike's size and weight, this range performance is indeed impressive.
In city riding, where frequent stops at traffic lights are common, the bike's efficiency shines through. Even when maintaining a speed of 27-20 miles per hour, pedaling may not have a substantial impact on increasing the range. In such scenarios, the bike's powerful motor and torque play a pivotal role in maintaining speed and efficiency.
Conclusions
Overall, the VITILAN T7 e-bike offers an impressive package that is both visually striking and highly functional. The T7 logo, along with the elegant frame design, showcases meticulous attention to detail, making it a standout choice for those who appreciate aesthetics. The way the frame tapers from one end to another is a testament to the bike's craftsmanship, and it truly needs to be seen in person to be fully appreciated.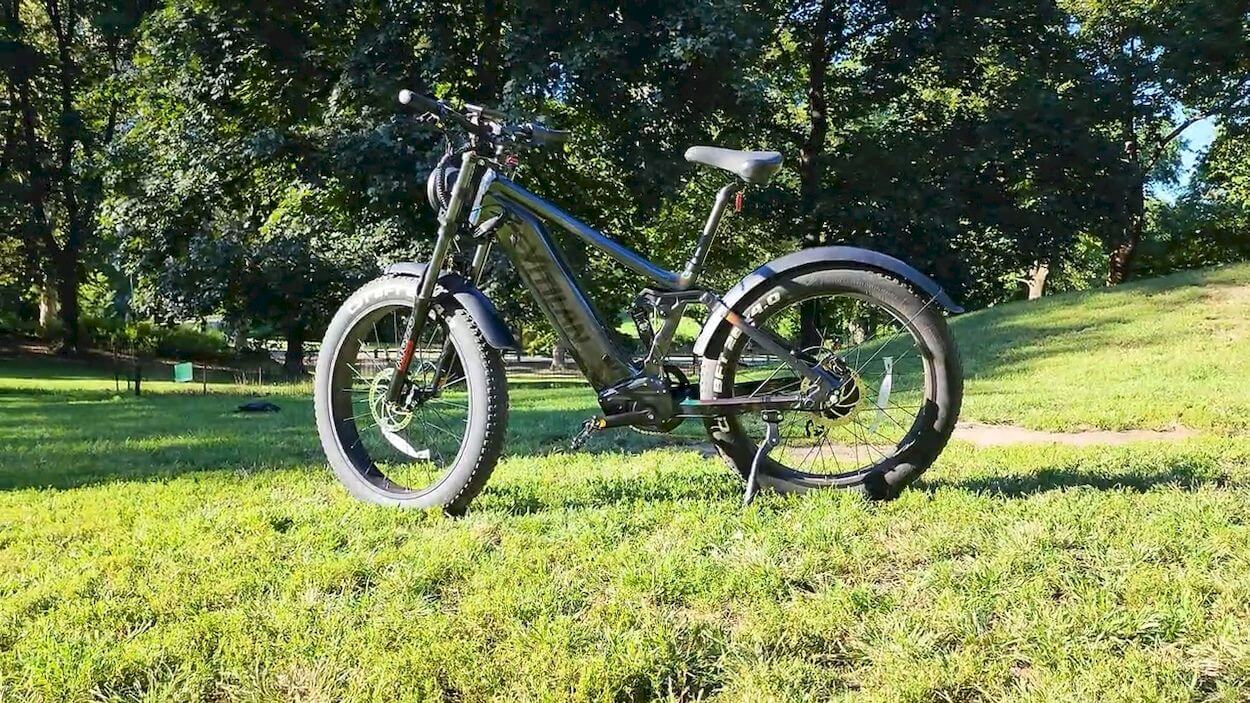 The bike, as it comes, offers a great setup for the average rider, making it suitable for a variety of terrains, from regular city biking to off-road adventures. The front fork replacement and shock upgrade potential further elevate its capabilities, promising an incredible off-road experience with a few modifications.
What's even more exciting is the commitment of the VITILAN team to continually improve the T7. The promise of providing a rear rack, tail lights, a longer seat post option, and upgrading both the rear and front shocks with more advanced options in the future is a testament to their dedication to enhancing the bike's performance and rider experience.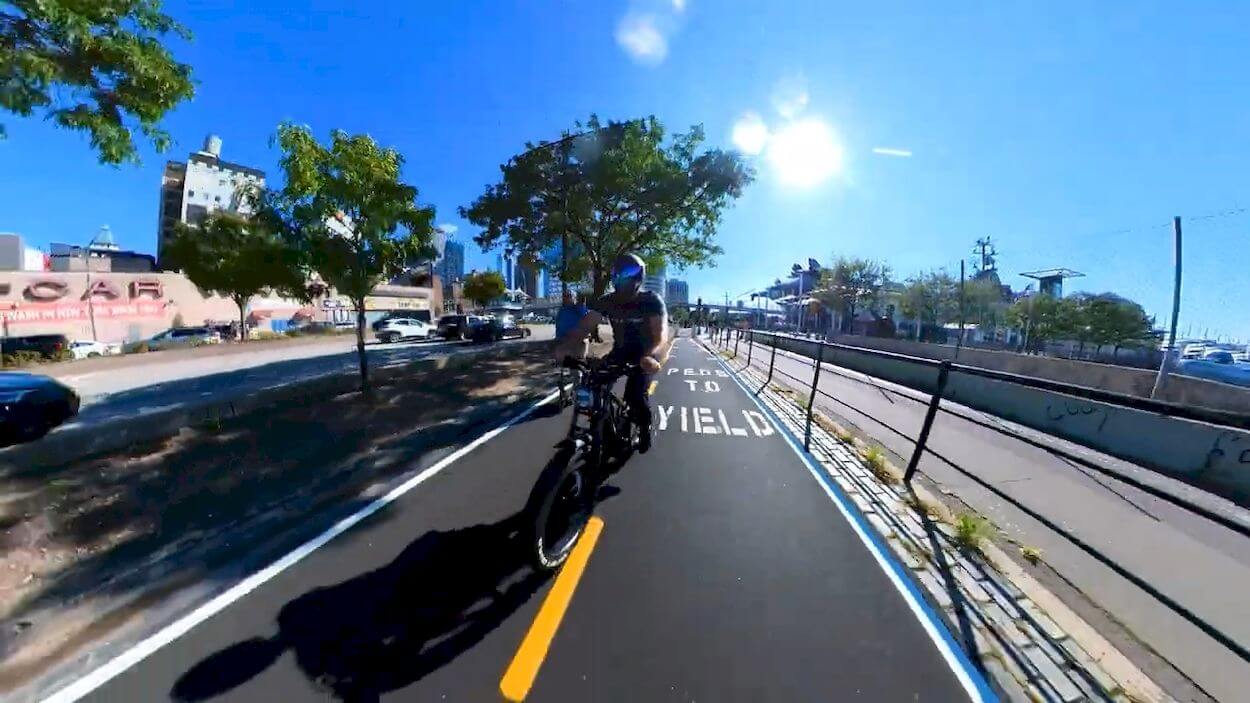 The T7 is known for its powerful start and aggressive acceleration, making it a thrilling choice for those who seek excitement in their rides. Priced at $1,900, it offers a well-rounded off-road setup that's both affordable and capable. For those looking for an e-bike that can handle a range of terrains and deliver a powerful performance, the VITILAN T7 is certainly worth considering.
Alternatives of VITILAN T7