The new Magnum Vertex is a true hybrid among e-bikes, seamlessly blending the characteristics of a commuter bike with the rugged qualities of a hardtail mountain bike. This unique combination promises an exceptional and versatile riding experience, offering the best of both worlds.
The Vertex offers a compelling value proposition with its price tag of $2,999. At this price point, it provides access to an array of impressive features and capabilities, making it an enticing choice for e-bike enthusiasts. This affordable pricing ensures that riders can enjoy the benefits of an electric bike without breaking the bank.
As an avid enthusiast of electric bikes, I couldn't wait to put the Vertex through its paces and share with you what makes it stand out in the e-bike world. So, let's saddle up and embark on a ride to explore all the exciting features and qualities that set the Vertex apart from the rest.
| | |
| --- | --- |
| Frame material | Aluminum Alloy |
| Motor Nominal Output | 500 Watts |
| Top Speed | Up to 28 mph with Pedal Assist, 20 mph with Throttle |
| Drive Mode | Torque Sensor Pedal Assist, Thumb Throttle, Walk Mode |
| Display Type | Magnum Branded VeloFox, 8 x 7 cm. Display Screen, Backlit Monochrome LCD |
| Fork Details | Suntour XCM34 Boost |
| Brakes | Tektro Hydraulic |
| Tire Brand | 27.5 x 2.8-inch |
| Chain | KMC 10-Speed |
| Battery | 15Ah |
| Minimum Range | 25 Miles (40 Kilometers) |
| Maximum Range | 50 miles (80 Kilometers) |
| Total Weight | 74.5 lbs (33.75 kg) |
Design and Build Quality
The Magnum Vertex is a versatile electric bike with a design and build quality that makes it suitable for a wide range of riding scenarios, from daily commuting to off-road adventures. Its features and components make it a solid choice for those who need a bike capable of handling various terrains.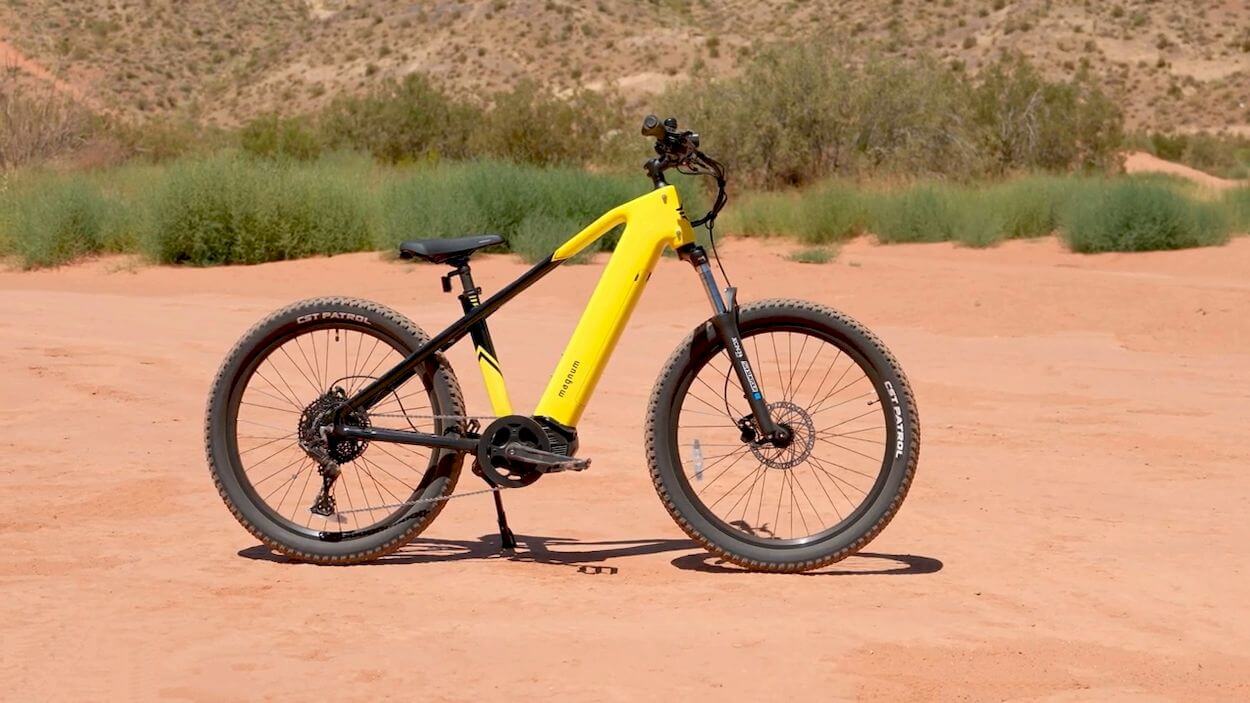 The Magnum Vertex is built with quality and durability in mind. The frame is robust and can support the weight of the bike, which can be up to 75 pounds with a rider. Its design is tailored to accommodate the power needs of both mountain biking and cargo hauling.
The bike's motor is designed specifically for mountain bikes and cargo bikes. It provides ample power to move the bike, even when fully loaded, and offers a comfortable riding experience.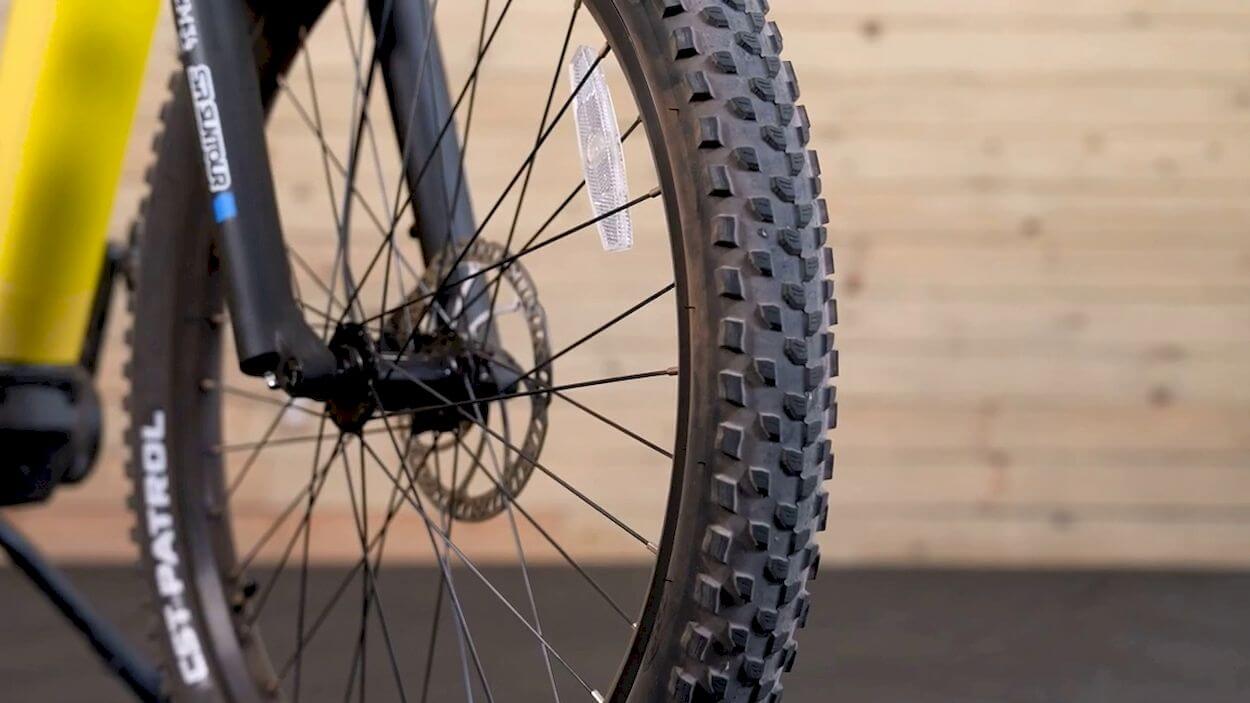 The Magnum Vertex features 27.5-inch by 2.8-inch CST Patrol tires with a robust tread pattern that provides excellent traction on dirt and gravel roads, making it suitable for fire roads, double tracks, and light single-track trails.
The Suntour XCM 34 Boost suspension fork with 130mm of travel ensures a smoother ride, especially when tackling rough terrain. It enhances the bike's control and comfort.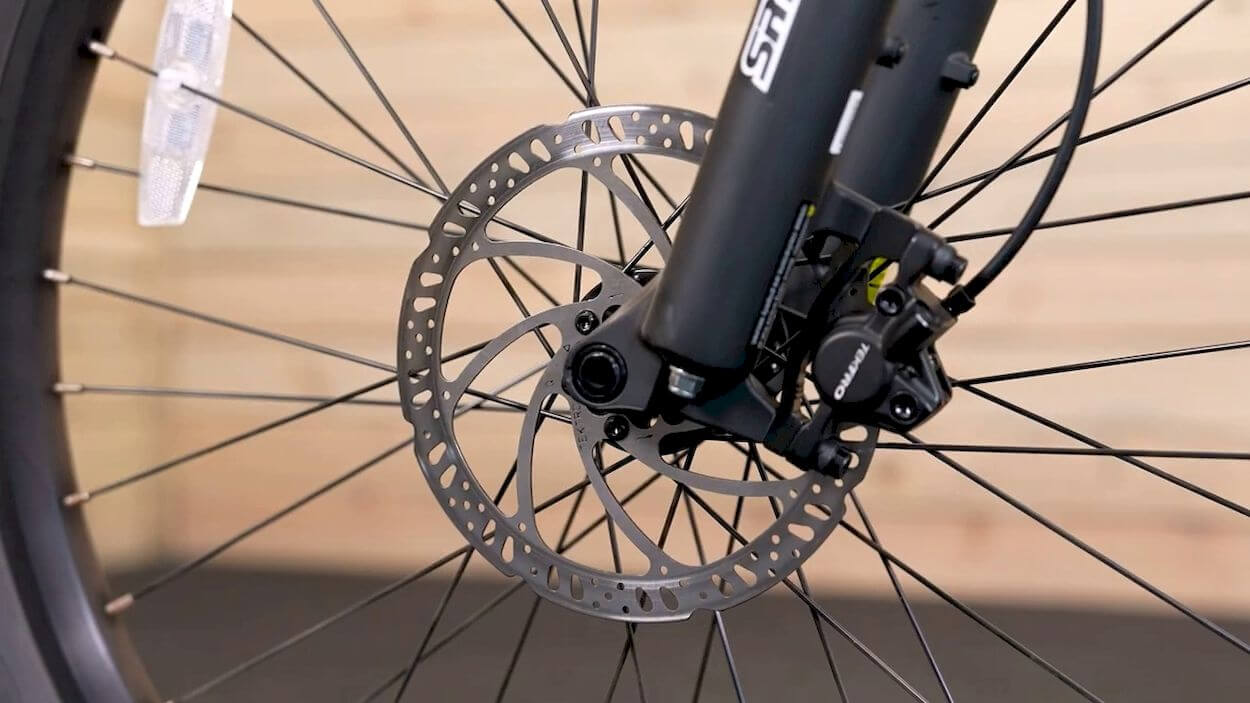 The use of a torque sensor for the motor provides adaptive and responsive assistance. It offers various levels of pedal assistance, with even the lowest setting (eco mode) giving substantial support. The bike responds to your pedaling effort, making it intuitive to ride.
The 720mm handlebars with ergonomic grips strike a balance between comfort and control. They are suitable for both on-road and off-road riding, offering a comfortable grip for long rides.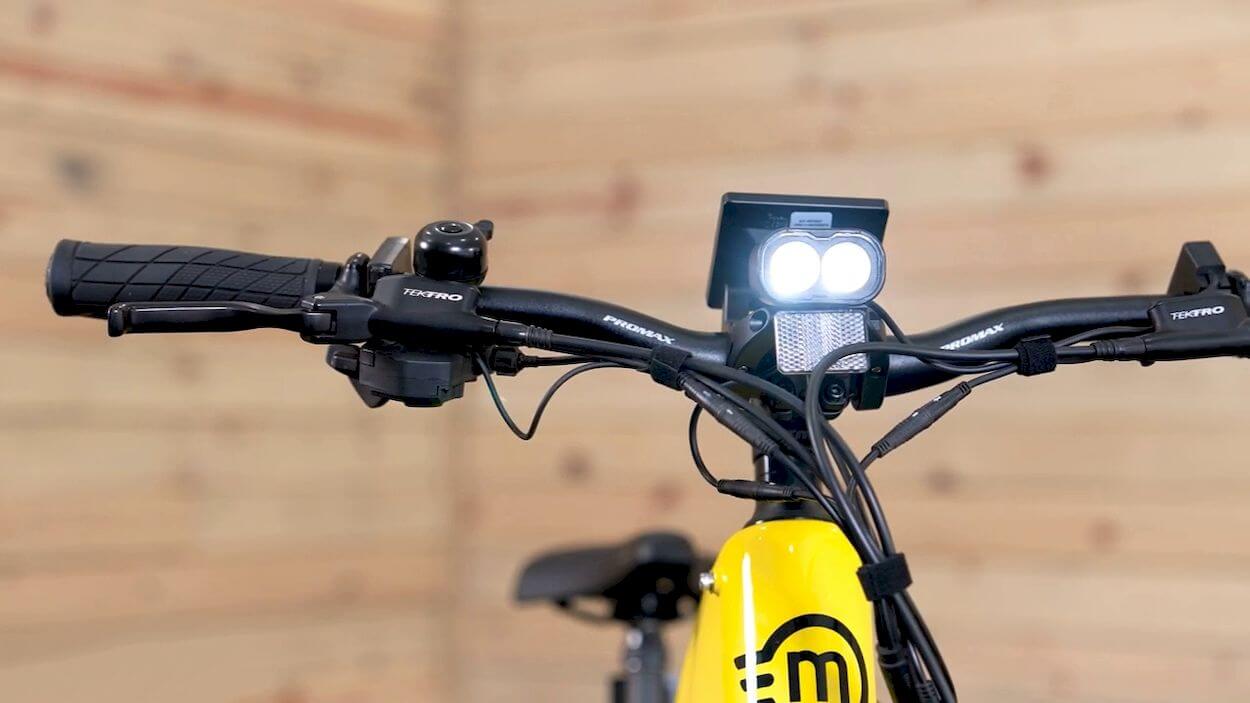 The 10-speed Micro Shift Advent X drivetrain with a 42-tooth chainring and a wide range of cogs (11-48 tooth cassette) ensures that the bike can handle both climbing and high-speed pedaling effectively.
The Tektro E350 hydraulic brake system with 180mm rotors provides reliable stopping power, enhancing safety during your rides.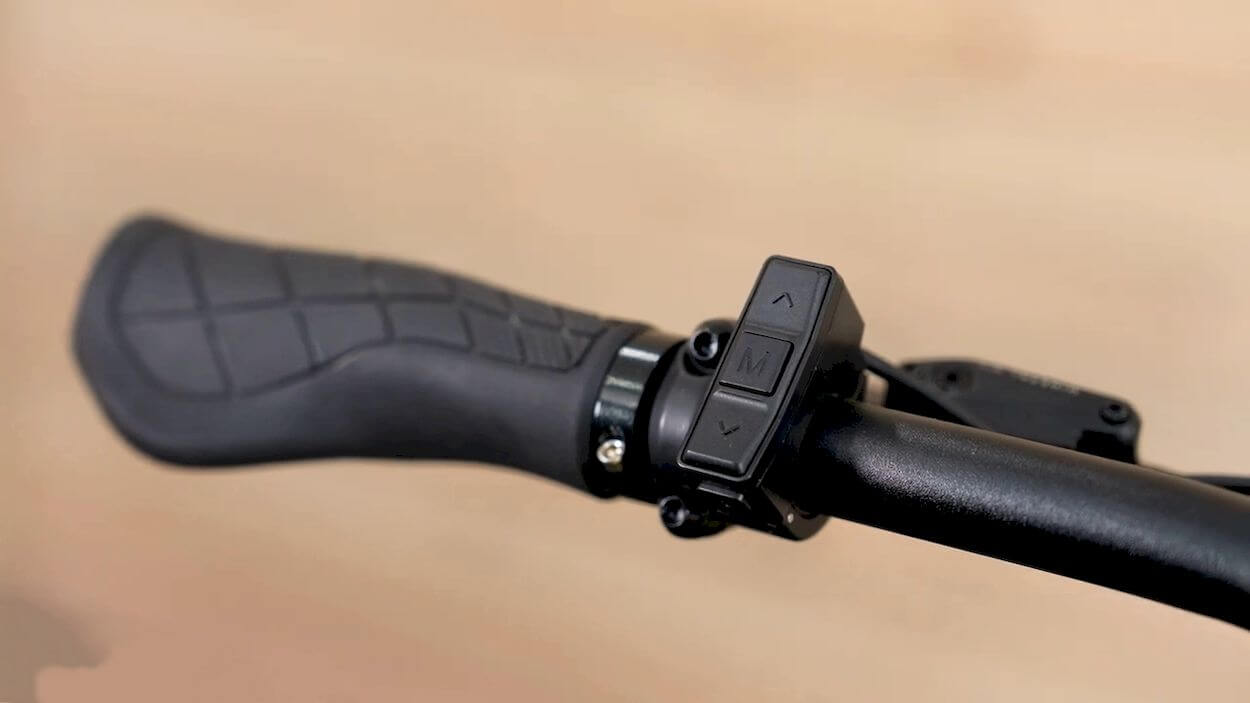 The dual LED headlight is a useful feature for nighttime or low-light riding, although upgrading the rear light for better visibility on the road is advisable for those who plan to commute frequently.
Magnum offers fenders and a cargo rack as optional accessories, making it practical for commuting and carrying items. The seat tube's compatibility with various dropper posts allows for customization.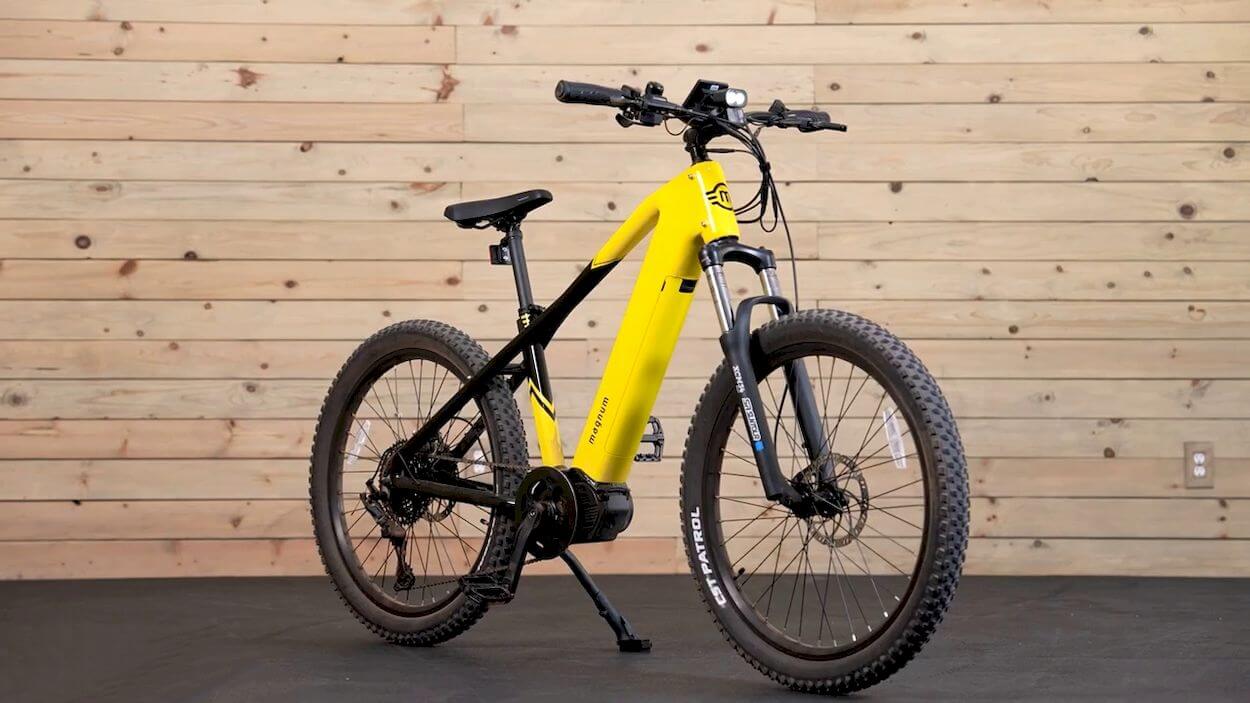 The bike's cockpit layout is user-friendly, with a minimal LCD display and easy-to-reach controls. The shifter and throttle lever are ergonomically placed for convenience.
The Magnum Vertex performed well in various scenarios. It felt comfortable and controlled on both paved and off-road trails, thanks to its responsive motor, capable suspension, and well-balanced handlebars. The wide gear range made it suitable for climbing and high-speed pedaling, and the braking system provided confidence-inspiring stopping power.
Magnum Vertex:
Motor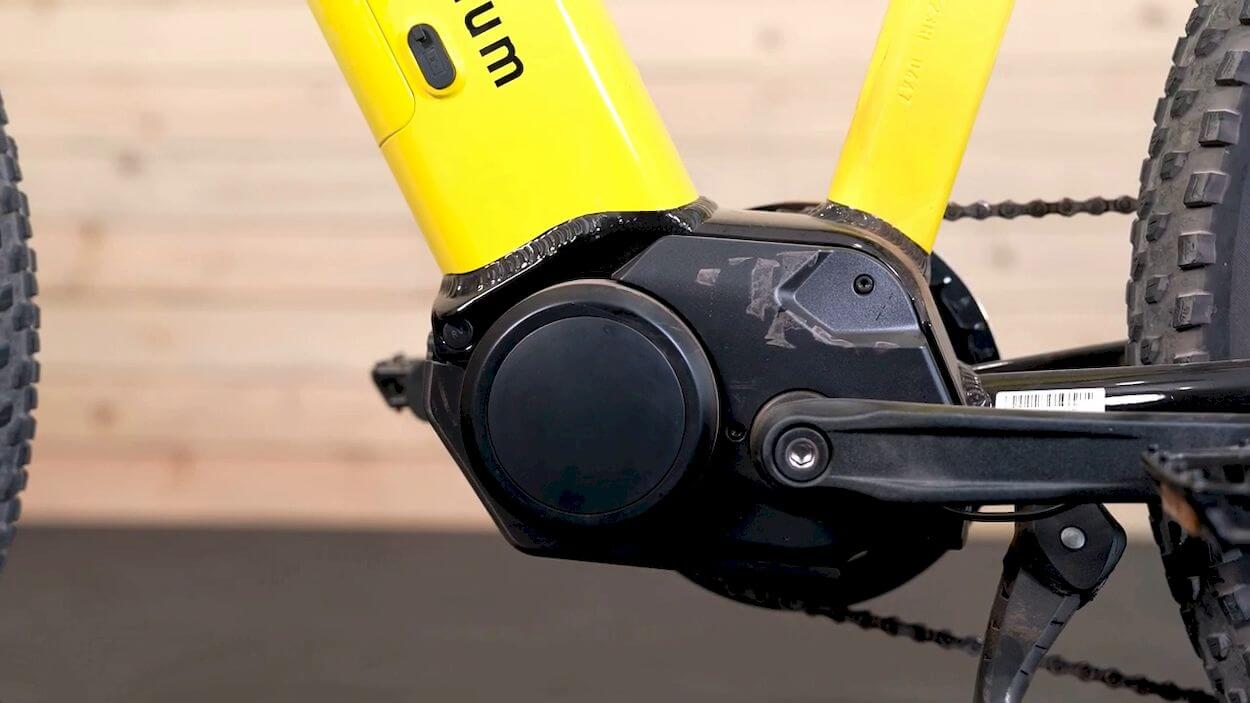 The Magnum Vertex is classified as both a Class 2 and Class 3 electric bike, offering riders a versatile and electrically assisted riding experience. Its core power source is a 500-watt mid-drive motor manufactured by Ananda, a well-known name in the e-bike industry. This motor is at the heart of what makes the Magnum Vertex an exceptional e-bike.
Brake Test
In our rigorous testing of the Magnum Vertex, we conducted three segments where we pushed the bike to its maximum throttle-assisted speed of 20 miles per hour, subsequently applying the brakes and meticulously measuring the stopping distance. The results revealed an average stopping distance of 23 feet and four inches. While this figure falls on the higher end of the spectrum, it is essential to underscore that it still falls within the range we consider safe and effective.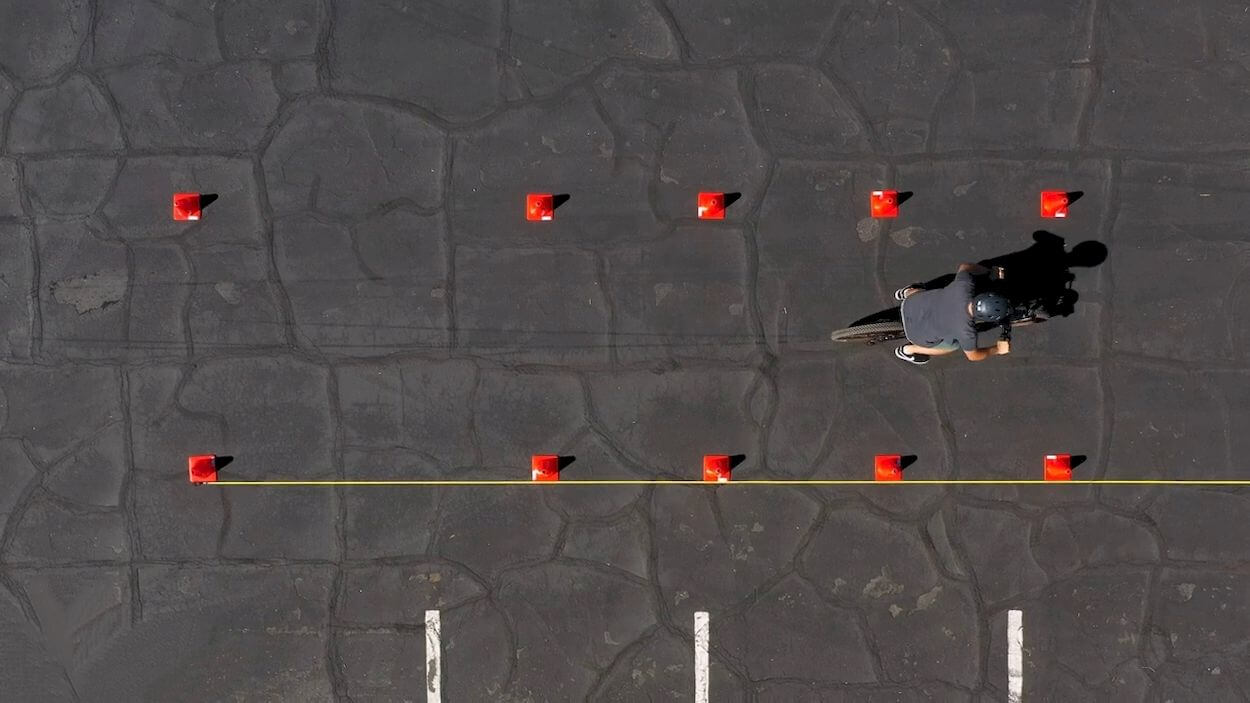 Stellar stopping power is an absolute necessity when navigating off-road terrains. Therefore, we would appreciate the option for an upgrade to a four-piston hydraulic braking system, potentially coupled with larger rotors to enhance heat dissipation. Notably, the forks on the Magnum Vertex can accommodate rotors of up to 203 millimeters, making this option not only viable but also advantageous. A more robust braking system would undoubtedly contribute to an even more satisfying and secure riding experience.
To provide a broader perspective, we compiled data from all the mountain bikes and commuter bikes we have tested for comparative analysis. The average stopping distance across both of these categories currently stands at 20 feet and one inch. This comparison underscores just how much more ground we covered in our braking tests with the Magnum Vertex. Despite our results exceeding the average, it's crucial to recognize that e-bike speeds can cover distances rapidly. In the context of riding an e-bike, three feet can pass by in the blink of an eye.
On the road
Let's embark on a ride with the Magnum Vertex, allowing us to experience the results of our speed tests in each of the bike's pedal assist settings. We initiated our speed test regimen by first exploring the Vertex's capabilities with no motor assistance. In this setting, the bike cruised along at approximately 11.5 miles per hour.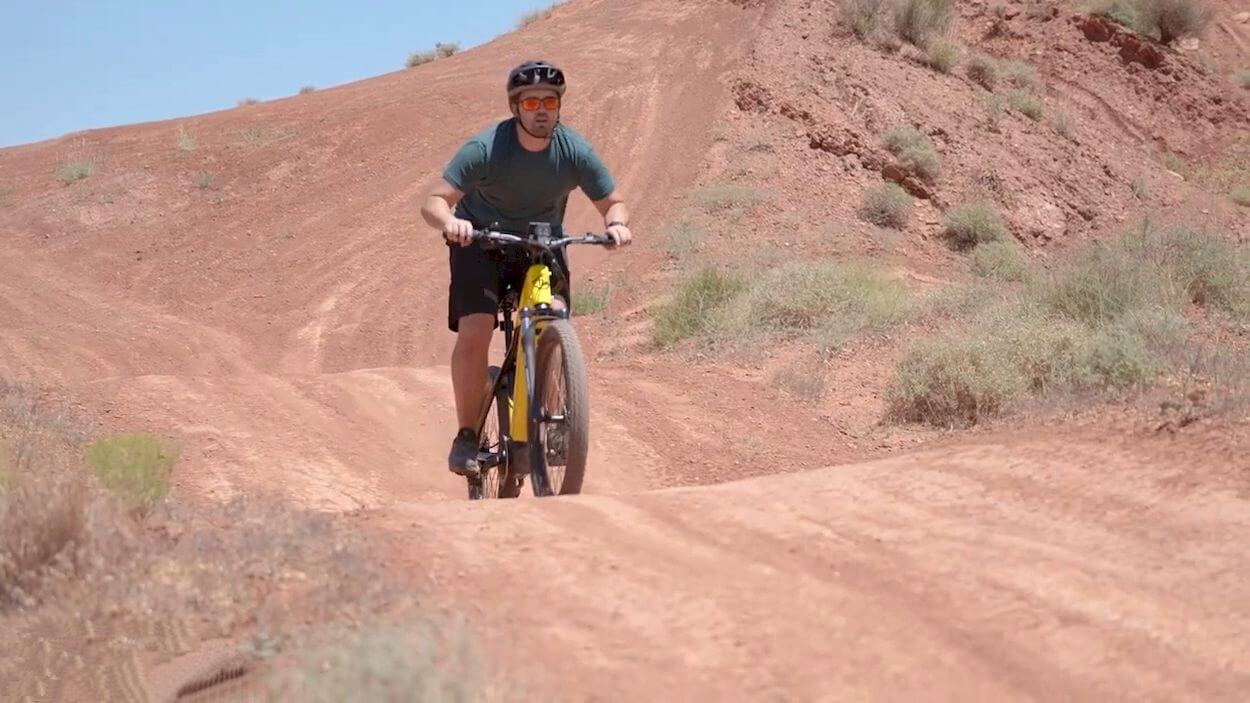 Next, we engaged the eco mode, and the motor's response was immediate. We swiftly accelerated to around 15.5 miles per hour. The ease of shifting gears made adjusting to the higher speed a breeze.
Moving on to tour mode, we further increased our pace with minimal effort. The bike effortlessly reached speeds of about 19.5 miles per hour. It's worth noting that shifting gears was both smooth and responsive.
As we transitioned to sport mode, the Vertex continued to impress with its seamless power delivery. With just a slight delay in the shifter, we effortlessly reached around 22 miles per hour.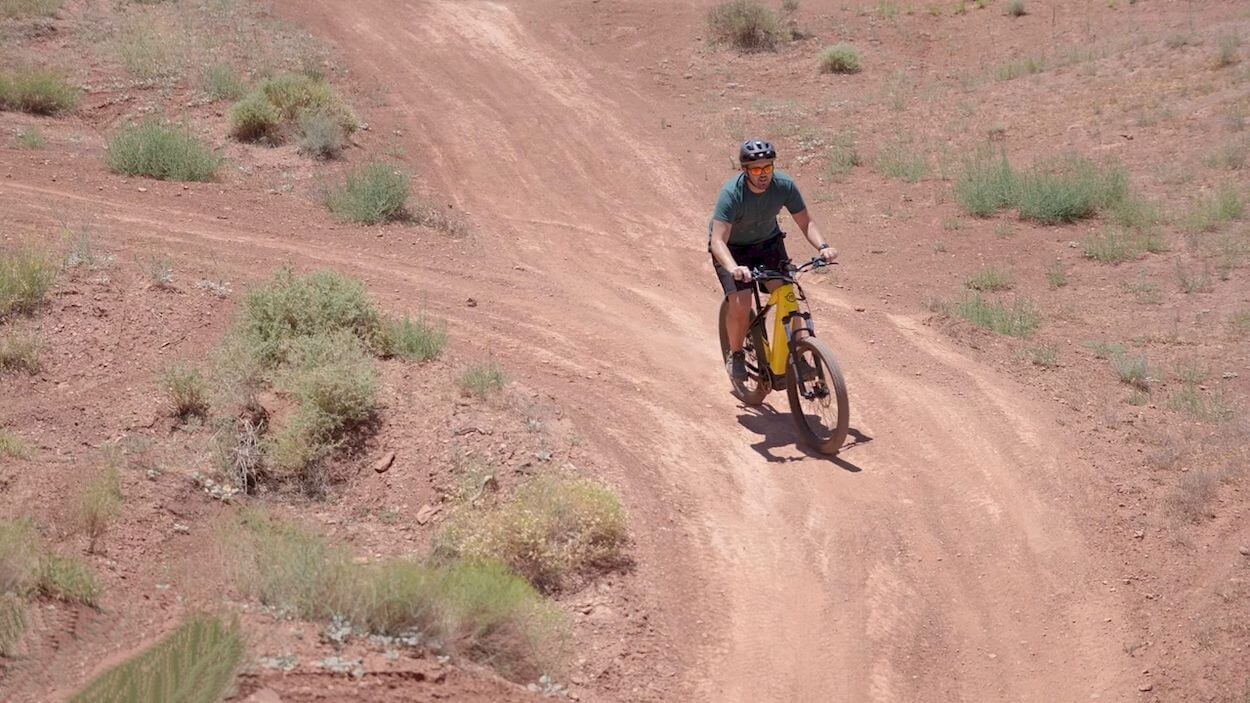 Upon reaching turbo mode from sport mode, we accelerated to approximately 25 miles per hour, slowing only slightly on curves. Finally, we pushed the bike to its limits in boost mode, where we reached an impressive speed of about 26.5 miles per hour.
The distribution of power between the five pedal assist settings was notably well-balanced. The use of a torque sensor in the 500-watt motor allowed for versatile speed ranges in each setting, offering an intuitive and responsive riding experience. While we didn't quite reach the Class 3 maximum speed of 28 miles per hour, this was satisfactory, considering the bike's hybrid nature and design balance. Riders with lighter weight may even exceed these speeds.
When maintaining a casual pedal cadence, the bike exhibited a slight "ghost pedaling" effect above 20 miles per hour, which is a common outcome given the 42-tooth chainring. Nevertheless, this setup strikes a balance between road and off-road suitability, ensuring both speed and efficiency.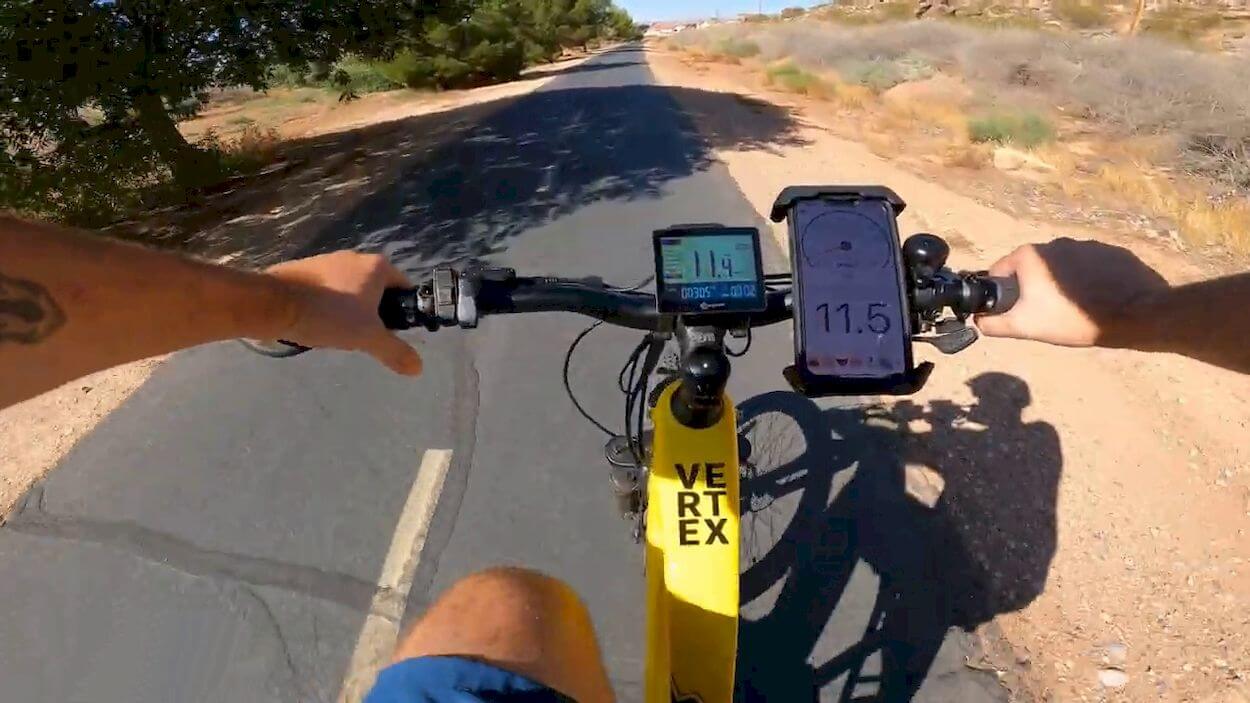 In summary, the Magnum Vertex excelled in terms of motor power and acceleration. The mid-drive motor with a torque sensor exhibited a high level of responsiveness and made pedaling a pleasure. With throttle use, the bike's gearing allowed for a maximum speed of around 19.5 miles per hour, showcasing a well-matched system. Ultimately, the bike's performance left us thoroughly impressed with its power and agility.
Now, let's transition to the hill test, where we put the Magnum Vertex to the ultimate challenge. Justin tested the bike using both the throttle and pedal assist in boost mode to see how it fares on a steep incline.
The throttle test revealed that, despite the throttle's gentle application, it efficiently powered the bike up a remarkably steep hill. This feat was particularly impressive, considering that steep hills often pose a significant challenge for e-bikes. As the test progressed, the bike maintained an average speed of around 9 miles per hour, and the motor was recorded delivering a substantial 900 watts of power. This result demonstrated the bike's impressive torque and hill-climbing capabilities.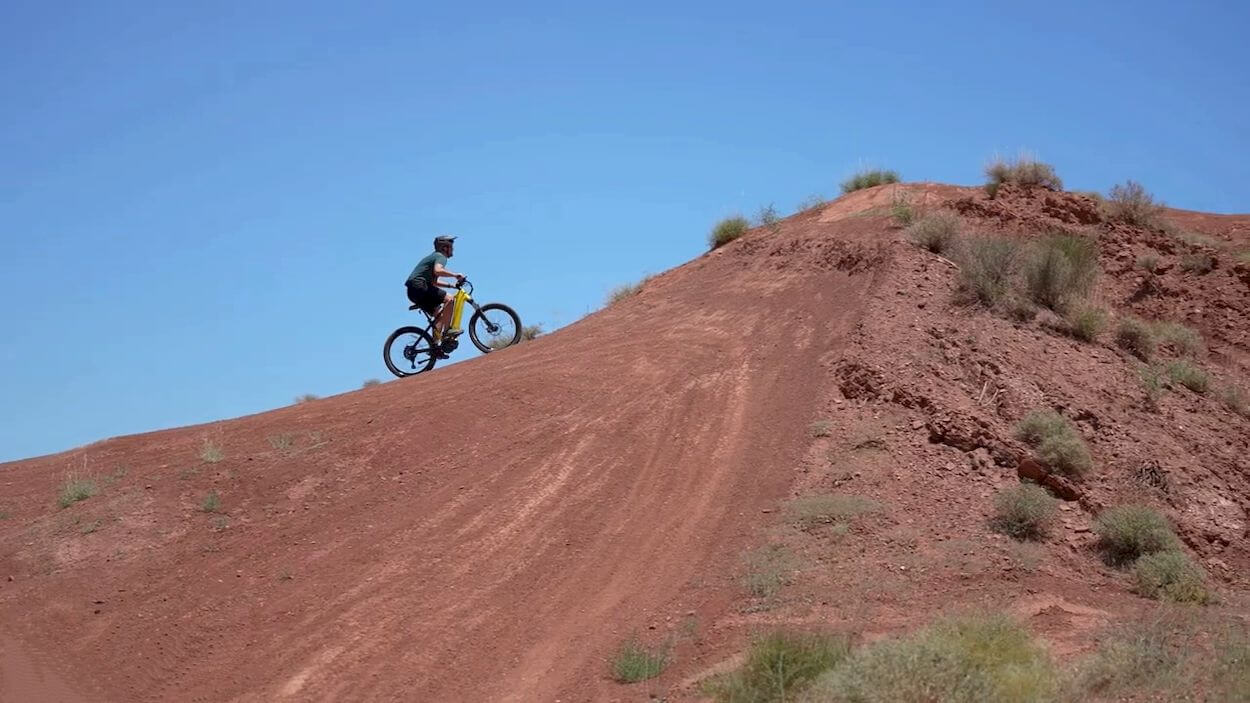 Switching to the pedal test in boost mode, Justin encountered no difficulties while climbing the steep incline. The motor provided ample power, and the rider's effort was minimal. The bike steadily maintained speeds of around 10 to 11 miles per hour during the ascent. The sound of the motor was noticeable but not intrusive, and it exhibited no issues while tackling this challenging climb.
In this rigorous hill test, the Vertex showcased its ability to conquer steep inclines, both with the throttle and through pedal-assisted riding in boost mode. The motor's power and performance made it clear that this e-bike is well-equipped to handle demanding terrains.
Now, let's dive into the overall ride quality of the Magnum Vertex. This e-bike boasts a unique hybrid design, blending elements of a mountain bike or cross-country bike with that of a commuter bike. As a result, riders experience a moderate forward lean, a geometry that offers a balance between agility and comfort.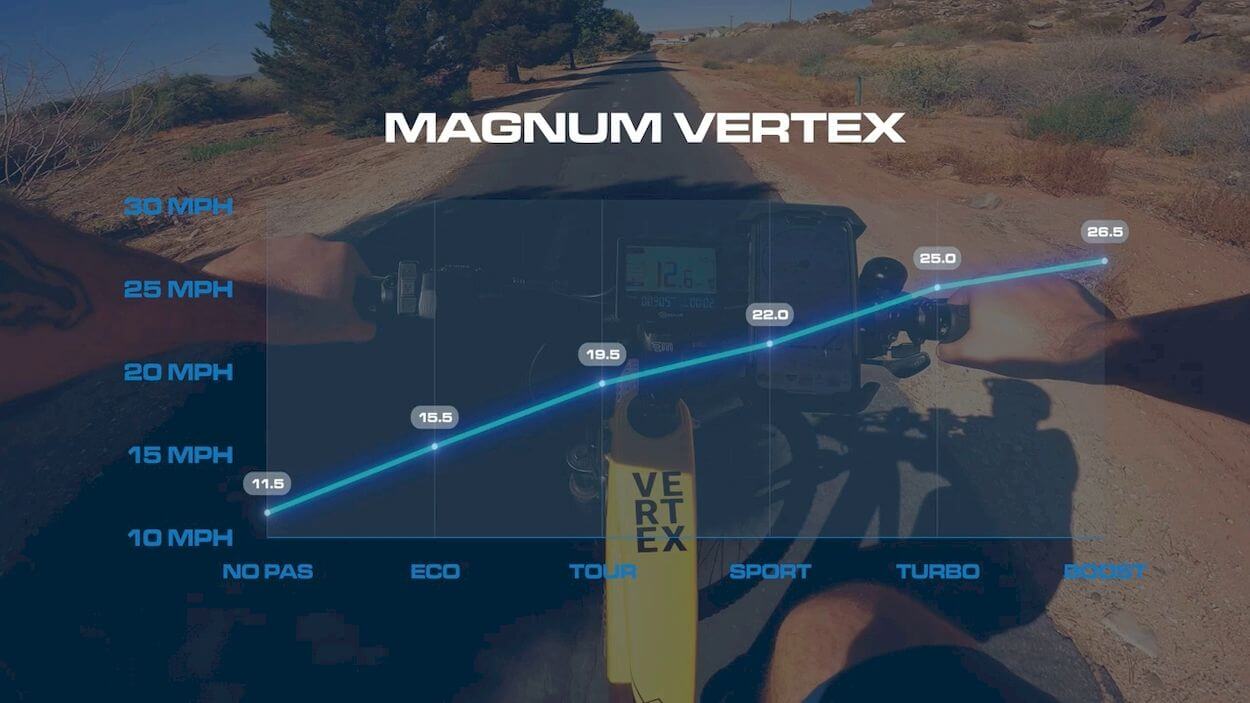 The 720-millimeter-wide handlebars contribute to excellent control and stability, whether on or off-road. The 27.5-inch by 2.8-inch CST tires, with their chunky tread, provide solid grip and handling on diverse terrains, making the Vertex versatile and well-suited for various riding scenarios.
The front suspension fork, with 130 millimeters of travel, enhances comfort, especially when descending on challenging trails. While the bike is a hardtail, meaning it lacks rear suspension, the overall ride quality remains satisfactory.
The saddle, despite the absence of rear suspension, offers comfort, and the motor provides an excellent balance of power and responsiveness. Thanks to the torque sensor, the bike's pedal-assist system responds intuitively to your pedaling effort, amplifying your own power input efficiently.
When considering ride quality, we'd like to highlight that the Vertex manages to cater to a broad spectrum of riders. However, there is potential room for frame size adjustments to better accommodate both taller and shorter individuals.
Battery and Range
The Magnum Vertex boasts an impressive 48-volt battery with a capacity of 15 ampere-hours, translating to a substantial 720-watt hours of power. This battery capacity is noteworthy and sets the Vertex apart, especially when considering its compatibility with the motor it houses. In fact, it not only meets but exceeds the desired ratio of motor watts to Battery Watt hours that is typically sought in electric bikes, showcasing a harmonious pairing of power.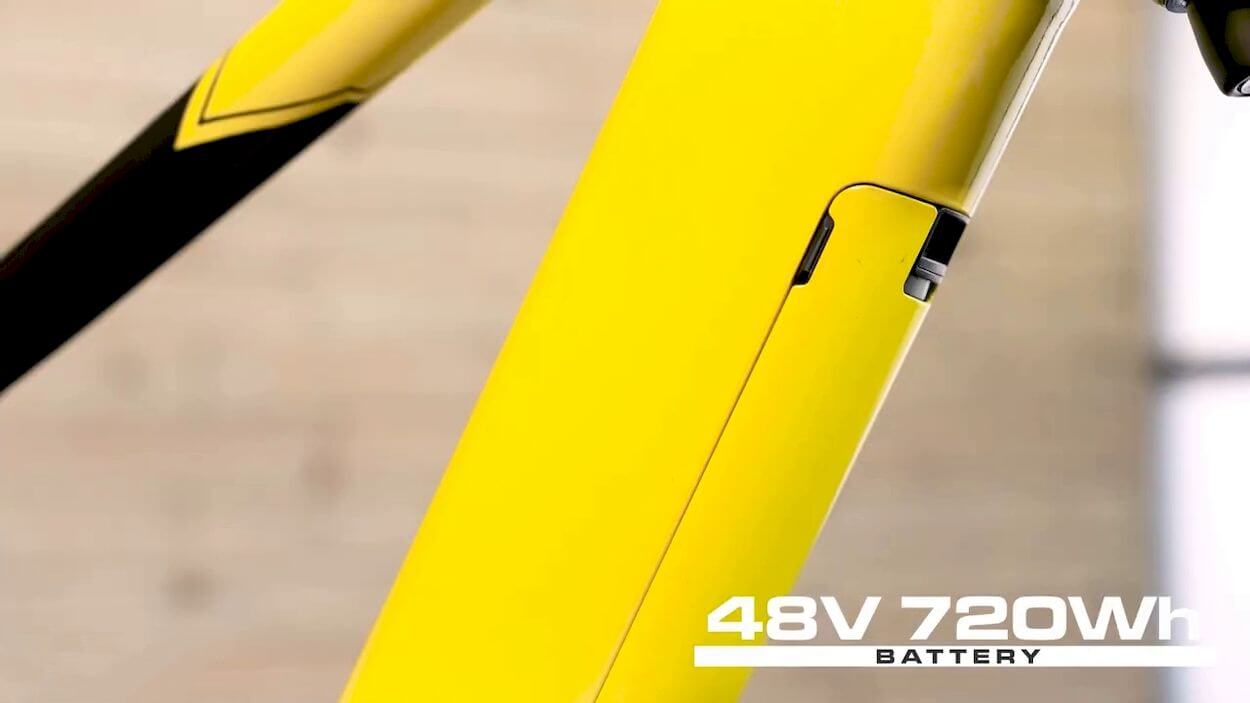 The battery employs Samsung cells, known for their reliability and durability. Not only is it high-performing, but it's also a removable component, which facilitates recharging and replacement when needed. What's equally appealing is how seamlessly the battery integrates into the frame of the Magnum Vertex. It's not merely a functional element; it is thoughtfully designed to blend in with the overall aesthetics of the bike. Furthermore, it's painted to match the frame, ensuring a cohesive and visually pleasing look.
In our range tests, the Magnum Vertex yielded exceptional results. The manufacturer advertises a range of 25 to 50 miles with this e-bike, and our tests surpassed both ends of this spectrum. During our trials, we measured a range between approximately 31 and 58 miles. This performance is noteworthy for a couple of reasons. Firstly, it demonstrates that the brand provides conservative and, more importantly, achievable range estimates for its e-bike. Secondly, it indicates the impressive efficiency of both the motor and the battery.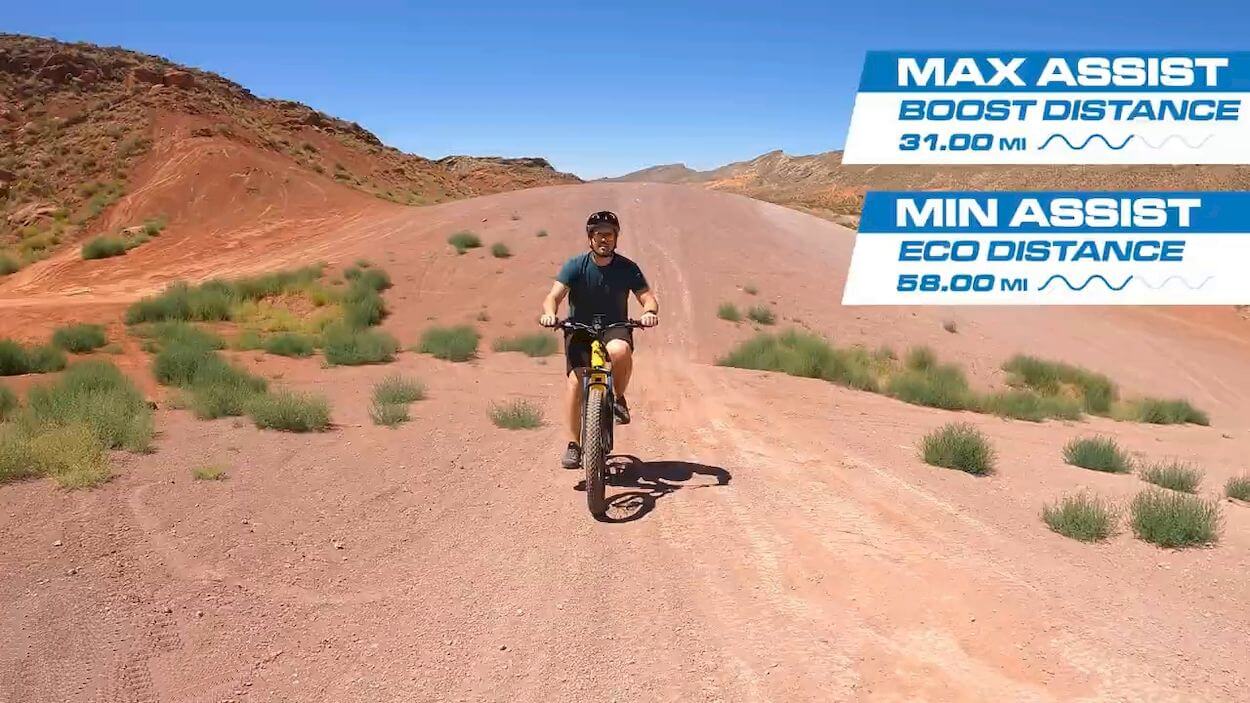 This efficiency is further underscored by considering the earlier mentioned ratio of motor watts to Battery Watt hours. With a 500-watt motor and a 720-watt hour battery, our expectations were that the range test in boost mode would take around an hour and 25 minutes. However, we were pleasantly surprised to get an extra 20 minutes or so of riding time, marking a significant increase of 23 percent beyond our expectations.
For our test in eco mode, which yielded the impressive 58-mile result, we were able to ride for nearly five hours at an average speed of around 13 miles per hour. This extended range underscores that when riding at a leisurely pace, the Magnum Vertex offers remarkable distance coverage before necessitating a recharge.
Conclusions
In summary, our experience with the Magnum Vertex exceeded our expectations, making it one of our favorite bikes to date. The Vertex masterfully strikes a balance between the characteristics of two different bike types, combining the versatility of a commuter bike with the ruggedness of a mountain bike. While it might not be tailor-made for hardcore, dedicated mountain bikers seeking specialized performance, it is exceptionally well-suited for those who appreciate the feel of a mountain bike and desire a bike that can seamlessly transition from weekday commuting to weekend off-road adventures.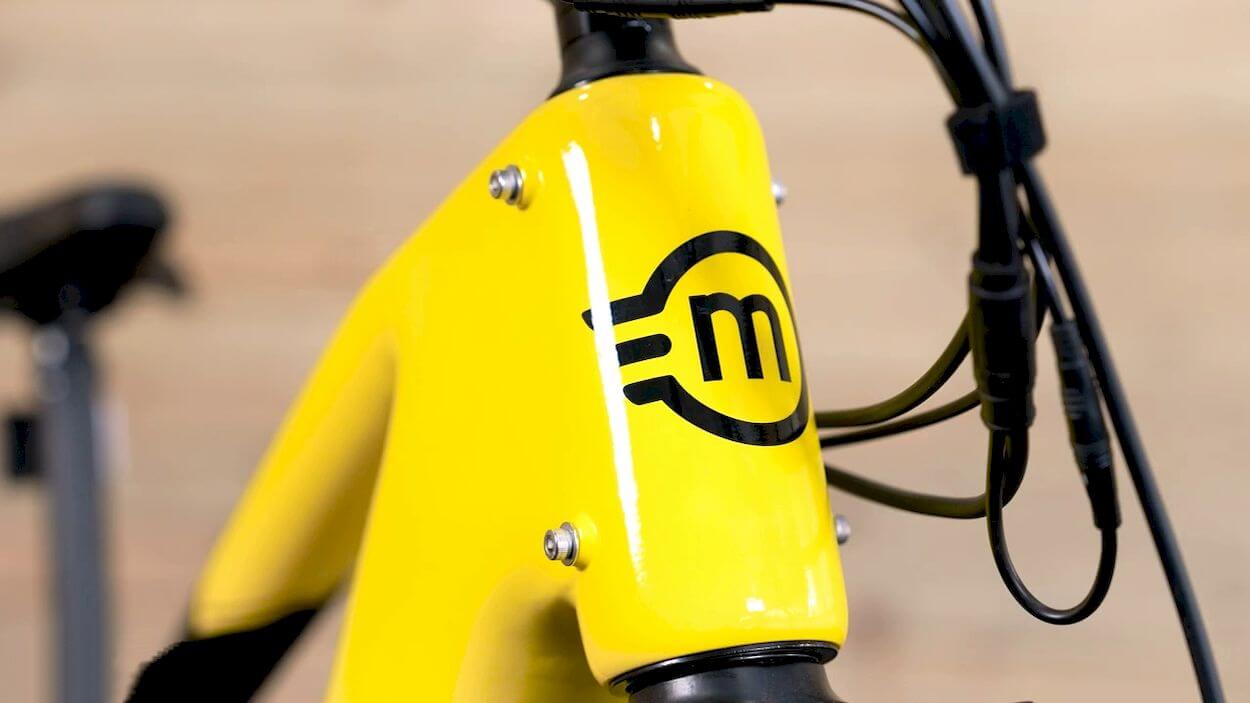 The Vertex impresses with its entry-level hybrid design, offering riders the flexibility to tackle various terrains. Our critiques of the bike are relatively minor. While the current brake system is decent, we believe the option for an upgrade to a four-piston hydraulic system with larger rotors would be a valuable addition. Additionally, expanding the range of frame sizes to accommodate shorter and taller riders would enhance the bike's inclusivity.
The Magnum Vertex is an e-bike that delivers a fun, powerful, and versatile riding experience. It excels in various riding scenarios and offers riders an opportunity to explore diverse landscapes. If the Vertex piques your interest, we believe it won't disappoint. You can find more information and details about this remarkable e-bike on Magnum's website, and we encourage you to check it out.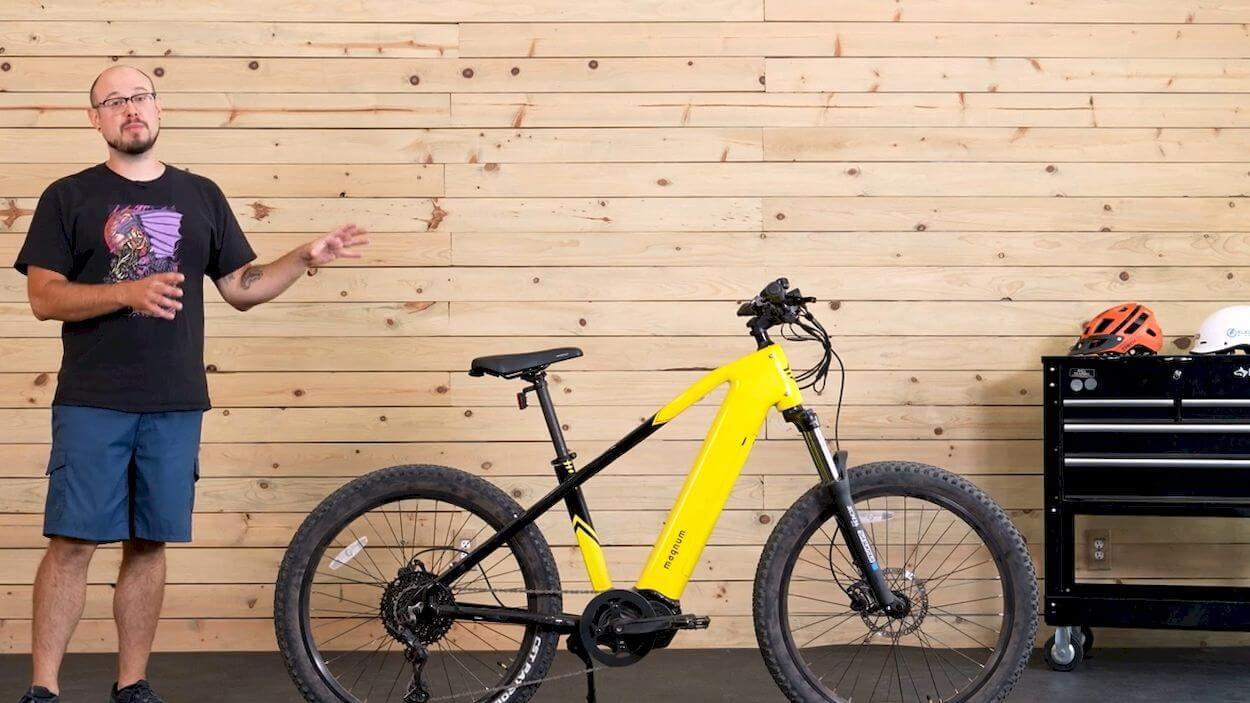 As we wrap up this review, we'd like to thank you for joining us on this electric bike journey. I'm John with Electric Bike Report, and this has been the Magnum Vertex – a bike that promises an exciting and satisfying riding experience.
Alternatives of Magnum Vertex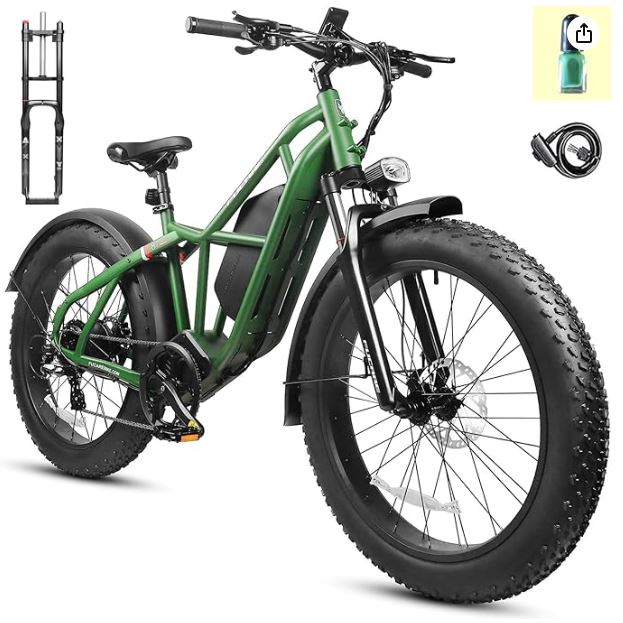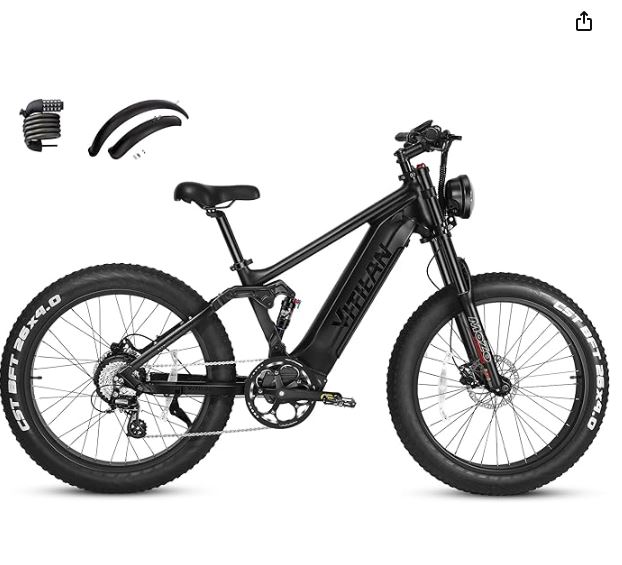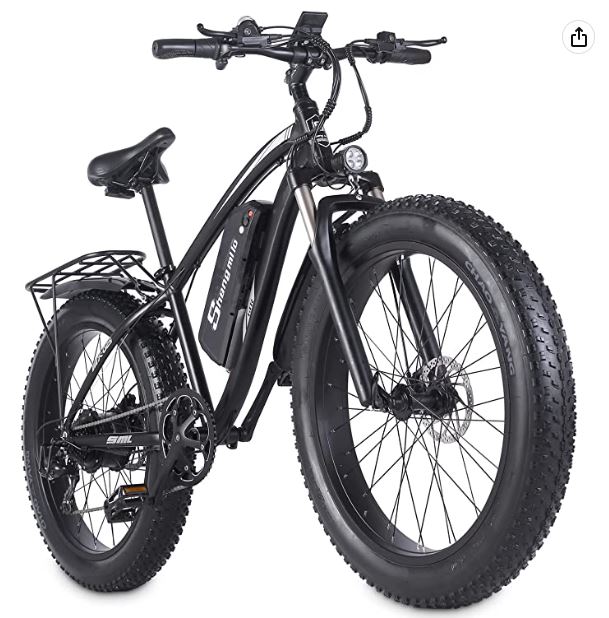 Magnum Vertex Review 2023 | Hardtail Trail Bike With Comfortable Features
We tested the bike's performance to give you all the details in this Magnum Vertex review!