Hello everyone, and welcome to Brian Unboxed! In today's video, we're diving into the world of electric scooters, and we have a special one to showcase: the Arvala C-Pro. Electric scooters have become a popular choice for urban commuters and adventure seekers alike, offering a convenient and eco-friendly mode of transportation.
The C-Pro promises an exciting and versatile riding experience with its impressive features, powerful motor, and off-road capabilities. We'll take a closer look at its design, performance, and everything that makes it stand out from the crowd.
Stay tuned as we unbox and explore the Arvala C-Pro electric scooter. We'll provide an in-depth overview, highlight its key features, and share our thoughts on this exciting addition to the world of electric mobility. So, whether you're a seasoned scooter enthusiast or a curious newcomer, this video is sure to offer valuable insights into the C-Pro. Let's get started and discover what makes this scooter a noteworthy choice in the electric scooter market.
| | |
| --- | --- |
| Frame | Aluminum alloy/steel |
| Motor | 1000Wx2 |
| Top speed | 37mph/60kph |
| Tire size | 10x3.0 inch | off-road/road wide tire |
| Light function | Front light+turn light+brake light |
| Suspension | F&R spring dampers |
| Brake | F&R Disc brake |
| Display | NFC round screen |
| Battery capacity | 52V18Ah |
| Range | 60km |
| Max load | 330 lbs |
Unboxing
The scooter is meticulously packaged with ample foam and padding to safeguard it during transit. This thoughtful packaging helps prevent any damage or scratches, ensuring that the scooter arrives in pristine condition.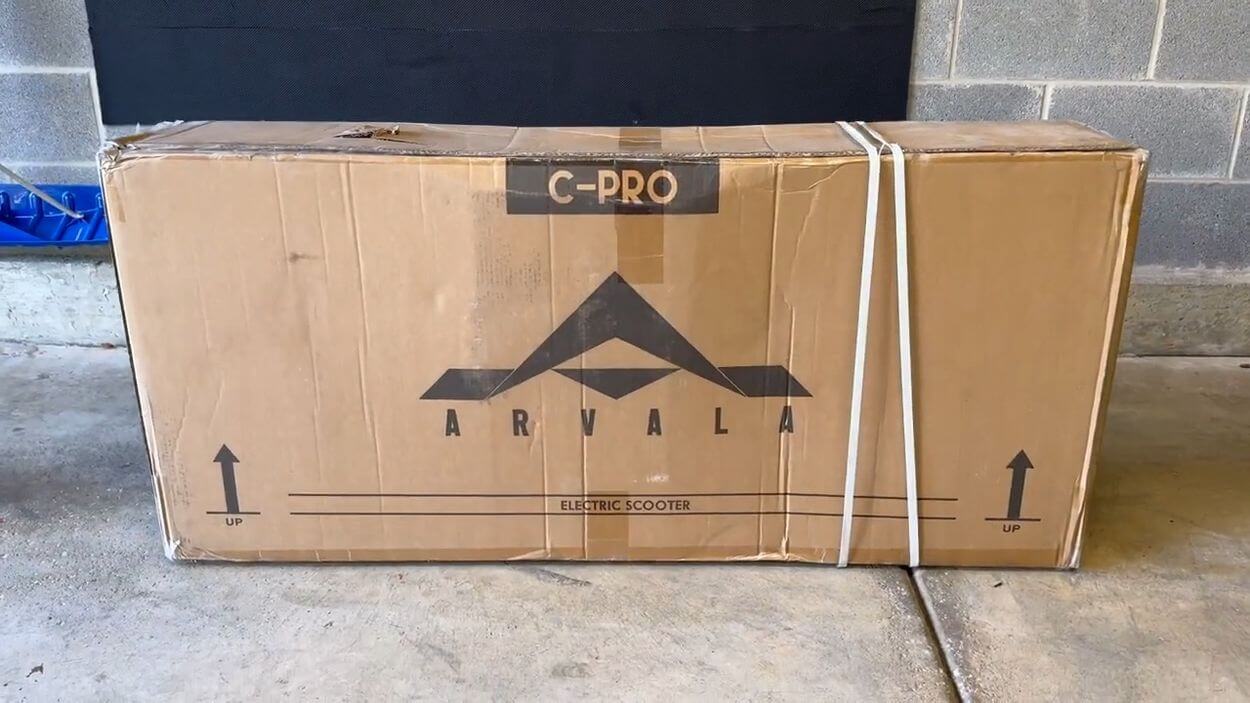 Upon opening the box, you'll find several essential components included with your Arvala C-Pro electric scooter: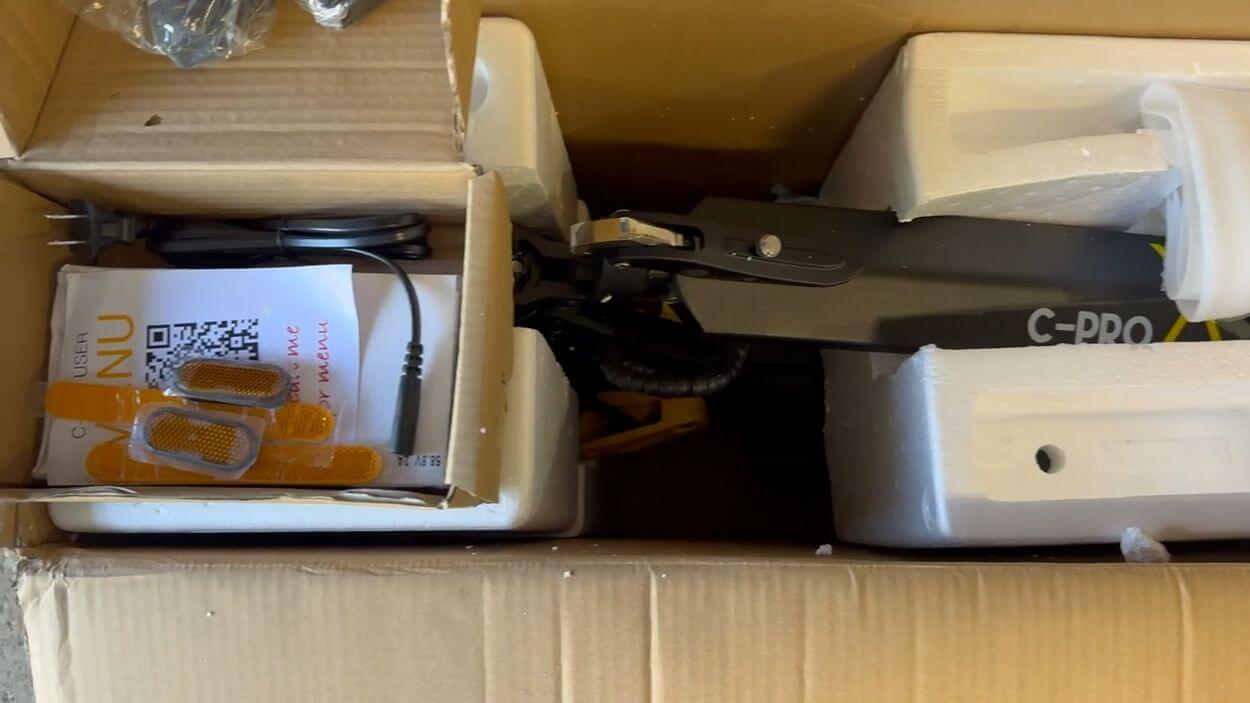 User Manual: A comprehensive user manual is provided to guide you through the assembly process and to help you become familiar with the scooter's features and operation.

Tools: The package includes the necessary tools required for assembly, making it convenient for you to put the scooter together.

Charger: The charger is included, allowing you to charge the scooter's battery when needed. This ensures that you have everything required to keep your scooter powered up and ready to go.

Reflectors: Reflectors are included for added safety, enhancing your visibility to others on the road during nighttime or low-light riding.

Rubber Bolt Covers: The rubber bolt covers, which are provided, are used during the assembly process to help ensure a secure and tidy finish.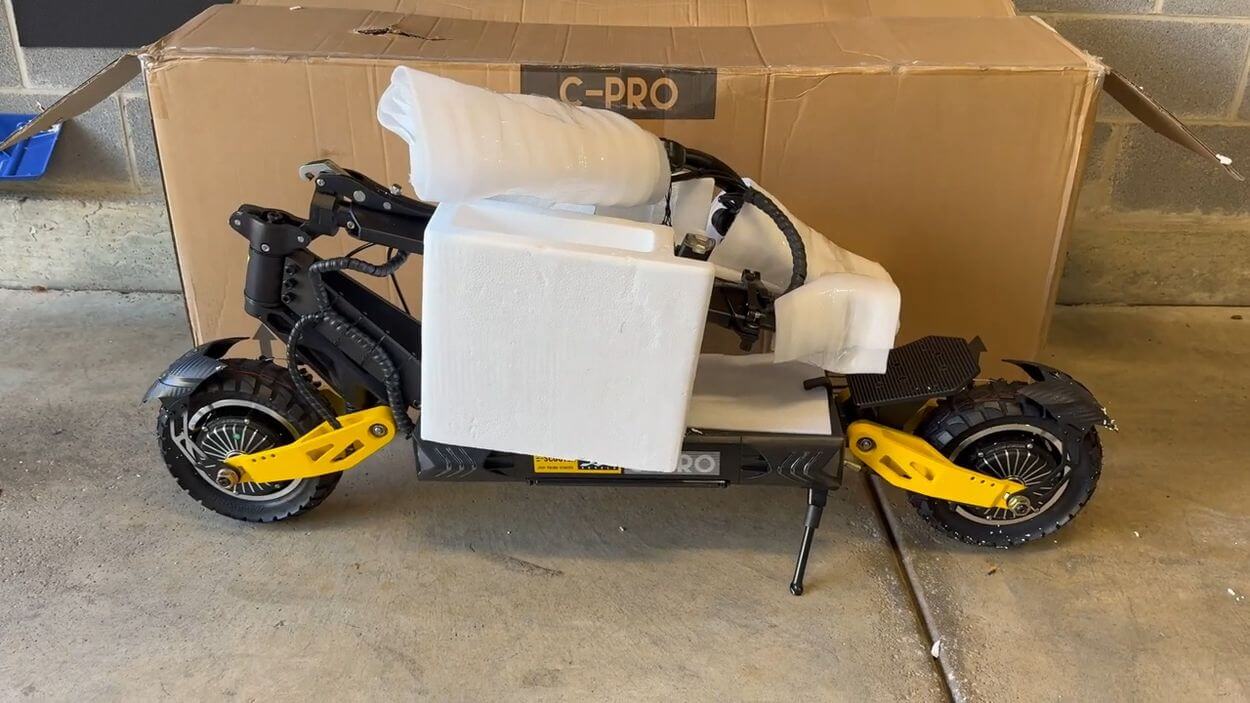 The assembly of the Arvala electric scooter is straightforward and requires minimal effort. Here's an outline of the key assembly steps:
Unfolding and Locking the Stem: Begin by unfolding the scooter and locking the stem into place. This step is essential for ensuring that the scooter is properly secured and ready for use.

Attaching the Handlebars: Install the handlebars onto the scooter and tighten them securely. This step provides you with control over the scooter's steering.

Setting the Controls and Display: Adjust the angle of the brake levers, controls, and display to your preferred position. Customizing these components to your comfort level enhances the riding experience.

Installing Rubber Bolt Covers: Complete the assembly by installing the rubber bolt covers. These covers add a finishing touch and ensure that all components are properly secured.
Design and Build Quality
 The Arvala C-Pro is a robust and versatile electric scooter designed with a focus on durability and functionality. It boasts a combination of design features and build quality that make it suitable for off-road adventures and everyday use. The scooter is constructed from a sturdy aluminum alloy steel frame, which not only ensures strength but also keeps the overall weight manageable for a scooter of its capabilities.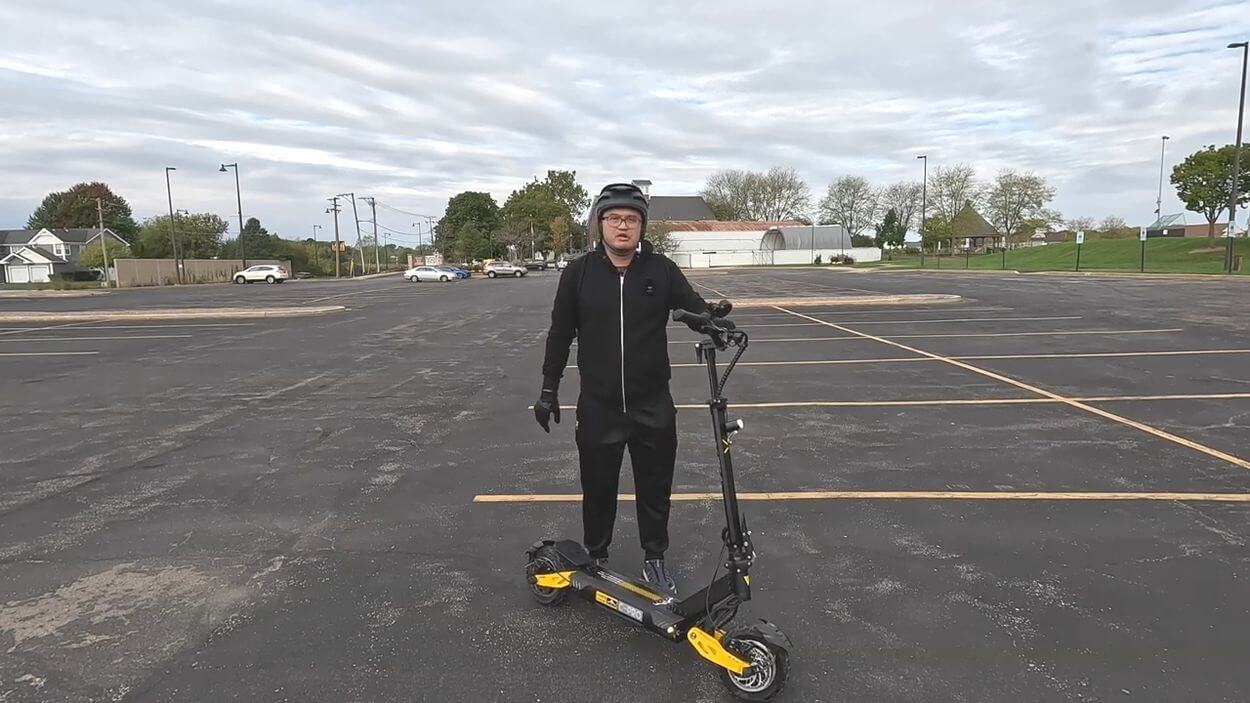 One of the standout features of the Arvala C-Pro is its 10×3-inch off-road tires, both in the front and rear. These beefy tires are built to handle various terrains, providing stability and traction whether you're cruising on city streets or navigating rougher off-road paths. This makes the scooter suitable for riders looking for an adventure beyond the ordinary city commute.
In terms of braking performance, the Arvala C-Pro comes equipped with mechanical disc brakes in both the front and rear. This dual-disc brake system offers reliable stopping power, even in adverse weather conditions, ensuring the safety of the rider.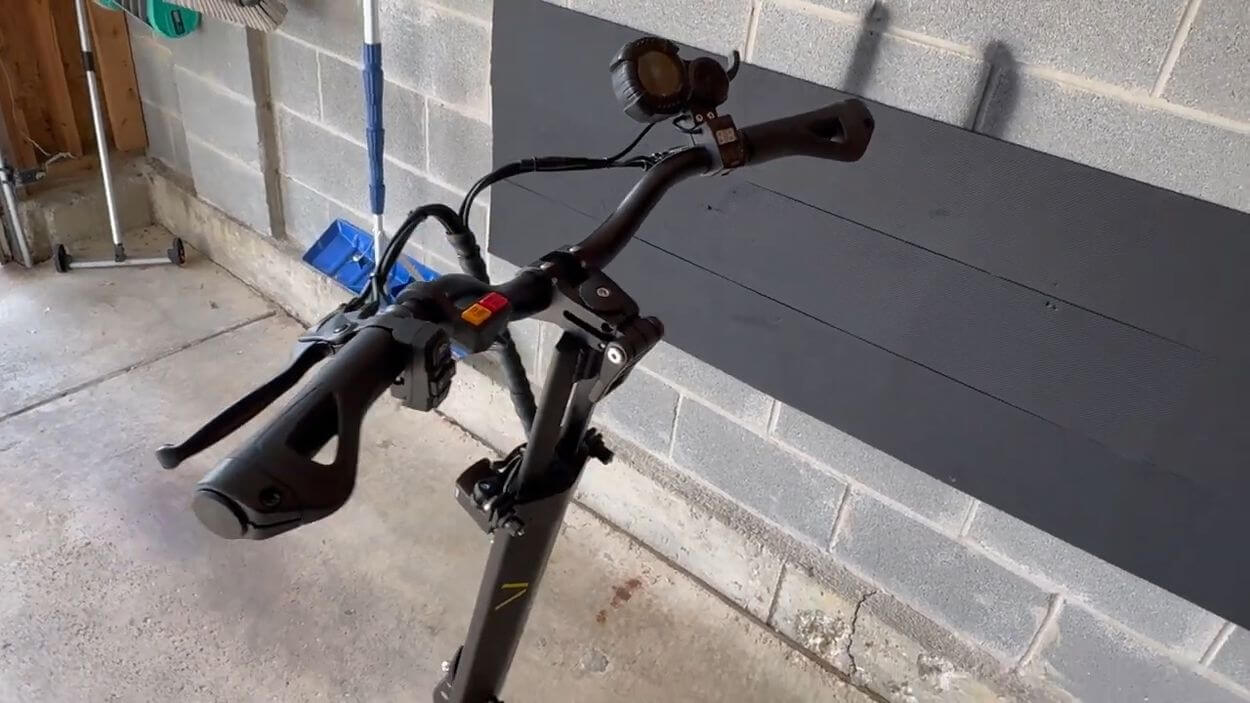 The scooter features integrated front lights, deck lights, and turn signals, enhancing visibility during low-light conditions and making it easier for others on the road to notice your presence. Safety is further improved with front and rear suspensions, which provide a smoother and more comfortable ride by absorbing shocks and bumps.
With a maximum load capacity of 330 pounds, the Arvala C-Pro is suitable for a wide range of riders. Whether you're commuting to work or embarking on an off-road adventure, this scooter can accommodate your needs.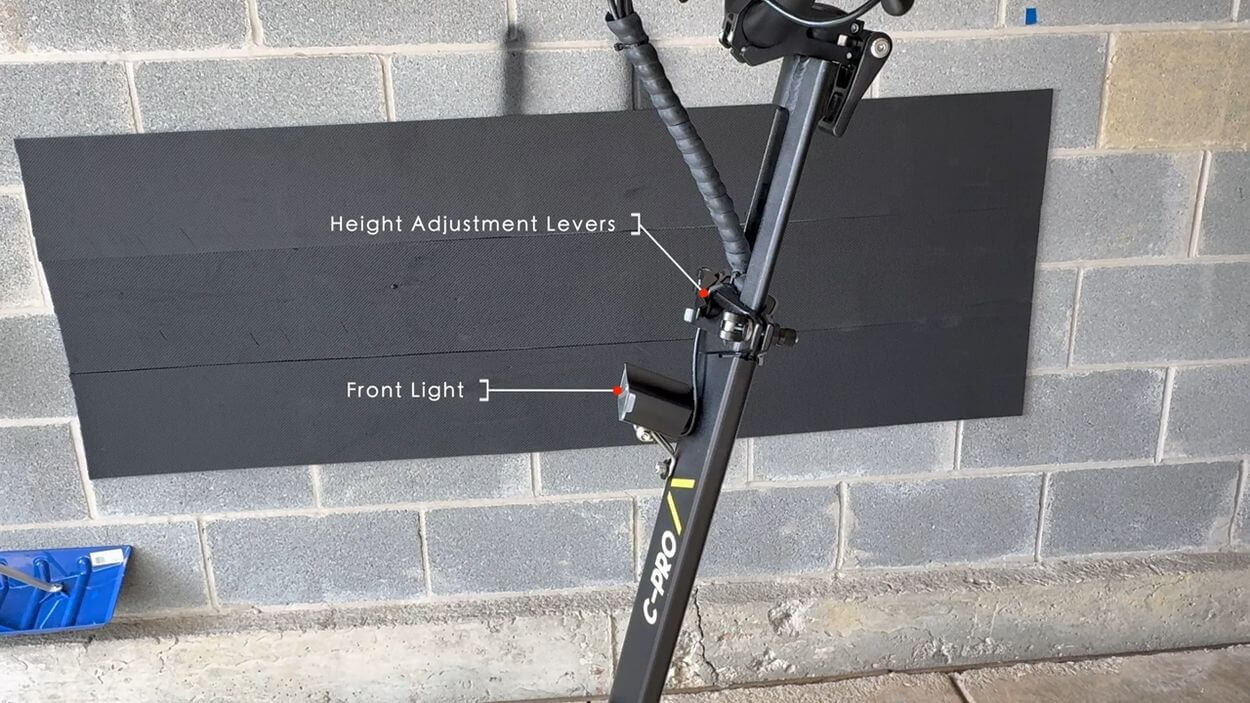 A walk around the scooter reveals its thoughtful design and ease of use. The front stem of the scooter features height adjustment levers, allowing riders of different heights to find a comfortable position. Additionally, the folding lever on the front fender makes it easy to collapse the scooter for storage or transport, despite its slightly heavier weight.
The scooter is equipped with a 1,000-watt front motor for powerful acceleration and smooth riding experiences. The charging ports are conveniently located towards the rear, making it easy to recharge the scooter when needed. Deck lights, a kickstand, a rear footrest, and a rear fender complete the package, ensuring that the Arvala C-Pro meets a rider's diverse needs.
The folding and unfolding process is straightforward, with a bolt that secures the stem in place. Loosening this bolt allows the stem to be folded down, making it more compact for storage or transport. The adjustable handlebar height further enhances customization to your riding preferences.
So, the C-Pro electric scooter stands out with its impressive build quality, capable off-road tires, robust braking system, integrated lighting, and convenient design features like height-adjustable handlebars and a simple folding mechanism. Whether you're an urban commuter or an adventure seeker, the C-Pro offers a reliable and versatile riding experience.
Handlebar and Controls
The handlebar area of the Arvala C-Pro electric scooter is equipped with a comprehensive set of controls and features designed to enhance the rider's experience and safety.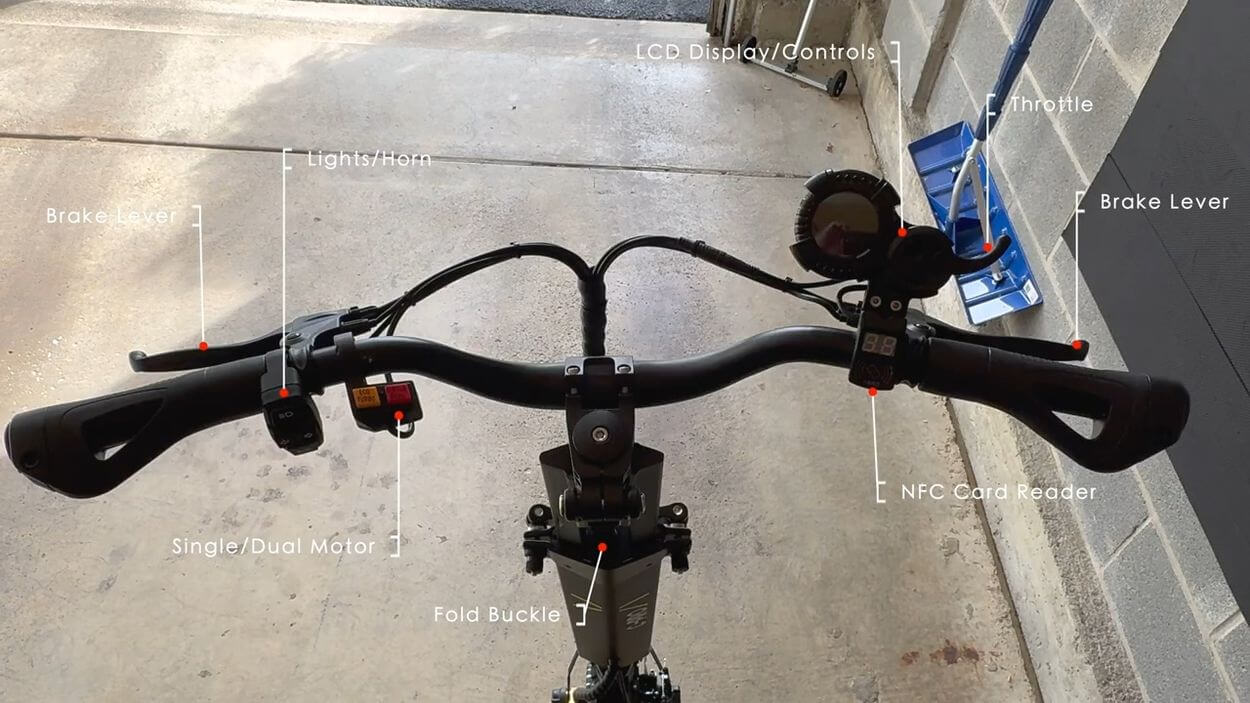 Positioned within easy reach are the brake levers, allowing the rider to engage the mechanical disc brakes for quick and reliable stopping power.
The handlebar also houses buttons for controlling the lights and horn. These buttons make it convenient to toggle the front headlight, deck lights, and activate the horn as needed for safety and visibility.
These buttons allow the rider to select between using the single motor or dual motor mode. Dual motor mode typically provides more power and better performance, especially for off-road or challenging terrains.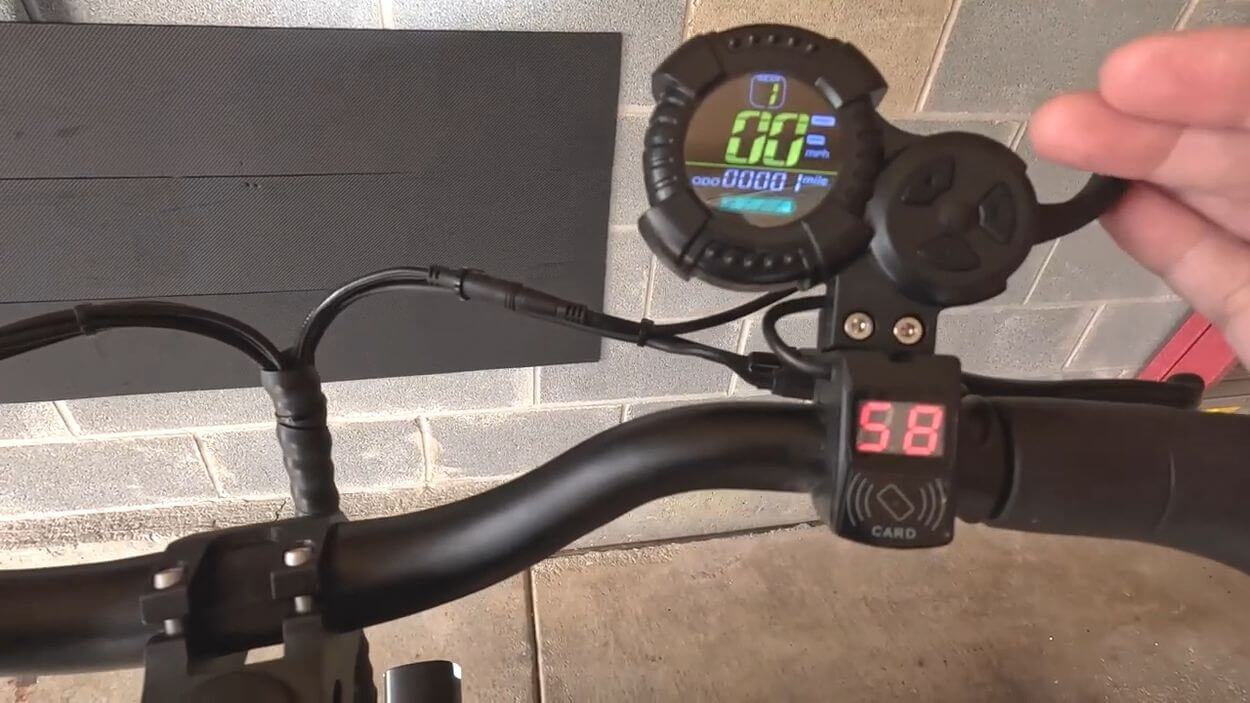 The fold buckle is a crucial component that enables the scooter to be folded or unfolded for easy storage or transport. It simplifies the process, making the scooter more compact when not in use.
The NFC card reader is used to unlock the scooter. The scooter comes with three NFC cards that can be scanned over the reader to activate the scooter. This adds a layer of security and personalization to the riding experience.
The LCD display, located on the right side of the handlebar, provides essential information to the rider. It features a power button to turn the display on and off. The display shows data like speed, battery life, odometer, trip information, and voltage.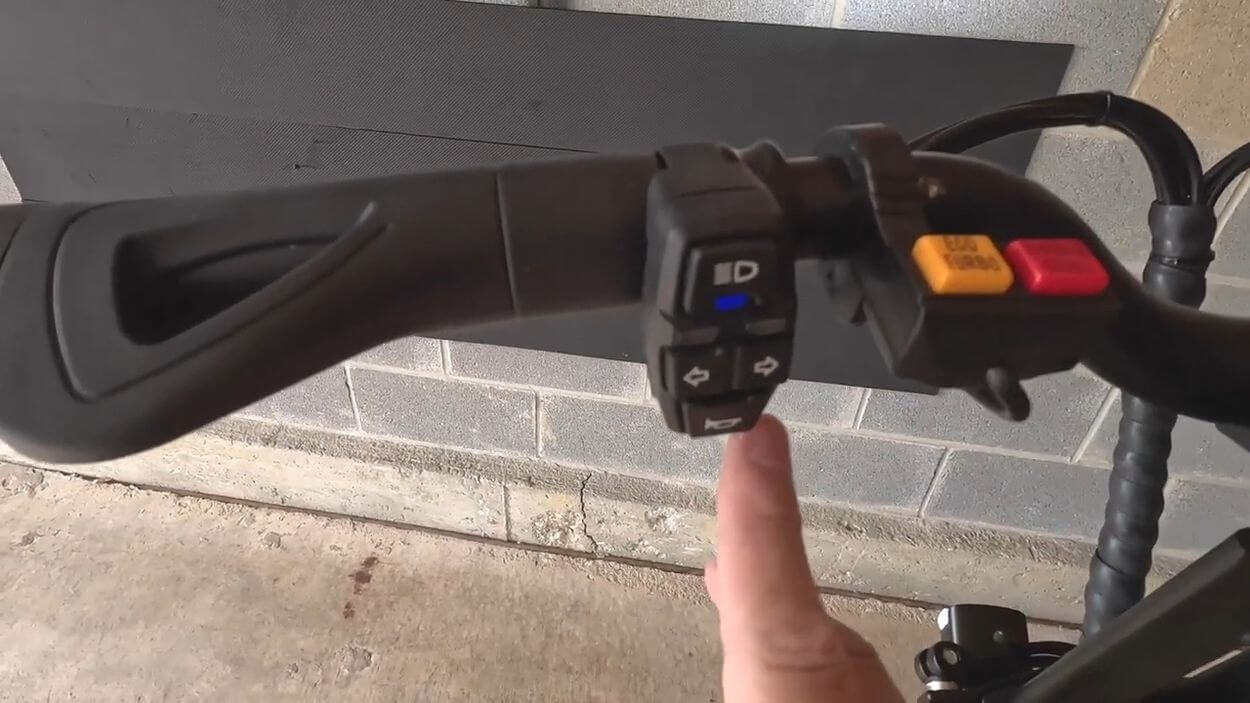 The throttle control is typically a handgrip twist or thumb lever on the handlebar. It allows the rider to control the scooter's speed and acceleration effortlessly.
The display controls include a plus and minus button. The plus button increases the gear or speed level, while the minus button decreases it. Pressing the power button toggles between the odometer and trip information, allowing riders to monitor their journey.
To access a wider range of settings and configurations, simultaneously pressing the plus and minus buttons takes you to the P settings. These settings allow for adjustments like display brightness, Kickstart mode, cruise control, and more. Details about these settings are typically provided in the user manual.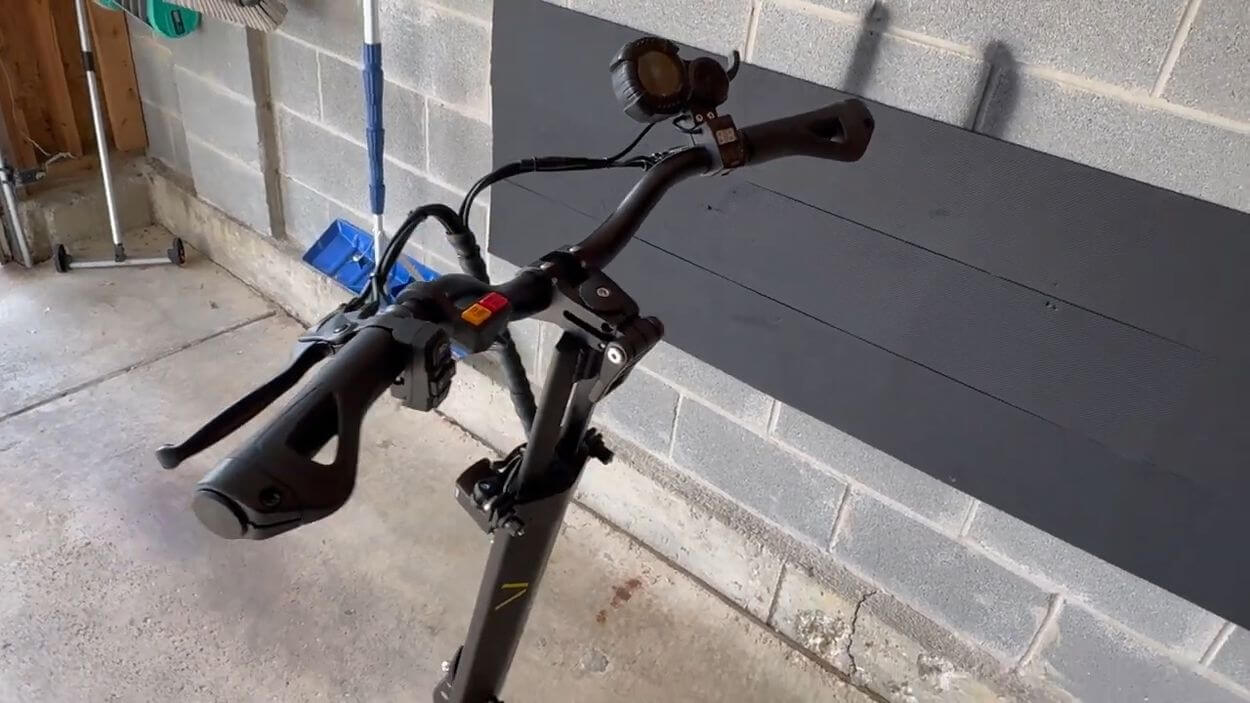 On the left side of the handlebar, you'll find buttons for switching between Eco and Turbo modes. Eco mode conserves battery for longer rides, while Turbo mode unleashes the full power of the scooter for faster acceleration.
The light control button enables you to activate the front headlight and deck lights. This is particularly useful for nighttime riding, improving visibility.
The horn button provides an audible alert to signal your presence to others on the road, enhancing safety and communication with pedestrians and other vehicles.
When activated, the turn signals on the scooter alert other road users to your intended direction, further enhancing safety during turns.
Arvala C-Pro:
Motor and Driving Test
The Arvala C-Pro electric scooter is powered by both a 1,000W front motor and a 1,000W rear motor, providing impressive performance for riders seeking speed, versatility, and power.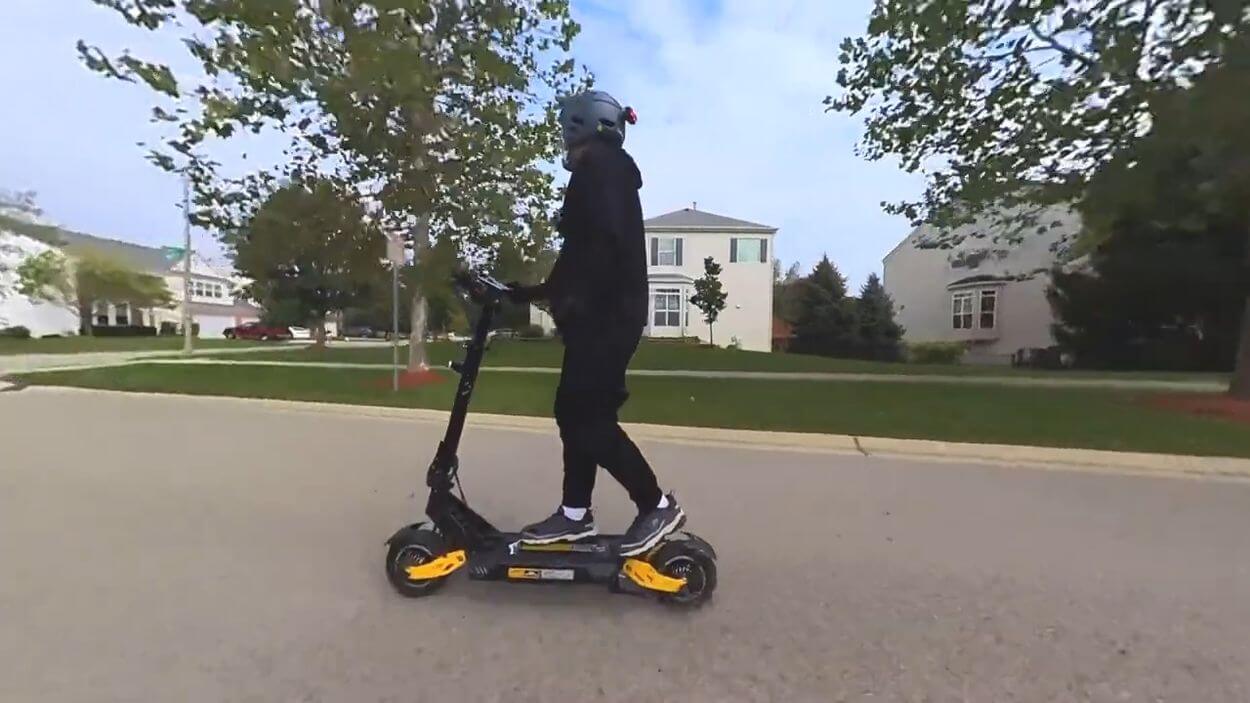 With a top speed of 37 mph, the scooter offers a thrilling and fast-paced riding experience. This speed makes it well-suited for various riding scenarios, whether you're commuting through the city or cruising on off-road trails.
The scooter features three riding modes, allowing riders to tailor their experience to their preferences and specific needs. These modes include a range of speed settings and torque profiles to suit different riding conditions.
The LCD display provides riders with essential information, including speed, battery life, and trip details. It's a valuable tool for monitoring your ride. Additionally, the built-in NFC card reader adds a layer of convenience and security, allowing for easy and personalized access to the scooter.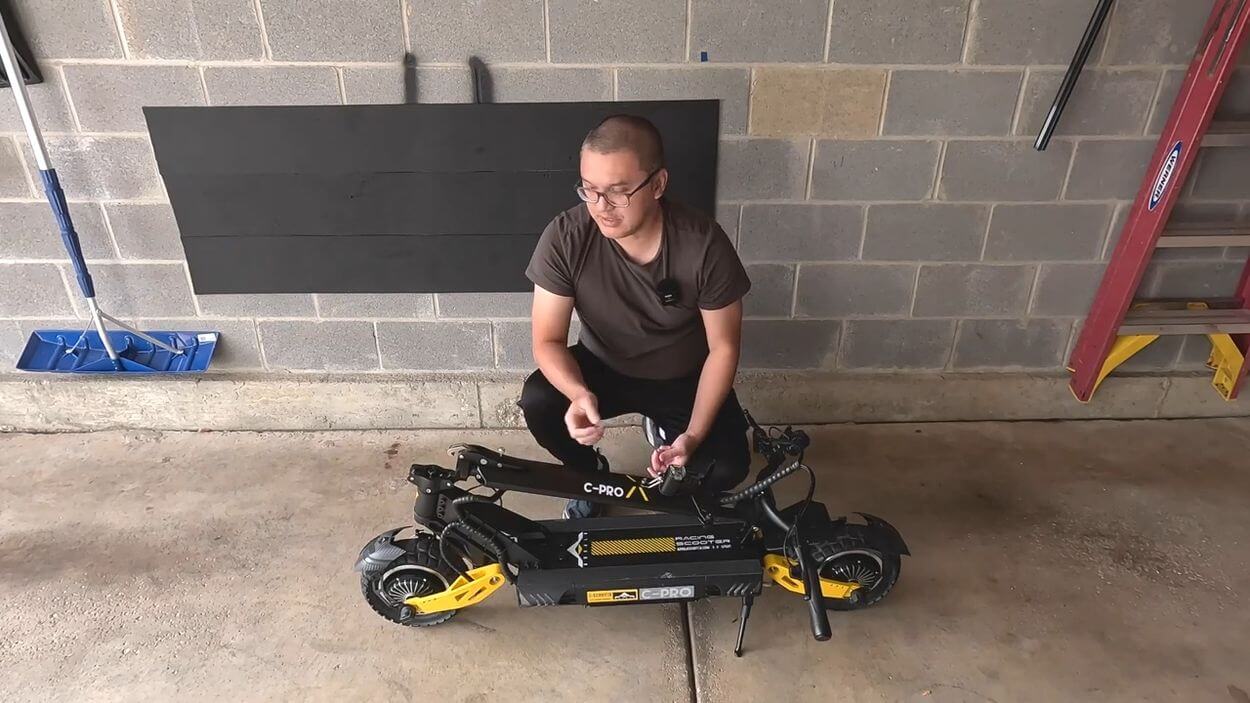 The scooter's front and rear suspensions effectively absorb bumps and shocks, ensuring a smoother and more comfortable ride on rough terrain. The scooter's robust construction is built to withstand these challenging conditions.
The different riding modes and dual motor configuration enable impressive acceleration and top speeds. It's clear that the Arvala C-Pro is a capable performer, reaching a remarkable 35 mph uphill, and it likely has even more to offer.
The demonstration of the brake system highlights its reliability in bringing the scooter to a stop. Effective brakes are crucial for rider safety, and the C-Pro appears to have them.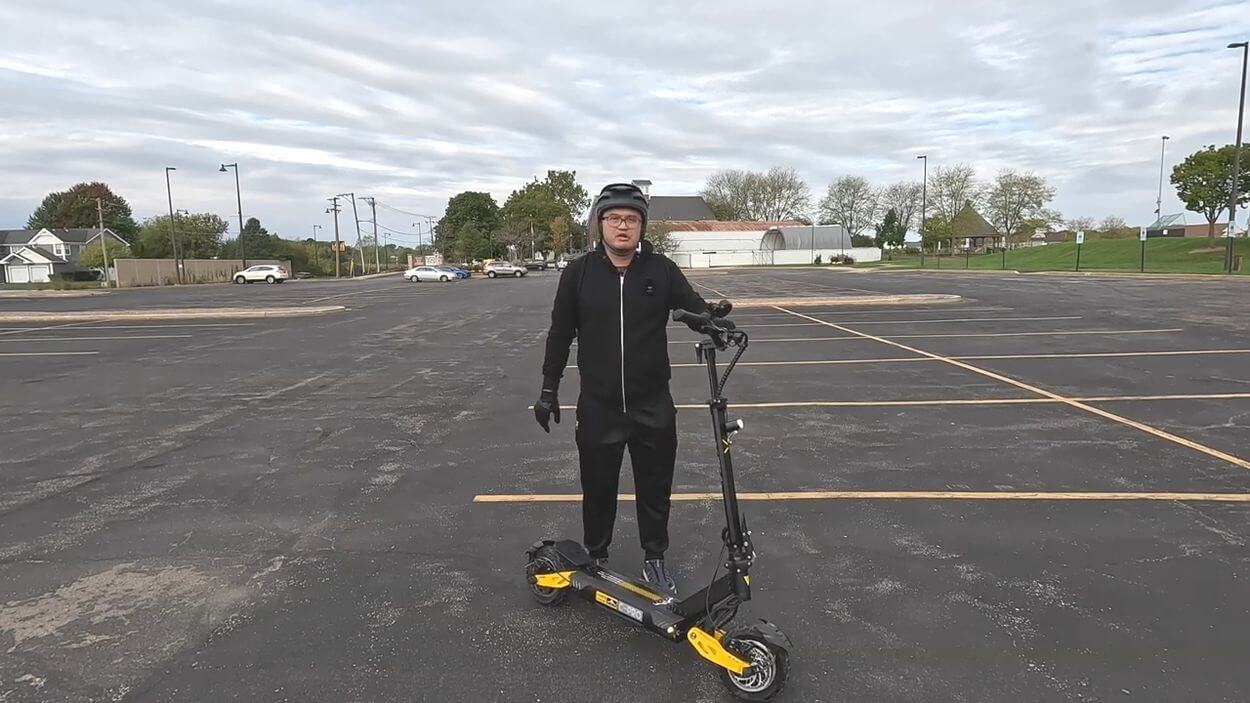 The scooter demonstrated its ability to handle steep uphill climbs with ease, maintaining a good speed and power throughout the ascent.
The scooter's stability and control while going downhill add to the overall riding experience. The option to adjust the acceleration settings allows riders to fine-tune the start and improve overall control.
The inclusion of Eco and Turbo modes provides flexibility for riders to choose between energy-saving, leisurely rides, or power-packed, high-speed excursions, depending on their needs.
Your comprehensive test ride highlights the Arvala C-Pro's outstanding capabilities and its suitability for a range of riding scenarios. With its dual motors, top speed, riding modes, and robust construction, this electric scooter offers an exciting and versatile riding experience for both everyday commuting and off-road adventures.
Battery and Range
The Arvala C-Pro electric scooter offers riders the choice between two distinct models, each with its own set of specifications tailored to meet various preferences and needs: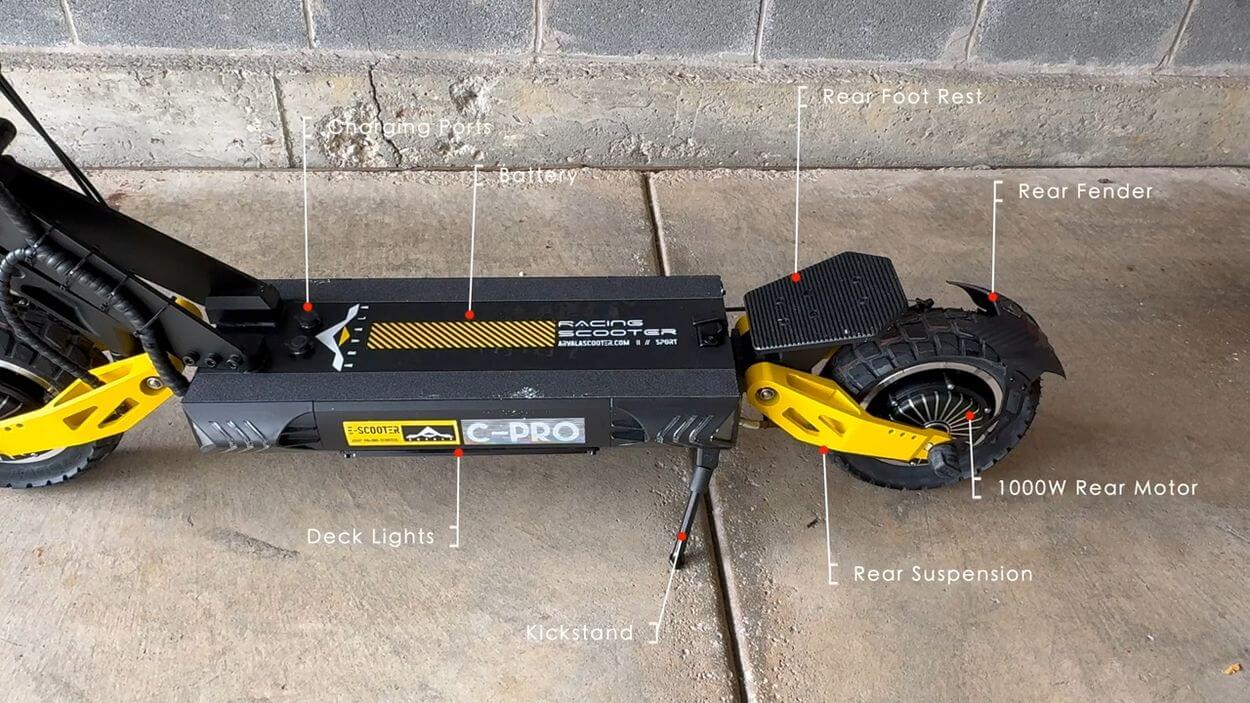 Battery Options:
52V 18 Amp-Hour Model: The model you have is equipped with a 52-volt, 18 amp-hour battery. This battery configuration provides a balance between power and range, making it suitable for various riding scenarios.

60V 21 Amp-Hour Model: The alternative option is the 60-volt, 21 amp-hour battery, which offers a higher voltage and capacity. This choice is ideal for riders who prioritize extended range and potentially more power.
Charging the 52V 18 amp-hour battery takes approximately 9 hours to reach a full charge using a single charger. However, for riders seeking a faster turnaround, the scooter offers the convenience of using a second charger. With two chargers in action, you can cut the charging time in half, significantly reducing the downtime between rides.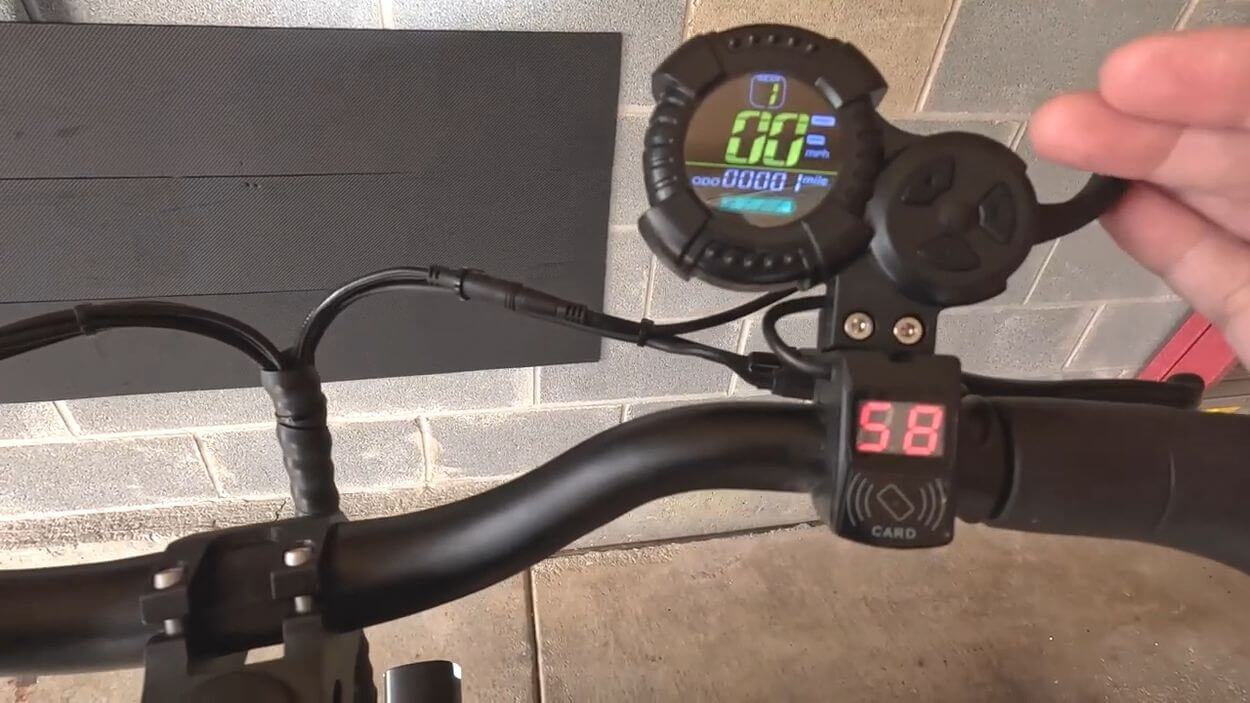 The Arvala C-Pro, equipped with a 52V 18 amp-hour battery, provides an impressive range of 37 miles. This range allows for extended rides without the need for frequent recharging, making it suitable for daily commuting and longer excursions.
Conclusions
So, your thorough evaluation of the Arvala C-Pro electric scooter reveals a compelling blend of performance, design, and versatility.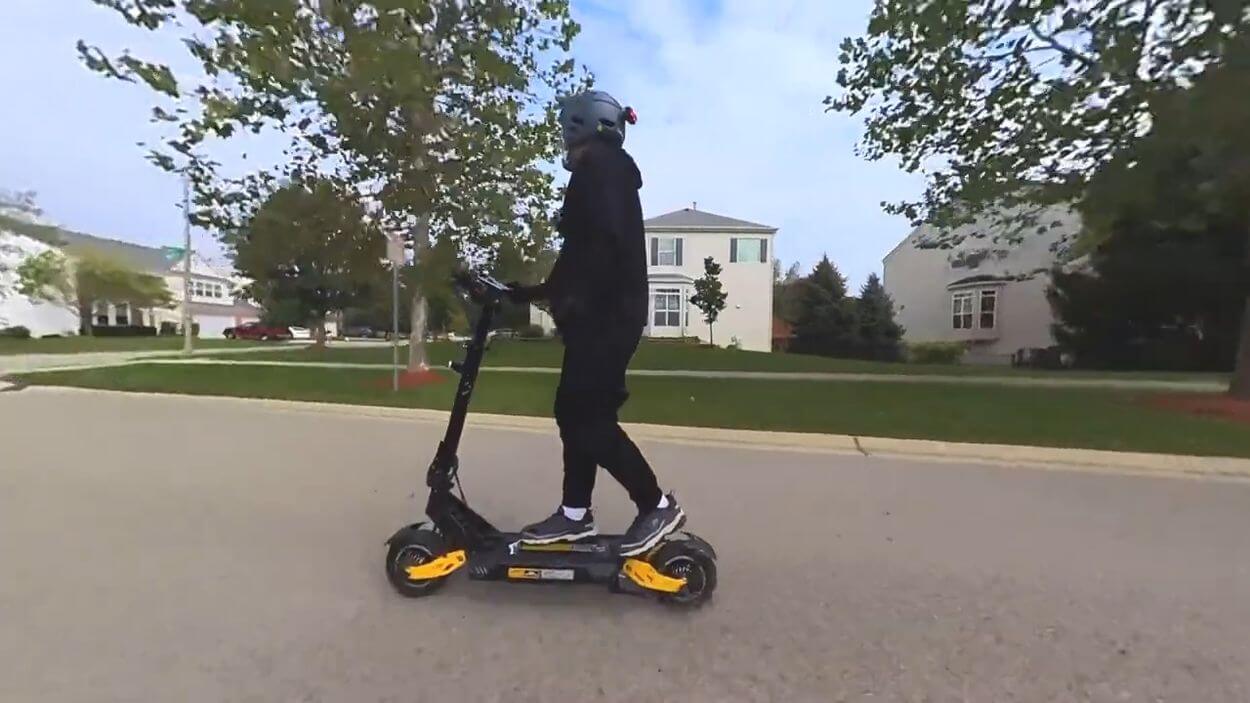 The scooter feels solid and substantial, with a weight of over 80 lbs, instilling confidence in its durability. The wide deck and metal footrest in the rear offer comfort and convenience.
The off-road tire tread pattern provides excellent traction, making it suitable for diverse terrains. The bright front light, turn signals, and deck lights ensure visibility and safety during evening rides.
The two 1,000W motors provide plenty of power, allowing you to conquer inclines without speed loss and reach impressive speeds. Achieving a speed of 35 mph during your test ride is impressive, given the scooter's advertised top speed of 37 mph. The 37-mile range is suitable for a variety of riding scenarios.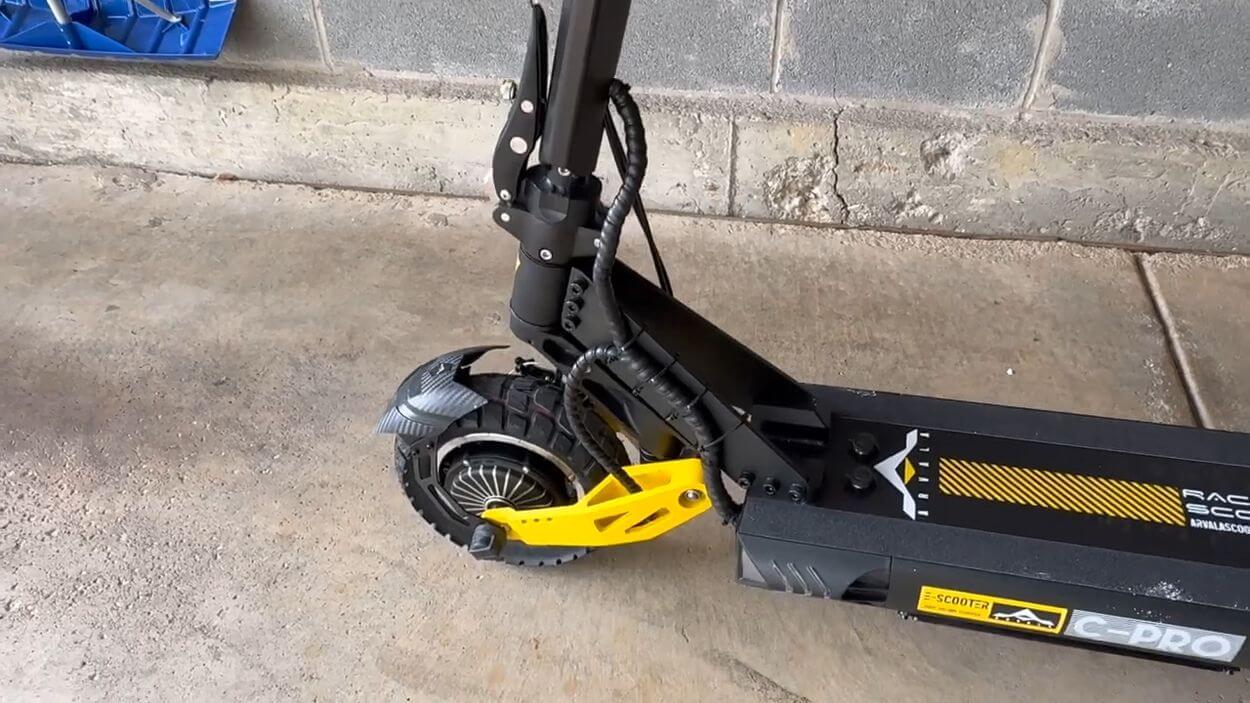 The Arvala C-Pro offers excellent value at its price point, providing a sleek design, robust performance, and a stable ride. It emerges as a compelling alternative to the Apollo Ghost.
In your assessment, the C-Pro electric scooter demonstrates impressive qualities, making it a competitive option in the electric scooter market. Its power, stability, and adaptability to different terrains position it as a strong contender.
Alternatives of Arvala C-Pro