Ladies and gentlemen, welcome back to Auto Auction Rebuilds! Today, we've got an exciting review in store as we dive into the world of e-bikes with the Rattan Quercus. Let's take a closer look at this premium electric bicycle and see what it has to offer.
Behold, the Rattan Quercus, a premium e-bike that promises to elevate your riding experience to new heights. This impressive machine is currently available at a special sale price of $1,899, offering a fantastic value for those looking to step into the world of e-bikes. Typically, it's priced at $2,098, making this sale an attractive proposition for budget-conscious riders.
So, stay tuned as we take a closer look at the Rattan Quercus and discover whether it lives up to its premium status. If you're in the market for a new e-bike, this review will provide you with the insights you need to make an informed decision. Don't forget to take advantage of the ongoing sale if you're considering adding this e-bike to your collection. Let's jump in and explore the world of e-bikes together!
| | |
| --- | --- |
| Frame | Megnesium Alloy |
| Motor | 750w 48V Shengyi Brushless Rear Hub Motor, 1200W (Peak) |
| Power | 80NM, High Perfomance of Climbing |
| Top Speed | 30MPH |
| Modes | 3 Modes 5 Levels Pedal Assist |
| Brakes | Hydraulic Disc Brakes |
| Speeds | Shimano 8-speed |
| Suspension | Hydraulic Fork |
| Battery | 20AH Samsung 21700 Battery Cells |
| Range | Up to 80 Miles with 1 Default Battery, More Than 100 Miles with Dual Batteries. |
| Weight | 82 lbs |
| Payload Capacity | 450lbs |
Design and Build Quality
The Rattan Quercus is an aesthetically pleasing and well-designed electric bike that boasts impressive specifications and a unique burnt-in Rattan finish on the back. This bike's design seamlessly combines style and functionality, making it a standout option in the world of e-bikes.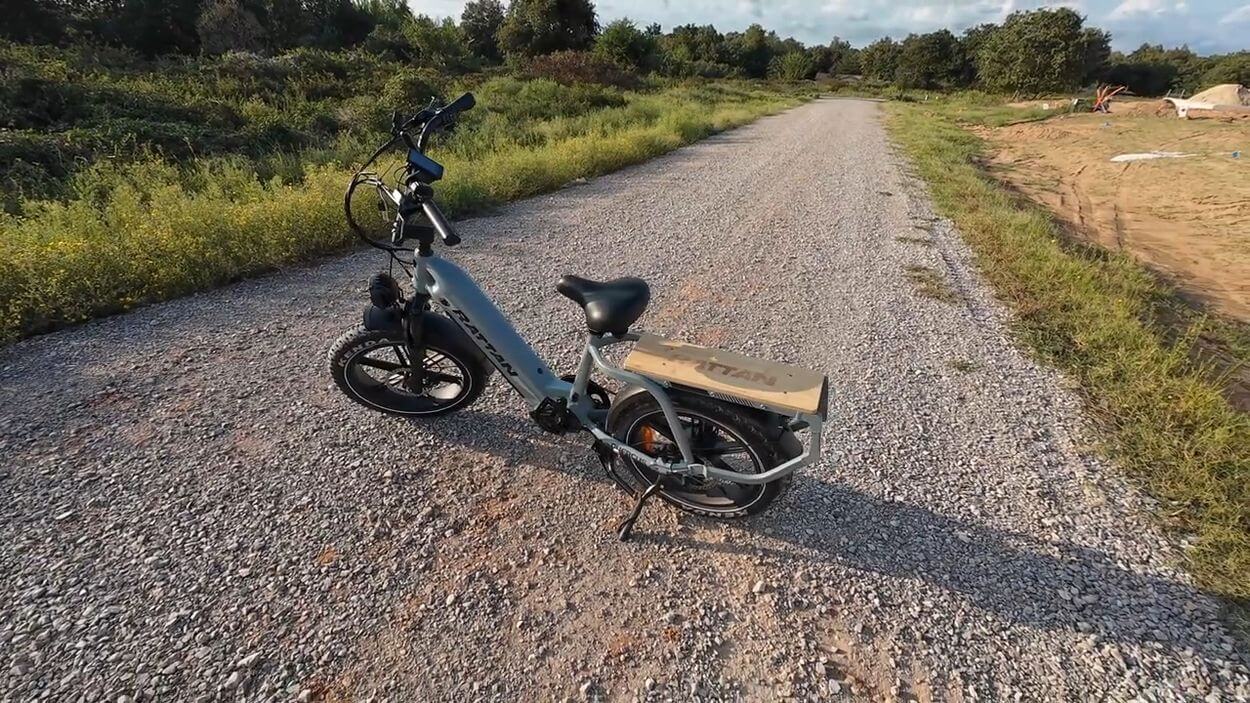 The Quercus is a compact bike with a 20-inch frame, giving it a distinct appearance. Its four-inch fat tires not only enhance its visual appeal but also provide excellent stability and traction. The tire sidewalls feature elegant gray lettering, adding to the bike's overall charm. The striking "Sport" label in red beautifully complements the Rattan finish.
The front suspension, a common feature on e-bikes, indicates its off-road capabilities, with generous travel for a smoother ride. The bike also boasts a substantial projection headlight that ensures enhanced visibility, making it suitable for nighttime riding.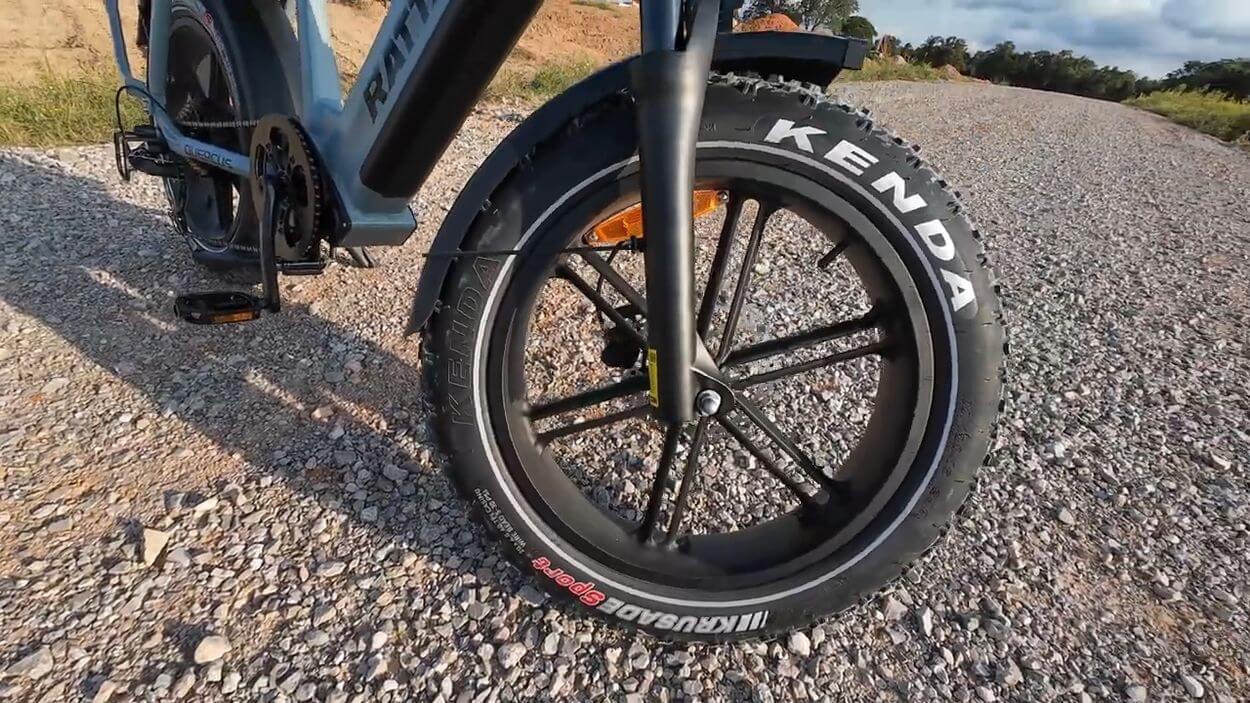 The hydraulic disc brakes, measuring 180 millimeters both in the front and rear, guarantee precise and responsive stopping power. These brakes are a crucial safety feature, especially for an e-bike with such speed and capabilities.
The Rattan Quercus exhibits a sturdy build quality that is evident in various aspects. The frame and components are robust, ensuring durability and longevity. The adjustable, well-cushioned seat, complete with springs, contributes to a comfortable riding experience, allowing riders to customize it to their preferences. The ergonomic design pays attention to rider comfort.
The color screen on the bike's dashboard provides essential information about your ride, from trip data to speed, time, and more. It is user-friendly and enhances the overall experience. The integration of turn signals on an e-bike is a thoughtful addition, further enhancing safety on the road.
The Rattan Quercus also features a comprehensive lighting system. The front projection headlight provides a powerful beam, and the rear lights, including turn signals, brake light, and tail light, make you highly visible to others on the road. The additional kickstand, which can lift the rear of the bike off the ground, is a practical feature for maintenance and repairs.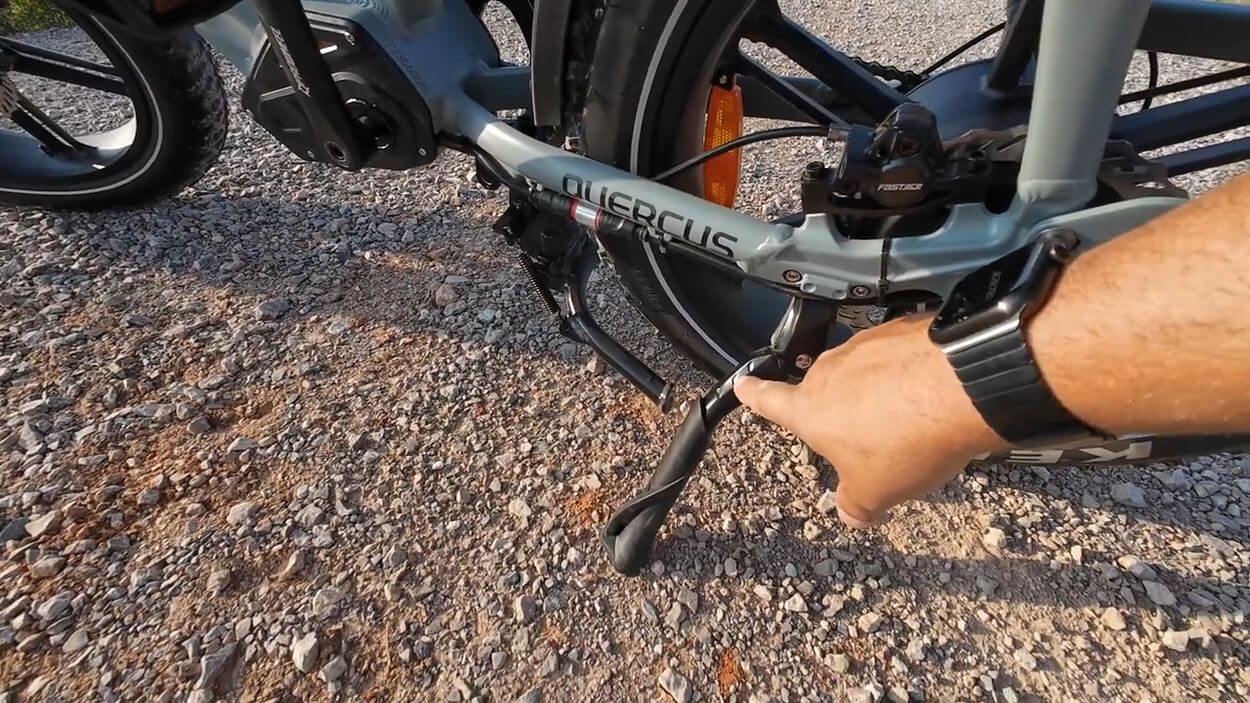 With a payload capacity of about 450 pounds, the Quercus is suitable for a wide range of riders. The eight-speed gear shift system allows for versatile and efficient pedaling, making it suitable for different terrains and riding preferences.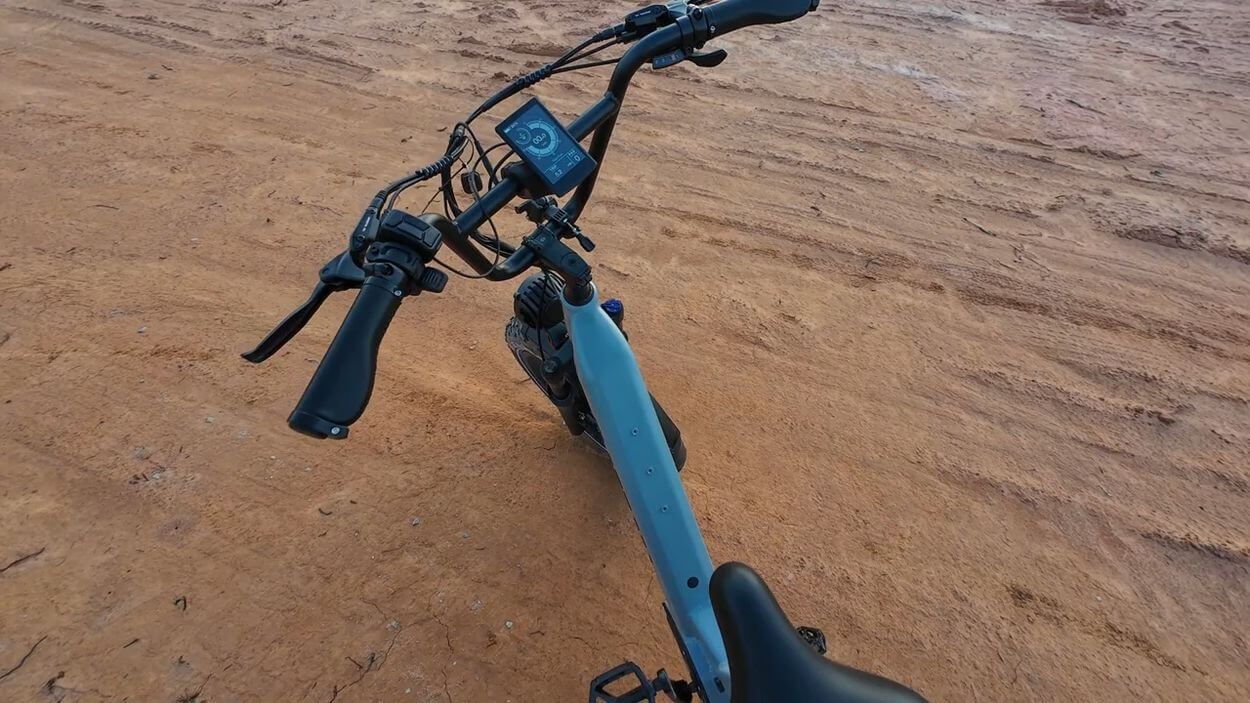 So, the Rattan Quercus excels in both design and build quality. Its unique aesthetics, impressive features, and attention to comfort and safety make it an attractive option for e-bike enthusiasts. Whether you're seeking style, performance, or a combination of both, the Rattan Quercus is a bike worth considering.
Rattan Quercus: Motor
The 750-watt motor is capable of delivering consistent and reliable performance, making it suitable for various riding conditions, including urban commutes and off-road adventures. Whether you're looking to conquer steep hills or simply enjoy a brisk ride through the city, this motor has the power to meet your needs.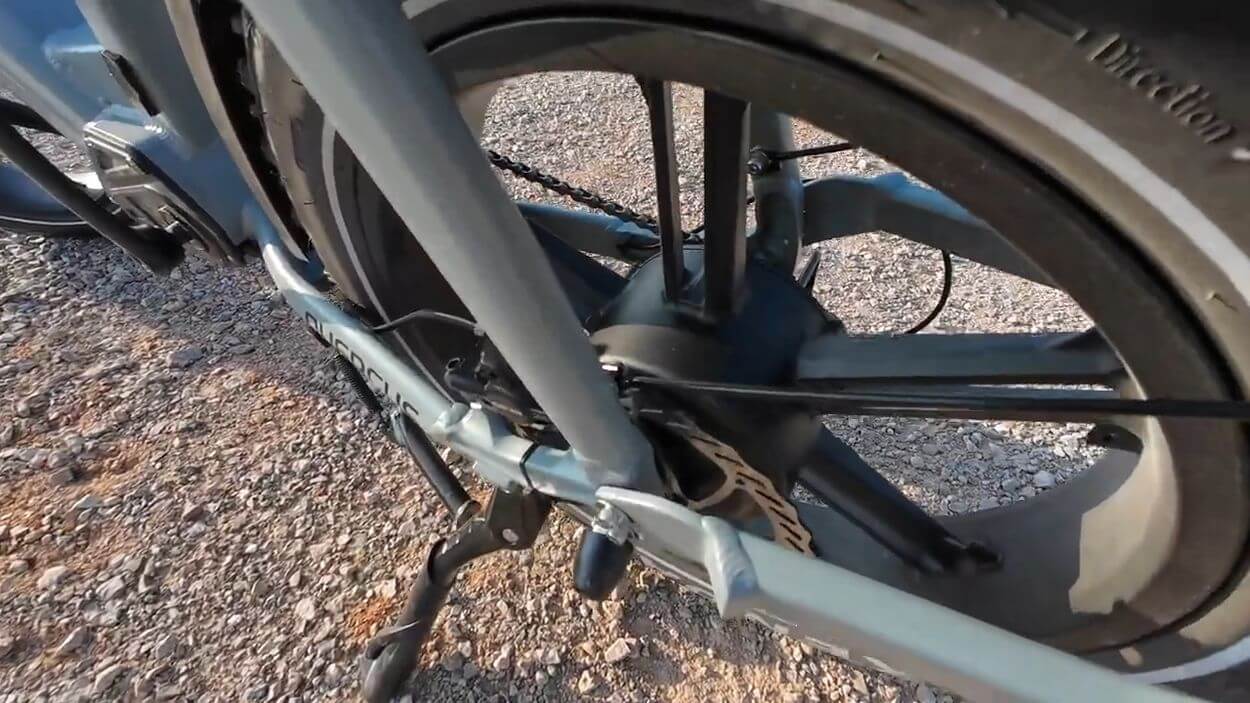 What truly stands out about the Rattan Quercus is its peak power output. This e-bike can achieve an astonishing 1200 watts at its peak, offering a significant boost in acceleration and performance when needed. The ability to tap into this extra power when faced with challenging terrain or when you're looking to accelerate quickly is a valuable feature. It ensures that you have the necessary power reserves for any situation, making the bike versatile and capable of handling a wide range of riding scenarios.
On the Road
It's clear that the Rattan Quercus is more than just a typical electric bike. It's a thrilling adventure machine that can handle a variety of terrains and challenges with ease.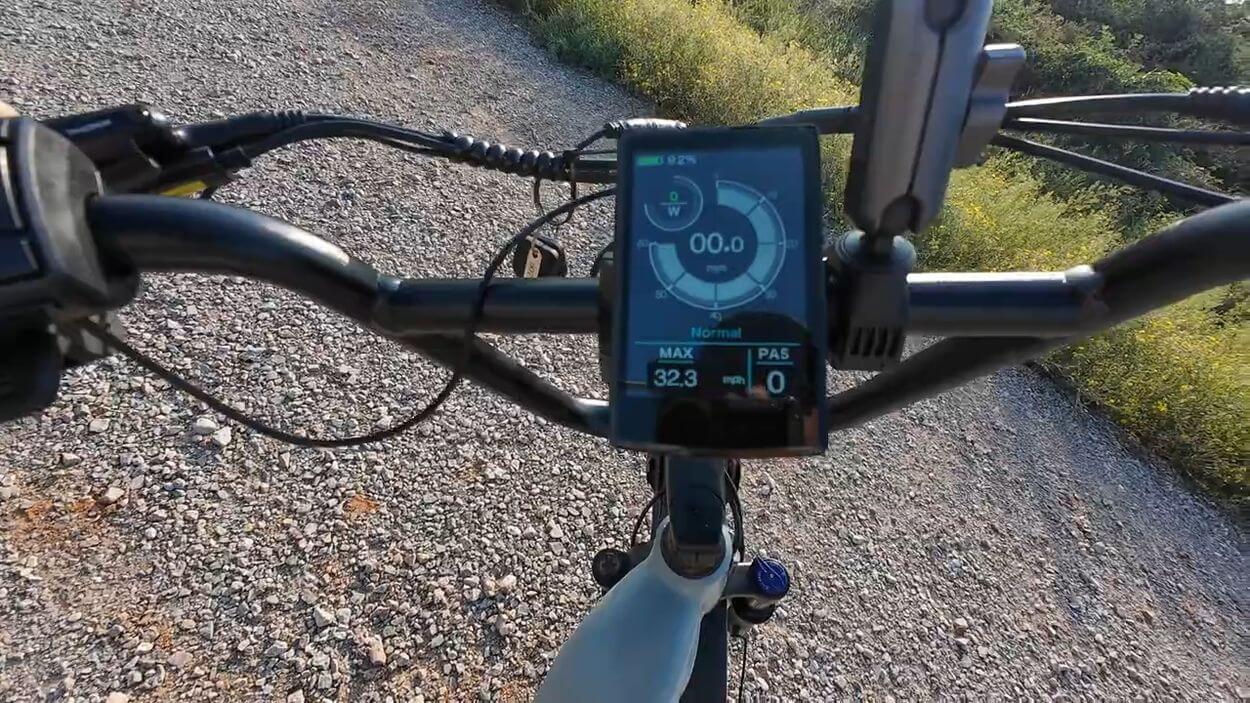 The Rattan Quercus is an absolute speed demon. With a top speed of 30 miles per hour, this class 3 e-bike is designed for those who crave excitement. You demonstrated how effortlessly it can reach and maintain this speed, and even exceeded it at times. This kind of performance ensures a thrilling and dynamic riding experience, whether on the road or off-road.
You put the Rattan Quercus through a rigorous off-road test, showcasing its off-road capabilities. It handled rough terrain, jumps, and bumps with grace and confidence. The front suspension and the bike's overall build quality allowed it to navigate challenging conditions and maintain a high level of control. This makes it an excellent choice for riders who want to explore trails and rugged landscapes.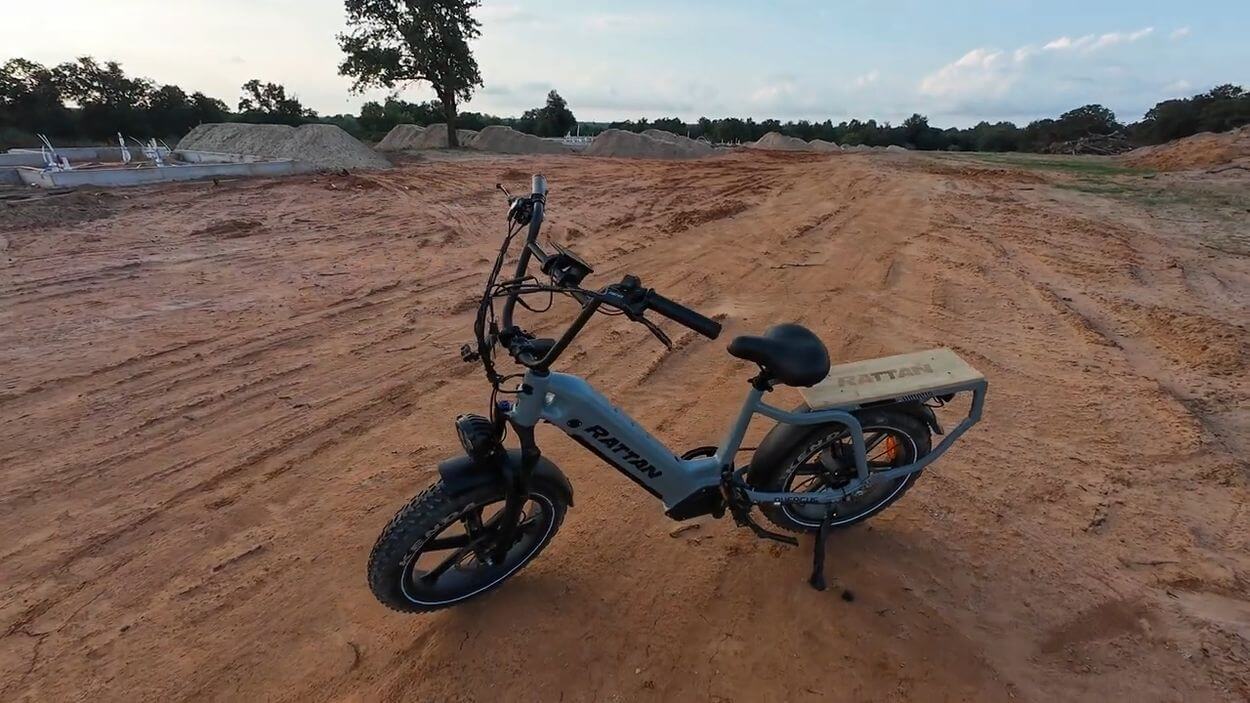 Your tests demonstrated the bike's durability and robustness. It handled jumps and uneven terrain without any apparent issues, which speaks to the quality of its construction. The fact that it withstood these rigorous tests is a testament to its durability and capability.
You praised the hydraulic brakes on the Rattan Quercus, highlighting their effectiveness. This e-bike is equipped with essential safety features like turn signals, brake lights, and headlights, ensuring visibility and safety for both the rider and other road users. These features make it a practical choice for daily commuting or nighttime riding.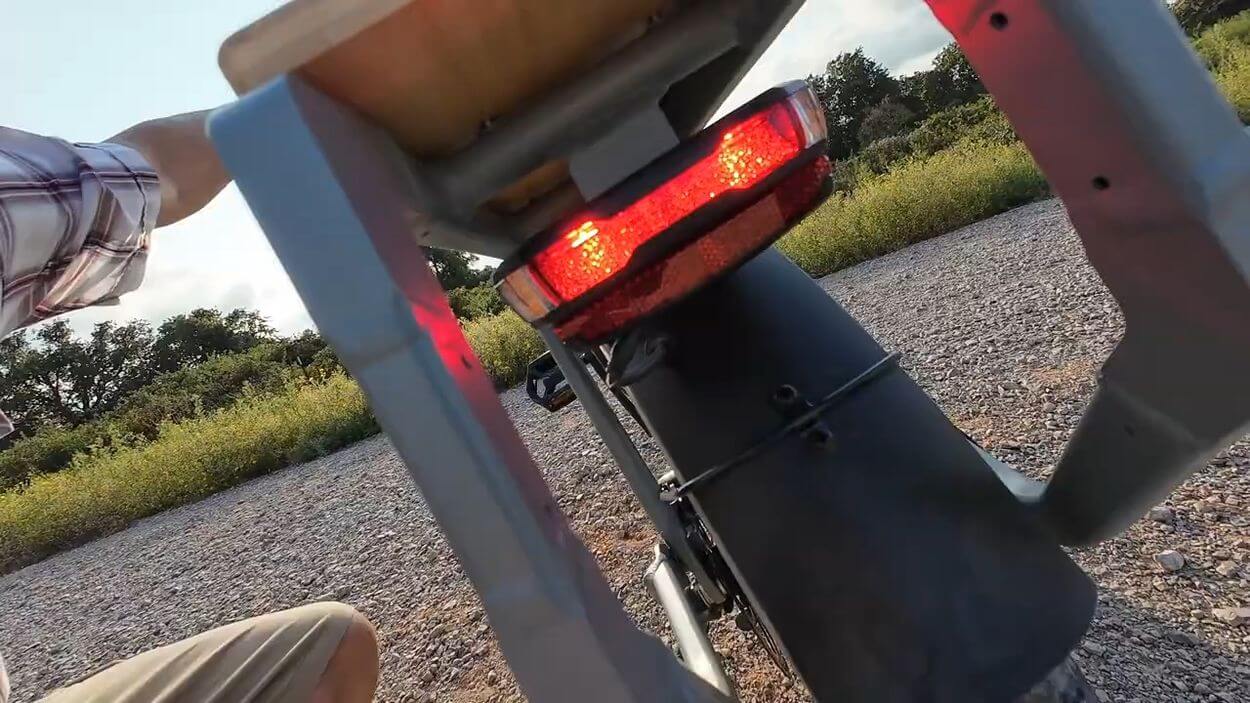 Despite its smaller 20-inch frame, the Quercus accommodated you comfortably, demonstrating its ability to handle riders of different sizes. The smaller form factor contributes to its agility and responsiveness, which you clearly enjoyed during your tests. This versatility makes it suitable for a wide range of riders.
So, the Rattan Quercus is not only a stylish and powerful electric bike but also a capable and rugged adventure machine. It excels in speed, off-road performance, durability, and safety features. Your enthusiasm and thorough testing underscore the bike's exceptional capabilities, making it a compelling choice for riders who want both speed and versatility in their e-bike experience.
Battery
The Rattan Quercus features a 48-volt 20 amp-hour battery. What sets it apart is its use of high-quality Samsung cells. Samsung is a renowned name in the battery industry, known for its reliability and efficiency. This choice of cells reflects the commitment to providing a top-notch battery for the bike.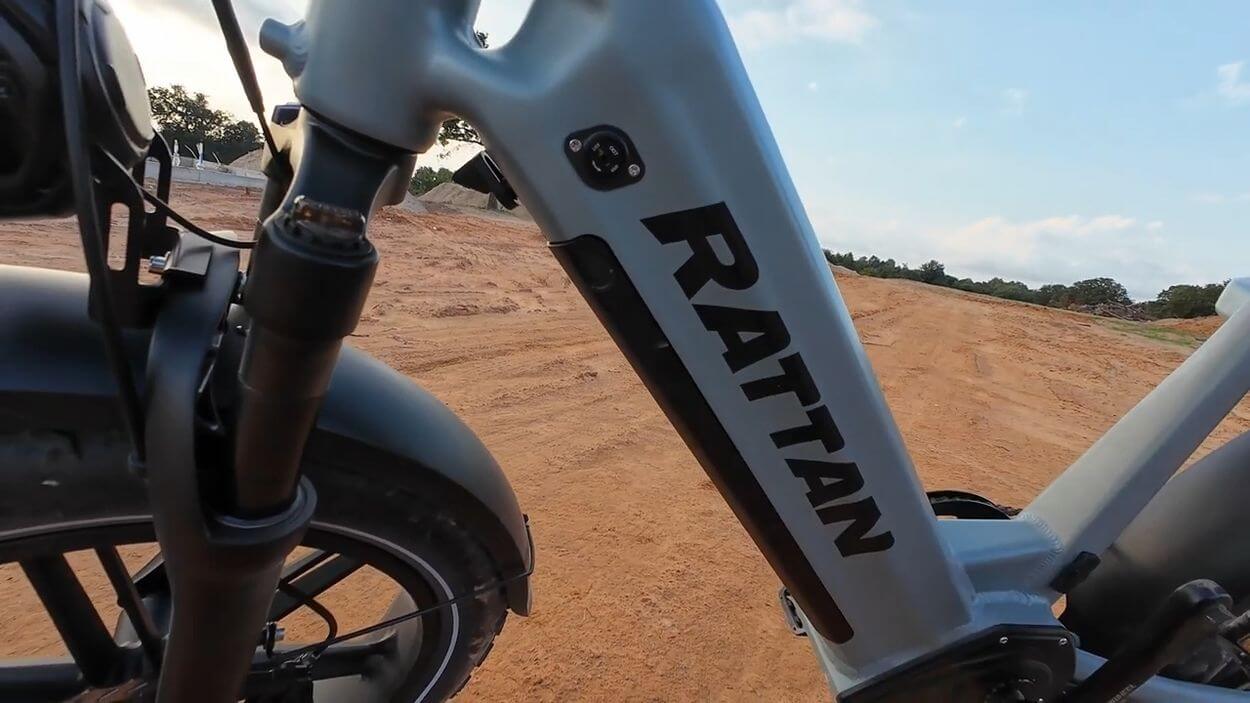 The bike's range is nothing short of exceptional. With the standard long endurance battery, it boasts an impressive range of up to 100 miles. Such a range is rare in the world of e-bikes and opens up new possibilities for long journeys and extended adventures. It's ideal for riders who are looking to explore vast distances without the hassle of frequent recharging.
One noteworthy feature is the availability of a dual battery option. While your model may not have come with this additional battery, it's an option for those who need even more power and range. The dual battery setup could offer an even more extensive range, ensuring that you have enough power for truly epic rides.
Without the extra battery, it's reasonable to estimate a range of around 50 to 60 miles. This range is still impressive, especially considering the performance and speed of the Rattan Quercus. It can comfortably handle various terrains and riding conditions, making it suitable for both short commutes and longer recreational rides.
Conclusions
The bike has showcased remarkable build quality and durability, withstanding a grueling off-road torture test that would challenge most e-bikes. Its ability to handle jumps, bumps, and rough terrain with ease speaks to its excellent construction.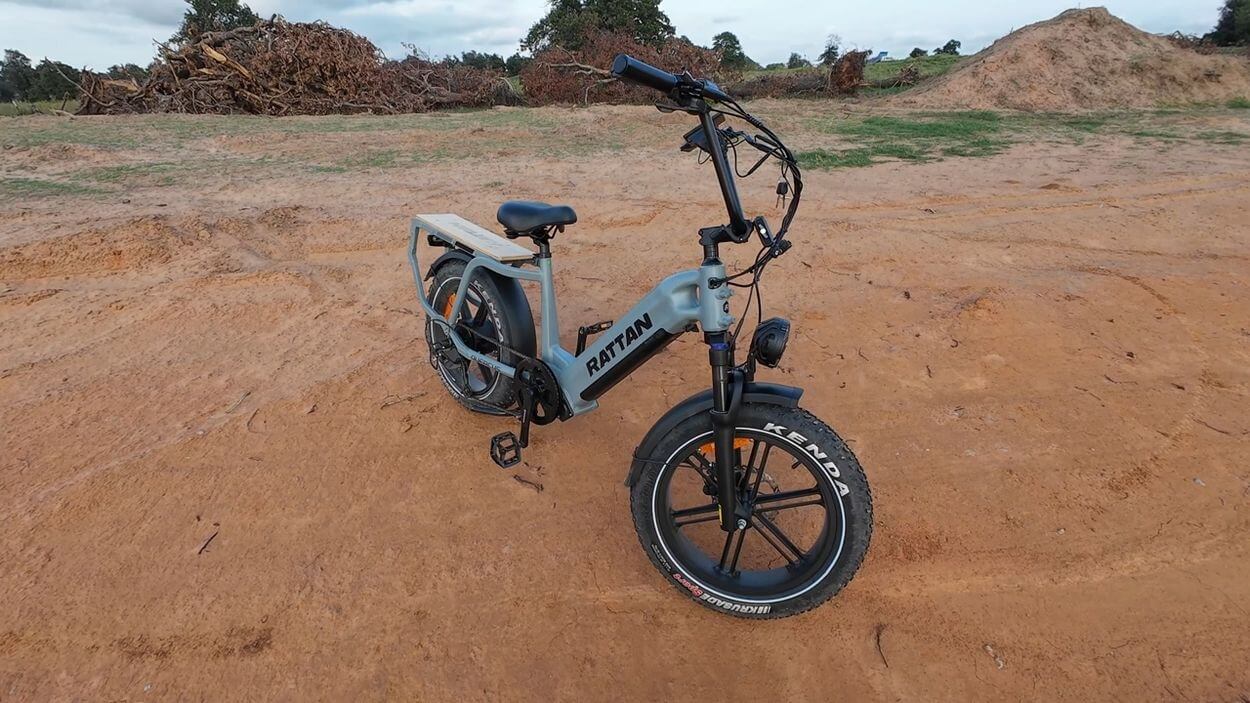 The Rattan Quercus stands out not only for its quality but also for its sleek design and thoughtful features. From the stylish color and functional shelf to the impressive lighting system, including a bright headlight, turn signals, brake light, and tail light, it's clear that the bike has been designed with both aesthetics and rider safety in mind.
With a top speed of 30 miles per hour and the potential for even more with the dual battery option, the Rattan Quercus offers a thrilling and versatile riding experience. Its strong motor and range capabilities make it suitable for a variety of riding conditions, whether for commuting or recreational adventures.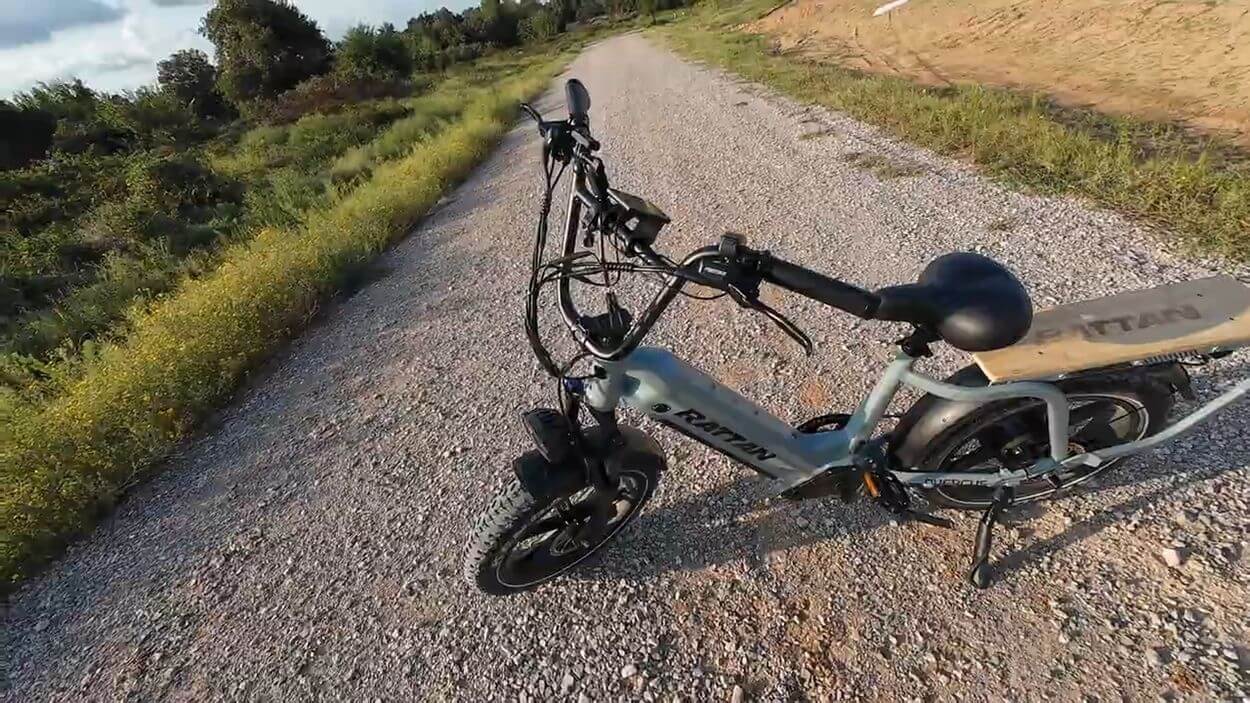 In essence, the Rattan Quercus is not just another e-bike; it's a high-quality, powerful, and versatile mode of transportation and adventure. It has demonstrated exceptional resilience and performance during the challenging off-road test. Whether you're looking for a commuter or a recreational e-bike, the Rattan Quercus appears to be more than capable of meeting your needs. Thanks to Rattan for providing this extraordinary machine, and if you're considering it, don't hesitate to explore this impressive e-bike for yourself. Stay safe and enjoy the thrill of riding!
Alternatives of Rattan Quercus