In this review, we embark on a journey to discover the Meebike Gallop Step-Through model, elegantly presented in a pristine white finish. This version of the Gallop not only delivers on the promise of exceptional performance but also adds a touch of sophistication to your riding experience.
The Gallop Step-Through, with all its elegance, performance, and innovative features, comes at an attractive price point of $2299. This price tag places it within the realm of affordability for many riders seeking a high-quality e-bike that offers both style and substance.
So, the Meebike in white is a fusion of elegance and functionality. Its graceful design, ease of entry, consistent performance, and enhanced comfort make it a standout choice for riders looking for both style and substance in their e-bike. Whether you're navigating city streets or exploring scenic trails, this e-bike is ready to elevate your riding experience.
Frame
A6061 Aluminum TIG Welded frame
Motor
750 watts nominal / 1000 watts peak
Max Motor Torque
85Nm
Top Speed
Class-2 Mode: 20mph
Pedal Assist
0-5 level
Tyres
20'x4' fat tires Anti-puncture and reflective Kenda tires
Shifter
Shimano SL-RS35-7 Tourney
Chain
Z8.3-7 Speed+EPT Rustproof
Brake
Hydraulic Disc Brakes
Display
TFT Backlight display
Battery
48V 20Ah Lithium-ion battery
Battery range
On Throttle:40-50 Miles
On Pedal Assist:60-80 Miles
Weight
72Ibs including battery and mudguards
Total Payload
330Ibs
Design and Build Quality
The first thing that captures your attention when you lay eyes on the Meebike Gallop Step-Through in white is its striking and clean aesthetic. The step-through design, characterized by its low, curved top tube, not only enhances accessibility but also exudes an air of grace and practicality. The pristine white color adds a sense of purity and modernity to the bike, making it an ideal choice for riders who appreciate both form and function.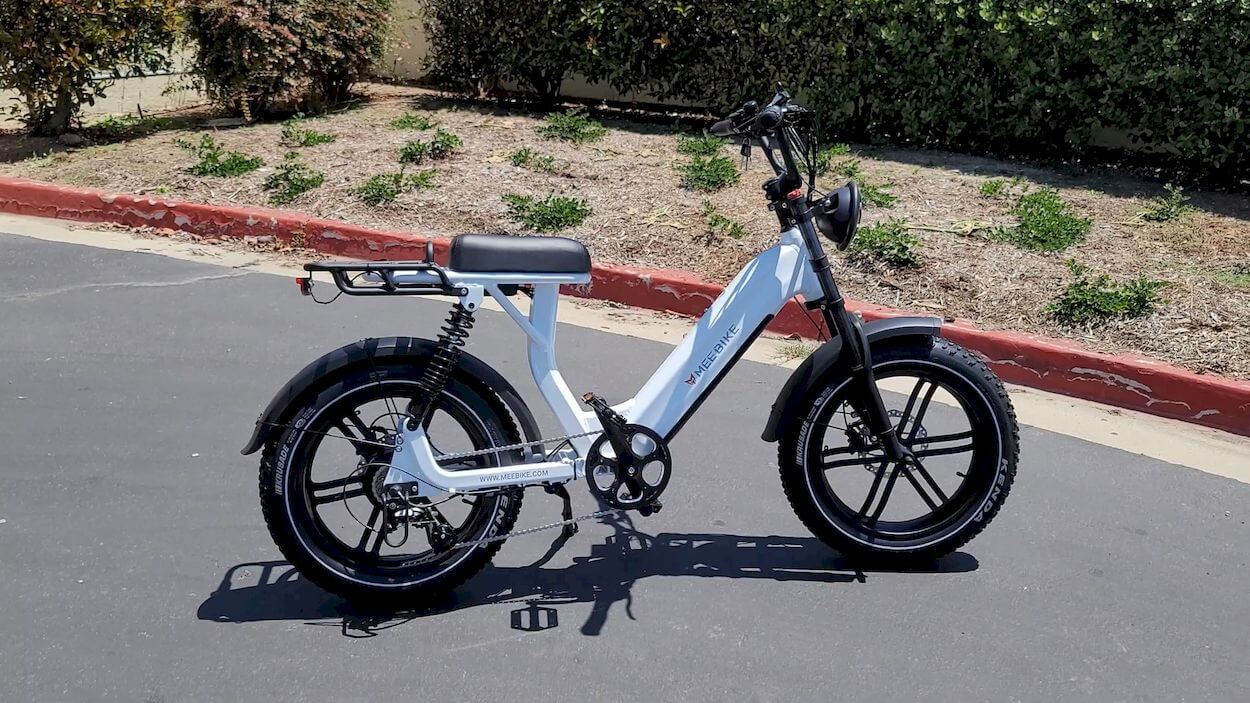 When it comes to e-bikes, the Meebike Gallop stands tall as a true masterpiece, blending cutting-edge design with impeccable build quality. This e-bike offers a plethora of features that not only enhance its aesthetics but also contribute to an extraordinary riding experience.
The Meebike Gallop doesn't compromise on comfort and performance, thanks to its dual suspension system. The massive front fork suspension comes with lockout and adjustment options, allowing riders to adapt to various terrains effortlessly. Paired with rear springs, this e-bike delivers one of the smoothest rides in the market, soaking up bumps and providing a plush experience.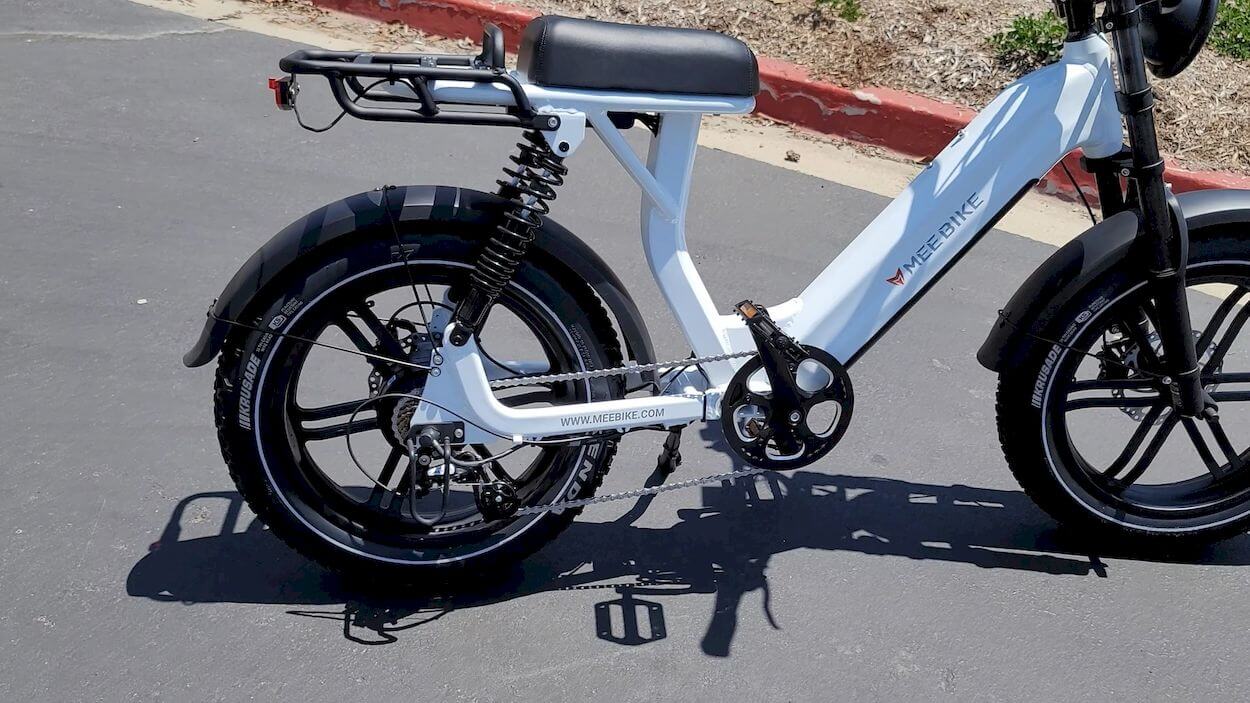 Safety and visibility are paramount when riding, and the Meebike Gallop ensures both. Its generous front headlights illuminate the path ahead, ensuring riders can confidently navigate in low-light conditions. Additionally, a rear brake light enhances visibility for those behind you, contributing to overall road safety.
Braking performance is a critical aspect of any bike, and the Meebike Gallop shines in this department. Sporting hydraulic disc brakes branded by Logan, this e-bike delivers precise and responsive stopping power. Whether you're cruising at high speeds or navigating challenging terrain, these brakes instill confidence, ensuring you can halt in an instant if needed.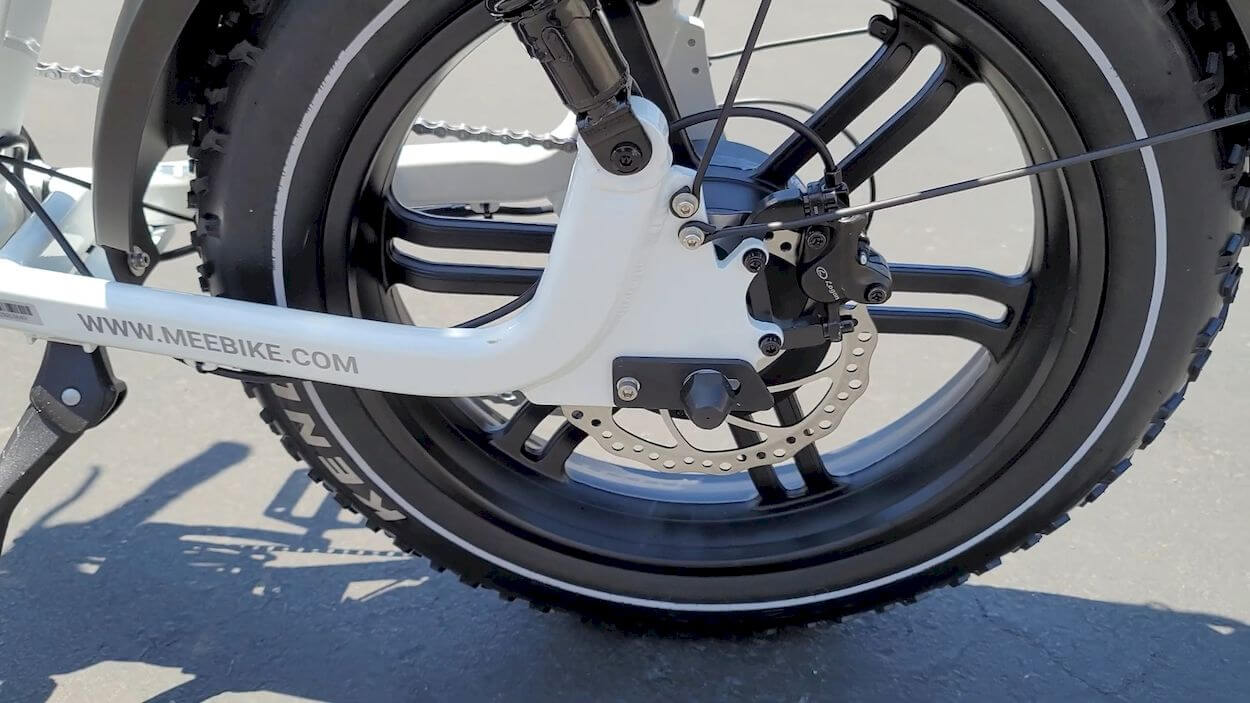 The Meebike Gallop boasts 20-inch by 4-inch flat tires, providing stability and traction on a variety of surfaces. Complementing these tires are the mag-style rims, not only enhancing the bike's aesthetics but also ensuring durability and strength. The combination of these tires and rims provides a balanced and reliable foundation for your rides.
The Meebike Gallop is not just a powerhouse of features; it's a head-turner too. Its sleek design, coupled with the mag-style rims, gives it a futuristic and premium appearance. Whether you're cruising through the city or exploring off-road trails, this e-bike is sure to draw admiring glances.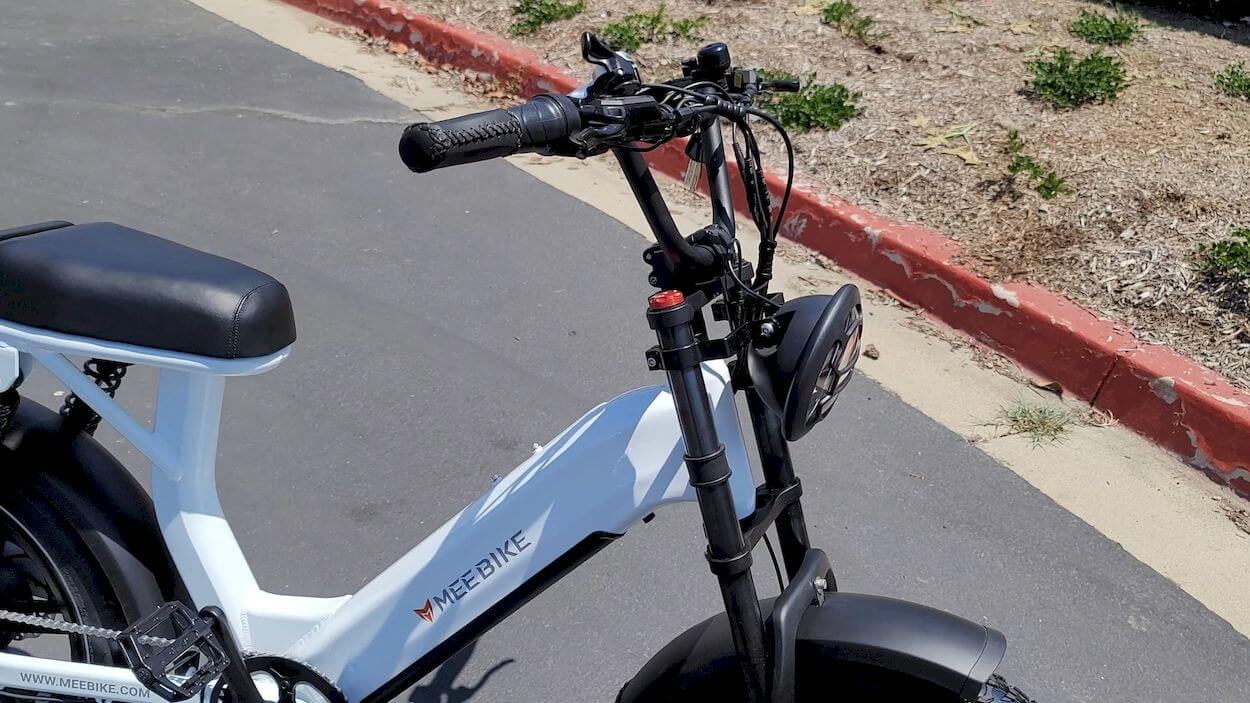 Comparing with the Black Version: While the Meebike Gallop is undoubtedly a stunning e-bike, it's worth mentioning that the Black Version, a sibling in the Meebike family, offers a different color option and subtle design variations. These differences provide riders with choices to match their personal style preferences.
So, the Meebike Gallop is a true gem in the world of e-bikes. Its dual suspension, exceptional illumination, top-notch braking system, rugged tires, and stylish design make it a formidable contender. Whether you're a commuter looking for comfort, a thrill-seeker in search of adventure, or simply an enthusiast who appreciates quality, the Meebike Gallop is an e-bike that promises an exhilarating and reliable riding experience.
Motor and Driving Test
In the heart of the Meebike Gallop's powertrain lies a formidable 750-watt hub motor, positioned in the rear wheel. This robust motor is the driving force behind the e-bike's impressive performance, providing ample power for a thrilling and efficient ride. However, what sets it apart from many e-bikes is the inclusion of a torque sensor instead of a cadence sensor.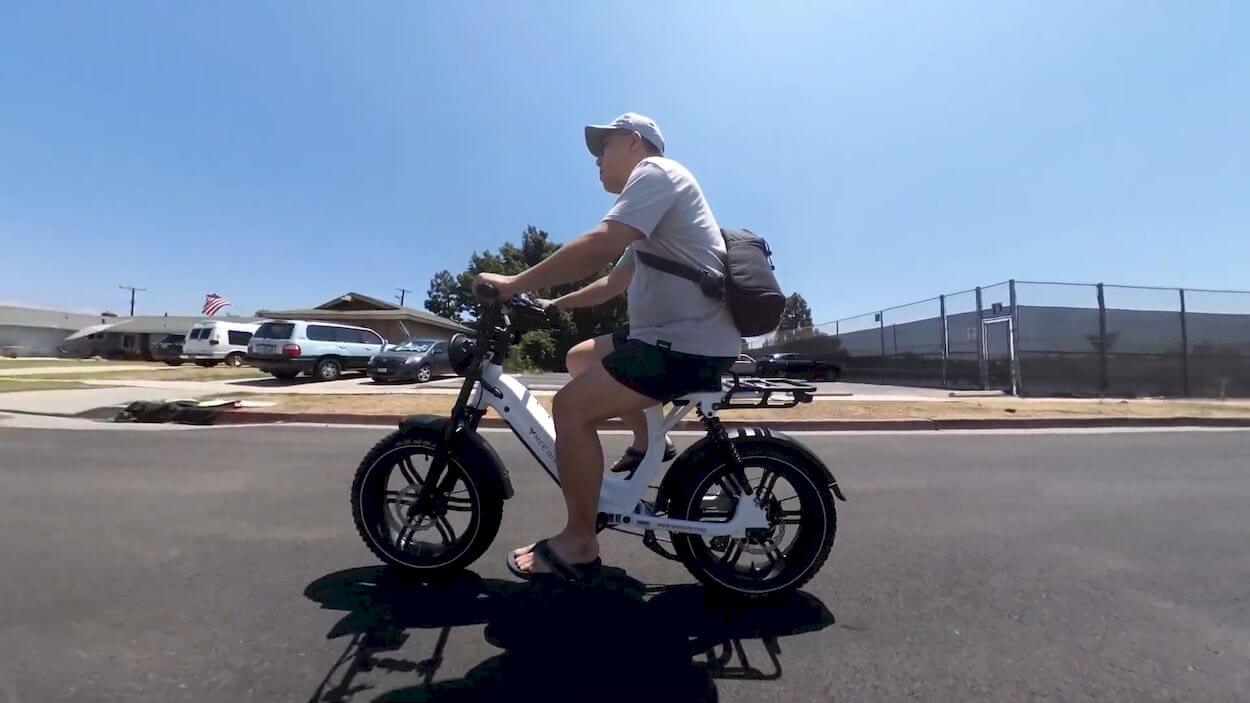 The torque sensor in the Meebike Gallop offers riders finer control over their speed and power output. Unlike cadence sensors, which primarily measure pedal rotations, torque sensors detect the actual force applied to the pedals. This means that the e-bike responds more intuitively to the rider's effort, delivering power in a proportional manner. The result is a smoother and more natural riding experience, with seamless transitions between pedal assist levels.
When it comes to the riding experience, the white version of the Meebike Gallop shares many similarities with its black counterpart. Both versions feature the same motor and controller, ensuring consistency in speed levels, throttle response, and top speed. This uniformity means that riders can expect the same exceptional performance from both models, whether they choose the sleek black or the pristine white version.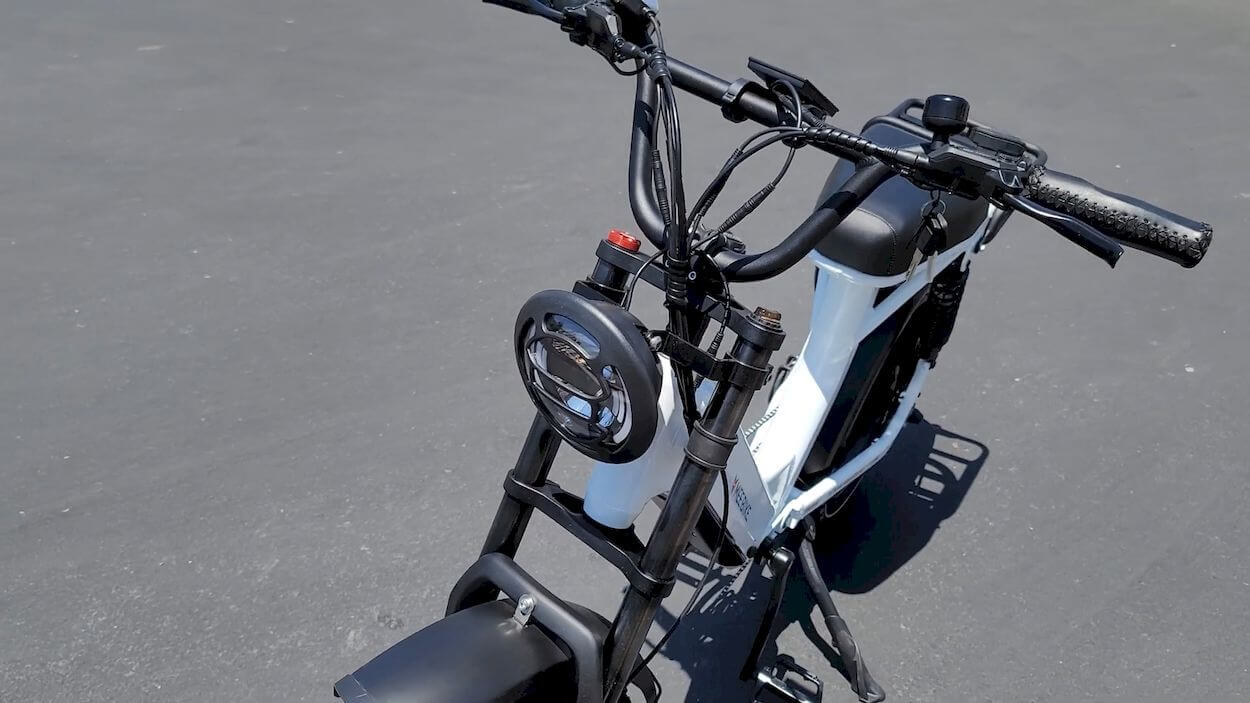 In terms of comfort, the Meebike Gallop white version offers a familiar and pleasant ride. The shocks, tuned to perfection, provide a smooth and comfortable journey, whether you're cruising on city streets, bumpy sidewalks, or even tackling grassy terrain. One notable difference, however, is the seat on the step-through version. It's slightly shorter and narrower, featuring a more pronounced slope. Surprisingly, this design tweak enhances comfort for many riders, as it provides a unique sweet spot that feels just right. However, due to the reduced length, there's less room for adjustment, so riders looking to fine-tune their seating position may need to consider handlebar adjustments.
As for pricing, it's worth noting that the cost of Meebike Gallop e-bikes has seen an increase since the review of the black version. While the exact reasons behind this price hike may not be immediately clear, it's likely influenced by supply chain challenges and fluctuations in the cost of essential components. E-bike manufacturers often face these challenges, and pricing adjustments are sometimes necessary to navigate the complexities of the market.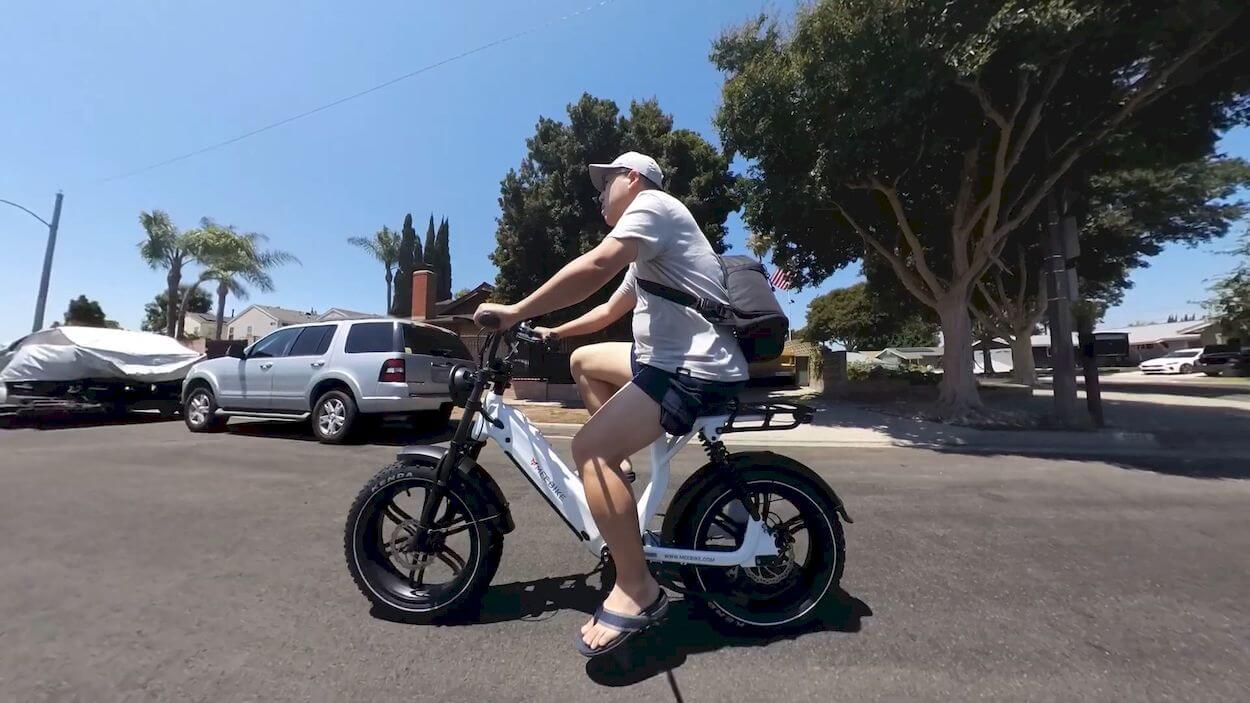 So, the Meebike Gallop white version retains the remarkable qualities that made its black counterpart stand out. With its powerful hub motor, torque sensor, and comfortable ride, it offers an impressive e-bike experience. While the pricing may have shifted due to market dynamics, the Meebike Gallop remains a compelling choice for riders seeking a high-performance, stylish, and reliable electric bike, albeit at a slightly higher cost. As the e-bike industry continues to evolve, staying informed about price fluctuations and market dynamics is essential for prospective buyers.
Battery and Range
Meebike Gallop's exceptional performance is its well-concealed 48-volt, 20-amp-hour battery, boasting an impressive 960-watt-hour capacity. This powerhouse of a battery is ingeniously integrated into the frame, seamlessly blending aesthetics with functionality.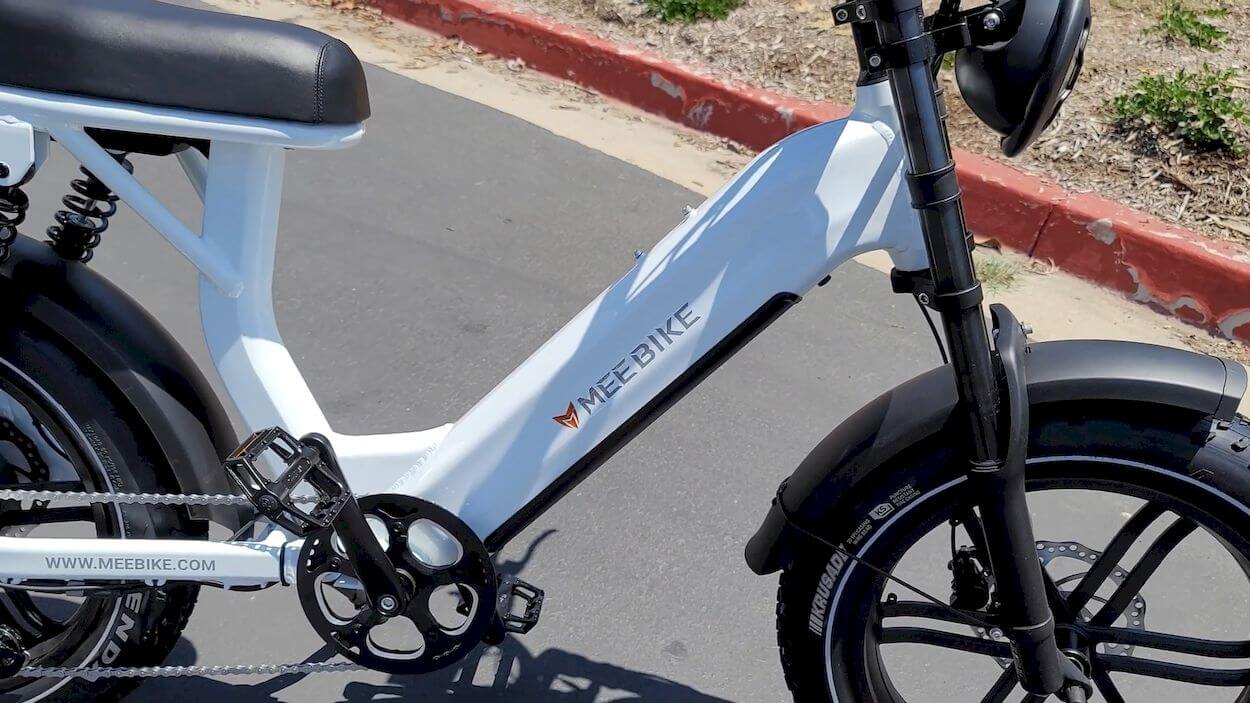 The cleverly hidden battery not only adds to the bike's sleek and futuristic appearance but also serves as a testament to the bike's engineering prowess. Its concealed placement contributes to a balanced weight distribution, providing a stable and agile ride that handles various terrains with ease.
In terms of range, the Meebike Gallop doesn't disappoint. Whether you prefer a leisurely cruise or an exhilarating ride, this e-bike has you covered. On throttle alone, riders can expect an impressive range of 40 to 50 miles on a single charge. This mode allows you to enjoy effortless cruising without pedaling, making it ideal for those times when you simply want to relax and let the e-bike do the work.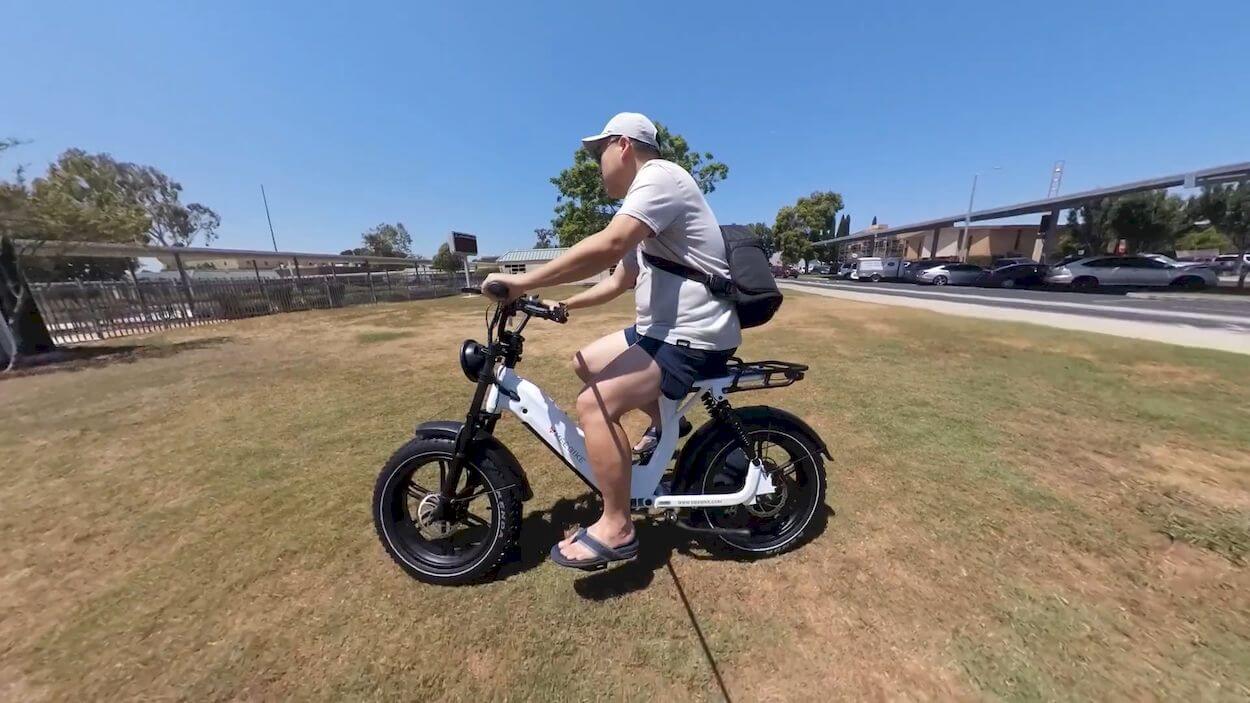 For those who prefer a more active role in their ride, the pedal-assist mode offers even greater range. With pedal assist, the Meebike Gallop can cover an astonishing 60 to 80 miles on a single charge. The pedal-assist technology seamlessly augments your pedaling effort, providing a smooth and efficient ride while extending your riding adventure.
This remarkable battery performance means that whether you're commuting to work, exploring scenic routes, or embarking on long-distance journeys, the Meebike Gallop offers the flexibility and endurance you need. It's a testament to the advancements in e-bike technology, where innovation meets practicality to provide riders with both power and range.
Conclusions
In conclusion, we've taken an in-depth look at the Meebike Gallop Step-Through in its pristine white color. This e-bike offers a blend of elegance, accessibility, and exceptional performance that's sure to captivate riders seeking both style and substance.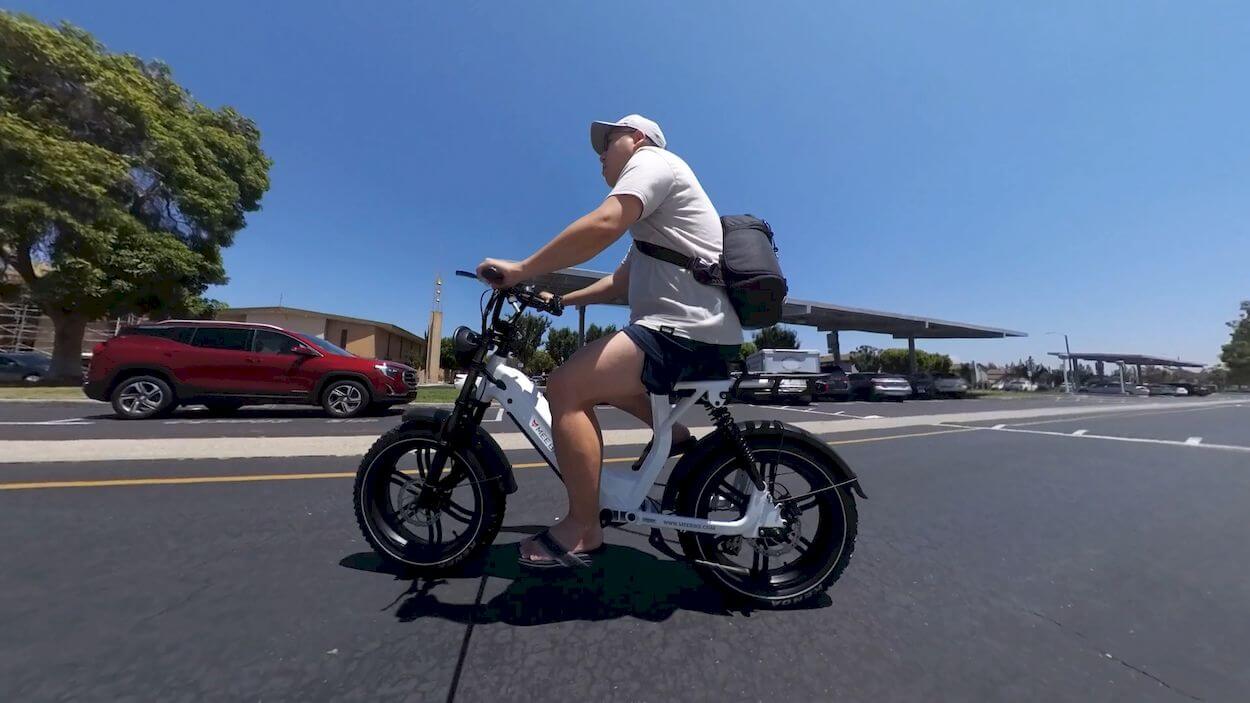 Consistency in performance is a hallmark of the Meebike Gallop family, and the white Step-Through version is no exception. With its 750-watt hub motor and torque sensor, it delivers responsive and controlled power, ensuring an enjoyable riding experience on any terrain.
Comfort is redefined with this e-bike, thanks to well-tuned shocks and a unique seat design that provides a comfortable sweet spot for riders. Moreover, the exceptional range offered by the concealed 48-volt, 20-amp-hour, 960-watt-hour battery ensures you won't be limited by distance on your adventures.
That wraps up our exploration of the Meebike Gallop Step-Through in white. Thank you for joining us on this journey, and we look forward to sharing more exciting reviews and insights with you in our upcoming articles. Until next time, happy riding!
Alternatives of Meebike Gallop Step-Through