What a pleasure it is to have you join us today for a bike test! And what an exciting test we have in store – an exploration of the Vakole VT4, a fat bike that not only promises an enjoyable ride but also comes at a relatively reasonable price, often falling under the 1000 € mark depending on current promotions and offers.
But that's not all; what sets the Vakole VT4 apart is its strict adherence to the highlights of French regulations, ensuring that it complies with all the necessary legal requirements. This attention to detail ensures that you're not just getting an affordable bike, but one that meets the standards of safety and performance expected in the industry.
So, sit back, relax, and get ready to dive into our comprehensive test of the VT4. We'll explore its features, performance, and overall riding experience, providing you with all the insights you need to make an informed decision. Welcome to Avis Express, where we're about to embark on an exciting journey through the world of the Vakole VT4!
| | |
| --- | --- |
| Frame Material | Aluminum Alloy |
| Motor Wattage | 250W |
| Torque | 50 N.m |
| Speed Level | 5 Level |
| Max Speed | 25km/h |
| Brake | Mechanical Disc brake |
| Waterproof Level | IP54 |
| Tire | 20*4.0 |
| Meter Display | Color LCD meter |
| Battery | 13Ah (468Wh) |
| Mileage of Pure Electric | 50-65KM |
| Mileage of Assistance | 60-75KM |
| Net Weight of the Bike | 27.7KG |
| Product Size | 176.6 x 25 x 143CM |
| Folding Size | 88.5 x 45 x 100CM |
Design and Build Quality
The Vakole VT4 is a remarkable fat bike that boasts a well-thought-out design and impressive build quality. Let's delve into the details of this bike, focusing on its frame, materials, weight, load capacity, tire size, brakes, adjustability, and folding feature.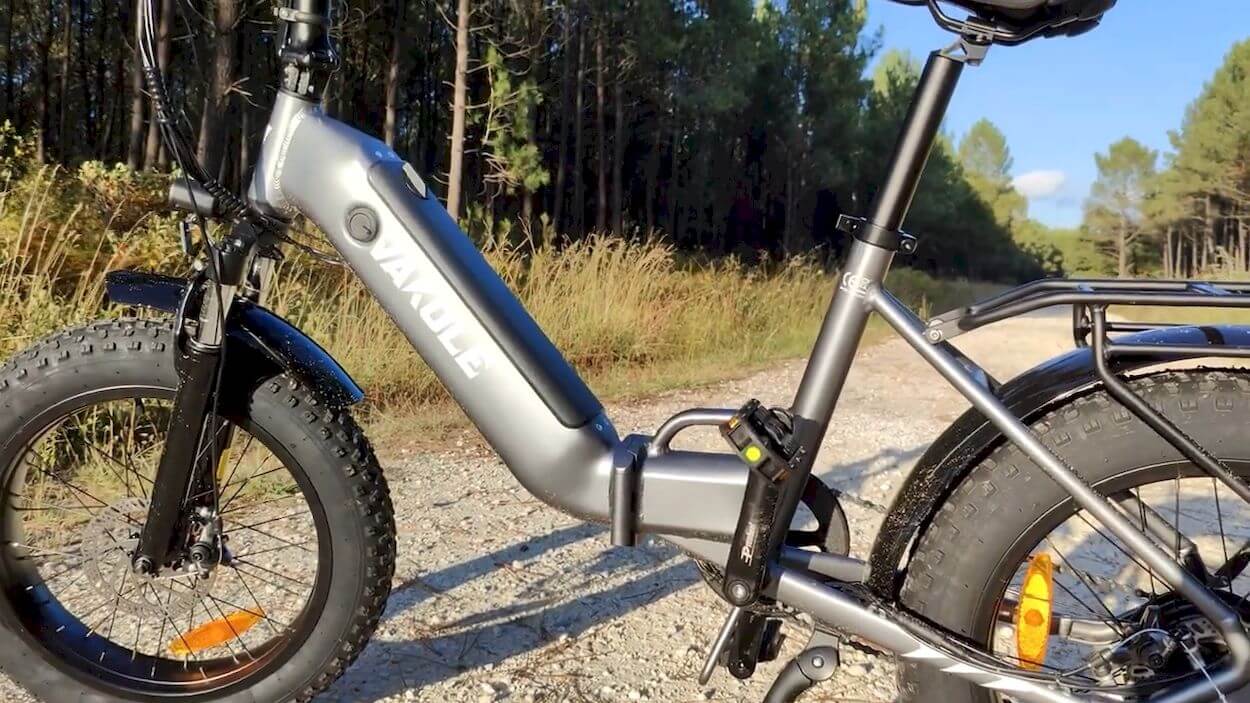 The VT4 features an ABC frame design, which is known for its ease of climbing over. This frame is constructed from lightweight aluminum alloy, which not only ensures durability but also contributes to the bike's overall sturdiness.
One of the standout features of the Vakole VT4 is its foldable design. The folding process is relatively straightforward, and while the bike's weight of 27 kg is not negligible, it is manageable for most users. This folding capability makes it easy to transport and store, even in smaller vehicles like a Renault Twingo.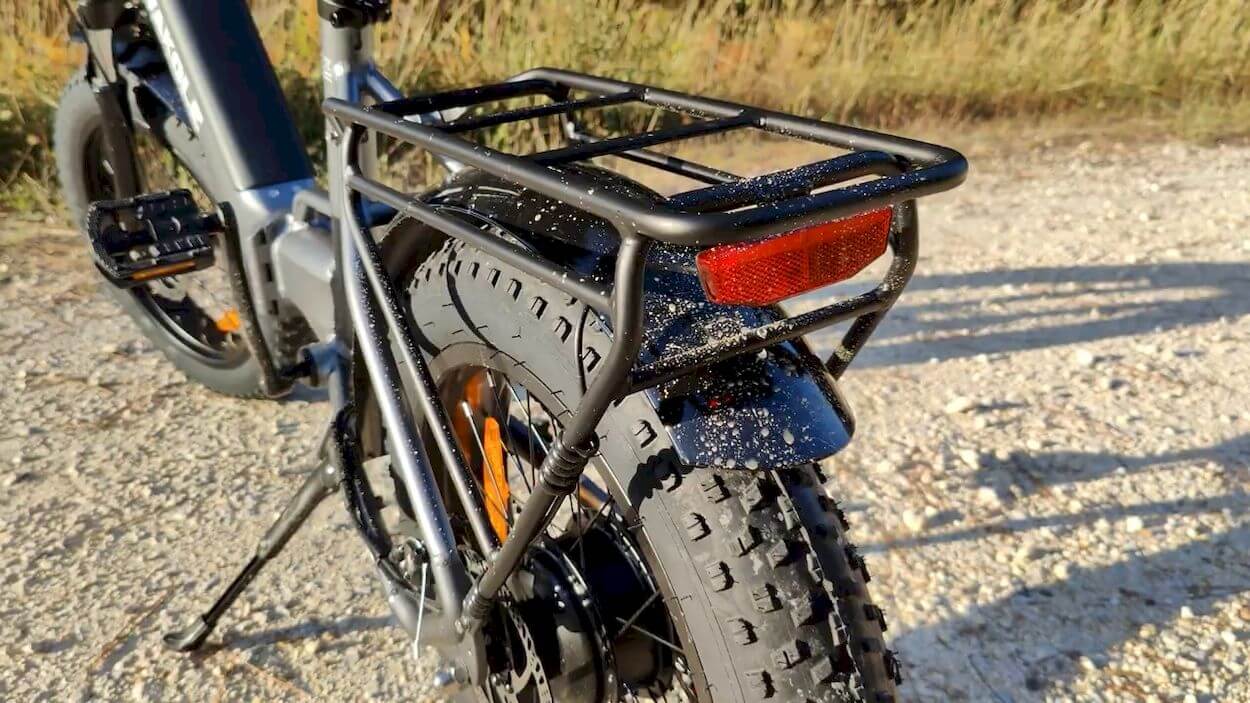 VT4 is reasonably lightweight for a fat bike of its class. What sets it apart is its impressive load capacity of 150 kg, which is quite high, especially considering its affordable price point. This robust load capacity makes it suitable for riders of various sizes and those who may need to carry additional gear.
The bike is equipped with 20-inch tires that are 4 inches wide, which is characteristic of fat bikes. This tire configuration suggests that the Vakole VT4 is more oriented towards long-distance cruising rather than performing jumps. The wide tires provide stability and comfort, making it an excellent choice for covering longer distances with ease.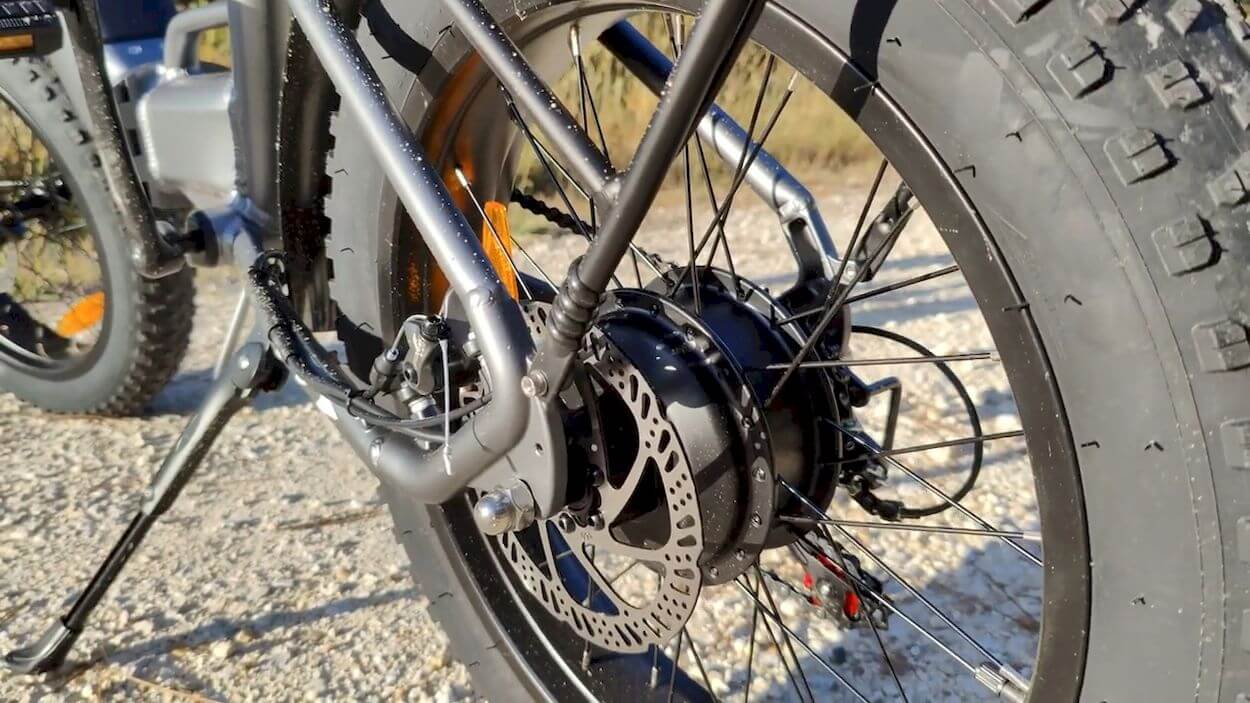 Safety is paramount, and the Vakole VT4 doesn't compromise in this regard. It features double mechanical disc brakes both at the front and rear, ensuring reliable stopping power in various conditions.
The Vakole VT4 is designed to accommodate riders of different sizes. Its saddle can be adjusted to a considerable height range, making it suitable for riders ranging from approximately 1.55 meters to 1.85 meters. Furthermore, the handlebars can also be adjusted for a more comfortable riding position. These features make the bike versatile and accommodating for various riders.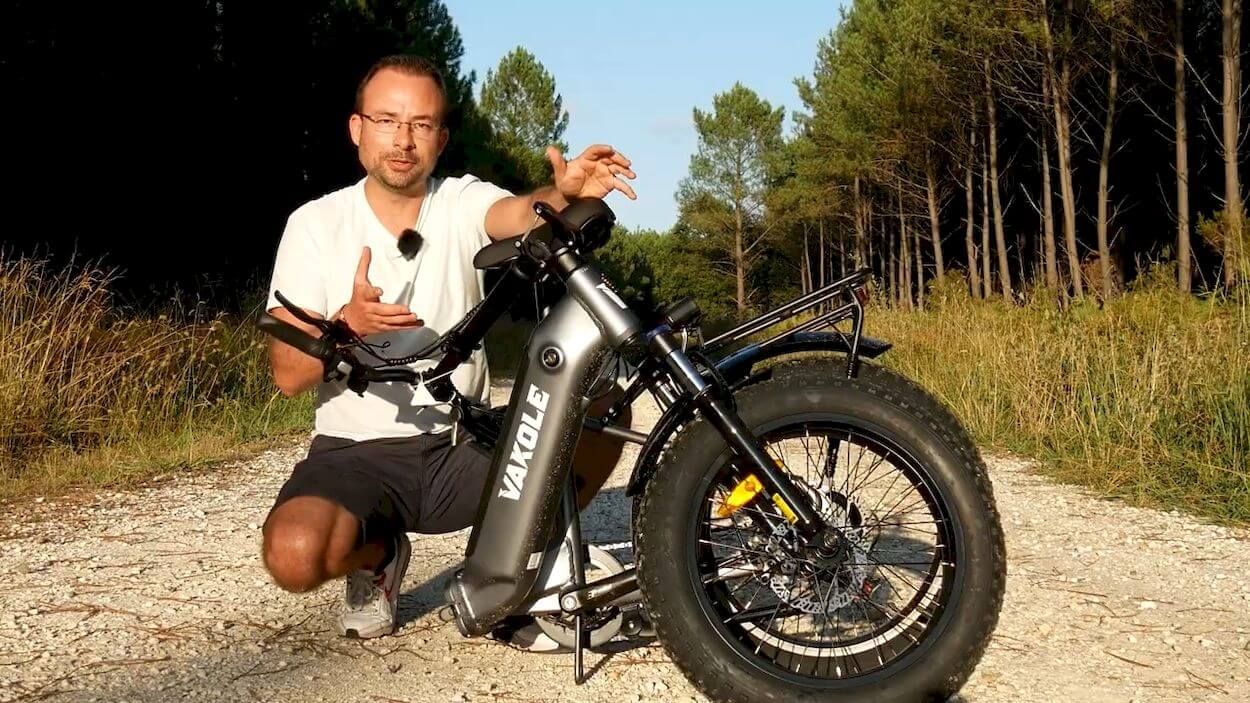 The Vakole VT4 offers some useful extras, including a luggage rack with a 25 kg weight capacity, a guardrail for added safety, and a rear light that is powered by the central battery. This eliminates the need for a separate battery for the light, streamlining maintenance.
So, the VT4 is an impressive fat bike that strikes a balance between design, build quality, and affordability. Its robust frame, high load capacity, wide tires, and adjustable features make it suitable for a wide range of riders, while the foldable design adds practicality for transportation and storage. Whether you're looking to explore scenic trails or simply enjoy long rides, the Vakole VT4 offers an enticing option in the world of fat bikes.
Handlebars and Controls
One of the notable features of the on-board screen is the bike unlocking function. This feature allows you to effortlessly unlock the bike, providing you with the freedom to start your ride with ease. The convenience of this functionality is certainly appreciated by riders who prefer a hassle-free experience.
The on-board screen displays crucial information at a glance, enhancing your riding experience. This includes:
Remaining Autonomy: This informs you about the estimated range you can cover based on the current battery charge. Knowing your remaining autonomy helps you plan your ride more effectively.

Current Speed: The screen displays your real-time speed, allowing you to monitor your pace and make adjustments as needed.

Power Output: It provides insights into the instantaneous power being delivered by the motor. This information is valuable for understanding how the motor is assisting your pedaling effort at any given moment.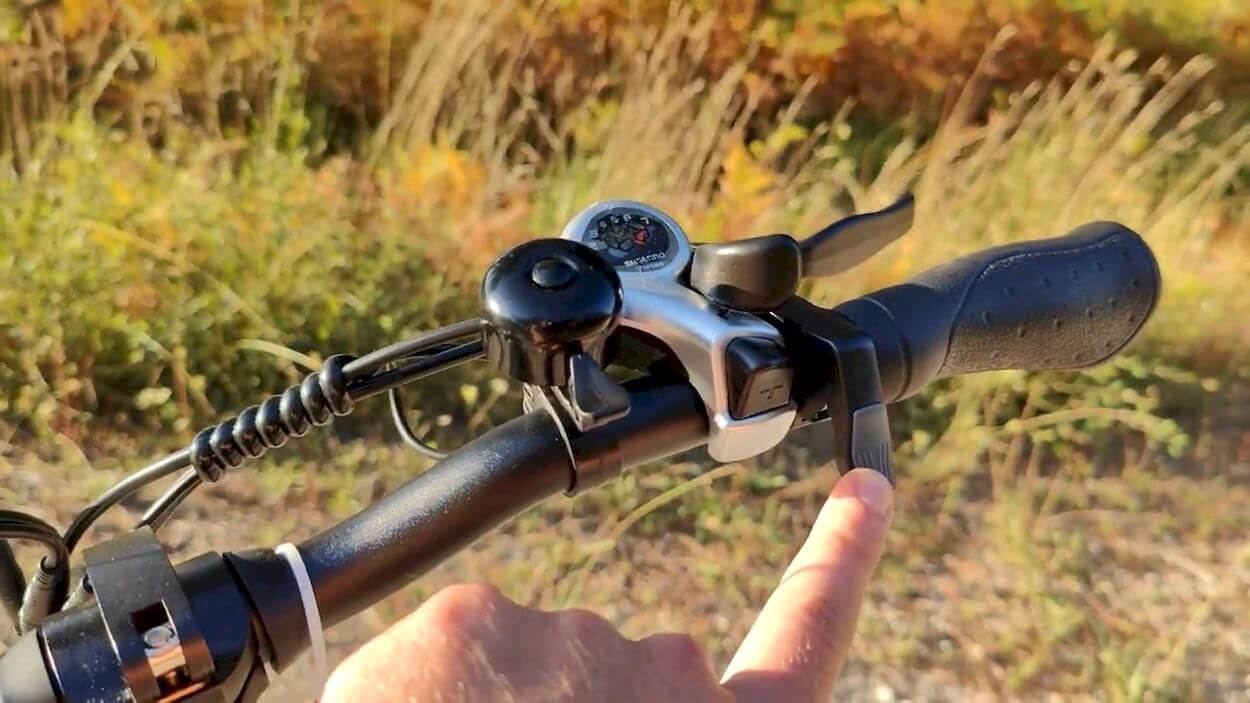 The Vakole VT4 is equipped with Shimano derailleurs, known for their reliable and precise gear shifting. The on-board screen is complemented by an accelerator and a speed regulator, typically located on the right side of the handlebars. This setup allows you to effortlessly change gears and adjust your speed levels to match the terrain and your riding preferences.
Shimano Derailleurs: The Shimano derailleurs ensure smooth and efficient gear changes, enhancing your overall riding experience.

Accelerator: The accelerator enables you to control the power output from the motor with ease. You can increase or decrease the level of motor assistance according to your needs, whether you want a boost on uphill climbs or a more relaxed ride on flat terrain.

Speed Regulator: The speed regulator allows you to maintain a consistent pace by setting a desired speed level. This feature is particularly useful for riders who want to cruise at a specific speed without continuously adjusting the throttle.
Vakole VT4:
Motor
The real 250W motor deployed in this bike is not just for show. It generates an impressive torque of 50 Nm, which is quite remarkable for a motor of this power rating. This level of torque can provide a significant boost to your pedaling effort and help you conquer various terrains with ease.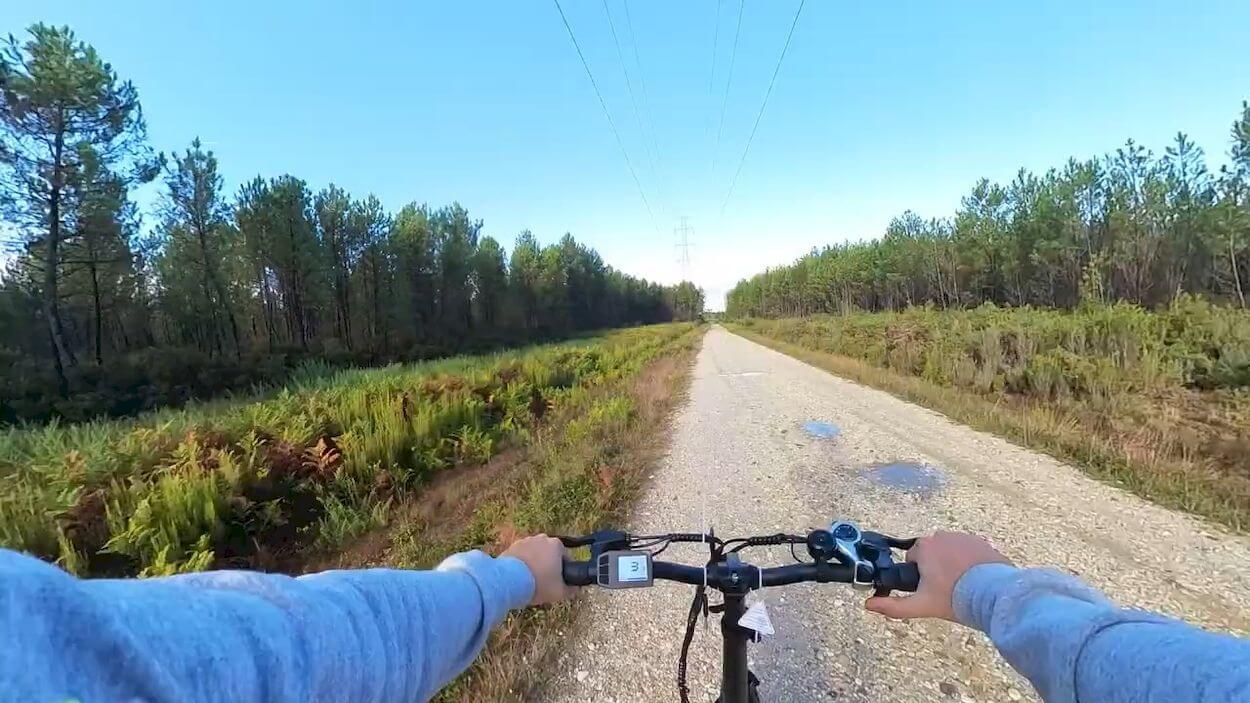 Driving Test
This fat bike, with its 3-inch wide and 20-inch diameter tires, is specifically designed for a comfortable and enjoyable ride. It's not intended for extreme off-roading or jumps. Instead, it excels in scenarios like forest trails and urban streets. Riding through city traffic on this bike is a breeze, and it provides a pleasant experience within its intended use.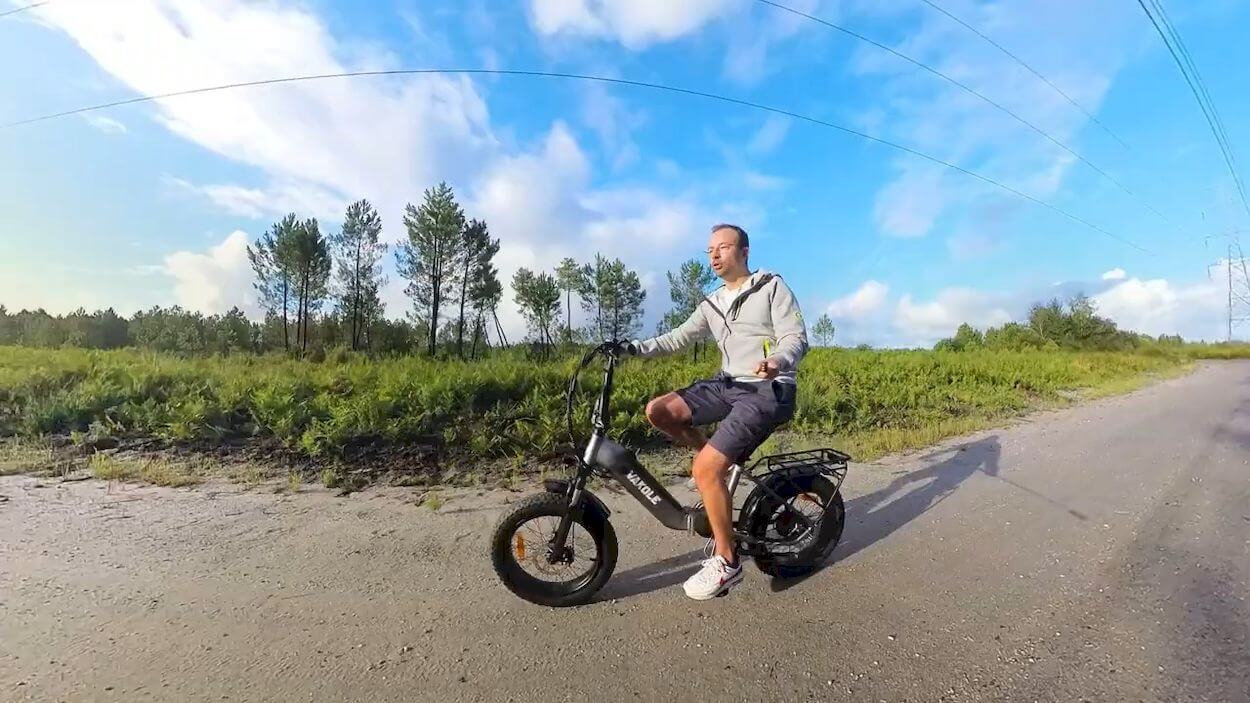 One notable feature of this bike is the near-instantaneous motor engagement. With just a quarter turn of the crankset, the motor kicks in, providing a smooth and quick acceleration experience. This responsiveness is somewhat rare in the world of electric bikes and contributes to an enjoyable riding experience.
The Vakole VT4 features a cruise control function that activates after holding the accelerator for about 5 seconds. This is a convenient feature, allowing the bike to maintain a consistent speed without continuous throttle input. It's especially handy when cruising on long stretches.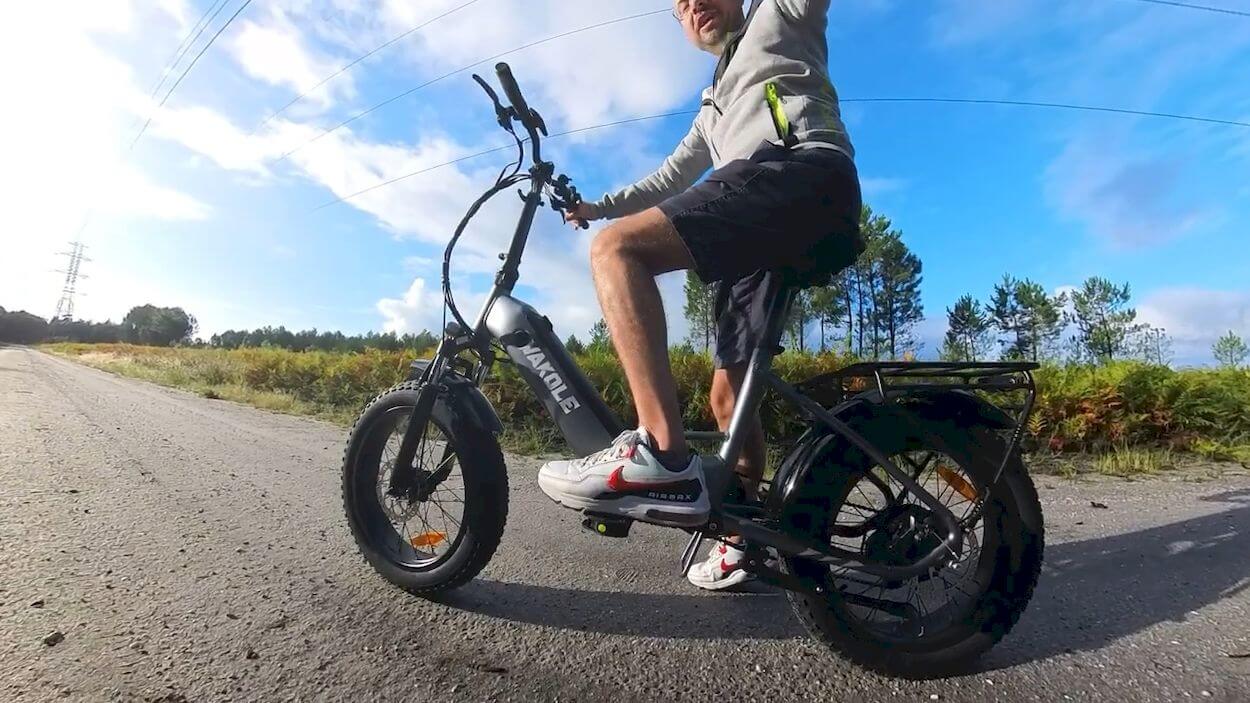 While the VT4 boasts a 250W motor, its climbing capability is commendable. Even on hills, you can easily engage the motor with a quarter turn of the crankset, and the bike will assist you. The absence of a pressure sensor is compensated by well-calibrated adjustment, making hill climbing a breeze.
The bike offers different speed levels, ranging from 10 km/h in speed one to 22 km/h in speed four. The maximum speed will be tested later, and the bike's unclamping capability provides versatility in this regard.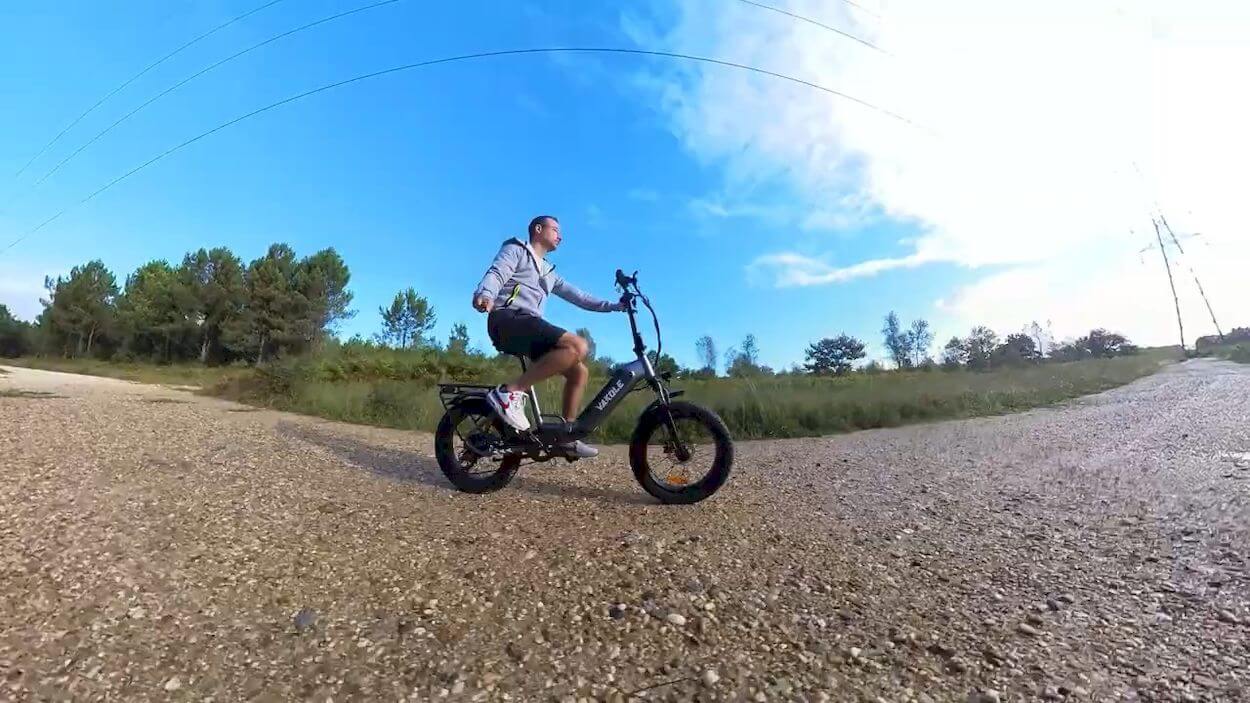 The Vakole VT4 incorporates a suspension system, particularly in the fork. While it features mechanical suspension with a spring, it provides a good level of damping. At your weight of 70 kg, the suspension maintains a solid performance. Although wear might occur over time, for now, it offers excellent support and is well-suited for your rides.
While the bike can handle inclines, it's important to note that it won't conquer steep hills effortlessly. Climbing bridges or hills may result in a reduction of speed by approximately 6 km/h. The derailleur plays a crucial role in compensating for any lack of engine power, requiring some extra effort from the rider to maintain momentum on steeper terrain.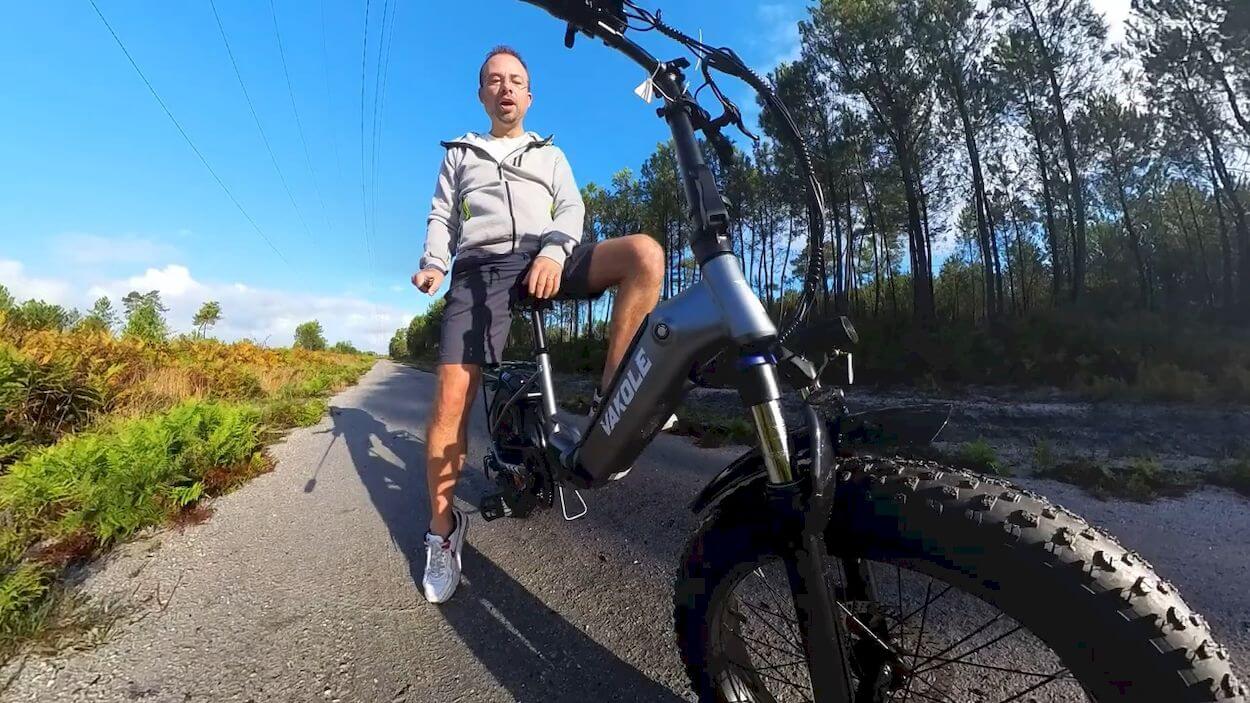 At the maximum allowable speed of 25 km/h, pedaling remains possible, albeit at a brisk pace. Beyond this speed, pedaling becomes significantly less effective, requiring rapid pedaling to maintain higher speeds. However, unlocking the bike briefly allows for a speed of 31 km/h, but this speed is sustained only for the initial portion of the battery's charge.
The Vakole VT4 employs standard mechanical disc brakes, which are efficient for its price range. These brakes are well-adjusted at the factory, and they provide reliable stopping power, bringing the bike from 25 km/h to a complete stop in just 4 meters. The long travel of the brakes makes it difficult to skid the wheels, which can be reassuring for riders seeking stability.
Battery and Range
The Vakole VT4 is powered by a 36V battery with a capacity of 13Ah, cleverly located inside the frame. This battery setup provides both convenience and versatility, as it is easily detachable for charging and maintenance.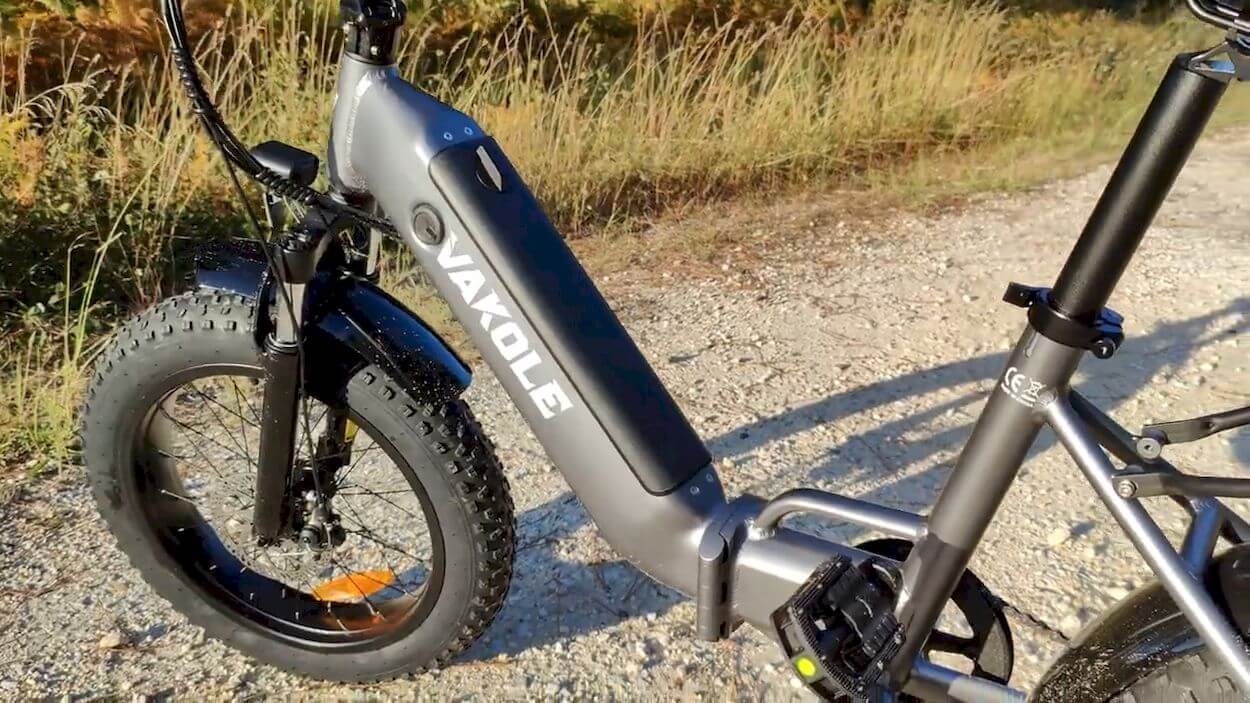 To assess the bike's range and battery performance, you conducted a comprehensive test, as is your usual protocol. After charging the battery to its full capacity and discharging it under varying conditions, you shared your findings. With this 13 Ah battery, the VT4 managed to cover an impressive 30.1 km with 12% battery capacity remaining. This means that the bike can comfortably achieve a minimum range of around 35 km in challenging conditions, which is commendable given the bike's battery size and its alignment with its reasonable price point.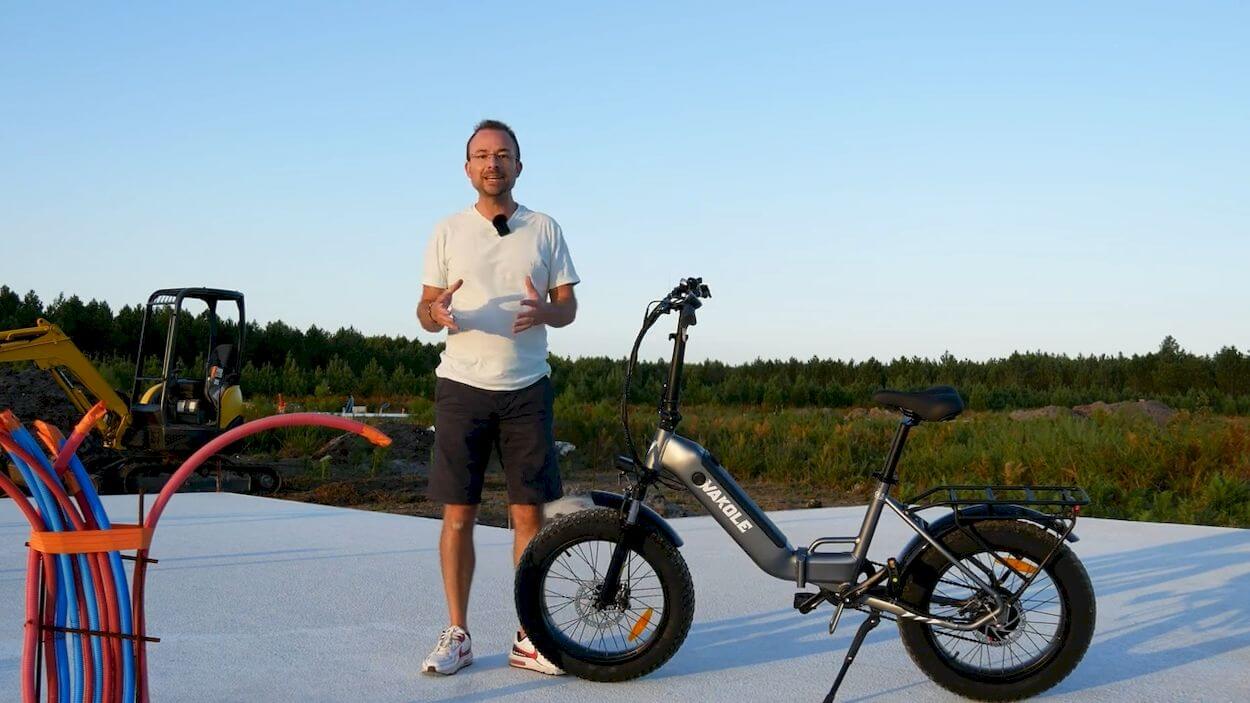 You also discussed the bike's speed characteristics as the battery depletes. With a full battery and the bike unblocked, it can reach speeds of 31-32 km/h, as confirmed by GPS tracking. However, you noted that the speed decreases as the battery level drops. At around 50% battery capacity, it maintains speeds of around 26 km/h, and at 30% battery, it can still manage a respectable 25 km/h. Beyond this point, it maintains a consistent speed of 25 km/h, demonstrating its capability to provide a smooth ride even as the battery nears depletion.
Conclusions
In summarizing your review of the Vakole VT4, you found the bike to be a compelling option. Its range, considering its 13 Ah battery, was deemed quite good, offering around 35 km of riding under challenging conditions. The bike's speed characteristics, although they vary with battery level, were ultimately found to be satisfactory. Given its reasonable price point and the performance it delivers, the VT4 appears to be an appealing choice for riders seeking a reliable and cost-effective electric bike.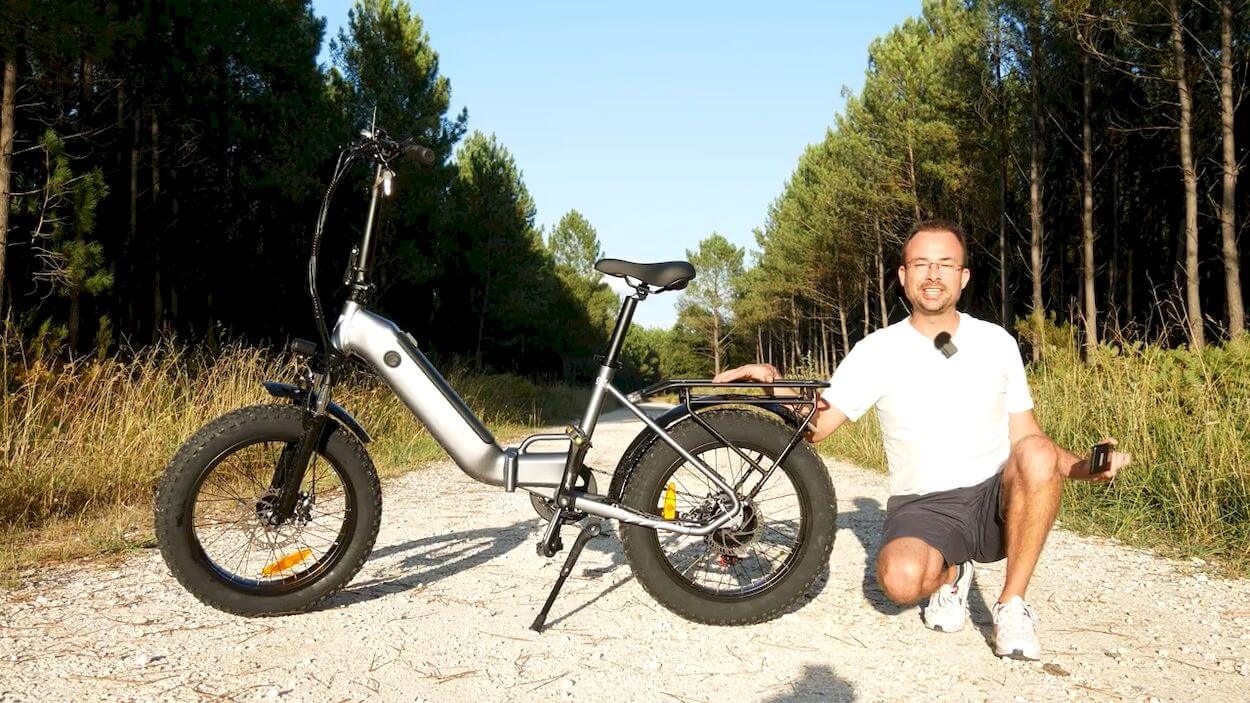 One of the standout features of the VT4 is its affordability. While prices may vary, it represents a cost-effective option for those seeking a dependable fat bike for leisurely rides.
So, the Vakole VT4 is a well-designed and well-assembled bike that excels in terms of comfort and build quality. While it may not be the sportiest option, it caters to riders looking for a versatile and affordable fat bike for leisurely journeys. You can find the current pricing details in the article's description, and if you're considering this bike, it's worth exploring further.
Alternatives of Vakole VT4