What's up, everyone? Welcome to Electrified Reviews. I'm Tyson, and today I'm excited to introduce you to the Heybike Ranger S. This is a folding electric bike that's been equipped with a range of accessories, including integrated lights and a rear rack. I'll be giving you an in-depth look at this bike, its features, and its performance.
Before we dive into the details, let me tell you a bit about Heybike. While I've been familiar with the brand for some time, it wasn't until recently that I had the chance to ride their bikes firsthand. I had the opportunity to test some of their models at an electric bike expo in Denver. I was particularly drawn to their lineup, including the Heybike Tyson, which had a special connection due to the name similarity. Their folding fat tire bike, which wasn't a step-through model, also caught my attention for its solid build.
Moving forward, I received the Heybike Ranger S a few weeks ago, and I was eager to give it a thorough test ride. However, my initial experience was somewhat disappointing as I encountered a few hiccups during setup. The display had a scratch, and I had trouble getting the electric assist to function properly. This experience highlighted a common aspect of ordering electric bikes online – self-assembly and troubleshooting. If you encounter any issues, you either have to figure them out yourself or seek professional assistance. For a smoother experience, I'd recommend considering purchasing from a local dealer, especially since Heybike has established dealer networks in the US.
The Heybike Ranger S comes with a standard one-year warranty, covering manufacturer defects. While this warranty duration is industry-standard, it's worth noting for your reference. Now, let's delve into the details of the Ranger S, its features, and its price point. Priced at $1,499, this bike offers quite a bit of value for what it brings to the table. So, let's take a closer look at what makes the Heybike Ranger S stand out among folding electric bikes.
| | |
| --- | --- |
| Frame | Aluminum alloy |
| Motor | 750W Brushless Gear Motor |
| Ebike Class | Class 3 |
| Display Type | Smart LCD Display |
| Brakes | Hydraulic |
| Tire Construction | Unibody |
| Front Suspension | Hydraulic |
| Battery | UL 2271 Recognized 48V 14.4Ah |
| Max Range | 55 Miles (Pedal Assist) |
| Product Weight | 72 lbs |
| Product Dimensions | 70x24.4x50 (inch) |
Design and Build quality
The Heybike Ranger S is a unique folding electric bike that combines fat tires, a folding frame, and a powerful motor. It's designed to offer versatility, comfort, and off-road capabilities. However, there are certain design decisions that may lead to questions about its target audience and suitability for various scenarios.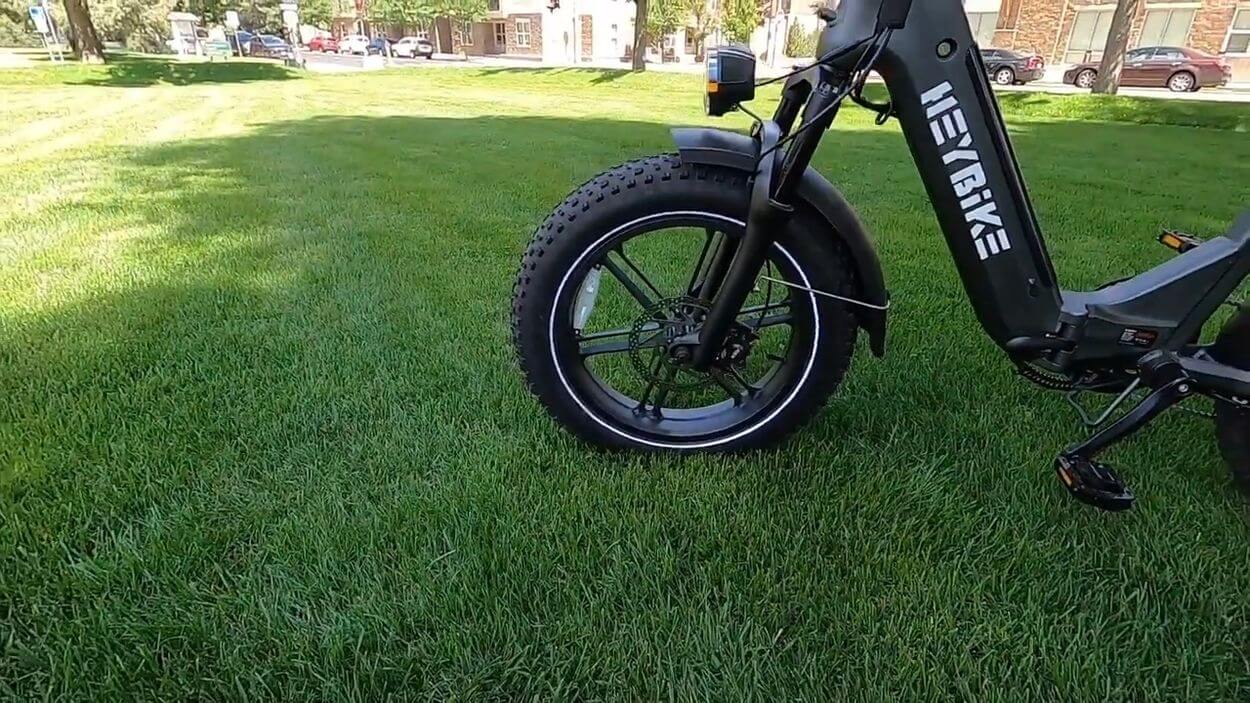 The Heybike Ranger S features a folding frame that allows it to be more compact for storage. The frame can be folded in half, and the stem can also be folded down. This is particularly useful for saving space in storage, but it's worth noting that the bike's size is still relatively bulky, making it less suitable for carrying onto subways or other tight spaces.
One of the notable aspects of the Ranger S is its weight. At around 74 pounds, it's quite heavy for a folding bike of its size. The weight is attributed in part to the robust cast alloy rims. While these rims are sturdy and suitable for high-speed travel, they add to the overall weight of the bike. The weight can be a consideration for users who need to lift or transport the bike frequently.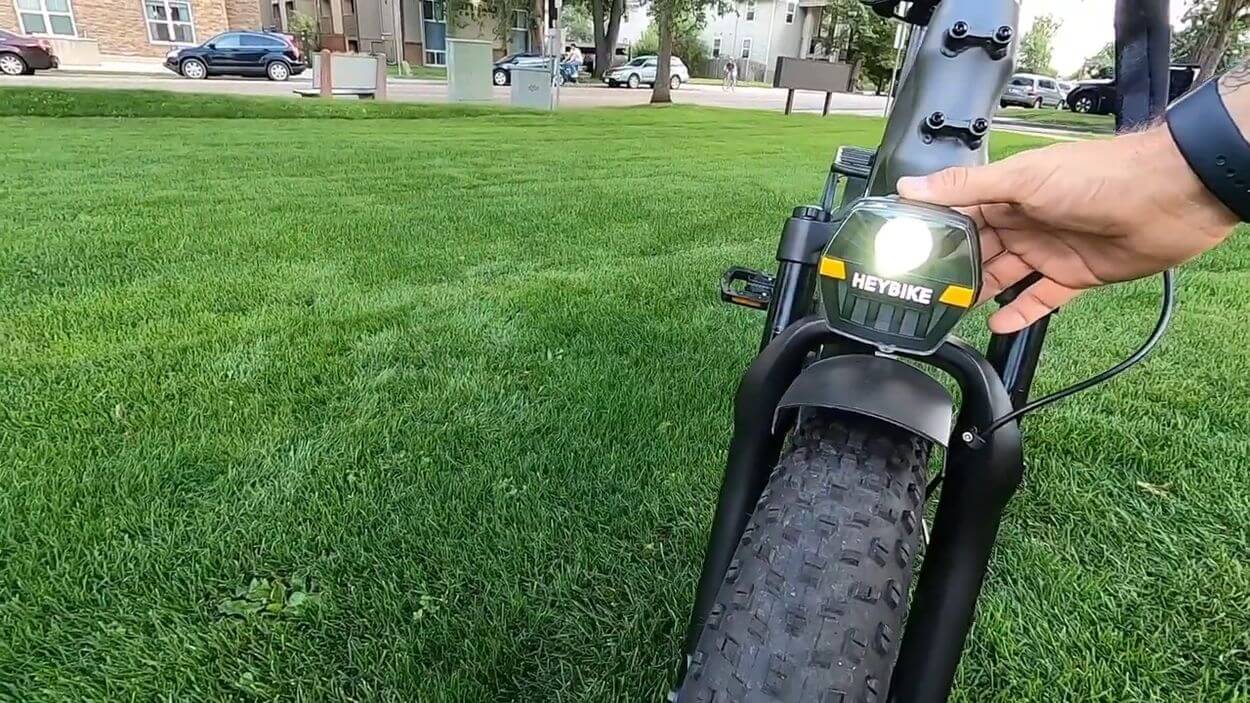 The bike is equipped with Chao Yang 20×4-inch fat tires that provide a cushioning effect and enhanced stability. These tires are well-suited for various terrains, including sand and snow. However, they lack puncture protection, which may lead users to consider adding sealants or inserts for increased reliability. Additionally, the reflective stripes on the tire sidewalls enhance side visibility.
The Ranger S comes with an 80mm travel suspension fork that offers comfort and improved shock absorption during rides. The coil suspension fork is adjustable for preload and compression, contributing to a smoother ride on various terrains.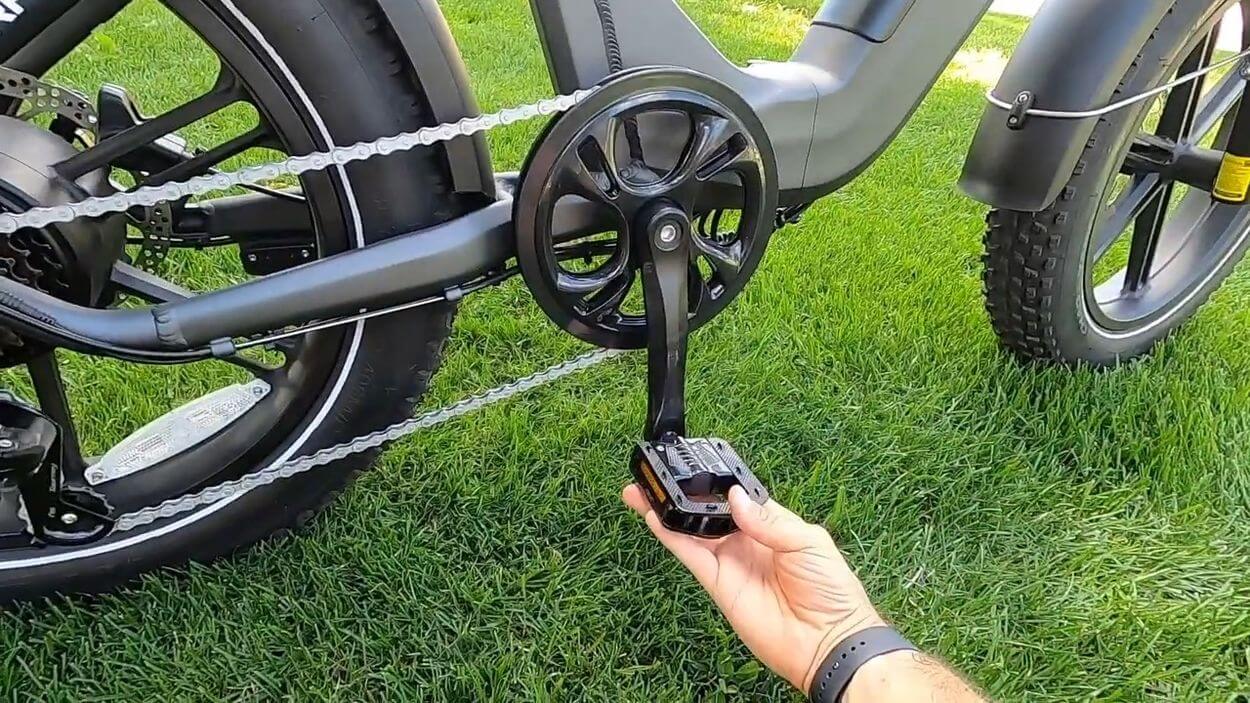 While the bike is designed for comfort, some users might find the stock saddle to be less comfortable than expected. Saddle comfort is subjective, and riders might need to consider replacing it with a more suitable option based on their preferences.
The bike features hydraulic disc brakes with 180mm rotors, providing reliable stopping power even considering the bike's weight. The Shimano Tourney drivetrain, while basic, complements the bike's electric motor, allowing efficient power delivery.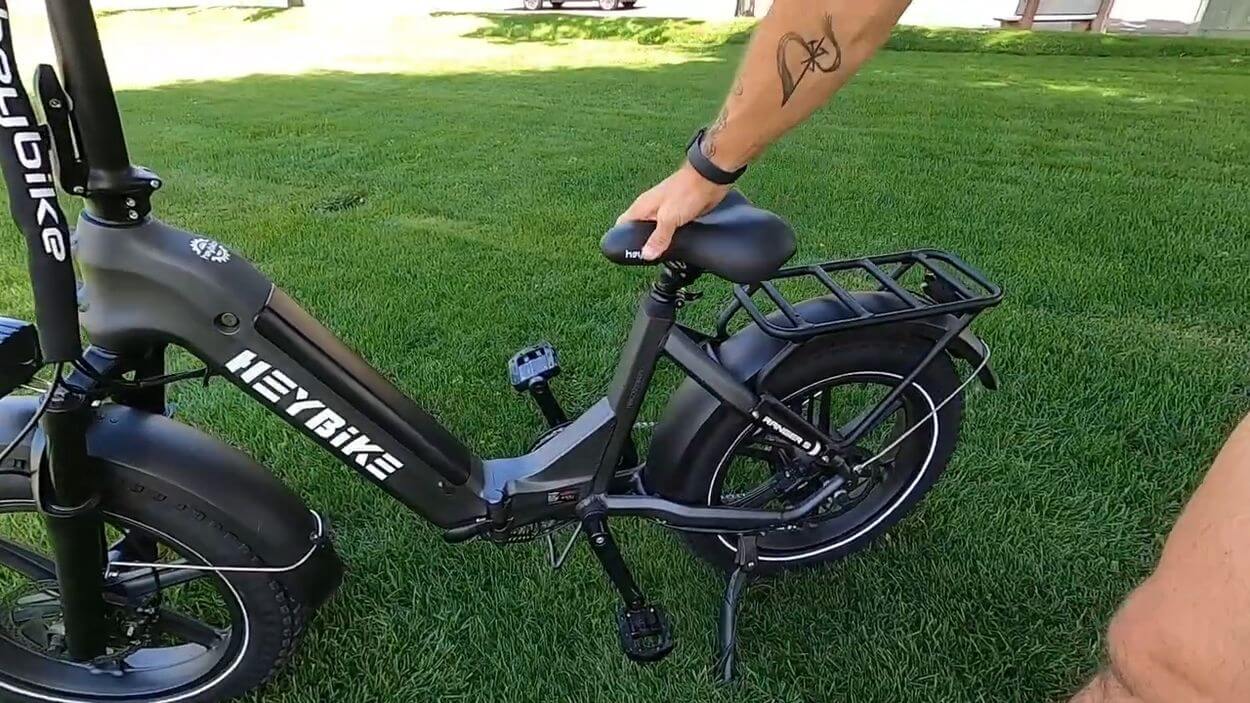 Additional Features:
A double-sided plastic bash guard protects the chain and prevents derailments, which is a thoughtful addition for off-road rides.

The folding pedals contribute to the bike's compactness when folded.

The rear rack offers a decent weight capacity and is attached securely to the frame.

Full coverage fenders are included on both the front and rear, providing protection from splashes and debris.
So, the Heybike Ranger S offers a mix of features aimed at providing comfort, versatility, and off-road capability. While its folding design and fat tires make it stand out, there are considerations to keep in mind, such as the bike's weight and size. The choice of components like alloy rims, suspension fork, and hydraulic disc brakes add value to the bike's performance. However, personal preferences and the intended use case will determine whether the design decisions align with a user's needs and expectations.
Folding mechanism 
Examining the folding capabilities of the Heybike Ranger S provides insight into its storage convenience and portability. When folded, the bike presents a more compact form factor, offering advantages for storage in tight spaces such as apartments, small garages, or recreational vehicles.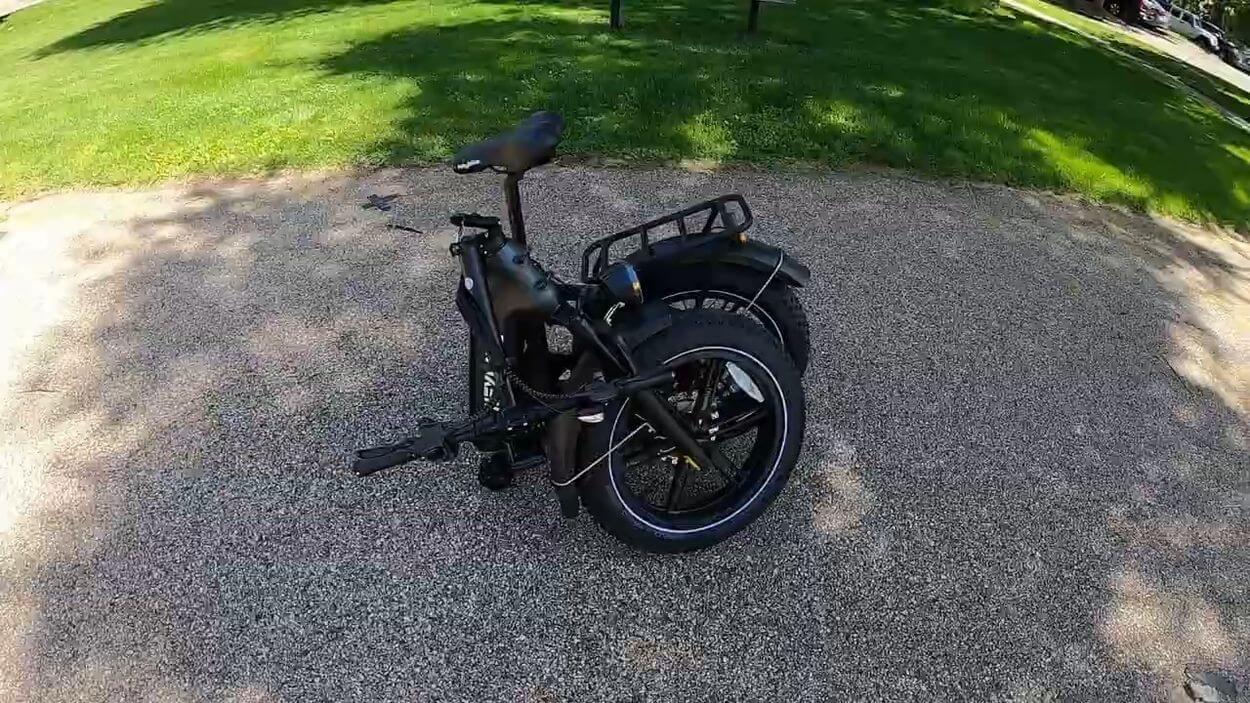 Despite its folding design, it's important to manage expectations about the portability of the Ranger S. While the bike does balance fairly well when folded, it's essential to recognize that its weight remains a notable factor. Weighing around 74 pounds, the Ranger S isn't a lightweight option, which can impact its ease of transport.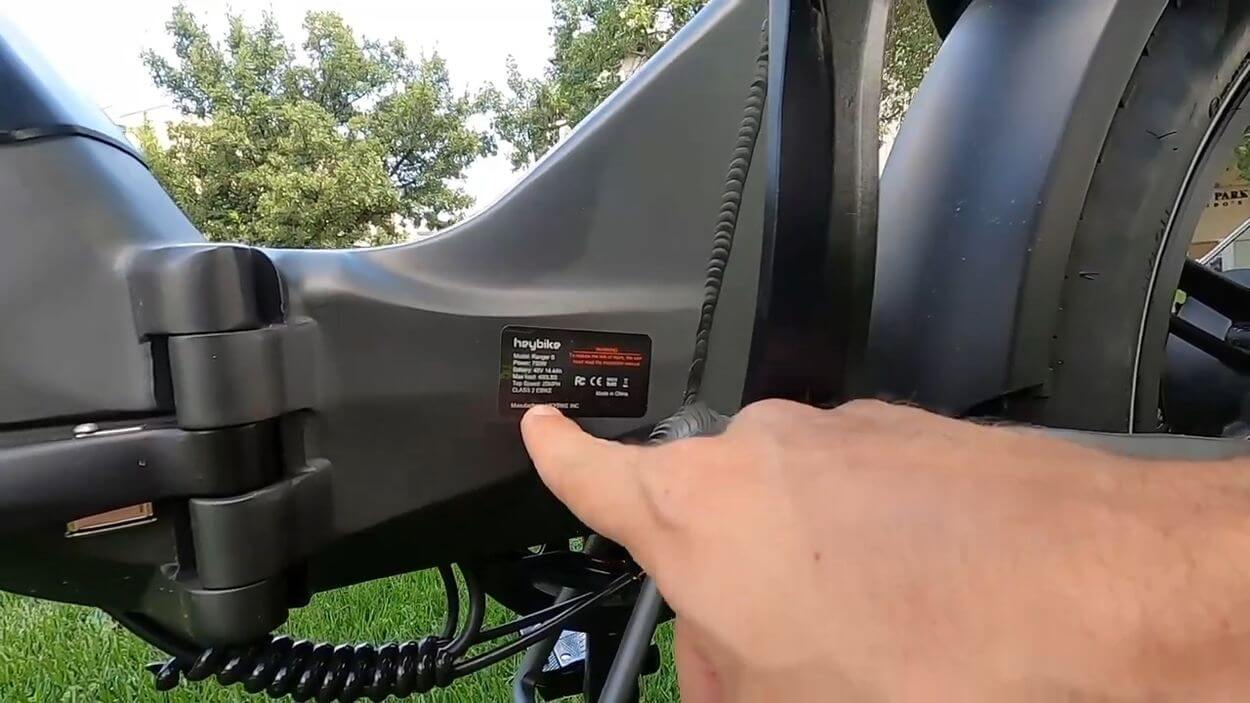 The folded configuration of the Ranger S offers space-saving benefits, making it a suitable choice for those with limited storage areas. The folding mechanism allows the frame to fold in half, while the stem also folds down, further reducing its dimensions. This is particularly advantageous for individuals seeking a bike that won't occupy excessive space when not in use.
Heybike Ranger S: 
Motor and Driving Test
The Heybike Ranger S is equipped with a 750-watt rear hub motor, which is enclosed within the center of the rear wheel. While the manufacturer did not disclose specifics about the motor's origin, it provides a zippy performance, allowing the bike to accelerate briskly. The bike can be configured for both Class 2 and Class 3 operation, with a top speed of around 26 miles per hour during pedaling and 21 miles per hour using the throttle alone.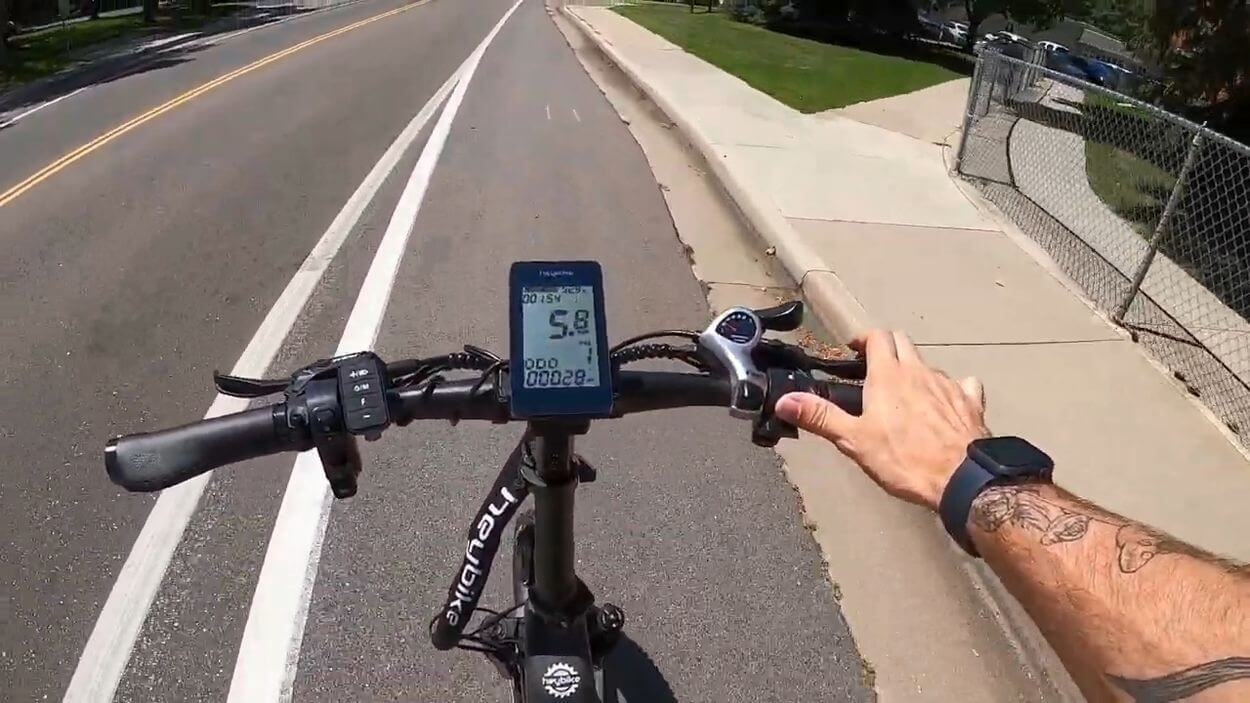 The bike comes equipped with a grayscale display that is easy to read and provides all the necessary information. It features integrated lights and turn signals, which is a safety feature that enhances visibility for the rider. The brake light activation when the brakes are engaged is also a useful safety feature. However, the auto mode for the lights can be somewhat unpredictable, so riders should be cautious when using it to prevent unintended battery drain.
The Heybike is designed to accommodate a range of rider heights. The seat post is notably long, and the stem can be adjusted to provide an appropriate riding position for most riders. However, there are limitations to how high the stem can be raised due to cable management concerns, which may affect taller riders.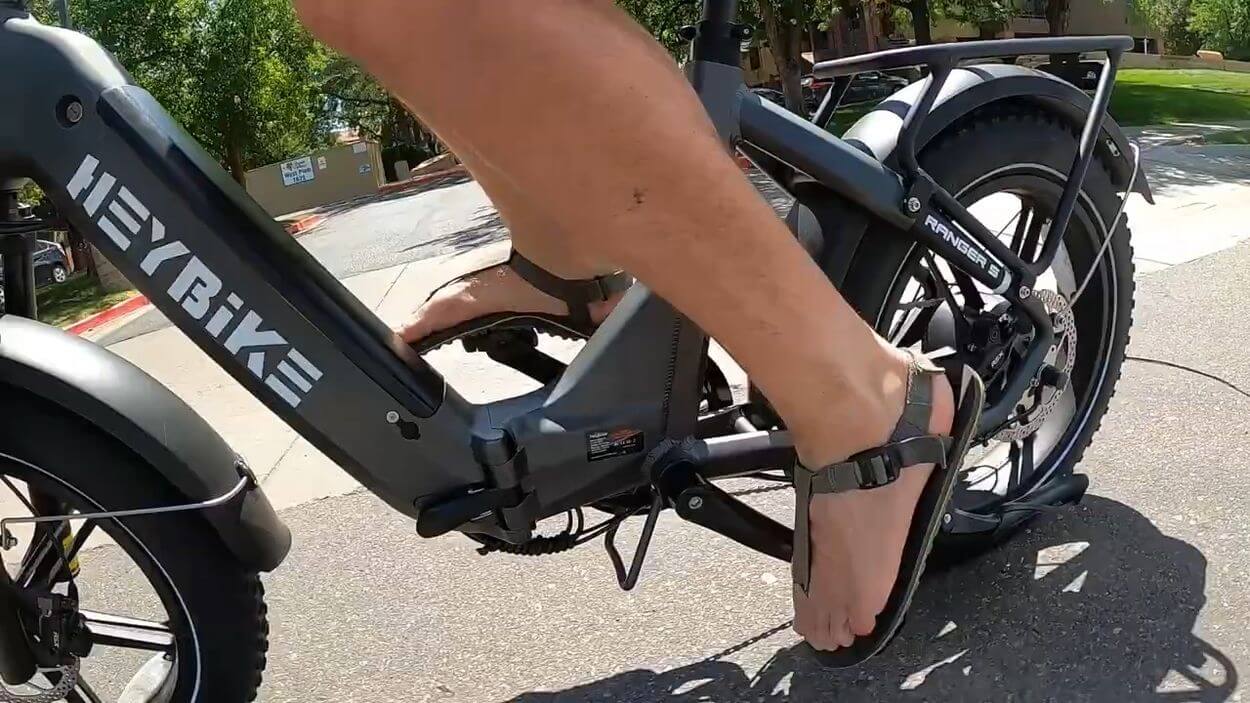 One aspect that could be improved is the cable management, especially in the area of the adjustable stem. The abundance of cables and the challenge of routing them neatly can lead to a messy appearance. Additionally, the stem may have a tendency to pop out of the frame, which could be a minor inconvenience.
Taking the Heybike Ranger S for a spin reveals insights into its performance, pedal assist system, and top speeds.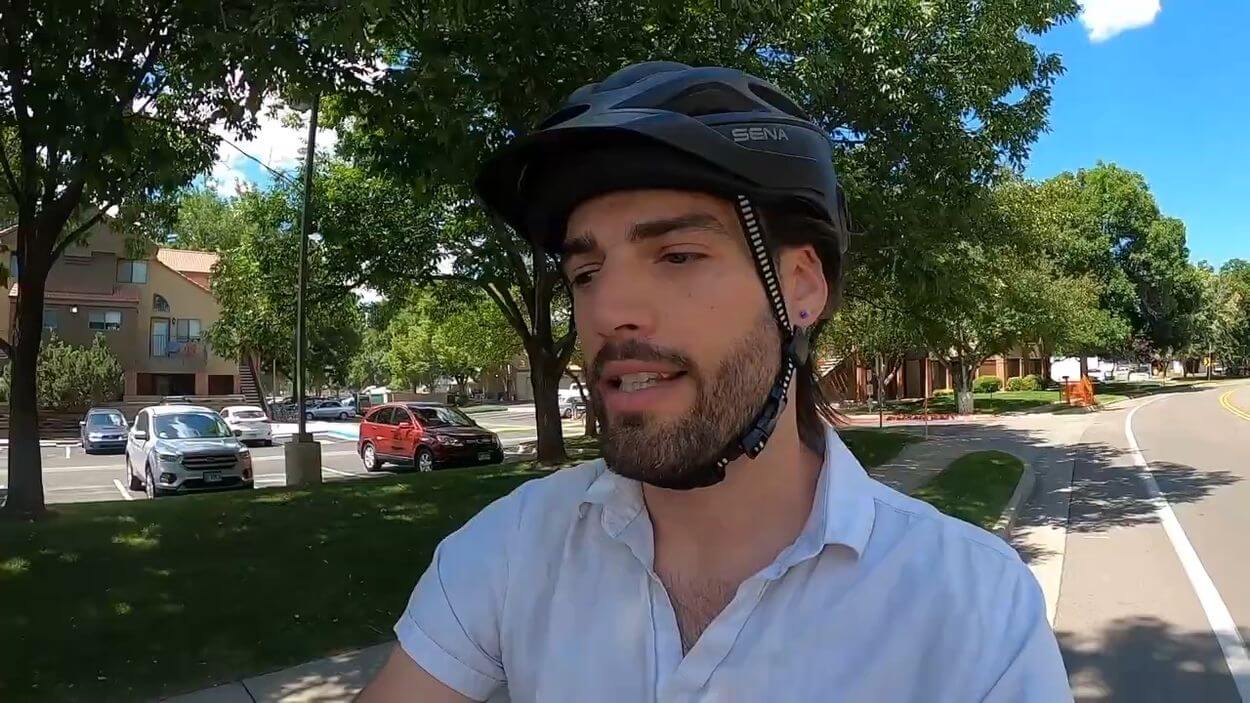 Starting with a pedal-only experience in level zero pedal assist, it's evident that the bike is not designed for extended pedaling without electric assistance. The weight and design of the bike can make pedaling without motor support more challenging, especially on inclines. This emphasizes the bike's purpose as an electrically-assisted vehicle.
Switching to pedal assist mode, the bike's pedal-assist system is a combination of torque and cadence sensing, offering a responsive and smooth power delivery. The system kicks in almost instantly at lower speeds, making it easier to accelerate from a stop. However, at higher speeds, there might be a slight delay in the power response due to the pedal assist configuration. Riders should note that the throttle and pedal assist levels are linked, meaning that the throttle's effectiveness varies based on the pedal assist level selected.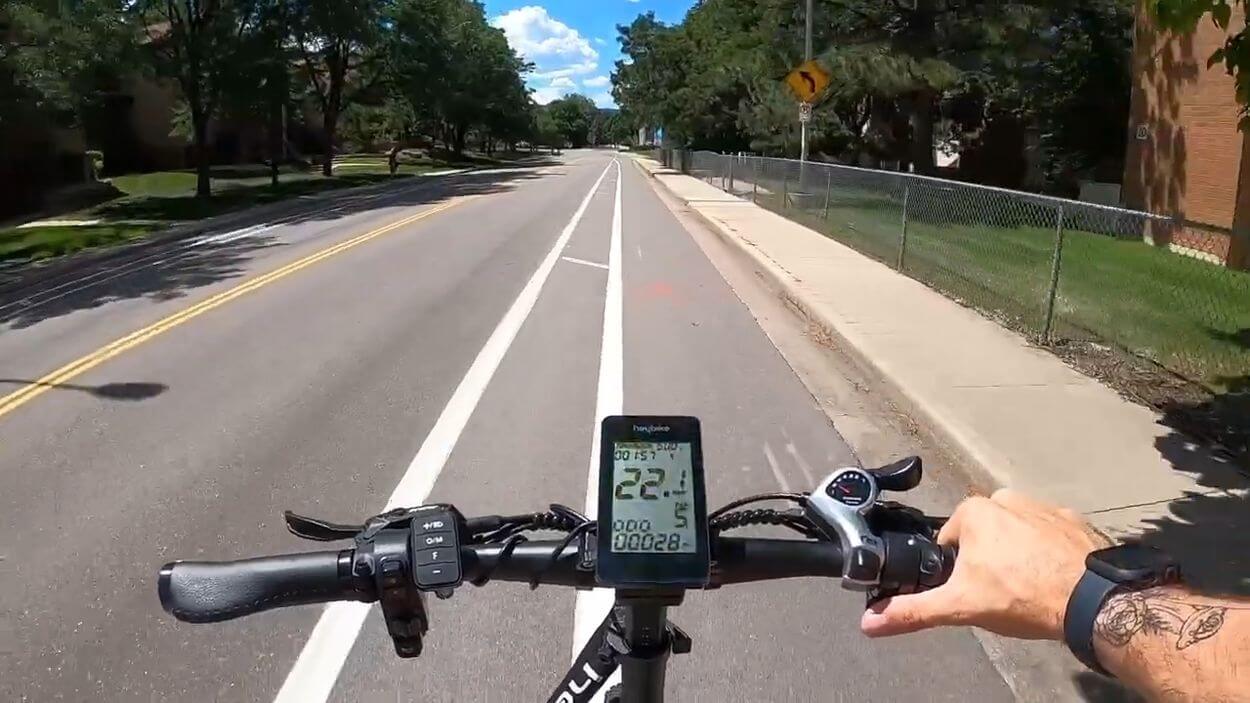 The bike's pedal-assist system is customizable through the Heybike app, allowing riders to adjust settings such as responsiveness, power, and pedal assist levels. This feature provides flexibility for riders to tailor the riding experience to their preferences.
In terms of top speeds, the Heybike Ranger S can achieve up to around 29 miles per hour under the right conditions. When using throttle-only, the bike reaches speeds of around 20 to 22 miles per hour. However, reaching the upper limit requires a combination of high pedal cadence and rider effort. It's important to note that the bike's frame and folding design can lead to increased flex and rattling when riding at higher speeds, which might impact stability and overall comfort.
Battery and Range
The battery on the Ranger S is positioned in the downtube of the frame, keeping the center of gravity low, which is favorable for stability. However, the location of the charging port is not ideal, as it is placed low and close to the pedals, making it vulnerable to damage if not handled carefully. Removing and reinstalling the battery requires extra attention to avoid pinching the charging cable. The battery has a capacity of 48 volts and 15 amp-hours, providing 720 watt-hours of energy, which is a decent capacity for an electric bike.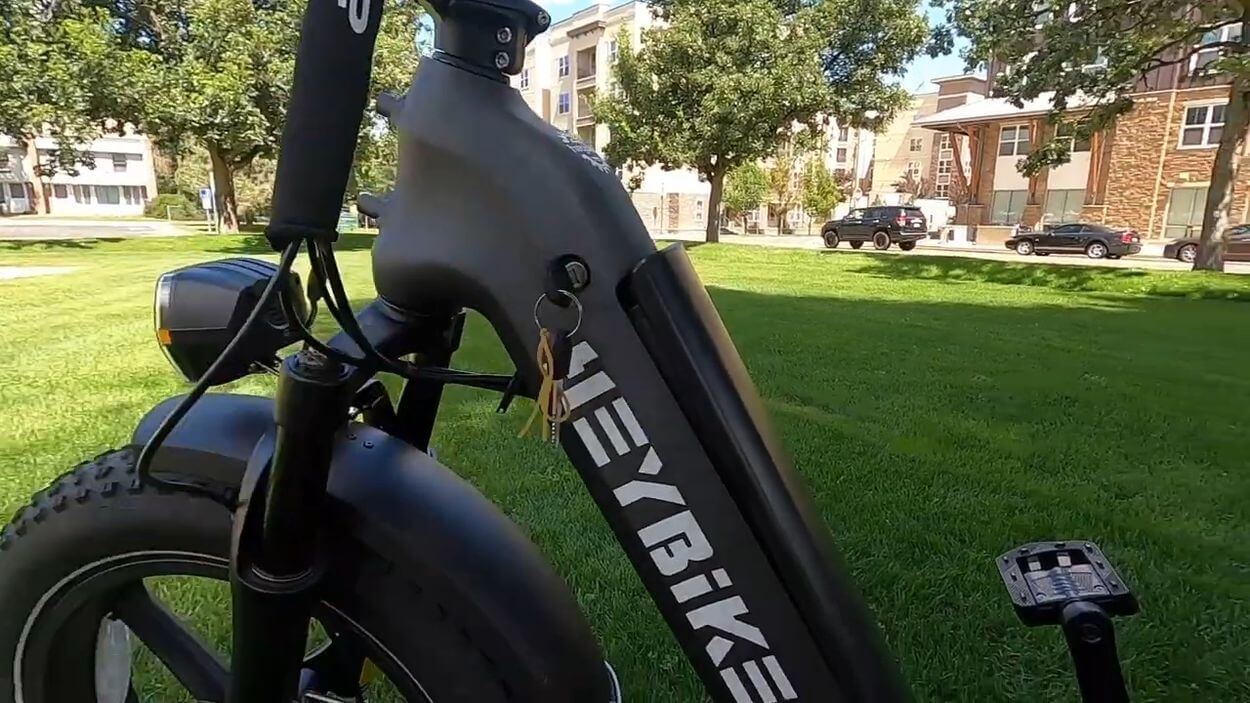 In an unofficial range test, the battery was depleted around the 25-mile mark under demanding conditions. The test involved aggressive riding, with pedal assist set to level five and tackling hills and inclines. While the battery reached zero percent at this distance, it's worth noting that this scenario represents a worst-case range figure.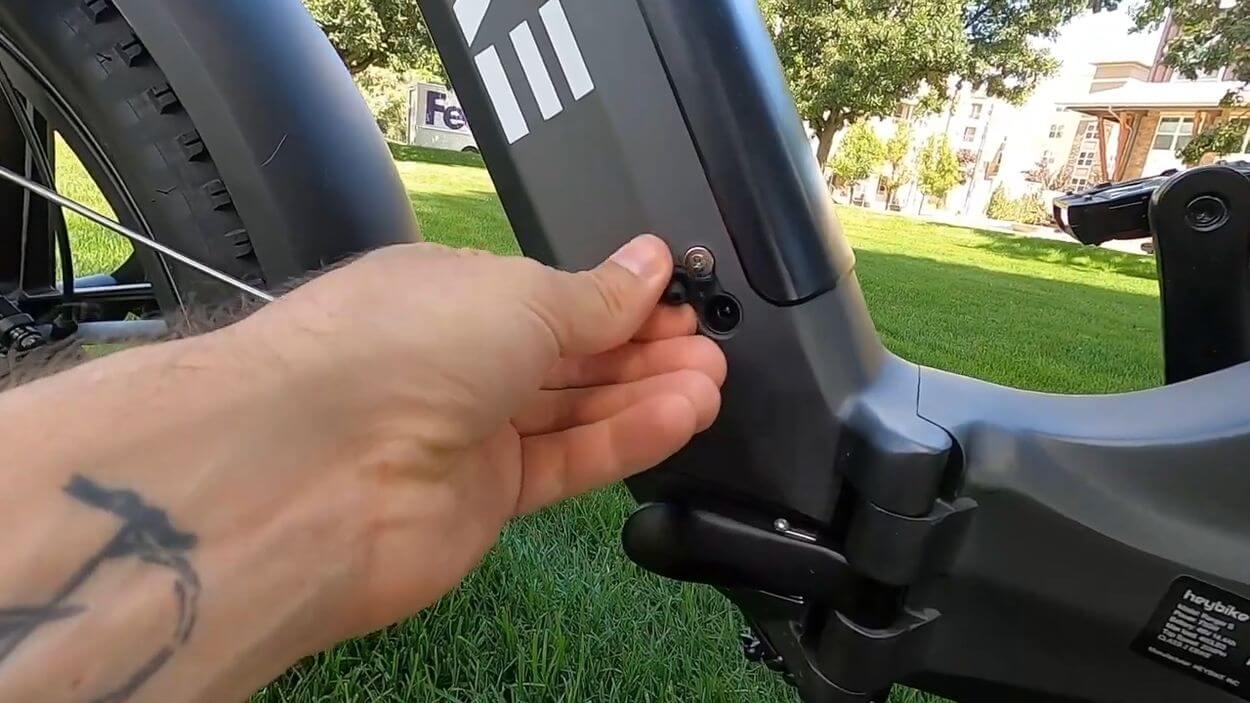 For riders who choose lower levels of pedal assist, ride on flatter terrain, and maintain a less aggressive pace, it's feasible to achieve a longer range. With such adjustments, the bike could potentially offer a range of 30 to 40 miles or more on a single charge.
Conclusions
In this comprehensive review, we've explored the Heybike Ranger S folding electric bike in detail, examining its design, build quality, components, performance, and overall value proposition.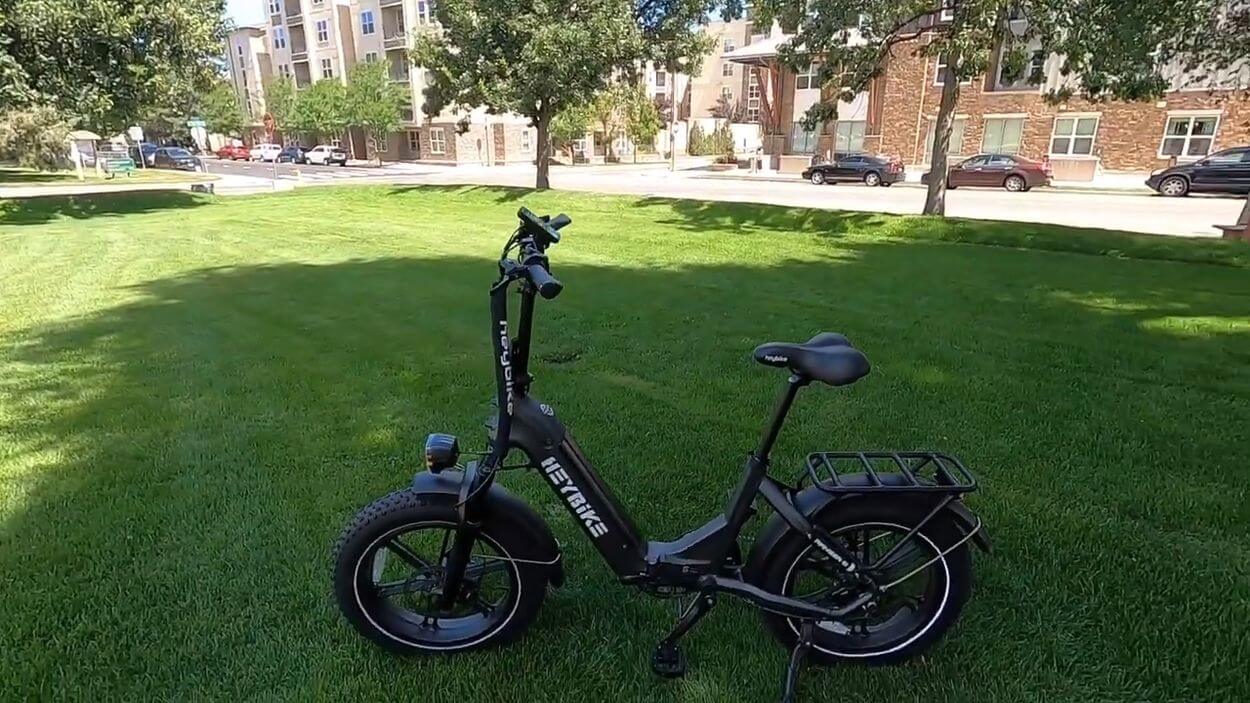 Some users may find assembly and setup to be a bit challenging, especially if they encounter issues with the initial configuration of the bike's electronics and components.
Despite being a folding bike, the Ranger S is relatively heavy at 74 pounds, which could make it less convenient for those seeking a highly portable option. Additionally, the folded size may still be too bulky for easy transportation on public transportation systems.
Certain design decisions, such as the positioning of the charging port, the placement of cables, and the choice of materials for certain components, could benefit from improvements in terms of convenience and aesthetics.
The Heybike Ranger S presents a compelling option for riders seeking a versatile and feature-rich folding electric bike. Its array of accessories, comfortable ride, and responsive pedal assist system make it suitable for urban commuting, leisurely rides, and even some light off-road adventures. However, potential buyers should be prepared to deal with assembly challenges and consider whether the weight and folded size align with their transportation needs. Overall, the Heybike Ranger S offers good value for its price point and has the potential to meet the needs of a diverse range of riders.
Alternatives of Heybike Ranger S