ADO is back with their latest innovation, the ADO AIR 28, taking the already impressive Air concept to the next level. As always, this e-bike is the result of ADO's in-house development and research carried out in their very own Ado Lab. A few months ago, they made waves in the e-bike industry with their Ado Air folding e-bike, a true revolution in the field. If you haven't seen it yet, there's a video you definitely need to watch.
With the ADO AIR 28, ADO has taken all the fantastic ingredients that made the Ado Air so great and made them even better. They've gone bigger, more rugged, and added increased carrying capacity, creating an e-bike that combines all the cutting-edge features and technology that we loved in the Ado Air but in a more standard-sized package. It's an exciting development that promises to deliver even more versatility and capability.
Currently, ADO is gearing up for a crowdfunding campaign to support their latest creation, and they've provided us with a sneak peek at this very early prototype of the ADO AIR 28. If you're already intrigued, you can find the product links in the description to discover the best deals available.
So, without further ado, let's dive into this exciting new addition to the ADO family and see what makes the ADO AIR 28 stand out in the world of e-bikes.
| | |
| --- | --- |
| Frame: | 6061 Aluminum Alloy |
| Motor: | 250W |
| Speed: | 25km/h |
| Torque: | 37N.m |
| Maximum Climbing Degree: | 20 degrees |
| Torque sensor: | G-Drive 5.0 |
| Brakes: | Hydraulic brakes |
| Battery: | 9.6Ah |
| Tire size: | 28 x 1.8 inch |
| Mileage: | 100km |
| Bike Weight: | 21kg |
| Maximum Load: | 120kg |
Unboxing and Asembly
So, here we are with the ADO AIR 28 electric bike, and it's already done most of the unboxing itself, with the protective wraps falling away. But let's tidy things up a bit and take a closer look at the box and its contents. This is an exciting new addition to the ADO lineup, featuring the Air concept.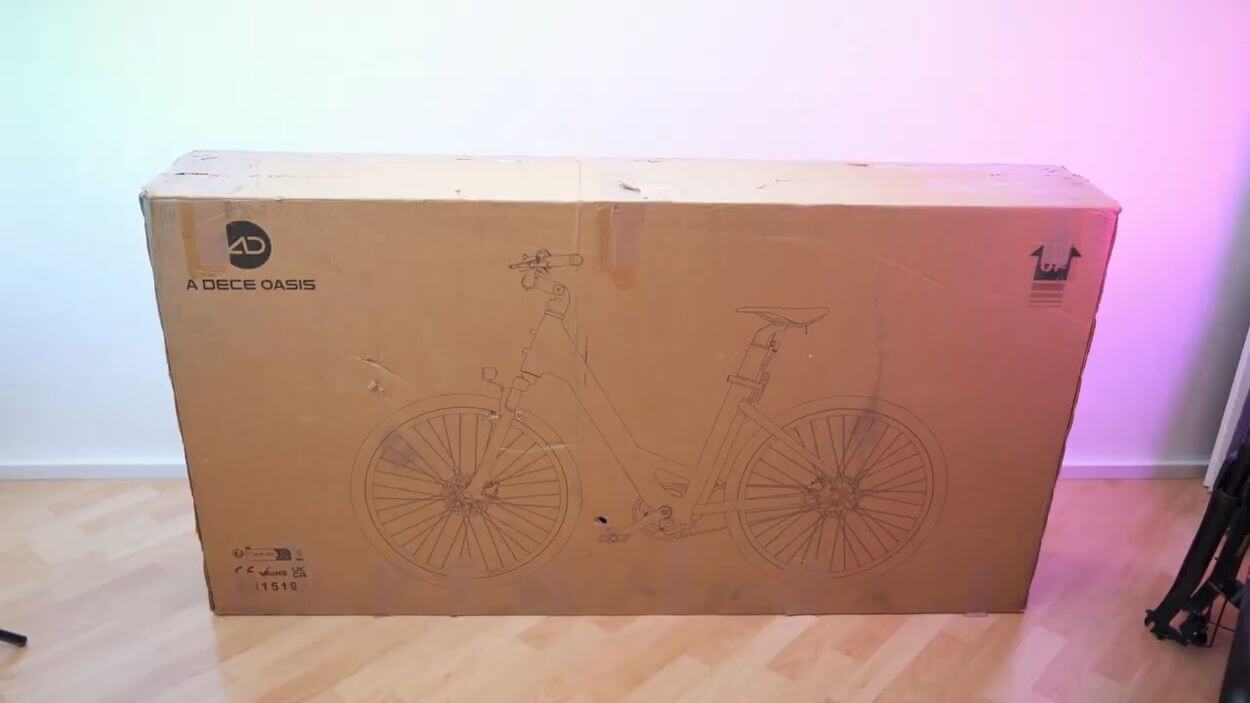 Before we dive into the setup, it's important to note that this isn't the final release, which is why you won't find a charger or a manual in the box. However, we can still explore the accessories that come with it.
First, let's take a look at the pedals. They are substantial, made of sturdy metal, and come in a set of left and right pedals. What's impressive is that they even have built-in backlighting, and the batteries are already included. There are two modes: on and off, providing added safety during nighttime rides.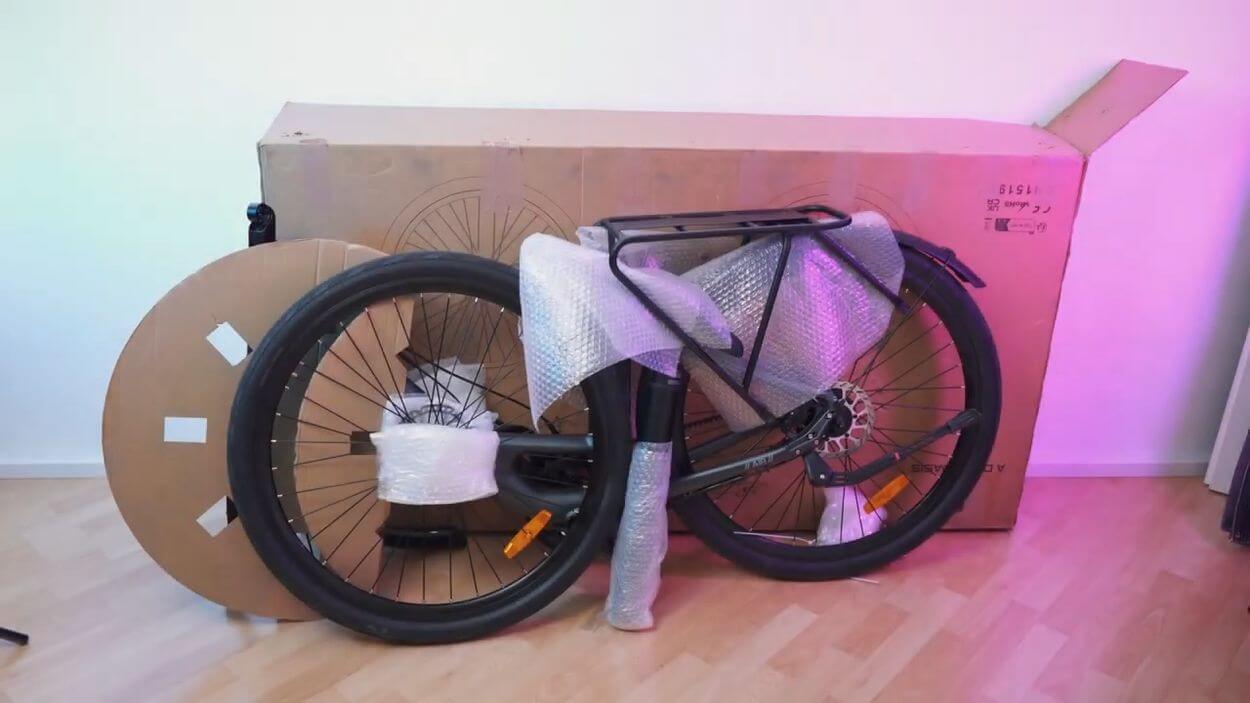 Next up, we have a bunch of screws for mounting the back rack and securing the wheels, including the front wheel. These are the essentials for getting your bike road-ready.
Lastly, we have the saddle, a familiar component for those who are acquainted with the Air concept. It features a comfortable, soft design and a round insert tip for easy installation. Beneath the saddle, we find the scale, along with the connector and charge port. The on/off button for activating the bike is located on the front side, just underneath the saddle. And, with the screw located here, you can easily adjust the saddle position to suit your preferences, moving it forwards or backward.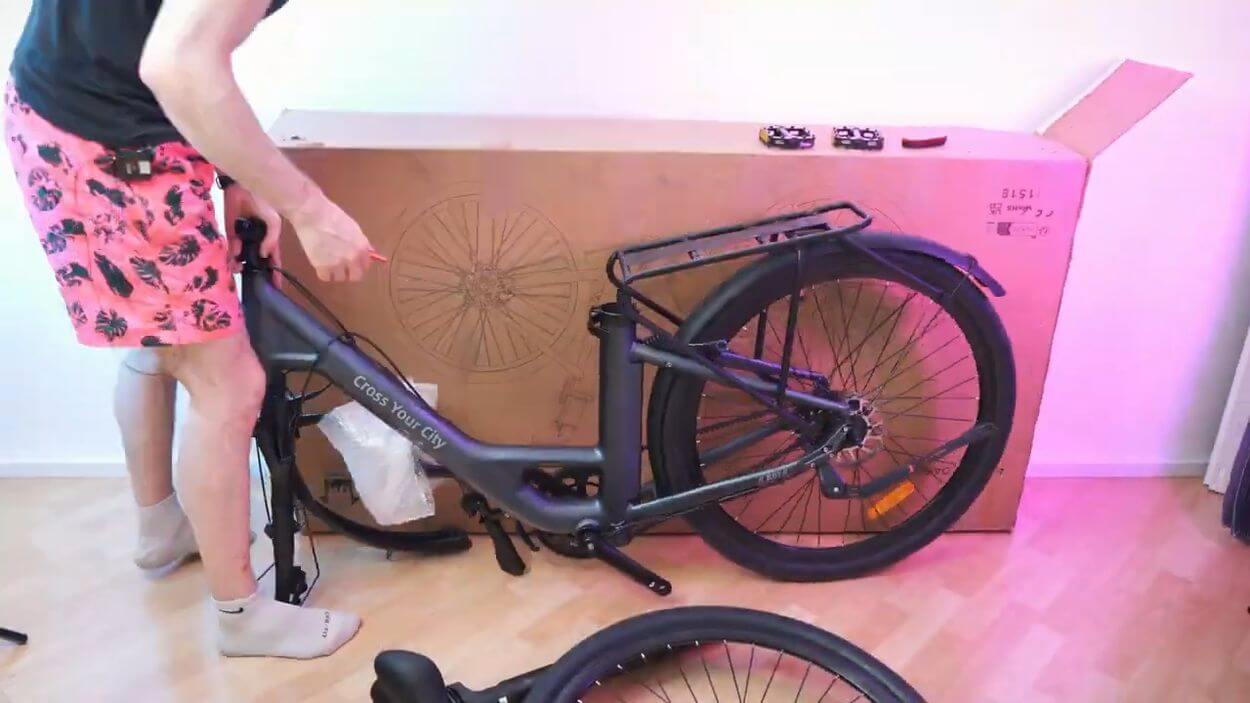 Now that we've examined the contents, let's move on to the assembly. Fortunately, the kickstand comes pre-installed, which makes things a bit easier. To ensure that it functions properly, we'll start by installing the front wheel.
With the front wheel securely in place, the bike can now stand on its own, thanks to the kickstand. It's a small step, but it's important for stability and convenience.
Now, let's proceed with the assembly, moving from the front of the bike to the back, securing all the components in place. As we go through this process, you can see just how well-built and well-designed the ADO AIR 28 is.
With the unboxing and assembly complete, it's time for my first impressions of this electric bike. The sturdy build, thoughtful accessories, and attention to detail are already apparent. This bike promises an exciting and comfortable riding experience.
Design and Build Quality
ADO's Air concept has long been a favorite among e-bike enthusiasts, and it's now making its mark on a regular-sized step-through bike. The ADO AIR 28 takes this platform, originally developed for a compact e-bike, and brings its innovative features to a larger, more versatile model. Let's dive into the design and build quality of this exciting electric bike.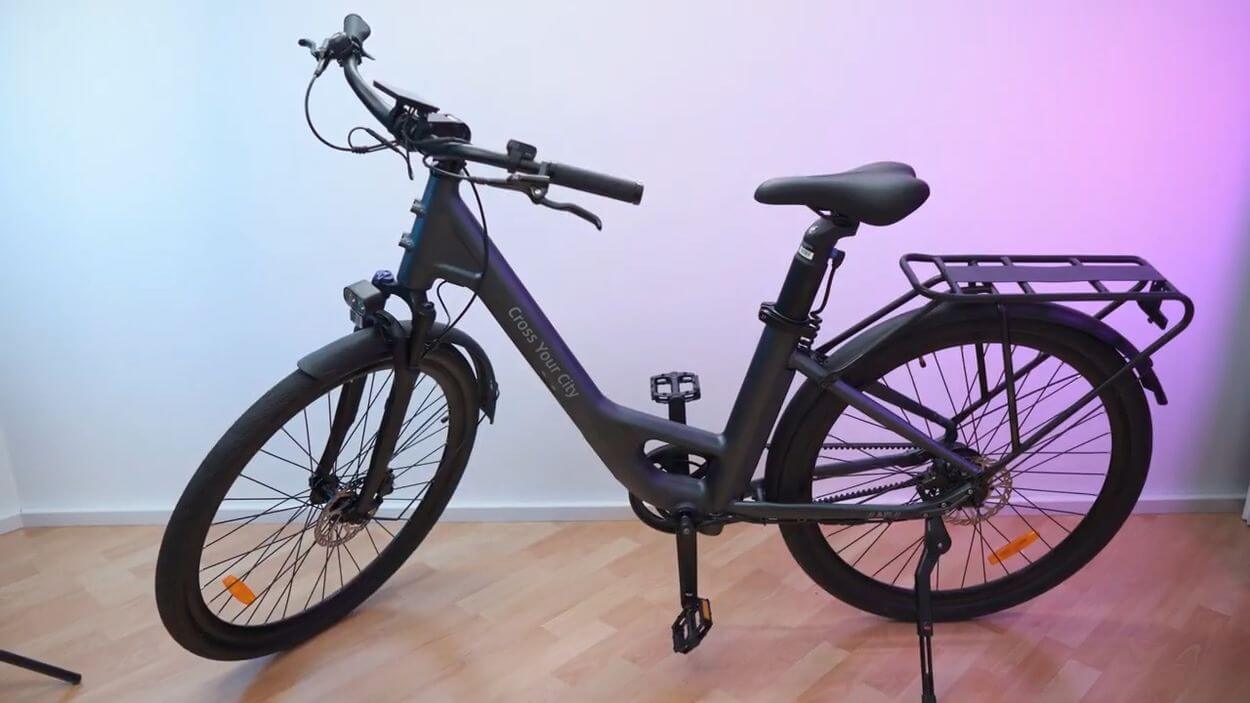 First and foremost, the ADO AIR 28 boasts excellent hydraulic brakes both in the front and the rear. This ensures reliable stopping power and enhanced safety during your rides. These brakes are a testament to the attention to detail that ADO has put into this bike.
One standout feature is the maintenance-free silent belt drive. This belt drive not only eliminates the need for frequent upkeep but also provides a smooth and quiet riding experience. It's a significant advantage for those who prefer a hassle-free biking experience.
The removable battery concept is another highlight. This concept, which ADO has mastered, allows for convenient battery removal and replacement. The battery is a crucial component of any e-bike, and ADO has made it easy to manage.
Despite its feature-rich design, the AIR 28 remains impressively lightweight, which is why it's aptly named "Air." This lightness enhances maneuverability and makes it easier to handle.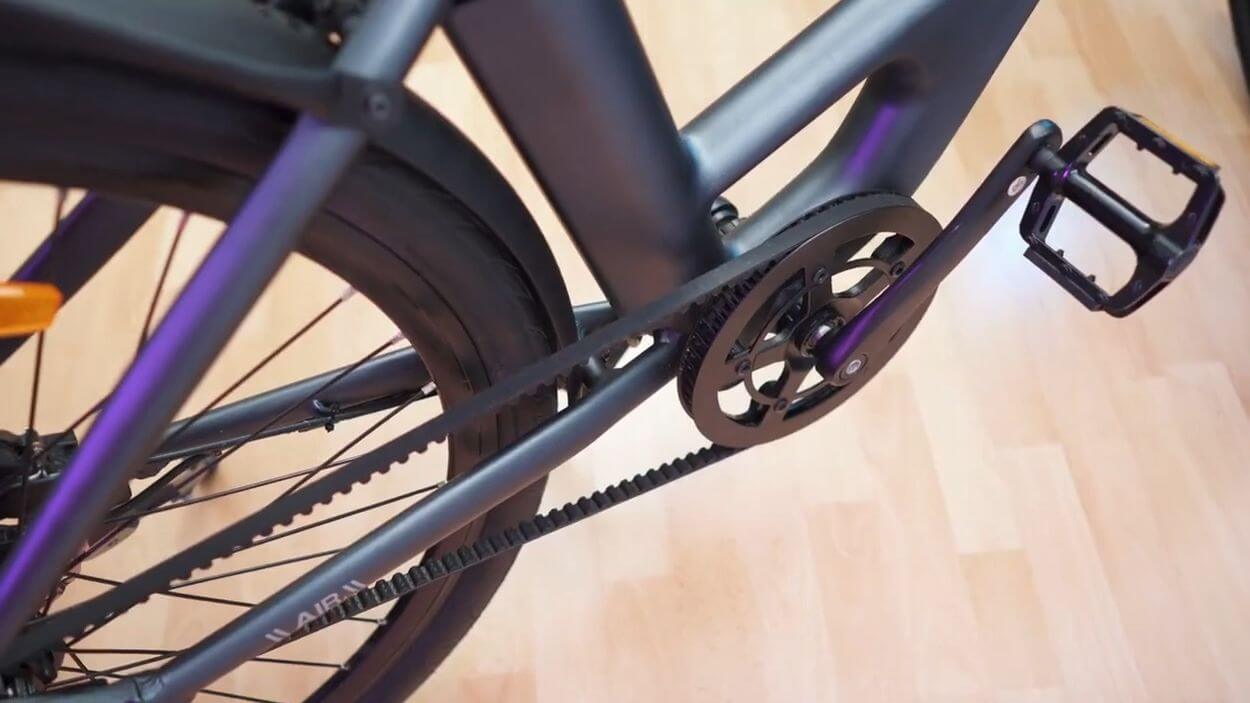 The ergonomically shaped handlebar adds to the comfort and control of your ride. It's a small but important detail that contributes to the overall riding experience.
Not to be overlooked, the ADO AIR 28 comes equipped with front and rear mudguards. These mudguards not only keep you dry during wet rides but also add a touch of practicality and style to the bike's design.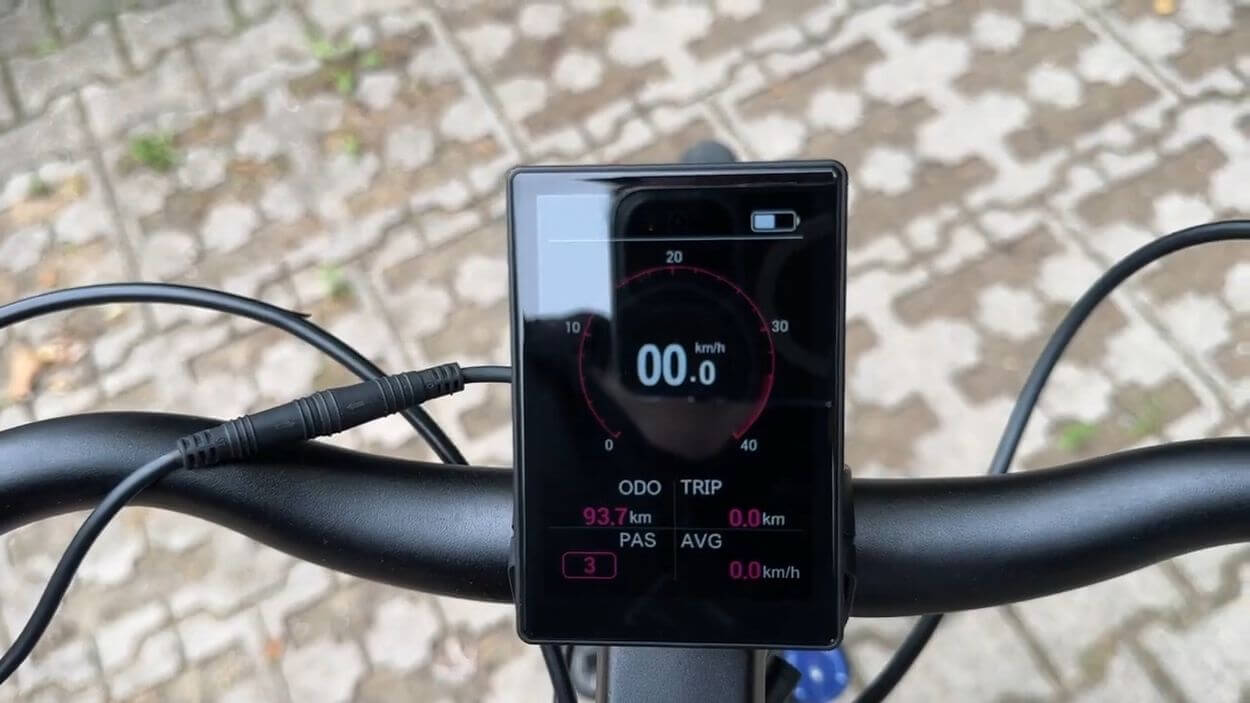 The front suspension, complete with a shock absorber, ensures a smoother and more comfortable ride, even on rough terrain. The inclusion of a front light is another thoughtful touch, improving visibility during low-light conditions.
One of the often-underappreciated aspects of this bike is its cable management. The cables are neatly integrated into the frame, maintaining a clean and sleek appearance.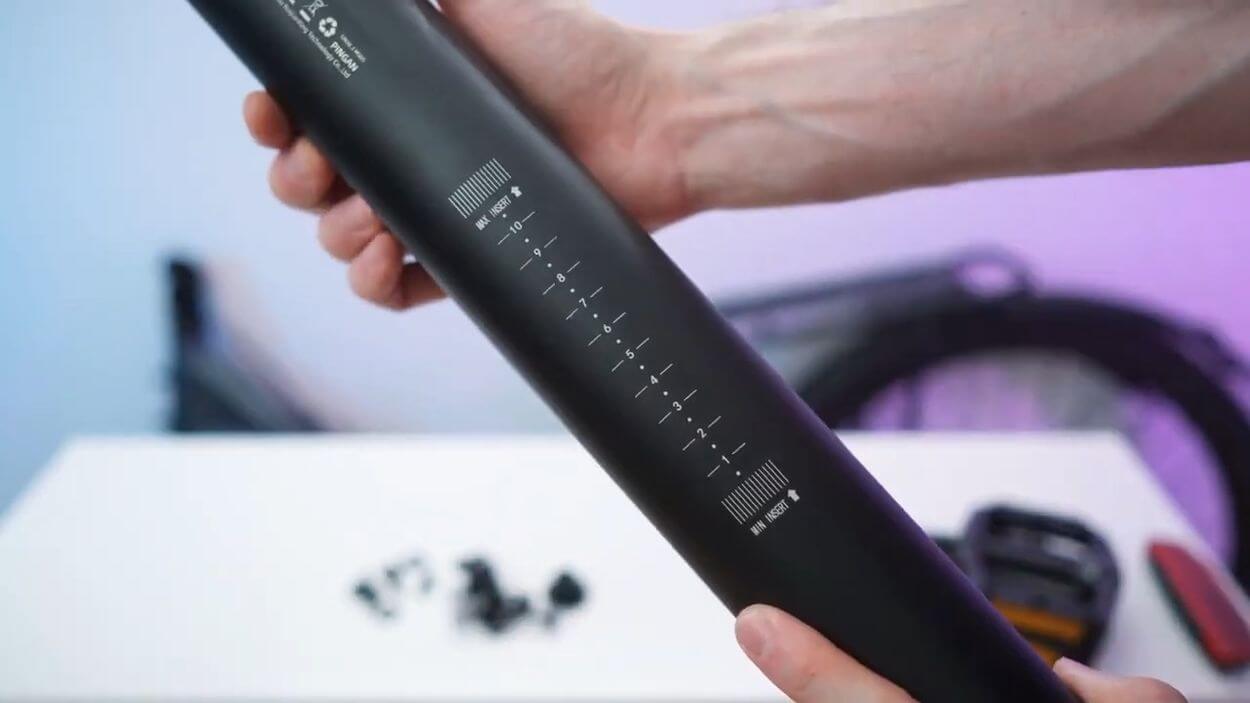 The ADO AIR 28 also allows you to lock the front suspension, which is a fantastic feature for added stability when you need it.
Taking a closer look at the back of the bike, you'll find a disc brake, a well-designed caliper, and a sturdy kickstand. These components are ready for action right out of the box.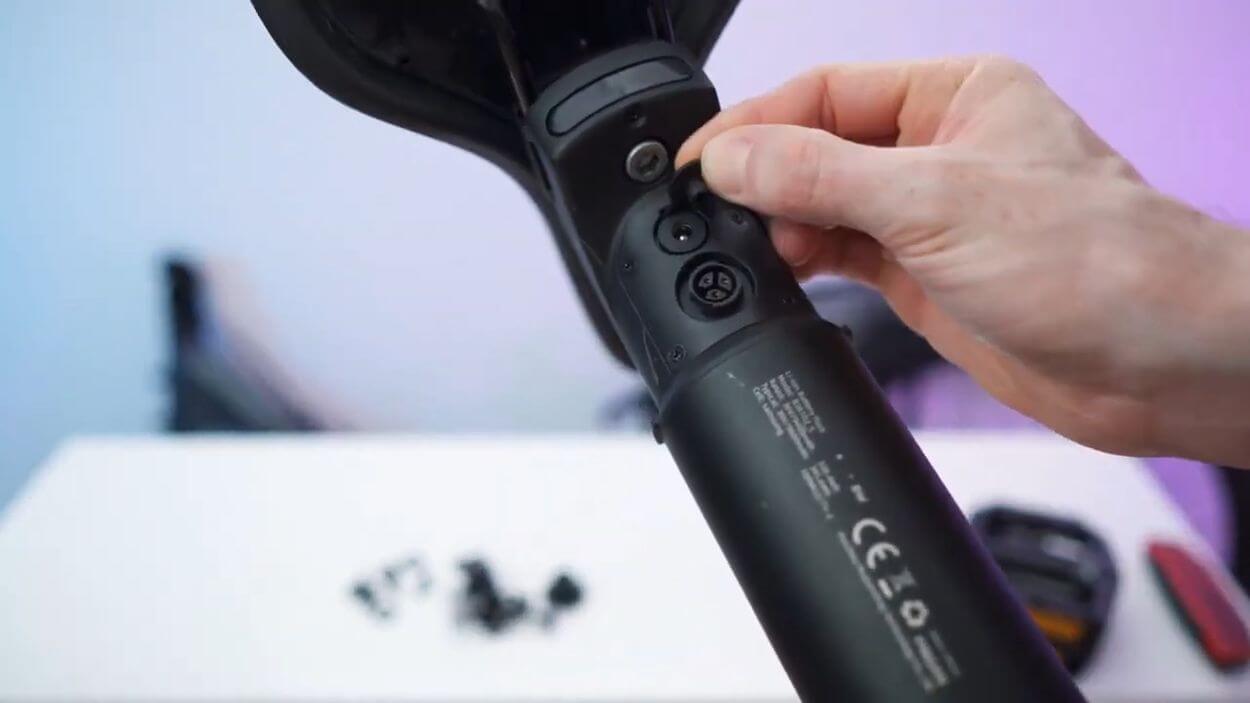 The ADO branding is tastefully placed throughout the bike, and the overall design is minimalist and modern. It exudes quality and sophistication without unnecessary frills.
Finally, the battery connection port is easy to access and use. A simple twist allows you to pop the battery out effortlessly, making it a breeze to replace and charge.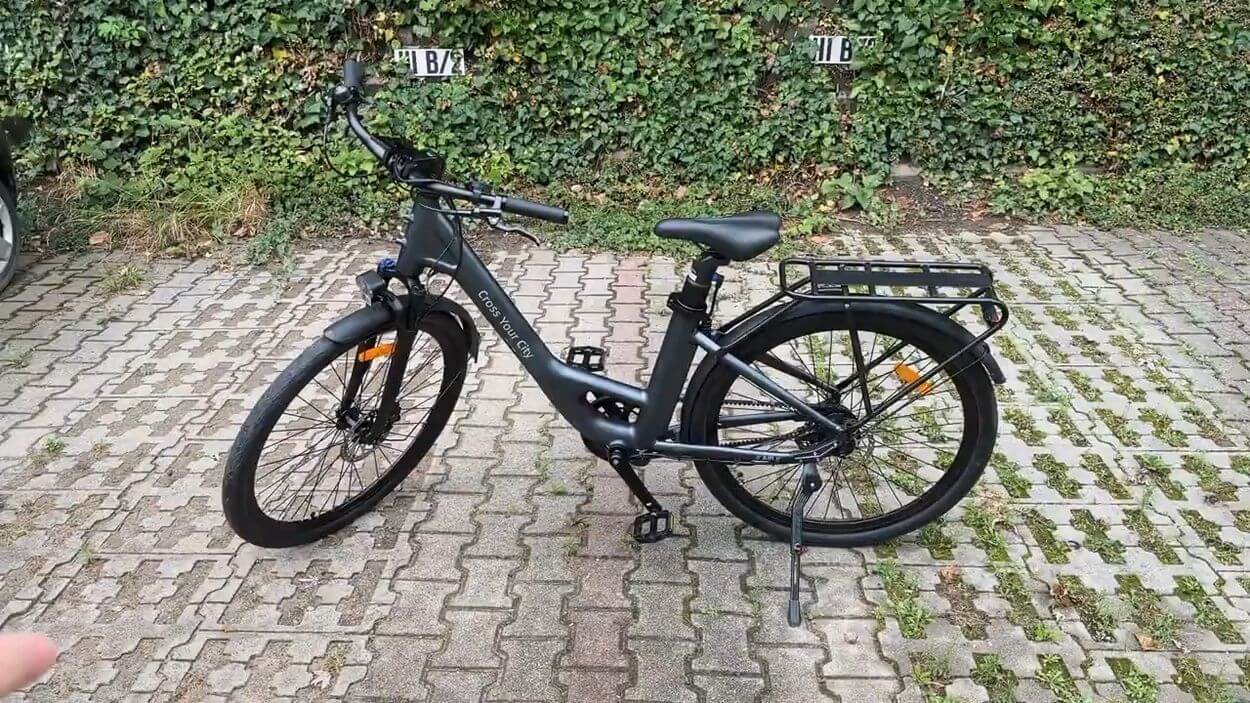 With the motor and belt drive prominently displayed, it's clear that the ADO AIR 28 is a well-engineered machine, ready to deliver a powerful and efficient riding experience.
Handlebar 
The handlebar of the ADO AIR 28 is ergonomically shaped, providing an excellent grip and enhancing overall riding comfort. This thoughtful design feature ensures that your hands remain comfortable even during longer rides, reducing strain and fatigue.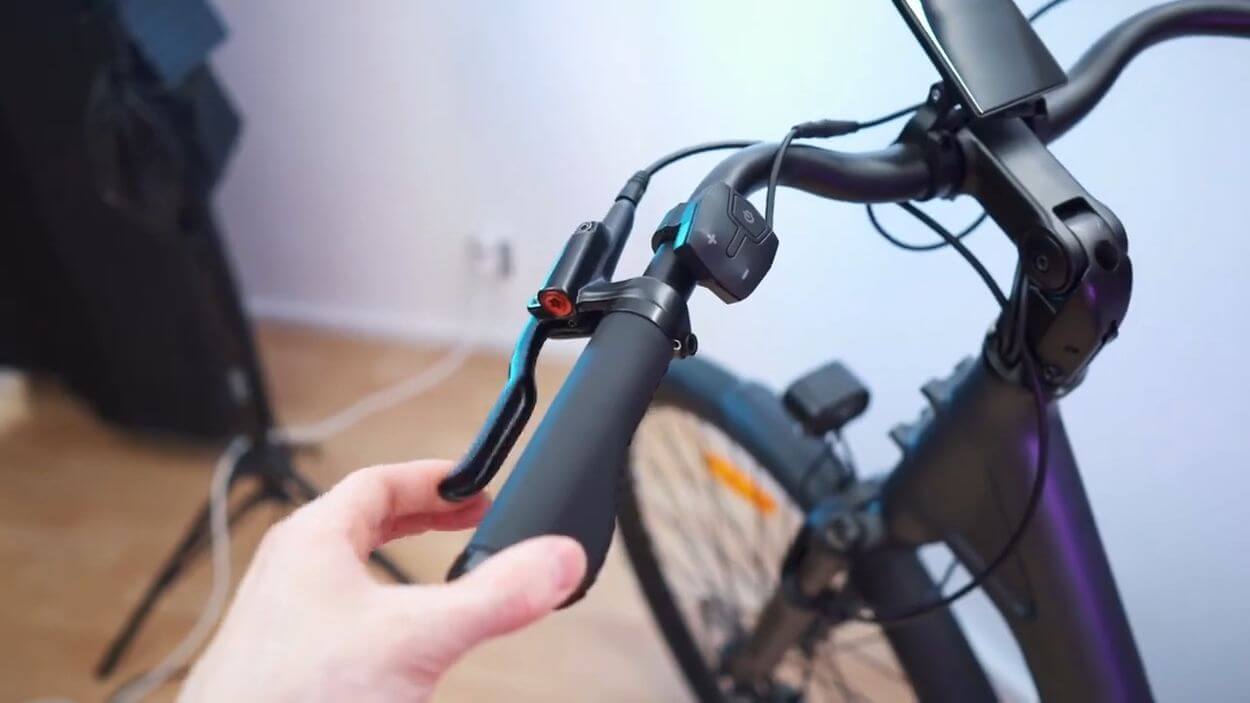 One of the standout features on the handlebar is the hydraulic brake system. These hydraulic brakes are a significant upgrade, offering precise and powerful stopping capabilities. They instill confidence in the rider, knowing that they have reliable control over their speed and safety.
But what truly sets this handlebar apart is the new display and controller. ADO has taken a step forward in terms of refinement and user experience. The new display is not only visually pleasing but also provides essential information at a glance, allowing you to monitor your ride with ease.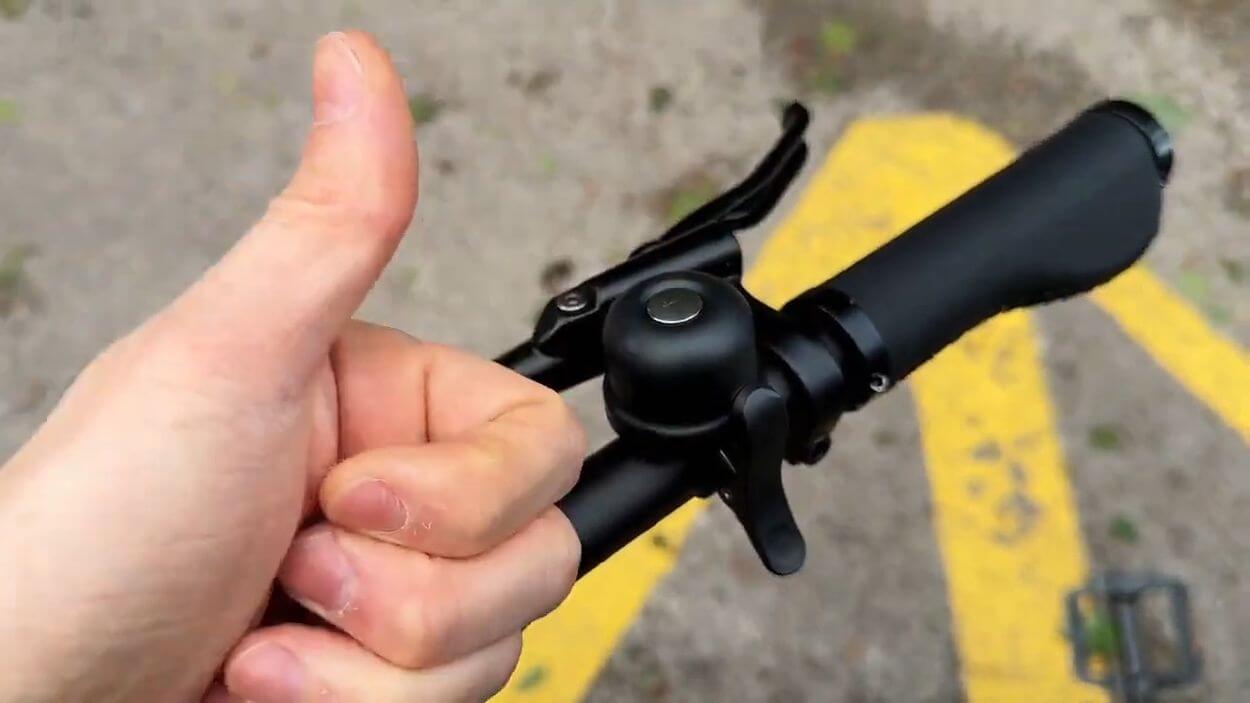 The controller, too, has received a fresh and refined design. What's particularly impressive is the inclusion of haptic feedback. This feature provides tactile responses to your inputs, enhancing your interaction with the bike's settings and functions. It's an immersive and advanced feature that adds to the overall experience of riding the ADO AIR 28.
Now, here's a unique touch: the bike comes with a really cool bell that you've probably never seen the likes of before. It's not just any bell; it's an innovative "Pinger." What makes it fascinating is its versatility. You can open up the bell and insert an AirTag for tracking your bike. This is a brilliant idea for added security and peace of mind. Simply unscrew it, insert the AirTag, and your bike is now trackable should it ever be misplaced or stolen.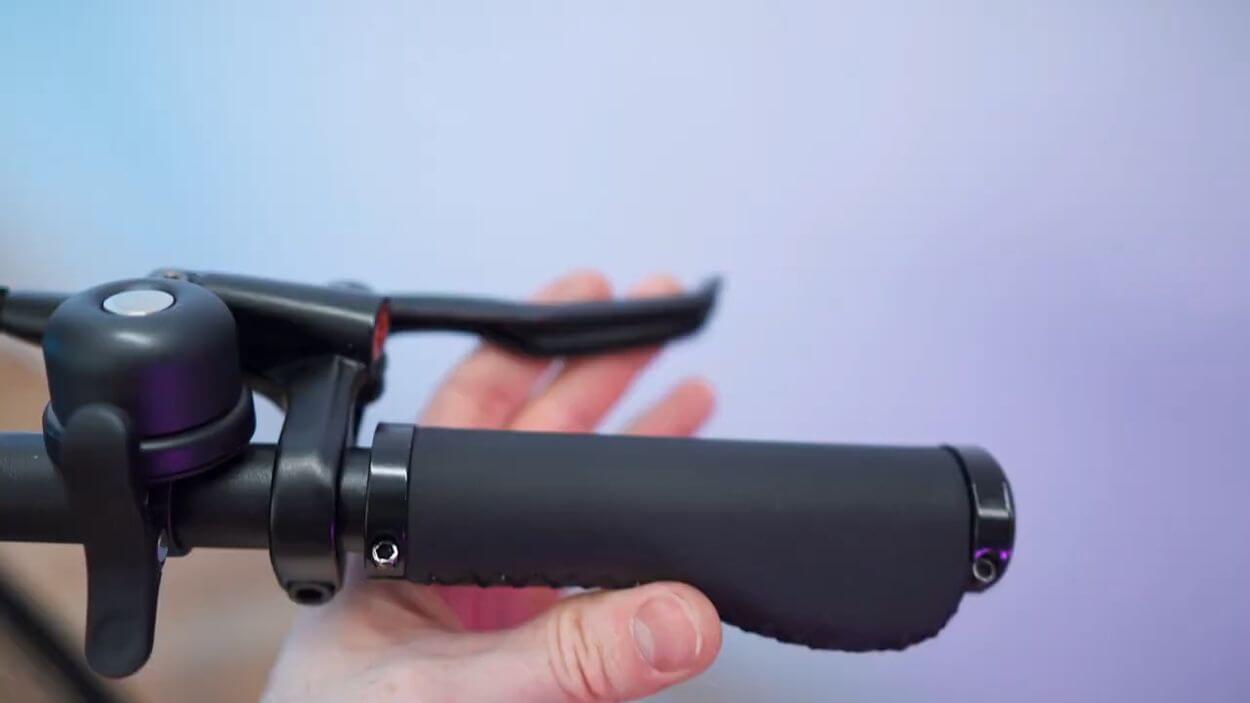 Additionally, the bell is well-crafted, with attention to detail evident in every aspect. The brake lever and the handlebar grips feature nice stitching and are covered with high-quality leather, enhancing both the aesthetic and tactile feel of the handlebar.
To complete the handlebar, there's an end cap that not only feels nice in the hand but also provides a secure and comfortable grip. It's these small but thoughtful details that contribute to an overall excellent riding experience.
ADO AIR 28:
Riding Test
As we set out for a ride on the ADO AIR 28 electric bike, we were greeted by acceptable weather conditions. But even on rainy days, this bike holds its own with an IPX5 certification for the entire bike and an IPX7 certification for the display, making it impressively weather-resistant. Keep in mind that this isn't the final release, but it's already proving to be a formidable ride.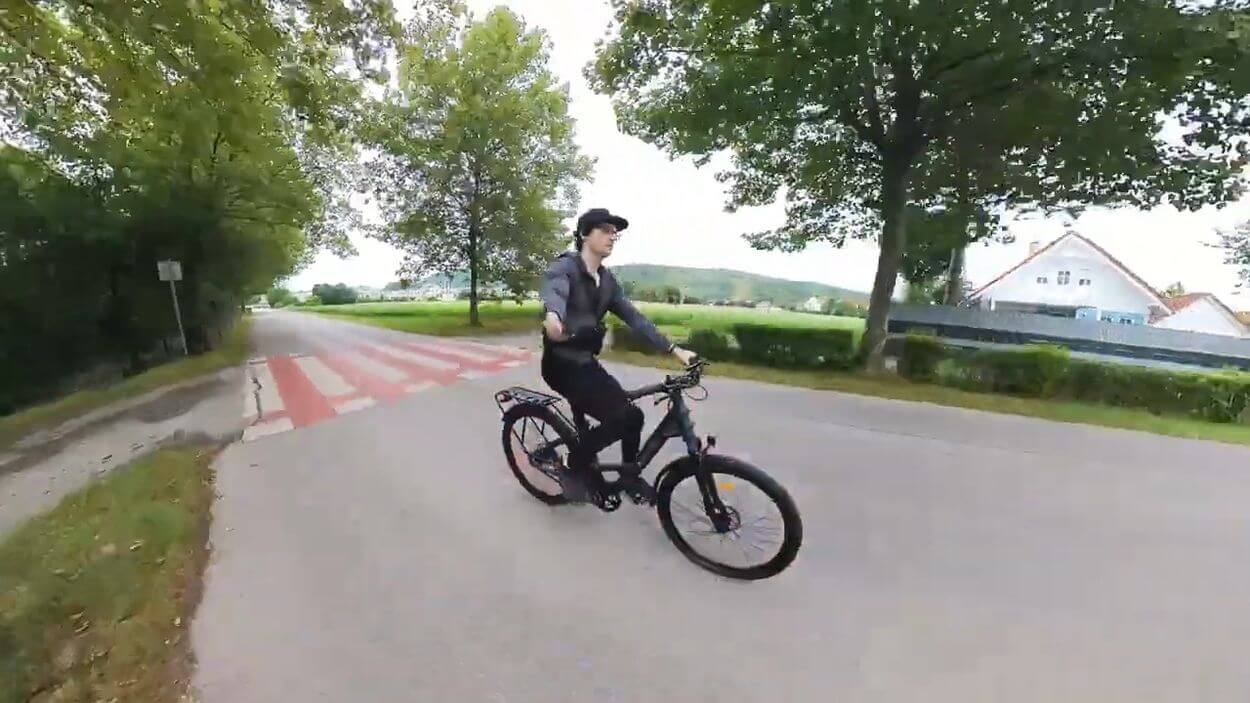 First, we powered on the battery and activated the bike. The display caught our attention immediately. It's a stunning, generously sized screen, much larger than what we've seen on other Air models. Cycling through the three pedal-assist modes from zero to three is a breeze with the plus and minus buttons, and the color-changing feature adds a nice touch.
With a long press of the plus button, the dual LED front light illuminated, providing added visibility. Holding the minus button activated the walking assist function, a handy feature for navigating your bike in pedestrian areas.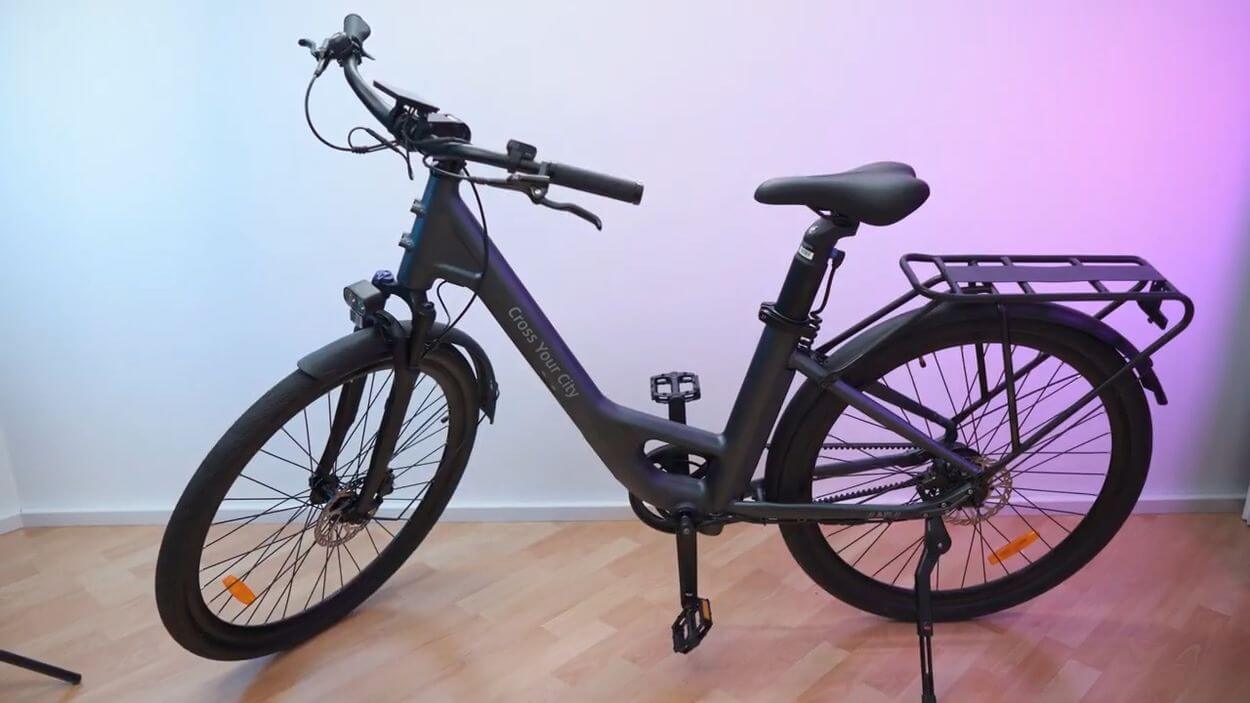 The display also provides essential information, including the odometer, trip data, and average ride speed. Setting it to zero, we began our test without any electric assistance, and we were pleasantly surprised. The bike handled well even without power, thanks to its large wheels, offering stability and a smooth ride.
Next, we engaged the pedal assist on stage one, and with minimal effort, we effortlessly reached around 22 kph. Stepping it up to stage two, the bike responded with a bit more power, and on stage three, we cruised smoothly up to 25 kph without breaking a sweat. The torque sensor worked seamlessly, providing a natural riding experience.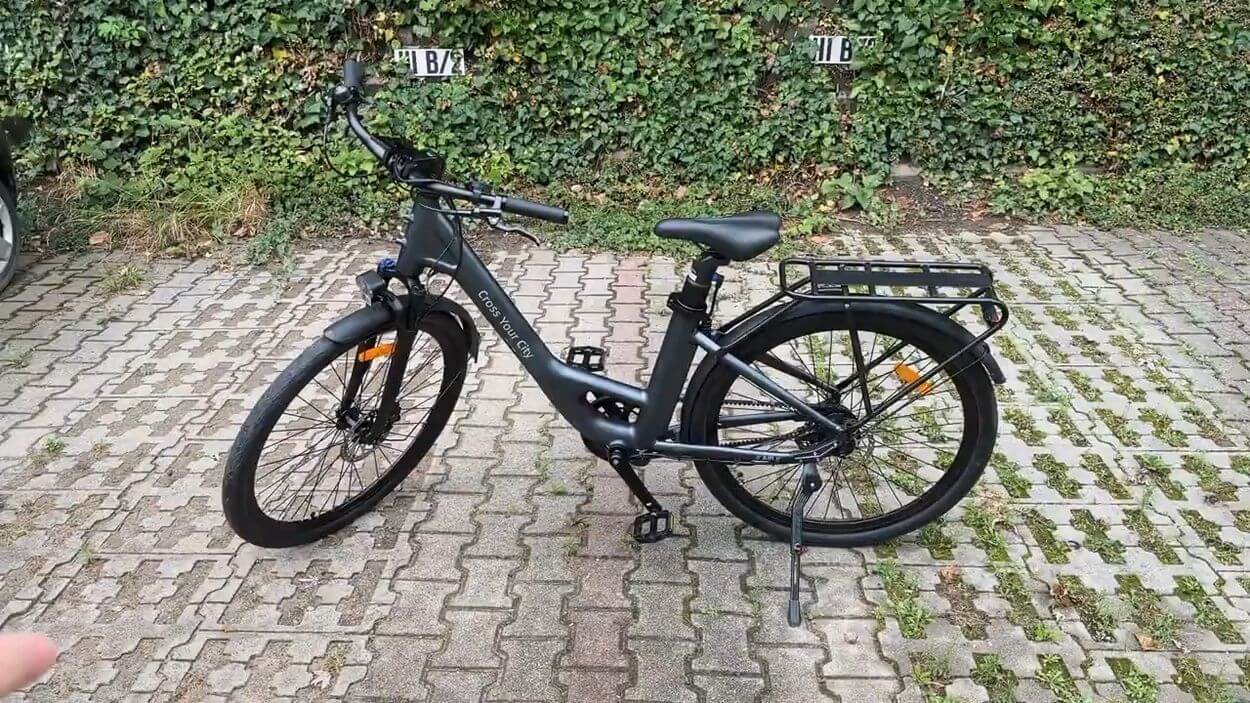 Switching to third-person action, we found that the bike's braking performance was top-notch. A perfect 10 out of 10 for stopping power and control. Starting from a complete stop was a breeze with the pedal assist, and reaching speeds of 30 kph with some effort was achievable.
The bike's design is both functional and aesthetically pleasing. Its large wheels contribute to a stable and comfortable ride, while the mudguards keep you clean and dry even on damp surfaces. The front fork suspension effectively absorbs shocks, making gravel roads a breeze. You can lock the suspension for added stability when needed.
As we rode the ADO AIR 28 for a good two kilometers, we couldn't help but be impressed. The hydraulic brakes, torque sensor, and ride feeling were exceptional. The ergonomic handlebar provided a comfortable upright posture, and the bike's appearance was striking from all angles.
Application
In addition to the remarkable features of the ADO AIR 28 electric bike itself, ADO has gone the extra mile by providing a free companion app that can be connected to your bike, elevating your riding experience to new heights.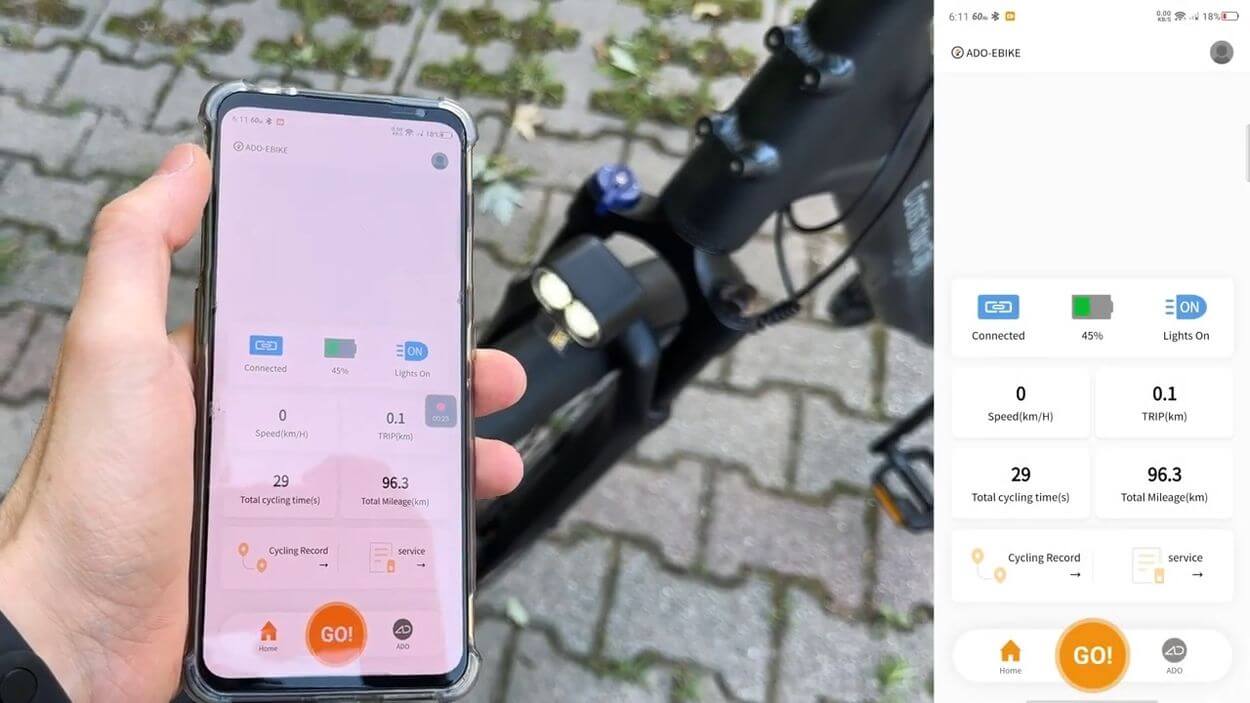 With this app, you gain access to a wealth of valuable information about your bike. Want to check the battery charge level? Interested in tracking your mileage and other ride statistics? The app provides all this information at your fingertips, ensuring you're always informed about your bike's performance.
One standout feature of the app is its ability to remotely control your bike's lights. As demonstrated earlier, you can effortlessly turn them on and off, and what's more, the lights gradually fade in and fade out, offering a pleasing and sophisticated lighting experience.
The app also keeps records of your rides, helping you track your biking history and progress over time. It's a handy feature for those who like to monitor their fitness or simply reminisce about memorable rides.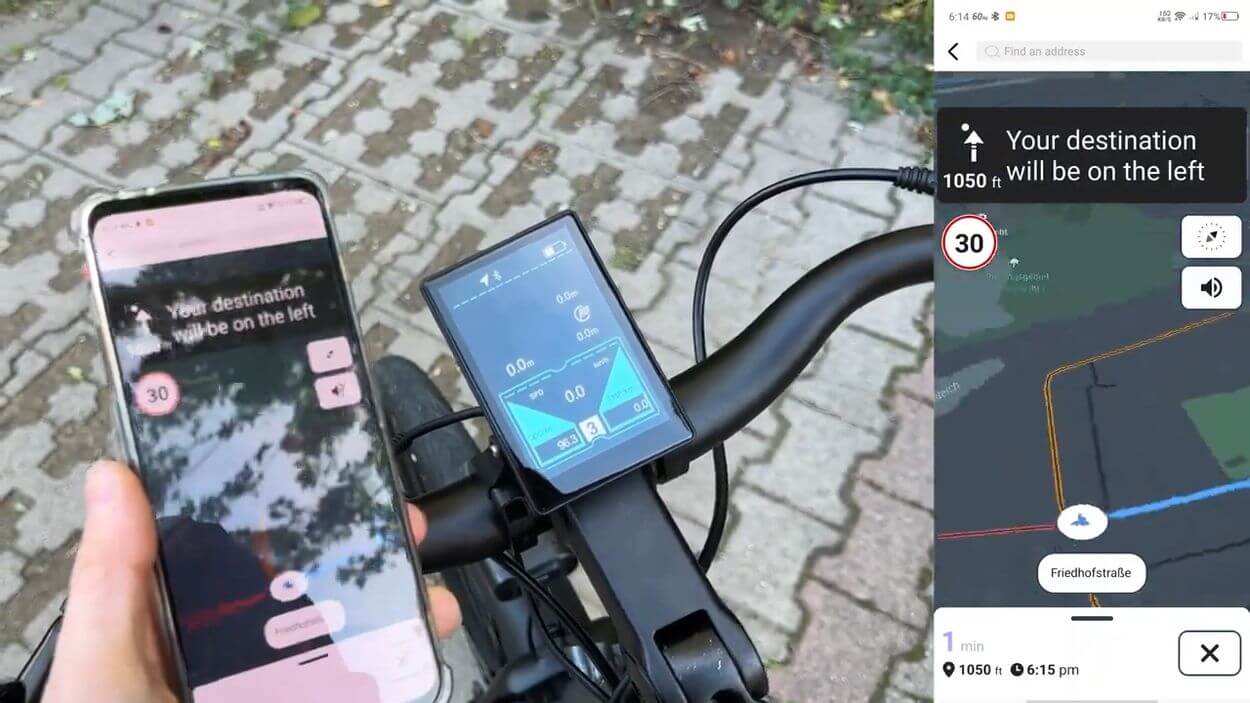 Need assistance or have questions about your bike? The app allows you to easily contact support and obtain more information about ADO as a company. It's a convenient way to stay connected with the brand and get the help you need when necessary.
One of the standout aspects of this app is its built-in navigation feature. Paired with the gorgeous and generously sized display on the ADO AIR 28, it offers a seamless and stress-free navigation experience. There's no need to mount your phone on the handlebar or fiddle with external GPS devices. The screen provides all the information you need, including turn-by-turn directions, distance to your destination, and other riding information.
This built-in navigation feature is a game-changer, ensuring that your rides are not only efficient but also safe. With all essential information readily available on the bike's display, you can keep your focus on the road, allowing for a safer and more enjoyable journey.
Conclusions
In summary, the ADO AIR 28 is an exceptional addition to the ADO Air line, offering a remarkable blend of performance, technology, and comfort that sets it apart as the ultimate all-rounder urban commuter e-bike.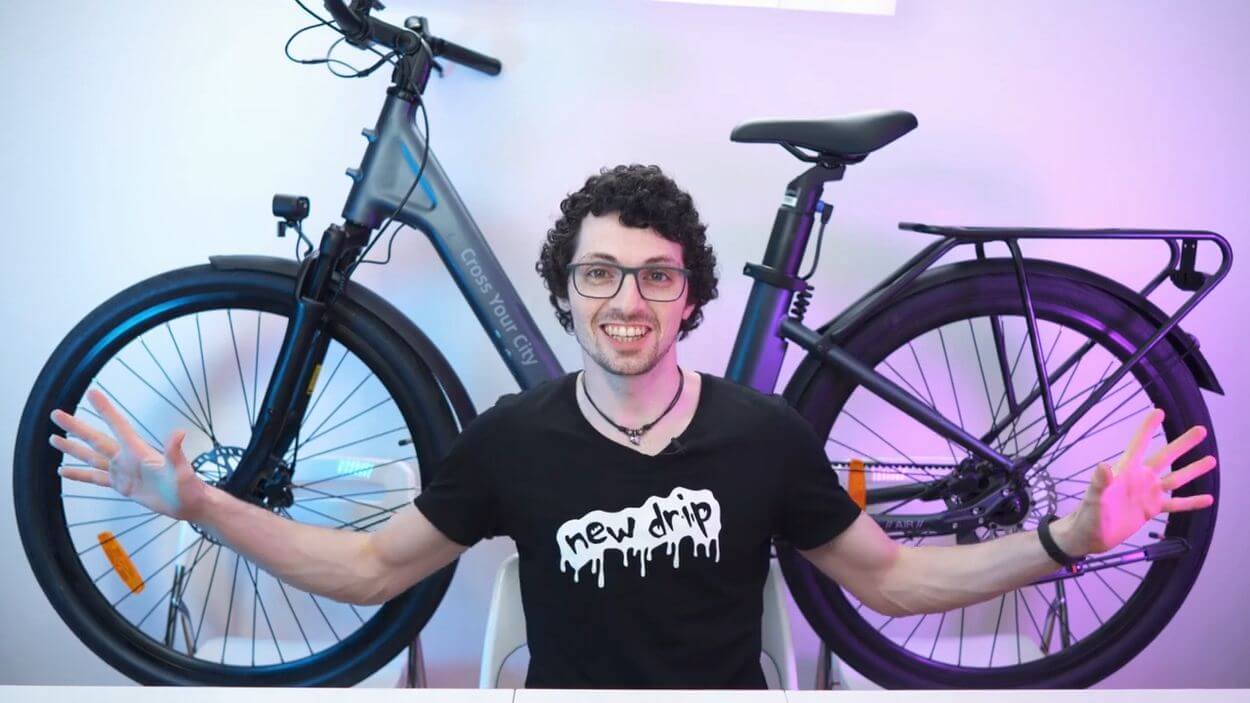 One of its standout features is the new and improved display, which is not just better but possibly the best in its class. The bike's smooth and responsive performance can be attributed to the cutting-edge G-Drive 5.0 torque sensor combined with the silent and maintenance-free carbon belt drive. This ensures a ride that's not only powerful but also incredibly smooth.
The range of the AIR 28 is truly impressive, thanks to the Samsung battery tucked conveniently beneath the saddle. With a potential range of up to 100 kilometers, it provides ample power for your daily commute and then some.
Comfort is another key aspect of this e-bike, with its well-designed step-through frame, adjustable front fork suspension, and a saddle that keeps you riding in style and ease.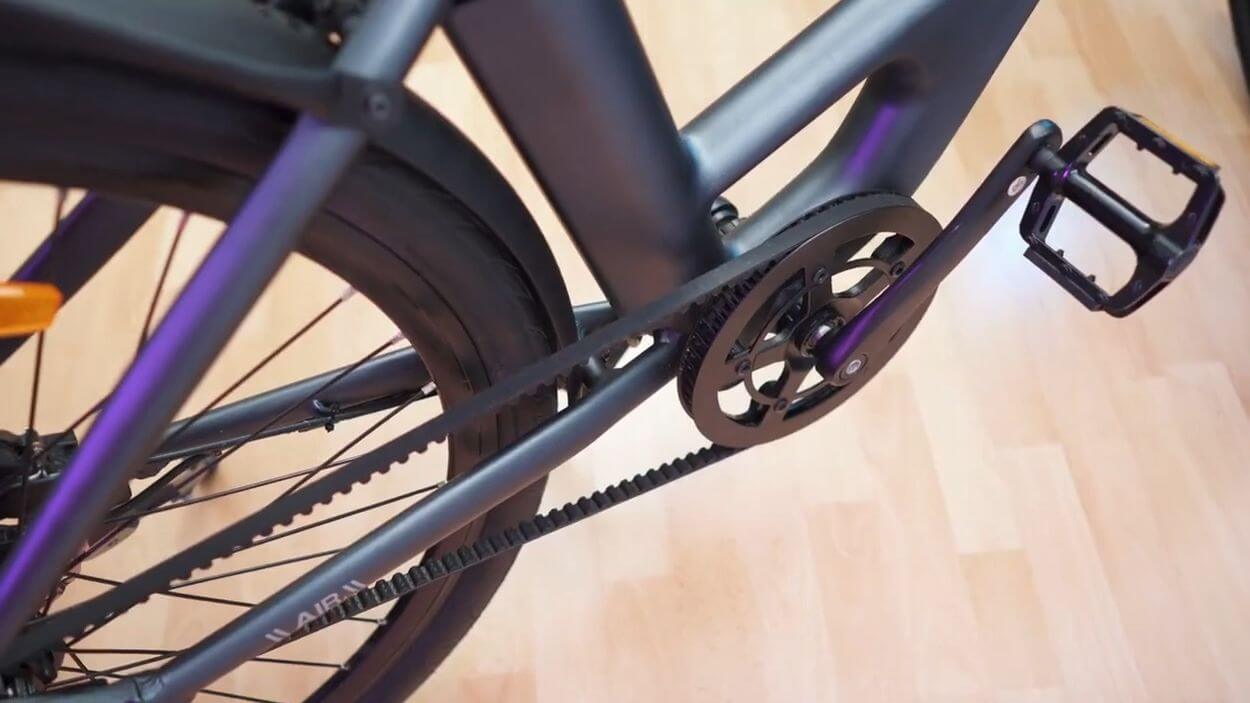 Maintenance is virtually a non-issue with the carbon belt drive, which requires no oil, keeps you clean, and can last for up to an astonishing 30,000 kilometers.
The AIR 28 also impresses with its advanced technology, including the built-in navigation feature and the companion app, which enhances your riding experience and keeps you connected with the brand.
So, the ADO AIR 28 is a stellar e-bike that excels in every aspect. It's a true all-rounder, offering power, range, comfort, and technology in a stylish package. If you're in the market for a top-tier urban commuter e-bike, the ADO AIR 28 deserves serious consideration. Thanks for joining us on this ride, and we'll see you soon!
Alternatives of ADO AIR 28