New iGO Core Elite 3 HD is a versatile e-bike that combines the convenience of a city cruiser with the functionality of a daily commuter.
The Core Elite 3 HD offers an enticing package of style, functionality, and versatility at an attractive price point of $1,799. With its range of features, including hydraulic disc brakes, integrated lights, fenders, cargo rack, and a comfortable Dutch-style design, the Core Elite 3 HD provides excellent value for both casual riders and daily commuters.
This e-bike is equipped with a suite of features ideal for urban and leisure riding. The inclusion of lights, fenders, and a rear cargo rack reflects its suitability for daily commuting.
Its versatile design and well-rounded features make it an excellent choice for both leisurely rides and daily commuting. With a focus on safety and a performance that caters to varied terrains, this e-bike is poised to provide a balanced and enjoyable riding experience.
| | |
| --- | --- |
| FRAME | Hydroformed 6061 Aluminum step through |
| MOTOR | 500W geared brushless |
| TORQUE | up to 48Nm |
| REAR DERAILLEUR | SHIMANO Altus 8-speed |
| POWER ASSIST | 9 Levels |
| DISPLAY UNIT | LCD Backlit |
| THROTTLE | Any time on demand thumb throttle |
| TIRES | MAXXIS Overdrive 700x47C, 28"x1.75" |
| BATTERY (AH) | 12Ah |
| RANGE | 90km (56mi) * on a charge with assistance |
| BRAKE CALIPERS | TEKTRO hydraulic disc |
| BIKE WEIGHT | 23.7kg (52.2lbs) |
| BATTERY WEIGHT | 3.3kg (7.3lbs) |
| WEIGHT CAPACITY | 100 kg (220 lbs) |
Design and Build Quality
The iGO Core Elite 3 HD embraces a city cruiser design philosophy. With its Dutch styling, the bike exudes a classic charm that harks back to urban bicycles. The upright riding position and cruiser-style handlebars provide riders with not only a comfortable experience but also enhanced visibility, perfect for both leisurely rides and bustling city streets.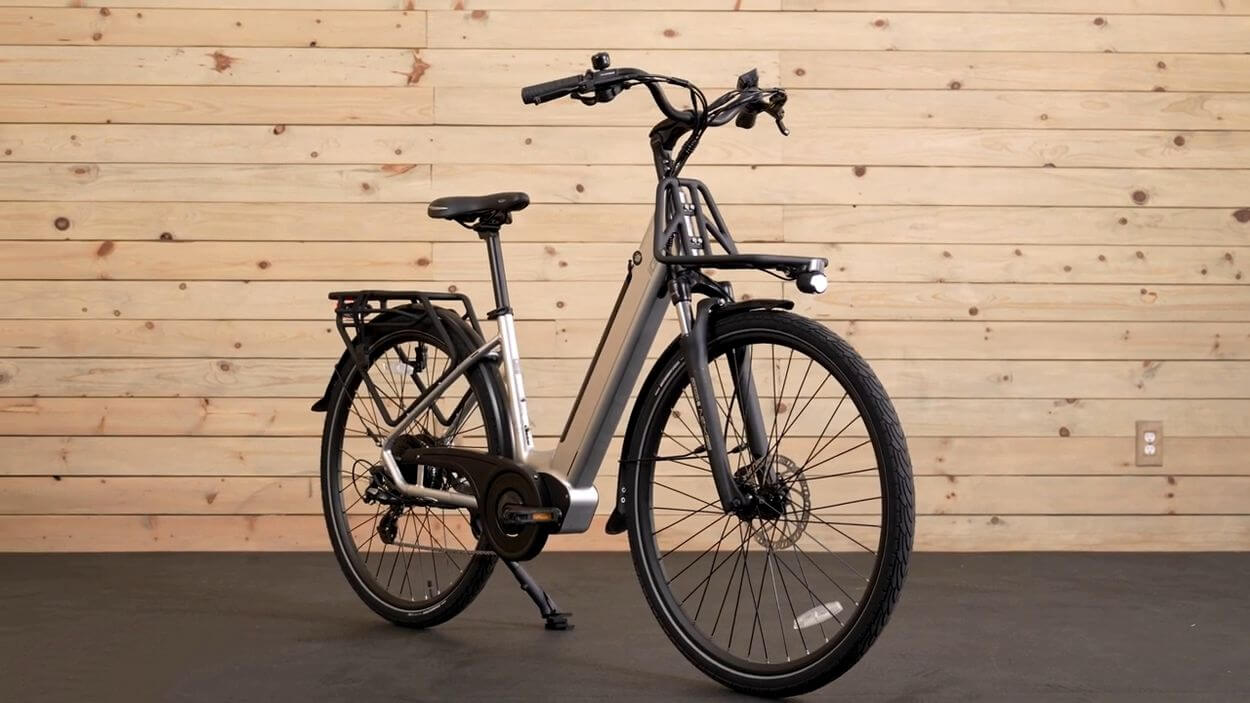 The design of the Core Elite 3 HD is heavily influenced by Dutch-style bicycles, which is evident in its relatively narrow handlebars with a cruiser-style sweep, providing an ergonomic and comfortable riding position. The frame is constructed to accommodate riders between five feet and six feet two inches tall, utilizing features like a quick-adjust stem and a seat post with a quick-release clamp to ensure a personalized fit.
The bike's aesthetics are reminiscent of classic urban bicycles, with a touch of modern elegance. The components are well integrated into the overall design, creating a harmonious appearance. The frame is built to be sturdy and reliable, which contributes to the overall durability and build quality of the bike.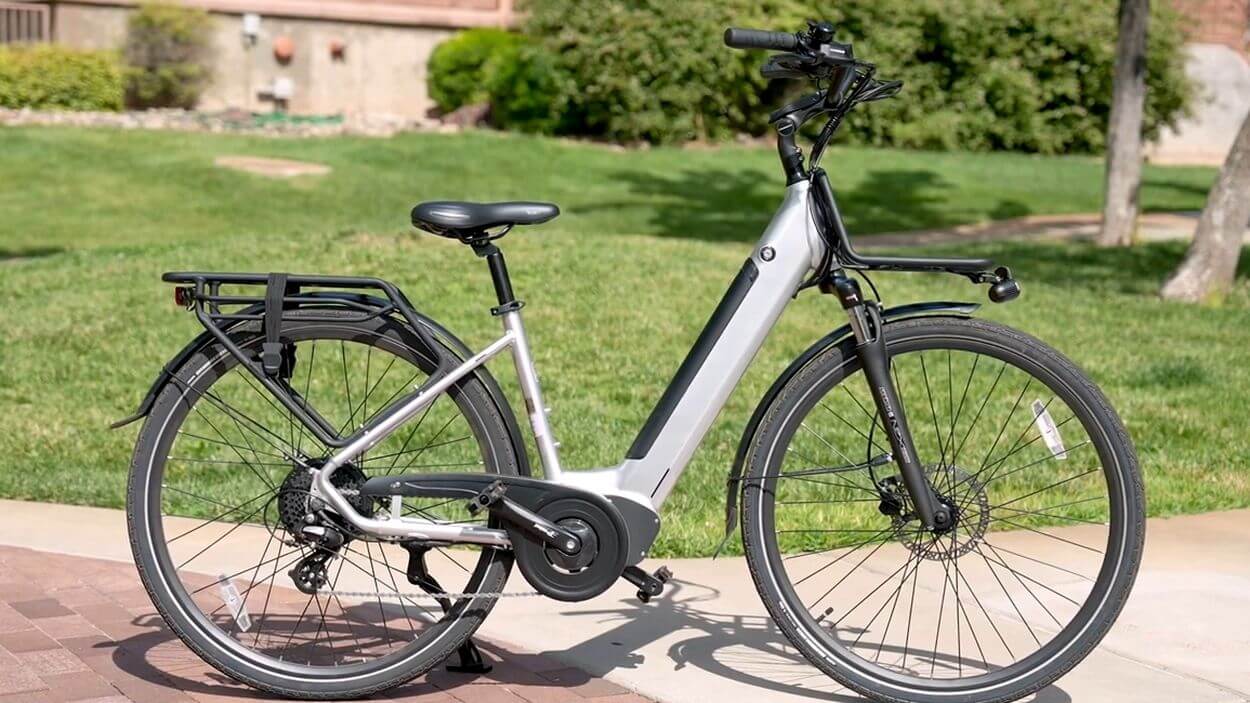 The drivetrain is a dependable Shimano Altus eight-speed setup, complete with a 42-tooth chainring and an 11-to-34-tooth cassette. This system ensures efficient gear changes and a smooth riding experience.
One of the standout features of the Core Elite 3 HD is its ride quality. The combination of Dutch-style handlebars, an upright riding posture, and an adjustable fit creates a comfortable and relaxed feel. This riding position not only offers a pleasant experience but also enhances visibility on the road, promoting safety.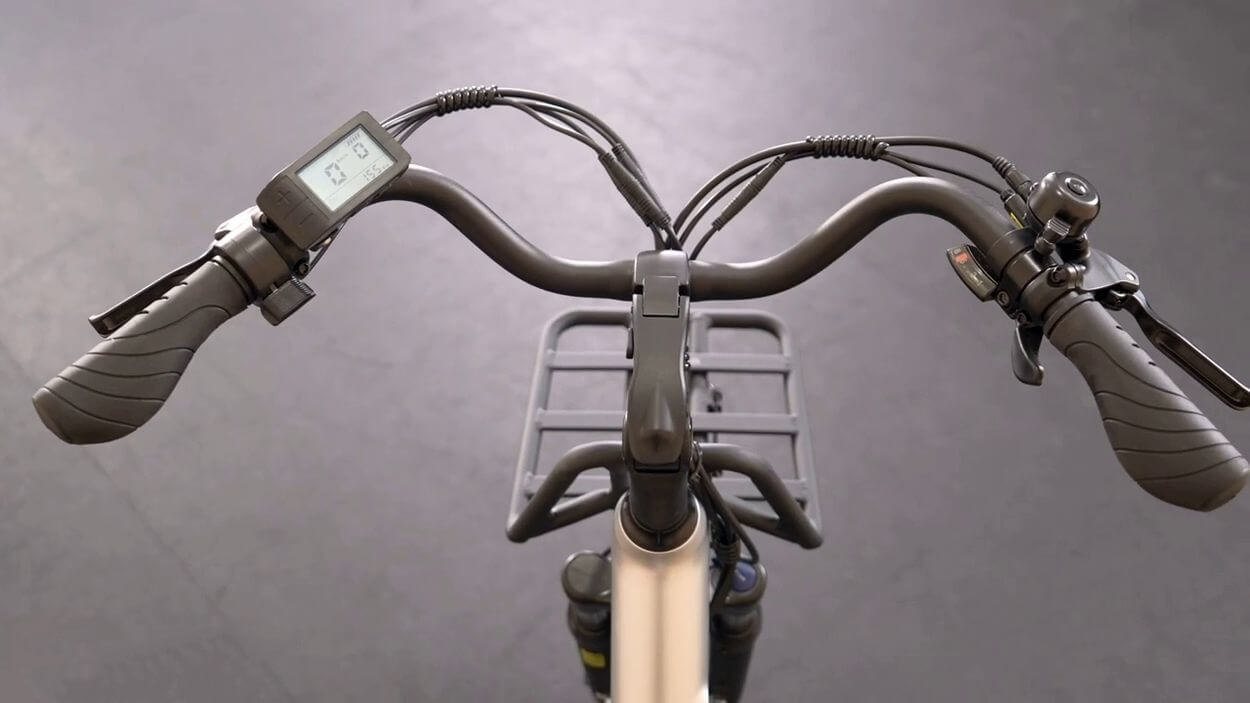 The bike's handling is excellent, partially attributed to the handlebars and the Maxis 700x47c tires. The tires have an aggressive street tread that provides reliable traction, ensuring stability and maneuverability even on varied pavement surfaces. The inclusion of a front suspension fork, manufactured by Suntour, enhances the ride quality by absorbing shocks and vibrations, making for a smoother ride over bumps and rough terrain.
The bike's cockpit is designed for ease of use. With a throttle and control panel on the left and a trigger shifter and bell on the right, the layout is intuitive and practical. While the black-and-white display could benefit from color, its simplicity and large buttons make it user-friendly.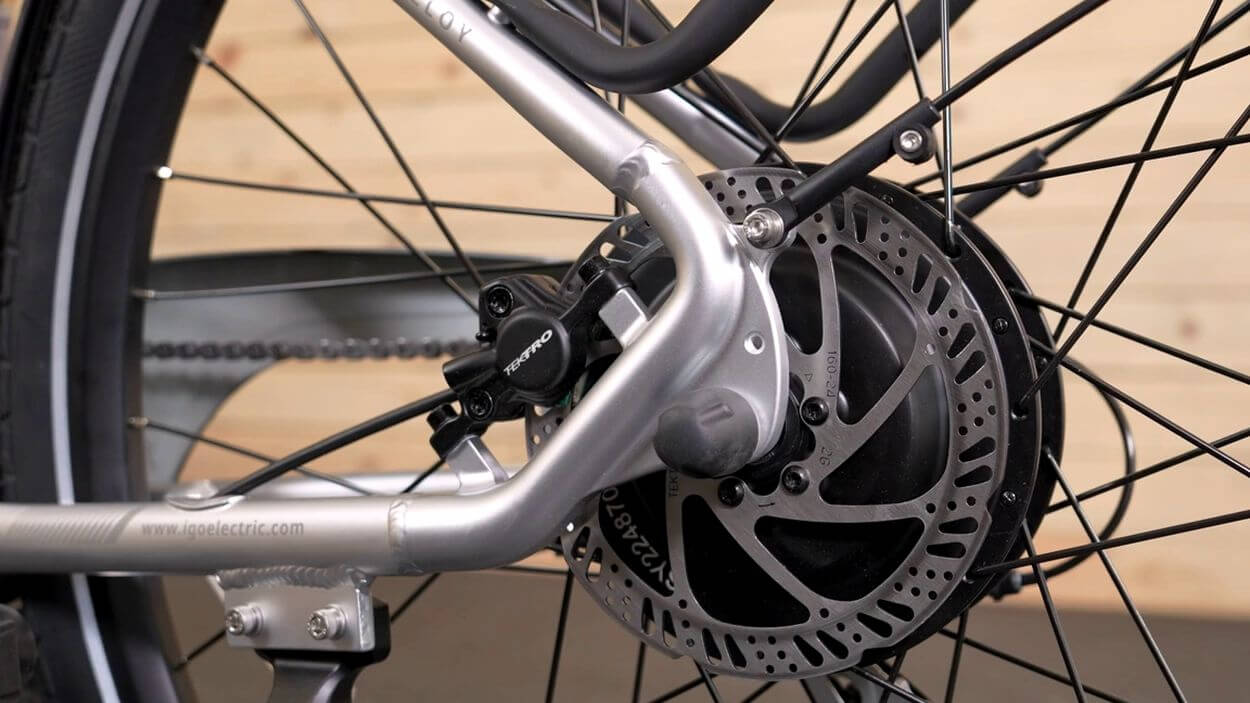 The Core Elite 3 HD features a pedal-assist system with a motor that engages swiftly when the rider starts pedaling. The motor's responsiveness and quick engagement are assets that contribute to a seamless riding experience. The pedal-assist system offers various power levels, allowing riders to customize the amount of assistance they receive, catering to different riding conditions and preferences.
iGO Core Elite 3 HD:
Power and Driving Test
Classified as a Class 2 e-bike, the iGO Core Elite 3 HD offers a 500-watt rear hub motor capable of a top speed of 20 miles per hour, be it through throttle or pedal-assist. The power-to-weight ratio is finely tuned, thanks to its 62-pound frame. The responsive Cadence Sensor activation ensures smooth and efficient power delivery. The bike accelerates briskly, effortlessly reaching and maintaining its top speed.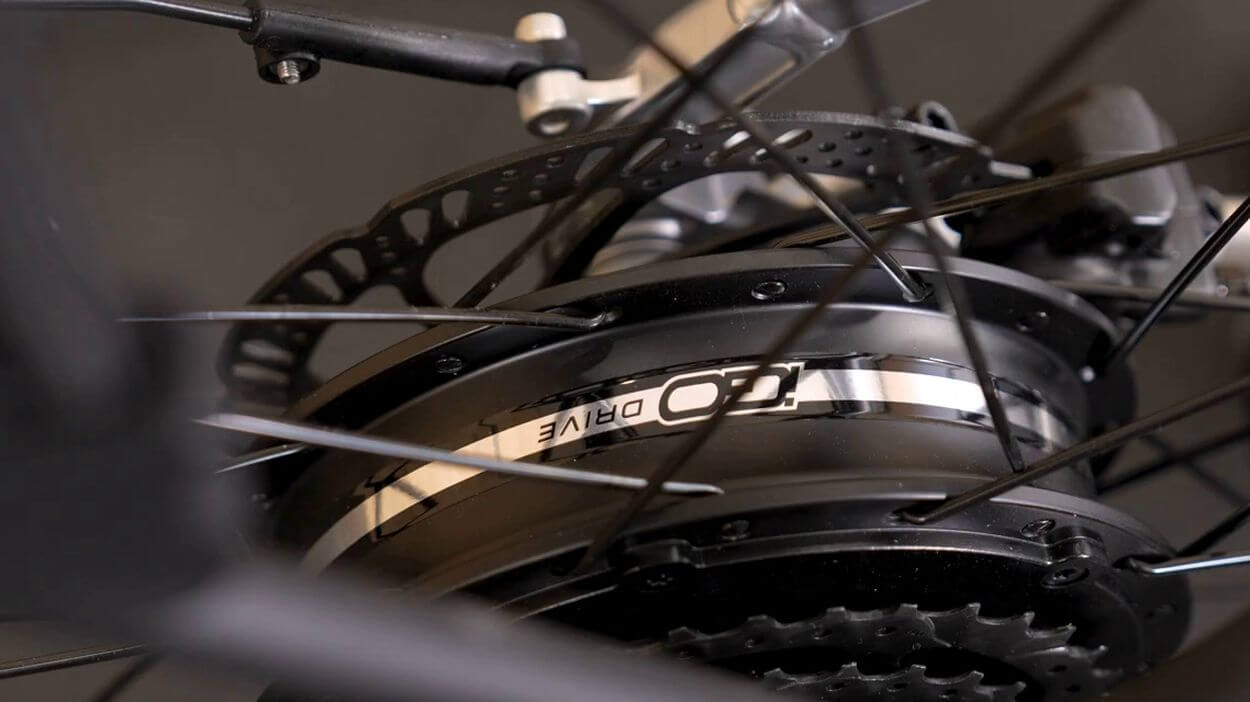 I decided to conduct a thorough speed test with the iGO to assess its performance in various pedal assist settings as well as its throttle acceleration capabilities. The purpose was to gauge how swiftly the bike could reach different speeds and to understand the nuances of its motor assistance.
Pedal Assist Speed Test:
Starting with no motor assistance, I pedaled the bike and achieved around 10 miles per hour. Activating PAS1 introduced motor assistance, albeit only up to around 6 miles per hour, leaving much of the effort to my legs. PAS2 slightly improved the speed to approximately 8 miles per hour. When I engaged PAS3, a noticeable boost kicked in, providing an easier pedaling experience and a speed of about 9 miles per hour.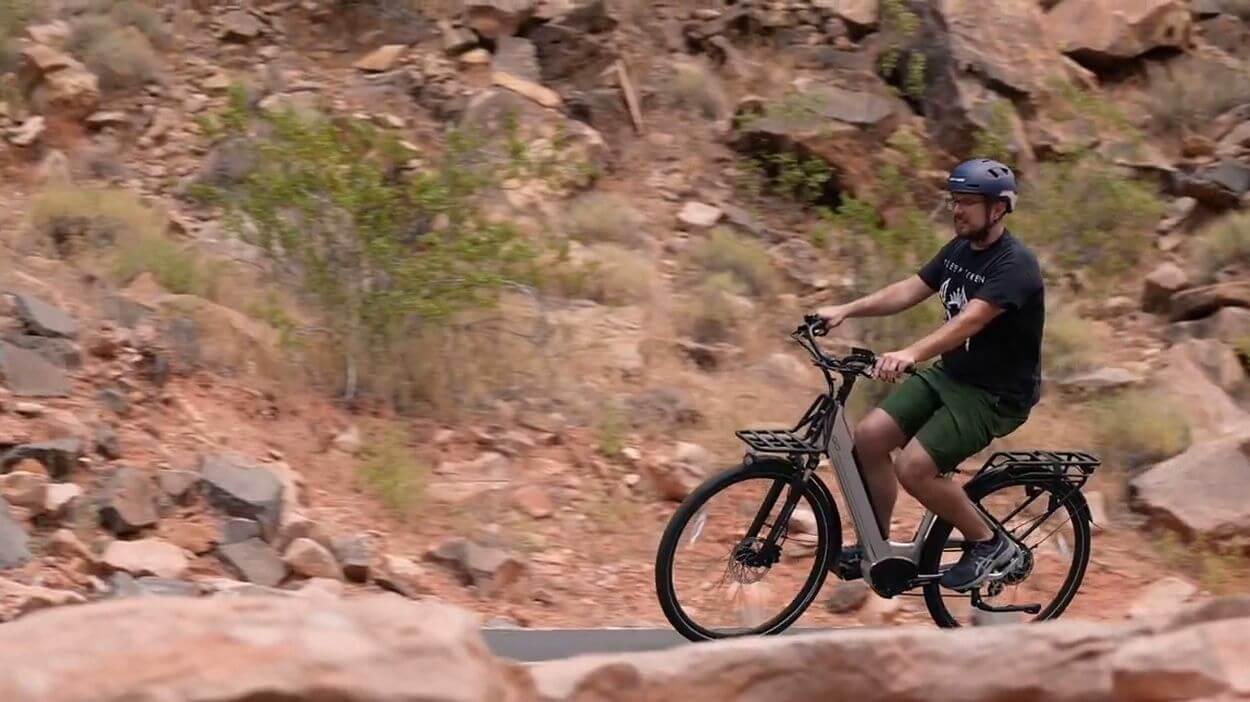 The iGO Core Elite 3 HD is equipped with a total of nine pedal assist settings. To provide a comprehensive comparison, I focused on the odd-numbered settings, which allowed for a relatable comparison to e-bikes with fewer settings. PAS5 brought me to a comfortable 15.5 miles per hour, while PAS7 provided a significant power boost, allowing me to effortlessly cruise at around 19.5 miles per hour. Switching to PAS9, the motor delivered an extra burst of energy that momentarily pushed the bike beyond 20 miles per hour, ideal for quick overtaking maneuvers. However, it then settled at the class 2 limit of 20 miles per hour for steady cruising.
Throttle Acceleration Test:
Transitioning to the throttle acceleration test, I initiated the throttle while in PAS9, which doesn't influence the throttle's power. Initially, there was a gradual acceleration, but it picked up momentum, demonstrating the bike's ability to reach higher speeds without pedal assistance.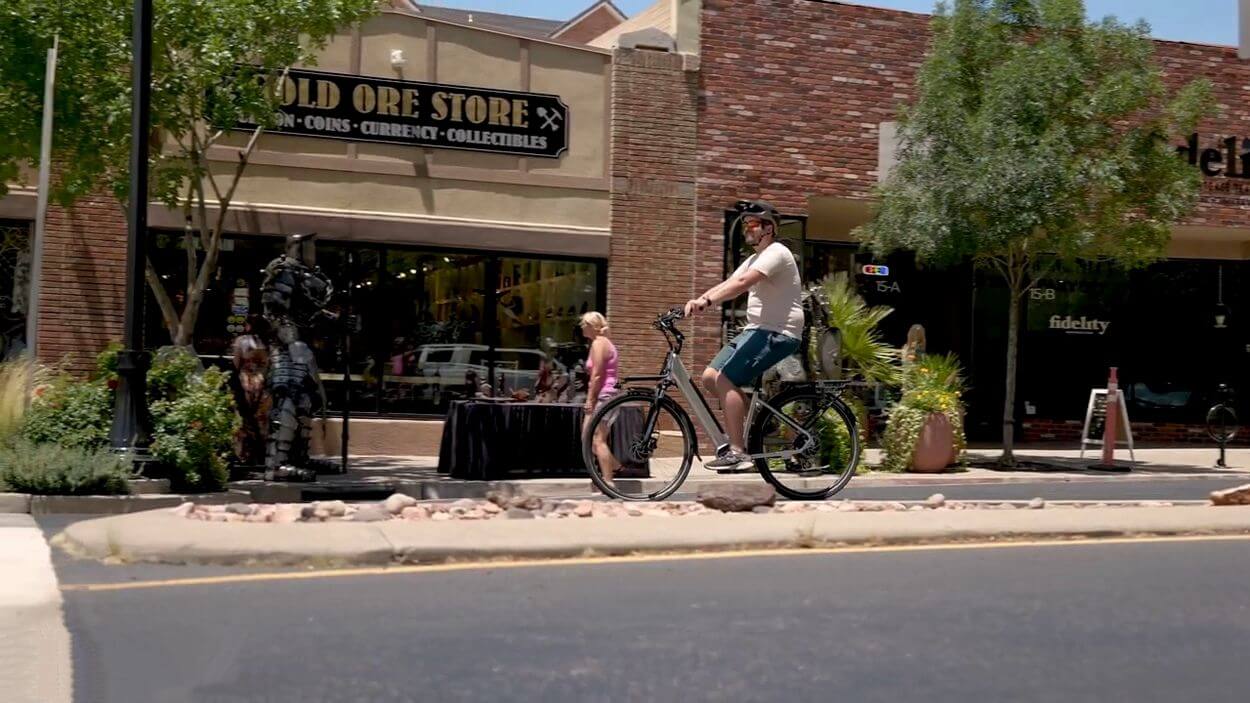 During the throttle-only test, Justin noticed a respectable amount of power, albeit with a notable observation. He pointed out that using pedal assist level 9 might be more assistance than needed for the specific terrain. However, despite the initial promising power, the bike struggled to conquer the steep incline of Hell Hole, ultimately unable to reach the top solely on throttle power.
Pedal Test: Switching to the pedal test, Justin found a remarkable difference in performance. As he softly pedaled, he acknowledged that the bike felt substantially different. The bike's acceleration remained consistent, making it through challenging sections without requiring downshifting. Although the Core Elite 3 HD might not be a high-speed powerhouse, it demonstrated its capabilities on the demanding terrain of Hell Hole.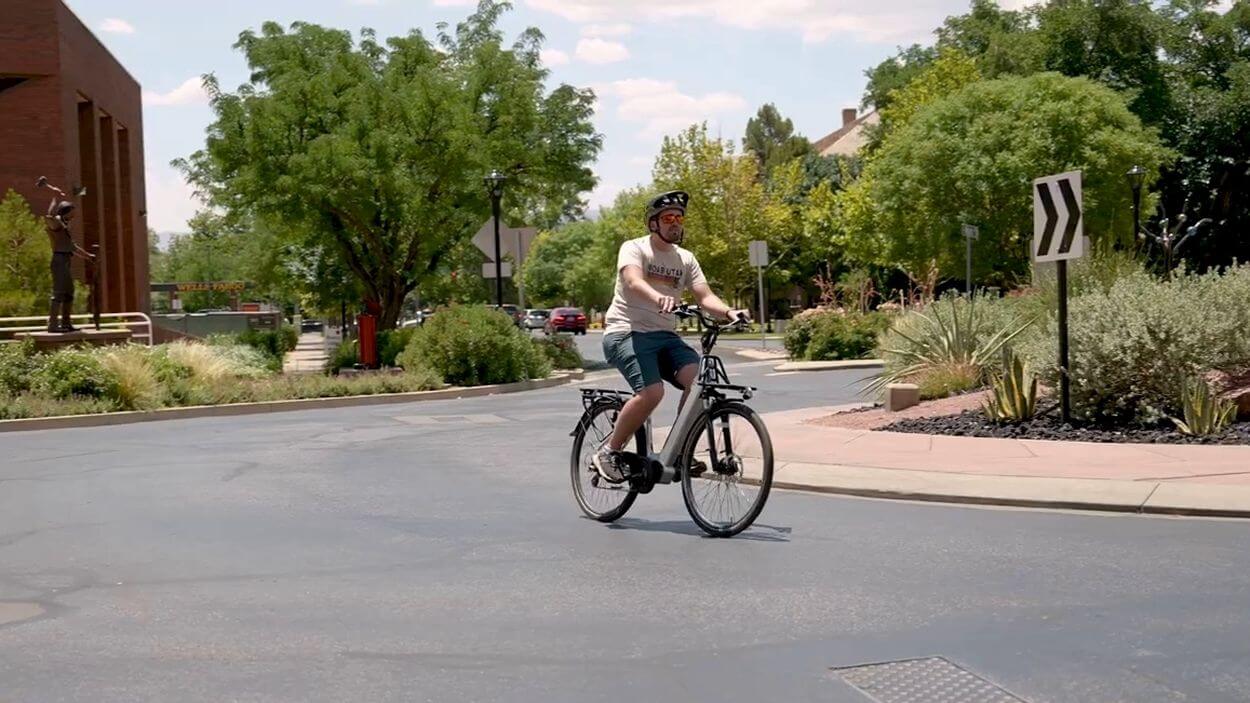 Justin's observations reflected that while the bike couldn't complete the throttle test on Hell Hole, its performance in pedal assist level 9 was impressive. He managed to traverse the route in a time of a minute and 28 seconds, maintaining an average speed of 12.3 miles per hour. The test results showcased the bike's ability to handle rigorous challenges, even if the initial figures might not appear exceptional on paper.
It's worth noting that the Core Elite 3 HD is equipped with a motor offering a peak torque of 48 Newton meters, which explains the observed performance. Other members of the team had similar experiences on less intense hills, highlighting the bike's ability to tackle steep roads, albeit with some rider contribution.
In summary, the various pedal assist settings offered a range of experiences. While PAS1 and PAS2 provided minimal assistance, PAS3 felt like a solid starting point. PAS5 proved to be an enjoyable and relaxed cruising speed, while PAS7 and PAS9 were more suitable for swift travel when needed. With nine pedal assist settings, there might be room for refinement, and a more streamlined selection of four to five settings could provide a simpler and more user-friendly experience.
Battery and Range
The integrated 48-volt, 576-watt-hour battery nestled within the down tube provides ample power for your journeys. A 2-amp charger facilitates a quick recharge in approximately six hours.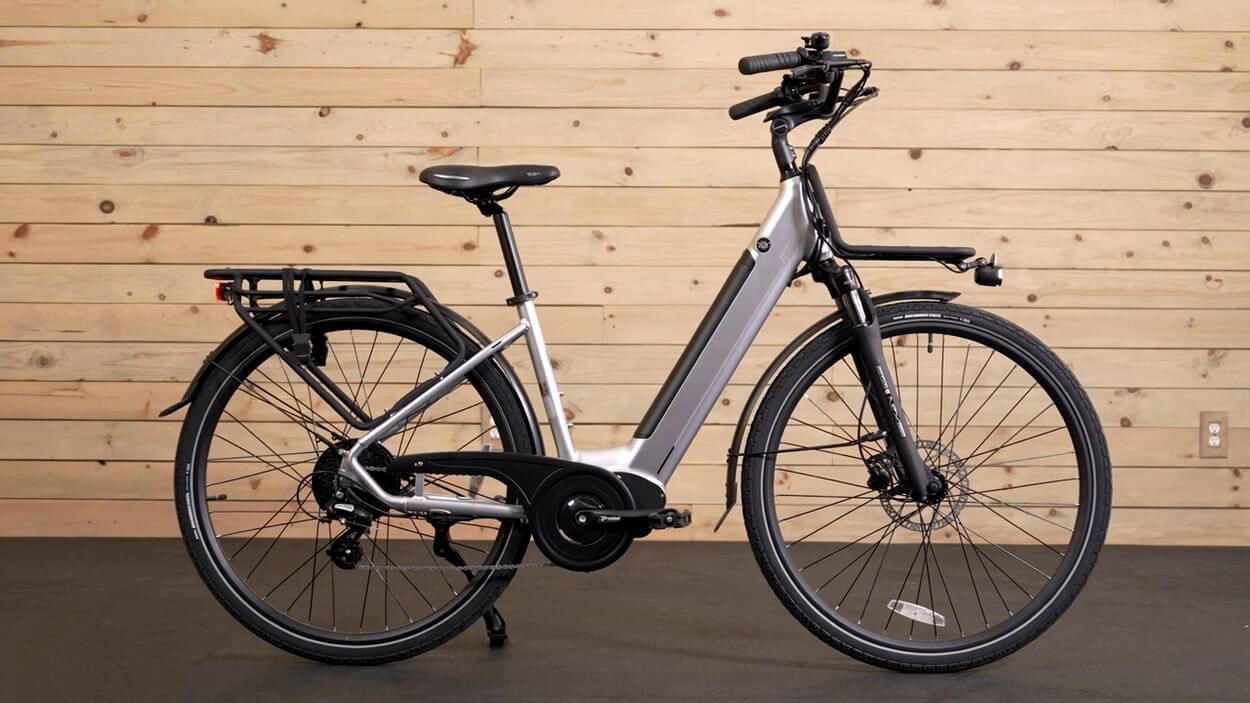 During our range tests, the iGO Core Elite 3 HD demonstrated impressive performance with its 576-watt-hour battery. We set out to determine how far this battery could take the bike using different levels of pedal assistance (PAS). Our tests yielded a range that ranged from around 31 miles to approximately 60 miles. Specifically, we conducted our tests using PAS2 and PAS9, which provided a comprehensive range for assessment. It's noteworthy that iGO advertises a maximum range of up to 56 miles, and we were pleased to discover that our tests surpassed this figure, albeit by a slight margin.
In our evaluations, we noted that while PAS2 offered a more conservative level of assistance, it still played a crucial role in conserving battery power and consequently extending the overall distance the bike could cover. Although some riders might consider PAS2 to be less powerful than desired, its contribution to maximizing battery life is a significant advantage, especially for riders looking to embark on longer journeys.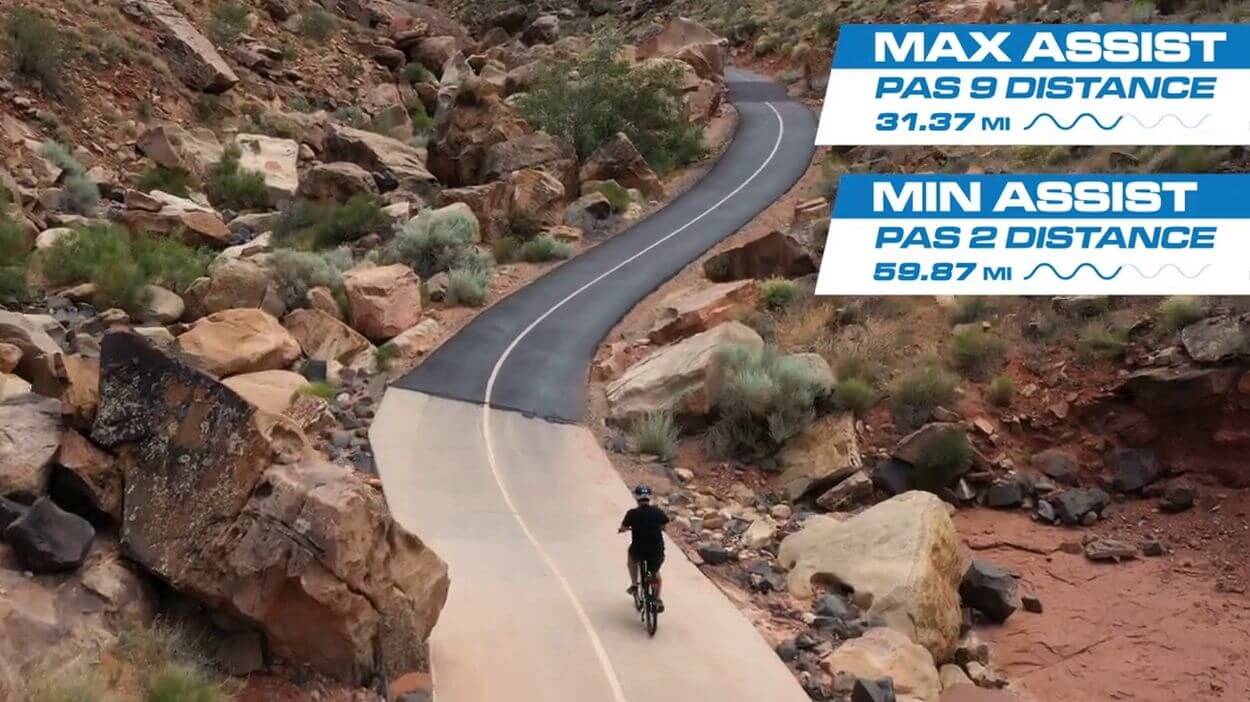 The observed range of 31 to 60 miles is commendable for any e-bike. Considering the Core Elite 3 HD features a 500-watt motor and a 576-watt-hour battery, this performance is particularly impressive. While the battery capacity might not be the largest, the motor's efficiency allowed us to achieve a surprising 50% increase in ride time compared to what mathematical estimates would predict based on the specifications.
Brake test
To ensure the safety and effectiveness of the brakes on the iGO Core Elite 3 HD, a comprehensive testing approach was undertaken. The goal was to evaluate the braking performance at speeds of up to 20 miles per hour and measure the corresponding stopping distances. The results of these tests revealed a nuanced story, shedding light on the bike's brake system.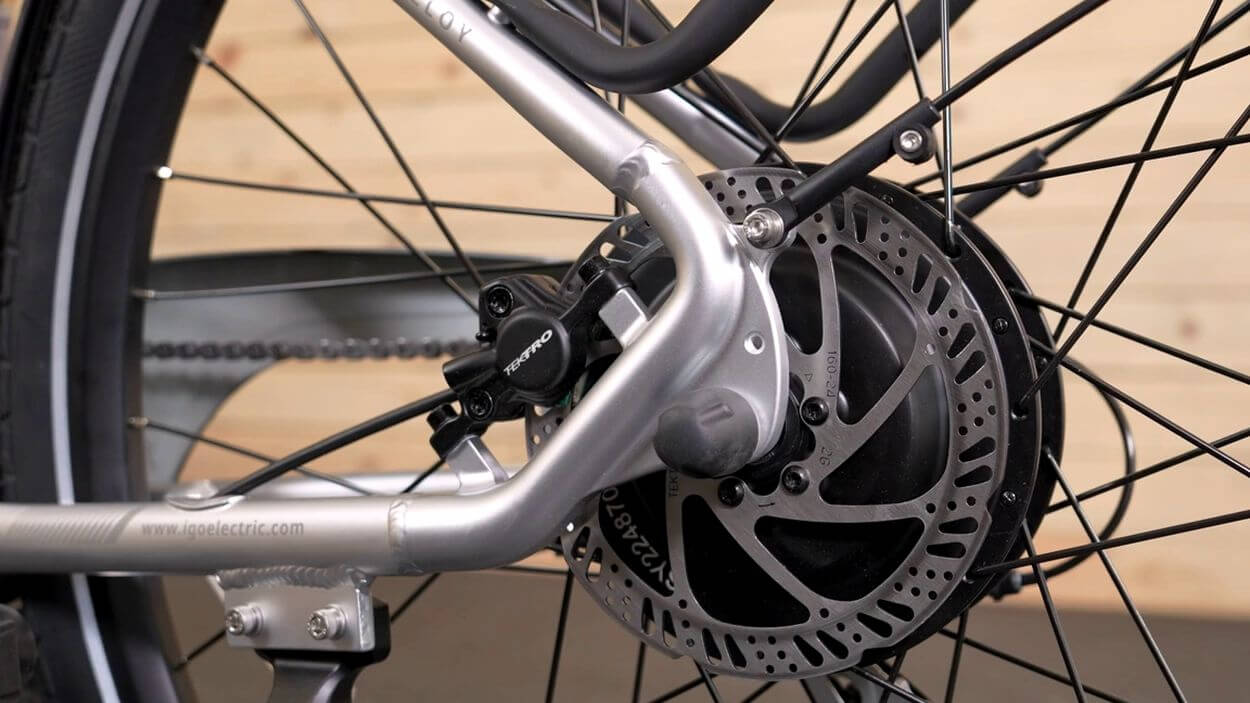 The Core Elite 3 HD is equipped with the Tektro E350 brake system, featuring 180 millimeter rotors. This brake system has generally proven itself to be reliable and efficient in various scenarios. However, it's interesting to note that in previous assessments of iGO's bikes, they have exhibited slower results in terms of stopping distances during brake tests.
A comparable case was recently encountered when evaluating another e-bike that utilizes the same Tektro E350 brake system. This e-bike shared several similarities with the Core Elite 3 HD, including style, weight, and other attributes. In the case of the previously tested e-bike, the average stopping distance was measured at a relatively short 19 feet 11 inches, which showcased the commendable performance of the Tektro E350 system.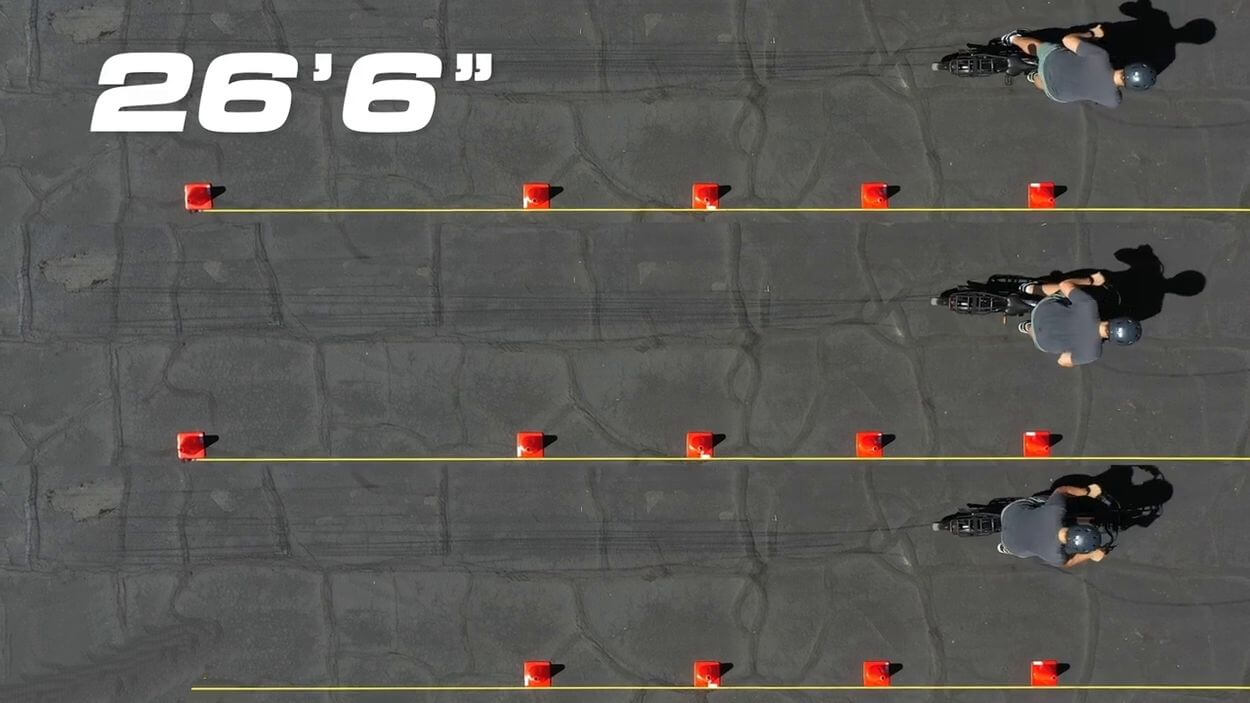 In the instance of the Core Elite 3 HD, the results of the brake tests revealed a notably longer average stopping distance of 26 feet 6 inches. This disparity in performance has spurred a commitment to further investigation. Ongoing testing and analysis will be conducted to ascertain the underlying factors contributing to the variance in braking performance between the two bikes.
As part of the commitment to transparency and thorough evaluation, the written review of the Core Elite 3 HD will be updated once additional insights are gleaned from the continued testing. Readers can anticipate an upcoming update to the review, which will delve into the reasons behind the observed discrepancies and any potential solutions that may emerge.
Conclusions
Experiencing a bike that defies expectations is always a delightful surprise, and the iGO Core Elite 3 HD has proven to be one of the most significant and pleasant surprises in my journey with e-bikes. While the style of this bike wouldn't have been my immediate preference, my perspective completely shifted after putting it to the test. Each bike possesses its own unique personality, and this one shines with its distinct character.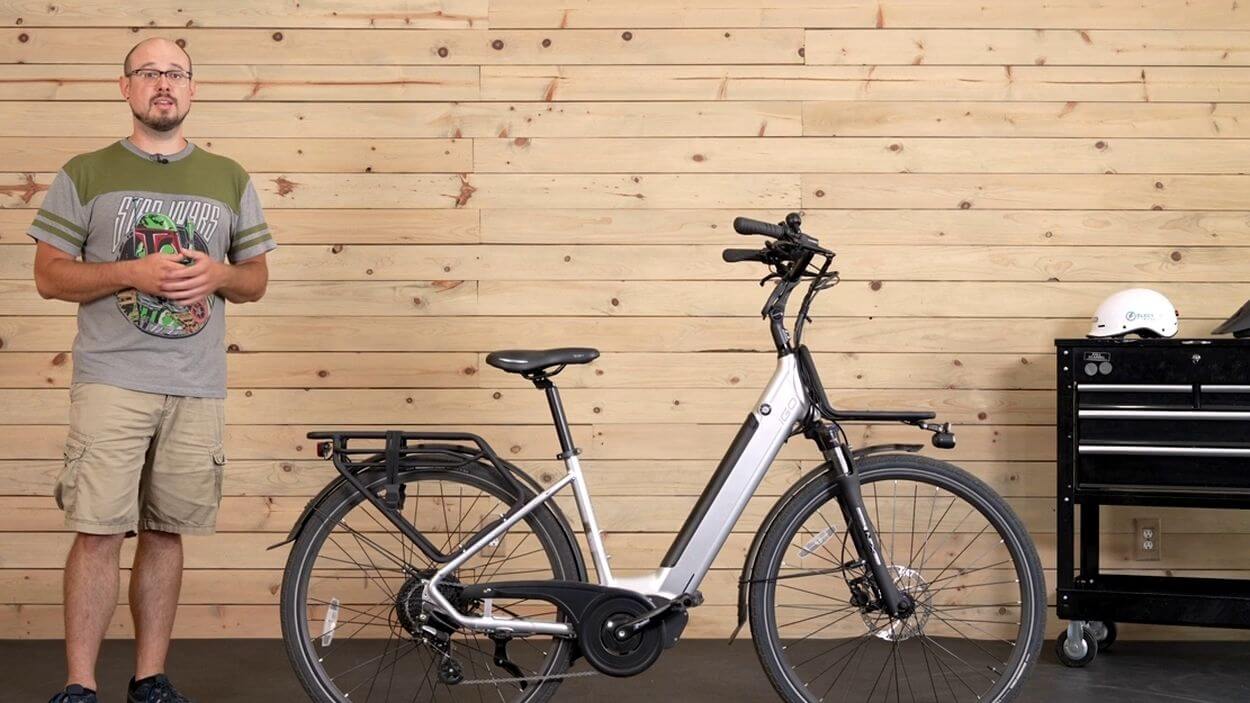 While the bike's soul is rooted in providing a joyous ride, its commuter potential is not to be underestimated. The bike offers a blend of features that make it incredibly practical for daily commuting. Combining the comfort of a cruiser with the agility of a city bike, the Core Elite 3 HD strikes a balance between responsiveness and maneuverability. The inclusion of accessories, such as the front cargo rack, sets it apart and enhances its versatility.
As with any bike, there's room for improvement, and the Core Elite 3 HD is no exception. A refinement of the pedal assist system is recommended, consolidating the nine settings into four or five practical modes with even power distribution. 
So, if you're seeking an e-bike that effortlessly blends the joy of riding with practicality for both leisurely cruises and daily commutes, the iGO Core Elite 3 HD is worth exploring. In closing, I'm John from Electric Bike Report, and this is the iGO Core Elite 3 HD – a bike that beautifully merges style, practicality, and the sheer joy of riding.
Alternatives of iGO Core Elite 3 HD