Hey everyone, Miss GoElectric here, and today I've got an exciting review for you. If you're in the market for a lightweight city bike that offers local service and the added convenience of a throttle, you might find your options quite limited. That's where Aventon comes in. They've been a consistent player in the e-bike world with their Soltera lineup, and they're back with some impressive improvements. You might even recognize their bikes from Best Buy, but they're not resting on their laurels. So, join me as I dive into the details of the latest addition to their lineup: the Aventon Soltera.2.
In this review, I'll be taking you through the key features, performance, and overall experience of Soltera.2. We'll explore how it handles in the city, how its torque sensor enhances the ride, and how its integrated features contribute to safety and convenience. From its lightweight design to its user-friendly app, we'll cover it all. So, if you're curious about how this e-bike can elevate your urban commuting and leisure riding, stick around as we uncover the highlights of the Aventon Soltera.2.
One of the standout features of Aventon's offering is their comprehensive two-year warranty. This commitment to quality assurance ensures that you can ride your Soltera.2 with confidence, knowing that you're backed by a warranty that reflects Aventon's trust in the durability and performance of their product.
Let's jump right in and discover the exciting world of the Soltera.2, where technology meets practicality in the realm of electric city biking.
| | |
| --- | --- |
| FRAME | 6061 Single-Butted Aluminum Alloy |
| MOTOR | 36V, 350W Brushless Rear Hub |
| PEDAL ASSIST | 4 Levels |
| SHIFT LEVER | 7 Speed Trigger |
| SPEED | Up to 20 MPH on Pedal Assist |
| SENSORS | Torque Sensor |
| THROTTLE | Throttle on demand from a complete stop |
| TIRES | 700c*38c Kenda |
| BRAKES | Mechanical Disc Brakes 180mm rotors |
| BATTERY | 36V 9.6Ah (360Wh) |
| RANGE | Up to 46 Miles* on PAS 20 Miles on Throttle |
| CHARGER | 36V 2 Amp Fast Charger, 4-5 Hour Charging |
| WEIGHT | 46 lbs |
| DIMENSIONS | Bike Box: 140*27*73cm |
Design and Build Quality
The Aventon Soltera.2 e-bike is a remarkable fusion of cutting-edge design and exceptional build quality, catering to both style-conscious riders and those who prioritize performance. With two distinct frame styles and a range of thoughtful features, the Soltera.2 offers a versatile and comfortable riding experience.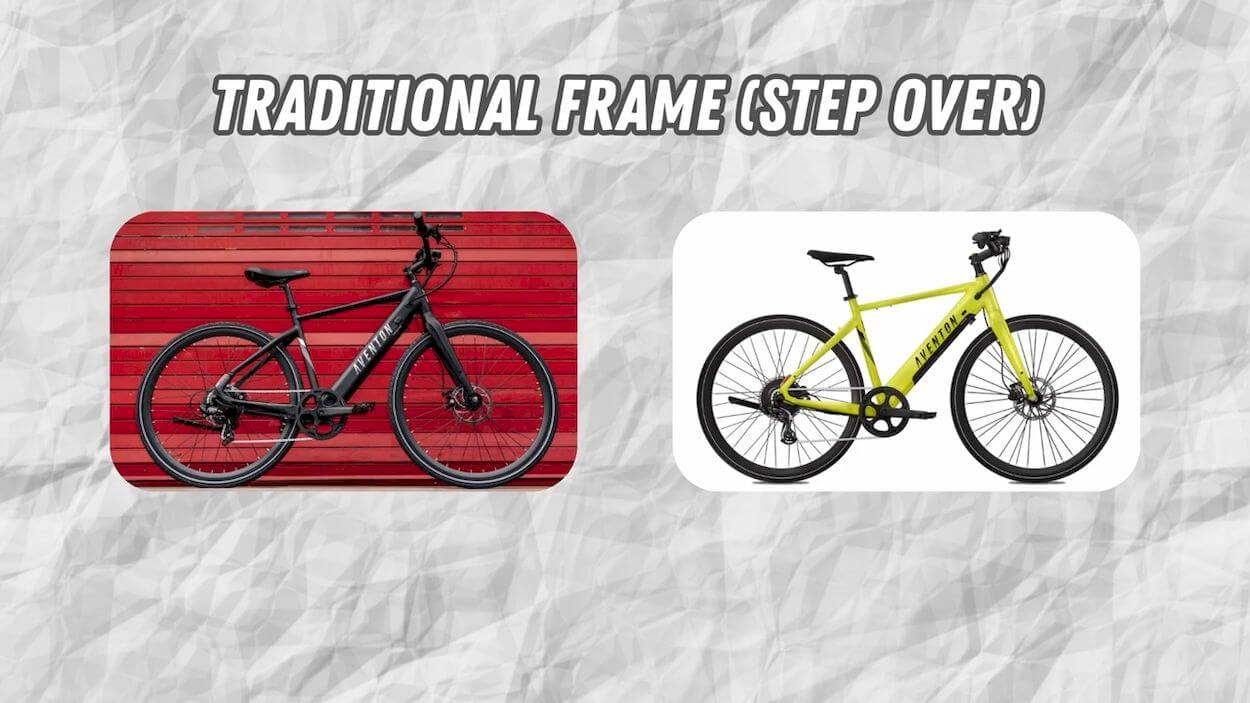 The traditional frame style of the Aventon is a nod to classic bicycle design, complemented by the choice of two elegant colors: the vibrant citrine and the sophisticated midnight black. These color options not only allow riders to make a personal statement but also enhance the overall aesthetic appeal of the bike. The availability of two size options ensures a precise fit for riders of varying heights. The regular size suits individuals between 5'3″ and 5'10", while the large frame accommodates those ranging from 5'10" to 6'4″.
For riders seeking a more contemporary approach, the step-through frame style offers both convenience and style. Available in storm blue and ghost white, these colors exude a sense of modernity and charm. Just like the traditional frame, the step-through option is available in two sizes: small-medium for riders between 4'11" and 5'7″, and medium-large for individuals measuring from 5'7″ to 6'1″.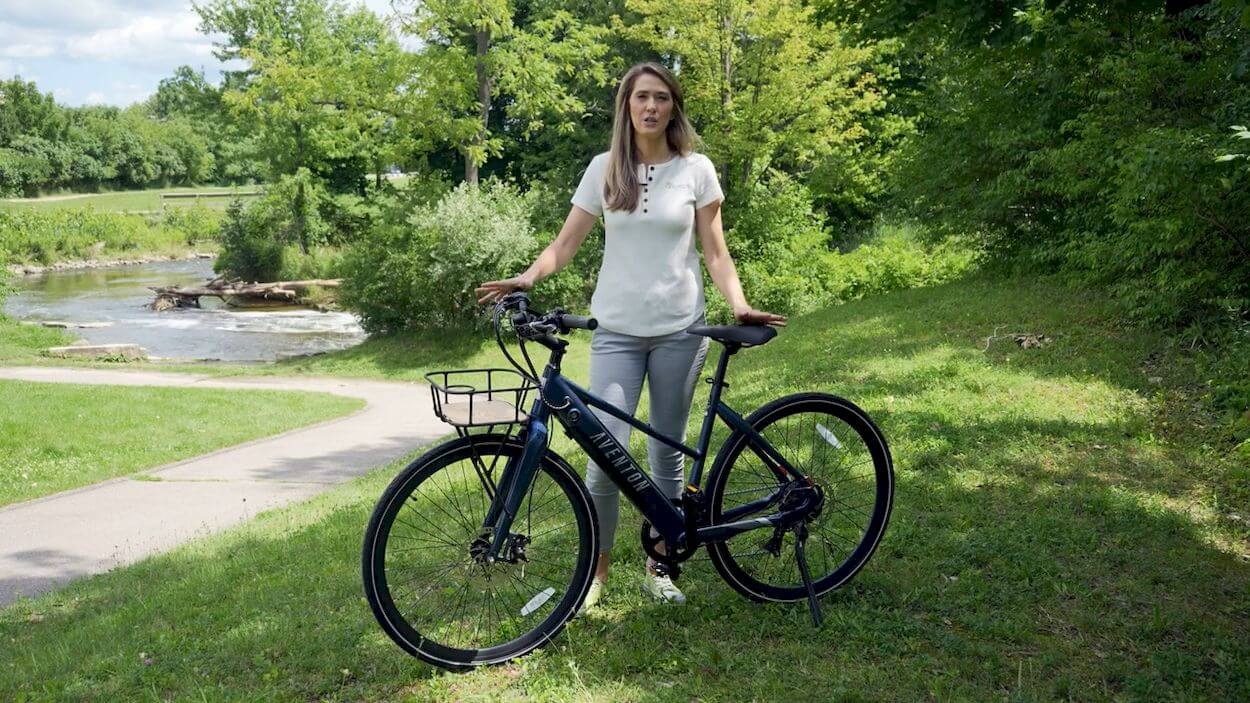 Emphasizing durability and practicality, each frame style of the Soltera.2 boasts an IPX4 water resistance rating. This rating ensures that the e-bike can withstand light water exposure, making it a reliable companion for various weather conditions and terrains.
Despite its feature-rich design, the Aventon Soltera.2 maintains a manageable weight of 46 pounds, enhancing maneuverability and ease of use. Impressively, this e-bike is engineered to accommodate a maximum payload capacity of 300 pounds, showcasing its robust construction and ability to handle varying rider sizes.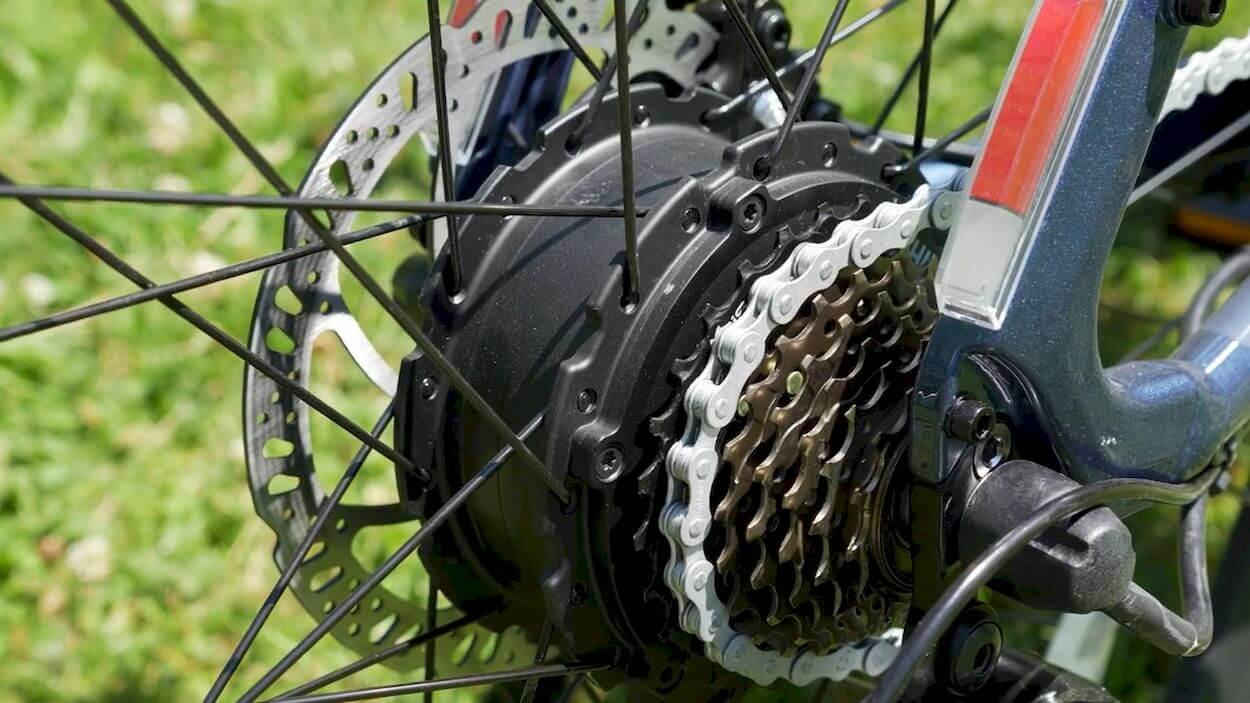 Safety and performance are further elevated by the mechanical brakes with 180mm rotors, ensuring consistent and reliable stopping power. The inclusion of Shimano components, including the grip shifter and 7-speed Tourney derailleur, guarantees smooth gear transitions and a seamless riding experience.
The rigid aluminum front fork enhances stability and control, enabling riders to confidently tackle different terrains. The 700c by 38mm tires strike a perfect balance between speed and comfort, making them suitable for urban commutes as well as leisurely rides.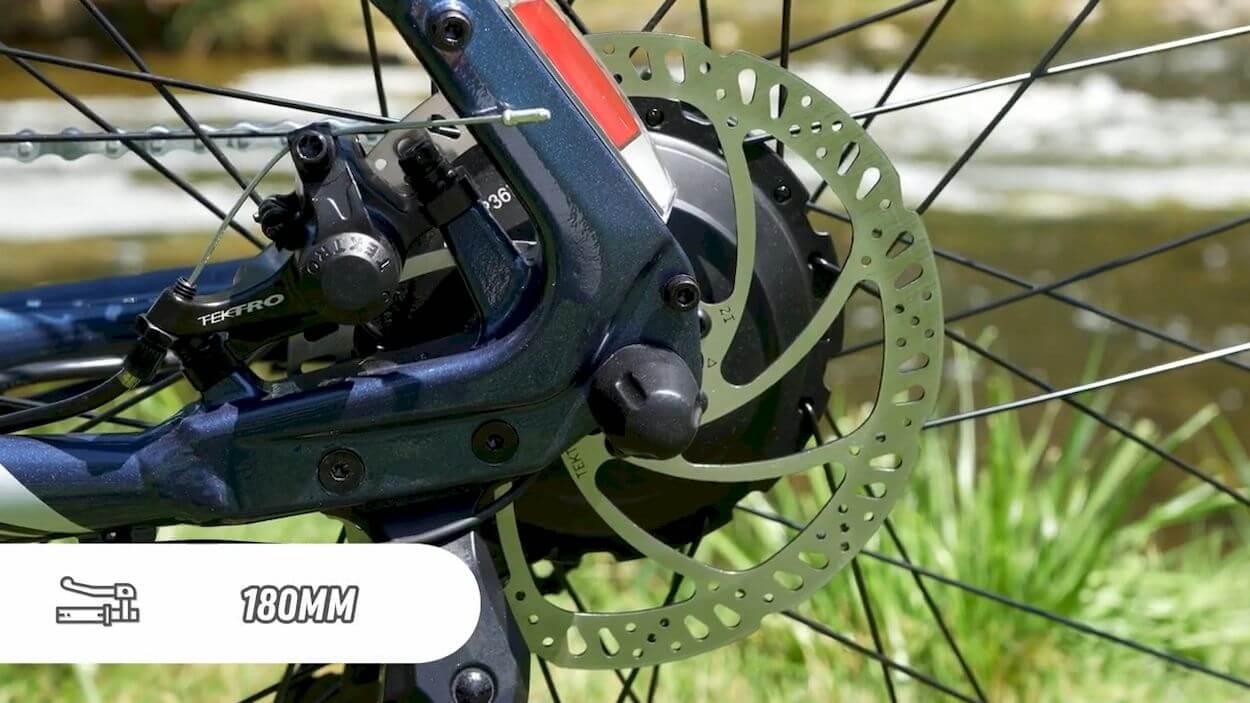 The standout feature of the Aventon Soltera.2 is its captivating color display. Not only does this display provide essential information at a glance, but it also adds a touch of modern sophistication to the bike's overall design. With the introduction of a matte finish, the display minimizes glare, ensuring readability even under bright sunlight.
The Aventon Soltera.2 e-bike comes prepared to impress with its impressive specs and versatile design. While it doesn't come standard with fenders or a rear rack, Aventon offers these accessories as optional additions, allowing you to customize your bike to perfectly suit your needs.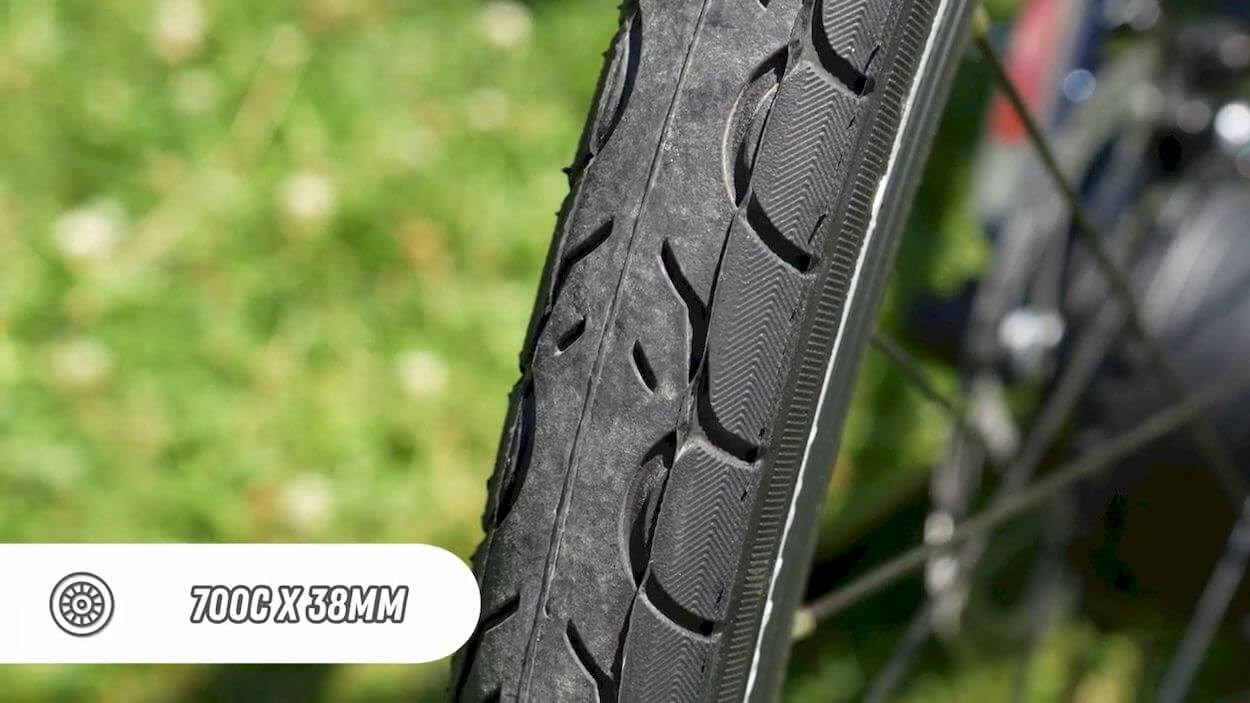 Aventon has truly embraced the concept of personalization by providing an expanding variety of accessories for Soltera.2 owners. Whether you're looking to enhance your bike's utility with a rear rack or keep yourself and your bike cleaner with fenders, Aventon has you covered. This approach underscores Aventon's commitment to catering to the diverse preferences of its riders.
The Aventon Soltera.2's remarkable build quality is a hallmark of the brand, consistently delivering products that meet and exceed expectations. This commitment to excellence is evident in every detail, from the sturdy frame construction to the reliable components and components. As a Soltera owner, you can expect the same level of meticulous craftsmanship and attention to detail that has become synonymous with Aventon.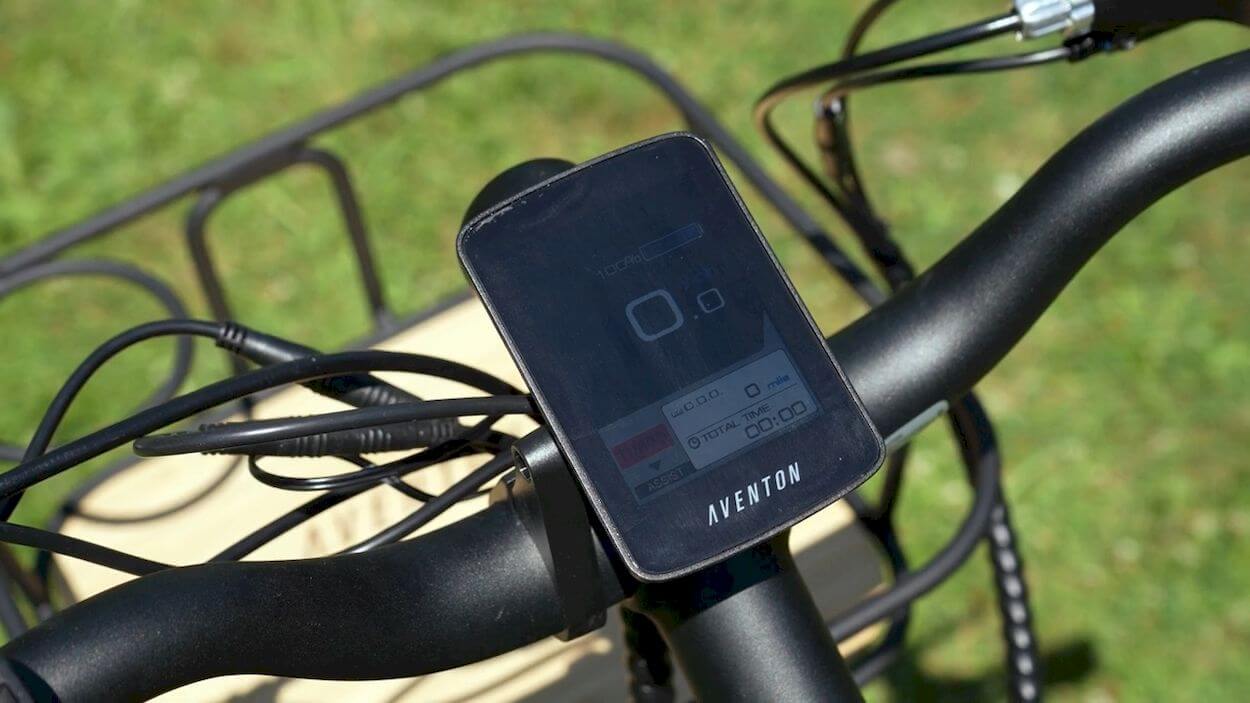 When you receive your Soltera.2, it'll arrive ready for your adventures, resembling the sleek and stylish model you've anticipated. While the bike looks fantastic out of the box, you have the option to further customize it to your liking. As demonstrated by the addition of a front basket, you can easily personalize your Soltera.2 to accommodate your specific needs and preferences. The available rear rack, although delayed in transit, serves as another example of the flexibility Aventon offers to riders.
It's worth noting that while the Soltera.2 ships without fenders, these accessories can be particularly valuable for a commuter bike. Investing in fenders can help keep you and your bike cleaner during wet and muddy rides, contributing to a more enjoyable and hassle-free experience.
Aventon Soltera.2: Application
The app connectivity offered by Aventon for the Soltera.2 e-bike is a game-changer, adding a new dimension to the riding experience that goes beyond the physical bike itself. This digital companion opens up a world of possibilities, enhancing your journey in more ways than one.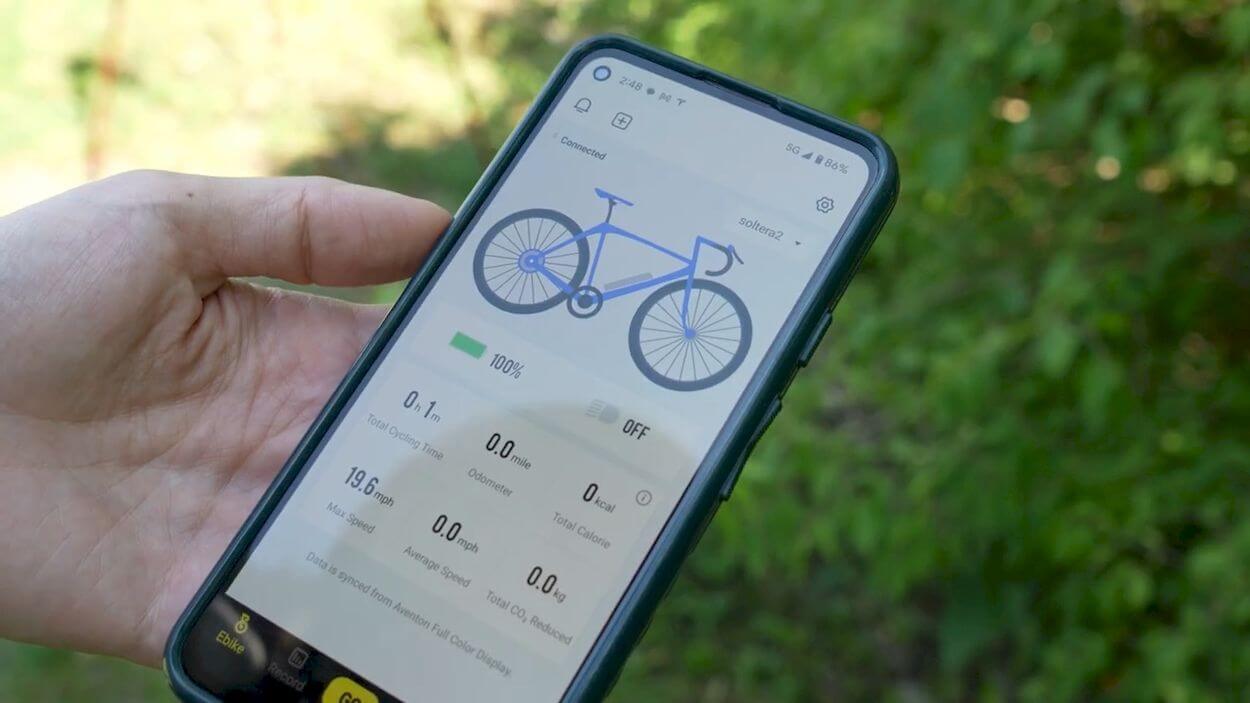 One of the standout features of the app is its ride recording capability. With the app, you can effortlessly track and record your rides, capturing valuable data such as distance traveled, average speed, elevation gain, and more. This feature not only serves as a personal log of your cycling achievements but also allows you to monitor your progress over time. It's a fantastic tool for setting and achieving new goals, whether you're aiming to beat your personal best or conquer longer and more challenging routes.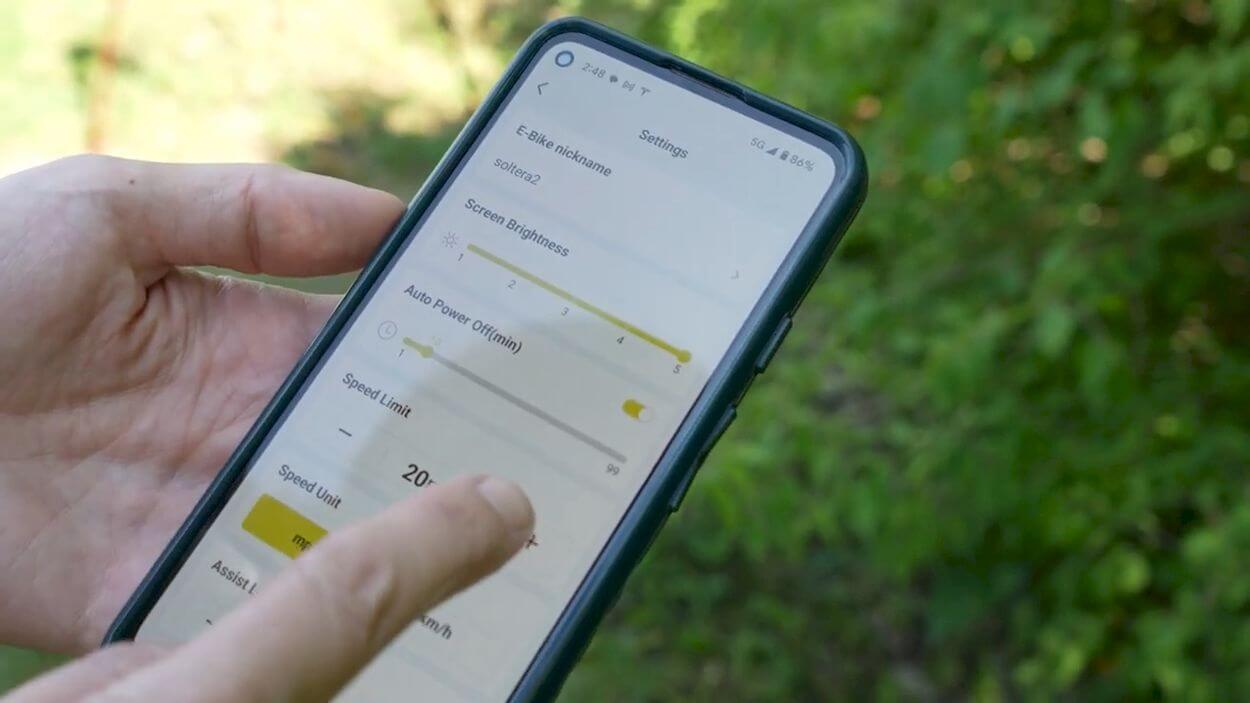 The app connectivity truly embodies the modern fusion of technology and cycling. It seamlessly integrates digital innovation into the traditional cycling experience, elevating it to new heights. As you explore the capabilities of the app, you'll discover a dynamic tool that not only enhances your riding performance but also connects you with a community that shares your enthusiasm for Aventon e-bikes. Whether you're an experienced cyclist or just embarking on your biking journey, the app's features are sure to make your rides more engaging, interactive, and tailored to your unique preferences.
Headlight and tail lights
The Aventon Soltera.2 e-bike raises the bar for safety and convenience with its thoughtfully integrated features, including a 300 Lumen integrated headlight and tail lights complete with turn signals. This innovative lighting system enhances both visibility and communication on the road, ensuring that you ride with confidence and clarity.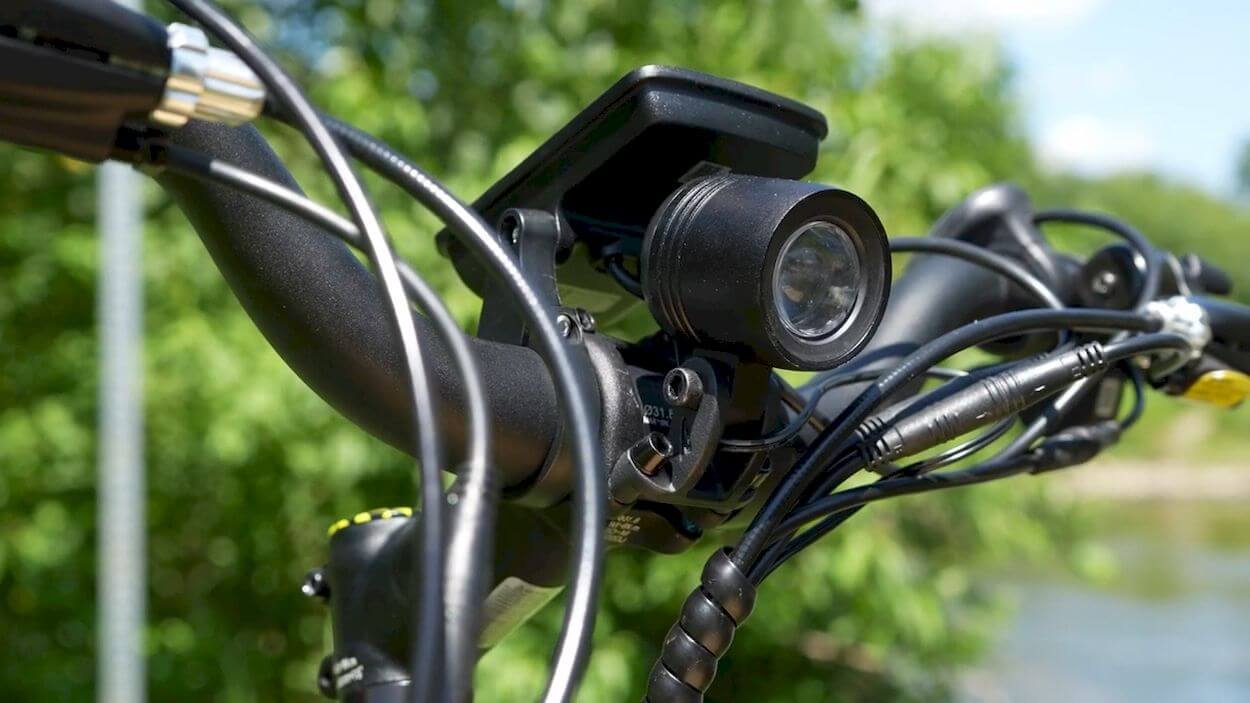 The 300 Lumen integrated headlight is a beacon of illumination, casting a powerful and focused beam that lights up your path even in low-light conditions. Whether you're navigating through dimly lit streets during your evening commute or exploring winding trails after sunset, this headlight ensures that you have a clear view of your surroundings. 
Complementing the front headlight, the integrated tail lights with turn signals provide an extra layer of visibility to other road users. The inclusion of turn signals is a game-changer, as they allow you to communicate your intentions to fellow cyclists, motorists, and pedestrians. These turn signals enhance your ability to navigate traffic and intersections safely, making your movements clear and predictable to others sharing the road.
In addition to the lighting features, the Aventon Soltera.2 comes standard with a bell. While seemingly simple, the bell is an essential tool for alerting pedestrians and other cyclists of your presence, especially in crowded areas or on shared pathways. It adds an element of safety and courteous communication to your rides, ensuring that you can navigate through various environments with ease.
Motor and Performance
The Aventon Soltera.2 redefines the e-bike experience with its innovative and refined design. As a lightweight Class 2 e-bike, it offers an exhilarating ride that seamlessly blends human power with electric assistance, all while adhering to a maximum speed limit of 20 miles per hour.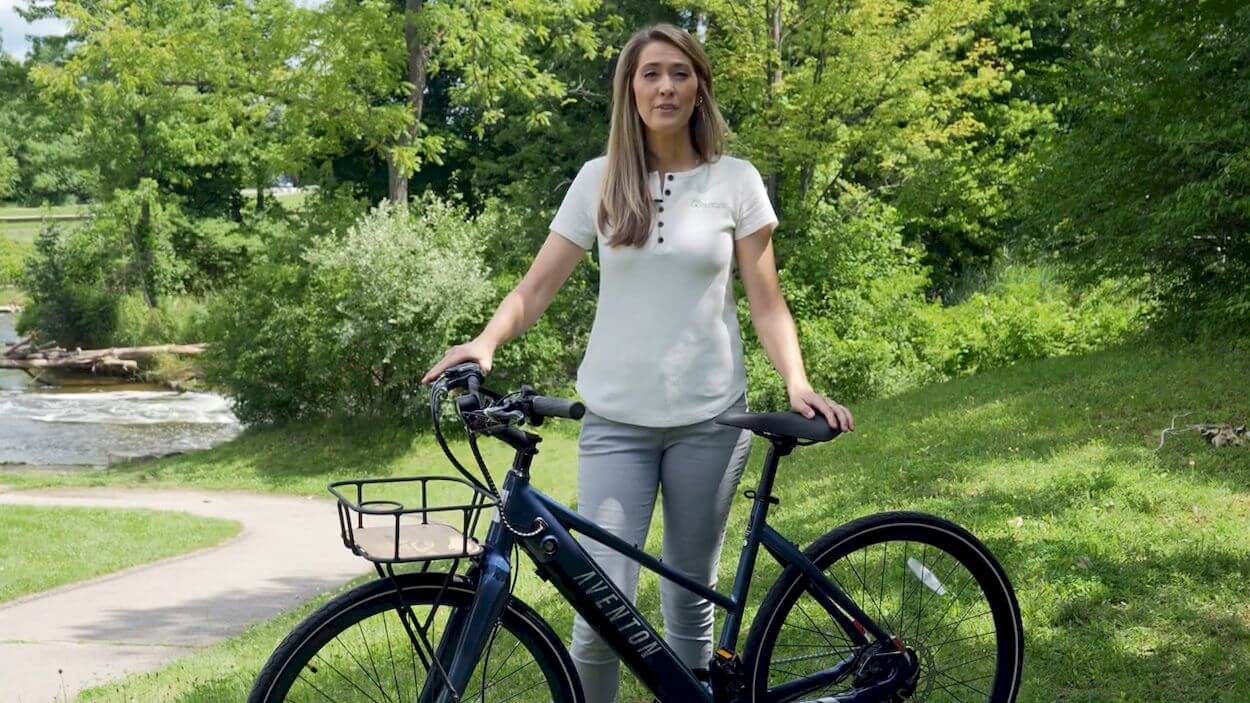 At the heart of the Soltera.2's dynamic performance is its 350-watt rear hub motor. This powerful motor provides the perfect balance of assistance, propelling you forward with ease as you pedal. The motor's intelligent design ensures a smooth and natural transition between your pedal power and electric assistance, resulting in a ride that feels intuitive and responsive.
One of the standout features of the Soltera.2 is its thumb throttle, which provides an extra boost of power when you need it most. Whether you're accelerating from a standstill, conquering a steep incline, or simply enjoying a leisurely cruise, the thumb throttle allows you to effortlessly control the level of assistance you desire. This intuitive control adds a new dimension of convenience to your ride, making it easier to navigate varying terrains and conditions.
A notable improvement over its predecessor is the addition of a torque sensor. This sensor enhances the e-bike's responsiveness by detecting the force applied to the pedals and adjusting the motor assistance accordingly. This means that the Soltera.2 is not just about speed; it's about delivering power precisely when you need it, optimizing efficiency and control.
Aventon Soltera.2: Riding and Driving test
Now, I feel the excitement coursing through me as I prepare to take the Aventon Soltera.2 out for an exhilarating adventure. With the picturesque trails and bustling streets of downtown Rochester, Michigan, as my canvas, I'm eager to put this remarkable e-bike through its paces.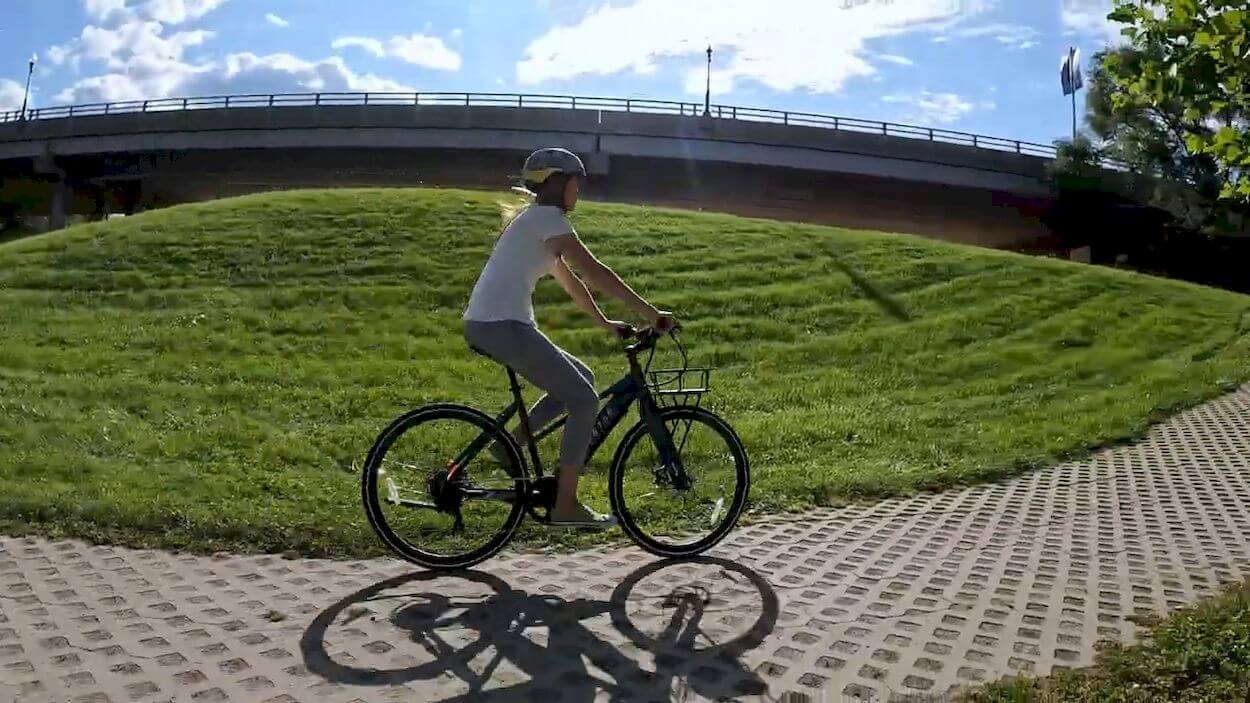 Before I set off, I don my trusty EX Needle helmet—a true companion that's designed to provide safety and comfort at speeds of up to 28 miles per hour. As I adjust the straps and secure the helmet in place, I'm reminded of the importance of protection, especially when embarking on a dynamic ride like this.
With the helmet securely fastened, I'm ready to unleash Soltera.2's potential. As I roll onto the trail, I engage the mechanical brakes. Their responsive performance assures me of their reliability and instills confidence for the ride ahead. I started pedaling without electric assist, eager to experience the bike's natural feel.
One intriguing feature that catches my attention is the unique twist shifter. A novel addition to the Aventon lineup, this shifter promises a fresh and intuitive way to control the gears. As I navigate the streets of downtown Rochester, I can't help but appreciate this new twist (pun intended) on shifting gears.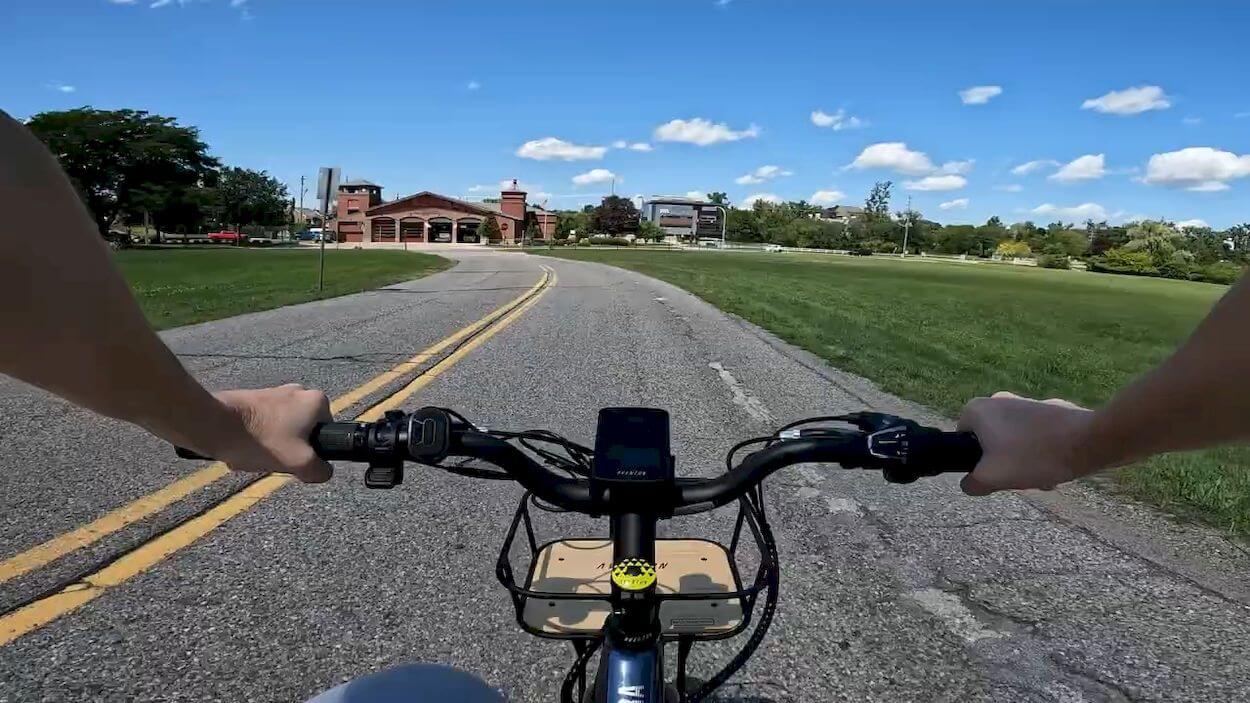 Transitioning from the gravel path to the pavement, I'm met with a noticeable change in ride quality. The Soltera.2 excels on smooth surfaces, utilizing its sleek frame and robust motor to deliver a satisfying and efficient ride. The absence of a suspension becomes evident as I encounter some bumps on the gravel, but it's a reminder that this e-bike truly shines on the open road.
One aspect I quickly notice is the saddle's design. While functional, it leans towards the thinner side, prompting thoughts of future customization for enhanced comfort. This observation underscores the importance of a supportive and comfortable saddle, especially during longer rides.
As I continue my journey aboard the Aventon Soltera.2, I find myself exploring the different pedal assist modes that this remarkable e-bike has to offer. Starting off in Eco mode, I'm immediately struck by the seamless integration of electric assistance and the intuitive feel as I begin to pedal. It's a gentle nudge that propels me forward, offering an efficient and eco-friendly way to navigate the streets.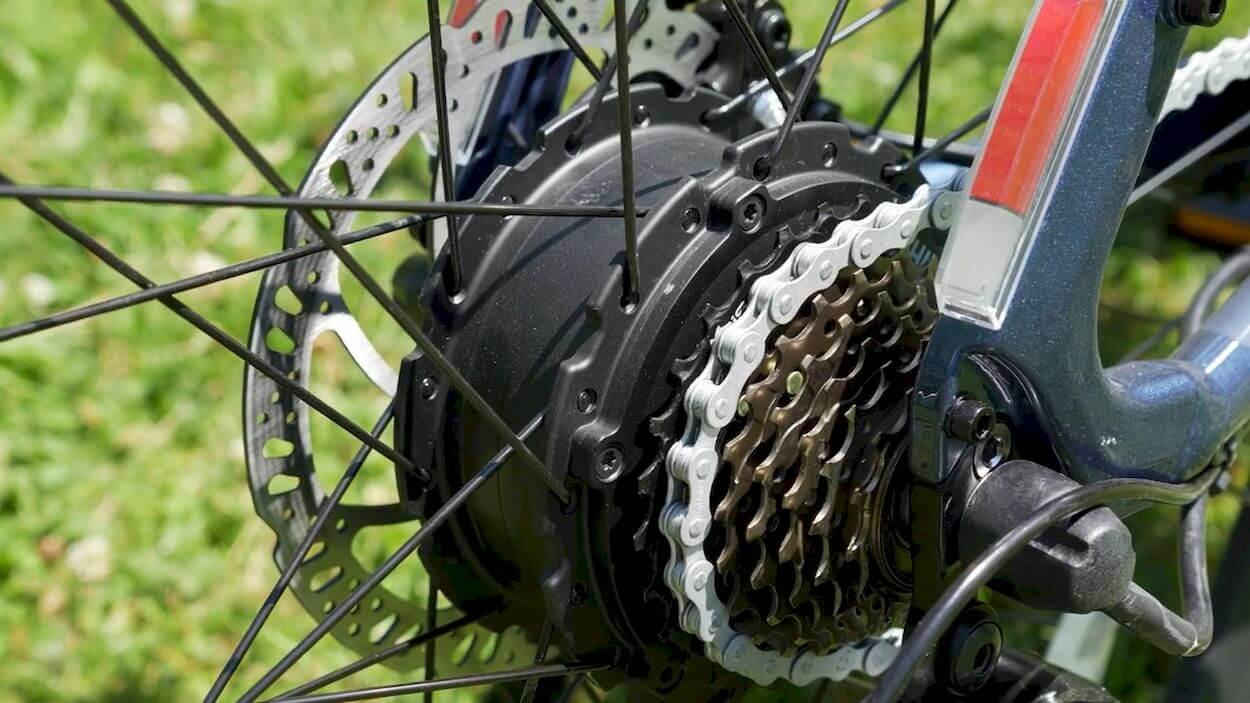 A notable change from its predecessor is the adjustment to the pedal assist modes. Aventon has refined the system, moving from five numeric modes to four named modes. Alongside Eco, there's Tour mode, Sport mode, and Turbo mode. This change brings a sense of character to the riding experience, making it easy to select the level of assistance that suits my current needs.
Eager to experience the bike's full power, I shift up to Turbo mode. In an instant, I'm propelled forward with impressive acceleration, effortlessly reaching 20 miles per hour once again. The combination of pedal assist and throttle creates a sensation of power at my fingertips, turning the urban landscape into my own personal playground.
Navigating the streets, I appreciate the thoughtful design choices that Aventon has incorporated into the Soltera.2. The comfortable grips with integrated paddles are a revelation, offering a secure and non-slip surface that enhances control and comfort. The riding position, while slightly leaned forward, contributes to a dynamic and engaged feel, especially when I engage the throttle and let the electric power surge through my veins.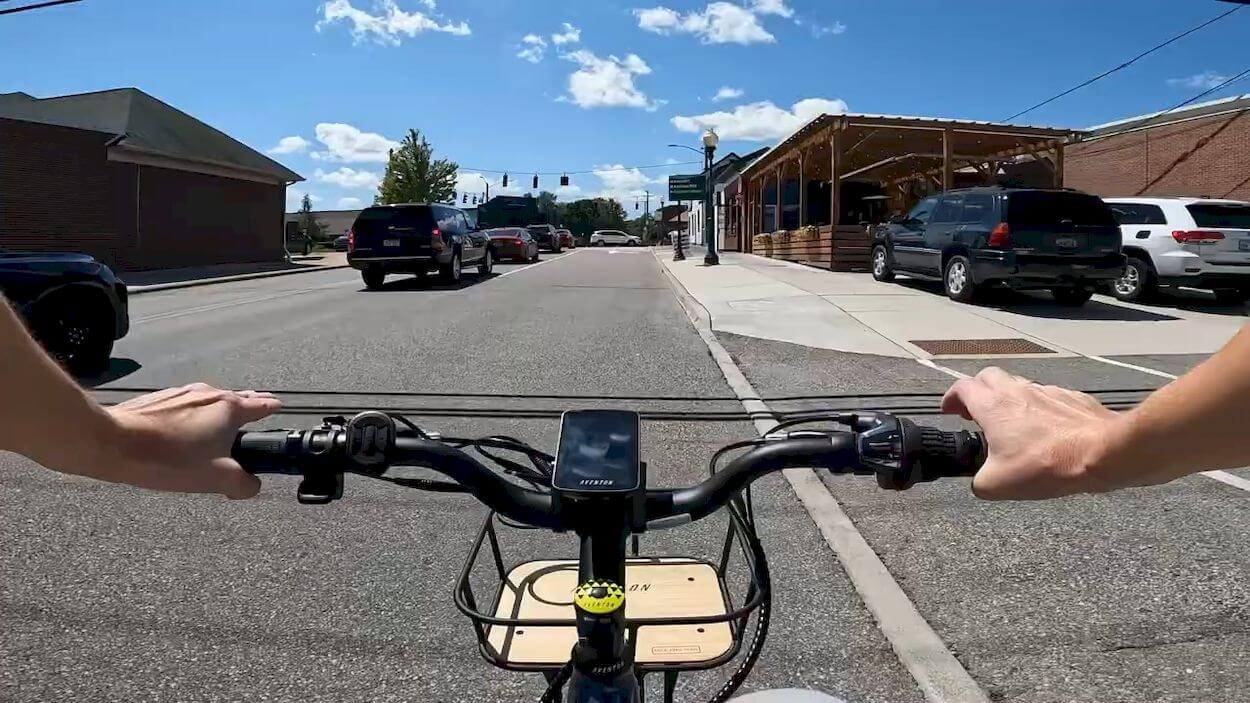 As I encounter varied terrain, I'm reminded of the absence of suspension. The bumps and imperfections on the road make their presence felt, primarily in the form of vibrations. While the lack of suspension might not be an issue on smooth city streets, it's something to consider if you plan to venture onto rougher surfaces.
One feature that I've come to appreciate is the integrated turn signals. They provide a clear and effective means of communication with fellow road users, enhancing safety and ensuring that my intentions are unmistakably conveyed. Additionally, I take a moment to address the matte finish on the screen, designed to minimize glare and provide better visibility under bright sunlight – a detail that showcases Aventon's commitment to a user-friendly riding experience.
As I power up a hill, the Soltera.2 impresses me with its hill-climbing capabilities. The motor's torque and responsive pedal assist make conquering inclines feel like a breeze, reaffirming the bike's prowess in diverse riding scenarios.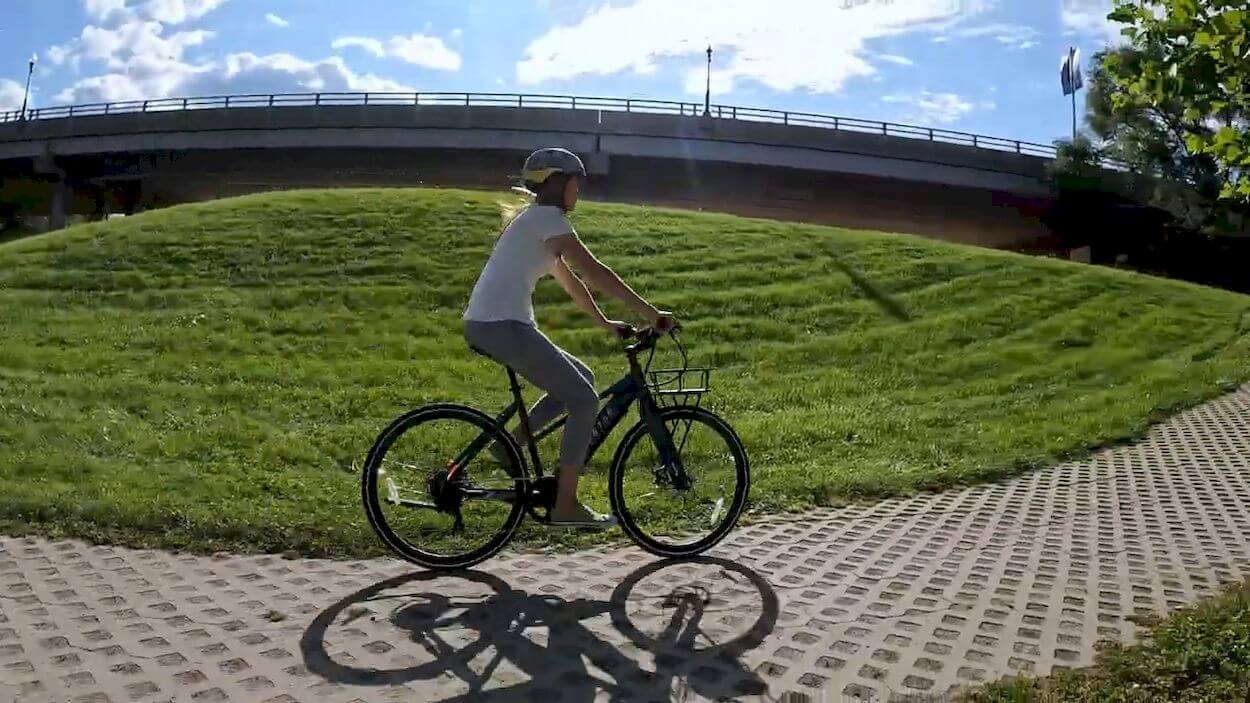 Before concluding my ride, I decided to put the throttle to the test once more. With a quick twist of my wrist, I experience an immediate surge of power that effortlessly propels me forward. It's a handy tool for quick bursts of acceleration or navigating tricky intersections with ease.
Throttle Testing
As I continue my exploration of the Aventon Soltera.2, I decide to embark on a throttle-only adventure. The takeoff is impressively smooth, a testament to the e-bike's refined engineering. The throttle's gradual pace to reach higher speeds is immediately noticeable, a deliberate design choice that ensures a comfortable and controlled acceleration. This gradual increase in speed is especially valuable for those transitioning from traditional analog bikes to the world of e-bikes.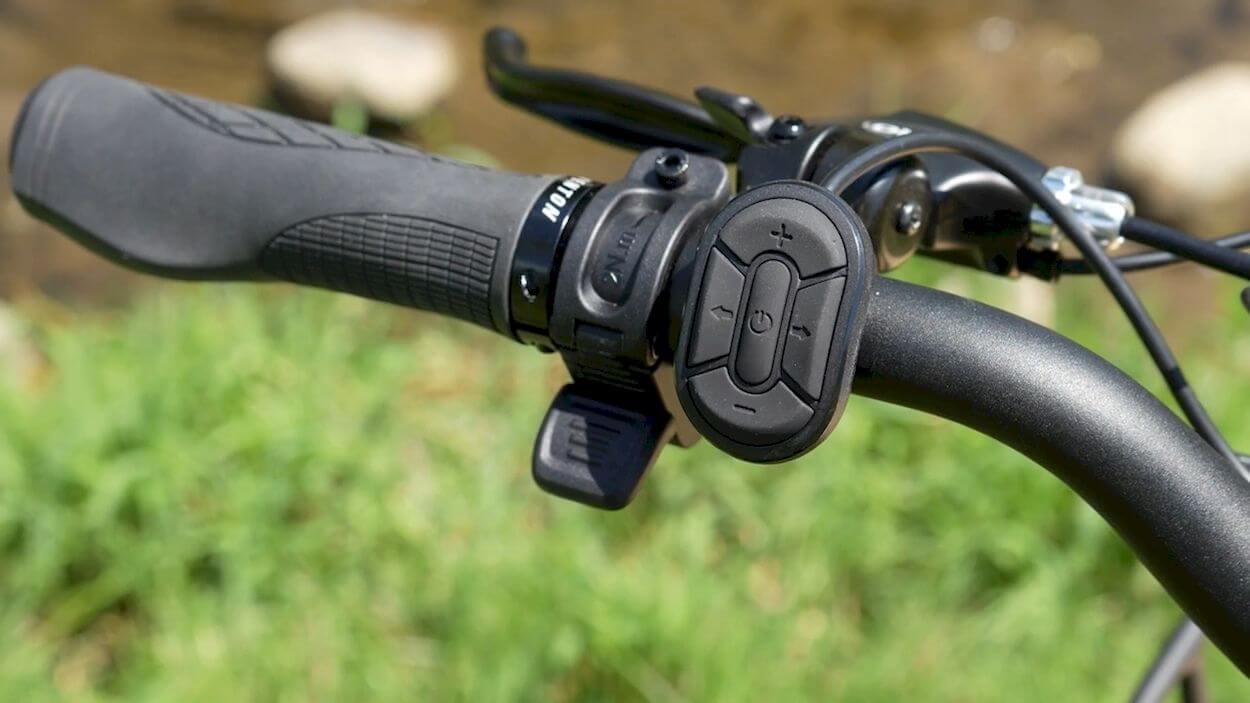 As I approach the 20-mile-per-hour mark, I find myself marveling at the e-bike's seamless performance. The throttle's responsiveness is characterized by its gradual and controlled nature, creating a sensation of ease and stability as I effortlessly reach the maximum speed limit. There are no jarring lurches or unexpected bursts of power – just a smooth and gradual surge that makes the riding experience all the more enjoyable.
Putting the mechanical brakes to the test, I'm pleasantly surprised by their reliable performance. Despite being mechanical, these brakes exhibit impressive stopping power, instilling a sense of confidence and security. While hydraulic brakes might be the gold standard for some, these mechanical brakes prove their worth, showcasing dependable braking capabilities that contribute to an overall safe riding experience.
One aspect of the Soltera.2 that immediately captures my attention is the handlebar shape. Its slightly elevated design strikes a fantastic balance between comfort and efficiency. Unlike the aggressive lean of many fitness-oriented electric bikes, the Soltera.2's handlebars offer a more relaxed and upright riding position, perfect for urban commuting and longer rides alike.
The torque sensor, a standout feature of this e-bike, continues to impress me. Its responsiveness and intuitive feel enhance the overall riding experience, providing an authentic and natural connection between rider and machine. It's a technology that effortlessly bridges the gap between traditional cycling and electric-assist, making the Soltera.2 a joy to ride.
Eco mode, I find, offers an optimal balance of power and exercise. It provides enough assistance to make the ride enjoyable and efficient while still engaging my legs in the pedaling process. For many urban commuters and casual riders, this mode could become a default choice, offering the ideal blend of convenience and physical activity.
In wrapping up my journey, I'm left with a sense of excitement and satisfaction. The Aventon Soltera.2 is a versatile and well-crafted e-bike that seamlessly integrates electric power with traditional cycling. Its thoughtful features, gradual acceleration, and comfortable design position it as an ideal choice for urban commuters and leisure riders alike. As I return from my ride, I'm left with the anticipation of many more adventures to come on this exceptional e-bike.
Battery and Range 
The Aventon Soltera.2 e-bike boasts an impressive power source in the form of its UL certified battery. This battery, meticulously designed and crafted, operates at a voltage of 36 volts and features high-quality LG cells. With a substantial 9.6 amp hour capacity, equivalent to 360 watt hours, this battery is the driving force behind the e-bike's exceptional performance and range.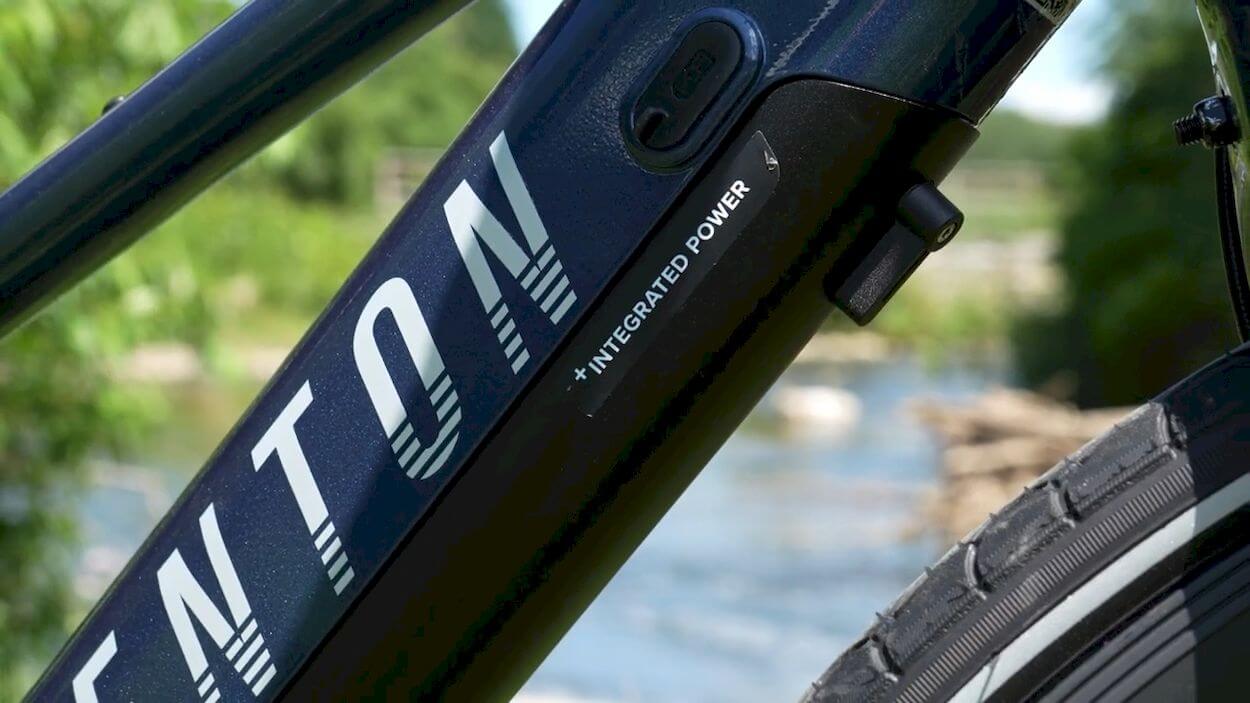 One of the standout attributes of this battery is its user-friendly design. It is ingeniously engineered to be easily removable, allowing for convenient charging both on and off the bike. This means you can effortlessly detach the battery and charge it at your convenience, whether you're at home, the office, or any other convenient location. This versatility adds an element of flexibility to your charging routine, ensuring that your Soltera.2 is always ready to hit the road.
Included with the e-bike is a 2 amp charger, tailored to the battery's specifications. This charger is designed to deliver a full charge to the battery in a remarkably efficient timeframe, typically between four to five hours. This quick charging capability ensures minimal downtime between rides, allowing you to maximize your time on the road and explore to your heart's content.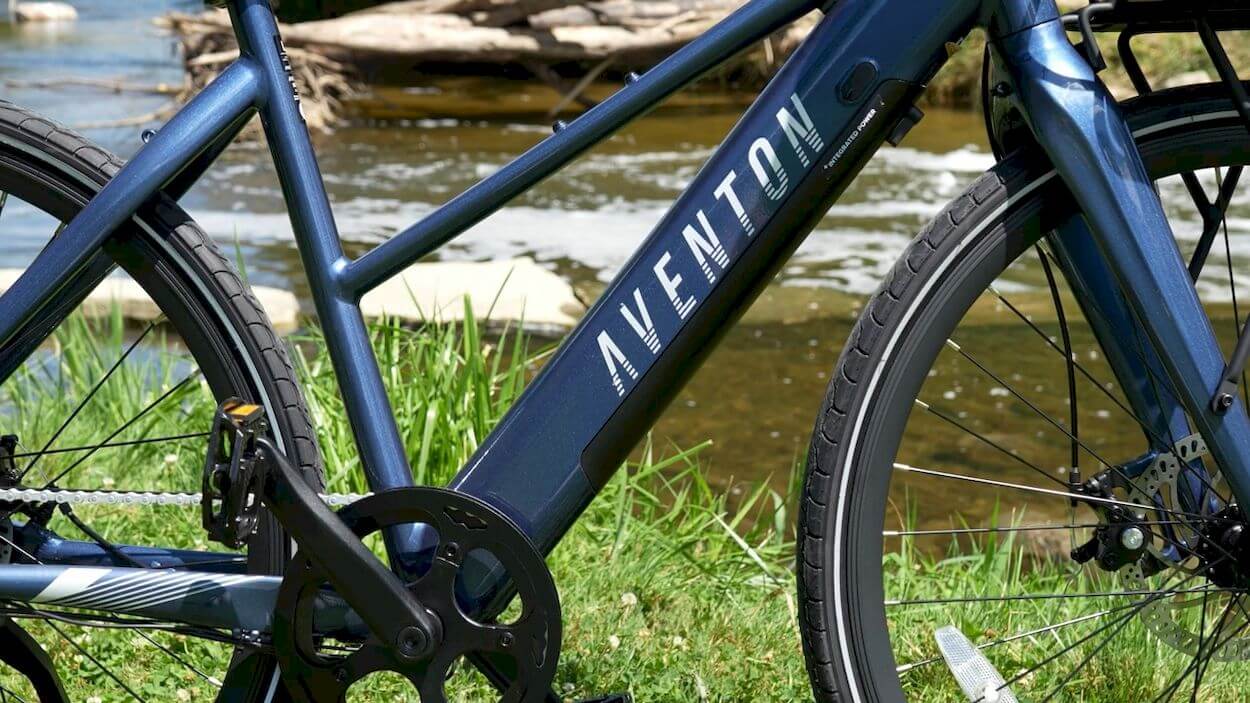 Aventon's engineering prowess truly shines through in the battery's performance and range. When paired with the e-bike's various pedal assist modes, the combination is optimized for exceptional efficiency. In Eco mode, the Soltera.2's dynamic power system can propel you to a maximum range of 46 miles, providing an impressive coverage for your urban commuting and leisurely rides.
For those moments when you're inclined to enjoy the electric power alone, the throttle-only mode still delivers an impressive range. Aventon estimates that you can achieve up to 20 miles using only the throttle. This mode offers a convenient way to navigate short trips or simply enjoy a leisurely cruise without the need for pedal input.
What would I improve?
My exhilarating day spent exploring the Aventon Soltera.2 has been an eye-opening experience, revealing both its impressive attributes and areas that could benefit from refinement. Let's start by addressing some aspects that I believe could be improved upon, before delving into the numerous positive qualities that this e-bike brings to the table.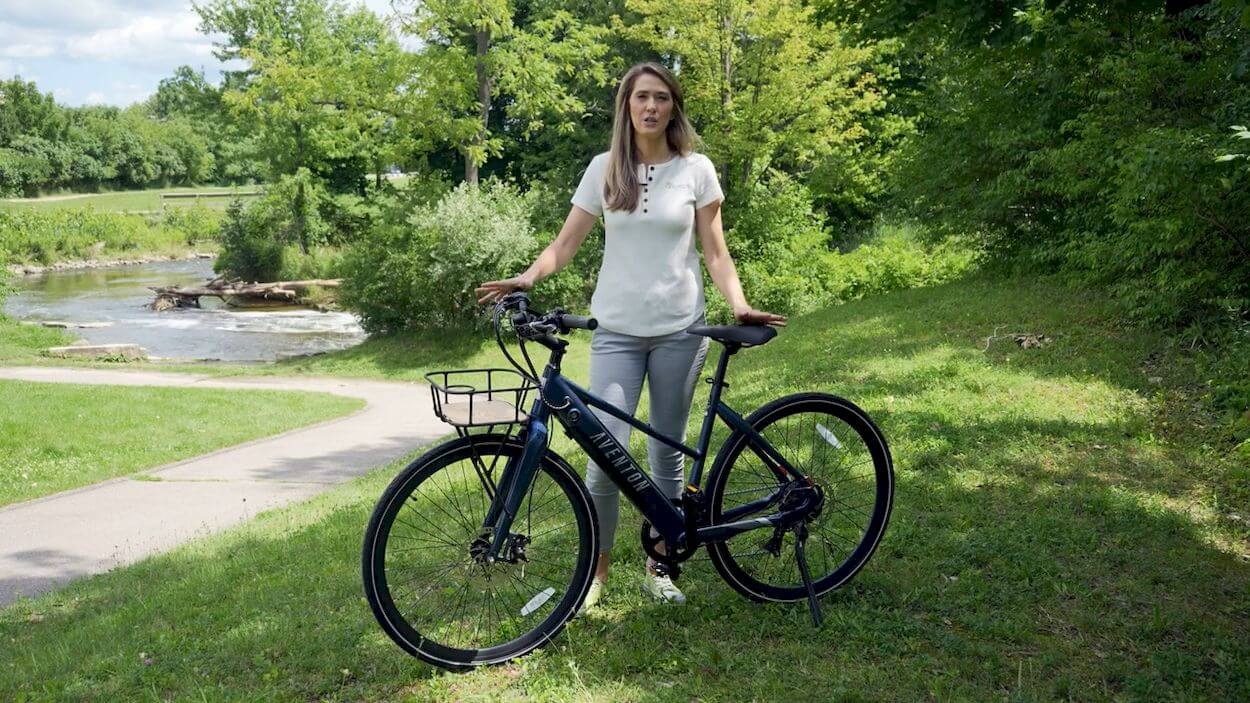 One notable point of consideration is the shifter. While the twisting mechanism functions well, the curved lens on the shifter makes it challenging to read what gear is currently engaged. For those of us accustomed to a thumb and index adjustment, this design might be less intuitive and efficient, creating room for improvement in future iterations.
Another aspect that deserves attention is the mechanical brakes. Despite the substantial 180-millimeter rotors, it takes considerable effort to bring the bike to a complete stop. Considering the Soltera.2's price point and the availability of hydraulic brakes on some competing models, integrating hydraulic brakes could enhance braking performance and rider safety.
The e-bike's weight is another consideration. While the Soltera.2 is indeed lightweight, it is marginally heavier than comparable competitors. Weight plays a role in determining range, making it crucial for riders to factor this in when planning longer journeys.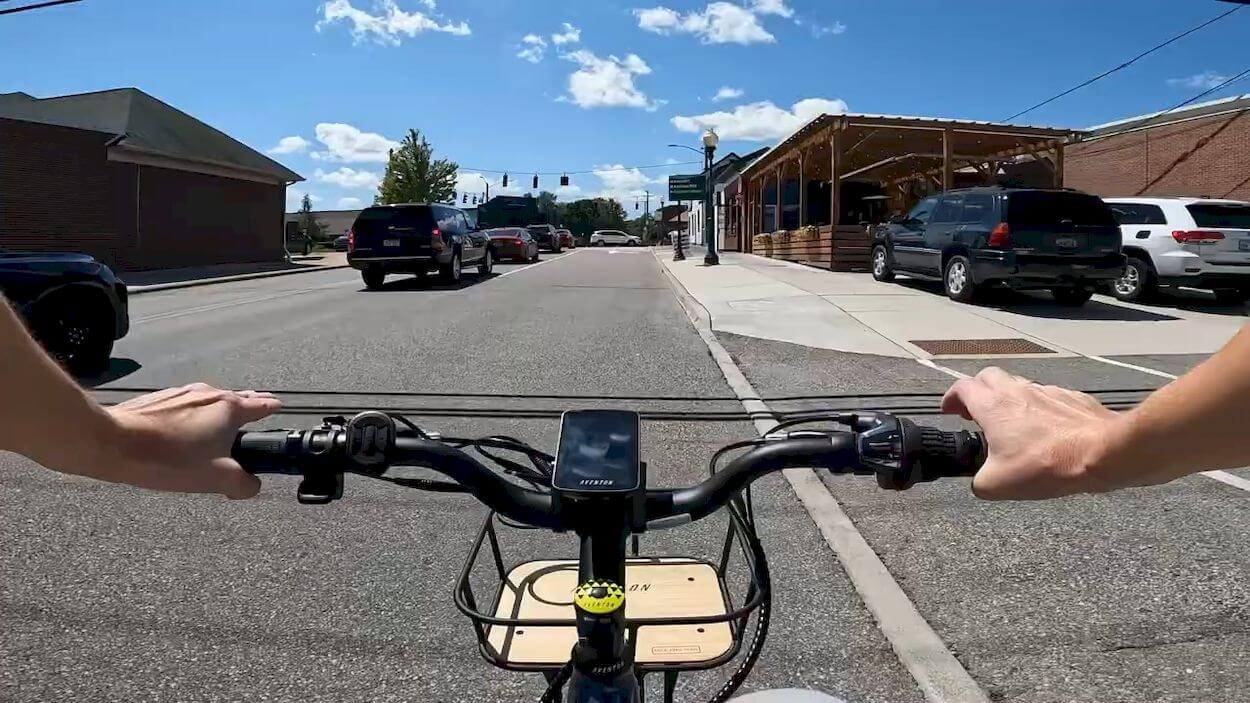 One limitation of the Soltera.2 is its capped top speed of 20 miles per hour. While this restriction optimizes battery efficiency, it falls short compared to some competitors that can reach speeds of up to 25 miles per hour. Given that this e-bike is designed for city commuting and shared roads, a higher top speed could enhance safety when riding alongside traffic.
Furthermore, cable management, while not subpar, could benefit from further attention. While Aventon's efforts are commendable, there is room for improvement in seamlessly integrating cables into the frame for a cleaner and more streamlined appearance.
In the realm of technology, Aventon's forward-thinking approach is evident in its app and computer display. However, in the context of a city bike, the addition of anti-theft protection and GPS locating features could be invaluable. Considering that some competitors offer these security measures, it's worth exploring ways to enhance Soltera.2's anti-theft capabilities.
Conclusions
In conclusion, the Aventon Soltera.2 e-bike offers a range of impressive features that cater to urban commuters and leisure riders alike. Let's delve into some of its standout positives, starting with the strength of the Aventon brand itself.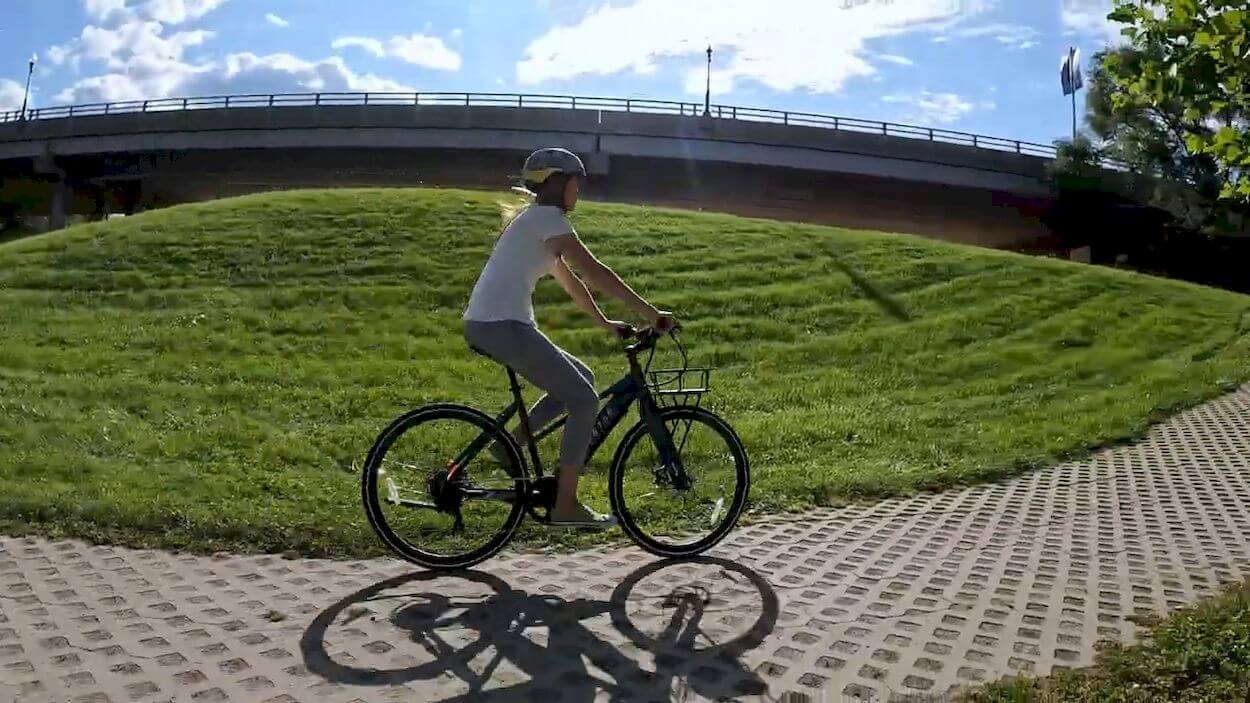 Aventon has established a reputation for delivering outstanding build quality, sleek paint finishes, and innovative technology across their e-bike lineup. The Soltera.2 is no exception, benefiting from Aventon's commitment to excellence. Notably, their user-friendly app is among the best on the market, enhancing the overall riding experience.
The integration of a torque sensor in the Soltera.2 is a triumph, creating a riding experience that feels natural and balanced. The power delivery is finely tuned, offering efficient and intuitive electric assistance that seamlessly complements your pedaling effort. It's a testament to Aventon's dedication to creating a harmonious blend of technology and human power.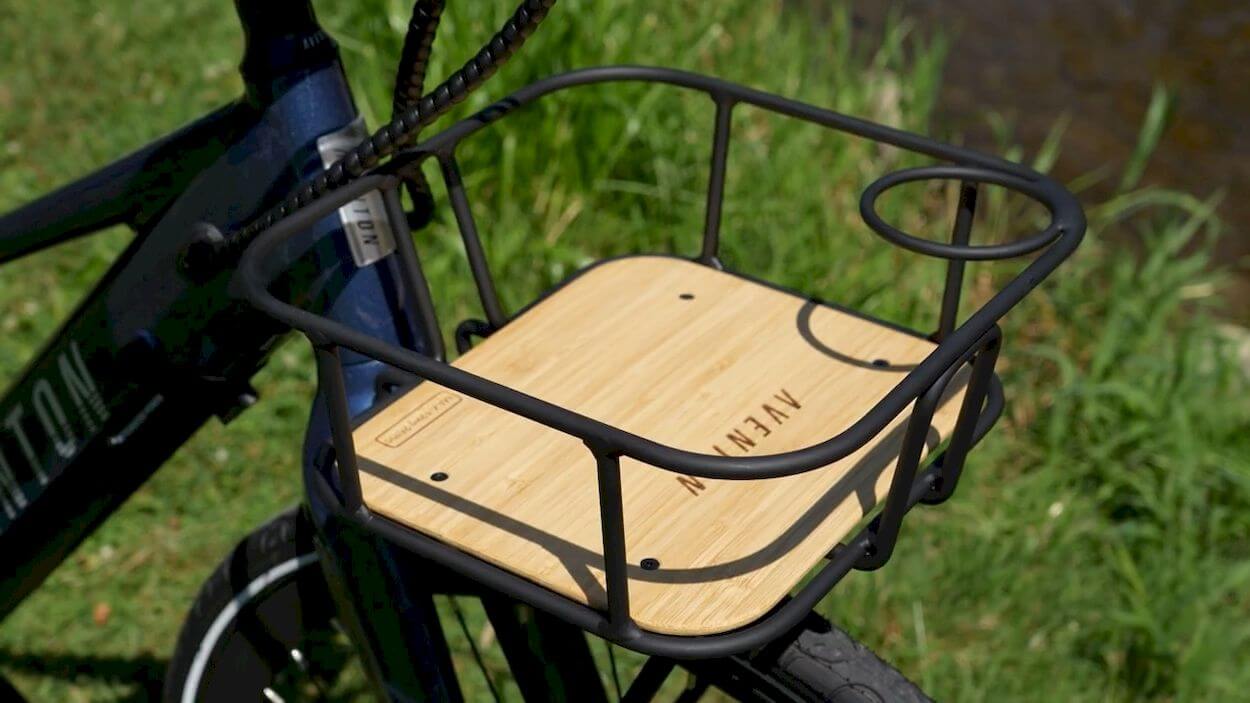 Safety takes center stage in the Soltera.2's design. The integrated lights, complete with turn signals, represent a thoughtful inclusion that enhances visibility and communication on the road. These lights, especially the distinct and easily recognizable turn signals, contribute to rider safety and make sharing the road with other vehicles a more intuitive and secure experience.
As we wrap up this review, we extend our gratitude to you for joining us. Remember, whether you're driving, flying, riding, or going electric, the journey is yours to enjoy. Until next time, stay safe, and embrace the thrill of electric exploration.
Alternatives of Aventon Soltera.2