Hey there, folks! It's Scooter from Electrik, and I'm back to introduce you to yet another fascinating twist in the world of electric mobility. Today, we're diving into the innovative realm of the 2Swift Board, a creation that blurs the lines between a skateboard, a scooter, and something altogether new and exciting. Strap in, because we're about to embark on a journey of discovery!
As for the price, the 2Swift Board's value proposition is impressive. Currently on sale for just under $1700, it offers an accessible entry point into the world of electric skateboarding. And for an even sweeter deal, don't forget to use the promo code "electric23" for an additional $50 off, making the experience even more affordable.
Stay curious, stay electrified, and join me as we unravel the mysteries of the 2Swift Board together. Who knows what incredible adventures await when we step off the beaten path and into the realm of the extraordinary? Until next time, keep exploring and keep riding on the edge of innovation!
| | |
| --- | --- |
| Motor: | 1300W peakpower |
| Hill Climb: | 15% grade |
| Tires: | 9.5 inch (241mm) pnuematic |
| Wheelbase: | 37.2 inch (945mm) |
| Ground Clearance: | 2.8 inch (71mm) |
| Motor Controller: | VESC based high quality motor controller |
| Water Resistance: | Splash resistant |
| Hardware: | Black zinc plated steel hardware |
| Battery: | 544 Wh and 43.2 volts |
| Dimensions: | 49in x 8.5in x 12in (1245mm x 216mm x 305mm) |
| Weight: | 31lbs (14kg) |
| Weight Limit: | 230lbs |
Unboxing and Assembly
Starting with the unboxing, this was easily one of the largest packages I've gotten to date and one of the simplest to unload. I essentially got the 2Swift board, a remote control, a charger, and a nifty sticker – what more do you need, honestly?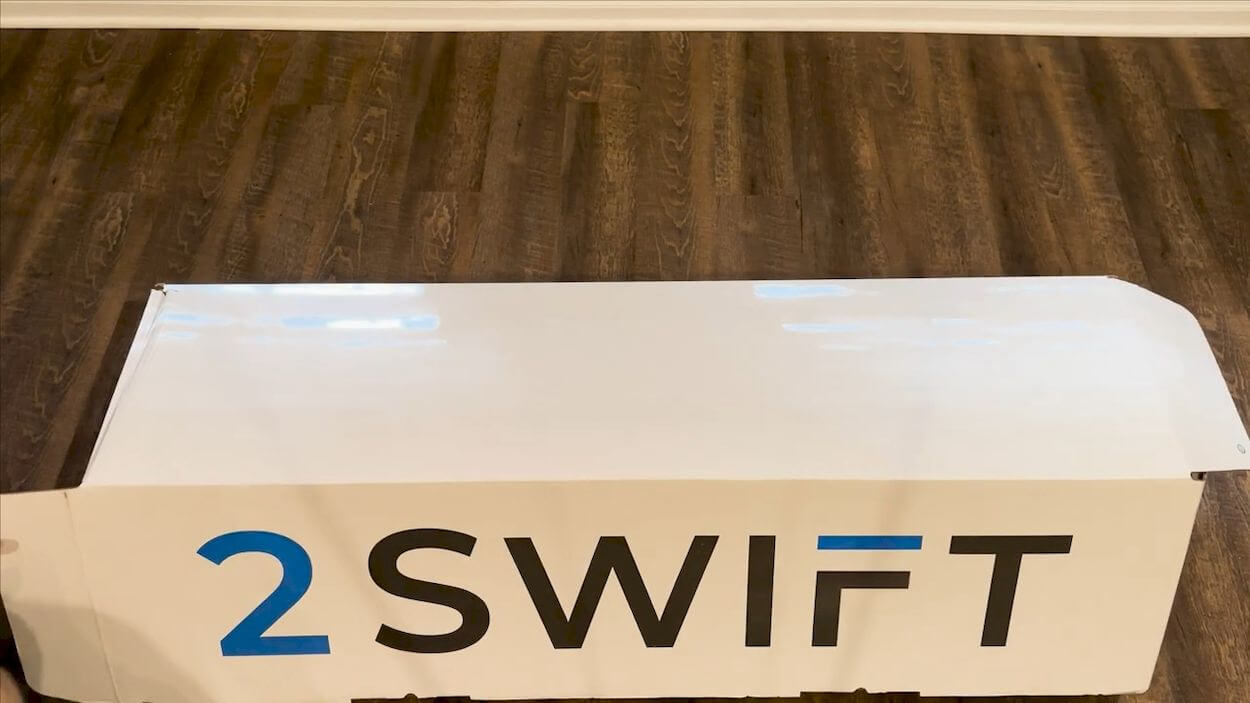 The first thing you'll notice is the radical design of this board. It's like a two-wheel scooter, but with no handlebars, which immediately sets it apart from traditional electric skateboards. The packaging itself is robust, giving you confidence that your new adventure companion has arrived intact.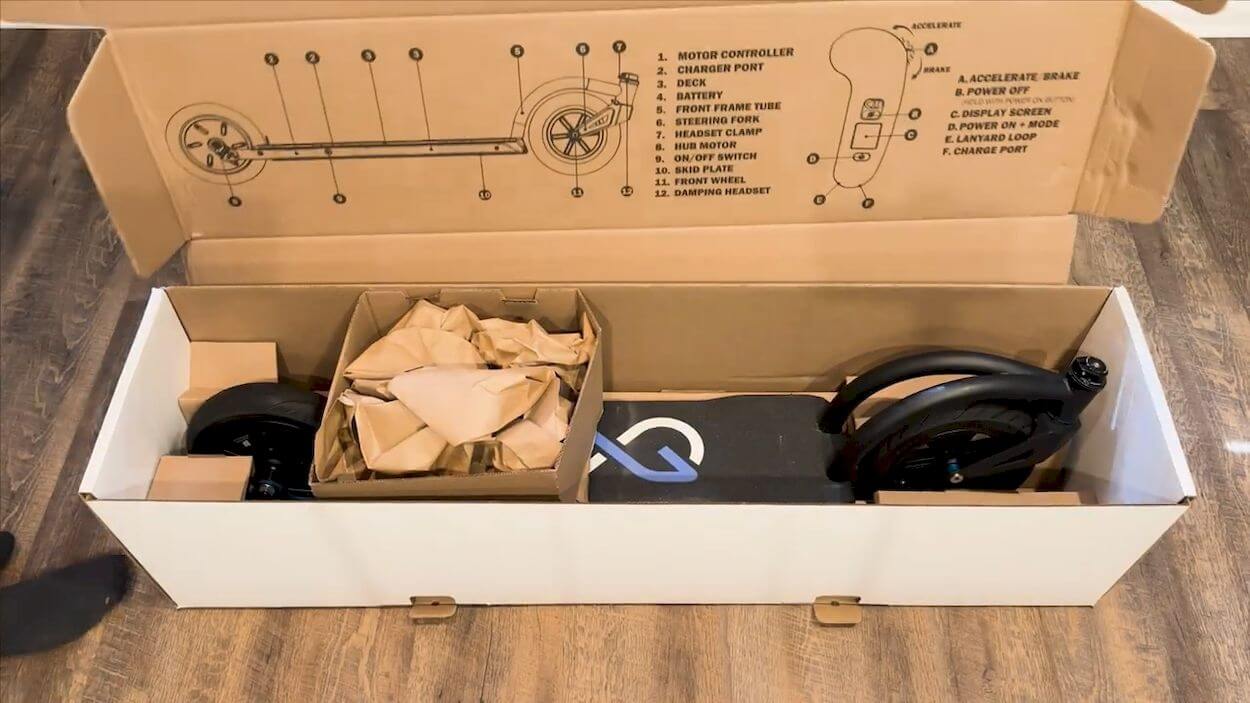 Upon opening the box, you're greeted by the 2Swift board, nestled securely within foam padding to ensure its safety during transit. It's a sight to behold – the board is a marvel of modern engineering. Sleek curves, matte-black finish, and a streamlined deck make it look like it's been plucked right out of a sci-fi movie.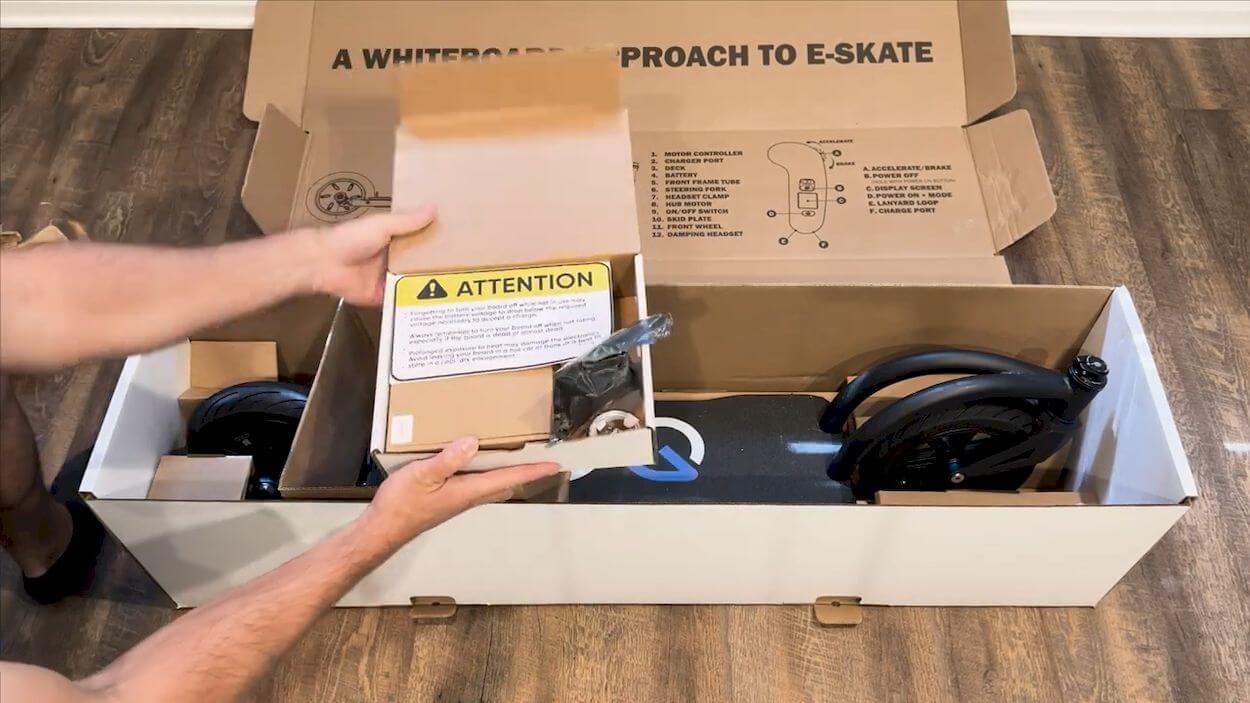 Next up is the remote control. It's compact yet feels solid in your hand. With intuitive controls and a responsive interface, you can tell right away that this isn't your average skateboard remote. It's your gateway to unlocking the full potential of the 2Swift board.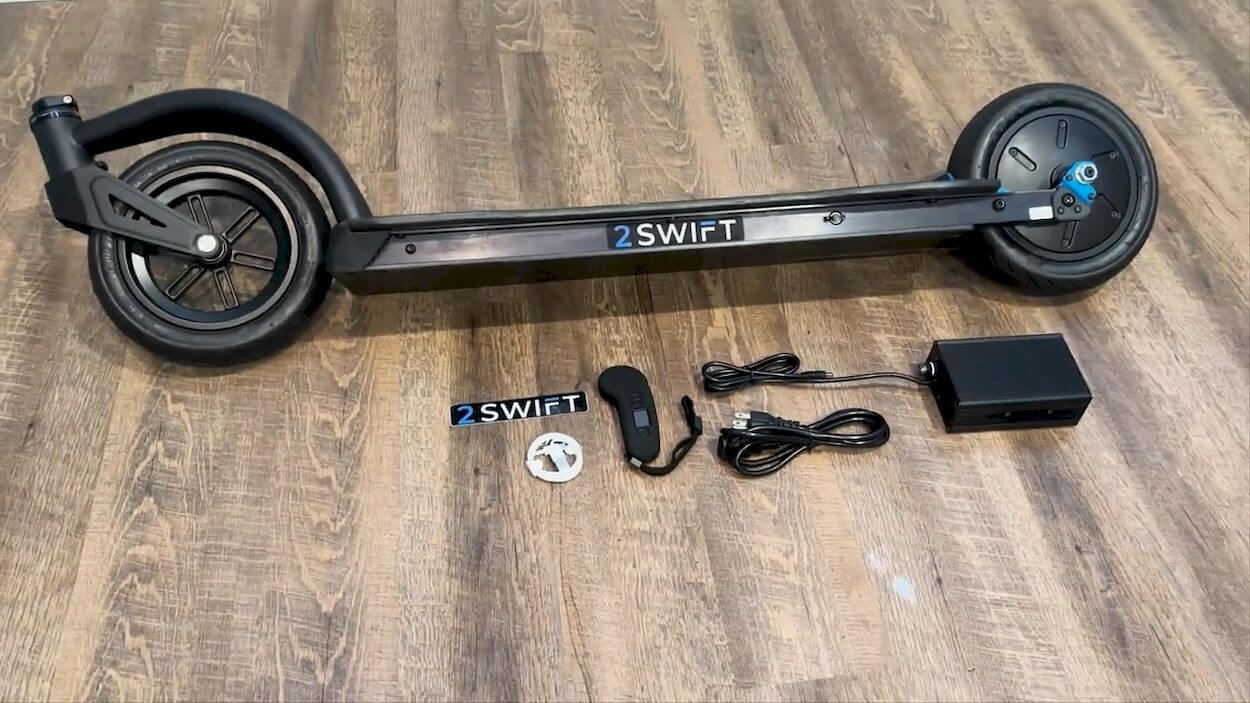 The charger is neatly tucked away, and it's clear that 2Swift has paid attention to the details. It's not just any charger; it's a key to your future rides. Plug it in, and you're one step closer to experiencing the thrill of gliding effortlessly through your city streets.
Design and Build Quality
At first glance, the 2Swift Board's design and build quality are striking, showcasing a harmonious blend of innovation and durability. From the very top, your eyes are drawn to the unique features that make this electric skateboard stand out in the market.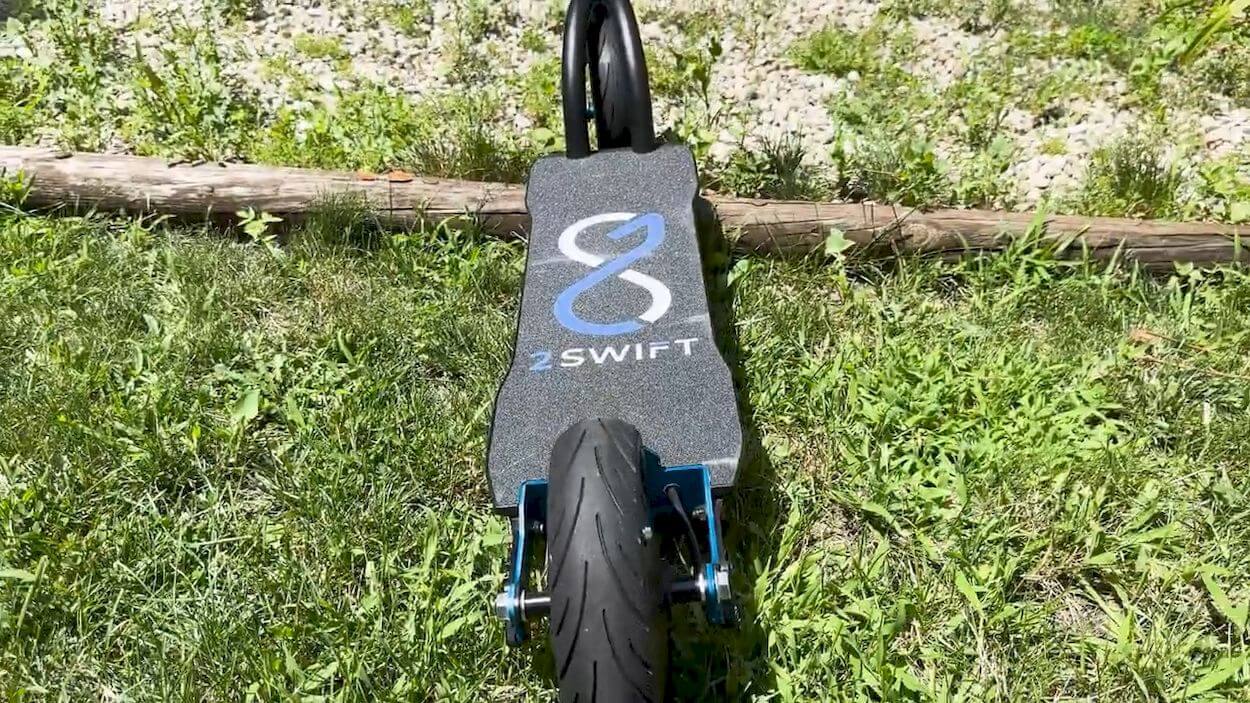 Starting from the top, the Jessup Ultra grip tape not only serves as a practical element but also displays the 2Swift brand's two-strip logo. This logo is a subtle yet distinctive mark that encapsulates the brand's identity, setting the board apart in the sea of electric skateboards.
: Direct your attention to the underside of the board, and you'll find a massive bash plate. This isn't just a design choice – it's a testament to the board's durability and commitment to keeping the battery secure across all types of terrain. Whether you're gliding through smooth pavement or tackling rough paths, the bash plate ensures the board's vital components remain safe.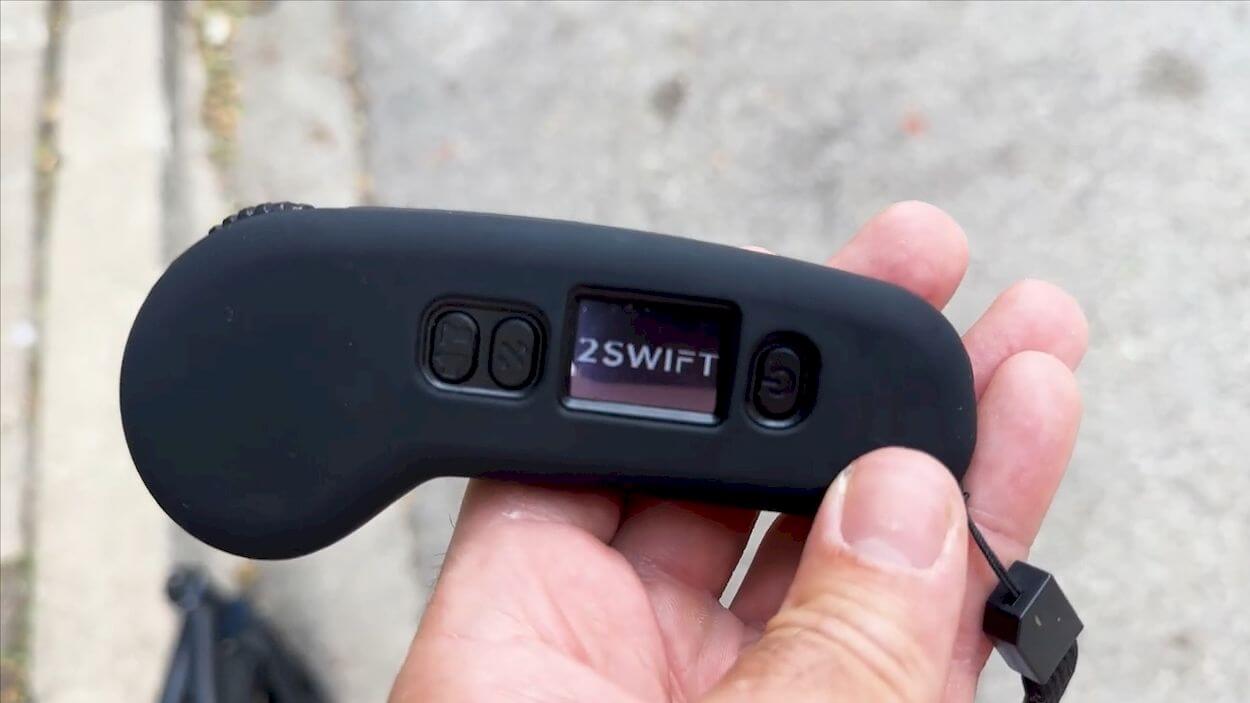 But what truly catches your eye is the 9.5-inch pneumatic tire. As you see it spin, you can't help but appreciate the engineering that's gone into creating a tire capable of conquering various surfaces with ease. The tire is a visual representation of the 2Swift Board's commitment to providing a smooth and stable ride, regardless of the conditions.
As you take in the entirety of the board, it becomes evident that this is a well-crafted piece of technology. The board is constructed using aerospace-grade lightweight tubing, a material chosen for its balance between strength and weight. 
While the 2Swift Board boasts a lightweight tubing, its sheer size gives it a certain heft. This is not a drawback; instead, it's an indication of the board's robustness. The size contributes to stability and provides a comfortable platform for riders of various statures, ensuring a secure and enjoyable riding experience.
So, the design and build quality of the 2Swift Board radiate a sense of purpose and care. Every element has been meticulously considered to provide riders with a premium electric skateboard that not only performs admirably but also stands as a work of art in its own right. From aerospace-grade tubing to the bash plate and pneumatic tire, each component plays a role in delivering a ride that's as smooth as it is exhilarating. The 2Swift Board isn't just a means of transportation; it's a statement of style and innovation.
Motor and Battery
Before we dive into the motor, let's address the power source: the battery pack. Charging this beast is a breeze, and it's apparent that user convenience has been a priority. Simply plug in the charger and connect it to both the board and the remote – a testament to the thoughtfulness put into the overall user experience.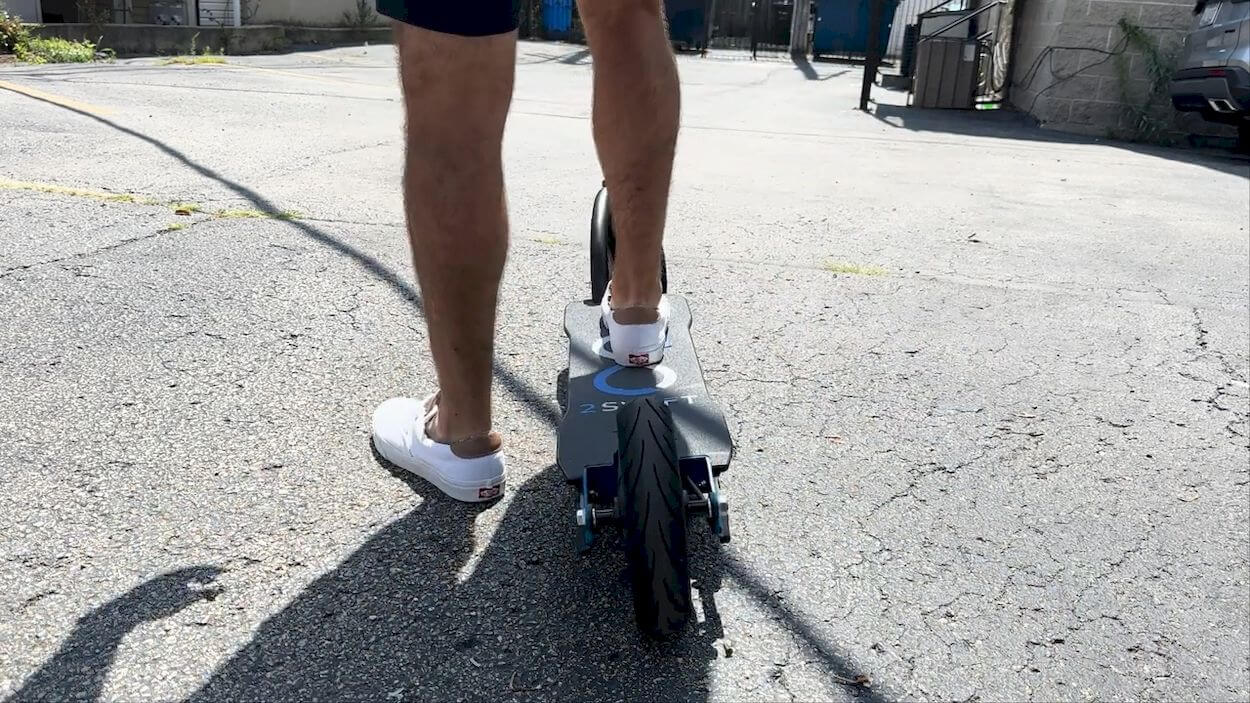 The battery pack houses an impressive 544 watt-hours of energy, giving the board the necessary juice to take you on extended journeys. This is where the 2Swift Board's range and power come to life. With this battery capacity, you can confidently explore your surroundings without worrying about running out of power.
The motor is where the magic happens, and the 2Swift doesn't disappoint. A rear hub motor sits at the heart of this electric skateboard, capable of harnessing 1300 watts of power. This translates to thrilling acceleration and an impressive top speed that can reach up to 24 miles per hour – a sensation of wind and freedom like no other.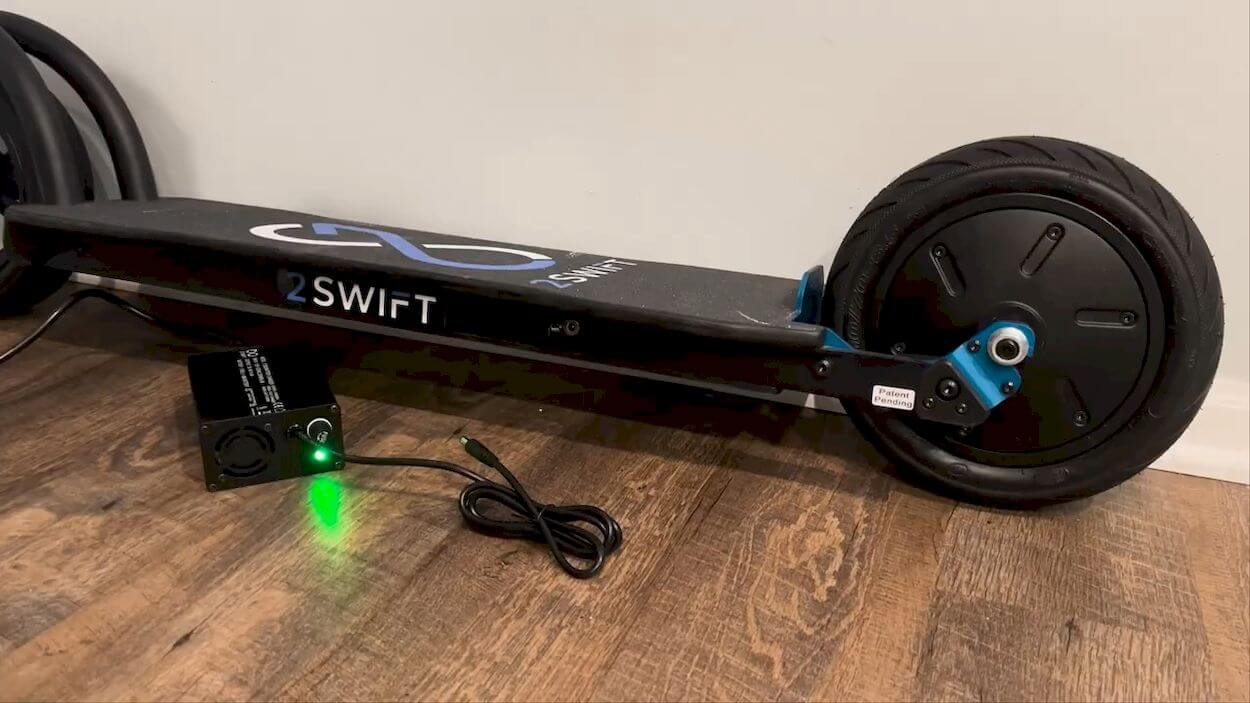 The synergy between the battery pack and motor results in more than just speed. The 2Swift Board can travel between 16 to 21 miles on a single charge, offering the freedom to explore your city or surroundings without worrying about battery life. And for those uphill adventures, the board can handle a 15-degree grade hill climb, ensuring you can conquer those challenging terrains with ease.
2Swift Board:
Driving Test
Prefacing my initial ride attempt on the 2Swift Board, I must admit that I had undertaken zero research on how to ride this innovative splitboard. Armed with sheer excitement, I decided to take the plunge, disregarding caution, and diving headfirst into this electrifying adventure.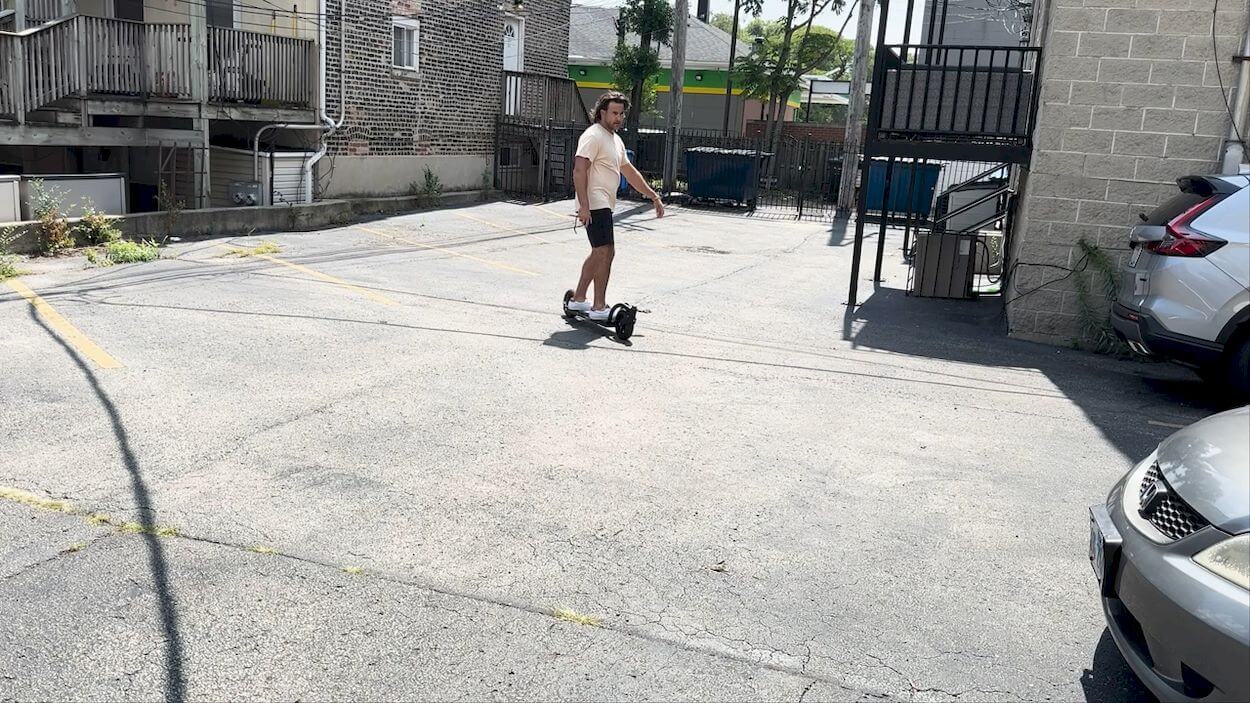 However, the reality hit me hard. I quickly learned that riding the 2Swift Board was easier said than done. The most significant challenge was getting the board in motion initially. This turned out to be the initial hurdle to overcome, but after a bit of perseverance and determination, I finally managed to get the wheels rolling.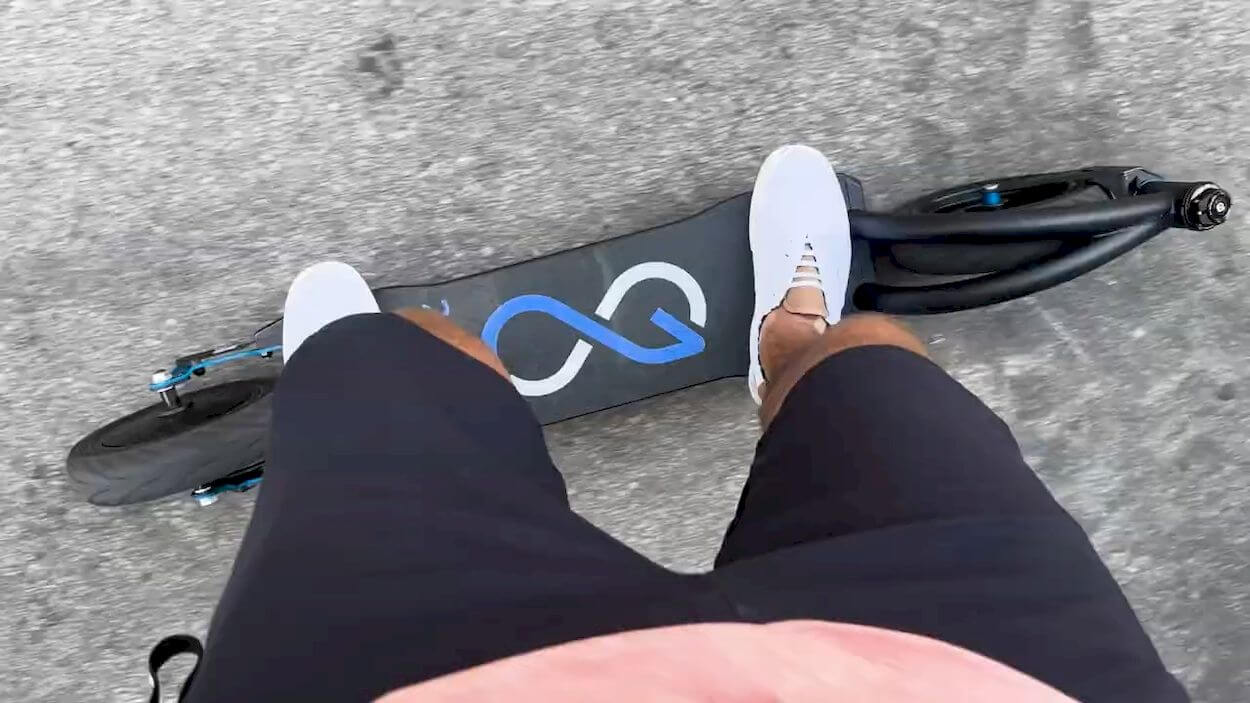 With wheels turning, a look of pure joy spread across my face as I executed my first turn. Carving on the 2Swift was an exhilarating experience that brought back memories of gliding down mountains on a snowboard. Though I stumbled a couple of times, I started to find my rhythm and gain more confidence in controlling the board.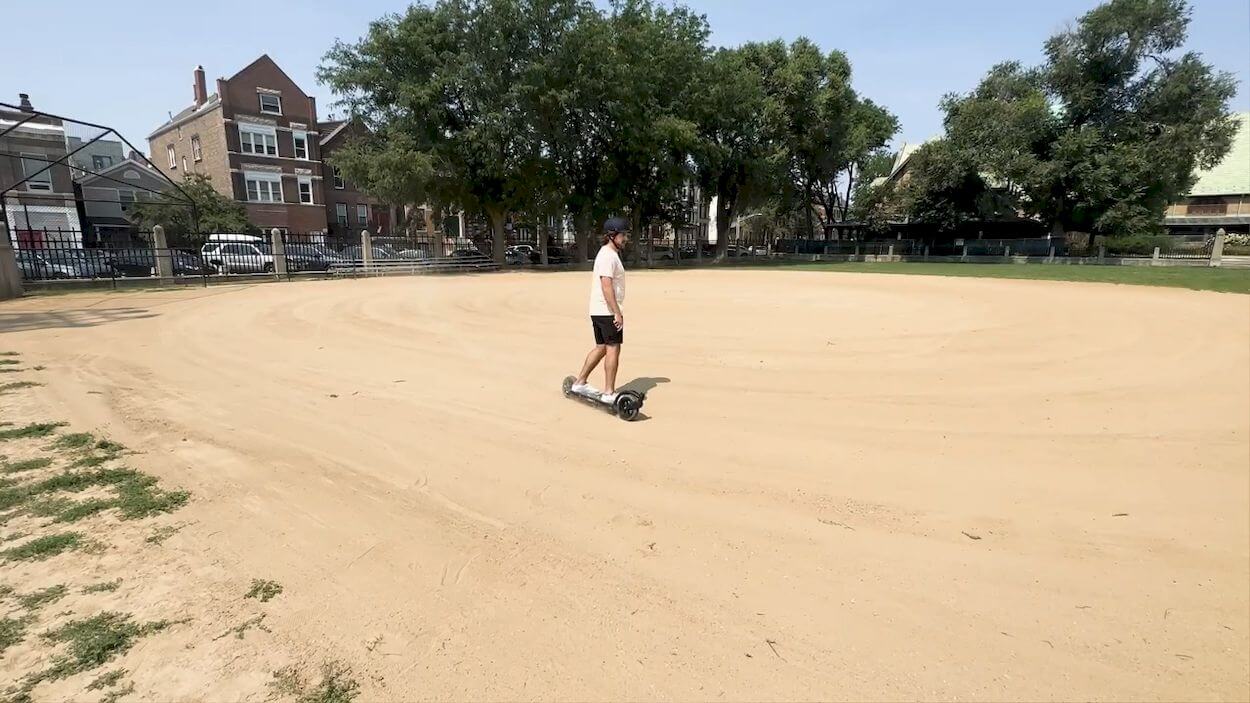 Taking my adventure to the streets of Chicago, I encountered a variety of surfaces. The mountain bike-grade headset with high-quality steering bearings and the built-in steering damper proved to be assets as they helped me maintain control even over uneven terrains. Paving cracks, cobblestones, and speed bumps were mere trivialities for the 2Swift Board. I even caught a bit of air while navigating speed bumps at full speed, adding an extra layer of excitement.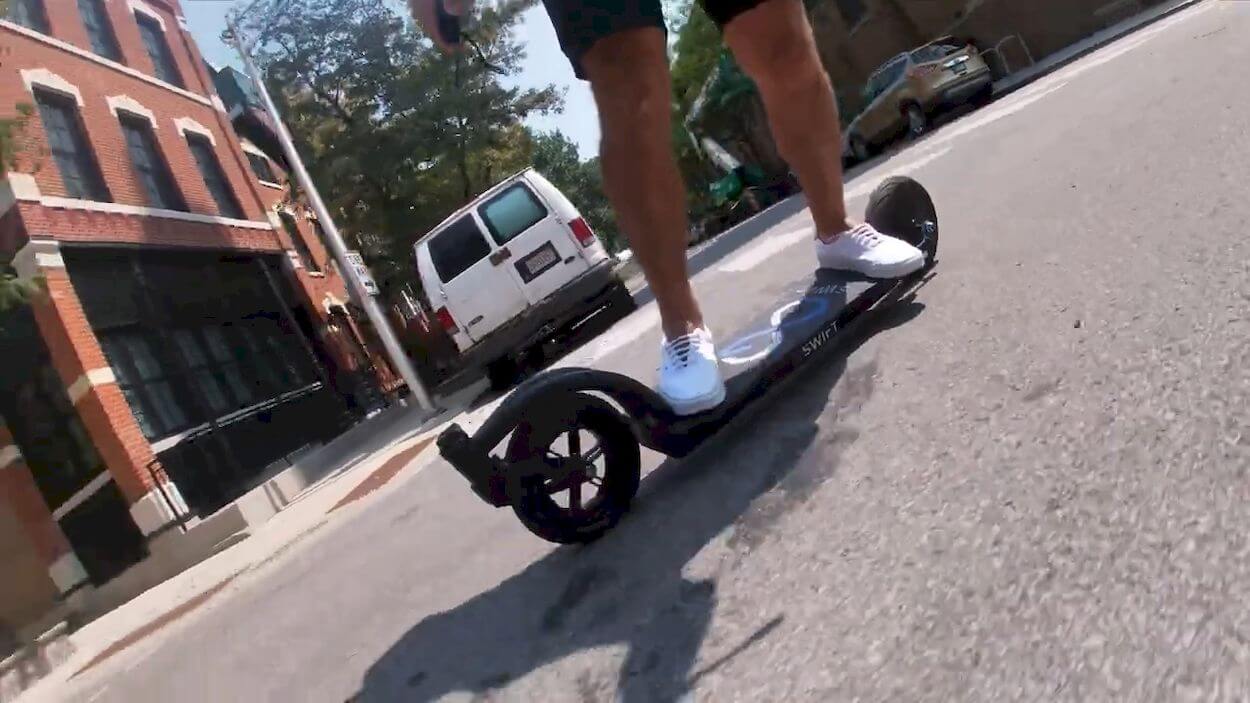 It's amazing how quickly you can adapt to the 2Swift Board. As a snowboarder for years, riding this electric skateboard felt reminiscent of carving down a snow-covered slope, albeit on flatter terrain. The transition felt seamless, and before I knew it, I was one with the board, gliding smoothly through the cityscape.
One of the standout features of the 2Swift Board is its all-terrain capability. I took it through dirt, grass, and fields without hesitation. The board effortlessly cut through various surfaces, offering an array of exploration possibilities. While some bumps and vibrations were noticeable due to the lack of real suspension, the versatility of the board made up for it.
Conclusions
Without a doubt, the 2Swift Board has quickly become one of the most enjoyable machines I've ever had the privilege of riding. Its ability to transform my daily routine into an electrifying adventure has been nothing short of exhilarating, and I can confidently say that it's now an integral part of my day-to-day life.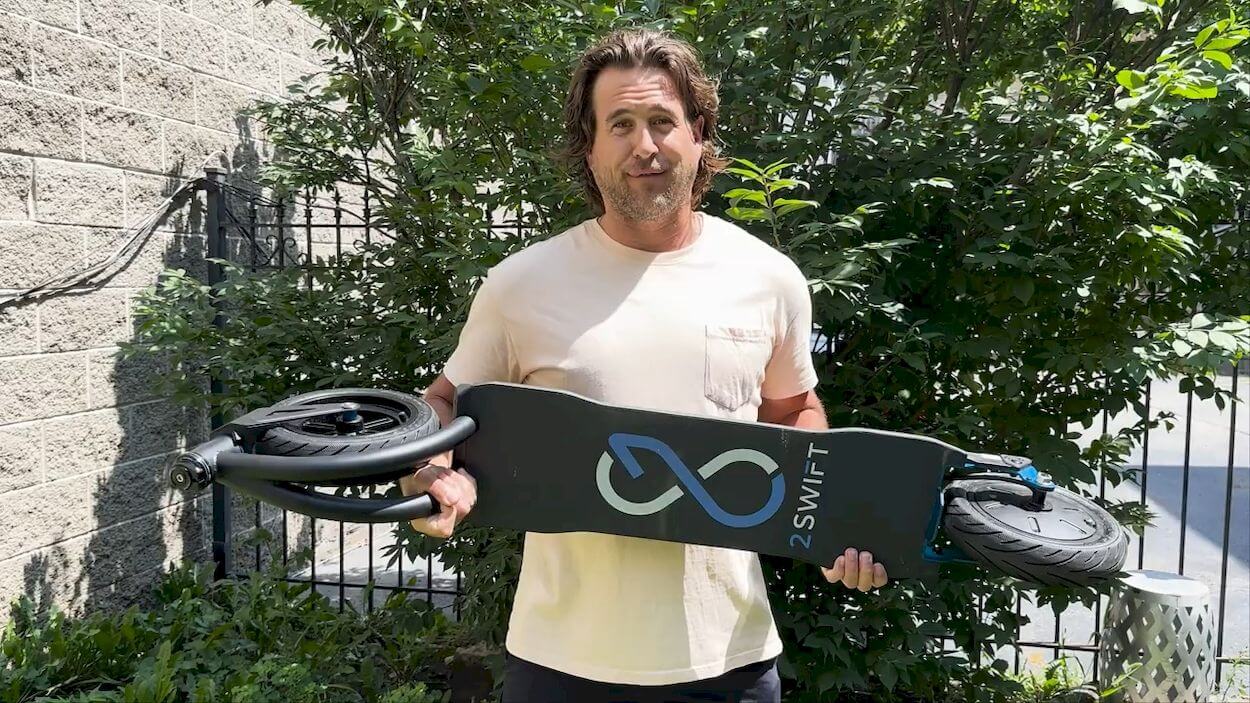 The sheer fun that the 2Swift Board brings to the table is hard to put into words. Gliding through the streets with wind in my hair, carving effortlessly, and feeling a connection with the road that's unparalleled – it's an experience that has etched itself into my memory. Each ride feels like a new chapter in the story of exploration and excitement.
Of course, no ride is without its quirks. I've encountered a couple of minor issues with the 2Swift Board. Its weight and bulkiness can make navigating stairs in my apartment building a bit of a challenge. Additionally, getting the board going from a standstill takes a bit of effort. However, these nuances, while present, don't overshadow the immense joy the board brings.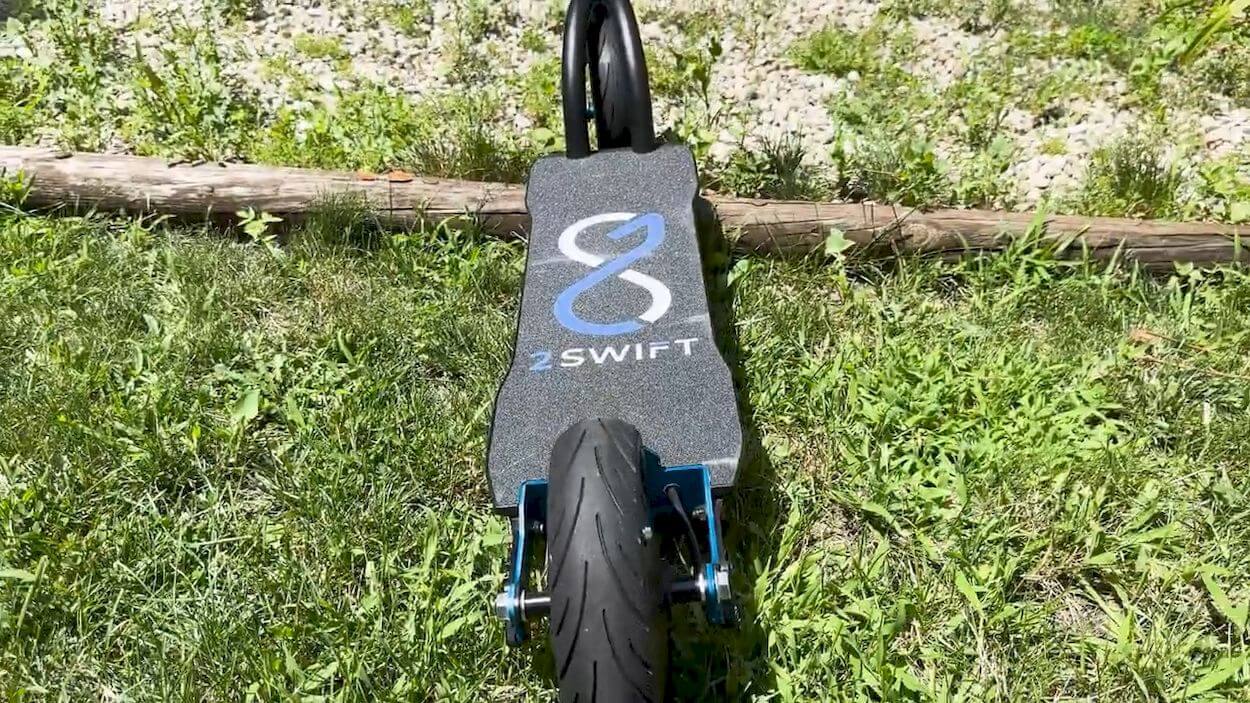 It's important to note that these minor cons should in no way dissuade you from experiencing the 2Swift Board for yourself. The weight and bulkiness are a small trade-off for the sheer enjoyment it offers on the streets. The initial challenge of getting it moving is quickly mastered with practice, and the rewards far outweigh the effort.
The 2Swift Board has redefined the way I explore, commute, and have fun. So, whether you're a seasoned rider or new to the world of electric skateboards, the 2Swift is a thrilling machine that promises to put a smile on your face and a spark of excitement in your daily life. Adios, and happy riding!
Alternatives of 2Swift Board