Hello, e-bike enthusiasts! This is Forest from Electric Bike Report, and today, we're taking a closer look at the Murf Higgs Step-Thru utility electric bike. The Higgs St is designed to meet the demands of shorter riders who have often struggled to find a utility e-bike that truly fits their size requirements. But don't be mistaken; this is no kids' bike. With its robust 52-volt electrical system, the Higgs St means business.
The Murf Higgs Step-Thru utility electric bike comes with a price tag of $2,395. This pricing positions it as a competitive and affordable option in the e-bike market, especially considering its features, capabilities, and the level of customization it offers for shorter riders. 
The question we're here to answer today is whether the Murf Higgs Step-Thru lives up to the expectations set by Murf's reputation. Does it deliver the performance and ride quality that riders are hoping for? Stick around as we dive deep into the details to find out.
| | |
| --- | --- |
| Frame: | 6061 Aluminum Alloy |
| Motor: | 500W nominal (750W max) rear hub |
| Class | Class 2 or 3 |
| Top speed: | 25 MPH |
| Pedal assist: | Five-level |
| Throttle: | Thumb throttle (for off road use only) |
| Tires: | 20" x 4" fat tire |
| Brake: | Hydraulic disk brakes |
| Battery: | 15 Ah, 52V, Samsung |
| Range: | 60+ miles |
| Weight capacity: | 250 lbs |
| Bike weight: | 65 lbs |
Design and Build Quality
The Murf Higgs Step-Thru electric bike is a game-changer for shorter riders who have long struggled to find e-bikes that are specially designed for their needs. Murf, an electric bike company based in San Clemente, California, has truly listened to the needs of these riders and developed the Higgs St to cater to them.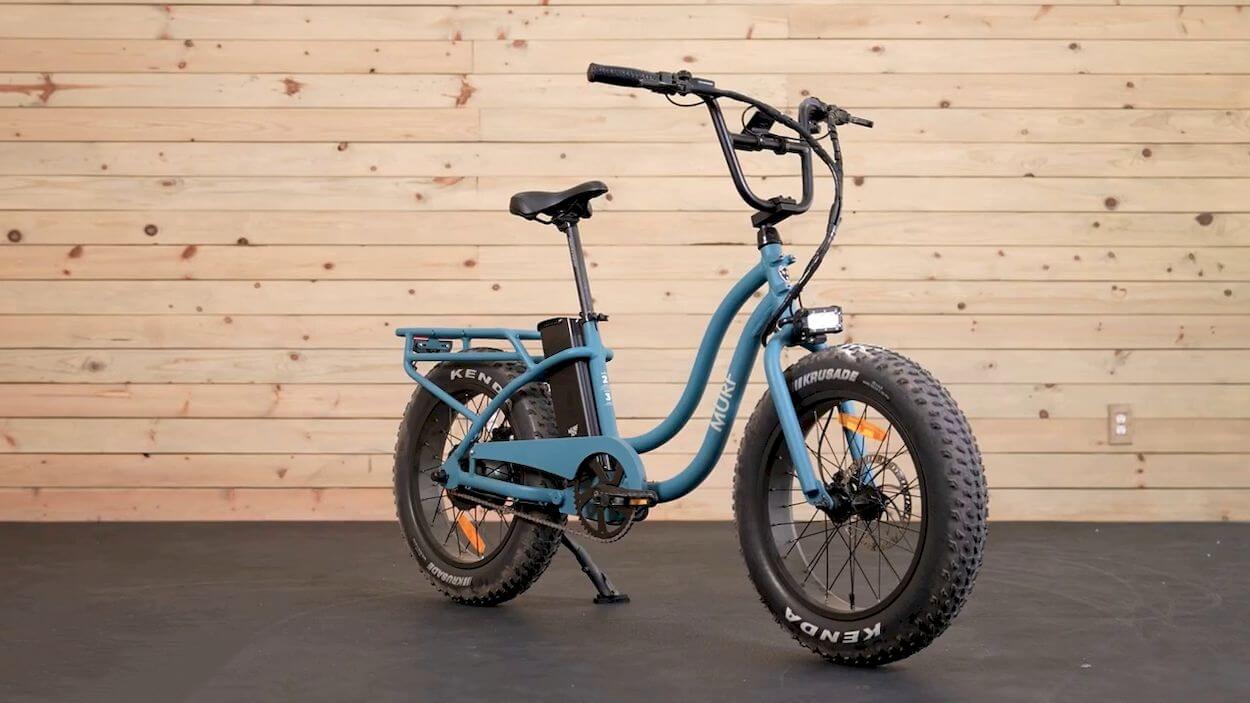 One of the standout features of the Higgs St is its compact frame, which is smaller than most e-bikes on the market. This design element makes it exceptionally easy for shorter riders to mount the bike, maneuver it, and place their feet securely on the ground when seated. The adjustable seat, which can drop down to 28 inches, ensures that riders of varying heights, from 4 foot 11 to 5 foot 10, can find their ideal riding position. This level of customization is crucial for ensuring a comfortable and ergonomic ride.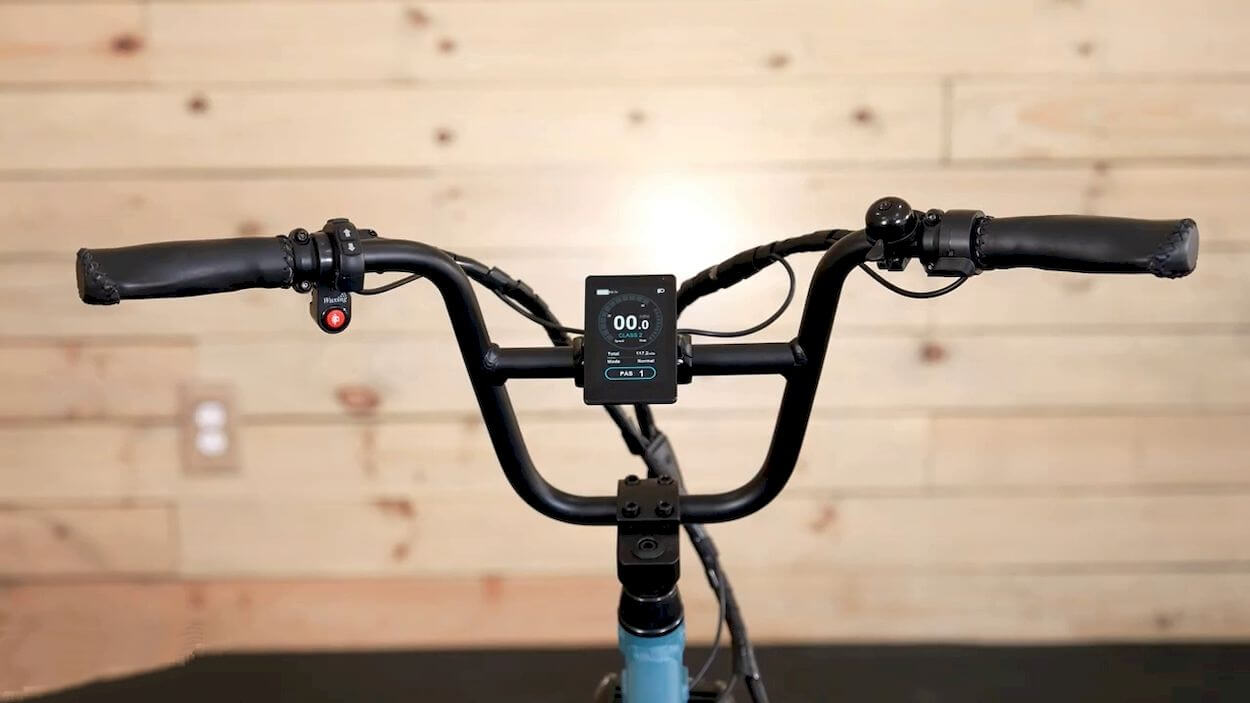 The medium-sized frame, riser handlebars, and comfortable saddle work in harmony to create an e-bike that feels like it was tailor-made for shorter riders. It's not just about fitting the frame; it's about creating a bike that provides a comfortable and enjoyable riding experience.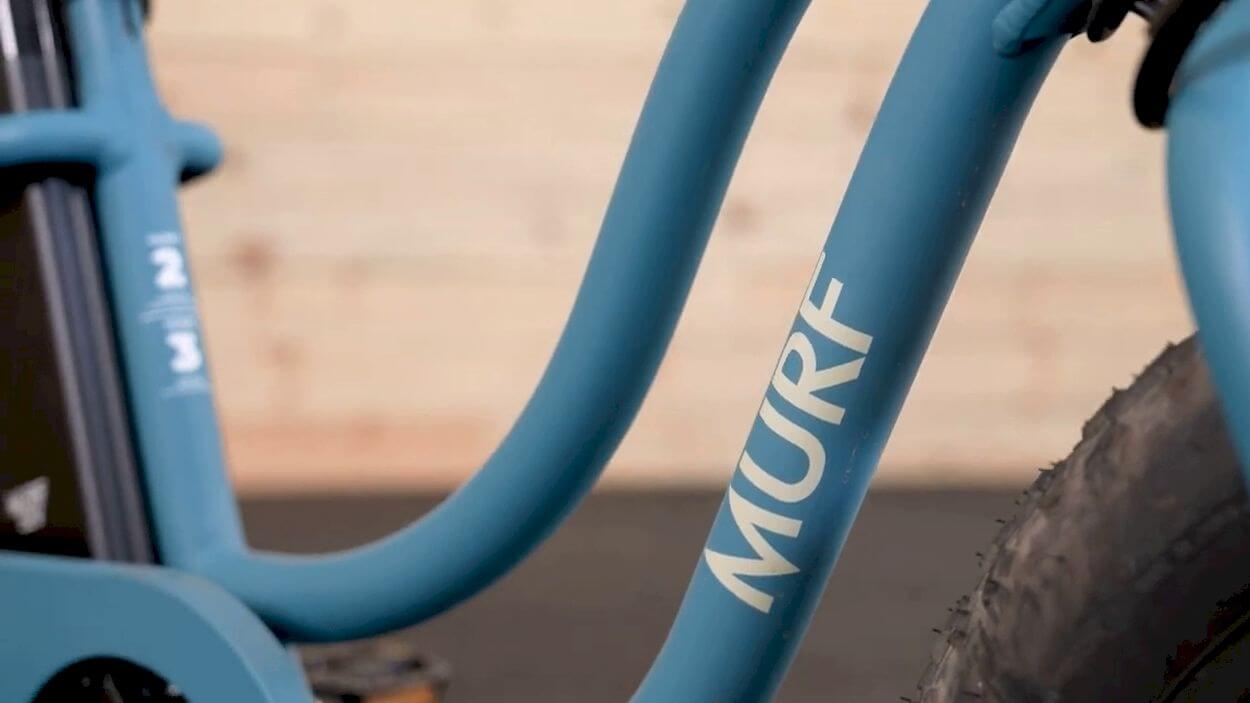 On the road, the Murf Higgs St delivers positive control, thanks in part to the Kenda Crusade 20-inch by 4-inch all-terrain tires. These tires not only provide stability but also instill confidence when navigating various terrains. Whether you're cruising through the city streets or tackling off-road trails, you can trust that this e-bike will handle it with ease. Moreover, the hydraulic disc brakes with 180mm rotors ensure excellent stopping power, enhancing safety during your rides.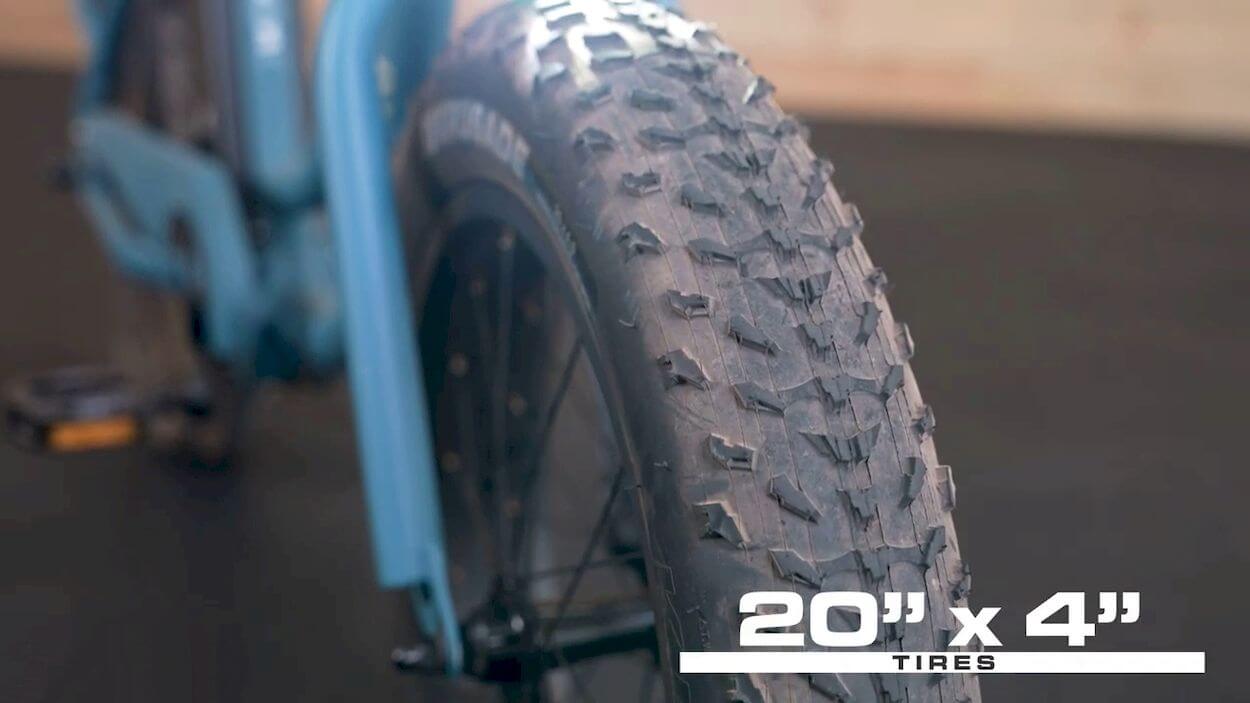 One of the standout features of the Higgs St is its robust rear rack, which is welded to the frame and capable of carrying up to 100 pounds of cargo. This is nearly twice the capacity of most other e-bike racks, making it an excellent choice for riders who need to transport goods, groceries, or even a surfboard to the beach. Speaking of surfboards, this e-bike is popular among surfers, thanks to the optional side rack that makes it easy to carry your surfboard to your favorite beach spot.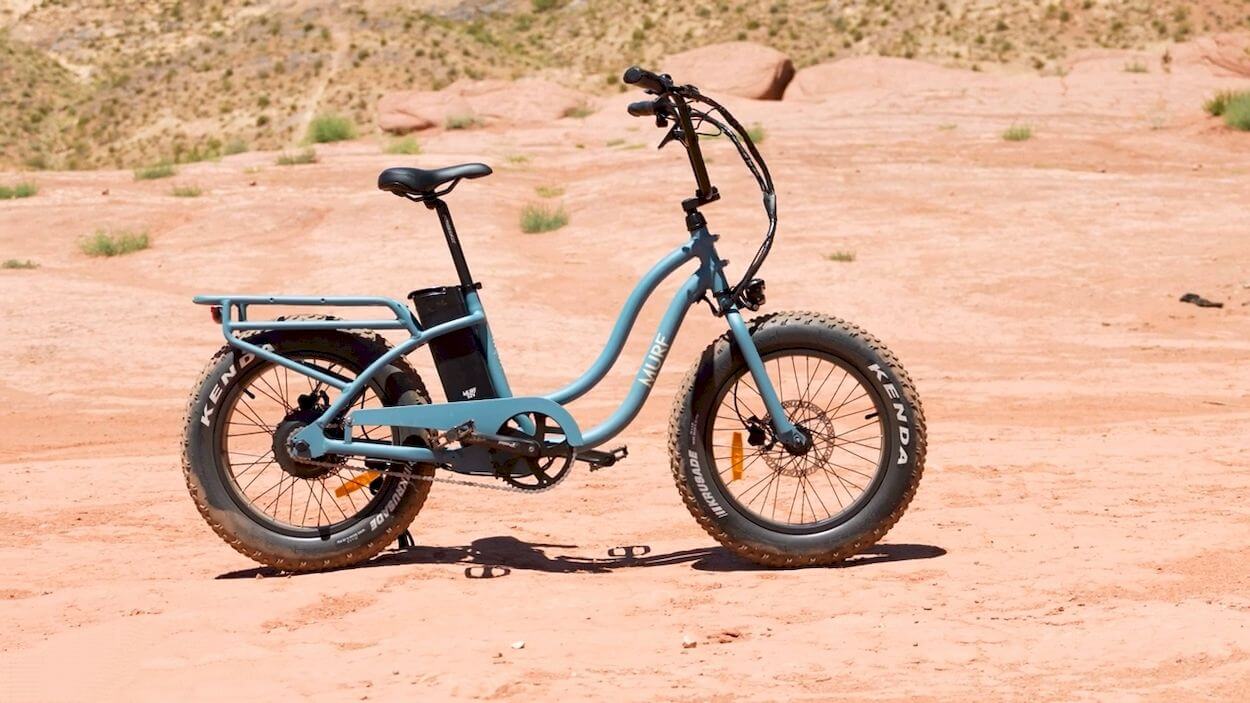 Murf offers the Higgs St in three stylish colors: white, black, and denim, ensuring that you can choose a look that suits your personal style. Additionally, their direct-to-consumer shipping means that you can have this e-bike delivered right to your front porch in a matter of days, making the purchasing process hassle-free.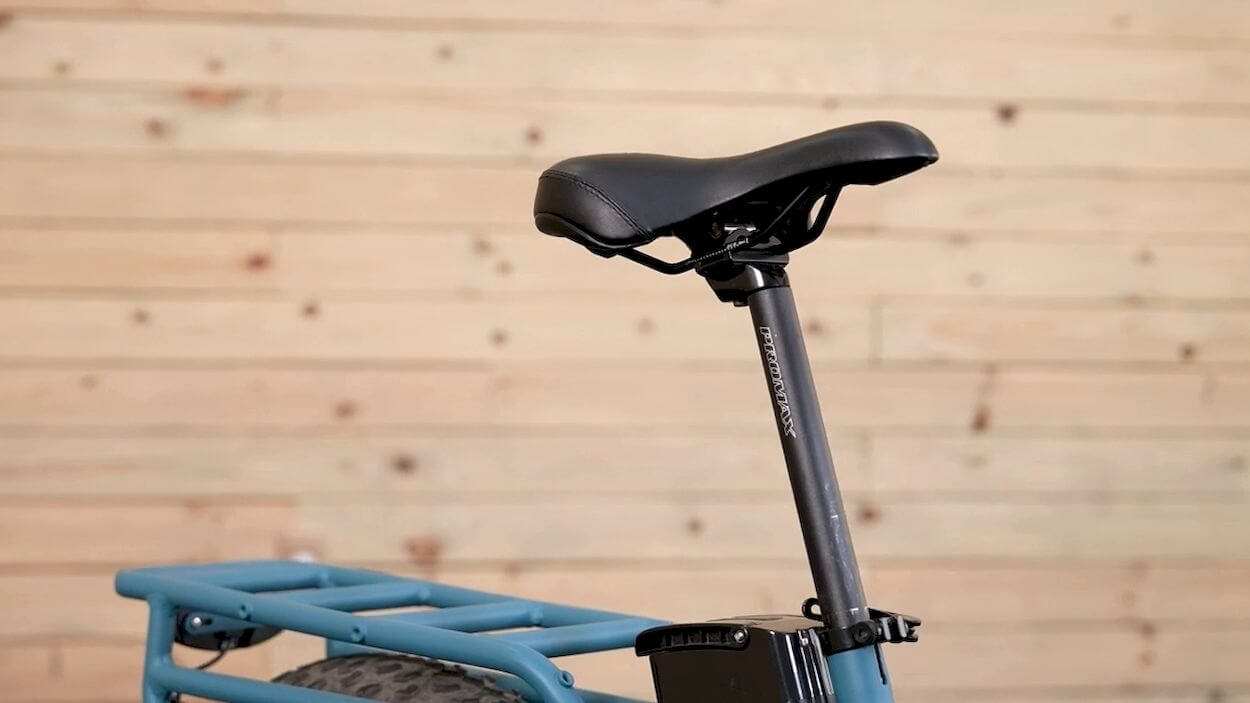 What sets Murf apart from other e-bike companies is their fun-loving and community-oriented approach. The names "Murf" and "Higgs" are inspired by the dogs of the company's owner and head of marketing, reflecting the company's lighthearted spirit. In fact, all their bikes are named after employees' dogs, giving you a glimpse into the playful and spirited vibe that permeates the company culture. It's no surprise, then, that the Higgs St is designed with utility and fun in mind, making it an excellent choice for riders who want to enjoy their e-bike to the fullest.
Murf Higgs Step-Thru:
Motor and Riding Test
The Zippy motor on the Murf Higgs Step-Thru e-bike is a standout feature that truly elevates the riding experience. Thanks to its advanced 52-volt electrical system, this motor delivers impressive performance, offering both good acceleration and more torque. This added power isn't just for speed demons; it's a practical necessity for conquering inclines and comfortably carrying cargo.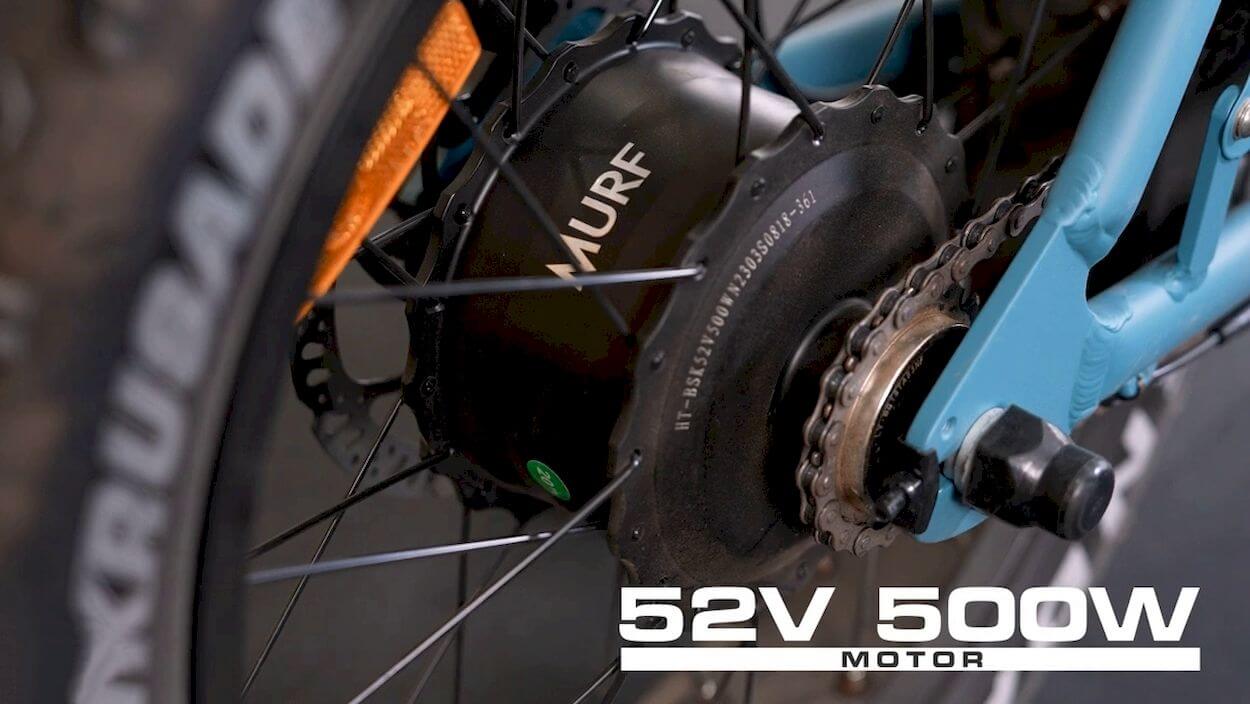 The Murf Higgs comes equipped as a Class 2 e-bike, featuring both a throttle and pedal assist, which collectively help you reach speeds of up to 20 miles per hour. This is a versatile and convenient mode for daily commuting, leisurely rides, and running errands around town. The combination of throttle and pedal assist allows you to choose the level of assistance that suits your riding style and energy level.
However, what sets the Higgs apart is its flexibility. Riders can easily switch the settings to transform it into a Class 3 e-bike. In this configuration, the throttle still supports speeds up to 20 miles per hour, which is great for when you need an extra boost or want to enjoy effortless cruising. Moreover, the pedal assist mode now provides assistance up to 25 miles per hour, adding a burst of speed to your ride.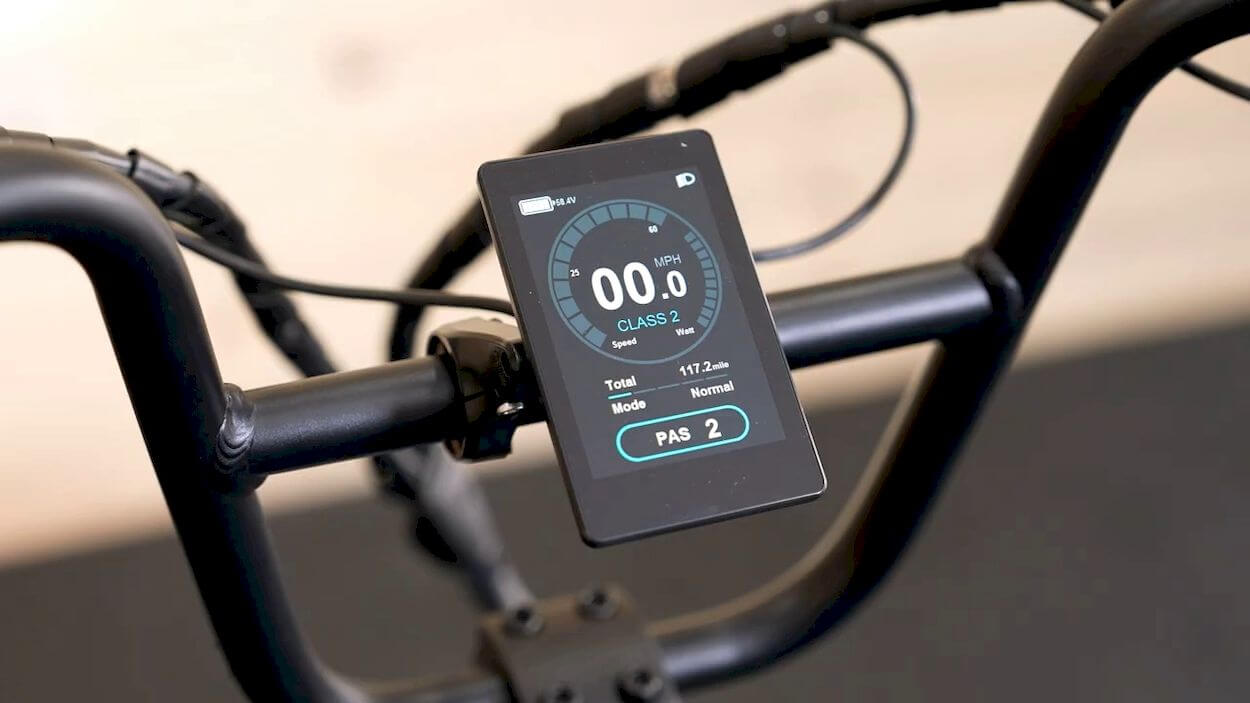 First, the test began in the "zero pedal assist" mode, where the rider solely relies on their own pedaling power. With the advantage of the fat tires, a speed of nearly 8 miles per hour was achieved. However, it's evident that the motor assistance could significantly enhance the riding experience.
Moving on to "pedal assist level 1" (PAS1), there was a slight engagement with the motor, resulting in a somewhat easier pedaling experience. The speed increased marginally, but PAS1 was not delivering a significant boost.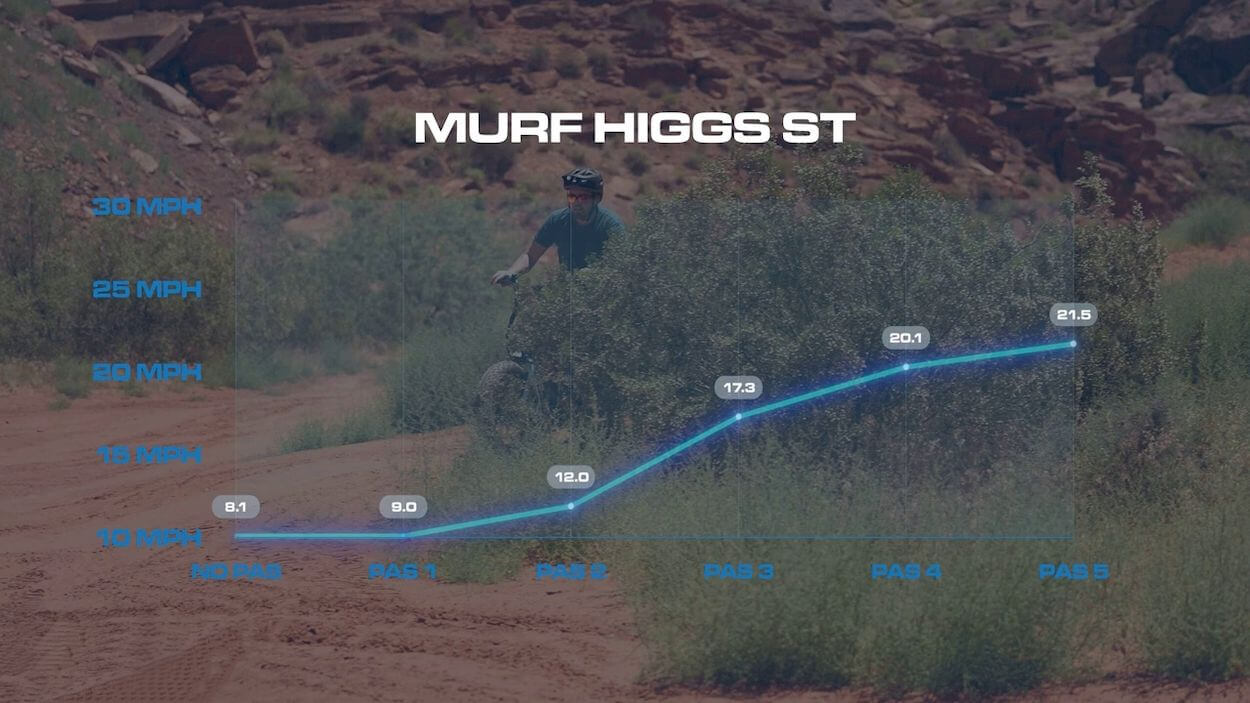 The real breakthrough came when switching to "pedal assist level 2" (PAS2). At this point, the bike took off, easily reaching 12 miles per hour, almost 13. This speed was found to be comfortable and sustainable for extended rides.
Stepping up to "pedal assist level 3" (PAS3), the e-bike delivered an even more impressive performance, reaching a speed of 17 miles per hour. This level of assistance allowed for effortless riding and marked the point where "ghost pedaling" began to take effect.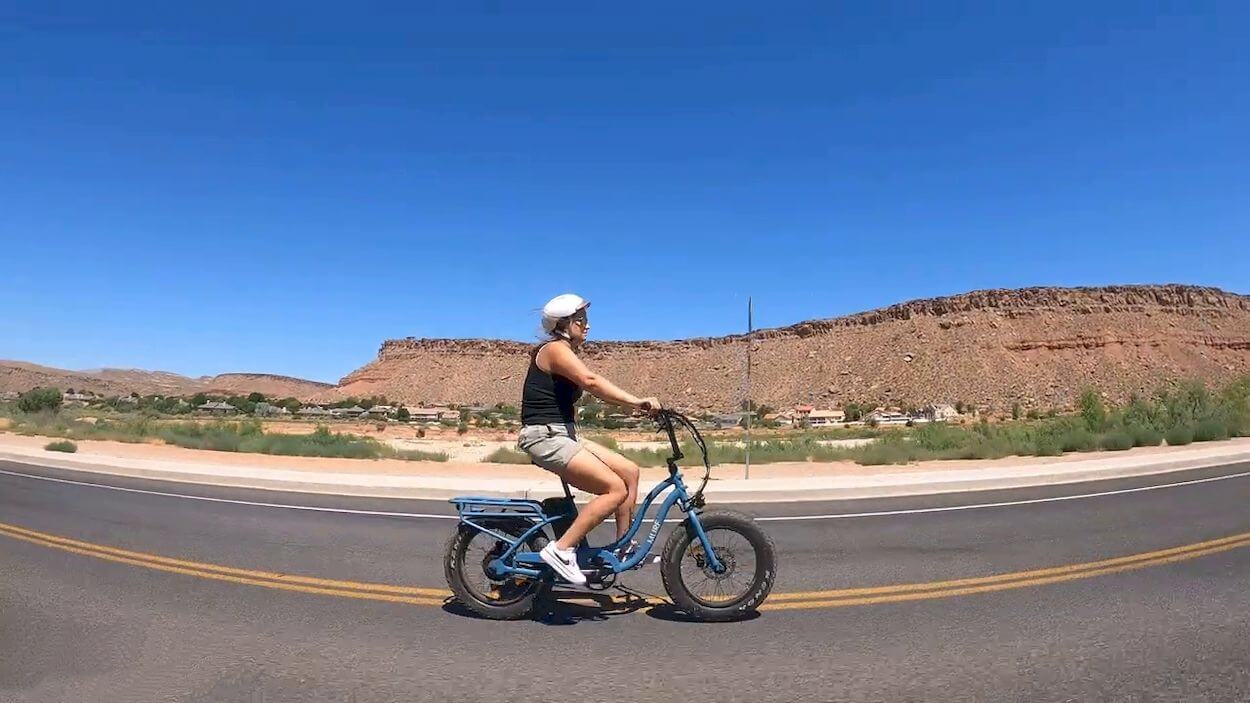 "Pedal assist level 4" (PAS4) provided another noticeable boost, almost pushing the bike to 20 miles per hour. However, the e-bike's top speed in this setting did not yet reach its full potential.
Finally, "pedal assist level 5" (PAS5) offered the highest level of assistance, and the bike effortlessly cruised at speeds of 21 to 22 miles per hour. It was noted that in this flat terrain, "ghost pedaling" became prominent, highlighting the need for more gears in the future to address this issue effectively.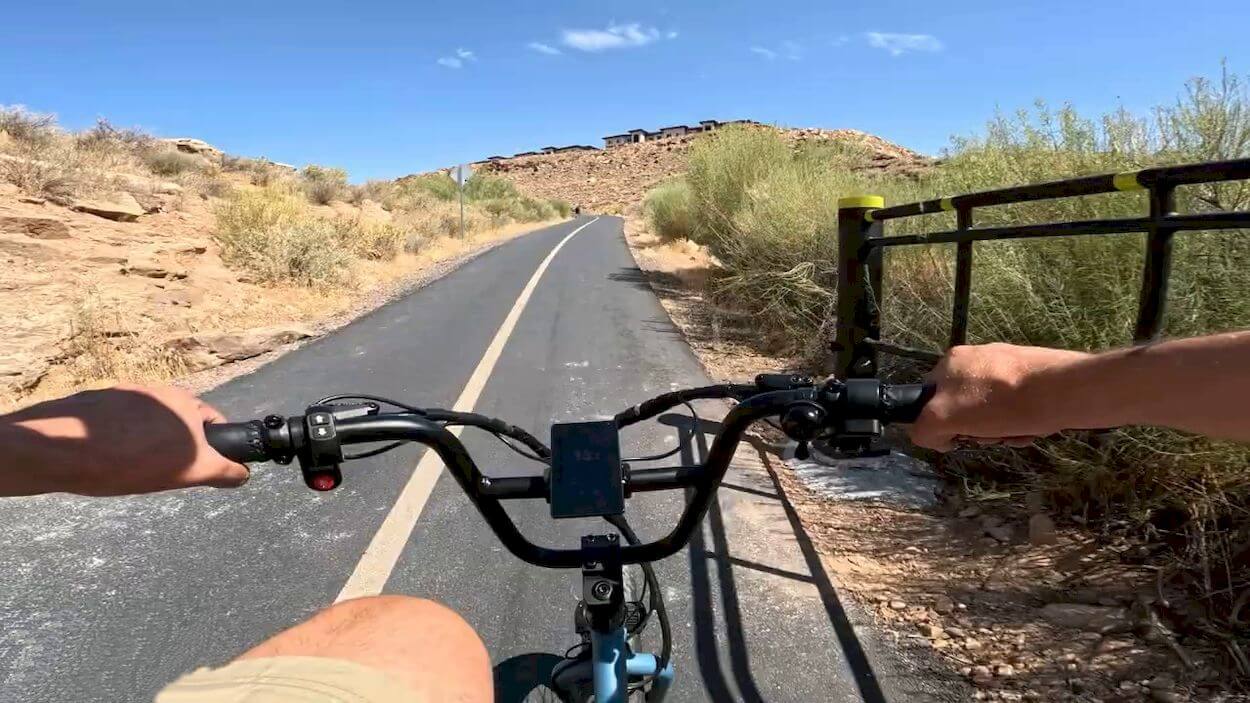 The throttle test provided a quick burst of speed from 0 to 20 miles per hour, demonstrating the e-bike's impressive acceleration and power. This instantaneous acceleration can be particularly handy when you need a boost to quickly merge into traffic or navigate urban environments.
One of the crucial questions when evaluating an e-bike's performance is how well it can handle uphill climbs. To put the Murf Higgs Step-Thru to the test, we headed to Hellhole Trail, a hill with a challenging 12% overall grade and a third of a mile in length.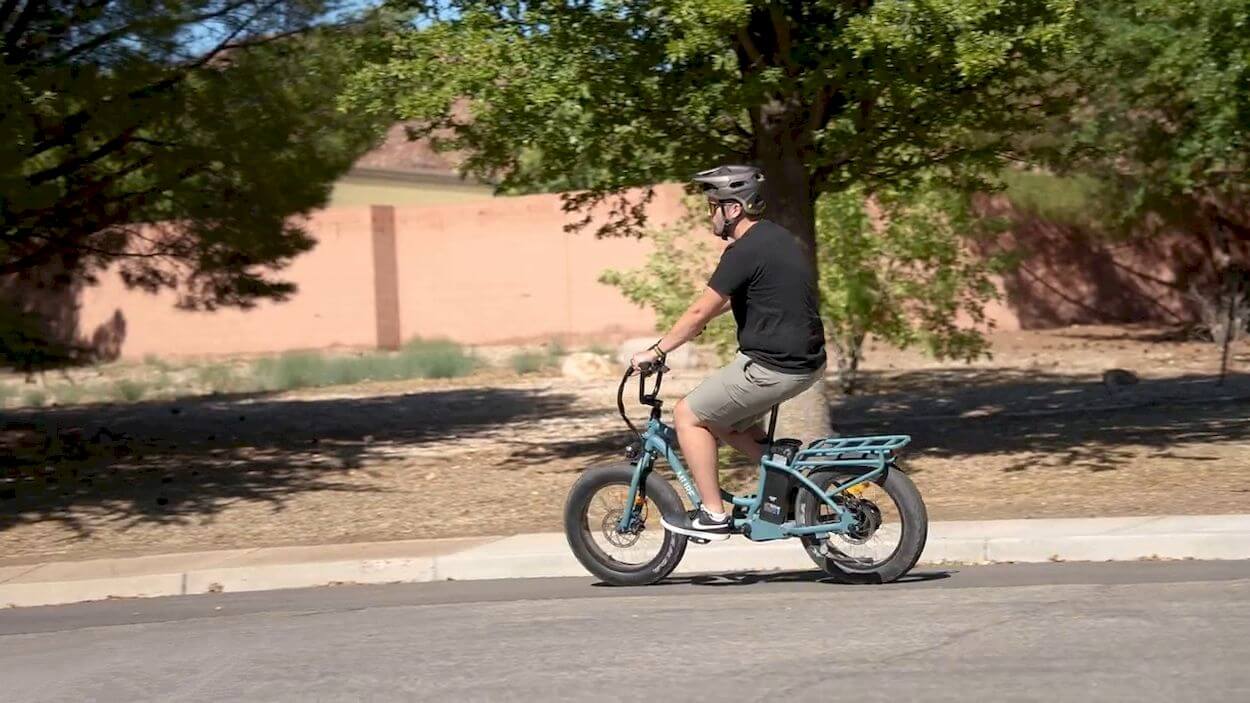 Murf Higgs demonstrated its impressive hill-climbing capabilities during both the throttle-only and pedal assist tests. The throttle-only test saw the bike reach the top of the hill in just 1 minute and 15 seconds, maintaining an average speed of 14.5 miles per hour. In the pedal assist test with PAS5, the Higgs reached the summit in an even quicker 1 minute and 8 seconds, averaging 16 miles per hour.
First and foremost, the Higgs St boasts a utility frame that promotes an upright riding posture. This design choice provides a comfortable and ergonomic position for the rider. With a slight bend in the arms and BMX-style handlebars, you have a level of control and maneuverability that feels reassuring.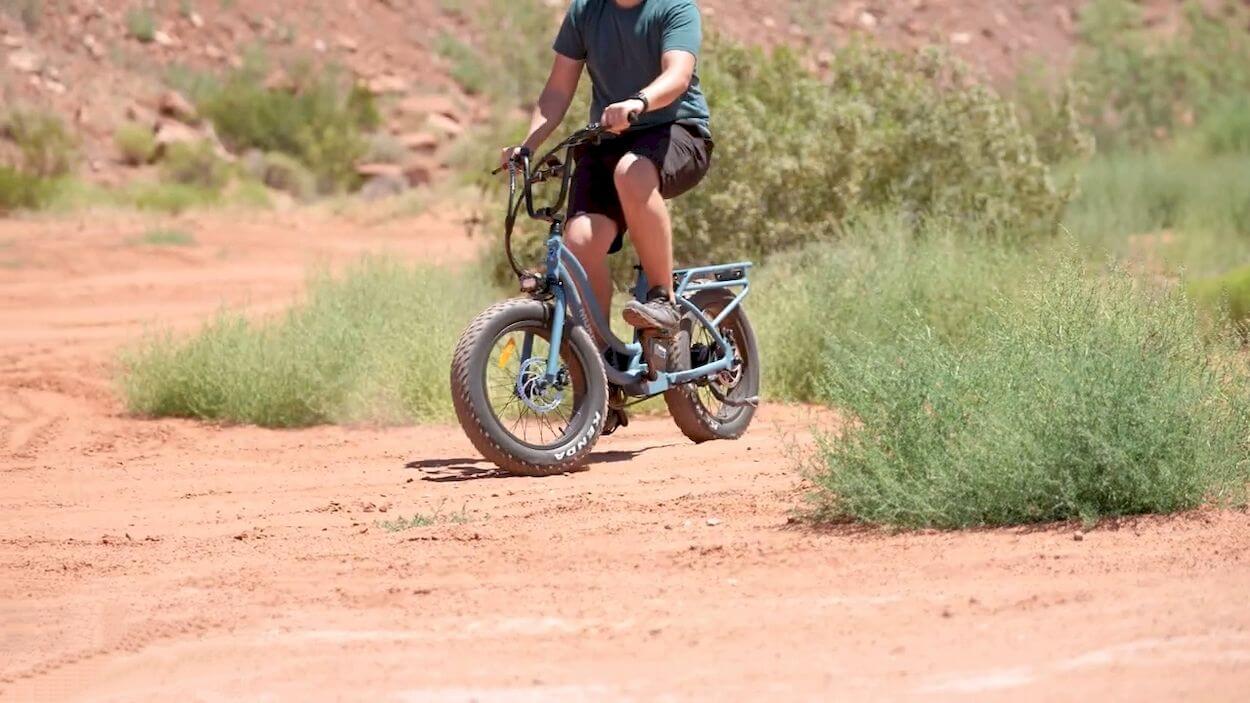 One aspect that could further improve the ride quality, especially when carrying cargo like a surfboard, would be the addition of an optional suspension fork. While the fat tires do a commendable job of absorbing bumps, having front suspension would enhance the overall comfort, especially when traversing rougher terrain.
Battery and Range
The Murf Higgs Step-Thru e-bike is equipped with a remarkable 15 amp-hour battery, which delivers exceptional range and allows you to travel more than 50 miles on a single charge. This impressive battery capacity ensures that you can enjoy extended rides without constantly worrying about recharging.
When evaluating an e-bike, two essential questions often arise: "How far will the bike take me?" and "How long will the battery last?" To answer these questions, Murf conducted two comprehensive range tests to provide a clear picture of the Higgs St's capabilities.
In the first range test, the lowest pedal assist level that provided acceptable power for the course was used, which happened to be PAS2. During this test, the experienced rider, Josh, covered an impressive distance of 68 miles before the battery was depleted. He completed the course in 5 hours and 44 minutes, with an average speed of 11.5 miles per hour. This result was particularly noteworthy because it exceeded Murf's stated range of up to 50 miles when using PAS2. Josh's achievement demonstrated the Higgs St's outstanding efficiency and ability to deliver more than expected.
It's important to note that individual results may vary due to several factors that influence e-bike range, such as rider weight, terrain, wind conditions, and riding style.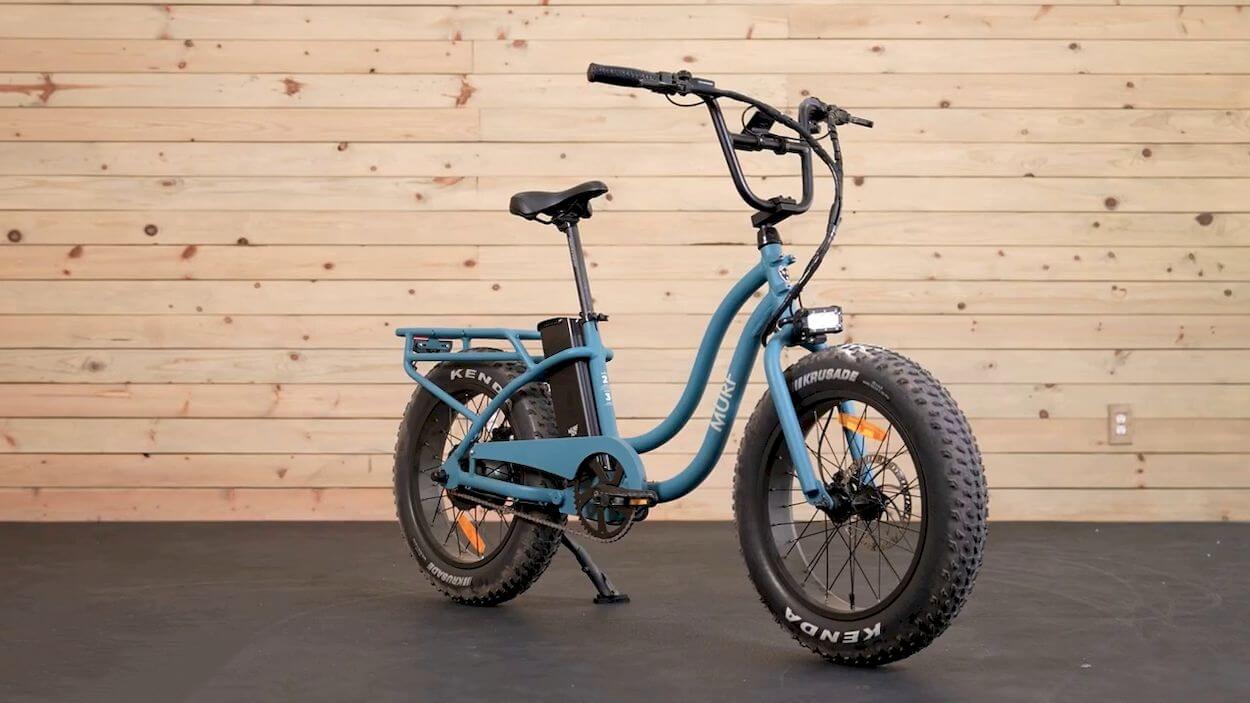 In the second range test, the highest pedal assist level, PAS5, was utilized to evaluate how far the bike could travel when ridden at top speed continuously. During this test, test rider Brendan managed to cover a distance of 34.2 miles in just an hour and 55 minutes, maintaining an impressive average speed of 19.3 miles per hour. When compared to similar e-bikes equipped with 500-watt motors and similar wheel sizes, the Higgs St performed exceptionally well, finishing in the top one-third of the group.
These range test results highlight the Higgs St's impressive efficiency, especially for a fat-tire e-bike. Whether you prefer a leisurely ride in PAS2 or a more spirited ride in PAS5, the Higgs St offers a satisfying range, allowing you to confidently explore various terrains and destinations without worrying about running out of power. Riders can certainly be pleased with the range capabilities of the Murf Higgs St, making it a practical and reliable choice for extended rides and adventures.
Brake Test
Ensuring that e-bikes have effective and reliable braking systems is crucial to rider safety. Our brake test involves accelerating the bike to 20 miles per hour and then executing quick stops multiple times to assess the braking performance. We then calculate an average stopping distance to provide valuable information to potential riders.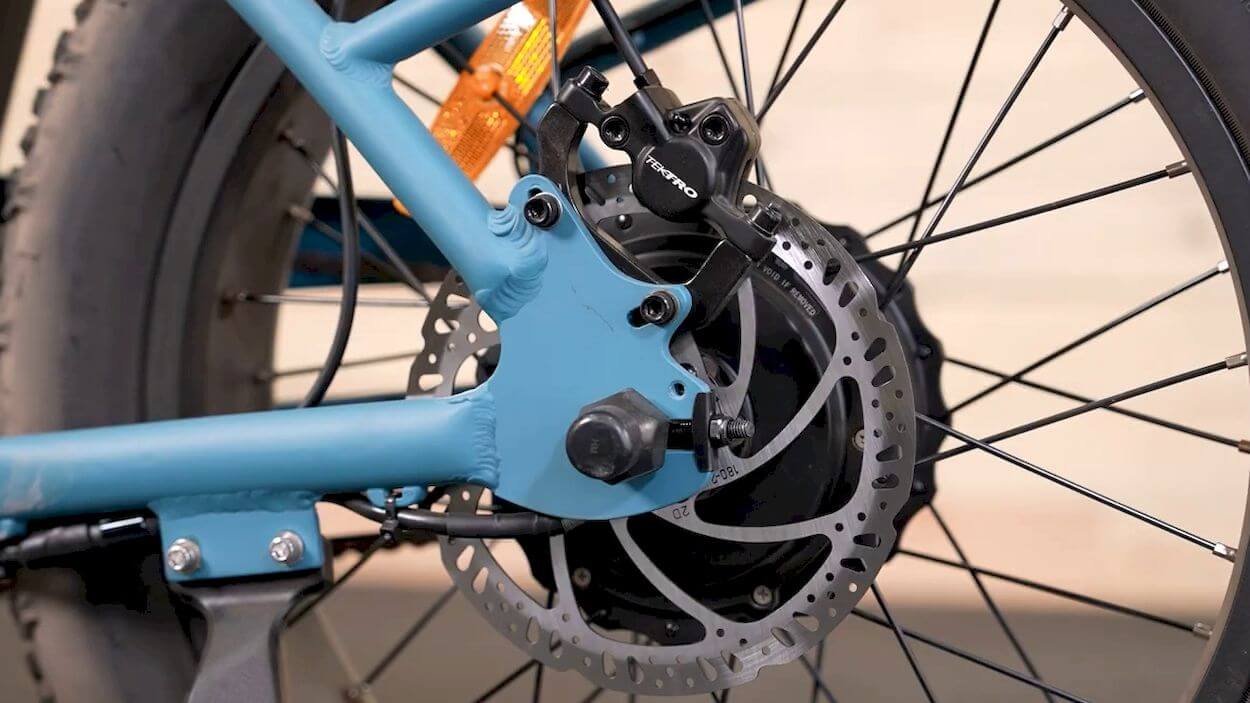 In the case of the Murf Higgs Step-Thru e-bike, we were quite impressed with the results of our brake test. The average stopping distance for this bike was measured at 19 feet and 11 inches. This performance falls in line with our expectations for a utility bike equipped with 20-inch tires. In general, e-bikes with this tire size tend to be better performers in the braking department compared to other e-bike styles.
The Murf Higgs St is equipped with Tektro hydraulic disc brakes featuring 180-millimeter rotors and dual-piston calipers. This braking system is similar to what we find on many other electric bikes, known for its reliability and effectiveness. The combination of hydraulic disc brakes and ample rotor size contributes to the Higgs St's excellent braking power.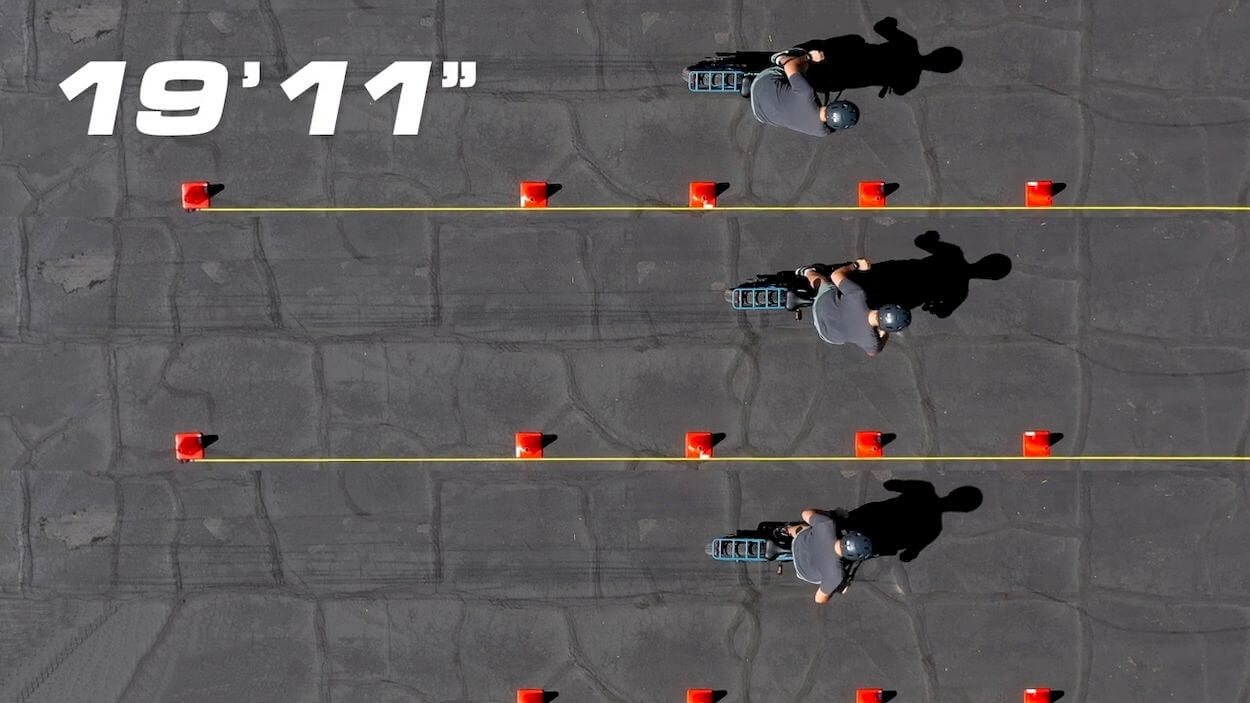 Having strong and responsive brakes on an e-bike is crucial for rider safety, and it provides a sense of confidence and control. Riders can rest assured knowing that they have the ability to stop quickly and safely when needed. The Murf Higgs St's impressive braking capabilities align with the company's commitment not only to having fun but also to ensuring rider safety.
Conclusions
So, our team thoroughly enjoyed test riding the Murf Higgs Step-Thru e-bike, and it's clear that this bike has a lot to offer. Shorter riders especially found this bike to be a perfect fit, while taller riders, although noting the smaller frame, still had a blast riding it.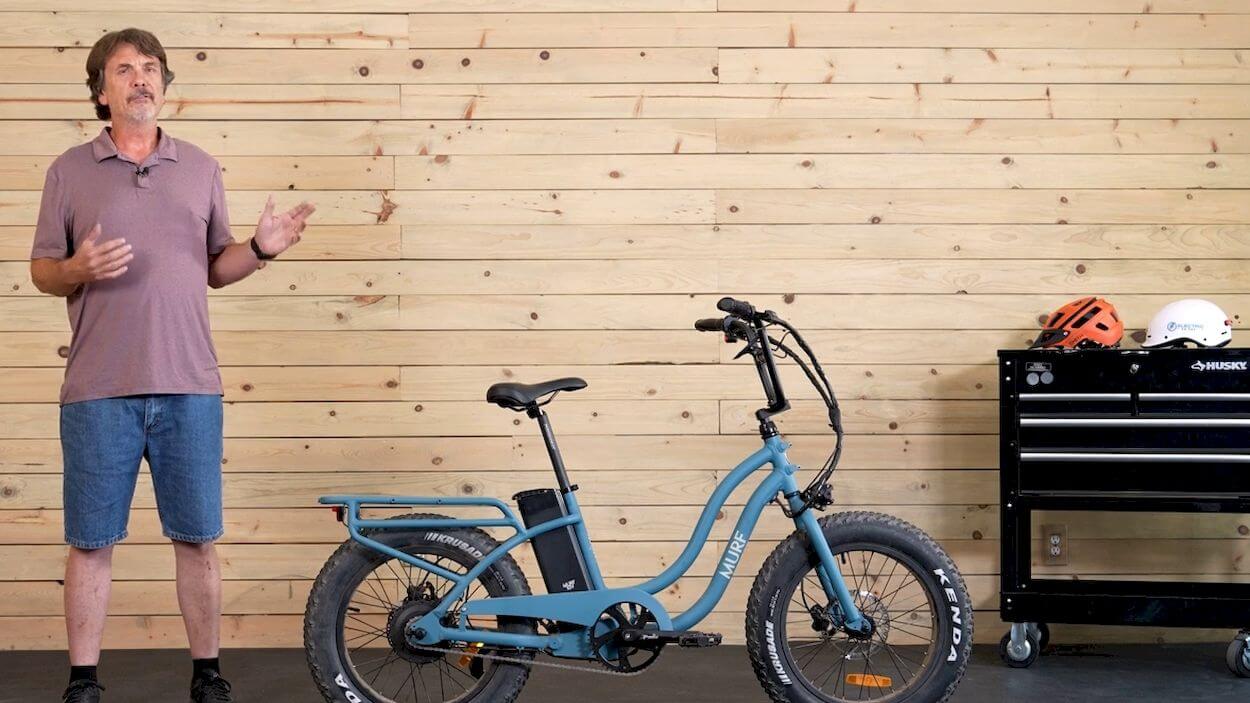 While the Higgs St impressed us in many ways, there are a few areas where we believe Murf could make improvements. Adding an 8-speed drivetrain and a suspension fork would significantly enhance the bike's capabilities, making it even more versatile and comfortable. These upgrades would not only expand the bike's potential but also enhance its overall value.
Nonetheless, the Higgs St boasts several strengths that can't be overlooked. The brakes performed admirably, ensuring safe and reliable stops. The bike's speed capabilities in PAS2 through PAS5 were commendable, providing options for various riding styles. The outstanding range, considering the bike's single gear, was a pleasant surprise.
One of the standout features of the Higgs St is its impressive hill-climbing ability, thanks to the robust 52-volt system. This performance holds great promise, especially if Murf implements some of our recommended enhancements.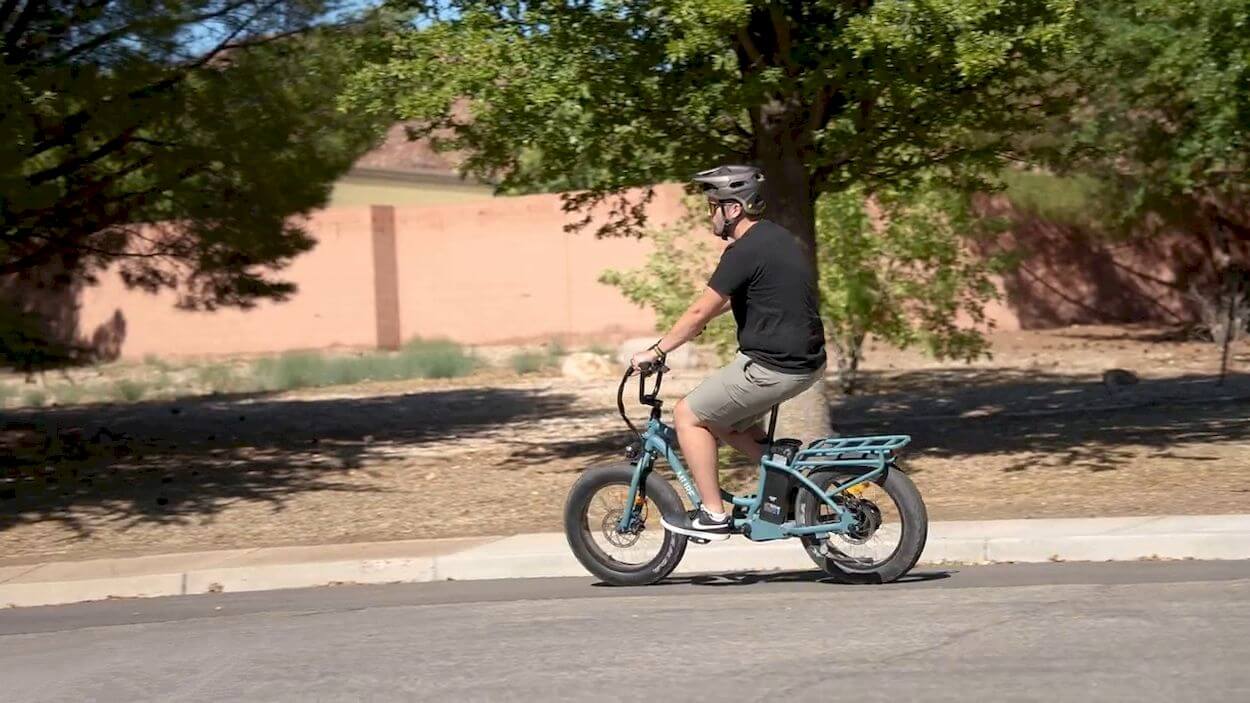 For shorter riders, the Murf Higgs St is an attractive and fun e-bike option. If you're interested in the current pricing of this bike, please follow the link provided below.
Thank you for supporting the Electric Bike Report, and remember to keep your hands on the bar, your feet on the pedals, and your eyes on the road. 
Alternatives of Murf Higgs Step-Thru