Today, I have taken the VanPowers Urban Glide Standard Edition on a tour around the city to showcase its potential as an urban commuter's dream. From the moment I set out, I have been thoroughly enjoying the riding experience this e-bike offers.
Navigating through the city streets has been a breeze thanks to the Urban Glide's responsive motor and agile handling. The 48-volt 14.4 amp hour battery provides ample power, ensuring a smooth and efficient ride as I zip through traffic or cruise along bike lanes.
The Urban Glide Standard Edition by VanPowers is available at a competitive price of $1,099.00. This affordable price point makes it an attractive option for riders seeking a budget-friendly e-bike without compromising on quality and performance.
The Urban Glide Standard Edition is designed with the urban commuter in mind, offering a practical and comfortable solution for daily transportation. Its step-through frame allows for easy access, making it convenient for riders of all ages and abilities. Whether you're commuting to work, running errands, or simply exploring the city, this e-bike proves to be a reliable and enjoyable companion.
As I continue my journey through the city, I can't help but appreciate the attention to detail and craftsmanship that VanPowers has put into this e-bike. The Urban Glide Standard Edition exudes both style and functionality, making it a head-turner wherever it goes.
Frame Size
S
Color
Remy Green/Lava Red/Zircon Gray
Motor
500W High-Speed Brushless Hub Motor
Top speed
20MPH
Mode
Pedal-Assist/Throttle
Sensor
Speed Sensor
Rear Derailleur
Shimano TZ-500 7-Speed
Stem
Zoom®Stem,
90mm
Brake
Mechanical Disc Brake,
180mm Rotors
Seat Post
Zoom®Seat Post
30.9mm, 350mm
Range
60-65 miles
Battery
690WH LG cells
Weight
68.34 lbs./31 kg
Unboxing and Assembling
The unboxing experience of the VanPowers Urban Glide Standard was an absolute delight. Upon opening the package, I was greeted with a carefully packaged set of tools in a neat foam pack. The tools included all the necessary wrenches, Allen keys, and a screwdriver required for assembly.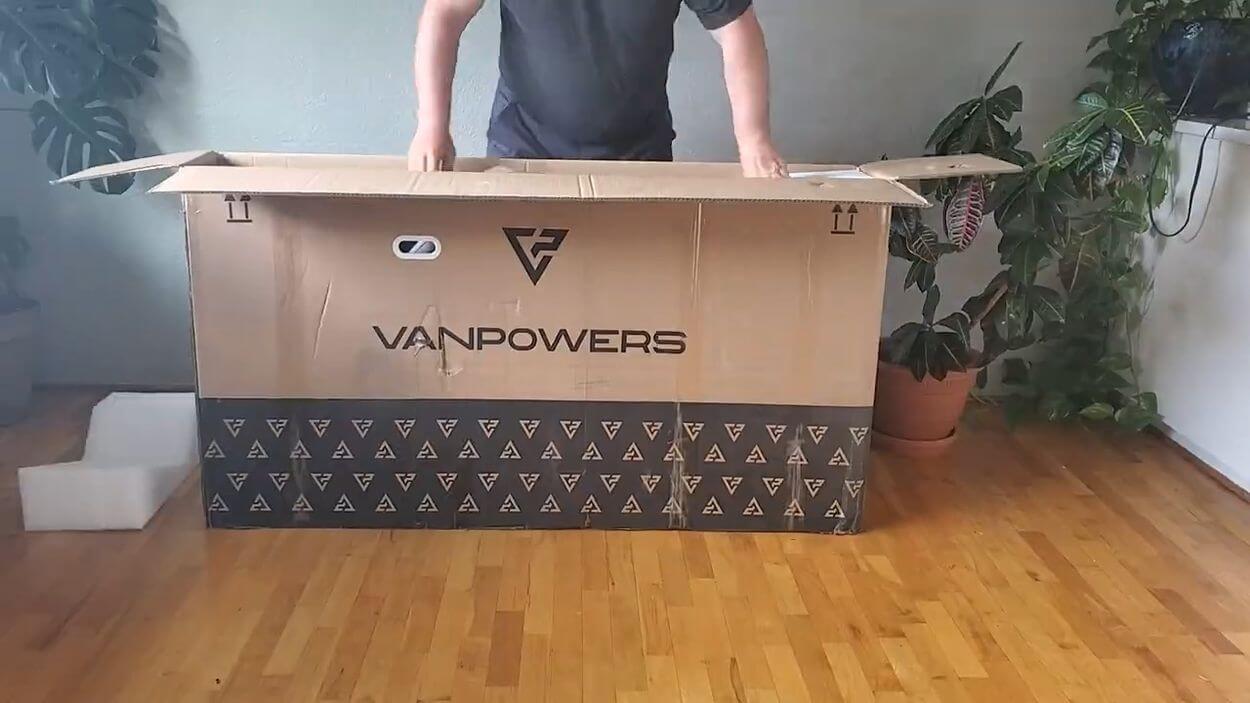 Accompanying the tools was a beautifully laid out manual, providing clear instructions for the assembly process. Additionally, there was a user guide for the accompanying VanPowers app, which allows users to control various settings such as speed and unit preferences.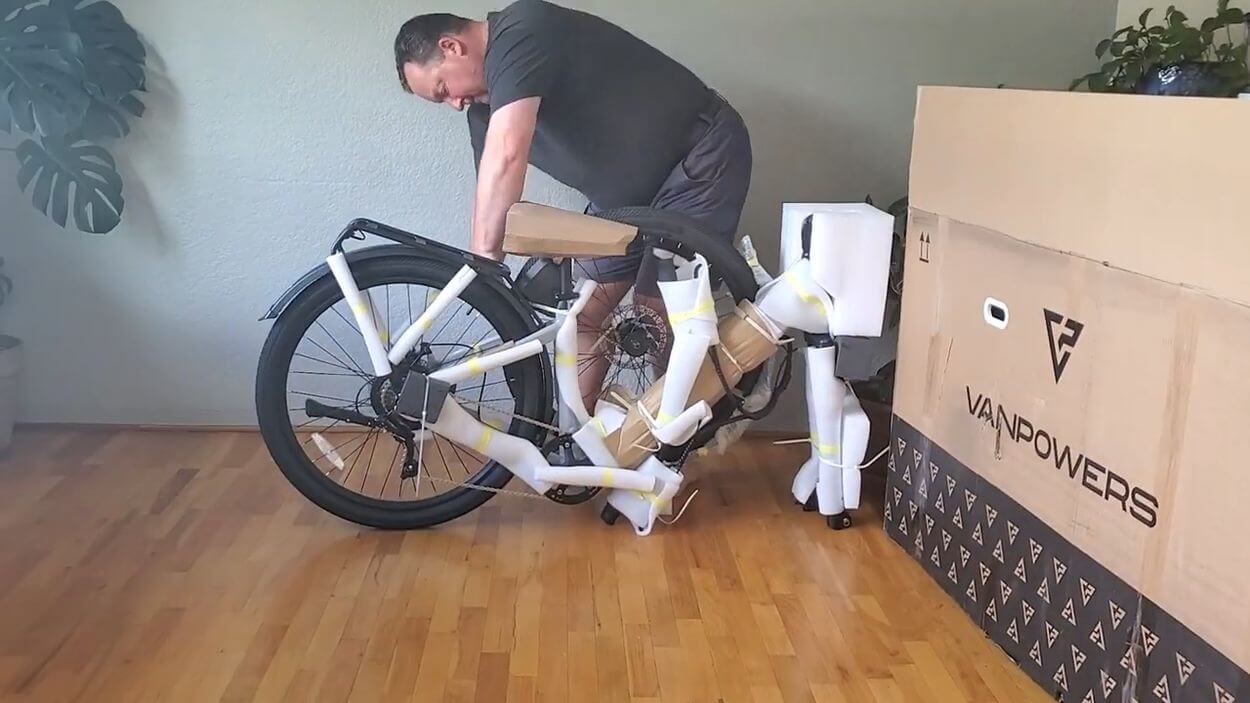 The assembly itself was a breeze. It mainly involved attaching the fender at the front and mounting the tire, ensuring a secure fit. Once the physical assembly was complete, I made sure to charge the battery fully before taking it out for a spin.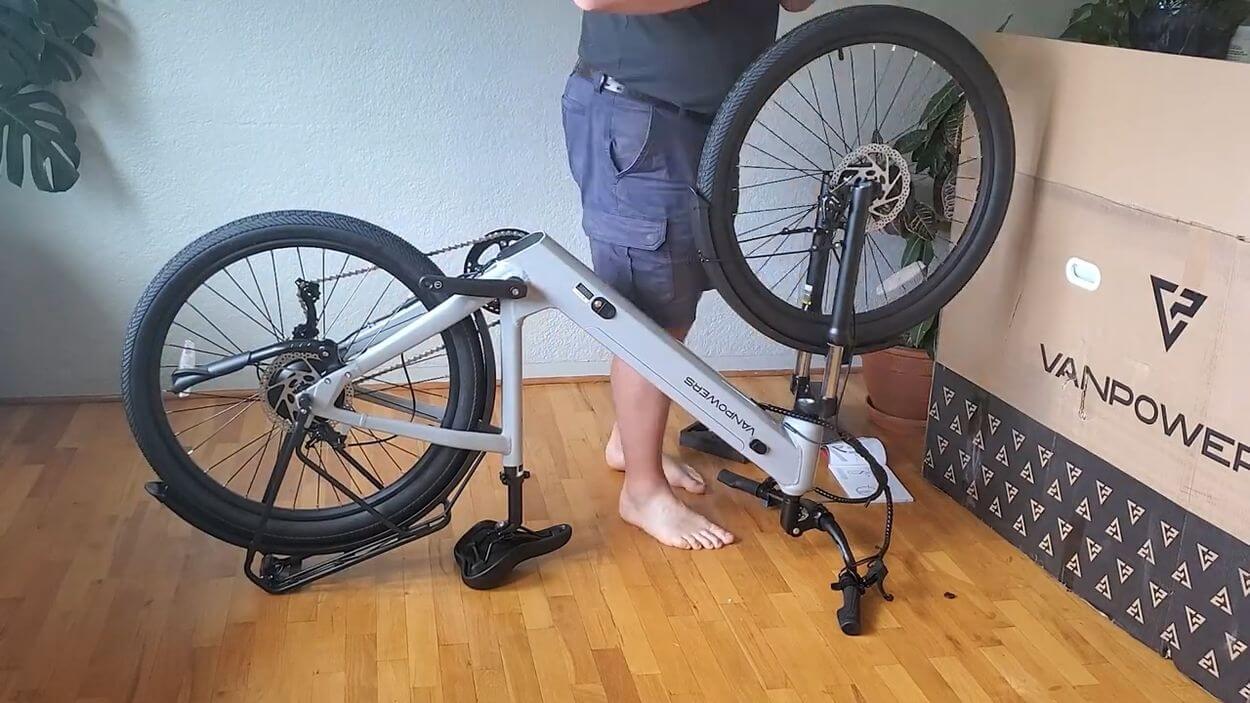 Speaking of the battery, the VanPowers Urban Glide Standard came with two keys, which serve as copies. These keys are used to unlock the brake and the battery compartment. With a simple turn of the key, the battery easily popped out, allowing for convenient charging. This feature provides added security as well, as you can choose to keep the bike downstairs in the garage while bringing the battery inside for charging.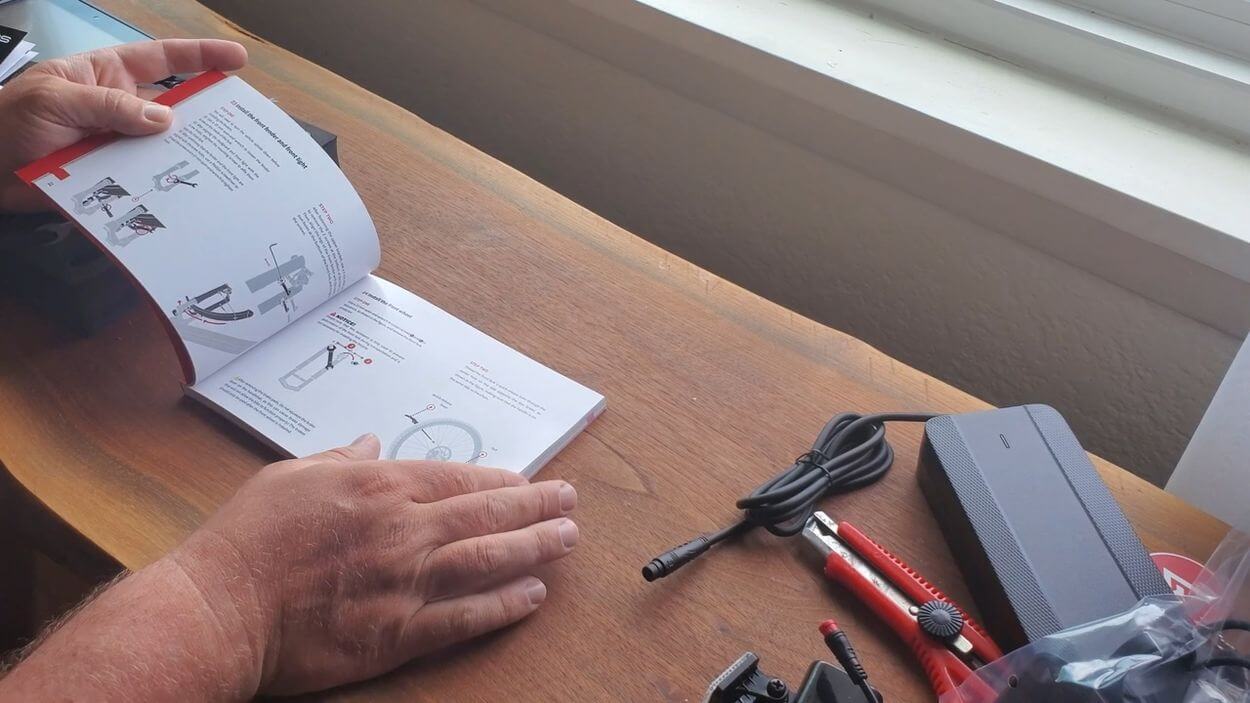 The battery compartment was designed with user-friendliness in mind. When it's time to reinsert the battery, it effortlessly slides back into place, and with a quick turn of the key, it securely locks in. This convenience ensures that you can quickly and easily charge the battery whenever needed.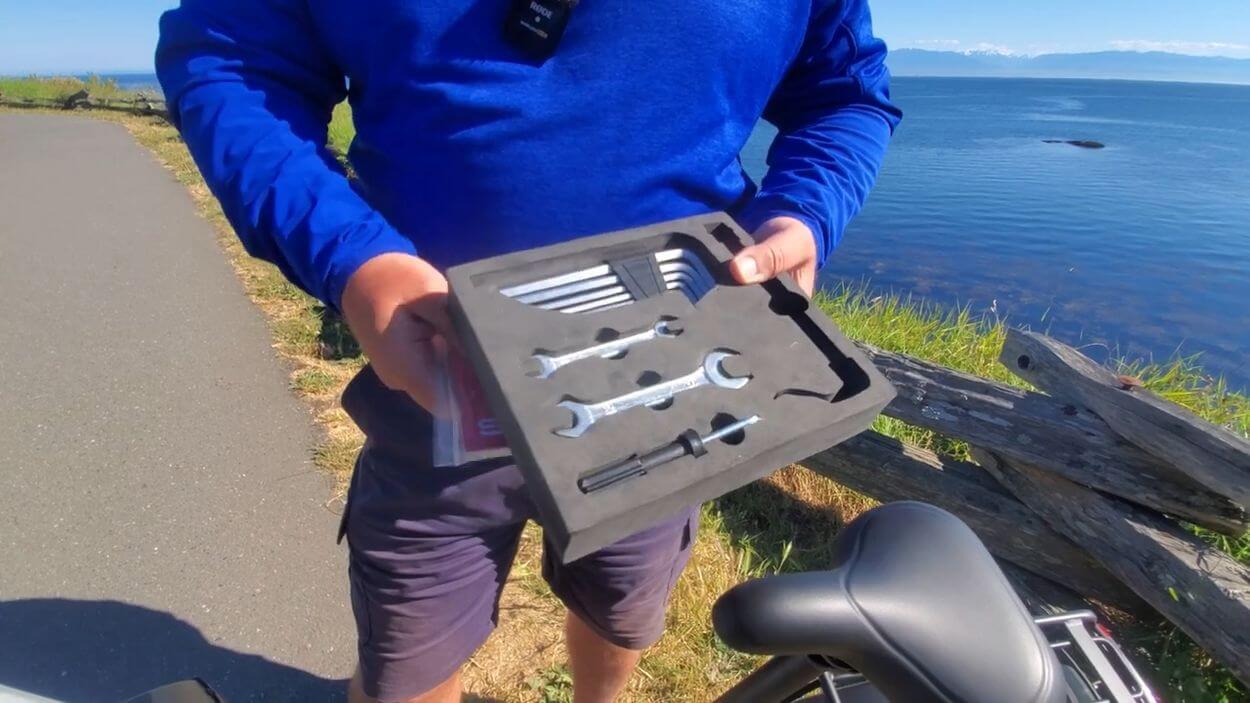 So, I was impressed with the simplicity and efficiency of the unboxing experience and the assembly process of the VanPowers Urban Glide Standard. The well-packaged tools, comprehensive manual, and user-friendly battery system contributed to a hassle-free setup. With everything in place and the battery charged, I was excited to take the VanPowers Urban Glide Standard for a ride, confident in its quality and functionality.
Design and Build Quality
The VanPowers Urban Glide Standard boasts a design and build quality that sets it apart from its counterparts. While it may sacrifice some portability due to its increased size and weight compared to the Vanture, its sturdier frame and enhanced components more than make up for it.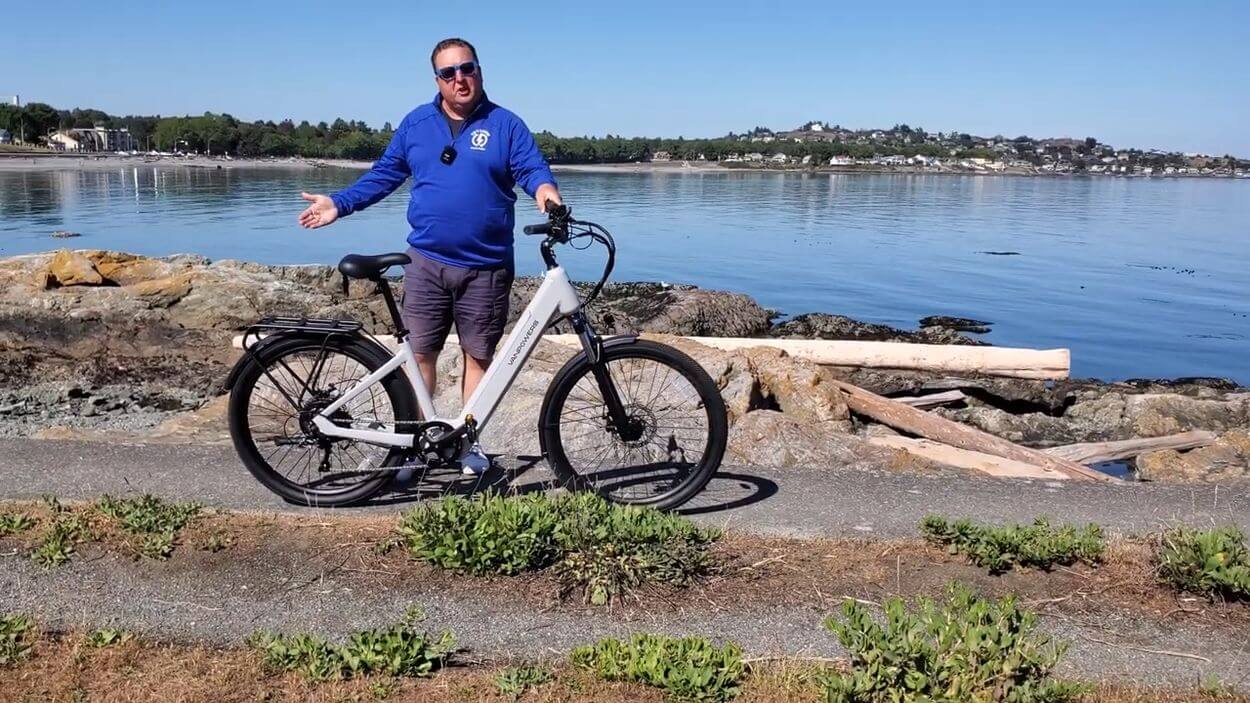 The bike's frame is a standout feature, exhibiting a sleek and uniform design. With minimal welding points throughout, the frame achieves a clean and seamless aesthetic. This attention to detail not only adds to the bike's visual appeal but also speaks to the craftsmanship and build quality of the Urban Glide Standard.
Let's talk about the tires on the VanPowers Urban Glide Standard. They feature 27.5-inch wheels with a width of 2.2 inches, which I find to be a sweet spot when navigating concrete gaps, occasional potholes, and other urban obstacles. Combined with the bike's suspension, these tires provide a comfortable and enjoyable ride. The combination of the tire size and suspension system helps absorb shocks and vibrations, ensuring a smooth experience even on rough terrain.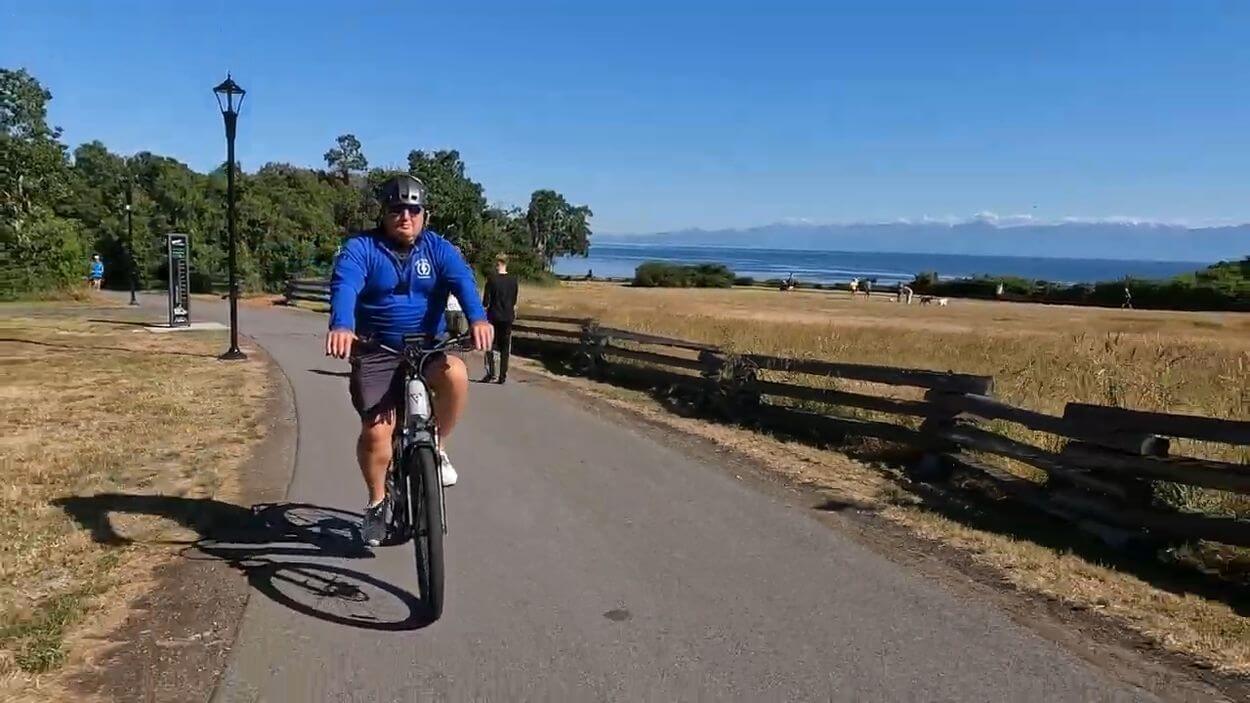 Moving on to the gear system, the Urban Glide Standard is equipped with Shimano gear derailleurs, specifically a Shimano seven-speed derailleur. This setup is particularly useful when tackling hilly terrains as it allows for easy gear shifting, ensuring efficient pedaling and control. Additionally, having the option to switch gears effortlessly is a valuable feature for riders who encounter various inclines during their rides.
The inclusion of a throttle is another notable aspect of the Urban Glide Standard. It provides the convenience of an extra boost when needed, allowing you to quickly accelerate and maintain a higher speed. The throttle can be especially handy when navigating uphill sections or when you want to have some fun and pick up the pace.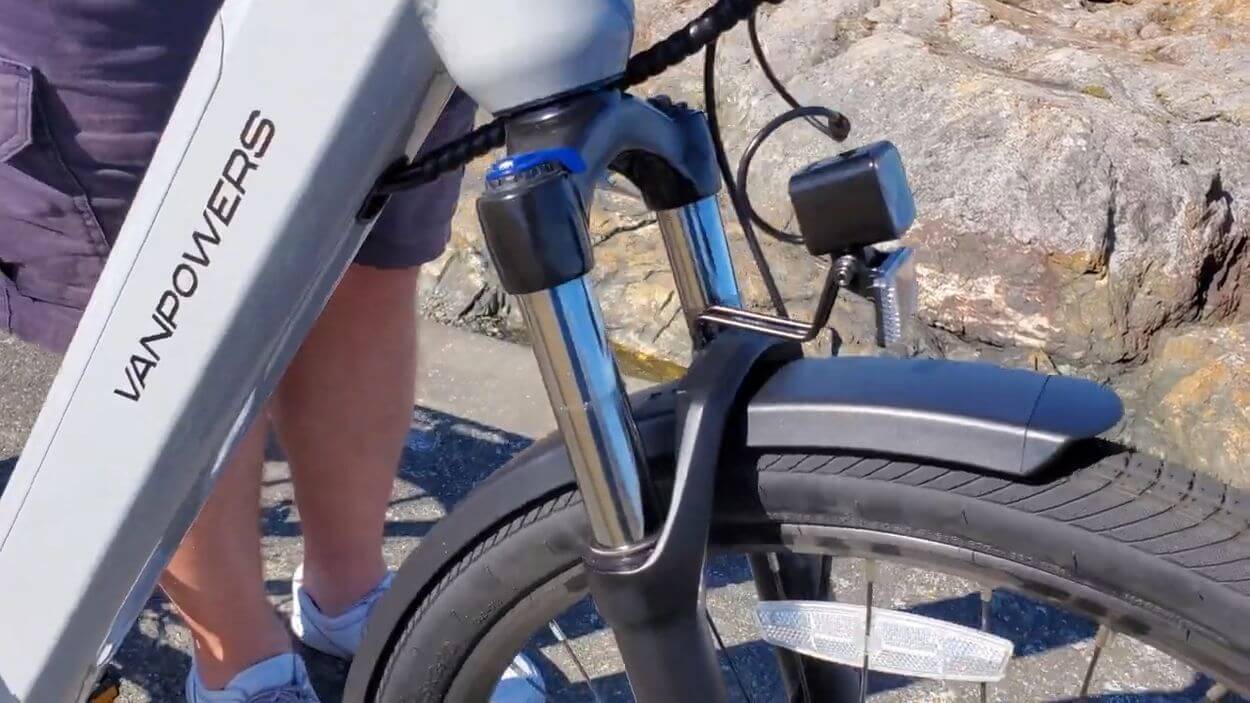 The bike also comes with built-in lights for increased visibility and safety during nighttime rides. The lights can be easily turned on or off by pressing the plus button on the control panel. While they may not be extremely bright, they are sufficient for casual rides and ensure that other road users can see you. For riders who frequently ride at night or require brighter illumination, adding an additional light on the handlebars is recommended.
In terms of drawbacks, it's worth noting that the Urban Glide Standard's lights may not be suitable for extensive nighttime riding due to their limited brightness. However, for occasional rides as darkness sets in, they serve their purpose well. For added visibility and safety during night rides, it's advisable to supplement the built-in lights with a brighter, additional light mounted on the handlebars.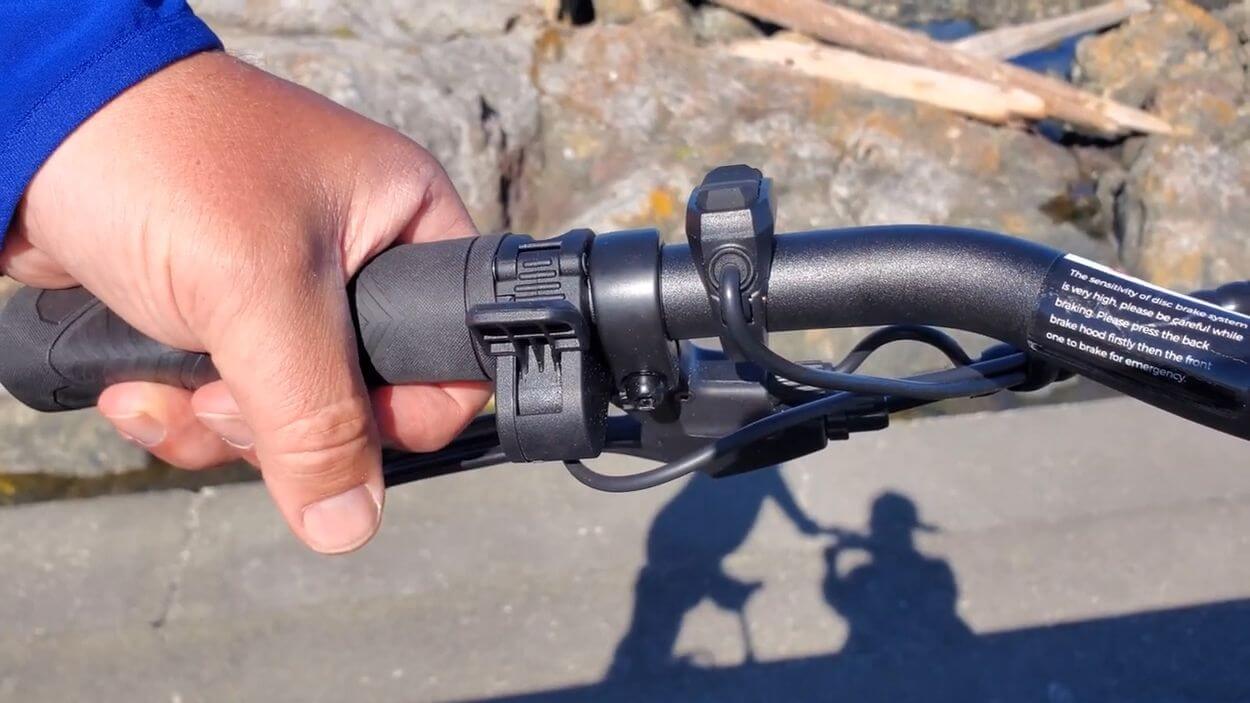 Regarding the bike's weight and luggage capacity, the Urban Glide Standard features a sturdy luggage rack at the back capable of holding approximately 25 kilograms (55-60 pounds). As for the bike itself, it weighs around 30 kilograms (66 pounds), which is relatively light for an e-bike of this caliber.
One notable aspect of the design is the low 380mm step-through height. This feature allows for easy mounting and dismounting of the bike, making it accessible and convenient for riders of various heights and abilities. Whether you're wearing casual attire or need to quickly get on and off the bike, the low step-through height ensures a hassle-free experience.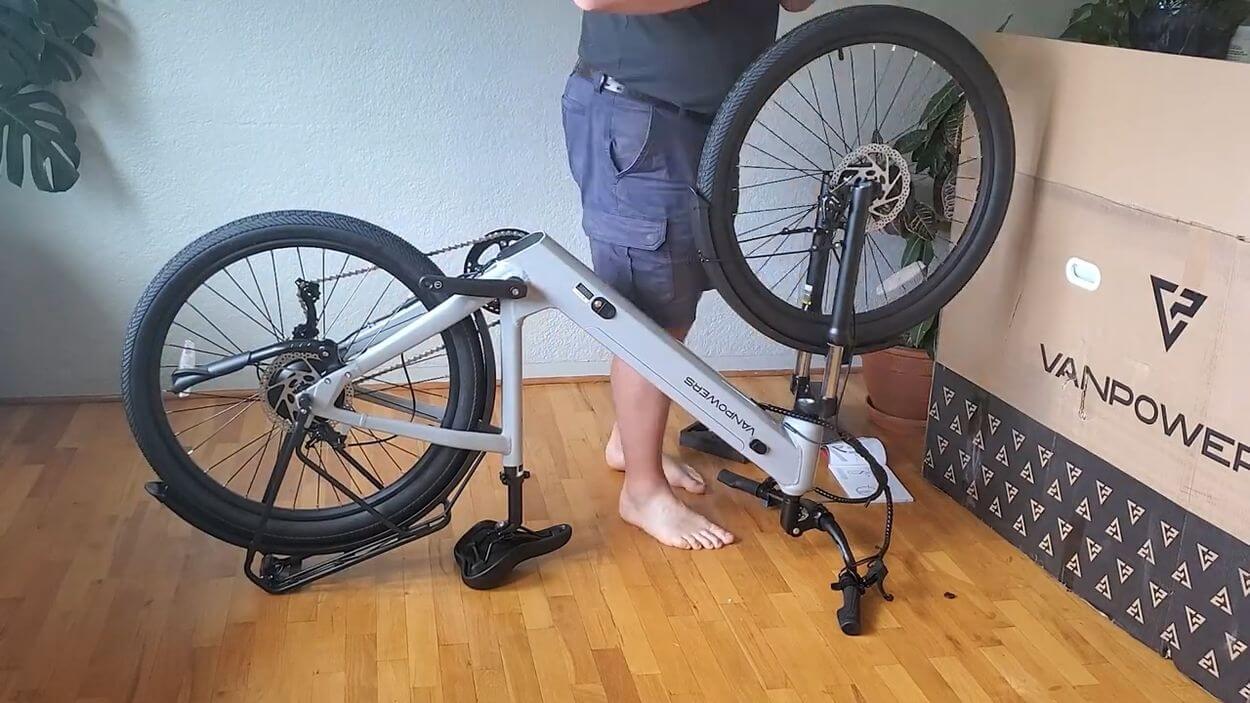 The overall build quality of the VanPowers Urban Glide Standard is commendable. The sturdier frame, along with the enhanced components, ensures durability and reliability. This bike is designed to withstand the rigors of daily use and provide a smooth and comfortable riding experience.
VanPowers Urban Glide Standard:
Power and Driving
The performance of the VanPowers Urban Glide Standard is worth highlighting, especially considering its powerful components. It is worth noting that the Urban Glide is available in three models: Standard, Pro, and Ultra. In this case, we will focus on the Standard version.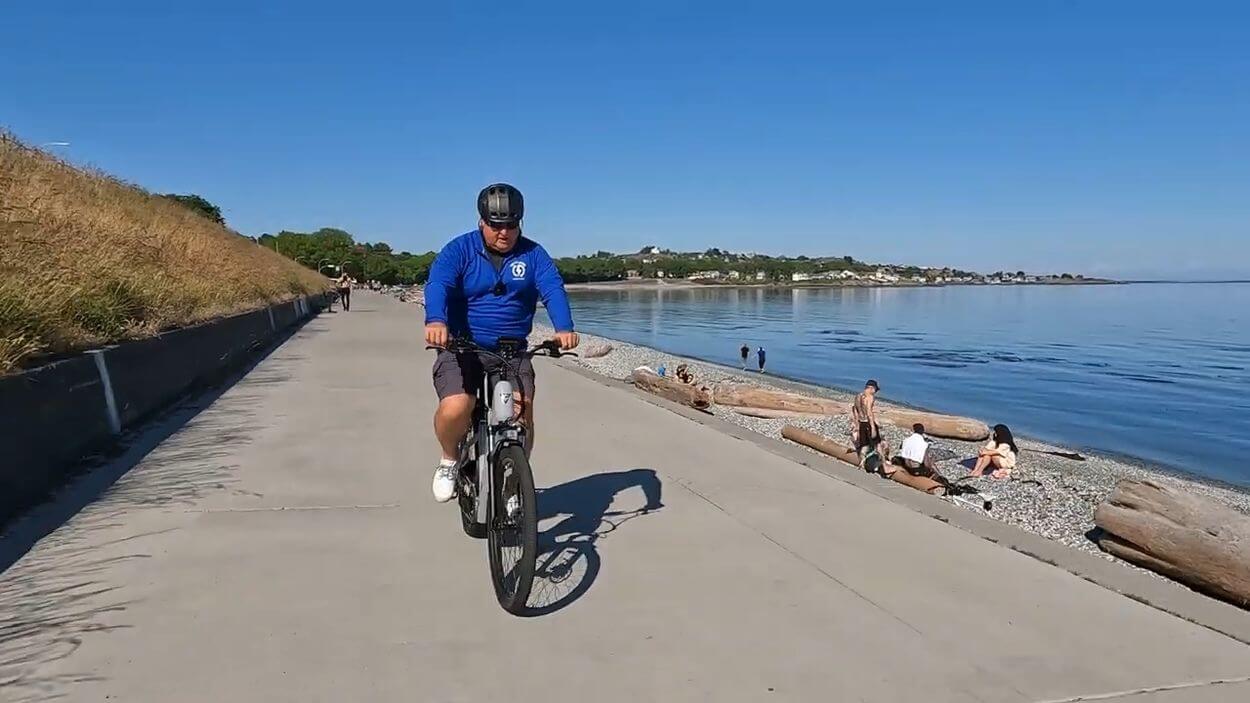 The Urban Glide Standard is equipped with a 500W motor, which provides ample power for urban commuting and recreational riding. This motor delivers a smooth and natural riding experience, thanks to its high-quality construction and efficient design. The Bafang 500W motor stands out for its performance and reliability, offering a seamless and enjoyable ride.
One impressive feature of the Urban Glide Standard is the 95Nm torque sensor. This sensor measures the force exerted on the pedals and adjusts the motor assistance accordingly. With a high torque rating, the bike can deliver strong and responsive acceleration, allowing riders to conquer steep inclines and challenging terrains with ease.
The bike's gearing system is also noteworthy. The Standard version of the Urban Glide utilizes a Microshift RD-M26L 9-speed rear derailleur. This derailleur, in combination with a 42T chain ring and a 170mm crankset, offers a wide range of gear options. The 9-speed setup allows riders to choose the appropriate gear for various riding conditions, ensuring optimal pedaling efficiency and control.
I had the opportunity to take the VanPowers Urban Glide Standard for a spin during our local community street fair, followed by a pleasant ride in the park with my friend Michael. Here are a few points I'd like to highlight about the bike. 
First and foremost, the Urban Glide Standard features a lovely suspension system with 80 millimeters of travel and a 30 millimeter play. This setup ensures that any bumps or rough surfaces are absorbed, providing a smooth and comfortable ride. Whether you're navigating uneven city streets or exploring off-road paths in the park, the suspension system proves to be effective in maintaining a pleasant riding experience.
Powering the Urban Glide Standard is a 500 watt motor located at the back of the bike. This motor provides ample power for acceleration and climbing hills, making the ride effortless and enjoyable. What I particularly like is the inclusion of a throttle, conveniently located on the handlebars. With the throttle, you can quickly give it the "beans" and experience a burst of speed whenever needed. Additionally, the bike offers five levels of power assist, controlled through the left-hand side controller. This allows you to adjust the level of motor assistance according to your preference and the terrain you're traversing.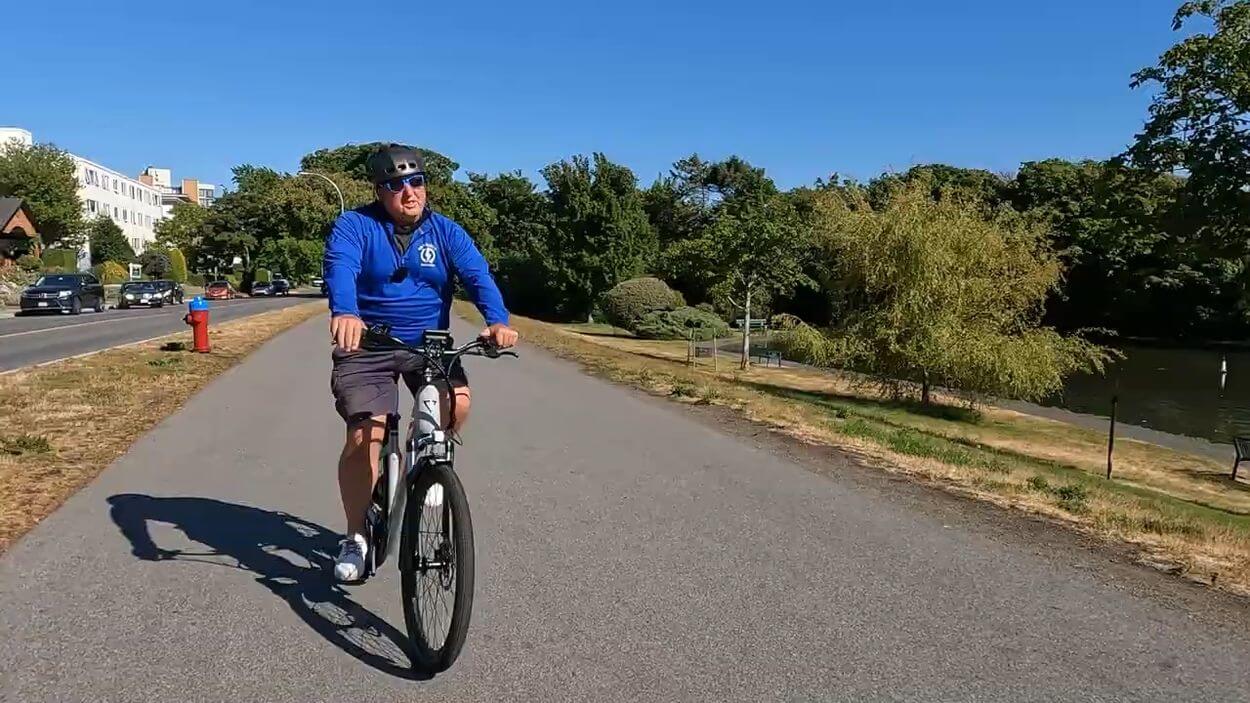 The Urban Glide Standard also boasts a full-color display, which is both beautiful and easily readable. Even in glorious sunshine, like the one I experienced, the display provides clear information about your speed, battery level, and other essential metrics. Having this level of visibility ensures that you can keep track of your ride's performance without any hassle.
The VanPowers Urban Glide Standard exhibits an impressive ability to reach and maintain a speed of 20mph. With its powerful motor and responsive throttle, the bike offers a swift and exhilarating ride, allowing you to cover distances efficiently. This capability makes it an excellent choice for commuting and exploring urban environments.
During my rides, I found the bike to provide a smooth and enjoyable experience, even on longer journeys, like we tested Vtuvia Reindeer. The combination of the suspension system and well-designed frame helps to absorb shocks and vibrations, minimizing discomfort and fatigue. This ensures that you can ride for extended periods without feeling the strain.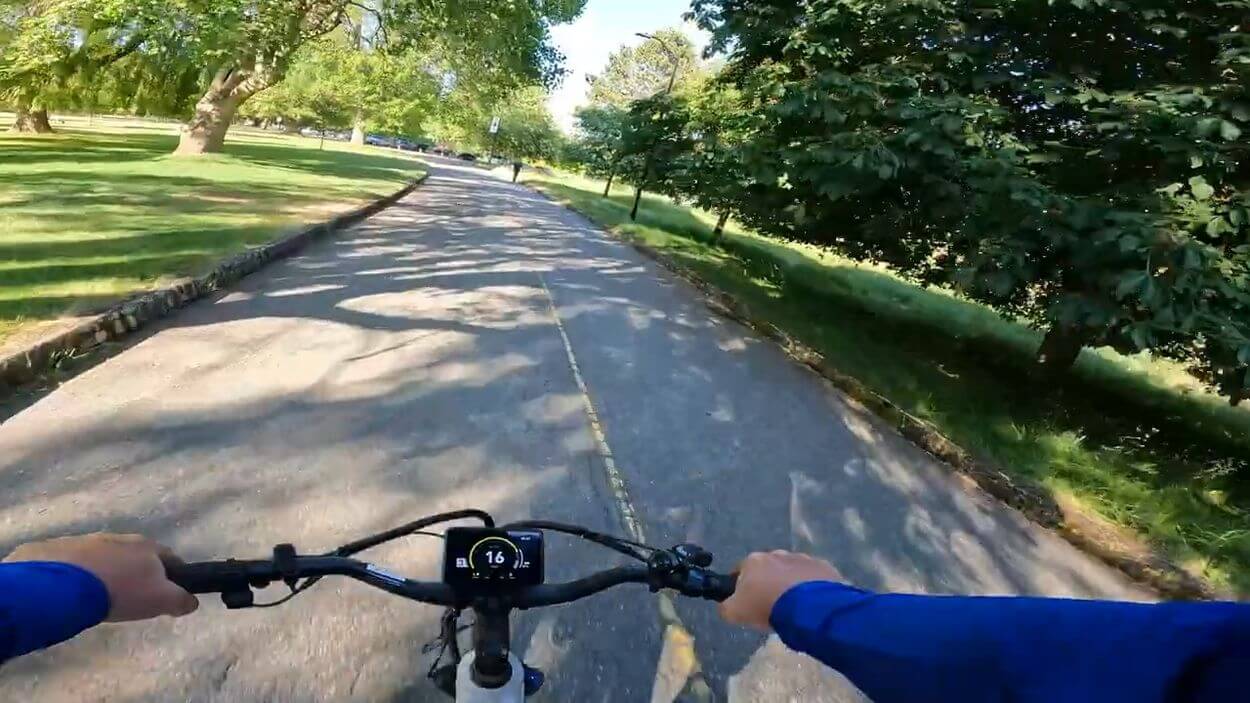 When faced with steep slopes and challenging terrain, the Urban Glide Standard truly shines. Its robust motor and torque sensor enable the bike to tackle uphill climbs with ease. I was impressed by its performance on various inclines, as it provided sufficient power and assistance to conquer challenging routes without feeling overly exerted.
The inclusion of a front suspension on the Urban Glide Standard significantly enhances the overall riding experience. This feature plays a crucial role in absorbing impact and providing added comfort, particularly when encountering uneven surfaces or bumps. It helps to smoothen out the ride and improves handling, ensuring a stable and controlled feel even in less-than-ideal road conditions.
While the overall experience with the VanPowers Urban Glide Standard has been highly positive, I would like to address a minor concern regarding the brakes. In my opinion, the brakes on this bike may feel a bit weak. However, considering that the bike's top speed is around 20 miles per hour, the braking performance is generally adequate for normal riding conditions. It's important to note that the braking system is still functional and capable of safely bringing the bike to a stop.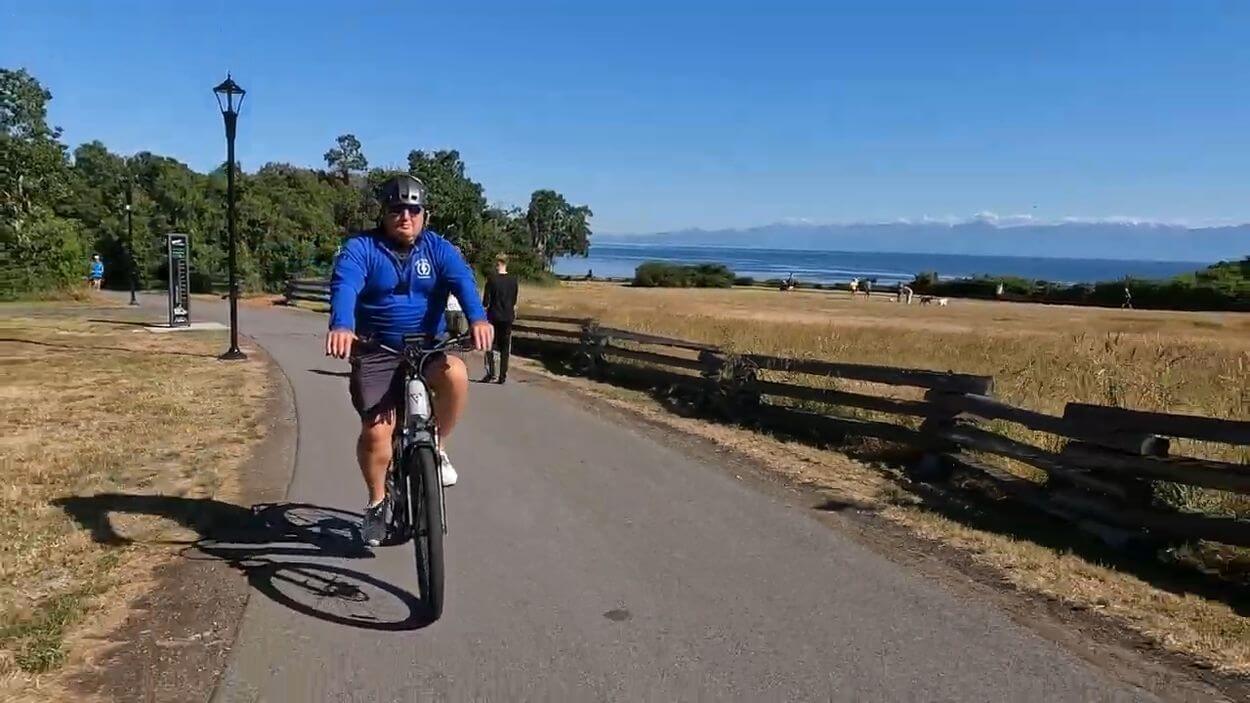 Despite this minor observation, I am genuinely satisfied with the Urban Glide Standard as a whole. The bike offers excellent value for its price point. It's worth mentioning that the Urban Glide Standard is available in two different sizes, and in my case, I have the small size. However, I believe that a larger frame size, such as the large option, would better suit me. It's essential to choose the frame size that best matches your body proportions for optimal comfort and control.
So, it's worth noting that the Urban Glide Standard is part of a lineup that includes two other versions. These versions come with mid-drive motors and may have slight improvements in certain areas compared to the base model. However, as a budget-friendly option, the base model provides a solid riding experience with its rear hub motor.
Battery and Range
The VanPowers Urban Glide Standard comes equipped with a robust 690WH certified battery, featuring LG cells. This high-capacity battery allows for an impressive range of approximately 65 miles on a single charge. Whether you're planning a long-distance ride or using the bike for daily commuting, the Urban Glide Standard offers sufficient battery capacity to cover significant distances without worrying about running out of power.
One convenient feature of the Urban Glide Standard is the ability to charge the battery while it is still inside the bike. This means you can easily recharge the battery without the need to remove it from its designated position. Alternatively, as I demonstrated earlier, you can also remove the battery and charge it separately.
Conclusions
So, the VanPowers Urban Glide Standard proves to be an exceptional value as a budget e-bike. With its powerful 500 watt motor located at the back, generous battery capacity 14.5 amp hour, and impressive range, this bike offers a compelling package for riders seeking a reliable and affordable electric bike.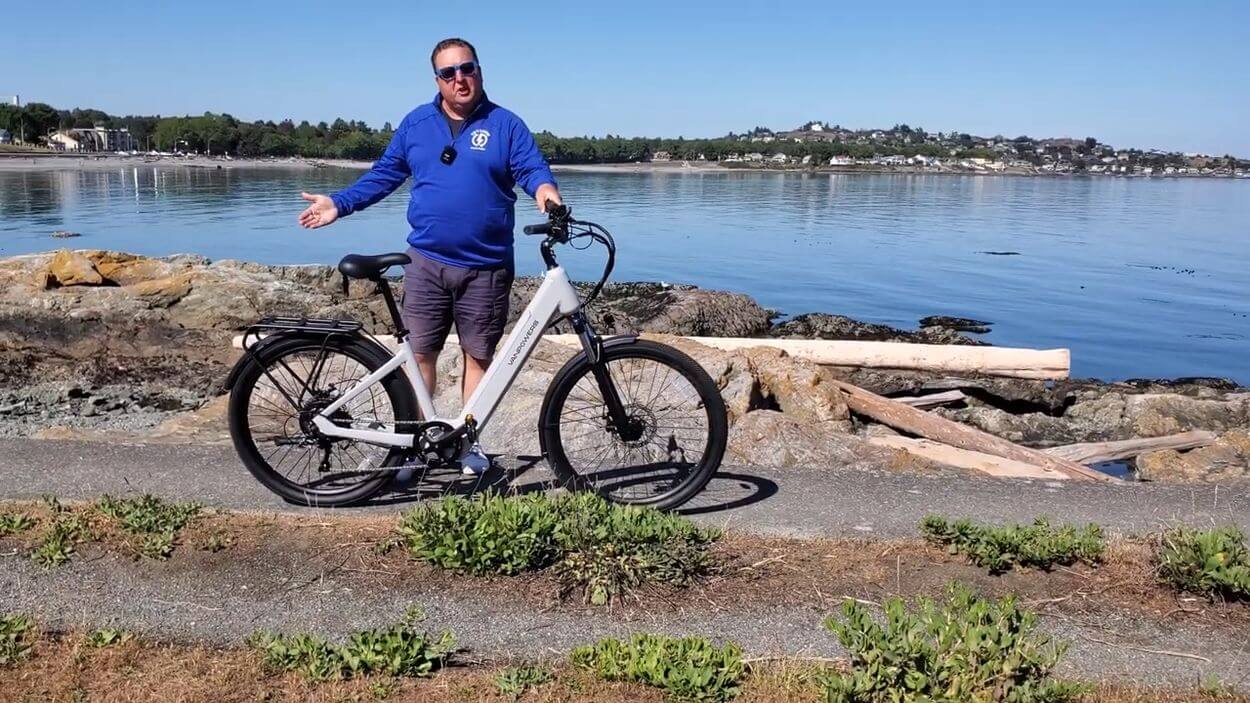 The standout feature of the Urban Glide Standard is its beautiful and easily readable full-color display, which remains highly visible even under bright sunlight. This ensures that riders can access vital information effortlessly during their rides, enhancing convenience and safety.
As a "big guy," I am particularly impressed with the Urban Glide Standard's performance, build quality, and overall value. The combination of a powerful motor, ample battery capacity, and an intuitive display contributes to a satisfying riding experience.
In summary, the Urban Glide Standard receives a resounding two thumbs up and is "big guy approved." VanPowers has crafted a budget-friendly e-bike that offers great features, durability, and performance, making it an excellent choice for riders of various sizes and preferences.
Alternatives of VanPowers Urban Glide Standard