Magnum Pilot from the Magnum Electric Bike Company is a unique and innovative e-bike that bridges the gap between the comfort of a cruiser and the performance of a commuter.
The Pilot stands out in the e-bike market due to its distinctive design philosophy. It aims to offer the best of both worlds by combining the comfortable features of a cruiser e-bike with the performance attributes of a commuter e-bike. The Pilot comes equipped with Magnum's first mid-drive motor, promising an exciting blend of features for riders seeking both comfort and performance in one package.
In this comprehensive review, we'll delve into how well Magnum has succeeded in creating this hybrid e-bike that caters to a variety of riding styles.
To discover more about how well the Magnum Pilot performs in various aspects and to gain a deeper understanding of its features, stay tuned for the Electric Bike Report's in-depth review. Thank you for joining us on this electric bike journey, and remember to ride safely and responsibly.
| | |
| --- | --- |
| Frame material | Aluminum Alloy |
| Motor Nominal Output | 500 Watts |
| Top Speed | Up to 28 mph with Pedal Assist, 20 mph with Throttle |
| Drive Mode | Torque Sensor Pedal Assist, Thumb Throttle, Walk Mode |
| Fork Details | Suntour XCM32 Boost |
| Brakes | Tektro Hydraulic |
| Tire Brand | 26 x 3.0 |
| Chain | KMC 10-Speed |
| Fenders | Front and Rear Included |
| Crank | Aluminum Alloy 170mm |
| Battery Ah | 15Ah |
| Minimum Range | 25 Miles (40 Kilometers) |
| Maximum Range | 50 miles (80 Kilometers) |
| Total Weight | 74.5 lbs (33.75 kg) |
Video Review of Magnum Pilot
Design and Build Quality
The Magnum Pilot is a well-crafted and thoughtfully designed bicycle that combines comfort, functionality, and style. Let's delve into its design and build quality to understand what makes it a standout choice for riders.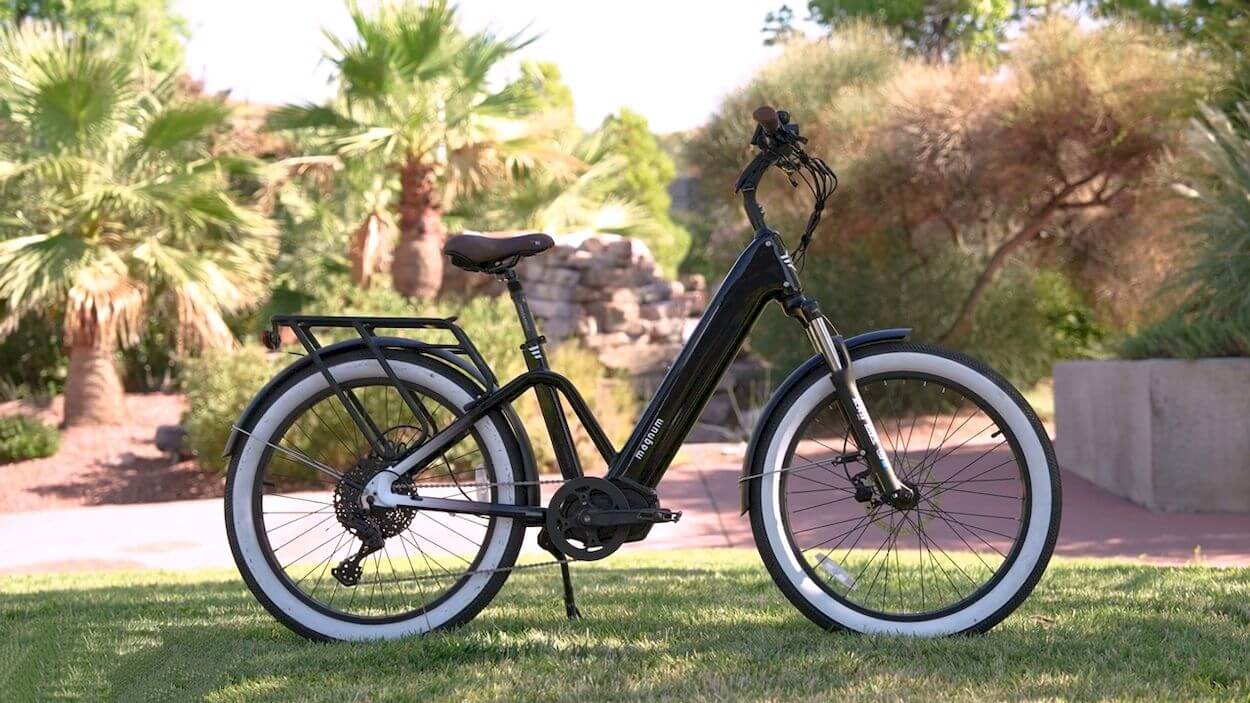 One of the standout features of the Magnum Pilot is its suspension system. The front suspension is provided by the Suntour XTM 32 coil spring fork with 80mm of travel. What's particularly impressive is the inclusion of a knob for dampening control, allowing riders to customize the level of suspension responsiveness. The ability to lock out the fork is also a valuable feature for those moments when a rigid front end is preferred. While the bike lacks rear suspension, the addition of the Promax suspension seat post helps compensate by providing additional comfort and cushioning, ensuring a smoother ride. The synergy between these components enhances the overall riding experience.
The Magnum Pilot's step-through frame design is both practical and user-friendly. It makes it easy for riders to mount and dismount the bike comfortably. The frame is available in a medium-large size, measuring 17 1/2 inches from the bottom bracket to the top of the seat post tube. This sizing is accommodating for a broad range of riders.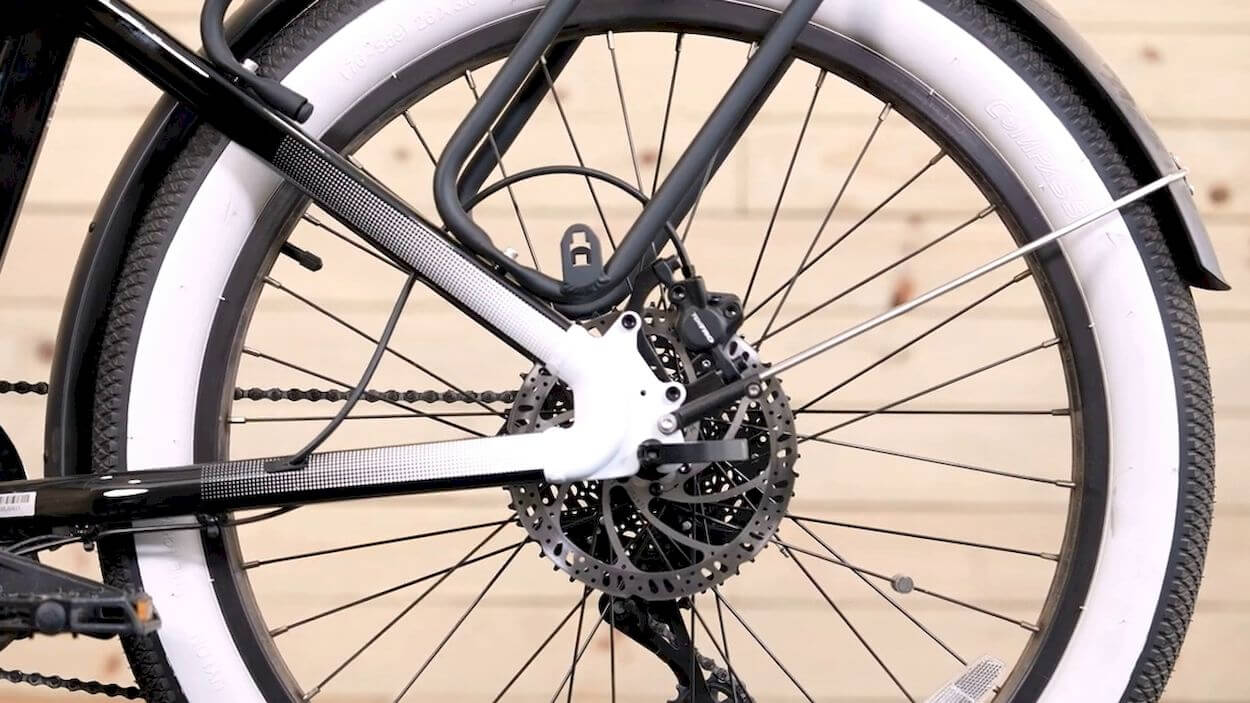 The stopping power of the Magnum Pilot is delivered by the Tetro HD 350 hydraulic disc brake system, equipped with 180mm rotors and dual-piston calipers. This high-quality braking system ensures responsive and reliable stopping performance, even in challenging conditions. It's a crucial safety feature that inspires confidence in riders, whether cruising along city streets or navigating steep descents.
The Magnum Pilot rolls on 26-inch x 3-inch Wanda Compass white wall tires. These tires are specifically designed for comfortable urban cruising on pavement, providing excellent grip and a smooth ride. However, it's worth noting that these tires are not suitable for off-road adventures. Riders looking to venture onto easy dirt roads may want to consider swapping them for a pair of all-terrain knobbies to ensure optimal traction and durability.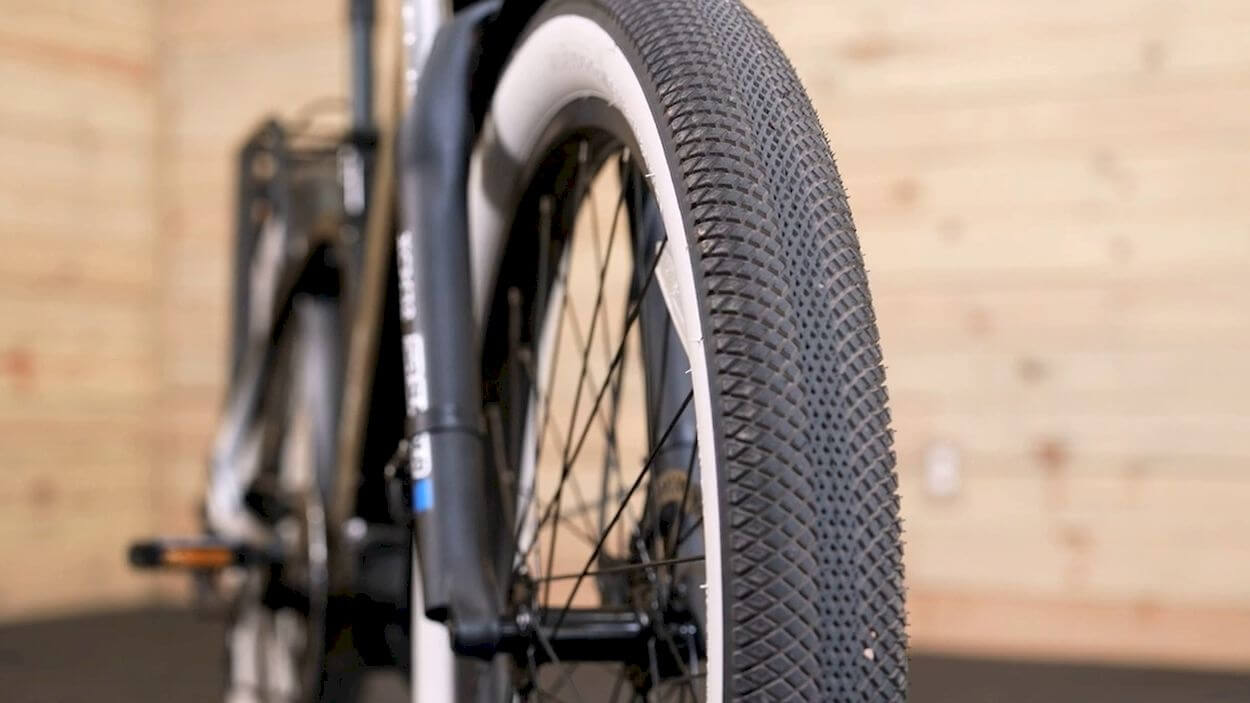 The bike features a microshift Advan X 10-speed drivetrain with an 11-46 cassette and a 48/32 chainring. This gearing setup offers a wide range of options for various riding conditions. It allows riders to efficiently pedal on flat terrain, tackle challenging uphill climbs, and maintain a good cadence at higher speeds. The inclusion of a wide gear range minimizes ghost pedaling in the top gear and provides ample low-end options for tackling steep gradients.
In addition to its exceptional components, the Magnum Pilot comes with some thoughtful extras. Each bike includes a keychain and a QR code that allows easy access to the owner's manual and warranty information via a smartphone. This user-friendly approach to documentation enhances the overall ownership experience.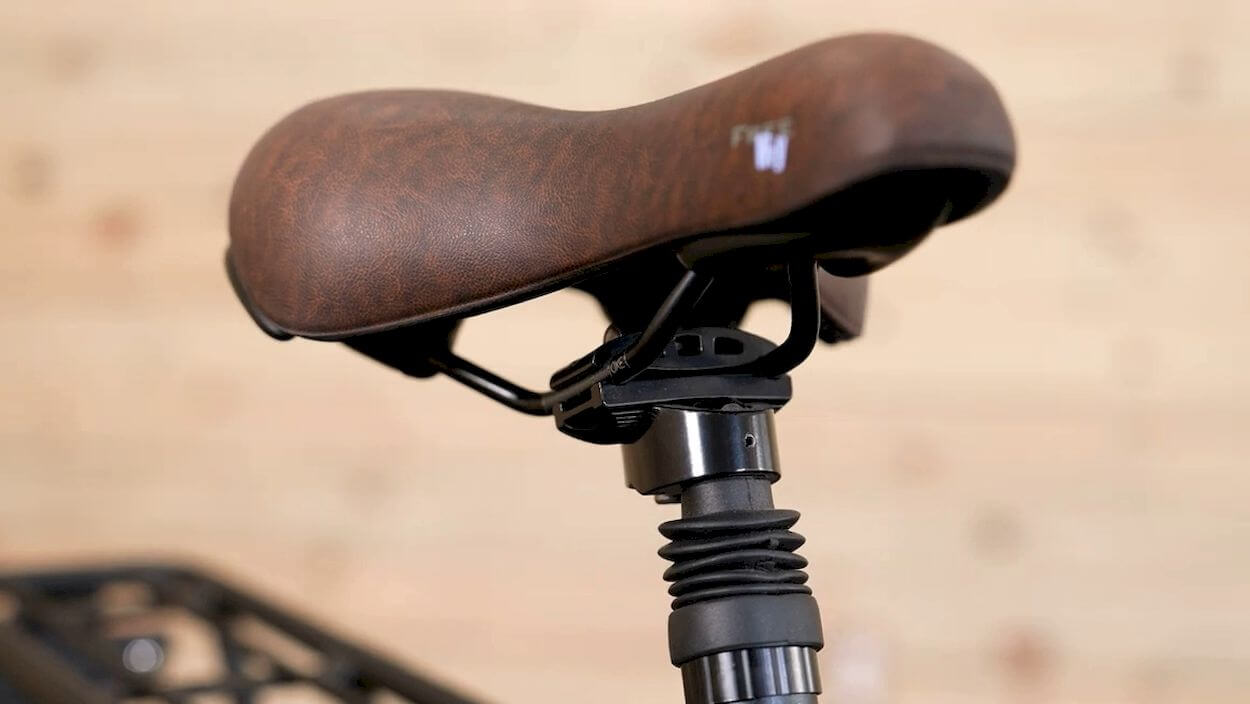 The Magnum Pilot is available in three eye-catching color schemes: blue or red with white trim, and black with white trim. These stylish options allow riders to choose a bike that matches their personal preferences and adds a touch of flair to their cycling adventures.
Display
The display screen on the Magnum Pilot is a standout feature that enhances the overall riding experience. It boasts a Votrix backlit monochrome LCD, which excels in providing essential ride information with clarity and readability, even when you're out in the midday sun.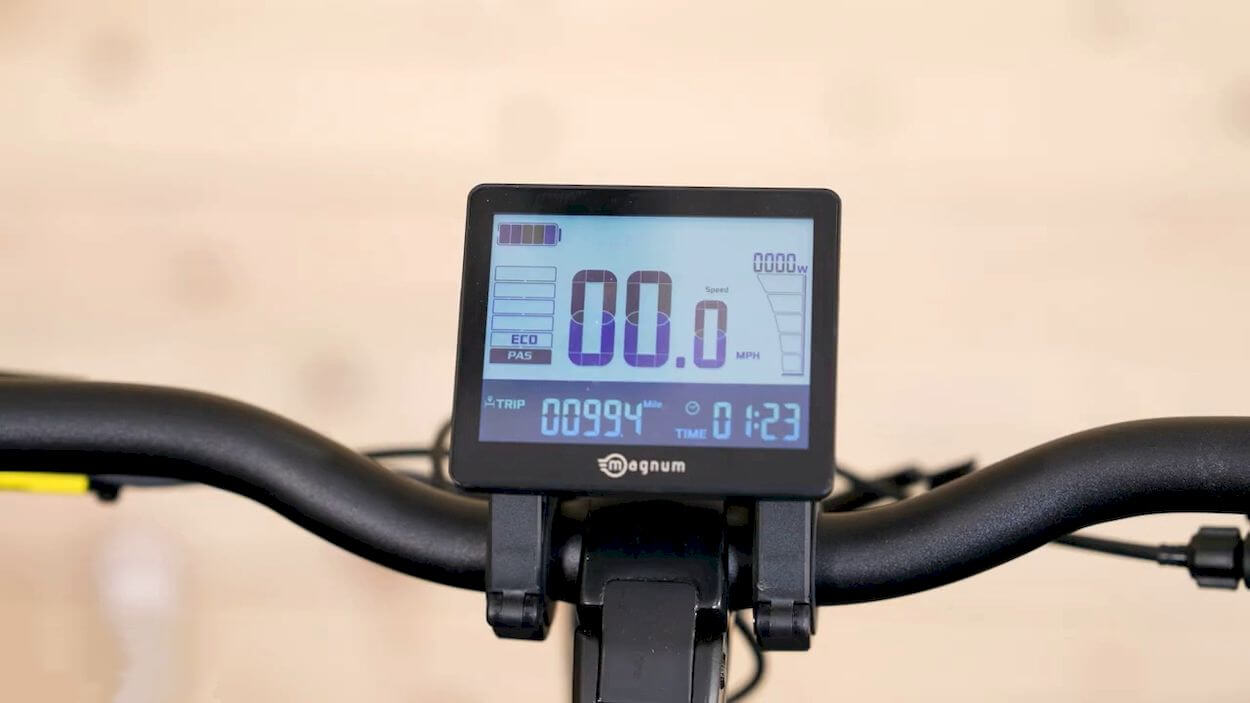 One of the most notable attributes of the Votrix backlit monochrome LCD is its ability to deliver a clear readout of crucial ride information. Whether you're cycling in bright daylight or low-light conditions, the screen maintains excellent visibility. This ensures that riders can access critical data at a glance, without straining their eyes or having to squint in harsh sunlight.
The display screen on the Pilot serves as a central hub for monitoring your ride. It provides a wealth of information that's invaluable during your cycling adventures. Some of the key ride data displayed includes:
Current Speed: Keeping track of your current speed is essential for both safety and enjoyment. The display screen presents this data prominently, allowing riders to adjust their pace as needed.

Battery Level: Knowing the remaining battery capacity is crucial, especially for e-bikes like the Magnum Pilot. Riders can make informed decisions about their route and usage based on this information.

Range: The range estimation feature provides riders with an estimate of how far they can travel on the current battery charge. This data is indispensable for planning longer rides and ensuring you won't run out of power unexpectedly.

Odometer: The odometer keeps a record of the total distance traveled on the bike. This information is helpful for tracking your overall progress, setting goals, and gauging maintenance intervals.

Additional Ride Metrics: Depending on the bike's features, the display screen may also show other ride metrics such as trip distance, trip time, and more. These metrics contribute to a comprehensive understanding of your cycling performance.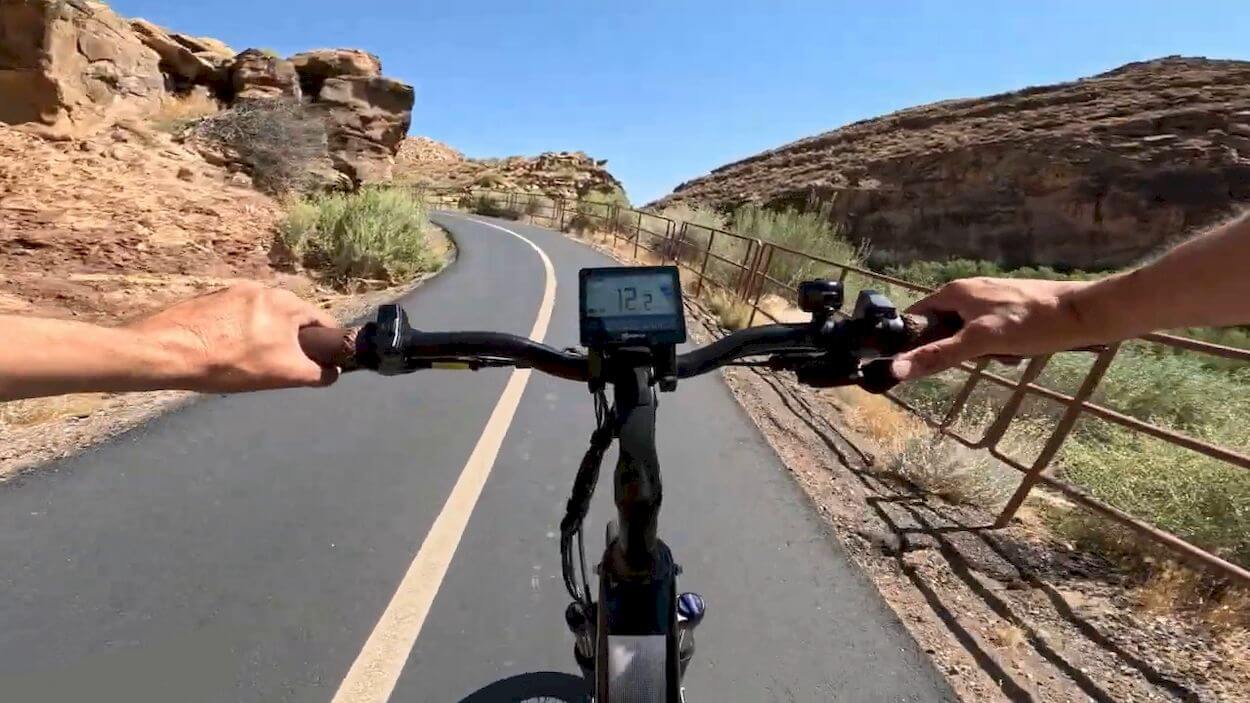 The Votrix backlit monochrome LCD is not only functional but also user-friendly. Its intuitive interface makes it easy to navigate through different data screens and access the information you need quickly and efficiently.
Magnum Pilot:
Motor
The Ananda 500W Mid Drive motor packs a punch when it comes to power. It's a crucial element in providing the Magnum Pilot with its electric-assist capabilities. This motor seamlessly integrates with the bike's drivetrain, delivering impressive torque and efficiency. Whether you're tackling steep hills or cruising along flat terrain, the motor ensures a smooth and responsive ride.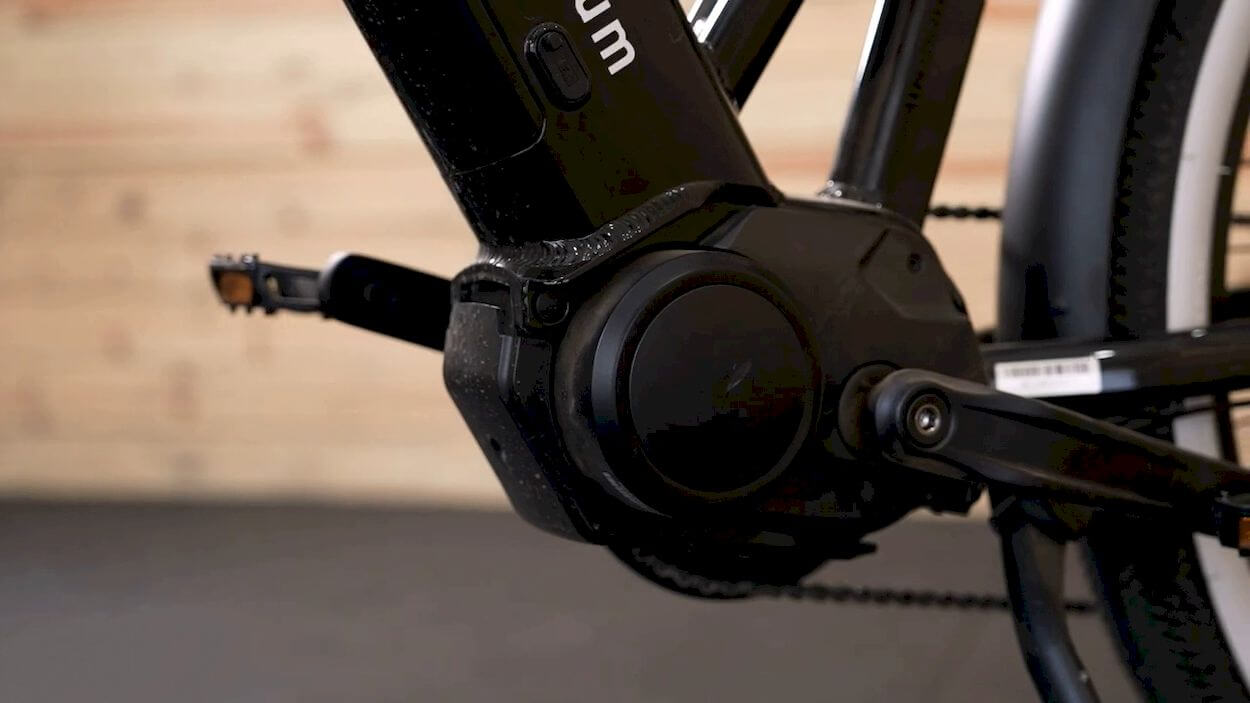 One of the standout features of the Magnum Pilot is its flexibility in terms of class configuration. The bike arrived as a Class 3 e-bike, which means it's capable of reaching speeds of up to 28 mph when using pedal assist. Additionally, it's equipped with an on-demand throttle that can take riders up to 20 mph without any pedaling effort. This combination of pedal assist and throttle provides riders with options to suit their preferences and needs.
Furthermore, the ability to configure the bike as either a Class 2, Class 3, or Class 1 e-bike adds to its versatility. This is a significant advantage, as it allows riders to adhere to local regulations and access a broader range of riding environments, from bike paths to city streets and beyond.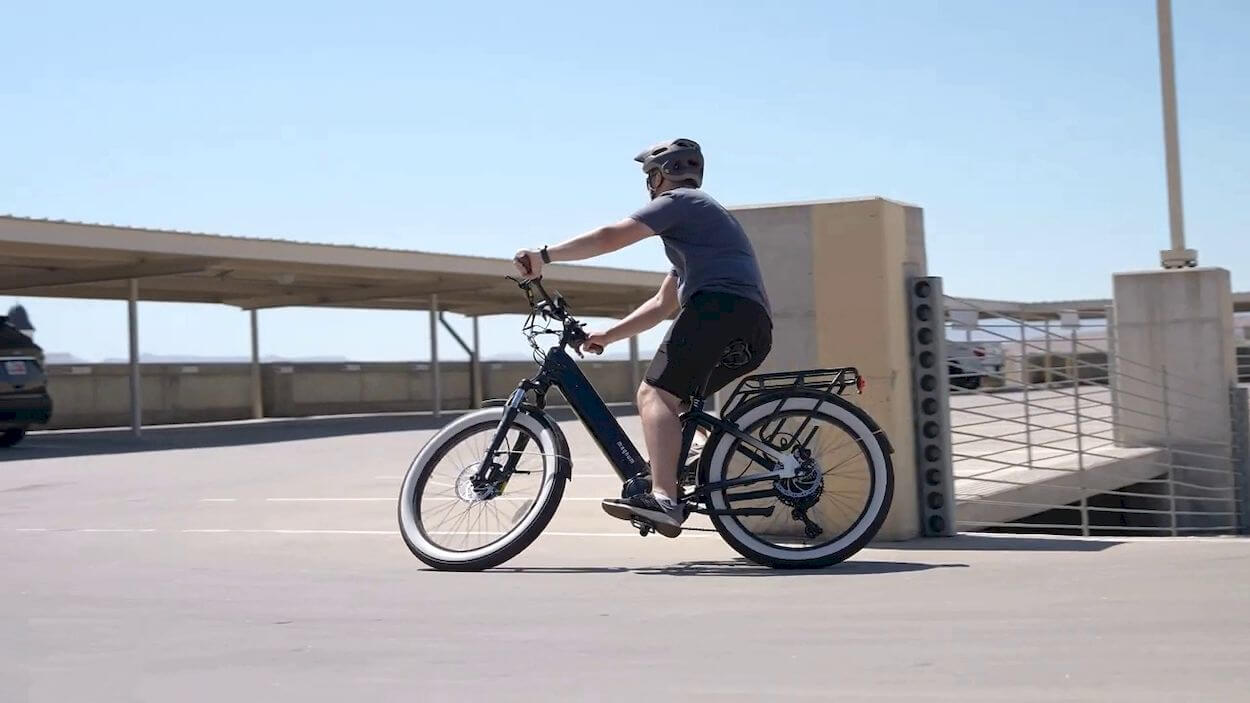 Another aspect worth mentioning is how seamlessly the motor integrates with the Magnum Pilot's overall design. The mid-drive motor is positioned at the bike's center, which helps maintain a balanced and stable ride. It also minimizes the impact on the bike's handling characteristics, ensuring that it feels natural and responsive when riding, whether you're using the electric assist or not.
Driving Test
Testing the pedal assist speed of an e-bike is a crucial aspect of evaluating its performance, and in the case of the Magnum Pilot, it provides valuable insights into the capabilities of this impressive electric bicycle.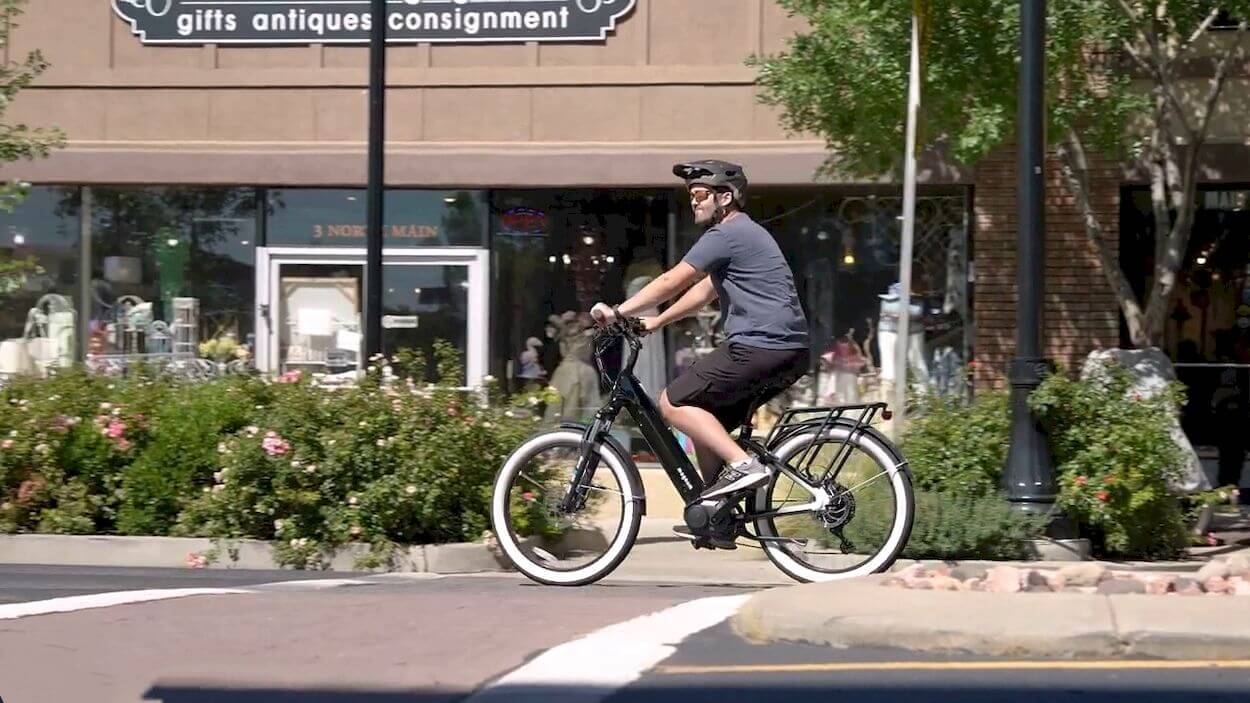 When assessing the Magnum Pilot's pedal assist speeds, you embarked on a comprehensive test to gauge its performance across various pedal assist levels. Your goal was to understand how the bike responded and accelerated in each mode, shedding light on its versatility and power.
The Magnum Pilot offers a range of pedal assist modes, from Eco Mode (Level 1) to Boost Mode (Level 5). Each mode is carefully designed to provide a different level of electric assistance, catering to riders with varying preferences and needs.
Here's a breakdown of the pedal assist speeds you observed during your testing:
Eco Mode (Level 1): In this mode, you achieved a respectable 15.2 mph, showcasing the bike's ability to provide a gentle boost while maintaining a comfortable and efficient riding experience.

Tour Mode (Level 2): Stepping up to Tour Mode, you experienced a significant acceleration, reaching 17.8 mph. This mode is ideal for riders seeking a bit more speed and assistance during their journeys.

Sport Mode (Level 3): Sport Mode pushed the boundaries further, delivering a top speed of 20.2 mph. This mode is well-suited for those who want to cover distances more quickly while still enjoying an engaging ride.

Turbo Mode (Level 4): Turbo Mode brought a substantial increase in speed, taking you to 23.4 mph. It's evident that the Magnum Pilot's mid-drive motor offers ample power for riders seeking an exhilarating experience.

Boost Mode (Level 5): In Boost Mode, you achieved an impressive top speed of just under 27 mph, highlighting the bike's capacity to offer a thrilling and high-speed ride.
It's worth noting that the Magnum Pilot was set up as a Class 3 e-bike during testing, with the potential to reach pedal-assisted speeds of up to 28 mph. This configuration provides riders with an exciting mix of power and speed while adhering to class-specific regulations.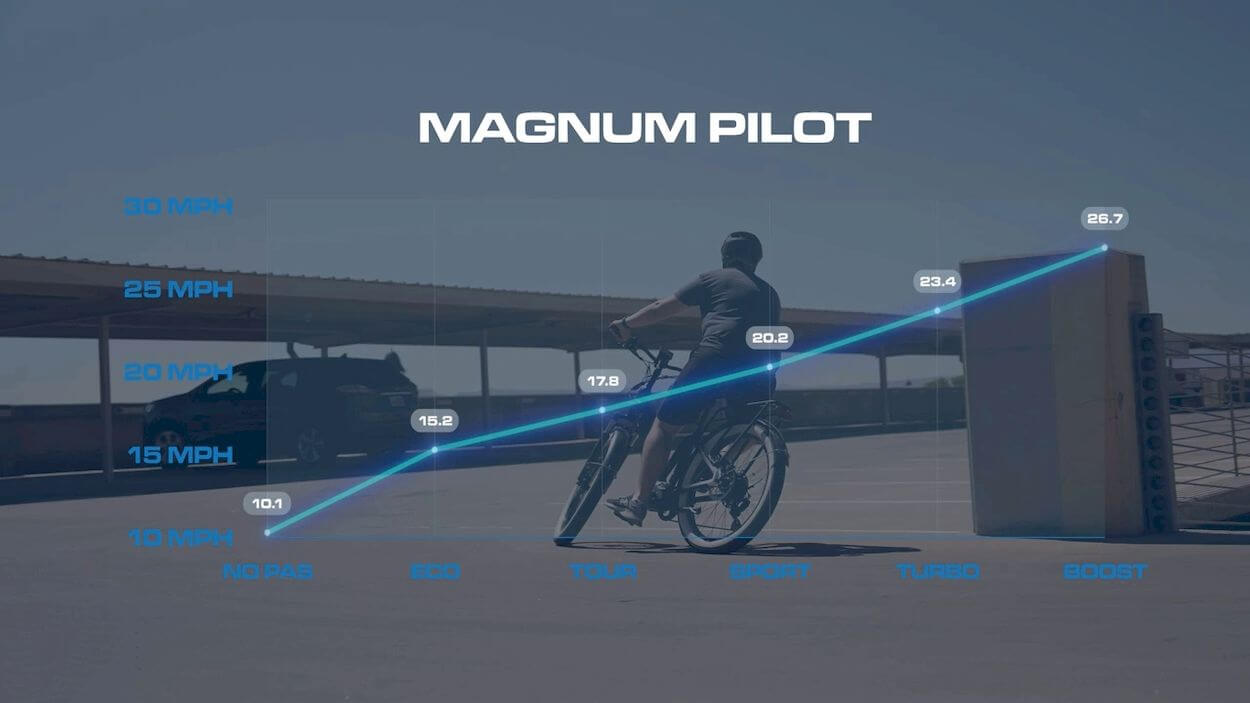 An essential aspect of the Magnum Pilot's performance is its use of a torque sensor to manage motor engagement based on your pedaling effort. This dynamic interaction ensures that the motor's assistance aligns with your input, delivering a responsive and natural riding experience.
In the throttle-only test, the Magnum Pilot displayed admirable performance. With its 500W mid-drive motor and a throttle option, the bike managed to conquer a challenging hill with a 12% grade, covering a third of a mile. The results were impressive, with the bike reaching the summit in just under two minutes, averaging a speed of 9.7 mph. While it may not have set speed records, the fact that it tackled such a steep incline on throttle power alone is a testament to its capabilities.
Switching to pedal assist mode in Boost Mode, the Magnum Pilot continued to shine. The 500W mid-drive motor, coupled with your pedaling effort, propelled the bike up the hill with ease. It completed the climb in a mere one minute and 23 seconds, averaging an impressive 13.1 mph. This mode showcased the bike's ability to provide significant assistance to riders on steep ascents, making hill climbing a manageable task.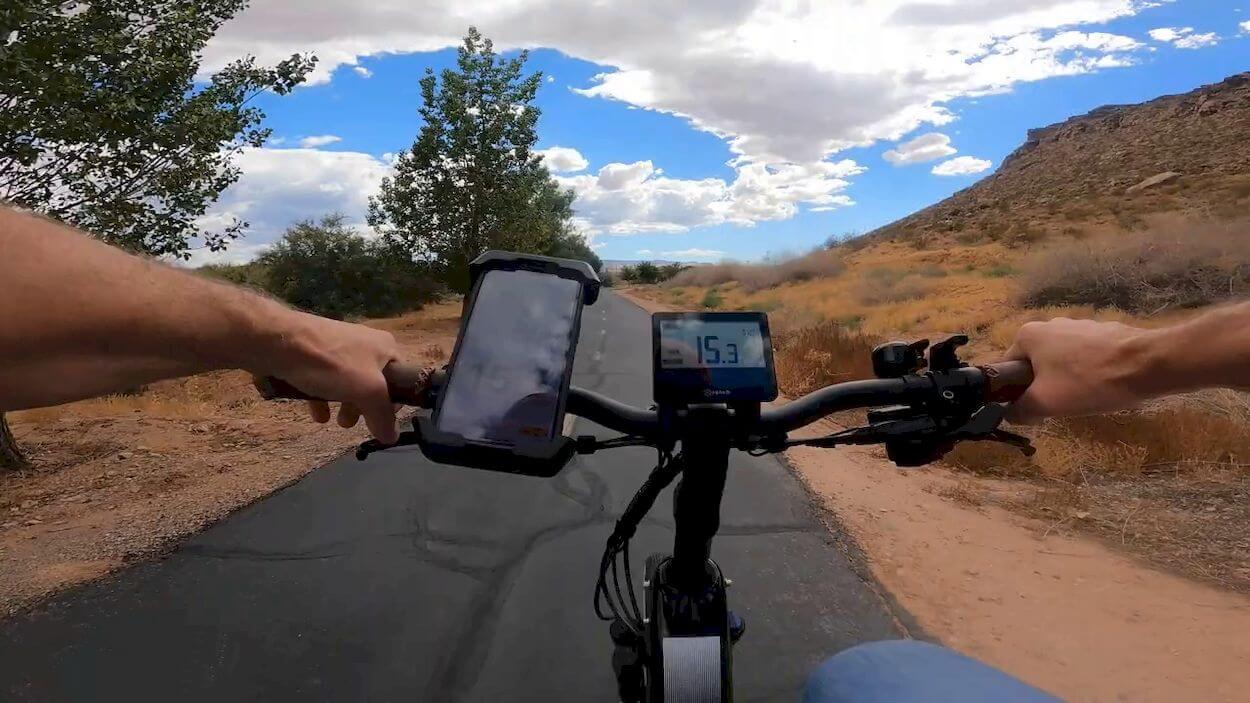 One key takeaway from the hill test was the Ananda 500W mid-drive motor's impressive peak torque of 130 Newton-meters. This level of torque plays a significant role in the bike's ability to climb hills efficiently. It ensures that riders have the power they need to tackle steep grades without excessive effort.
Notably, the inclusion of a throttle on a mid-drive e-bike is a valuable addition. While it may not provide lightning-fast acceleration, it serves as a helpful tool for riders who may need an extra boost on challenging terrain or simply want a break from pedaling.
Beyond hill climbing, the Magnum Pilot's overall ride quality received positive feedback. Its comfortable and upright riding position, adjustable stem, suspension components (Suntour suspension fork and Promax suspension seat post), and ergonomic C Royale freeway saddle contribute to a smooth and comfortable riding experience. These elements work together to absorb bumps and ensure a pleasant journey on various terrains, be it city streets or bike paths.
Breaking Test
In the brake test, the Magnum Pilot was subjected to a series of evaluations to determine its stopping distance when traveling at a speed of 20 mph. The results indicated an average stopping distance of 23 feet and 8 inches. While this performance isn't poor by any means, it's important to note that it falls short when compared to some other commuter e-bikes equipped with similar brake systems.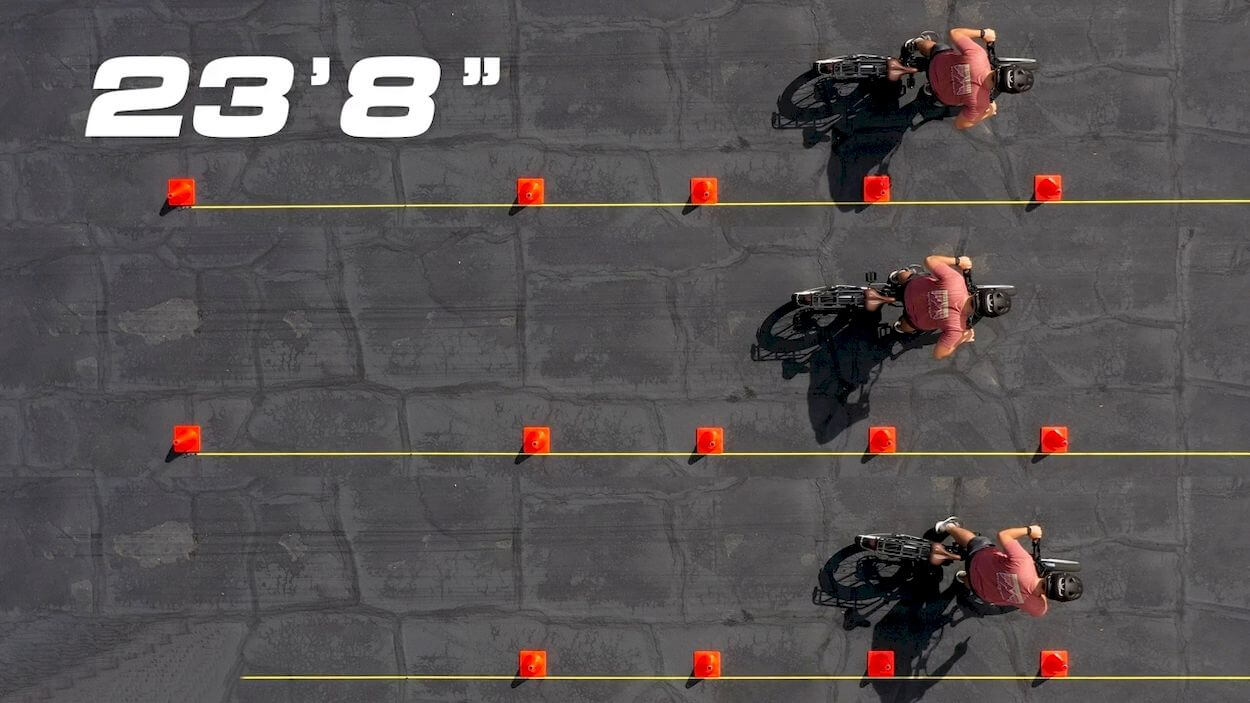 The Magnum Pilot is equipped with the Tektro HD 350 hydraulic brake system, which includes 180 mm rotors and dual-piston calipers. These brakes are generally considered reliable and effective, particularly on lighter e-bikes. However, it's worth mentioning that the braking performance may vary depending on the weight of the e-bike and the rider, as well as other factors like road conditions and weather.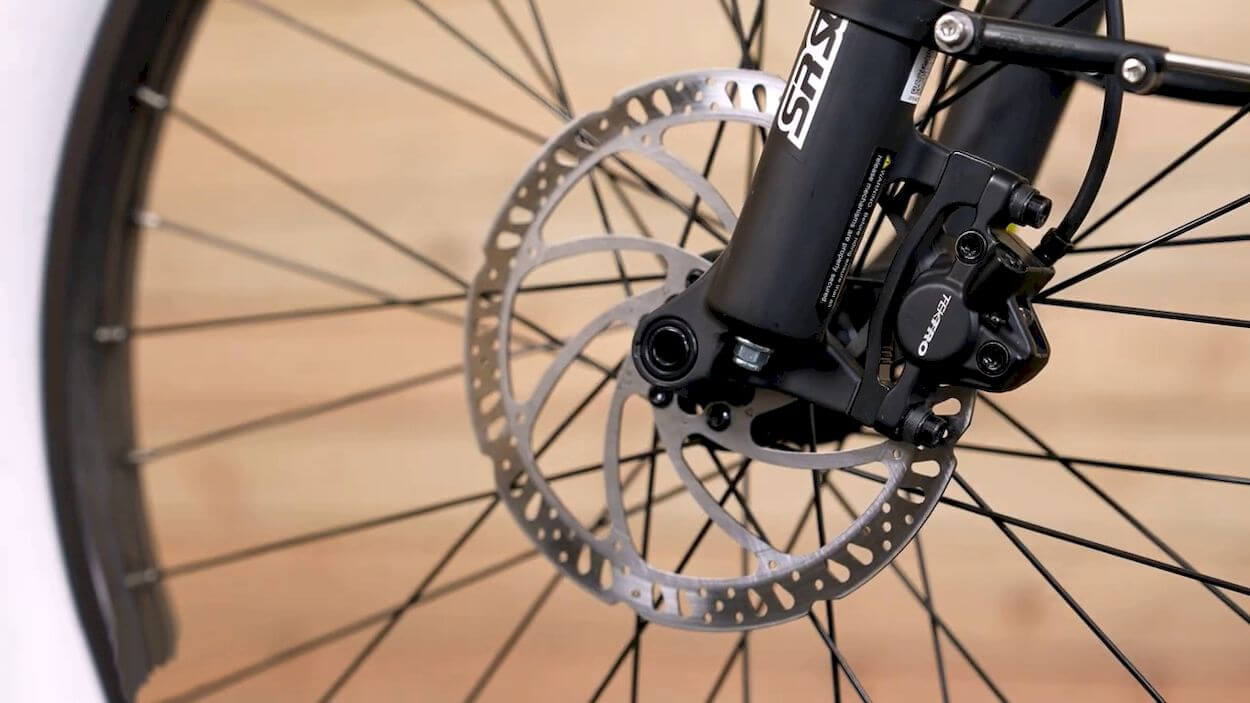 The observation that the braking distance on the Magnum Pilot was slightly longer than expected for an e-bike in this category raises an important consideration. Given the e-bike's price point, which is just under $3,000, there may be room for enhancement in the braking system. Upgrading the brakes to a more high-performance variant could potentially improve the stopping distance and provide riders with added safety and peace of mind.
Battery and Range
The Magnum Pilot boasts a 15 amp-hour (720 watt-hour) lithium-ion battery, which is both substantial in capacity and thoughtfully integrated into the frame. The battery's integration into the frame not only provides a clean and sleek aesthetic but also ensures a secure and well-balanced distribution of weight. Additionally, the ease of removal is a practical feature, allowing for convenient charging and replacement if needed.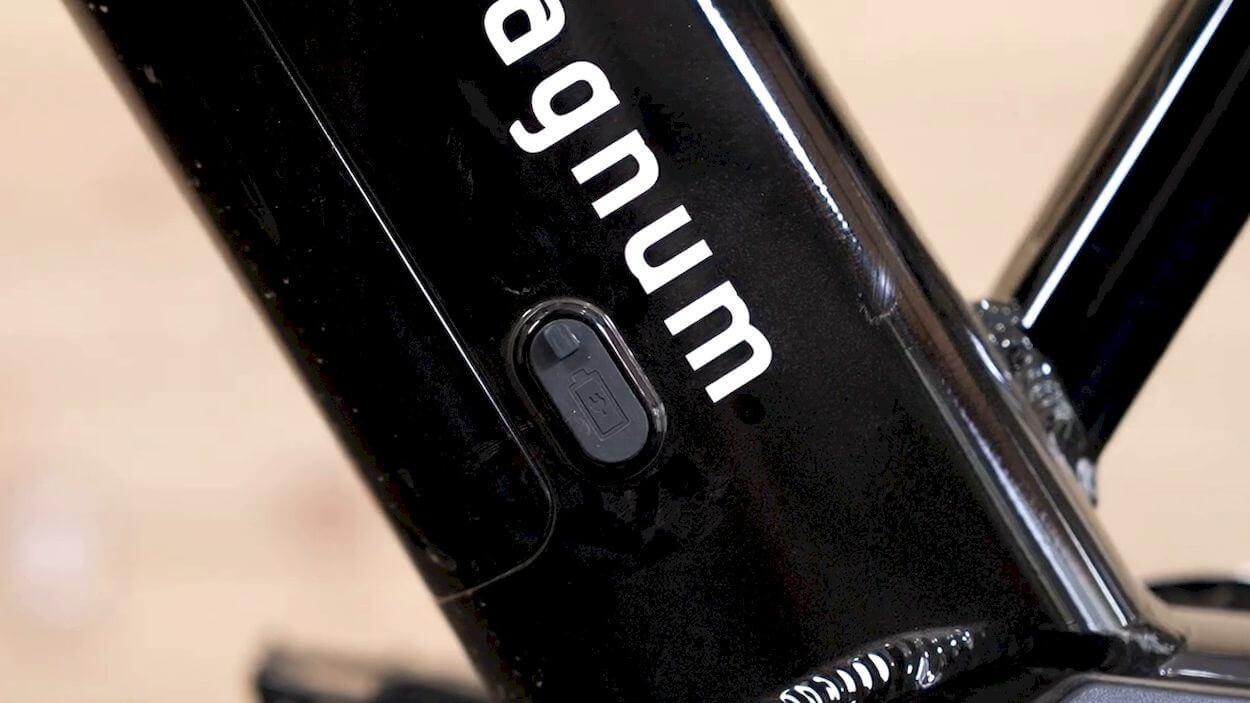 Evaluating the range of an e-bike is essential for riders who need to plan their journeys and ensure they won't run out of power mid-ride. The range tests conducted on the Magnum Pilot revealed impressive results.
In the low-power, long-range test, where the e-bike was ridden in Eco Mode, the bike delivered an outstanding range of 83 miles. This range was achieved over 8 hours and 9 minutes of riding, with an average speed of 12.2 mph. These results significantly exceeded the 50-50 mile range initially advertised by Magnum.

In the maximum pedal assist test, where the e-bike was ridden continuously in Boost Mode, the Magnum Pilot covered a commendable distance of 28.8 miles in 1 hour and 22 minutes, with an impressive average speed of 18.4 mph.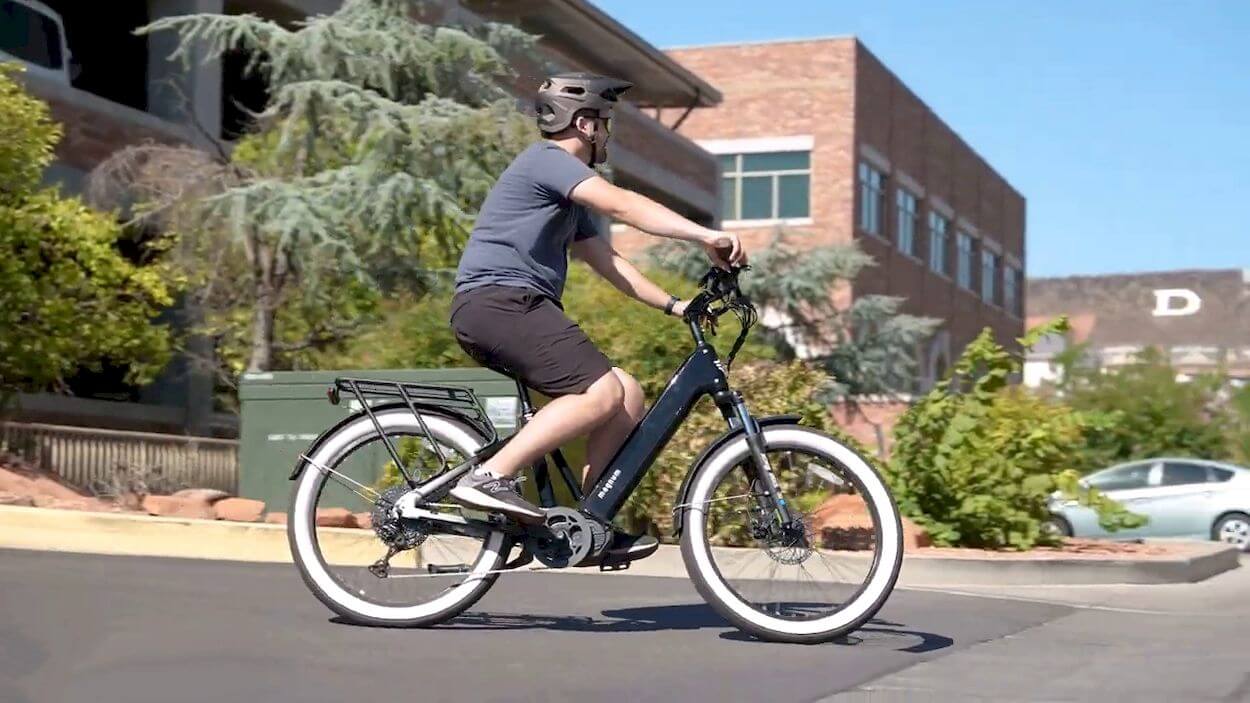 These range test results demonstrate that the Magnum Pilot is capable of providing riders with substantial distances on a single charge, whether they opt for the lowest pedal assist level for long-distance cruising or the maximum pedal assist level for a more spirited ride.
Conclusions
In the end, our team thoroughly enjoyed test riding the Magnum Pilot e-bike. As dedicated cyclists, we appreciated several key aspects of this bike that made our riding experience enjoyable and memorable.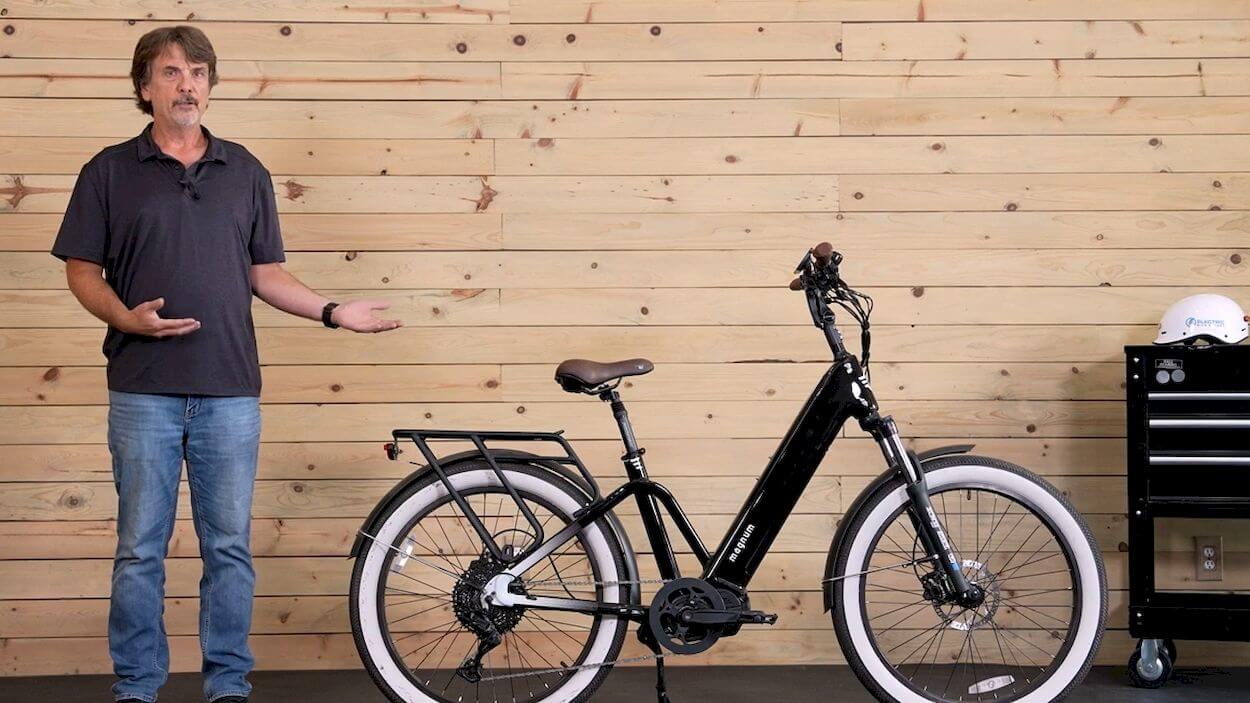 The heart of the Magnum Pilot is undoubtedly its Ananda 500W mid-drive motor. We were impressed by the motor's performance, which seamlessly delivered power and torque, making rides smooth and responsive. The 15 amp-hour (720 watt-hour) lithium-ion battery integrated neatly into the frame was a standout feature. Achieving a remarkable 83 miles on a single charge in low-power mode exceeded our expectations. 
V Magnum deserves recognition for creating an e-bike that straddles the line between a commuter and cruiser. This versatility caters to a broader range of riders, acknowledging the popularity of both categories within the e-bike community. Riders should note that the cruiser tires on this e-bike are primarily designed for street riding. If off-roading is on your agenda, having a backup set of knobby tires would be advisable.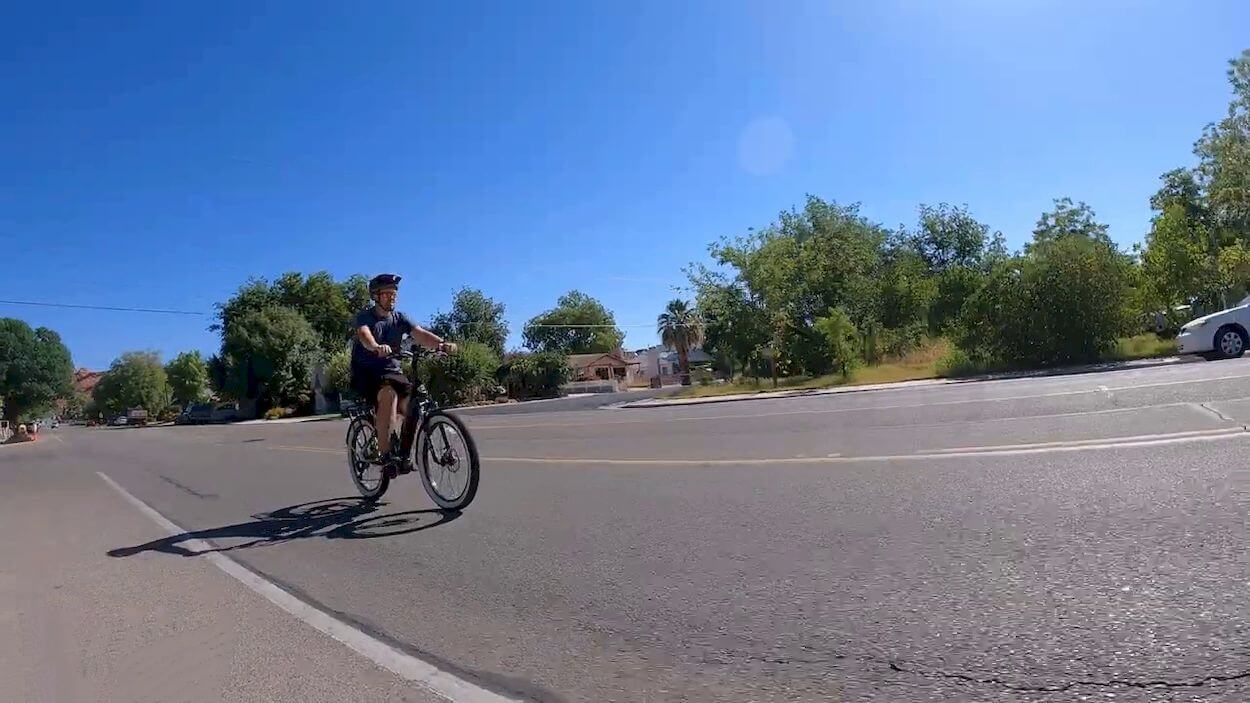 So, the Magnum Pilot impressively combines power, range, and thoughtful design elements to offer a versatile e-bike experience. Its exceptional range capabilities, thanks to a robust battery and efficient motor, make it a reliable choice for long-distance rides. 
However, the potential for brake improvement highlights a safety consideration that could enhance the overall riding experience. We commend Magnum for its efforts in catering to the diverse needs of e-bike enthusiasts and look forward to seeing more riders enjoy the Pilot on various cycling adventures. Thank you for joining us on this electric bike journey, and remember to ride safely with your hands on the bar, your feet on the pedals, and your eyes on the road. See you on the bike trails!
Alternatives of Magnum Pilot