Welcome back to Electric Vehicle Trip! Today, we're taking the HedaTX TX19 out for some serious shredding. This eMTB has the potential to be a capable trail-ready companion, but there are a few upgrades you might want to consider if you're looking to catch some air and shred till the sun sets. We'll delve into those aspects as we progress through this review.
The TX19 from Head of TX shows promise as a trail bike, with its full suspension and powerful motor. However, to take this bike to the next level and fully unleash its potential on the trails, a few modifications might be in order.
Let's begin by exploring its current performance on the trails. The full suspension setup provides a comfortable and smooth ride over rough terrains, making it a joy to tackle off-road adventures.
| | |
| --- | --- |
| FRAME: | 27.5 Inch Aluminum Alloy |
| MOTOR: | 48V 500W Bafang Rear Motor |
| MAX SPEED: | 30-50Km/h |
| DISPLAY: | M6C Color LCD Meter |
| GEAR SYSTEM: | Shimano 27 Speed |
| BRAKE: | Shimano Hydraulic Disc Brake |
| BATTERY: | 48V 15.6AH Battery |
| RANGE: | 25 to 35 miles |
| FORK: | Aluminum Air Suspension With Lockout |
Design and Build Quality
The HedaTX TX19 is a mountain bike that offers a fairly comfortable riding experience, primarily thanks to its full suspension frame. This suspension system ensures a smoother ride over rough terrains, making it well-suited for off-road adventures. The bike also comes equipped with slightly wider tires, which enhance stability and traction on challenging trails.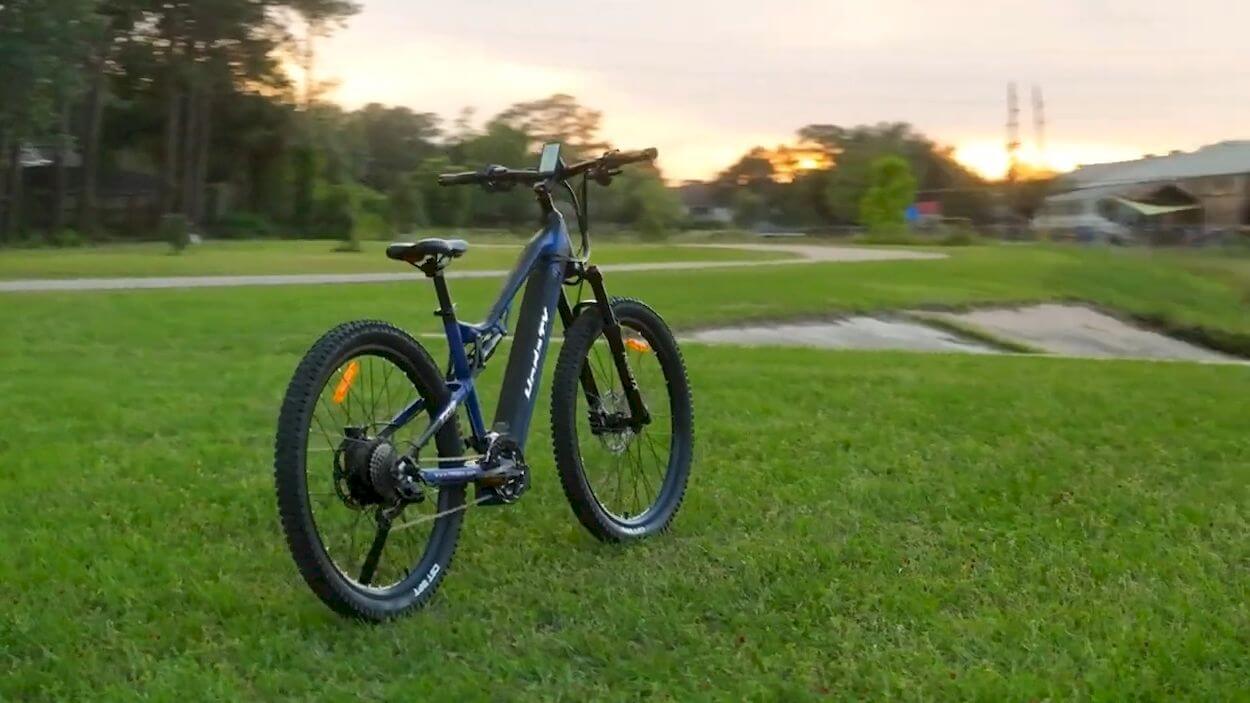 One notable feature of the HedaTX TX19 is its ergonomic and comfortable grips. While they have a locking mechanism for added safety, some riders feel that the design may not be the most ideal for a mountain bike. The grips are likely to provide a secure hold, but some users may prefer more streamlined grips with enhanced grip and less padding. Such grips would facilitate better handling and control, especially when navigating through technical sections of single tracks.
The bike's extensive gear range is another positive aspect, offering a significant advantage over e-bikes equipped with the standard seven to nine gears. This wide range of gears ensures that riders can tackle various types of terrains with ease. Whether it's steep climbs or fast descents, the TX19's gears make it a versatile option for riders seeking to explore a variety of trails.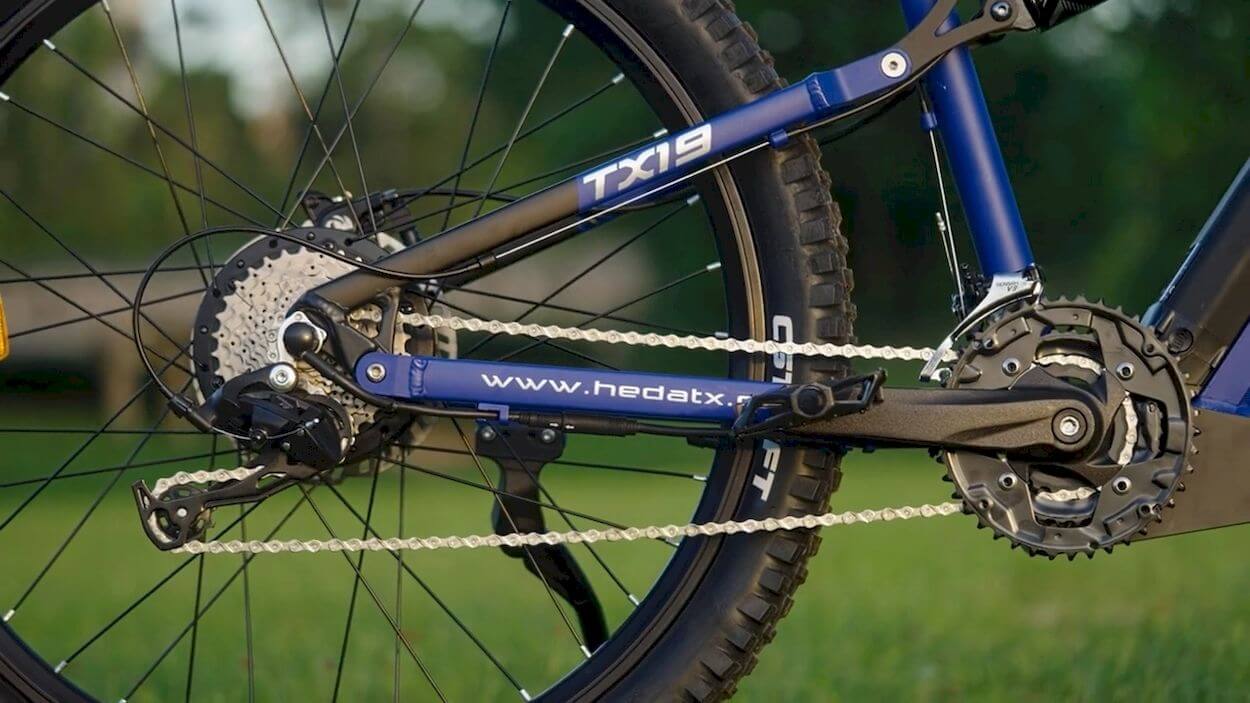 It's essential to note that the HedaTX TX19 is not meant to be an electric mountain bike (eMTB). However, it caters well to riders who want a bike capable of handling casual rides in the woods or more challenging trails. The full suspension and comfortable grips contribute to the bike's overall comfort, making it an excellent choice for extended off-road cruising.
As for accessories, it's worth mentioning that the TX19 does not come with a rack or fenders. However, riders can opt to add these aftermarket accessories if they desire. Mounting points for a rack may not be readily available on the bike, but innovative solutions from resourceful cyclists can address this limitation.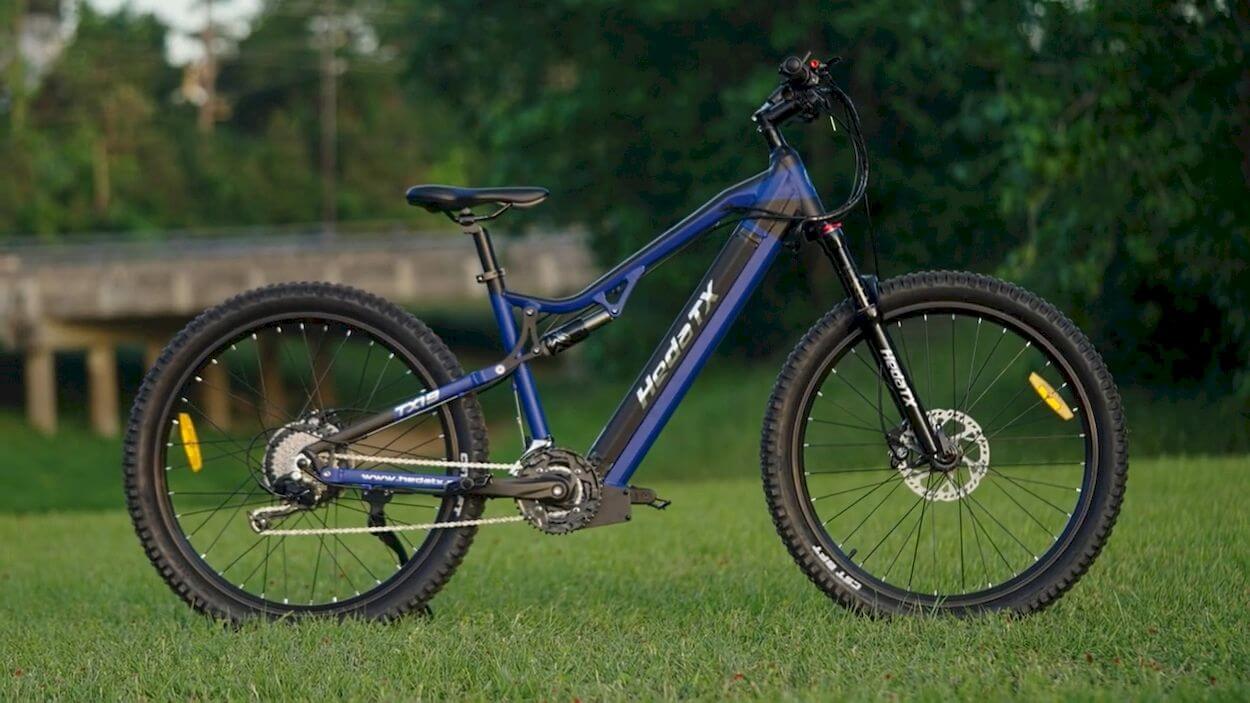 For riders seeking a single track monster, a few modifications could transform the TX19 into a more trail-oriented beast. The first upgrade would involve swapping out the current grips for ones with a more mountain bike (MTB) style grip. This would improve handling and control during off-road maneuvers.
Upgrading the drivetrain to a 1×10 or 1×11 setup would enhance the bike's versatility and simplicity, eliminating the front derailleur and offering a smoother and more reliable gear-shifting experience.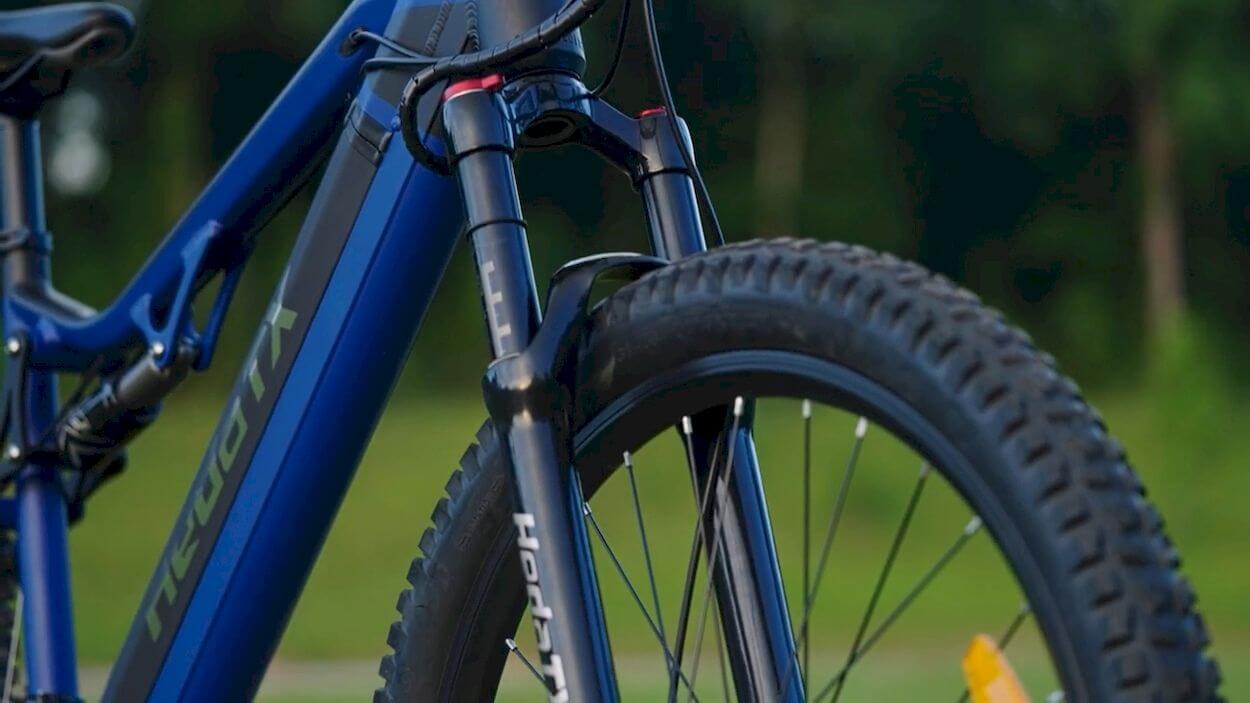 Removing the front light might be a reasonable choice for those solely focused on off-road riding, as it's not a necessity on the trails. To complement the bike's trail-oriented transformation, wider and straighter handlebars could be added, providing more stability and control during challenging descents.
Another valuable upgrade would be installing a seat dropper post, allowing the rider to adjust their seat height on-the-fly. This feature is particularly useful for downhill sections and technical trails, as it enhances rider confidence and maneuverability.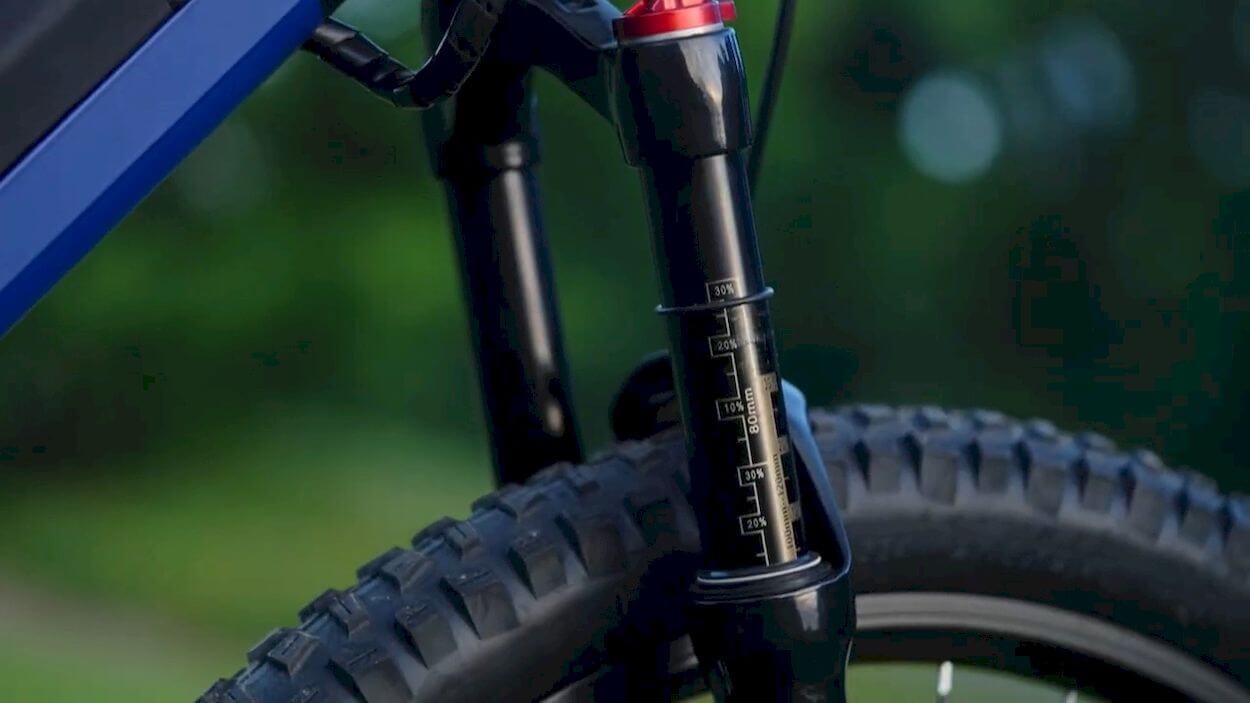 While it may be challenging to achieve due to the bike's design constraints, a slightly slacker head tube angle could improve the bike's stability at high speeds and steep descents, enhancing its overall trail prowess.
Regarding safety, the TX19 is adequately equipped for its primary use case. It includes a front light for increased visibility, hydraulic brakes for reliable stopping power, and tires with basic puncture protection. These features are essential for off-road riding and add to the bike's safety profile.
If riders plan to use the bike in urban environments, some additional safety considerations might be necessary. A rear light for visibility to other road users, sidewall reflective stripes on the tires for increased visibility at night, and potentially a horn or bell for alerting pedestrians could be beneficial.
The double locking grips are a positive safety feature, ensuring a secure hold on the handlebars. However, they may lose some grip if the rider's hands become sweaty, so maintaining a firm grip in such conditions is essential.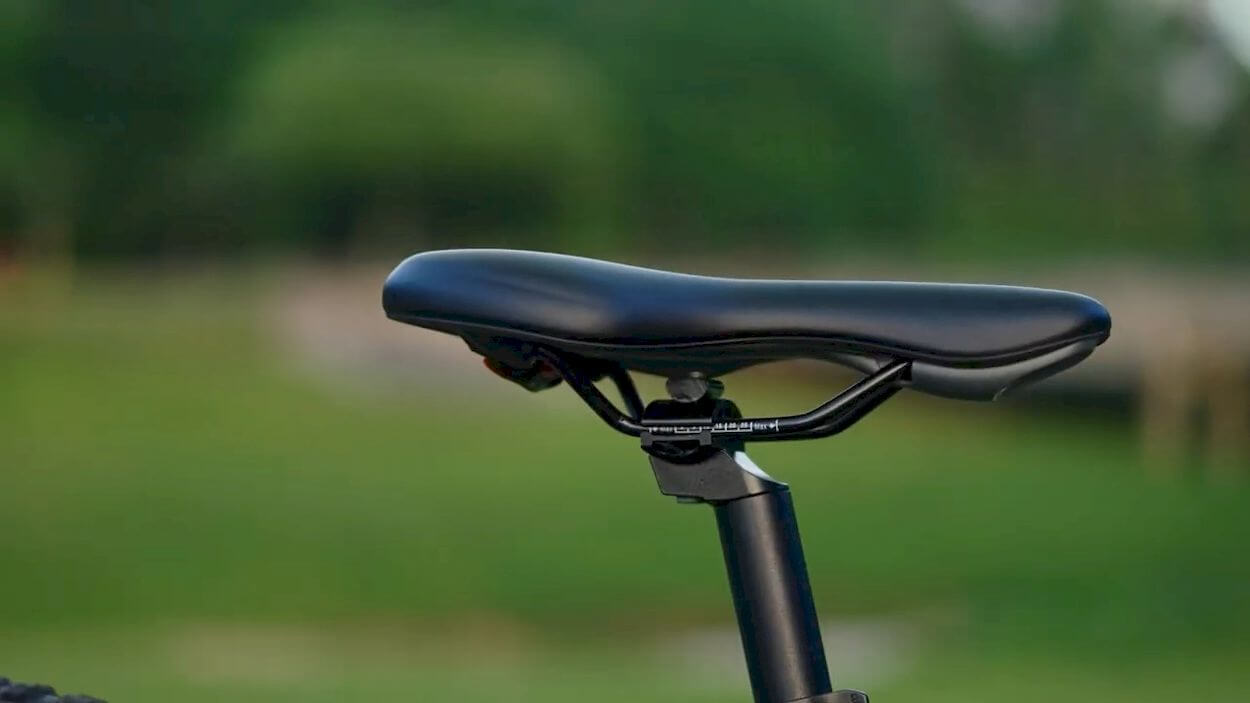 Furthermore, the integrated front light, powered by the bike's battery, is a convenient feature, eliminating the need for sourcing smaller batteries. This simplifies the setup and keeps the I well-equipped for nighttime rides.
HedaTX TX19:
Motor and Driving Test
The HedaTX TX19 boasts a 500-watt motor, which might not be the most powerful in terms of torque, but it delivers a thrilling and fun riding experience on the trails. The motor provides ample power for zipping around the trails and effortlessly climbing over challenging terrain, such as roots and inclines. One of the standout features of the motor is its low noise level, allowing me to enjoy the peacefulness of the outdoors without the distraction of a loud motor.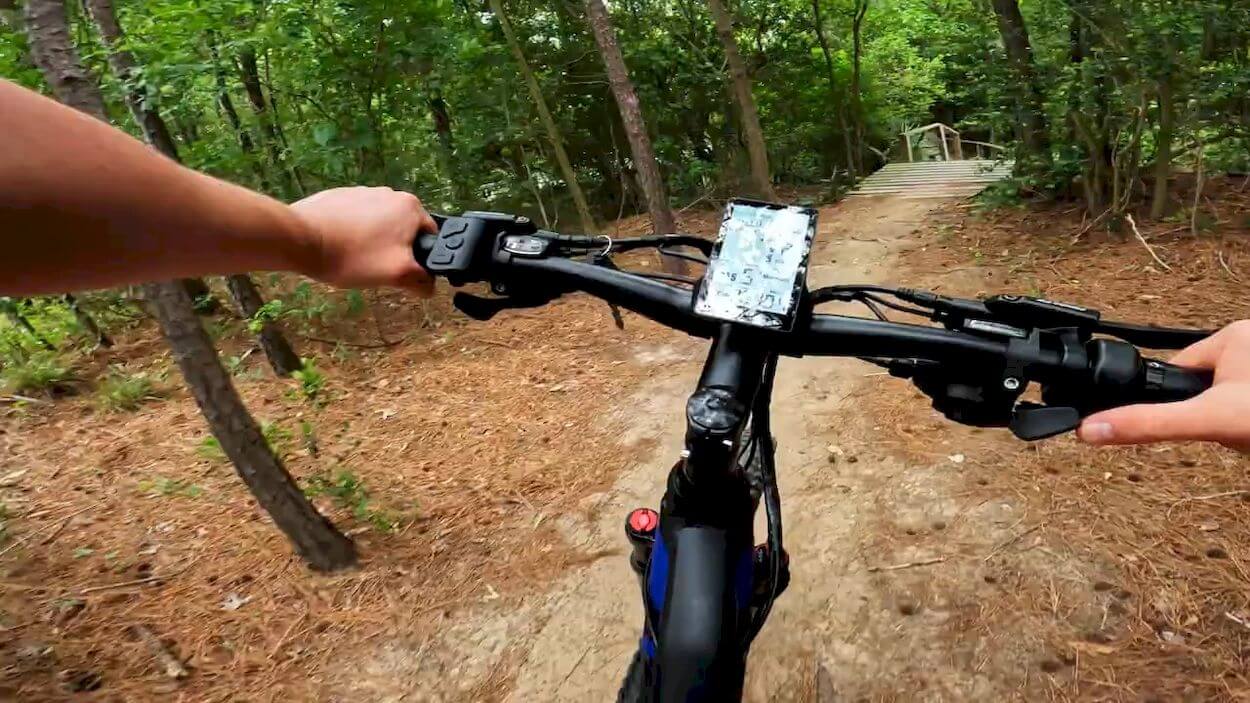 Alright, guys, we're here outside for the ride test on the HedaTX TX19, exploring its natural environment, the trails. Today, we won't be pushing the bike to its limits, but we'll start with a little hill climb test, more like an embankment climb. The trail features some rocks and roots, giving us a taste of its capabilities.
Wow, that hill climb was pretty effortless! The TX19 handled it with ease, showing off its power and capability. Now, let's take it for a casual trail ride. Remember, this bike is not specifically optimized for extreme mountain biking, but it should handle well on moderate trails.
The first thing that stands out is the ergonomic grips. They are comfortable, but I would probably swap them for more MTB-style grips for better handling and control. Another improvement I'd consider is upgrading to a single drivetrain, which would simplify gear shifting and maintenance.
The TX19 comes with hydraulic brakes, which offer reliable stopping power, making it easy to navigate around obstacles on the trail.
The front suspension has a decent amount of travel, providing a smooth and enjoyable ride over uneven terrain. However, one thing that cannot be changed through accessories is the slightly steeper head tube angle, which affects the bike's handling. A slacker head tube angle would be preferable for most mountain biking enthusiasts.
Nevertheless, the bike handles well on the trail, and it can take on various obstacles and uneven surfaces. As we move through the trail, the TX19 continues to impress with its performance and capability. The bike seems to handle everything thrown at it with confidence.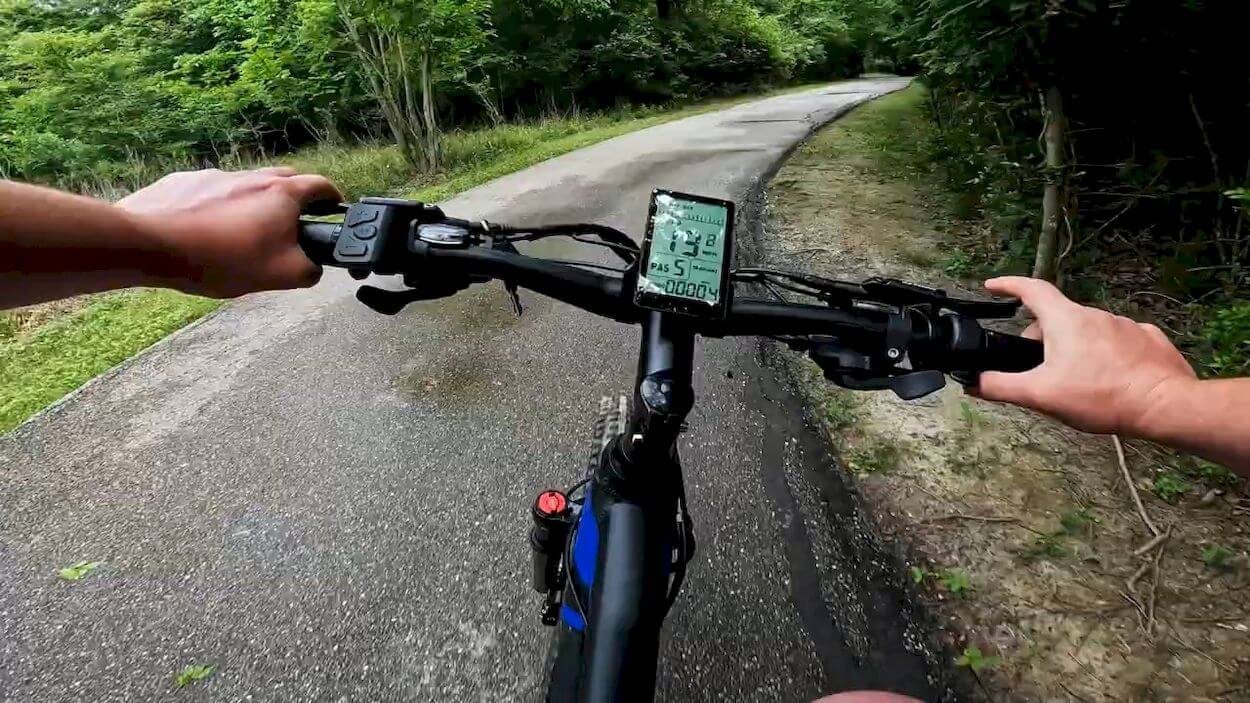 The overall performance of the TX19 left a positive impression on the reviewer, who expressed a liking for the bike. They mentioned that the HedaTX brand offers some upgraded models that appear to have more mountain bike (MTB) features than the TX19, leaving the reviewer hopeful for the opportunity to review those in the future.
Alright, looks like they made some updates on this side of the trail. Let's give it a go and see how the TX19 handles it. The bike is holding up well, and the hydraulic brakes are doing exactly what they need to do in these technical sections.
I have to admit, riding with a throttle on a mountain bike is quite enjoyable. It adds a fun element to the experience, especially when tackling challenging terrain. Oh, there's a steep descent up ahead. Time to put those hydraulic brakes to the test!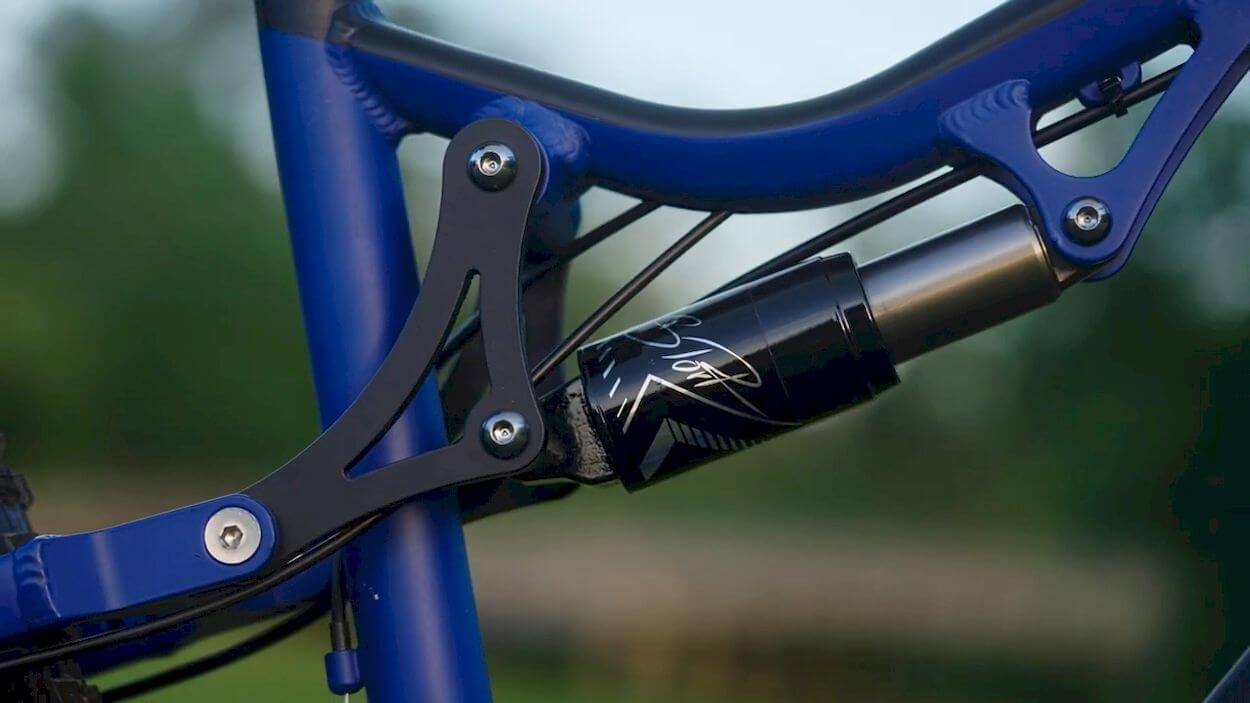 Alright, that was smooth! The bike handled the descent with ease, thanks to the combination of the suspension and reliable brakes.
Let's keep going and explore more of what this bike has to offer on the trails. It's a lot of fun mountain biking with a throttle. It adds a bit of excitement to the ride, especially if you're someone who loves biking but enjoys a little extra boost.
Huh, not sure what that squelching sound is. Might need to check that later. Alright, we're up and rolling again! This bike is really growing on me. I'm having a blast exploring these trails with the HedaTX TX19.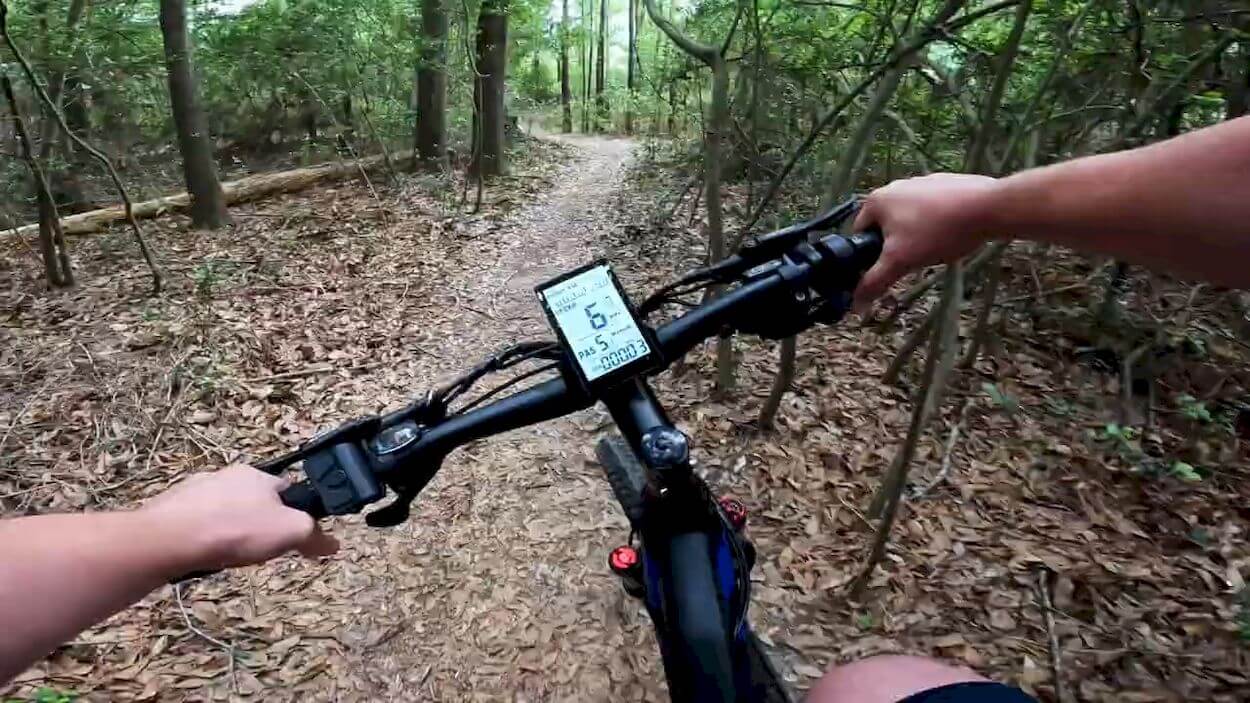 So, the experience has been great so far. The bike handles well, and the hydraulic brakes provide the confidence needed to tackle technical sections. Sure, there are a few things I'd update, like the grips and the paint, but that's all part of the review process.
As far as the mountain biking aspect goes, this bike handles light trail work with ease. It handled the jumps and technical sections smoothly, making it a capable option for those looking for a bike for casual off-road adventures.
However, if you want to make this bike more suited for specific mountain biking use cases, a few upgrades could be considered. Swapping out the handles for more MTB-specific grips and replacing the front triple drivetrain with a 1×11 setup would enhance its performance on more challenging trails.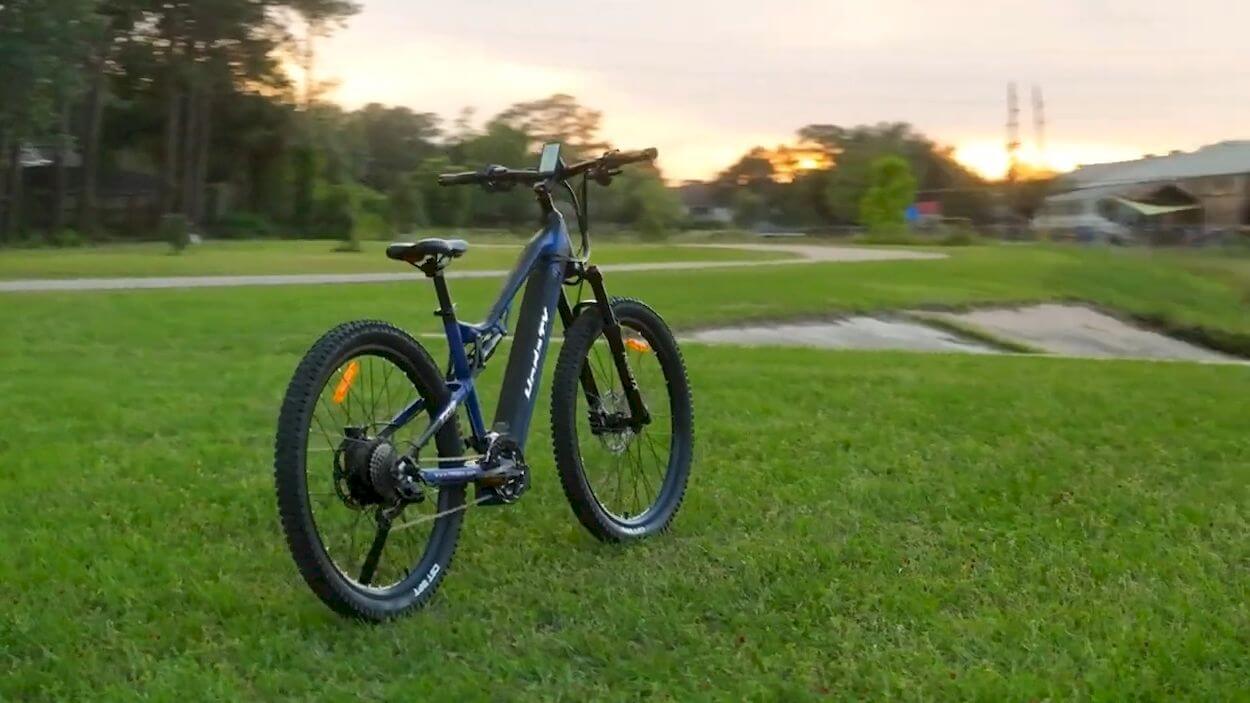 The geometry of the bike is fixed, so if you're seeking a slacker head tube angle, you'll have to explore other options in the market. Now, let's have some more fun and do some hopping around. It may not be anything too extreme, but it's all part of the joy of riding this bike on the trails.
Throttling around on this bike is just so much fun, even when I should be pedaling and getting out of breath. The convenience of using the throttle makes this experience a breeze. Alright, let's do that a couple more times. It's exhilarating and adds an extra element of excitement to the ride.
Overall, the HedaTX TX19 delivers an enjoyable and thrilling riding experience, making it a worthy option for off-road adventures. With some upgrades and improvements, it could become an even more capable trail companion. The price point may be a point of consideration for potential buyers, but for those seeking a fun and versatile e-bike for trail riding, the TX19 presents an enticing option.
Battery and Range
The HedaTX TX19 is equipped with an impressive 748-watt-hour battery capacity, which is quite substantial given the relatively small size of the battery. This battery power provides ample energy for an exciting and extended riding experience.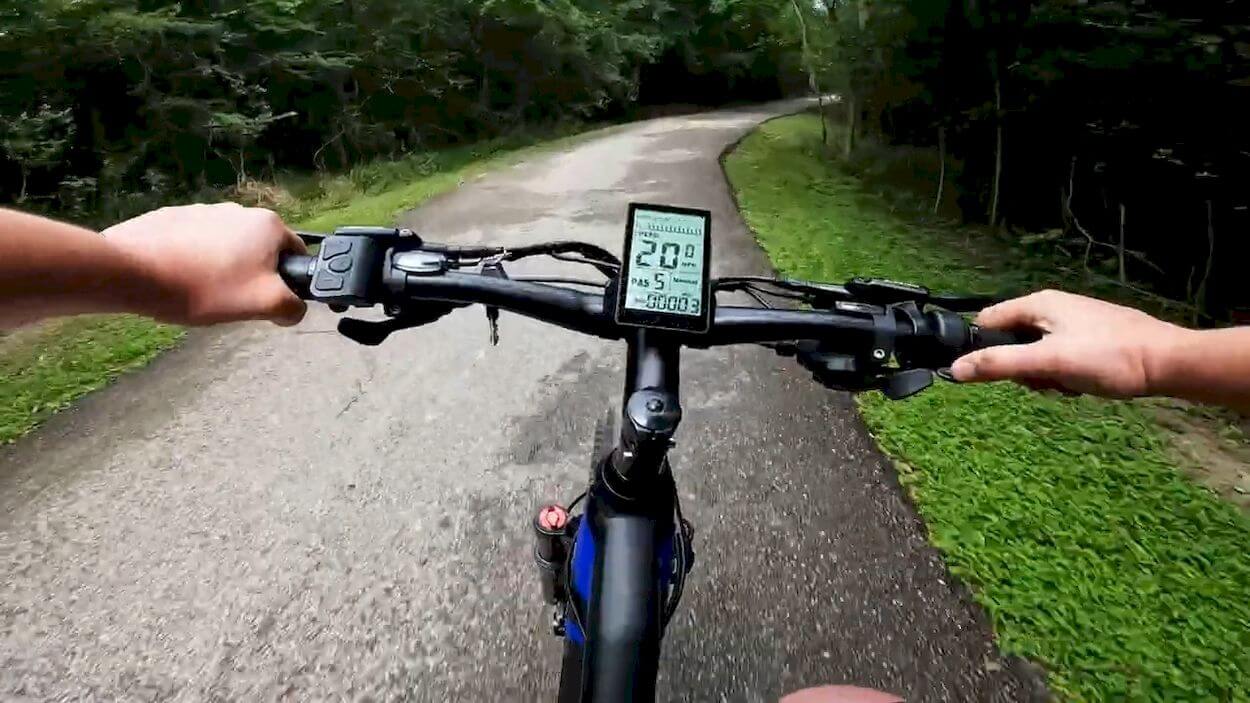 When tackling aggressive off-road terrain with full pedal assist, the TX19 can still offer a respectable range of 25 to 35 miles. This range is particularly noteworthy, considering the challenging nature of rough trails that can drain battery power quickly.
However, for riders who prefer a more leisurely and relaxed ride on smoother paths, the pedal assist can be adjusted to a lower level. Engaging in a lower level of pedal assist allows the battery to last even longer, and it's not uncommon to see an additional 10 or more miles added to the range under such circumstances.
Conclusions
And that's a wrap on our review of the HedaTX TX19! If you want to learn more about this eMTB from Head of TX, check out the link below, where you can find additional information and specifications. For comprehensive comparisons with other eMTBs in the industry, head over to our website evehicletrip.com.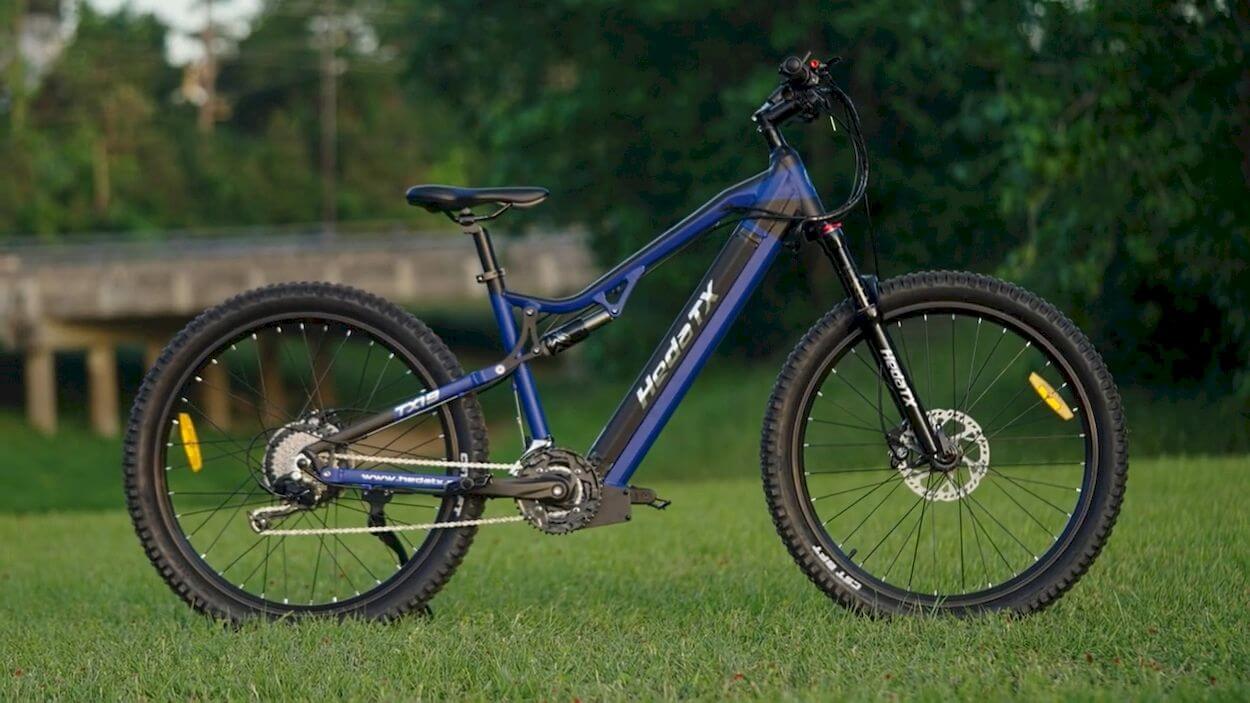 Thanks for joining us on this exciting ride and exploring the capabilities of the HedaTX TX19. We appreciate your company, and we hope you found our review helpful.
Stay tuned for more electrifying adventures as we continue to explore the world of eMTBs and bring you comprehensive reviews on the latest electric mountain bikes in the market.
Until next time, happy riding and keep exploring the electrified world of mountain biking!
Alternatives of HedaTX TX19