Hi there, it's Tim! Today, I'm thrilled to introduce the Varla Eagle One 2.0 – a scooter that holds a very special place in my heart. Let me take a moment to share the incredible journey that brought me here.
Words cannot express the immense gratitude I felt when I received that package. It was more than just a scooter; it was a symbol of recognition for my hard work and a validation that people were enjoying the content I was creating. Varla was the first company to take a chance on "big guy Tim" (as I sometimes call myself), and I will always cherish that gesture.
So, let's hit the road and experience the Varla Eagle One 2.0 together. I'm confident this ride will be an unforgettable one, and I can't wait to share all the exciting moments with you in the upcoming review video. As always, your support means the world to me, and I'll keep bringing you the best content I can.
Thank you for being a part of my journey, and I'm excited to see where this adventure takes us next. Stay tuned for the Varla Eagle One Mark 2.0 review, and let's ride on!
| | |
| --- | --- |
| Frame Material | 6061 aluminum alloy |
| Motor | Dual hub motor, 1000W x 2 |
| Top Speed | Reach up to 40 mph |
| Climbing Angle | 30+ degrees |
| Display | 3.5-inch LCD display |
| Tire | 10×3.5 inches air tubeless tires |
| Light | Front LED light / Rear red LED light / Ambient lights |
| Brake | Dual hydraulic brake |
| Battery | 52V / 20.8Ah lithium-ion battery |
| Max Range | Up to 42 miles |
| Charger | 2A charger |
| Payload | Max. 330 lbs / Recommended 265 lbs |
| Weight | 82 Ibs |
| Waterproof Rating | IP54 |
| Recommended Height | 4'5"~6'11" |
Design and Build Quality 
The design and build quality of the Varla Eagle One 2.0 are nothing short of impressive. The scooter's overall aesthetics are sleek and modern, with clean lines and a sturdy frame that exudes durability. The attention to detail in the design is evident, making it an attractive choice for riders who appreciate both form and function.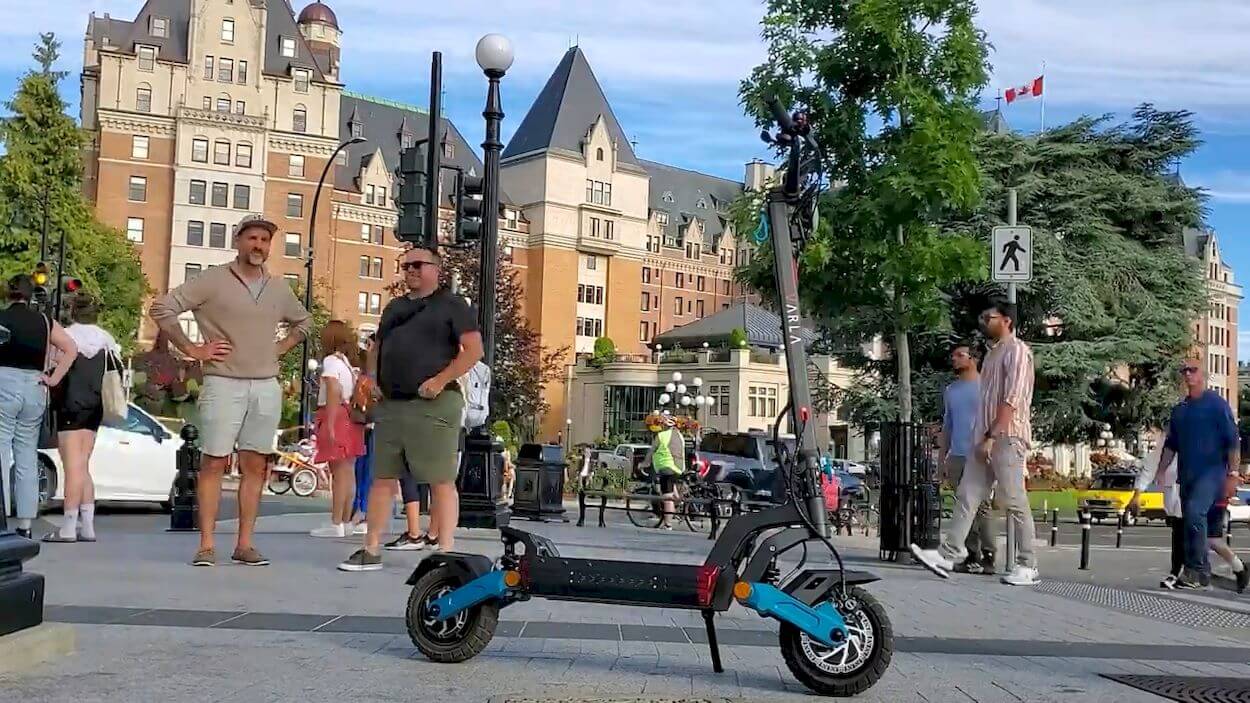 As mentioned earlier, the folding mechanism is one of the standout features of the Varla Eagle One 2.0. With a faucet-like lock at the base of the stem, you can easily unlock it, pull out a pin on the side, and fold the scooter down. It's a straightforward process that allows you to quickly transform the scooter into a more compact form, which is incredibly handy for storage or transportation in the trunk of a car or SUV.
What sets this folding mechanism apart is the inclusion of a unique hook with a spring attachment on the back of the scooter. When you fold it, this hook secures the stem in place, making it easy to lift and carry the scooter with one hand. While it may weigh around 82 pounds, the added convenience of the hook makes it manageable for transportation.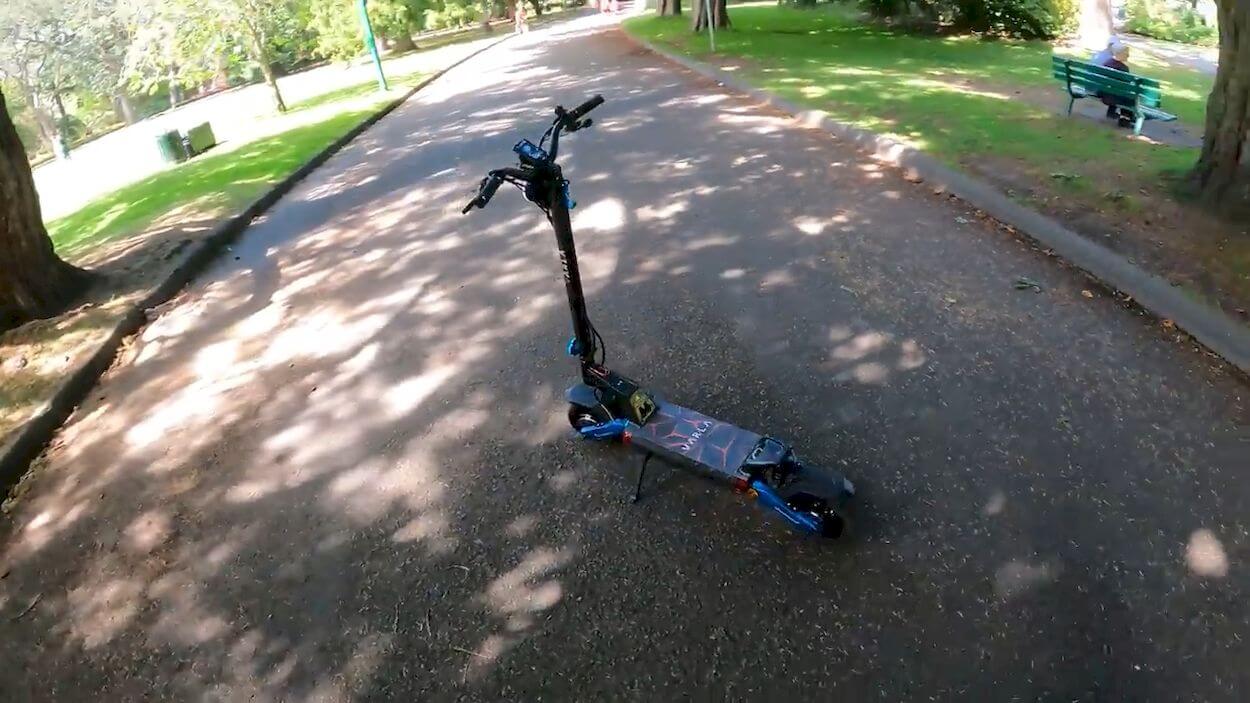 Reassembling the scooter is just as straightforward. You simply unhook it, lift it up, screw in the faucet to lock the stem securely, and insert the pin to keep everything in place. This simple yet effective folding mechanism is a welcome addition, adding to the overall user experience.
In terms of power, the Varla Eagle One 2.0 impresses with its smooth acceleration. The thumb throttle makes it easy to control and provides a delightful riding experience. While it may not be the most powerful scooter on the market, it still packs a punch, allowing for enjoyable and comfortable rides without feeling overly aggressive.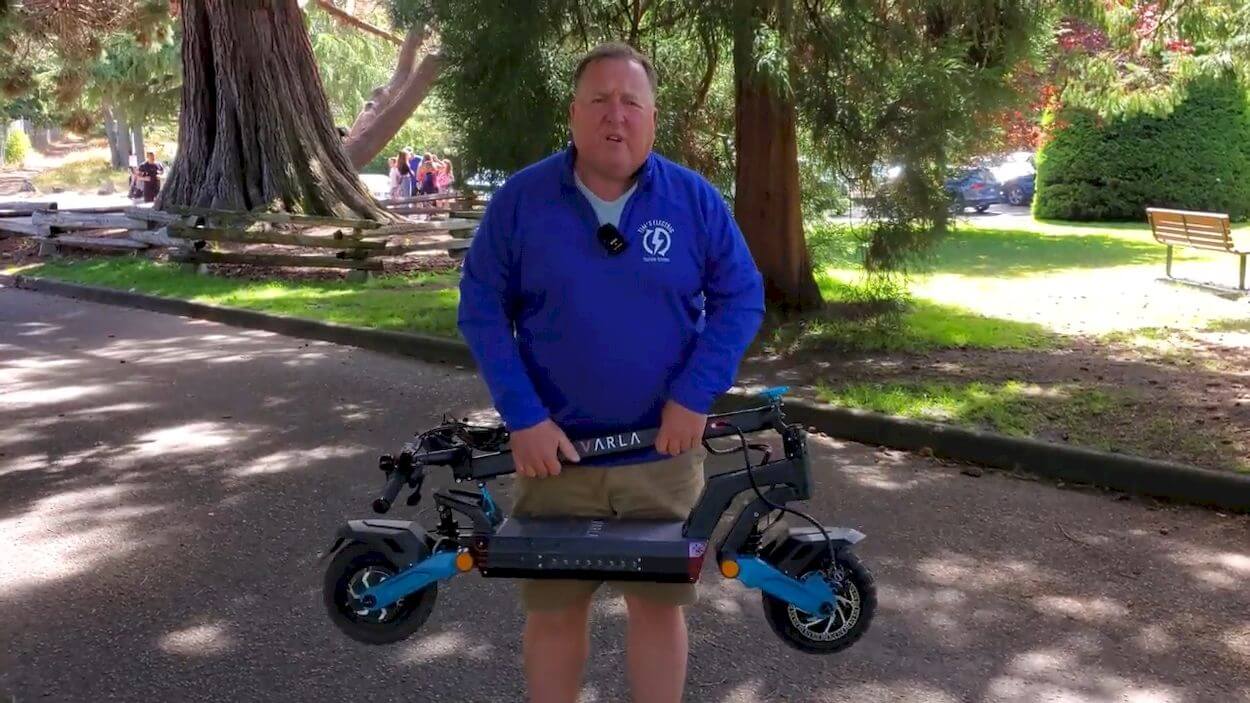 Another aspect that adds to the overall satisfaction is the fantastic braking system. With reliable brakes, you can confidently bring the scooter to a stop when needed, ensuring your safety and providing a sense of control while riding.
One standout feature of this scooter is its height. At 43 inches from the base to the top of the handlebars, it caters perfectly to taller riders, offering exceptional comfort. Speaking of handlebars, they are impressively wide, providing a comfortable and stable grip while riding.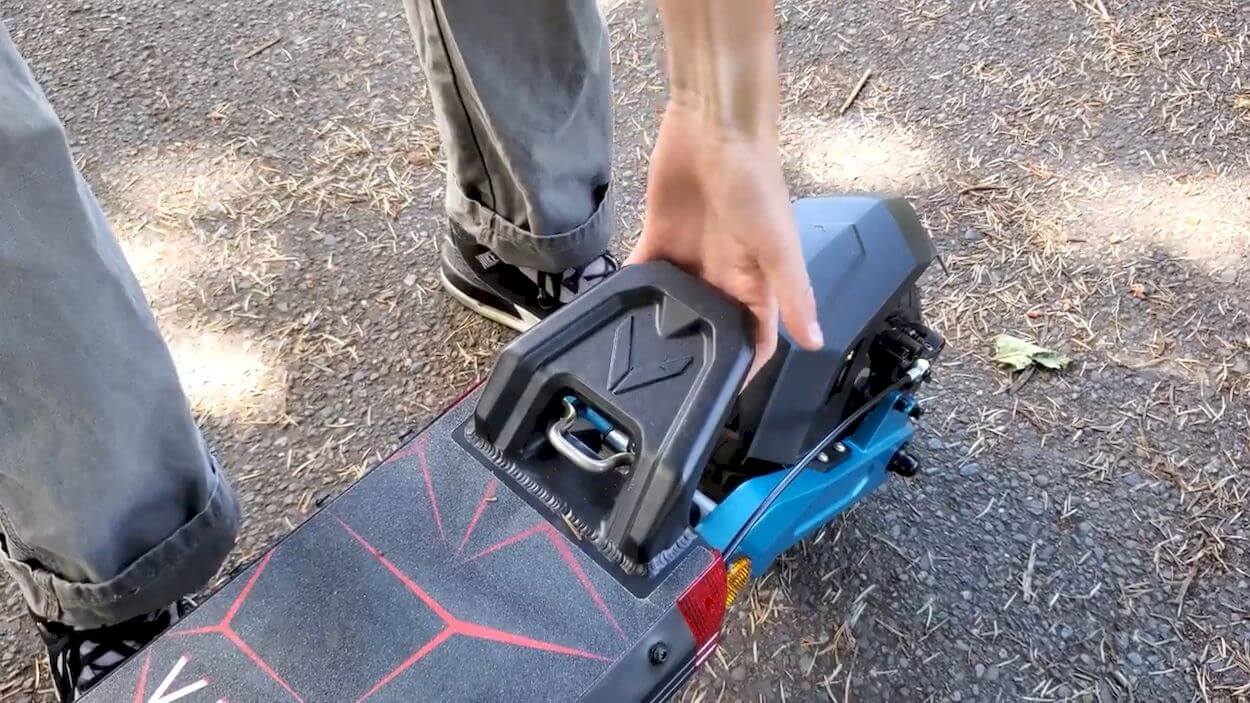 Now, let's talk about one of the standout features of the Varla Eagle One Pro – its display. The scooter boasts a three and a half-inch display that provides essential information for your ride. Scrolling through the display, you can easily switch between five different power levels, giving you control over your speed and performance. You can also switch between using dual motors or just a single motor, depending on your needs.
The display doesn't stop there – it's also quite informative. You can see the battery percentage, so you always know how much juice you have left. Additionally, it provides information on your current voltage and how far you've traveled during your ride. It's user-friendly and gives you all the necessary data at a glance, allowing for a more enjoyable and informed riding experience.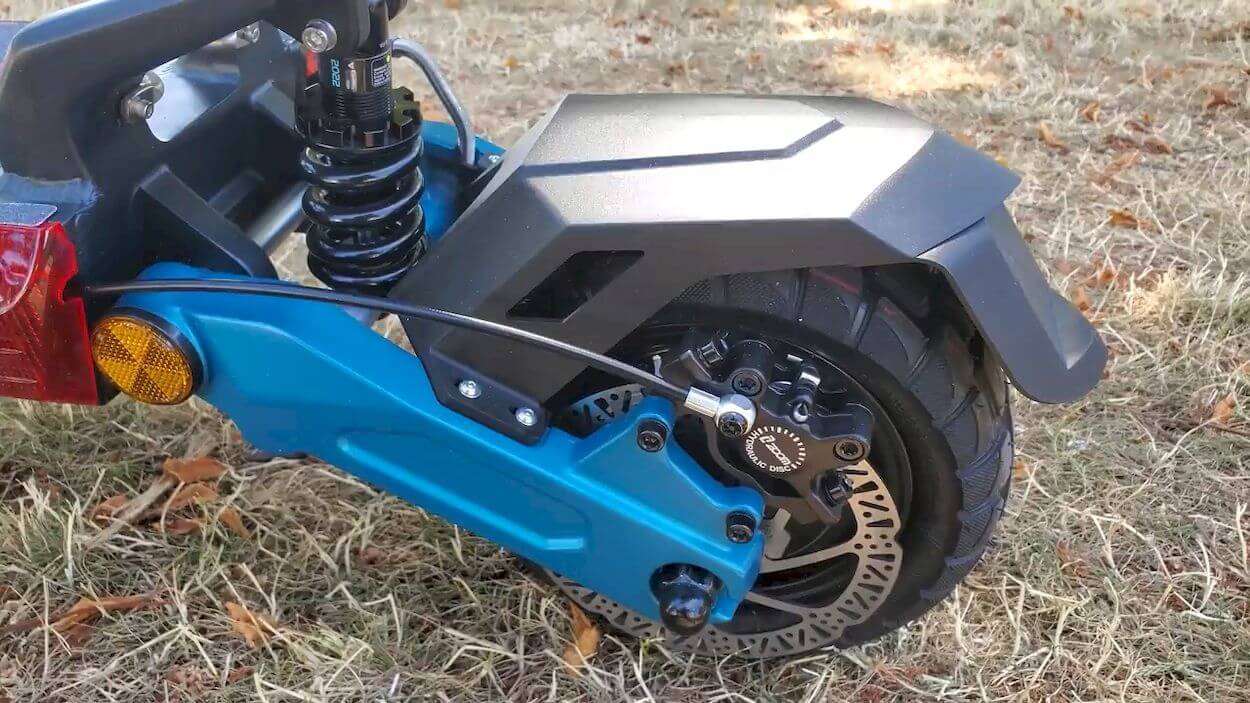 As a whole, the Varla Eagle One 2.0 boasts an exceptional design and build quality. It combines power, convenience, and comfort, making it an excellent choice for riders looking for a well-rounded and reliable electric scooter.
Motor and Driving test
Up behind me is the infamous Hill of Death, and today, we have the Varla Eagle One Mark 2.0 with its mighty twin 1000 watt motors ready to take on the challenge. Let's see if it can conquer this steep slope.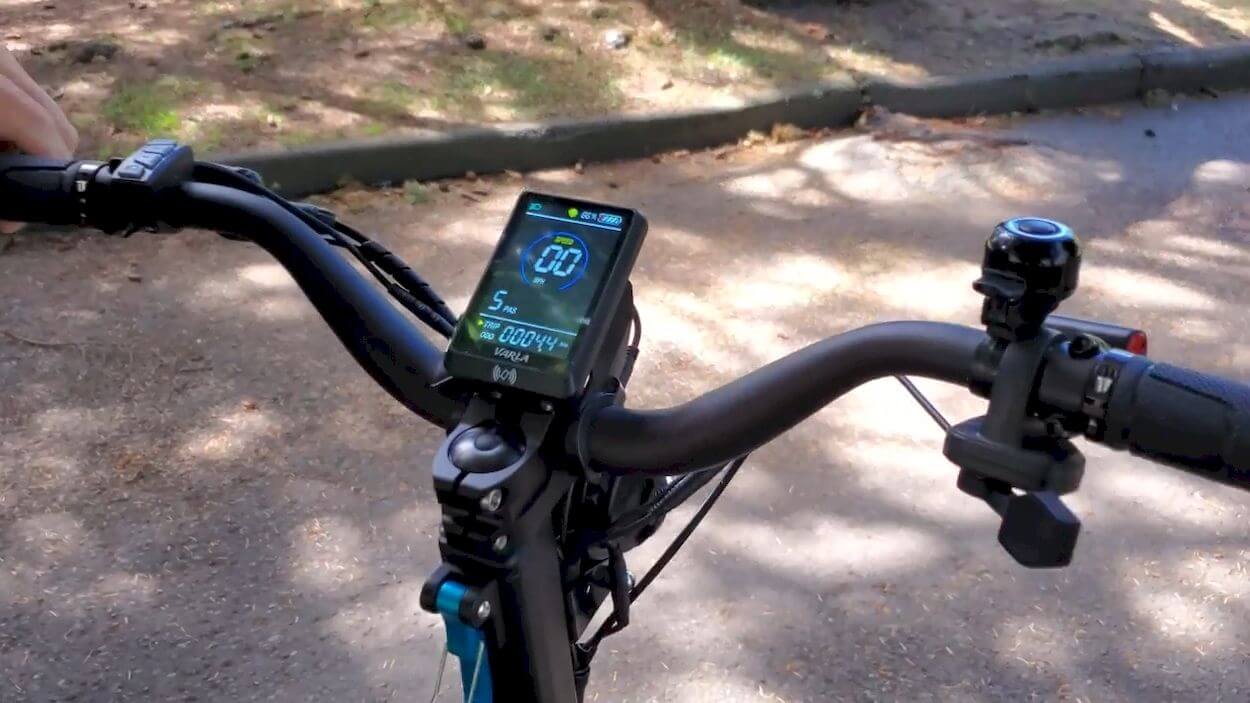 As I rev up the scooter and start the ascent, I can feel the power of those twin 1000 watt motors kicking in. The acceleration is impressive, and the scooter is taking on the hill with ease. It's not just climbing; it's actually accelerating as it goes, which is incredible!
And just like that, we've made it to the top of the Hill of Death without breaking a sweat. The Varla Eagle One Mark 2.0 handled the incline like a champ, all thanks to its powerful twin motors. With 20.8 amp-hours and a 52-volt system, this scooter has a bit more juice compared to the previous model, giving it just a touch more range and speed.
Speaking of speed, the Varla Eagle One Mark 2.0 can reach a top speed of around 40 miles per hour, which translates to approximately 64 kilometers per hour. Its range is about 40 miles as well, but with that extra bit of battery capacity, it might just have a slightly longer ride time.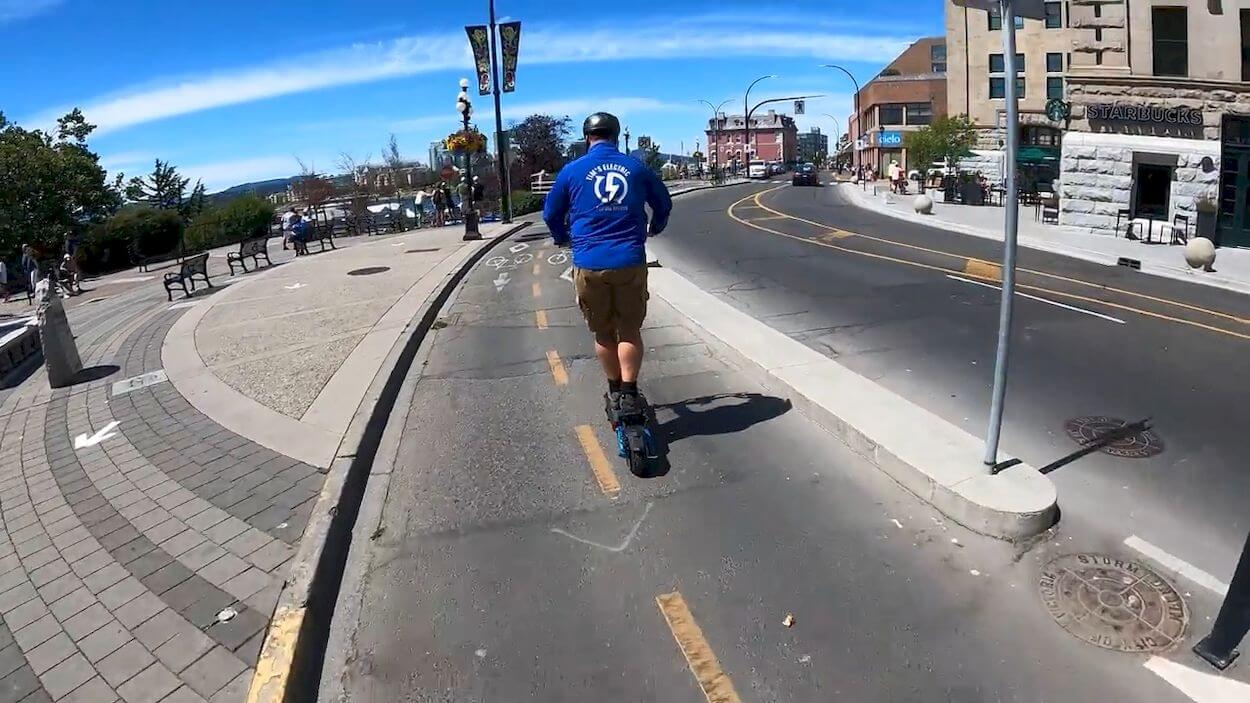 One standout feature of this scooter is the dual suspension system, which I'm absolutely loving, especially on this windy day with busy traffic in Victoria. It provides a smooth and comfortable ride, absorbing the bumps and ensuring stability even on rough terrains.
The Varla Eagle One Mark 2.0 has proven itself to be a true performer, conquering the Hill of Death with ease and making it clear that it's ready for any challenging terrain that comes its way. It's no wonder this scooter has won me over with its impressive capabilities and reliability.
As I cruise around, I can't help but admire the scooter's remarkable suspension system. Whether I'm keeping an eye out for traffic or navigating through potholes, the suspension effortlessly absorbs all the bumps, making the ride smooth and comfortable. As a bigger guy, with a weight well within the 330-pound limit, I find this scooter delightful to ride.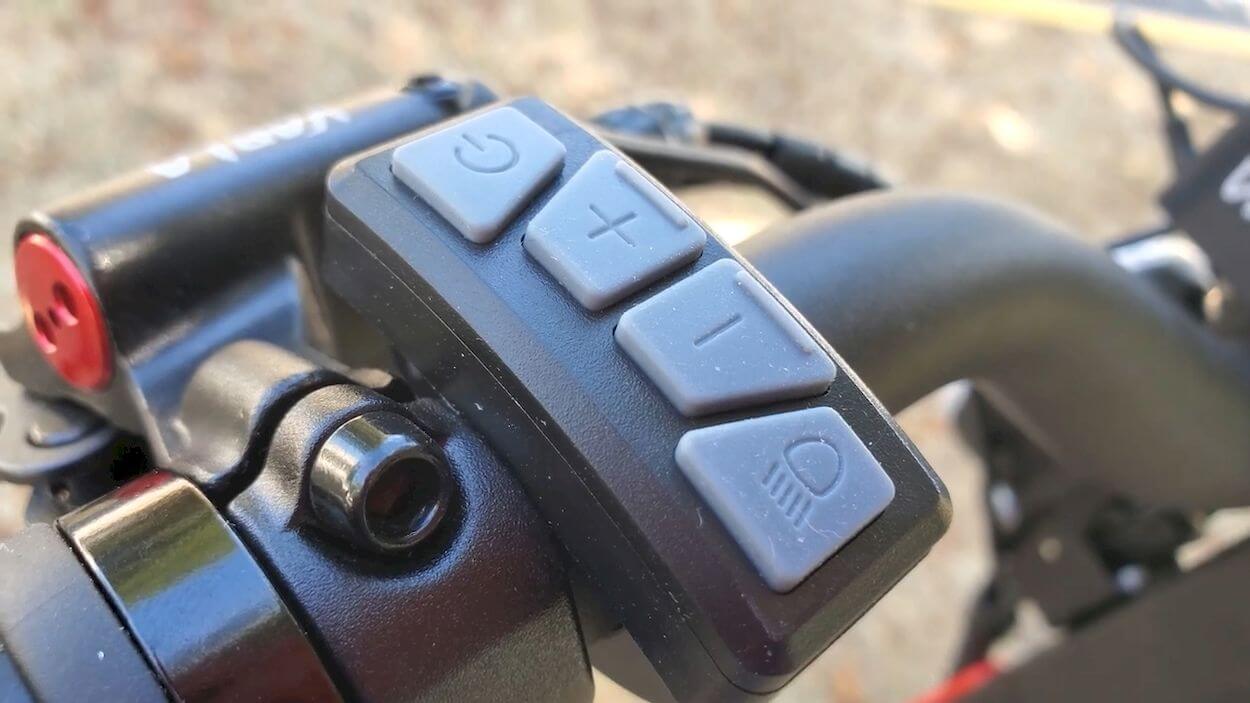 Despite the blustery weather, I'm in front of the fire station now, contemplating my next adventure. Heading over to the ocean for some more riding sounds like a great idea. I have a feeling the Varla Eagle One Mark 2.0 will handle off-roading just as impressively as it does on the roads, especially with its 10-inch, three-inch wide tires and capable suspension.
Entering the park, I decide to try some off-road trails, and the scooter performs excellently. While it may not have an excessive amount of power, the twin motors are more than sufficient for trail rides and even occasional steep moments. The combination of the sturdy tires and the suspension ensures a smooth and enjoyable off-road experience.
The steering is somewhat stiff, which may take some getting used to, especially when maneuvering in tight spaces. However, once on the road, the stiffness actually contributes to a smoother ride as riders tend to lean more than turn the wheel. It's a unique characteristic that enhances the overall riding experience.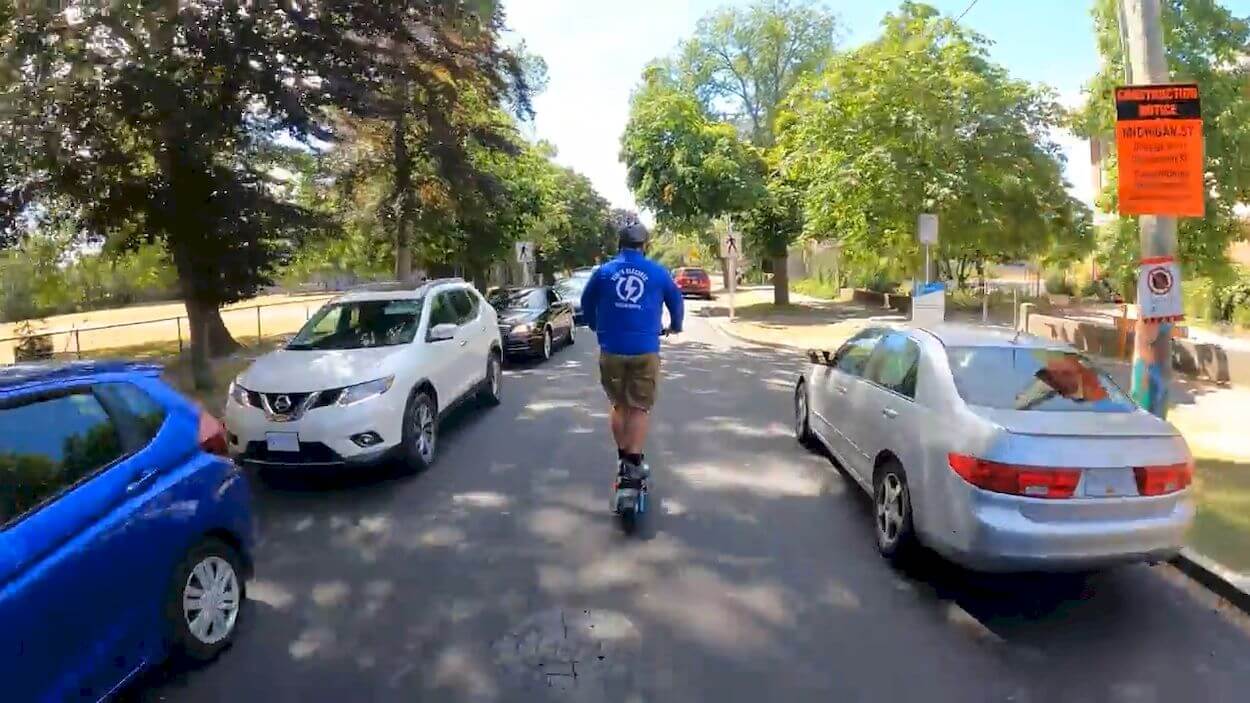 All in all, I can't help but love the Varla Eagle One Mark 2.0. Its powerful twin motors, spacious battery, and reliable suspension system make it an ideal companion for various riding adventures. Whether you're exploring busy city streets or venturing off the beaten path, this scooter is up to the task.
Thanks to the fairies that go past, the Varla Eagle One 2.0 comes equipped with Zoom hydraulic brakes, and they are an absolute delight. Hydraulic brakes offer a smooth and responsive stopping power, making them a perfect choice, especially in emergency situations where quick stops are necessary. I can't stress enough how much I love hydraulic brakes, and they certainly add to the overall safety and confidence of the riding experience.
As I wrap up my time with the scooter, I decide to invite Jamie, my trusty cameraman, to take it for a spin and share his initial thoughts. He takes the scooter for a short ride, and it's clear that he's impressed by the extended long handlebars. He compares them to the Varla Eagle One Pro, where he had a slight gripe with the handlebars being a bit too short. With the extended handlebars on the Varla Eagle One 2.0, he finds them much more comfortable and well-suited to his riding preferences.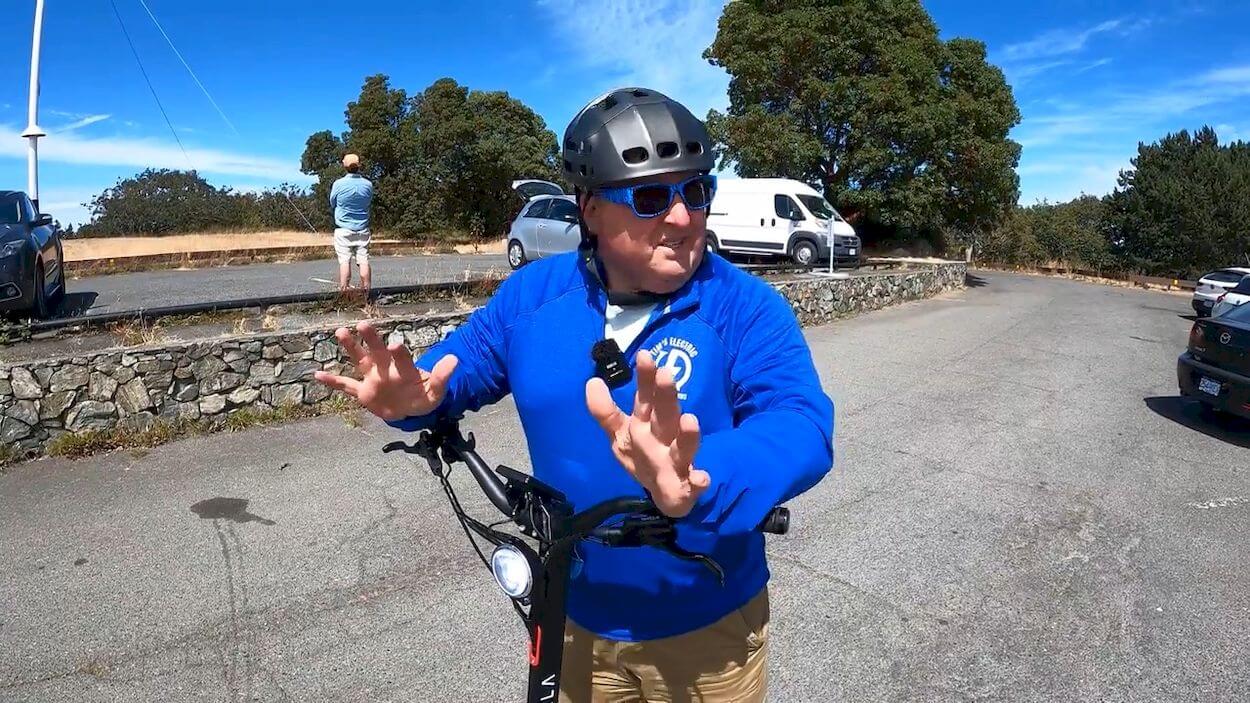 The scooter also boasts a practical feature in the form of a bag clip. It's a small but thoughtful addition, allowing riders to attach their bags or belongings securely to the scooter, saving their back from carrying extra weight. These little details add up to make the Varla Eagle One 2.0 a well-thought-out and user-friendly ride.
While Jamie hasn't had an extensive ride with the scooter yet, he's excited to take it home and test it out for the next week. He plans to use it for doordash deliveries, giving him a chance to truly experience the scooter's capabilities in various situations.
As our time together with the Varla Eagle One 2.0 comes to an end, I can confidently say that I've thoroughly enjoyed the experience. From its powerful twin motors and smooth acceleration to its impressive hydraulic brakes and user-friendly design, this scooter is a true performer. It's no wonder that Jamie is already giving it a thumbs up, especially appreciating the extended handlebars and overall build quality.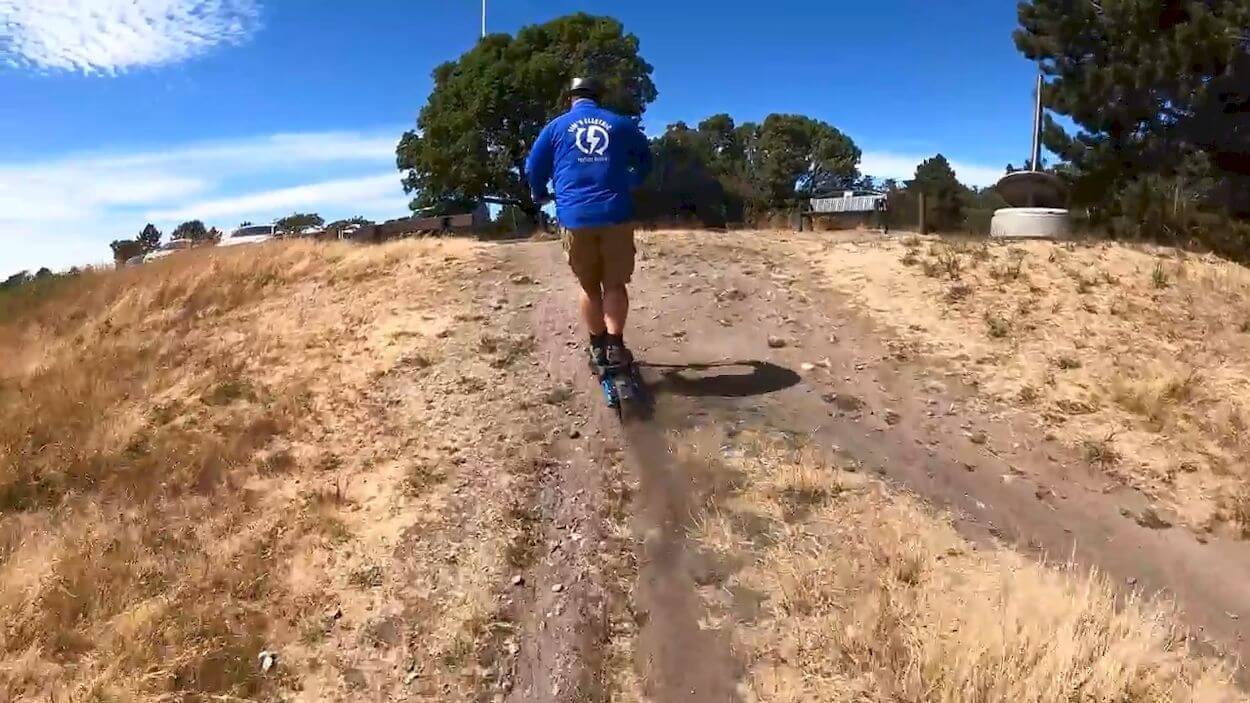 If you're in the market for a reliable and powerful electric scooter, the Varla Eagle One 2.0 should definitely be on your radar. It's a scooter that's designed to impress, offering an exhilarating ride while ensuring safety and comfort for the rider. As I say goodbye to this wonderful scooter, I can't help but look forward to more thrilling adventures with future rides. Until then, happy riding!
Battery and Range
The Varla Eagle One 2.0 is equipped with a powerful 20.8 amp-hour, 52V lithium-ion battery, offering an impressive range for your electric scooter adventures. With this substantial battery capacity, you can expect to travel up to 42 miles on a single charge, which is perfect for longer rides or commuting without worrying about running out of power too quickly.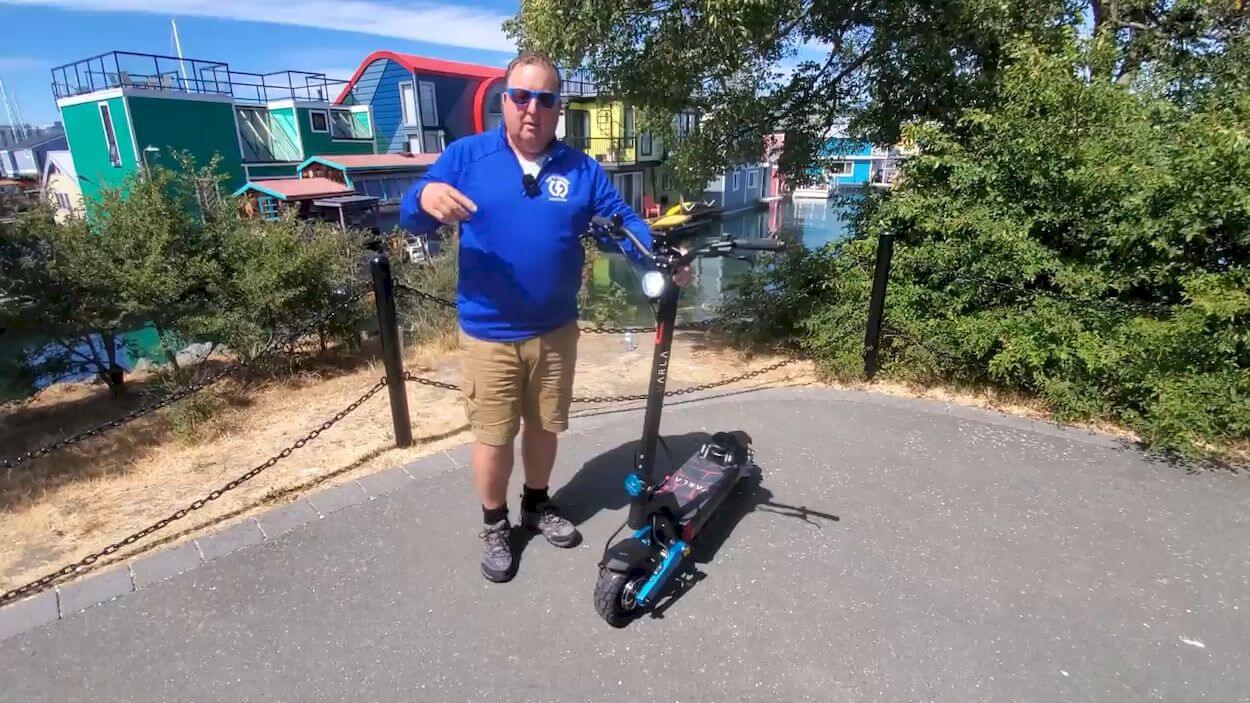 One of the notable advantages of the Varla Eagle One 2.0 is its dual charging ports, which allow you to use two chargers simultaneously. This unique feature has a significant impact on charging time, reducing it by half compared to using a single charger. With two chargers connected, you can fully recharge the battery in approximately 5 to 6 hours, depending on the current battery level.
So, whether you're exploring the city, commuting to work, or embarking on a thrilling adventure, the Varla has the power and range to keep you riding with confidence. With its convenient dual charging feature and the ability to cover long distances on a single charge, this electric scooter is sure to become your trusted companion for many miles to come.
Conclusions 
If you're seeking crazy power, the Varla Eagle One 2.0 might not be the scooter for you. However, what sets it apart is its unique acceleration. Once it picks up speed, it multiplies its power, resulting in a surprisingly enjoyable and smooth ride. The acceleration feels just right, offering a great balance of power and control, especially as you reach higher speeds.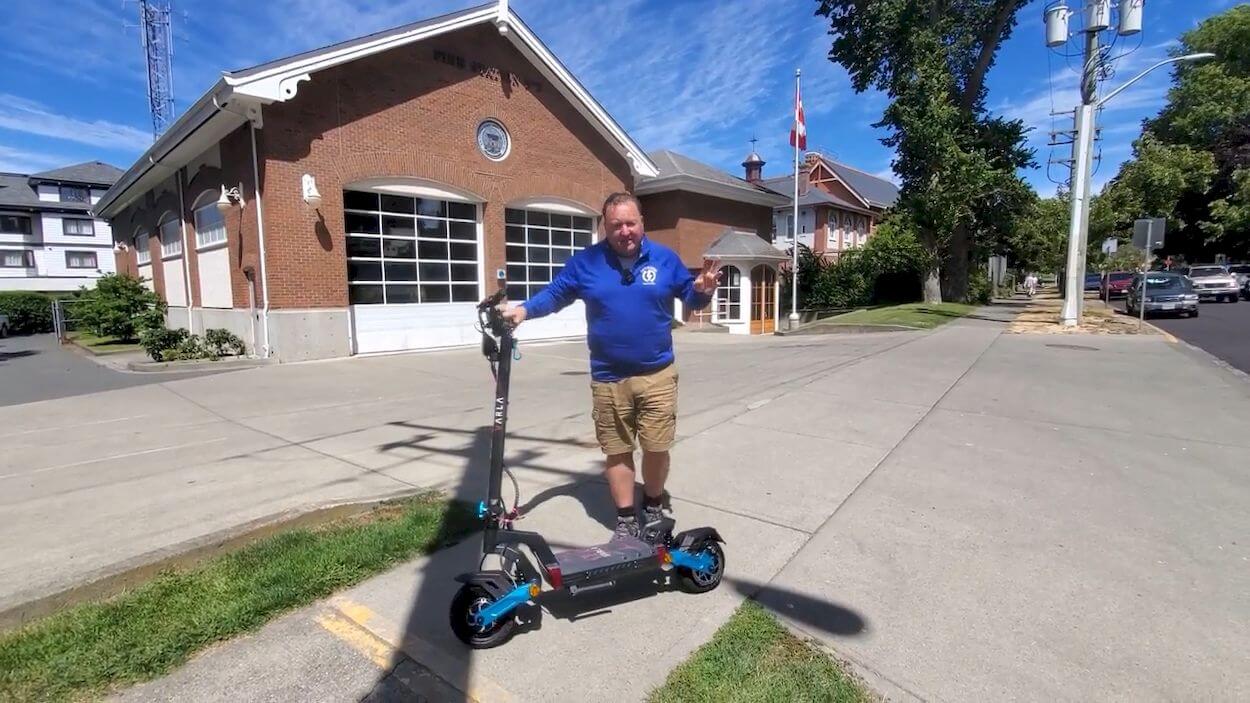 One notable improvement on the Eagle One 2.0 is the headlight's position, which is now at a better spot compared to the Pro model. The higher mounting ensures better visibility and illumination while riding in low-light conditions.
The scooter's deck space is generous, and it features a welded back plate that offers exceptional strength. The welds around the grip tape are solid, providing confidence and a sturdy grip when lifting the scooter for transport. The deck's design is well-thought-out and practical, providing ample room for comfortable foot placement.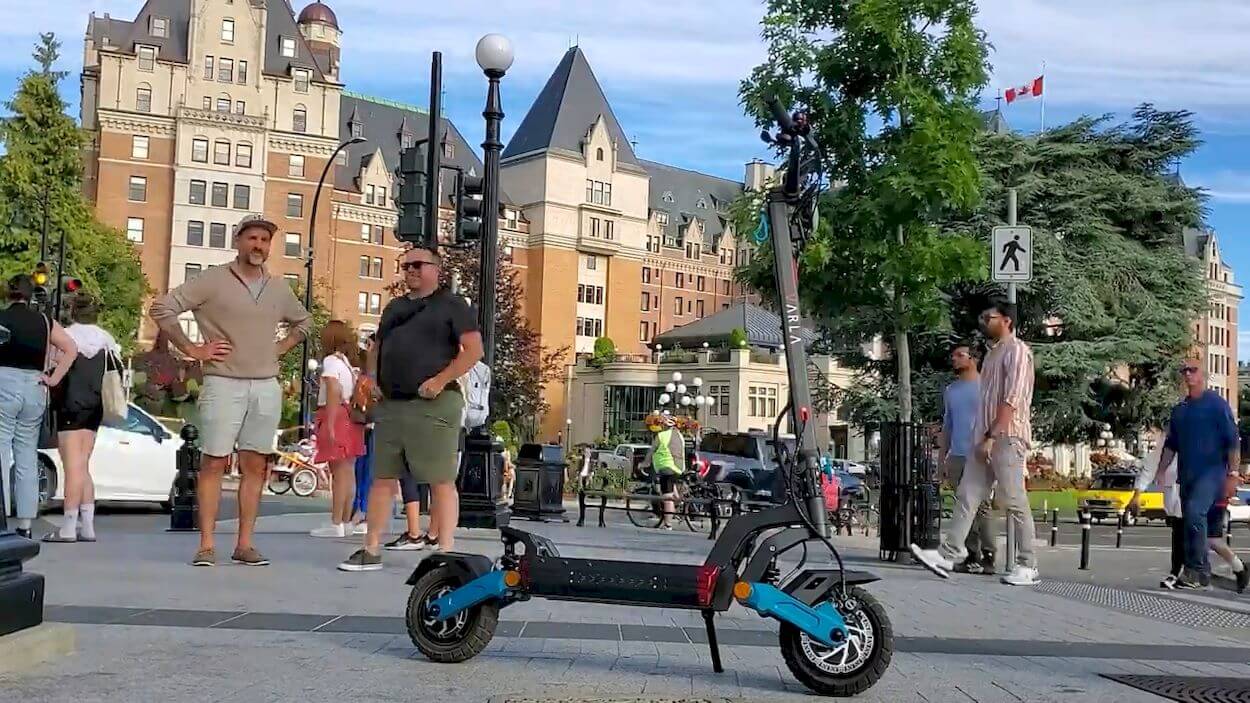 Speaking of charging convenience, the placement of the charge ports on the top of the scooter is a smart decision. This ensures that water splashes won't interfere with the charging process, adding to the overall durability and longevity of the scooter.
The Varla Eagle One 2.0 features stiff steering, much like the Pro model. While it might take some getting used to, especially at slower speeds, it offers a sense of stability and control when riding at higher speeds. As riders become familiar with the scooter, they tend to appreciate the stability that the stiff steering provides.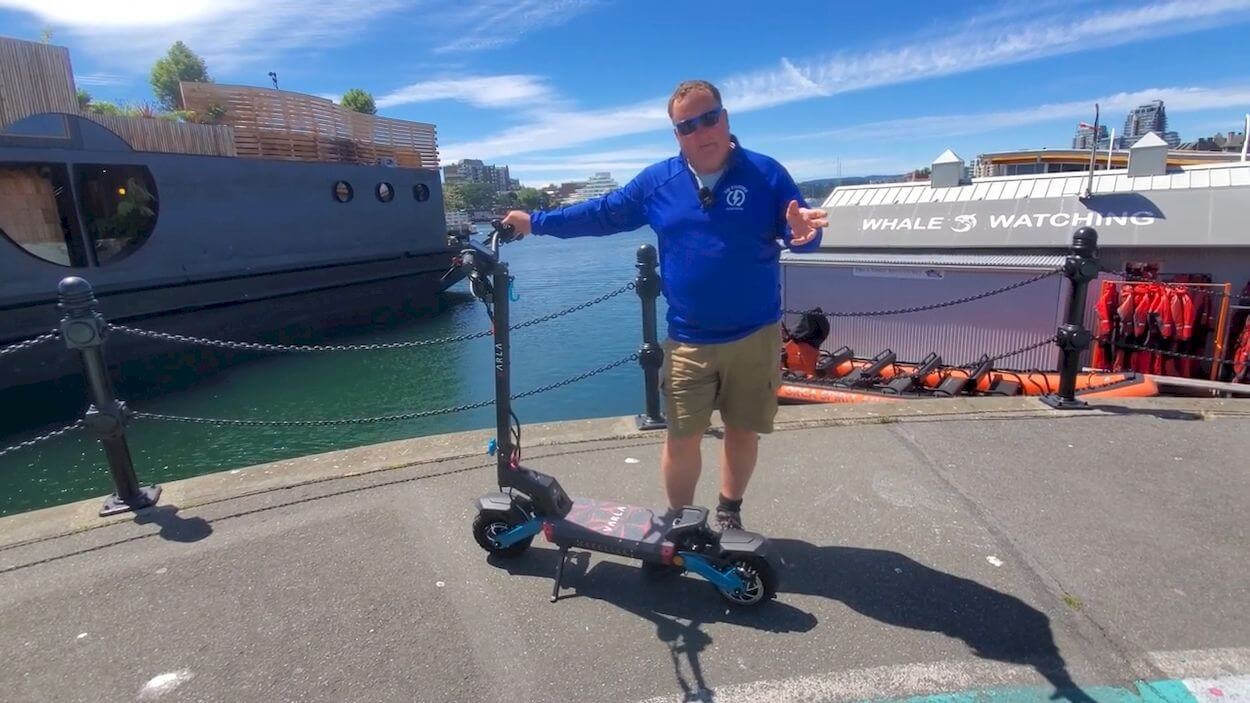 Overall, the first impressions of the Varla Eagle One 2.0 are positive. Its sleek appearance, smooth acceleration, strong deck plate, and practical features make it a compelling choice for riders seeking a reliable and capable electric scooter.
Alternatives of Varla Eagle One 2.0