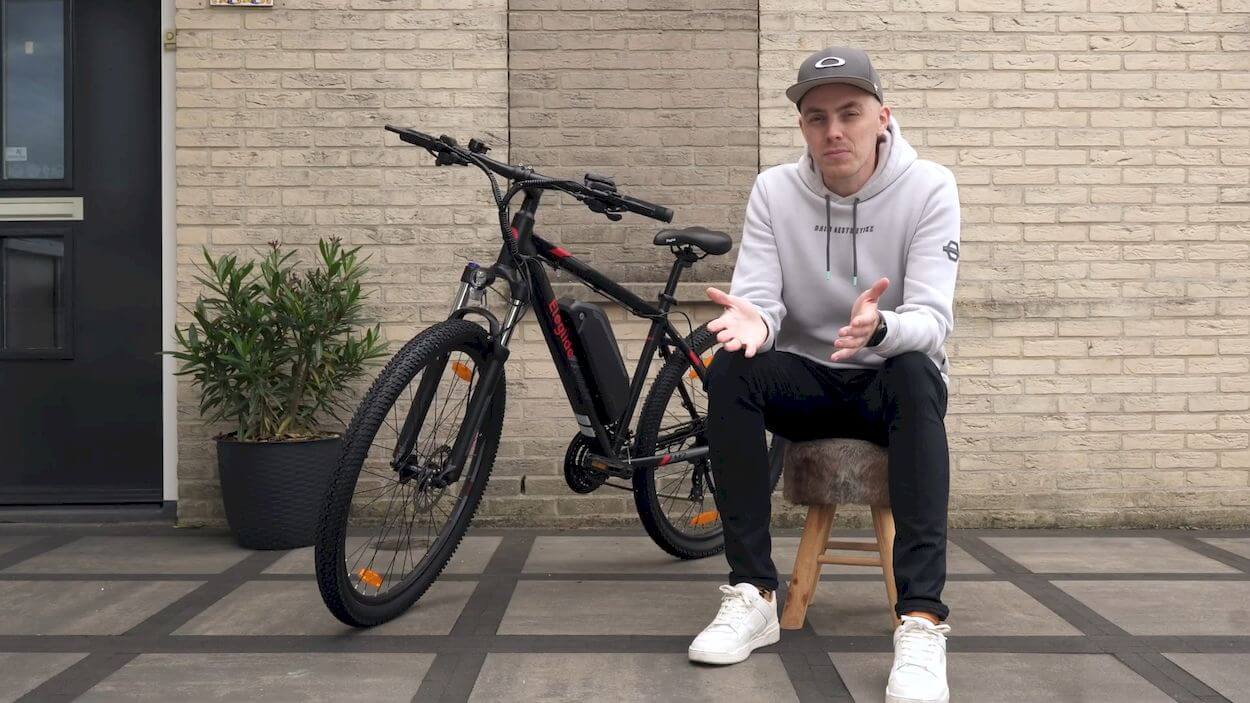 Hi there, I'm Martijn Wester, and in this review, we'll break down the pros and cons and everything in between of the Eleglide M2, so let's get started.
If you're a biking enthusiast, you're in for a treat today because we're about to delve into something truly exciting – the new M2 mountain bike. But wait, this isn't just any ordinary mountain bike; it's an e-bike that's packed with features that might leave you in awe, especially when you realize that it comes with a price tag of just $899. 
Today, we're diving into the exciting world of electric bikes with the Eleglide M2. Packed with convenience and affordability, this e-bike promises an excellent riding experience. In this guide, we'll walk you through the unboxing and assembly process, showing just how easy it is to get started with your new ride.
| | |
| --- | --- |
| Material | Aluminium Alloy (AL6061) |
| Max Instantaneous Power: | 570W |
| Max Output Torque: | 55N.M |
| Cut-off Speed: | 25km/h |
| Tires | 27.5"x2.4" Pneumatic Rubber Tires |
| Size of Frame: | 27.5"x18" |
| Braking System: | Hydraulic Disc Brakes |
| Waterproof Level: | IPX4 |
| Capacity: | 15Ah |
| Max Range: | 125km (Assist Mode) |
| Unfolded Size: | 1800x680x1060mm |
| Net Weight: | 22kg |
Unboxing and Assembly
Upon receiving your Eleglide M2, you'll notice that it's been carefully packaged to ensure safe transportation. The bike is snugly nestled within the box, surrounded by protective foam to shield it from any potential damage during shipping. Once you've eagerly torn away the packaging, you'll find the following components: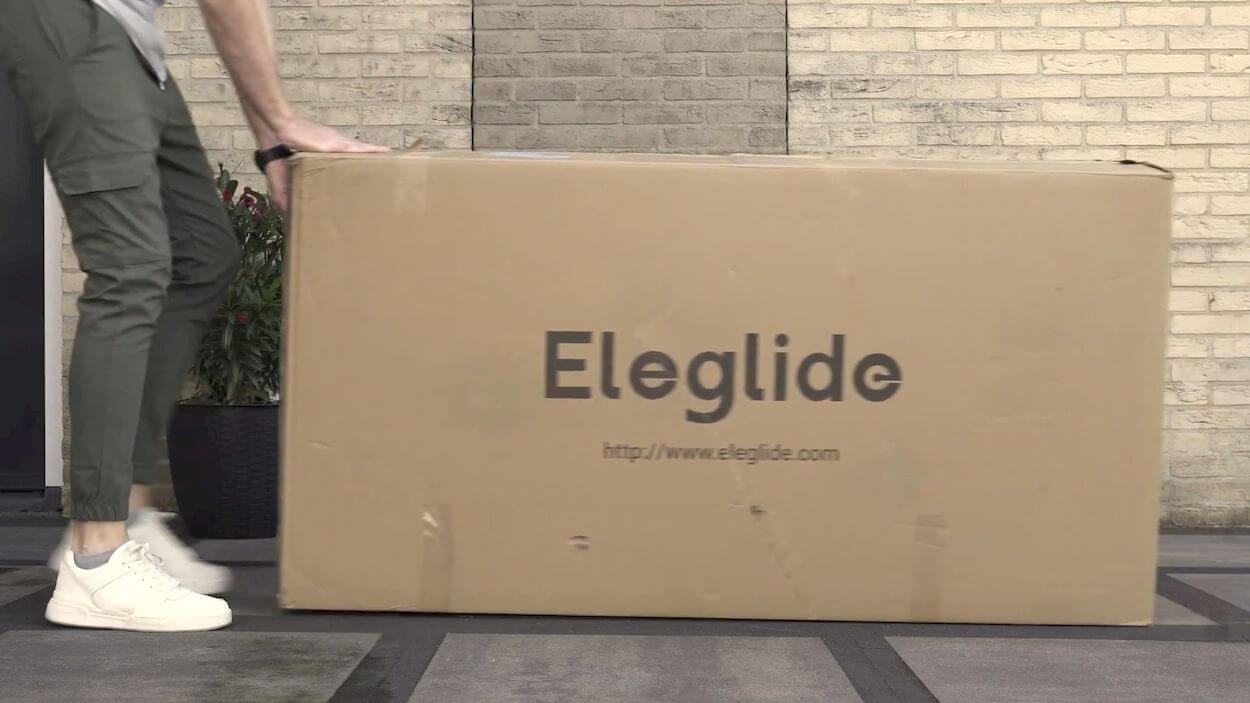 Eleglide M2 E-Bike: Pre-assembled and ready to roll.

Steering Wheel: To be installed.

Front Wheel: Ready to insert.

Pedals: To be screwed in.

Saddle: Adjustable for your comfort.

Reflectors: Essential for safety.

Finishing Touches: Includes a little cap and gear protector.

Throttle Option: Optional and dependent on local regulations.
Start by attaching the steering wheel to the bike's frame. This should be a straightforward process, and you'll find all the necessary components included.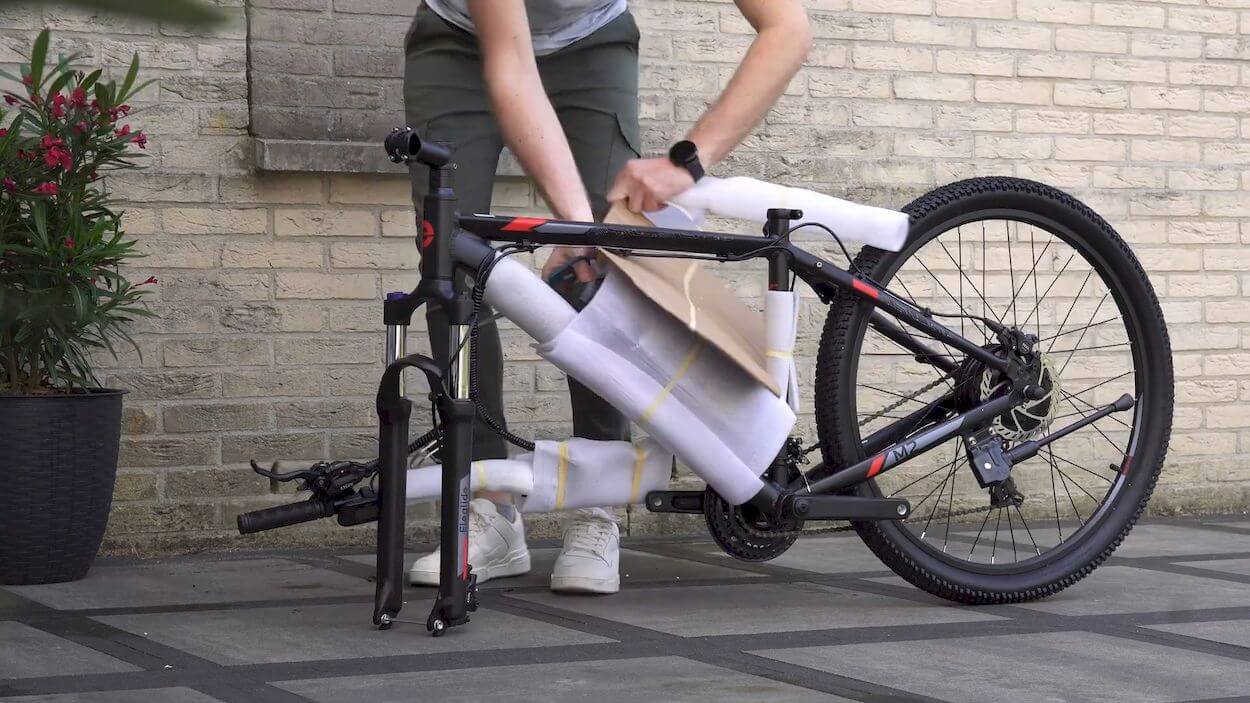 Carefully insert the front wheel into the designated fork. Ensure it's seated securely, and then lock it tightly in place. This step is crucial for the bike's stability and safety.
Attach the pedals to the bike's crank arms. Make sure they are screwed in securely to prevent any wobbling during your rides.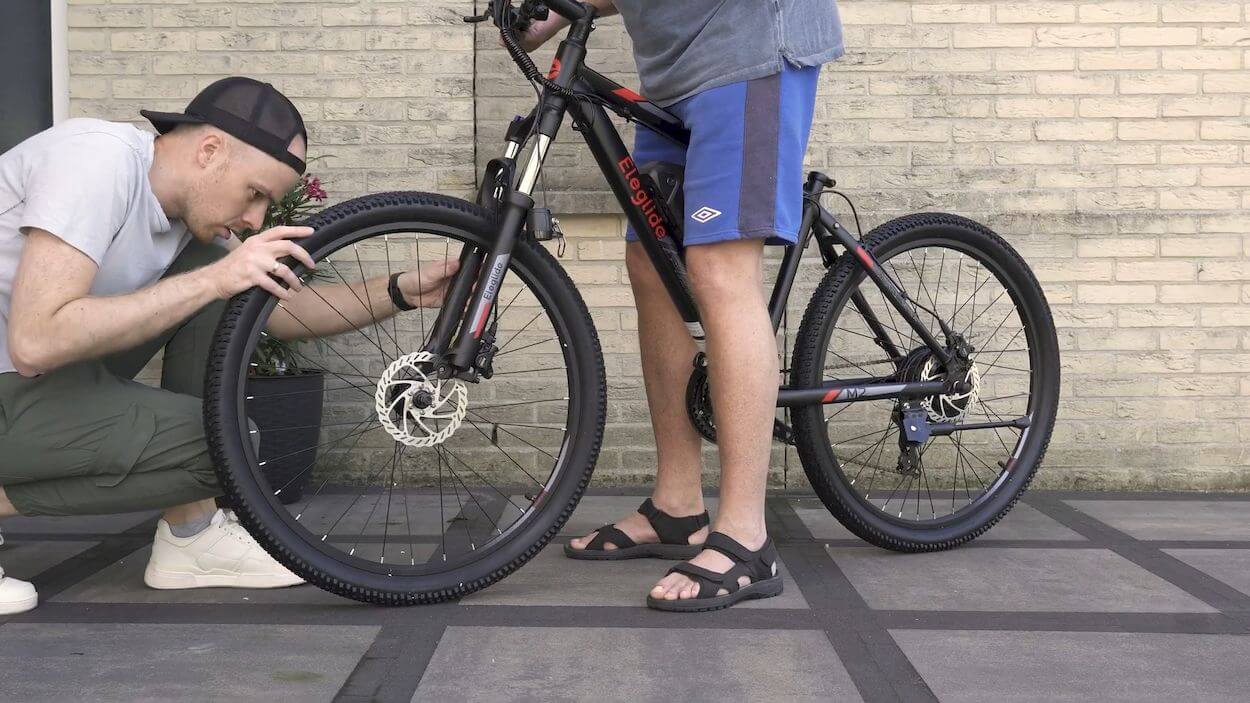 Set the saddle to the correct height according to your preference and comfort level. Finding the right saddle height is essential for an enjoyable riding experience.
Safety is a top priority, so be sure to attach the included reflectors to the bike. These will make you more visible to others when riding in low-light conditions.
Place the little cap and gear protector in their designated spots to ensure the bike's aesthetics are on point.
The Eleglide M2 comes with a throttle option, but please check your local regulations before installing it. In some regions, throttle-equipped e-bikes may be subject to specific laws.
Design and Build Quality
The Eleglide M2 electric bike is an intriguing blend of style and substance, offering a chic design and a solid build quality.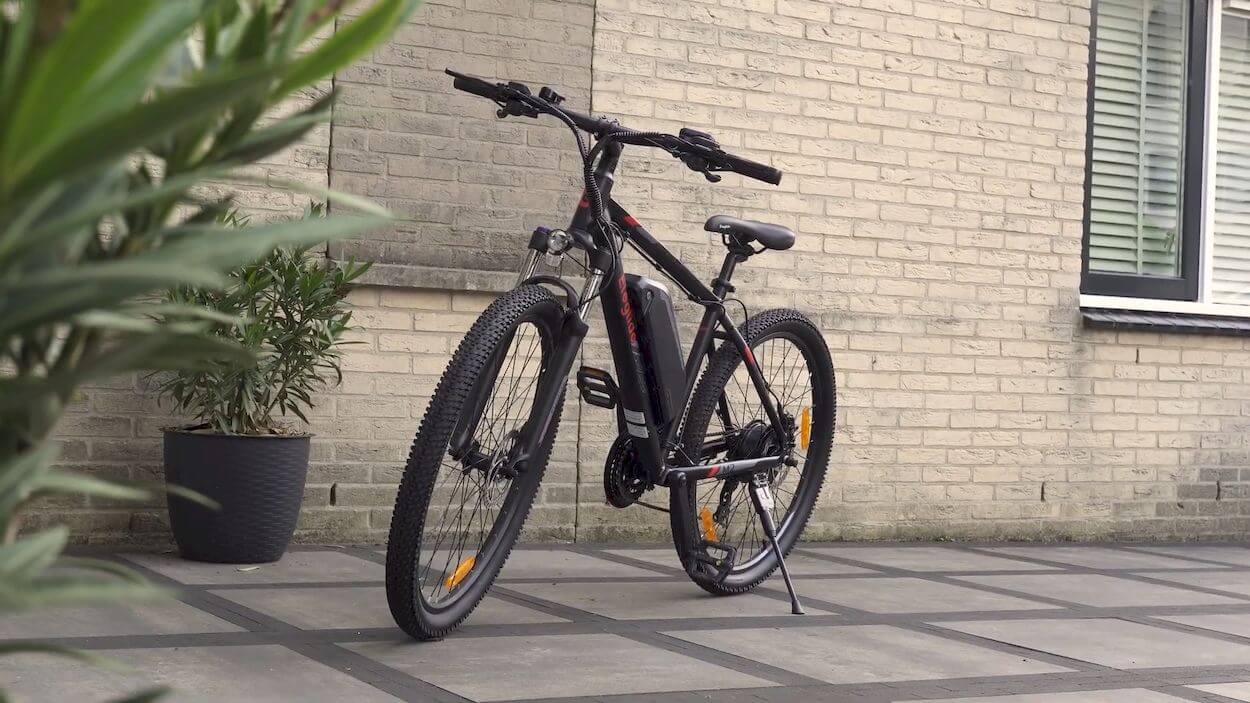 The M2 boasts an eye-catching design that exudes sophistication. With a weight of 22 kilograms, it strikes a balance between sturdiness and maneuverability. The M2's thick tires and sporty geometry not only enhance its aesthetics but also contribute to its performance. The bike's frame design is particularly suitable for taller riders, ensuring a comfortable and ergonomic riding experience.
While the design of the Eleglide M2 is undoubtedly appealing, some riders might find the red logo on the M2 less captivating compared to the yellow-green print on its predecessor, the M1. Personal preferences in color and branding play a role here, and it's worth noting that aesthetics can be subjective.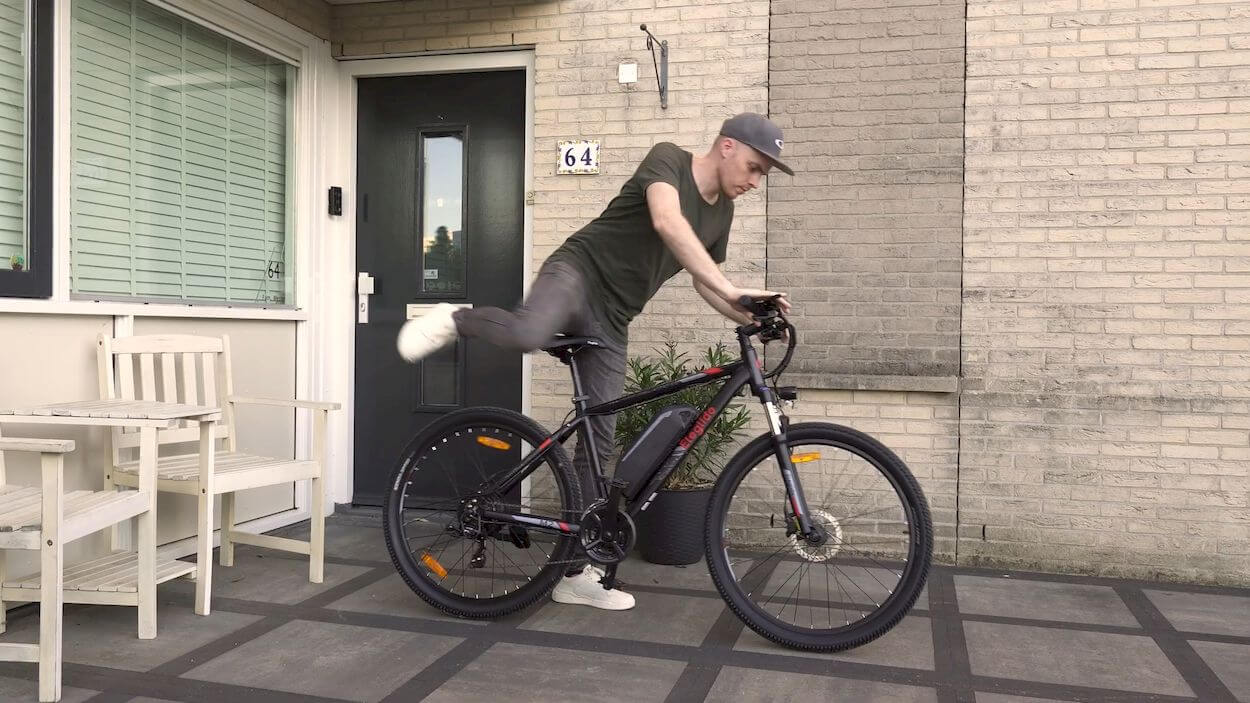 One area where the Eleglide M2 could see improvement is in its cable management. Similar to the M1, the cable routing on the M2 could be more refined. The presence of numerous cables bundled in spiral ties in front of the handlebars, while practical for maintenance purposes, can create a somewhat cluttered appearance. A tidier cable management solution could enhance the bike's overall aesthetics.
The inclusion of comprehensive LED headlights and reflectors on the Eleglide M2 is a noteworthy feature. These elements not only enhance the bike's appearance but also contribute significantly to rider safety and comfort. The LED headlights ensure visibility during nighttime rides and low-light conditions. However, it's worth mentioning that a rear light is notably absent, which could be a desirable addition for riders who frequently venture out during dusk or dawn.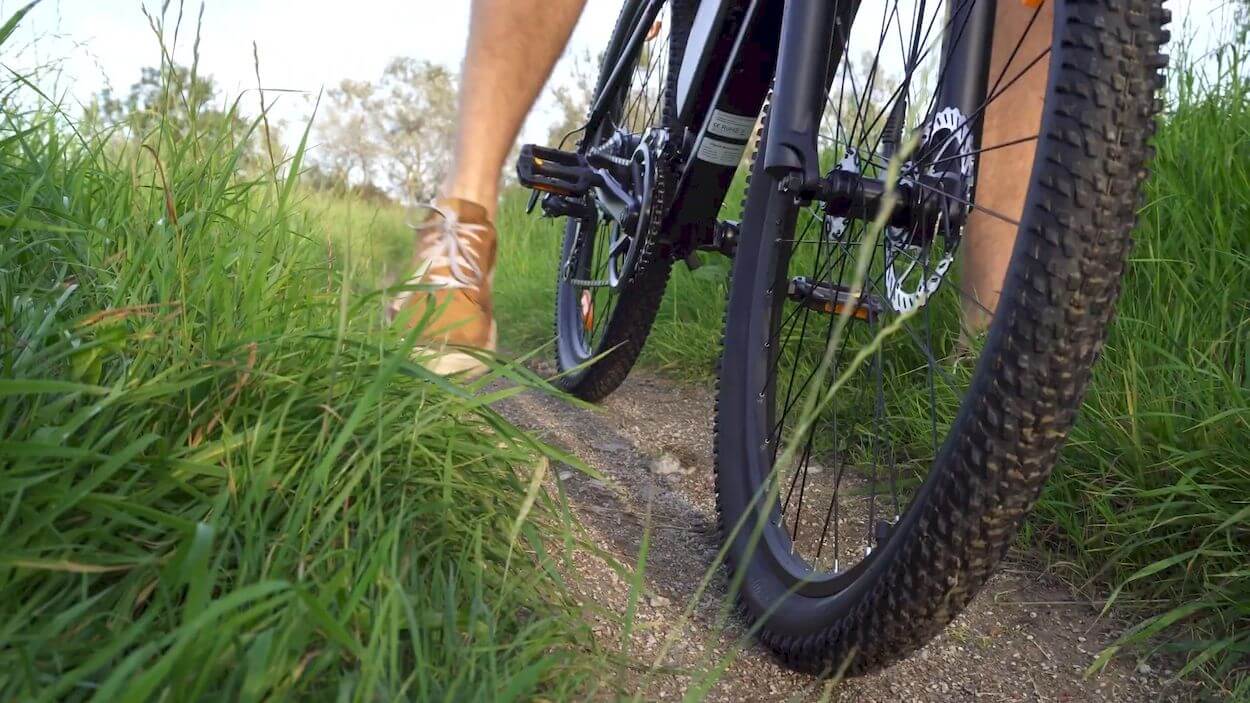 So the Eleglide M2 combines an attractive design with solid build quality. Its sporty geometry, thick tires, and suitability for taller riders make it an appealing choice. While the cable management could be improved for a cleaner look, the inclusion of LED headlights and reflectors enhances safety and visibility. The absence of a rear light may be a minor drawback for riders who often venture out in low-light conditions. Ultimately, the M2 offers a stylish and practical electric bike option for riders seeking both aesthetics and functionality in their ride.
Display and Application
The Eleglide M2 comes equipped with an LCD display and a smart app, offering a range of features and customization options.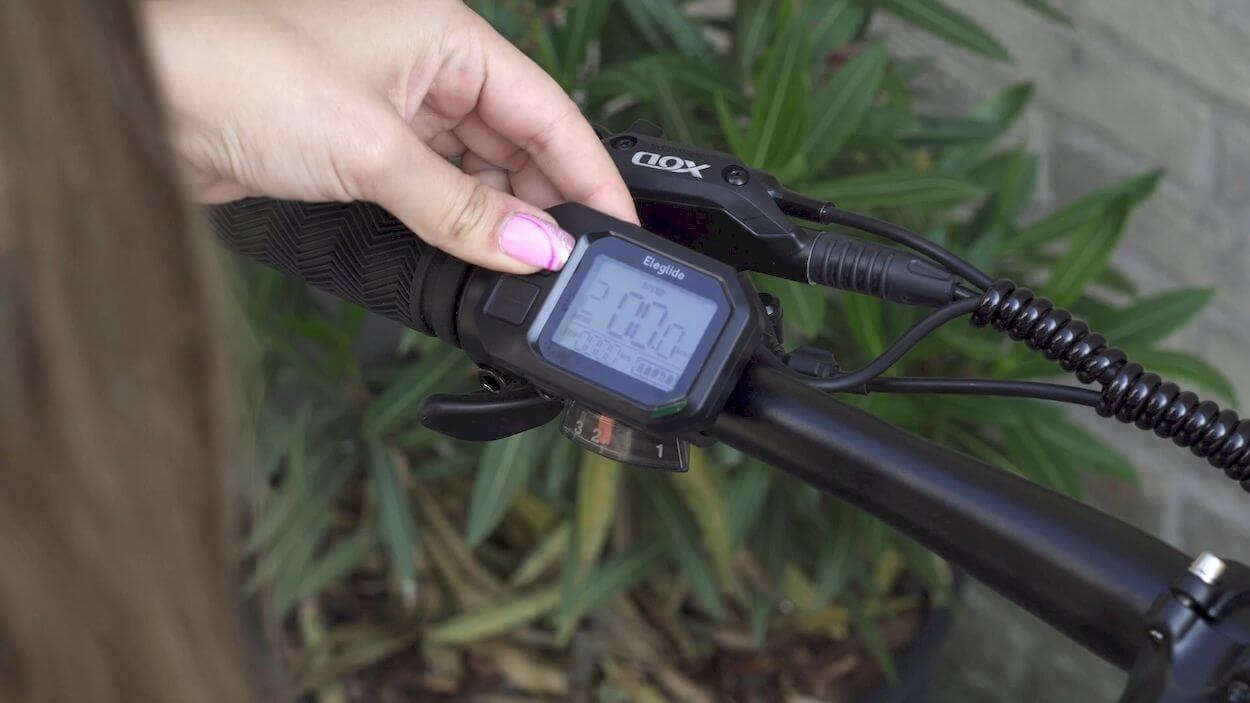 The LCD display on the Eleglide M2 serves as the primary interface for monitoring your ride. It provides essential information such as your current speed, battery level, and trip distance. This real-time data is crucial for any cyclist to gauge their performance and ensure a safe and enjoyable ride. The simplicity and straightforwardness of the display are appreciated, as it offers quick access to the key metrics you need on the go.
The complementary smart app that comes with the Eleglide M2 offers an additional layer of customization and control. Through the app, you can fine-tune various settings, including power assistance levels and ride modes. This level of control can be appealing to riders who like to tailor their e-bike experience to their specific preferences and riding conditions.
However, it's worth noting that the interaction between the LCD display and the smart app may feel like a mix of convenience and redundancy to some users. While the app offers customization options, the display itself already provides the essential ride information, such as speed, battery level, and trip distance. For some riders, the display might be sufficient, and they may not feel the need to use the app regularly.
One aspect that some riders may have preferred over the smart app is the inclusion of a torque sensor. Torque sensors provide a more natural and responsive riding experience by adjusting the electric assist based on the rider's effort. This feature can make the e-bike feel more intuitive and closely mimic traditional cycling. In some cases, riders may prioritize the inclusion of a torque sensor over extensive app-based customization.
Motor and Driving Test
The Eleglide M2 electric bike boasts an impressive 250-watt motor located on the rear wheel, operating at a nominal voltage of 36 volts. This motor packs a punch, reaching a peak output of 570 watts and delivering a substantial output torque of 55 Newton meters. These specifications make it a standout feature, especially when compared to its predecessor, the Eleglide M1.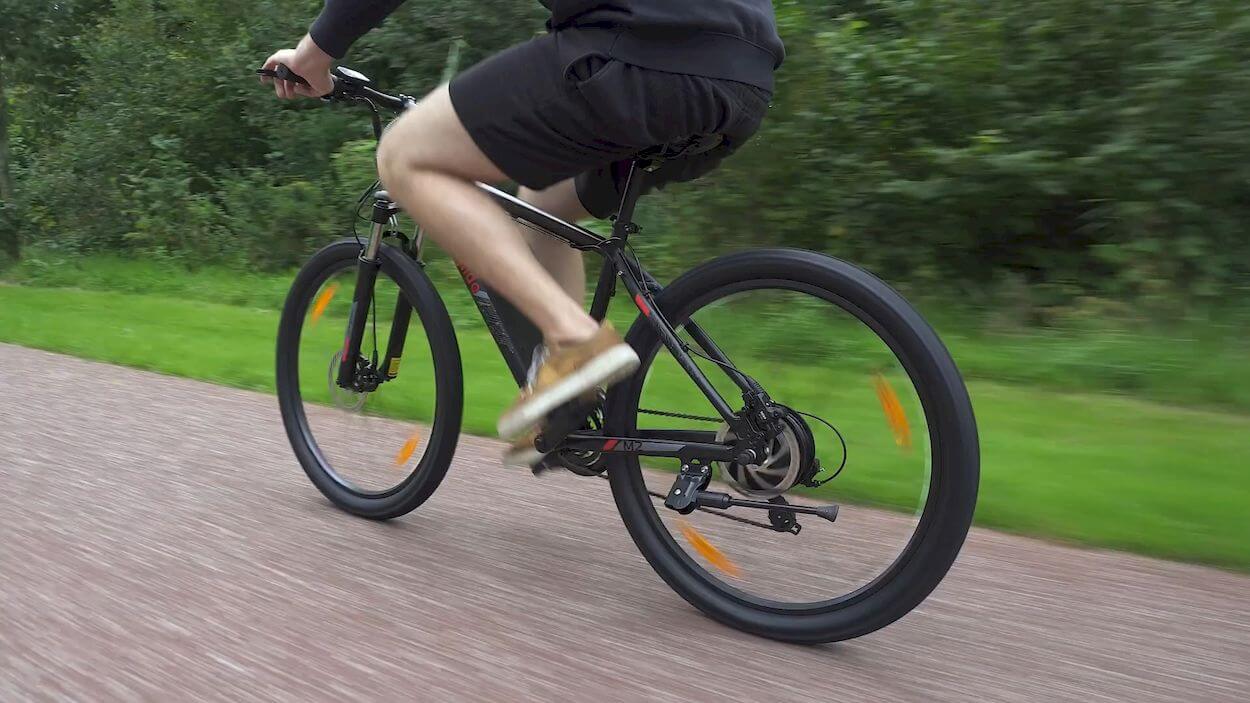 The Eleglide M2's robust motor has the capacity to effortlessly assist even heavier riders, accommodating individuals weighing up to the permitted 120 kilograms. It excels on moderate inclines and, thanks to its good gear shifting system, can conquer even steep gradients with ease.
From the moment you start pedaling on the Eleglide M2, you can feel the substantial assistance provided by the motor. This assistance is particularly noticeable when tackling uphill climbs. While the bike may not turn you into a speed demon, it offers a steady and reliable boost that makes ascending steep bridges and mountainous paths feel much more manageable.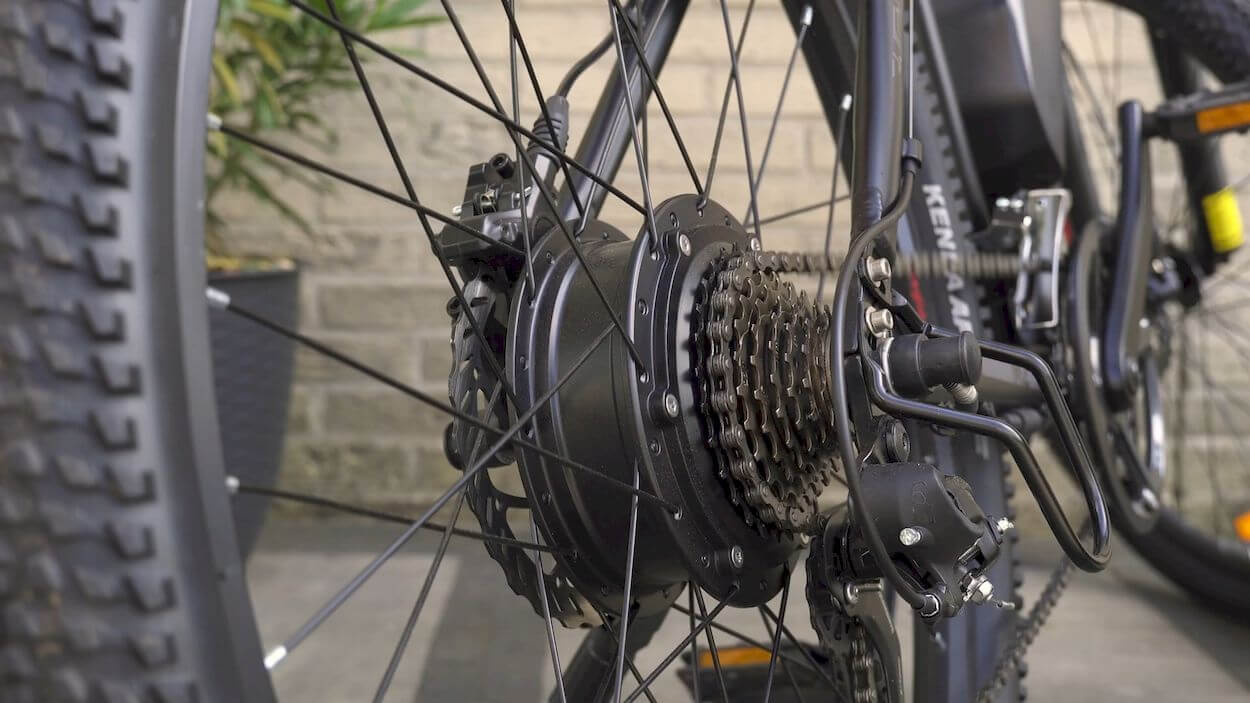 One standout feature of the Eleglide is its 24-speed Shimano gear system, which is not commonly found in e-bikes at this price point. This wide range of gears allows riders to effortlessly adapt to various terrains, whether cruising on flat roads or conquering challenging uphill trails. The gear system provides a welcome trade-off for the absence of a torque sensor, allowing riders to fine-tune their riding experience and style.
The Eleglide M2's hydraulic suspension, combined with its larger tires, significantly enhances the bike's comfort and handling. These features work in harmony to absorb terrain irregularities and unexpected bumps, providing a smoother overall ride experience. Even when encountering speed bumps intended for cars, the bike handles them without trouble, ensuring a comfortable and controlled ride.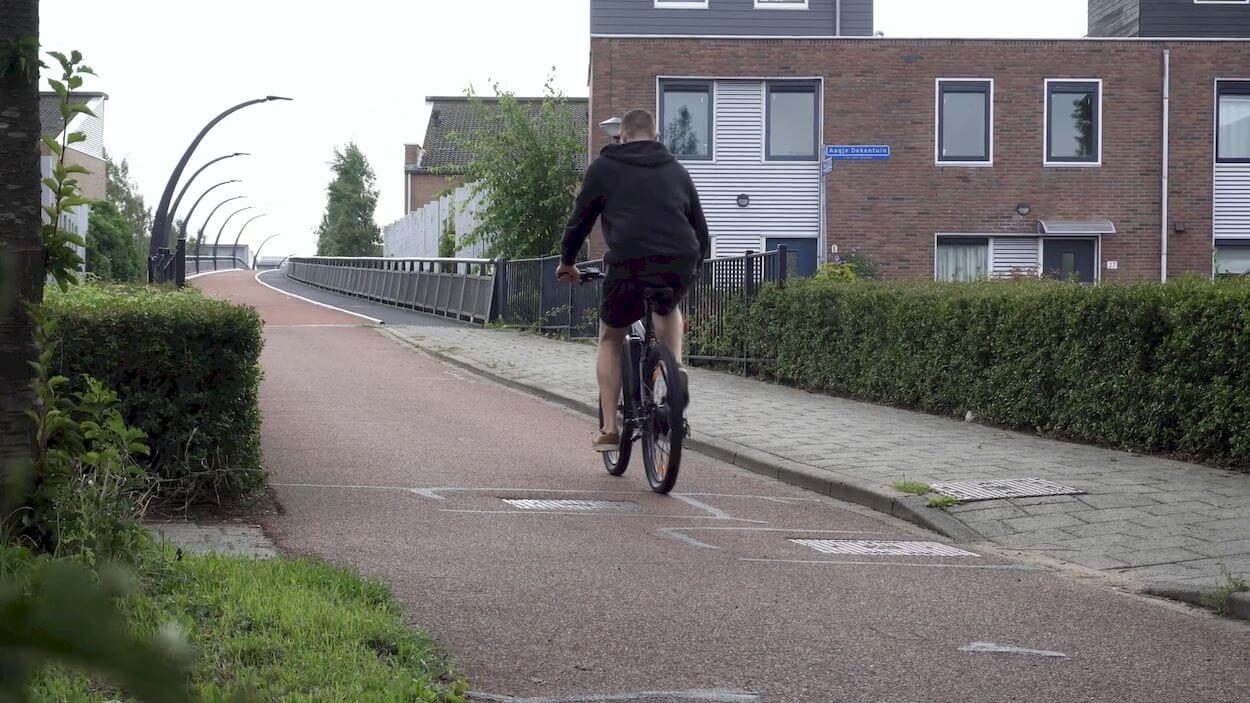 On the road, the Eleglide M2 delivers a stable and responsive ride. The hydraulic disc brakes offer precise stopping power, enhancing safety, particularly in unexpected situations. This combination of power, stability, and responsive braking adds to the overall confidence and comfort of the rider, making the Eleglide M2 a reliable and enjoyable choice for various riding scenarios.
So, the Eleglide M2's powerful motor, impressive torque, versatile gear system, and comfortable suspension make it a formidable electric bike. It excels in assisting riders, especially on inclines, and its stability and braking capabilities enhance safety on the road. This e-bike offers a compelling package for those seeking a reliable and versatile electric biking experience.
Brake Test
One standout feature that immediately caught my attention was the hydraulic disc brakes.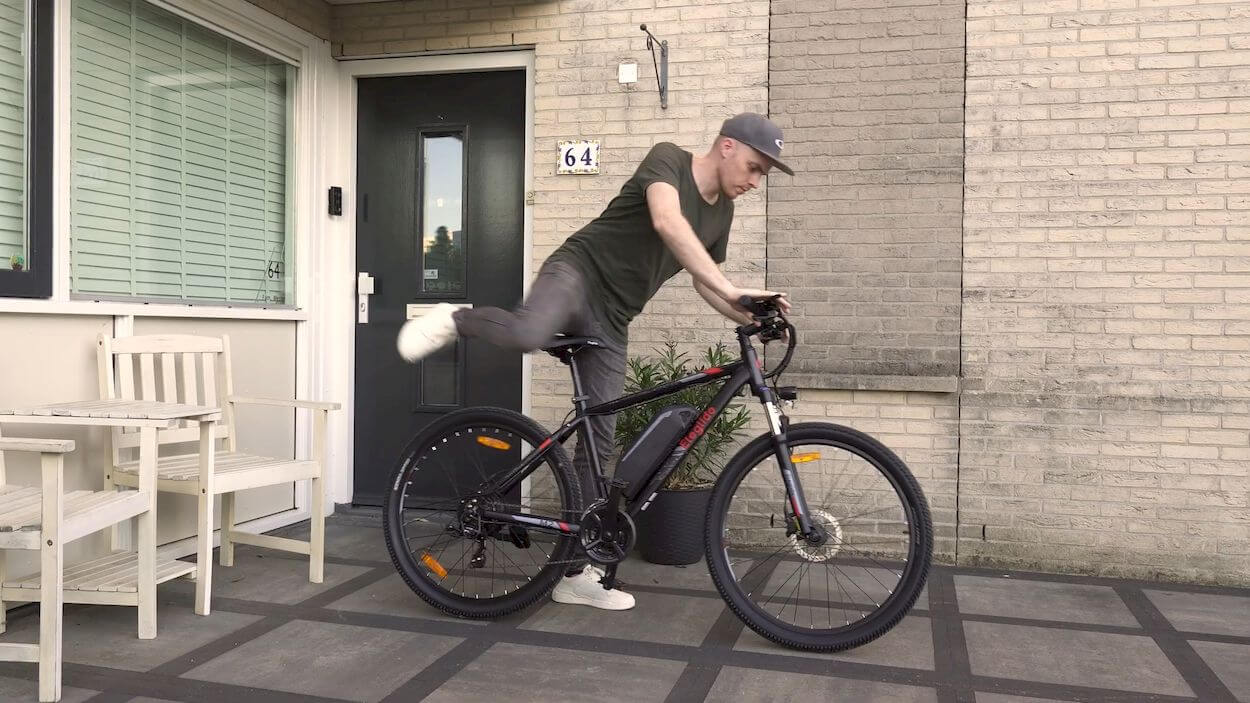 Hydraulic disc brakes are a revelation on the Geek Maxi bike, providing a level of precision and stopping power that elevates the riding experience to a whole new level. These brakes offer a remarkable degree of control, ensuring that you can stop with confidence when you need it most.
I put these brakes to the test with my standard stopping trial, and the results were nothing short of impressive. From my top speed, the Geek Maxi bike came to a complete stop in just under three and a half meters. This level of braking performance is truly exceptional and is a testament to the bike's engineering excellence.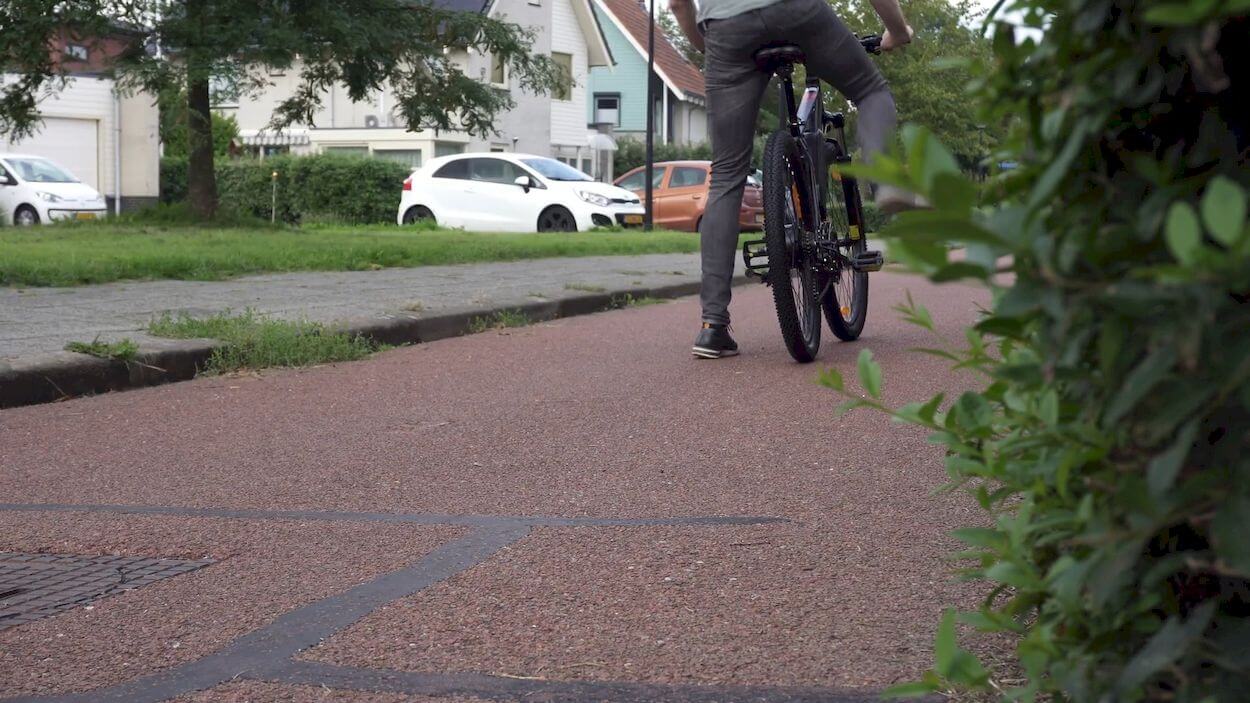 The ability to come to a full stop quickly and efficiently is not just about convenience; it's about safety. Whether you're navigating through city traffic, tackling challenging downhill descents, or simply enjoying a leisurely ride in the park, having brakes that respond promptly can make all the difference. The hydraulic disc brakes on the Geek Maxi bike provide that added sense of safety, giving riders the confidence to explore their limits while knowing they have reliable stopping power at their fingertips.
Battery and Range
I must confess, I was genuinely surprised by the exceptional battery performance of the Eleglide M2 electric bike. As you've probably noticed, the heart of this remarkable performance lies right here: the 540-watt removable battery.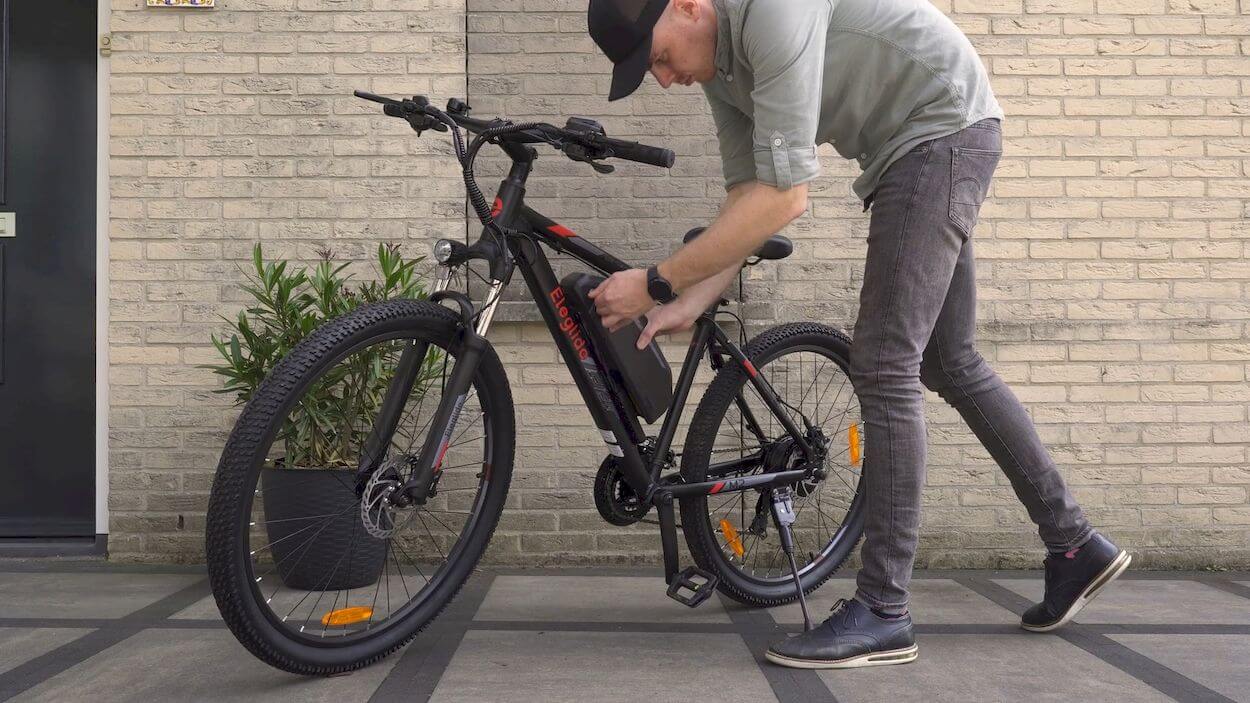 This battery, boasting 540 watts of power, not only promises an impressive range but also delivers on that promise when put to the test in real-world scenarios. During my time with the Eleglide M2, I had the opportunity to cover various terrains, and the battery consistently showcased its prowess.
On a single charge, the Eleglide M2 allowed me to comfortably explore distances ranging from 90 to 100 kilometers. Of course, it's important to acknowledge that several factors can influence an e-bike's range, including the terrain, tire pressure, and the rider's weight. However, the performance of the M2's battery remained consistently positive regardless of these variables.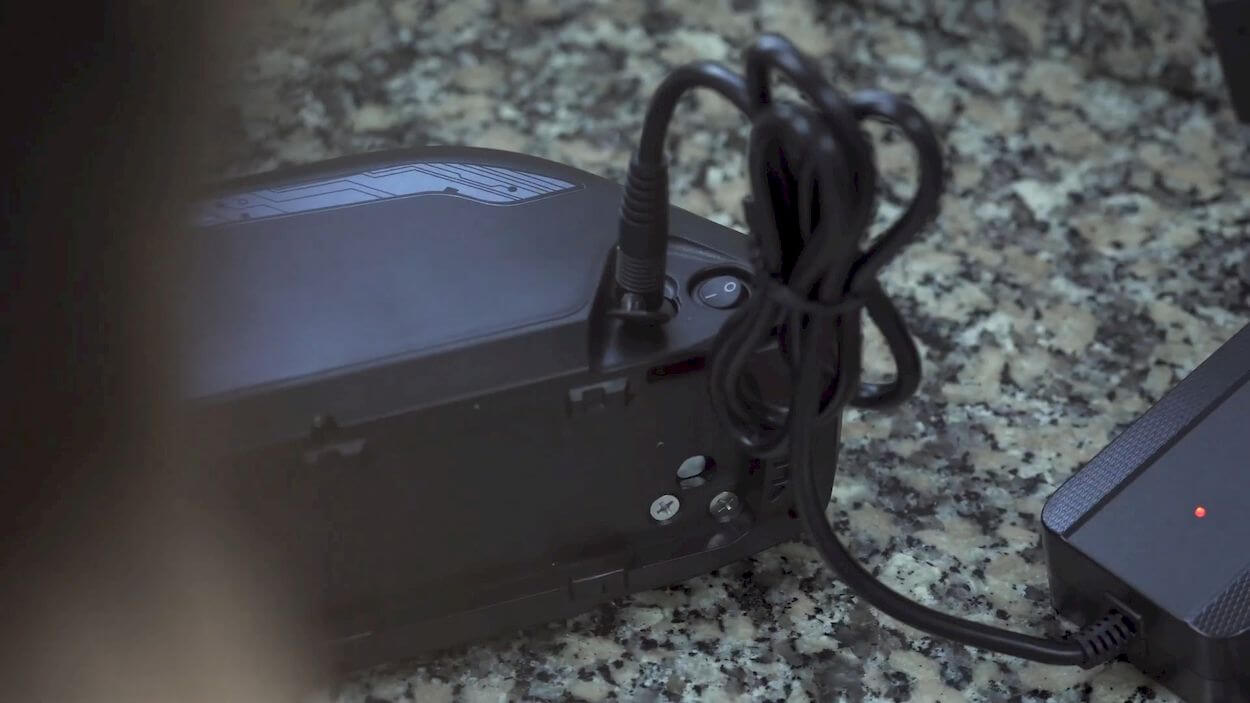 For riders who crave longer journeys and extended adventures, the Eleglide M2's battery is a true powerhouse. It provides the freedom to explore more, whether you're cruising through city streets, conquering hilly terrains, or simply enjoying leisurely rides through picturesque landscapes.
Conclusions
Overall, the Eleglide M2 mountain bike has truly exceeded expectations, especially considering its price point. While it may not boast every top-of-the-line feature, it strikes an impressive balance between performance and affordability. Whether you're a daily commuter seeking comfort or an adventurer exploring diverse terrains, the Eleglide M2 has a lot to offer. However, like all things, it comes with its pros and cons.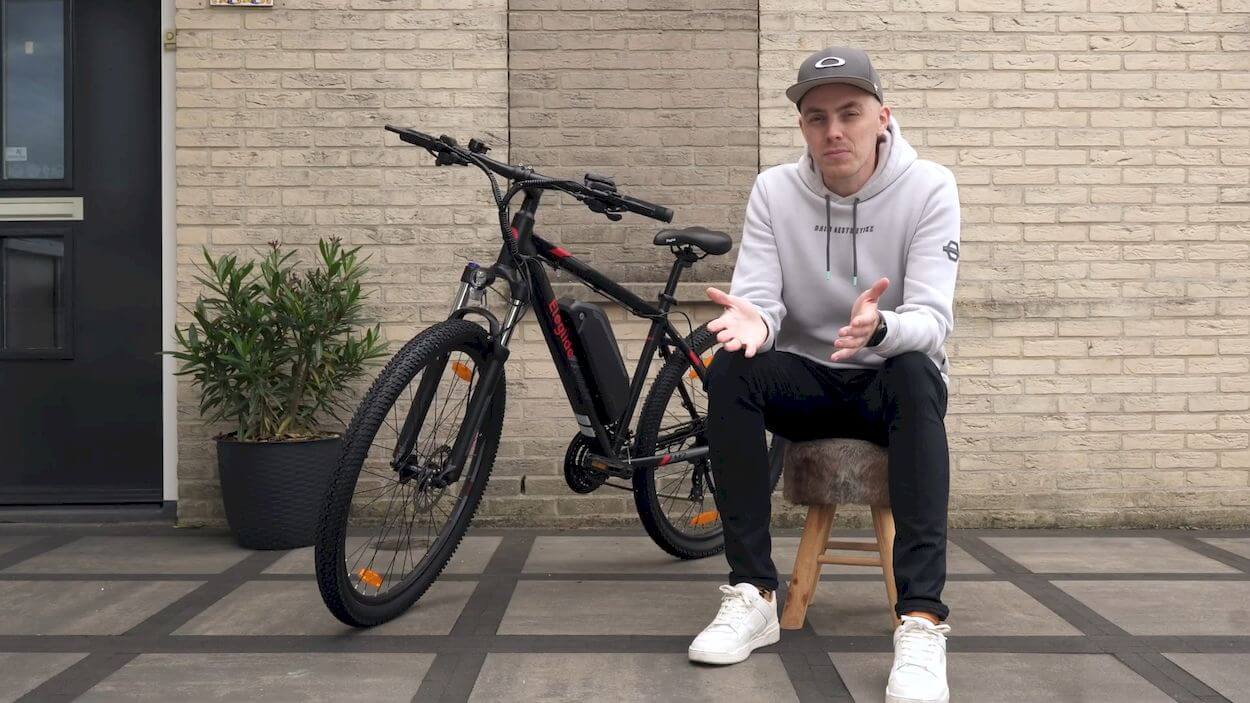 The Pros:
Hydraulic Suspension: The bike offers a comfortable and smooth ride, even on challenging terrain.

Hydraulic Disc Brakes: Precise and powerful braking enhances safety and control.

Decent Torque: The motor provides ample assistance for conquering various inclines.

Impressive Battery: With an excellent range, it allows for longer rides.

Wide Range of Gears: The 24-speed Shimano gear system adapts to different terrains.

LCD Display: Provides essential information conveniently.

Attractive Price: Perhaps its biggest advantage – affordability without compromising quality.
The Cons:
Caden Sensor: The absence of a torque sensor might affect the bike's responsiveness.

Not Ideal for Extreme Off-Roading: While it handles various terrains well, it's not built for extreme off-road adventures.

Limited Spare Parts: Availability of spare parts could be a potential concern.
Its features cater to a broad spectrum of riders, from those seeking daily comfort to adventurers in pursuit of thrilling experiences. With its powerful motor, hydraulic disc brakes, versatile gear system, and generous battery capacity, the M2 offers an enticing blend of performance and value.
Whether you're a daily commuter or a weekend explorer, the Eleglide M2 provides something special without breaking the bank. While it's an excellent choice for those looking for a balance between off-road speed and comfort, it's worth noting that there's an even more feature-packed option available for a higher price point.
As we conclude this review, I hope you found it informative and insightful.. Until next time, happy riding, and explore the world of E-bikes with confidence!
Alternatives of Eleglide M2