Welcome to Avis Express for an in-depth test of the Kukirin V2 electric bike.
Currently, the Kukirin V2 is available at a special price of €629.00, offering a discount from its regular price of €679.00. This pricing provides a cost-effective opportunity for riders to enjoy the features and benefits of the Kukirin V2 while saving on their purchase.
In this review, we'll explore the V2's performance, design, and functionality, paying attention to the small details that make this bike stand out in the world of compact electric mobility. Let's dive in and uncover what sets the Kukirin V2 apart from the rest.
| | |
| --- | --- |
| Material: | Magnesium Alloy |
| Maximum Power: | 430W |
| Max Speed: | 25km/h |
| Hub Size: | 20inch |
| Uphill: | 15 Degree |
| Drivetrain: | 7 Speeds |
| Speed Mode: | 3 Modes |
| Tire: | 20-inch Pneumatic Tires |
| Capacity: | 2500mAh |
| Mileage (Pure Electric): | 25km |
| Assistant-Mileage: | 30-45km |
| Max Load: | 120kg |
| Product Weight: | 18.85kg |
| Product Size(L x W x H): | 1475 x 542 x 1090mm (Unfolded), 820 x 445 x 555mm (Folded) |
Design and Build Quality
The Kukirin V2 boasts an aluminum alloy frame that is not only lightweight but also foldable. This foldable design is a significant improvement over its predecessor, the V1, and allows for extreme compactness when the bike is folded. To fold the bike, a lever is conveniently located on the side, making it easy to collapse the frame. This folding mechanism extends to the handlebars as well, further reducing the bike's dimensions when stored. The compactness of the folded bike, measuring approximately 80 cm in length, 50 cm in width, and 40 cm in depth, makes it exceptionally easy to transport and store.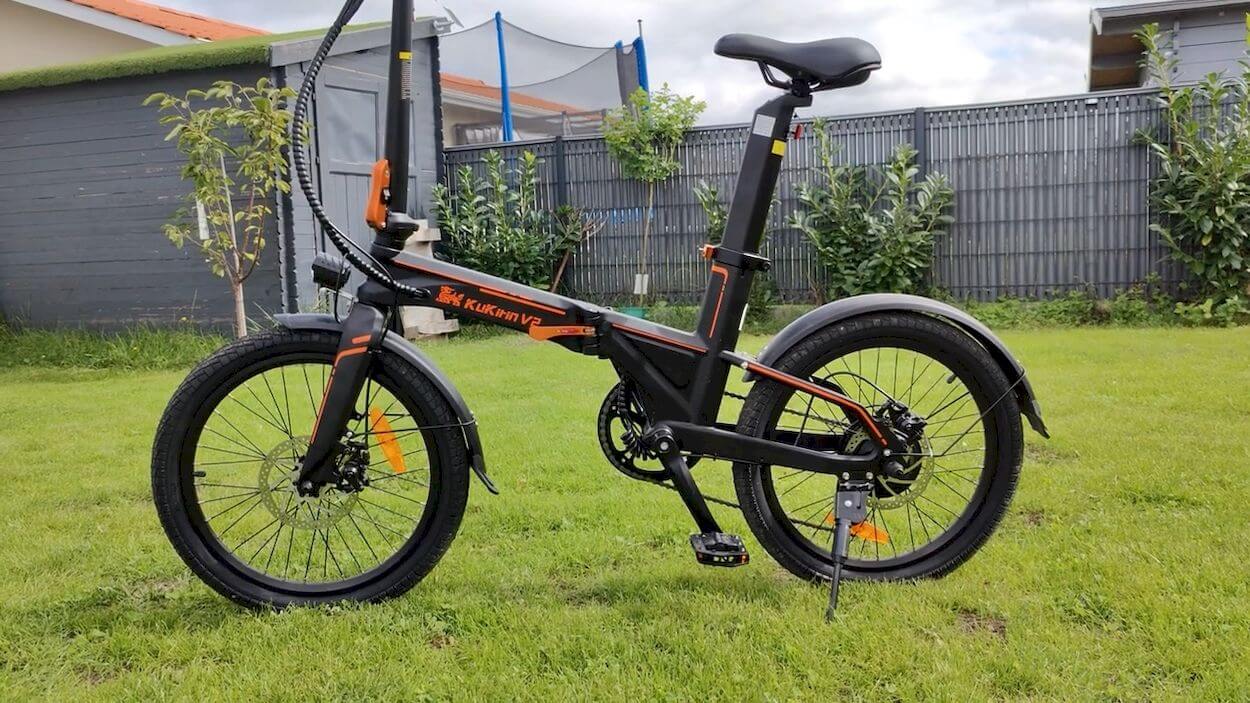 Despite its compact size, the Kukirin V2 is designed to be robust and able to support a rider with a weight of up to 120 kg (approximately 265 lbs). This speaks to the build quality and durability of the bike, making it suitable for a wide range of riders, including those looking for a compact yet sturdy option.
The Kukirin V2 stands out with its distinctive design. Unlike many generic bikes in the market, it offers a unique aesthetic appeal. The black frame, complemented by stylish orange accents, gives the bike a modern and sporty look. The design of the V2 not only adds to its visual appeal but also makes it easily recognizable on the road.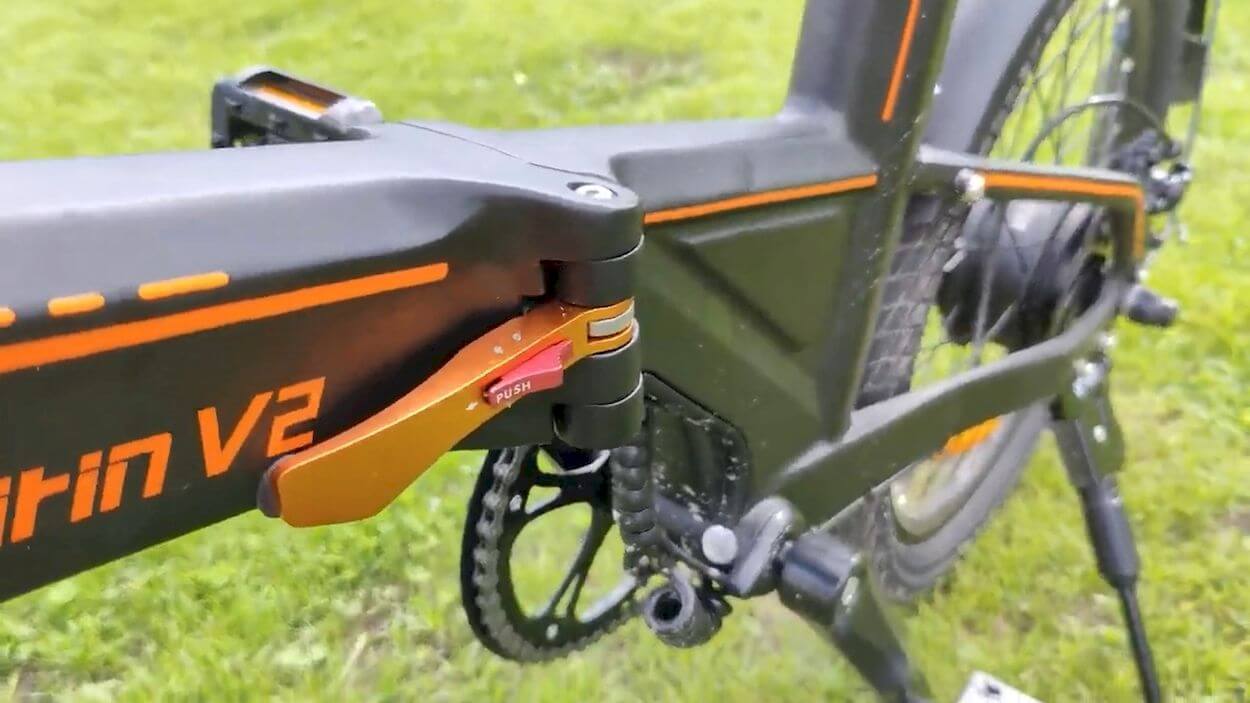 The bike features a classic mechanical braking system with disc brakes located both at the front and rear wheels. This setup ensures reliable stopping power, contributing to the safety of the rider. The control panel provides essential information, including current speed, total mileage, remaining battery life, and assistance mode. The Shimano Tourney derailleur, though entry-level, functions effectively to provide smooth gear shifting, enhancing the overall riding experience.
The Kukirin includes practical features such as a small bell for signaling, a rear light for visibility, mudguards to protect against splashes, and catadioptric reflectors for added safety. The front headlight illuminates the path ahead, offering visibility for up to 10 meters.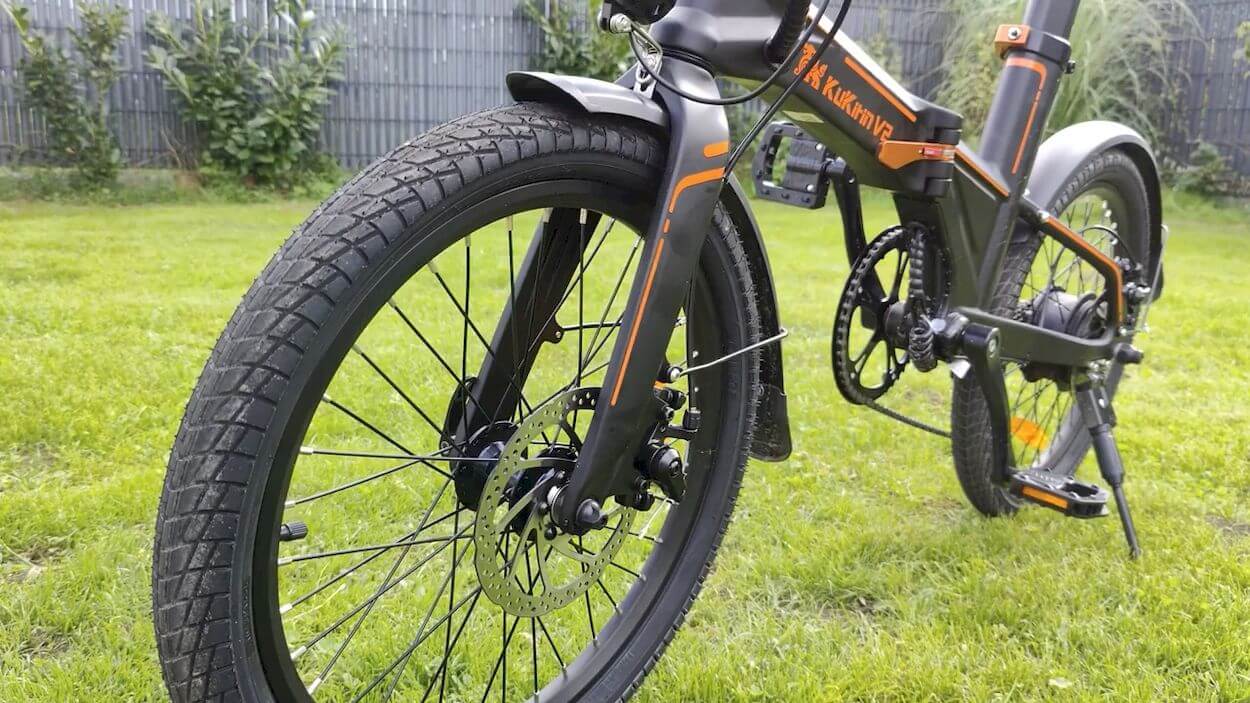 So, the Kukirin V2 excels in both design and build quality, making it a standout choice among compact folding bikes. Its ability to combine compactness with durability, stylish design, and practical features makes it a compelling option for urban commuters and riders looking for a versatile and visually appealing mode of transportation. With the Kukirin V2, you not only get a reliable and efficient bike but also a head-turning piece of equipment that enhances your riding experience.
Kukirin V2: Motor and Driving test
The Kukirin V2 is equipped with a 250-watt rear-positioned motor, adhering to the French regulation that limits electric bikes to 250 watts. This power output allows the bike to reach a theoretical maximum speed of 25 km/h, in compliance with regulations. However, there's a mention of the bike's speed being limited to 20 km/h in some contexts, which may be due to an adjustment or calibration issue.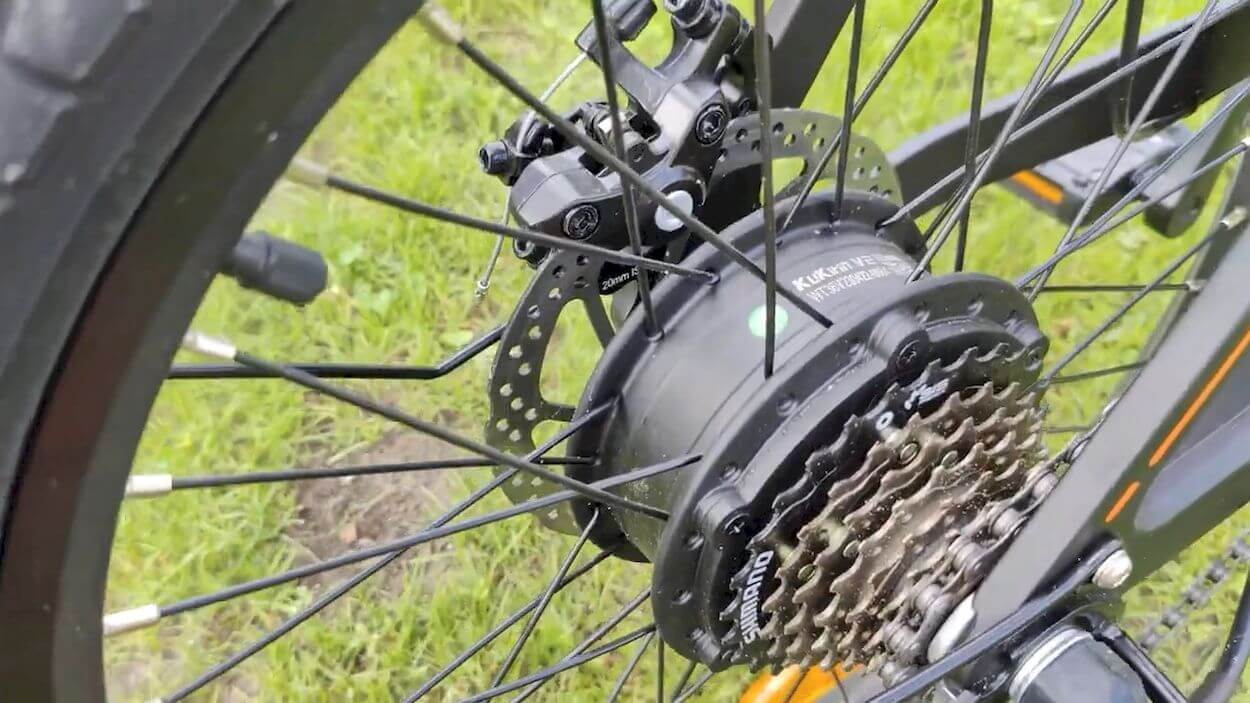 One feature that deviates slightly from regulations is the presence of an accelerator on the bike. Although it's there, riders are not obliged to use it. In fact, the accelerator can be removed if desired. The bike primarily relies on pedal-assist, where the motor is activated when you pedal. However, the initial pedal rotation might require a good half turn before the motor engages, which could be less than ideal on hills.
The Kukirin V2 is designed with a rigid assembly, lacking suspension components. Despite the absence of suspension, it offers reasonable comfort levels. The bike features a wide and well-padded saddle, making it comfortable for riding. It's worth noting that it doesn't have front suspension either, and its 20-inch tires provide decent comfort on smoother surfaces but may not absorb roughness as effectively as larger tires.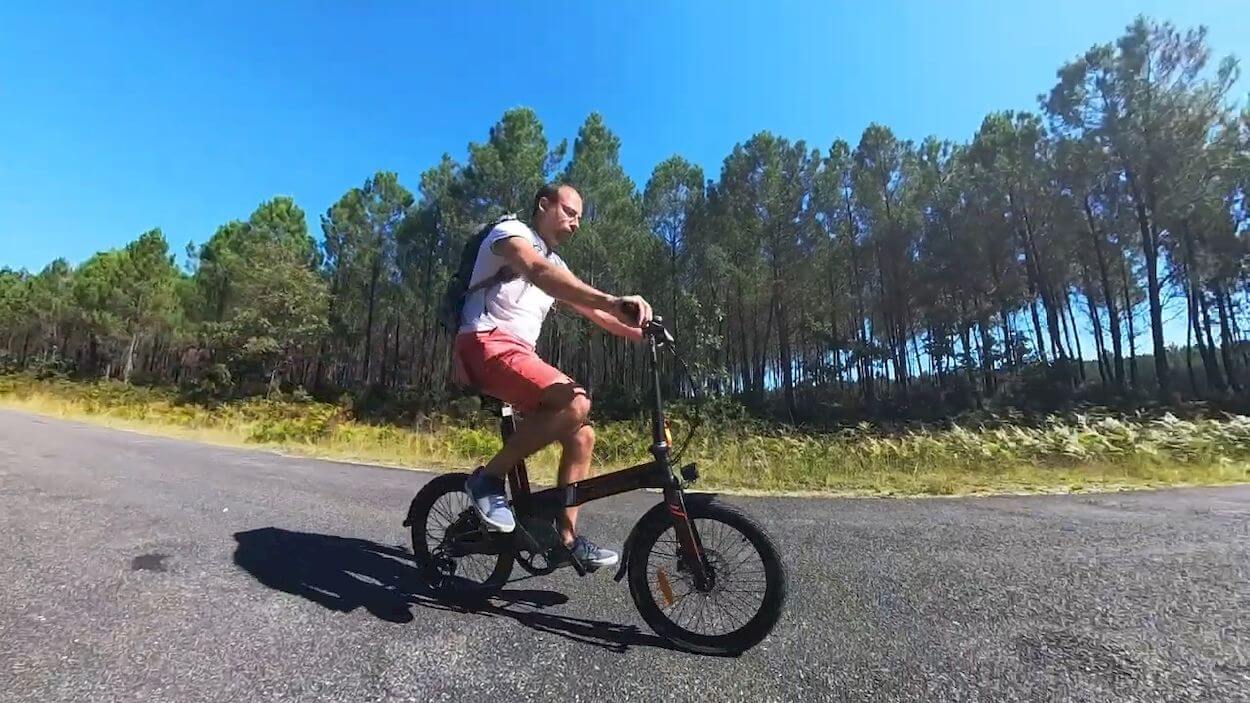 The V2 is well-suited for riders with a stature ranging from approximately 150 cm to 180 cm (4'11" to 5'11"). Its compact 20-inch design allows for a comfortable riding experience for individuals within this height range. However, it may not be suitable for taller individuals, as they may find it too small.
The bike is not designed for long-distance riding but is more focused on last-mile mobility. It provides a good compromise between comfort and compactness. The battery performance is adequate, and the motor's power modulation allows for different levels of assistance, with mode 1 offering a softer power delivery and mode 3 delivering more punch.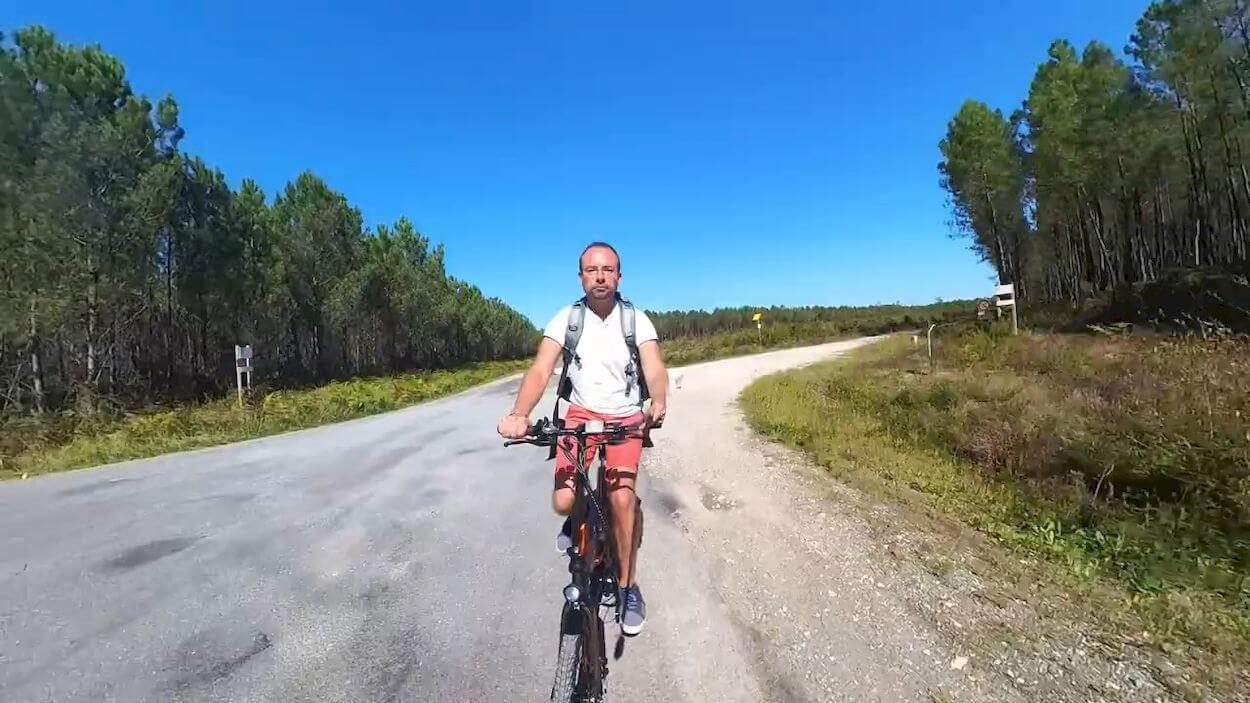 With a 250-watt motor, the Kukirin V2 delivers an adequate performance within the limits of French regulations. It adheres to the speed limitations set by the regulations, although there might be minor discrepancies between the speedometer and GPS readings.
The bike can handle moderate inclines, and its motor provides support while pedaling. However, steep hills may pose a challenge, as it can lead to a drop in speed.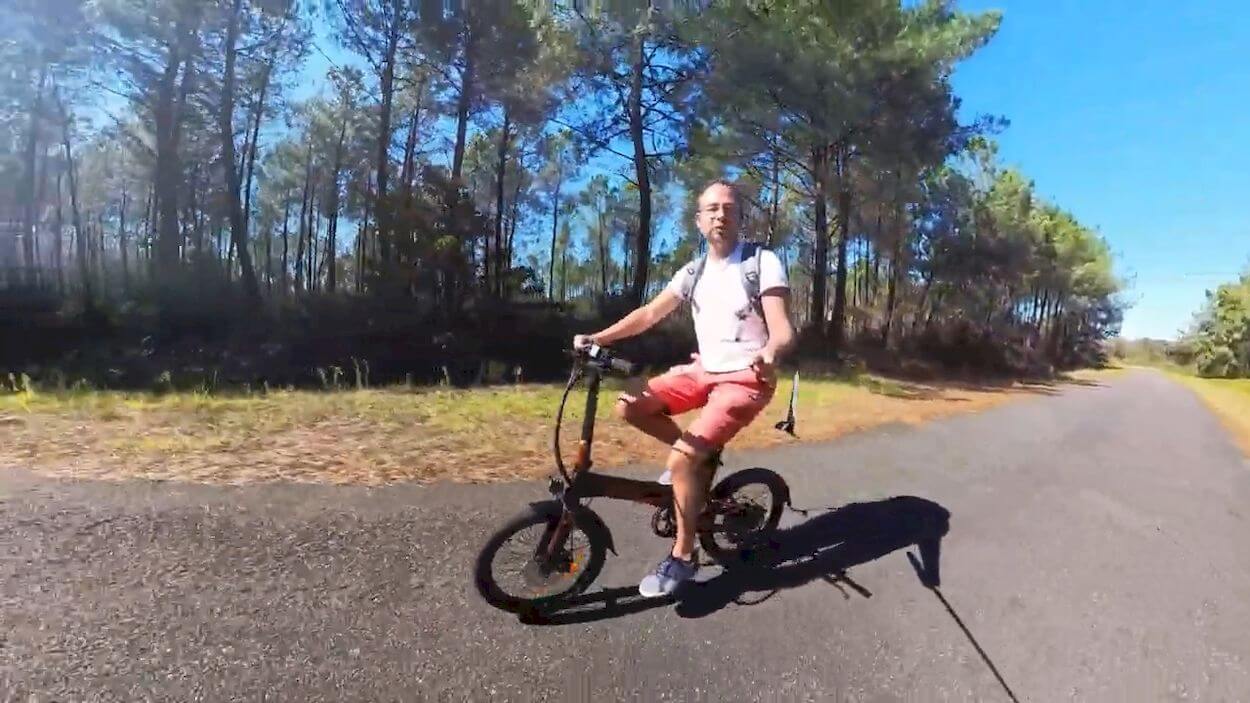 So, the Kukirin V2 is a compact electric bike designed to meet French regulations with a few exceptions. It offers a balance between comfort and compactness, making it suitable for urban commuting and last-mile mobility. While its motor power may seem somewhat limited, it aligns with legal requirements, and the bike performs reasonably well within these boundaries. Riders within the recommended height range can enjoy a comfortable and practical riding experience with the Kukirin V2.
Braking test
The Kukirin V2 features a dual-disc brake setup, with disc brakes both at the front and rear of the bike. This choice is commendable, as disc brakes provide superior stopping power compared to drum brakes, especially in various weather conditions.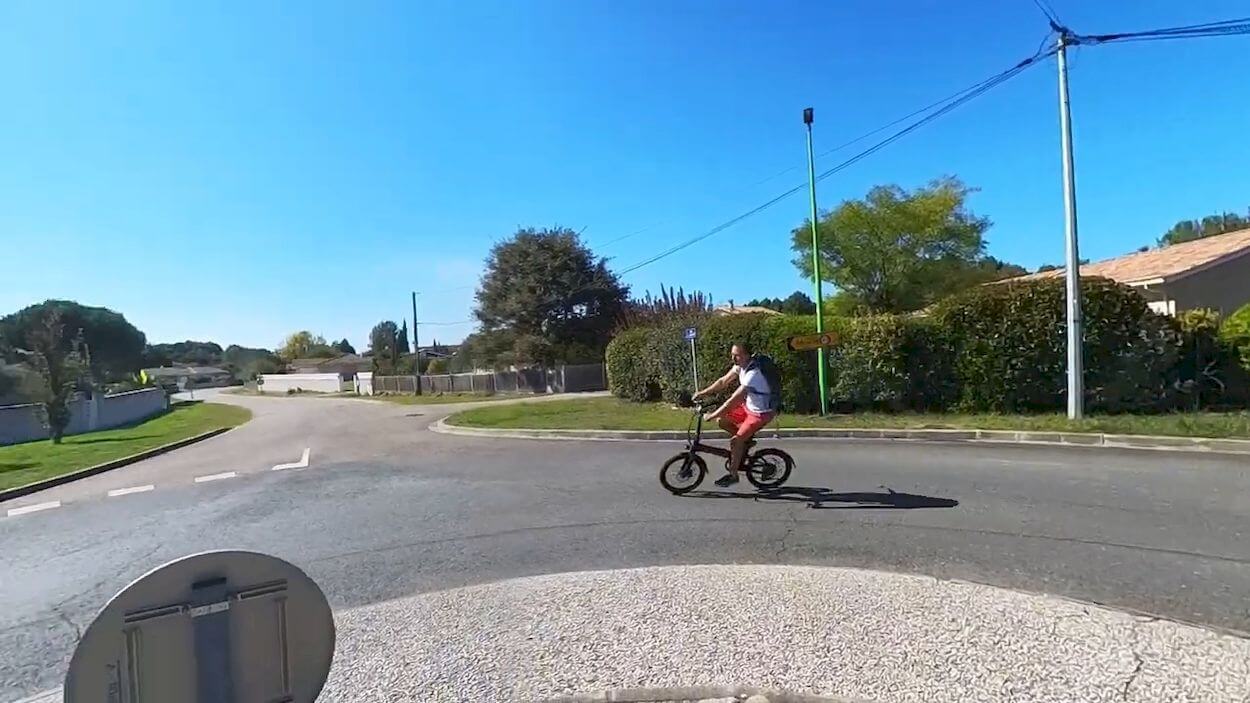 When tested at a speed of approximately 22 km/h, the V2 demonstrated an impressive braking performance. The stopping distance measured around 3 meters and 20-30 centimeters. This is an efficient stopping distance, especially considering the bike's usual operating speed. It's worth noting that this performance surpasses the benchmark of stopping in 4 meters at 25 km/h, which is typically expected from bikes.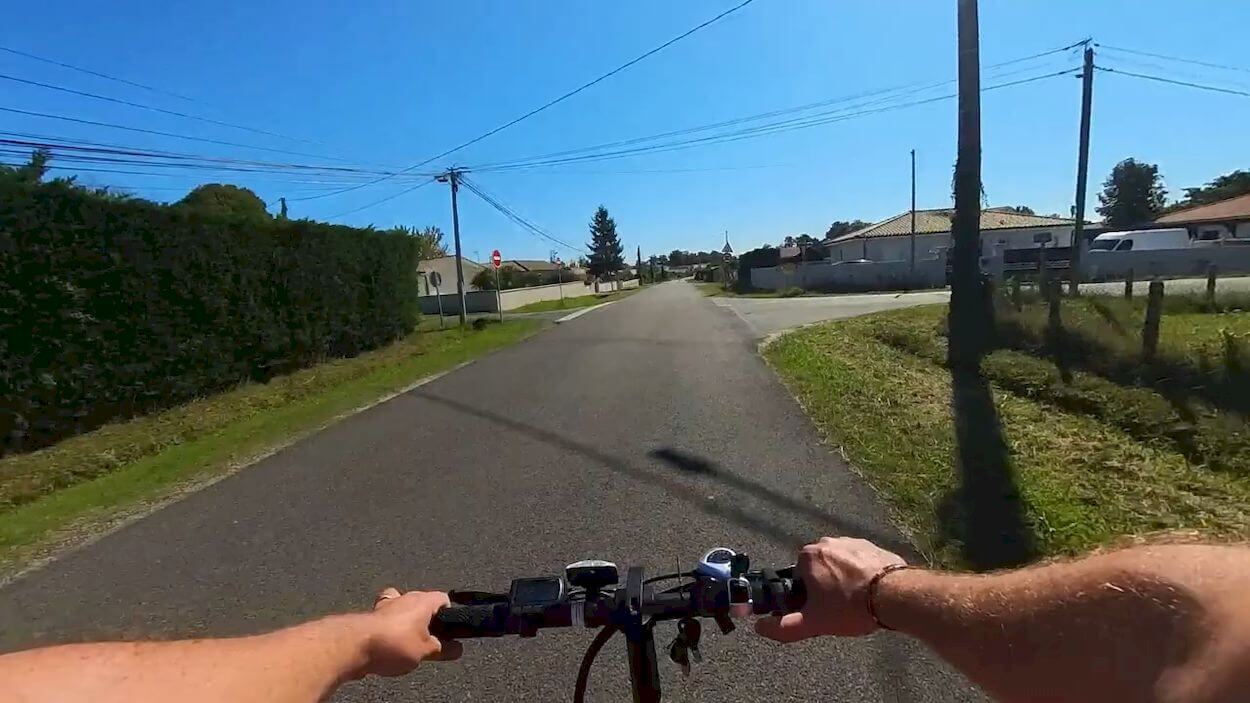 The braking system appears to be well-calibrated, with the disc lightly touching the caliper during normal riding. This indicates proper adjustment and alignment, ensuring that the brakes are responsive when needed. Importantly, there is no squeaking or undesirable noise when applying the brakes, which contributes to a pleasant and hassle-free riding experience.
Battery and Range
One of the standout advantages of the battery placement is that it discourages potential thieves. To access the battery, one must first remove the saddle. This simple act immediately diminishes the bike's visual appeal and makes it less enticing to would-be thieves. To further enhance security, the saddle is equipped with a lock that requires a small key for unlocking. This added layer of protection ensures that the battery is not easily stolen.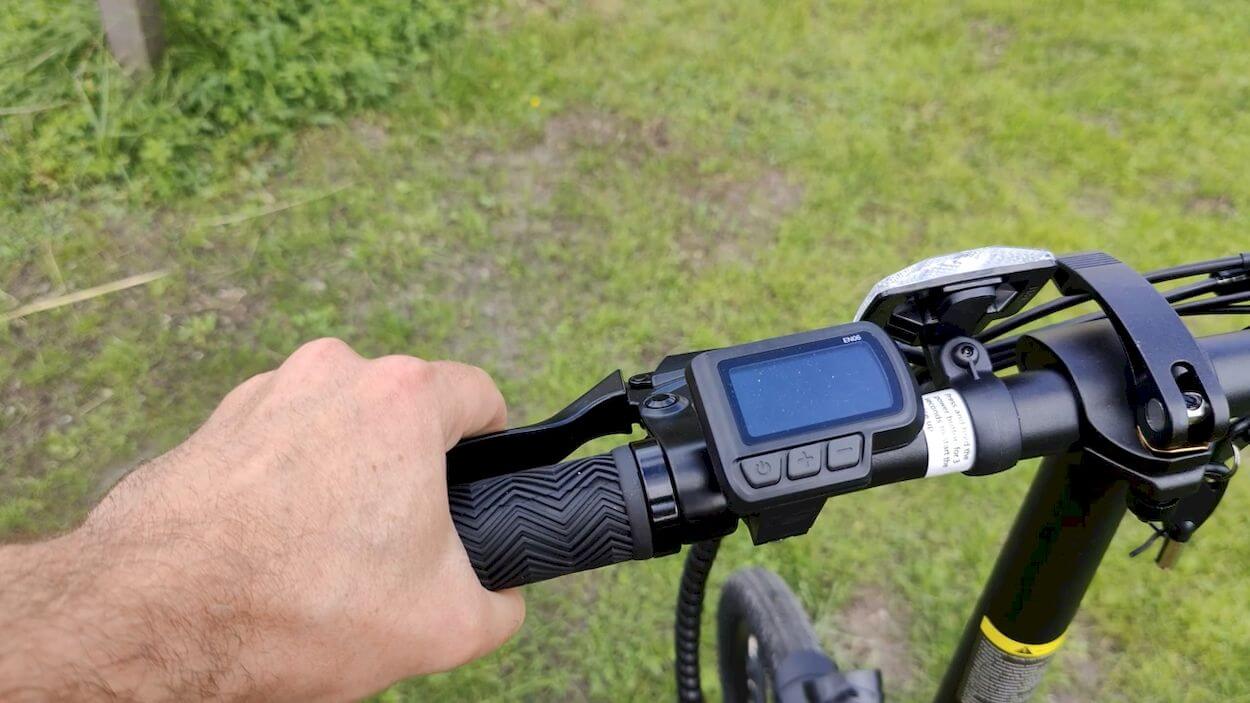 The removable battery within the seat tube is a practical solution for riders. It allows users to easily take the battery out and charge it at their convenience, whether at home or in the office, using a standard power outlet. The ability to remove the battery also provides peace of mind in terms of security, as riders can take it with them when leaving the bike unattended.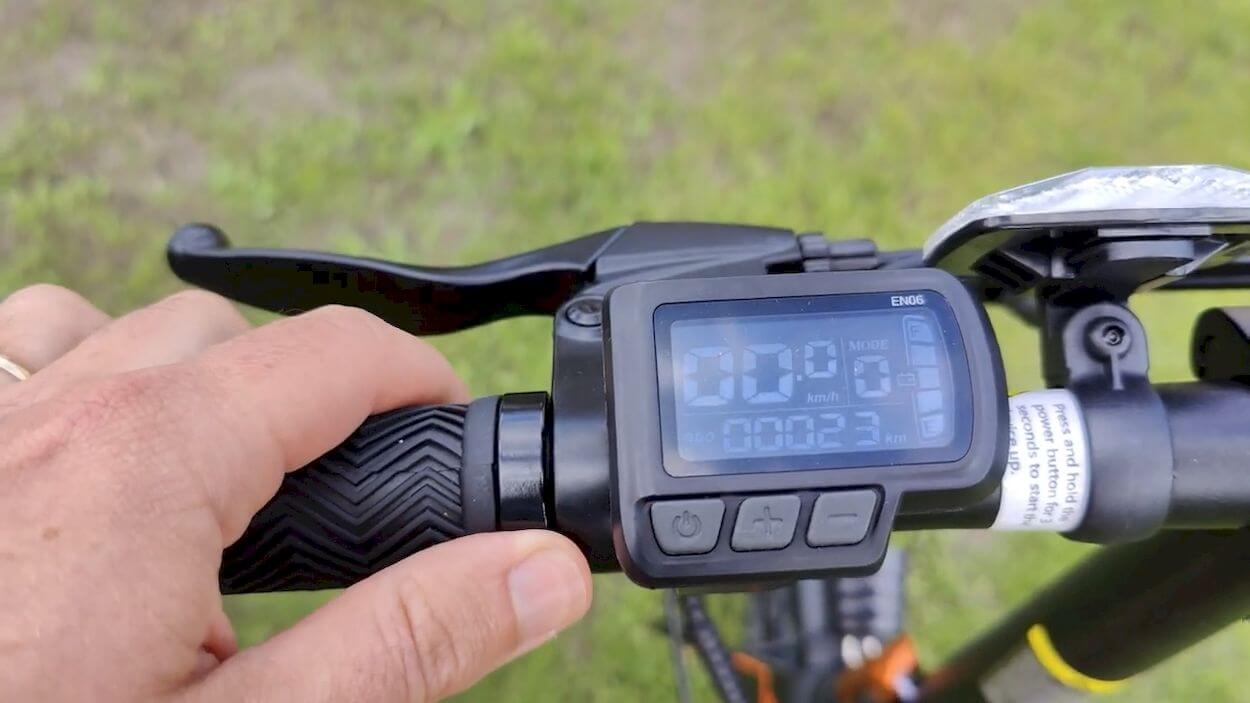 Despite its relatively small size, with a 7.5 amp-hour capacity, the battery on the Kukirin V2 offers impressive performance. In practical terms, it provides a range of approximately 30 kilometers on a single charge without the need for significant pedaling effort. This autonomy surpasses expectations, particularly when compared to the previous V1 Pro model, which featured the same battery capacity but delivered slightly shorter range. This extended range on the V2 is a significant advantage for riders who depend on electric assistance for their daily commutes or short trips.
Conclusions
In the end, the Kukirin V2 electric bike offers a compelling option for urban commuters and riders seeking efficient last-mile mobility solutions.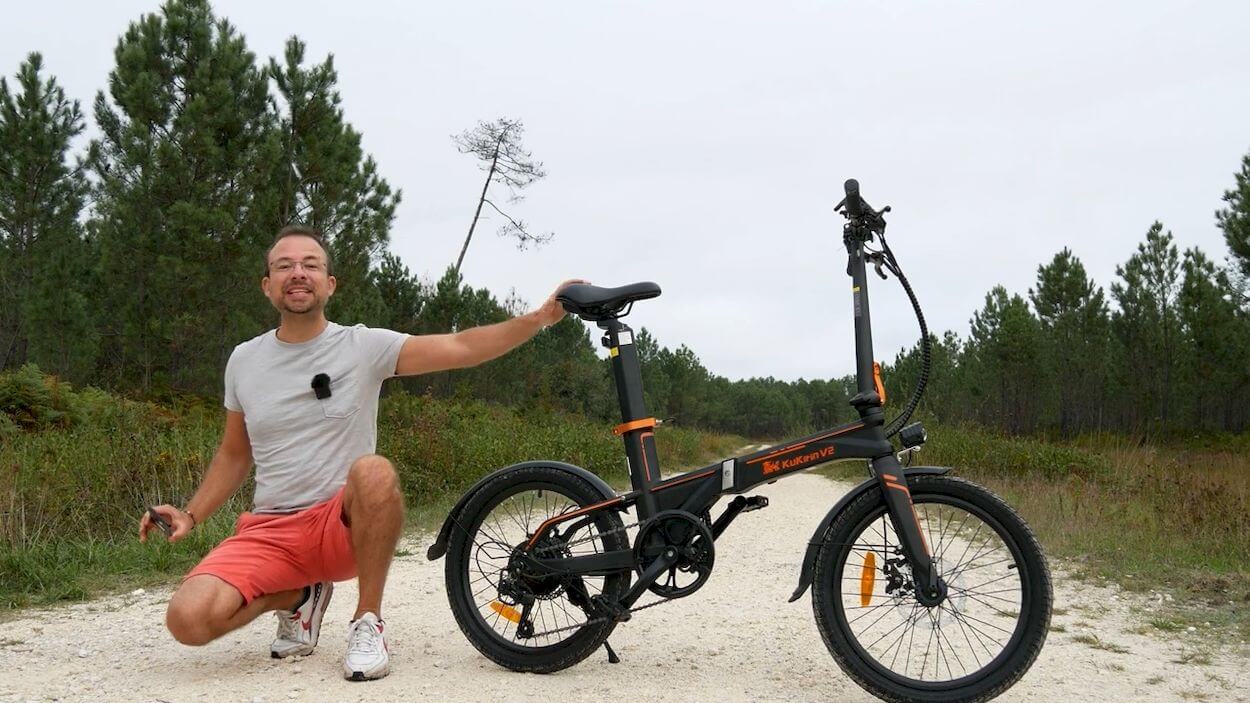 The Kukirin V2's folding design makes it an excellent choice for those with limited storage space. Its compact dimensions when folded allow it to fit easily into car trunks and tight storage areas. Kukirin is a reputable brand known for producing quality bikes, and the V2 is no exception. The build quality is solid, and the design is distinctive and attractive.
While the 250-watt motor adheres to French regulations, some users may desire a higher top speed than the approximately 22.7 km/h achieved during testing. The bike's disc brake system delivers efficient and reliable stopping power. The integration of the battery within the seat tube enhances security by deterring theft.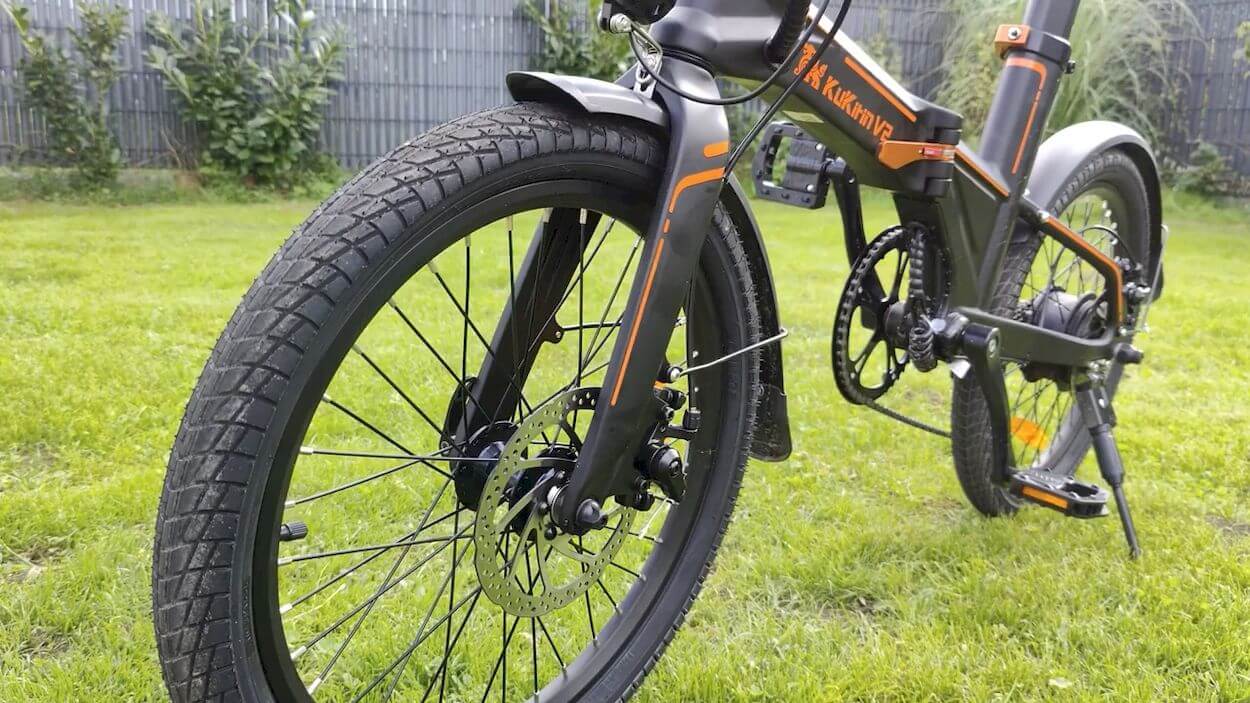 The removable 7.5 amp-hour battery offers a surprisingly good range of around 30 kilometers on a single charge, providing riders with ample autonomy for their short trips. Despite the absence of suspension, the Kukirin V2 provides a comfortable riding experience. The wide, well-padded saddle adds to the overall comfort.
Overall, the Kukirin V2 is a well-designed, space-efficient, and reliable electric bike that caters to the needs of urban riders. While there are minor improvements that could be made, such as achieving a higher top speed, it remains a solid choice for daily commuting and last-mile mobility.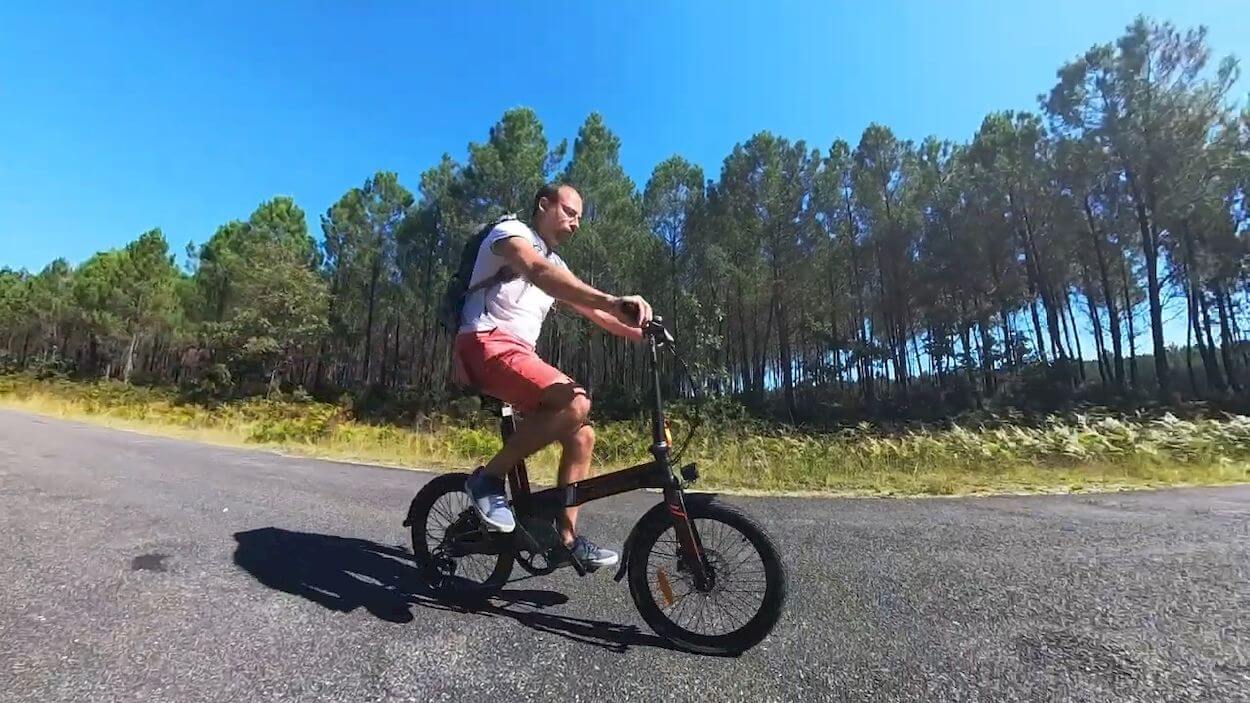 Kukirin has produced a quality product with the V2, and its compactness, solid performance, and attractive design make it a favorable option for those seeking an electric bike for short-distance travel. Thank you for reading, and stay tuned for more reviews from Avis Express.
Alternatives of Kukirin V2