Hey, folks! Welcome back to another electrifying review with yours truly. Today, we're diving into the world of Revy bikes and checking out the Revibikes Prowler. This e-bike is not just a ride; it's a statement  – an embodiment of power, style, and functionality, all wrapped up in a sleek package. And let's be real, we're here for the power and style, right?
Before we get into the nitty-gritty, let's talk about the key specs that set the Prowler apart from the rest. This isn't your average e-bike; it's a powerhouse on two wheels. From its robust design to the impressive power under the hood, the Prowler is designed to turn heads and leave an impression.
Now, $2,500 may seem like a significant investment, but trust me, the features and specifications of the Prowler make every penny worthwhile. It's not just an e-bike; it's a vintage throwback that brings together the best of both worlds – classic aesthetics and cutting-edge technology.
So, buckle up, folks! We're about to take a deep dive into the world of Prowler, where power meets style, and functionality is the name of the game. Stay tuned for an electrifying ride through the specs and features that make the Prowler a force to be reckoned with. Let the adventure begin!
| | |
| --- | --- |
| Frame Material: | 6061 Aluminum Alloy |
| Motor: | 52V 1000W |
| Top Speed: | 28 MPH |
| Pedal Assist: | 1-5 levels |
| Fork: | Suspension Fork |
| Display: | Full Color |
| Brake: | F/R Hydraulic Brake |
| Wheel Size: | 24" X 4.0/ 20" X 4.0 |
| Shift: | 7 Speed SHIMANO™ |
| Battery Capacity: | 52V 20AH |
| Max Range: | 70 Miles |
| Weight: | 112lbs with battery |
| Payload Capacity: | 400Ibs |
Design and Build Quality
The Revibikes Prowler is not just a bike; it's a symphony of design and build quality that commands attention on the road. Its sturdy build and sleek design are a testament to the meticulous craftsmanship that goes into creating this two-wheeled marvel.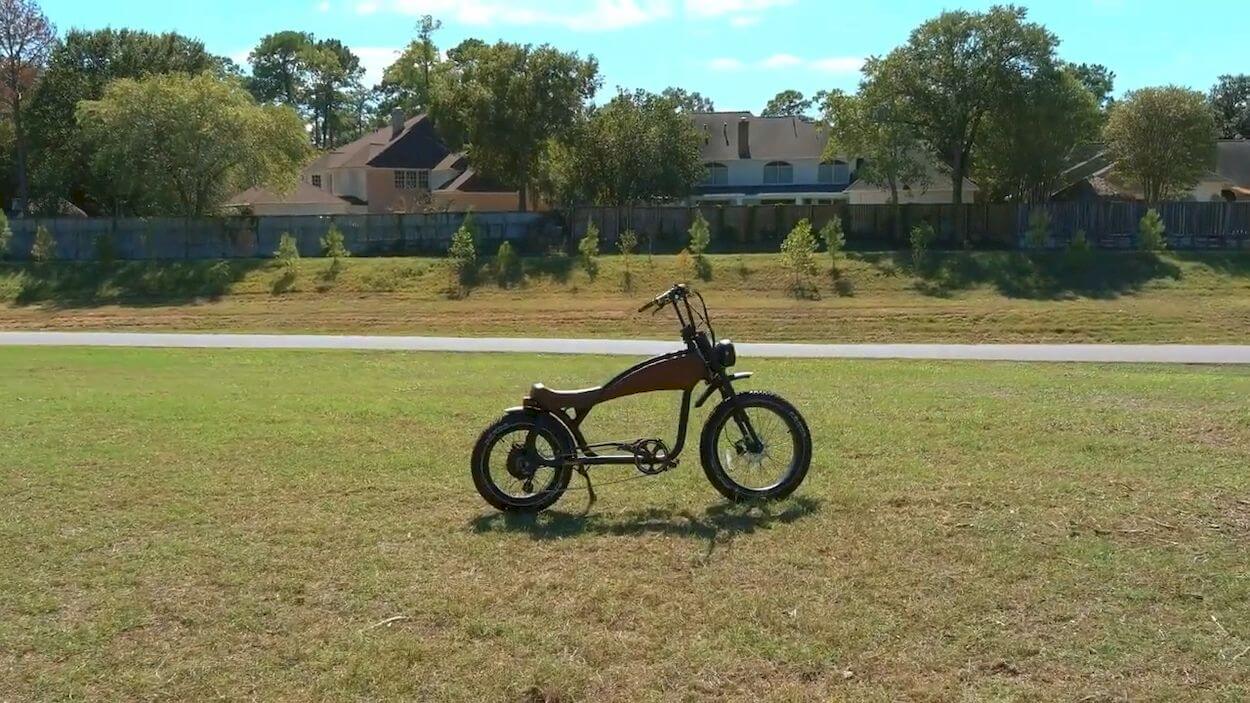 Crafted from 6061 aluminum alloy, the frame of the Prowler promises more than just durability; it embodies resilience. The robust construction ensures that this bike can weather the elements and the test of time, making it a reliable companion on any journey.
Adding to the allure of the Prowler is its leather saddle with a mechanical spring. This isn't just a seat; it's a throne of comfort. Every ride becomes a pleasure as the saddle absorbs the bumps and jolts, ensuring a smooth and comfortable experience. It's the kind of comfort that makes you forget about the destination, allowing you to relish the journey itself.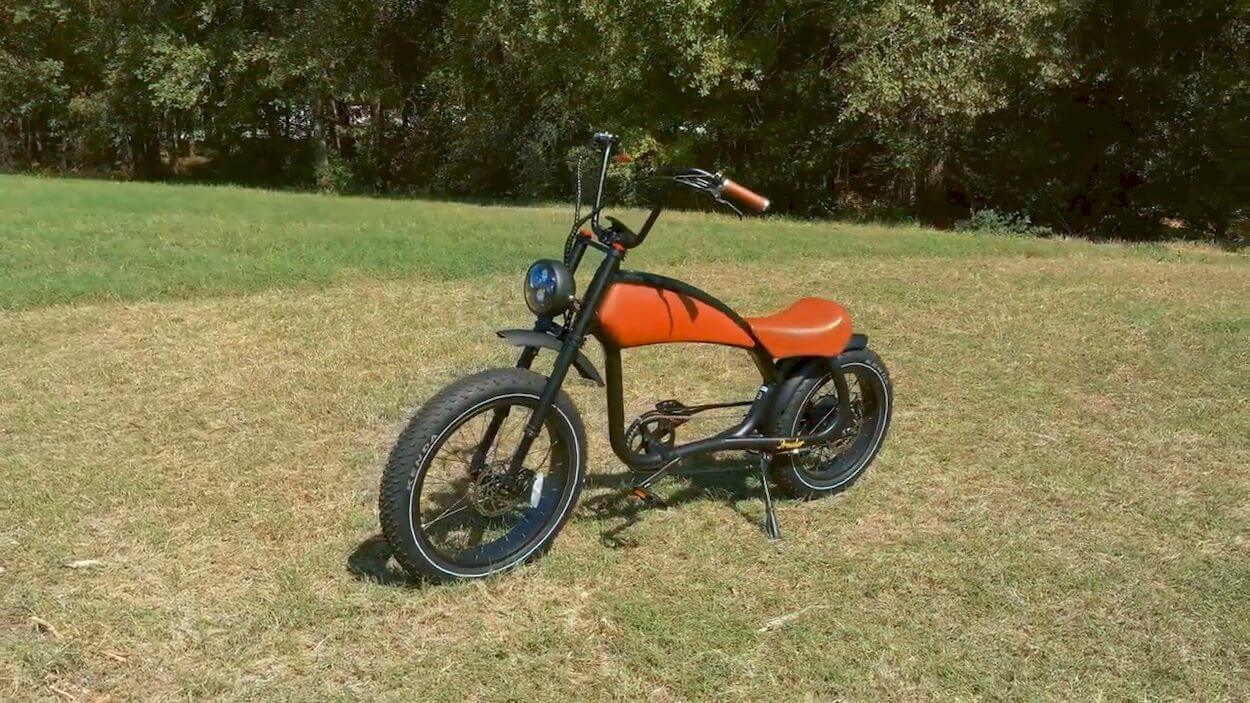 But let's talk about the aesthetics – the Prowler is not just a mode of transportation; it's a work of art on wheels. The sleek design seamlessly merges form and function. It's not just about getting from point A to B; it's about doing it in style. The power packs integrated into the design add a touch of modernity and sophistication, making heads turn wherever the Prowler goes.
And speaking of turning heads, be prepared for whiplash. The Prowler is not your average bike; it's a showstopper. People will do double takes, and you might need to keep some icy hot on hand because the sight of this bad boy has been known to cause neck-snapping reactions. It's not just a means of transportation; it's a statement.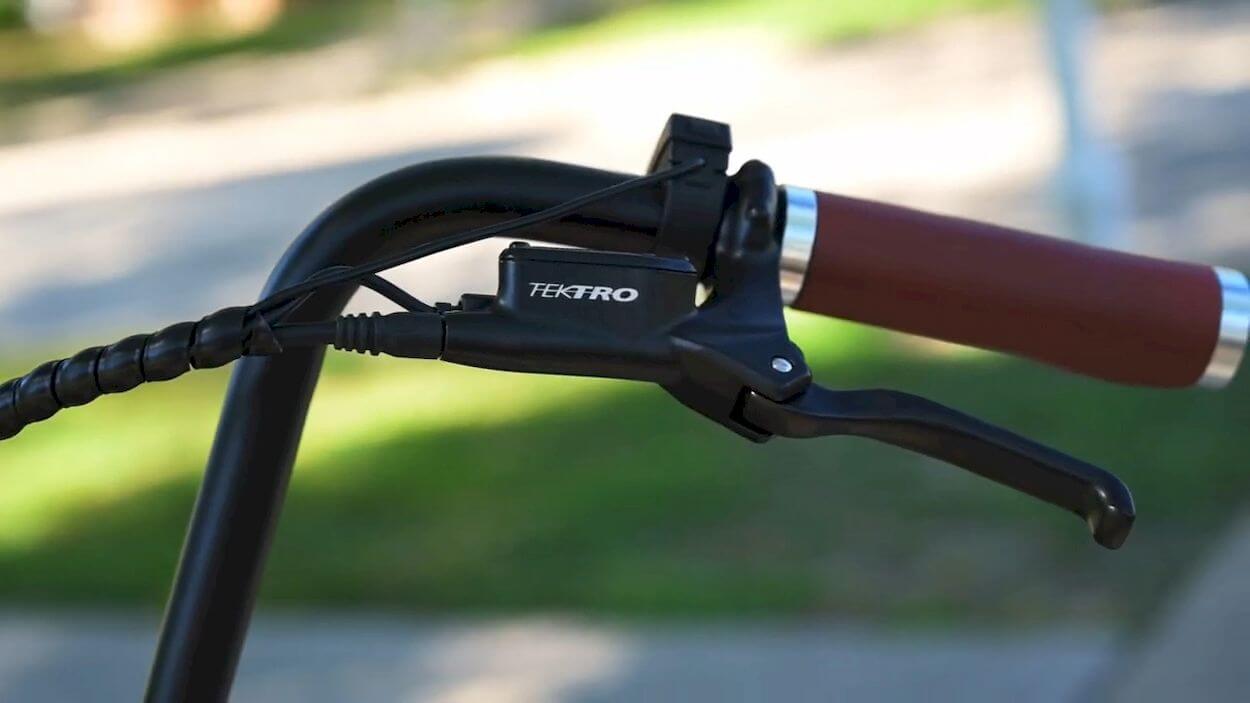 To complement its powerful presence, the Prowler is equipped with hydraulic brakes boasting 180 mm rotors. These brakes aren't just for show; they're a vital part of what makes the Prowler stand out. The stopping power is as impressive as its acceleration, ensuring a safe and controlled ride.
Adding to the comfort is the unique mullet setup, featuring a 26 x 4-inch front tire and a 20 x 4-inch rear tire. Beyond looking cool, this setup functions exceptionally well, surpassing expectations. Whether you're navigating rough terrains or cruising on smooth roads, the Prowler handles it with finesse.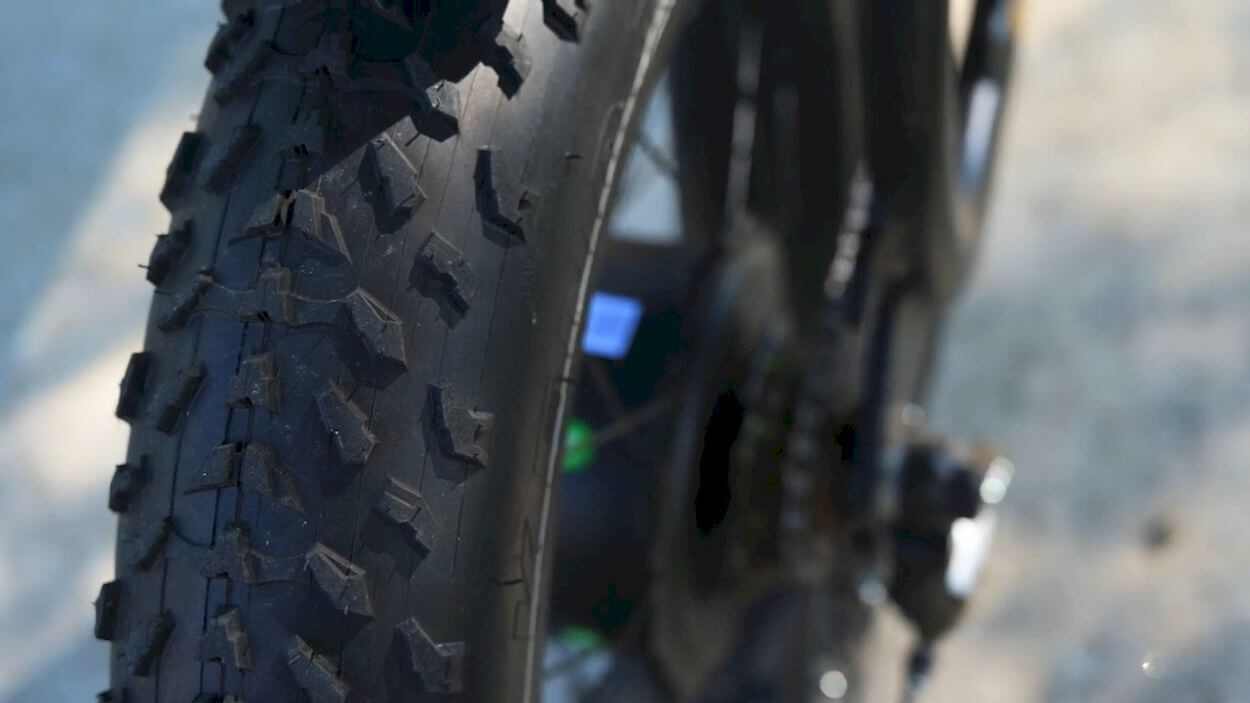 The ergonomic design of the Prowler caters to a wide range of riders with a handlebar height of 48.8 inches and a seat height of 27.5 inches. This creates a comfortable riding position that might even tempt you to close your eyes and drift off.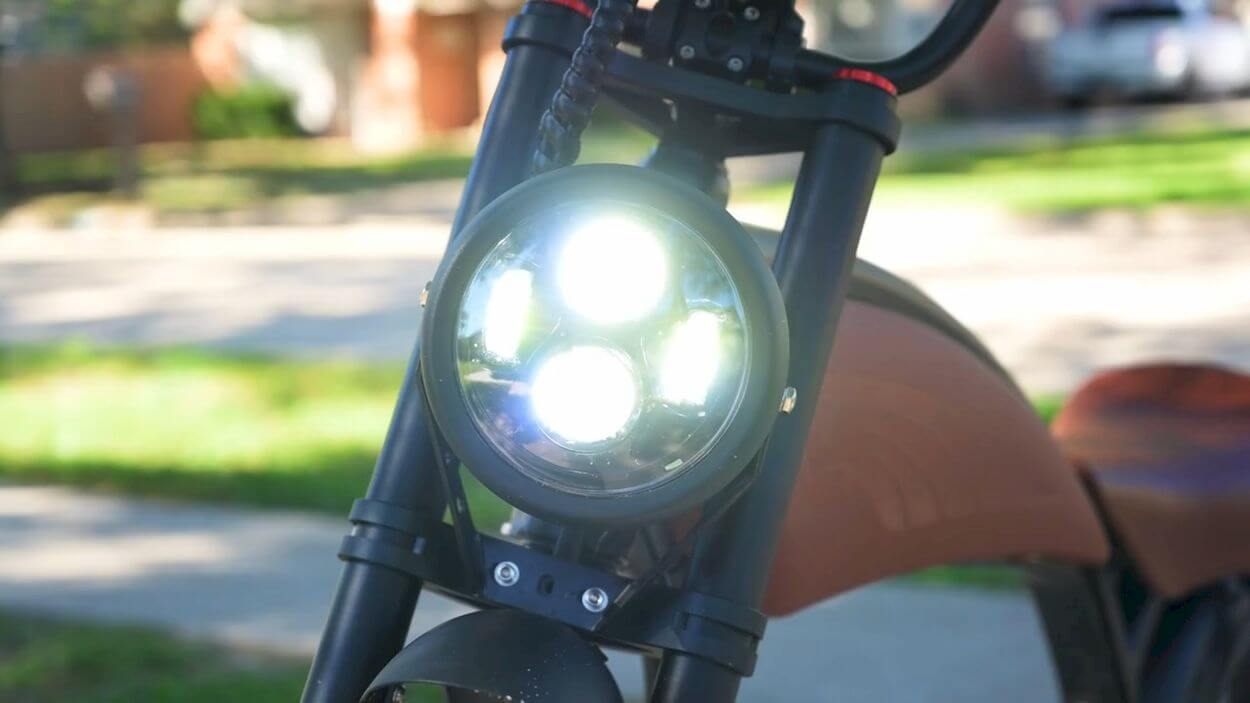 Now, let's talk features. The full-color display is not just for show; it provides real-time data, including speed, odometer, pedal assist level, and mode selection. A bonus feature is the display showing your speed even in pedal assist level zero – a surprising and valuable addition for those who appreciate attention to detail.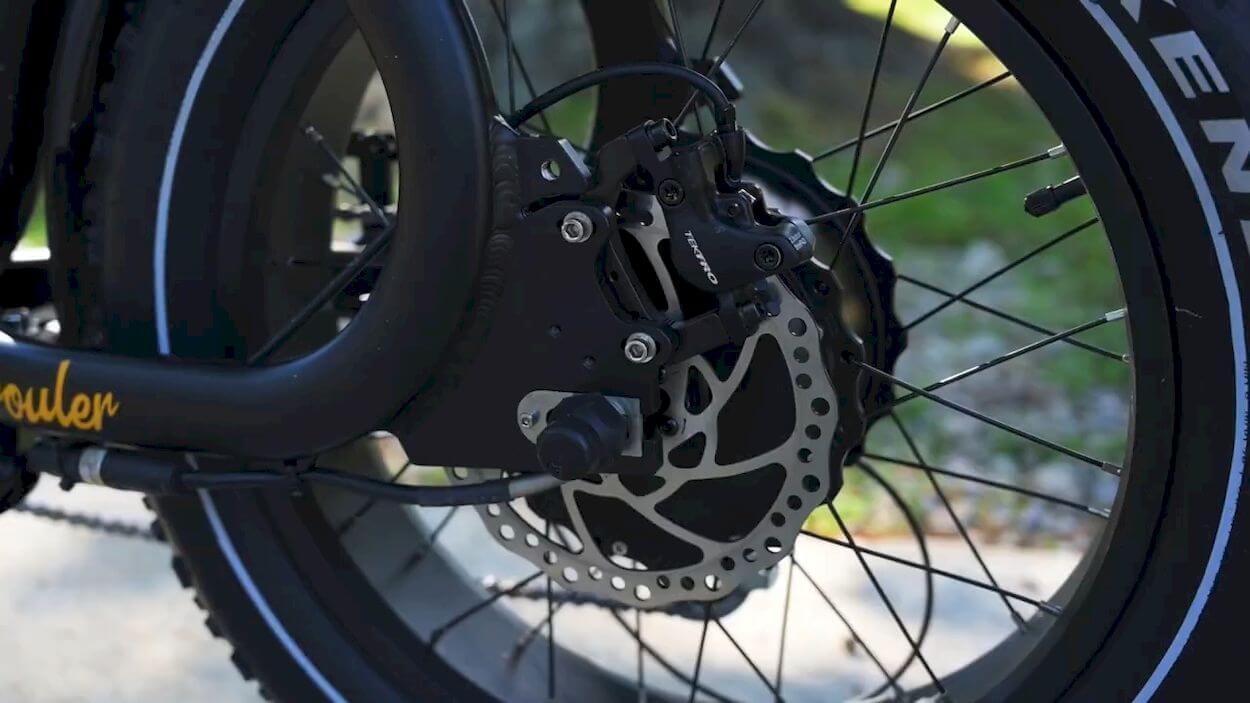 The seven-speed Shimano sis index shifting system adds versatility to the Prowler, making it suitable for various terrains. Whether you're conquering hills or cruising on flat surfaces, the Prowler adapts seamlessly. While many riders may opt for the throttle, the well-designed pedal setup ensures a pleasant experience for those who choose to pedal.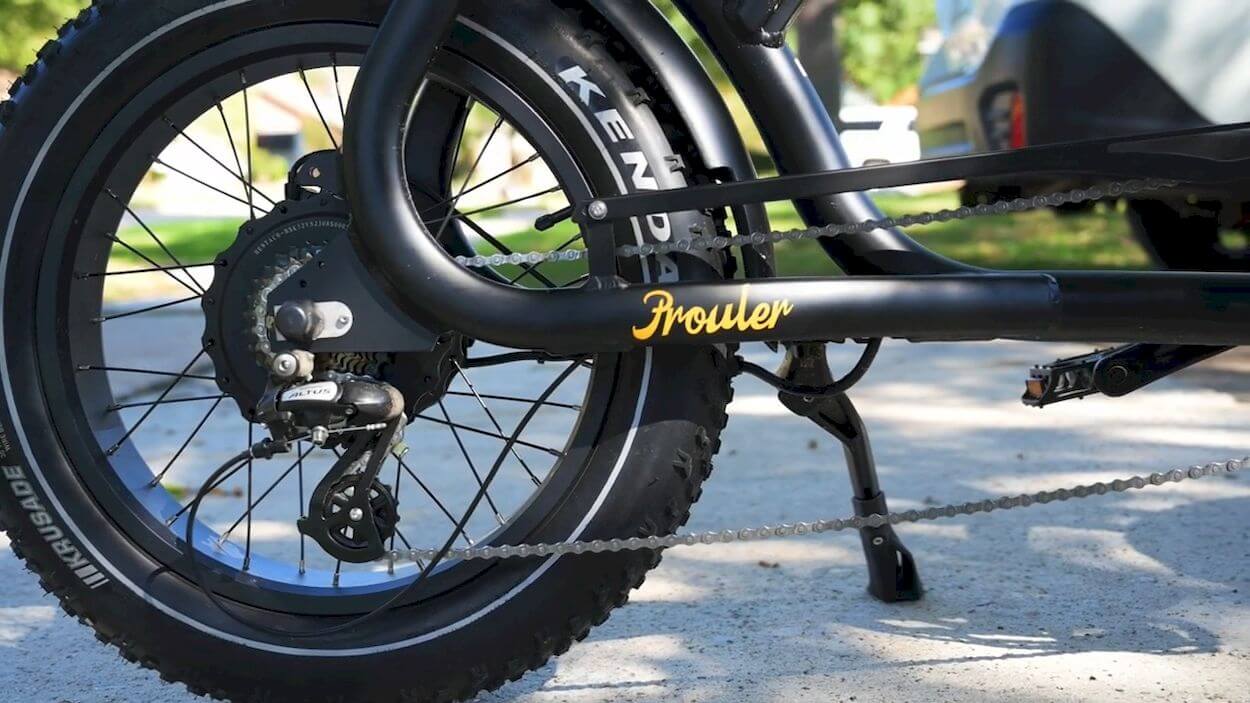 Safety features abound, with front and rear lights, both integrated for optimal visibility. The brake light integration in the back is an excellent safety feature, alerting others when you're coming to a stop. Front and rear fenders, along with a rear rack, enhance safety, convenience, and load-carrying capacity. Even though the rear rack isn't showcased in the video, it's a valuable addition for those who prioritize functionality.
Revibikes Prowler: Motor
Now, let's dive into the heart of the Prowler – the powerhouse that drives this e-bike into a league of its own. With a robust 52V 1000W motor under the hood and a top speed that can thrill at 28 mph, the Prowler is not just an e-bike; it's a speed demon on two wheels.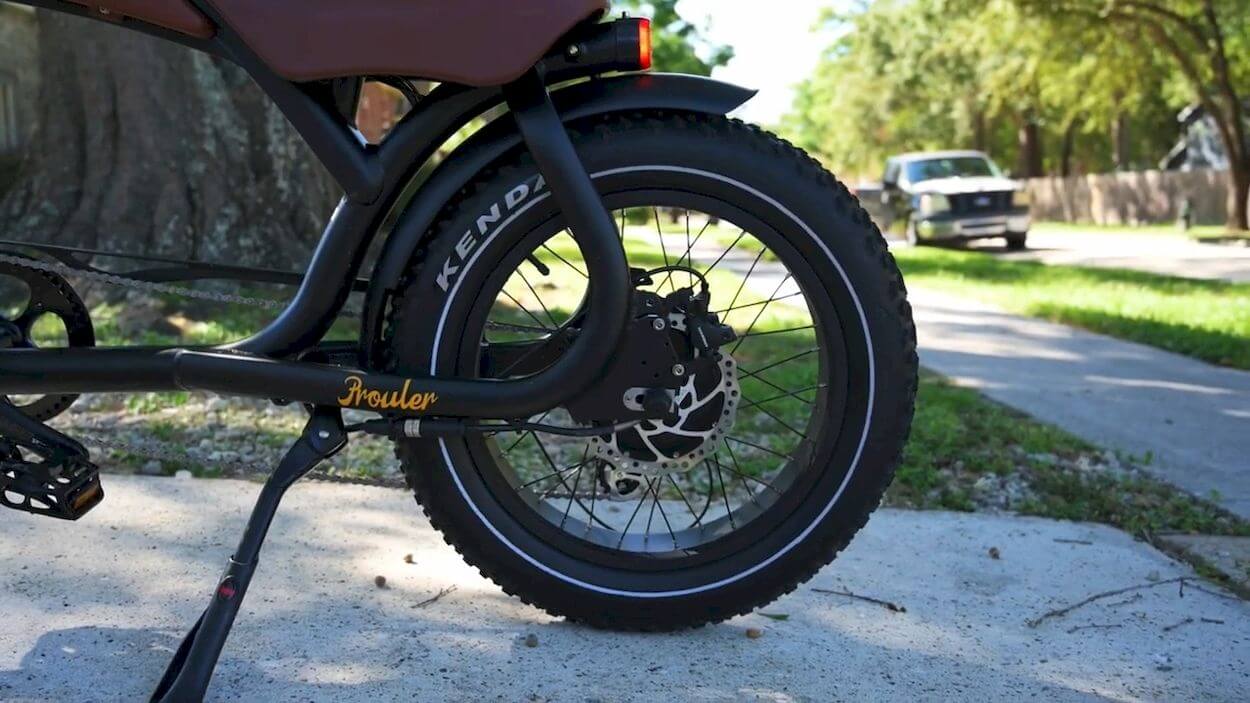 But the Prowler doesn't stop at 1000W – its peak output of 1500W elevates its performance to new heights. This e-bike isn't just about getting from point A to B; it's about doing it with style, speed, and an undeniable presence.
As you reach the top speed of 28 mph, the wind in your hair and the rush of power beneath you create an exhilarating sensation. The Prowler isn't just a ride; it's a performance on wheels. The handling is responsive, allowing you to maneuver through urban landscapes or conquer challenging terrains with ease.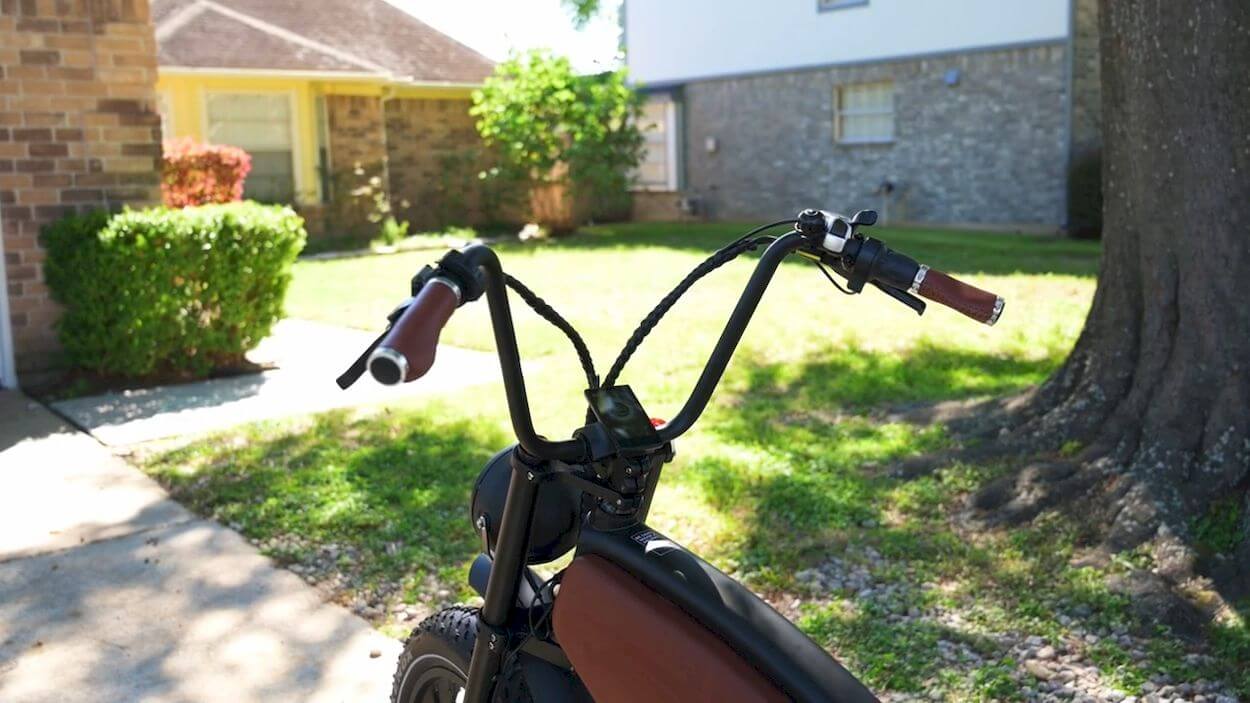 With this level of power, the Prowler transforms your commute into an adventure. It's not just about reaching your destination; it's about enjoying the journey. The acceleration is smooth, the handling is precise, and the overall performance is a testament to the engineering excellence that defines Revibikes.
Battery and Range
The 20 Amp-hour capacity signifies not just endurance but a commitment to keeping you on the road for an extended period. It's not about worrying whether your battery will last; it's about the freedom to explore, knowing you have ample power at your disposal.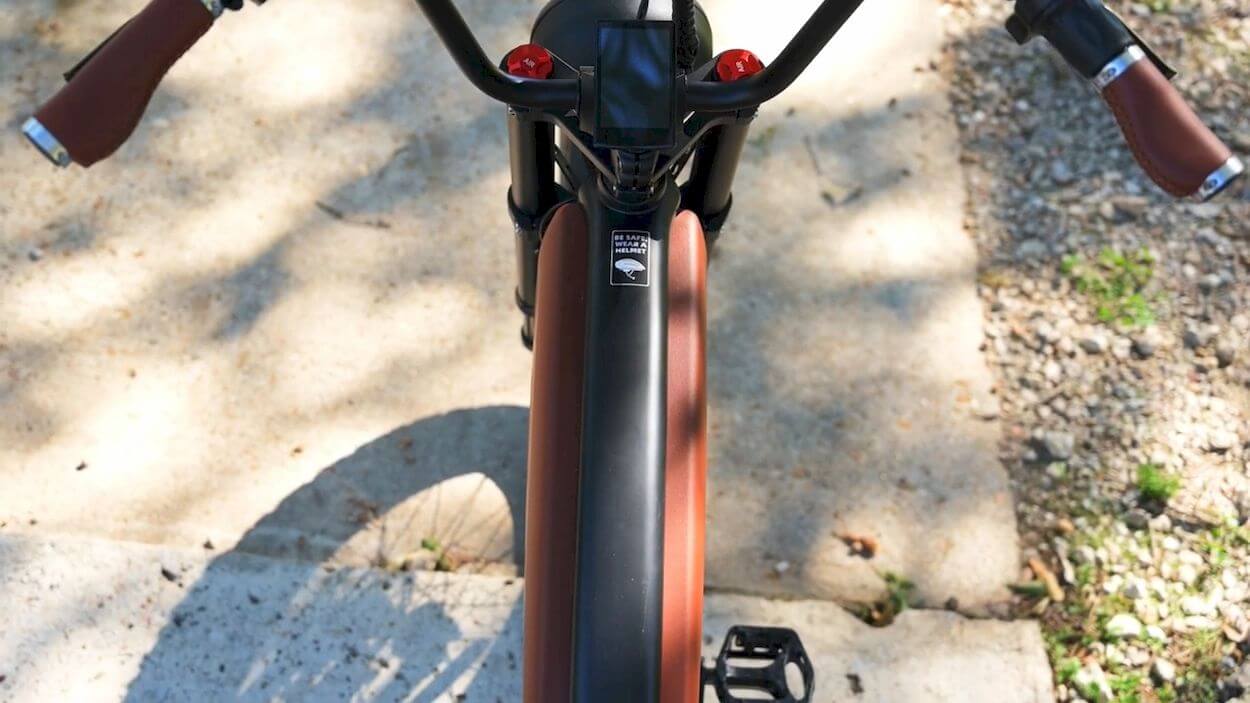 And speaking of exploration, the Prowler boasts a maximum range of 70 miles on a single charge. This isn't just a number; it's a promise of versatility and convenience. Whether you're commuting to work, cruising through the city, or embarking on a scenic ride, the Prowler ensures that range anxiety becomes a thing of the past.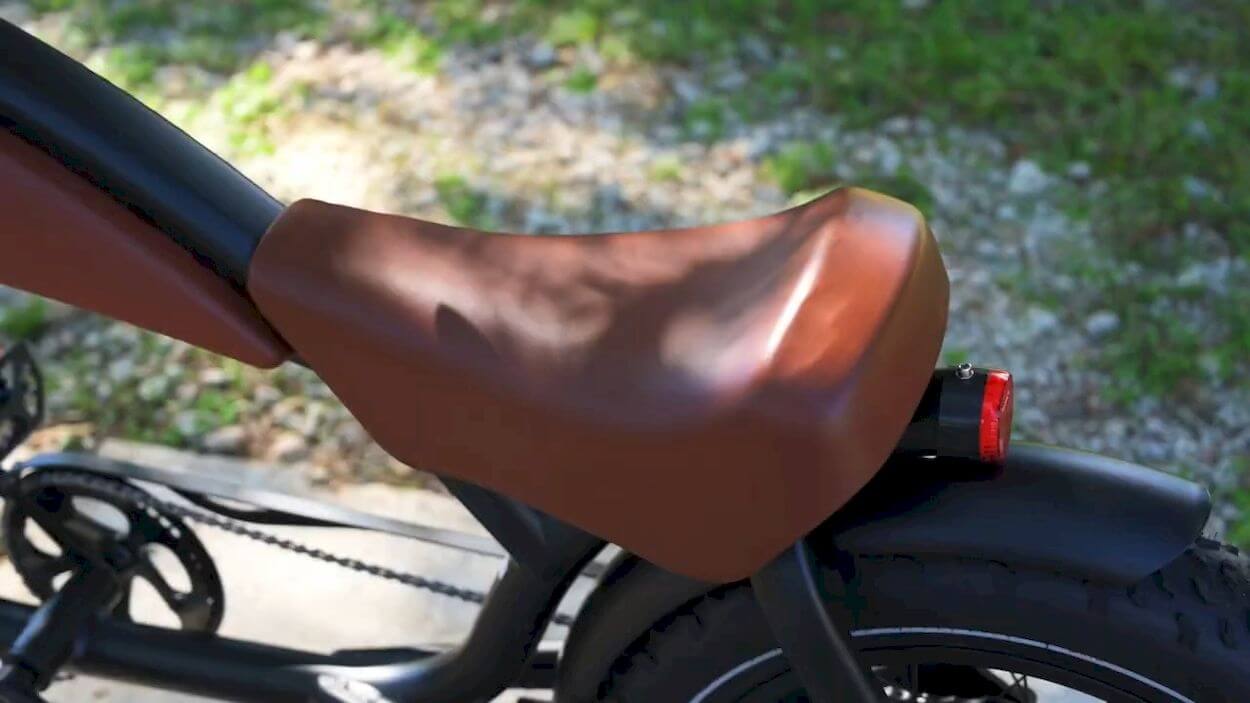 Imagine the possibilities – a 70-mile range means you can tackle longer journeys without constantly glancing at the battery indicator. It's the kind of freedom that encourages spontaneity, allowing you to go that extra mile – literally.
Revibikes Prowler: Conclusions
Overall, the Revibikes Prowler emerges as a formidable contender in the e-bike market, offering a compelling blend of power, style, and feature-rich design. With a robust 52V 20 Amp-hour battery, a 1000W motor, and a top speed of 28 mph, the Prowler delivers an exhilarating riding experience with an impressive range of 70 miles.
However, every masterpiece has its nuances, and in this case, the weight of the Prowler stands out as a potential area for improvement. Weighing in at 112 lbs with the battery, it leans towards the heavier side, posing challenges for manual transport or lifting. While this may not be a significant concern for most riders, it's worth noting for those who prioritize portability.
In the grand scheme of things, the Prowler's weight is a minor trade-off for the impressive range, speed, and overall build quality it offers. For enthusiasts and daily riders seeking a powerful and stylish e-bike with comprehensive features, the Revibikes Prowler, priced at $2,500, is a worthy investment. Whether you're conquering urban landscapes or embarking on long rides, the Prowler proves to be a reliable and thrilling companion.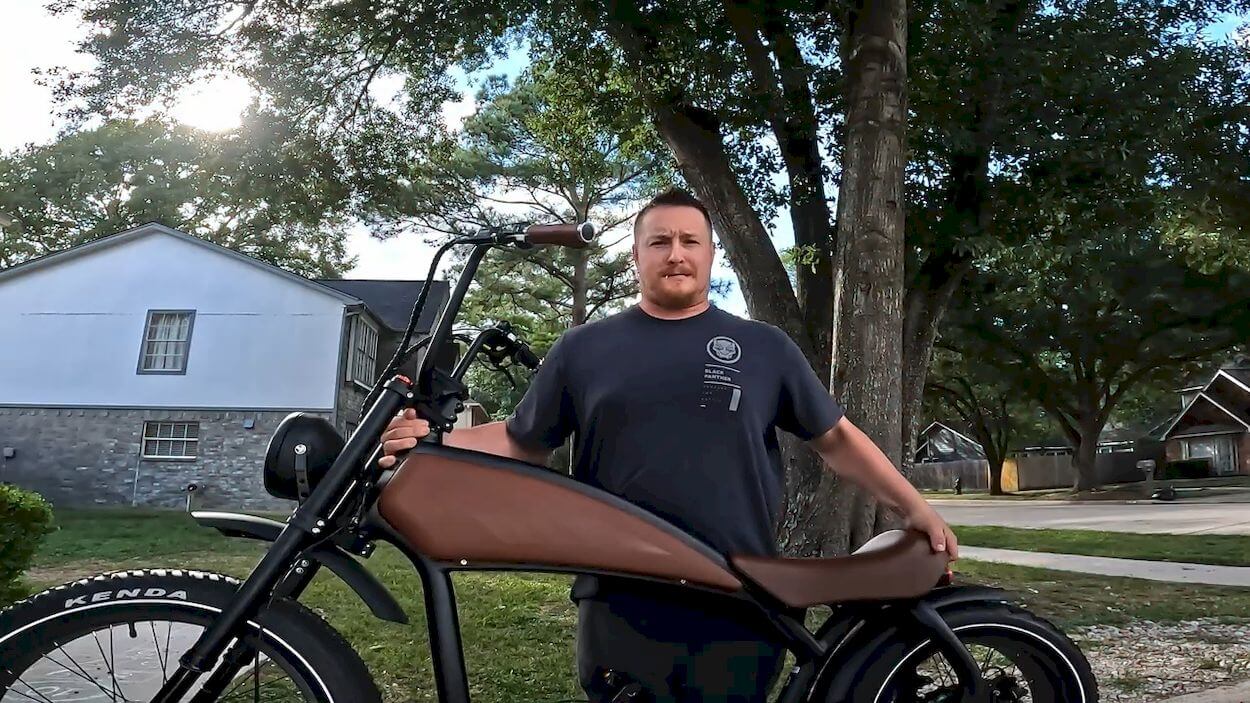 As the final verdict echoes, the Prowler might just find a permanent place in your garage, joining the stable of e-bikes that captivate your riding adventures. Thank you for joining us on this review journey, and if you have any questions or if you're ready to explore the world of Revibikes, check out the link to their website in the comments below. Until the next ride, happy cycling!
Alternatives of Revibikes Prowler