The new iGo Discovery Rosemont LS is a mid-drive commuter electric bike that promises an impressive range, swift acceleration, and a compelling price point in the realm of mid-drive e-bikes.
With iGo's roots in the e-bike industry dating back to 2006 and a notable presence as one of Canada's primary e-bike sellers, the Discovery Rosemont comes from a pedigree of experience. Tailored for your daily commute, this e-bike features a mid-drive motor that delivers power precisely when you need it. The design is geared towards maximizing battery efficiency, ensuring a longer riding range – an essential factor for those seeking a reliable commuter option.
The mid-drive configuration, known for its efficiency and power distribution, positions the Rosemont LS as a commuter's dream. Our testing aims to scrutinize its performance, from acceleration to range, and assess how well it lives up to the promises of its design.
Stay tuned as we take the iGo Discovery Rosemont LS through its paces, exploring its capabilities, features, and overall performance. Whether you're a seasoned e-bike enthusiast or someone considering an electric bike for the first time, we aim to provide insights that help you make an informed decision about this mid-drive commuter electric bike. Let's see how the Discovery Rosemont LS stands out in the ever-evolving landscape of e-bike technology.
| | |
| --- | --- |
| FRAME | Hydroformed Alloy |
| MOTOR | iGO DRIVE LS 350W mid motor, 48V |
| SENSOR | Internal Torque, Cadence, Speed |
| CLASS | Class2 |
| TORQUE | up to 100Nm |
| SHIFTERS | SHIMANO ALIVIO 9-speed Rapidfire Plus |
| FORK | RST BLAZE-27.5TNL-15, 80mm travel, lockout, Thru Axle |
| CHAIN | KMC E9-S |
| SADDLE | SELLE ROYAL Rio |
| BRAKE CALIPERS | TEKTRO HDE350 Hydraulic Disc |
| TIRES | WTB GROOV-E 27.5"x2.4", 60tpi |
| BATTERY | 48V | 15Ah | 720Wh |
| RANGE | 110km (69mi) * |
| BIKE WEIGHT (without battery) | 25.3kg (55.8 lbs) |
| WEIGHT CAPACITY | 125kg (275 lbs) |
Design and Build Quality
The iGo Discovery Rosemont LS seems to have nailed the design and build quality aspects, making it a standout in the realm of commuter e-bikes. Let's dive into the features that make this bike a pedal-friendly community cruiser.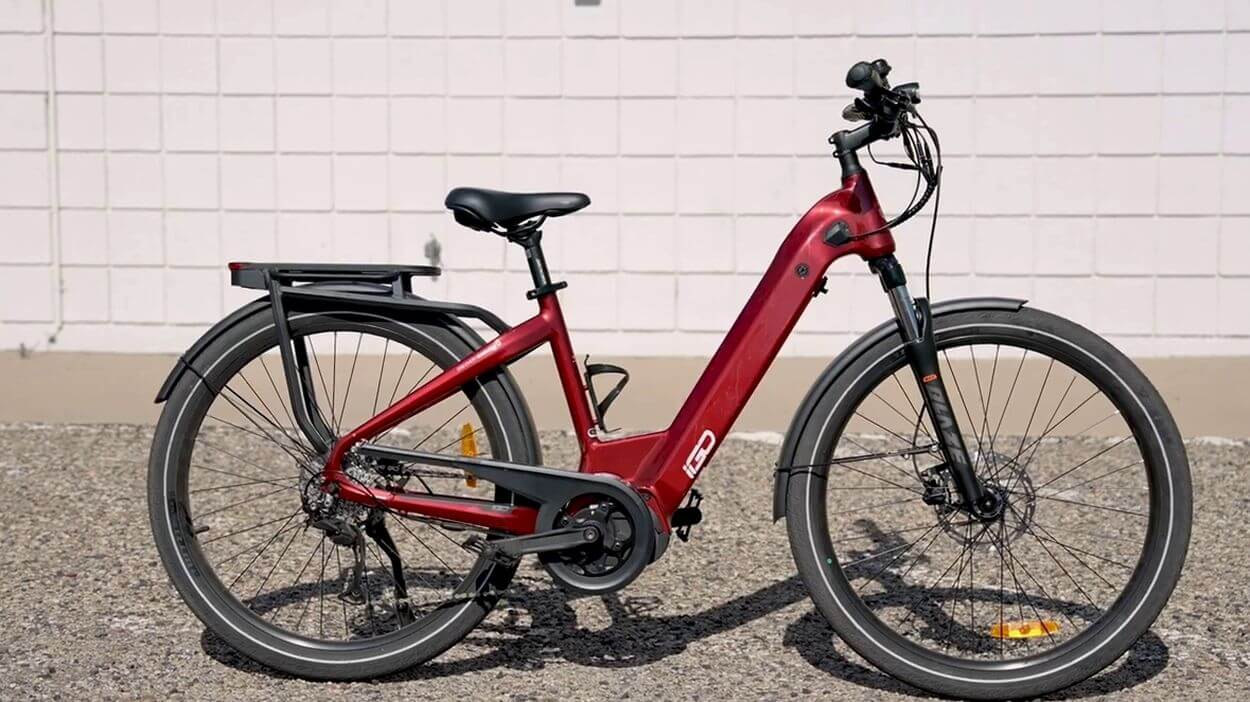 Starting with the lightweight step-through frame, it's a game-changer for easy on-and-off, making it a breeze for riders to navigate through urban landscapes. At a mere 55 pounds, the bike's weight won't be a burden, and riders can expect a more effective pedaling experience, enhancing their overall commute.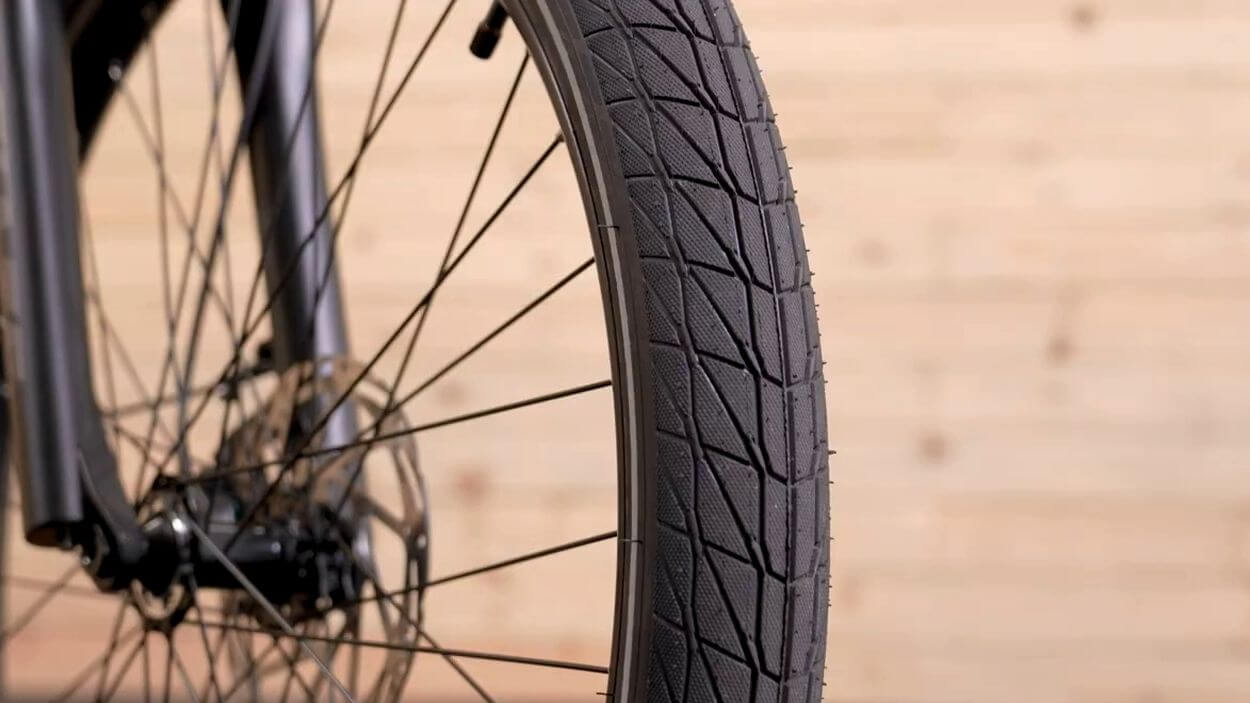 The Shimano Olivio nine-speed gearing system with a 11 to 34 tooth cassette and a 42 tooth chain ring is a thoughtful addition for versatile riding. The rapid-fire shifter ensures smooth transitions between gears, and the Tetro Ed HD E350 hydraulic disc brakes with dual-piston calipers and 180mm rotors provide reliable stopping power. Maneuverability is further enhanced by the 27.5-inch alloy rims paired with WTB groovy tires with a 2.4-inch width, offering excellent handling and stability on various terrains.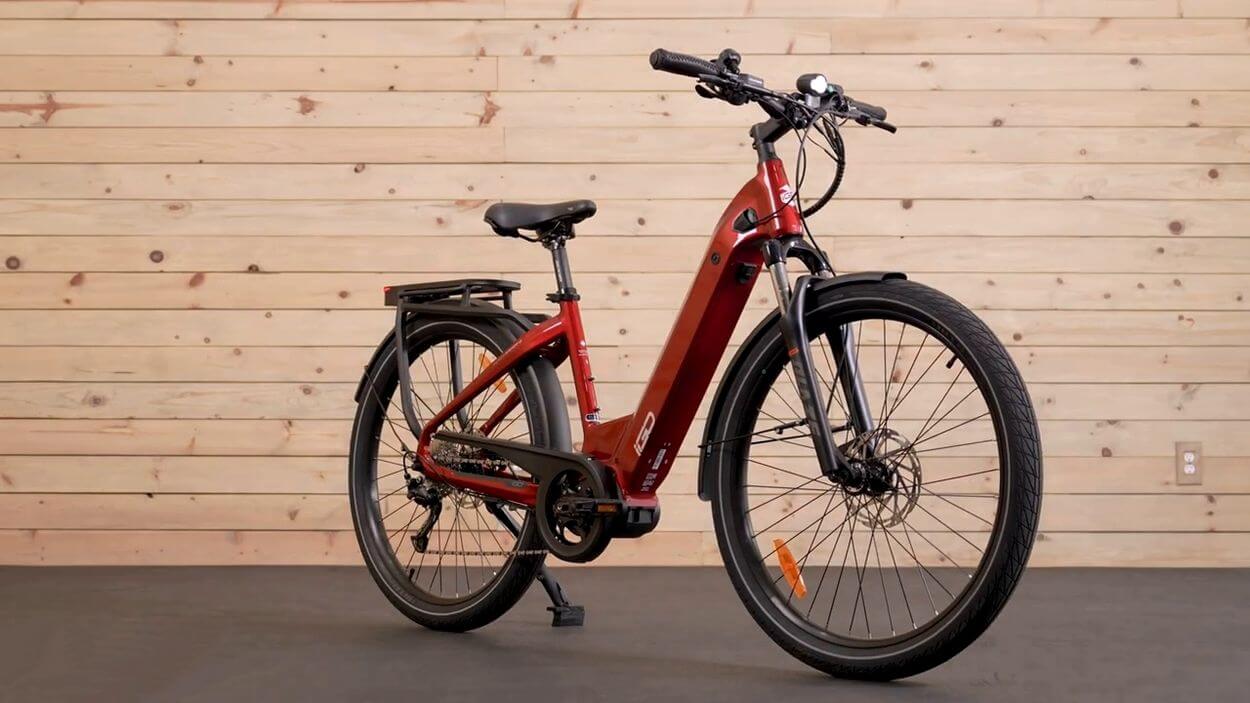 The RST front suspension fork with 80mm of wheel travel contributes to a smoother ride, absorbing bumps and improving control. Adjusting the bike to fit the rider's size is made easy with the seat post quick release for height and the seat rail for reach. For added customization, spacers can be added to the handlebar for those who prefer a higher position.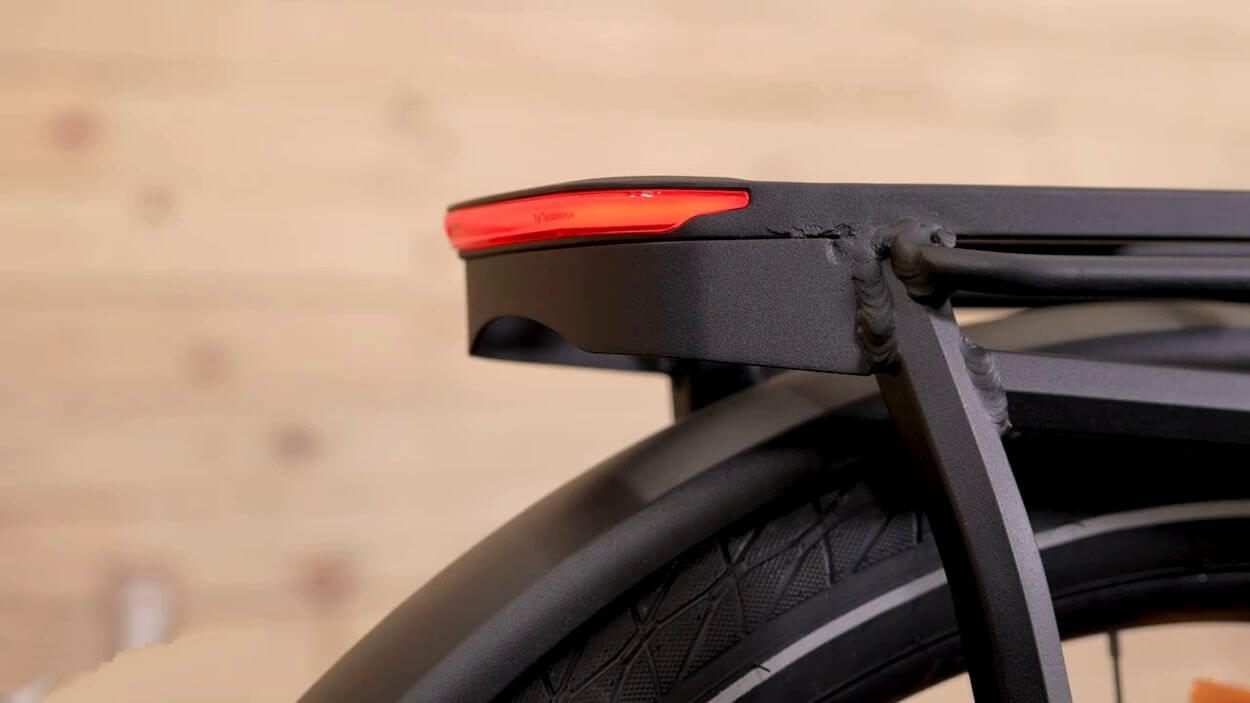 In terms of practicality, the iGo Discovery Rosemont LS doesn't disappoint. LED front and rear lights ensure optimum visibility in the dark, enhancing safety on the road. The inclusion of a rear cargo rack is a thoughtful touch, providing space for carrying items like backpacks and briefcases. Surprisingly, the bike also comes with fenders and a chain guard, a rarity in commuter e-bikes, ensuring a clean arrival at your destination.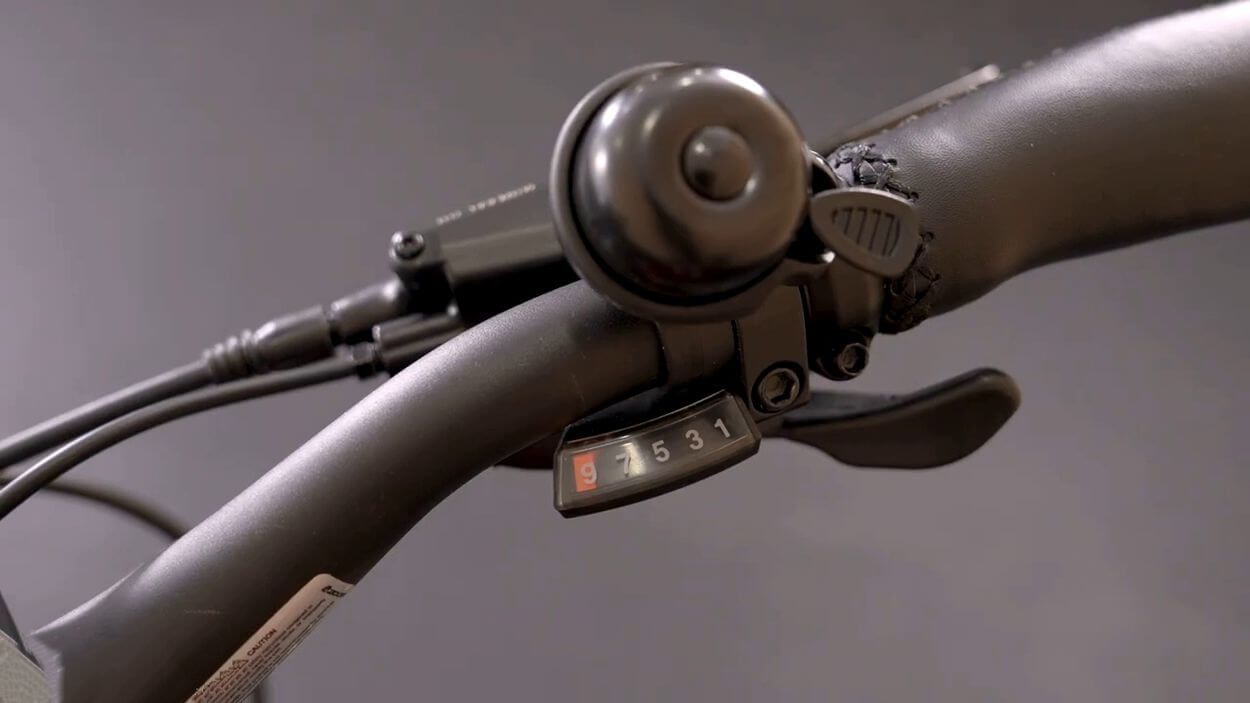 With a total weight capacity of 275 pounds, including 55 pounds on the rear rack, the Rosemont LS is a reliable companion for both rider and cargo. It ticks the boxes for a commuter e-bike with its sleek design, comfortable feel, and versatile features. Now, the real test lies in how it performs on the road – a journey that promises to be as smooth as the Rosemont LS itself.
iGo Discovery Rosemont LS:
Motor and On the Road
The 350-watt mid-drive motor on the iGo Discovery Rosemont LS is a true standout, surprising riders with its powerful performance and immediate engagement. Unlike traditional cadence sensors, this bike employs a torque sensor, a smart move for managing power delivery. The torque sensor detects how hard you're pedaling, ensuring a seamless integration of motor assistance and making the ride feel almost intuitive.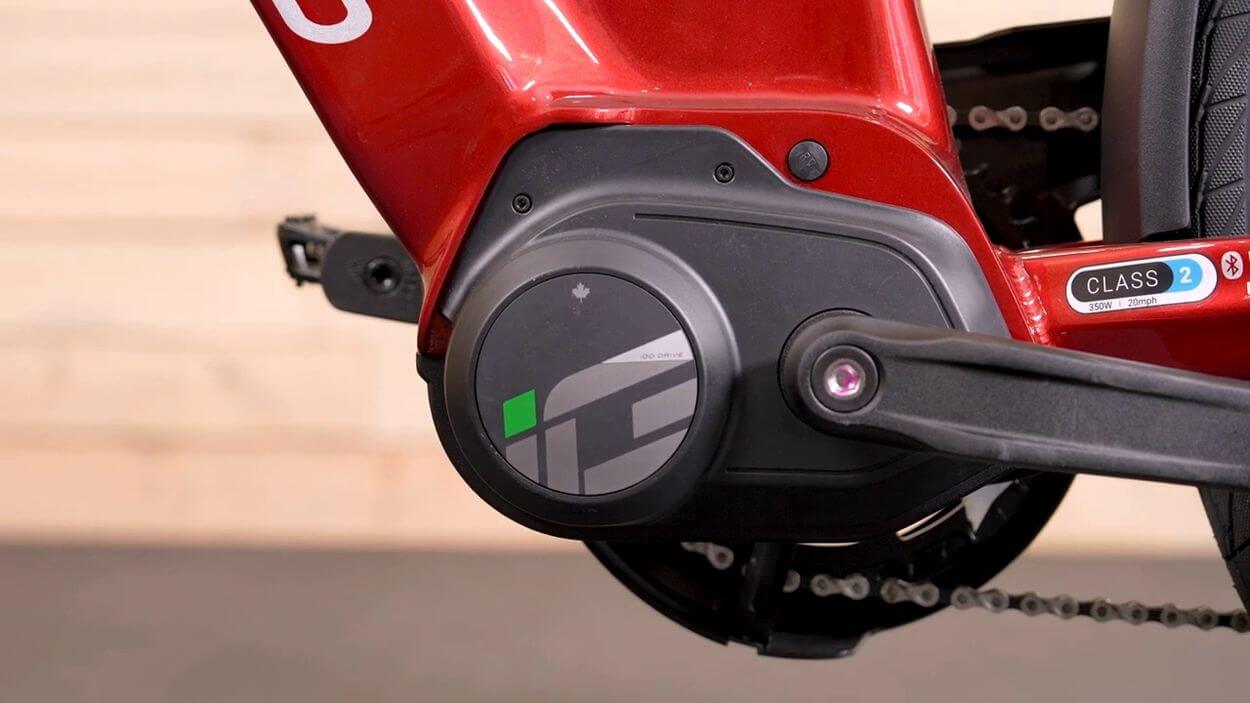 The motor, known as the iGo Drive, operates at 48 volts and features five pedal assist levels: Eco, Tour, Sport, Turbo, and Boost. Each level caters to different riding situations, allowing riders to customize their experience based on terrain and personal preference.
In a thorough speed and acceleration test, the bike showcased its versatility. Starting from pedaling with no motor assist, the Rosemont LS reached a comfortable speed of 9.9 miles per hour. Moving through the pedal assist levels, each mode offered a unique speed profile: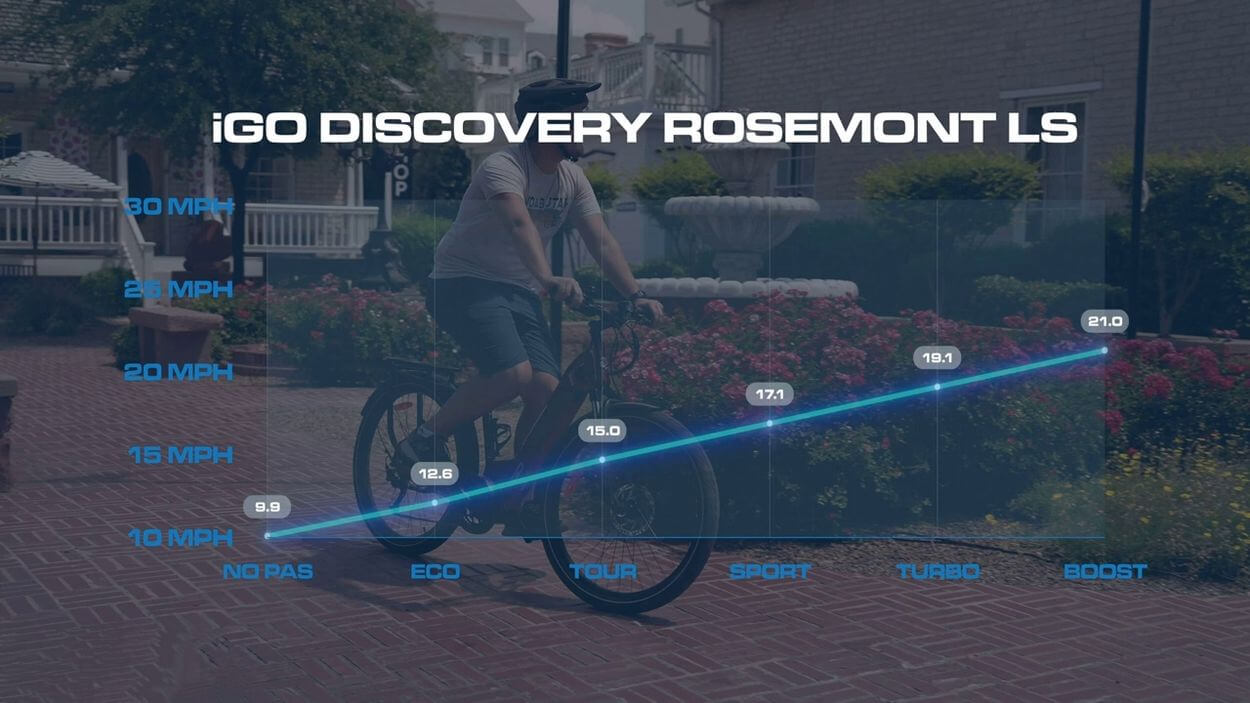 Eco mode (Pas1): 12.6 mph – a leisurely pace, ideal for relaxed commuting.

Tour mode (Pas2): 14 mph – a step up in speed, providing a bit more engagement.

Sport mode (Pas3): 17 mph – a sweet spot for a comfortable and efficient ride.

Turbo mode (Pas4): 18 mph – a faster pace, suitable for open paths.

Boost mode (Pas5): 20 mph – reaching the class two top speed, offering that extra boost when needed.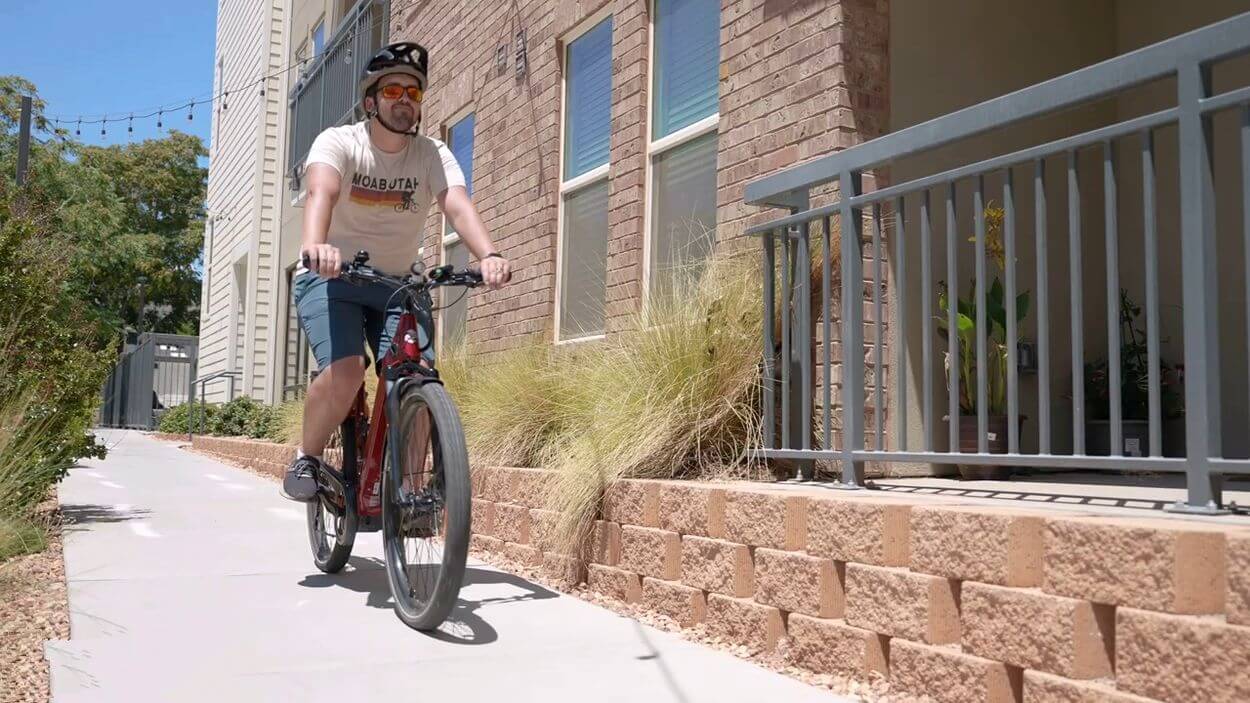 However, during the Boost mode, there was a mention of ghost pedaling, where the pedal felt disconnected from power delivery. The suggestion to adjust the gearing, perhaps with a 48-tooth chainring or an 11-tooth top gear cog, could potentially address this issue, providing a more robust and seamless pedaling experience.
The torque sensor's ability to capture pedal intensity and adjust power output accordingly adds a layer of sophistication to the riding experience. It's particularly noteworthy that the motor's efficiency, coupled with the torque sensor, contributes to energy frugality, extending the bike's range by consuming less battery power.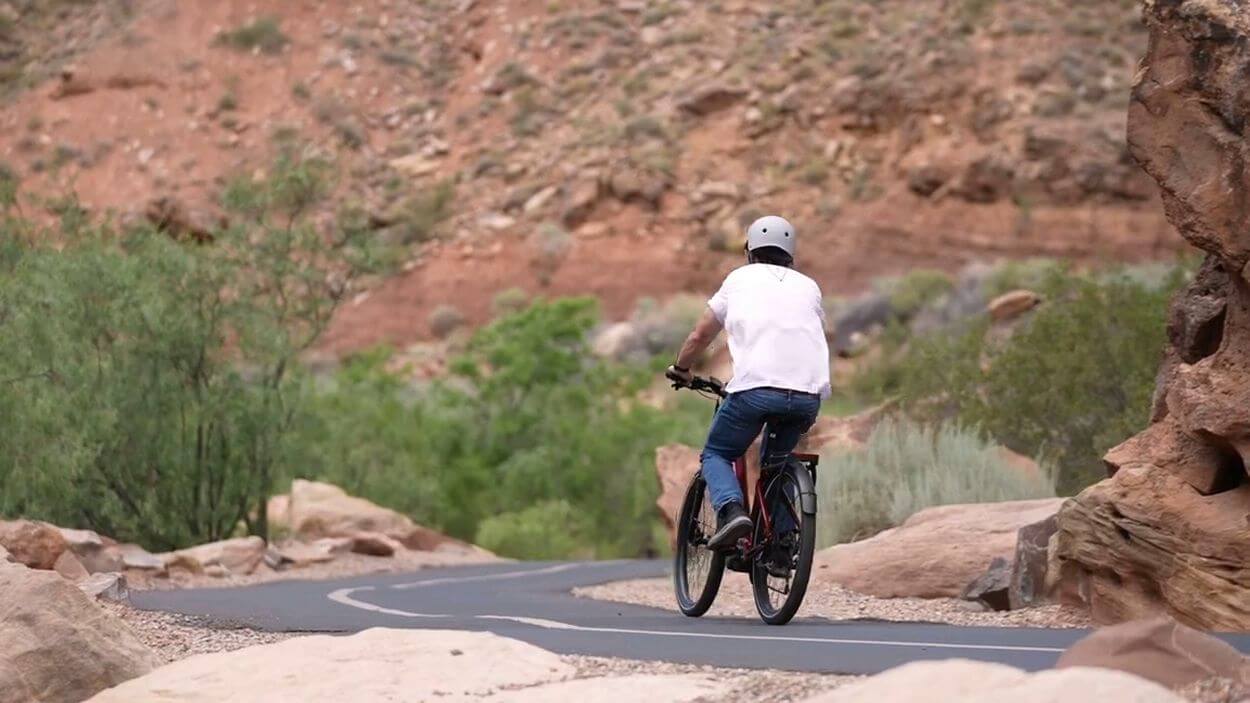 In everyday riding, the Sport mode emerged as a preferred choice, offering a constant and predictable speed while conserving battery energy. The rapid-fire trigger shifter made gear shifts easy and quick, adding to the overall user-friendly nature of the Rosemont LS.
When it comes to the overall ride quality of the iGo Discovery Rosemont LS, it seems to have nailed the balance between comfort, control, and performance. As a commuter bike, it adopts an upright posture, leaning slightly forward with fully extended arms and handlebars that have a slight rise. This setup provides a comfortable feel and a good sense of control, crucial for navigating through urban environments.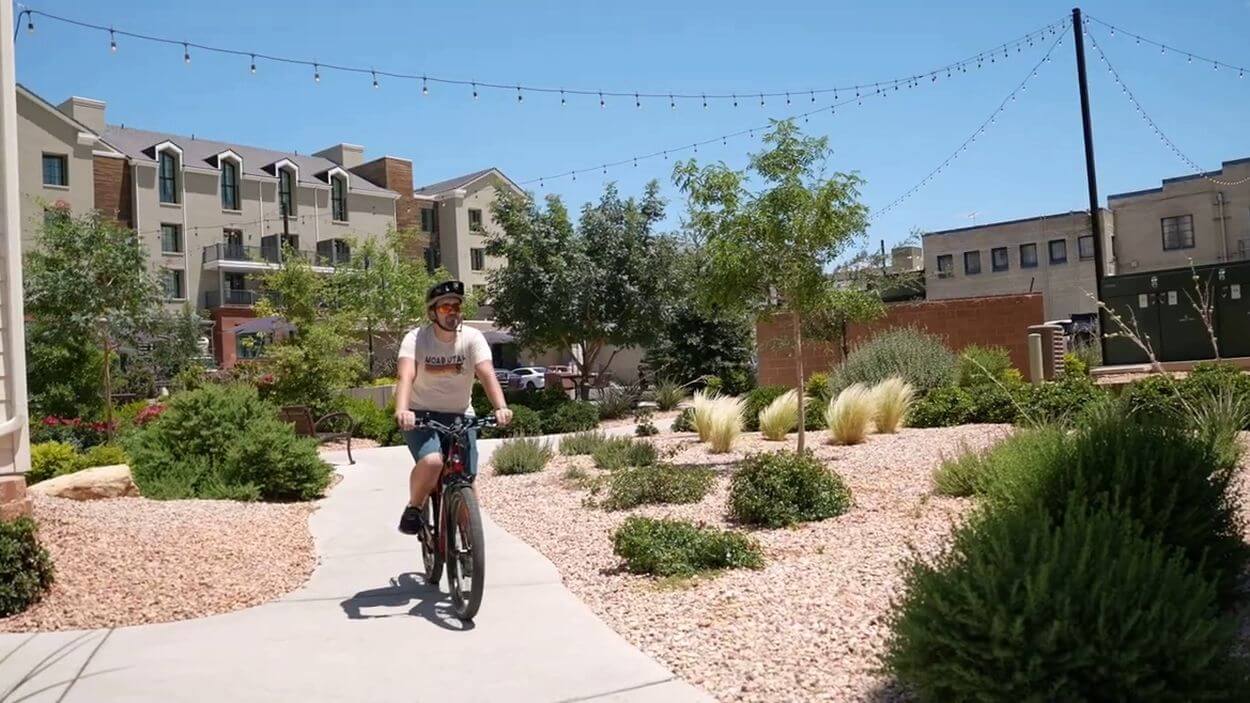 The handlebar width is just right, offering control without feeling too wide, ensuring a smooth ride through crowded spaces. While the stem is not adjustable, its stationary nature eliminates concerns about it loosening during rides. The seat, although standard, proves to be mostly comfortable for rides exceeding 20 miles, thanks to its quick-release mechanism for easy adjustments.
The suspension plays a vital role in the ride quality, with the RST Blaze Fork providing 80mm of wheel travel. This, combined with the 27.5 by 2.4-inch WTB Groove e tires, results in a smooth and controlled ride, absorbing bumps and rough road sections effectively. The tire tread design offers good traction and handling on dry concrete and asphalt, making it suitable for urban commuting. However, caution is advised on wet pavement, sand, ice, snow, and mud due to the tire tread.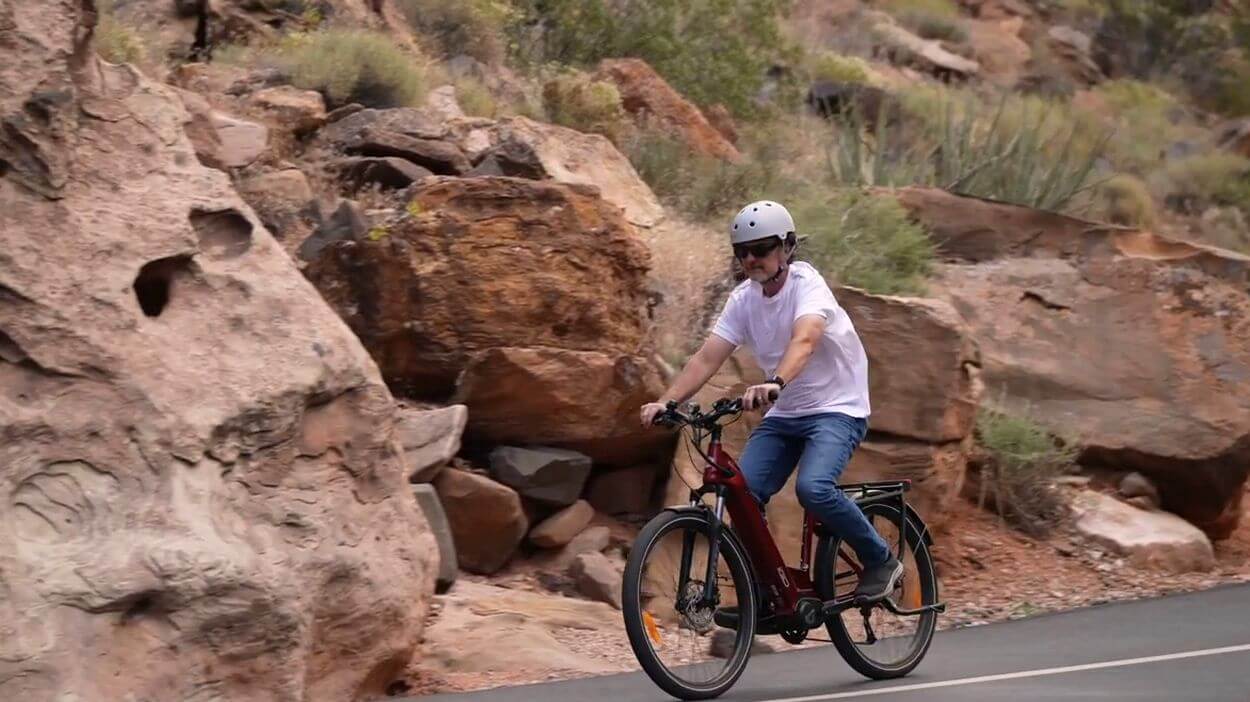 The star of the show is undoubtedly the 350-watt mid-drive motor with a torque sensor. The motor engages with a balanced distribution of power, responding promptly to the rider's pedaling intensity. This not only contributes to a more enjoyable ride but also enhances efficiency, as the motor delivers power consistently based on the rider's needs.
The size of the bike caters to a broad range of riders, accommodating heights from 4 feet 8 inches to 6 feet 2 inches. The seat height range of 29.9 inches to 37.8 inches, coupled with the handlebar's slight rise, ensures a comfortable fit for most riders. The non-adjustable stem may be a consideration for those accustomed to adjustable stems, but for many, it won't be a drawback.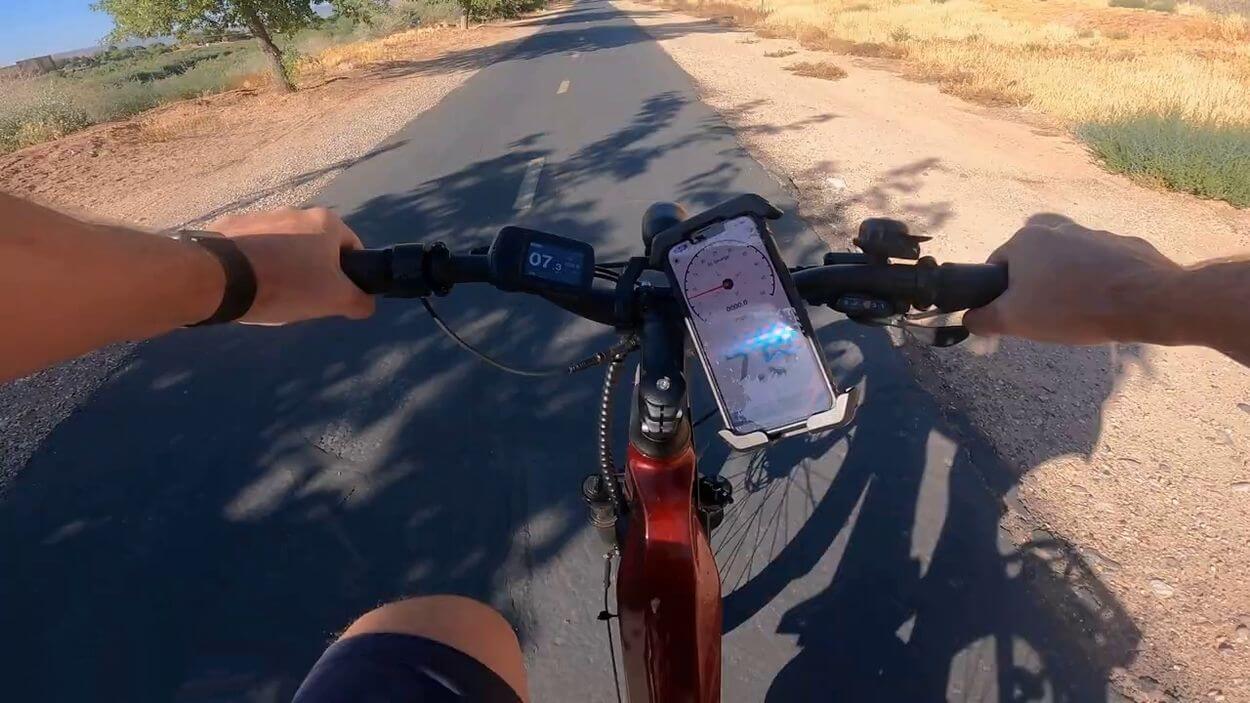 The bike's performance on hills, as demonstrated in the throttle-only and maximum Pedal Assist (Pas5) tests, showcases its capabilities. The throttle-only test on a steep hill, referred to as "hell hole," yielded impressive results, with the bike easily conquering the climb at an average speed of 11.7 miles per hour. The mid-drive motor, designed for city riding, proved its worth in delivering substantial power for hill climbs.
However, in the maximum Pas test, a slight lag in torque sensor engagement during gear shifts was noted, leading to a slower-than-expected time. Despite this, the bike demonstrated its ability to handle hill climbs with ease, further emphasizing its suitability for urban commuting.
Brakes test
The Electric Bike Report brake test puts e-bikes through a rigorous assessment, ensuring their braking performance meets safety standards. In the case of the iGo Discovery Rosemont LS, the test involves the rider pedaling the bike up to 20 miles per hour before engaging the brakes to bring it to a complete stop. This process is repeated multiple times, with the average stopping distance calculated for a comprehensive evaluation.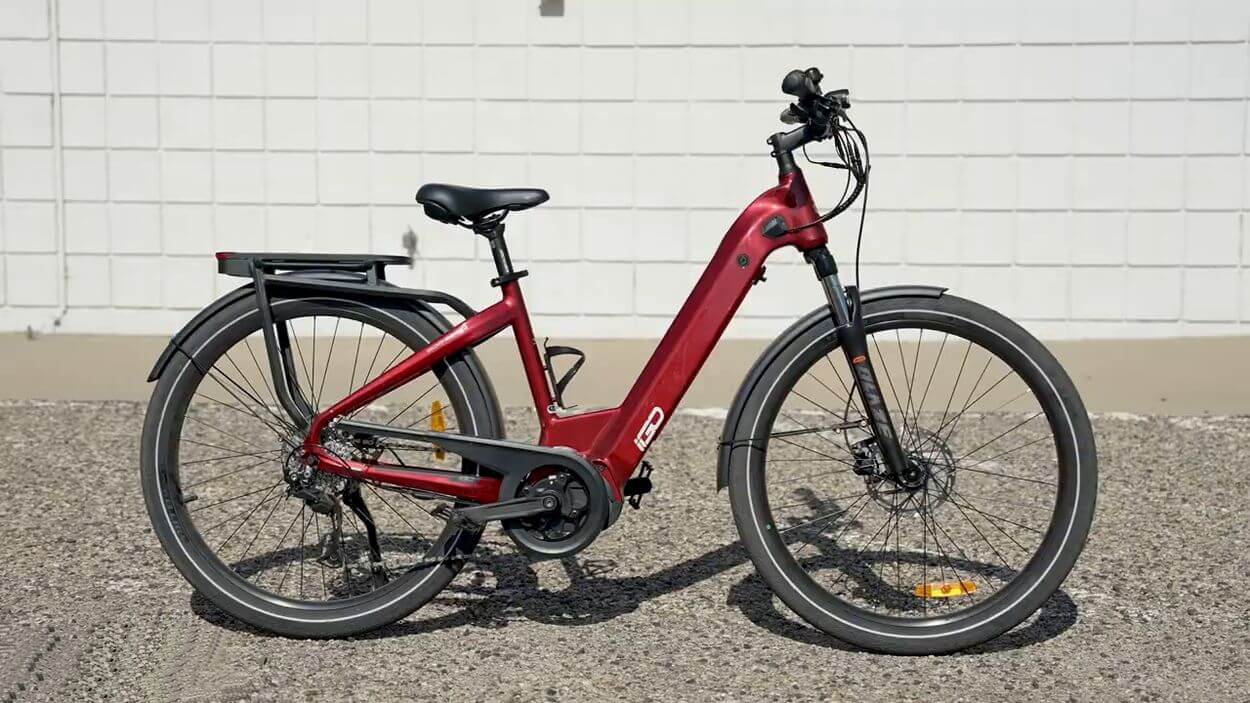 In the case of the Rosemont LS, the average stopping distance was measured at 25 feet and one inch. While this result may fall a bit short of expectations by a couple of feet, it's worth noting that the bike is equipped with a Tektro hydraulic brake system, a setup that has been tested on similar style bikes.
Despite the slight deviation from expectations, the real-world performance of the brakes is commendable. The rider, after logging over 120 miles in test rides, found the braking experience to be smooth and consistent. The brakes demonstrated reliability during a variety of scenarios, including a long descent down a steep hill and sudden stops at low speeds.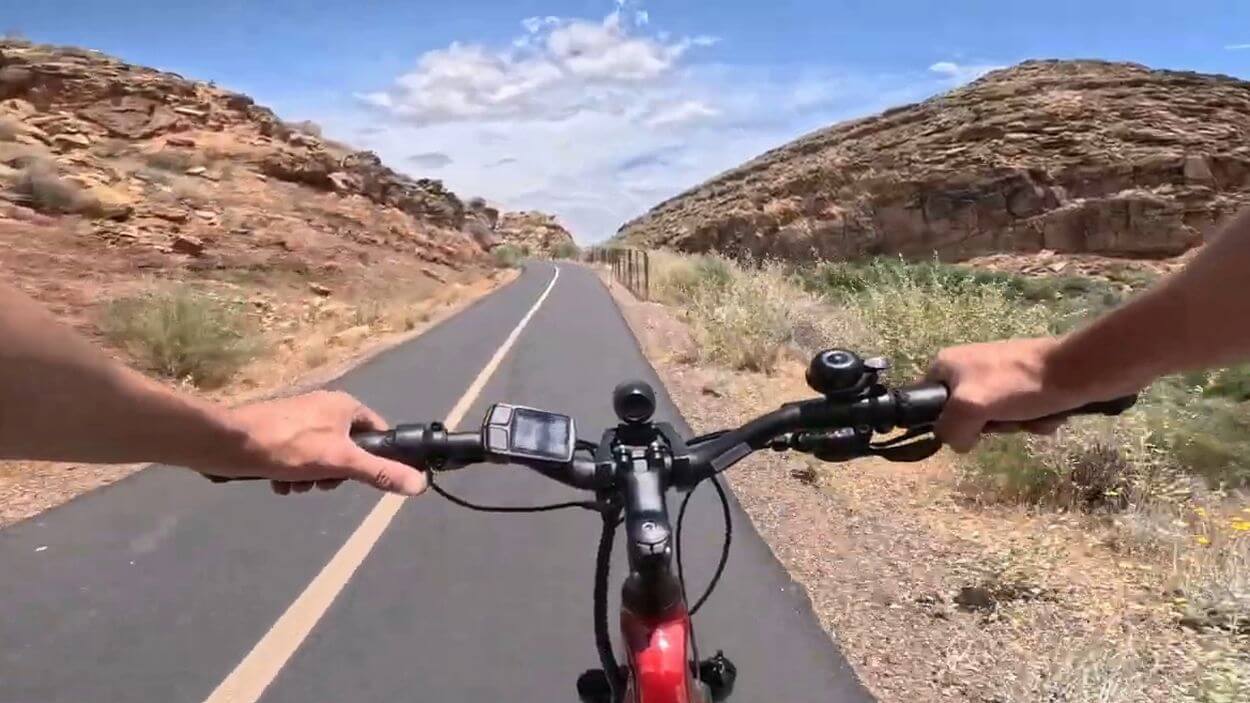 An essential safety feature of the iGo Discovery Rosemont LS is its motor cutoff mechanism, activated each time the rider pulls on either brake lever. This feature enhances safety by immediately disengaging the motor when braking, preventing any unintentional acceleration during the braking process.
Battery and Range
The iGo Discovery Rosemont LS isn't just about style, comfort, and reliable brakes—it's also designed to take you the extra mile, quite literally. The key to its extended riding range lies in its substantial 720-watt-hour battery, providing a phenomenal range of up to 100 miles. For commuters seeking a bike that can cover more ground, the Rosemont LS is a promising choice.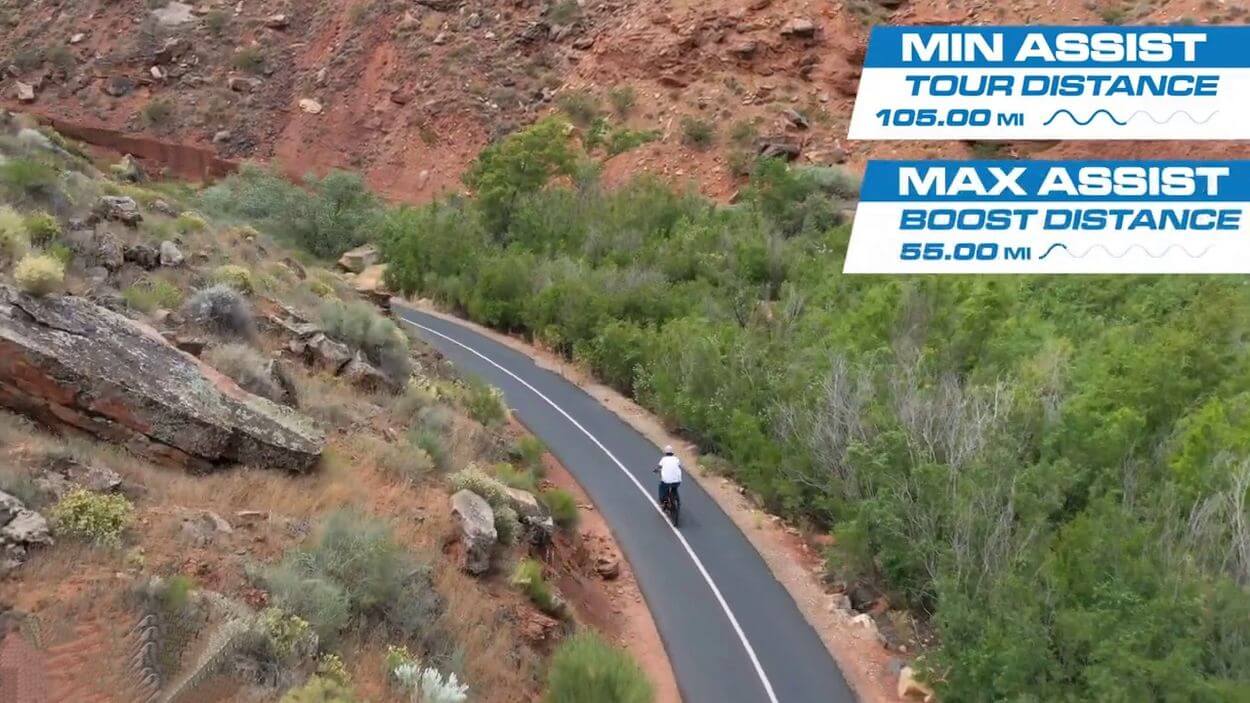 The mid-drive motor contributes significantly to the bike's efficiency, distributing power in a way that maximizes battery life. This is particularly evident in the results of the range tests conducted by Electric Bike Report. In the first test, where the bike was ridden in Tour mode (the best low-power pedal assistance setting), it managed an astounding 105 miles before the battery depleted. This result far exceeded the initial estimate of 69 miles provided by iGo, showcasing the bike's capability to go the extra distance.
The second range test, conducted in Boost mode (the highest Pedal Assist level), demonstrated the bike's performance when demanding maximum power output. Even in this scenario, the Rosemont LS covered an impressive 55 miles at an average speed of 18.3 miles per hour. These results highlight the versatility of the bike, catering to different riding styles and power demands.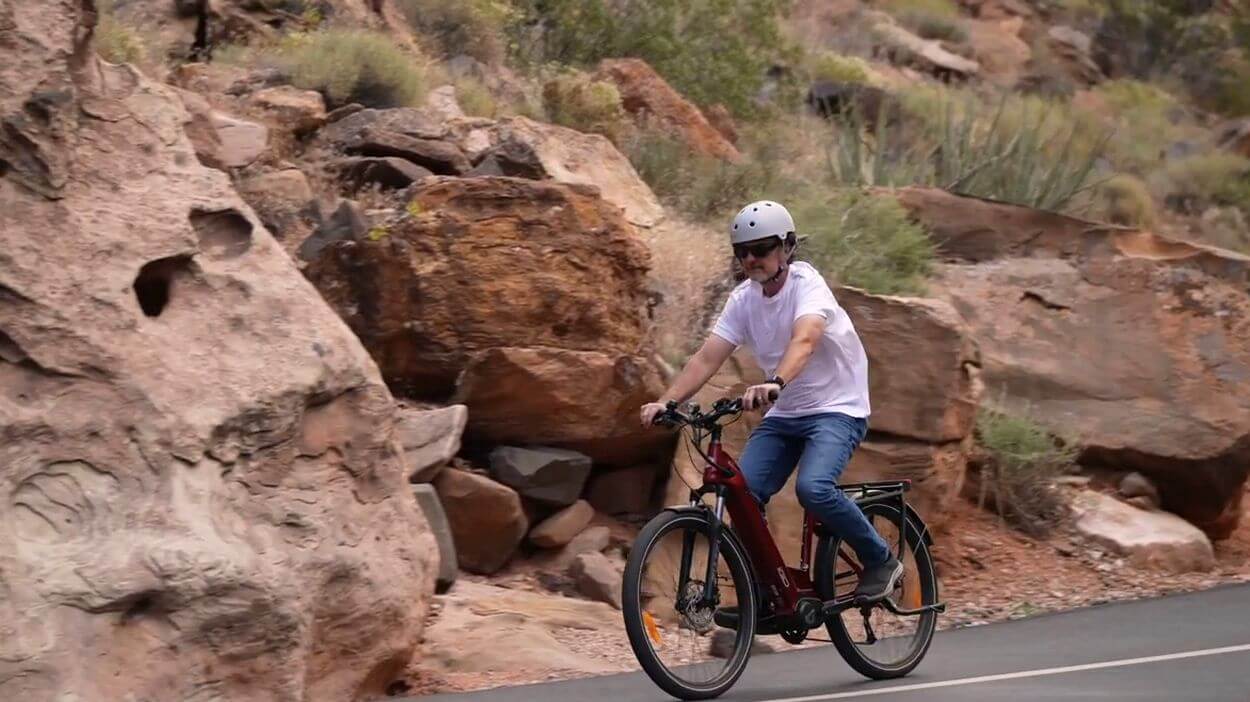 While individual experiences may vary, the Rosemont LS's impressive range performance in these tests suggests that it lives up to its promise of taking riders further. The combination of a well-tuned mid-drive motor, a high-capacity battery, and efficient power distribution positions this e-bike as an excellent choice for commuters looking to extend their riding range without compromising on performance.
iGo Discovery Rosemont LS:
Conclusions
In the end, the iGo Discovery Rosemont LS stands out as an excellent choice for commuters seeking an e-bike that goes the extra mile – quite literally. Commuter e-bikes are chosen for their ability to cover longer distances, and the Rosemont LS proves its mettle by offering a range that surpasses average e-bikes by at least a dozen miles. Unlike some counterparts with less energy-efficient hub motors, the Rosemont LS combines good power with energy efficiency, providing a compelling option for riders who prioritize extended rides.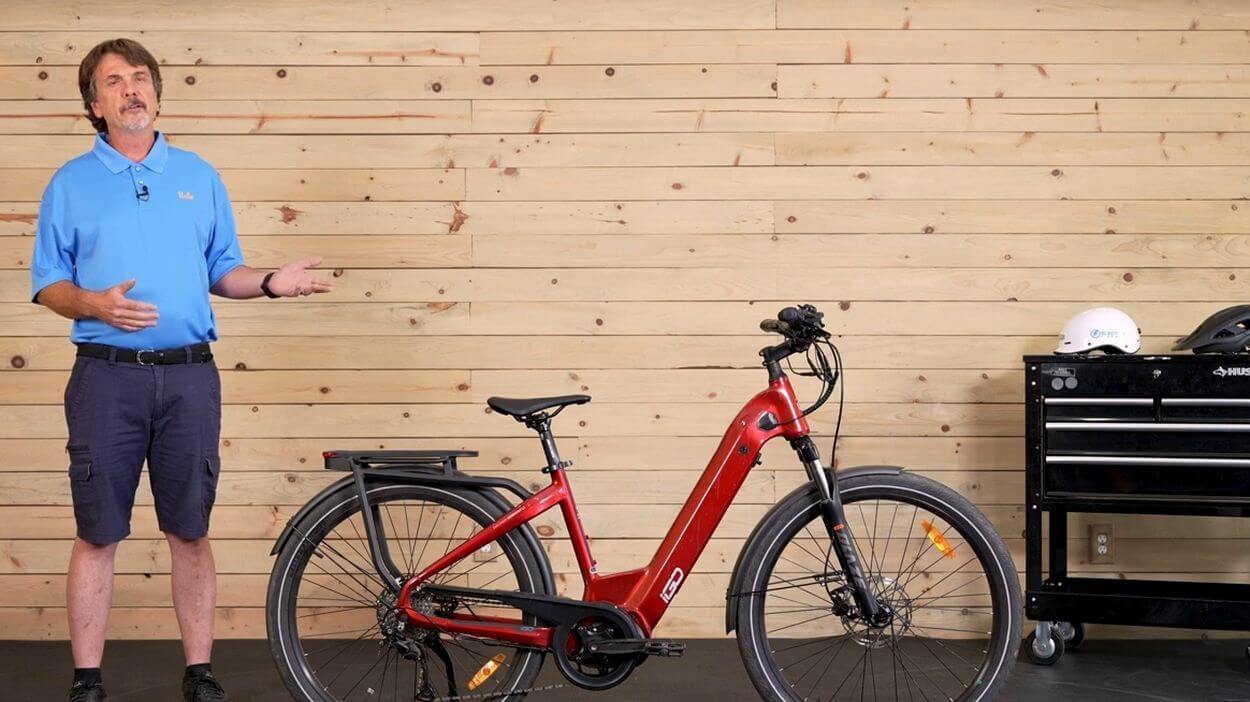 The bike's features and functions present a compelling value proposition, delivering a satisfying riding experience without the added cost and weight associated with larger batteries. The Rosemont LS incorporates components known for quality, promising both enjoyable rides and longevity. It caters to commuters' needs and has the potential to inspire many rides simply because it's fun to ride.
For those considering the Rosemont LS, the investment seems worthwhile, offering a balance of performance, efficiency, and value for money. As a commuter e-bike, it not only meets but exceeds expectations, making it a reliable companion for daily rides. To explore pricing details, you can find a link in the description below.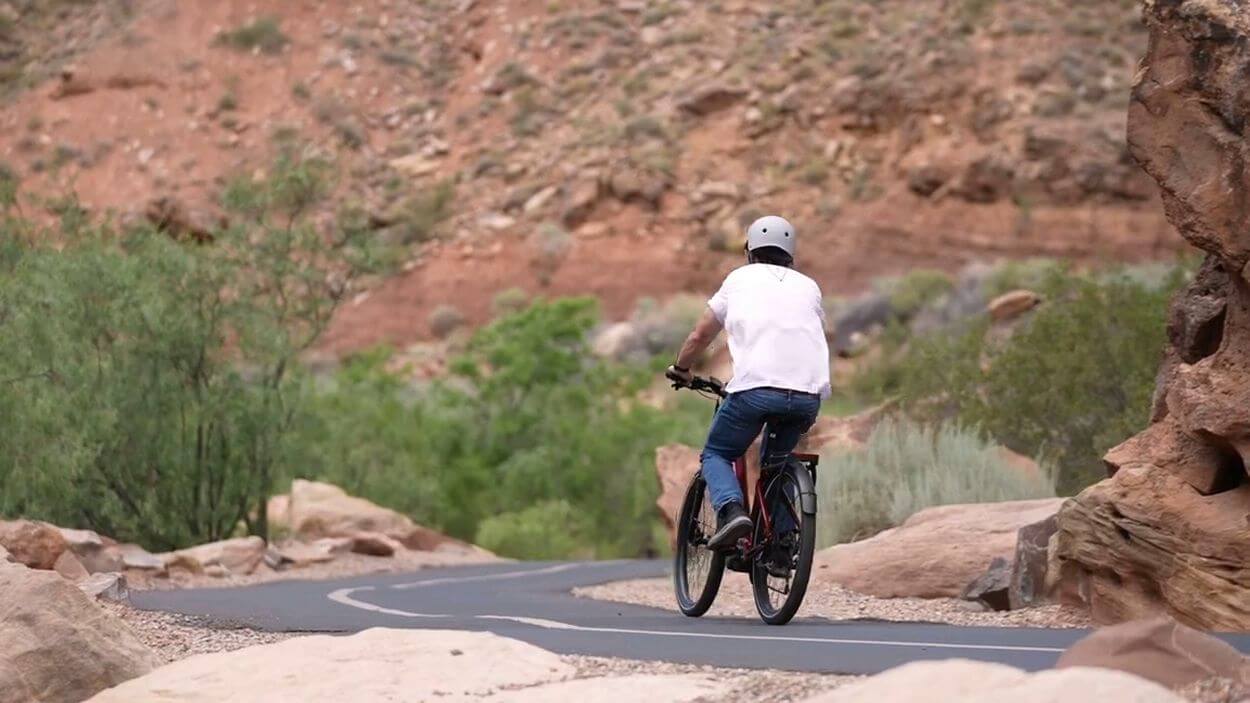 The thorough review conducted by the Electric Bike Report provides valuable insights into the Rosemont LS's capabilities, ensuring potential buyers are well-informed. Whether it's the ability to cover longer distances, the blend of power and efficiency, or the overall enjoyment of the ride, the iGo Discovery Rosemont LS emerges as a compelling choice in the world of commuter e-bikes. As Forrest from the Electric Bike Report aptly concludes, keep your hands on the bar, your feet on the pedals, and your eyes on the road – enjoy the ride!
Alternatives of iGo Discovery Rosemont LS