Welcome back to Electrified Reviews! Today, we dive into the world of urban mobility and open-road exploration with our review of the Flux from Revy Bikes. The Revy Bikes Flux is a meticulously crafted e-bike designed to cater to the needs of city dwellers and enthusiasts who crave the freedom of the open road. This two-wheeled marvel seamlessly merges sophistication with performance, defining a new standard of modern elegance in the realm of electric bikes.
With a starting price of $1,800 and optional packages ranging from $400 and beyond, the Flux beckons riders with a promise of a unique blend of features that positions it as a top contender for those seeking a harmonious marriage of performance and aesthetics. Before we delve into the nitty-gritty of our comprehensive review, let's take a moment to explore some of the key specifications that make the Flux stand out in the e-bike landscape.
The Flux, at its core, is an embodiment of innovation and functionality. Crafted to meet the demands of both city life and the thrill of the open road, this e-bike is not just a mode of transport but a statement of style and capability.
Stay tuned as we navigate through the Flux's design, performance, and unique features, providing you with an in-depth perspective on why this e-bike is making waves in the market. Whether you're a city dweller seeking efficient urban commuting or an adventurer looking to explore the open road, the Flux from Revy Bikes promises to be an exciting ride. Let's embark on this electrifying journey together!
| | |
| --- | --- |
| Frame Material: | 6061 Aluminum Alloy |
| Motor: | 48V 750W |
| Top Speed: | 20-25 MPH |
| Pedal Assist: | 1-5 levels |
| Wheel Size: | 20" X 2.4 |
| Shift: | 7 Speed SHIMANO |
| Fork: | Suspension Fork |
| Brake: | F/R Hydraulic Brake |
| Battery Capacity: | 48V 15AH |
| Max Range: | 55 Miles |
| Weight: | 99lbs with battery |
| Rear Cargo Capacity: | 180lbs |
| Payload Capacity: | 440Ibs |
Design and Build Quality
The Revibikes Flux makes a bold statement with its design and build quality. Its long frame and streamlined silhouette immediately capture attention, creating a sense of tension that is both eye-catching and intriguing. The frame, constructed from robust 6061 aluminum alloy, speaks volumes about resilience, promising durability and stability on the road.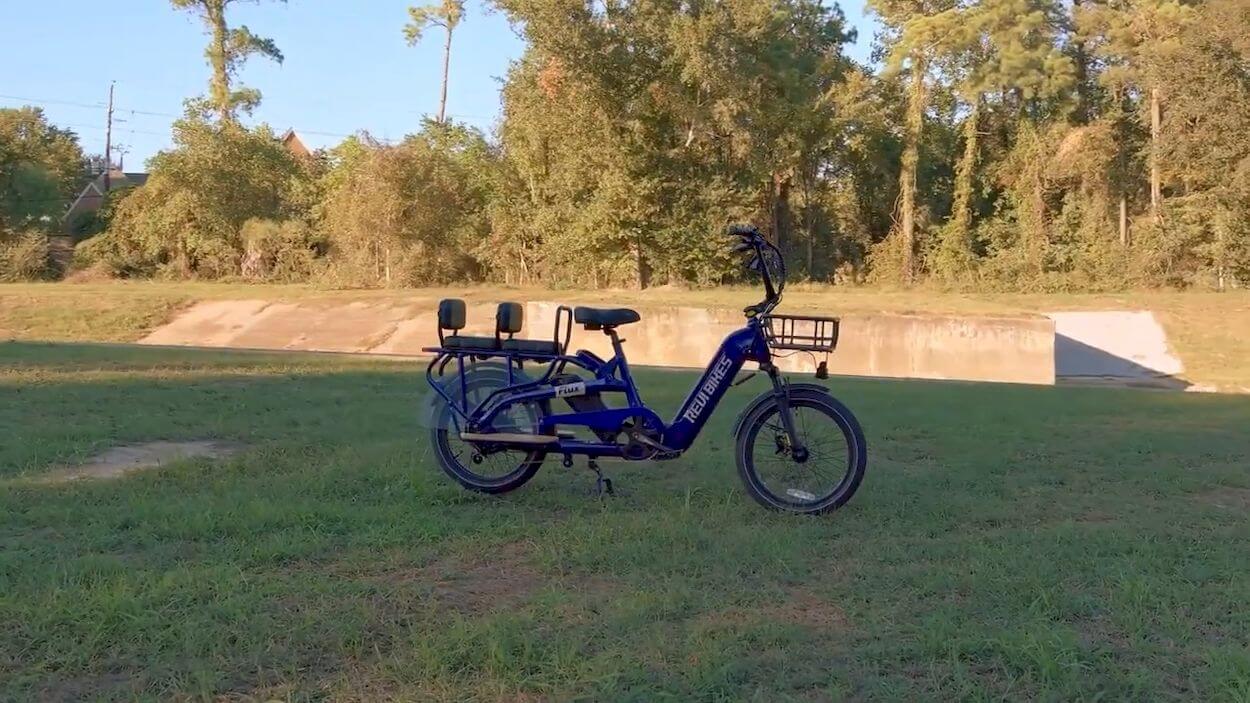 The comfort factor is not overlooked either, as the leather saddle, equipped with a mechanical spring, assures a ride that is not only stylish but also remarkably comfortable. The combination of a solid frame and a plush saddle ensures that every journey on the Flux is a pleasure.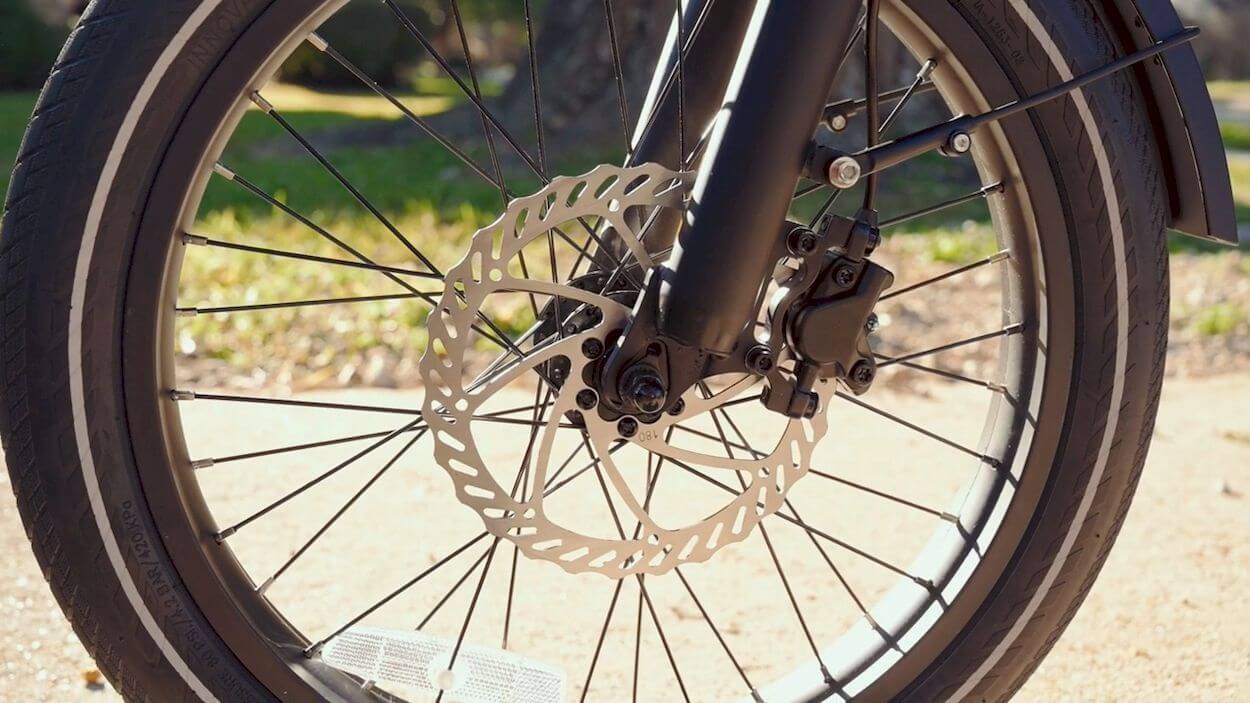 Safety takes center stage with hydraulic brakes in both the front and rear, featuring substantial 180 mm rotors. This configuration ensures reliable stopping power, offering a sense of control and security while navigating diverse terrains.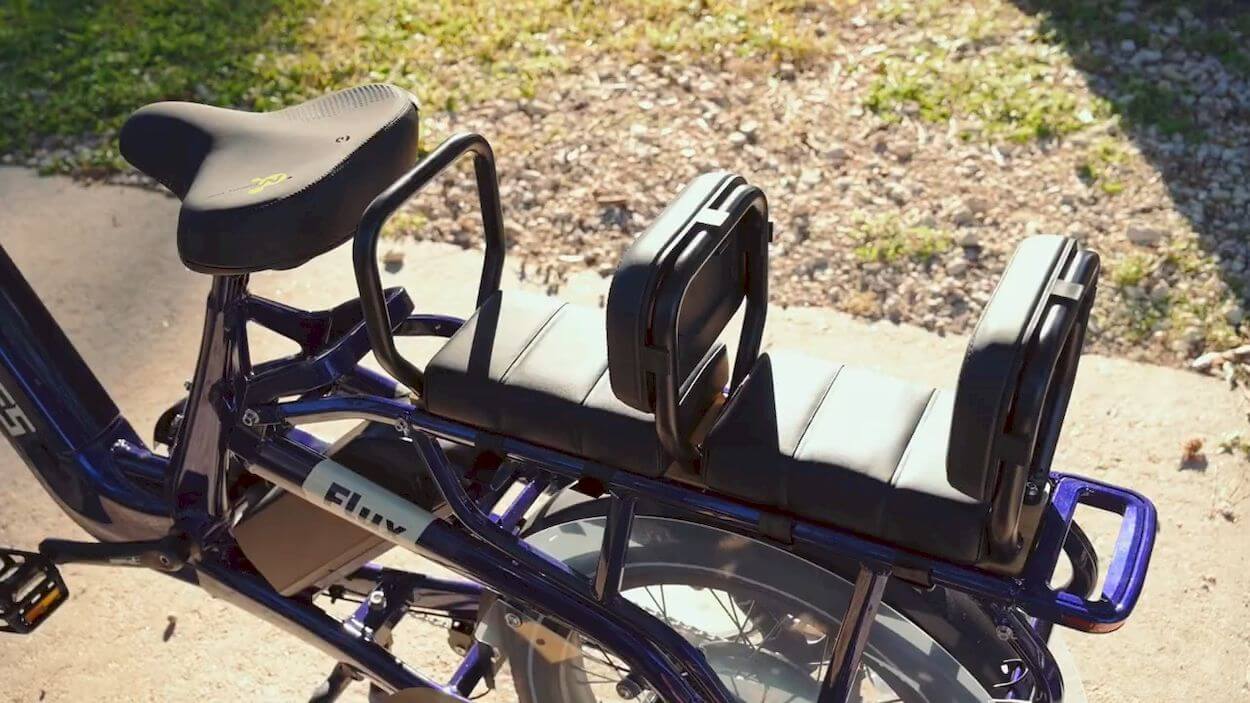 The bike's versatility is highlighted when considering its potential for carrying additional weight. While accommodating two kids or a substantial cargo load may affect performance, the inclusion of an extra battery opens the door to an impressive range of up to 100 miles, a noteworthy feature for those who rely on their e-bikes for longer commutes or adventures.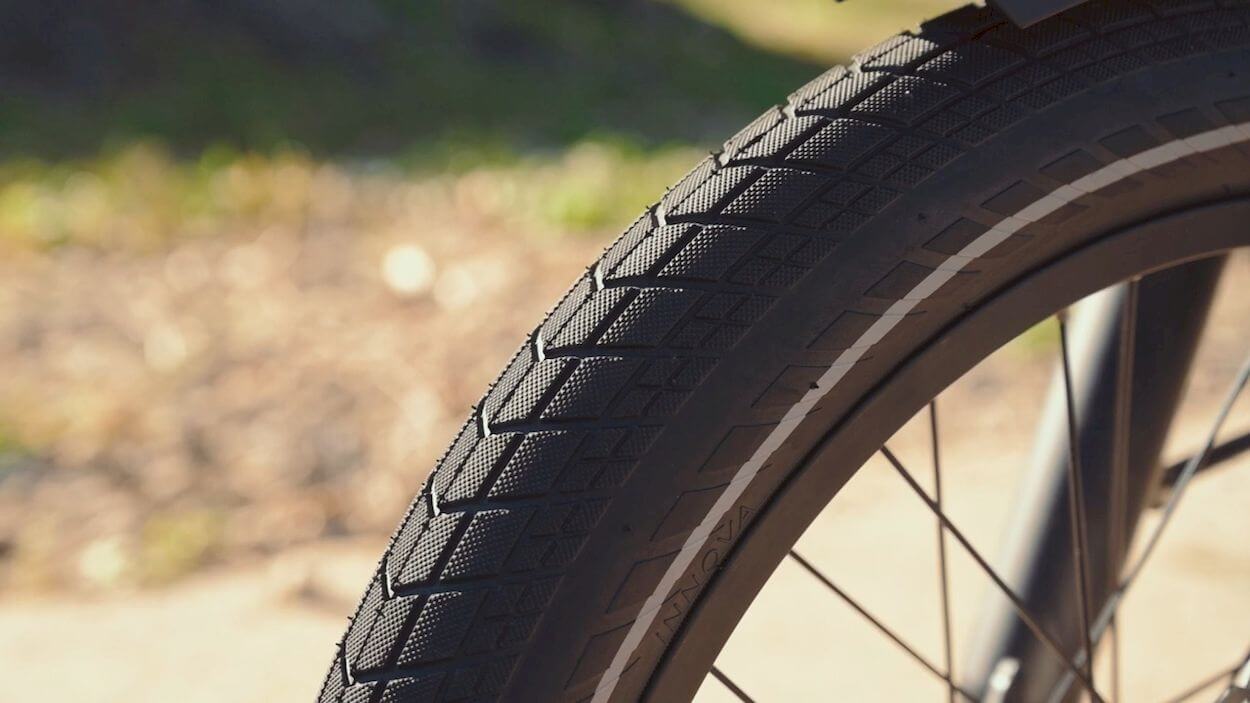 Despite its potentially cumbersome appearance, the Flux surprises riders with its comfort once they get on and start riding. The 20×2.4-inch tires, while suitable for diverse terrain, are primarily designed for pavement, making the Flux ideal for road, sidewalks, bike paths, or any paved surfaces.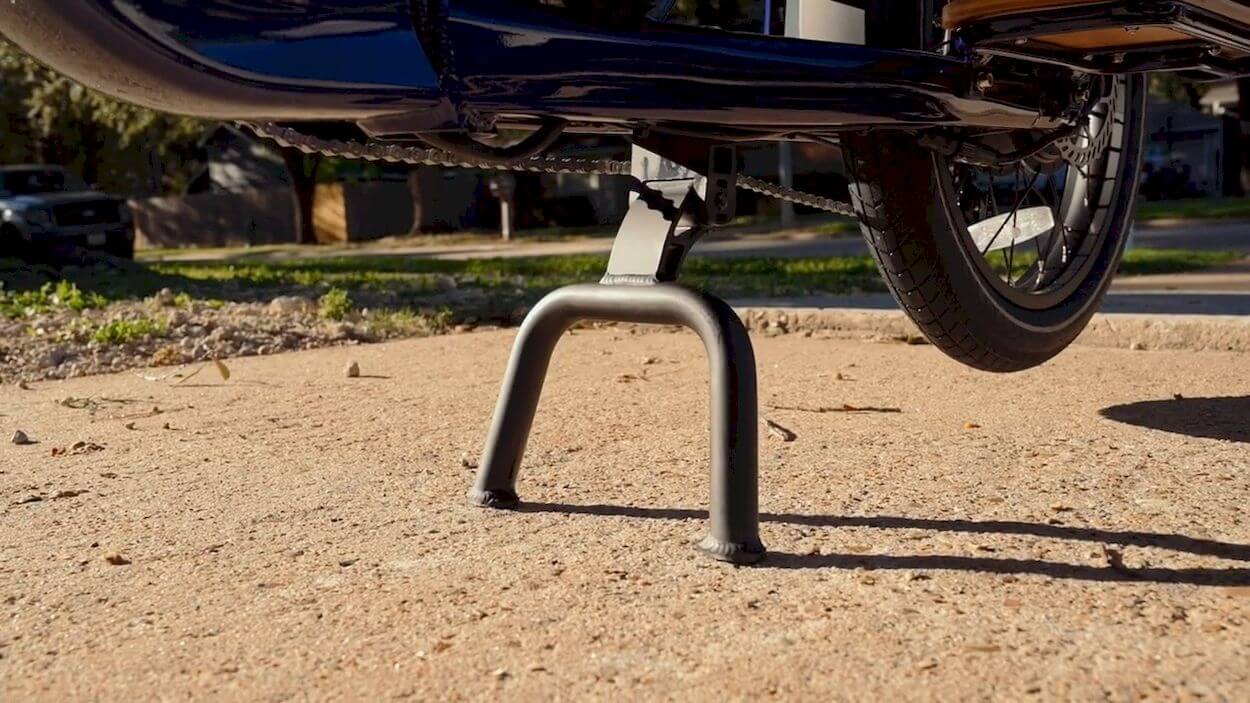 The handlebar and seat heights are designed to cater to a diverse range of riders, offering a commanding yet comfortable posture. With a standard height of 14 inches, the bike remains approachable even for shorter riders.
The attention to detail extends to the full-color display, providing not only informative data such as speed, odometer, and pedal assist level but also an intuitive interface. The seven-speed Shimano shift system adds adaptability across various terrains, ensuring a smooth and efficient ride.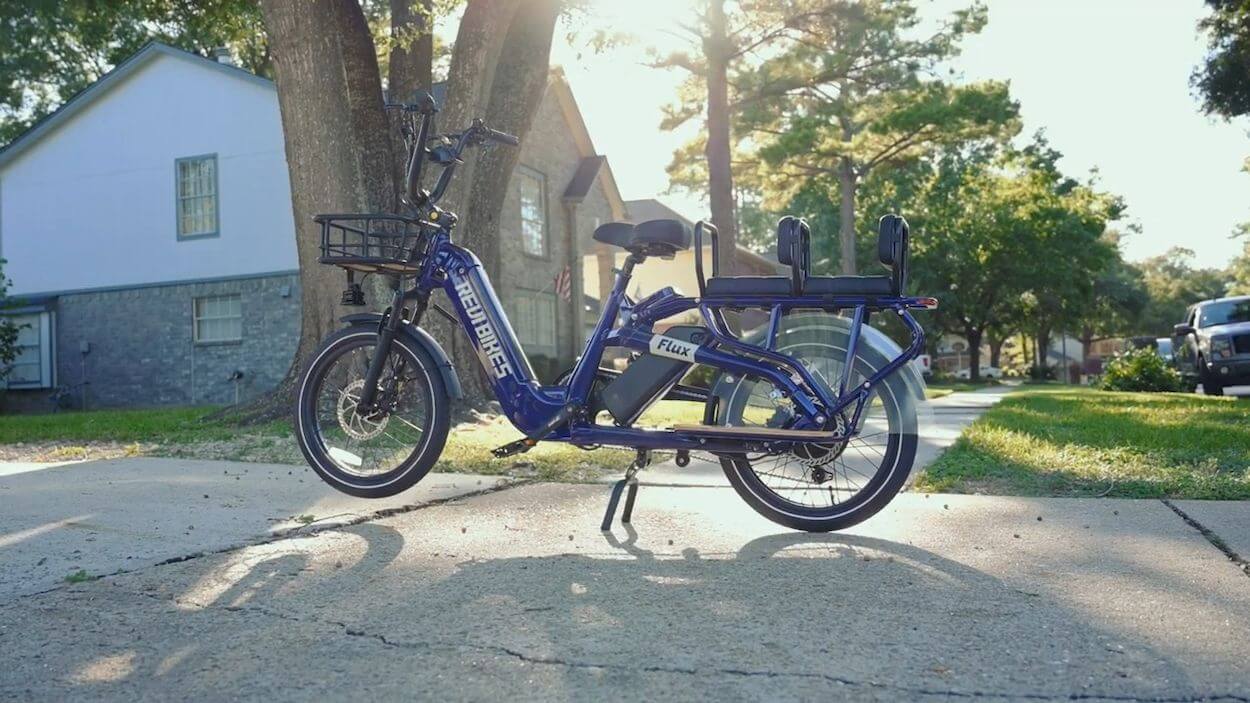 Additional features like front and rear lights, a rear cargo rack, and an included front rack further enhance the Flux's functionality. These extras contribute to the bike's utility, making it a versatile and practical choice for riders who value both style and substance in their electric bikes.
Revibikes Flux:
Motor
The heart of the Revibikes Flux is its powerful 48V 750W motor, capable of delivering top speeds ranging from 20 to 25 mph, depending on whether it's in Class 2 or Class 3 mode. The 750W motor, combined with a peak output of 1200W, serves as a testament to the bike's robust performance capabilities.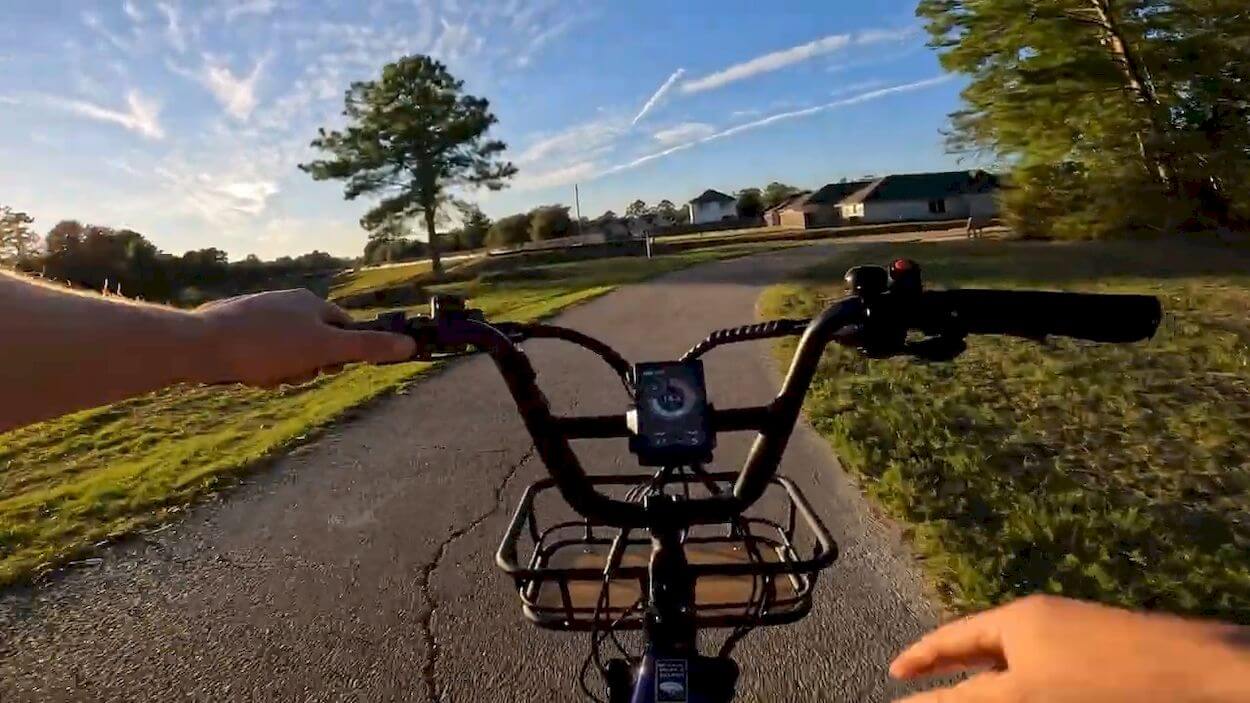 In Class 2 mode, riders can enjoy a brisk top speed of 20 mph, perfect for speedy commutes or leisurely tours. However, if you crave a bit more speed, switching to Class 3 mode unlocks the full potential, allowing the Flux to reach an impressive top speed of 25 mph. It's an ideal choice for those who want an extra burst of speed during their rides.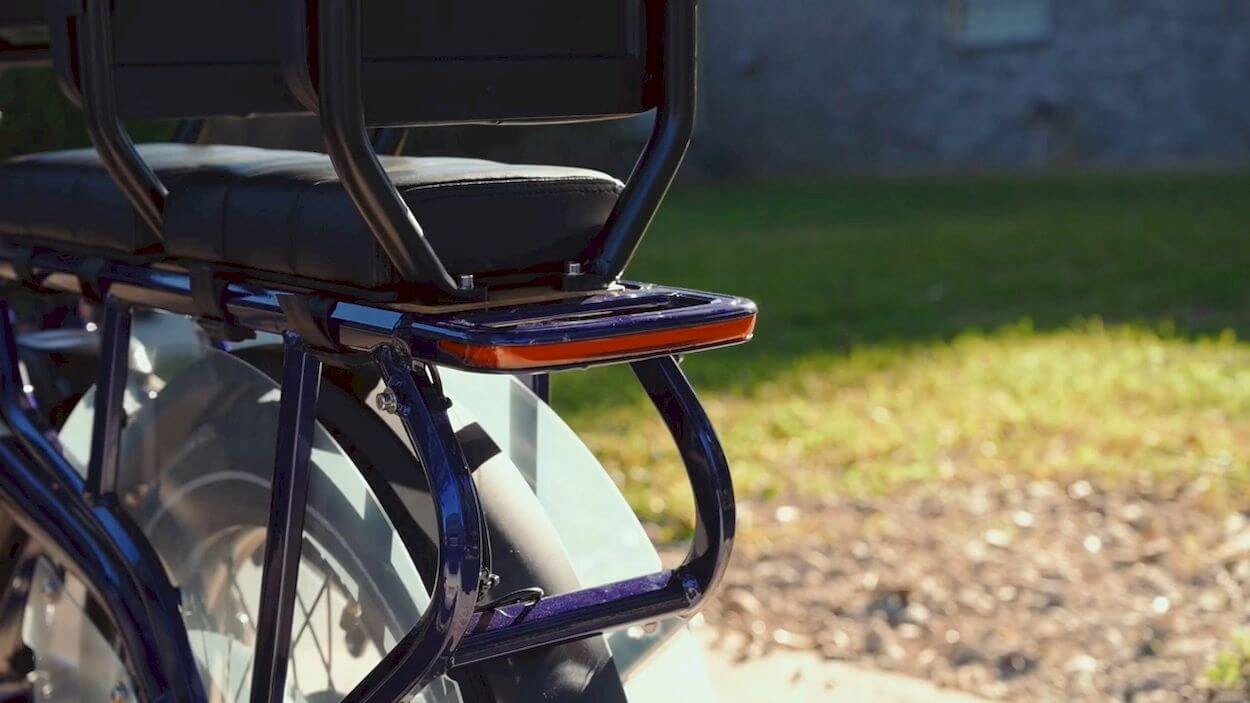 One aspect to note is that when the bike is in Class 3 mode for that maximum speed, the throttle functionality is disabled. While this may be a disappointment for some riders, it's a trade-off that aligns with safety considerations, especially if you're hauling additional weight, such as two little ones in the back.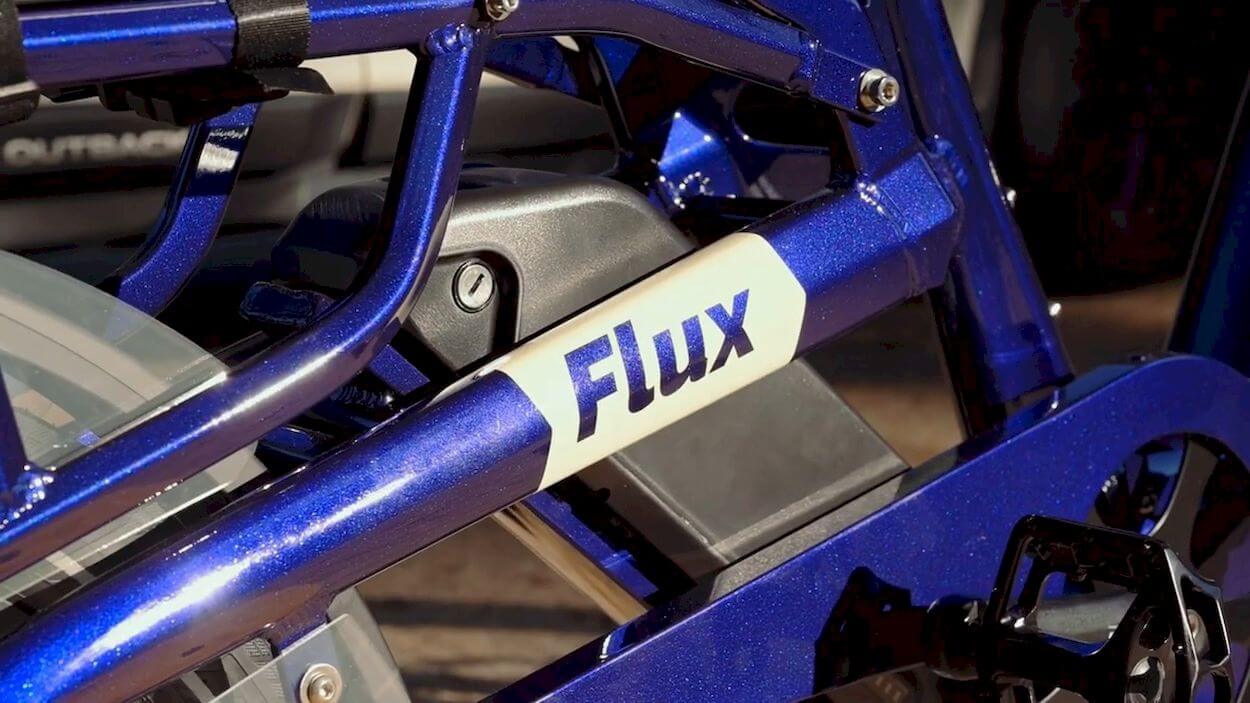 Safety is a top priority on the Flux, evident in its braking system. The bike is equipped with front and rear hydraulic brakes, courtesy of Wion, offering both safety and commanding braking efficiency. The braking system works exceptionally well, providing riders with a sense of control and confidence. Whether navigating busy city streets or cruising down hills, the Flux stops exceptionally well, ensuring a safe and reliable riding experience.
Battery and Range
The Revibikes Flux is not only defined by its powerful motor but also by the impressive 48V 15 amp-hour battery, featuring high-quality Samsung cells. This dynamic pairing ensures that rides on the Flux are not just powerful but truly enduring, embodying the essence of reliability and sustained performance.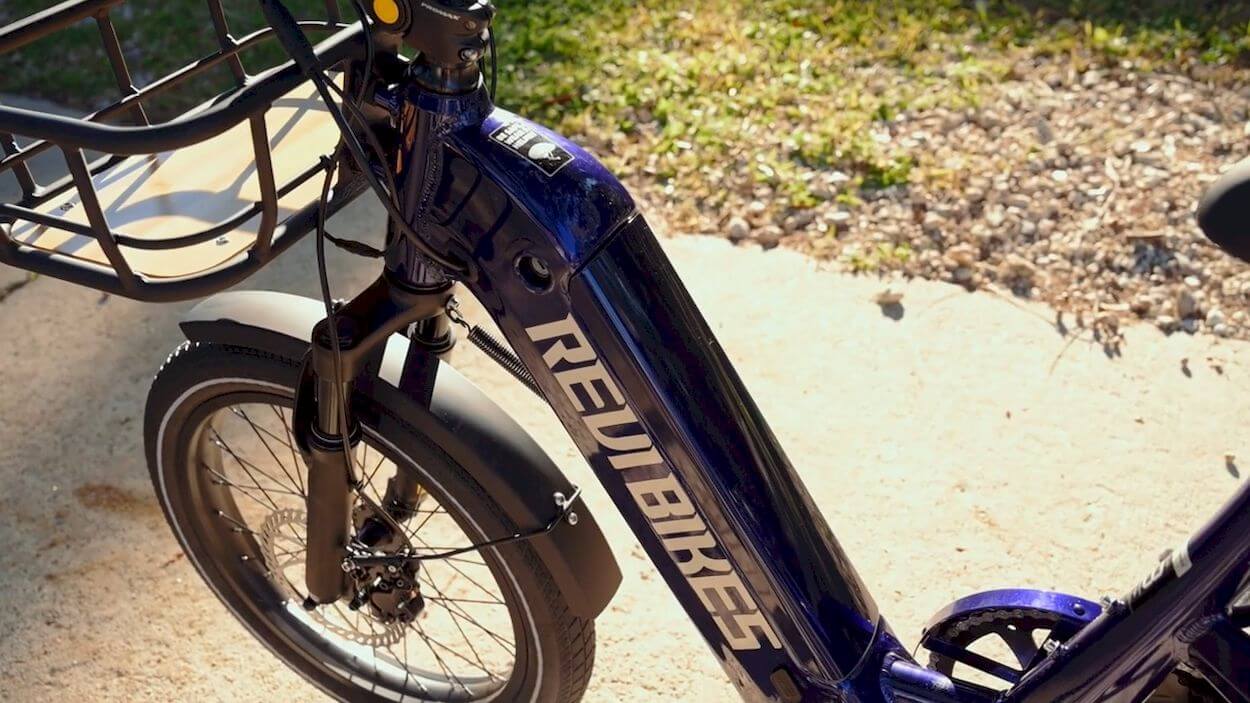 Endurance, in the context of this e-bike, transcends the ordinary notion of longevity. It signifies a ride that is not merely long-lasting but characterized by resilience, stamina, and an unwavering ability to persevere through diverse terrains and conditions. In essence, the Flux's power, combined with the cutting-edge Samsung battery, provides riders with a journey that is both potent and enduring.
Now, for those seeking an escape from the mundane, the Flux surprises with more "get up and go" than expected. The synergy between the motor and the Samsung battery creates an electric bike experience that exceeds expectations, offering riders a thrilling and responsive ride that makes every journey an adventure.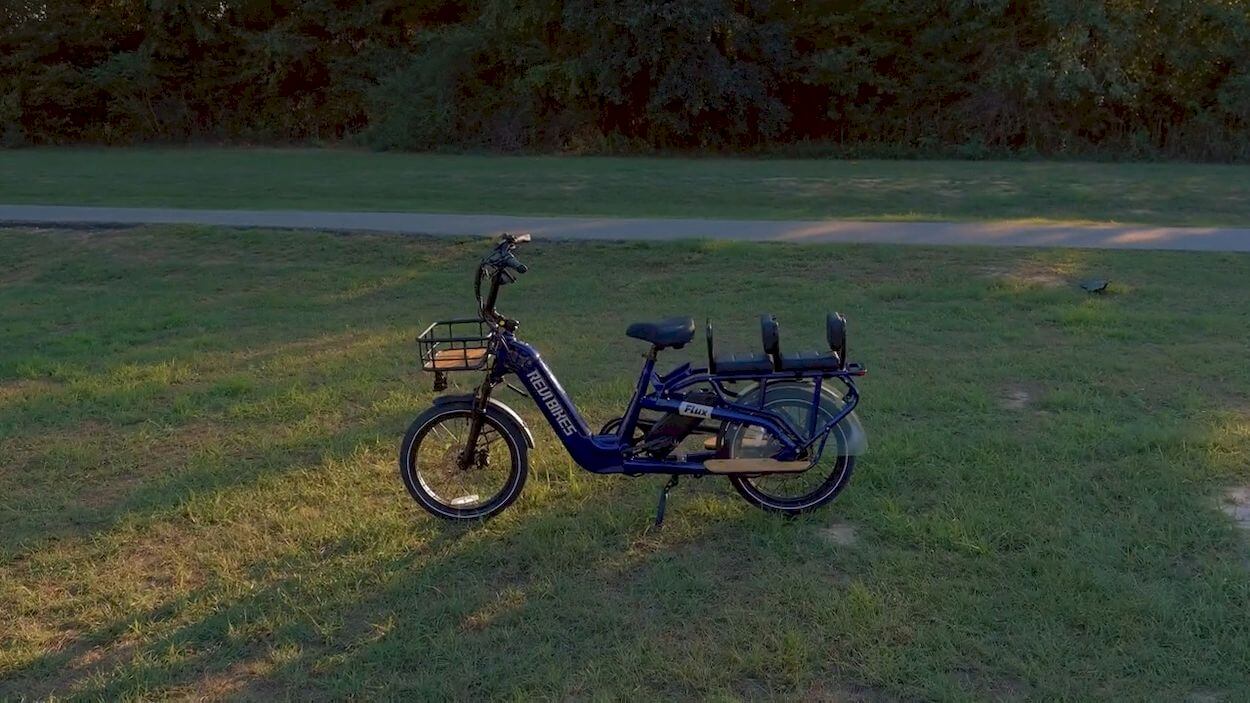 One of the most compelling features of the Flux is its remarkable range. Depending on various factors, including riding conditions and battery selections, riders have the potential to embark on journeys of up to 100 miles. This exceptional range makes long tracks and extended rides a breeze, catering to both practical commuting needs and the adventurous spirit of riders who crave the open road.
Revibikes Flux: Conclusions
While the Revibikes Flux showcases a range of impressive features, it's important to note that there is room for improvement, and one notable aspect is its weight. Tipping the scales at 99 lbs, the Flux leans towards the heavier side, posing a potential challenge for manual portability. This weight may be a consideration for users who prioritize easy lifting and storage.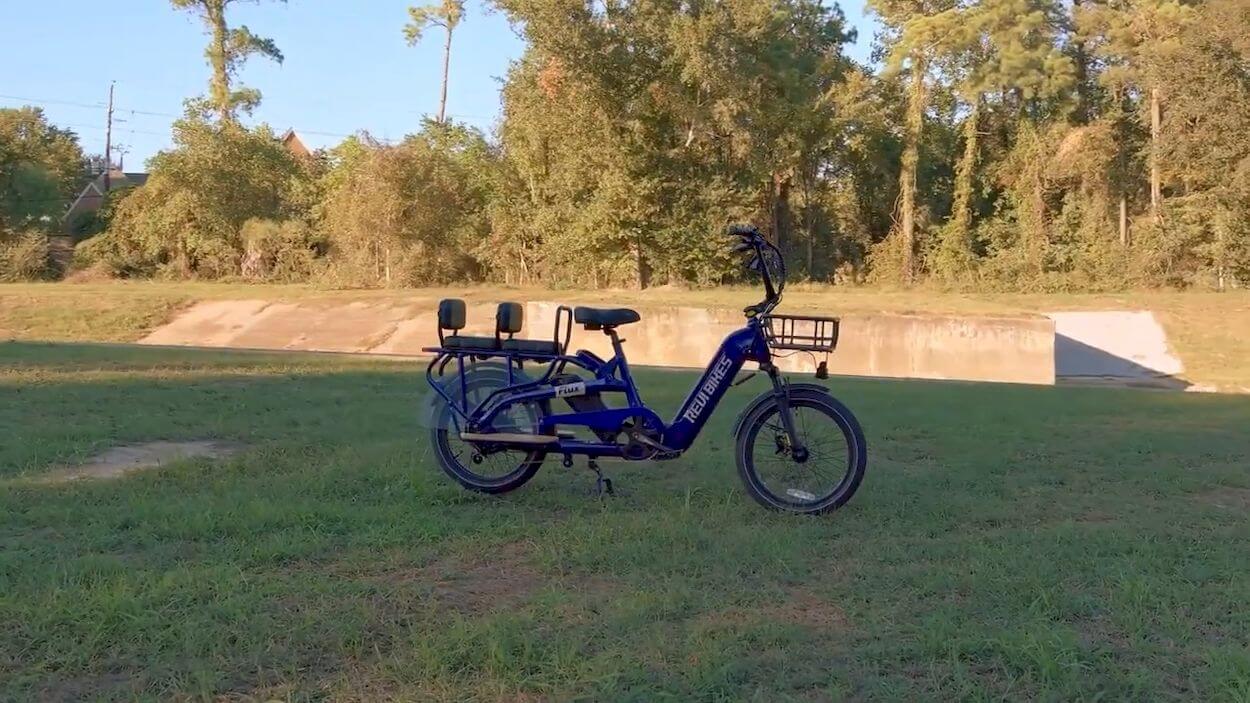 However, it's crucial to contextualize this aspect within the broader scope of the Flux's expansive feature set and its intended use case. The bike's weight may be a minor trade-off when compared to the benefits it offers, particularly in terms of performance, aesthetics, and utility.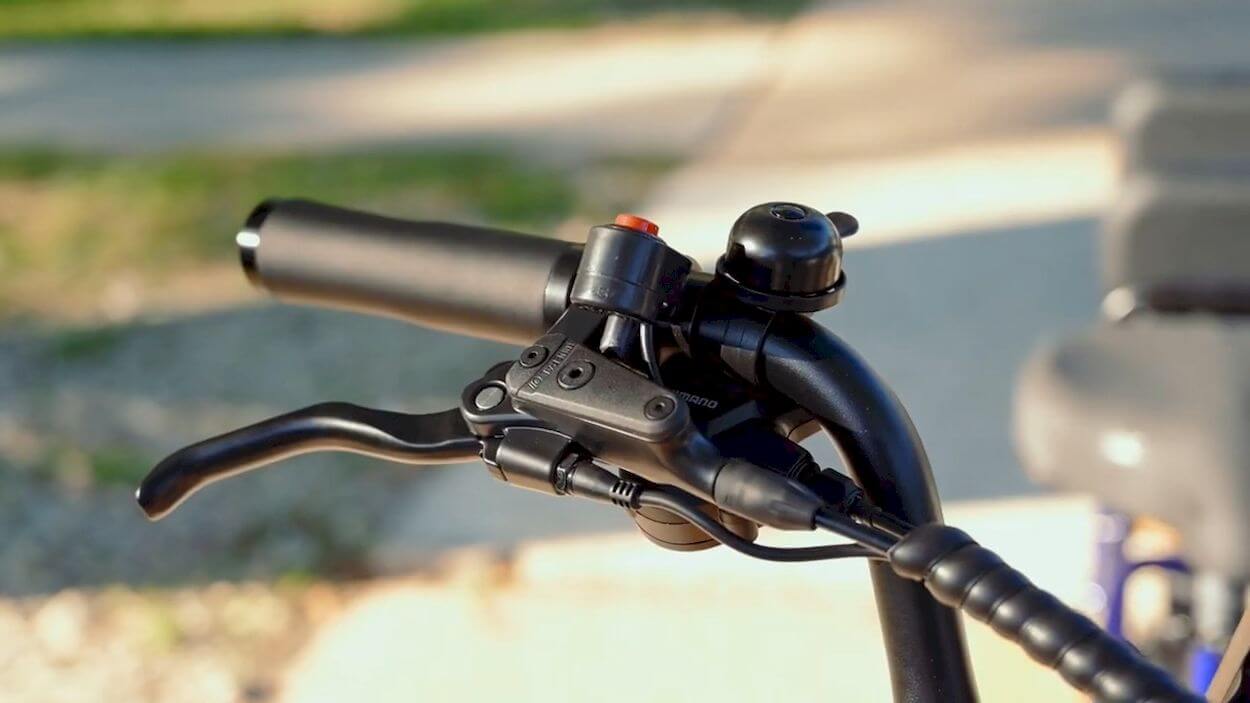 In the grand scheme of things, the Flux from Revibikes emerges as a compelling option for those seeking an affordable cargo e-bike. Priced at $1,800, with optional packages available for an additional $48, it strikes a commendable balance between performance, aesthetics, and utility. This positioning in the e-bike market makes it an attractive choice for riders who value a harmonious blend of these key factors.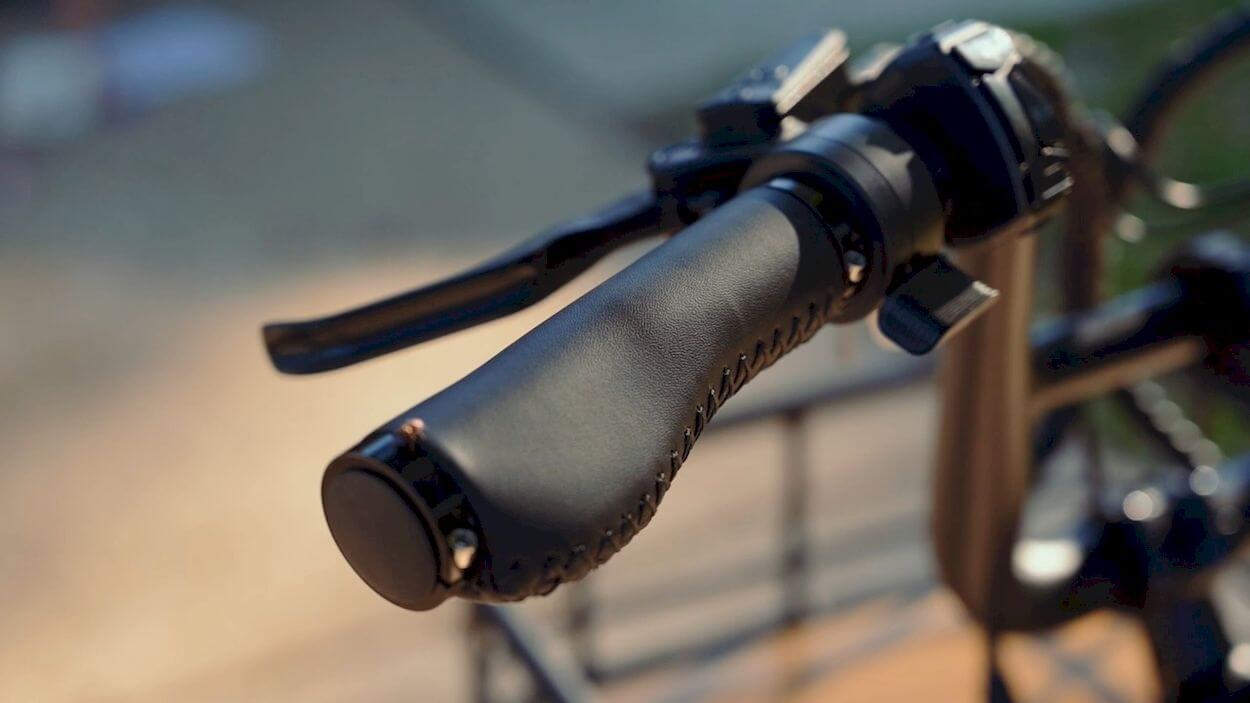 Overall, the Revibikes Flux, despite its weight, manages to carve out a niche for itself as a versatile and affordable cargo e-bike. Its strengths in performance and utility outweigh the minor inconvenience of its weight, making it a noteworthy contender in the ever-growing landscape of electric bikes. For those in search of a reliable and feature-rich e-bike that won't break the bank, the Flux stands as a compelling pick from Revibikes.
Alternatives of Revibikes Flux