The Pedal Core is an exciting and innovative e-bike manufactured by Pedal Electric, a Venice, California-based e-bike brand. This unique electric bicycle offers a range of features that set it apart from traditional e-bikes, providing riders with an exceptional riding experience both on and off-road.
One of the standout features of the Pedal Core is its inverted, upside-down suspension forks. This design choice enhances the bike's stability and control by placing the thicker stanchions at the bottom, resulting in improved handling and responsiveness. Additionally, the Pedal Core features coil spring rear shocks, which further contribute to its superior suspension capabilities.
The e-bike is equipped with a powerful 750-watt rear hub motor, providing ample power for both on-road and off-road adventures. To ensure an extended riding range, the Pedal Core boasts a 15 amp hour battery. This high-capacity battery allows for longer rides without the need for frequent recharging.
If you're eager to learn more about the Pedal Core and its extraordinary suspension system, the Electric Bike Report Channel is the place to be. They provide in-depth and important information about this remarkable e-bike, ensuring you stay informed about its exceptional features and advantages.
| | |
| --- | --- |
| Frame: | Exclusive alloy |
| Motor: | 750W Rear-hub Motor |
| Gearing: | 3 Speed, Shimano Tourney |
| Top Speed: | 28 Miles Per Hour |
| Suspension: | Full |
| Battery: | 720Wh Battery |
| Minimum Range: | 30 Miles |
| Brakes: | Pedal Branded, Hydraulic Brakes, 180mm Ro |
| Cargo Capacity: | 35 Pounds |
Design and Build Quality
The Pedal Core not only impresses with its unique suspension system but also showcases exceptional design and build quality. As the first full suspension moped-style electric bike tested by Electric Bike Report (EBR) that comfortably accommodates taller riders, the Pedal Core stands out from its predecessors.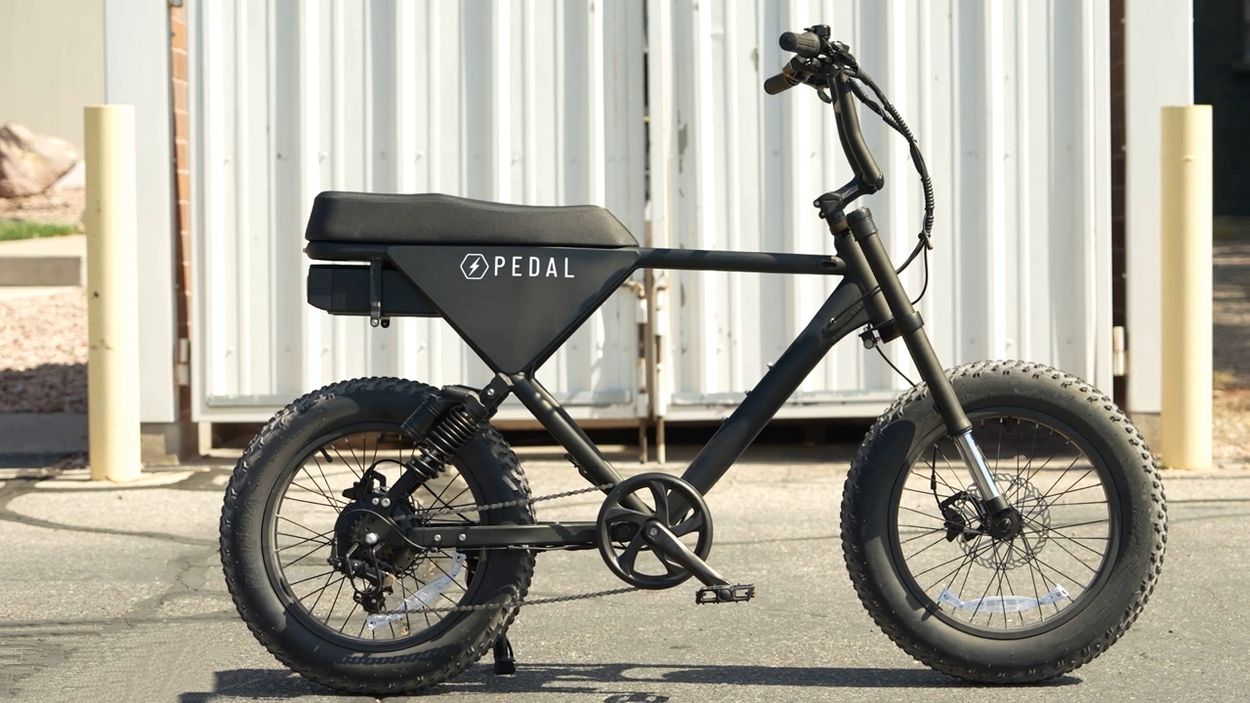 Drawing inspiration from off-road motorcycles, the Pedal Core incorporates a dual suspension setup that enhances its performance and ride comfort. The front fork adopts an inverted design, similar to high-performance motorcycles. This means that the thinner and shorter part of the fork, known as the stanchion, is connected to the front wheel axle, while the thicker part, called the slider, mounts at the steering head. This inverted fork design provides increased rigidity when encountering bumps, resulting in a more responsive and controlled suspension experience. Particularly for off-road riding enthusiasts, the Pedal Core's front suspension excels at delivering a smooth and enjoyable ride.
The choice of a dual rear shock design in the Pedal Core is aimed at providing optimum support, especially when carrying a passenger. The coil spring rear shocks offer excellent durability and can handle heavier weights compared to air shocks typically found on high-end e-mountain bikes. Furthermore, coil springs require less maintenance and are easily adjustable with a simple spanner wrench, allowing riders to fine-tune the preload for personalized comfort. While these shocks may be slightly heavier and more rigid than what e-mountain bike riders prefer, they are well-suited for the Pedal Core's intended off-road use.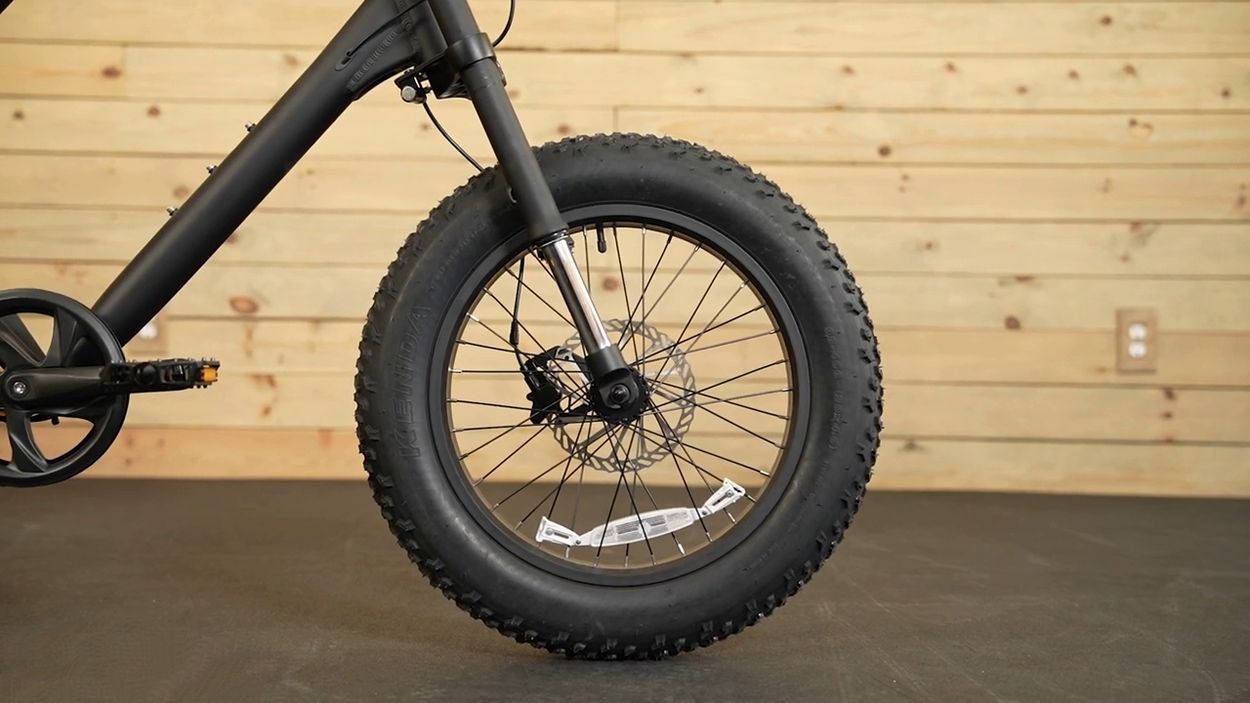 The combination of the inverted fork and dual shock design showcased by the Pedal Core delivers outstanding performance, particularly during off-road tests conducted by EBR. In fact, EBR reports that among the moped-style e-bikes they have tested, the Pedal Core boasts one of the most impressive suspension setups for off-road riding. This is an important aspect to consider if you primarily intend to use the e-bike for off-road adventures.
In addition to its innovative suspension system, the Pedal Core's design and build quality contribute to its overall appeal. The careful selection of components and the incorporation of motorcycle-inspired design elements ensure that the e-bike not only performs exceptionally but also exudes a sense of durability and ruggedness. Riders can have confidence in the Pedal Core's ability to withstand the demands of off-road terrain and provide a reliable and enjoyable riding experience.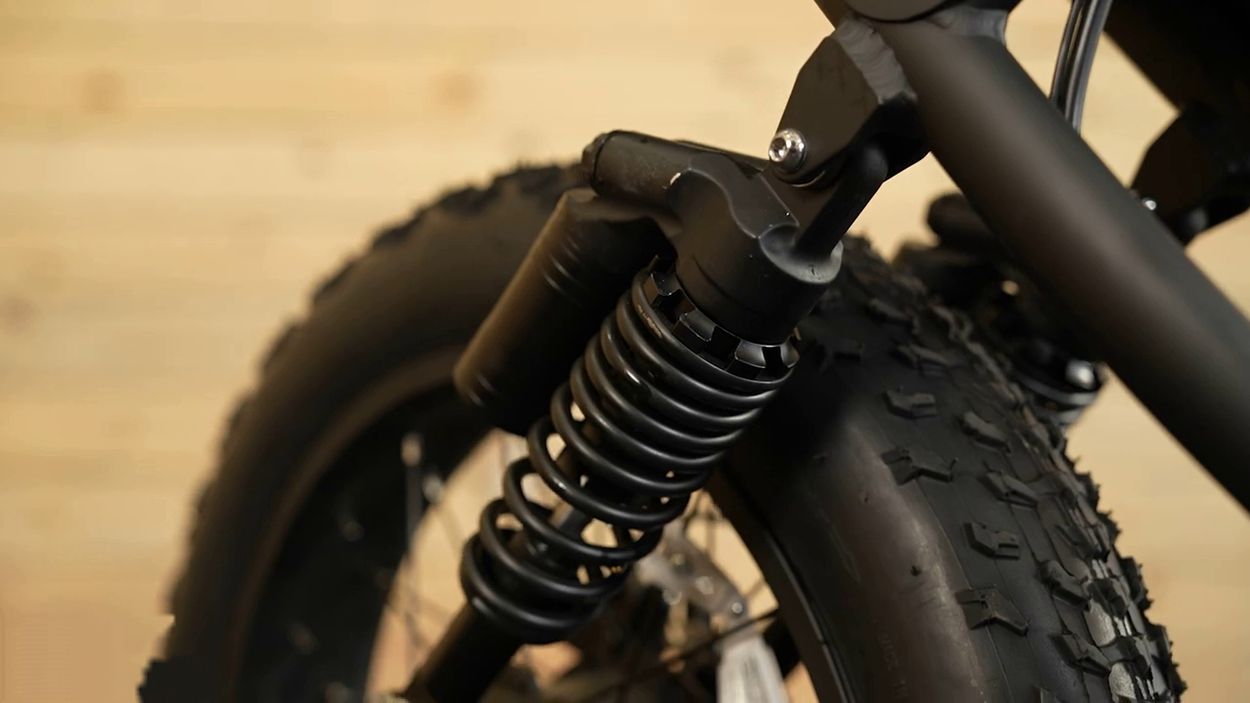 Taking inspiration from the motorcycle world, the Pedal Core features a long stationary seat. This design choice offers several benefits. The extended length of the seat allows riders to slide their buttocks back for added stability when descending steep hills. Moreover, for riders with longer legs who may find it uncomfortable to pedal in the standard upright riding position, the long seat provides a more comfortable pedaling experience. It is worth noting that the seat is stationary, meaning it lacks a quick-release mechanism for adjusting its height. As a result, the bike has limitations in accommodating riders of various heights.
The design of the Pedal Core is simple yet stylish, featuring an all-black color scheme, no fenders, and a sleek side panel that conceals the 15 amp hour battery mounted beneath the seat. The overall aesthetic resembles a BMX bike made for adults, exuding a sporty and fun vibe. The knobby tires, coupled with the BMX-style handlebar with a 10.5-inch riser, further enhance the bike's unique appearance. The motor and battery are neatly integrated and hidden from plain view, maintaining a clean and streamlined look.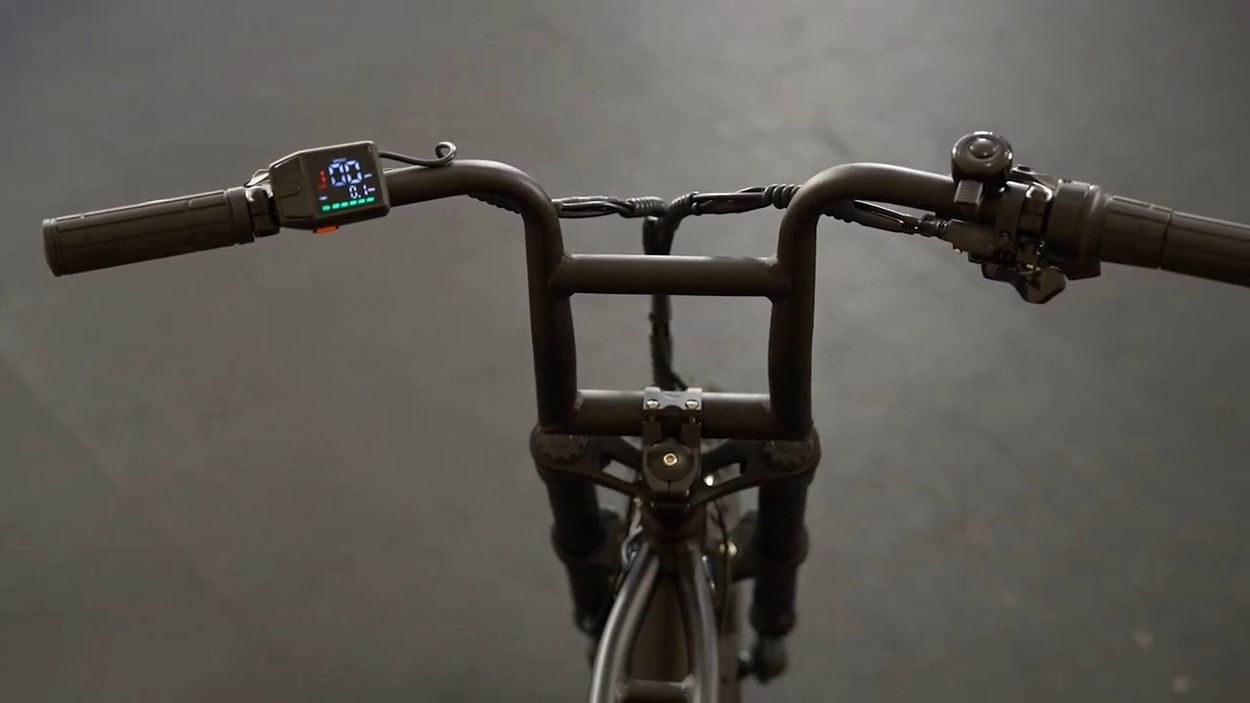 Overall, the Pedal Core's design and build quality showcase the brand's commitment to creating an e-bike that excels in both performance and durability. From its inverted suspension forks to the dual coil spring rear shocks, every aspect of the design is aimed at enhancing the ride quality, especially for off-road enthusiasts seeking a capable and reliable electric bicycle.
Power and Driving tests
The Pedal Core is equipped with a powerful Buffang 750-watt rear hub motor, which delivers quick acceleration and enables the bike to reach speeds of up to 20 miles per hour in Class 2 mode. However, the top speed can be adjusted to 28 miles per hour for Class 3 mode or 32 miles per hour for sport mode. It is important to ensure compliance with local e-bike laws and regulations when adjusting the top speed.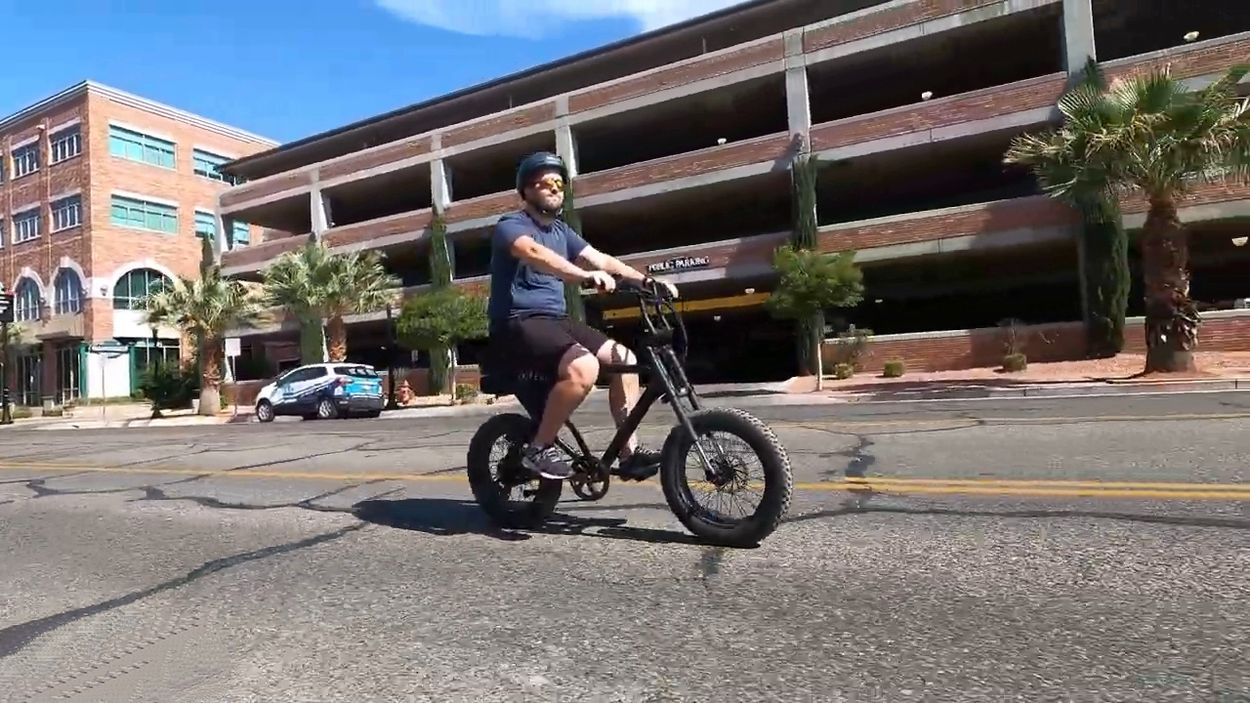 The Pedal Core has the potential to satisfy riders seeking thrilling off-road adventures as well as those commuting through urban environments. Its robust build, fast motor, and reliable suspension system contribute to its versatility. However, there is much more to explore about this bike, and delving deeper will uncover additional aspects that make the Pedal Core a unique and exciting electric bike.
During testing, the Pedal Core's braking system proved to be reliable and effective. The bike is equipped with hydraulic disc brakes featuring 180-millimeter rotors and dual-piston calipers. This setup delivers powerful and consistent braking performance, ensuring riders can confidently navigate various terrains and conditions.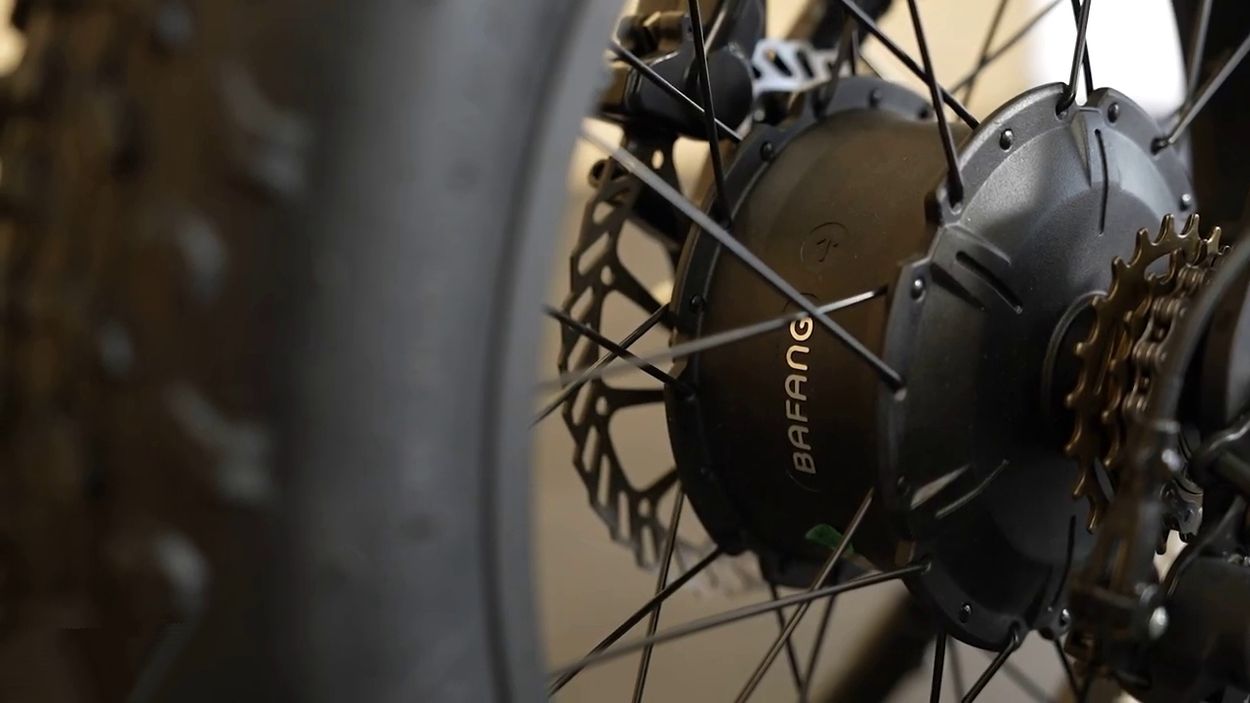 In terms of gearing, the Pedal Core employs a unique Shimano three-speed configuration, which the Pedal team chose for its simplicity. The 17-tooth to 23-tooth cassette may not have been the ideal choice for the bike, particularly considering the "ghost pedaling" issue experienced when reaching the top speed of 20 miles per hour. However, thanks to the bike's zippy acceleration provided by the throttle and pedal-assist (PA) system, dwelling on this issue was not necessary in most situations.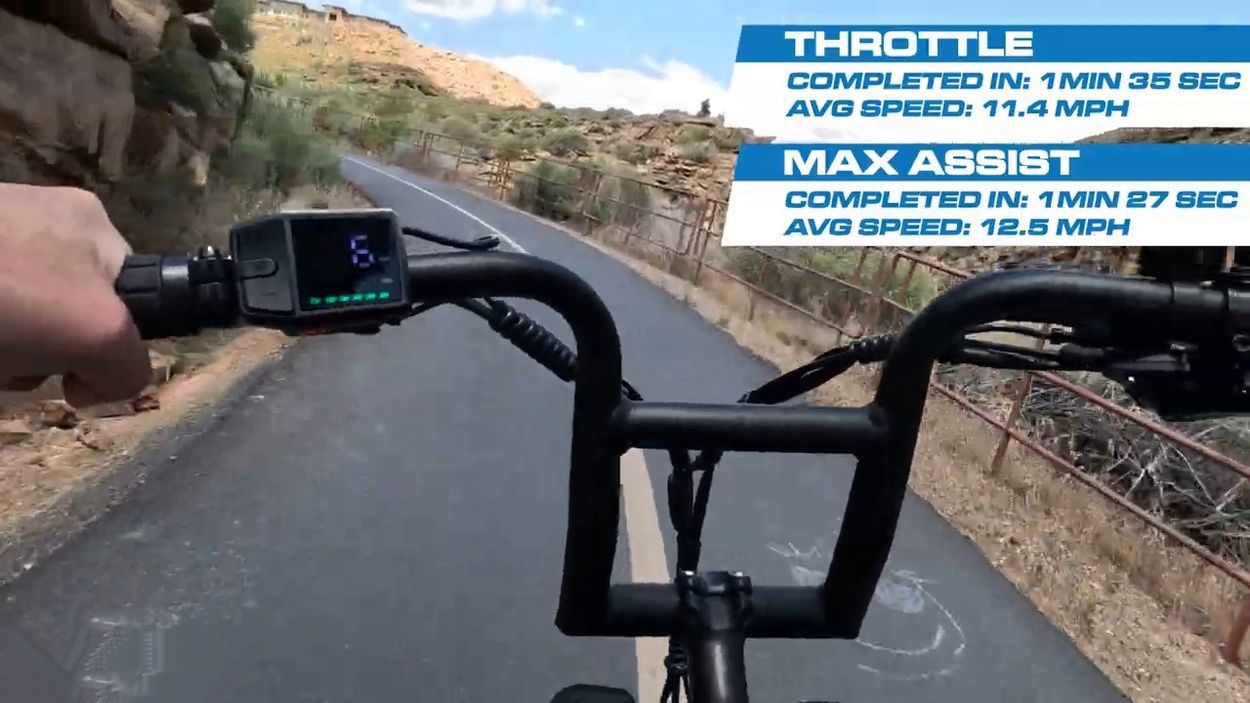 The Pedal Core features a color LCD display screen that provides essential information to the rider. The screen shows the current speed, the selected PAS level (indicated in red type), total and trip miles, and the remaining battery life (displayed in green color). The display unit is standalone and includes a simple on/off button located on the underside. While the display functions well on its own, it's worth noting that some companies are introducing companion apps to enhance the riding experience and offer more detailed metrics and customization options. While the Pedal Core currently lacks such an app, it could be a potential avenue for future development and improvement.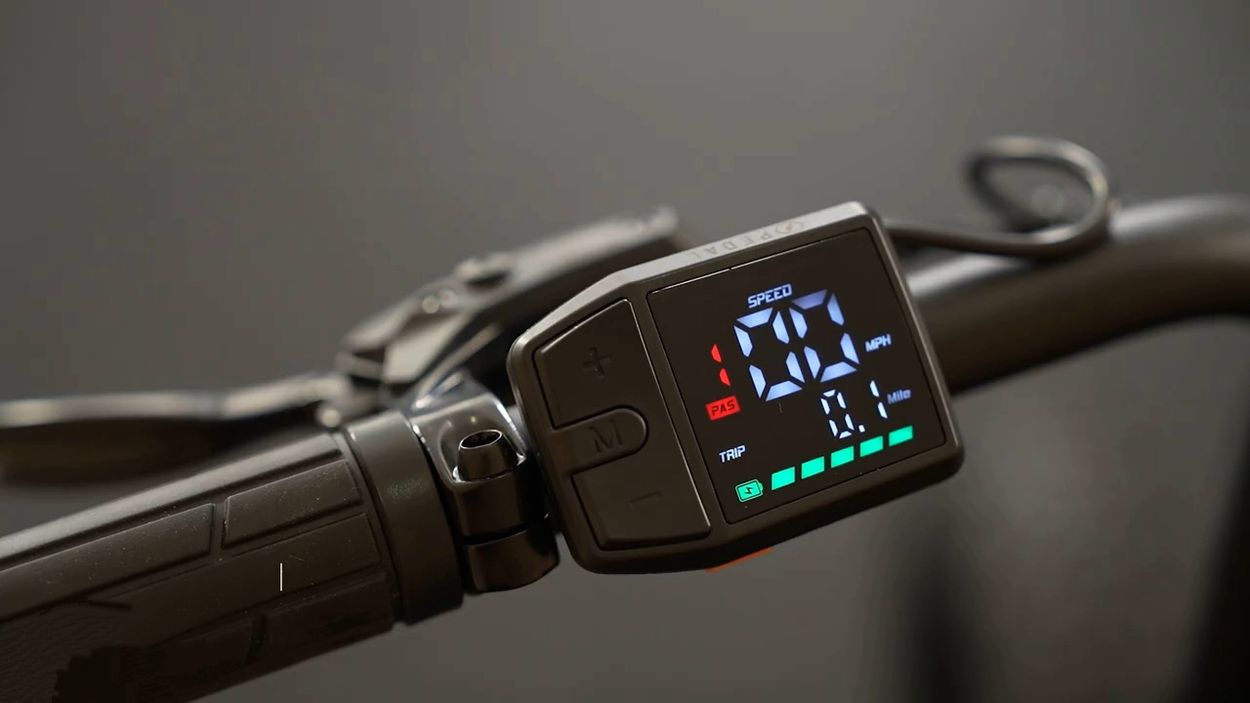 Looking at the results chart, it is evident that the Pedal Core maintains a mellow top speed in the first three PAS levels and then noticeably takes off once you engage PAS 4 and PAS 5. This design choice is beneficial, especially when carrying a passenger. Carrying a passenger on an e-bike or motorcycle presents unique challenges, as their comfort and safety need to be considered. Gradual acceleration allows passengers to acclimate and feel more at ease during the ride. Sudden and aggressive acceleration can make passengers nervous and potentially dampen the overall riding experience.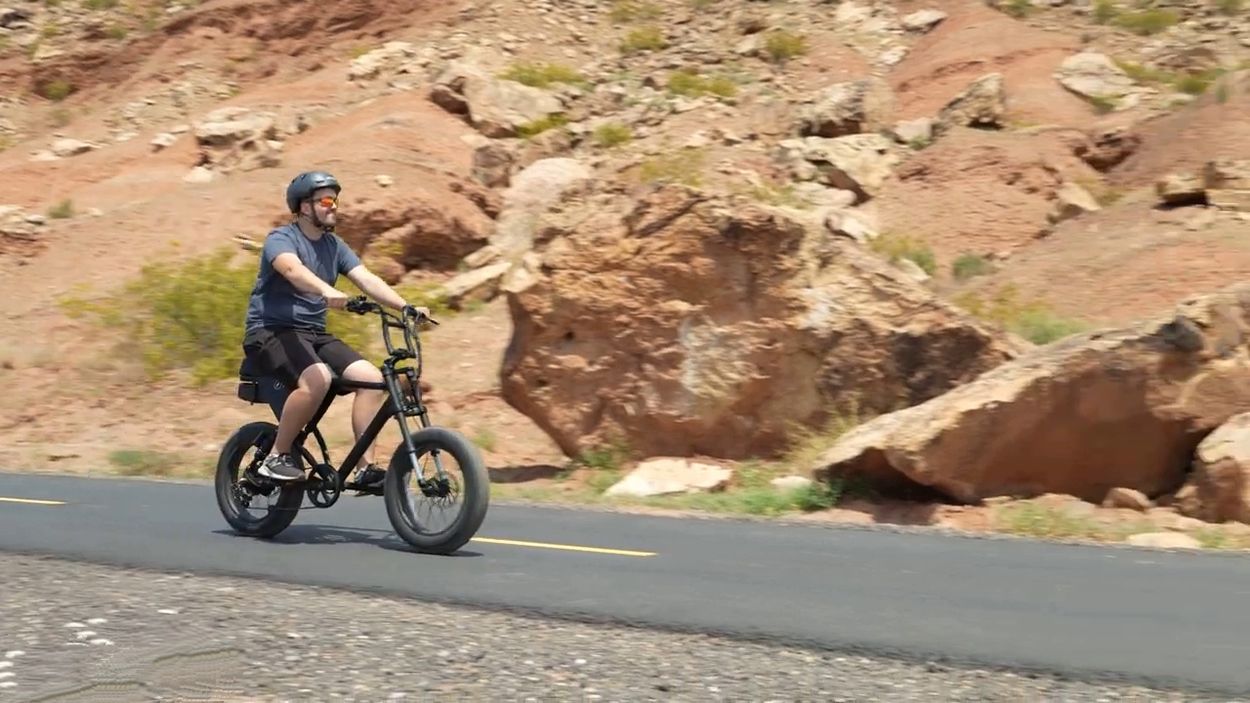 The Pedal Core's approach to acceleration is particularly relevant for new riders who may be attracted to this unique style of e-bike. As a newcomer to e-biking, having a bike that allows for a gentle learning curve and lets riders become accustomed to riding at slower speeds before unleashing full power is beneficial. It promotes a safer and more enjoyable riding experience for those who are new to this type of electric bicycle.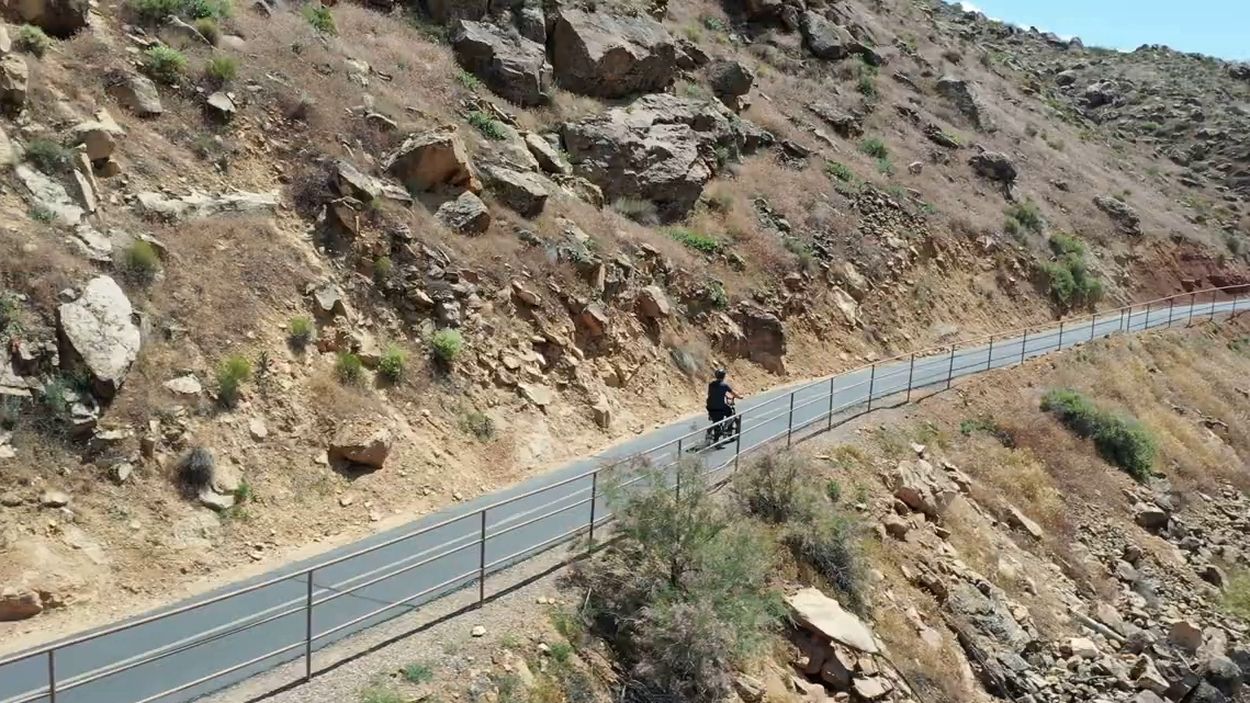 The Pedal Core excels in terms of overall riding comfort, offering a pleasant and enjoyable riding experience. The long and cushy saddle contributes to the comfort factor, ensuring a relaxed seating position during rides. The easy pedaling, grabbable grips, and levers further enhance the comfort and control riders have over the bike. These features combined with the smooth suspension and excellent Fat Tire tracking result in a comfortable and stable ride.
Battery and Range
The battery performance of an e-bike is a crucial aspect that riders are interested in, particularly regarding its range and capability on hills. Let's address these questions for the Pedal Core and discuss the range tests conducted.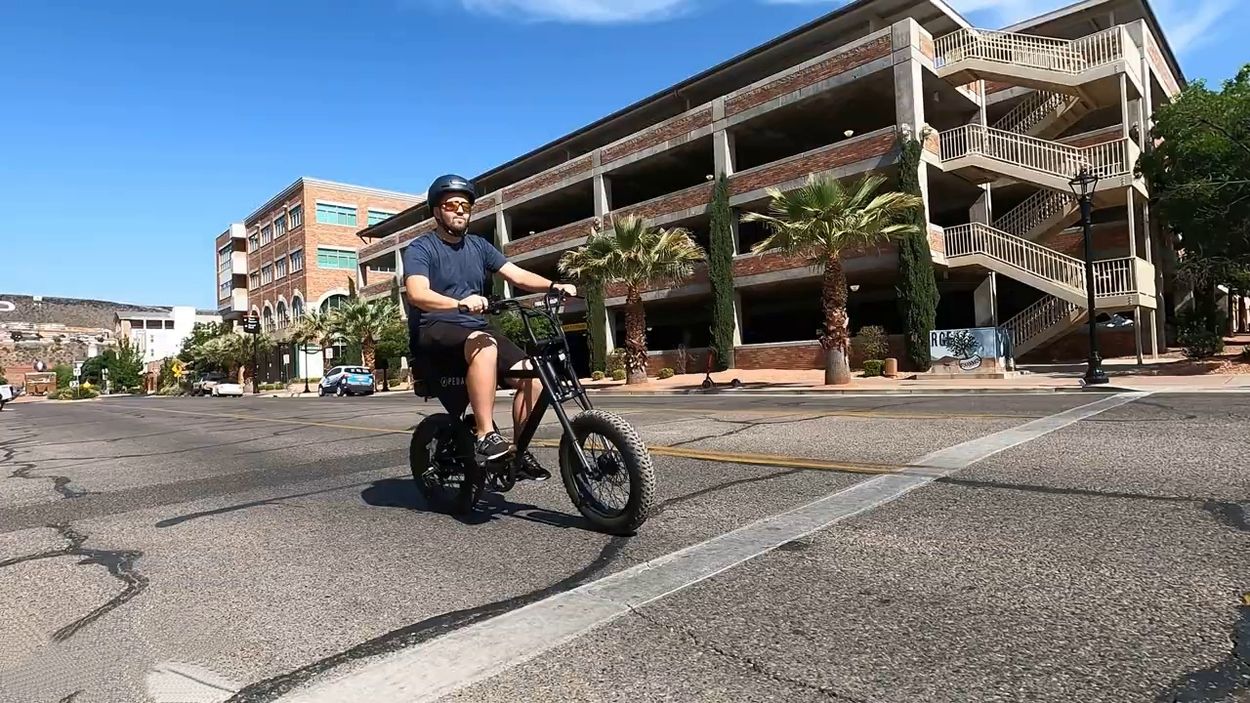 The Pedal Core comes equipped with a 15 amp hour battery, which offers an impressive capacity for extended rides. In the long-range test, using PAS 2 and pedaling, the battery allowed the test rider to cover a distance of 60 miles in 8 hours and 20 minutes. The average speed during this test was 9 miles per hour. While this result may seem slower compared to some other e-bikes, it indicates that the Pedal Core can cover a significant distance and accommodate longer rides, especially when riding at a steady pace on smooth roads. This test also demonstrates the bike's ability to handle rides with a passenger, as the battery lasted for such a substantial distance.
It's important to note that off-roading and riding styles can affect the range, reducing it compared to riding on smooth roads. However, in the second range test using PAS 5 throughout the ride, the Pedal Core covered a distance of 37 miles in two hours and 10 minutes. The average speed reached 20 miles per hour. This test showcases the bike's capability to deliver a fun and enjoyable riding experience while still offering a satisfactory range.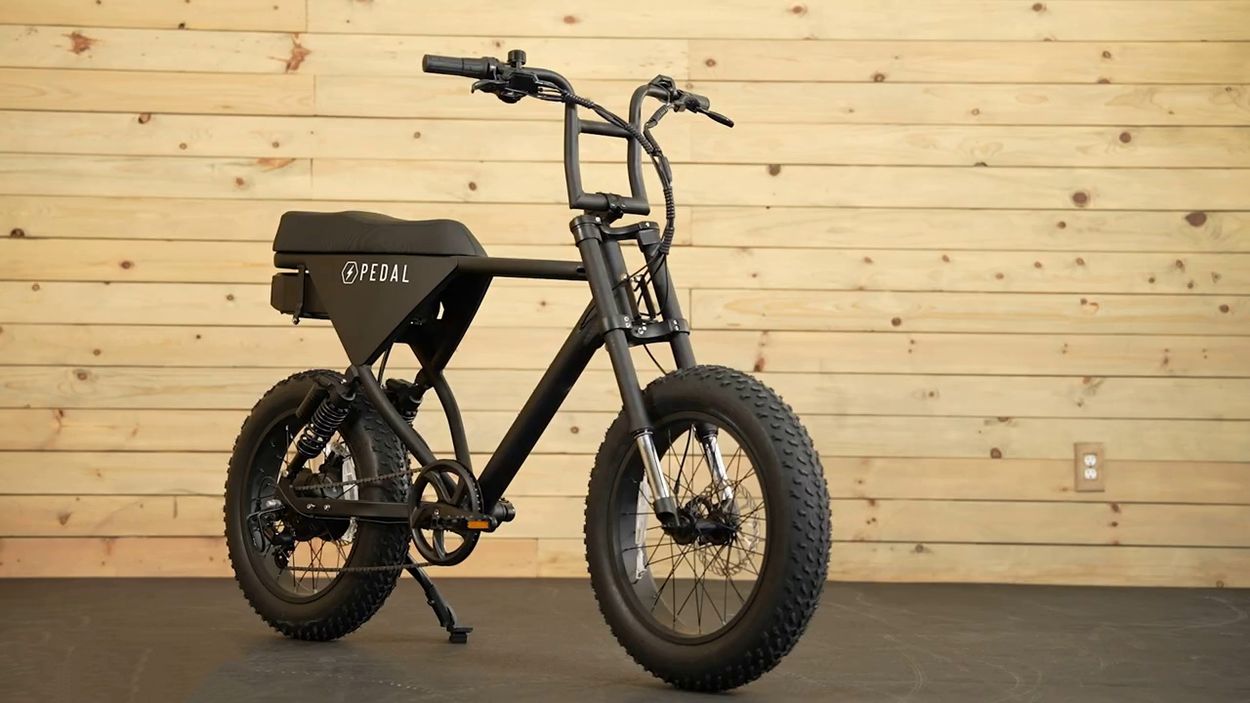 While the Pedal Core's battery performance is commendable, it is worth considering the option of having a second battery available. This would allow riders to extend their riding time before requiring a recharge. Implementing a second battery could be a potential enhancement for Pedal Electric to consider, whether by mounting it on the down tube or the seat tube.
Conclusions
In the end, the Pedal Core is a well-designed and meticulously built e-bike that delivers exceptional riding experiences. It encompasses many desirable features of a Moto-style e-bike, such as advanced suspension, fat tires, and a BMX-inspired aesthetic. This bike caters to adventure seekers and off-road enthusiasts, while also serving as a reliable option for city commuting and cruising, as demonstrated in the circuit test results.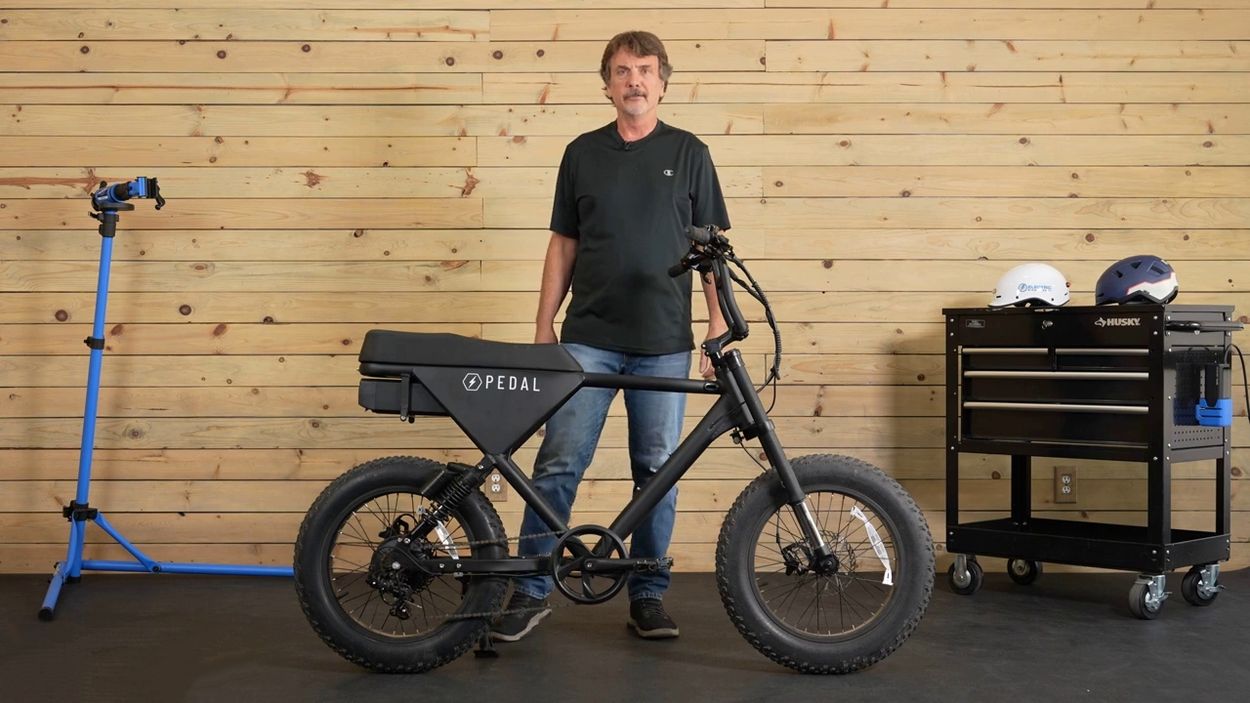 The Pedal Core strikes a balance between being a mellow ride and a powerful performer. Riders can enjoy a tame and relaxed experience in PAS 1 or 2, while also having the ability to unleash the bike's full potential and experience thrilling acceleration when desired. The 750-watt motor offers a versatile power band that caters to various riding styles and preferences.
One of the Pedal Core's strengths is its ability to offer off-road capability at a more accessible price point compared to higher-end e-motocross bikes. It provides a crossover option for riders seeking adventure and versatility without breaking the bank. Furthermore, its flexibility as a Class 2 or Class 3 bike allows for a broader range of usage in different areas, reducing the need for additional red tape or specialized licenses.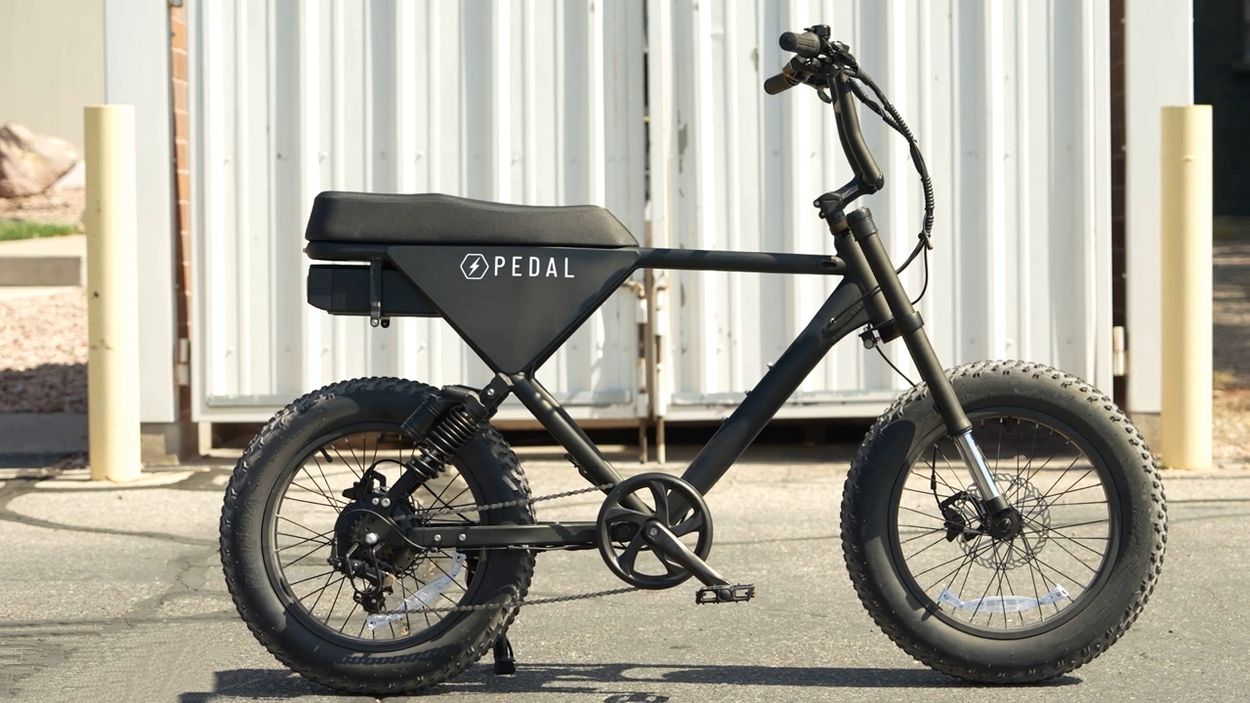 Ultimately, the Core stands out among its competitors, offering numerous advantages and positives. It is a well-rounded e-bike suitable for various riding preferences and environments. If you found this review helpful, please show your support by liking the article and consider subscribing to the Electric Bike Report Channel for more informative content.
Alternatives of
Pedal Core