I just received an exciting notification about a new delivery, and it's no ordinary package—it's an absolute beast of a ride. This new Nanrobot LS7 PLUS is the latest iteration of a scooter that I previously reviewed last year.
The previous model had a 60-volt system and managed to reach top speeds exceeding 60 MPH. However, the anticipation for this new LS7 PLUS is even more electrifying, as it's expected to hit an astonishing 75 MPH. I can't wait to get my hands on it and see what this powerhouse is all about.
Before I dive into unboxing and testing this incredible scooter, I have to mention how impressive it looks. This thing is absolutely bonkers in the best way possible. It exudes a cool and powerful vibe, promising an extraordinary riding experience.
| | |
| --- | --- |
| Rame material | 6061 All-aluminium alloy frame |
| Motor | 3000Wx2 Dual Drive |
| Max. Speed | 75 MPH |
| Tire Size | 11" Off-road Tires |
| Braking System | Dual Hydraulic Brake |
| Tire Pressure | 45 PSI |
| Suspension | C-tyre Front and Rear Spring Suspension |
| Charging | 2 ports (comes with 1 charger) |
| Battery Capacity | 72V-32AH |
| Max. Range | 43 Miles |
| Max Rider Weight | 330 lbs |
| Product Size | 143x70x136CM(LxWxH) |
Unboxing
Unboxing the Nanrobot LS7 PLUS is an exciting experience, although it appears that the shipping company didn't handle the package with the utmost care. The box is taped shut, and there are some noticeable holes and damages. Thankfully, there's a label advising not to discard the box, which suggests that the scooter inside is still in good condition.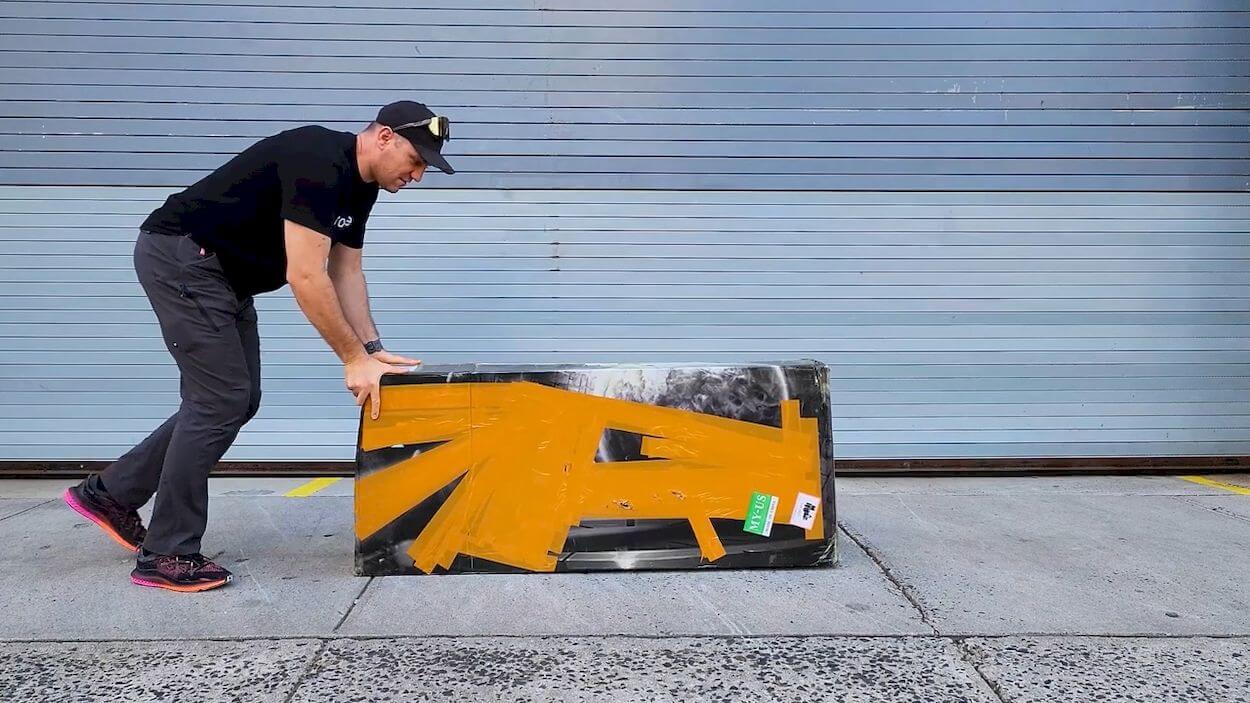 Despite the external damage to the box, it's evident that Nanrobot has taken precautions to ensure the LS7 PLUS arrives safely. The packaging inside seems to provide ample protection. There's a sense of relief that the contents are likely intact.
Upon opening the box, you are greeted with an array of components that promise an exciting adventure. Among the items included are the steering damper, a remote control, an M tool, an extension air hose, and of course, the LS7 PLUS scooter itself.
Design and Build Quality
The LS7 PLUS, the upgraded version of its predecessor, immediately stands out with its impressive design. The scooter boasts a wide and massive body frame, showcasing the manufacturer's attention to build quality and sturdiness. The rear and front coil hydraulic suspension system gives a sense of confidence in its ability to handle rough terrain. The stem and handlebar design are clean and sleek, reflecting a more modern and organized approach. The use of fewer buttons and improved cable management contribute to a neat and uncluttered appearance.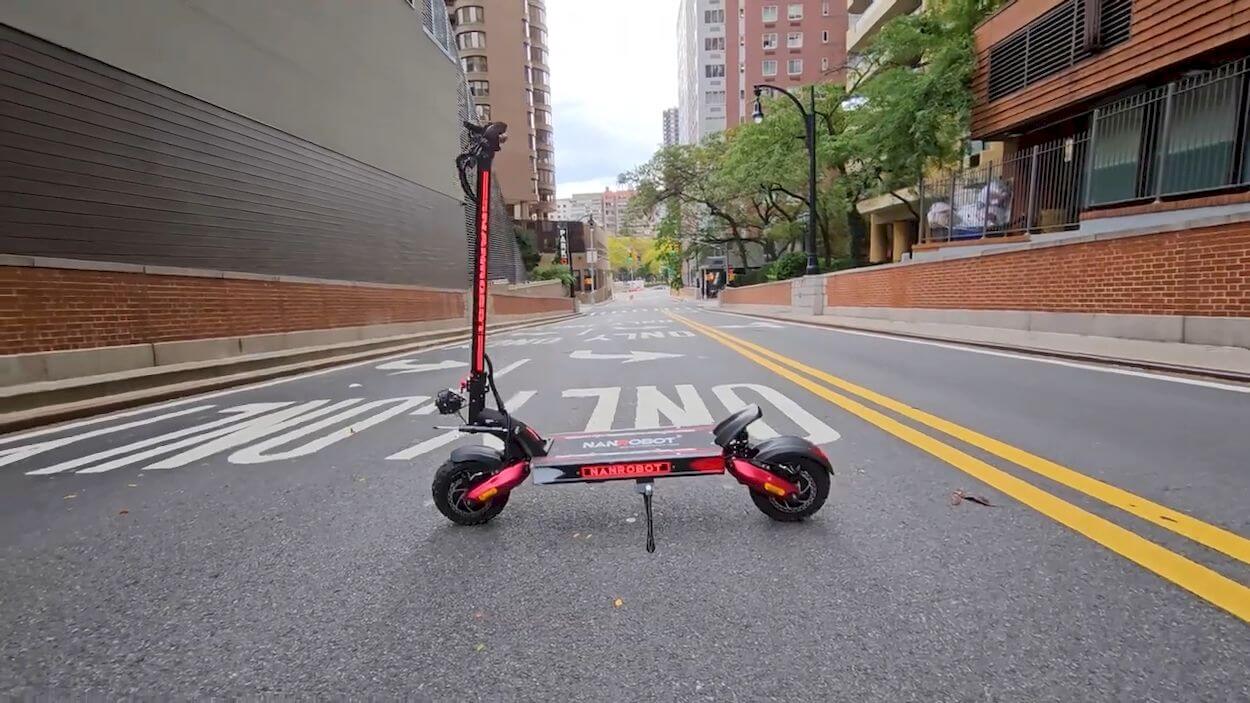 One of the most eye-catching features of the LS7 PLUS is its 11-inch massive knobby tires. These not only provide an aggressive and sporty look but also contribute to enhanced stability and comfort during high-speed rides. With a maximum RPM of 3,212, this scooter has some impressive power under its hood.
Despite its size and weight, weighing in at 117 pounds (53 kilograms), the LS7 PLUS seems to offer a comfortable and stable ride experience. With a maximum load capacity of 330 pounds (150 kilograms), it can accommodate a wide range of riders. The suspension, despite its bulk, promises a smooth and agile feel on the road.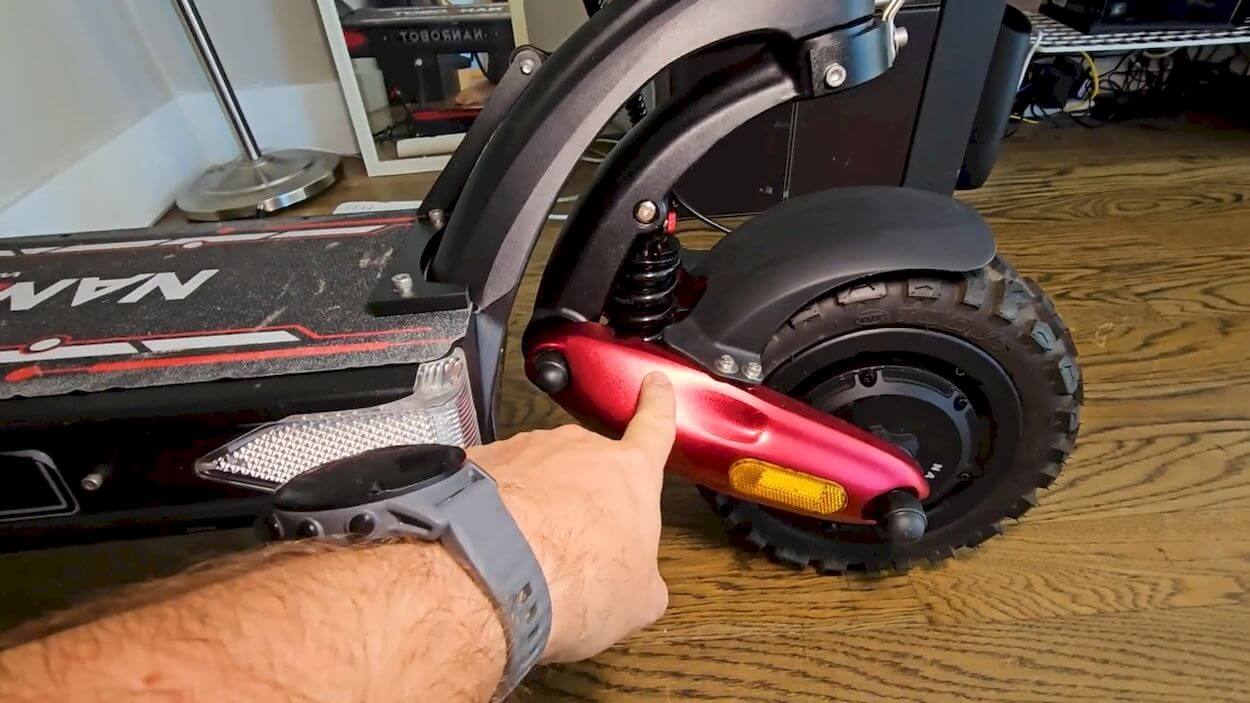 The scooter's design is visually striking, with its wide and massive body frame, giving it an aggressive and sporty appearance. One of the standout features is the thoughtful wire management, which is neatly executed. The connectors, although a bit bulky, are well-organized. It's suggested that placing these connectors at the bottom might make them less visible, but overall, the organization is commendable.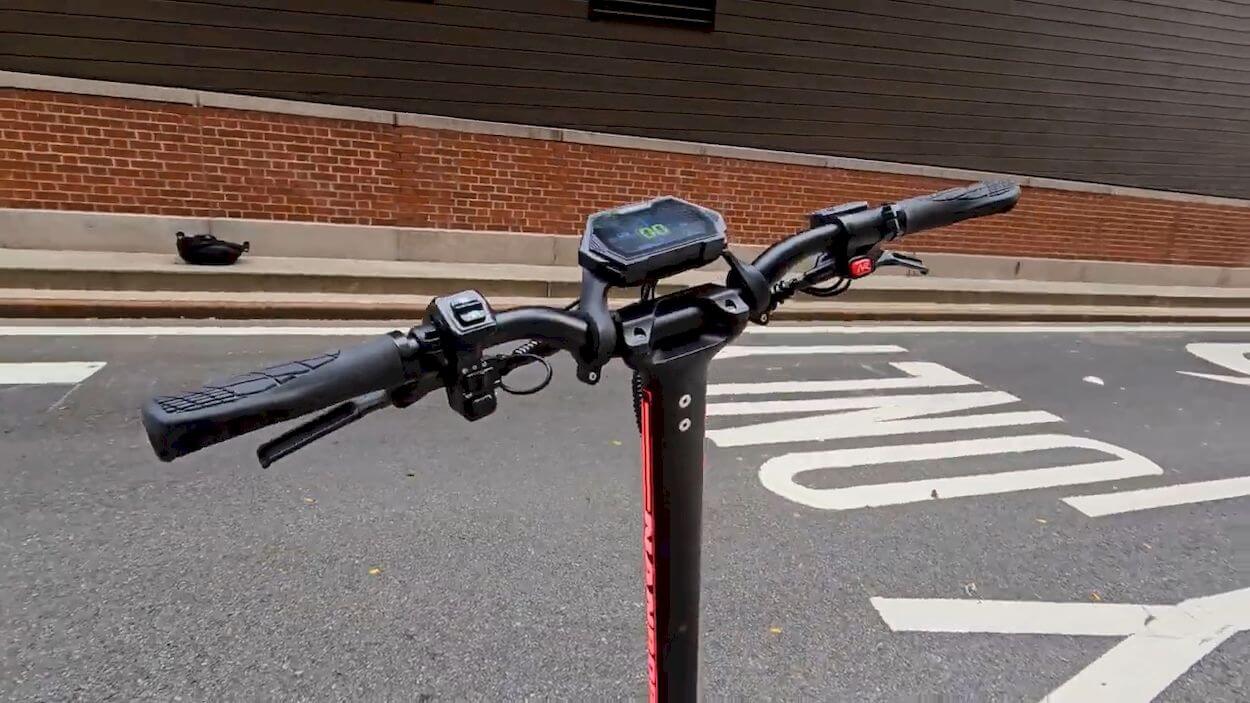 The LS7 PLUS showcases a new screen and improved controls. The console features fewer buttons, providing a cleaner and more organized appearance. The grips are secure and comfortable, and the new hydraulic disc brakes offer ease of use with one or two fingers. The placement of controls for lights, turning signals, and the horn is well thought out, making them easily accessible. However, it is noted that these controls might be a bit challenging to use with gloves.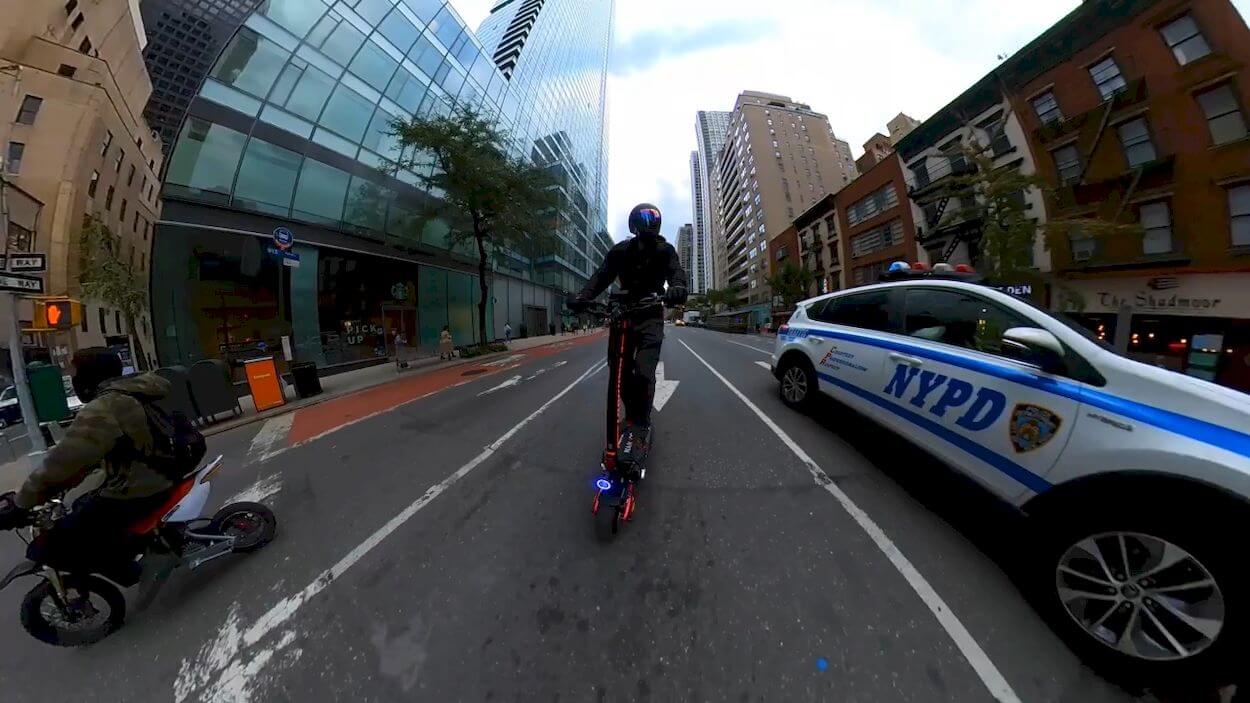 The scooter's display is clean and intuitive. It offers various settings, such as changing between single and dual motors, and you can easily access the P settings for customization. The display provides essential information like voltage, battery capacity, gear, speed, and distance covered. It is responsive and user-friendly.
The scooter's build quality seems solid. It features massive 11-inch knobby tires that provide excellent traction, especially for city rides. The motors are standard, but reliability has been good so far, even with the older version. The suspension system, borrowed from scooters like the Nami, is well-covered to protect it from splashes. The scooter appears to be water-resistant with a gasket, ensuring its durability.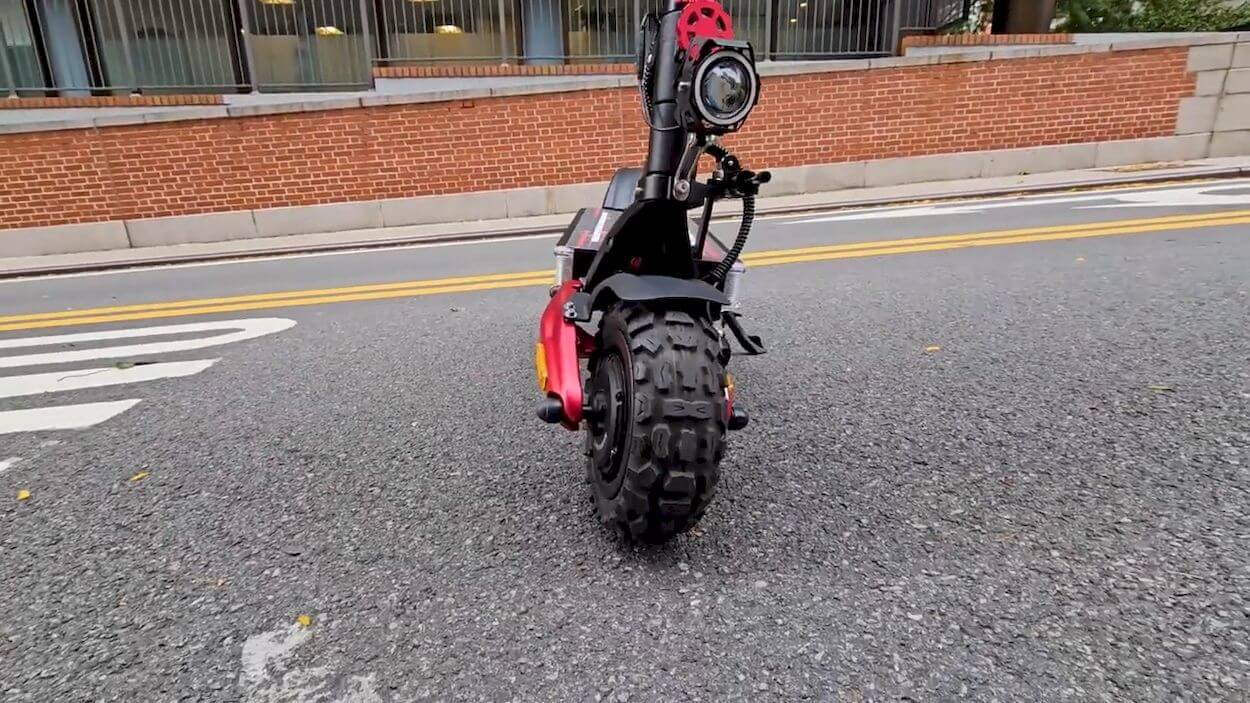 The deck size is generous, providing ample space for the rider's feet. Comfort is prioritized with a wide deck and ergonomic design. The grip tape could be improved in terms of quality, as it tends to develop waves. However, replacing it with a custom grip tape is a feasible solution.
While the scooter excels in many aspects, the front light is one area where it falls short. It is described as weak and insufficient, given the scooter's power and performance capabilities. The suggestion is to replace it with a more powerful light, placed at the top for better visibility. On the plus side, the rear brake lights and turning signals are bright and efficient, enhancing safety.
Nanrobot LS7 PLUS:
Motor and Driving Test
The Nanrobot LS7 PLUS boasts an incredibly powerful dual motor system, with a total output of 6 kW and a system voltage of 72 volts. This combination of a 3,000W rear hub motor and a 3,000W front hub motor promises an electrifying riding experience.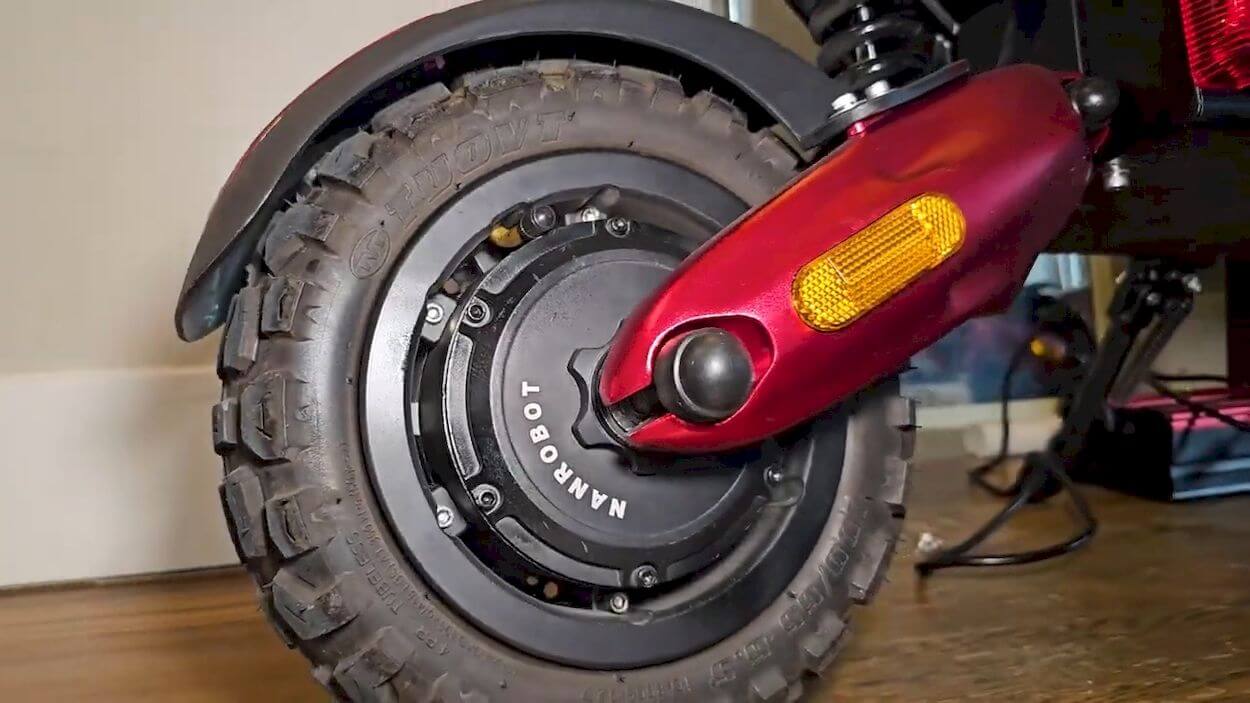 The LS7 PLUS showcases remarkable acceleration, which can be described as nothing short of insane. It's worth noting that the throttle has a dead zone trigger, which is a safety feature to prevent accidental launches. The power delivery is intense, and the scooter can achieve impressive speeds. During the test, it reached an astonishing 120 km/h, and there's a suggestion that it might even go faster with potential unlocking by the company, which is simply mind-blowing.
The scooter provides three-speed settings, and one unique feature is that to exit the park mode, you need to apply the brakes. This safety measure ensures that the scooter doesn't suddenly shoot forward when you engage the throttle. The LS7 PLUS is remarkably stable at high speeds, a feature that may surprise riders given the sheer power it offers. The video shows that it can comfortably handle rapid acceleration and maintain stability, making it a thrilling yet secure ride.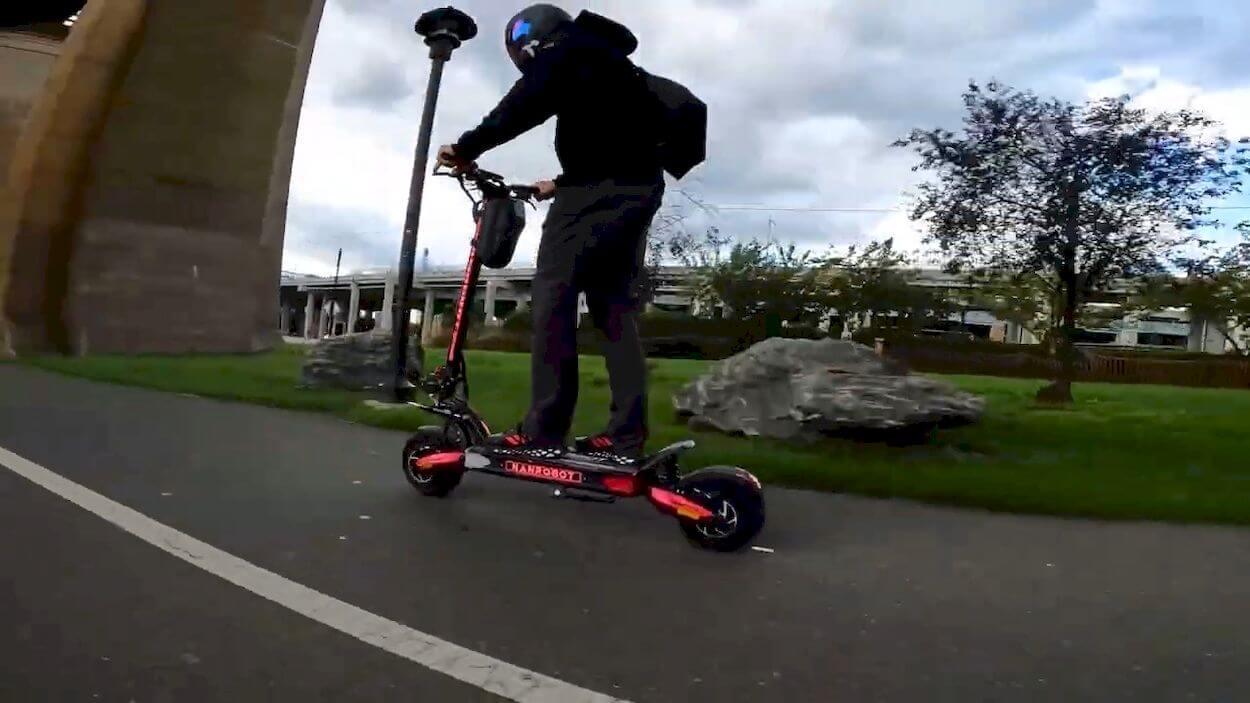 The rider comments on the comfort of the scooter, particularly highlighting the suspension system, which provides a smooth and enjoyable experience even at high speeds. The scooter's control and stability are further commended, and it's noted that it can be ridden at lower speeds as well, offering versatility for various riding preferences.
The video demonstrates how the scooter can achieve even higher speeds in a tunnel, where wind resistance is minimal. This showcases the LS7 PLUS's potential for speed enthusiasts who are looking for an exhilarating ride.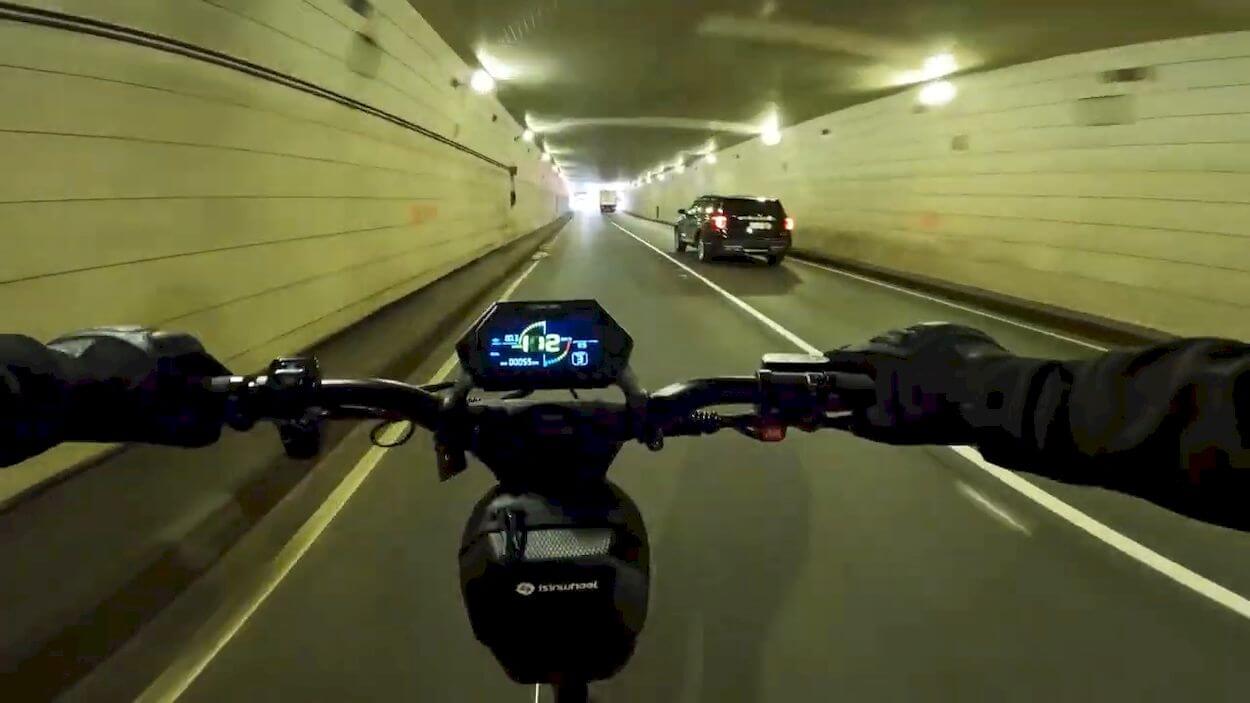 The rider emphasizes the importance of safety, mentioning protective gear such as a helmet and a jacket. These safety measures are crucial when operating a high-performance scooter like the LS7 PLUS, especially when pushing it to its limits.
So, the Nanrobot is a beast of a scooter, delivering an extraordinary blend of power and performance. With its dual 3,000W motors and 72V system, it's designed for those who seek adrenaline-pumping rides. Despite the astonishing acceleration and top speeds, the scooter's stability and control are commendable, making it a thrilling yet secure option for riders.
Battery and Range
The battery of the Nanrobot LS7 PLUS is a critical component of this high-performance electric scooter.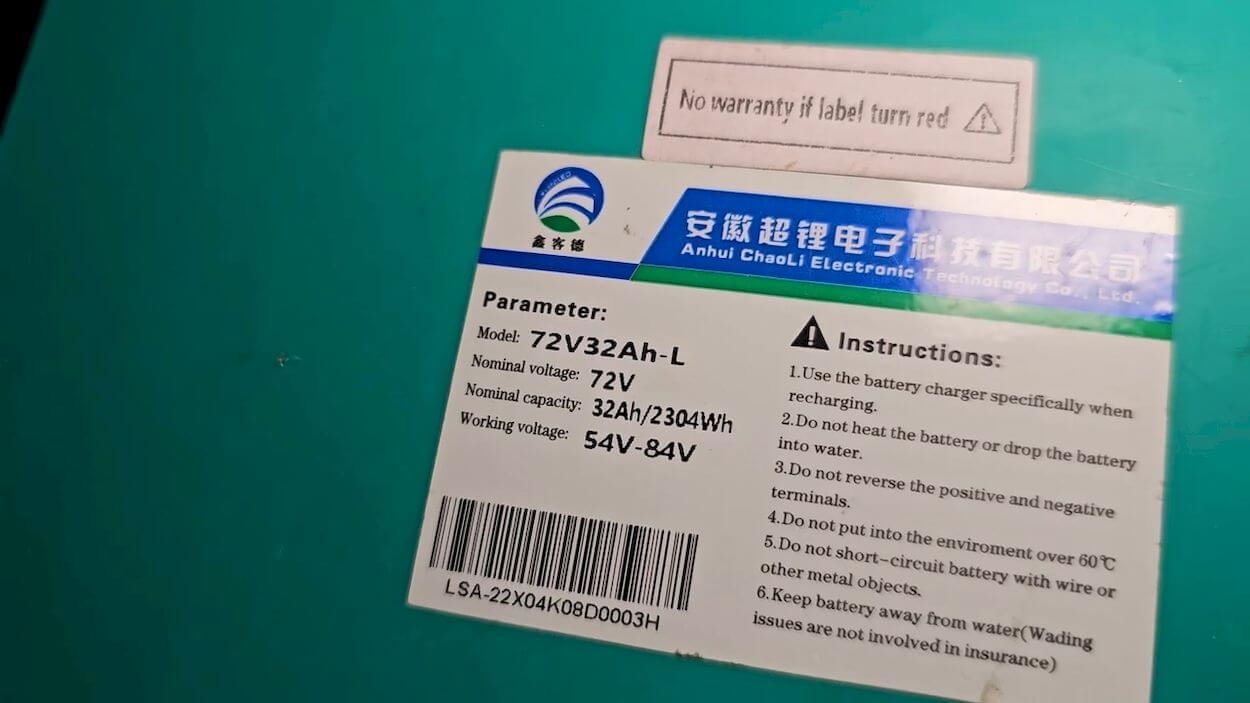 Battery Specifications:
Voltage: The battery system operates at 72 volts, which is quite substantial and contributes to the scooter's impressive power output.

Capacity: With a capacity of 32 amp-hours, the battery can deliver a substantial amount of energy, equivalent to 2.3 kW (kilowatts).
The battery compartment is spacious, and there's an intriguing observation about its size. It's noted that the battery does not occupy the entire available space. There's extra room within the compartment, allowing for the potential installation of a larger battery. The presenter suggests that a larger battery option could be offered, given the ample space, providing more capacity for those who want extended range or power.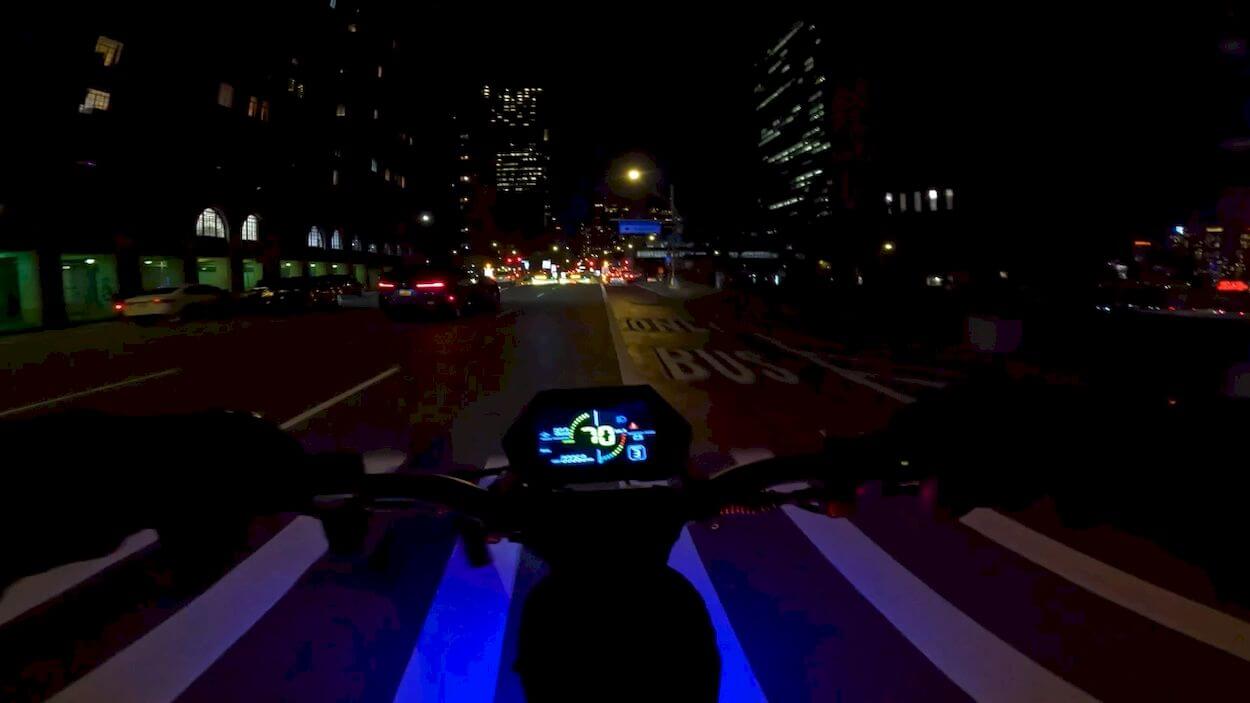 Within the battery compartment, various components are neatly organized. The controller and the wiring are well-laid out. The wiring could potentially be optimized for a cleaner look, but overall, it's described as acceptable. There are also fuses in place to protect the system.
The scooter comes with a charger that's commended for its quality. However, it's worth noting that the included charger has an output of 3.3 amps, which means it would take approximately 10 hours to fully charge the battery from empty. To expedite the charging process, the presenter switched to a more powerful 10-amp charger, reducing the charging time to around 3 hours.
One point of note is the fuses in place. The original fuses are 5-amp rated. To accommodate the 10-amp charger, the presenter replaced the fuses with 10-amp fuses. However, it's advised not to exceed a 10-amp charging rate without proper verification, as the scooter's Battery Management System (BMS) and setup may not support higher amperage charging.
The battery compartment appears to have a rubber gasket sealing it, ensuring a level of waterproofing. This design feature should protect the battery from water exposure, allowing riders to use the scooter in rainy conditions without concern.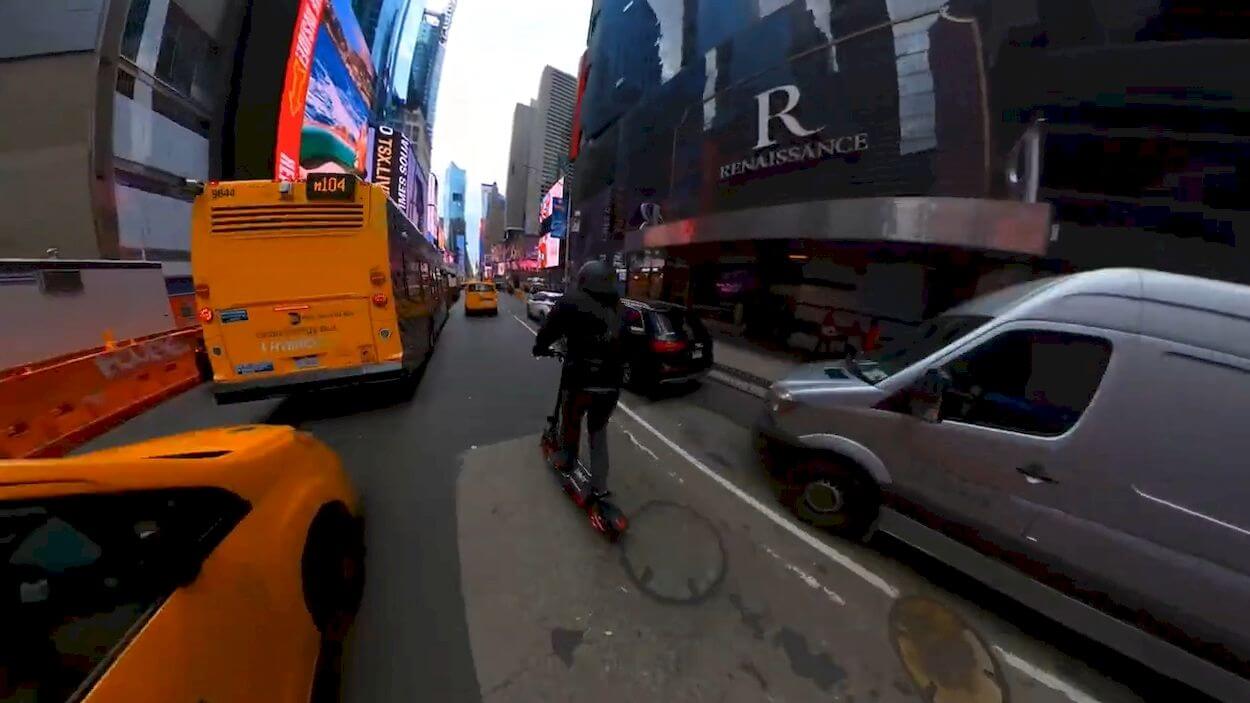 The presenter initially rode the scooter for approximately 10 miles and noticed only a minimal voltage drop, indicating the robust performance of the battery. A dedicated range test was planned to provide precise figures, but it's mentioned that the battery appeared to retain its charge effectively during this initial test.
Conclusions
Overall, the Nanrobot LS7 PLUS is a high-performance electric scooter that stands out for its incredible power, impressive design, and noteworthy battery capacity. During the pre-sale period, it offers a fantastic value at just $2,350. However, it's essential to be aware that the price will increase significantly to $22,900 after the sale, making this a limited-time opportunity to own such a thrilling scooter at a remarkably low cost.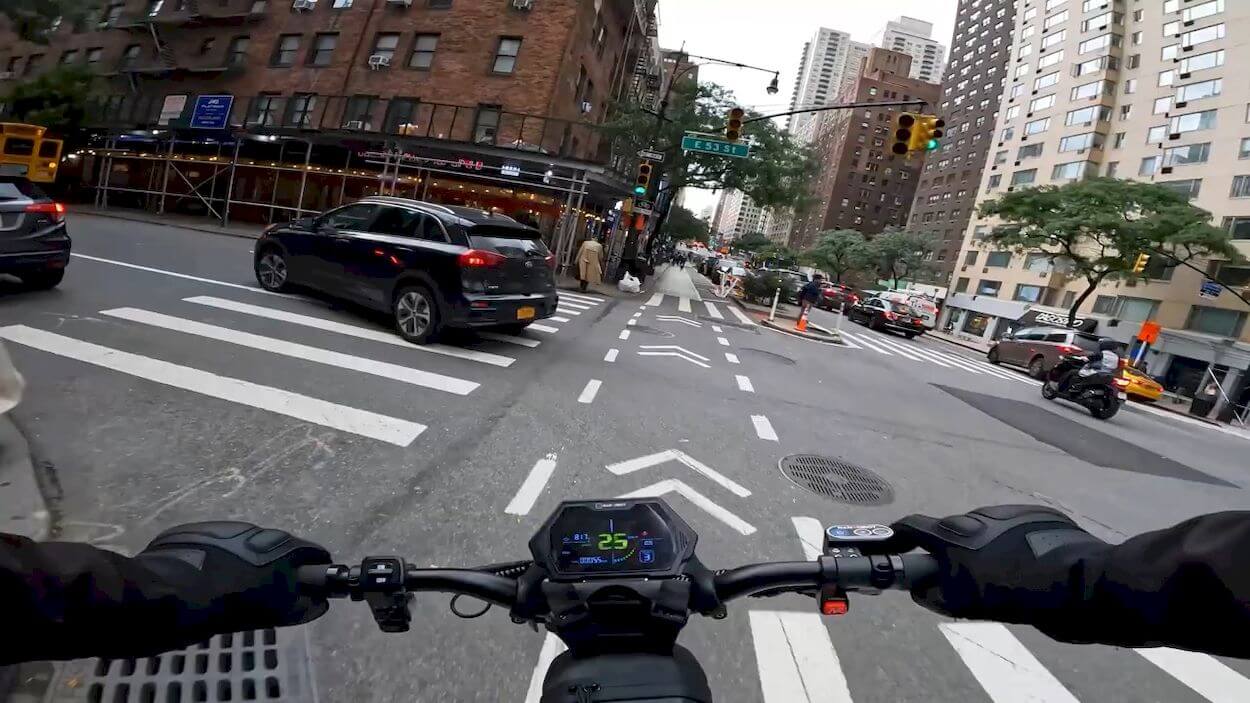 This scooter is an outstanding option for those seeking excitement, long-range capabilities, and a head-turning ride experience. Its combination of dual 3,000W motors, a 72V system, and substantial battery capacity makes it a true performance beast. If you're looking for a thrilling ride that won't break the bank, taking advantage of the pre-sale offer is highly recommended.
So, don't miss out on this incredible deal. Check out the link provided in the description box, act quickly, and secure your Nanrobot LS7 PLUS before the sale ends. Thanks for reading, ride safe, and we'll see you next time on your electrifying adventure with this exceptional scooter.
Alternatives of Nanrobot LS7 PLUS