Today's article is a product review focusing on the Kornorge A9 folding e-bike. The standout feature of this bike is its lightweight construction, making it incredibly easy to handle and transport. Additionally, its compact folding design allows it to fit into small SUVs or sedan trunks, adding to its convenience for transportation purposes.
As an e-bike, the Kornorge A9 falls under the Class 2 category, which means it offers both pedal-assist and throttle modes. In this review, we will explore all the features of the bike, take it for a spin, and assess its performance on the road. By examining the bike's design, build quality, folding mechanism, and portability, we will provide an in-depth analysis of its practicality and suitability for various scenarios.
For a limited time, the Kornorge A9 folding e-bike is available at a discounted sale price of $499.99, which represents a 29% reduction from its typical price of $699.99. Moreover, customers can take advantage of an additional $50 coupon off the sale price, providing even greater savings.
During the road test, we will evaluate how well the bike performs, taking into account factors such as speed, handling, and overall riding experience. This firsthand experience will provide valuable insights for potential buyers who are considering the A9 as their commuting or recreational e-bike.
Whether you are interested in its portability, ease of use, or overall riding experience, this review aims to provide an informative assessment to assist you in making an informed decision about this e-bike. Let's delve into the review and explore the Kornorge A9 in detail.
| | |
| --- | --- |
| Material | Magnesium alloy |
| Motor | 250W Geared Motor |
| Max speed | 15.5 Mph |
| Uphill | 15° |
| Tires | 20" tires |
| Waterproof level | IP54 |
| Safety Lights | LED Headlights and seat with light Protect your cycling safety |
| Battery | A removable 36V 7.5Ah lithium-ion battery |
| Range | Up to 25 miles on a single charge |
| Weight | 41.2 lbs / 18.7 kg |
| Payload Capacity | Max: 264 lbs/120 kg |
| Recommended Height | 5'2"~6'3'' |
Design and Build Quality
The Kornorge A9 is a compact and foldable electric bike that combines a small design with impressive build quality. Despite its initial appearance as a very small bike, the A9 is actually quite spacious and comfortable to ride. The seat post can be adjusted to a considerable height, and the handlebars are positioned relatively high, offering a comfortable riding position.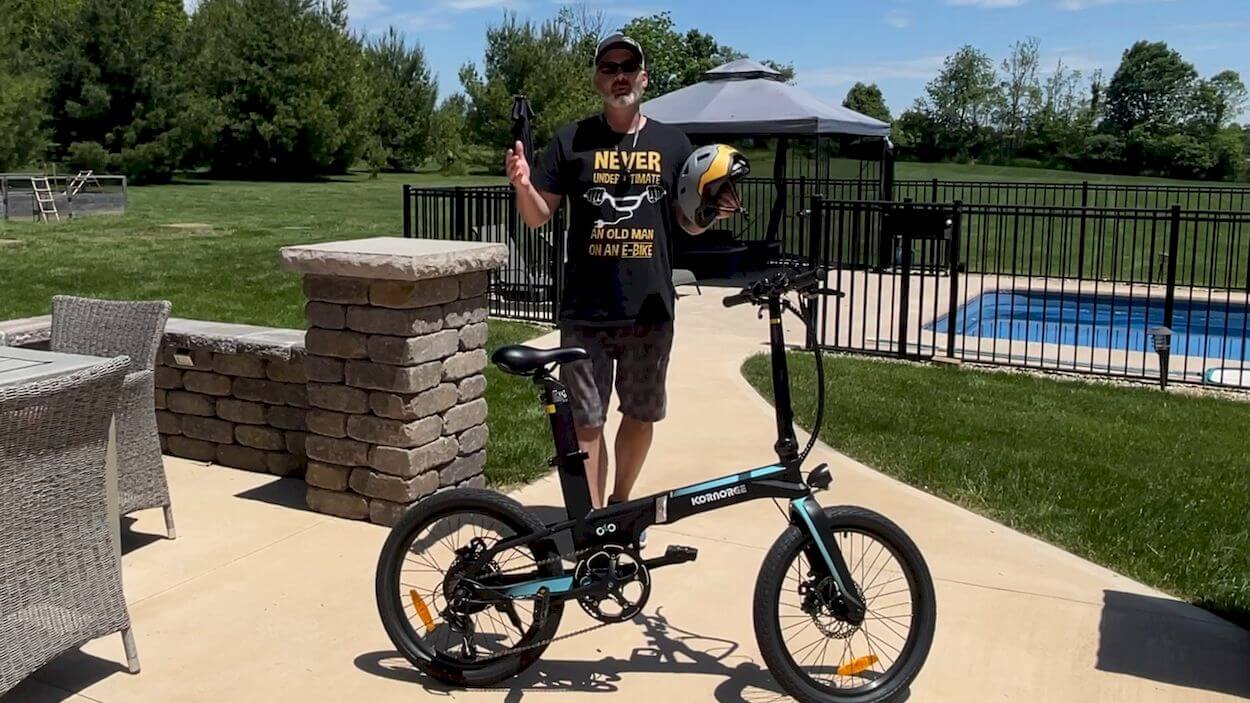 The small design of the A9 serves a specific purpose, allowing it to be easily folded and stored in small spaces such as the trunk of a car. This portability feature makes it convenient for commuters or individuals who may need to transport their bike frequently.
When examining the design and build quality of the A9, several notable features stand out. The bike is equipped with front and rear brakes, ensuring reliable stopping power and safety. The control panel, located conveniently within reach, offers three different modes: pedal assist, straight throttle, and a display showing kilometers per hour, trip distance, and battery life.
The handlebars are adjustable using a simple locking mechanism, allowing riders to customize their riding experience easily. Additionally, the A9 includes a bell for alerting pedestrians and other cyclists, enhancing safety during rides.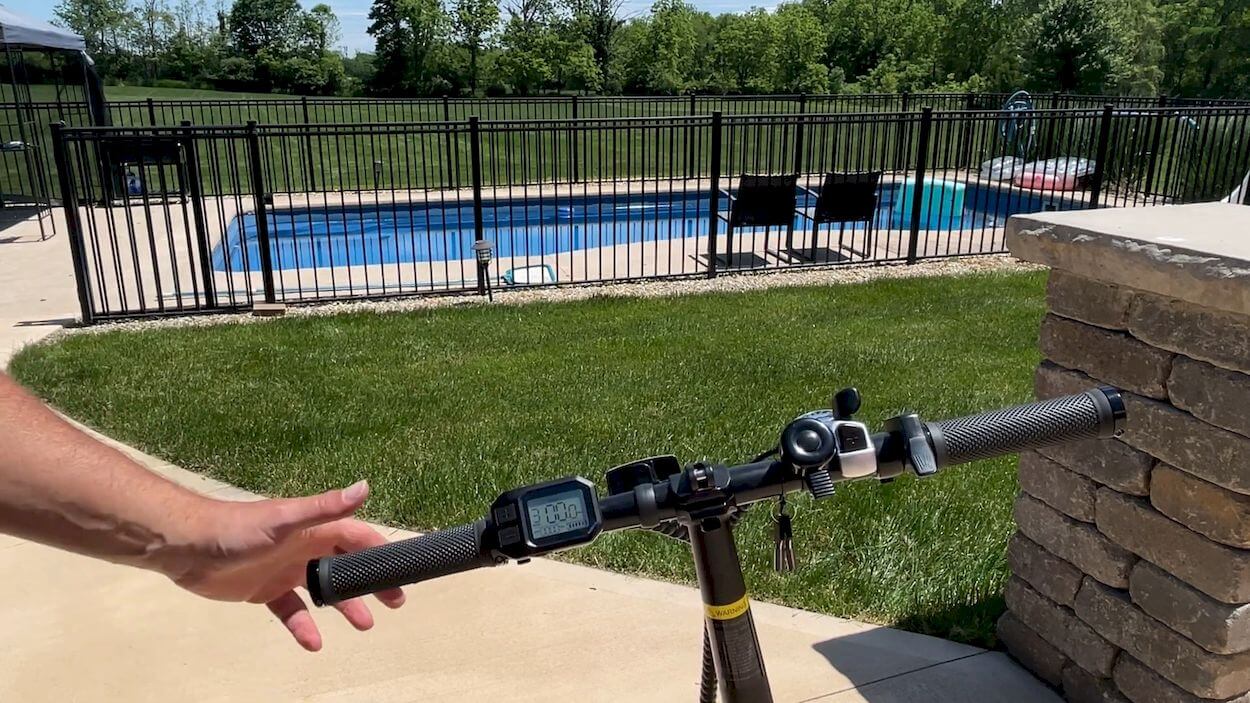 To power the electric motor, the bike is equipped with a battery that can be easily removed using the included set of keys. This feature allows for convenient charging or replacement of the battery when needed. The motor itself provides sufficient power for various riding conditions, whether it's utilizing the pedal-assist mode or relying on the throttle.
In terms of gear shifting, the Kornorge A9 incorporates a seven-speed Shimano shifter. This shifter enables riders to switch between gears effortlessly, adapting to different terrains and riding preferences.
One of the cool features of the Kornorge A9 electric bike is its foldable design, which includes foldable pedals. This allows you to further reduce the bike's size when folding it for storage or transportation. By folding up the pedals, you can make the A9 even more compact, making it easier to fit into small spaces or carry in a car.
The compact size achieved through the folding process makes the Kornorge A9 highly portable. It can be easily placed in a car for transportation or carried with you on the go. Compared to other foldable e-bikes on the market, which typically weigh between 60 to 80 pounds, the A9's weight of 41 pounds is relatively light. Considering the inclusion of the mechanical components, heavy-duty aluminum alloy frame, battery, and motor, the weight is quite reasonable. This lightweight feature adds to the bike's convenience, making it suitable for travel and easy handling.
The stem of the bike doubles as the battery housing, located conveniently in the center. This placement allows for easy adjustment of the battery height, catering to different rider preferences. Additionally, the battery can be easily removed, providing the flexibility to charge it indoors during winter or other unfavorable weather conditions, ensuring optimal battery performance and longevity.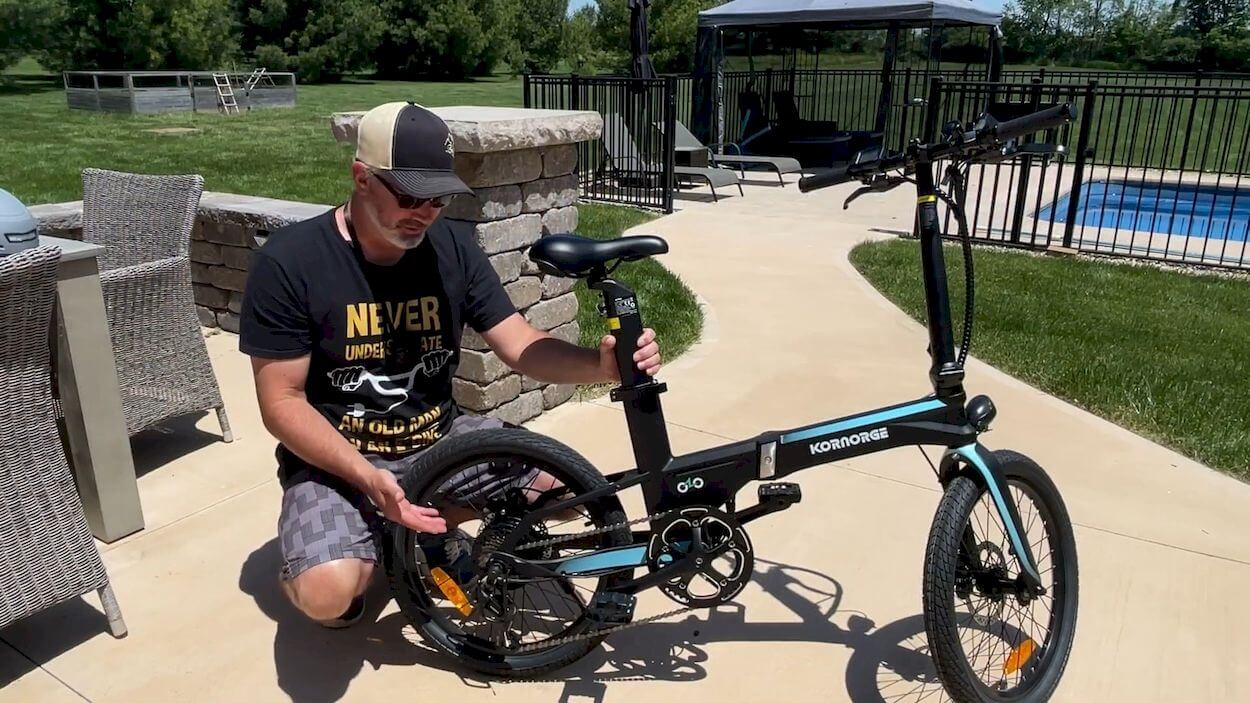 The Kornorge A9 features a rear light mounted on the seat and a reflector for enhanced visibility and safety during night rides or low-light conditions. Charging the battery is a straightforward process, as you can charge it directly without the need to remove it from the bike. The charging port is conveniently located for easy access.
The seat of the A9 is comfortable, although it may not be considered a top-end seat for e-bikes. However, it provides sufficient comfort for regular rides. If you plan to ride the bike extensively on the road, you may consider replacing the seat for a more specialized option. It's worth noting that the A9 does not have rear suspension, so you may feel bumps and vibrations more prominently. While the bike's tires are decent and suitable for urban environments, it's not recommended for off-road riding.
Motor and Driving
The performance of the Kornorge A9 electric bike is impressive, offering a combination of power and versatility for riders. The bike features a rear hub motor, positioned on the back wheel, providing efficient propulsion. With a 250-watt motor, the A9 can reach speeds of up to 25 kilometers per hour, making it suitable for urban commuting and recreational riding.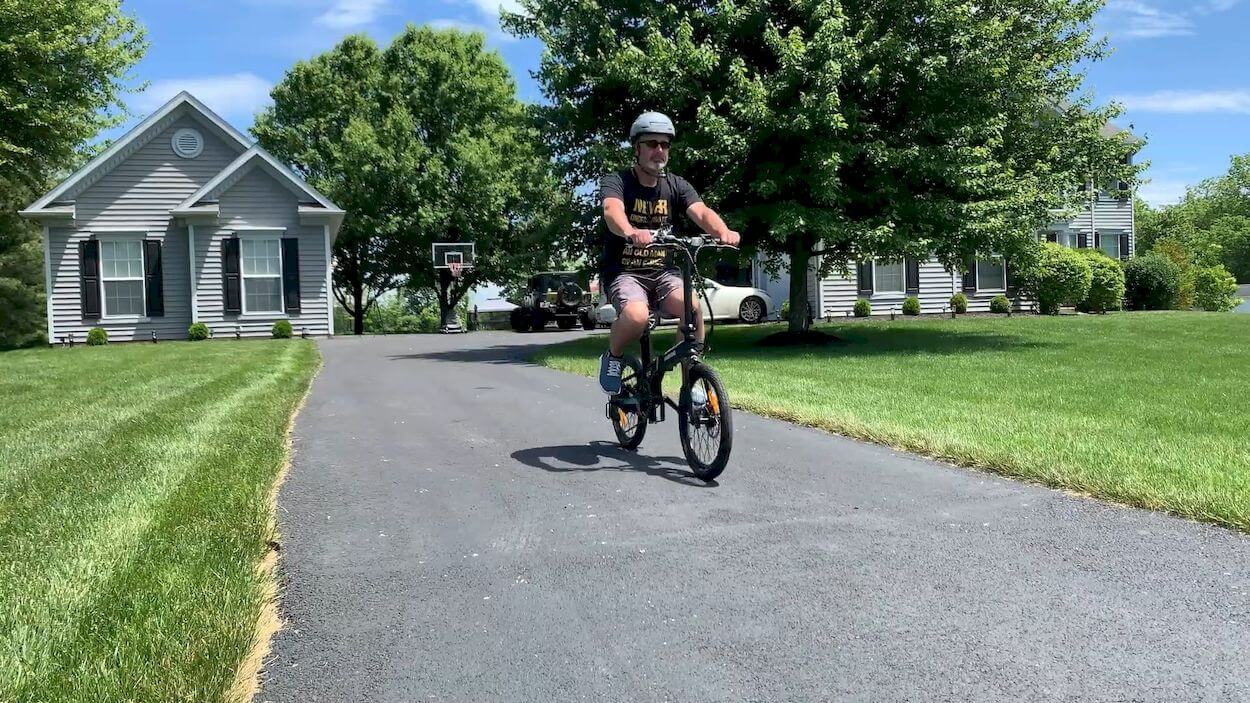 The A9 is classified as a Class 2 e-bike, meaning it offers both straight throttle and pedal assist modes. This versatility allows riders to choose their preferred method of propulsion. Whether you prefer a more relaxed ride using the throttle or want to engage in a workout with pedal assist, the A9 accommodates both options.
The bike is equipped with a derailleur, which controls the gear shifting. The derailleur system enables smooth and seamless transitions between the seven available gears, allowing riders to adapt to different terrains and gradients. This feature ensures that you can maintain an optimal pedaling cadence regardless of the riding conditions.
The Kornorge A9 is primarily designed as a commuter e-bike, prioritizing portability and convenience over off-road capabilities. Its lightweight construction and foldable design make it an ideal choice for urban commuting, allowing riders to easily carry it into their office or take it with them while traveling.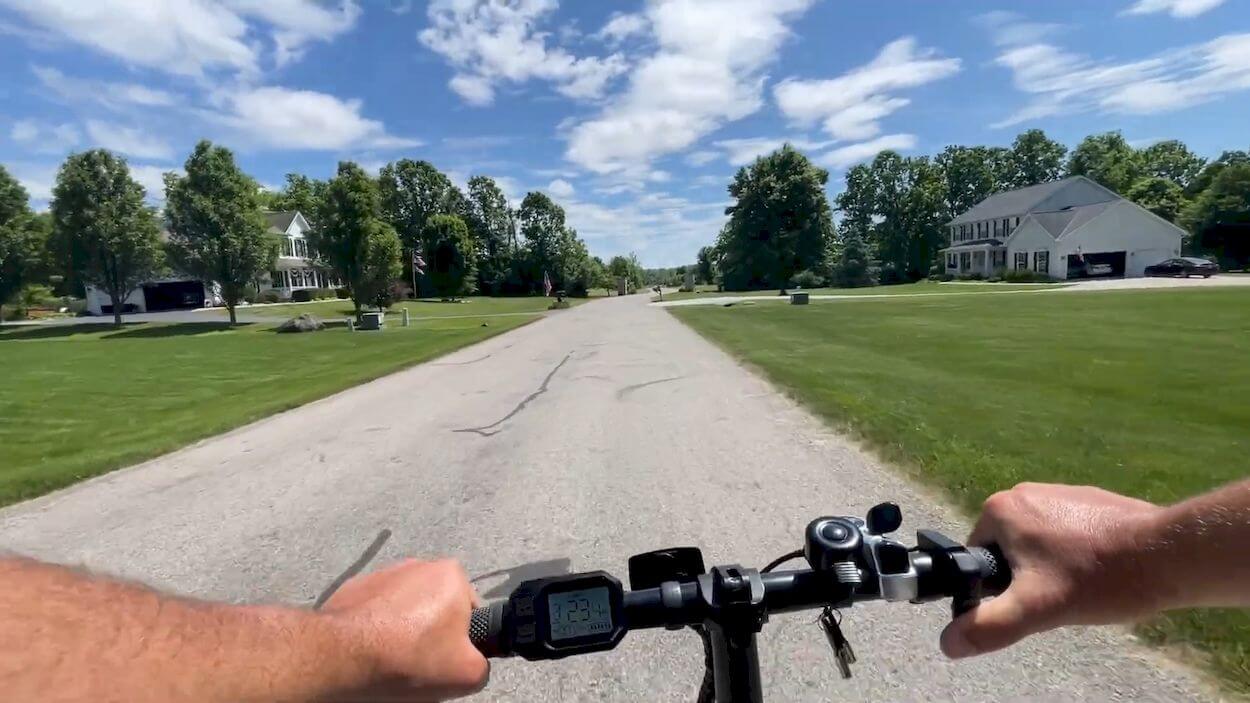 It's important to note that the A9 does not feature rear or front suspension, indicating that it is not intended for off-road use. Instead, it is best suited for navigating city streets and smooth paved surfaces. The absence of suspension means that the bike may not handle rough terrains or absorb shocks as effectively as dedicated off-road bikes.
However, the A9 does include a front light, enabling riders to safely navigate in low-light conditions. The light can be adjusted to illuminate the road ahead, providing enhanced visibility during night rides.
Regarding tire size, the A9 is equipped with 20-inch tires. While they are not fat tires, they are not extremely narrow either. This tire size allows for some versatility, and while the bike could handle light dirt paths, it is not recommended for sandy or snowy terrains. For those environments, a dedicated fat tire e-bike would be more suitable.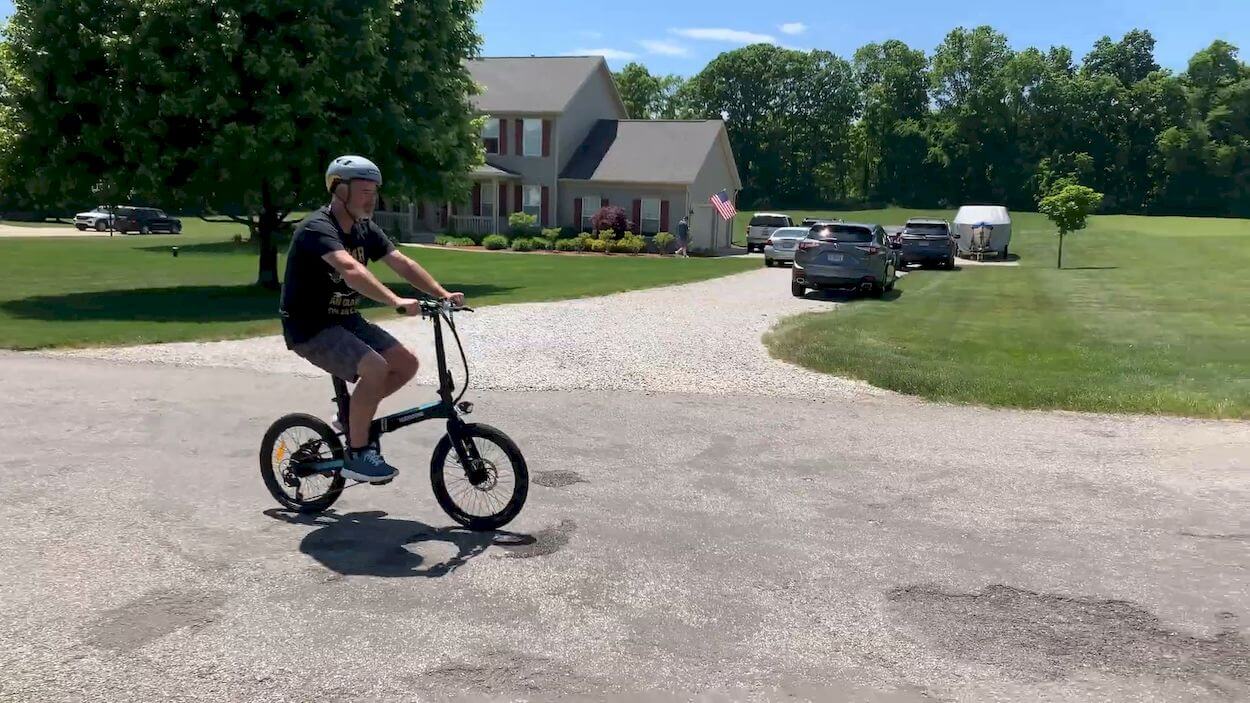 To fold the A9 for storage or transportation, you can manipulate the stem. Releasing the appropriate mechanisms allows for the folding process, further compacting the bike's size for easy handling and storage.
When riding the Kornorge electric bike in pure electric mode, you have the option to set the Pedal Assist System (PAS) to levels 1, 2, or 3, depending on your desired speed and power output. Once the PAS level is selected, you can engage the throttle to activate the bike's motor and experience effortless propulsion.
At PAS level 1, the bike will reach a speed of approximately 9 miles per hour (14.5 kilometers per hour) when using the throttle. This mode is ideal for a leisurely ride or navigating crowded areas with ease.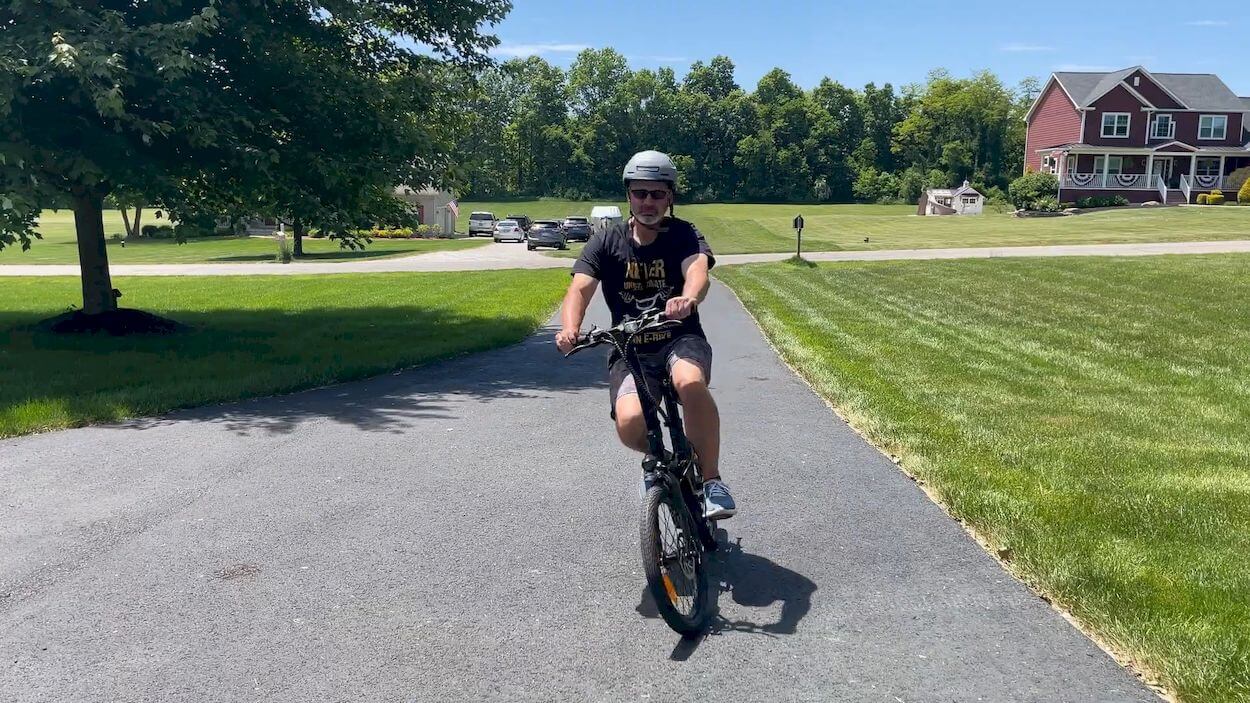 When set to PAS level 2, the Kornorge A9 can achieve a speed of around 12 miles per hour (19.3 kilometers per hour) using the throttle. This mode provides a slightly faster pace, suitable for covering moderate distances in a shorter amount of time.
If you prefer a faster electric ride, selecting PAS level 3 will propel the bike up to approximately 15 miles per hour (24 kilometers per hour) when utilizing the throttle. This mode offers a more exhilarating experience and is particularly useful when you need to reach your destination quickly or ride on open roads with higher speed limits.
Battery and Range
The Kornorge A9 electric bike is equipped with a removable 36V 7.5Ah lithium-ion battery, providing reliable power for your rides. The removable design offers convenience and flexibility, allowing you to easily detach the battery for charging or storage.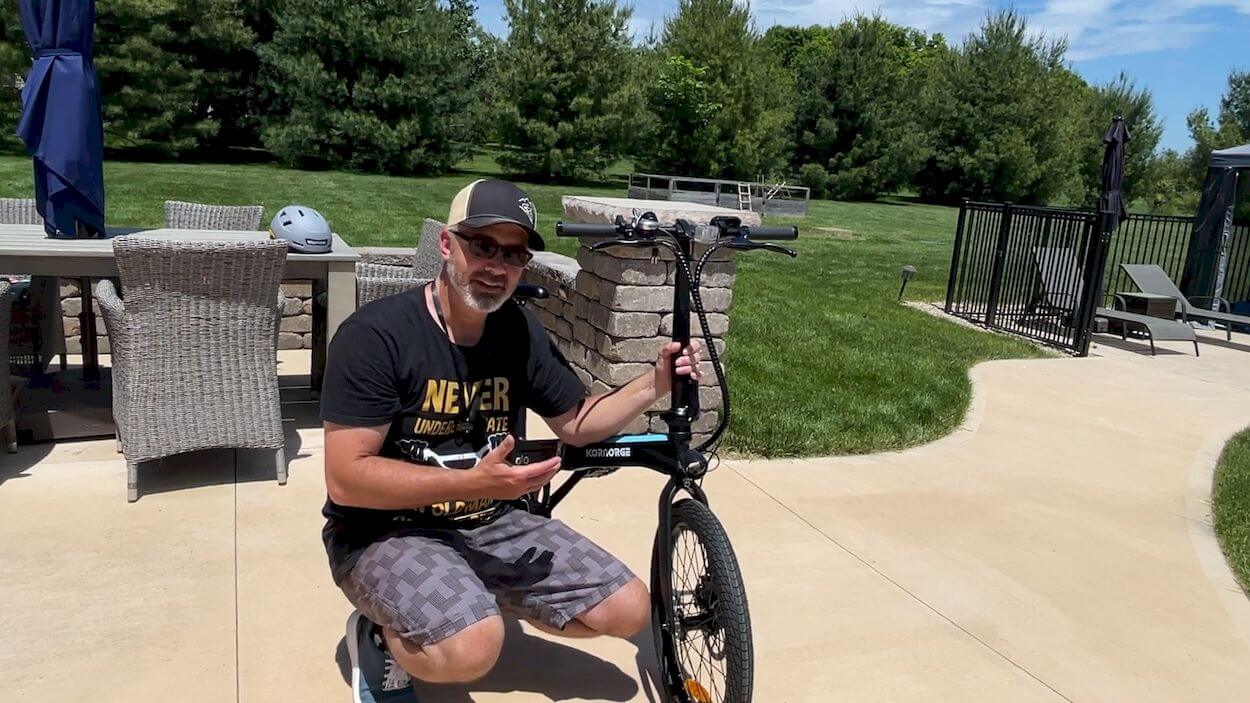 With the 7.5Ah capacity, the battery provides sufficient energy to support your cycling needs. When riding in Pedal Assist System (PAS) level 1, the A9 can travel up to approximately 25 miles (40 kilometers) on a single charge. It's important to note that the actual range may vary depending on factors such as terrain, rider weight, riding conditions, and the assistance level selected.
To ensure optimal battery performance and longevity, it is recommended to follow the manufacturer's guidelines for charging and maintenance. Charging the battery is a simple process, either by directly connecting it to the bike or removing it for charging indoors.
Conclusions
Overall, the Kornorge A9 folding e-bike impresses with its lightweight design, compact folding capability, and convenient portability. With its small size and foldable features, it becomes an excellent choice for those looking to transport their e-bike in small vehicles or easily store it in compact spaces.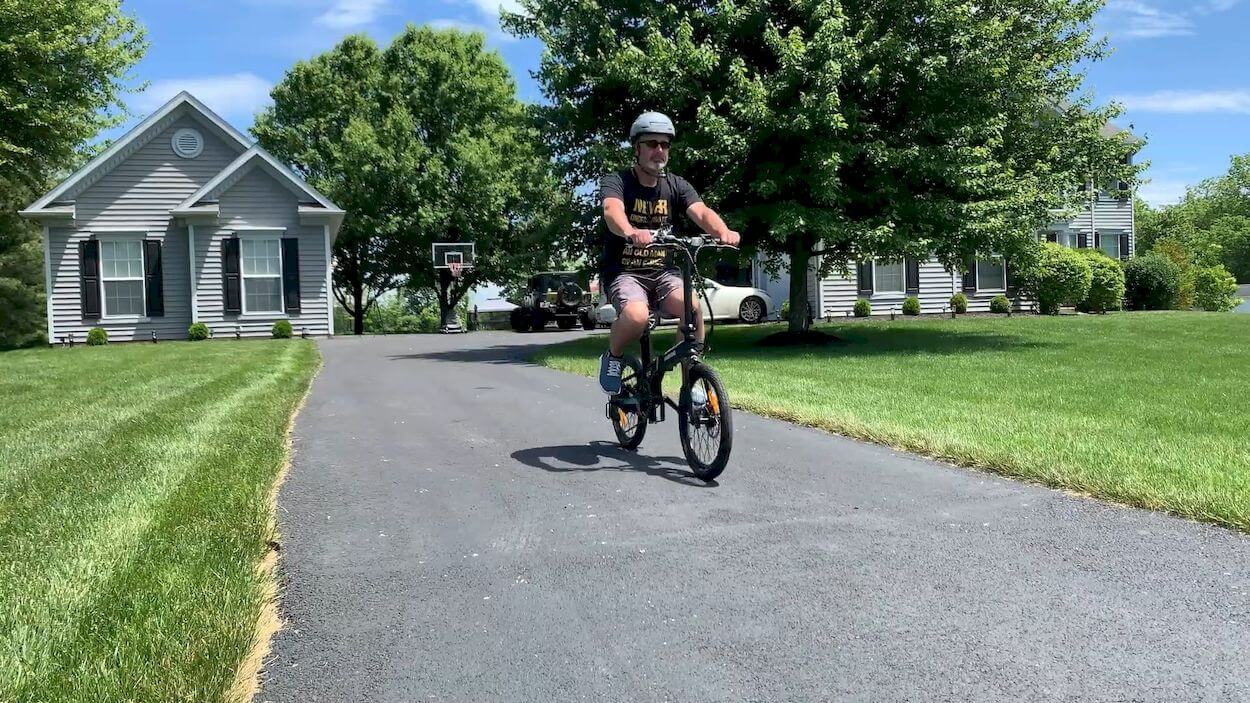 The A9's performance on the road showcases its efficiency and reliability. Whether using the pedal-assist or throttle mode, riders can enjoy a smooth and effortless ride, reaching speeds of up to 15 miles per hour. The 36V 7.5Ah lithium-ion battery provides a respectable range of approximately 25 miles in PAS level 1, ensuring sufficient coverage for daily commuting or leisurely rides.
So, the Kornorge A9 folding e-bike provides a compelling option for those seeking a lightweight, portable, and efficient mode of transportation. Its design, build quality, and features make it a standout choice in the e-bike market. Whether for daily commuting, short trips, or recreational rides, the Kornorge A9 offers convenience, performance, and affordability in one sleek package.
Alternatives of Kornorge A9