The Juiced Ripracer is a unique blend of a fat tire e-bike and a BMX, offering an exciting riding experience that combines the best of both worlds.
Priced between approximately a thousand and fifteen hundred dollars, this e-bike delivers a remarkable package of features for its value.
With a simple and user-friendly setup, the Ripracer is designed to provide an impressive performance, making it an excellent choice for riders seeking an exciting and versatile e-bike. 
In the following sections, we'll delve into the bike's test performance and explore the various aspects that make the Ripracer stand out in its category.
| | |
| --- | --- |
| Frame | Custom Aluminum Heat-Treated |
| Motor | 750 Watt |
| Torque | 80 N.m. Max Torque |
| Speed | Up to 28 MPH |
| Pedal Assist | Cadence Sensors |
| Brakes | Hydraulic Disc Brakes |
| Tires | 20"x4" All-Terrain |
| Transmission | Single Speed |
| Headlight | 1,050 Lum LED |
| Rear Suspension | Hardtail Configuration |
| Range | Up to 55+ Mile Range |
| Bike Weight | 66lbs (54lbs w/o battery) |
| Weight Capacity | 275 lbs |
Design and Build Quality
The Juiced Ripracer is a unique fusion of style and power that seamlessly blends the compact design of a BMX with the robust capabilities of a fat tire e-bike. When you first lay eyes on it, the Ripracer's distinct appearance immediately grabs your attention. It's a head-turner, a delightful departure from the ordinary, and it's clear that Juiced Bikes has crafted something special.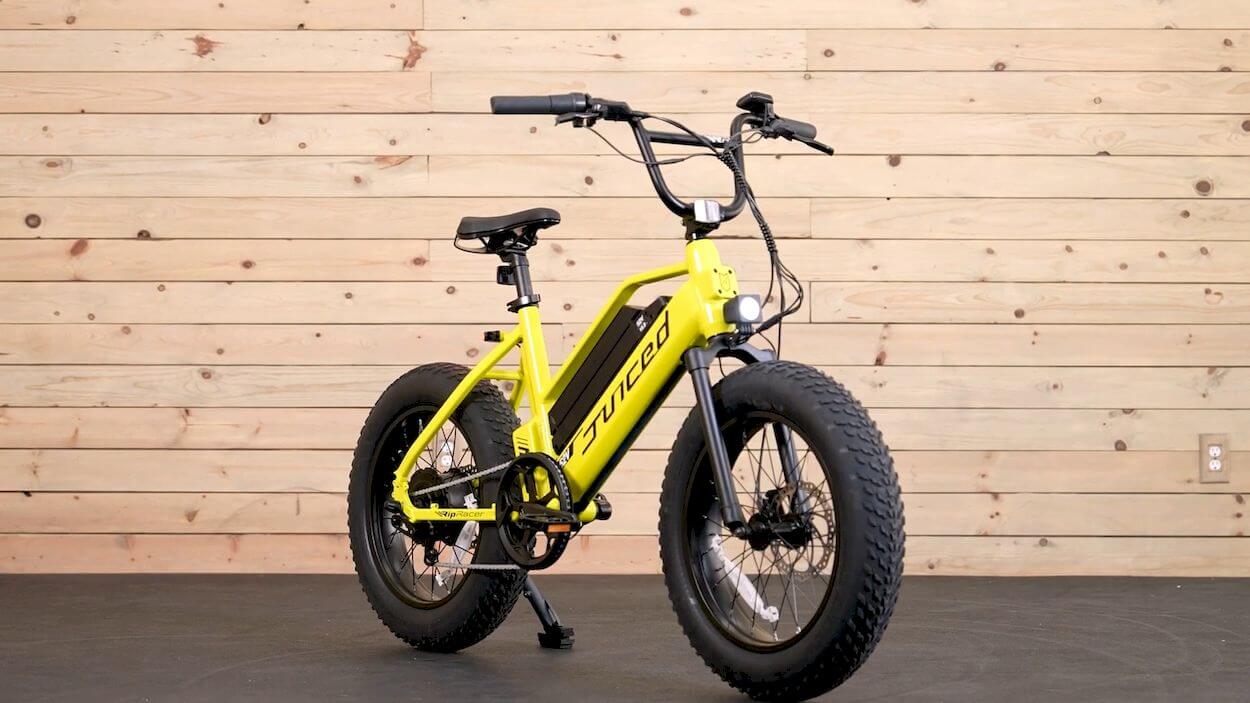 One of the standout features of the Ripracer is its size. With its 20-inch by 4-inch CST tires and small frame, this bike boasts exceptional maneuverability. This nimbleness makes it incredibly fun to ride, especially in tight spaces or when navigating through crowded urban environments. What's more, its compact size translates into improved portability. At 66 pounds with the battery attached, it's already relatively manageable, but you can drop the weight down to 54.5 pounds by removing the battery. This means you can easily transport it or stow it away when not in use.
Another thoughtful detail is the saddle, which manages to strike a balance between comfort and practicality. It provides a comfortable seat for your rides, but it also features a convenient carry handle. This handle makes it a breeze to lift and move the bike around, further enhancing its portability.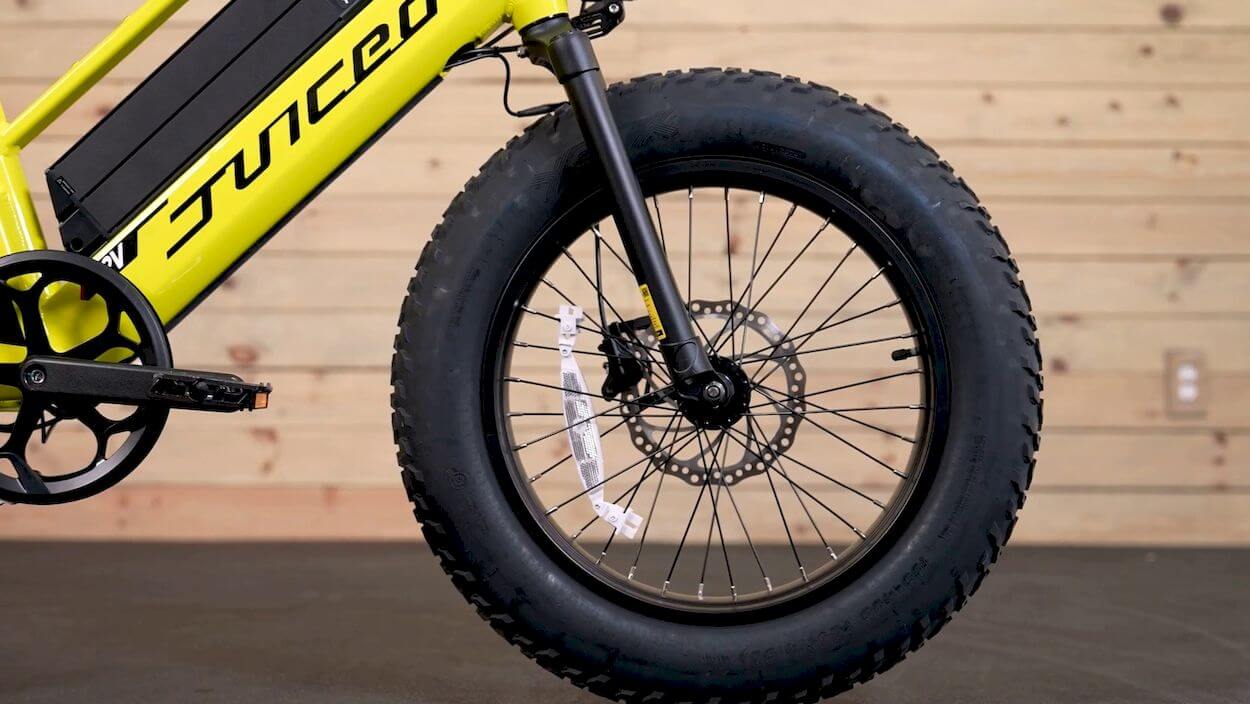 When it comes to aesthetics, the Juiced doesn't disappoint. Its unique style sets it apart from the crowd, ensuring that it gets noticed wherever you go. While there's only one frame size available, Juiced offers four distinct color options: classic black, striking Baja blue, earthy mystic green, and the eye-catching High Vis yellow. These color choices give you the freedom to express your personality and make a statement with your ride.
One standout feature is the built-in compartment for an Apple AirTag, which provides an extra layer of peace of mind when it comes to security. This nifty inclusion allows you to track your bike's location, should it ever be misplaced or stolen. It's a small but significant addition that demonstrates Juiced Bikes' commitment to rider convenience and safety.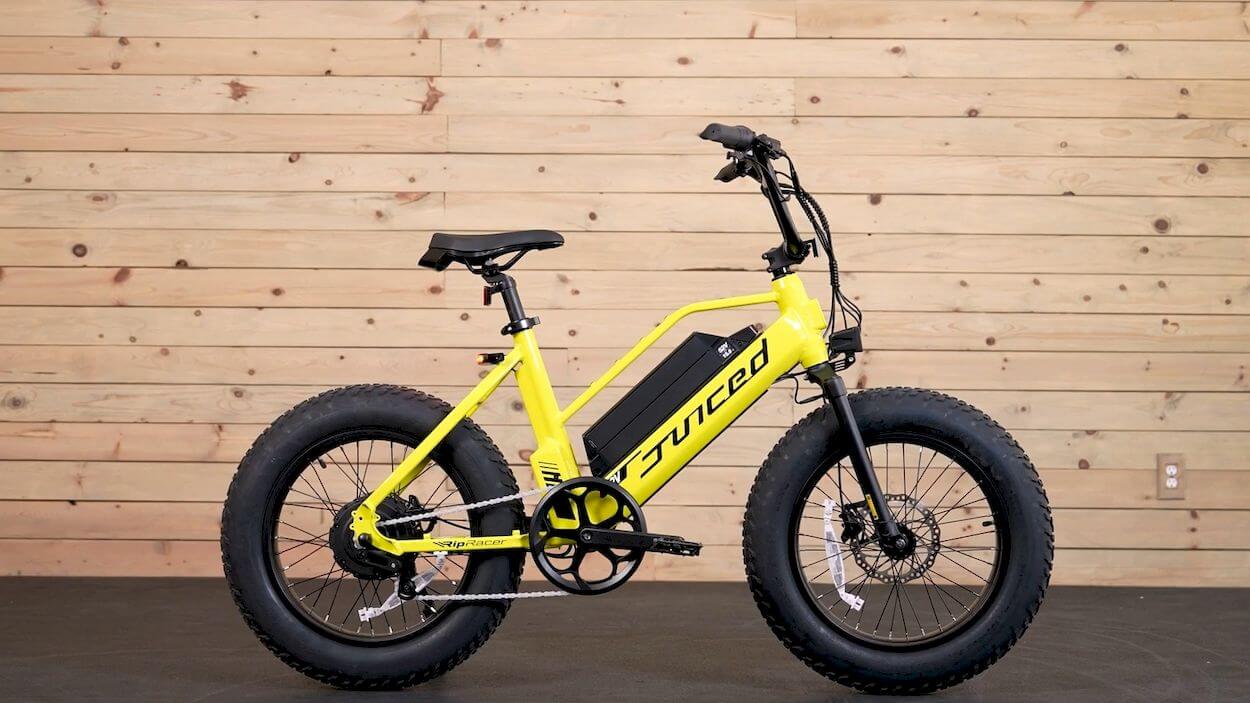 Moving on to the bike's performance, the Ripracer boasts a single-speed drivetrain, which might raise some concerns for those accustomed to multi-speed setups. However, this bike's single-speed configuration proves surprisingly functional. Even when tackling challenging terrains like steep hills, the Ripracer's 52-tooth chainring, though initially challenging to get moving, provides the necessary torque to conquer those inclines. To make acceleration even easier, there's a half-twist throttle that can help you quickly reach speeds of up to 20 miles per hour, making it great for both urban commuting and off-road adventures.
When it comes to stopping power, the Ripracer doesn't skimp on safety. It's equipped with Logan E500 hydraulic disc brakes featuring two-piston calipers and 180-millimeter rotors. These brakes offer reliable and responsive stopping performance, ensuring that you can bring the bike to a halt safely and confidently, even in challenging conditions.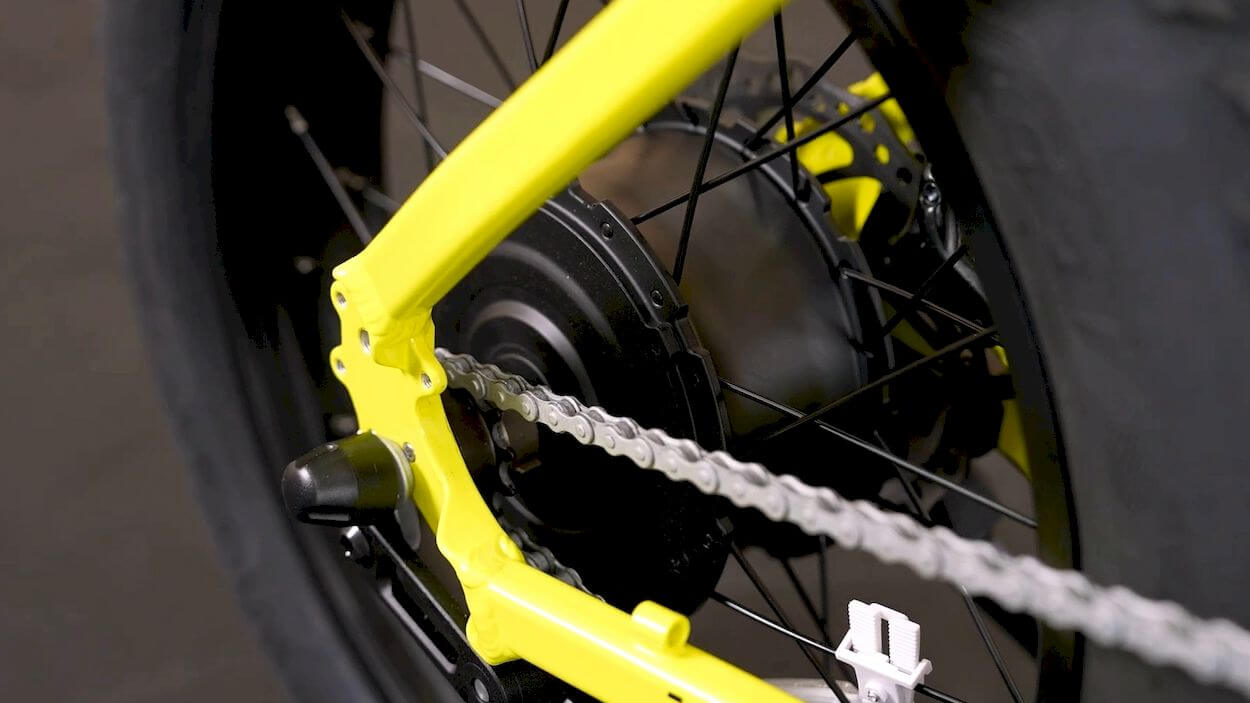 For nighttime riding, the Ripracer comes prepared with a super bright 1050 Lumen headlight that illuminates your path effectively. Additionally, the bike features an unusually wide tail light, providing excellent visibility at night. This tail light can serve as a brake light, alerting others to your stops, or it can be set to always be on, increasing your visibility and safety on the road.
Moreover, Juiced Bikes offers a range of optional accessories that allow you to customize your Ripracer to your specific needs. Whether you need a cargo rack for transporting goods, baskets for added convenience, or fenders for protection against dirt and water splashes, these accessories can make your bike more functional and versatile.
Handlebars and Display
The cockpit of the Juiced Ripracer is designed with simplicity and functionality in mind. It embodies the BMX style with Riser bars that offer a comfortable and natural grip for riders. Within this straightforward layout, you'll find essential controls and information that enhance your riding experience.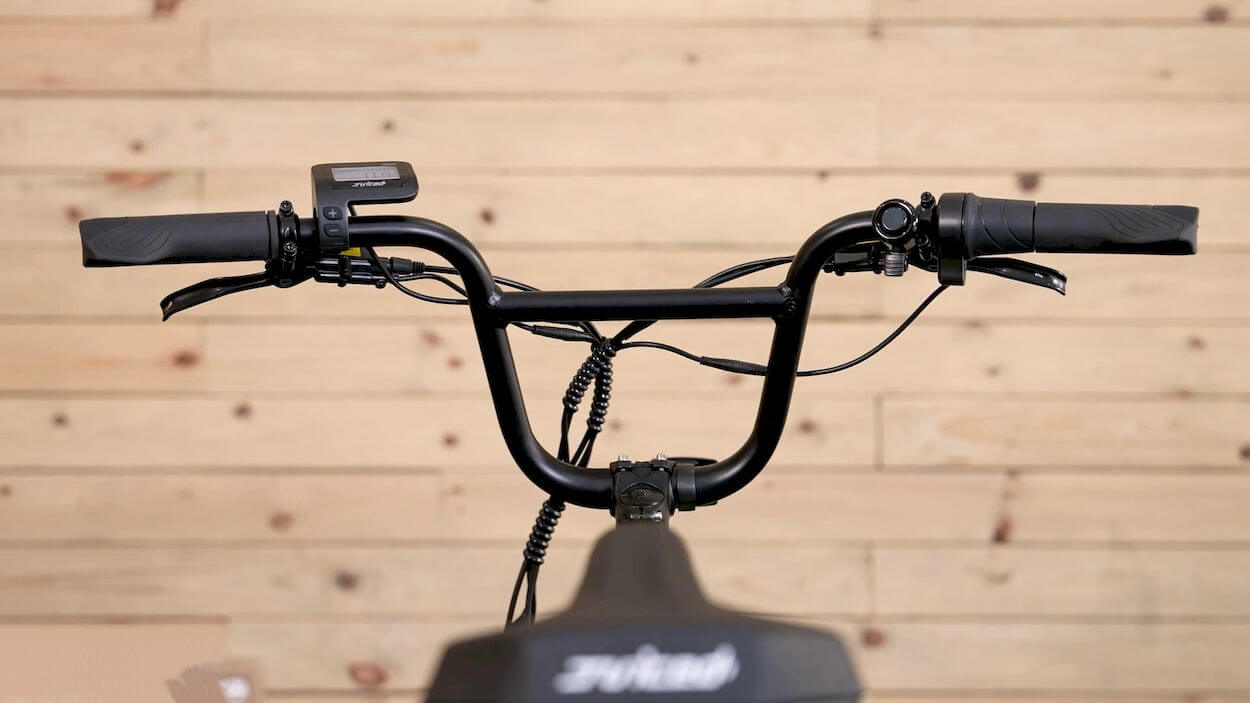 Starting with the handlebars, the right side is where you'll find the throttle. This intuitive placement allows you to control your speed effortlessly with your right hand, providing smooth and responsive acceleration. Whether you're navigating city streets or conquering off-road trails, having the throttle within easy reach ensures you can power through any terrain with ease.
On the left side of the handlebars is the bike's display and control panel. This display is your window into the bike's performance and status, providing you with key information about your ride. It includes a set of control buttons that allow you to customize your riding experience.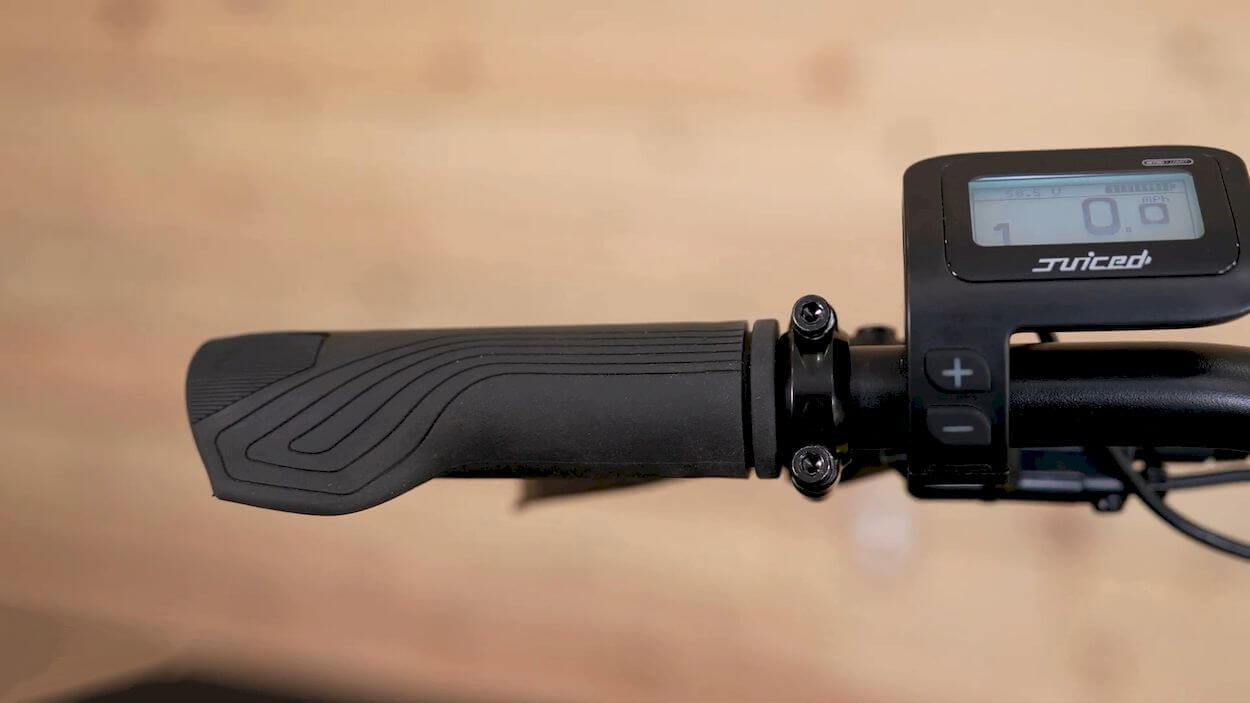 The control panel offers five pedal assist settings, ranging from eco mode to sport mode. These settings determine how much electric assistance the bike provides as you pedal, allowing you to fine-tune your ride to your preferred level of assistance and energy conservation. Eco mode offers a gentle boost, while sport mode provides a more robust electric assist.
What's particularly exciting is that the Ripracer can be unlocked to race mode. This mode removes the speed restrictions, giving you unrestricted speeds for off-road riding. It's a feature that adds an extra layer of versatility to the bike, allowing you to unleash its full power when you're ready to tackle more challenging terrains or simply want to enjoy the thrill of faster speeds.
Motor
The most captivating aspect of the Juiced Ripracer, from our perspective, is undoubtedly its exceptional speed and power. This e-bike is equipped with a high-performance 52-volt 750-watt rear hub motor, and it's the voltage that truly makes this motor stand out. This higher voltage allows the Ripracer to draw power from its battery at astonishing speeds, setting the stage for an electrifying riding experience.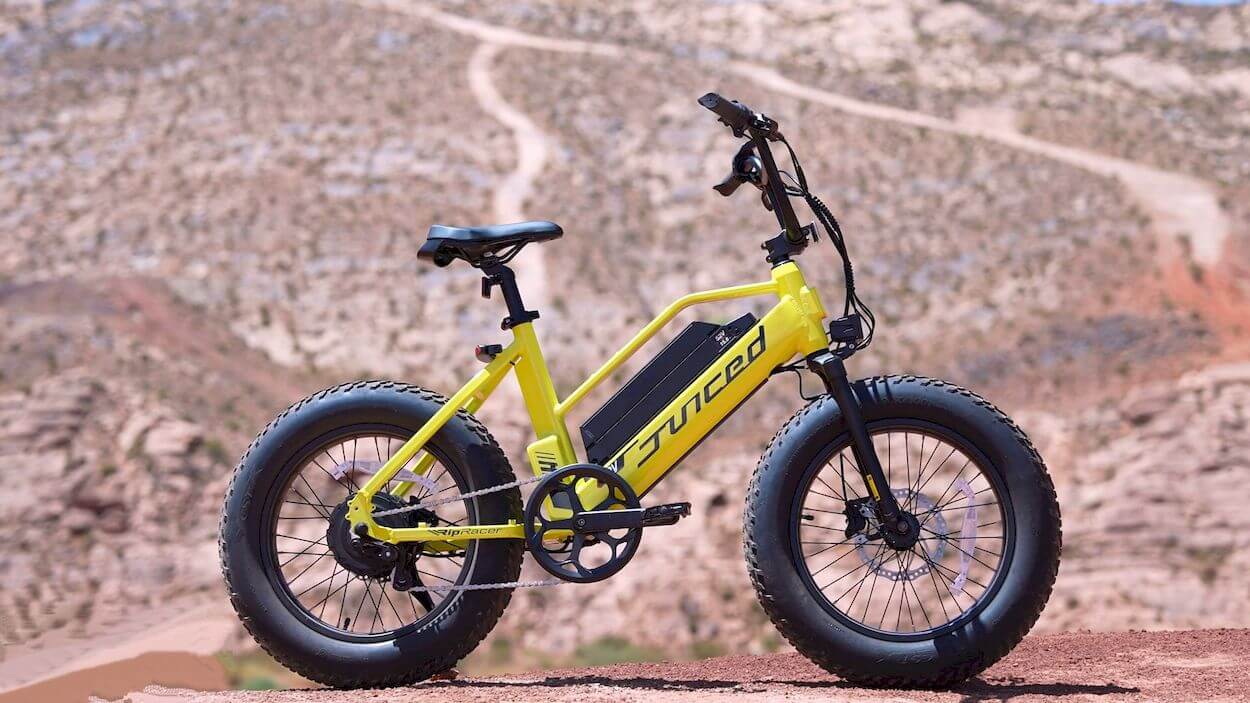 One of the immediate benefits of this powerful motor is its outstanding acceleration. When you twist the throttle or engage the pedal assist, you'll feel an exhilarating surge of speed that can quickly propel you forward. This rapid acceleration not only adds excitement to your ride but also proves invaluable in urban settings, where quick getaways from traffic lights or navigating congested streets become effortless.
The Ripracer's motor is not only about speed but also about capability. It's classified as a class 3 e-bike, which means it's capable of reaching speeds of up to 28 miles per hour with pedal assist. This is fantastic for covering longer distances in less time and keeping up with traffic, making it an excellent choice for urban commuters seeking an efficient and eco-friendly mode of transportation.
Brakes test
When it comes to braking performance, the Juiced Ripracer doesn't disappoint, thanks to its Logan E500 hydraulic brake system. In our tests, we wanted to ensure that the E500 system on the Ripracer lived up to our expectations, so we put it to the test. We accelerated the bike up to 20 miles per hour and measured the distance it took to come to a complete stop when applying the brakes.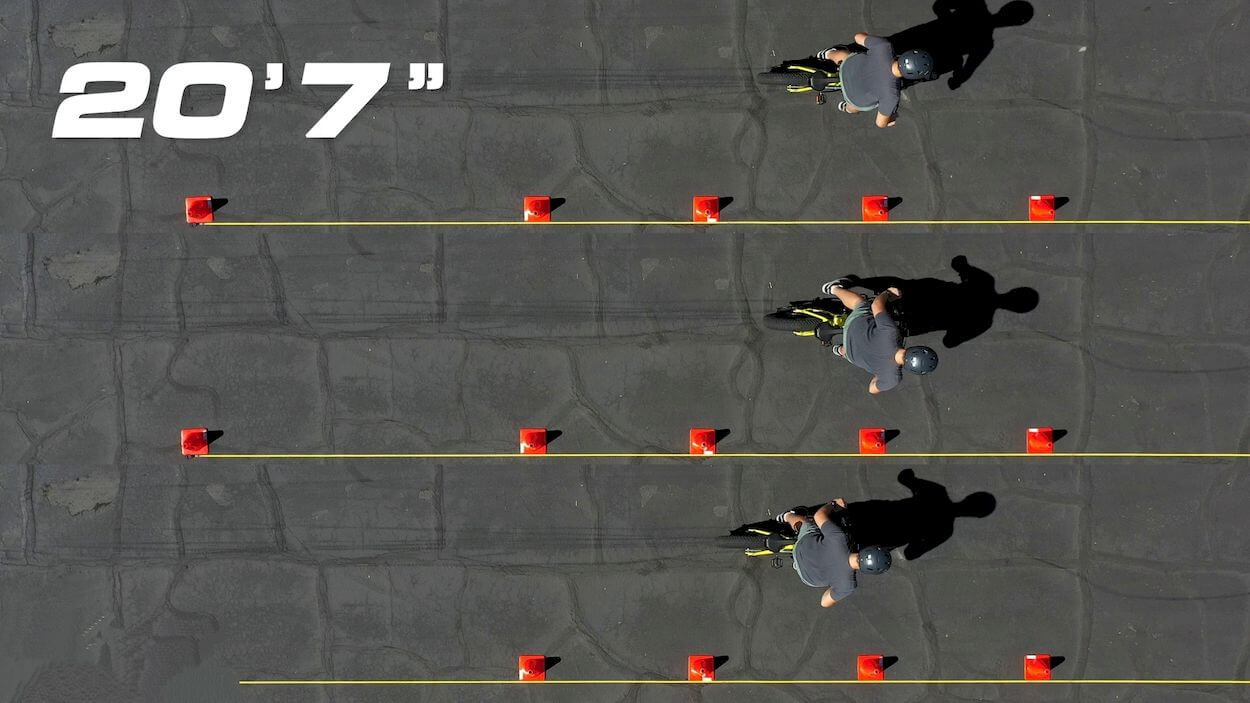 The Ripracer is equipped with two-piston calipers and substantial 180-millimeter rotors. After conducting three separate tests, our data revealed an impressive average stopping distance of just 20 feet and seven inches. This result is truly commendable and exceeds our average for other fat tire utility and moped bikes, which we typically group together due to the Ripracer's shared characteristics in terms of weight and brake specifications.
To put it into perspective, larger and heavier bikes often have average stopping distances in the range of 22 to 23 feet. The Ripracer's stopping distance of 20 feet and seven inches underscores the effectiveness of its brake system and its suitability for the bike's specifications.
Driving Test
The speed test on the Juiced Ripracer showcases the incredible versatility and performance capabilities of this BMX-style fat tire e-bike. With a variety of pedal assist settings and a powerful throttle, the Ripracer can adapt to different riding situations and deliver an exhilarating experience.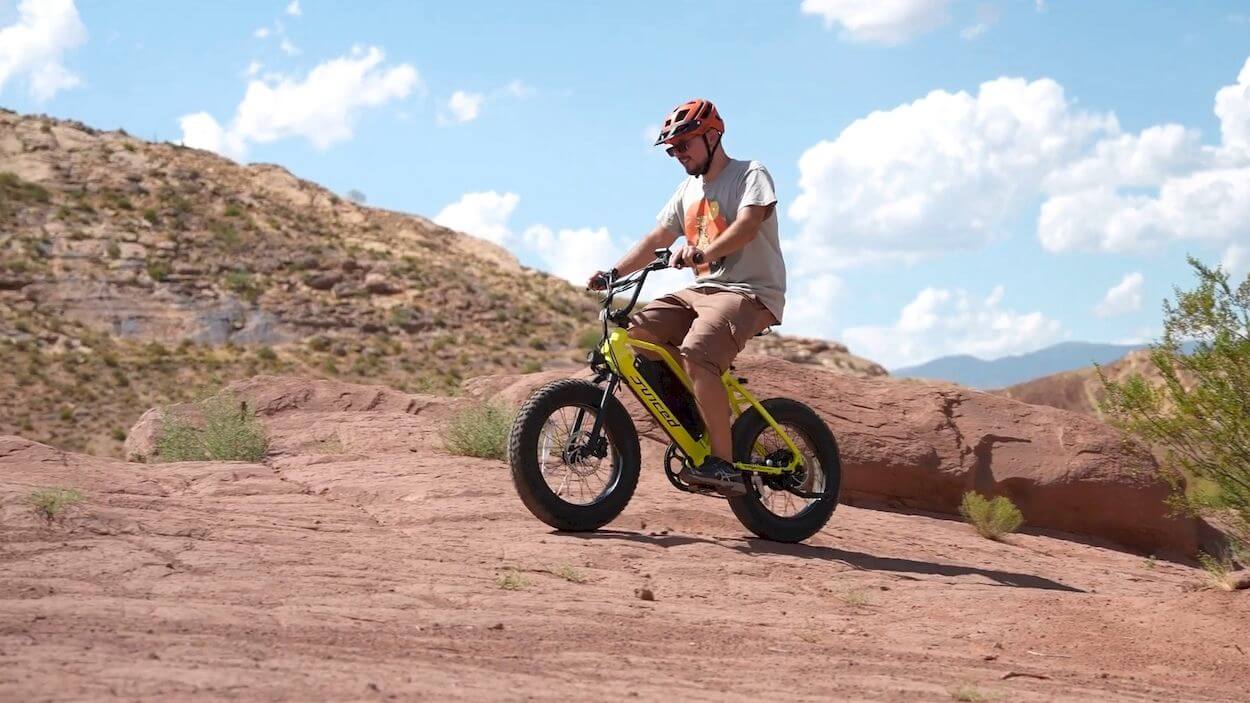 Starting with a baseline speed of around 10 miles per hour with no motor assistance, it's evident that the Ripracer is no slouch even when relying solely on pedaling power. Eco mode is the first step up, providing a subtle but noticeable boost that takes the edge off the resistance. This setting allows for a comfortable cruising speed of around 14 miles per hour.
As you move up through the pedal assist settings, the Ripracer's motor comes into its own. PAS1 offers a nice boost, taking you to a speedy 17.5 miles per hour. PAS2 allows for a relaxed and stable cruising pace of about 21 miles per hour, demonstrating the bike's surprising stability given its compact size. PAS3 kicks it up even further, reaching around 23.5 miles per hour.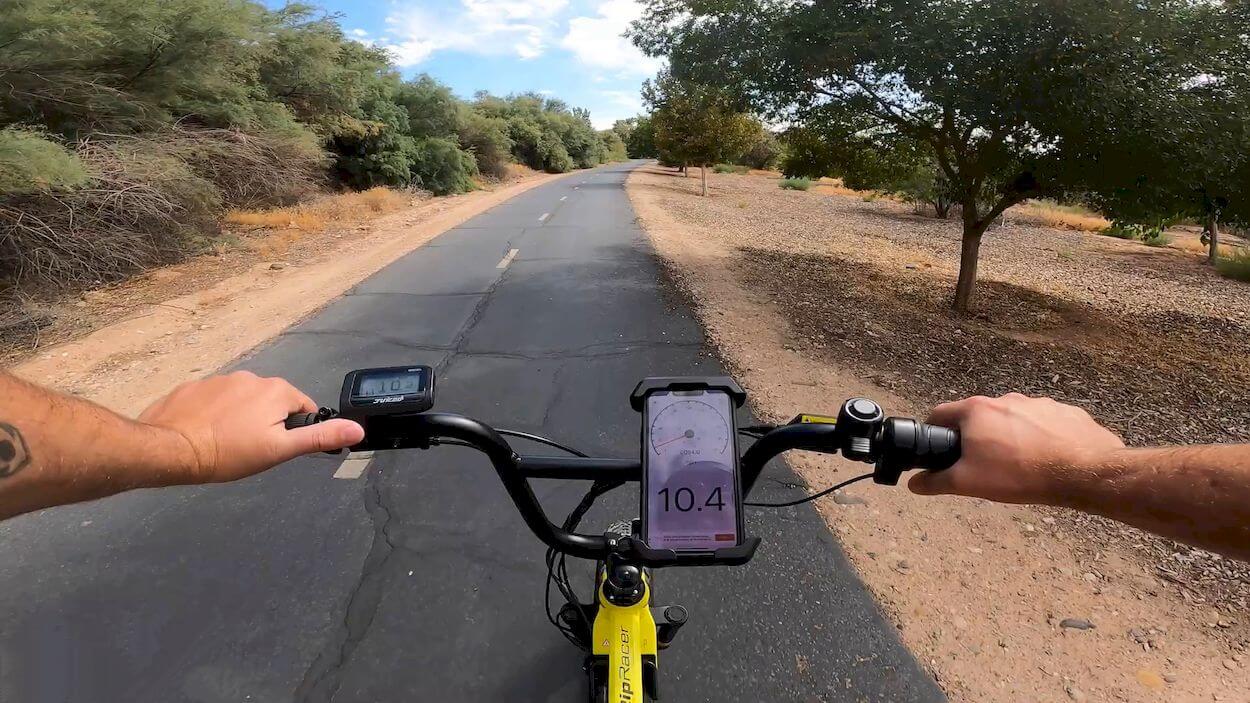 However, it's in sport mode where the Ripracer truly shines. With a brisk pace and minimal effort, it reaches a top speed of approximately 25 miles per hour, making it ideal for zipping through city streets or enjoying a leisurely ride. It's worth noting that these speeds were achieved with a partially depleted battery, and when fully charged, the Ripracer can push closer to 26.5 to 27 miles per hour in sport mode.
Additionally, while the Ripracer has a maximum speed of 28 miles per hour in race mode, it's worth mentioning that the difference in top speed between sport mode and race mode might not be substantial, making sport mode an appealing choice for most riders.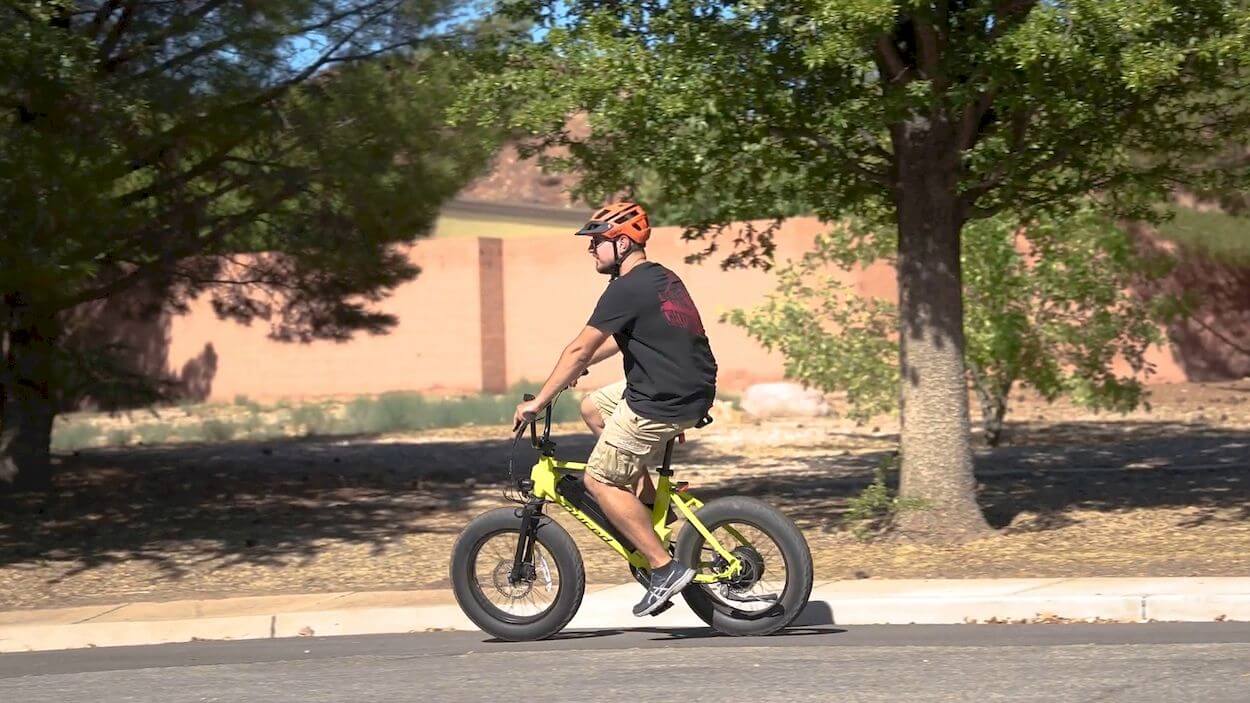 In the throttle test, the Ripracer performed admirably, climbing the steep section with ease and maintaining a speed of about 10 to 11 miles per hour. The bike's fat front and rear tires did not hinder its ascent, and the motor provided ample power to conquer the hill. The noise from the motor was relatively low, ensuring a pleasant riding experience.
In the pedal test, the Ripracer, with its single-speed drivetrain and wide tires, continued to impress. Even without much effort on the pedals, it reached speeds of 15.5 to 17.8 miles per hour, making the ascent seem effortless. The rear hub motor propelled the bike up the hill, demonstrating its robust performance.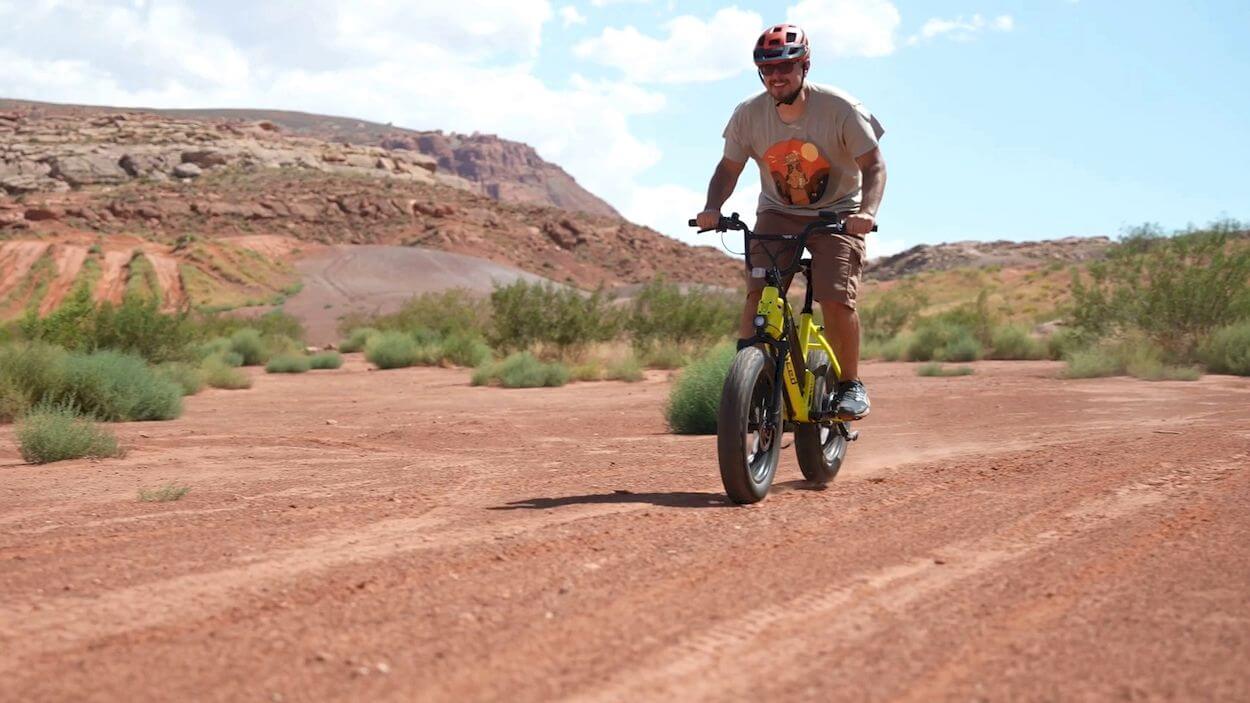 Overall, the Ripracer excelled in both tests, showcasing its ability to tackle challenging terrains with ease. With a throttle that delivers power when needed and the option to pedal for even higher speeds, it's a bike that adapts to various riding styles and preferences.
The defining elements of its ride quality are also noteworthy. The Ripracer, despite its small frame and unique blend of fat tire and BMX styles, offers a comfortable and fun riding experience. The bike's small size and 20-inch by 4-inch fat tires make it highly maneuverable, allowing for sharp turns and nimble handling. While it lacks suspension, the off-road tread on the tires allows for dirt riding, and riders can adjust tire pressure to enhance cushioning.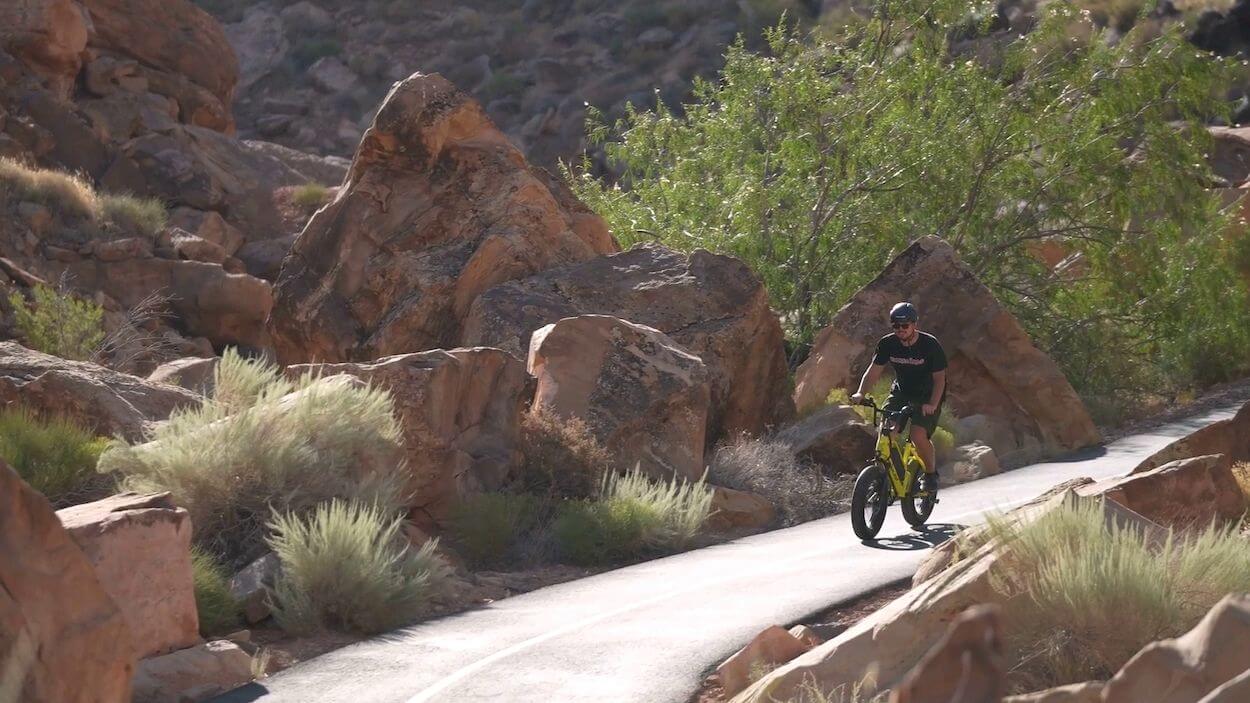 In terms of rider fit, the Ripracer accommodates a range of heights, from five feet up to six foot three, primarily through seat post adjustments. The BMX Riser bars offer some reach adjustment by loosening the stem and rotating the handlebars. Taller riders may experience a slightly more leaned-forward position due to the fixed handlebar height.
Battery and Range
The battery of the Juiced Ripracer is nothing short of impressive. It boasts a substantial capacity of 15.6 ampere-hours or 811 watt-hours, making it a powerhouse that can keep you riding for extended periods. What's more, this battery is UL 2271 certified, ensuring it meets stringent safety standards, providing peace of mind for riders.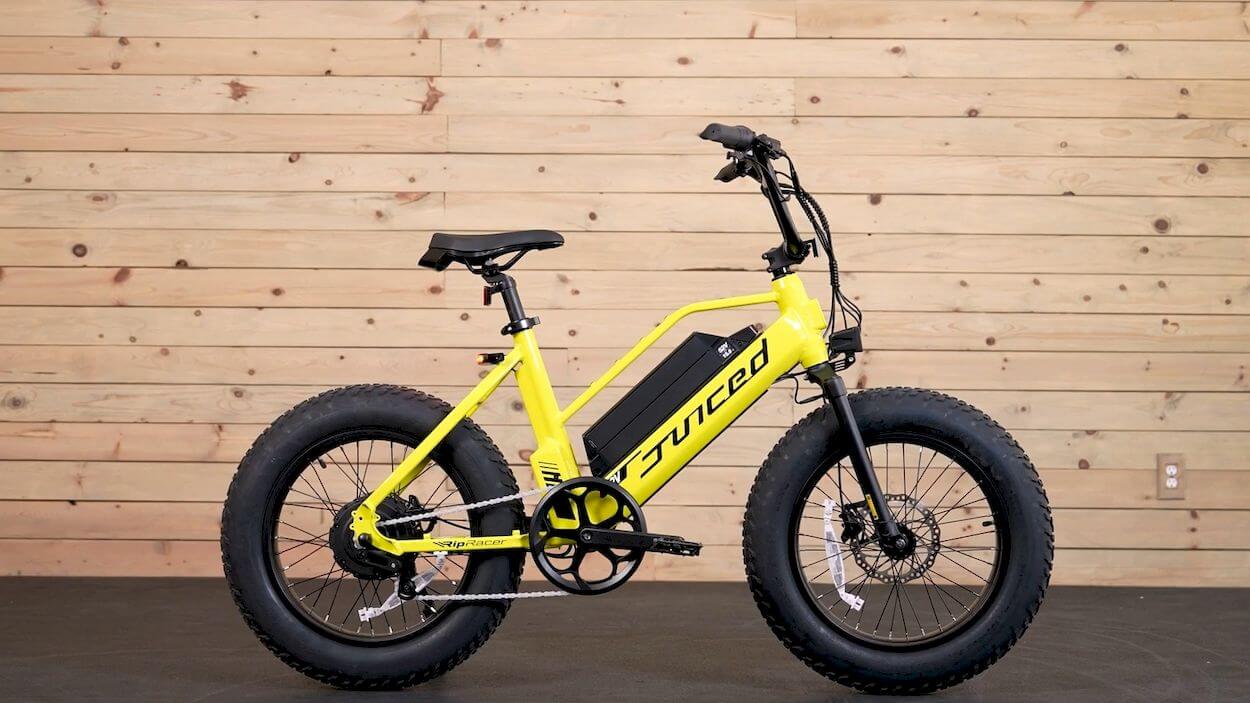 One standout feature of the Ripracer's battery is its convenient carry handle, which makes it easy to transport and handle when you need to remove or replace it. Additionally, this battery is compatible with all 52-volt Juiced bikes, offering flexibility and compatibility within the Juiced Bikes lineup.
In a range test, the Ripracer aimed to meet Juiced's advertised range of 55 plus miles on a single charge of its robust 811 watt-hour battery. The results were impressive, with tests conducted in both eco mode and sport mode yielding a range between 27 and 50 miles. It's worth noting that the 50-mile result in eco mode might have been conservative, as it involved significant elevation gain, with about 1700 feet climbed over a three-and-a-half-hour test. Riders in flatter areas may very well exceed the 50-mile mark.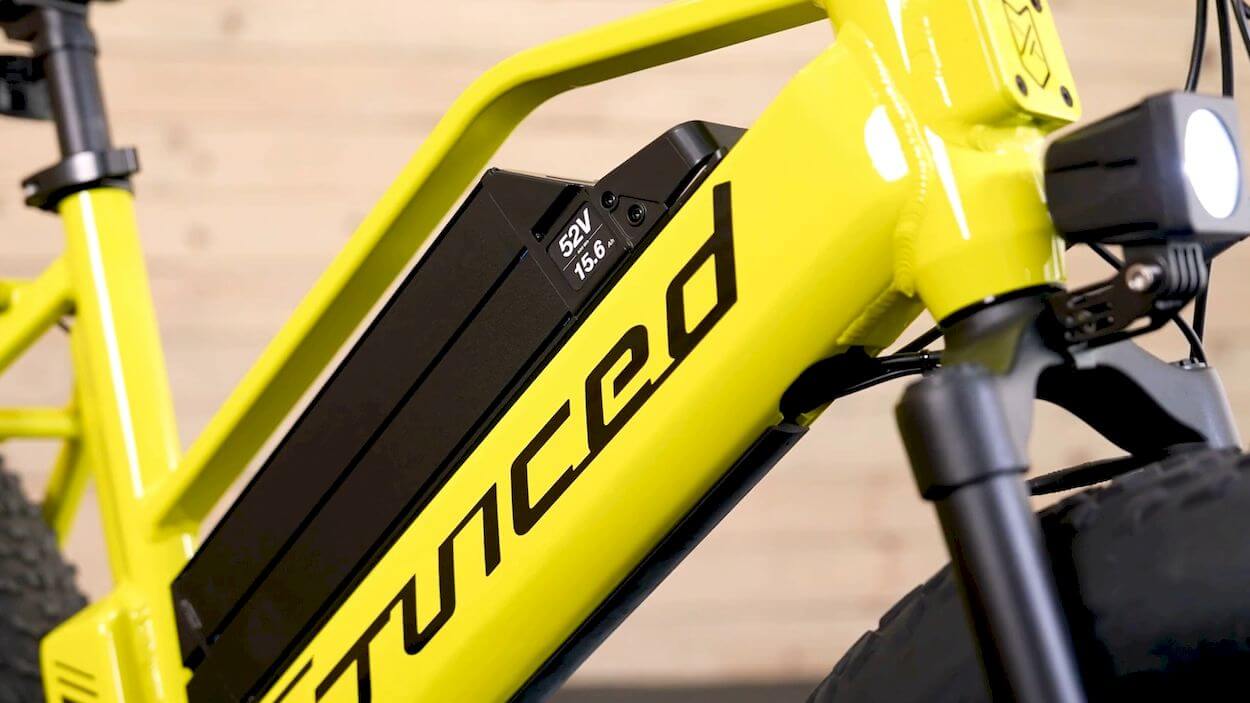 Juiced's technical data sheet for the Ripracer provides further insight into the bike's potential range. In eco mode, with economical or light pedaling and the bike set to class 2 mode (with the motor capped at 20 miles per hour), it could achieve up to 80 miles on a single charge. On the other end of the spectrum, with aggressive riding in race mode (the unrestricted setting), the range could dip as low as 23 miles.
What's particularly notable is that the actual test results exceeded expectations. In sport mode, the bike provided about 20 percent more riding time than anticipated based on the battery and motor specifications. With an average speed of approximately 16 miles per hour in eco mode, riders can cover substantial distances without compromising much in terms of speed.
Conclusions
So, the Juiced Ripracer is a unique and exhilarating e-bike that offers an exceptional riding experience.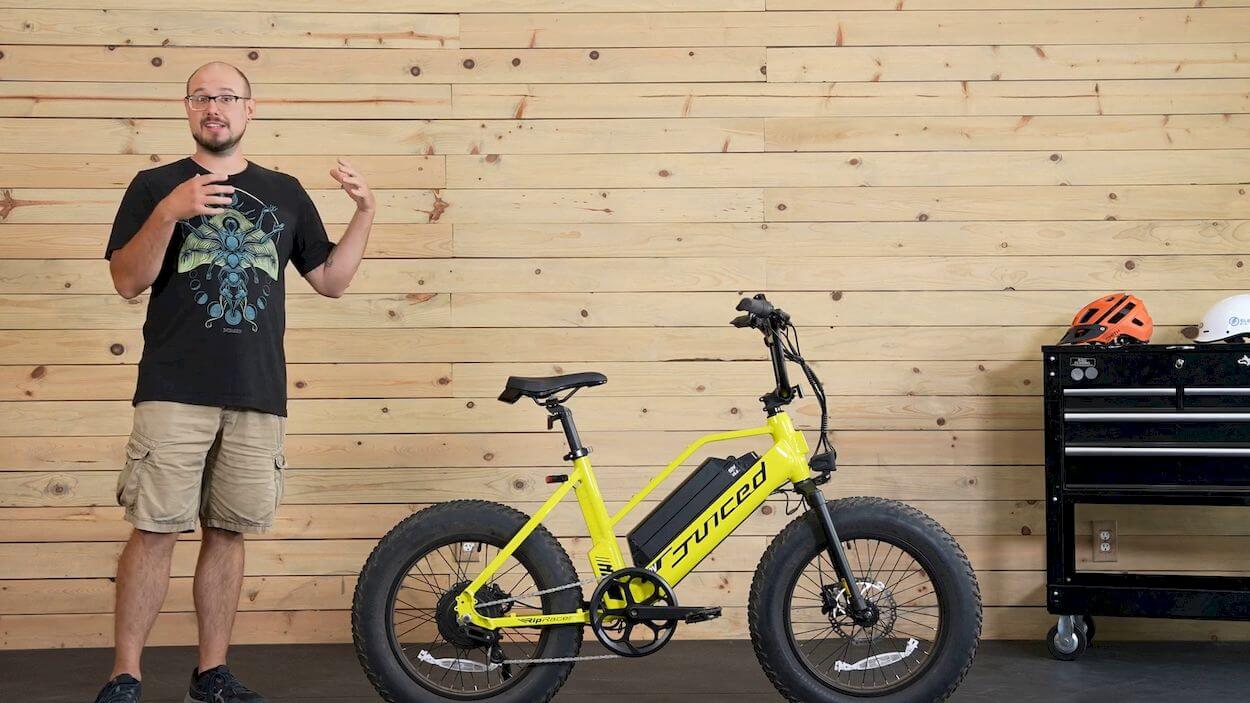 The Ripracer's BMX influence sets it apart from traditional e-bikes. Its compact size and playful nature make it a blast to ride, catering to riders ranging from five feet to six foot three. However, it does feel its size, so be prepared for a distinctive riding feel.
This bike excels in delivering speed and power. With a potent 52-volt 750-watt rear hub motor, it offers thrilling acceleration, making it ideal for urban commuting and off-road adventures. The bike can reach class 3 speeds of up to 28 miles per hour with pedal assist, ensuring a swift and exciting ride.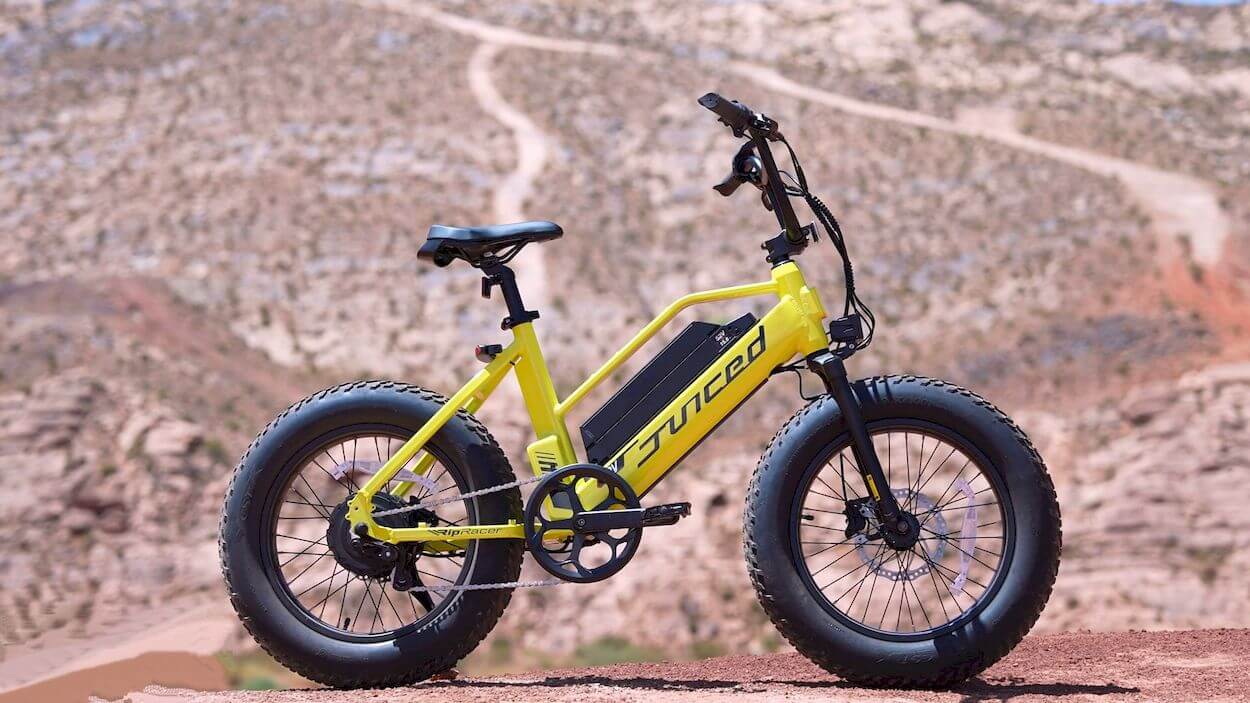 The Ripracer features a responsive throttle that complements its pedal-assist modes. It offers a unique throttle assist boost for rapid acceleration and even includes cruise control functionality for convenience.
Despite its unique size and style, the Ripracer offers a surprisingly comfortable and enjoyable riding experience. The saddle is comfortable, and there's room for leg extension. The wide handlebars provide good control, and ergonomic grips add to the overall comfort.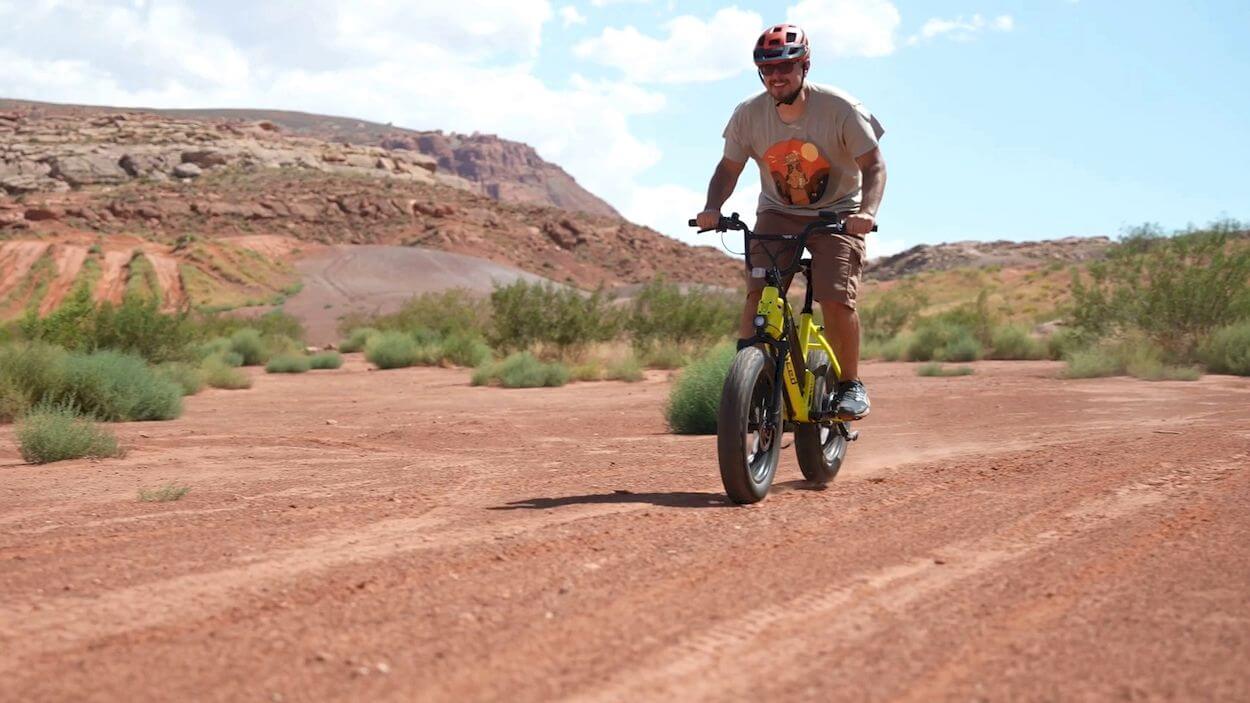 In summary, the Juiced Ripracer delivers an exciting and enjoyable riding experience. Its blend of speed, power, and uniqueness sets it apart in the e-bike market. While there are minor considerations, such as the Cadence Sensor sensitivity, the overall package makes the Ripracer a fantastic choice for riders looking for adventure and a thrilling ride. It's a bike that brings joy to cruising with friends, commuting, or exploring off-road trails.
Alternatives of Juiced Ripracer