If you're in the market for an electric bike that prioritizes portability and convenience without sacrificing performance, then the 5th Wheel Thunder 2 deserves your attention. This review will delve into the specs and features of this highly portable and lightweight electric bike, perfect for those who value ease of use and practicality.
The 5th Wheel Thunder 2 electric bike offers an exciting opportunity for budget-conscious riders who are looking for an affordable and portable e-bike. At the time of this review, the Thunder 2 is available for an attractive price of $699.99, which represents a significant discount from its regular price of $999.99.
So, the 5th Wheel is a compact and versatile electric bike that caters to individuals seeking a practical and lightweight transportation solution. While it may not boast the extremes of speed and range, it excels in terms of convenience, portability, and balanced performance. If you value a bike that's easy to fold, carry, and integrate into your daily routine, the Thunder 2 could be the perfect fit for your lifestyle. Stay tuned for a detailed exploration of its specifications and features in the upcoming sections.
| | |
| --- | --- |
| Frame | Aluminium Alloy |
| Motor | 350W Brushless Rear Hub |
| Sensor | Speed Sensor |
| Maximum Speed | 20mph (32km/h) for US; 15.5mph (25km/h) for EU |
| Transmission | Shimano 6-Speed, Thumb Shifter |
| Tires | 20" |
| Brakes | Mechanical Disc Brakes |
| Suspension | Rear Spring Shock Absorber |
| Waterproof Rating | IP54 |
| Battery | 36V 10.4Ah |
| Charging Time | 4-5h |
| Maximum Range | 50km on Pure Electric, 80km on Pedal Assist |
| Net Weight | 48.50 lbs |
| Max Load Rating | 220.46 lbs |
| Folded Dimensions | 850×430×730mm |
| Unfolded Dimensions | 1515x580x1085mm |
Unboxing and Assembly
When you first receive your 5th Wheel Thunder 2 electric bike, the excitement of unboxing it and getting it ready for your adventures can be quite thrilling. In this brief guide, I'll walk you through the unboxing and assembly process of this fantastic e-bike.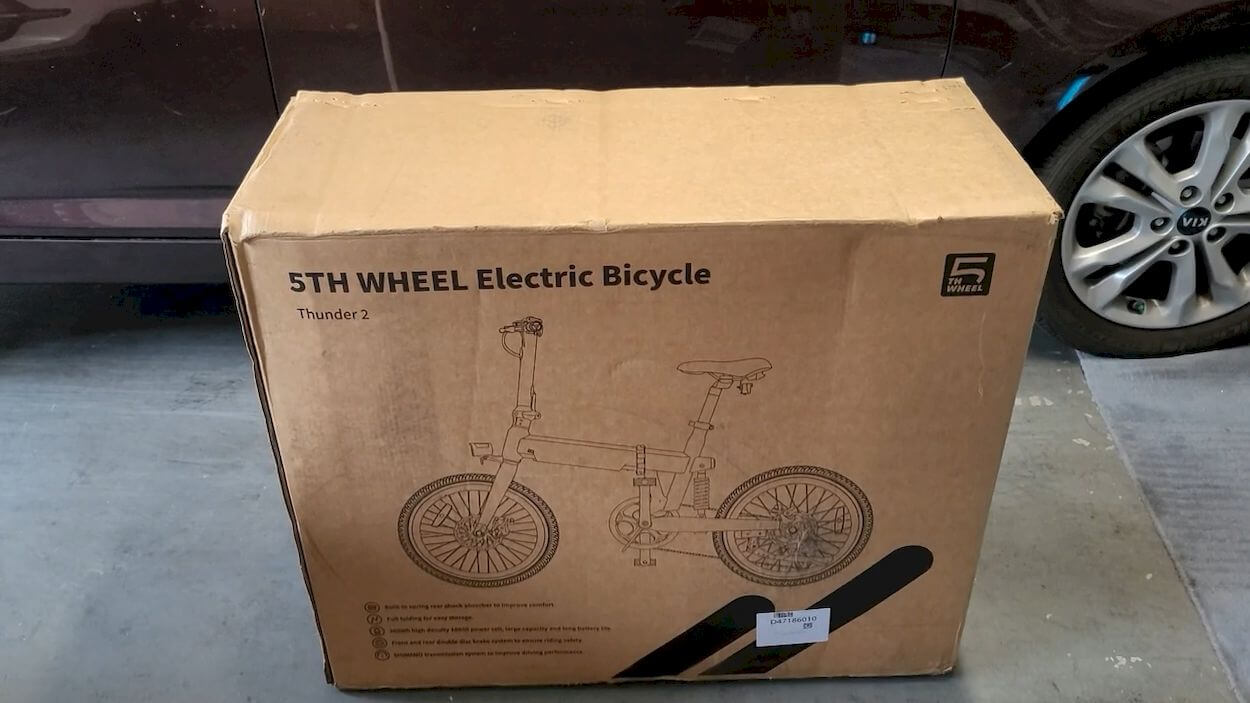 Upon receiving your 5th Wheel Thunder 2, you'll notice a large, well-packaged box. The packaging is designed to keep your new e-bike safe during shipping. As you open the box, you'll find that the bike is partially assembled and securely nestled within.
The great news is that assembling the Thunder 2 is a breeze, thanks to its mostly pre-assembled state. Here are the steps you need to follow: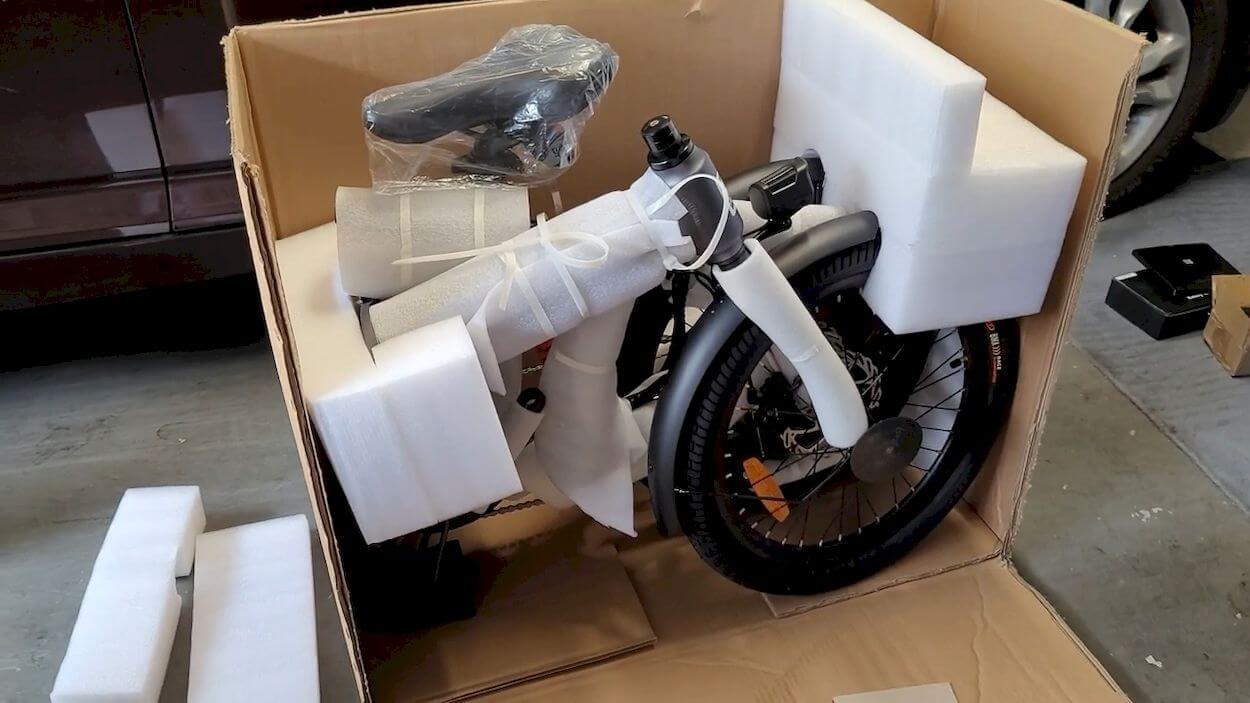 Handlebar Installation: The primary assembly step involves attaching the handlebar. This step is simple and should take just a few minutes. Make sure to tighten the handlebar securely.

Adjust Brake Levers: Once the handlebar is in place, you'll need to adjust the angle of the brake levers to your preference. This customization ensures that the bike fits your riding style comfortably.
The beauty of the Thunder 2 is that the essential components are already pre-installed, such as the fenders and wheels, making your assembly process quick and straightforward.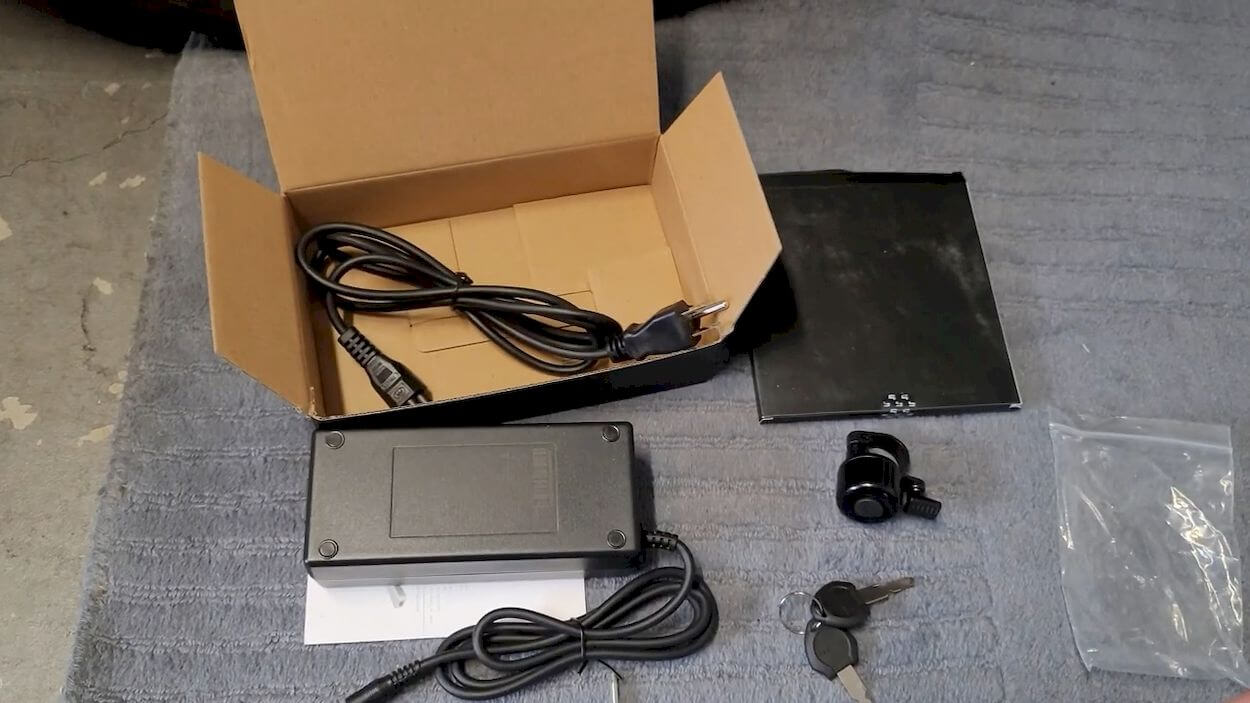 Inside the box, you'll find essential accessories and tools to enhance your riding experience:
Charger: The Thunder 2 comes with a 42 Volt 2 amp charger. This charger will efficiently charge your e-bike's battery, taking approximately five to six hours for a full charge.

Instruction Manual: A detailed instruction manual is provided to guide you through various aspects of your electric bike, including maintenance and safety.

Key: You'll receive a key that serves a dual purpose. It's used to remove the battery for charging and can also act as a security measure if you want to lock your bike.

Bell: While not pre-installed, the bike comes with a bell that you can easily attach if you'd like to have an audible alert while riding.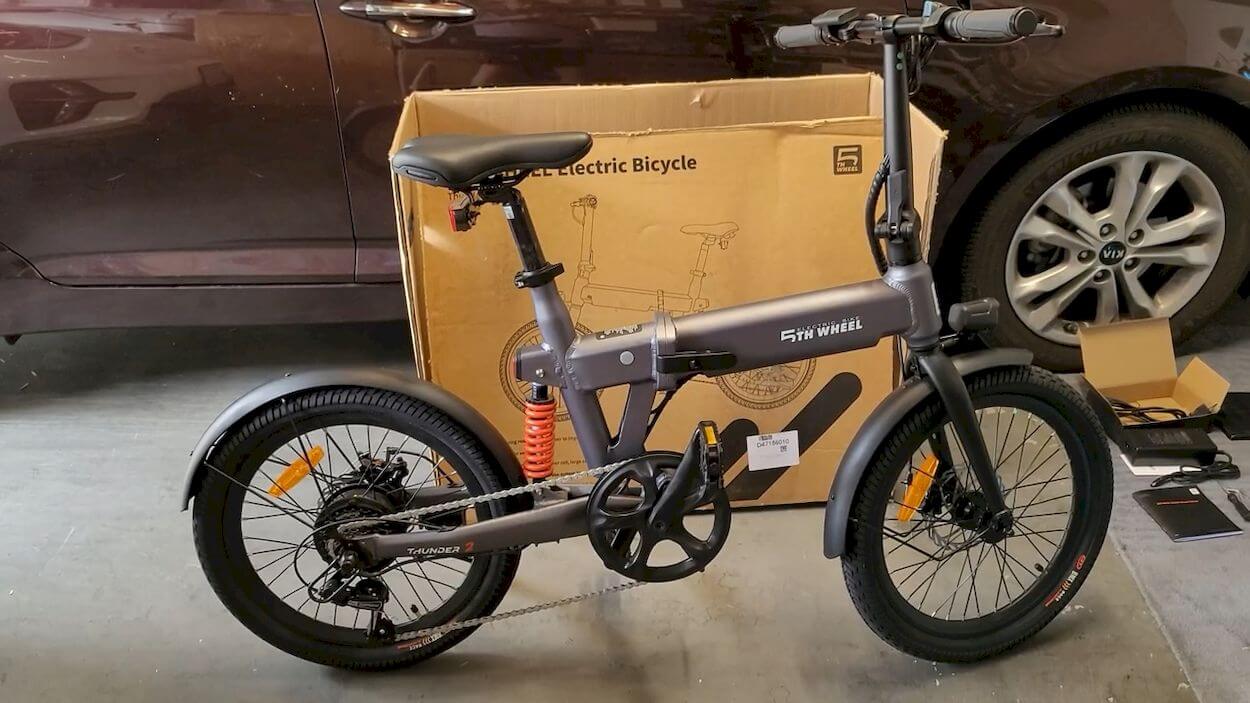 For those who want a more detailed assembly guide, the company has thoughtfully provided a full build video on their website's product page. You can find a link to this video in the video description, allowing you to watch a step-by-step demonstration of the assembly process if you prefer visual guidance.
Design and Build Quality
The 5th Wheel Thunder 2 electric bike boasts a design that marries simplicity and functionality. The assembly process, as mentioned earlier, is super easy, making it accessible to riders of all experience levels. Let's delve deeper into its design and build quality.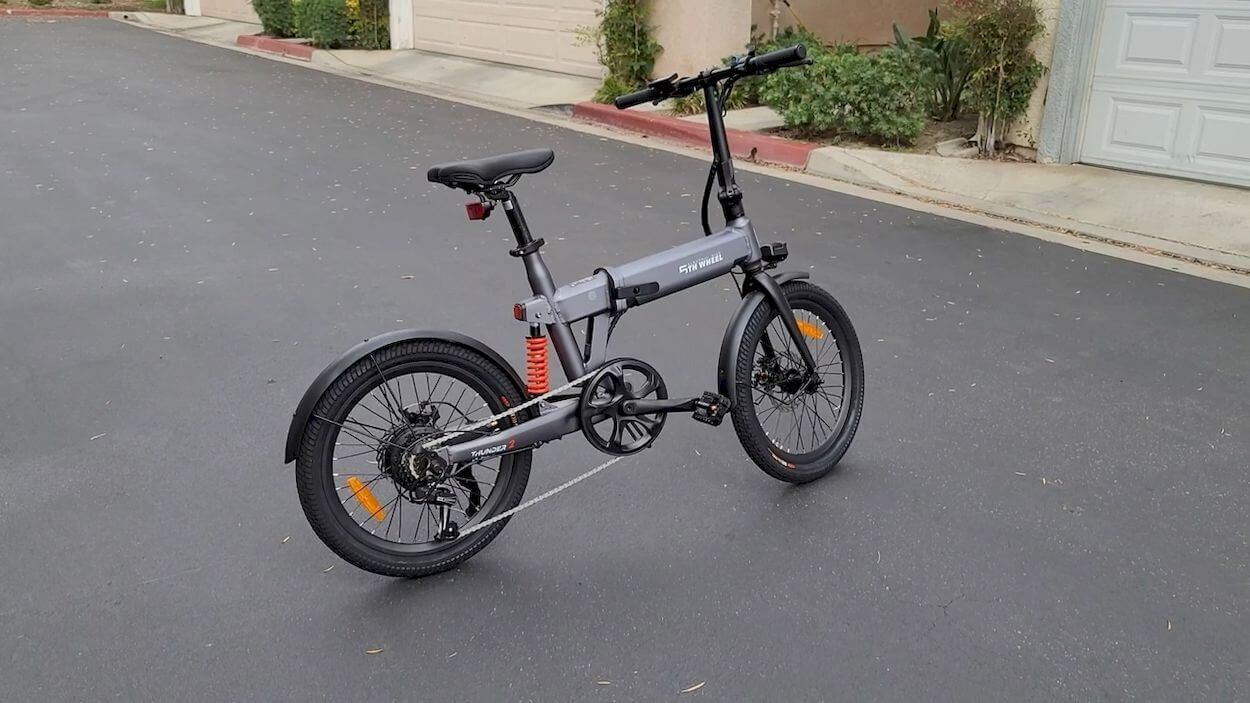 The Thunder 2 showcases an interesting frame design. Unlike many bikes with a straight bar from the top tube to the rear wheel, this bike features a frame that curves down and across. This unique design may provide a different distribution of forces and potentially enhance durability. The frame is constructed using an aluminum alloy, ensuring strength while keeping the bike's weight at around 52 pounds, making it relatively light and portable.
The Thunder 2 is designed to be foldable for easy transport and storage. The handlebar folds down to the right-hand side, secured by a safety latch. There is also a support post at the bottom to keep the bike stable when folded, preventing it from tipping over.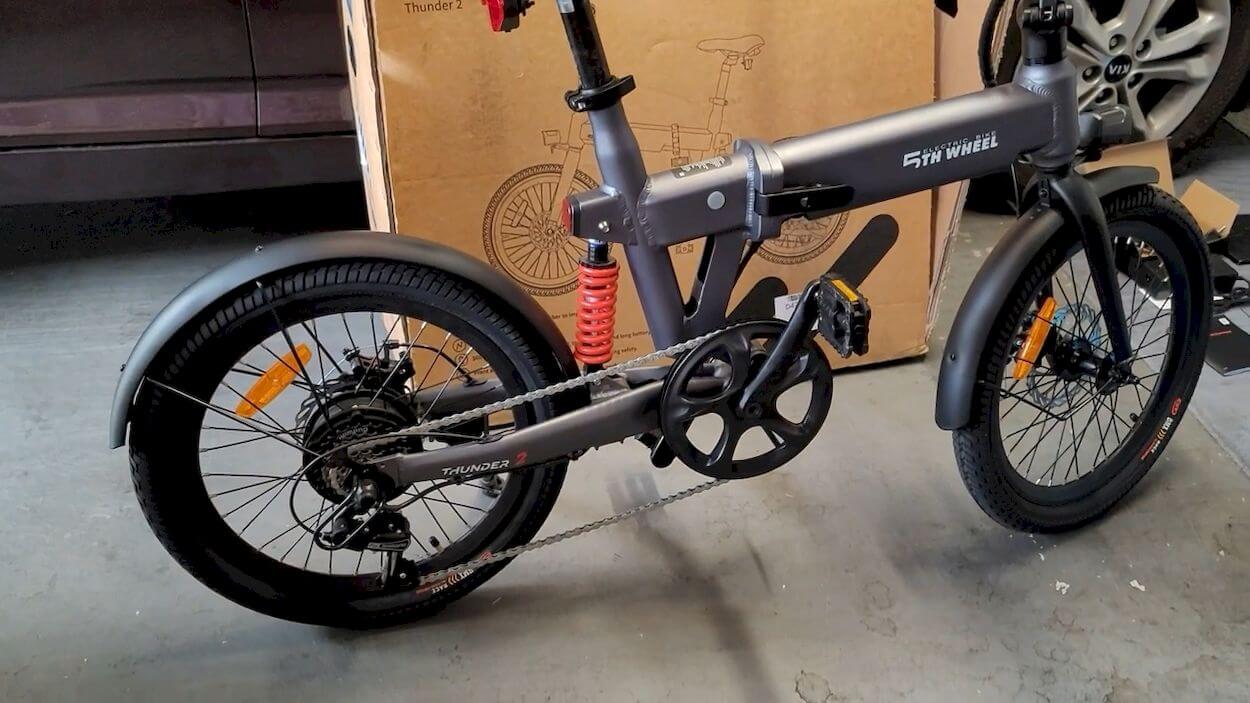 The Thunder 2 features 20-inch wheels that are not your typical fat tires. Instead, these wheels are approximately 2.12 to 2.125 inches wide, providing a balance between stability and maneuverability. The tread on these tires is designed for urban environments, reducing noise while maintaining excellent traction. This design caters primarily to city streets, sidewalks, and occasional light off-roading.
Equipped with a six-speed Shimano Tourney shifter and derailleur, the Thunder 2 offers versatility in navigating various terrains and inclines. This gearing system allows you to find the right balance between speed and efficiency for your ride.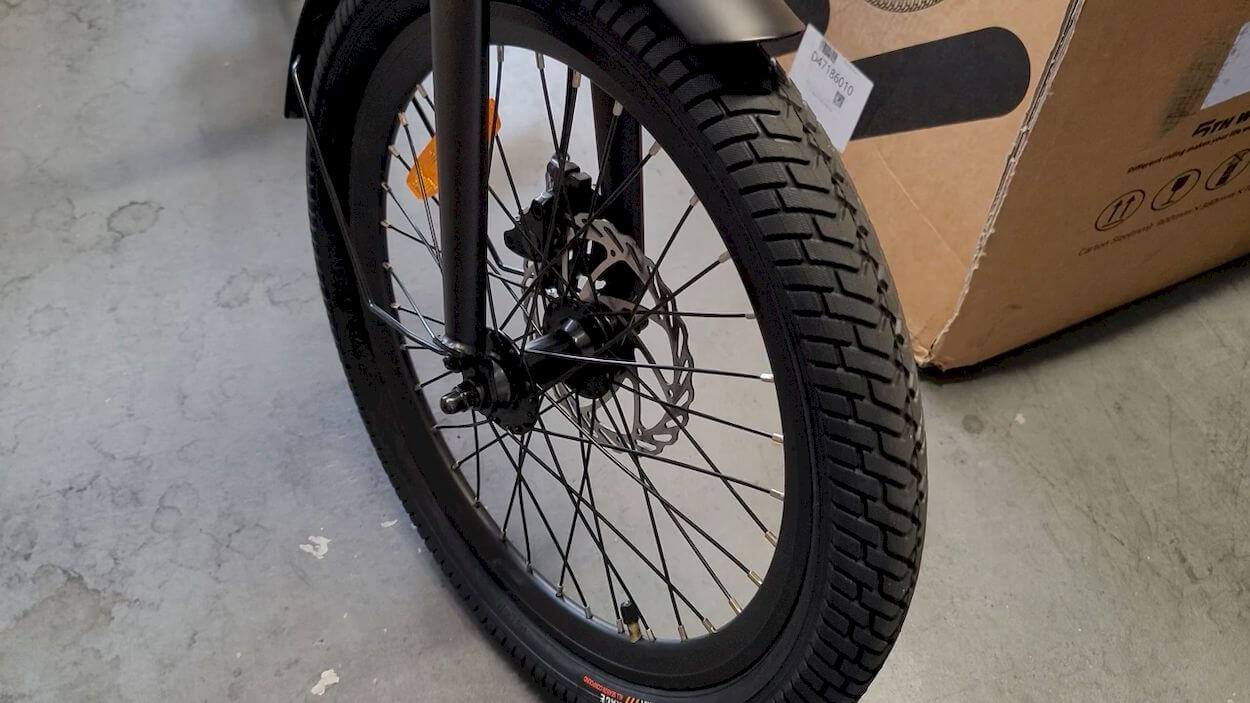 A rear tail light is incorporated into the design for added safety during night rides. Activating the light is as simple as pulling a plastic tab, making it hassle-free to use.
The bike features a standard bicycle seat, designed for comfort during shorter rides. While it may not be ideal for extended journeys, it's suitable for commuting and leisurely rides. The presence of a large spring underneath the seat allows for some suspension adjustment, providing a smoother ride experience over bumps.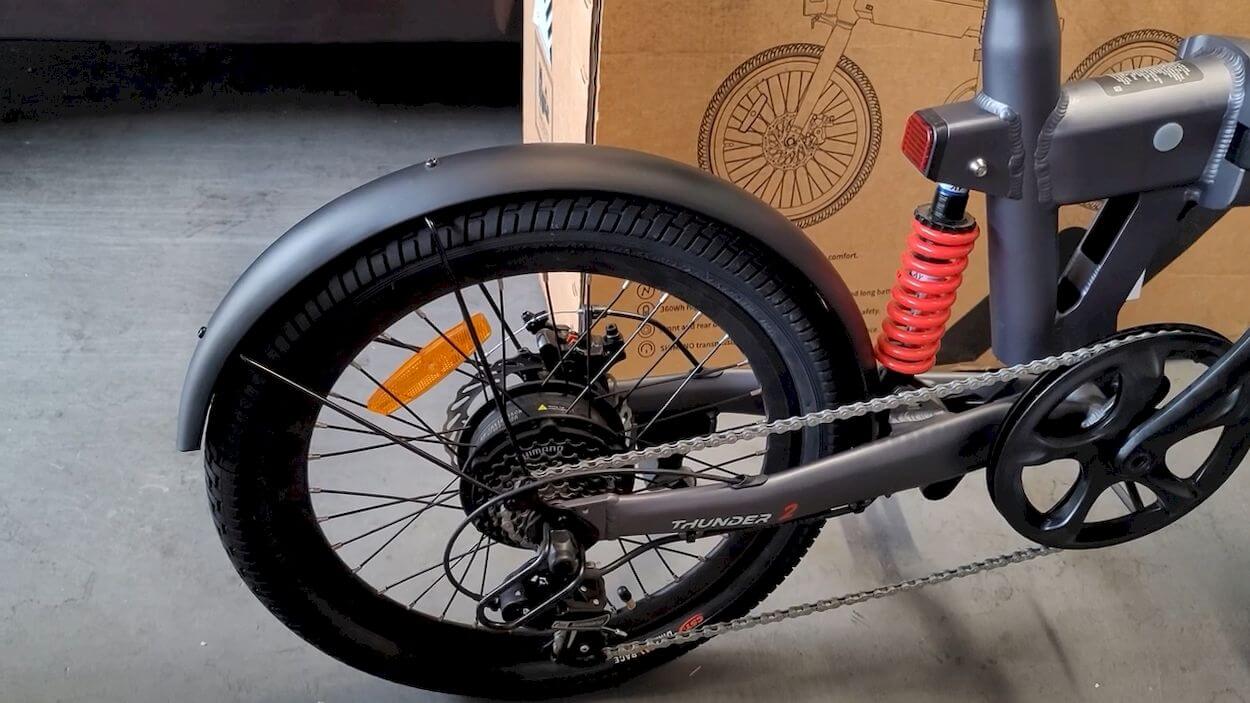 There is no front suspension on the Thunder 2. However, the rear suspension does a commendable job of absorbing shocks and bumps. If needed, you can slightly reduce the air pressure in the front tire to improve comfort on rougher surfaces.
The bike features a bright 15-watt headlight for improved visibility. Braking is handled by mechanical disc brakes, supported by a 160-millimeter rotor at the rear. Given the bike's classification as a Class 2 e-bike, these brakes provide adequate stopping power for its intended use.
So, the 5th Wheel Thunder 2 electric bike offers a thoughtfully designed and well-constructed option for urban commuters and leisure riders. Its balance of simplicity, functionality, and portability makes it a convenient choice for those looking to incorporate electric biking into their daily lives or occasional adventures.
Handlebar
The handlebar of the 5th Wheel Thunder 2 electric bike is designed for ease of use and functionality.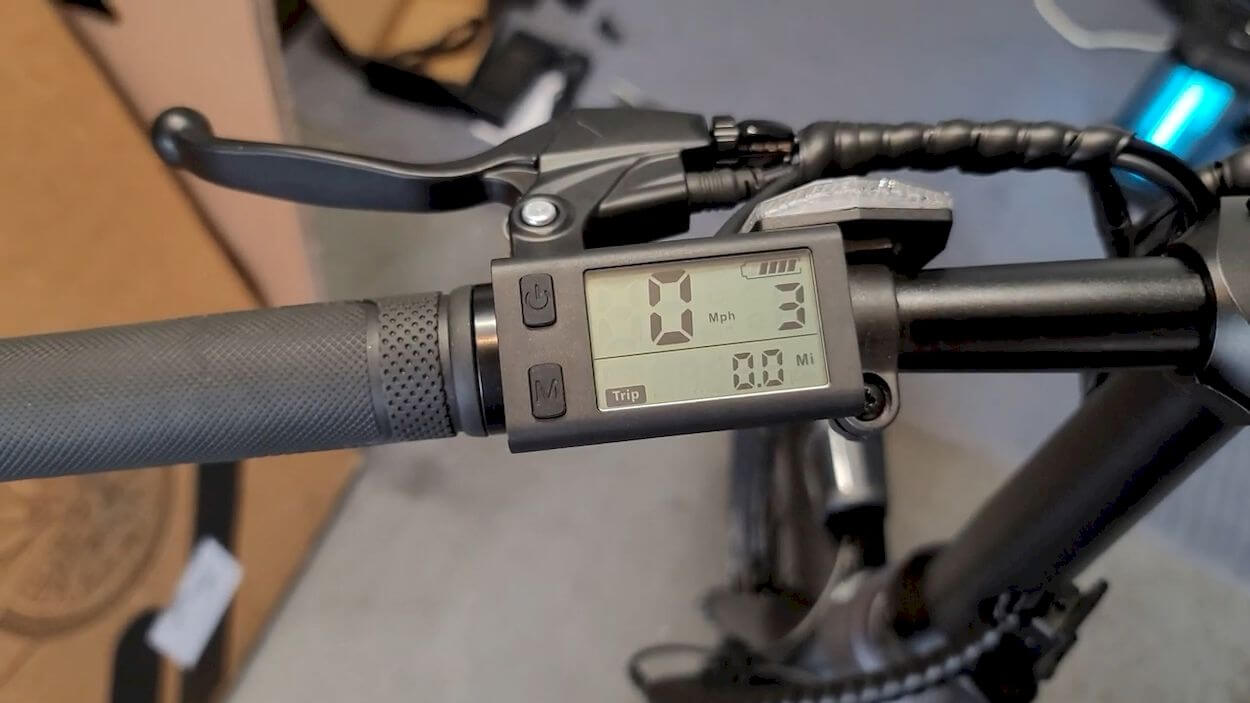 The handlebar is straight across, providing a classic and straightforward design. Mounted on the handlebar is a bike display that provides essential information about your ride. This display serves as your digital dashboard, keeping you informed throughout your journey. It typically includes data such as battery level, speedometer, pedal assist level, and odometer.
Safety is a top priority, and the Thunder 2 doesn't skimp on it. Reflectors are strategically placed on the handlebar and other parts of the bike to increase visibility, especially during low-light conditions or nighttime riding.
You'll find brake levers on both sides of the handlebar. The handlebar also houses the Shimano Tourney shifter, which allows you to adjust gears as needed.
The Thunder 2 comes equipped with a thumb throttle, conveniently placed on the handlebar. The handlebar grips feature a circular, standard rubber design.
To operate the bike and its display, simply press the power button to turn it on. The bike display will illuminate, showing vital information about your ride.
The Thunder 2 offers three pedal assist levels: zero, one, two, and three. These levels allow you to customize your riding experience by adjusting the level of electric assistance provided.
5th Wheel Thunder 2:
Motor and Riding Test
The 5th Wheel Thunder 2 electric bike is equipped with a modest 350-watt 36-volt motor. This motor provides a sufficient level of assistance for your rides. It's worth noting that this bike has a speed limitation, typically capped at 20 miles per hour. Here's a closer look at its performance: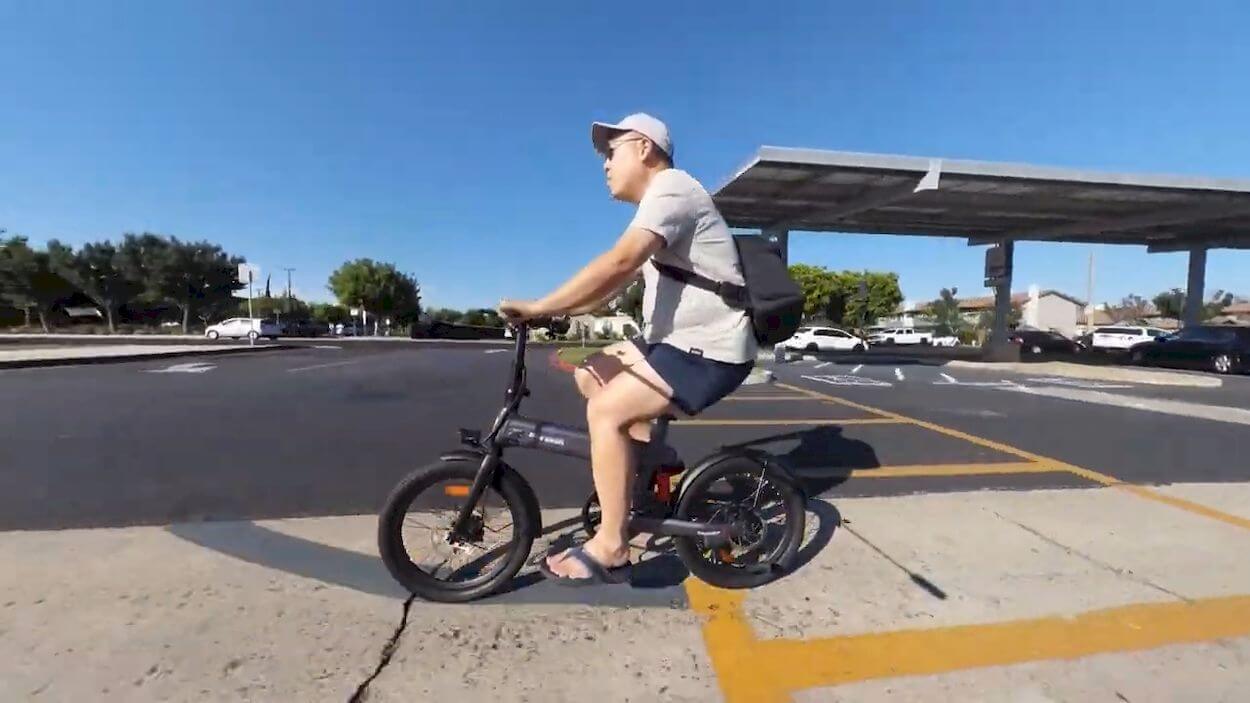 Pedaling Test: Starting the pedaling test in level one, you'll notice that this bike requires a slight kickstart for the motor to engage. It operates somewhat like a scooter, needing a small initial movement to activate the motor. Once in motion, the motor kicks in, and you can start pedaling.
In level one, the bike reaches a speed of about 14 miles per hour, providing a comfortable and efficient ride.

Moving to level two, the speed increases to around 17 miles per hour, offering a noticeable boost in assistance.

In level three, which is the maximum pedal assist level, the bike reaches its speed limit of approximately 19 miles per hour when pedaling.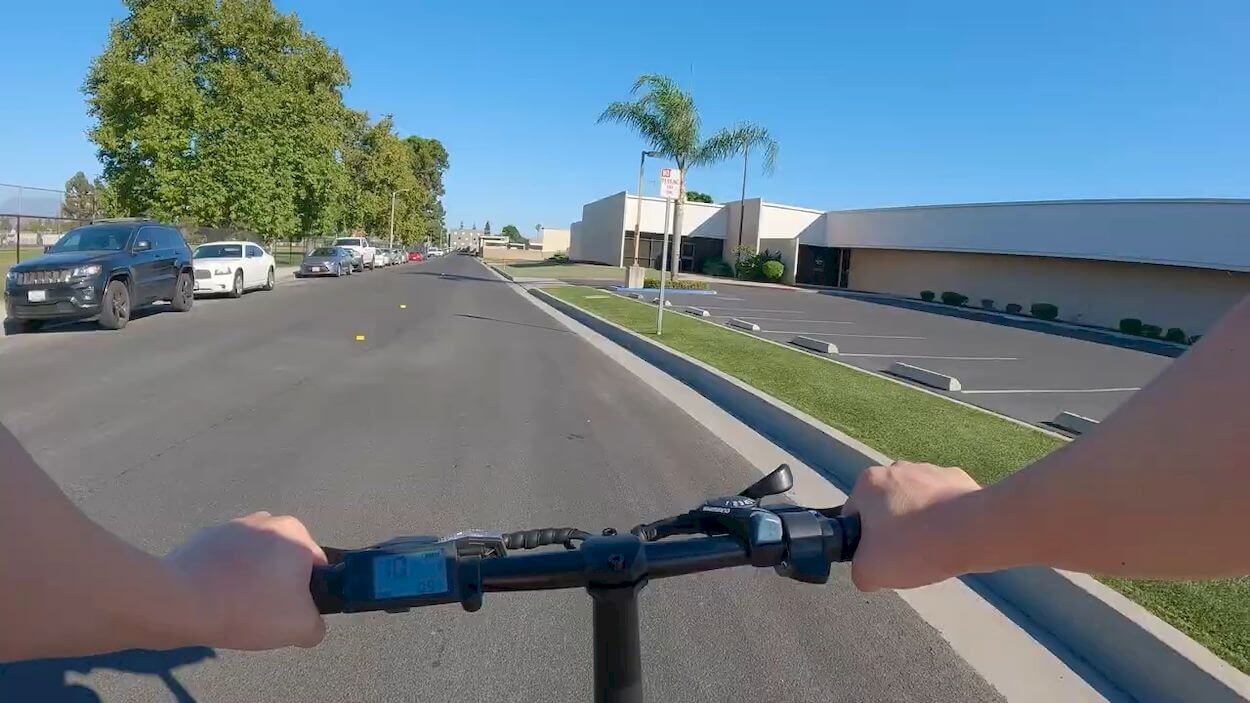 Throttle Control: The Thunder 2 features a throttle control that gives you instant access to full motor power. When using the throttle, you can reach the bike's speed limit of 20 miles per hour with ease. It's important to note that the throttle provides a bit more power compared to just pedaling, enhancing your acceleration and overall speed.
The bike's quiet operation is another standout feature. Thanks to its skinny road tires and the nature of its motor, it produces minimal noise. Unlike some e-bikes with fat tires that can generate noticeable road noise, the Thunder 2 offers a quieter and more enjoyable riding experience. Whether you're traversing rough terrain or smooth surfaces, this bike remains impressively silent.
Battery and Range
The bike is equipped with a 36-volt, 10-amp-hour (Ah) battery, which translates to a total capacity of 360-watt hours (Wh). This battery capacity is well-suited to support the e-bike's motor and provide ample assistance during your journeys.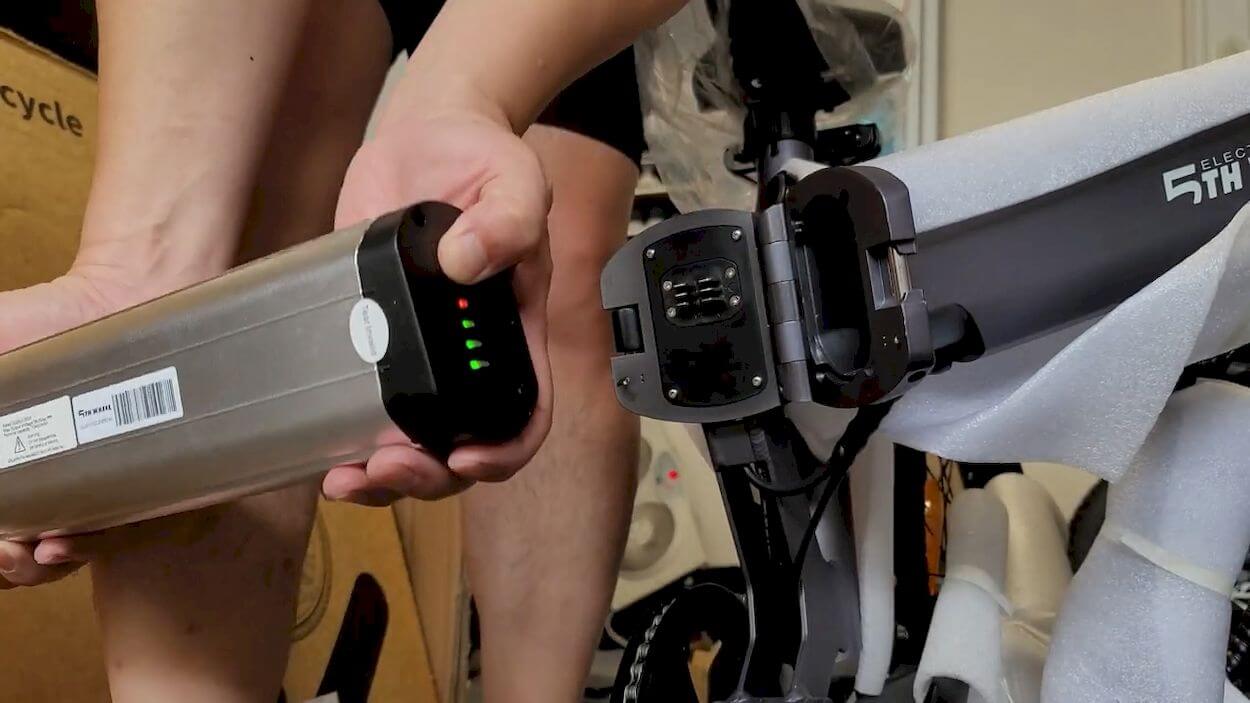 The Thunder 2 offers a commendable range of up to 60 miles when using pedal assist. This means you can cover substantial distances on a single battery charge, making it ideal for various riding scenarios. Whether you're commuting to work, exploring the city, or enjoying leisurely rides, this e-bike provides the freedom to venture far without worrying about running out of power.
The battery is neatly integrated into the frame, contributing to the bike's sleek and streamlined appearance. This design choice not only enhances aesthetics but also improves the overall balance and weight distribution of the Thunder 2. With the battery securely housed within the frame, you can ride confidently, knowing that your power source is well-protected and efficiently utilized.
Conclusions
The 5th Wheel Thunder 2 electric bike offers a range of features and specs that make it a compelling choice for riders seeking a lightweight, foldable, and portable e-bike. Here's a recap of the key aspects and some additional insights: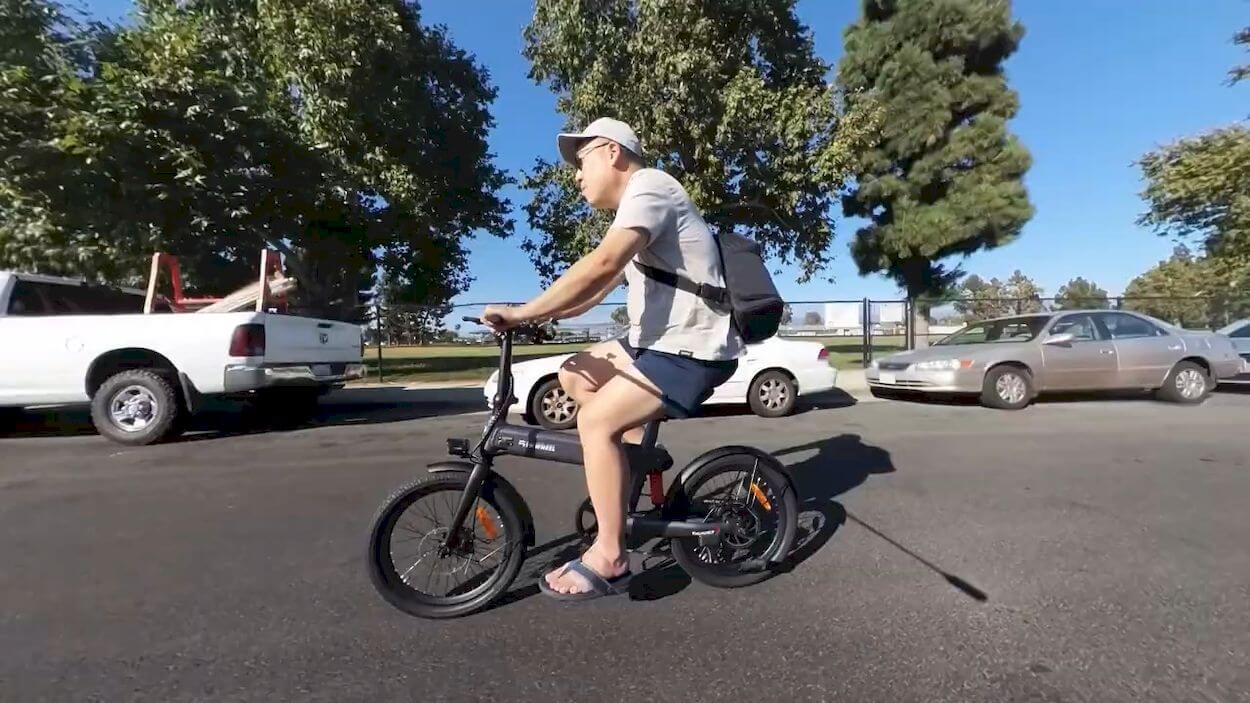 Positives:
Lightweight and Portable: The Thunder 2's lightweight design and foldable frame make it a breeze to transport and store, catering to commuters and adventurers alike.

Smooth Ride: The bike's single large spring suspension at the rear provides a comfortable and smooth ride on streets, sidewalks, and most asphalt surfaces.

Quiet Operation: With its skinny road tires and modest motor, the Thunder 2 operates quietly, reducing noise during your rides.

Impressive Range: The e-bike offers an excellent range of up to 60 miles on pedal assist, thanks to its 36-volt, 10-amp-hour battery.
Considerations:
Pedal Activation: The bike requires initial pedaling to activate the motor, which is more akin to a scooter. This setup might not suit riders who prefer using the throttle right from the start. However, once in motion, the throttle can be used for full motor power.

Handlebar Height: The handlebar is fixed in terms of height, which may be a limitation for taller riders. While the seat is adjustable, the handlebar cannot be raised to accommodate taller individuals.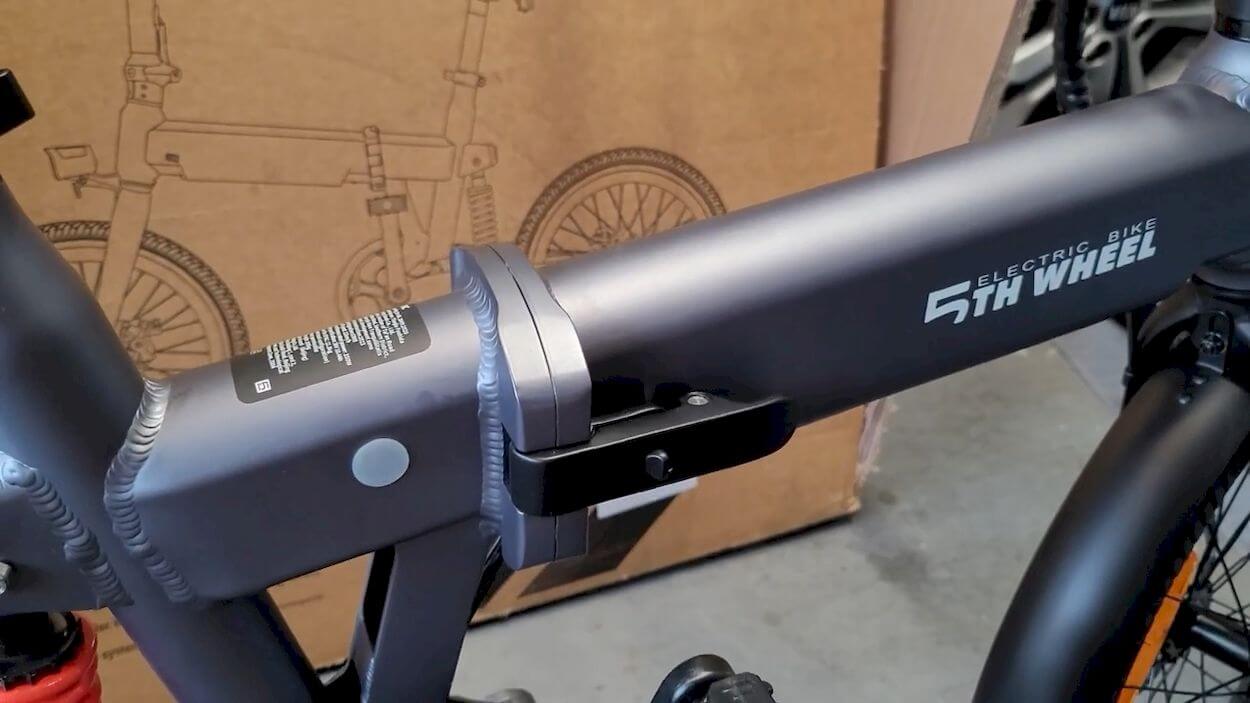 So, the 5th Wheel Thunder 2 electric bike presents an appealing package for riders seeking a versatile and portable e-bike. Its combination of lightweight design, smooth ride quality, impressive range, and quiet operation makes it a practical choice for various riding scenarios. With a competitive price point, it offers a compelling value proposition. If you're looking for an e-bike that balances performance and portability, the Thunder 2 is worth considering. 
Alternatives of 5th Wheel Thunder 2