Velotric is rolling out an exciting new addition to their collection of e-bikes called the "Velotric Packer 1." This latest cargo bike model is packed with a range of interesting and innovative features, making it a standout option for riders seeking a versatile and practical electric cargo bike.
The Packer showcases Velotric's dedication to delivering top-notch quality and performance. With a strong emphasis on functionality and utility, this cargo e-bike is designed to cater to the needs of urban commuters, families, and businesses alike.
Considering the Packer 1's price point of $1999, the bike offers tremendous value compared to higher-priced brands with similar specifications. While those higher-end brands might cost several thousand dollars, the Packer 1 delivers comparable performance and features at a fraction of the price.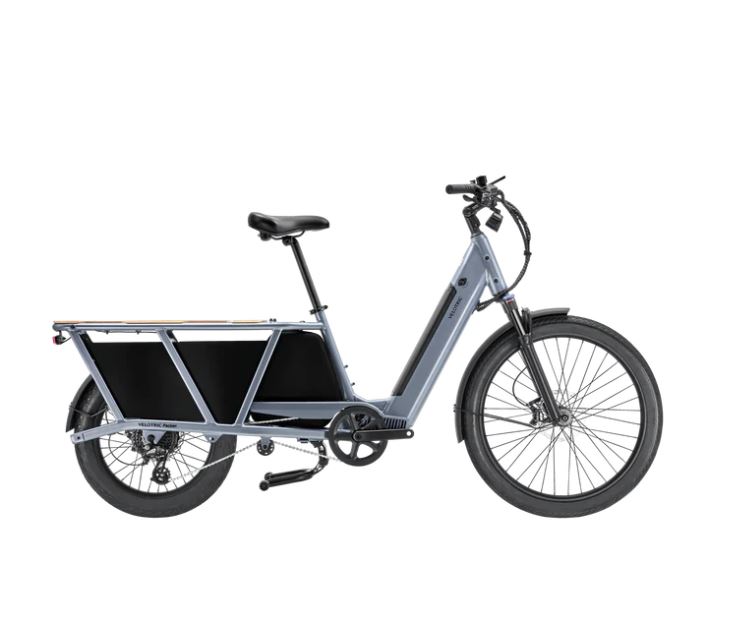 Let's start with the unboxing of the new bike and explore its features, advantages, and any potential disadvantages in detail.
Frame
Aluminum alloy
Motor Hub
750W, Peak 1200W, 75Nm
Max Speed
20 MPH, Class 2
Hill Grade
Throttle only: 10° (18%)
Pedal Assist: 12° (21%)
Brake
Hydraulic Disc Brake 4-Piston
Fork
Hydraulic suspension with 80mm travel, 15x110mm thru-axle
Rear Derailleur
SHIMANO M310-8
Tire
(F) CST 26x2.4" (R) CST 20x3.0" Ebike puncture resistant tires
Display
3.5" Backlit LCD display with speed, trip, battery, assist Level and more
Water Resistant
IPX6
Sensor
Cadence sensor
Battery
48V, 14.4Ah, 691.2Wh
Throttle Range
Up to 45 miles
Pedal Assist Range
Up to 52 miles
Bike Weight
75lbs (34.2kg)
Rear rack Load Capacity
176lbs (80kg)
Max Bike Load
440lbs
Unboxing
As I eagerly unbox the Velotric Packer 1, I can already feel the excitement building up. The packaging is top-notch, with a sleek design and plenty of clear instructions. It's evident that the company takes great care in delivering their product to customers.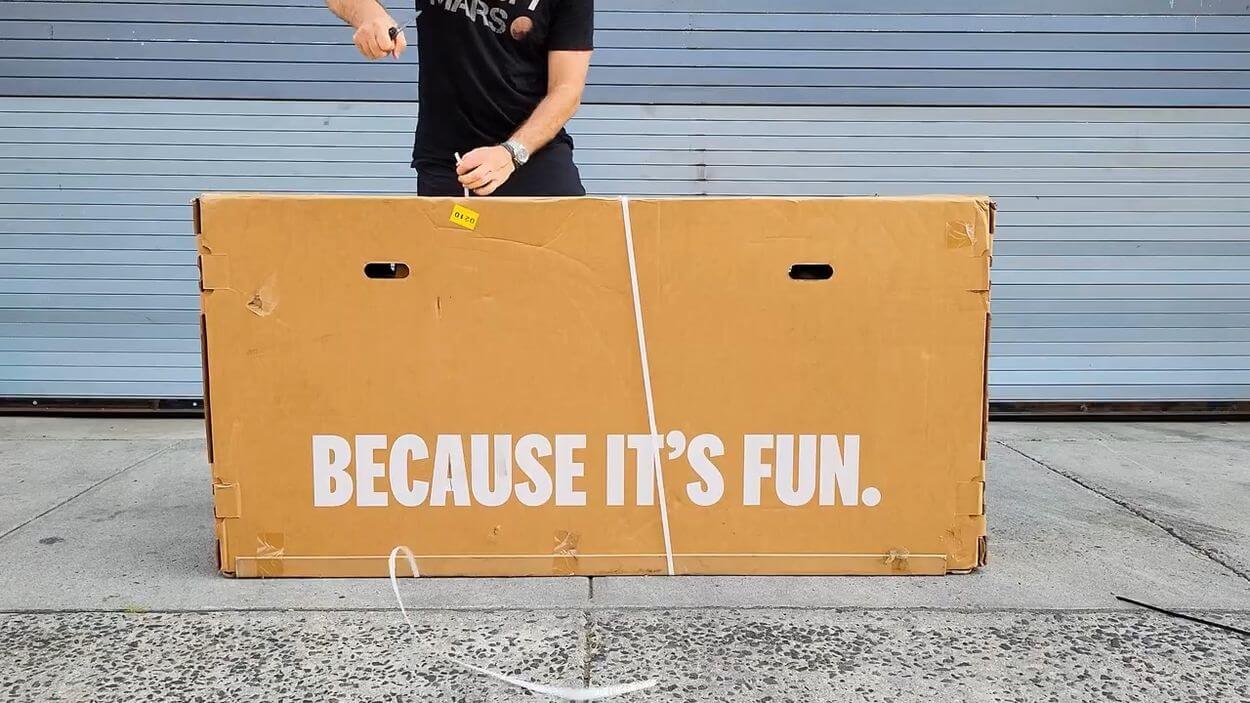 Upon opening the box, I'm immediately greeted by the Packer 1, securely nestled inside protective foam inserts. The bike looks impressive with its modern design and attention to detail. The frame boasts a clean and attractive aesthetic, leaving me eager to explore its features.
The first thing that catches my eye is the charger, packed neatly and thoughtfully labeled. It's a 48-volt, 3-amp high-quality charger, showcasing the manufacturer's commitment to providing an efficient and reliable charging solution. The charger's design complements the overall appearance of the Packer 1, giving a sense of cohesiveness to the entire package.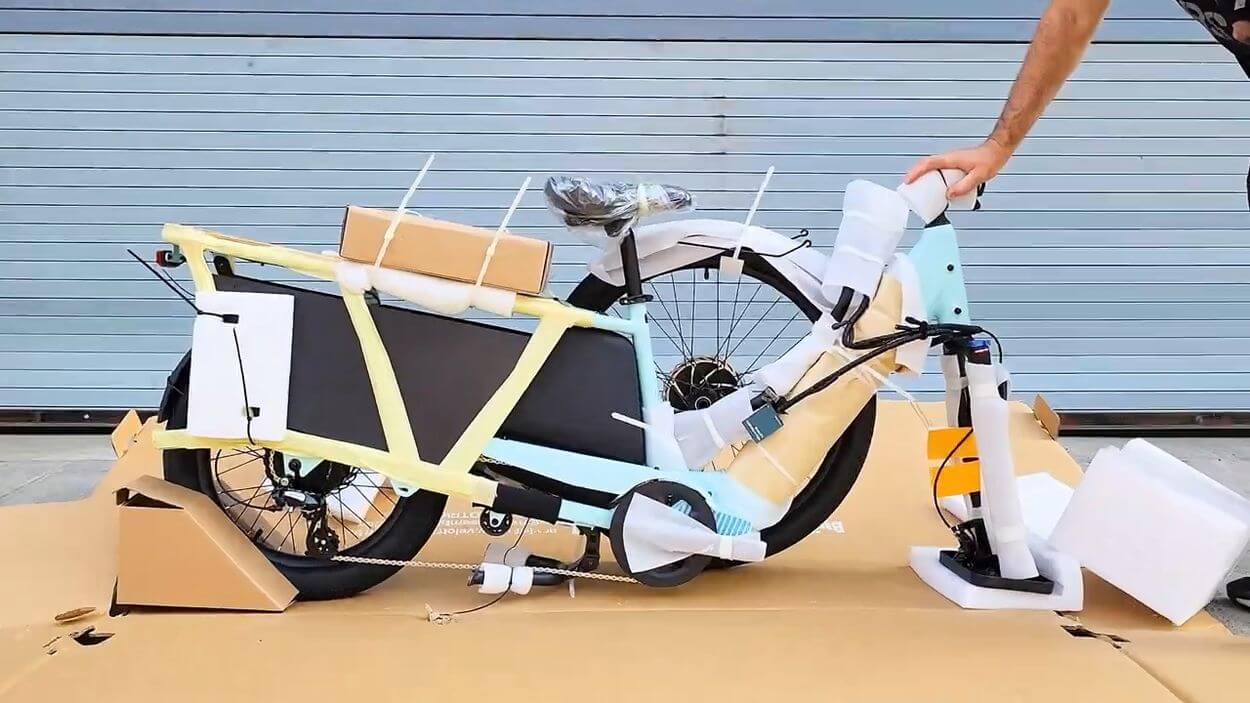 As I continue unpacking, I discover a pleasant surprise – a wall mount for the charger. This addition is not only practical but also well-designed. The wall mount features subtle grooves that seamlessly align with the branding on the charger, creating a cohesive and sophisticated look. It's evident that Velotric has carefully considered the user's experience, making charging and storage more convenient.
The provided instructions are clear and easy to follow, ensuring a hassle-free setup proces
. Velotric has taken great care to provide comprehensive guidelines, ensuring that even those new to e-bikes can confidently assemble and enjoy the Packer 1.
Assembly and setup of the bike with its accessories are reported to be fast and easy, saving users time and effort. This convenience is essential for those who want to get on the road quickly and enjoy their e-bike to the fullest.
Design and Build Quality
The Velotric Packer 1 impresses with its well-thought-out design and sturdy build quality, making it a standout e-bike in the market. Despite its larger size, the bike manages to maintain a surprisingly light and nimble feel, which enhances its overall comfort and rideability.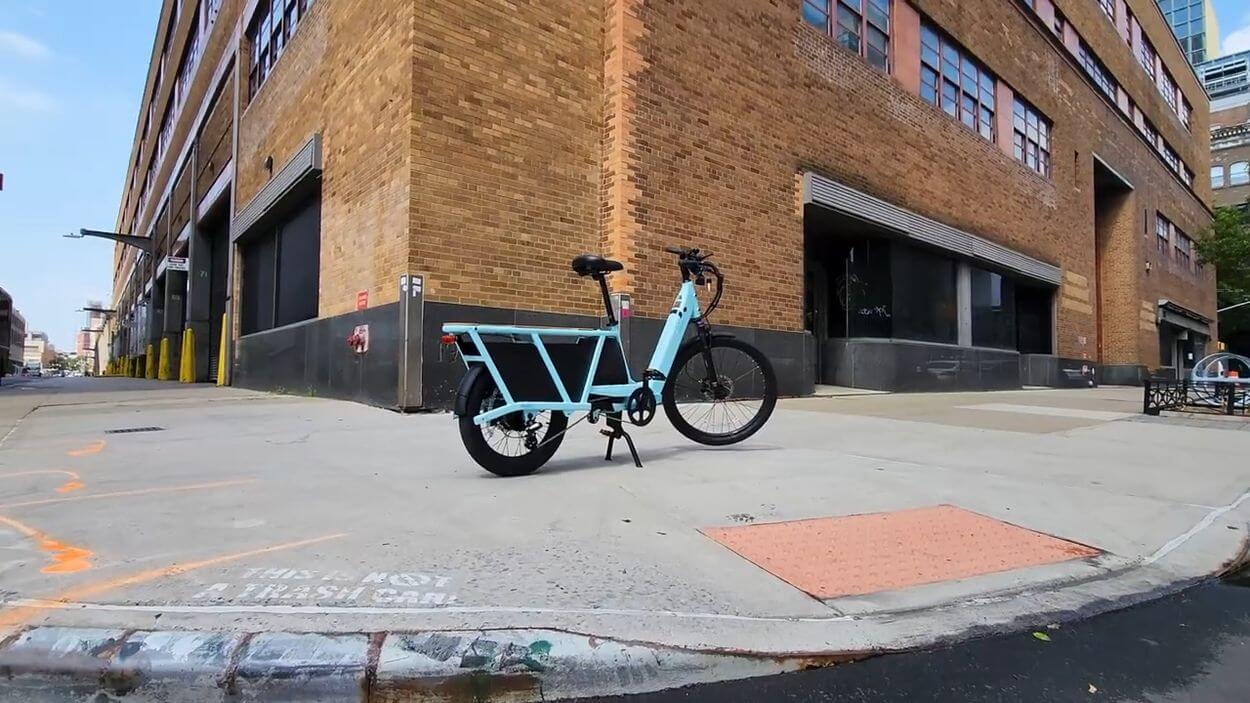 One of the defining features of the Velotric Packer 1 is its long frame, which not only adds to its impressive appearance but also serves a functional purpose. The extended frame allows for more features and accessories to be integrated, enhancing the bike's capabilities and versatility. With a lower cargo level, the bike offers increased control, stability, and comfort during rides, making it ideal for hauling cargo or for daily commuting in urban environments.
Velotric has succeeded in its mission to make e-bikes more accessible to a broader audience. The Packer 1 is a testament to this, as it offers a host of features and high build quality at a competitive price point compared to other e-bike offerings in the market.
The bike's build is optimized for utility and everyday practicality. It can be customized with various accessories, catering to individual preferences and specific needs. This flexibility makes it an excellent choice for navigating through a bustling city like New York, where owning a car can be inconvenient and expensive due to parking constraints.
The heart of the Velotric Packer 1 lies in its Velopower Drive System H75, promising more power, greater range, and an enjoyable riding experience. While this will need to be tested to confirm, it does sound promising for those seeking a robust and capable e-bike.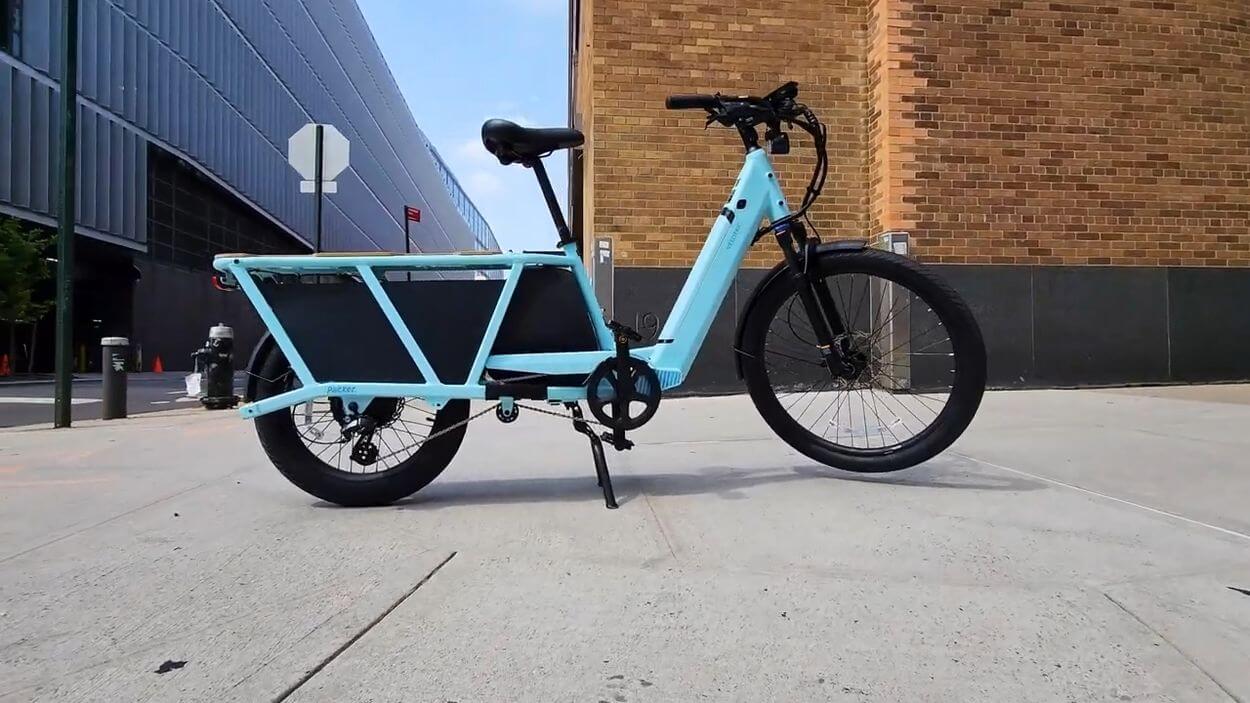 The Packer 1 boasts an impressive payload capacity of 440 pounds, with the rear cargo load supporting up to 176 pounds. This means it can handle substantial amounts of cargo, making it suitable for various delivery or carrying purposes. Additionally, the bike's spacious design allows for customization with plenty of accessories, catering to users' unique requirements.
In terms of aesthetics, the Velotric Packer 1 doesn't disappoint. The sky blue color option is visually appealing, complemented by a beautiful paint job that enhances the bike's overall appearance.
Velotric has equipped the bike with good quality handles, ensuring a comfortable and secure grip during rides. The hardware used to secure these grips reflects the overall high-quality build of the bike, emphasizing the manufacturer's commitment to durability and reliability.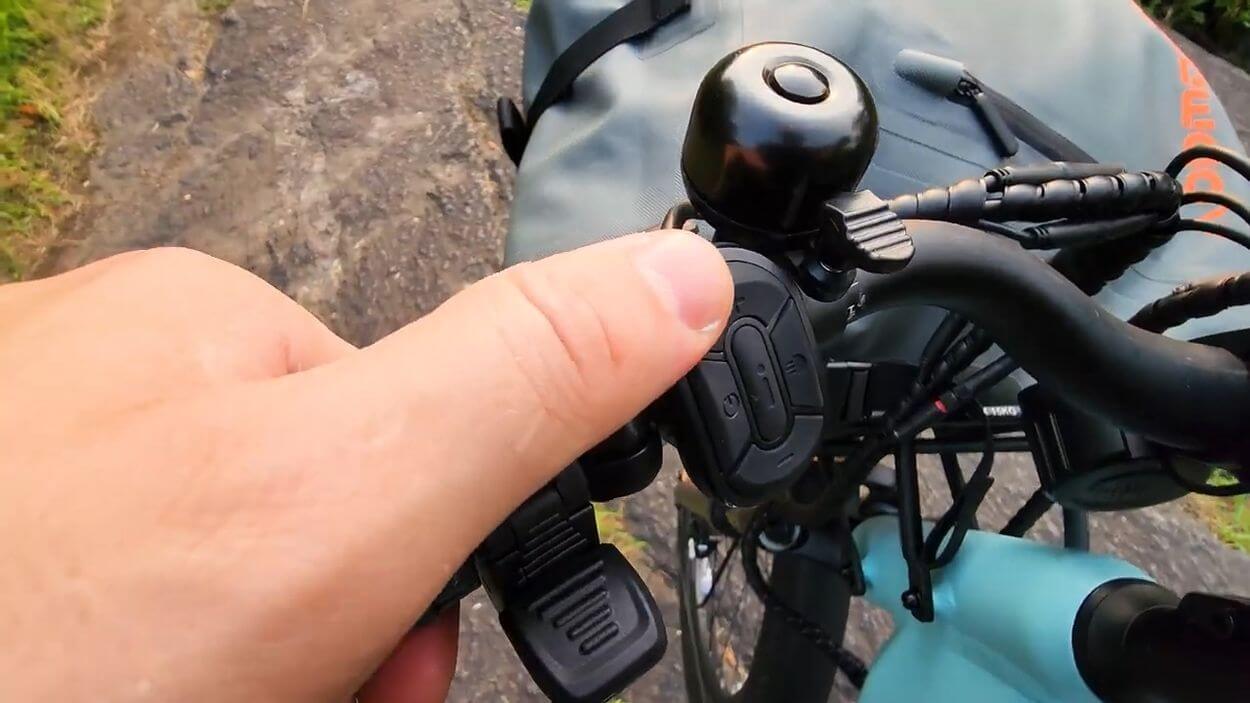 The throttle on the Packer 1 is designed to be intuitive and responsive, offering smooth acceleration. The 3.5-inch display is of good quality, providing riders with essential information about speed, battery level, and assist levels.
Speaking of assist levels, the Packer 1 offers five levels of assistance, allowing riders to choose their preferred level of electric support according to the terrain and their riding preferences. The inclusion of a ring bell adds an element of convenience and safety when navigating through busy areas.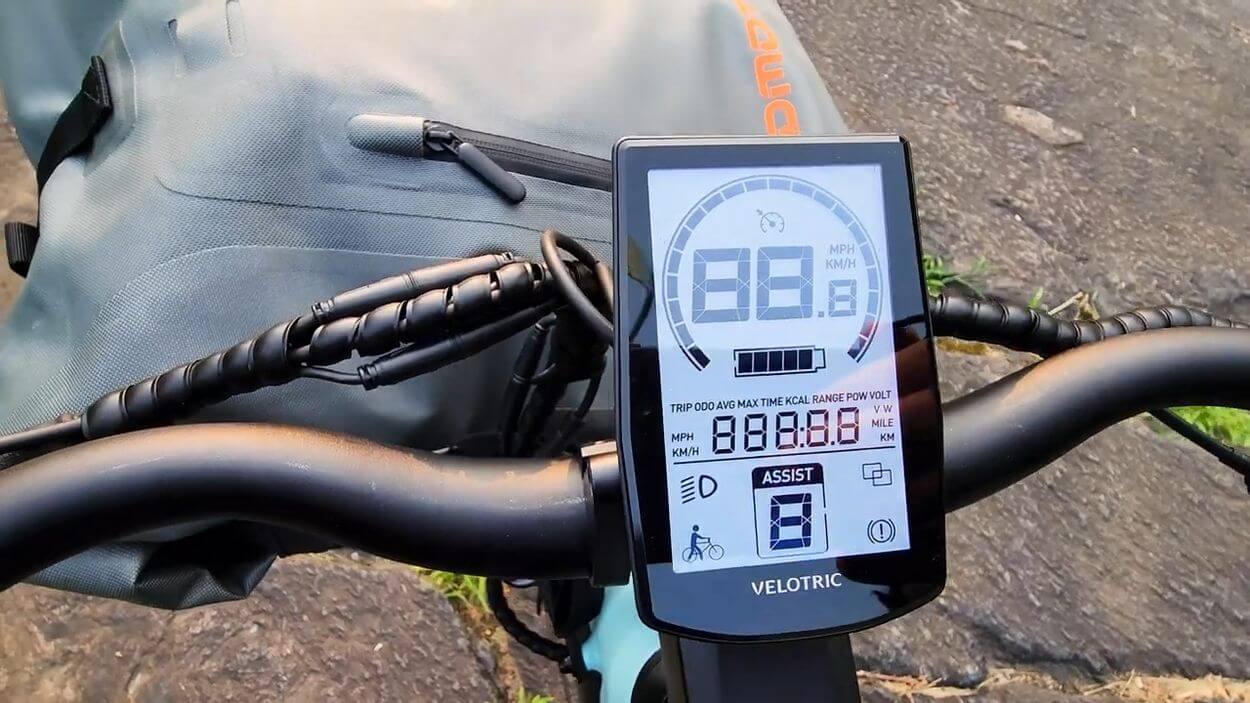 Examining the bike's hardware further, the shifter stands out as a notable feature. The electric shifter has been upgraded compared to previous models, enhancing the overall riding experience with smooth and precise gear changes.
Safety is a top priority on the Packer 1, as evidenced by the high-quality hydraulic disc brakes with four-piston calipers and 180-millimeter rotors. These brakes deliver powerful and reliable stopping performance, instilling confidence in riders during various riding conditions.
Moving on to the front fork, the bike offers adjustability with options for rebound and lockout. With 3.2 inches of travel, the suspension ensures a comfortable ride even over rough terrains, efficiently absorbing impacts and vibrations for a smooth journey.
The frame of the Velotric Packer 1 is designed for both comfort and stability. It features a step-proof design, ensuring easy mounting and dismounting. The frame is also optimized to accommodate the battery, which is UL certified for added safety.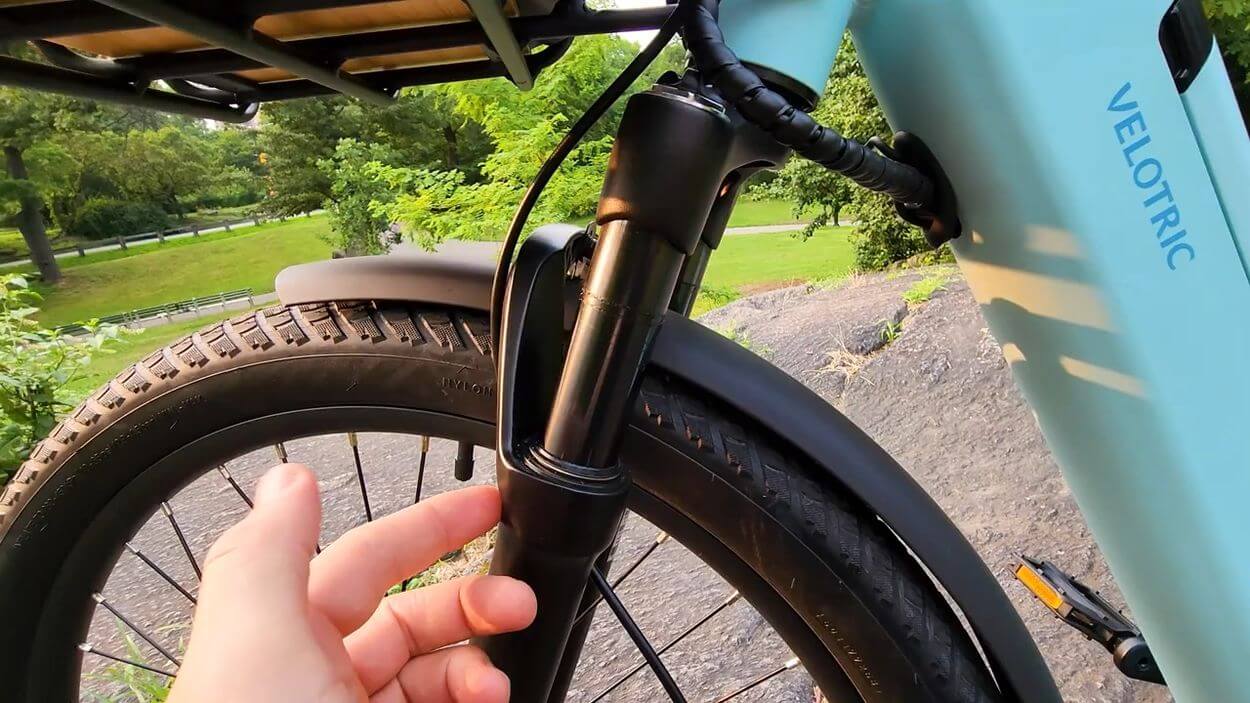 The attention to detail extends to the bike's aesthetics, with a beautiful paint job and neatly finished edges. The inclusion of a convenient pocket allows riders to store various items such as water bottles, camera gear, or personal belongings during their rides.
The bike's versatility is showcased through its customizable features. Riders have the option to modify the battery and wiring in parallel to increase the range, which is especially useful when carrying heavy cargo for extended distances.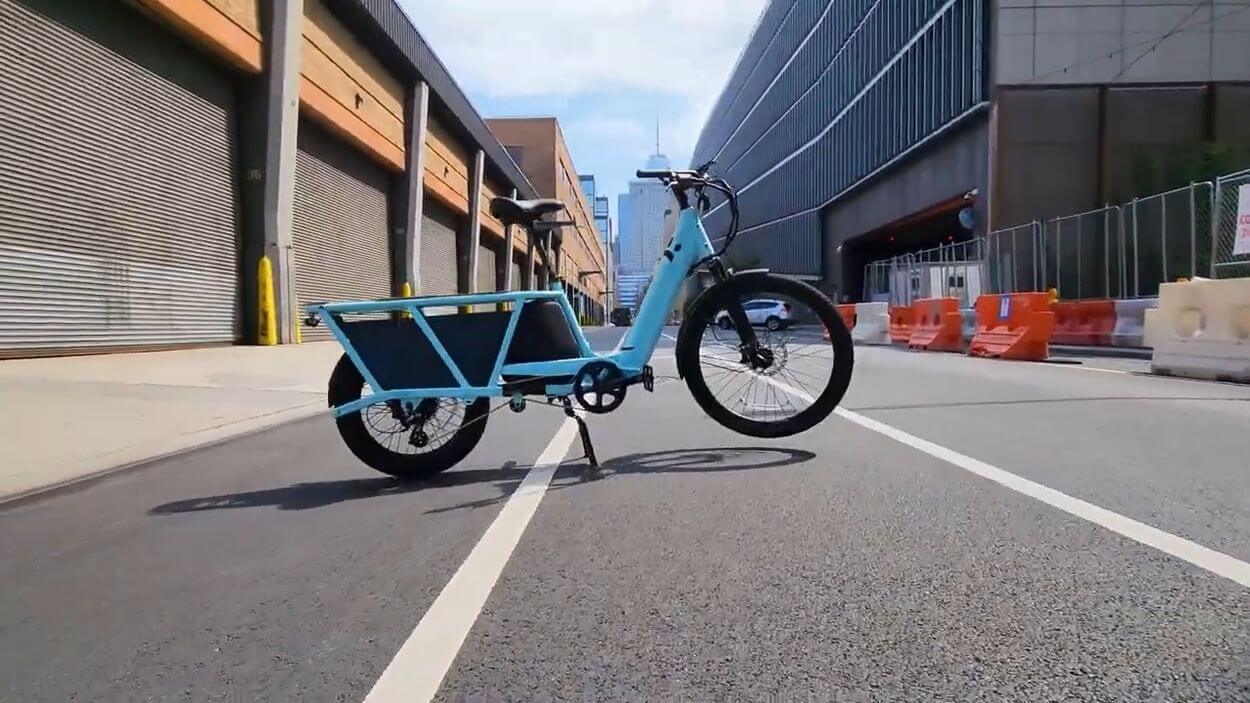 The Packer 1's cargo capabilities are well thought out. The lower cargo placement adds to the bike's stability, and its full-frame size cargo design ensures ample space for carrying various loads. The front basket can handle up to 15 kilograms, providing additional storage capacity for everyday needs.
Seat and Accessories 
The rear seat pads on the Velotric Packer 1 are a standout feature, providing exceptional comfort with their two-inch thickness. What's even more convenient is that there are two seat pads, allowing you to accommodate both a child and an adult simultaneously. The presence of handlebars in the front makes it easy for the child to hold onto and maintain stability during the ride. The versatility of the rear seat design enables users to opt for various configurations, such as replacing one seat with a basket or choosing other accessories to suit their needs.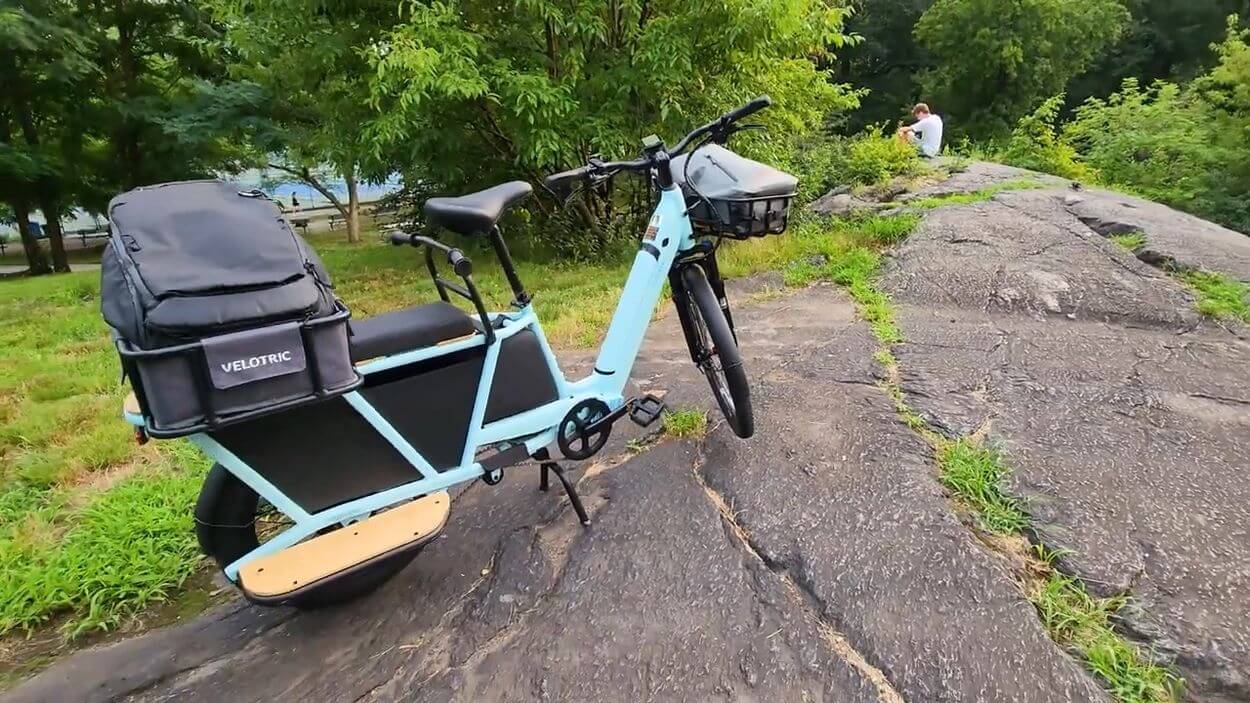 To ensure a secure and protected ride for passengers, the bike features a plastic panel that runs from the front to the back, providing additional safety and support. The front chainring is designed to optimize torque and power, making it easier to start when carrying heavy loads of up to 200 pounds. While the bike is not primarily designed for high speeds, it can still reach up to 25 miles per hour without a load, making it suitable for swift urban commuting.
The frame construction of the Velotric Packer 1 is robust and reliable, ensuring stability and strength when carrying substantial cargo. Additionally, the bike offers a thoughtful pouch in the middle, providing convenient storage for smaller items during rides.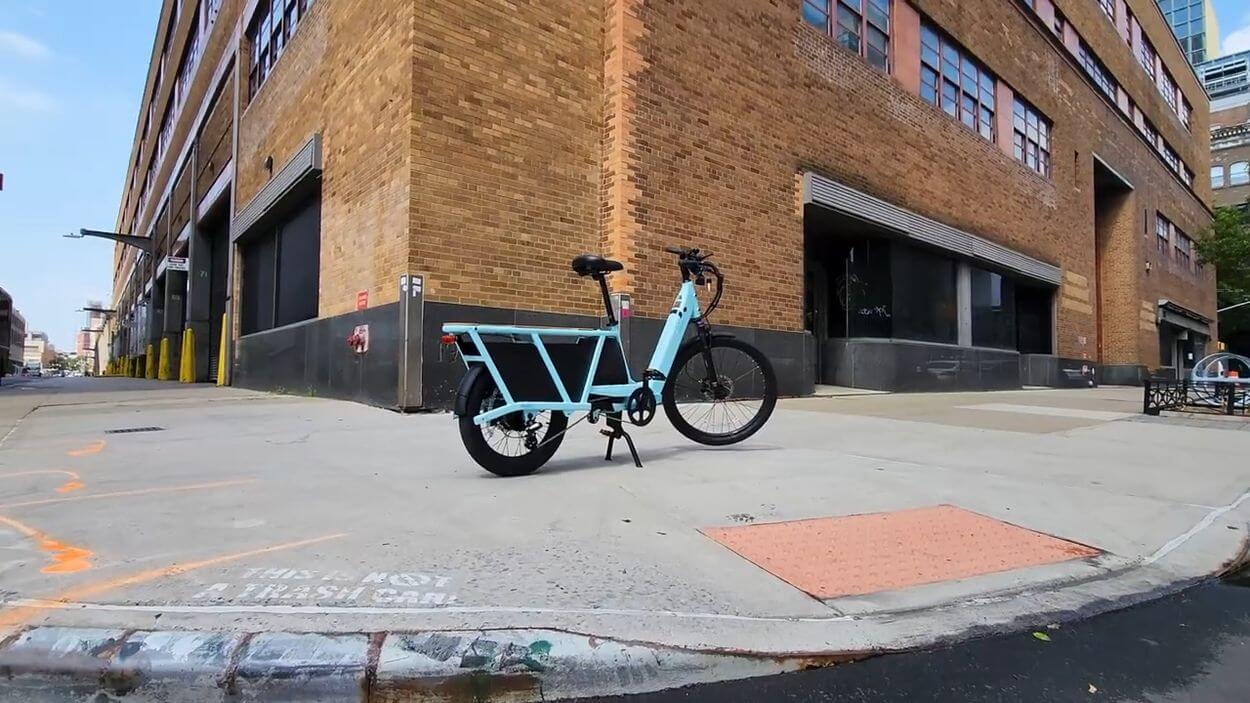 The choice of a smaller 20-inch by three-inch rear wheel contributes to a lower cargo level, improving the bike's overall balance when carrying heavy loads. Coupled with a 26-inch front wheel equipped with suspension, the Packer 1 offers an incredibly comfortable and smooth ride, even on uneven terrains.
Furthermore, the use of good-quality wooden panels on the foot pegs adds to the overall aesthetics of the bike while providing a sturdy and reliable platform for passengers. The accessibility of various accessories makes it easy to customize the Velotric Packer 1 according to individual preferences and requirements.
Lights
The Velotric Packer 1 comes equipped with a high-quality light that impresses with its brightness and performance. The front light emits a powerful white beam, allowing for excellent visibility even in low-light or dark conditions. The light's concentrated focus ensures that it illuminates distant objects with clarity, making night rides safe and enjoyable.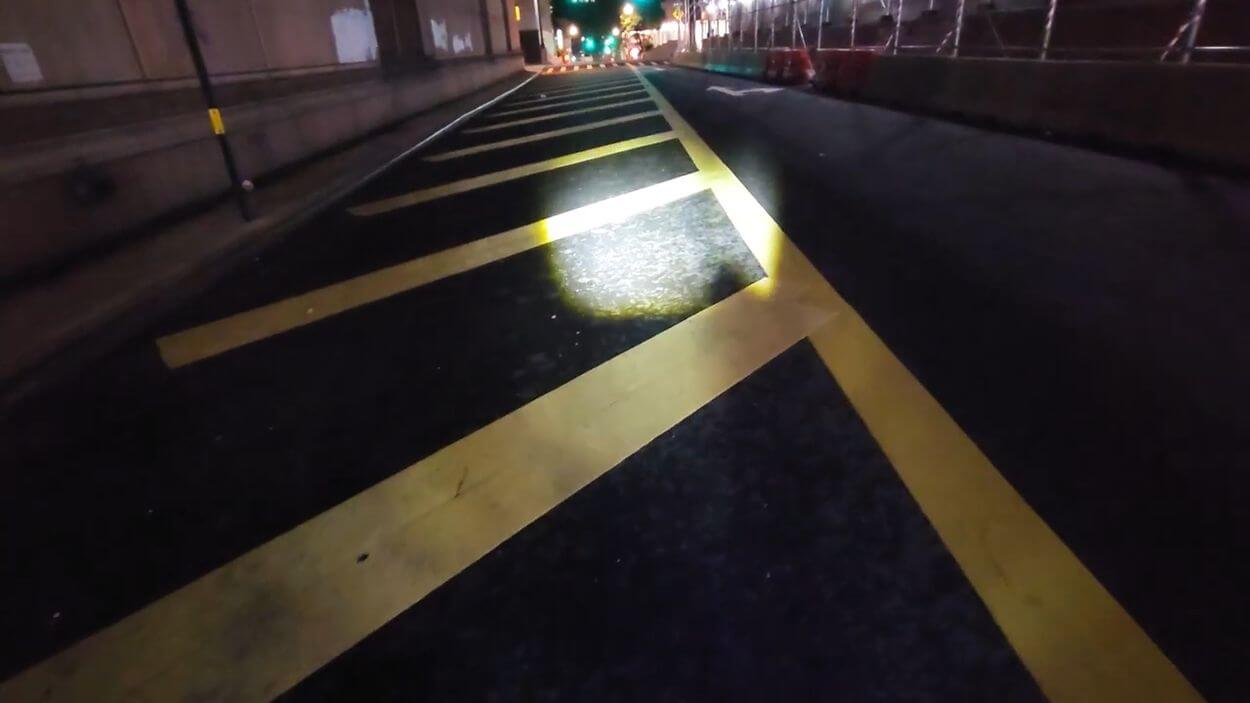 The light is also adjustable, providing the option to lower or raise its position to suit individual preferences and riding conditions. When the light is lowered, it focuses on a specific area, creating a concentrated and intense beam. On the other hand, raising the light spreads its coverage, illuminating a broader area for improved peripheral vision.
While the light's performance is exceptional, there might be some minor inconveniences with the wiring. It seems that the positioning of the cables can affect the light's overall definition and coverage. However, this can be easily remedied by organizing the wiring and ensuring it doesn't obstruct the light's path.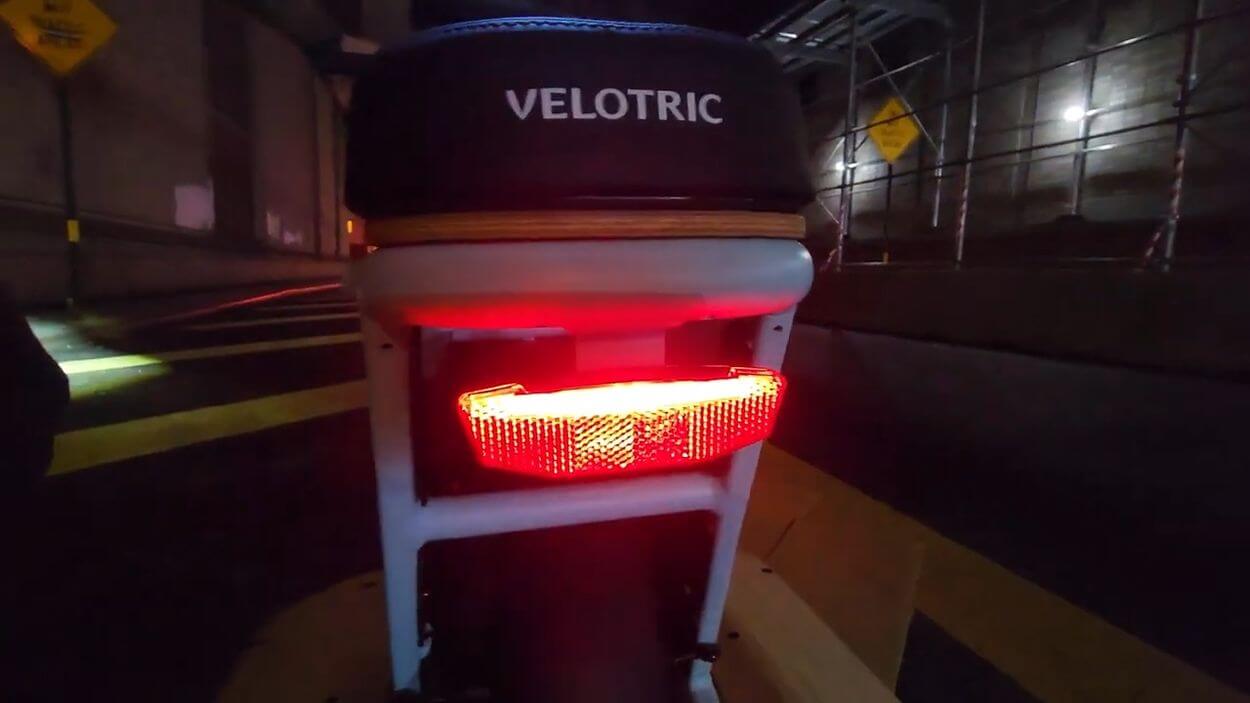 Once any cable interference is addressed, the light shines at its full potential, providing a clear and powerful beam that enhances rider safety and confidence during night rides.
Tires 
The Velotric Packer 1 is equipped with a critical feature that provides convenience and peace of mind – CST puncture-resistant tires. These tires are designed to reduce the risk of getting flats, minimizing the hassle of having to take the wheel off and patch the tube or replace the tire. With puncture-resistant tires, riders can confidently navigate through various terrains, knowing that they are less likely to encounter tire-related issues.
The bike's front axle Hub is another ingenious addition, making transportation and storage more straightforward than ever before. With the Nova tag through the front axle Hub, removing the front tire becomes a quick and effortless process. This feature is especially useful for those who need to load the bike into a truck, van, or car. Whether transporting the bike to a distant trailhead or simply stowing it away in a limited space, the front tire removal is now a fast and hassle-free task.
Motor and Driving Test
The Velotric Packer 1 boasts an impressive 750-watt rear hub motor, but it doesn't stop there. The motor is capable of peaking at 1200 watts and generating a whopping 75 Newton meters of torque. This power and torque combination ensures that the Packer 1 delivers an exhilarating and high-performance riding experience.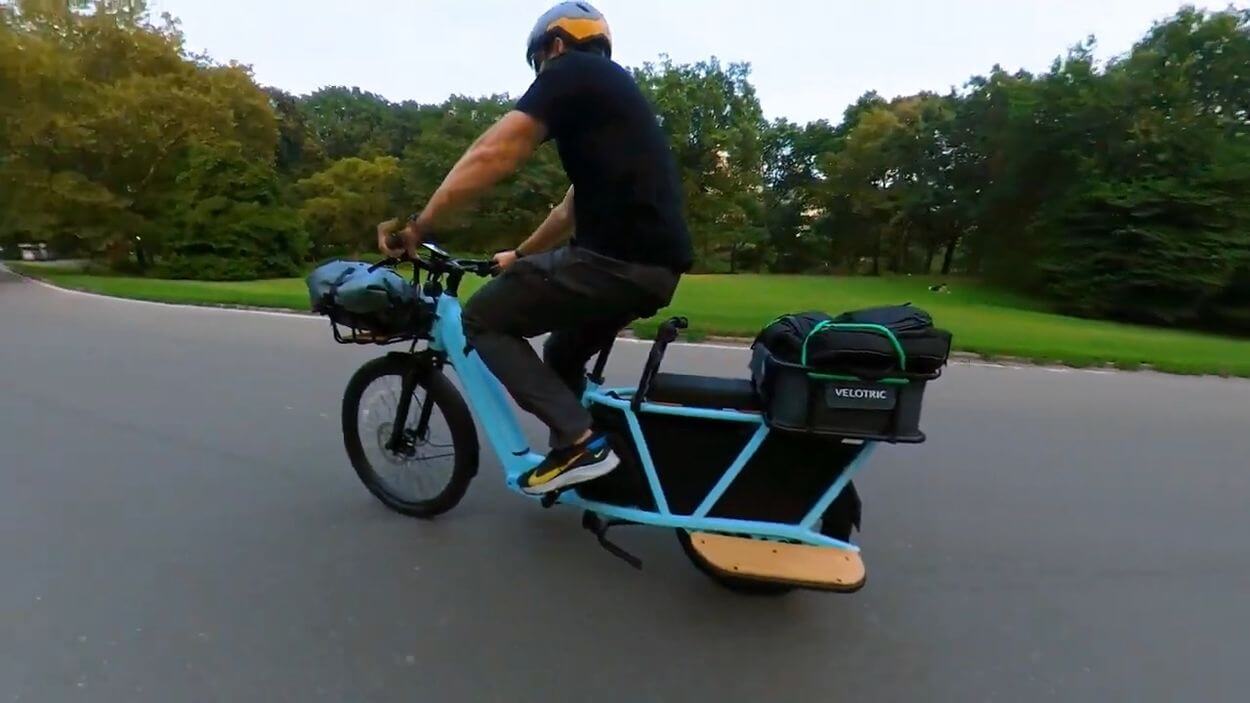 By default, the bike comes set up as a class 2E e-bike, which means it is limited to a top speed of 20 miles per hour. However, unlocking the full potential of the bike as a class 3 e-bike allows it to reach higher speeds, typically around 24 to 25 miles per hour on flat surfaces. This upgrade significantly enhances the bike's versatility, making it suitable for those who prefer a slightly faster ride.
The increased torque and acceleration on the Packer 1 are truly remarkable, surpassing the performance of the previously reviewed Electric Expedition model. With the Packer 1, riders can effortlessly reach speeds of 24 to 25 miles per hour with just the throttle, showcasing the bike's exceptional power and efficiency.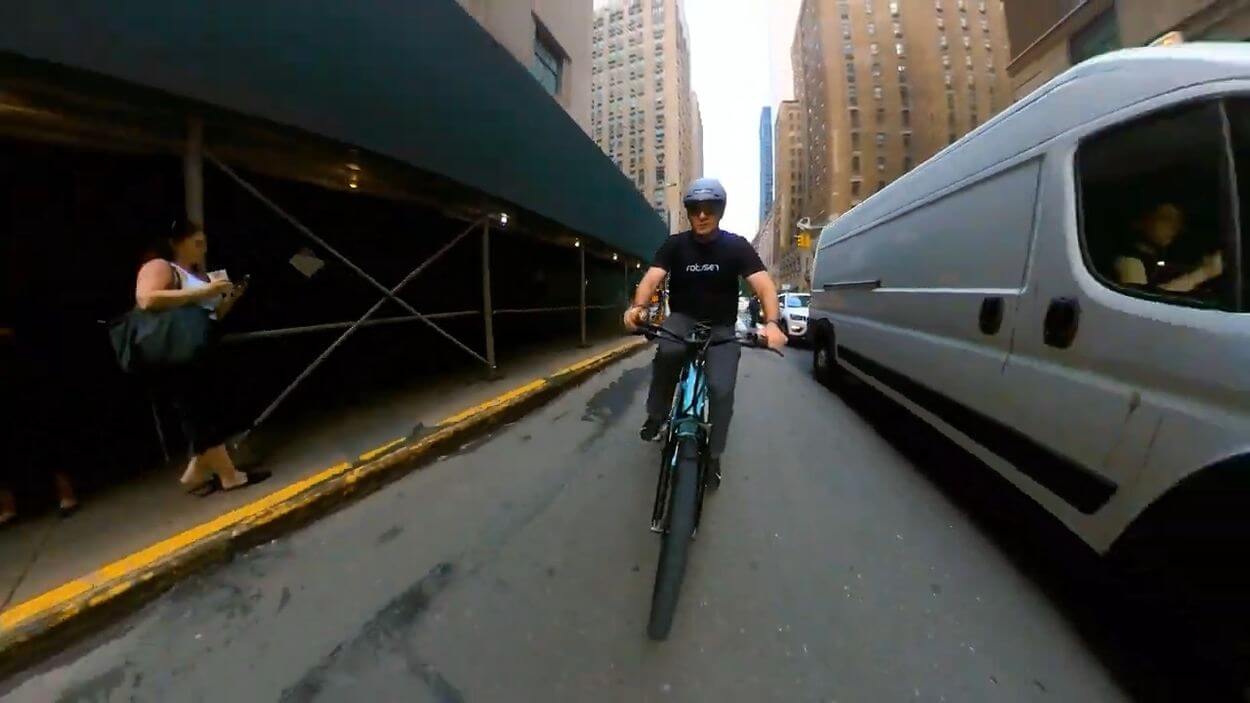 Even when carrying extra cargo, the Packer 1 remains a powerhouse. The bike's motor effortlessly propels it forward, maintaining stability and comfort, even with additional weight on board. This makes it an ideal choice for riders who need to carry heavy loads or tackle hilly terrains without sacrificing performance.
The front suspension on the Packer 1 adds to the overall stability and comfort of the ride. It ensures that the bike can handle the increased speeds and power without compromising on rider comfort.
Battery and Range
The Velotric Packer 1 is powered by a robust battery system, featuring a 48-volt, 14.4 amp-hour configuration. The battery is UL 2271 certified, ensuring its safety and compliance with industry standards. Additionally, the entire e-bike holds UL 2849 certification, providing further assurance of its quality and safety.
The combination of a 48-volt system with a 14.4 amp-hour capacity gives the Packer 1 an impressive range. Even with a rider weight of 225 pounds and utilizing the maximum assist level, the bike managed to cover an astounding 34.9 miles on a single charge. This performance is remarkable, especially considering the frequent braking and acceleration required in city riding, where lights and pedestrians are abundant.
On average, riders can expect a range of around 25 to 30 miles with the Packer 1's 14.4 amp-hour battery. However, the bike's efficiency and power optimization enable it to surpass these expectations, consistently achieving a range of 30 to 35 miles in real-world scenarios.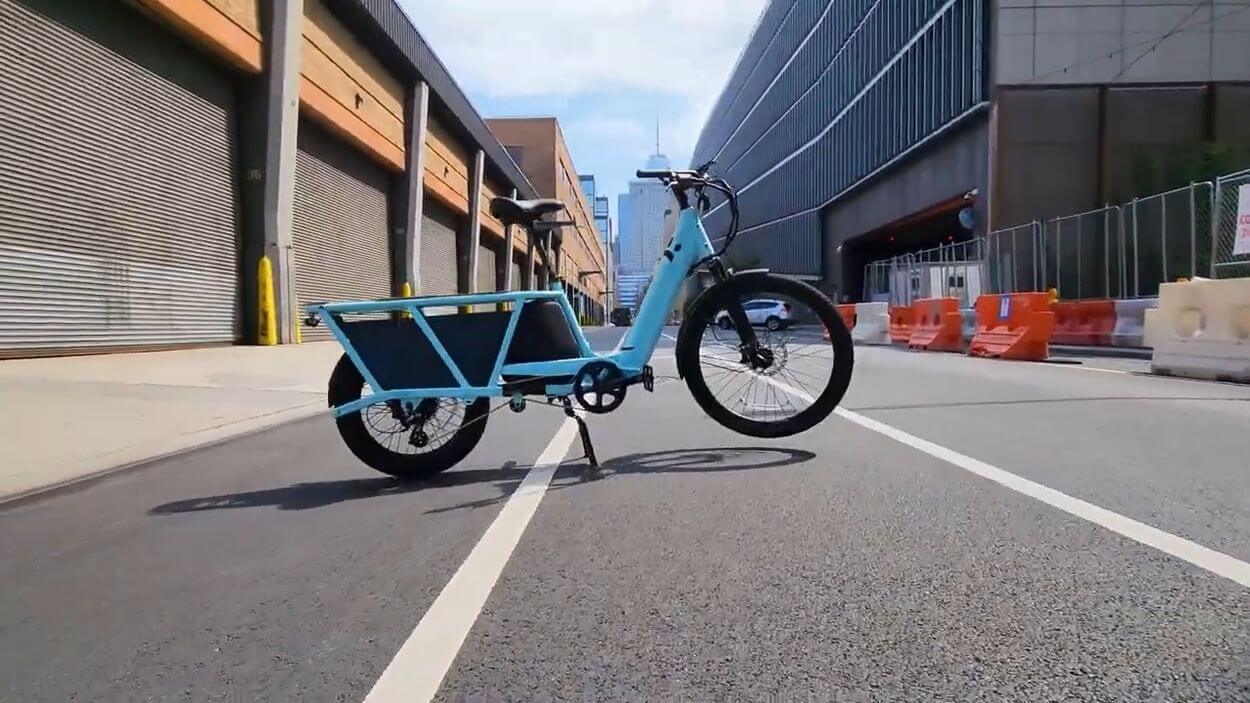 For riders who venture outside the city and ride on bike trails with minimal stopping at lights, the Packer 1's range capabilities are even more impressive. It's not uncommon to achieve a range of 40 miles or even close to 50 miles, making it an excellent choice for longer rides and adventures.
The Velotric Packer 1's battery and power management system excel in providing efficient energy utilization, allowing riders to travel significant distances without worrying about running out of power.
Conclusions
Velotric Packer 1 proves to be an exceptional cargo electric bike with an impressive performance. Climbing steep hills with ease, even with nearly 100 pounds on the frame, showcases the bike's powerful motor and excellent capabilities. Throughout the ascent, the bike maintains consistent speed, showcasing its reliability and efficiency.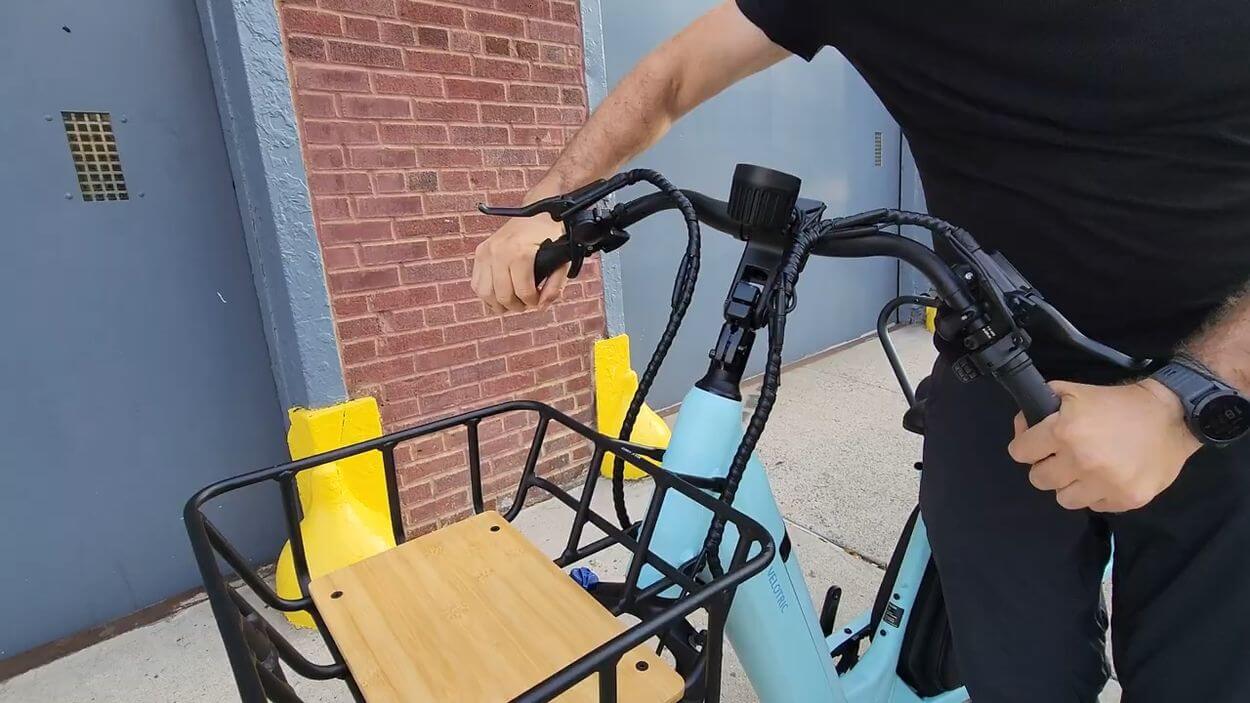 The Velotric Packer 1 impresses in many aspects, but there is one minor drawback that stands out – the wiring construction. While the bike showcases an overall high-quality presentation, the wiring arrangement on one side leaves room for improvement. The wires on one side need organizing, and it would be ideal if they came already fixed and better presented straight out of the box. Nonetheless, the other side, with wires neatly integrated into the frame, demonstrates the manufacturer's attention to detail.
The overall presentation and design of the Packer 1 are of high quality, reflecting the manufacturer's attention to detail and commitment to creating a top-notch e-bike. However, the most notable aspect of the bike is its comfort. The Packer 1 stands out as the most comfortable cargo electric bike tested so far, providing a smooth and enjoyable riding experience even with heavy loads.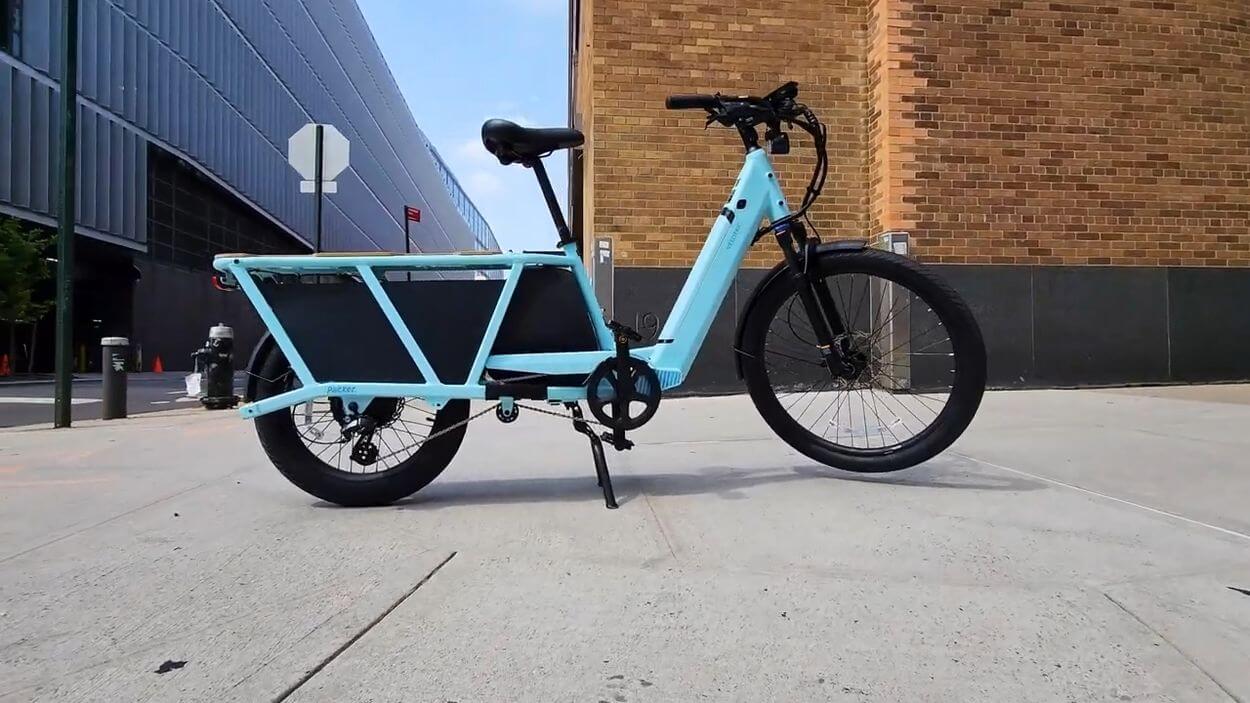 An exciting aspect of the Velotric Packer 1 is its current sale price of $1799, making it an excellent opportunity to grab this outstanding deal at a discounted rate. With such remarkable performance, comfort, and build quality, the Packer 1 proves to be a worthwhile investment for those in need of a reliable and efficient cargo e-bike.
Overall, the Velotric Packer 1 receives high praise for its performance, comfort, build quality, and affordability. It stands as a top contender among cargo electric bikes, offering an exceptional riding experience for those seeking reliability and convenience.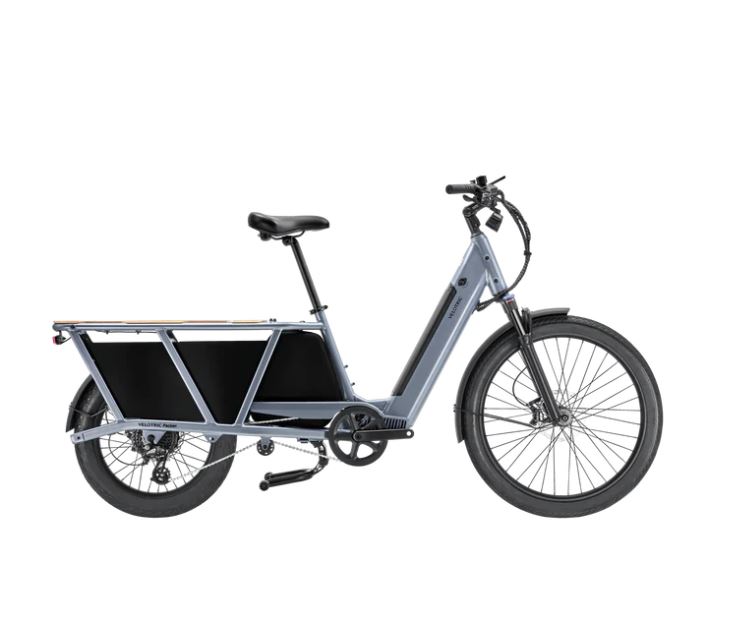 Velotric Packer 1 Extra $200 Off for 2 Bikes
as of November 12, 2023 4:54 am
Alternatives of Velotric Packer 1