The PVY Z20 Plus fat e-bike is a unique and convenient option, especially for those looking for a compact and foldable design. With its 20-inch size and four-inch wide tires, it offers the benefits of a fat-tire bike, which include enhanced stability, improved traction, and the ability to handle various terrains with ease.
One of the standout features of the PVY Z20 Plus e-bike is its foldability. The frame can be folded in half, allowing for easier storage and transportation. Additionally, the handlebars can be dropped down, further reducing the bike's overall size. This foldable design makes it incredibly convenient to store the bike in tight spaces, such as under a stairwell or in small apartments. The ability to fold the bike also makes it easier to transport in the trunk of a car or on public transportation.
The Z20 Plus e-bike comes from PVY, a company that focuses on providing innovative and practical e-bike solutions. While specific details about the Z20 Plus e-bike model are not mentioned, PVY is known for its commitment to creating reliable and functional electric bicycles.
| | |
| --- | --- |
| Frame Material | Aluminum Alloy |
| Motor | 250w Rear hub motor |
| Brakes | Hydraulic Disc |
| Suspension | Front and rear suspension |
| Tyres | 20″ x 4″ All-terrain |
| Gearing | Shimano 7-speed |
| Top Speed | 15.5 mph / 25 km/h (up to 50 km/h unrestricted) |
| Battery | 48v 16.5Ah |
| Range | Up to 70km |
| Accessories | Mudguards, Lights, Rack and Kickstand |
Design and Build Quality 
PVY Z20 Plus comes with metal mudguards, a bike rack, and a rear light. The rear light is a two-stage light with indicators, although they may be difficult to see during the daytime. At night, they become more visible. The bike is equipped with Shimano's Tourney gear system, which is considered entry-level and commonly found on many bikes. The chain on this model is a Tech Power brand chain, which differs from the more commonly used KMC chains.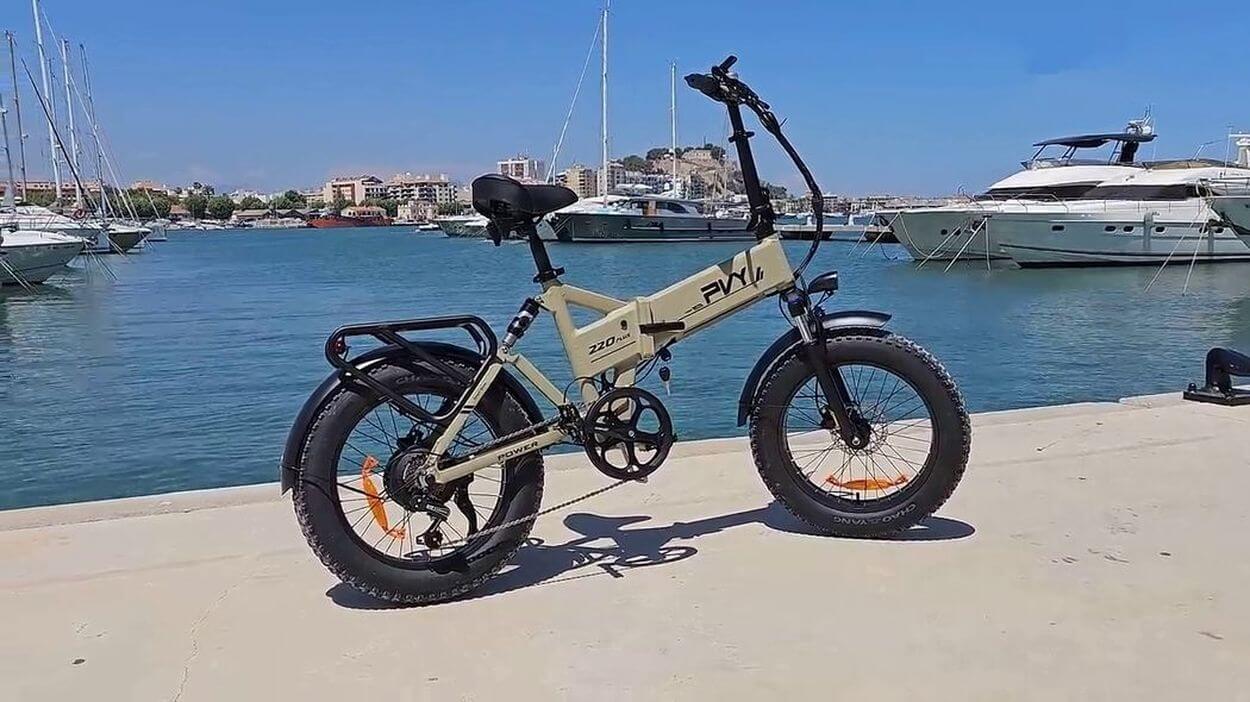 The compact foldability is one of the key features that make this bike attractive, as it enables easy storage during winter months or effortless transportation in the trunk of a car. The PVY Z20 Plus is equipped with a gear selector for shifting up and down gears, a throttle for electric assistance, and non-locking hand grips, which are commonly found on bikes in this price range. The bike features a tail light, headlight, horn, and indicators, with the rear indicators being the only ones present. The quality of the plastics used for these controls may feel somewhat cheap.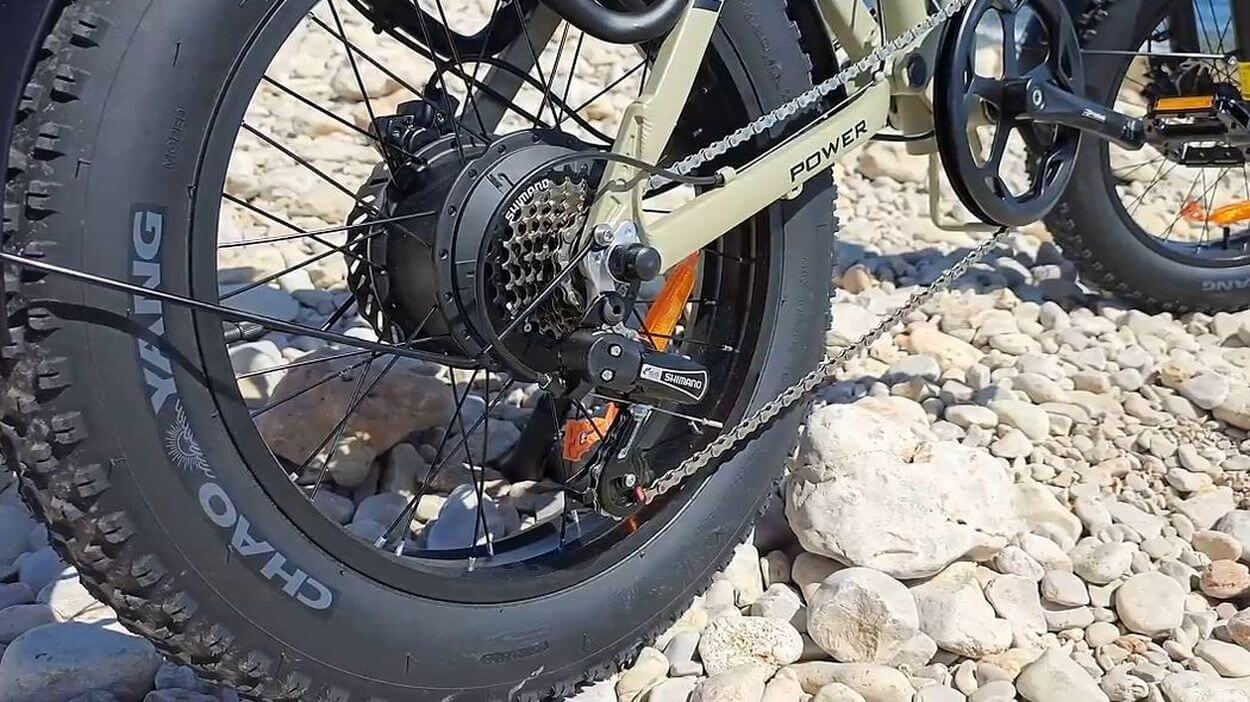 The PVY Z20 Plus is a model that features Chow Yang tires, which are commonly seen on e-bikes with fat wheels. These tires are designed primarily for off-road use, with a knobbly tread pattern that provides good traction. However, they do generate significant road noise while riding. Despite the noise, some riders appreciate it as it alerts pedestrians and other road users to their presence. The tires, however, have poor rolling resistance, which can make pedaling more challenging on smoother surfaces.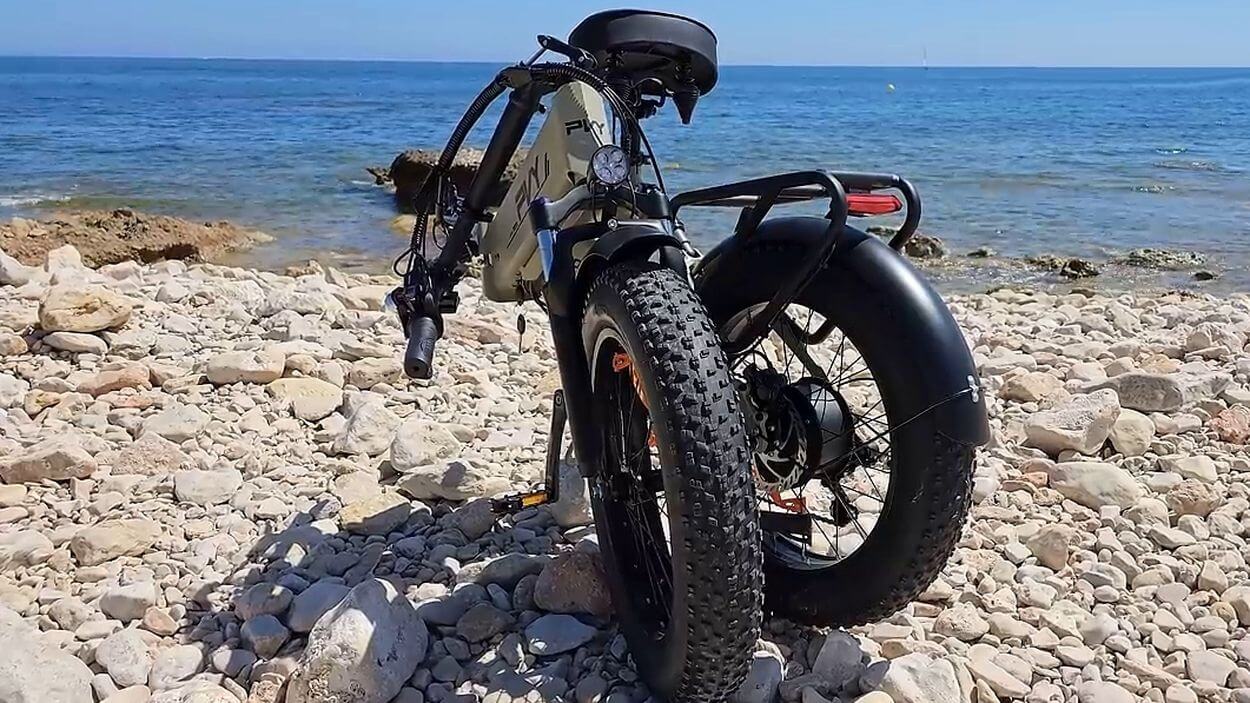 The front crank of the PVY Z20 Plus has a plastic chain guide to prevent the chain from slipping off the pedals. The pedals themselves are non-branded but seem to be functional. The bike features a key lock system, where the key is used to lock the bike in place and turn it on. This system ensures that the non-removable battery cannot be easily accessed or stolen. The key also serves as an ignition switch for the bike.
The PVY Z20 Plus is equipped with a full suspension setup, including a rear shock with approximately 20 millimeters of travel. While it may not be a high-end brand, the rear shock provides some level of comfort and performance. The wide seat on this bike, reminiscent of old-fashioned motorcycle seats, offers a comfortable riding experience once the rider becomes accustomed to its width.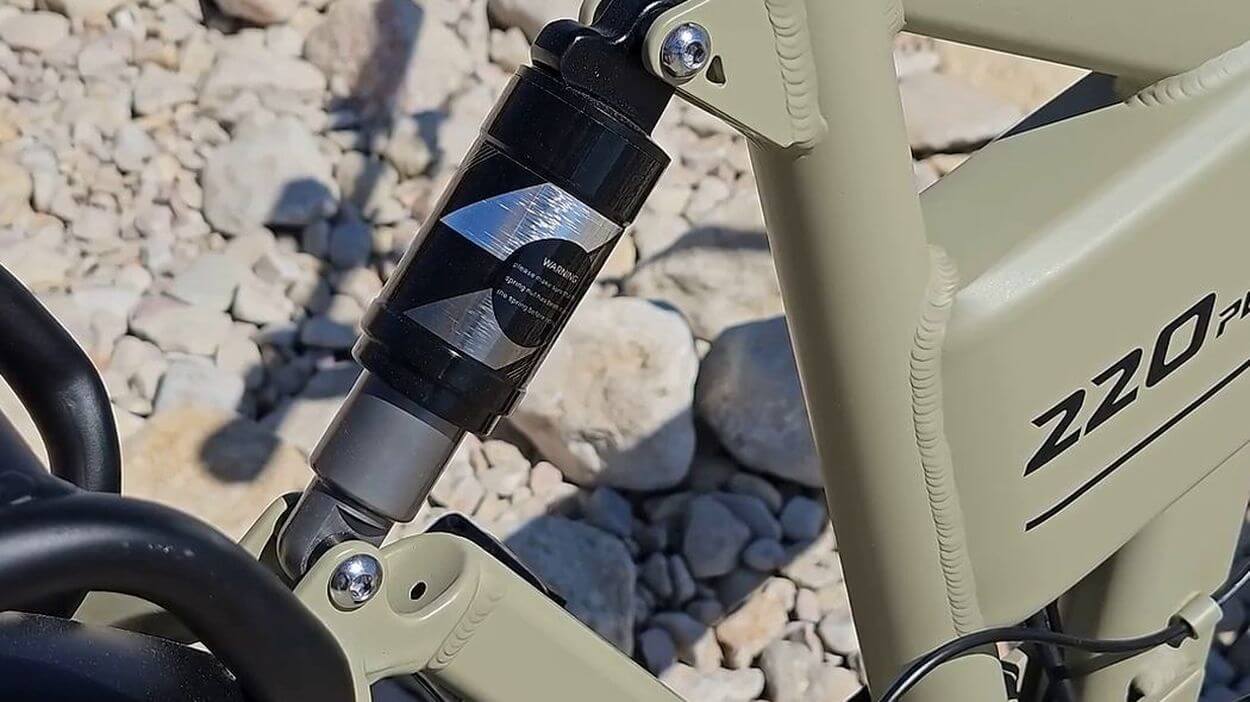 Notably, the bike lacks a quick-release front hub, with the only quick-release mechanism present being for the seat post. The hydraulic brakes on the PVY Z20 Plus are non-branded but have a disc size of at least 160 millimeters and perform well. The front shock is another no-brand component commonly found in bikes within this price range. It offers approximately 45 millimeters of travel, features adjustable preload, and can be completely locked out if desired.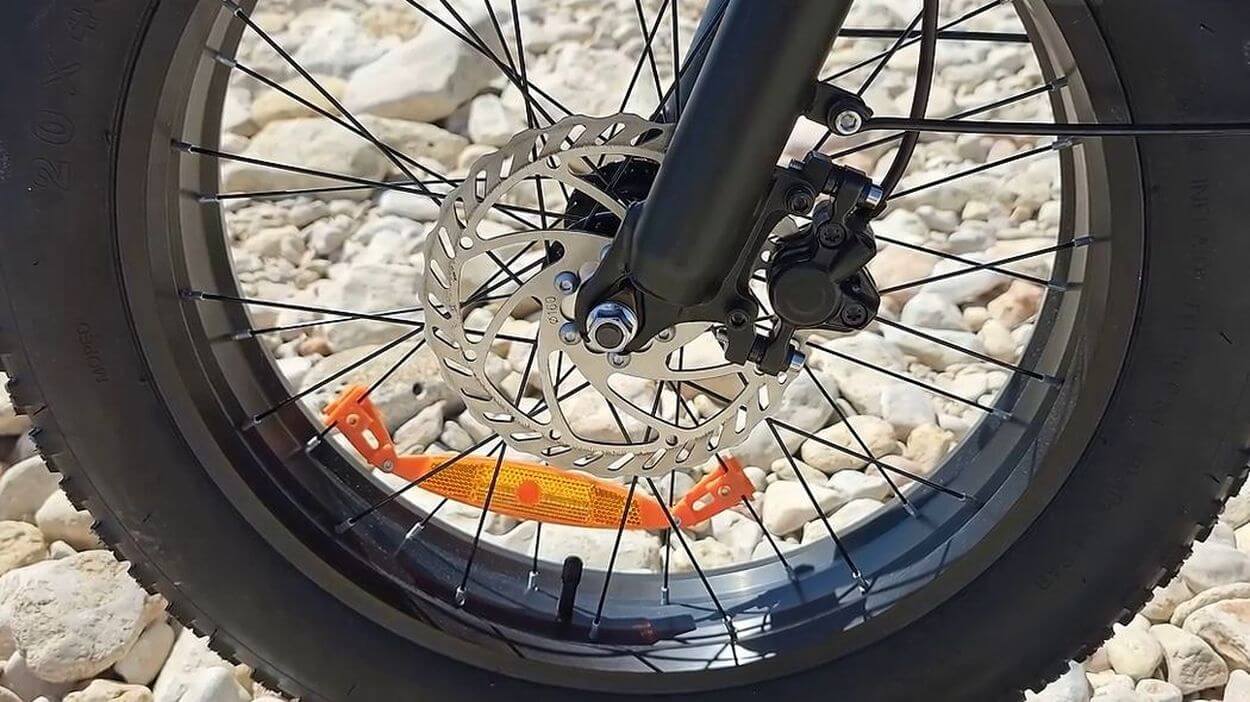 The front headlight on the PVY Z20 Plus is a common model used across different brands. It consists of four LEDs and provides ample illumination for riding at night. However, it's worth noting that the latch mechanism for folding the bike has shown some surface rust after washing, which raises concerns about long-term durability.
The Z20 Plus has a weight of 22 kilograms and is designed to accommodate rider heights ranging from 155 centimeters to 200 centimeters. 
So, the PVY Z20 Plus offers a combination of design features and build quality that is commonly found in e-bikes within its price range. While some components are non-branded, they generally perform adequately. The bike's off-road-oriented tires, full suspension setup, and comfortable seat contribute to an enjoyable riding experience, although there are some minor concerns regarding rolling resistance, noise levels, and potential durability issues with the latch mechanism.
Power and Driving
In previous reviews, I have covered bikes from the same brand, and this particular model is the Z20 Plus. It features a rear hub motor with a 48-volt system capable of reaching up to a thousand watts peak power, providing ample power for various riding situations.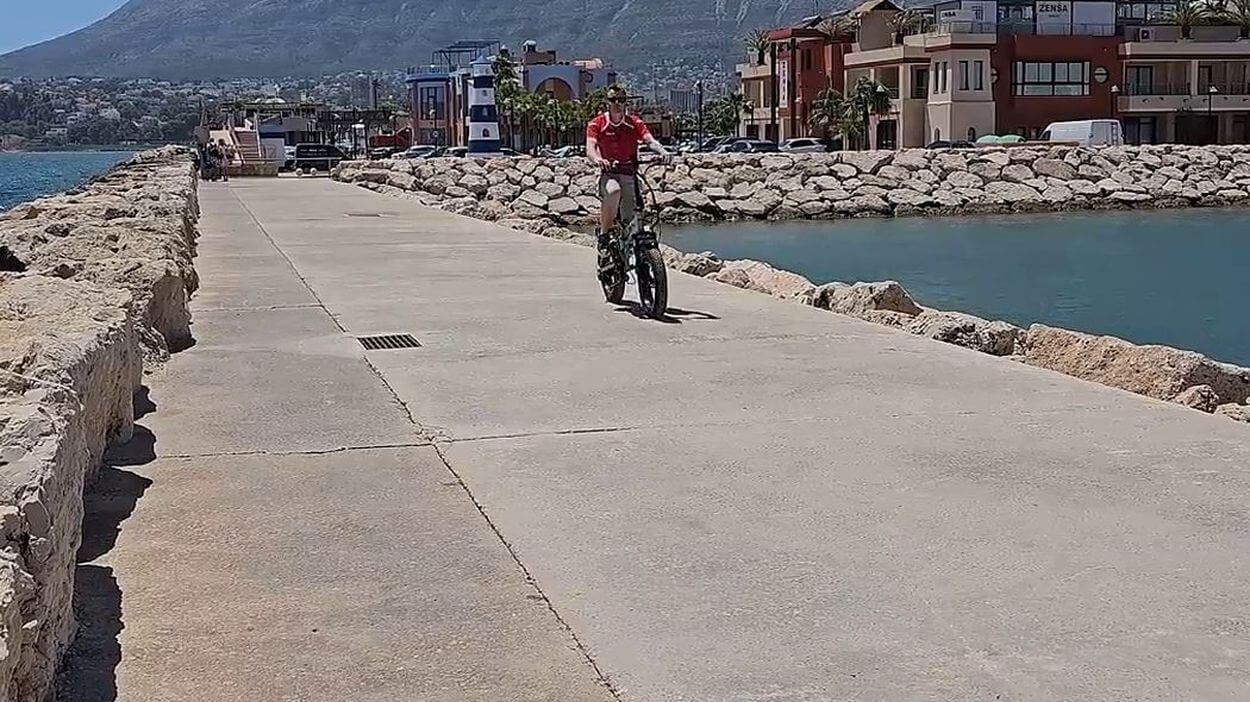 The bike offers an upright riding position, allowing for plenty of room for the rider's knees. Mounting the bike is effortless, as there are no obstructions to hinder getting your leg over the frame. With the throttle alone, you can start riding without the need to pedal. The motor delivers impressive power, making uphill climbs a breeze, even without much pedaling effort. The climbing performance of the Z20 Plus is excellent, with the ability to maintain speed and conquer steep inclines effortlessly.
During a braking test, the bike showcased hydraulic disc brakes with 160 millimeter rotors. While the specific brand of the brakes is not mentioned, they performed well, providing ample stopping power. The brake pads have a good bite, allowing for safe and controlled braking at appropriate distances. However, it's worth noting that during the test, there was a momentary rear wheel lock-up, resulting in a slight slide. Overall, the brakes on the Z20 Plus are considered reliable and effective.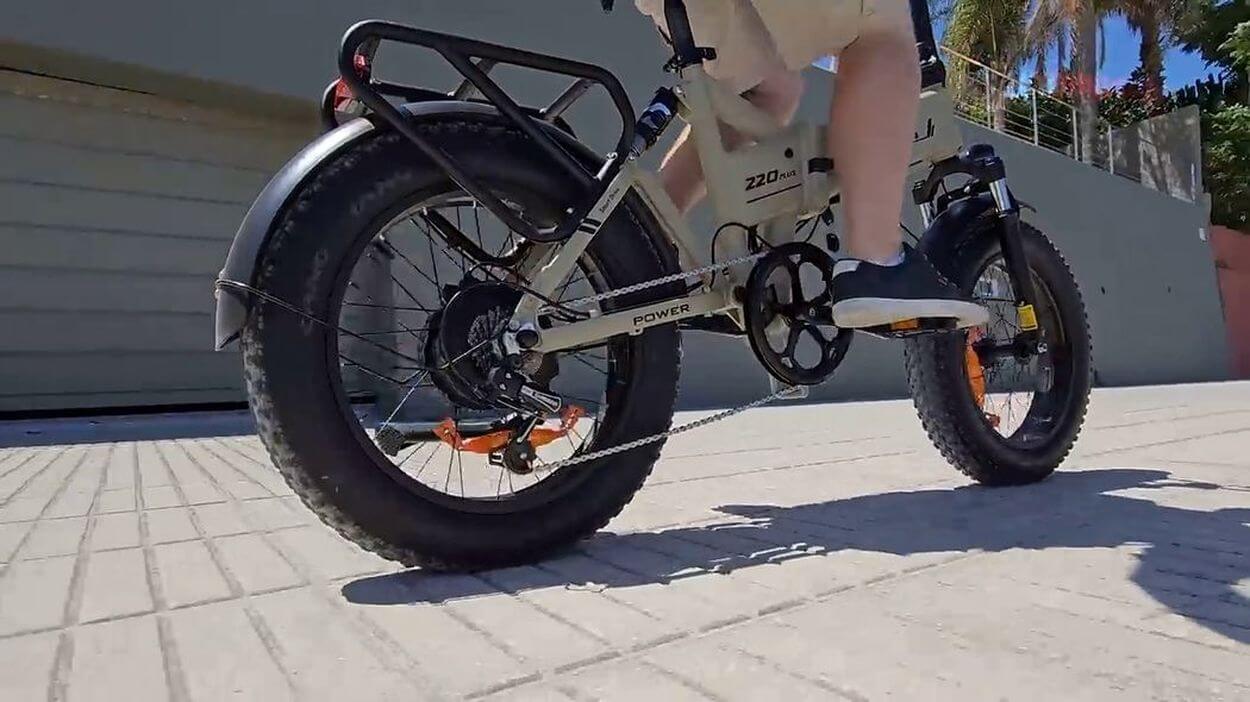 The top speed of the bike depends on the gear selection. In the highest gear, the bike can reach speeds of around 30 kilometers per hour. However, going beyond that speed, especially without motor assistance, becomes challenging due to the smaller 20-inch wheels. The bike's performance over bumpy terrain is generally comfortable, thanks to its suspension seatpost and the spring-loaded seat, which absorbs vibrations and impacts.
The Z20 Plus incorporates a color display screen that provides essential information, including pedal assist levels, speed, battery life, voltage, trip meter, odometer, and amperage. The screen is relatively bright and easily readable in direct sunlight and at night, thanks to its backlighting. The bike also features a quick-release mechanism for adjusting the handlebar height, allowing riders to find a comfortable riding position without excessive bending or strain.
Unlike some higher-end e-bikes, the PVY Z20 Plus does not include a torque sensor for pedal assist. Instead, it relies on a speed sensor, which is a common approach in bikes within this price range. As for the riding experience, the fat wheels contribute to a comfortable ride, while the low frame design makes mounting and dismounting easy, similar to a step-through design. The kickstand on the bike adequately supports its weight, providing stability and peace of mind.
Battery and Range
The PVY Z20 Plus provides access to its removable batteries, with a capacity of 16.5 amp hours or 792 watt hours. This allows for extended riding range and the convenience of easily swapping out batteries for longer journeys. Folding the handlebar is a straightforward process, thanks to a security latch that slides in and slots into the side of the handlebar to prevent it from dropping down unintentionally. By pulling on the latch, the handlebars collapse and drop down to one side, significantly reducing the bike's size when folded.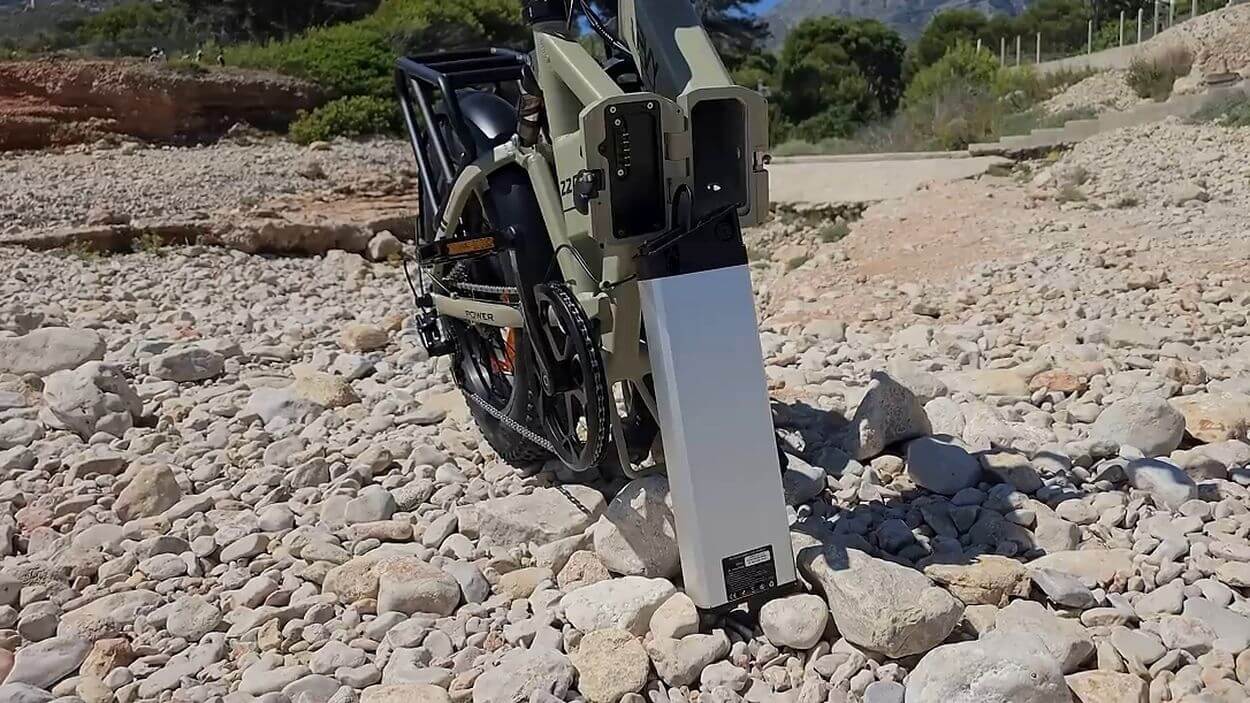 In terms of range, PVY claims that the Z20 Plus can achieve up to 120 kilometers on a single charge. However, in practical usage, the range typically falls around 60 to 65 kilometers with the 16.5 amp hour battery. It's important to note that range can vary based on factors such as terrain, riding style, and assistance levels used.
Conclusions
Overall, PVY has created an excellent bike with the Z20 Plus, and it's challenging to find any significant faults with it. The suspension, spongy fat tires, and soft seat contribute to a comfortable riding experience. The adjustable handlebars allow riders to find their preferred riding position easily. Despite the brakes being non-branded, they perform well and offer reliable braking performance.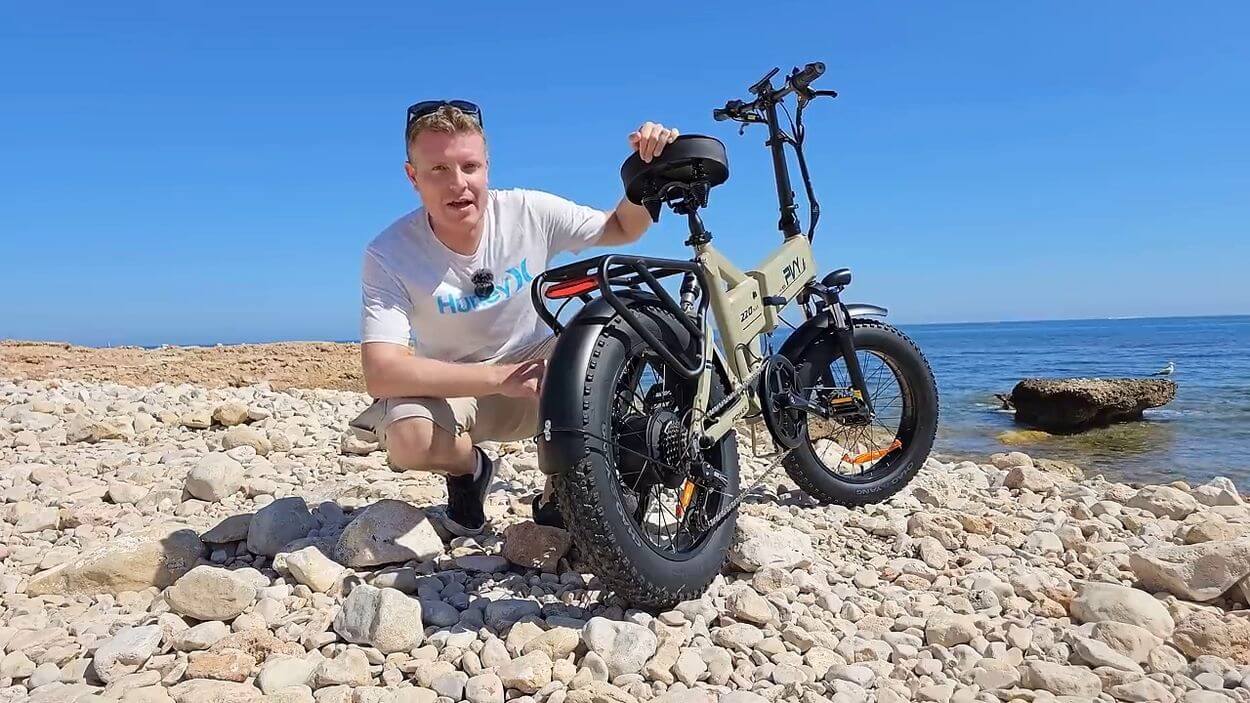 One minor criticism I have with this bike is the speed sensor. Occasionally, when the rider stops pedaling, the motor may continue to provide assistance for a brief moment, typically around a second, before cutting out. It would be preferable if the motor response ceased immediately upon stopping pedaling. Additionally, while the bike does not have a torque sensor, which could provide more precise assistance, this is only a minor drawback considering the overall performance of the Z20 Plus.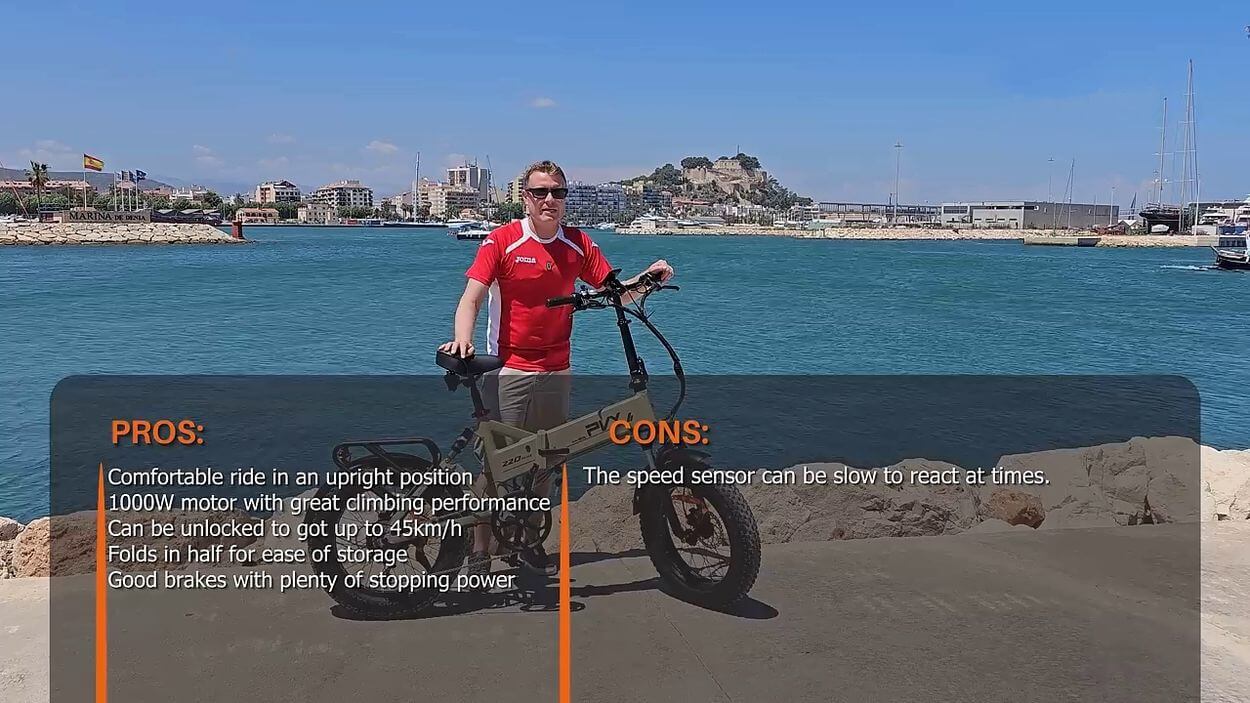 In summary, the PVY Z20 Plus is a fantastic foldable 20-inch fat-tire bike. It offers a comfortable and enjoyable riding experience, with its suspension, wide tires, and adjustable features. Despite some minor criticisms regarding the speed sensor and the absence of a torque sensor, the Z20 Plus is an excellent choice for riders seeking a foldable e-bike with ample power and a range suitable for most urban or suburban commutes.
Alternatives of PVY Z20 Plus