Hello everyone, today I am excited to bring you a review of the intriguing Moped Style E-Bike Yadea Trooper 01.
Yadea Trooper 01 is an impressive Moped Style E-Bike that offers a smooth and comfortable ride with excellent suspension tuning and reliable braking performance. While it might be more optimal for riders in the shorter height range, the bike's powerful motor and decent range make it a compelling option for urban commuting and leisurely rides.
The Yadea Trooper 01, with all its impressive features and design, comes with a price tag of $2,599. This price reflects the value of the bike's build quality, powerful motor, reliable braking system, and comfortable suspension. While the Trooper 01 may not be the most affordable e-bike on the market, its performance, durability, and unique moped-style design make it a compelling option for riders seeking a high-quality and enjoyable riding experience.
Join me as I unbox this electric bike, explore its design features, take it for a ride, and share my impressions after the test. Additionally, I'll provide you with a rundown of the pros and cons I've discovered during my experience with Trooper 01.
| | |
| --- | --- |
| Frame | Dual suspension frame, AL6061 |
| Motor | Hub motor 48V 750W |
| Torque sensor | Speed sensor |
| Brake | Wuxing hydraulic disc brake |
| Tyres | CST 20x4.0" |
| Lighting | Yadea integrated light |
| Fork | Suspension fork |
| Mudguard | Front and rear |
| Battery | 48V 20Ah |
| Range (ECO) | 90km |
| Net weight | 36.5kg |
Unboxing and assembly 
It seems like the unboxing and assembly process was relatively straightforward. Let's recap the steps you took to get your bike ready to ride.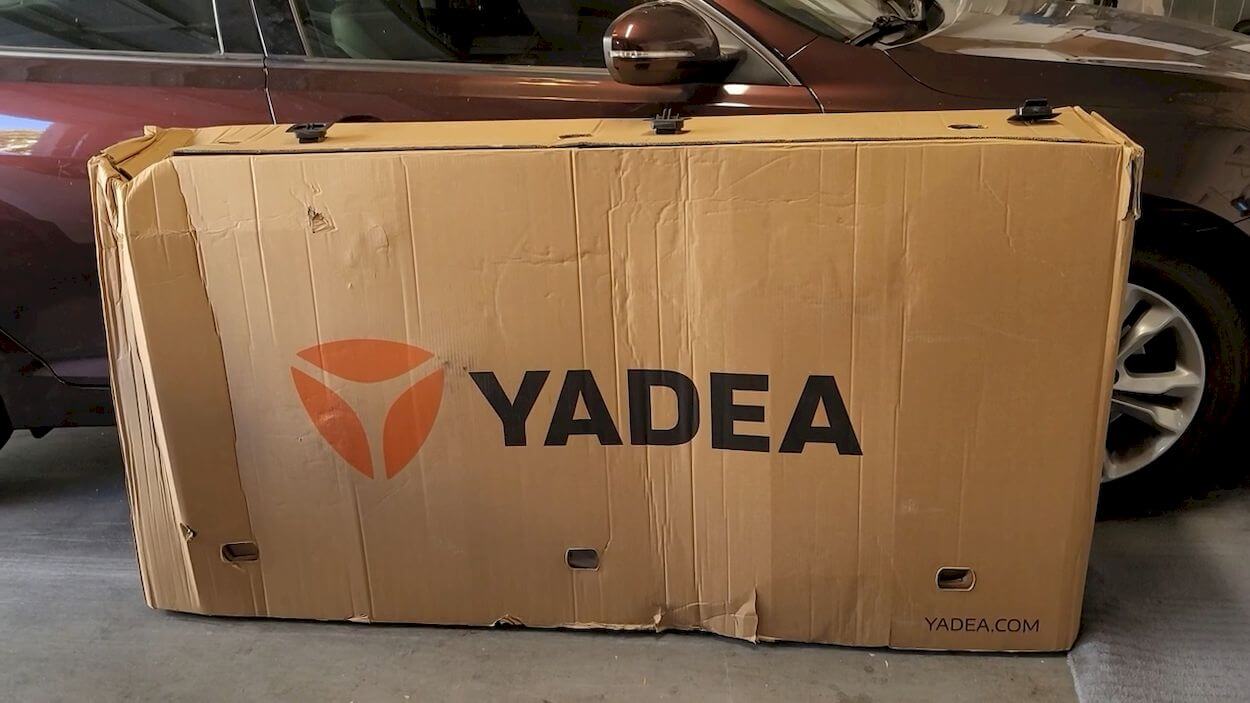 Unboxing: The Yadea Trooper 01 came in a larger-than-usual box, secured with clips on top, back, and front. Despite some wear and tear on the box, the bike was well-protected with foam padding.

Initial inspection: Upon opening the box, you noticed that most of the bike was already assembled. The front wheel, fender, and headlight were already attached, and the battery was placed separately.

Handlebar installation: The only significant assembly required was attaching the handlebar to the bike. You used four screws to secure it in place. It looks like the handlebar angle was adjusted to your preference to ensure a comfortable riding position.

Battery and electrical connections: The bike's battery was a 48-volt, 20-amp hour unit, and the charger's output was 54.6 volts, 3 amps. You had to connect the battery using the provided keys and ensure the correct alignment of the green and red connectors.

Additional components: In the box, you found the pedals, some tools, and the user manual, which might contain essential information for operating and maintaining the e-bike.

Final touches: After connecting the battery and securing all the components, your Yadea Trooper 01 was ready for action.
It's great to hear that the assembly process went smoothly, and you're now ready to take your new e-bike for a ride. Remember to familiarize yourself with the user manual to make the most of its features and ensure proper maintenance. Enjoy your eco-friendly and efficient rides on the Yadea Trooper 01! Happy cycling!
Design and Build Quality 
The Yadea Trooper 01 boasts a unique design with a combination of interesting aesthetics and practical features. Let's delve into the design and build quality aspects of this e-bike.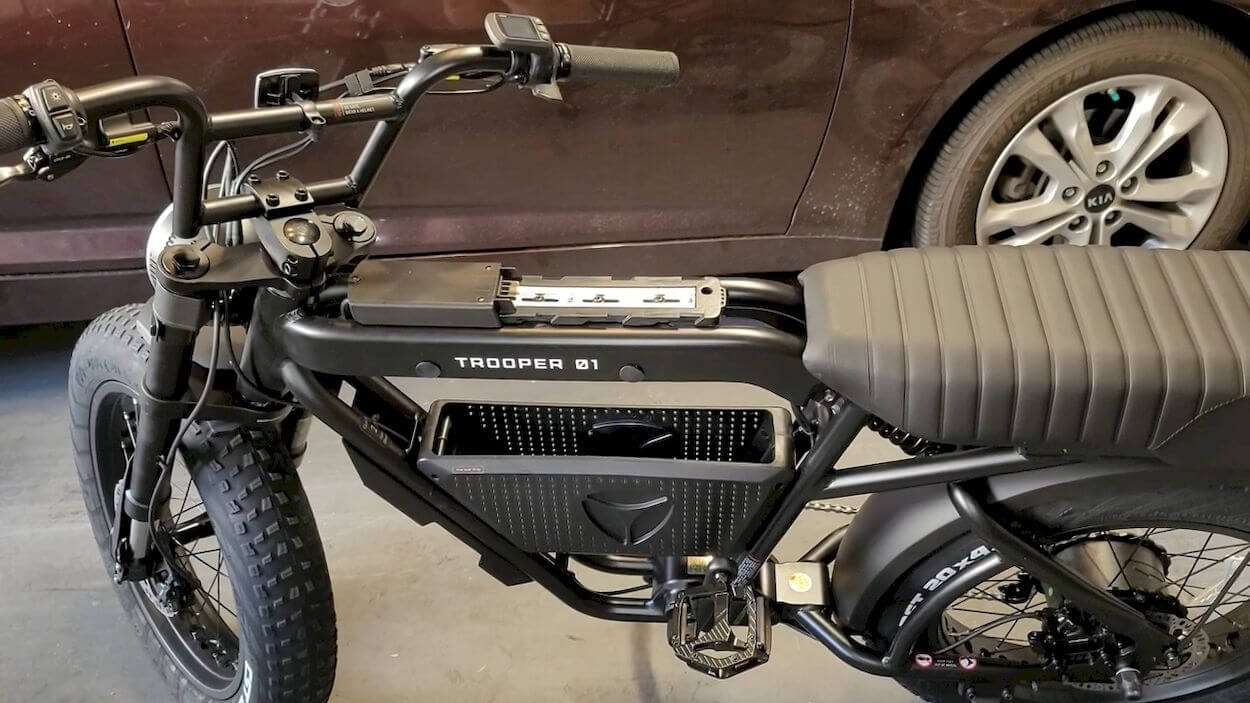 The Trooper 01 features an aluminum alloy frame that ensures a good balance of strength and weight. The frame design is sleek and well-executed, giving the bike a modern and stylish appearance. The plastic compartment, resembling a basket, adds a touch of convenience to the bike, allowing you to carry small items easily. It cleverly fills the negative space in the frame, adding to the overall appeal.
The e-bike features an innovative inverted front fork suspension, a less common design compared to traditional setups. This type of suspension provides good stability and control over rough terrain. The protective guards on the front forks shield them from potential damage, ensuring durability during off-road use.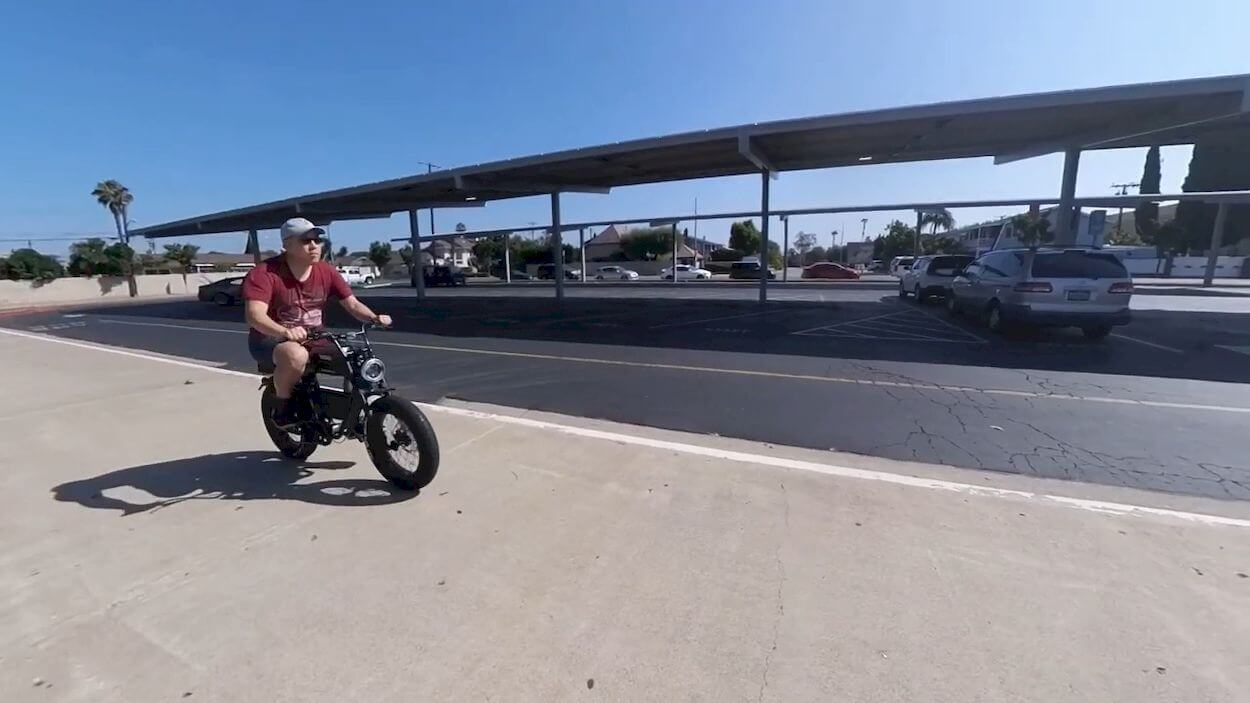 The Trooper 01 is equipped with a single rear spring for suspension, offering some level of comfort during rides. The bench-style seat provides seating for two riders, and you've noted that sitting on the back is more comfortable. This design choice may suit those who prefer a relaxed, laid-back riding position.
The bike comes with 20 x 4-inch fat tires made by CST. These knobby tires are suitable for various terrains, including sand, snow, and rough roads. They provide excellent traction and stability, enhancing the bike's versatility for off-road adventures.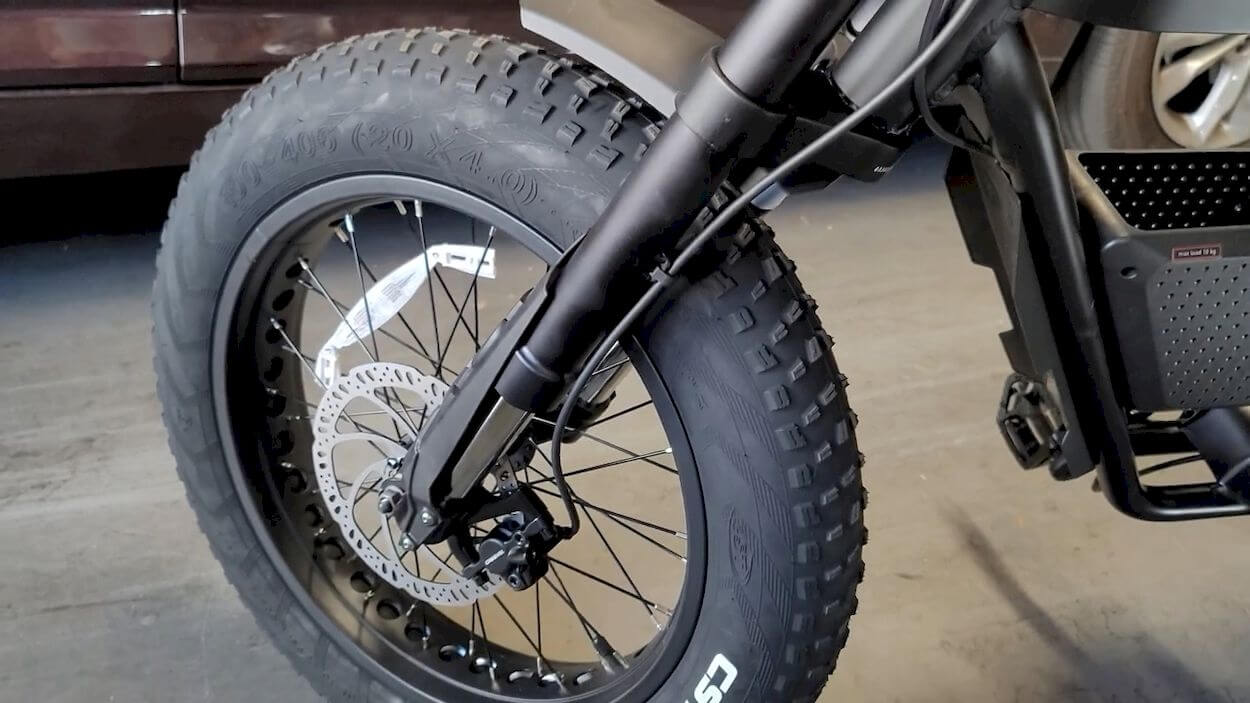 The Trooper 01 adopts a single-speed setup, meaning it lacks gears and a traditional shifter. Instead, riders rely on the throttle for power assistance. This design simplifies the bike's operation and makes it easier to use, especially for those who prefer a more straightforward riding experience.
With a significant weight of 73 pounds, the Trooper 01 is likely designed to accommodate a generous weight capacity, which is beneficial for carrying additional cargo or accommodating larger riders.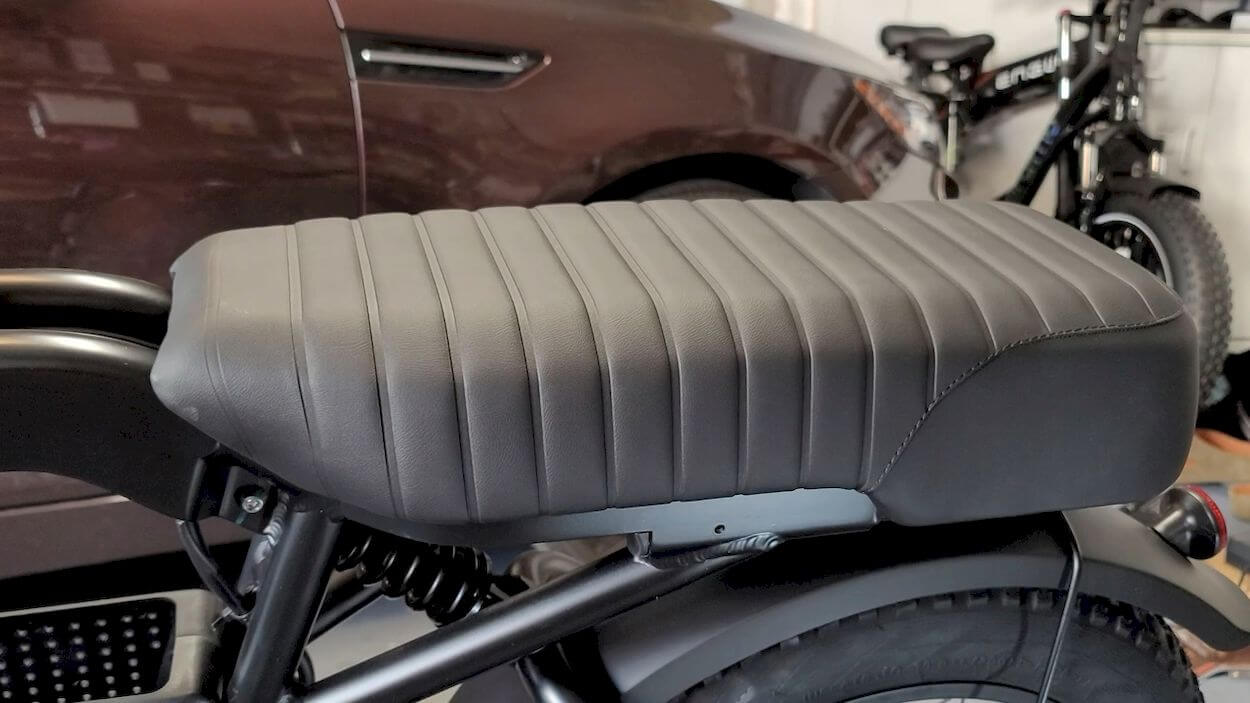 In terms of build quality, it appears that Yadea has taken care to pre-assemble most of the components, ensuring a hassle-free setup for customers. The use of an aluminum alloy frame suggests a durable and sturdy construction, suitable for various riding conditions. The inclusion of quality components, such as hydraulic disc brakes and a powerful motor, should contribute to a reliable and enjoyable riding experience.
Overall, the Yadea Trooper 01 offers an intriguing blend of design elements, practical features, and ease of use. Its unique front suspension, spacious compartment, and comfortable seating set it apart from traditional e-bikes. As with any product, the true test of its quality lies in its performance and longevity during real-world use, so it's recommended to thoroughly test and enjoy the bike to fully appreciate its capabilities.
Yadea Trooper 01:
Motor and Riding Test
The Trooper 01 is equipped with a powerful 750-watt rear hub motor. This should provide sufficient power for acceleration and assistance while riding. The hydraulic disc brakes, provided by Tektro, offer reliable stopping power, making the bike suitable for urban commuting and off-road adventures. The 160-millimeter rotors should ensure effective braking performance.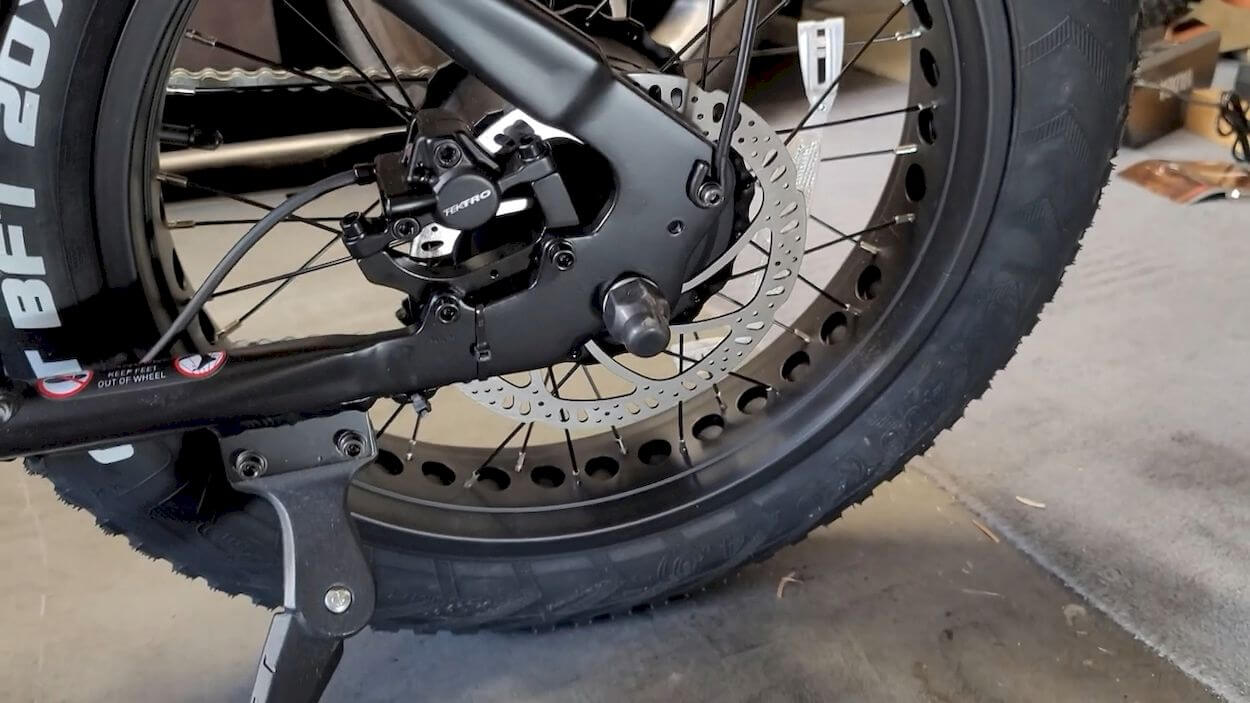 It's great to know that the Trooper 01 comes with three levels of pedal assist: Eco, Mid, and High. This gives riders the flexibility to choose their preferred level of assistance based on the riding conditions and their energy levels. The varying speeds for each level provide options for different riding scenarios.
As you mentioned, due to the bike's weight and lack of gears, using the throttle to initiate movement before pedaling is a more practical approach. This way, riders can reduce the strain of starting from a standstill, especially with a heavier e-bike like the Trooper 01.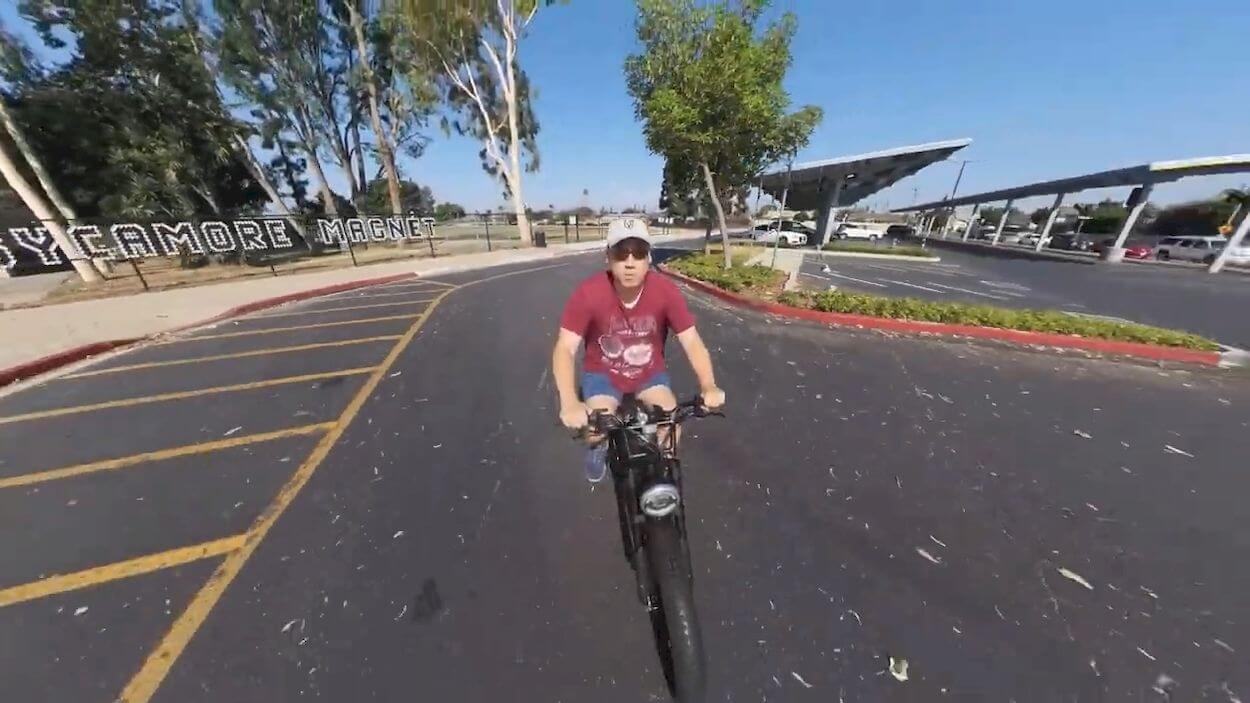 The bike's cadence sensor appears to be optimized for efficient pedaling at the higher speed levels. On the high level of pedal assist, you noticed that there is more freewheeling involved, as there are no gears to adjust the pedaling resistance at different speeds.
It's essential to consider the bike's height range when choosing a model. While the Trooper 01 accommodates riders up to 6'4″, taller individuals might find the pedaling position less comfortable due to the bike's shorter frame and handlebar placement. However, riders around 5'8″ to 5'9″ seem to have a more suitable fit.
One area of improvement you noted is the lack of throttle control proportionality, where the bike either provides full power or none at all. Having a more gradual control would offer better versatility in managing speed. Additionally, the absence of cruise control might be a drawback for some riders who prefer the convenience of maintaining a constant speed without holding down the throttle.
The estimated range you provided based on pedal assist levels and throttle usage is helpful for potential buyers to gauge how far they can travel on a single charge. It's essential to keep in mind that factors like terrain, incline, rider weight, and weather conditions can impact the actual range achieved.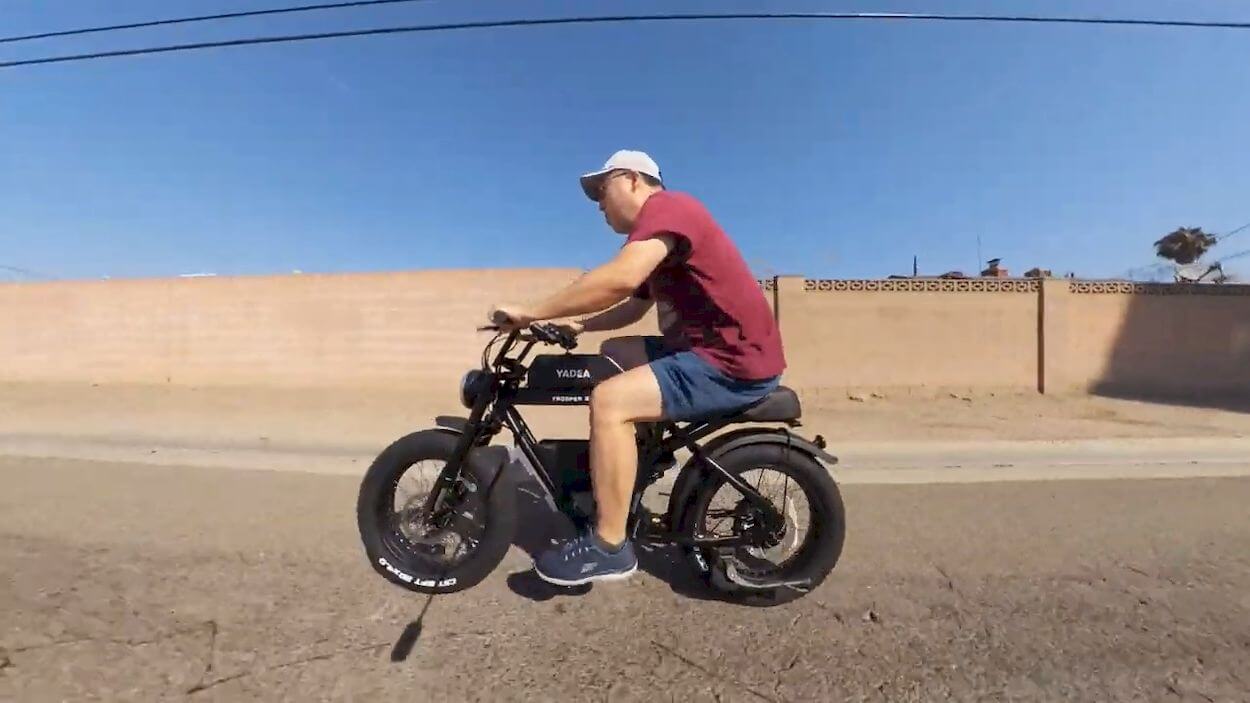 Overall, your review provides valuable insights into the Yadea Trooper 01 e-bike's performance and usability. As with any e-bike, there will be trade-offs and individual preferences to consider. The Trooper 01 seems to excel in providing a smooth and enjoyable ride, particularly for riders in the optimal height range and those who prefer using the throttle for most of their journeys.
Battery and Range 
The Yadea Trooper 01 comes equipped with a 48-volt, 20 amp-hour battery, which is a substantial power source to support extended rides and long-lasting performance. The battery's capacity directly impacts the e-bike's range, which refers to the distance it can travel on a single charge.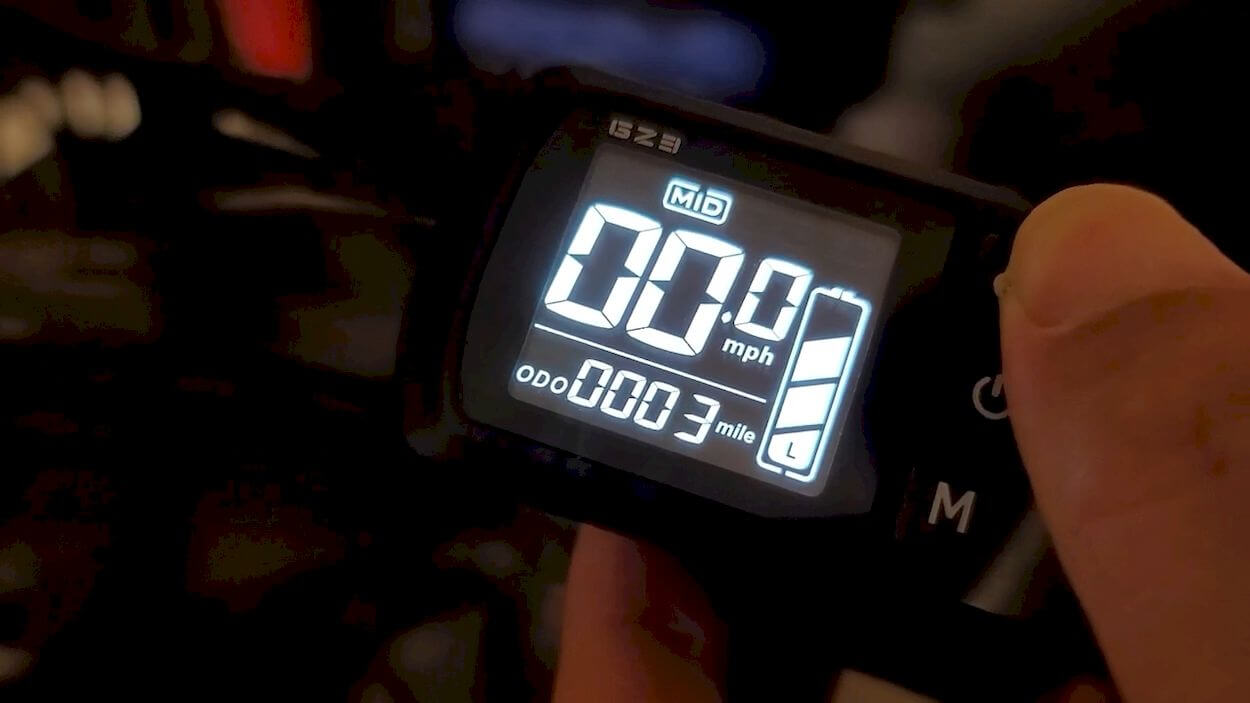 With the Trooper 01's pedal-assist system, riders can expect an impressive range of approximately 53 miles. This means that by pedaling with varying degrees of assistance from the electric motor, you can cover considerable distances before needing to recharge. 
The Trooper 01's range while using the throttle exclusively is approximately 25 miles. In this mode, the e-bike relies solely on the electric motor's power, without any pedal assistance. While the throttle-only range is shorter than the pedal-assist range, it still offers enough distance for shorter trips and urban commuting. Using the throttle alone might be more convenient for those who prefer not to pedal or for times when you want to conserve your energy.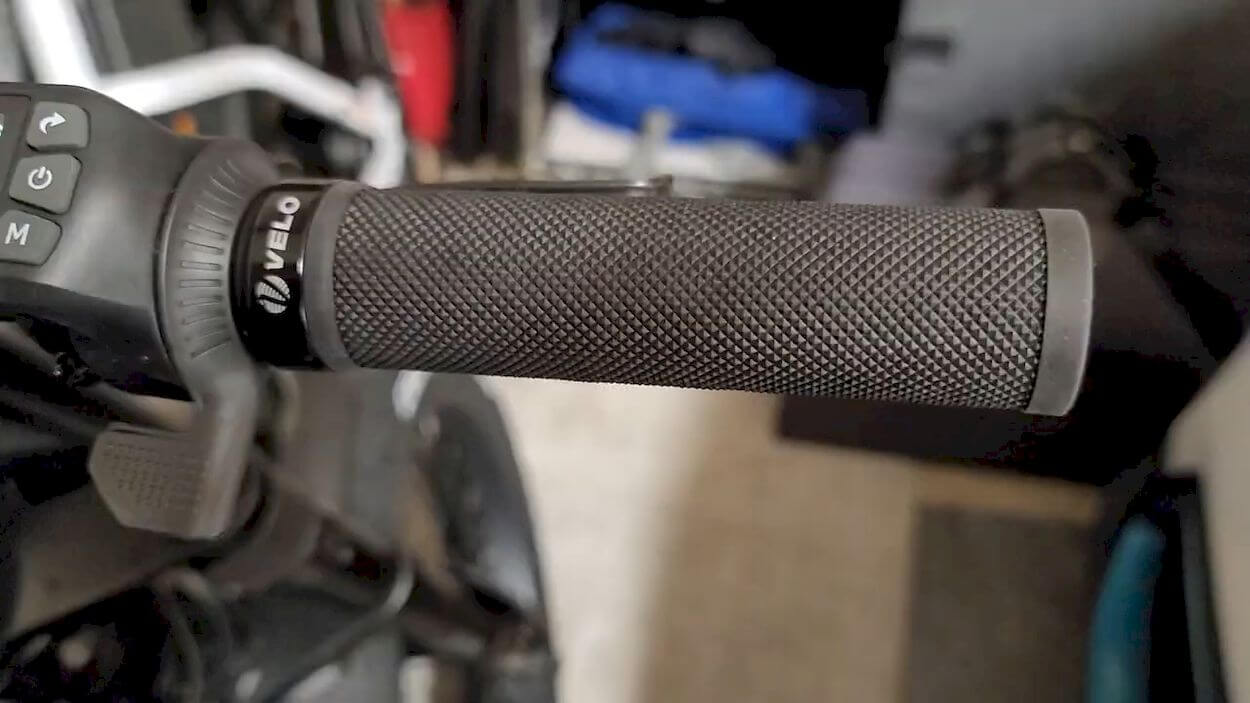 While the Trooper 01 offers an excellent range, it's essential to plan for recharging the battery when needed. The convenience of charging can be influenced by the availability of charging points at home or work and the charging time required. Charging times will vary based on the charger's specifications and the battery's current charge level.
Conclusions
So, the Yadea Trooper 01 e-bike leaves a strong and positive impression. The bike's build quality is commendable, with minimal rattling, indicating attention to detail during manufacturing and assembly. The front fork suspension, coupled with the mid-spring suspension under the seat, provides a smooth and stable ride. The suspension's tuning strikes a perfect balance, offering enough cushioning to absorb road bumps without feeling overly bouncy, even at higher speeds.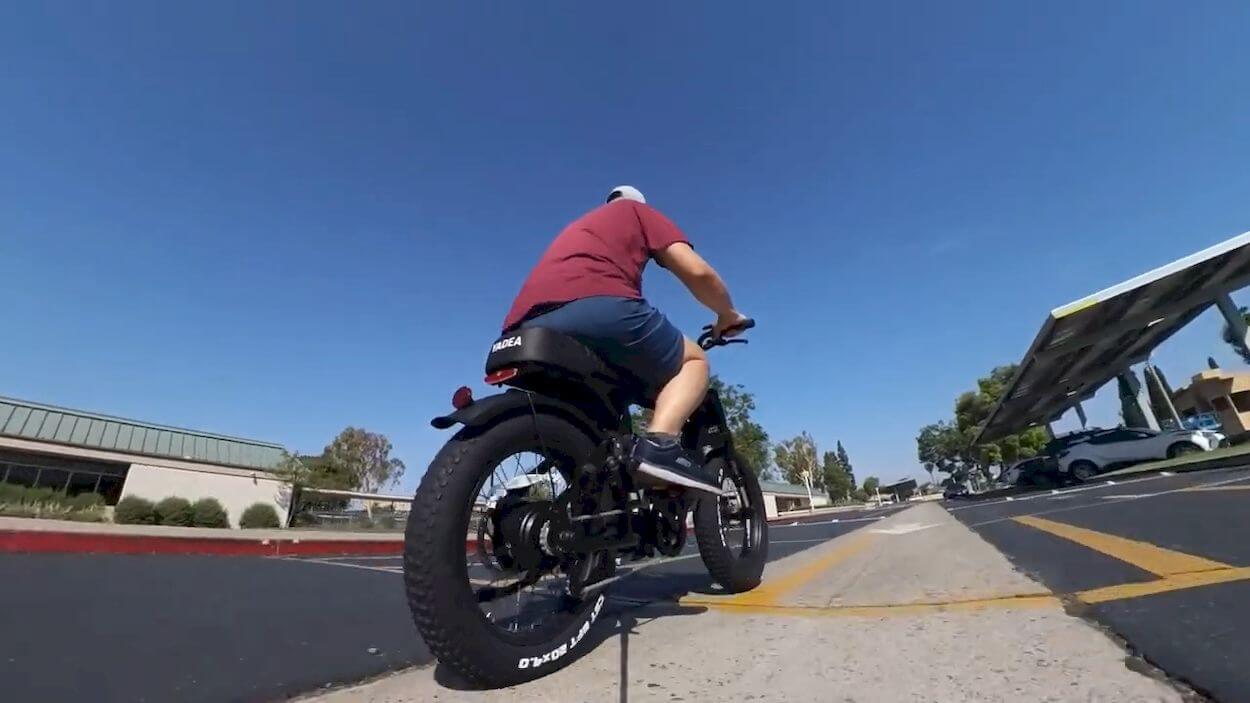 The hydraulic disc brakes, already well-tuned out of the box, ensure reliable and responsive stopping power. The bike's braking performance is impressive, allowing quick and controlled stops, which is crucial for safety and confidence while riding.
Also, the Trooper 01 is an excellent choice for riders seeking a well-built, durable, and enjoyable e-bike with impressive suspension and braking performance. Whether it's for daily commuting or recreational rides, this e-bike offers a comfortable and reliable solution.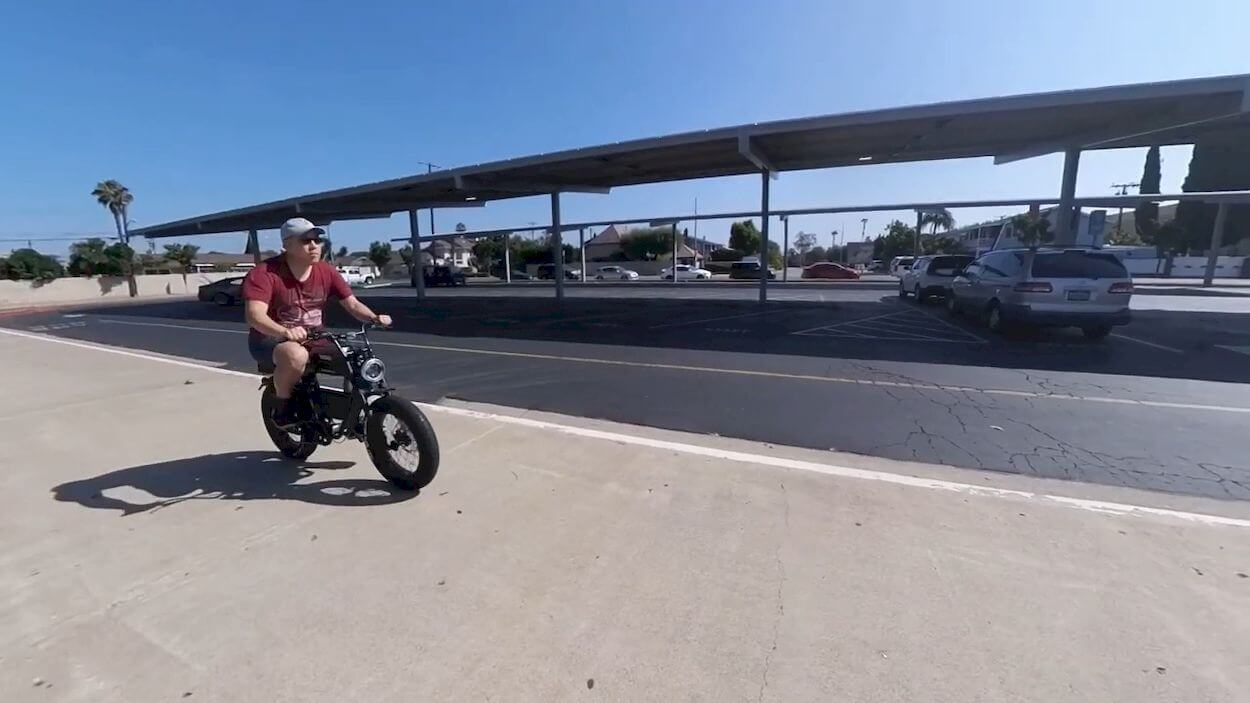 In summary, the Yadea Trooper 01 e-bike presents a compelling option for riders seeking a high-quality, motorcycle-style e-bike with excellent suspension, responsive brakes, and a comfortable riding experience.
Alternatives of Yadea Trooper 01