This is Lionel's, and you're tuned in to TechLine. Today, we're diving into the bustling world of fat-tire e-bikes, and it's quite a crowded market out there. With so many options to choose from, finding the perfect fit for your needs can be quite the challenge.
Now, the Bezior XF200 is one of those fat-tire e-bikes that has been turning heads. It's equipped with some notable features, including a robust 1000 Watts rear hub motor, a dual suspension system, hydraulic disc brakes, and much more.
In this review, we'll be taking a closer look at the pros and cons of the Bezior XF200 to help you decide if this e-bike is the right choice for you. So, stick around as we explore the ins and outs of this intriguing ride.
| | |
| --- | --- |
| Material | Aluminum Alloy |
| Motor Rated Power | 1000W |
| Max Speed | 40km/H |
| Max Grade | 35° |
| Transmission | SHIMANO 7-Speed Gears |
| Brakes | Hydraulic Disc Brakes |
| Waterproof Degree | IP54 |
| Wheels | 20x4.0 Inches |
| Battery Capacity | 15Ah |
| Charging Time | 6-7h |
| Pure Electric Rangs | 50km |
| Power Assisted Rangs | 130km |
| Product Weight | 27kg |
| Unfolded Size | 177 x 120 x 100cm |
| Folded Size | 100 x 80 x 50cm |
Unboxing and Assembly
Let's get started with the unboxing process. As I open the box, you'll notice that everything is neatly packed and organized. Bezior has done a great job in ensuring that all the components are well-protected and easy to access.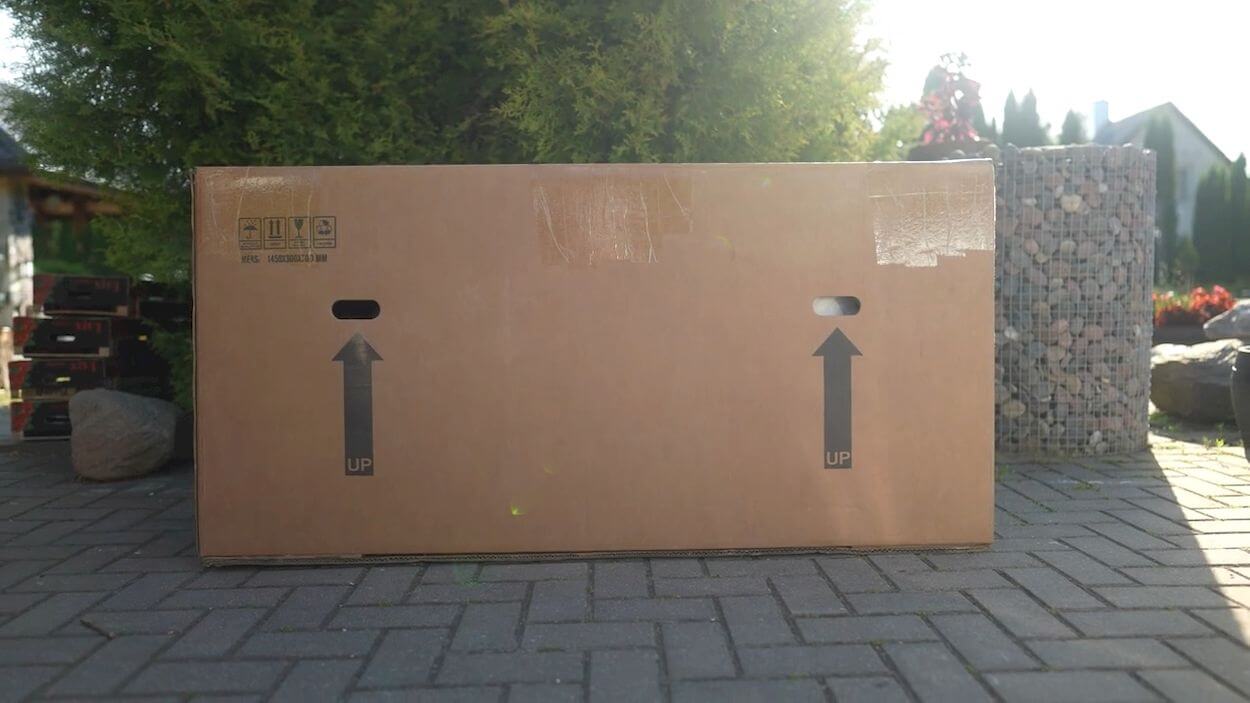 The first thing we see is the owner's manual, which I highly recommend reading before assembly. It provides important information about safety, maintenance, and assembly instructions.
Next, we have the main frame of the bike, which is securely nestled within the packaging. It's essential to handle this with care to avoid any scratches or damage.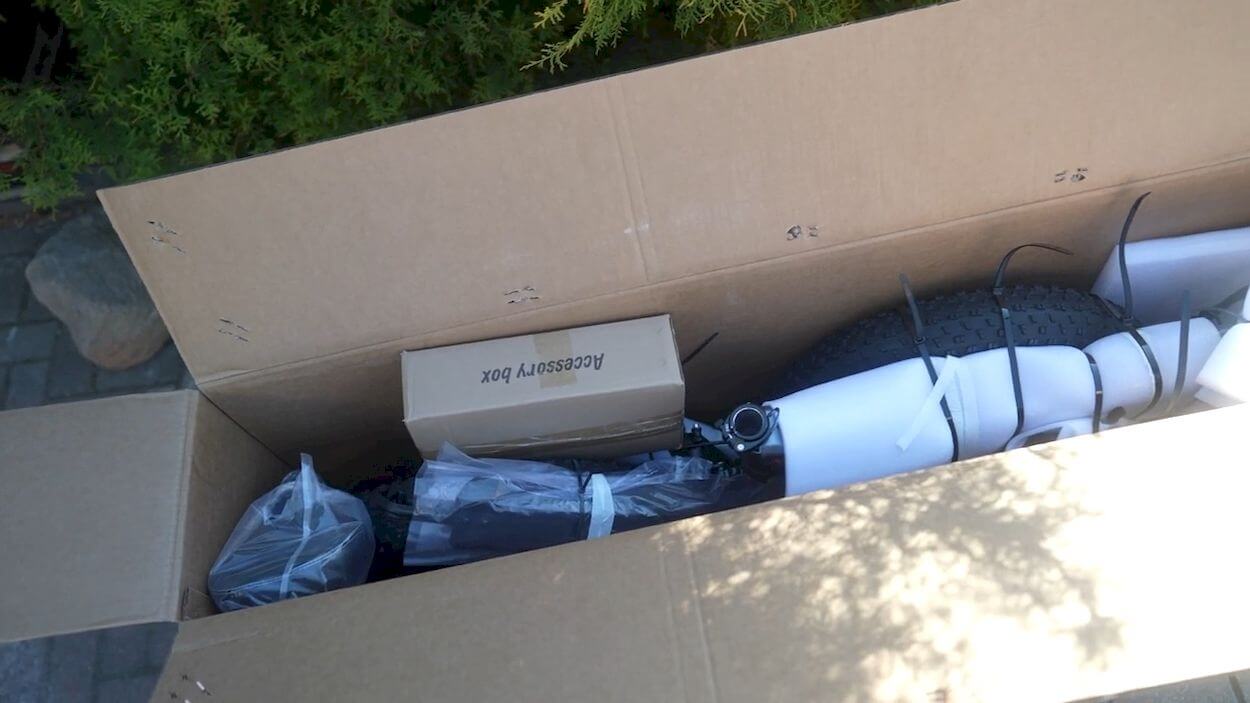 Now, let's take a look at the contents of the retail box. Here, we have everything we need to get started with the assembly:
Handlebars: These will need to be attached to the bike frame. They come securely packaged to prevent any scratches.

Tools: Bezior has included the necessary tools for assembly, which is a thoughtful addition. It includes wrenches and Allen keys.

Charger: You'll find the charger for the bike's battery. It's essential to ensure the battery is fully charged before your first ride.

Tire Pump: Bezior also includes a tire pump, which is handy for maintaining the optimal tire pressure.

Bicycle Lock: For added security, a bicycle lock is included in the package. This is a nice bonus to help keep your bike safe.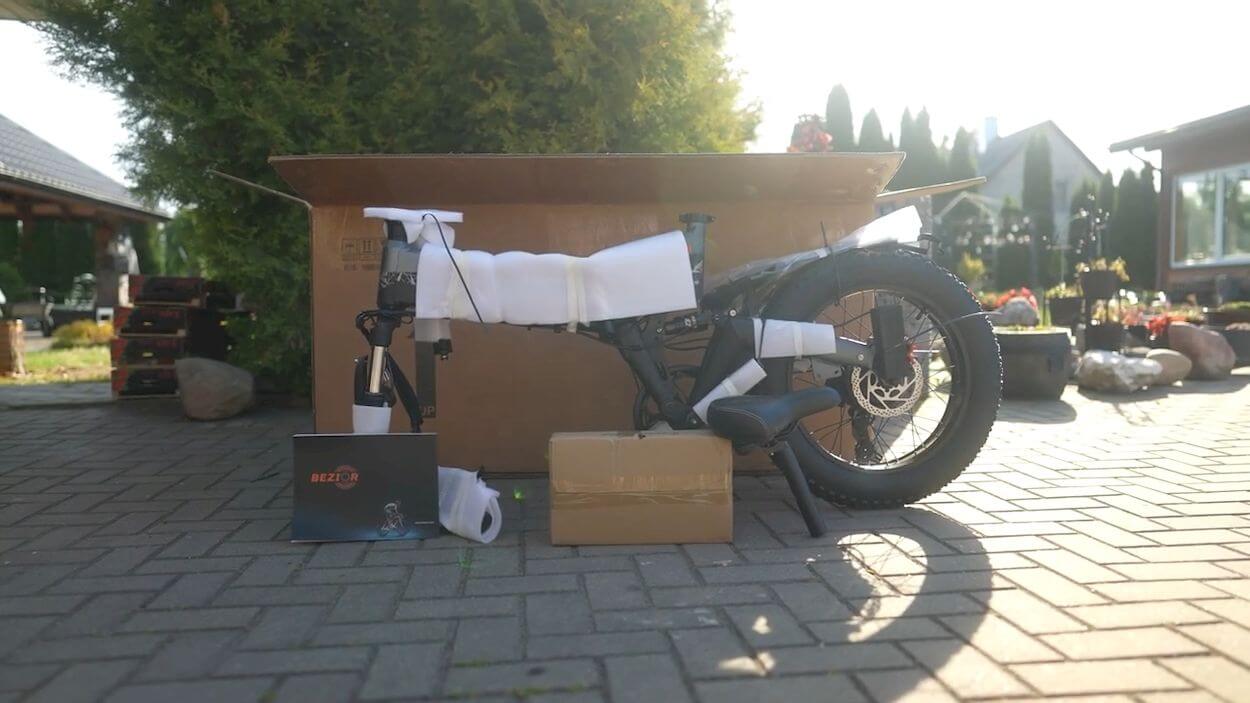 Now, let's move on to the assembly process. As mentioned earlier, it's relatively straightforward and should take around 20 minutes. I'll walk you through the key steps:
Handlebar Assembly: Start by attaching the handlebars to the bike frame using the provided tools. Make sure they are securely tightened.

Battery Installation: Insert the battery into its designated slot on the frame. Ensure it clicks into place.

Pedal Installation: Attach the pedals to the crank arms. The left pedal is usually indicated with an "L," and the right pedal with an "R." Use the wrenches provided to secure them.

Adjustments: Before your first ride, it's essential to make any necessary adjustments to the seat height and handlebar position to ensure a comfortable and safe riding experience.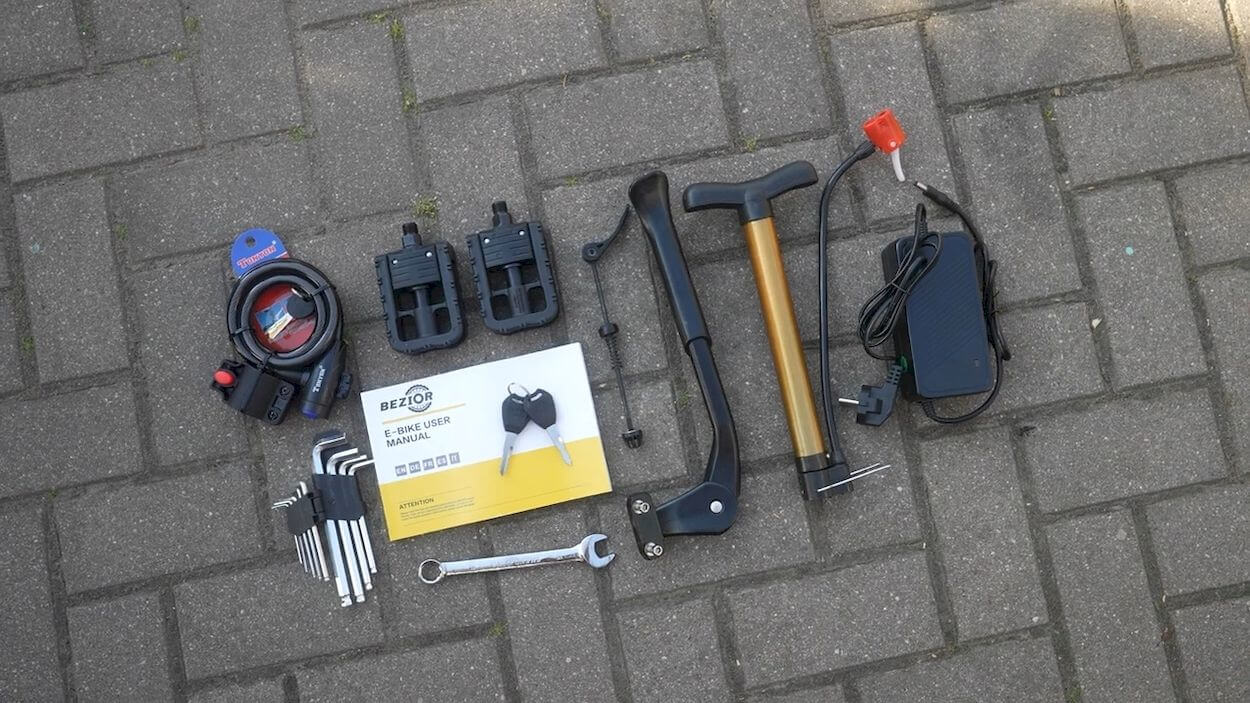 With the assembly complete, you're ready to charge the battery and take your new Bezior XF200 electric bike for a spin. As of the time of this video, the bike retails for just over 1200 Euros in the EU. If you're interested in purchasing one or learning more about it, please check out the video description for additional information and links.
Design and Build Quality
The Bezior XF200 electric bike boasts a robust design and sturdy build quality, making it a formidable choice in the world of fat-tire e-bikes.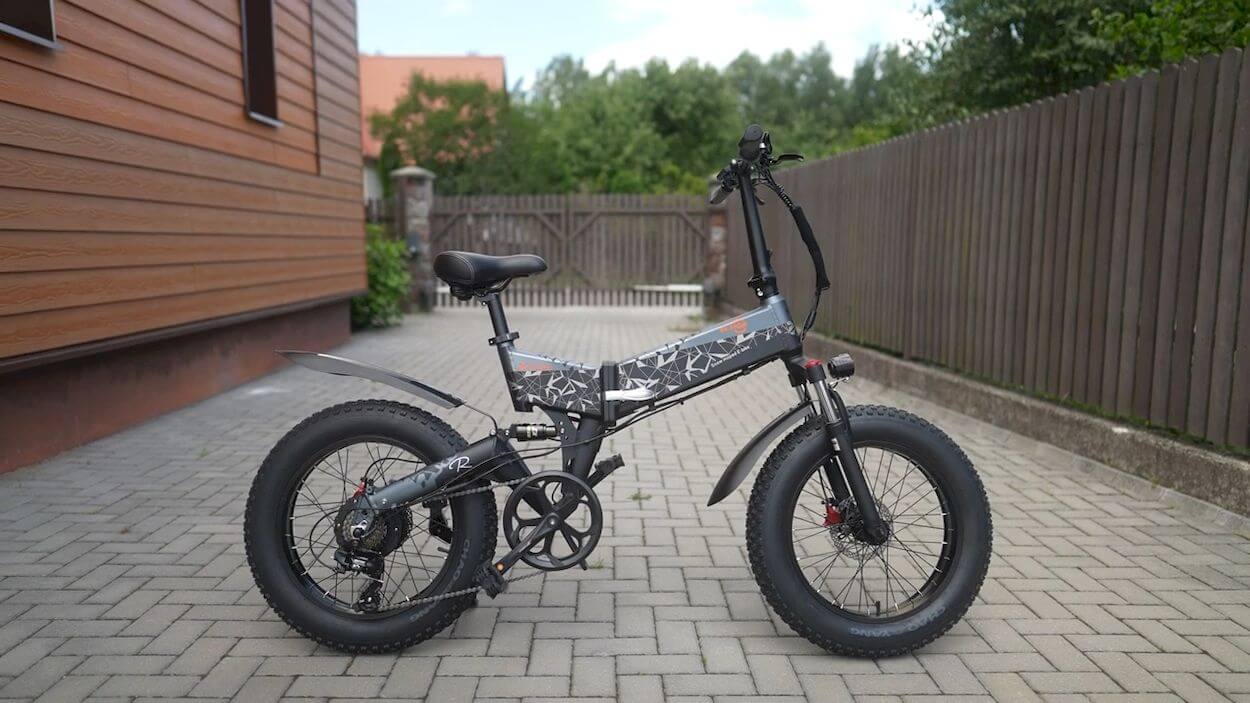 The XF200 comes equipped with massive 20 by 4 inches fat tires, providing excellent stability and traction, especially off-road.
It features hydraulic disc brakes on both the front and rear wheels, ensuring reliable and efficient stopping power, even on challenging terrains.
The heftiest throttle on the XF200 gives you full control over your speed and acceleration.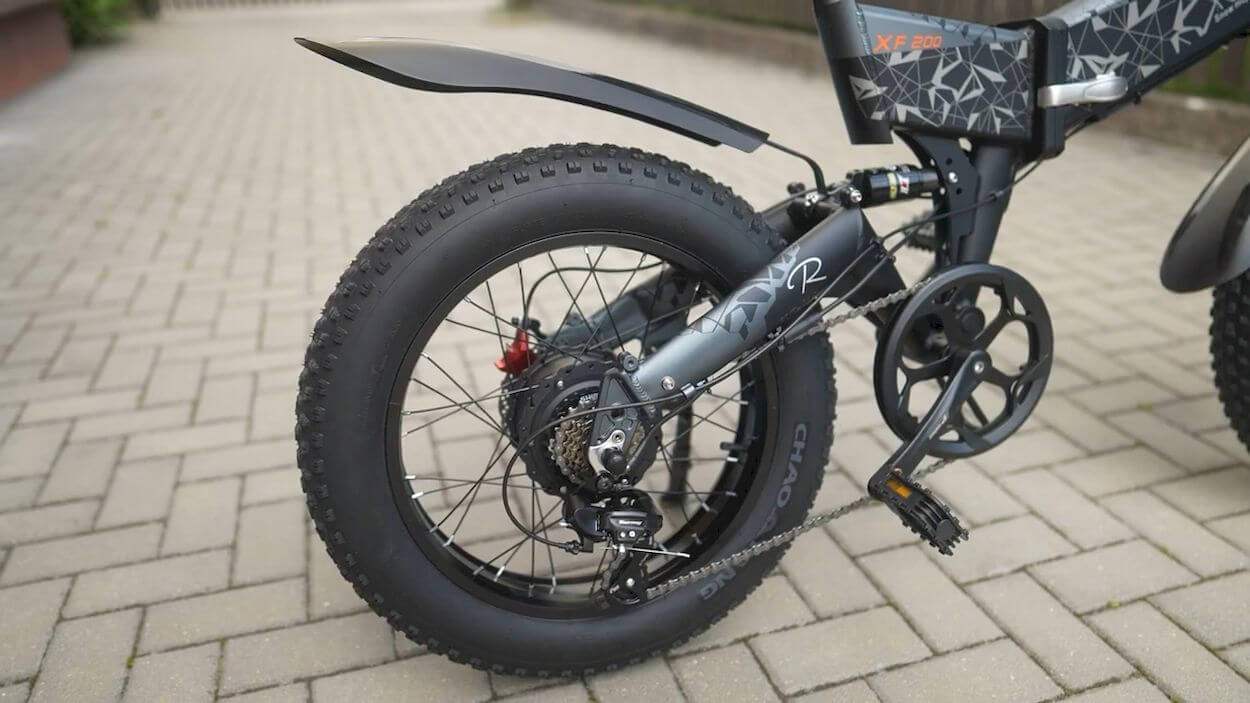 The dual suspension system enhances rider comfort by absorbing shocks and bumps during off-road adventures.
A Shimano 7-speed system provides versatility for various riding conditions, allowing you to tackle both steep inclines and flat roads with ease. The metal-made kickstand is robust, ensuring the bike remains stable when parked.
It's worth noting that the folding pedals are made of plastic, which might be a minor drawback considering the overall build quality.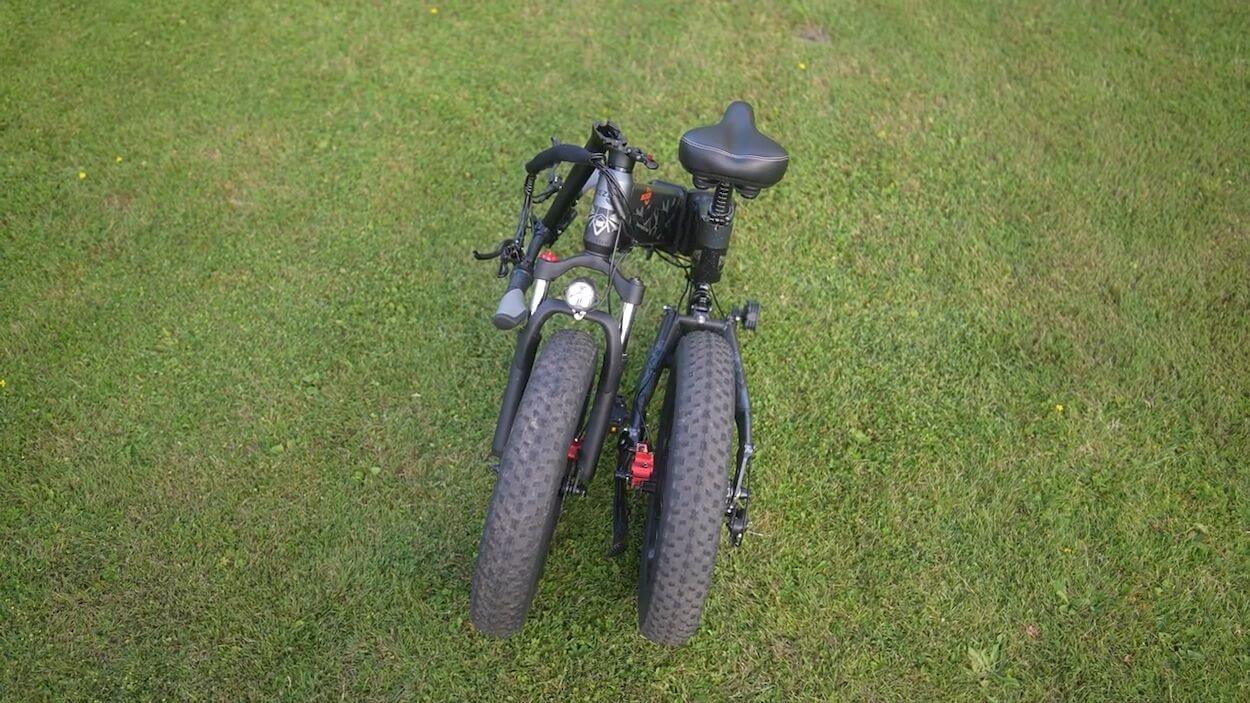 The XF200 has an impressive total weight capacity of 200 kilograms, making it suitable for a wide range of riders.
The bike itself weighs 27 kilograms and is designed to accommodate riders with heights ranging from 165 to 190 centimeters. The seat height is adjustable to ensure a comfortable fit.
Unfortunately, the handlebar post height is not adjustable, which may be a limitation for some riders. However, you can adjust the handlebar's angle for a more customized riding position.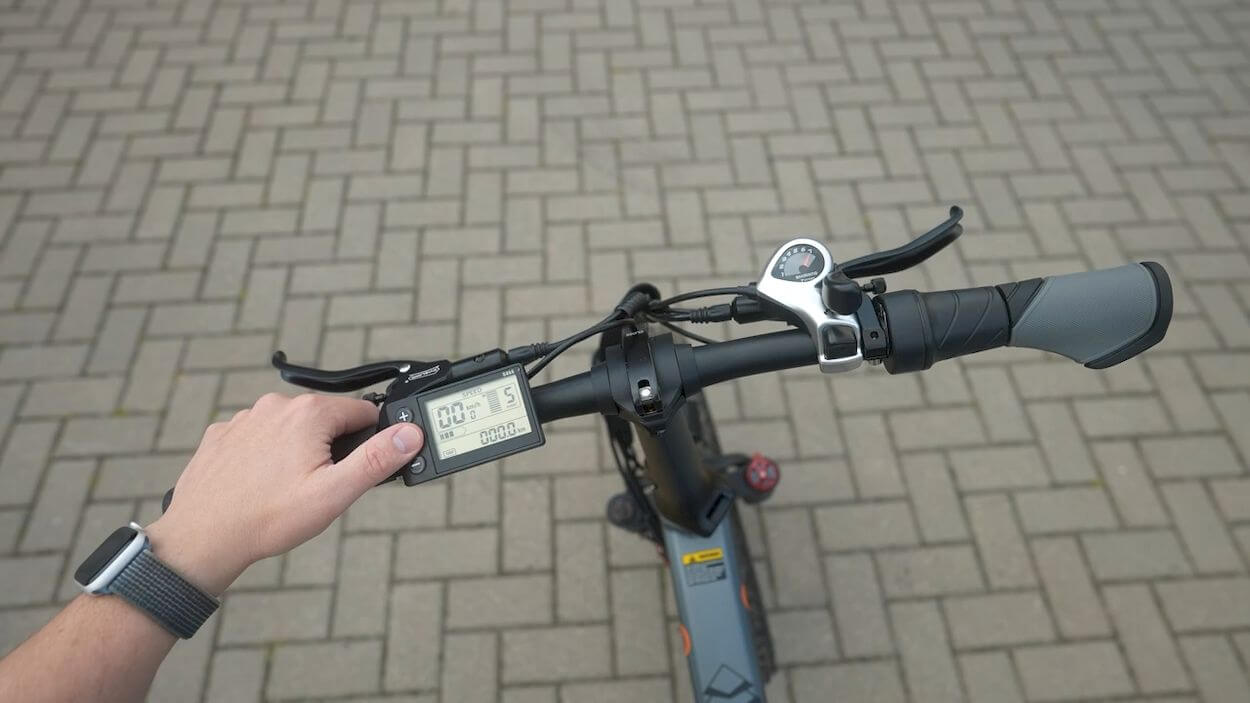 The XF200 exudes a tank-like appearance, typical of fat-tire e-bikes, but with its own unique style. The bike's construction primarily consists of metal, contributing to its overall durability and longevity. The build quality is commendable, reflecting the attention to detail put into its construction.
One notable design concern is the single attachment point design for the front and rear mudguards, which can feel flimsy. Many riders who prefer off-road adventures opt to remove them for better maneuverability. The XF200's foldable design is a notable advantage, making it easy to transport and store when not in use.
The front light is powerful enough to illuminate the road ahead, ensuring safe nighttime riding. However, one drawback is the absence of a rear light, which could enhance overall safety, especially in low-light conditions.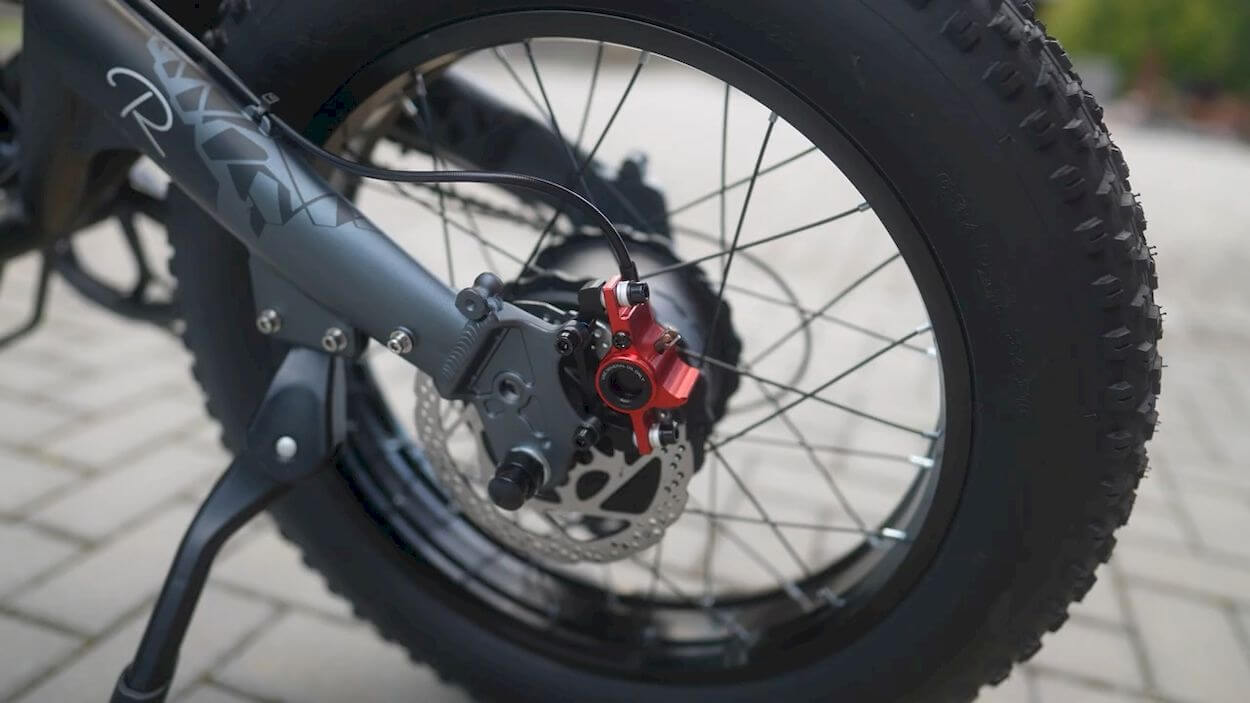 So, the Bezior XF200 electric bike impresses with its robust build quality, powerful features, and suitability for a wide range of riders. While it shares the familiar fat-tire e-bike design, it stands out with its durability and user-friendly attributes. Keep in mind the minor design concerns, such as the attachment points for mudguards and the absence of a rear light, when considering this bike for your riding adventures.
Display and Controls
The LCD display on the XF200 is equipped with a pleasant backlight, ensuring visibility in various lighting conditions, including low-light situations.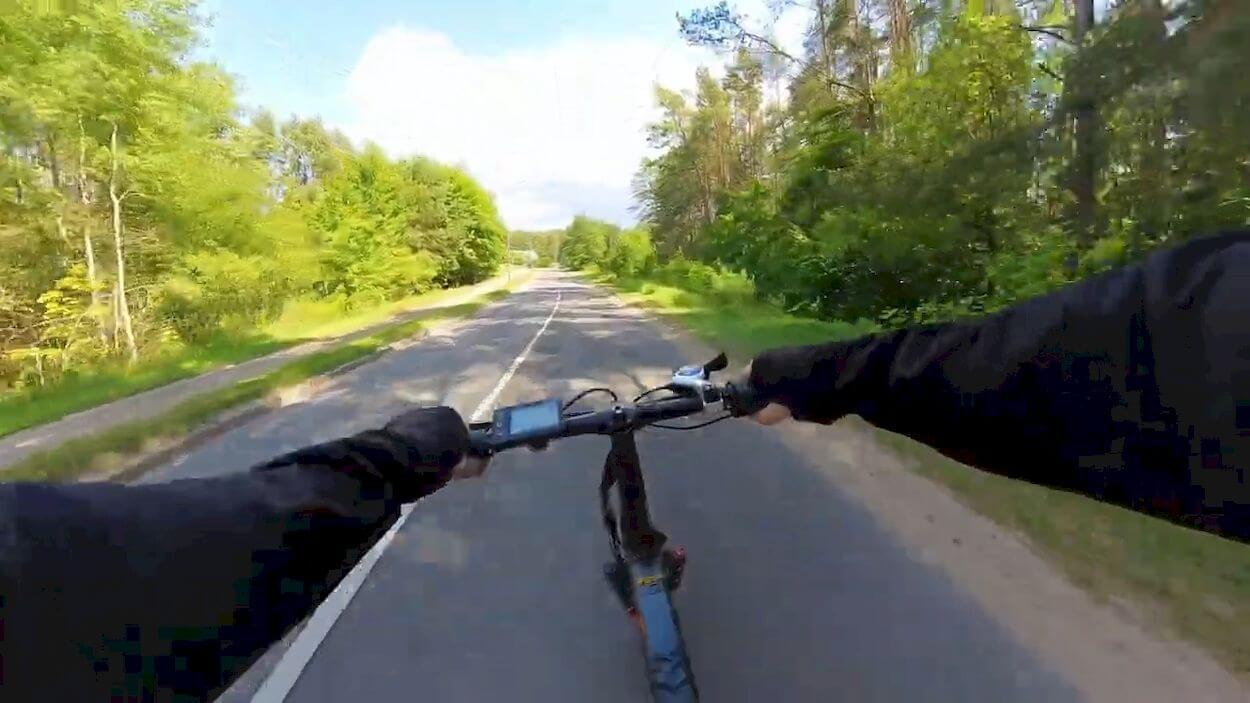 The LCD display offers you the ability to select from 5 distinct power assist modes. These modes allow you to tailor the level of motor assistance to your preferences and the demands of your ride.
Additionally, if you want to get some exercise and pedal without motor assistance, you can easily turn off the motor with the display controls.
The display provides real-time information to keep you informed during your ride. You can easily monitor: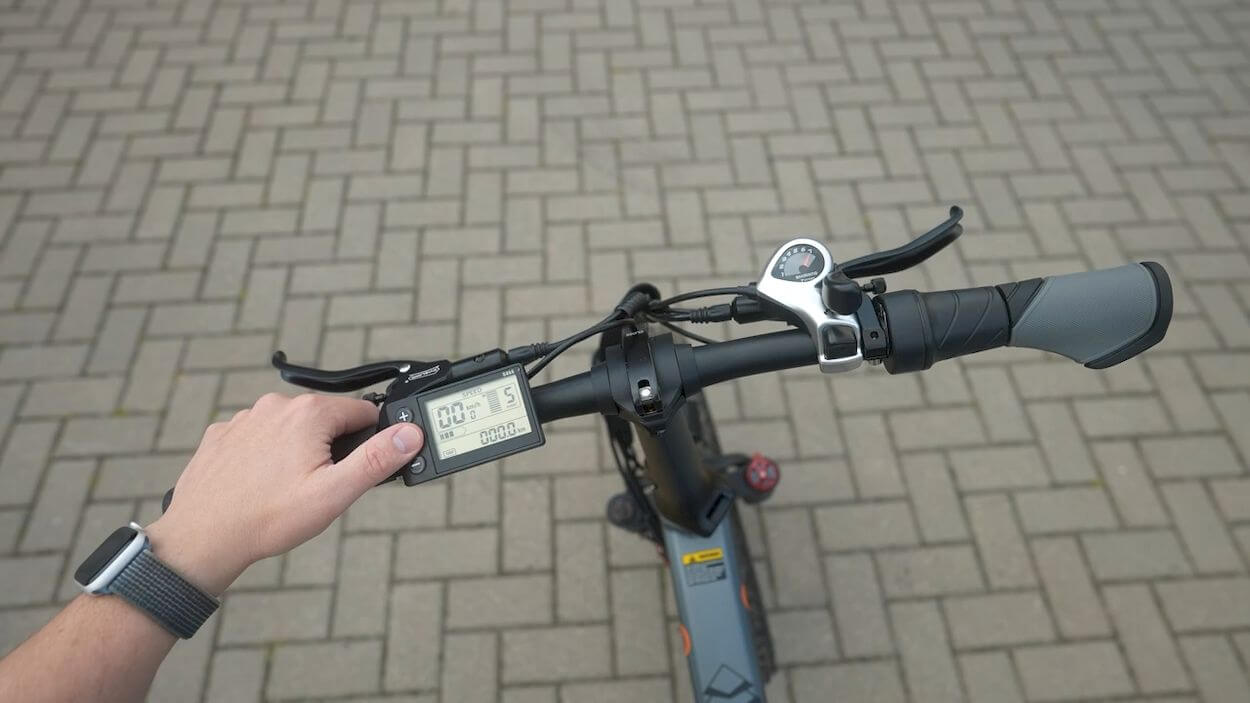 Speed: Know your current speed at a glance.

Battery Level: Keep track of the remaining battery capacity to plan your ride accordingly.

Trip Distance: See how far you've traveled during your ride.

Odometer: Keep a running tally of the total distance your bike has covered.

Time: Stay aware of the time during your ride.
A convenient feature is the ability to turn on the bike's light by pressing and holding the plus key on the LCD display. This enhances safety during low-light conditions or night rides.
While the Bezior XF200 doesn't come with a bell as standard equipment, it's worth noting that you can easily add one for just a few euros. A bell is a useful safety feature to alert pedestrians and other cyclists while riding in crowded areas or on shared paths.
Bezior XF200: Motor
The Bezior XF200 is equipped with a rear hub motor that boasts impressive power. It's a rare hot motor designed to deliver exceptional performance.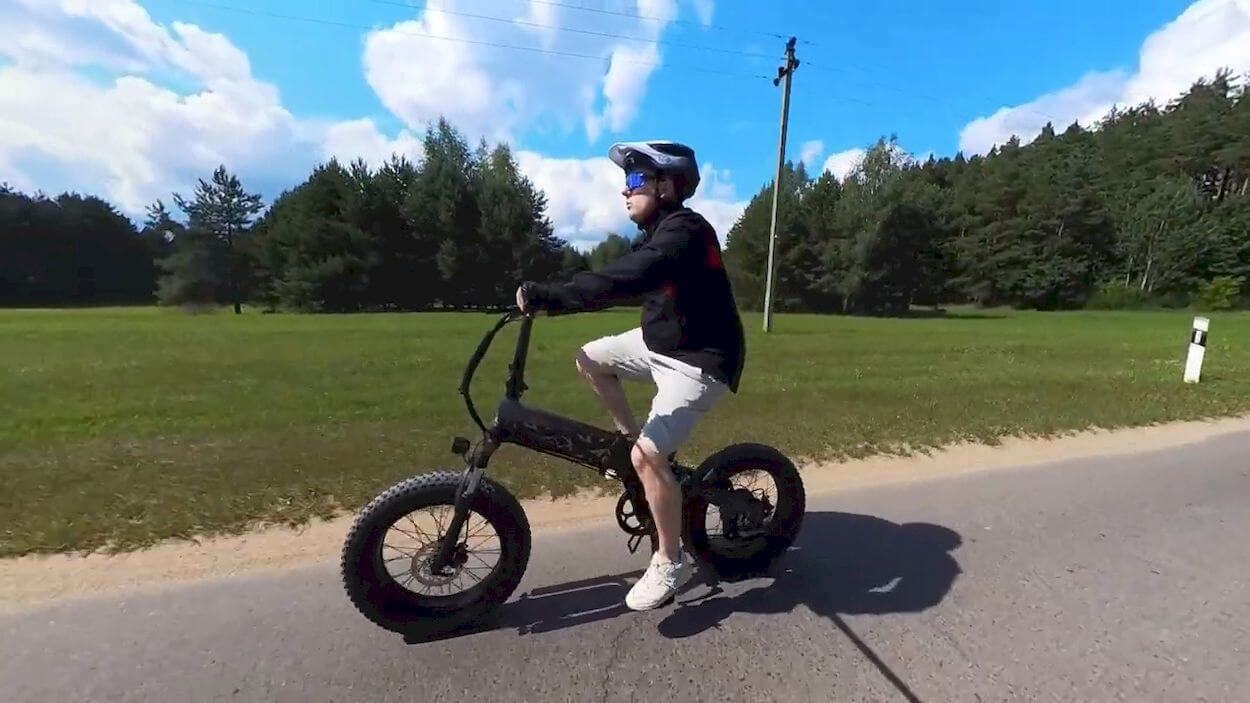 Straight out of the box, this motor offers a peak power output of a whopping 1000 Watts. This level of power can handle various terrains and riding conditions with ease. To adhere to legal regulations and safety standards, the XF200 initially limits its speed to 25 kilometers per hour (about 15.5 miles per hour). This limit is common for e-bikes intended for on-road use.
However, for those riders who want to explore off-road adventures and require more speed, the XF200 provides an option. You can easily unlock the bike to reach speeds of up to 40 kilometers per hour (approximately 25 miles per hour) for off-road use.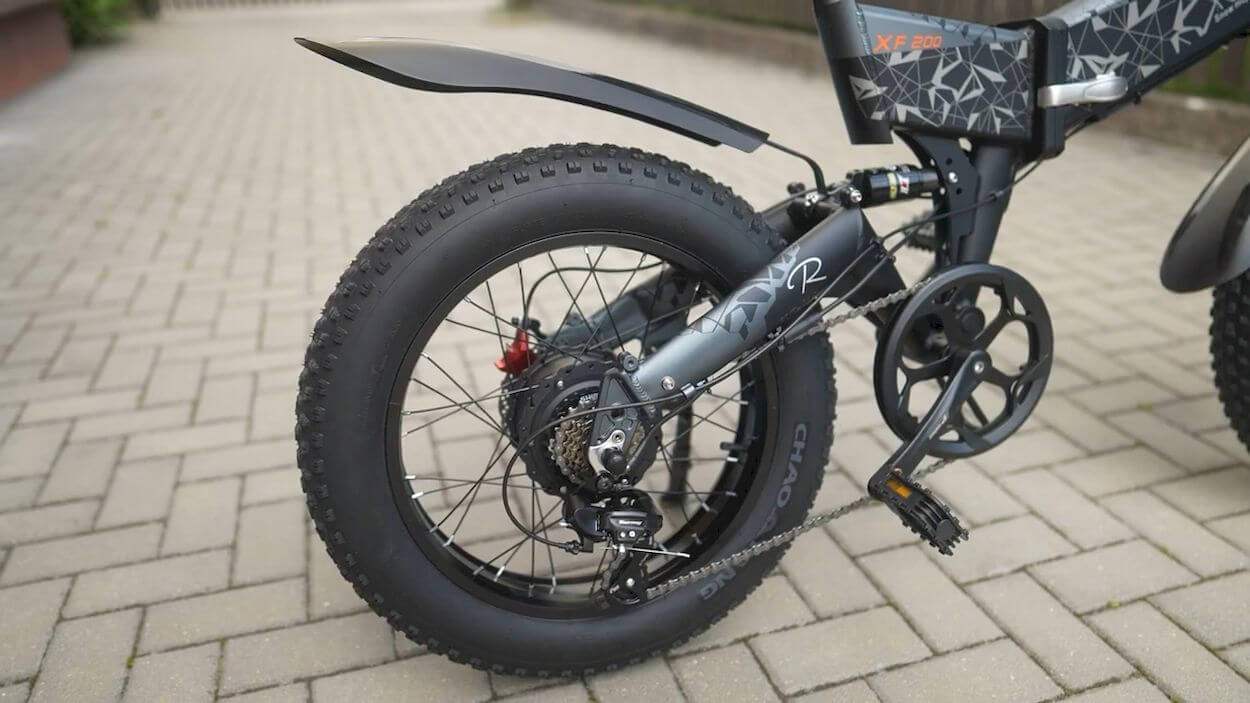 This feature allows you to enjoy the full power and potential of the motor when navigating rugged terrain, trails, or other areas where higher speeds are necessary or desired.
Driving Test
To get started, you'll need the key to ignite the bike and select your desired power mode. The XF200 offers various power assist levels, and you can choose the one that suits your riding style and terrain.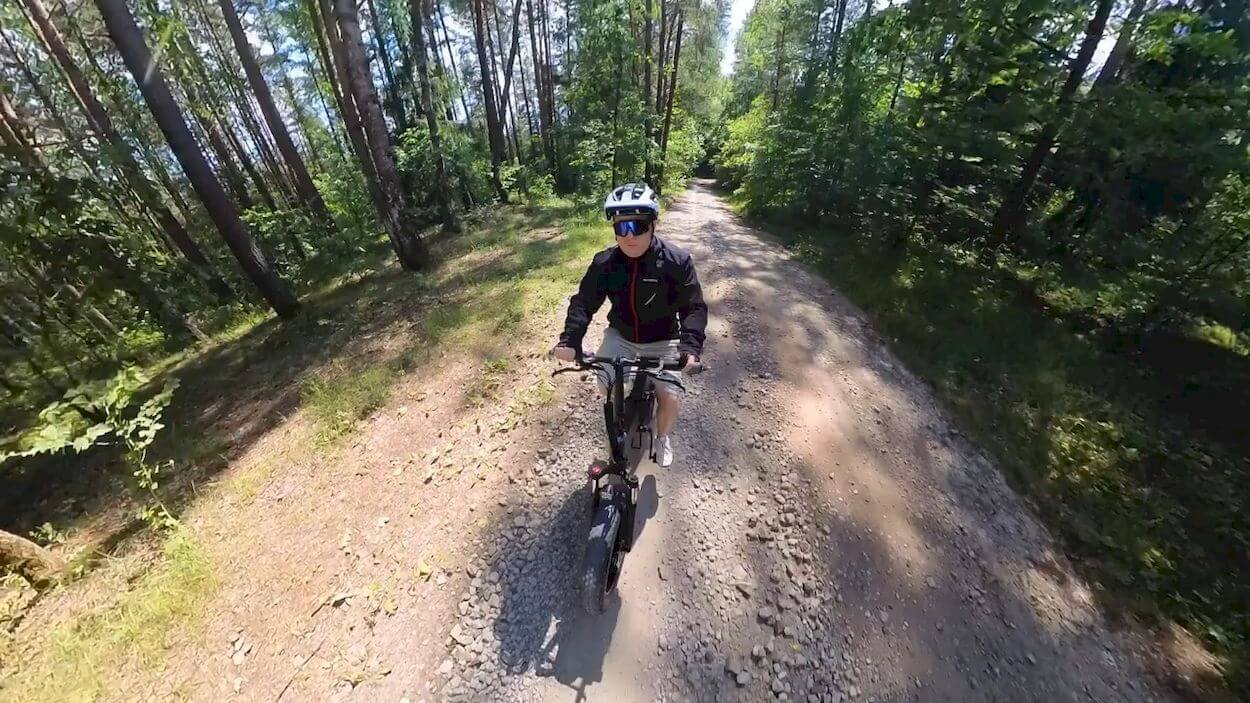 With the 1000-watt rear hub motor and those robust 20-inch fat tires, the XF200 is a force to be reckoned with on any terrain. Whether you're tackling mud, soft and wet grass, or rough trails, this bike handles it all effortlessly. The power reserve of the motor ensures that you never feel lacking in torque. The moment you hit the throttle or start pedaling, you'll experience a surge of power that makes conquering challenging terrain a breeze.
The XF200 delivers a stable and smooth ride, even on uneven surfaces. The dual suspension system, while not the softest, effectively absorbs bumps and shocks, enhancing overall comfort. The comfortable CTB (presumably a saddle) and decent handlebar grips contribute to a pleasant riding experience.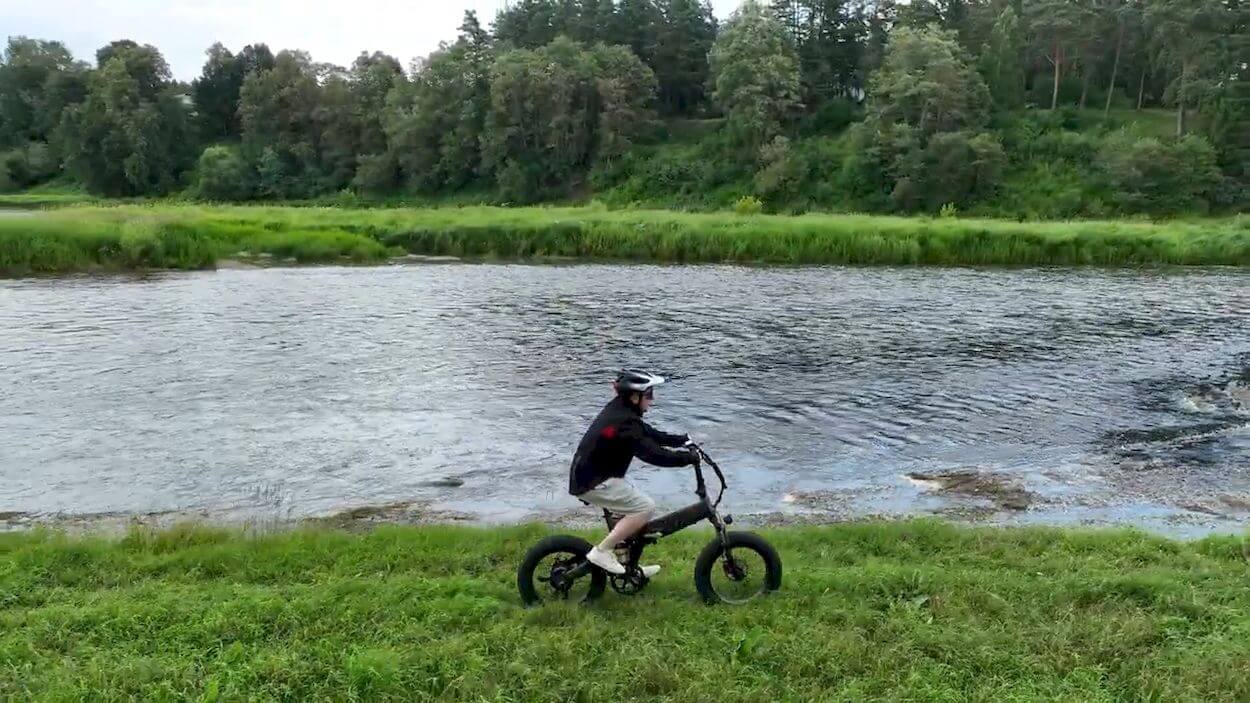 On off-road terrain, a maximum speed of 30 kilometers per hour feels comfortable and safe, ensuring you have control over the bike, especially on bumpy paths. On asphalt, the XF200 can reach a maximum speed of about 40 kilometers per hour, offering exhilarating rides with stability and good handling.
The hydraulic disc brakes are highly effective and provide rapid stopping power without the annoyance of squeaking noises. The Shimano gears shift smoothly, allowing you to adapt to different inclines and terrains seamlessly.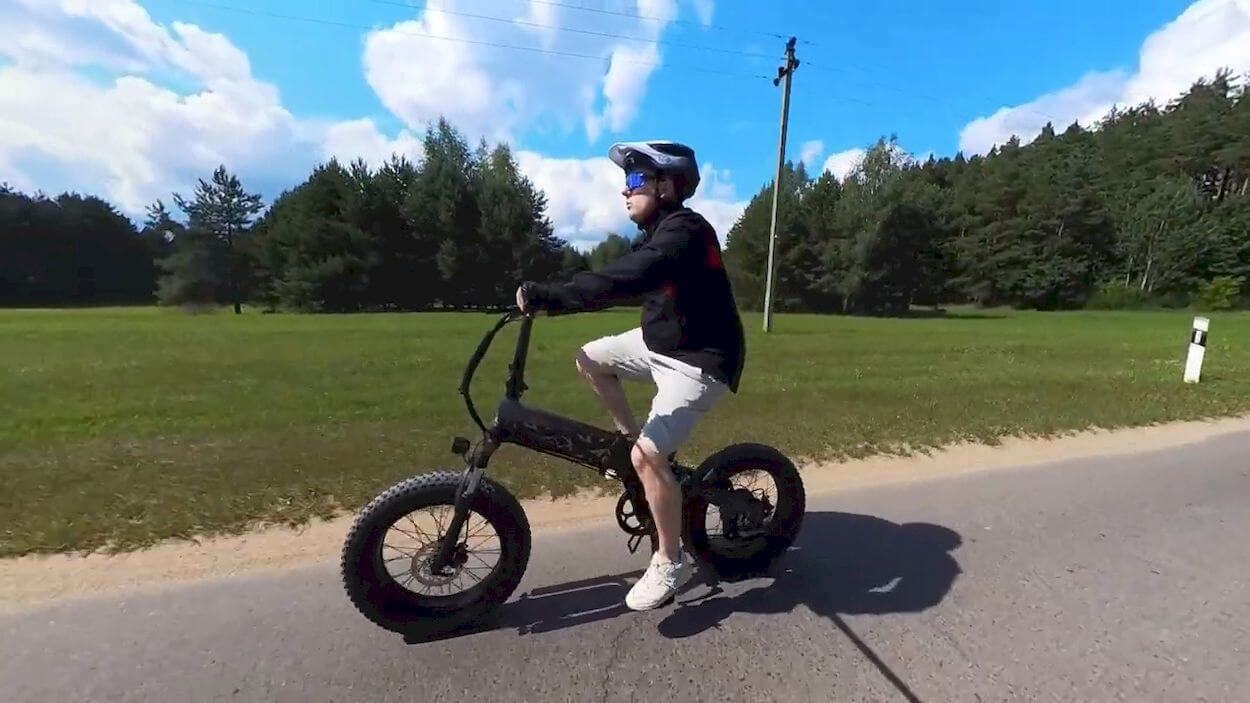 A notable feature is the absence of rattling noises, which can sometimes be an issue with other e-bikes. This ensures a quiet and distraction-free ride, especially when exploring off-road trails.
So, the riding experience on the Bezior XF200 electric bike is nothing short of amazing. The combination of fat tires, powerful motor, and responsive controls instills confidence in riders, making them feel capable of tackling diverse terrains. The bike's stability, smoothness, and efficient braking further enhance the overall ride quality. Whether you're an adventure seeker or a daily commuter, the XF200's fat tires, power, and speed make you feel like you can conquer virtually any riding scenario with ease.
Battery and Range
The removable 48V 15Ah battery on the Bezior XF200 is a standout feature that greatly enhances the bike's practicality and range.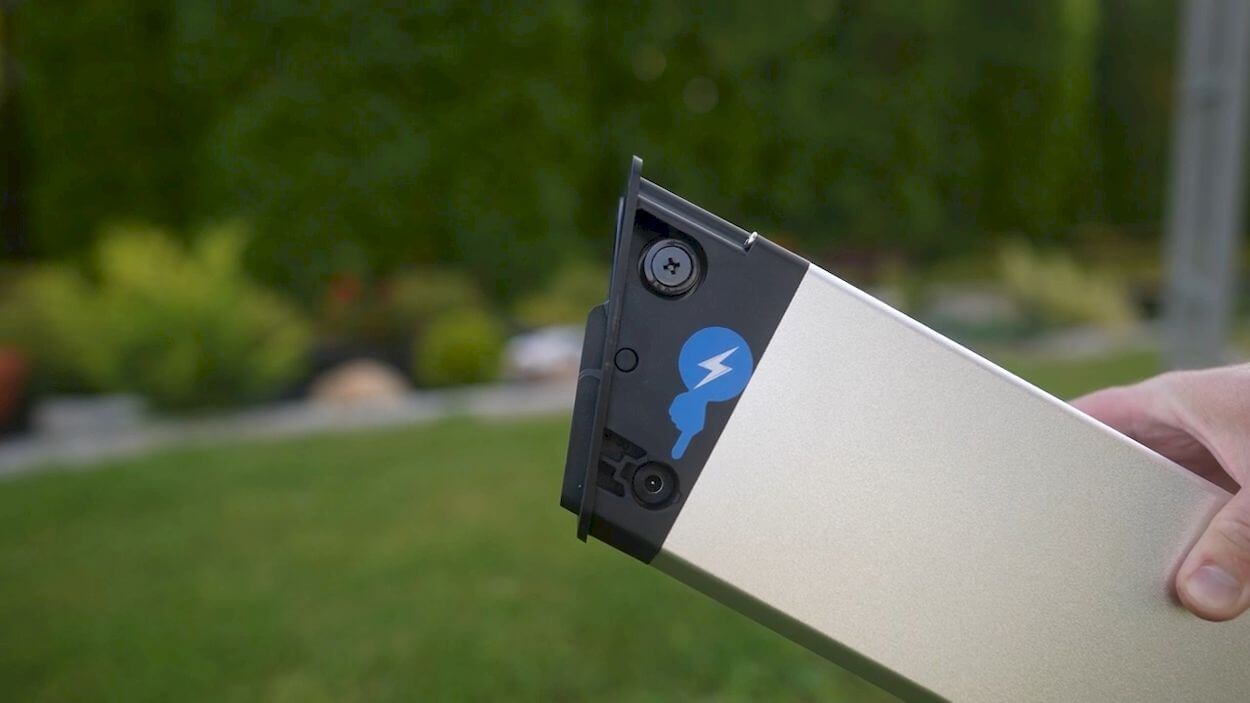 During extensive testing, the XF200's battery proved to be a real workhorse. Even when ridden predominantly off-road and frequently on the maximum power assist level, it delivered an impressive range of approximately 75 to 80 kilometers on a single charge. This range is noteworthy, as off-road riding and high-power settings typically consume more battery power.
The official claim for the XF200's battery life is up to 130 kilometers. However, it's important to note that achieving this maximum range would require riding on the lowest power assist mode and in near-ideal conditions.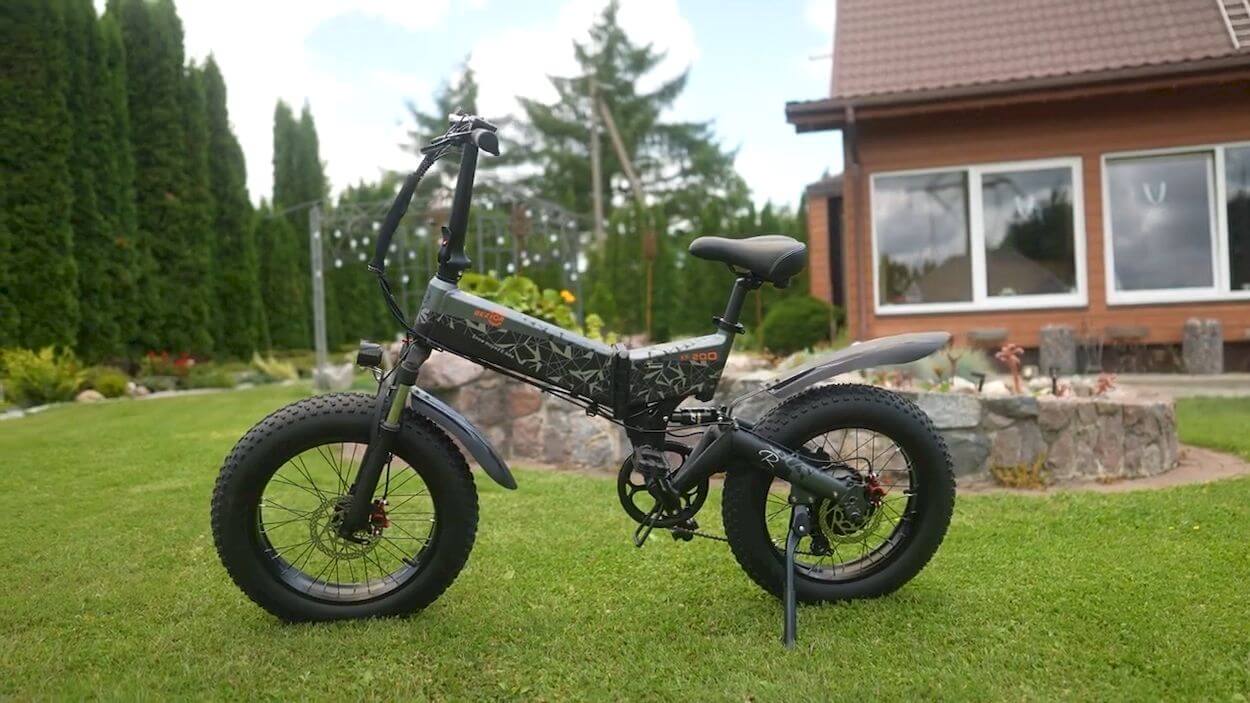 The ability to remove the battery is a convenient feature. It allows you to charge it at home or any suitable location and keep your bike secure. Simply unlock the battery from the frame and plug it in for charging. Charging the battery takes approximately 7 hours, which is a reasonable time frame for a battery of this capacity.
Bezior XF200: Conclusions
Overall, the Bezior XF200 emerges as a commendable choice in the world of foldable fat-tire e-bikes. It successfully combines several strengths while acknowledging a few areas for improvement.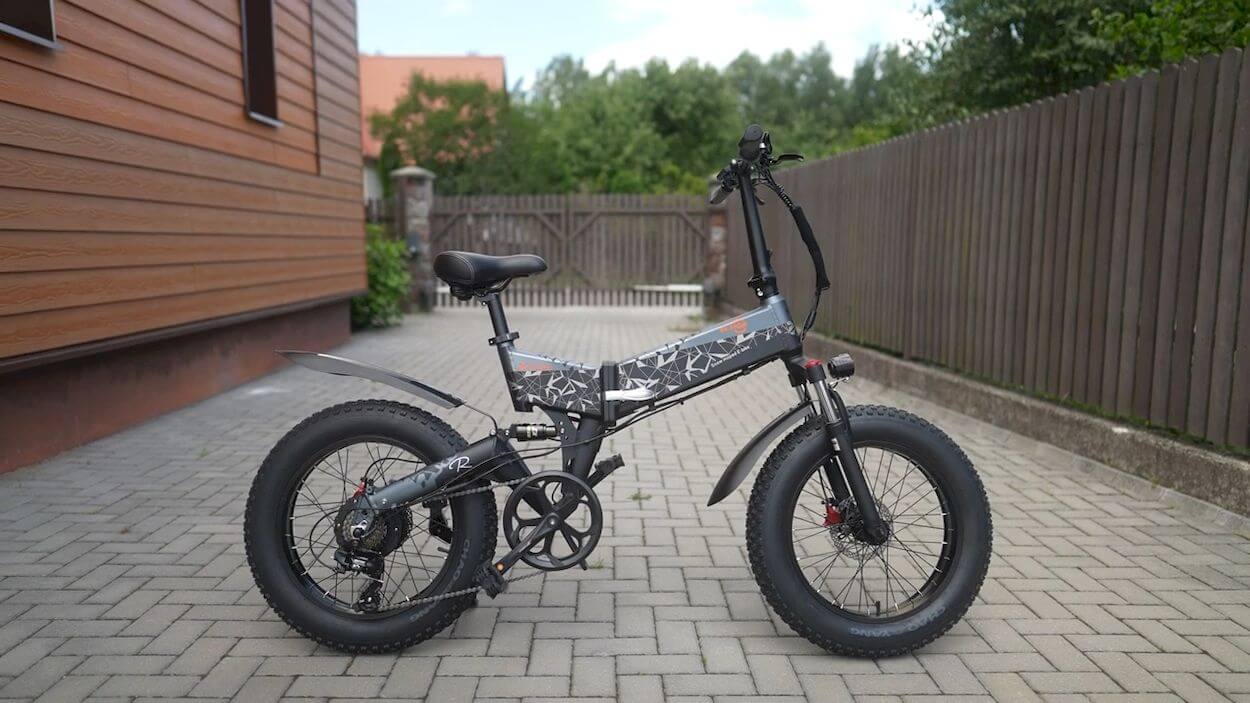 Strengths:
Power and Speed: The XF200 offers impressive power and speed, especially when you unlock the speed limit, allowing you to reach up to 40 kilometers per hour. This makes it suitable for various riding scenarios and terrains.

Sturdy and Foldable: The bike's build quality is robust, ensuring durability, while its foldable design adds convenience for transportation and storage.

Suspension and Braking: The dual suspension system provides excellent riding comfort by absorbing bumps and shocks. The hydraulic disc brakes offer reliable and efficient stopping power.

Battery Life: The battery offers a solid range, even when ridden in demanding conditions, making it suitable for extended rides.
Considerations for Improvement: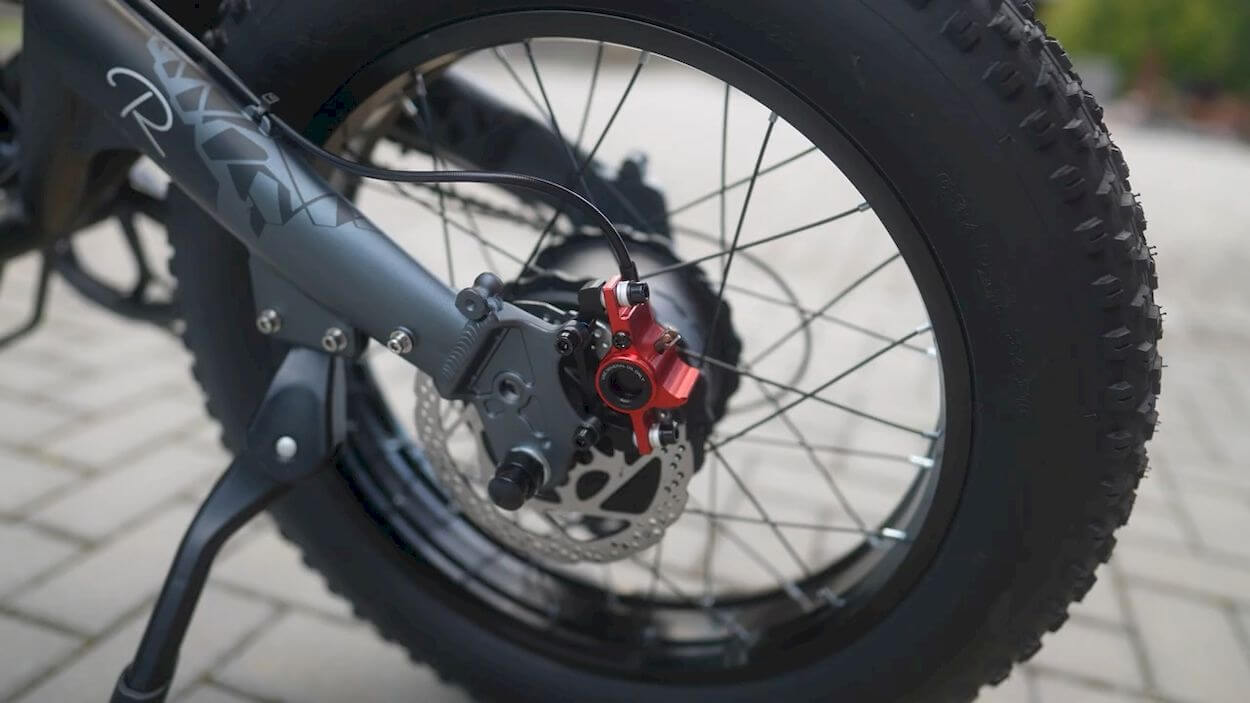 Mudguard Design: The single-point mounting design for the rear and back mudguards can be improved for better stability and durability.

Rear Light and Bell: The absence of a rear light and bell may be considered limitations for safety and convenience.
The Bezior XF200 impresses with its combination of power, comfort, battery life, and practicality. While it has a few minor shortcomings, it fulfills the essential requirements for a satisfying fat-tire e-bike experience. Riders can confidently explore various terrains and enjoy an exhilarating ride with this e-bike.
As always, thank you for reading this review, and I look forward to seeing you soon for more insightful discussions and reviews. Happy riding!
Alternatives of Bezior XF200