Finding the best electric scooters of 2023 requires extensive hands-on testing of numerous models. Rider Guide, known for its comprehensive testing, has surpassed all others in testing electric scooters year after year. While no single scooter can be deemed the best for everyone, as individual preferences vary, Rider Guide's rigorous testing process allows them to identify the strengths of each scooter and provide valuable insights to help consumers find the most suitable option.
I showcase top-of-the-line electric scooters designed for experienced riders who demand the utmost in performance, speed, and durability. These scooters are equipped with cutting-edge technology, powerful motors, and extended range capabilities, making them ideal for enthusiasts and professionals.
Also I unveil the best electric scooters of 2023 and 2024 based on their comprehensive testing. They provide detailed information on each scooter's strengths, be it lightweight design, long-range capabilities, or impressive top speed. By thoroughly testing and evaluating a wide range of scooters, I ensure that viewers can find the most suitable option based on their preferences and requirements.
Gotrax G3 Plus
We begin our exploration of the best electric scooters of 2023 with the top nine entry-level scooters, and the first on the list is the Gotrax G3 Plus. This scooter offers outstanding performance while being budget-friendly, making it an excellent choice for riders looking for a great value.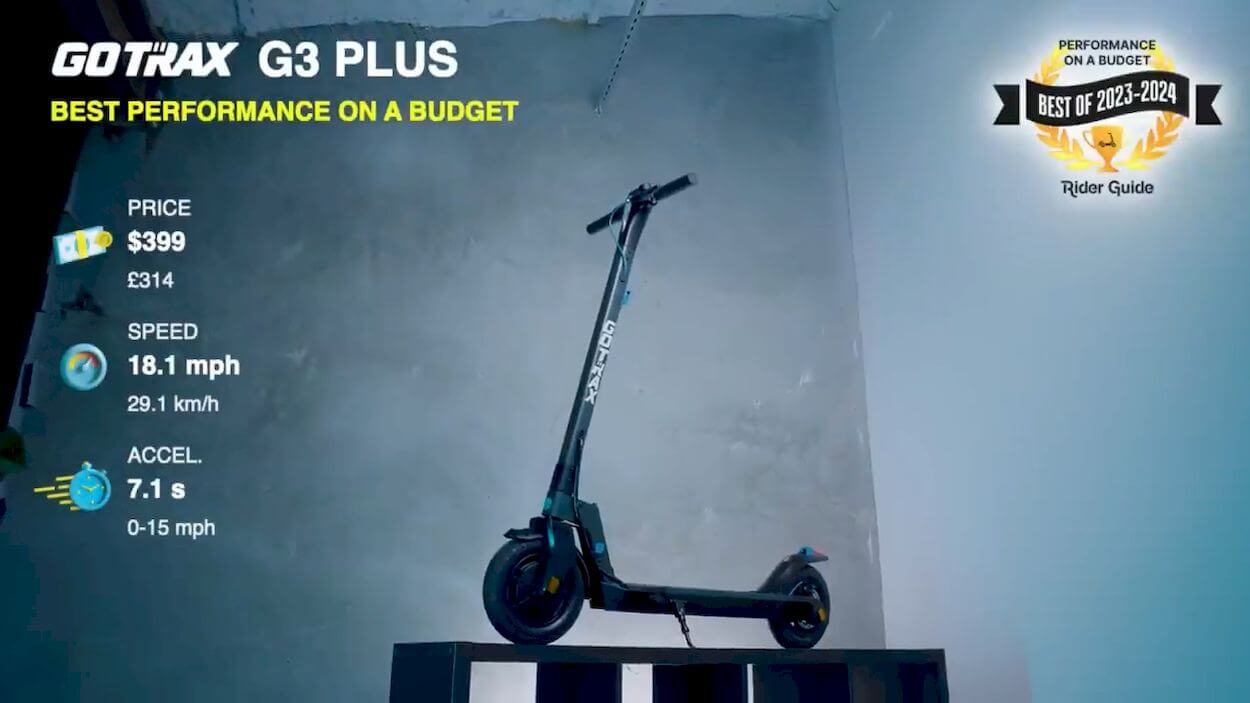 In 2022, Gotrax did not make the list, but they have made a significant comeback this year with the G3 Plus. This new model replaces their previous best-selling and least expensive scooter, the GXV2. The G3 Plus boasts a smoother, faster, and roomier riding experience compared to its predecessor.
One notable feature of the G3 Plus is its big 10-inch tubed tires, which contribute to its exceptional ride quality. The larger tires absorb bumps and uneven surfaces more effectively, providing a comfortable and enjoyable ride. Additionally, the scooter is equipped with dual brakes, further enhancing its braking performance.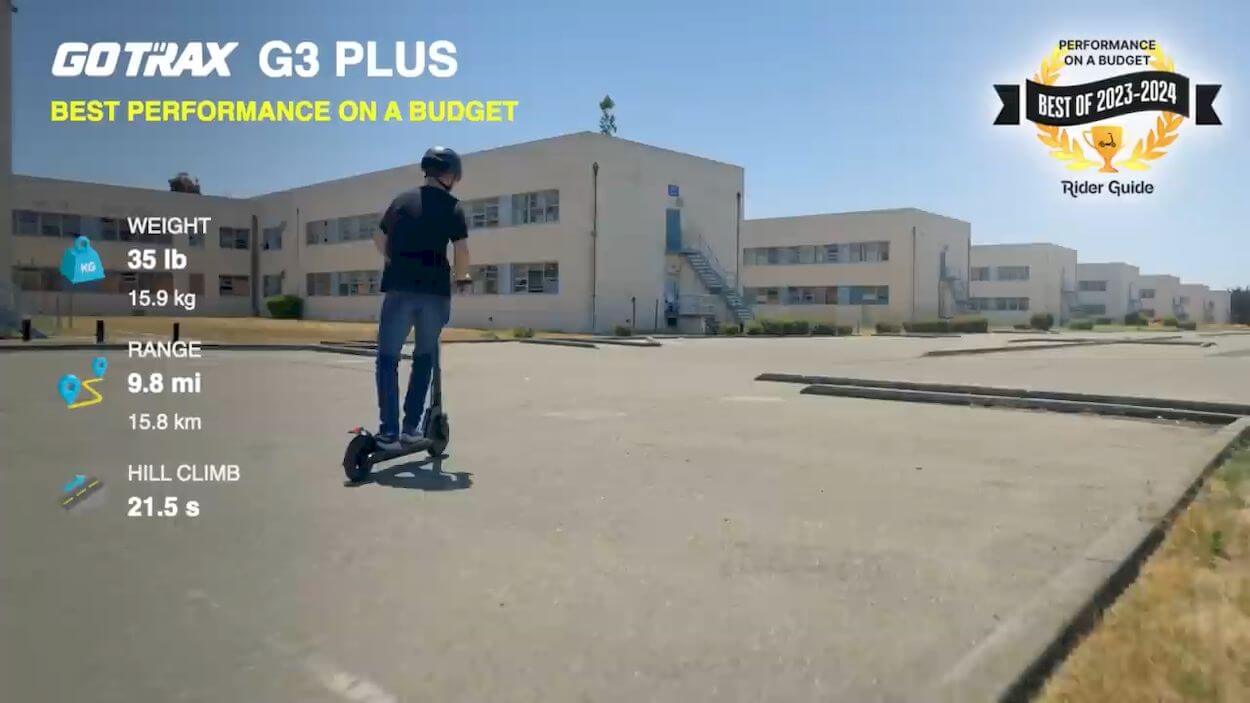 Despite its affordability, the G3 Plus offers an impressive level of braking capability, surpassing even the famous Gotrax G4. This feature ensures a safer riding experience and instills confidence in riders. While the scooter lacks an accompanying app and additional frills, it compensates with its sheer fun factor and value for money.
Segway E2 Plus 
Segway, one of the best-known brands in the United States, introduces the Segway E2 Plus, an electric scooter that stands out as an excellent choice for students. The surprising discovery of a $299 Segway scooter, the E2, left us amazed. However, for the best electric scooters of 2023, we are opting for the E2 Plus version, as we believe it offers additional benefits worth the extra $50 investment.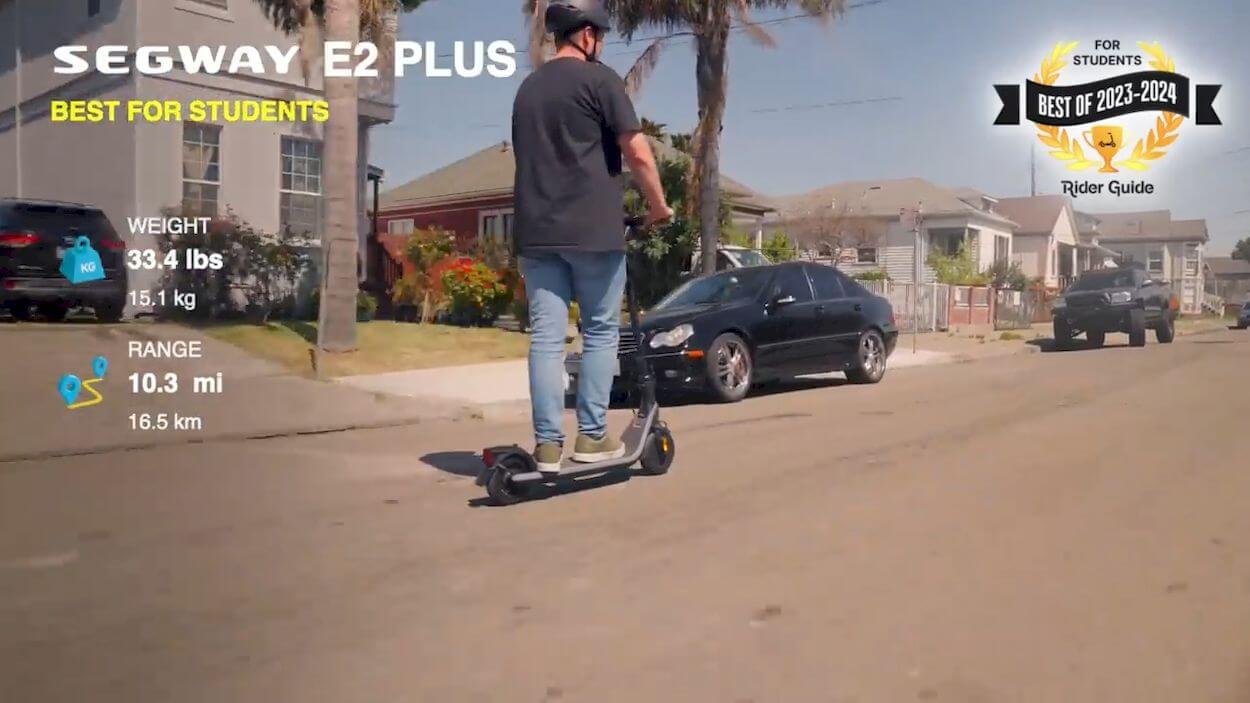 The Segway E2 Plus provides an increase in hill climbing power and a bump in top speed compared to its base version. With a rise in top speed from 12.5 to 15.5 miles per hour, students can zip around campus or city streets with greater efficiency. This enhancement makes the E2 Plus an even more appealing option for those seeking a reliable and swift means of transportation.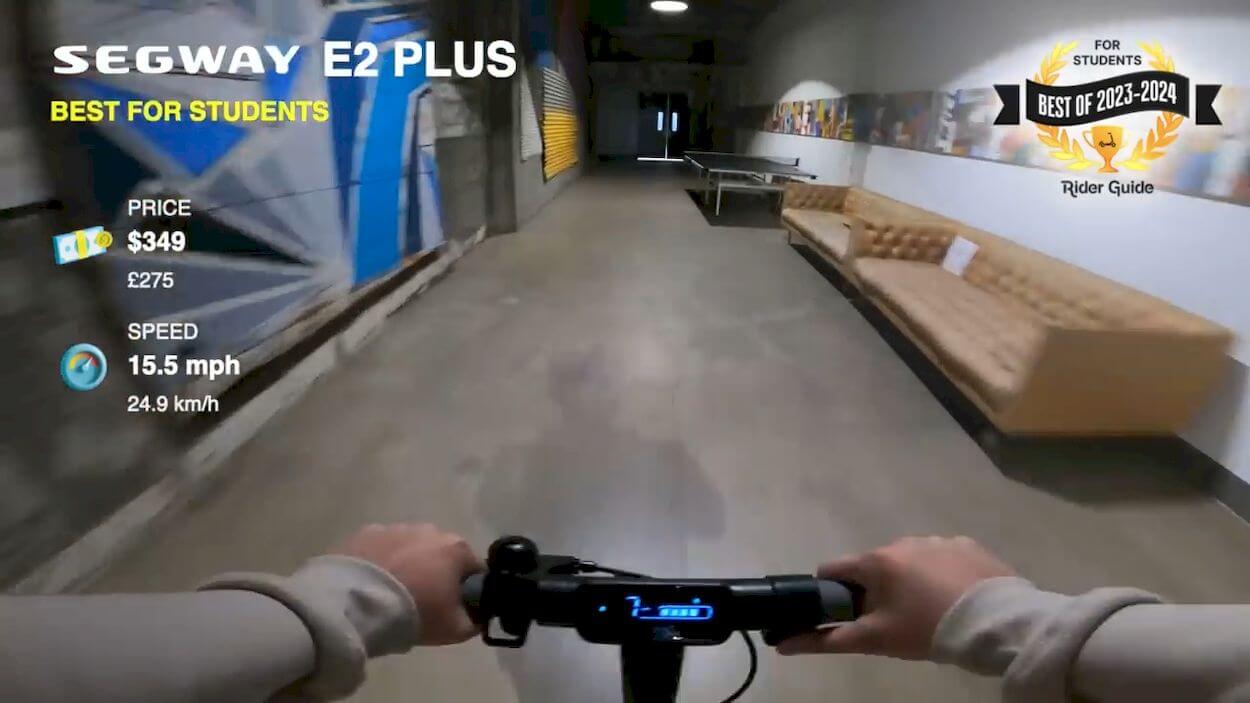 One notable advantage of the Segway E2 Plus is its solid reliability, which aligns with Segway's reputation for manufacturing durable and dependable scooters. This reliability ensures that the scooter requires minimal maintenance, providing students with a hassle-free experience. Additionally, the E2 Plus features semi-solid flat-proof tires, eliminating the need for constant air refills or carrying a bicycle pump. This convenience allows students to easily take the scooter with them to college without the burden of carrying additional tools.
NIU KQi2 Pro
The NIU KQi2 Pro takes the spotlight as one of the best scooters under $600. It has gained recognition and acclaim in numerous "best scooter" lists due to its exceptional performance that exceeds expectations given its affordable price point. Priced at just $599, the KQi2 Pro offers outstanding value for money.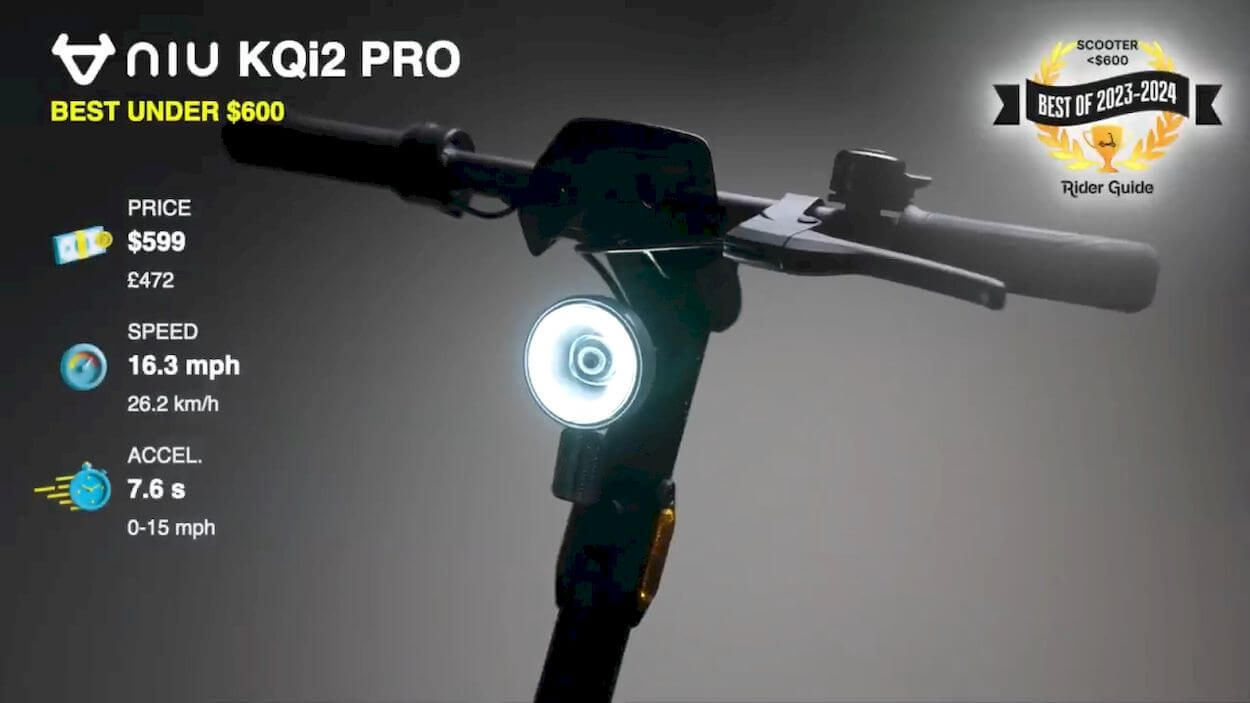 One aspect that immediately stands out about the KQi2 Pro is its remarkable build and ride quality. This electric scooter delivers an experience that surpasses what one would typically expect from a scooter in this price range. The 10-inch tubeless tires play a significant role in enhancing the overall ride quality. These tires not only feel fantastic, but they also reduce the risk of flat tires, providing added convenience and peace of mind to riders.
Furthermore, the KQi2 Pro boasts well-tuned brakes and throttle, striking the perfect balance between being enjoyable to ride and beginner-friendly. This feature is particularly important for novice riders who are just starting to explore electric scooters. The scooter's responsiveness and ease of use make it an ideal choice for riders of all skill levels.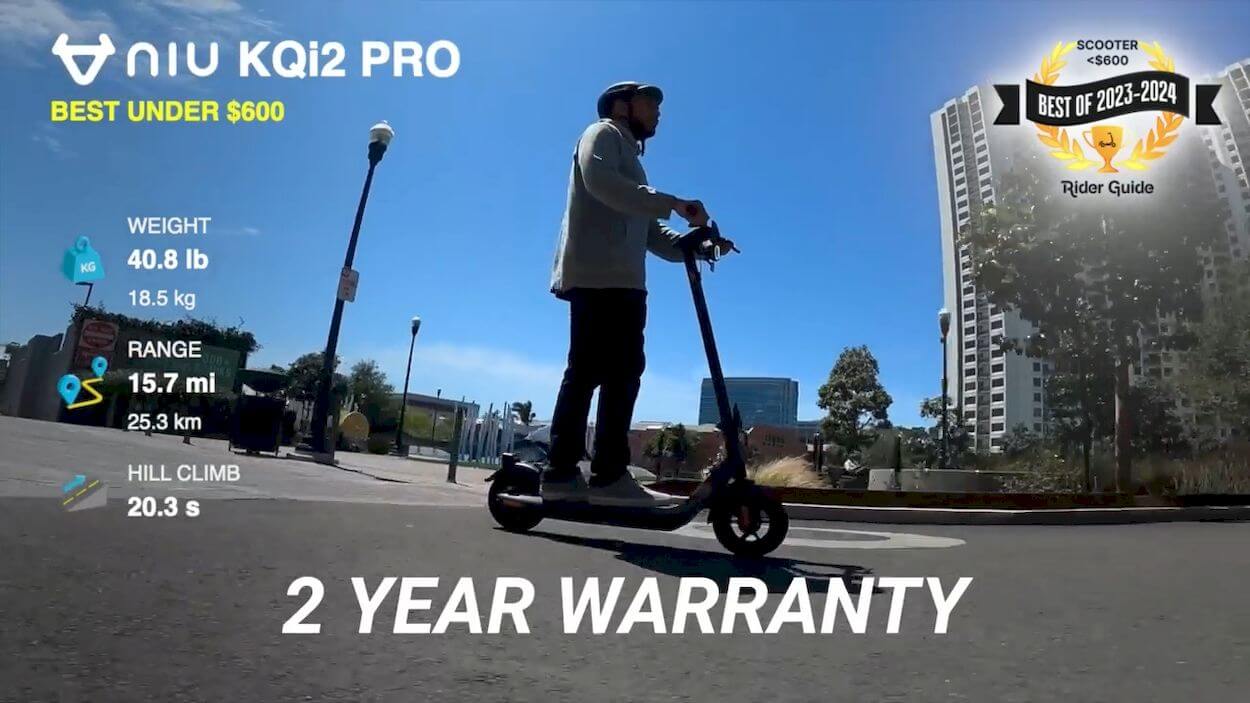 In addition to its impressive performance, the NIU KQi2 Pro comes with a remarkable two-year warranty, the longest warranty period seen in the electric scooter market. This warranty demonstrates the manufacturer's confidence in the scooter's durability and reliability, further enhancing its appeal to potential buyers.
Gotrax G5
The Gotrax G5 stands out as one of the most comfortable electric scooters available for under $600. Despite its affordable price tag, the G5 surprises riders with its smooth ride and impressive battery capacity, making it an excellent option for those seeking a comfortable and reliable scooter.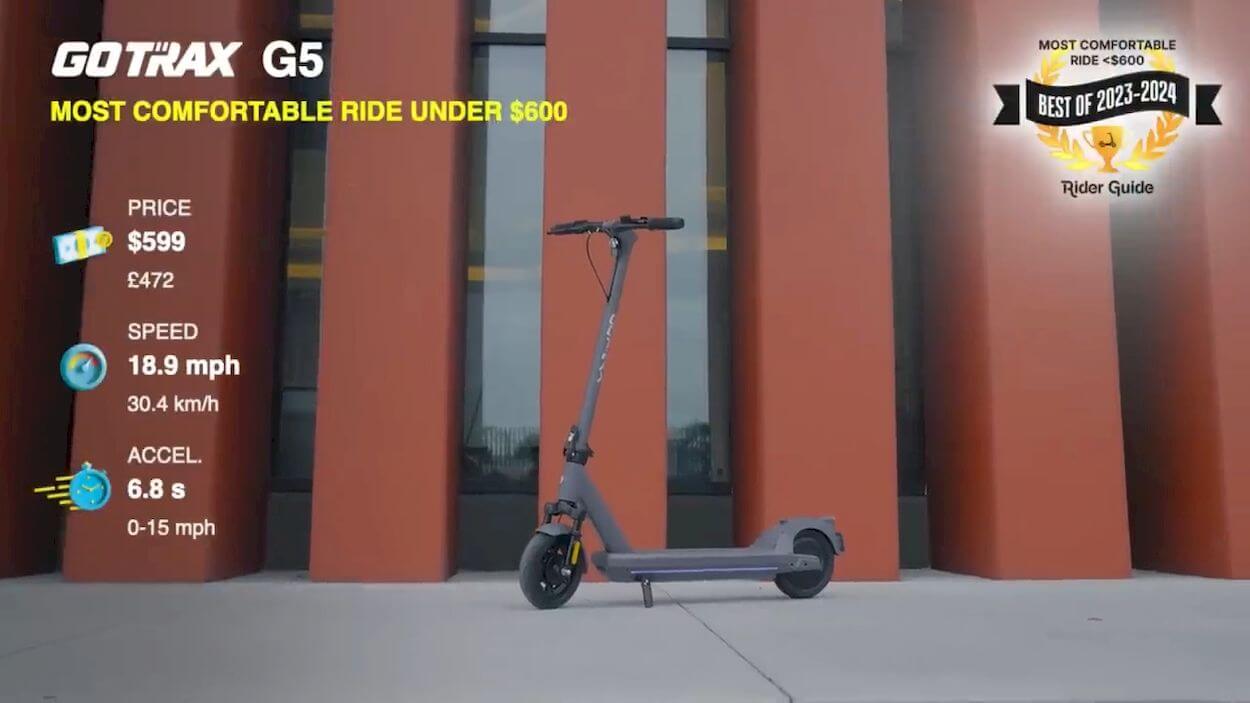 Priced at $600, the G5 exceeds expectations by offering a ride quality that rivals more expensive scooters. This is made possible by the inclusion of front suspension, a feature previously only found in the Gotrax G3. The front suspension absorbs shocks and bumps on the road, providing a smoother and more comfortable ride for the rider. This addition sets the G5 apart from its competitors in terms of ride comfort.
While the G5 may not boast the smoothest ride or a significantly larger battery compared to the Segway ES4, it surprises riders with its enhanced features. Gotrax has managed to pack a substantial battery and a powerful motor into this scooter, providing excellent value for the price. This makes the G5 an appealing option for riders who prioritize range and performance.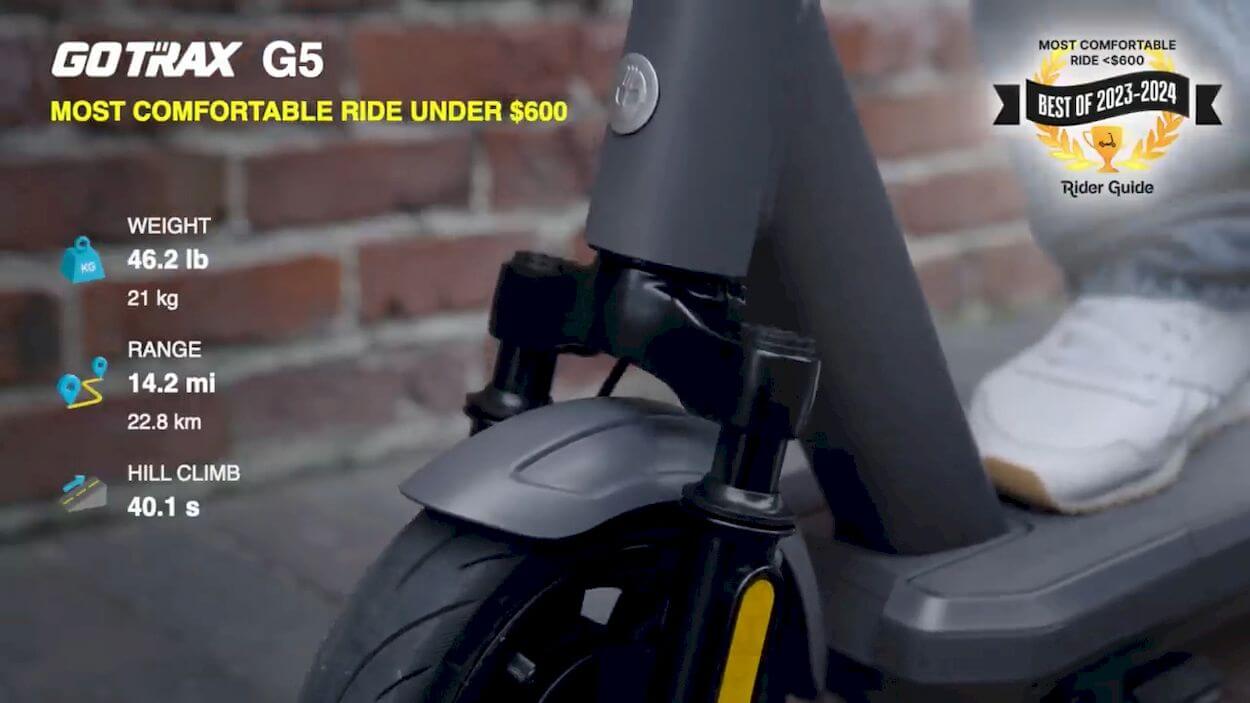 It is important to note that the G5 does not come with an app or some of the additional features found in higher-end models. However, Gotrax is known for offering value-driven scooters that provide essential features at an affordable price point.
Additionally, it's worth mentioning the Gotrax G6, which bears a striking resemblance to the G5 and shares the same 500-watt motor. The G6, however, offers an additional 56 units of battery capacity. Although the G6 hasn't been tested yet, based on the G5's performance, it is estimated to have a real-world range of 22 miles or more. Riders can look forward to a forthcoming review of the G6 from Gotrax.
NIU KQi3 Max 
The NIU KQi3 Max emerges as the best high-performance commuter electric scooter with a single motor. In fact, it has become my personal favorite scooter to keep at home since I tested it. The KQi3 Max offers an exceptional combination of range, portability, and performance, making it ideal for running errands and serving as a reliable transportation option.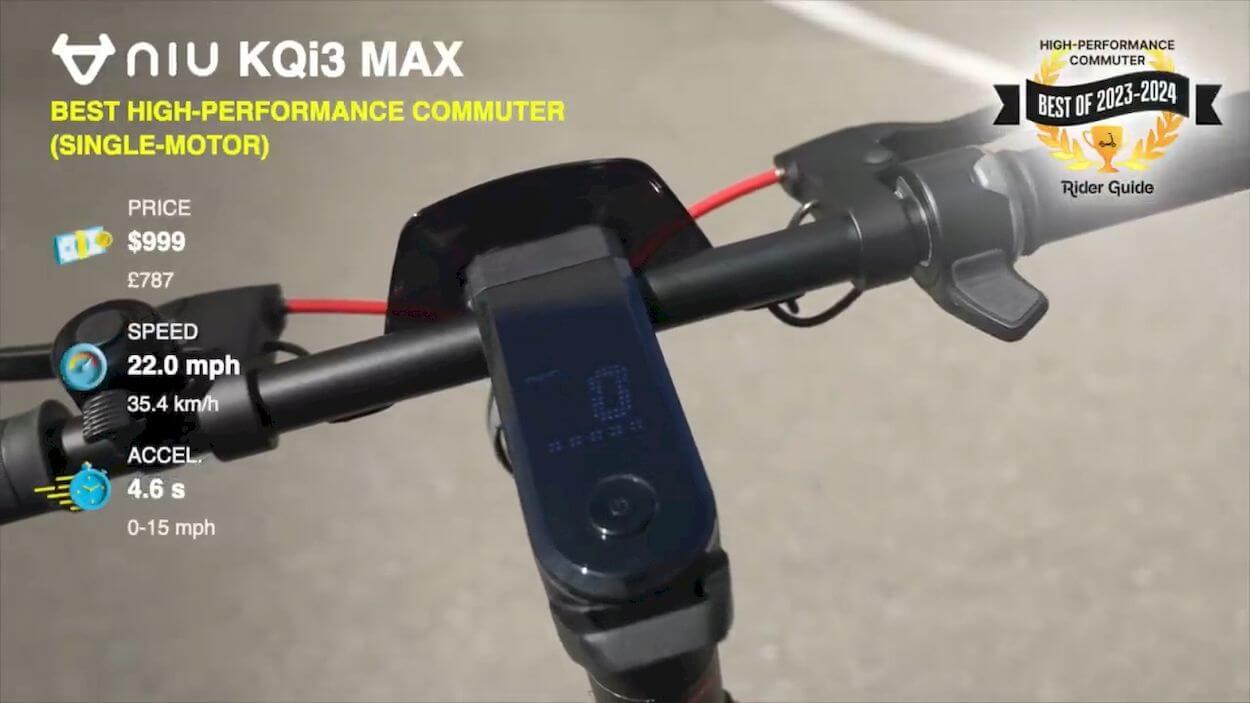 As an expert rider, I am particularly impressed with the KQi3 Max's dual disc brakes, which provide an incredibly strong stopping power. While these brakes may feel abrupt for brand new riders, they offer a level of control and safety that is appreciated by experienced riders. The ability to quickly and confidently brake adds to the overall performance and reliability of this scooter.
One standout feature of the KQi3 Max is its unusually high top speed of 22 miles per hour. This speed ensures that riders can reach their destinations efficiently, especially during daily commutes or when time is of the essence. Additionally, the scooter is backed by a comprehensive two-year warranty, demonstrating NIU's commitment to quality and customer satisfaction.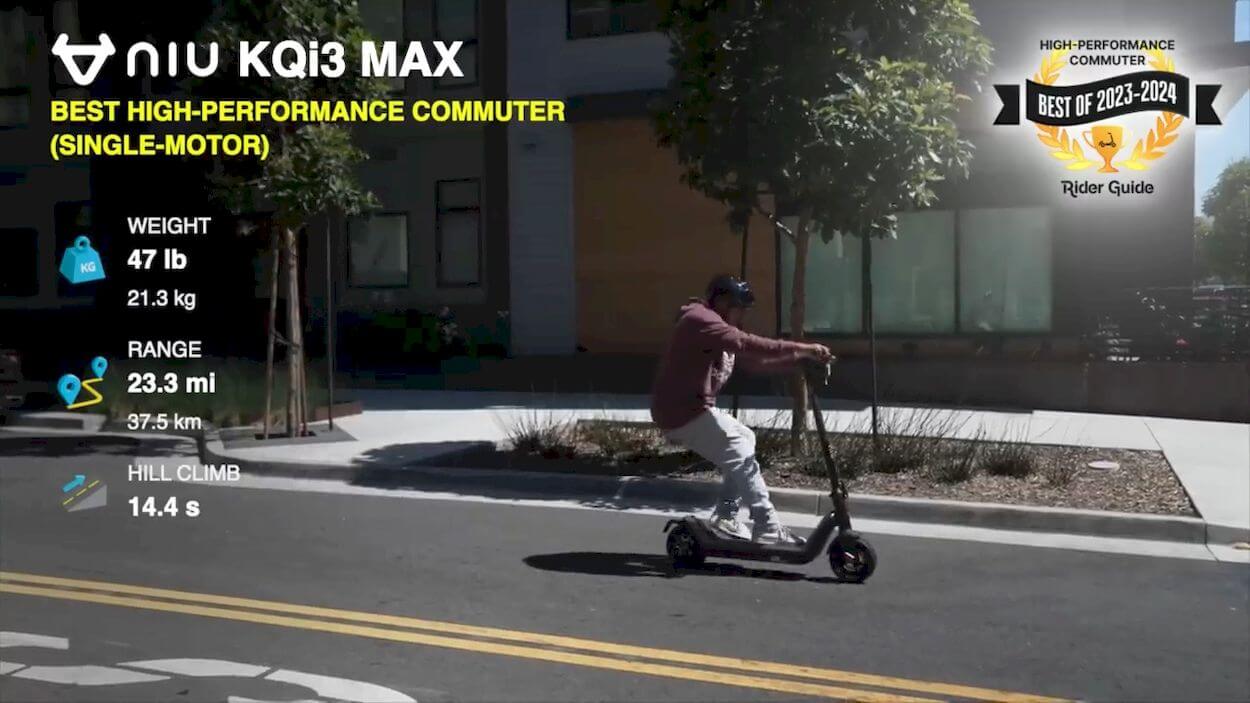 Similar to its predecessor, the KQi2, the KQi3 Max delivers outstanding build quality and performance for its price range. It provides a high level of performance without compromising on durability and reliability. This combination of features makes the KQi3 Max a top choice for riders seeking a powerful commuter scooter.
Unagi Voyager
The Unagi Voyager takes the spotlight as the best lightweight commuter scooter and also excels as the best scooter subscription option. It has earned a place in my garage or trunk due to its unparalleled folding and stowing capabilities. The Voyager's sleek design and ultra-lightweight construction make it a convenient choice for running errands, as I can simply bring it with me wherever I go without the need for locking it outside.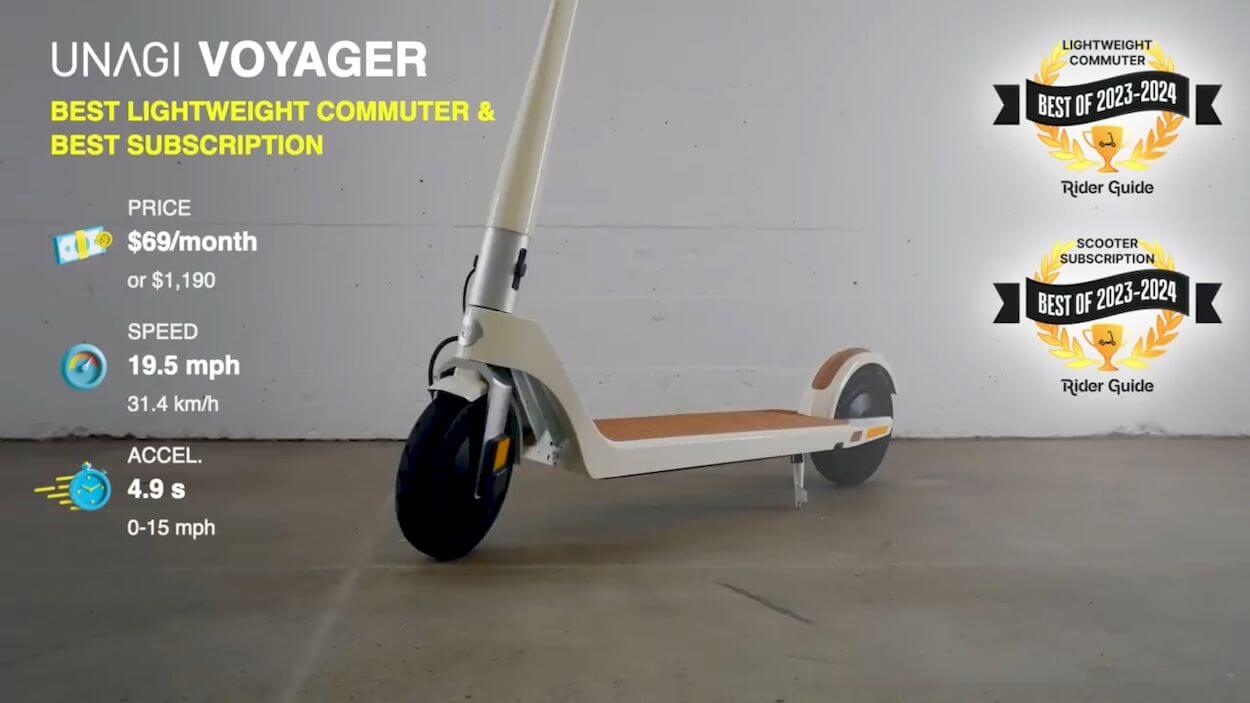 Equipped with dual 250-watt motors, the Voyager demonstrates impressive hill-climbing capabilities compared to other lightweight scooters. This feature ensures a smooth and efficient ride, even when encountering steep inclines. Furthermore, the upgraded battery in the Voyager provides an extended range, allowing riders to cover more distance on a single charge.
The Voyager boasts flat-proof tires, a unique feature in the scooter market. While they may not offer the same level of smoothness as air-filled tires, the semi-solid tires used in the Voyager have been recognized as among the best in their category. These tires provide a comfortable and reliable riding experience, contributing to the scooter's overall performance.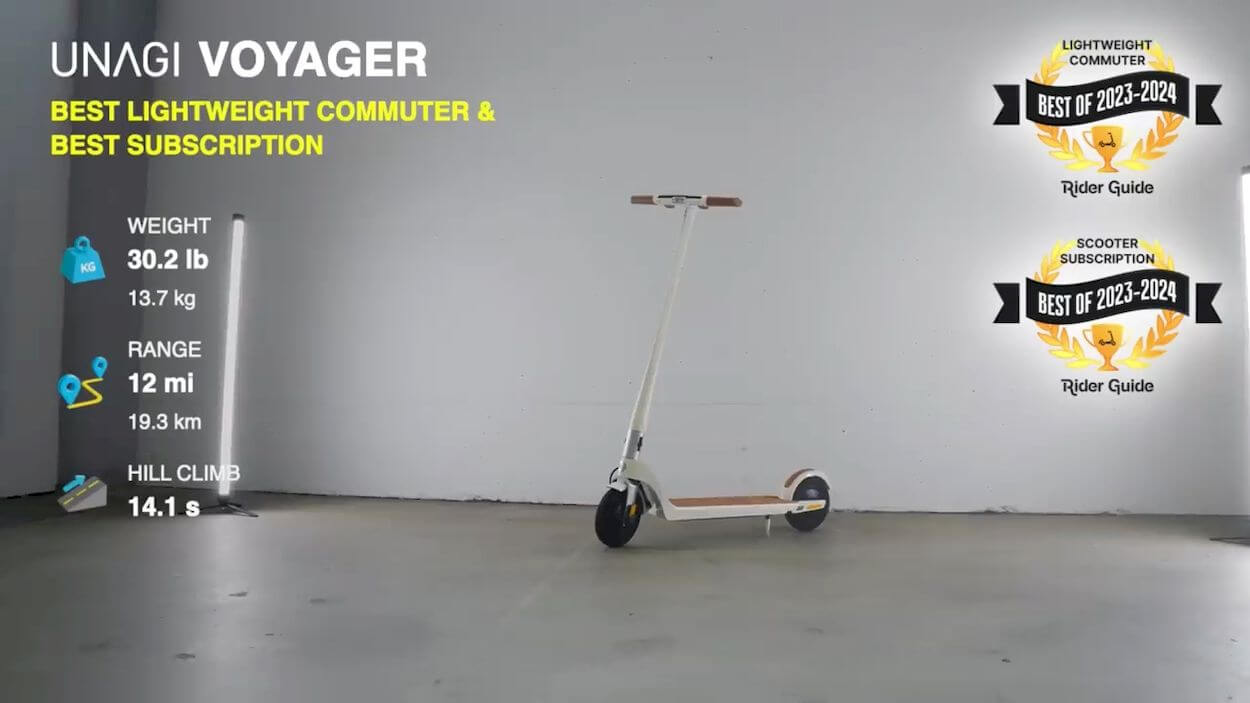 One notable aspect of the Unagi Voyager is its availability as a subscription option. This allows individuals to rent the scooter for $69 per month, inclusive of maintenance. This subscription model provides an easy and accessible way for individuals to start riding scooters without committing to a long-term purchase. If scooters don't turn out to be the preferred mode of transportation, returning the Voyager is hassle-free.
Fluid Mosquito and Uscooters GT Sport 
In the realm of ultra-portable electric scooters, there is a tie for the best in terms of utility, portability, and speed: the Fluid Mosquito and the Uscooters GT Sport. These scooters offer impressive performance and convenience in a compact package.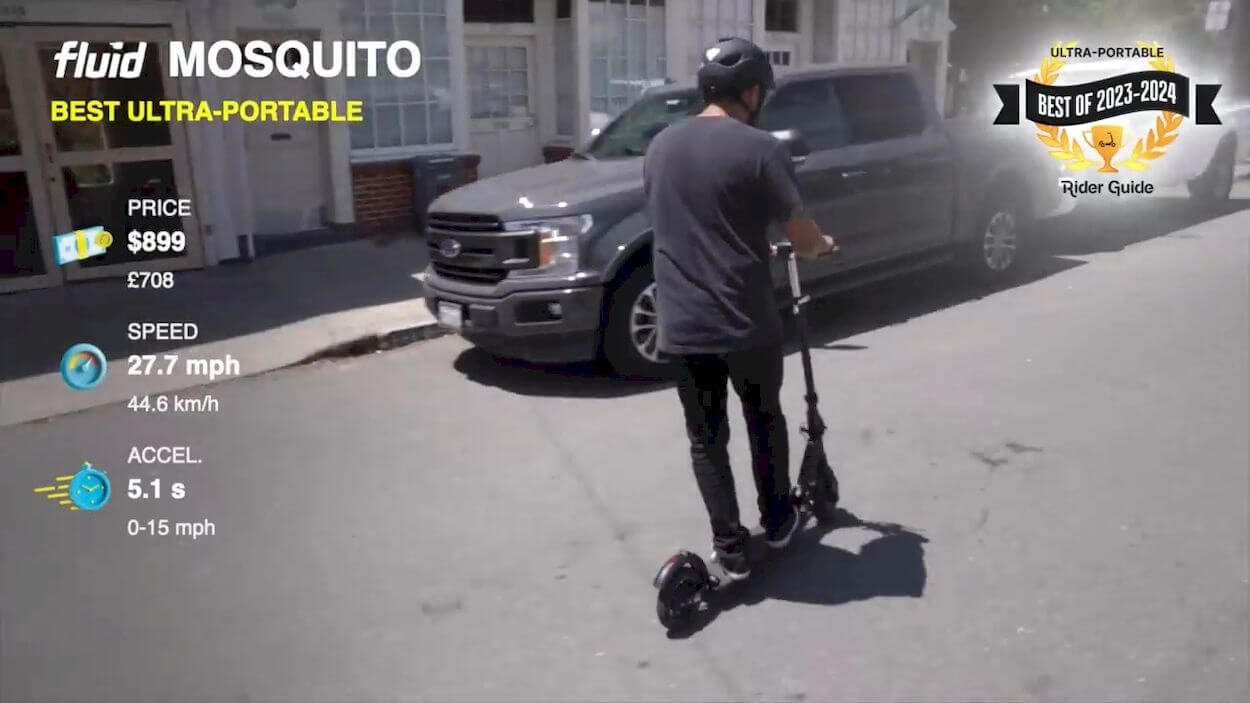 The Fluid Mosquito stands out as a remarkable scooter that seems to defy physics. Despite weighing less than 30 pounds, it delivers a tested top speed of 27.7 miles per hour. This combination of speed and lightweight design makes it an exceptional choice for riders seeking a thrilling and nimble riding experience.
On the other hand, the Uscooters GT Sport shares many similarities with the Fluid Mosquito. Both scooters have a similar appearance and weight, offering excellent portability. However, there are a few key differences to consider. The GT Sport features a Samsung battery, which may offer enhanced reliability and performance. Additionally, the GT Sport boasts a higher tested top speed of 30 miles per hour. However, it comes with a higher price tag, costing an additional $200 compared to the Fluid Mosquito.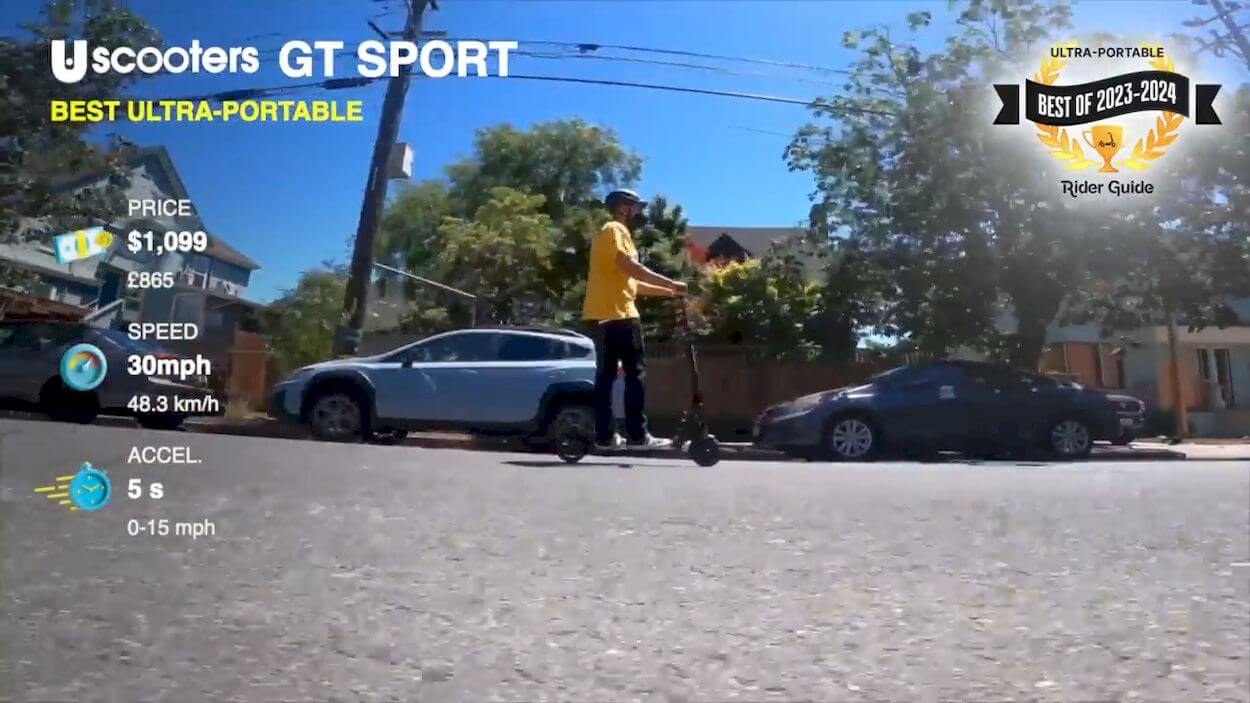 Considering these factors, we deem it a tie between the Fluid Mosquito and the Uscooters GT Sport. Both scooters have been thoroughly tested and offer exceptional performance. Choosing between them depends on personal preferences, budget, and desired top speed. The Fluid Mosquito provides a more affordable option, sacrificing a bit of top speed but saving $200. On the other hand, the GT Sport offers the advantage of a Samsung battery and a slightly higher top speed for those willing to invest more.
Apollo Air 2023
The Apollo Air 2023 takes the spotlight as the best premium entry-level scooter, offering a luxurious and smooth ride for riders who value comfort and quality. This scooter combines lightweight design with impressive features, making it a popular choice among both new riders and daily commuters seeking a top-tier experience.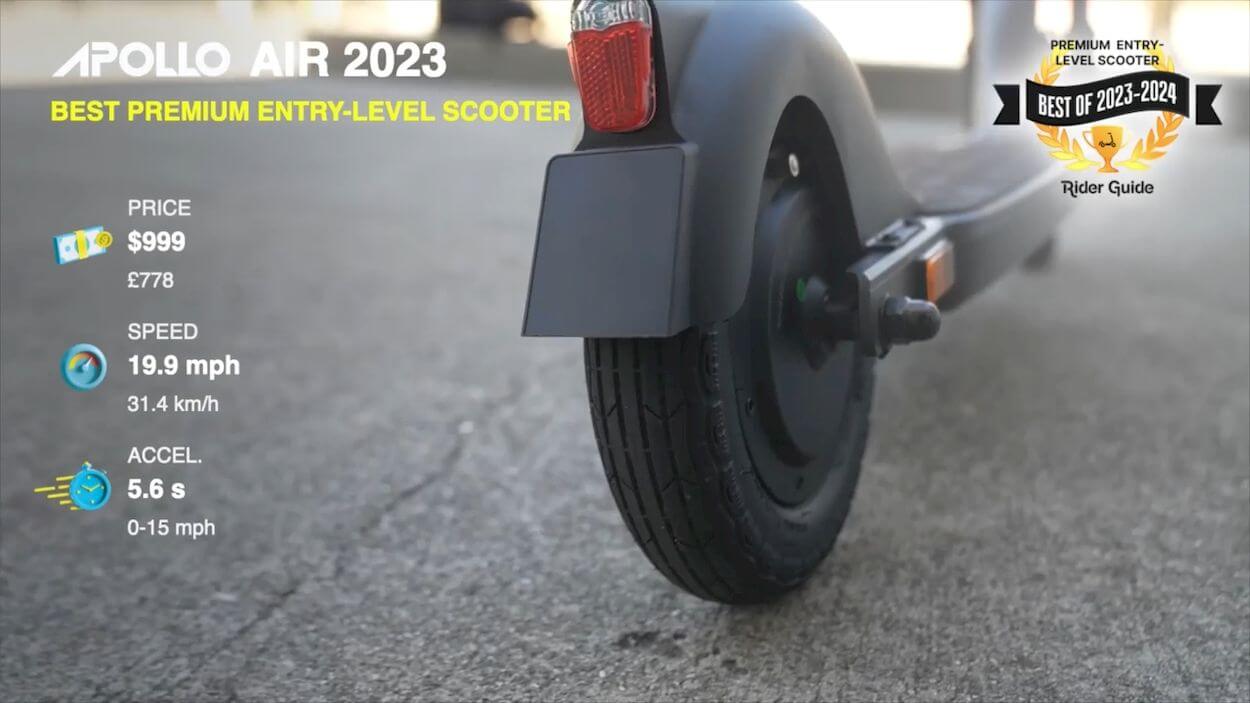 One notable aspect of the Apollo Air is its front suspension and large 10-inch tires, which contribute to an ultra-smooth ride. The front suspension absorbs shocks and vibrations, providing enhanced comfort on various terrains. Additionally, the large tires further contribute to a smooth and stable ride, allowing riders to confidently navigate through different surfaces.
The Apollo Air is often seen in the trunk of many riders' cars, as its portability makes it a convenient choice for those on the go. Its lightweight construction ensures easy handling and transportation, allowing riders to take it with them wherever they need to go.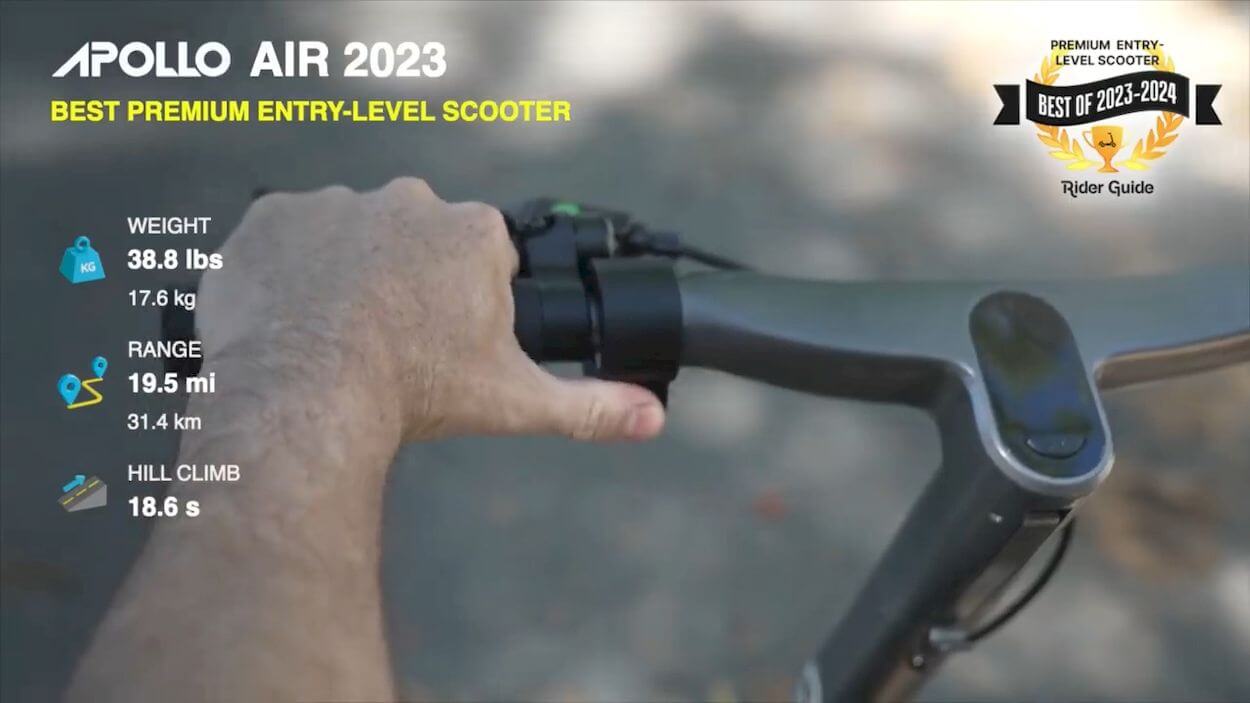 One standout feature of the Apollo Air is the dedicated regenerative brake lever, which offers an awesome braking experience. This feature allows for efficient energy regeneration while providing precise control over the scooter's speed.
Updates for the 2023 version of the Apollo Air include self-healing tubeless tires, providing added convenience and durability. The addition of front turn signals further enhances rider safety and visibility. Furthermore, the scooter now features a new stem folding mechanism borrowed from the Apollo Pro, giving it a premium and high-quality feel.
While the Apollo Air excels as a premium entry-level scooter, it's important to note that the best intermediate scooters are covered in the next section. However, before moving on, it's worth mentioning that detailed performance numbers and comprehensive reviews can be found on the Rider Guide website for those seeking more specific information.
Conclusions 
In summary, the best starter scooters provide new riders with an ideal introduction to electric scooters, offering a balance of affordability, reliability, and ease of use. These scooters cater to individuals who are new to the world of electric scooters or those looking for budget-friendly options without compromising on quality.
The Gotrax G3 Plus stands out as a top choice, offering impressive performance on a budget. Its lightweight design, long-range capabilities, and enhanced braking make it an excellent value for money. The Gotrax G3 Plus is a great option for beginners looking for a fun and reliable scooter.
The Segway E2 Plus surprises with its exceptional build quality and performance, especially considering its affordable price. With its solid reliability, semi-solid flat-proof tires, and beginner-friendly features, the Segway E2 Plus is an ideal choice for students and riders on a budget.
The NIU KQ12 Pro, on the other hand, offers a combination of range, portability, and performance. Its solid reliability, high top speed, and extended warranty make it a compelling choice for riders seeking a high-performance scooter.
So, the best starter scooters provide new riders with affordable and reliable options to enter the world of electric scooters. Whether it's the Gotrax G3 Plus, Segway E2 Plus, or NIU KQ12 Pro, these scooters offer a range of features and benefits that cater to different preferences and budgets. Choosing the best starter scooter ultimately depends on individual needs, but any of these options will provide an enjoyable and accessible introduction to electric scooters.